Famous for invading and annexing its neighbours over the centuries, reports Iain Robertson, with a sense of irony, now Germanic carmakers have stolen the march over their British rivals, even though they lean heavily on us for inspiration.
Reflect on what used to make Britain great and, apart from fine furniture, exquisite tailoring and first-class footwear, elegant and classy motorcars formed a backbone for the nation that was bolt upright, impeccably detailed and worthy of the envy of other nations. Something happened in that relaxed and colourful period around the hippie era. I have tried to pinpoint it.
Was it the insistent 'Love, Love, Love' of Beatles' music? It could have been the subversive nature of the Stones' 'Sympathy for The Devil', or the arrival of non-prescription unguents. The British political scene was being undermined by wishy-washy socialism and the impact of National Service was flushed inconveniently down the loo. Industrial strife hit the headlines and our former 'stiff upper lip' became a quivering lower lip.
A reactive punk generation did little to help a former repute and the wider use of apostrophes highlighted a literary softening that would soon turn to diminished values, a lack of forethought and a tragic dumbing-down of our media. I could go on but I feel it might be feckless in a society where nobody loses, because standards in education, social welfare and national values have slipped so relentlessly that winning is all we have left, even though the bar is at an all-time, injudicious low. Of course, the more cash-less and god-less we become, the more value-less we shall be.
While the (dreaded) 'Brexit' exercise will herald a raft of fresh opportunities for Great Britain to regain important old ground, unless a visitation to the 1968 'I'm Backing Britain!' campaign, with its Portuguese T-shirts, questionable governmental support by Harold Wilson and the utterly awful Robert Maxwell hijacking the publicity, can be reinitiated (this time with some genuine jingoism attached), I fear that reattaching Great to Britain might become a lost cause.
While the Teutons used to be good at building battering rams, they have also admired us from afar and adopted many of the fineries that we used to cling onto for their own benefit. One of the primary reasons that I find the latest Audi RS5 so immensely appealing is that its design and styling nuances could have been derived all-so-easily in Blighty. The fine stitching (in Sherwood Green) on door cards, steering wheel rim and gearlever gaiter possesses such an eerily British quality to it that I want to assume that archetypal Robin Hood stance of hands-on-hips, head askew, nodding in the general direction of Nottingham.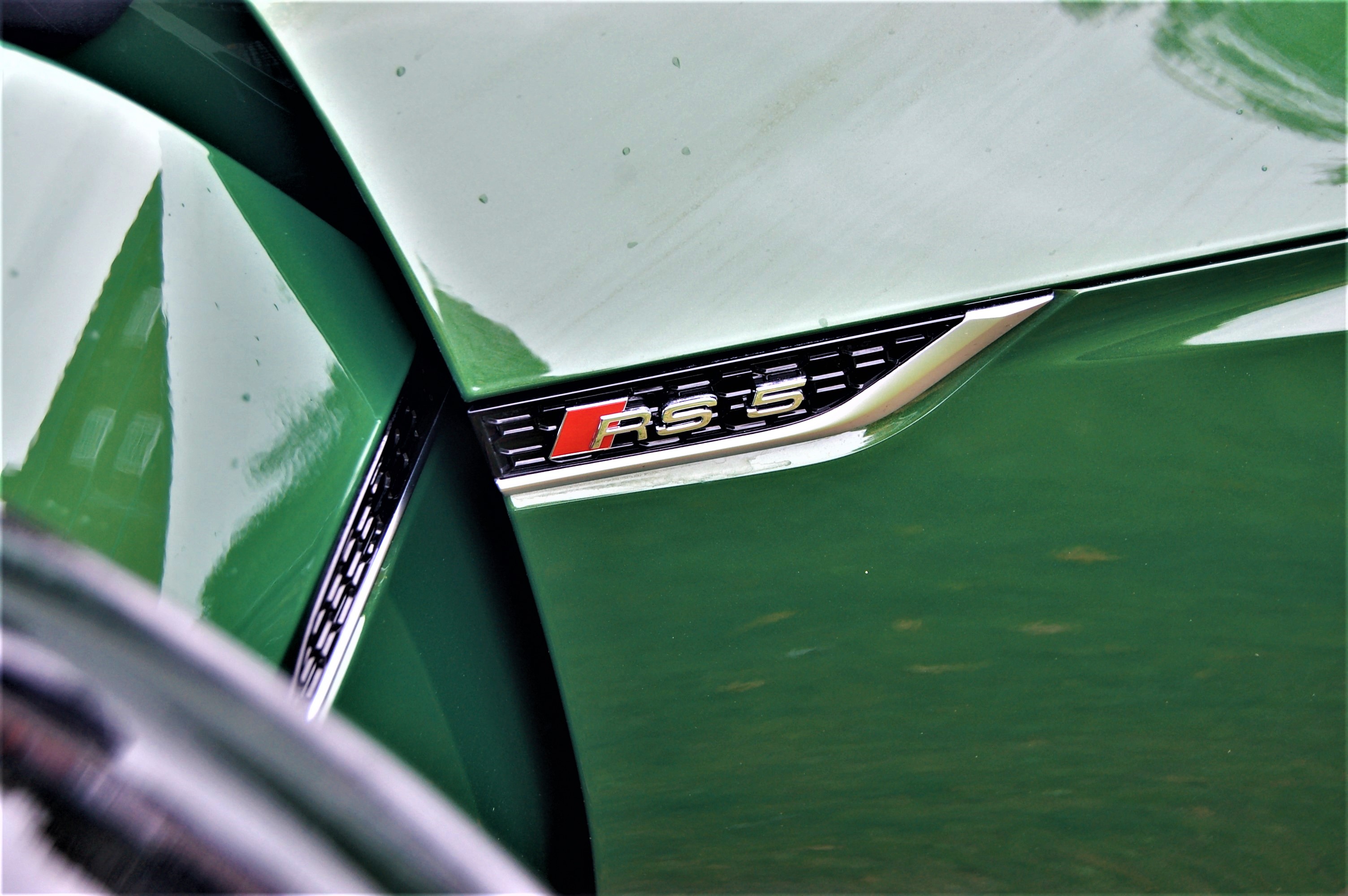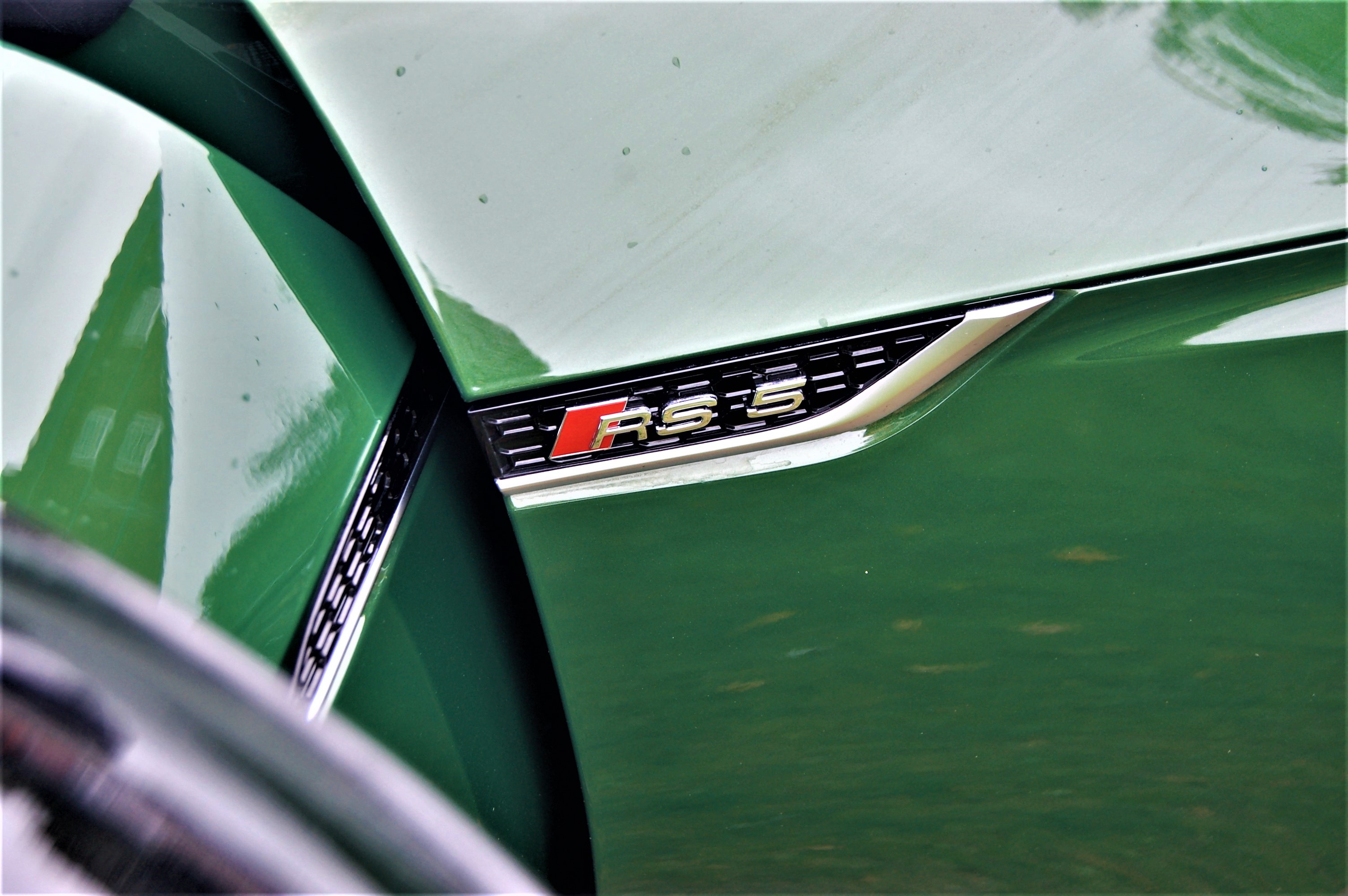 Of course, these teensy elements are only in support of a thoroughly British (verging on Racing Green) shade of jade that is one of Audi's new colour combos for the RS5. Naturally, Audi does not wish to stir up deeply concealed resentments by referring to this new colour as having any links with the UK and calls it 'Sonoma Green' instead, which connects it tenuously with the city in California that rests in the expansive wine-growing Napa Valley…with which there exists another tenuous connection to the Nappa hide of the RS5's gorgeous diamond-stitched upholstery, also picked out in green.
I am not going to repeat my definition of Audi model nomenclature, which I stated in my piece on the SQ5 sporty SUV (on which I was not keen), mainly because the company has now muddied the waters by suggesting that its engine output in kilowatts (a tenuous Scottish connection?) will decorate and complicate the bootlids of future Audis. Why? Your guess is as good as mine. However, let it be known that there is no complexity with RS5. It is the most focussed of the Audi '5-series' line-up.
Most of that focus, allied to much of the on-cost, lies in what lies beneath the bonnet. Displacing 2.9-litres in V6 format, it produces a thoroughly worthy 446bhp (450ps) at between 5,700-6,700rpm. It is a figure matched by an equally impressive 442lbs ft of torque developed between a lowly 1,900 to a punchy 5,000rpm, which happens to be the most appropriate action range for most motoring circumstances and highlights the remarkably plateau-like power curve. While lacking the extra pair of cylinders and beefy V8 grumble of the original RS6 model (thanks to Teutonic 'greenies'), this massive trough of potency gifts the slightly lighter RS5 a level of performance that verges on ludicrous.
Any car breaching 3.6 seconds for its 0-60mph sprint is rapid to say the least and the test car benefits from a 19mph speed-limiter increase to a maximum of 174mph (at a shameless cost of £1,450…not bad profit for swapping a fuse). It is what you would expect of an RS model, plus a wee bit. Yet, with a remarkable sense of irony, its CO2 emissions are just 197g/km, which does not help to reduce its annual road tax bill of £1,200 for each of the first five years of life after registration. Its Official Combined fuel return is given as a modest 32.5mpg, a figure that I know is achievable, as I managed a consistent 34.5mpg (on the on-board computer) in normal road and weather conditions, where activating the performance potential was typically limited.
Although optimised in this installation, the ZF 8-speed automatic gearbox transmits all that power to the road, via its Quattro permanent 4WD system, which can be as 'slushy', or 'thumpy', as you want it to be, dependent on chassis setting. The driver has manual ratio control via the lever, or the paddles, which is useful when closing speeds on slower traffic, or to obstructions, can be quite high. The RS Sport exhaust system (+£1,200) is marginally more musical externally than it is from within the cabin, yet, there is something inexplicable about this 'new style' of Audi high performance. I felt it first in the TTRS model…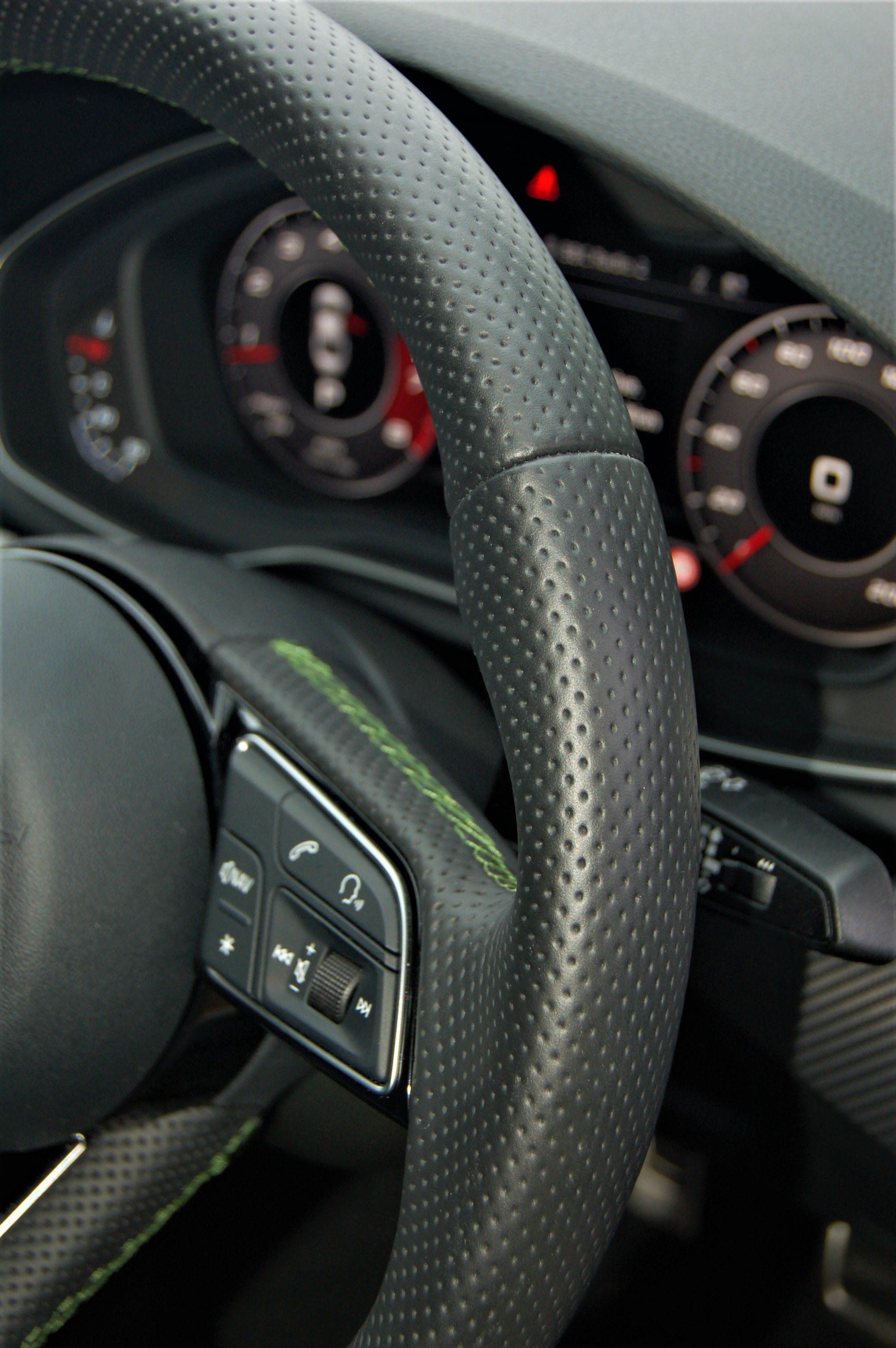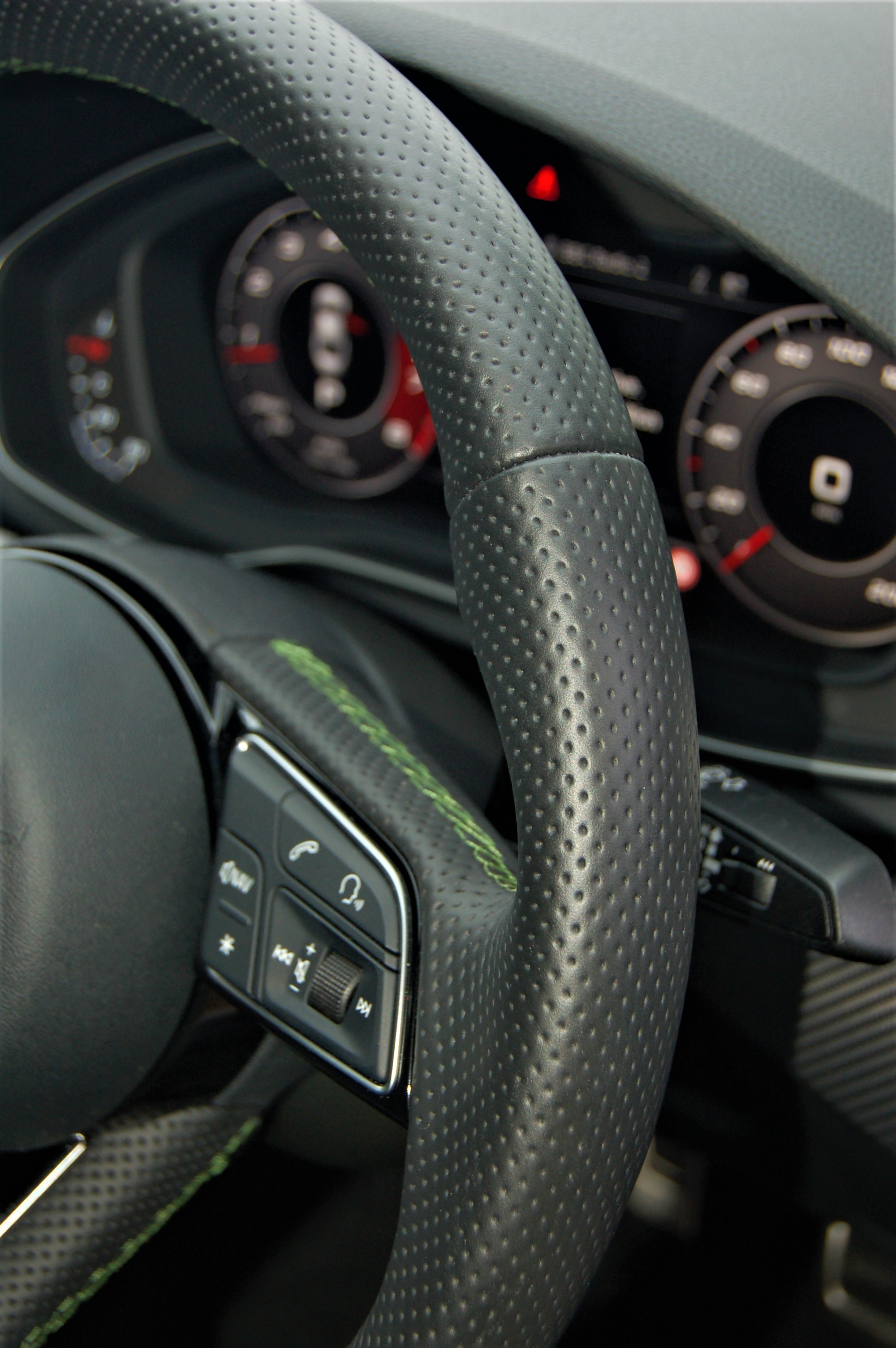 While enhancements in refinement levels have clearly had an impact, the sense of urgency that used to populate RS models in the past is no longer in evidence. That urgency used to perpetuate elements of 'tunnel vision', something from which Formula One drivers and fighter jet pilots used to complain. It does not happen any longer in RS models, which makes the driver feel as though the car is not as fast as its maker suggests, which could have a mixed bag of benefits for Audi. All I can tell you is that the safety aspect of closing speeds is now arguably at a critical peak.
Although the test example was not equipped with the latest ceramic pads and brake discs, the stopping power of the RS5 is almost eyeball-popping. As mentioned earlier, the adjustable chassis dynamics (which cost an extra £2,000) turn the RS5 from boulevardier to part-time racer, the (+£2,000) forged alloy wheels reducing unsprung weight successfully, thereby aiding the car's turn-in and crisp wieldiness to a level that makes it feel more hot-hatch than luxury sporting coupe. On its softest setting, which is still sportingly focussed, the RS5 rides sublimely and quietly and is by far preferable to the magnetic dampers picking up every road surface nuance and transmitting it to the base of the driver's spine, when the alternative settings are dialled in.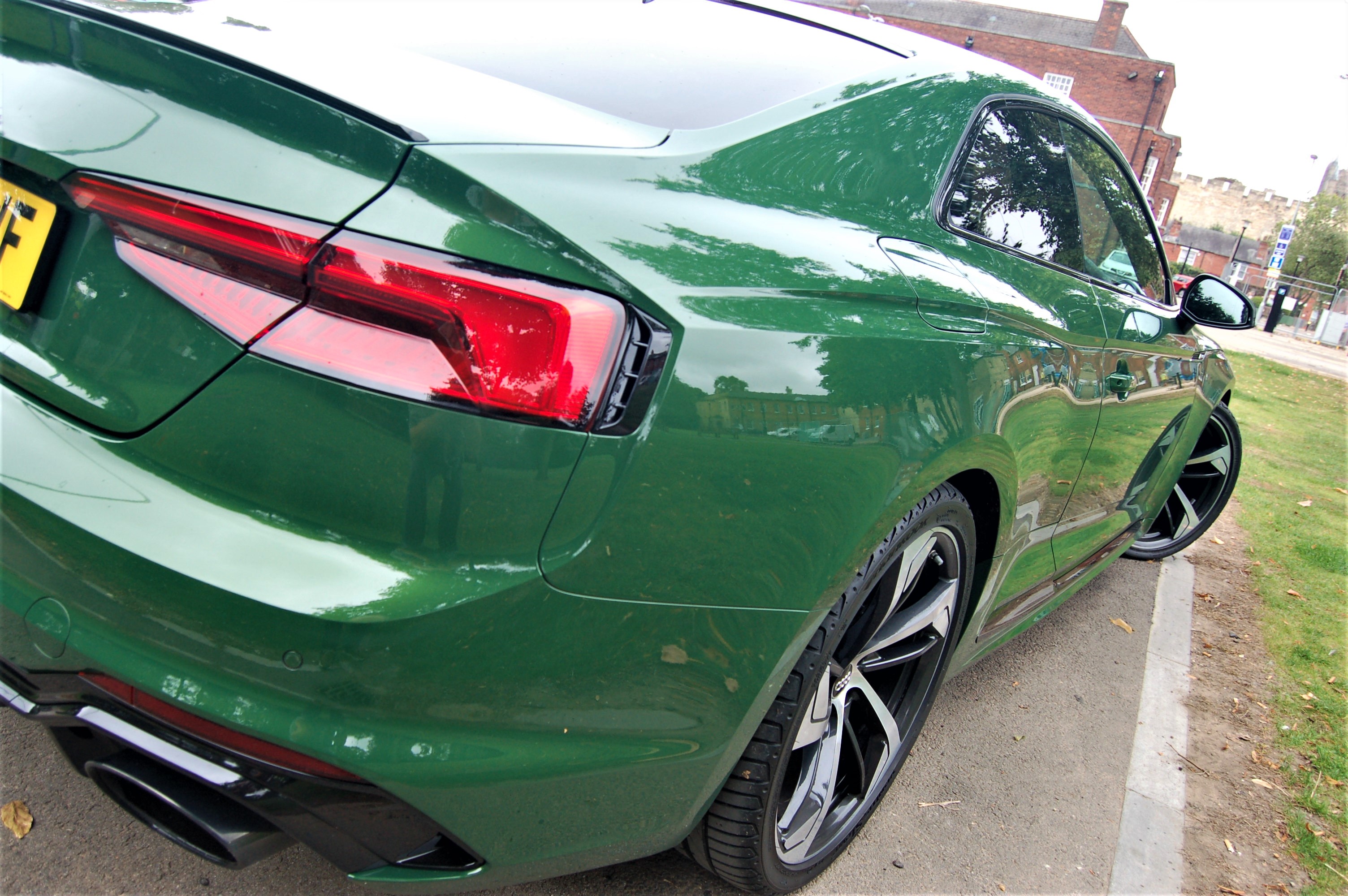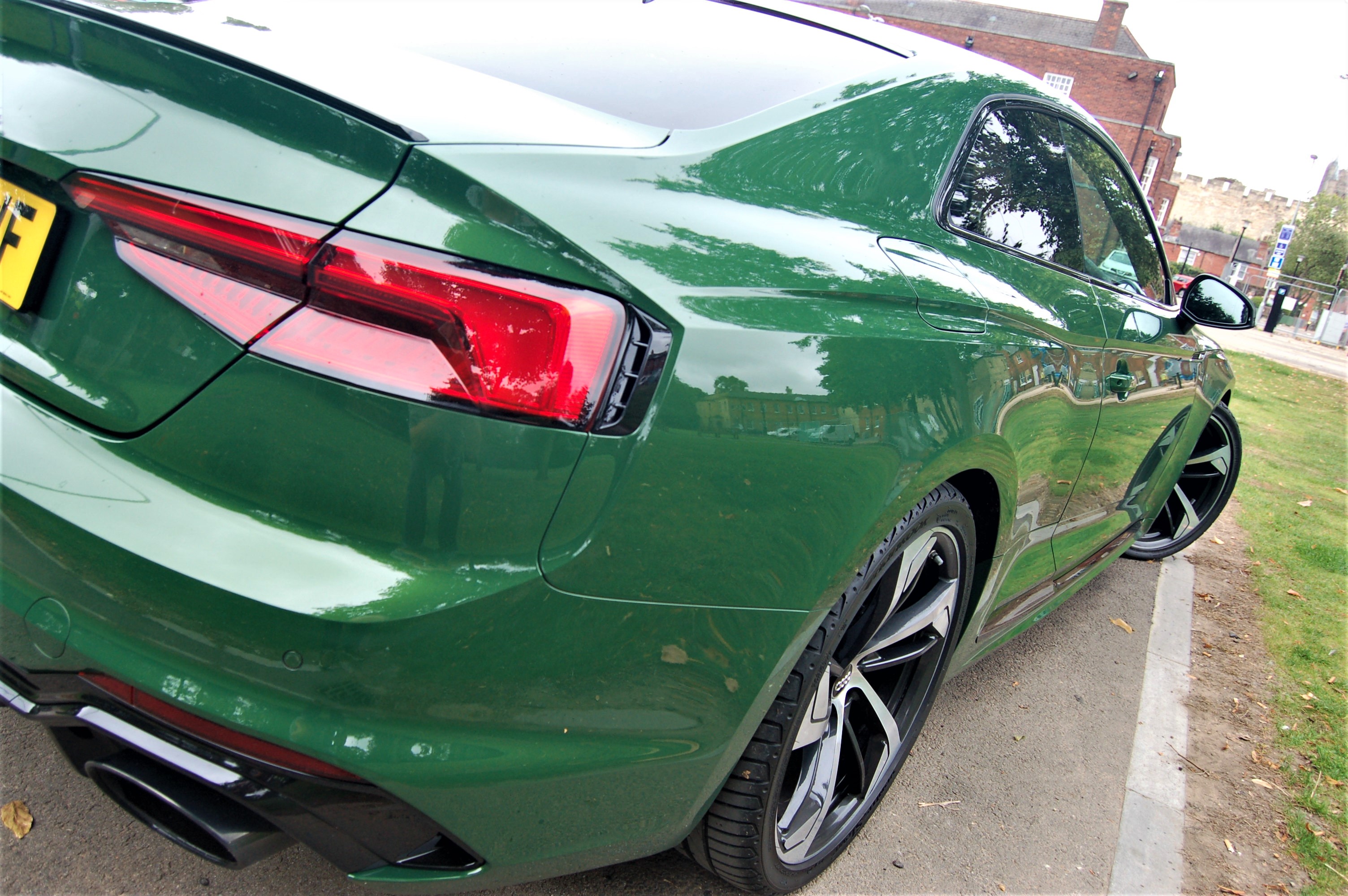 Having stated it since the outset, despite a wee quality glitch a few years ago, I repeat that Audi interiors are simply the best. The fit and detail finish is exemplary and of an order more familiar to (VW Group-owned) Bentley owners…which is largely the inspirational source for Audi. The comfort up-front in the (+£3,500) Super Sport recliners is marvellous, even though G-Plan might be a less costly option. The electric fine adjustment costs an extra £200. I also love the polite way the safety belt is passed to the driver by a small, electric, alloy 'butler' located in the B-pillar. Anything else that is not hide-wrapped, or deliciously compliant plastic-moulded, is clad in both anthracite, or aluminium alloy (+£350) trim. It is beautiful, of that there is no doubt.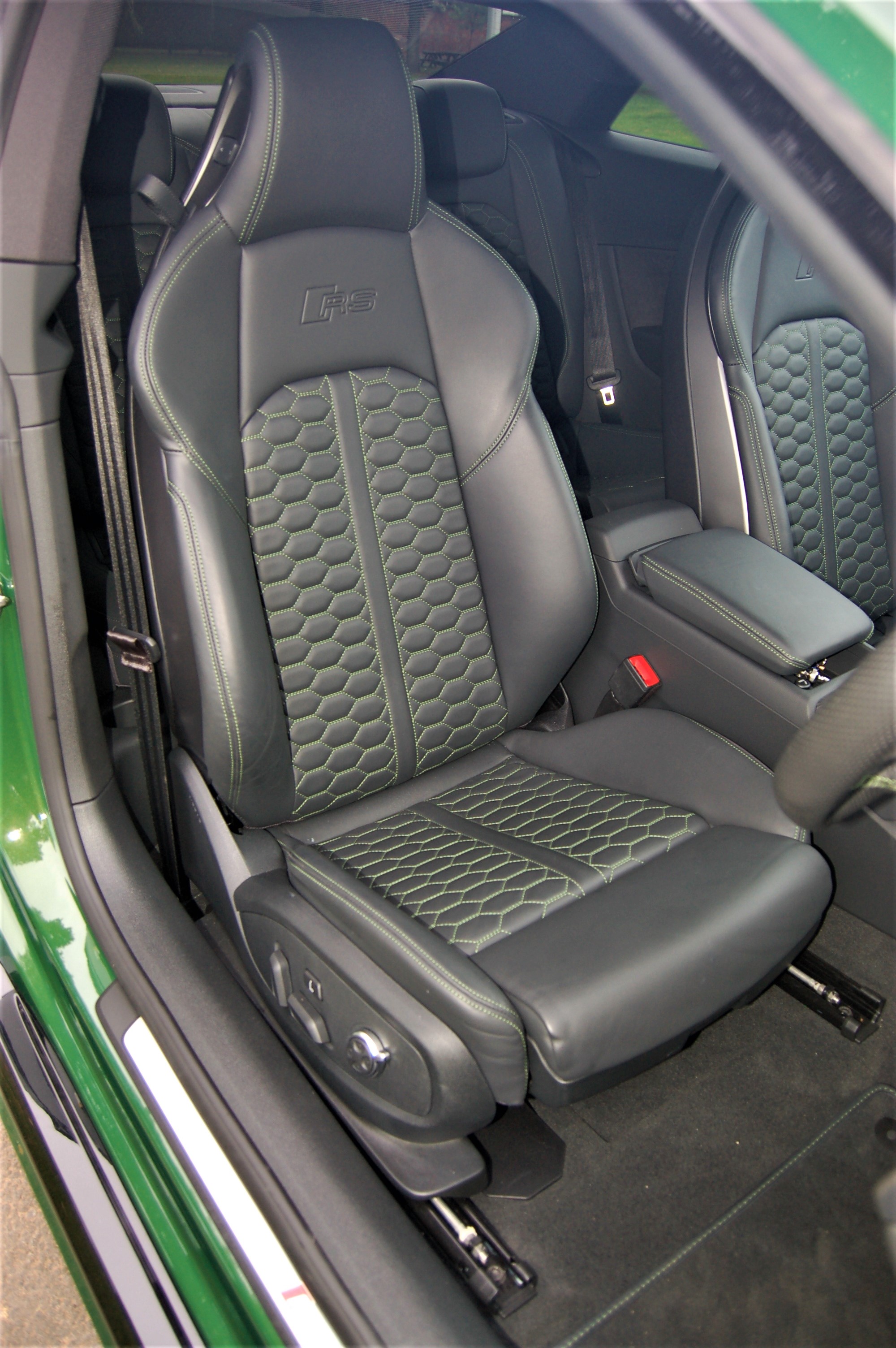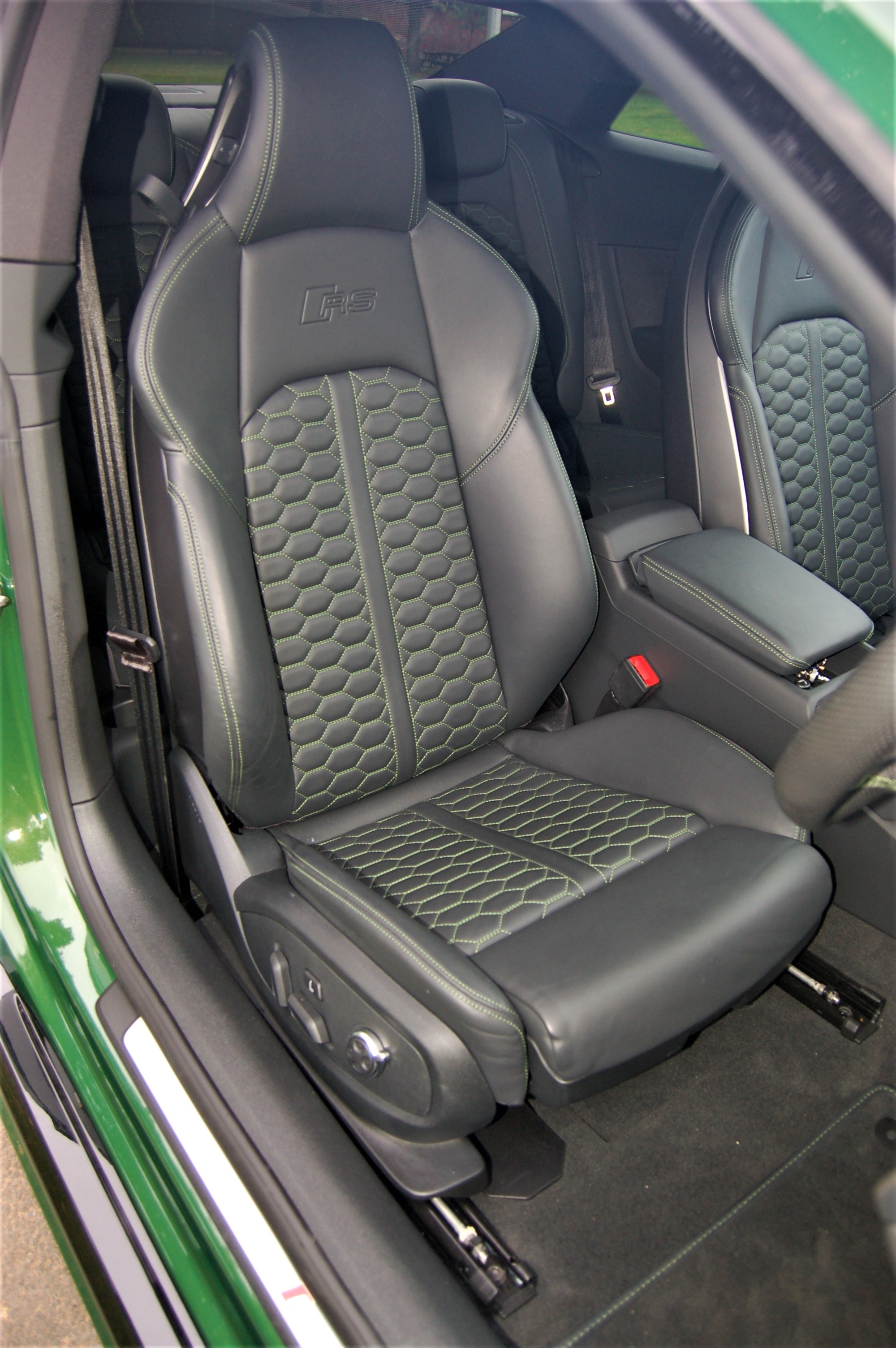 While the customary Teutonic raft of acronyms covers all aspects of primary and secondary safety, I do feel it bit rich that Audi charges a cool £250 for a Tyre Pressure Monitoring System (TPMS) that all-inclusive Suzuki provides FOC and considering that there is no concealed price for ABS, ALD, M&S and any other acroname you might nym, especially as TPMS is EU law, Audi ought to be chided for it!
Therefore, to the pricing…the base model is £61,015, to which you need to add £645 for daring to order it in Sonoma Green, which is a colour that grew on me immensely over the test period, much like poison ivy…sorry, I am being unnecessarily critical…it is a lovely colour that turns heads more readily than Racing Blue ever did. By the time you have factored in the raft of extras, the on-the-road invoice bottom-line reads a cool £80,740. Naturally, it all depends on how wealthy you are, whether the firm is picking up the tab (which accounts for well over 85% of Audi business anyway), or you can afford the monthly payments, to state that this is good value. I winced.
Automotive art takes a leftfield twist in the Audi RS5. The way light is reflected off the car's gently blistered flanks is eye-catchingly lovely. The quality of its presentation both inside and out is engagingly complex but unmistakably perfect. Packed with technology (for most of which you pay through the eye teeth), the RS5 is the statement model that Audi needs to maintain its market momentum. Do I like it? Yes, I do. Could I live with it? Yes, probably, but I would always be regretting the inability to flex the car's muscles as much as they would love to be flexed and are eminently capable of doing so. As such, the Audi RS5 would be an object of tremendous frustration. Once we are free of Europe's cloying administration, perhaps a car of this ilk might have somewhat reduced appeal but, as long as German autobahns are only a few hours away and (apart from ferry and fuel costs) free to access, space could be made in a select few, British personal garages for an RS5.