Professing to be concerned about runaway consumer prices, Iain Robertson, while loving Kia, finds it tough to justify a sometime value brand's pricing strategy, which also gives him a chance to air his views on the rest of our little lot!
Even taking rates of inflation into account, the unparalleled rise in UK property prices has led to a largely unfeasible, greed-instigated housing crisis from which our nation will never recover. We have a property rental market that has spiralled out of control and created housing barons that can change an individual's status into inexcusable 'homelessness', often on little more than a whim.
When I reflect on a house that I purchased for around £26,000 only twenty years ago that has changed hands recently for around six times that price, I avoid using the word 'value', because it is redundant, especially when applied to a two-up, two-down, mid-terrace property possessing a postage stamp garden at front and rear and no private parking spot. To me, this situation is immoral bordering on illegal.
As a vehicle-reviewer (well, it is one of my primary tasks), I am fully aware of the increasing numbers of young people even displaying a passing interest in learning how to drive. They do not. They cannot afford to. The motorcar has fast become a luxury item, as opposed to an essential, like a property, that is the sole premise of the corporate sector, as businesses are the only organisations (as long as their accounts are in order and they have the deposits available) that can afford to acquire new models.
It is little wonder to me that the company car sector is responsible for the uptake of well over two million newly-registered cars each year and is understandable that the lure of a company-supplied vehicle, even within state-owned organisations (believe it, or not, like the NHS), whether heavily-subsidised, or not, is often the only means by which some people obtain new personal transport. It is all very well for car companies to state so categorically that 'people never buy cars based on their list prices these days', when even a city car can cost around £13,000, albeit with subsidised finance programmes offering first-time deals at around £150 per month, where actual 'ownership' is not even part of the equation.
As much as I love and admire Kia motorcars, like Skoda and Seat and Hyundai and Citroen, among others, they have lost their 'value brand' statuses, having cast them off like a raggy old coat, in favour of a 'market-priced' stance, by which the market can be blamed for the continual upwards price listings and not the car company. In the UK, there is only one brand (two, actually), Dacia, which is effectively cheap, eastern European, old Renault stocks that are so hatefully inadequate and, for which the consumer is gulled into paying at least 40% more than the posted price tag just to obtain some niceties such as air-con and a radio, let alone 'lecky' windows and central locking. The base product is woefully loathsome. (The other value brand, by the way, is Suzuki, which offers presently the best value-for-money cars in the UK).
Remove the price tag from the equation and the lovely looking Kia Optima you see before you is a truly wonderful machine, even tagged at three prices the price of the hateful Dacia. So, what do you get for your investment? The Optima is very sleek of appearance. Its styling is eminently attractive and it manages to look both classically elegant and dynamically strong. At 4.855m in length it is a large car; a Ford Mondeo rival. However, it is laden to the gunwales with every option known to man and a few more besides.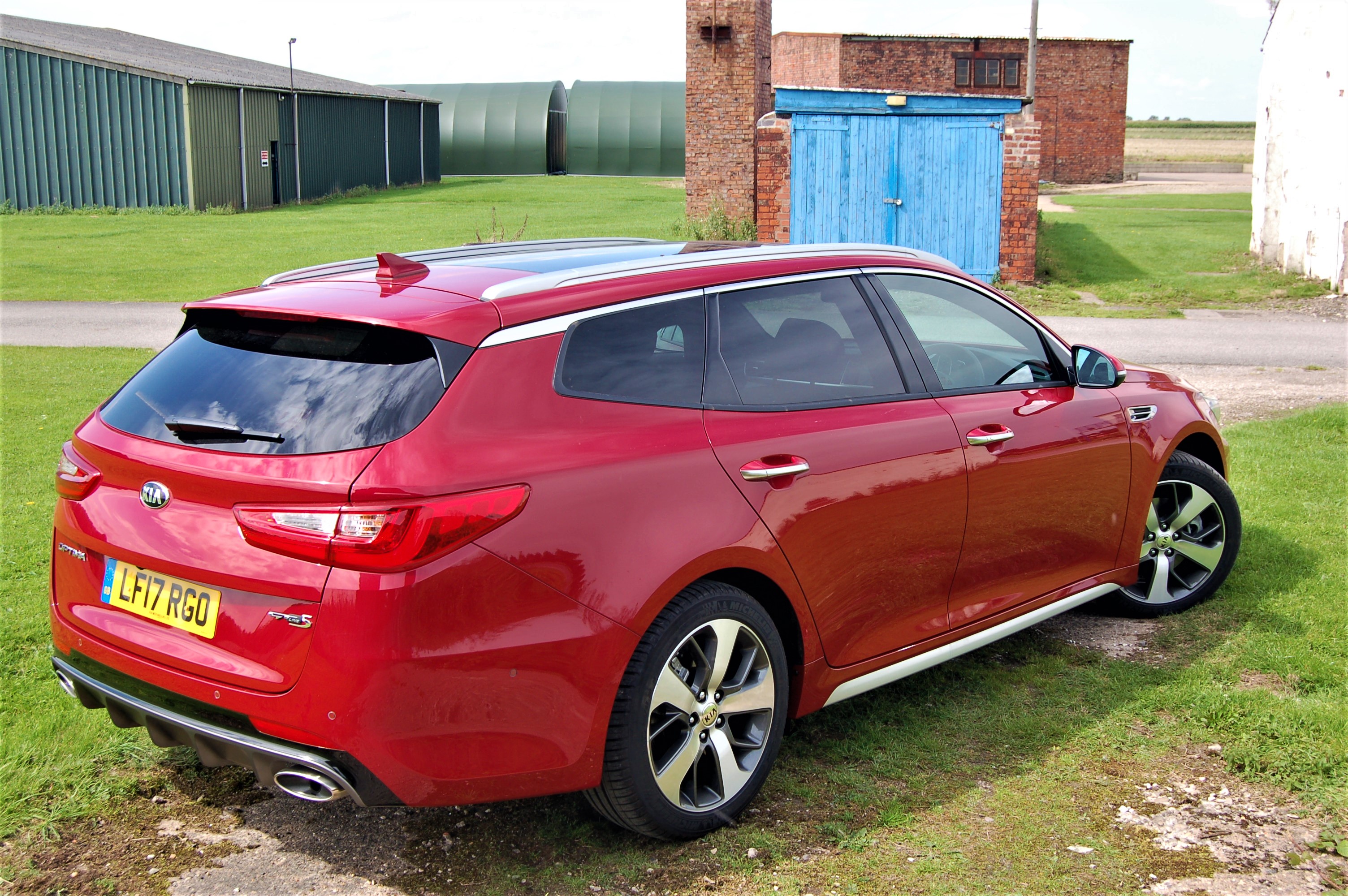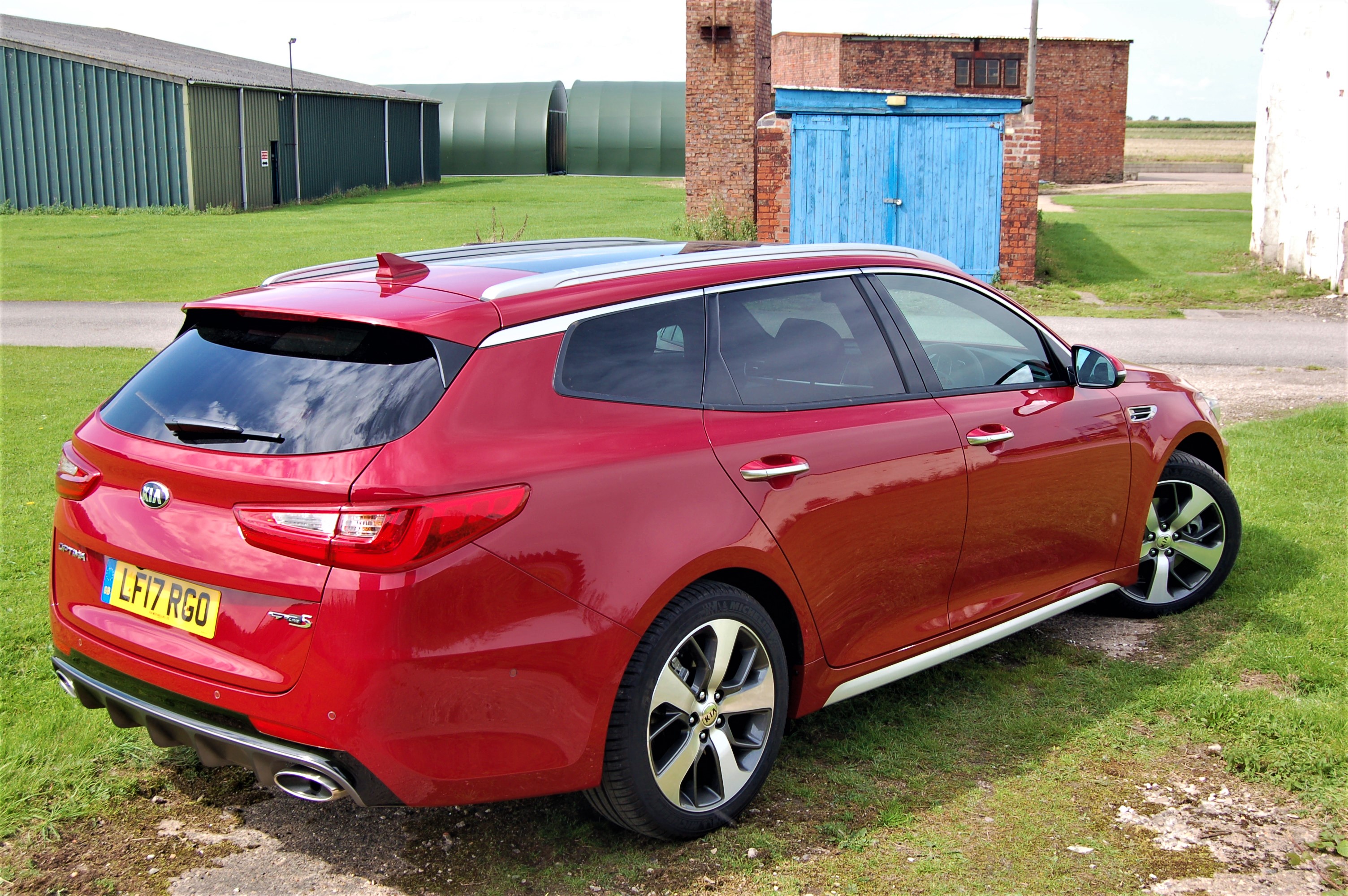 It could be asked, do we actually 'need' all this stuff? A 360-degree Around-View Monitor (displayed on the 8.0-inch touch-screen in the dashboard centre) might be slightly more convincing were the car's virtual image in the red of the test car and not silver…but that is a little thing. The Smart Park Assist System (SPAS for short) helps those people, who cannot drive, to park perpendicularly and parallelly, while also aiding their extrication from the same parking slots. Personally, I could live without those fripperies.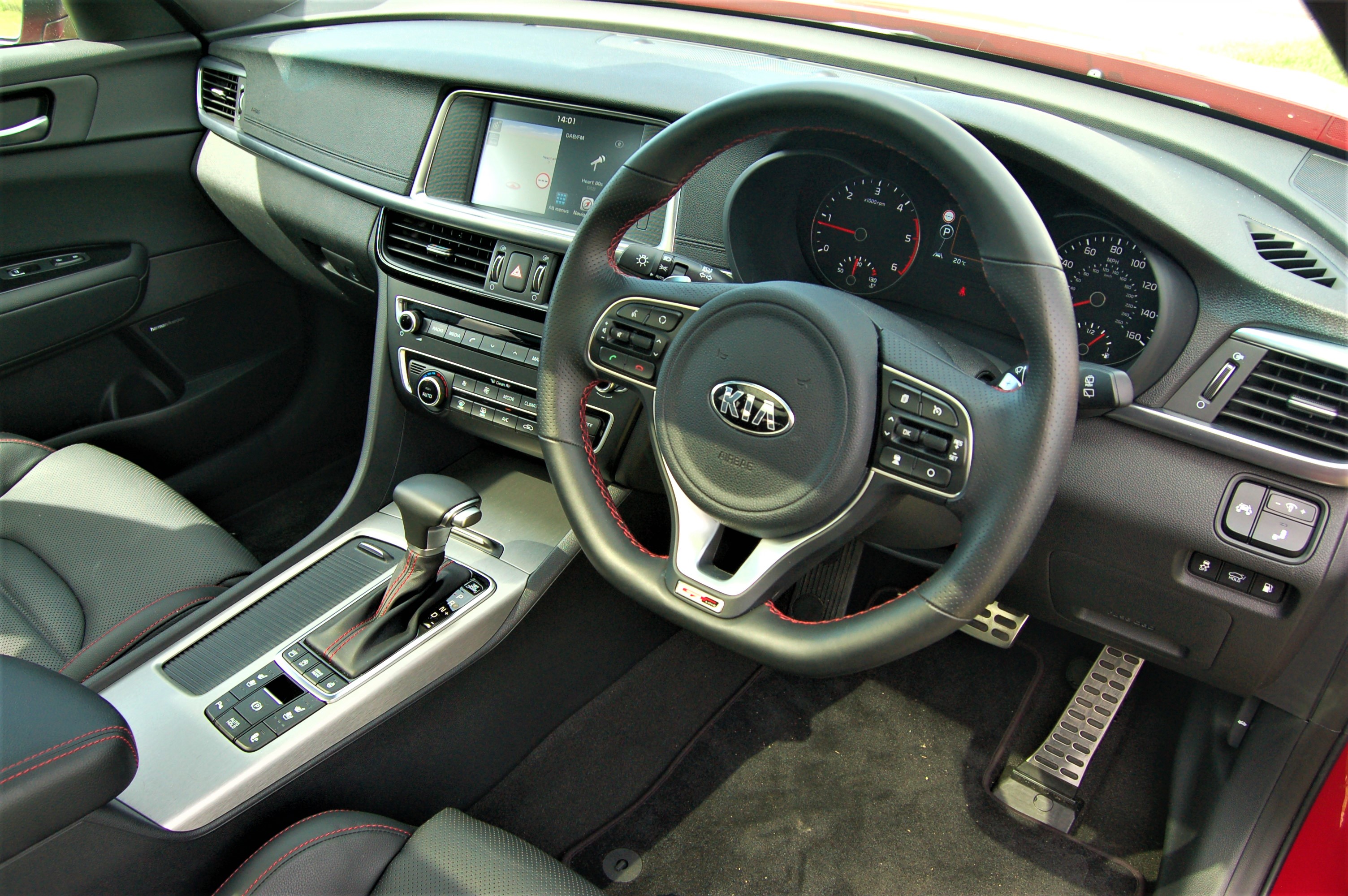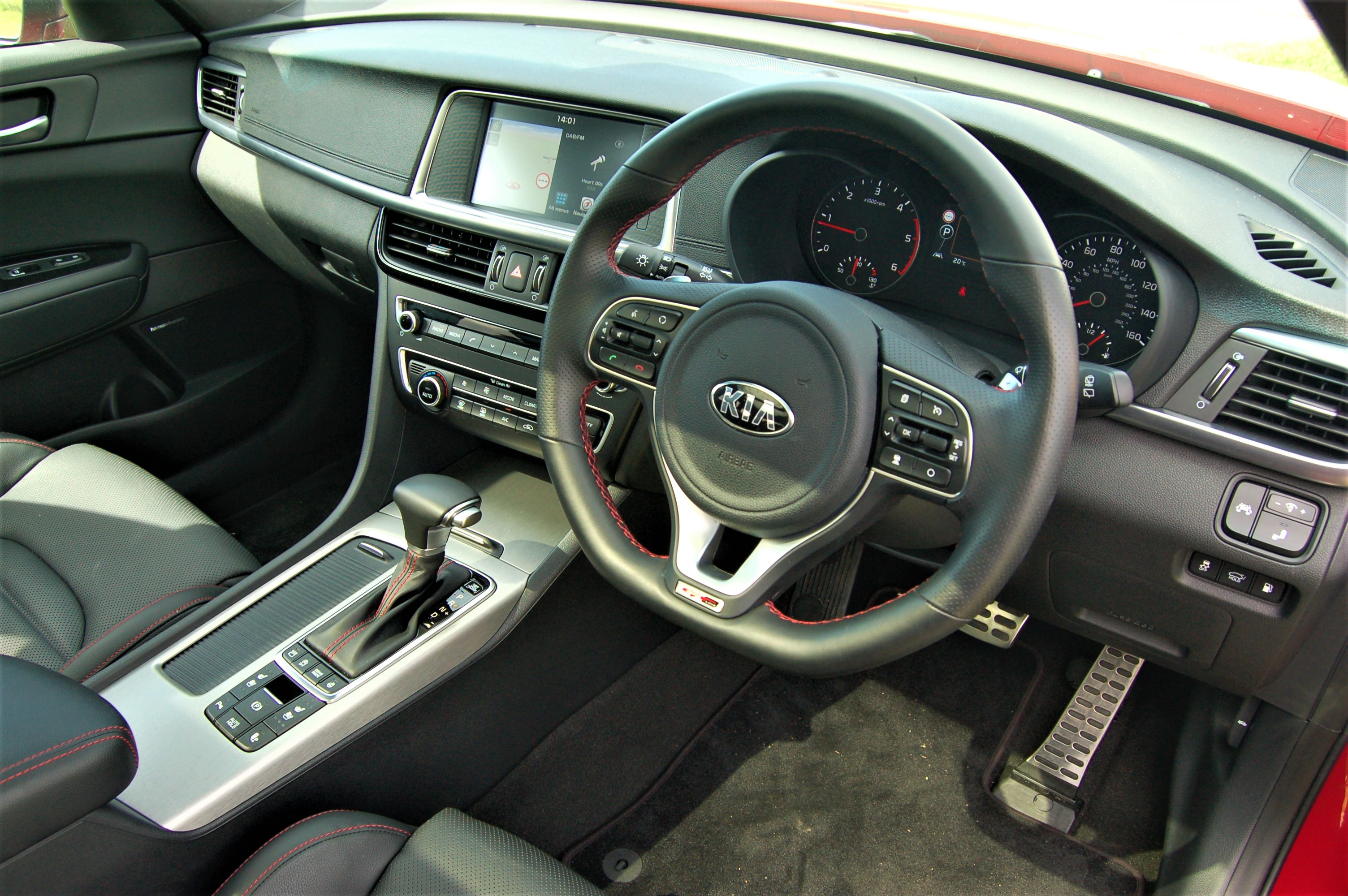 Yet, the chilled (and heated), bolstered leather, sports front seats are excellent at reducing core temperatures after an arduous shopping trip. I would keep them and I note that the outer rear pair of seats are also heated for greater winter comfort, another practical touch. Of course, the aforementioned central screen is also home to the Bluetooth connection to your mobile, which can be charged inductively (and wirelessly) on the rubber-based space at the head of the centre console. The same screen offers voice recognition that actually works (makes a change!), music streaming, sat-nav, climate access and a platform for the Harmon/Kardon hi-fi system. Yes. I quite like all that functionality, especially as it all works most logically.
The all-black interior is certainly in the GT-class, with velvety door pillars, a cushy headlining and a soft-touch (faux-stitched) dashboard moulding and, if you think it might be a bit too black in the cabin, an electric roll-back headlining reveals not just a near full-length glazed roof but also a half-length tilt and slide sunroof; a most useful bonus. While the beautifully hide-wrapped steering wheel features a mass of buttons and switches, it also situates the up-and-down gearbox paddles behind its cross-spokes.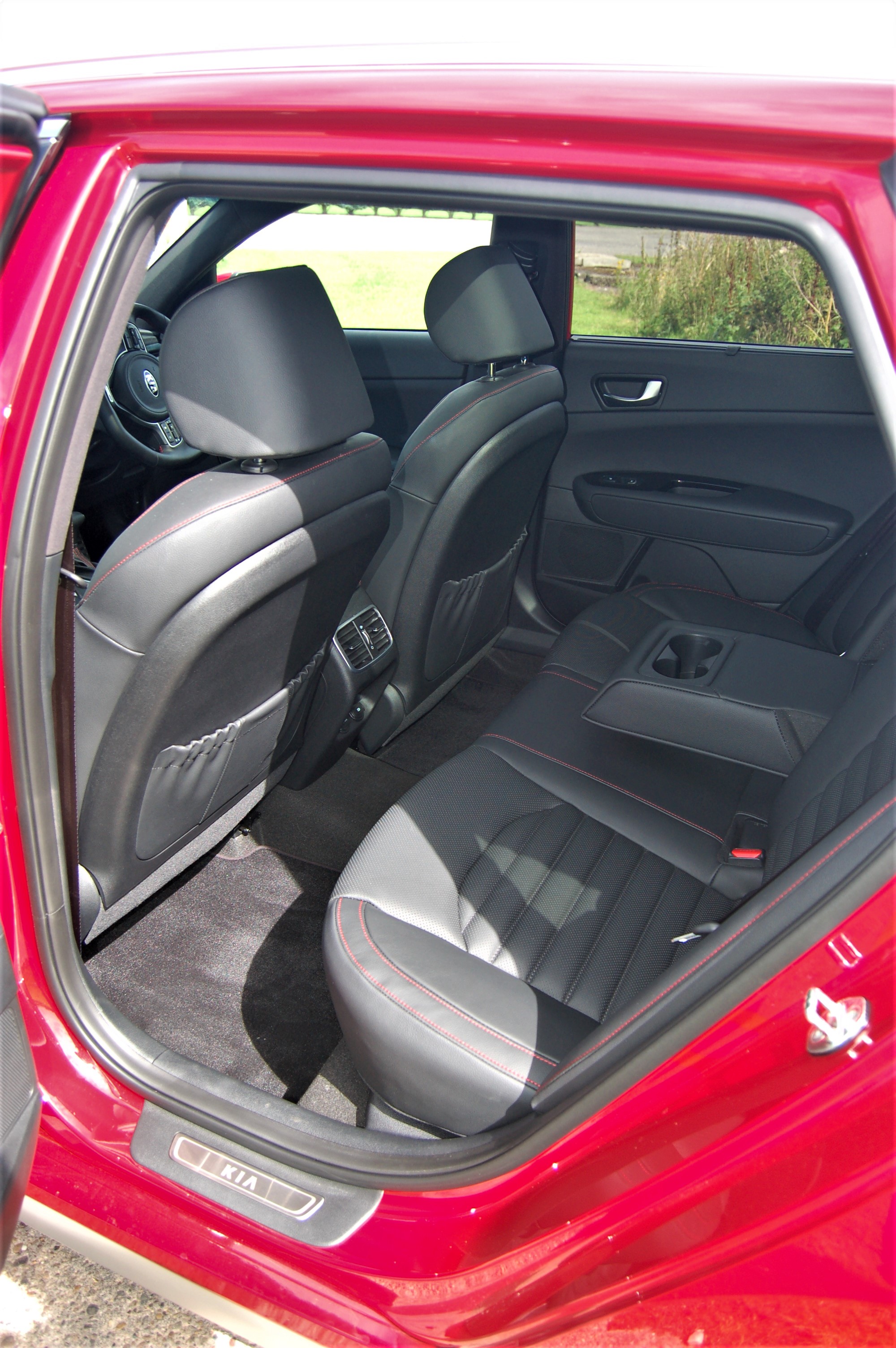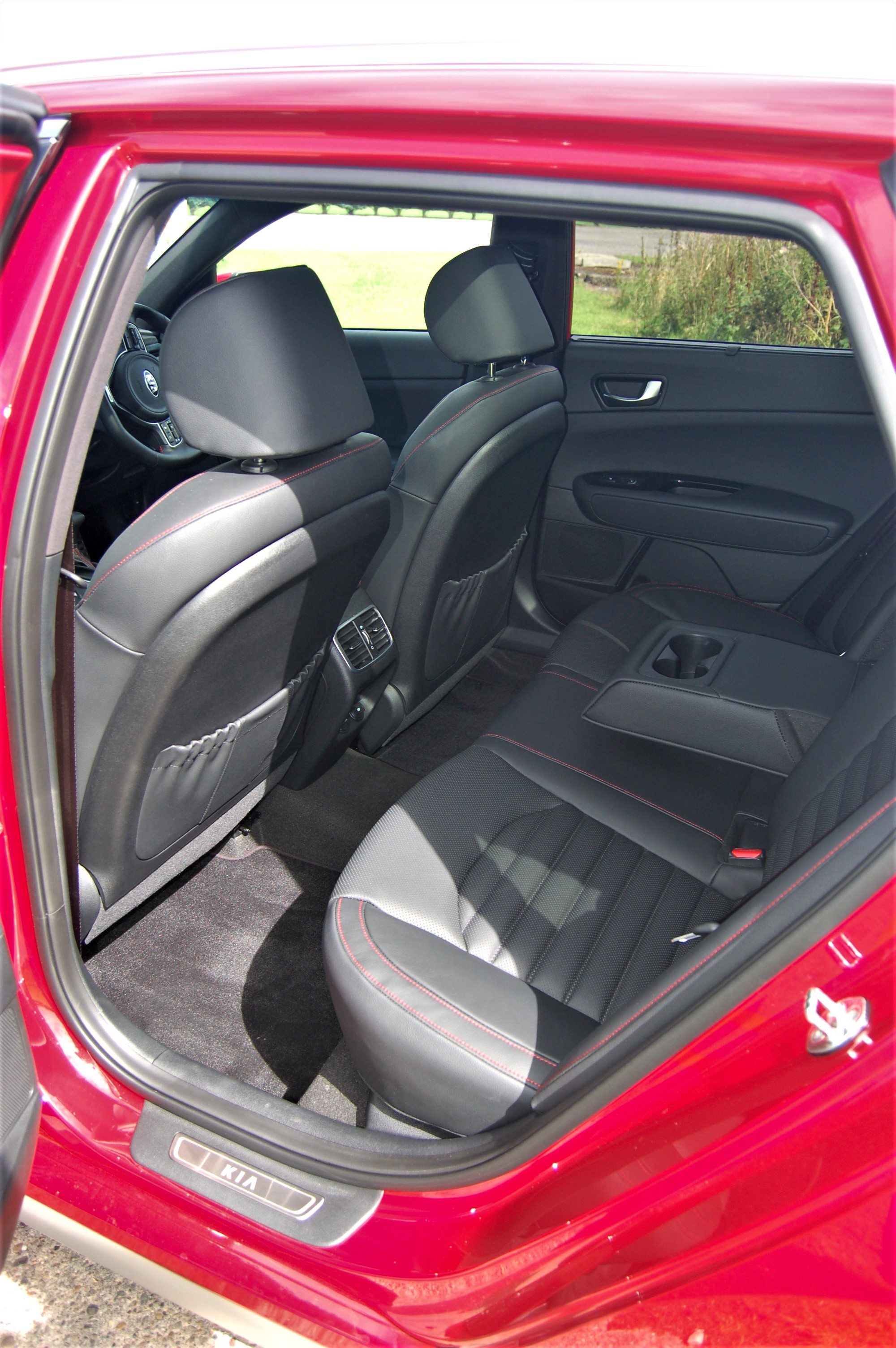 Kia manages this package with judicious care, as there is not just a tremendous range of both steering column and electric front seat adjustments available, to create a very comfortable space, but there is also copious rear leg and headroom and the backs of the seats fold 40:20:40 with just one touch, to expand the boot space from a good 552-litres to an excellent 1,686-litres, as well as two well-proportioned underfloor trays. Should you need a roof rack, as a lot of estate car users seem to, the optional extra item clicks readily into the alloy roof rails.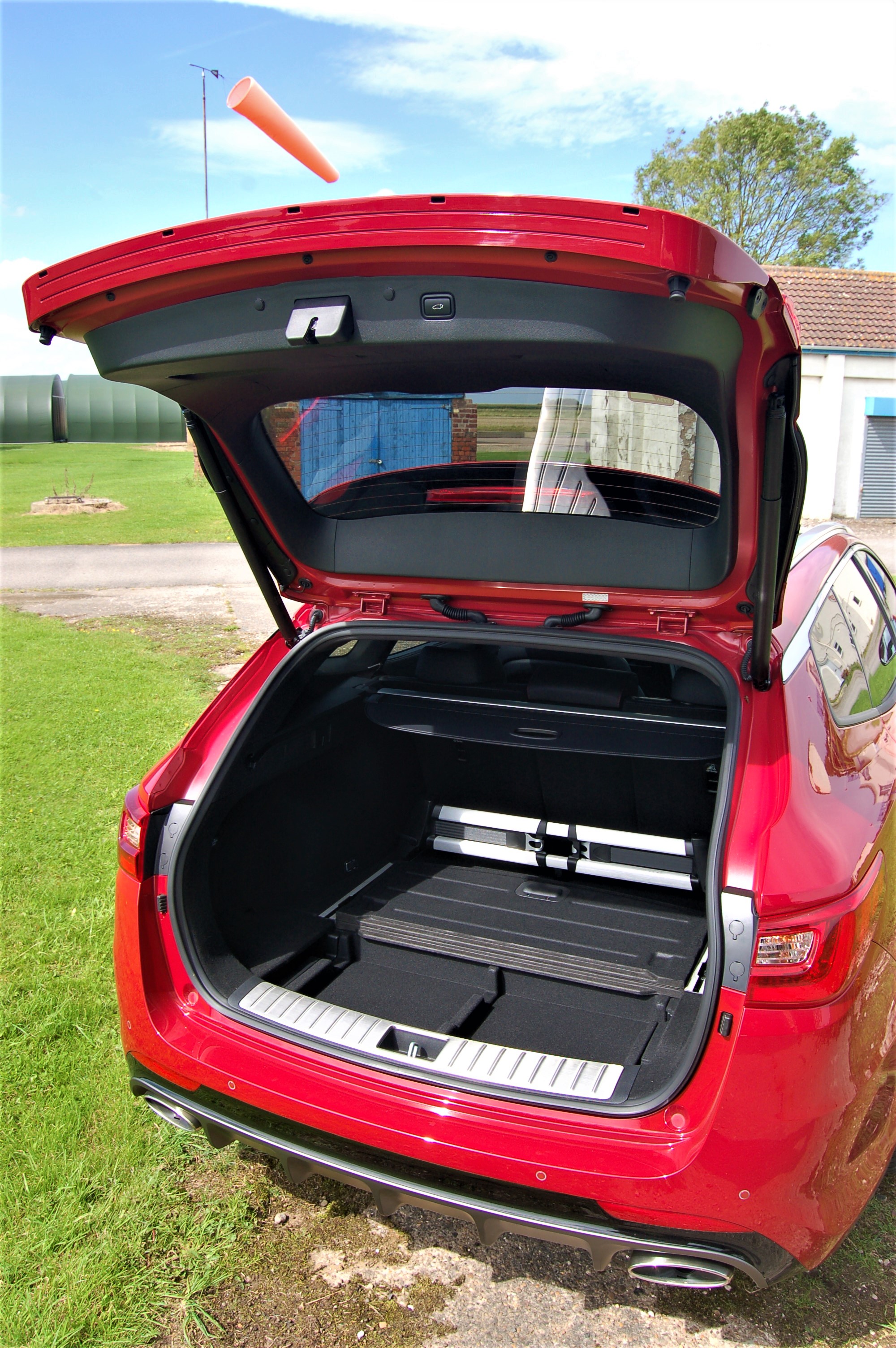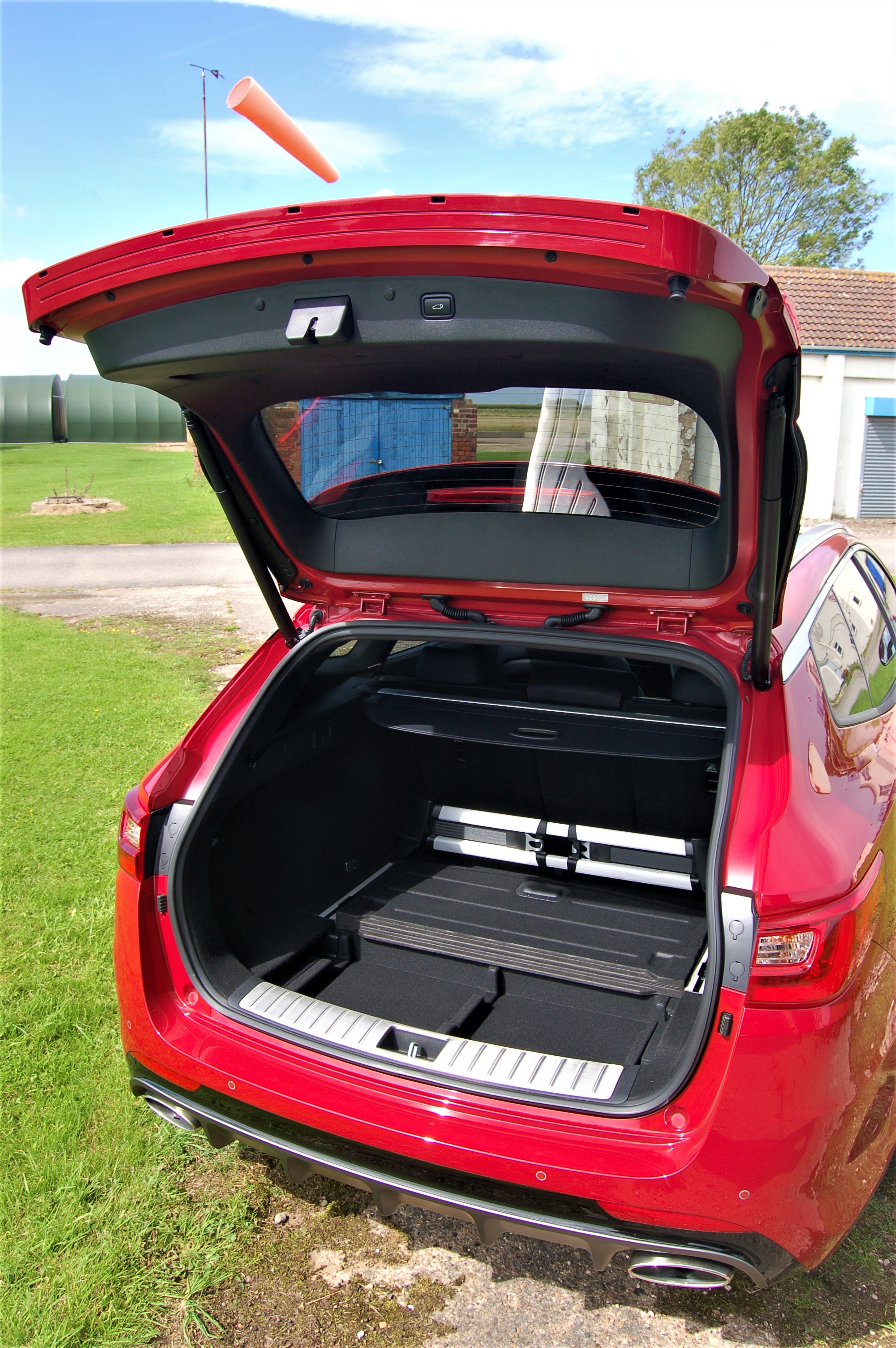 When you view the Optima's sleek exterior, it is hard to believe that the car is so practical inside. Nothing has been sacrificed by the design team. In addition, a power tailgate operates when the key fob comes into close proximity for more than three seconds. A sliding load retention system is fitted on rails in the boot floor, which is virtually flush with the rear bumper, thus affording easy access.
While I am sure that Kia-Hyundai pays its design boss, Peter Schreyer, exceedingly well, I would venture to suggest that he has earned his crust. He has given both brands highly recognisable design signatures but, more importantly, he and his teams of stylists do not do what many other stylists do and, either run out of budget by the time they reach the back-end of the model, or work on the premise that the snout should be the most prominent feature. The Optima SW's profile is svelte and classy. Rather than over-endow it with magpie lures (chrome and bling), those applications are subtle and enhance the overall styling.
Although a lot of lightweight but high-strength steel has been used in the Optima's make-up, it still tips the scales at a moderate 1,635kgs, before you add fuel, people and their baggage. Thus, it is all the more surprising that Kia has opted not to increase the power, or capacity, of its 1.7-litre turbo-diesel engine that is fitted across the Optima range and there is no petrol option either, unless you choose the Plug-in Hybrid Optima saloon (sampled a few weeks ago), with its 202bhp, 2.0-litre petrol unit.
The truth is that Kia knows where it can register its cars. It realises that a segment of the business vehicle market will choose the Optima and it wants a low-tax reason to do so. In addition, its demands for diesel are almost undiminished, unlike the petrol-focused private sector. Developing a mere 139bhp but a more substantial 250lbs ft of torque, an Optima SW can despatch the 0-60mph sprint in around 10.7 seconds, before topping out at 124mph. It emits 120g/km of CO2, which means a first year road tax levy of £160, reverting to the standard rate of £140 annually thereafter. Its Official Combined fuel economy is given as 61.4mpg but I attained closer to 43.0mpg in a week-long mix of motoring conditions.
This particular model drives through a seven-speed, twin-clutch, automated gearbox, which operates very smoothly, with seamless up and downshifts that emulate the driver's style. When selecting the ratios manually, the shifts are equally speedy and slightly more 'thumpy', should the driving mode switch be set to 'Sport', when the throttle mapping, shift timing and steering weight are also accentuated. I found that the car worked best in 'Normal', or 'Eco' settings.
Its suspension damping remains unaltered, mainly because the car uses twin-tube, gas-filled struts all-round, which are firm enough to enable agile handling and a fluent ride quality, while also gifting the Optima SW the highest level of straight-line stability that I have experienced on a family car for ages. It has to be felt to be appreciated but it is impressive and supported by electric power steering that reacts telepathically to driver inputs. Again, it is utterly superb.
Kia produces cars that please people. This version of the Optima is the most expensive one (bar the hybrid) but it offers that plethora of buttons that make the driver feel important and well-served by his transport. It looks superb and is impeccably well-assembled. There are no rough edges and no shortcuts have been taken to make this Optima Sportswagon feel no less than a truly special acquisition. Its running costs make modest demands on the driver (or his company) but it is certainly not expensive to run. Yes, Kia has moved onwards and upwards in the automotive world. Does that warrant its over-£30k price tag? No, not in my book, but it would not stop me from contemplating 'ownership', as long as the monthly rate remained affordable.