With a towing capacity of 3.5-tonnes allied to a load of 1.0-tonne on its load deck, suggests Iain Robertson, the latest and fancier version of Isuzu's pickup features a new smaller capacity turbo-diesel engine that presents some taxation benefits.
'BLADE'! A model name emblazoned loud and proud on its dashboard display screen and projected into puddles beneath both front doors, with illuminated kick-panels in the sills, while mostly unexpected of an agriculturally-leant pickup truck, also discovering that there was a £375 carpeted floor, albeit of quite rugged construction, beneath its stylish, roller-lidded rear deck, hinted that Isuzu is seeking a somewhat different type of buyer to normal expectation.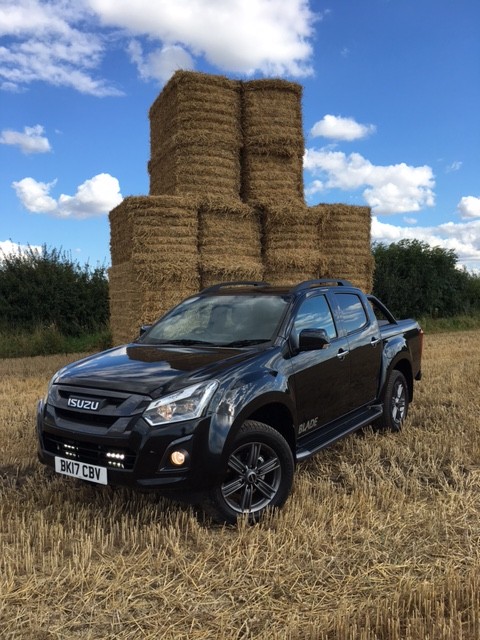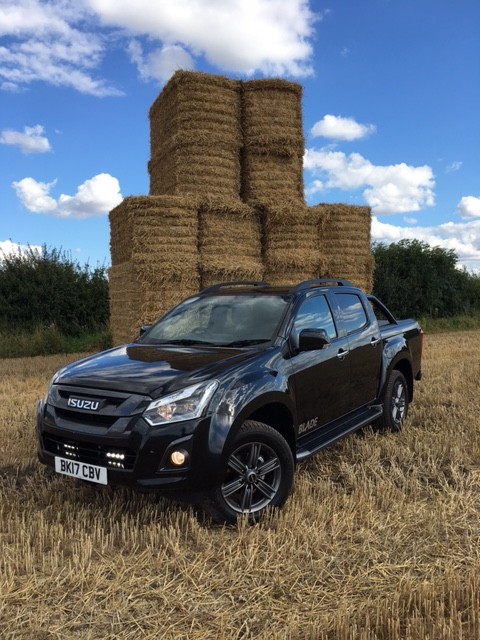 The transport doyen of the British farming community, to which most agriculturalists swear allegiance, Isuzu has never replaced its once staunch off-roader's companion, the Trooper…not in our market anyway. Yet, it has been active in the pickup sector for the past several years, its key attraction being a moderately low entry-level price list, although, accompanied by a fairly basic trim quality, it could be suggested that only farmers might entertain the D-Max.
To be fair, they would have good reason. Isuzu can boast a reputation for total dependability that almost puts Toyota and Lexus to shame. There are members of that august countryside profession, who refuse to relinquish the ignition keys (most of which are actually jammed in the steering wheel barrel) of their esteemed Troopers and it is not unusual to spot the odd, rust-dripping, cracked windscreen, metallic-brown example propped against a kerbstone, at local farmers' markets, on a Wednesday morning, all around the UK. Its air-con may never have been troubled into operation and its rear seats may have given up the strain of carrying straw bales years ago but the old Isuzu labours on.
Much of the repute could be lain fairly at the door of its amazing around 3.0-litre twincam diesel four-pot…there were 3.0, 3.1 and 3.2-litre engines available at various times during the model's life. However, a nasty rollover claim made by a North American consumer magazine, which was proved subsequently to be quite untrue, damaged Isuzu's brand reputation irreparably. No such issues arose in Blighty.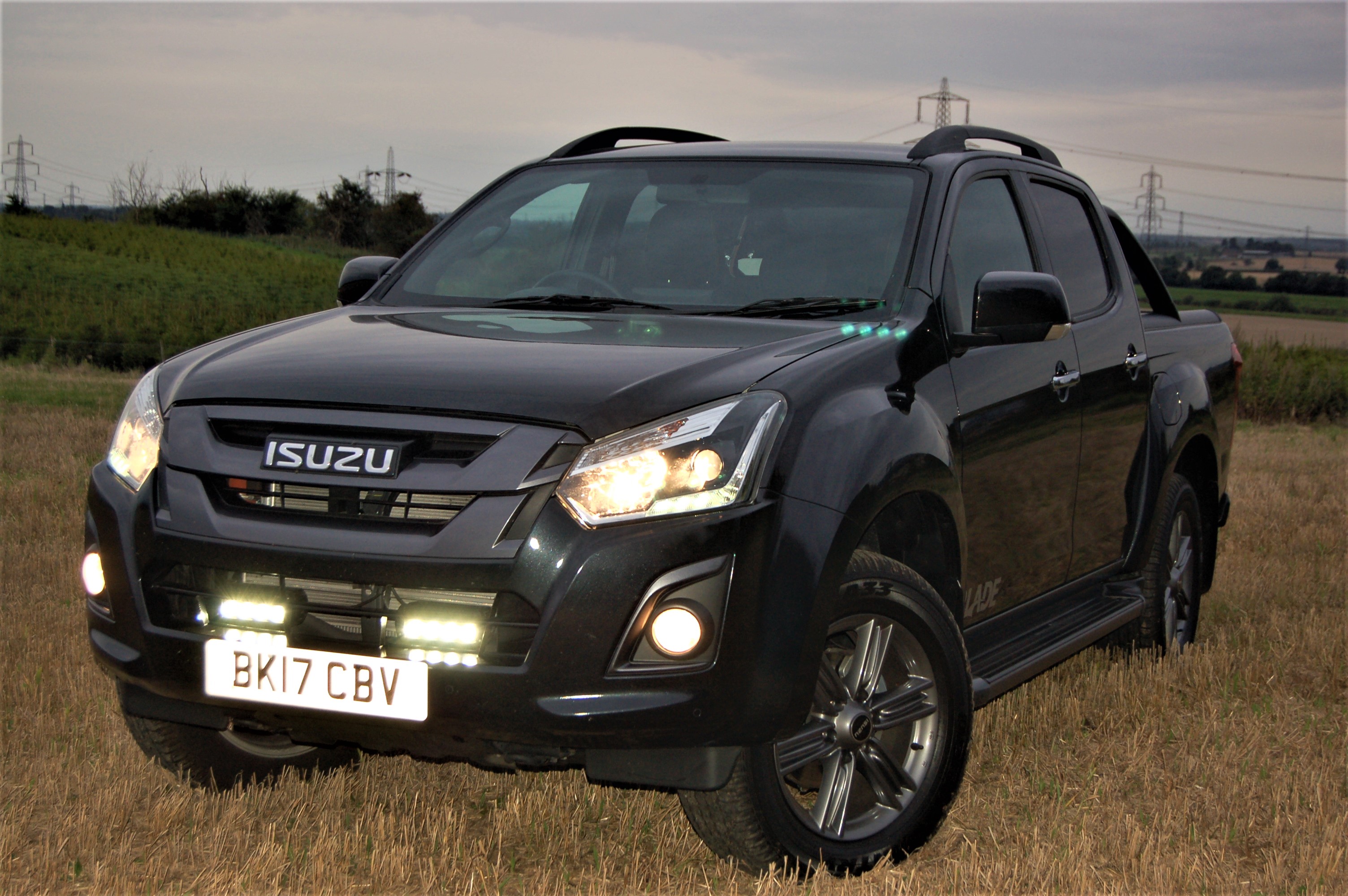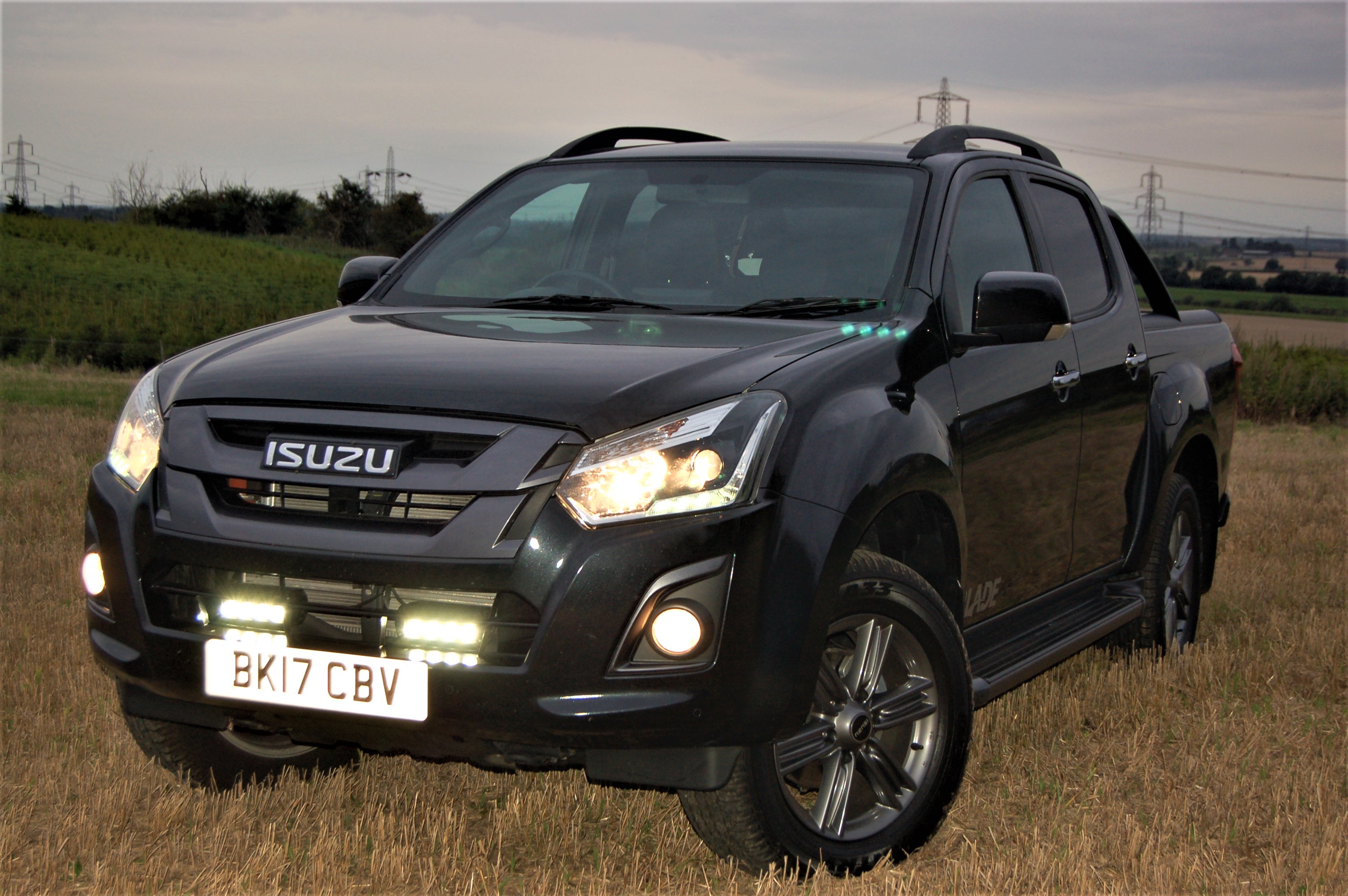 Naturally, there is a line-up of D-Max models that start at the aforementioned, bargain basement price level of £15,749 in pre-VAT, two-wheel-drive, single-cab form. The all singing-and-dancing Blade alternative, complete with automatic transmission and double-cab body weighs in at a whopping £33,541, which reduces to £27,999, when the tax element is removed; an important figure for users writing-off vehicles against taxation but a costlier proposition for those that cannot.
Mind you, the pickup scene is a hectic and competitive one, so 'market pricing', my great bugbear, plays its customary role in over-pricing some models that can be discounted down to more acceptable deal levels. Only recently, I have sampled top-spec Toyota and Mitsubishi trucks and, to be frank, their manufacturers do take advantage of the market's acceptability of heavily-loaded vehicles…and, once again, I do not mean in load-space terms.
Clambering up and into the hide-covered and stylish Blade model driver's seat is made easier by the A-pillar mounted grab-handles and, for those occupants with shorter limbs, the in-built side steps. Interestingly, complete with an extensive range of fore-and-aft, up-and-down adjustments of both seat and steering column, obtaining a comfortable and accommodating driving position is consummately easy. There is no height adjustment for the front passenger seat though, which does limit its carrying capacity a little, although comfort levels are excellent.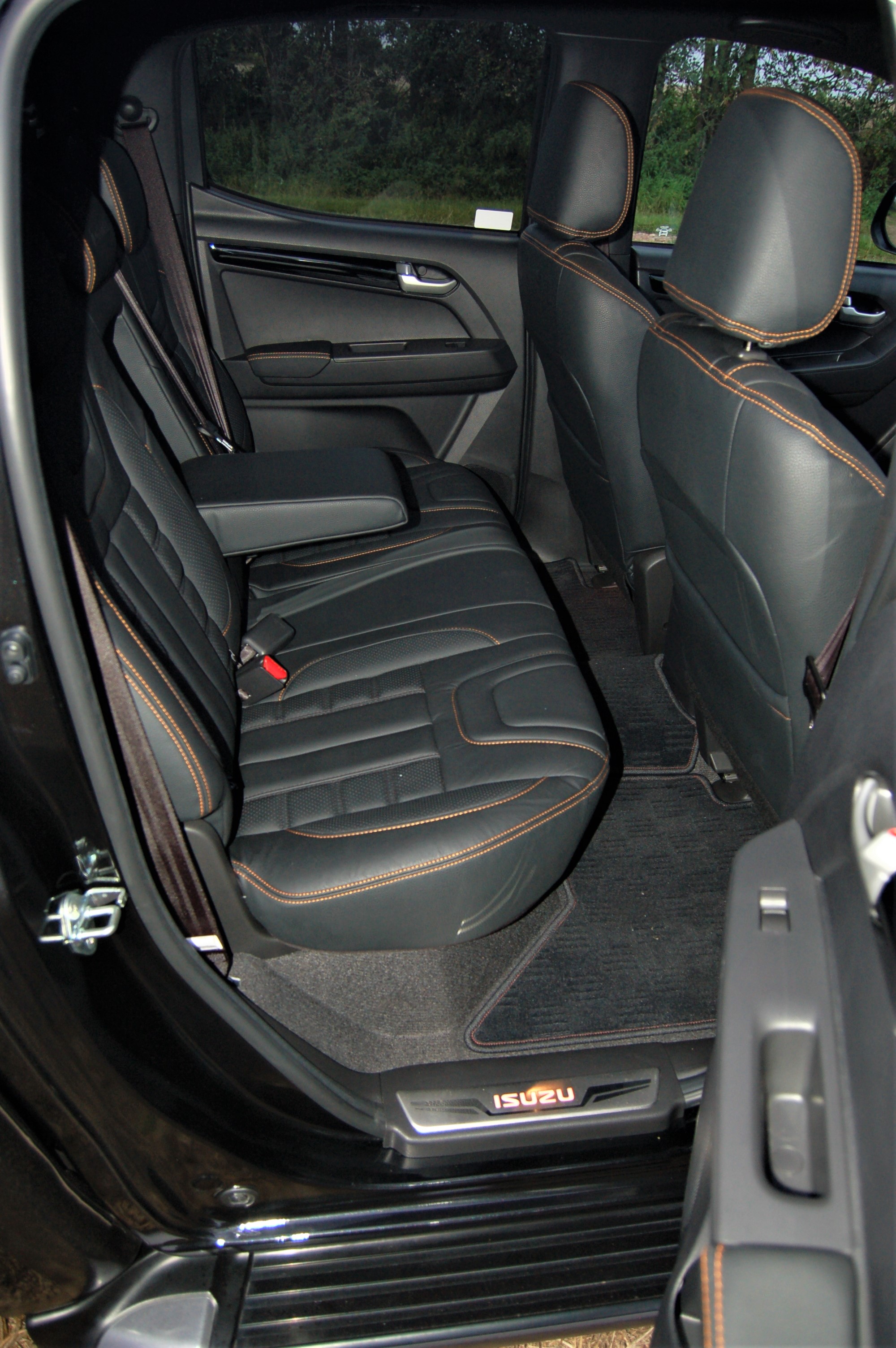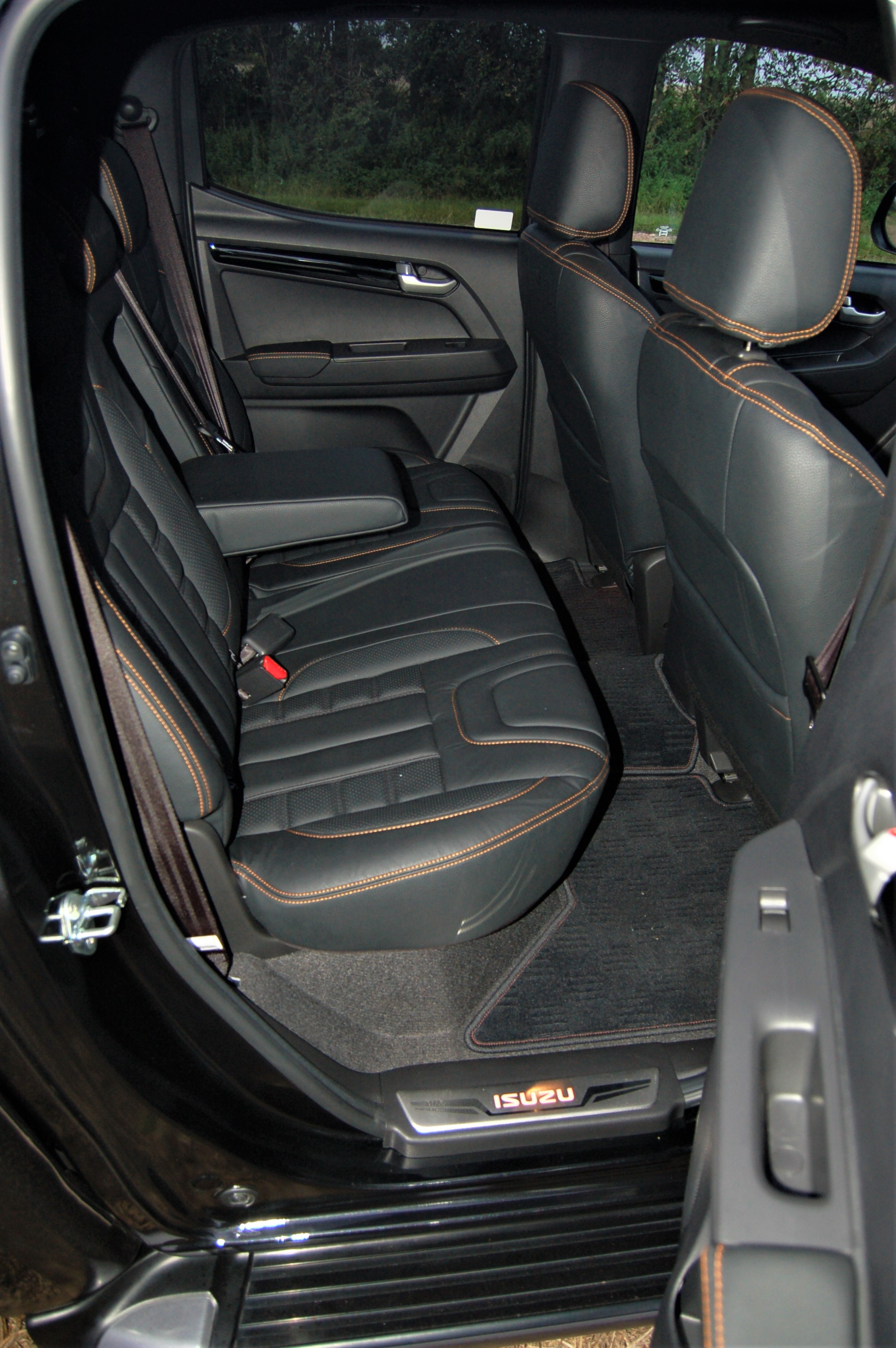 There is also copious leg, head and shoulder room in the rear bench, which also features a useful central armrest. As is customary in this class of truck, the rear seats can also be reconfigured to enable greater in-cab storage. Confronted by a broad expanse of plastic dashboard moulding, were it not for the matt finish, the sea of grey would look interminably low-rent. That it does not is a testament to Isuzu's trim design team and it looks far better and of higher quality than a Ford Ranger, even paling the efforts of the aforementioned Toyota and Mitsubishi models.
It is usefully styled, with a twin-box set-up ahead of the front passenger and neat pull-out trays (that double as drinks-holders) at either end of the dashboard. Orange is the spot colour for the Blade designation and there are little spatterings of it around the interior (stitching and instruments), with sensible analogue speedometer and rev-counter dials split by a reconfigurable digital read-out. Even the 'after-thought' main touch-screen looks more in-built (which it is) to the top-centre of the dashboard than some of Isuzu's rivals' efforts. It provides the truck with an impressive array of connectivity, as well as serving sat-nav, rear camera, stereo system and other duties. Located below it is the main control panel for the climate system.
There is no fuss made about the Blade's off-road capabilities. A simple rotary dial selects 4WD 'on the fly', or the Low Ratio set-up, which demands that the vehicle be stopped to select it. Most soft-roading duties can be carried out in 2WD and, on the sole occasion I needed 4WD, it operated faultlessly and pulled the truck up a moist grassy bank without drama.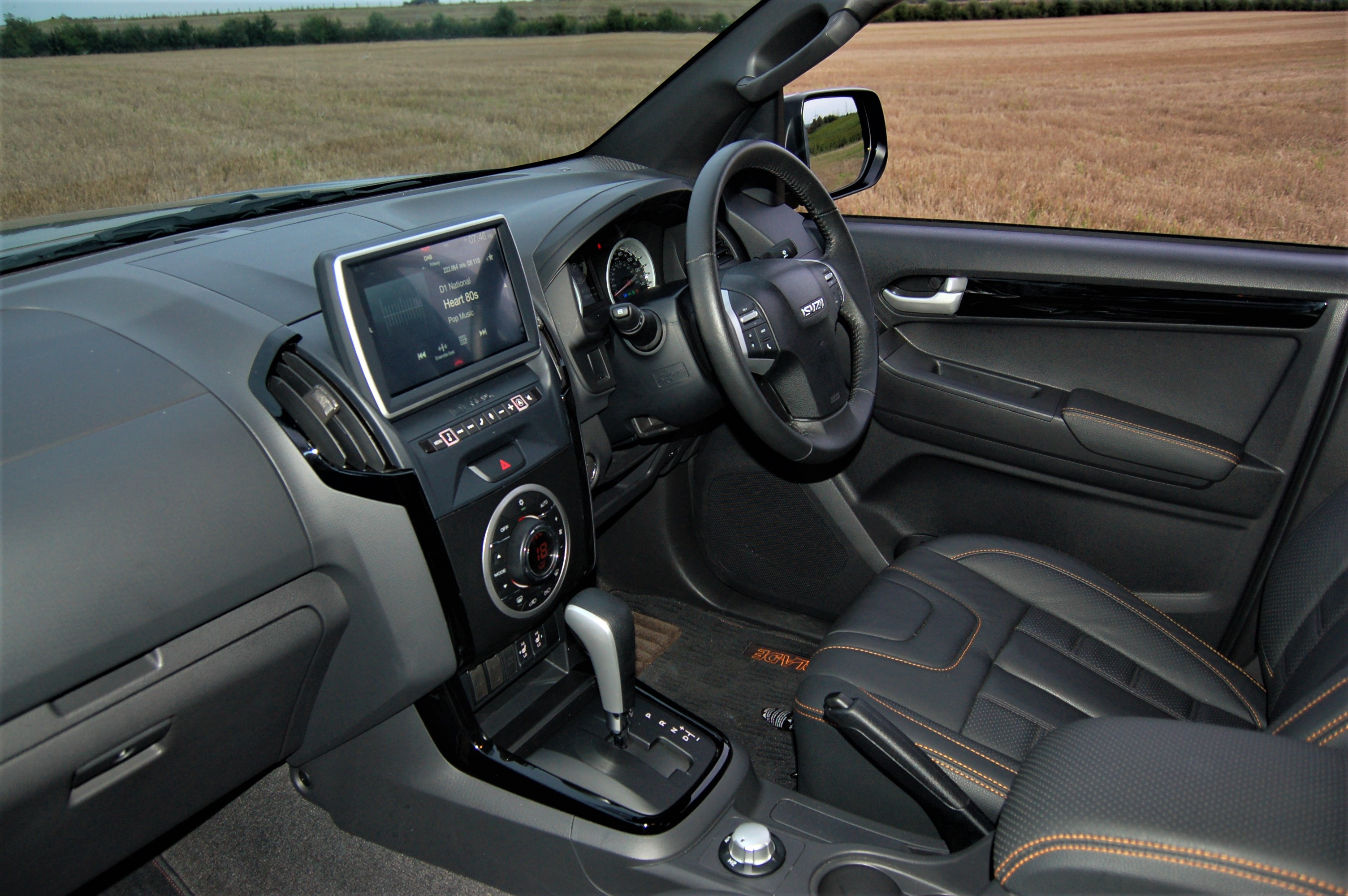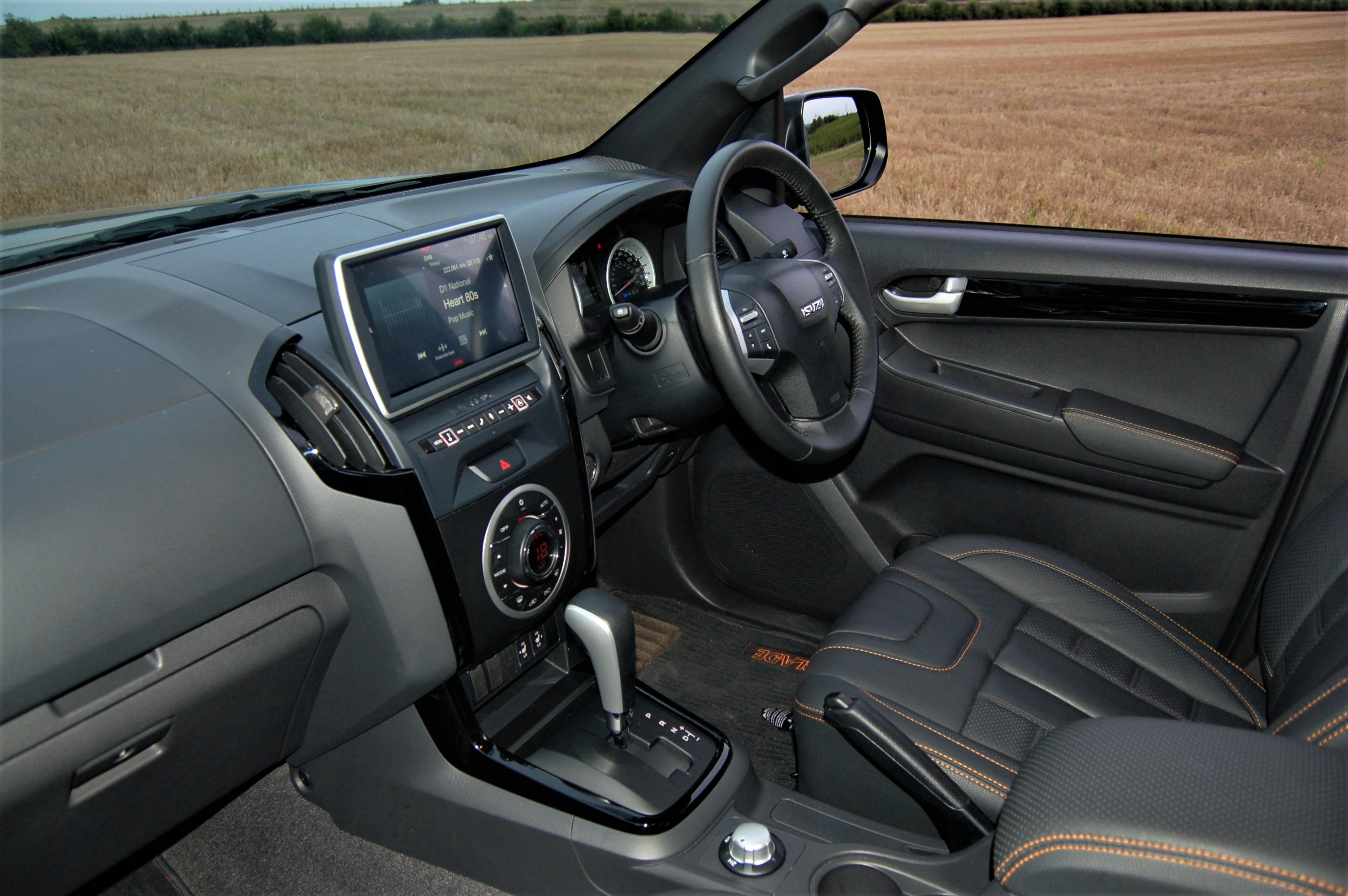 However, one of the most impressive aspects of the D-Max lies in its thorough wieldiness. The hide-wrapped steering wheel provides an assured grip for the driver's fingers but the power steering does not load up, when needing full-lock and it reacts speedily and faithfully to driver input. Even more impressive are the truck's on-road manners, despite its cart-sprung rear axle, which might normally create a lot of pitching and bucking, notably when it is in an unladen state. It simply does not do so and the ride quality is both exceptionally refined and supplely compliant. Unlike some other trucks, the brake balance has been set-up to work with the traction control system, which restricts rear wheel lock-up, when the load deck is empty. It is also clear that the 'Armadillo' load bay protective insert and the padded 'carpet' have a major sound-deadening impact overall.
The on-road 'feel' is superb, putting the Isuzu on the top rung of the fancy pickups that I have driven over the past couple of years. Less challenging to the driver, the Isuzu benefits from not feeling as though the next road surface imperfection would result in an unexpected trip through a hedgerow. Unable to sample its load carrying capabilities in the time I spent with the truck, it will carry a Euro-pallet between the sides of its load deck and the rear lid, which is exceedingly heavy, is aided by a gas strut to achieve a 'soft'-open, when required. It locks with the central locking for added security.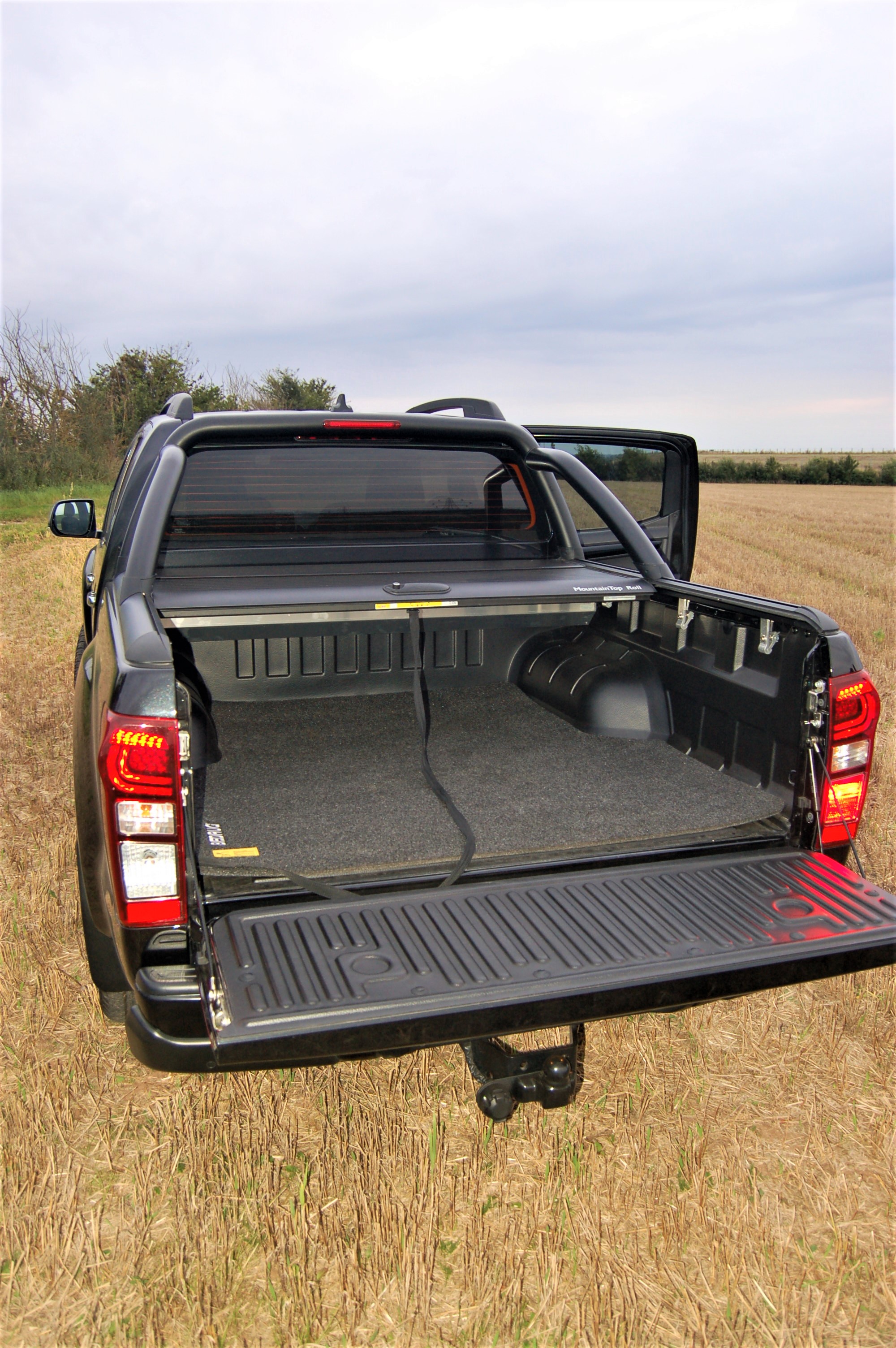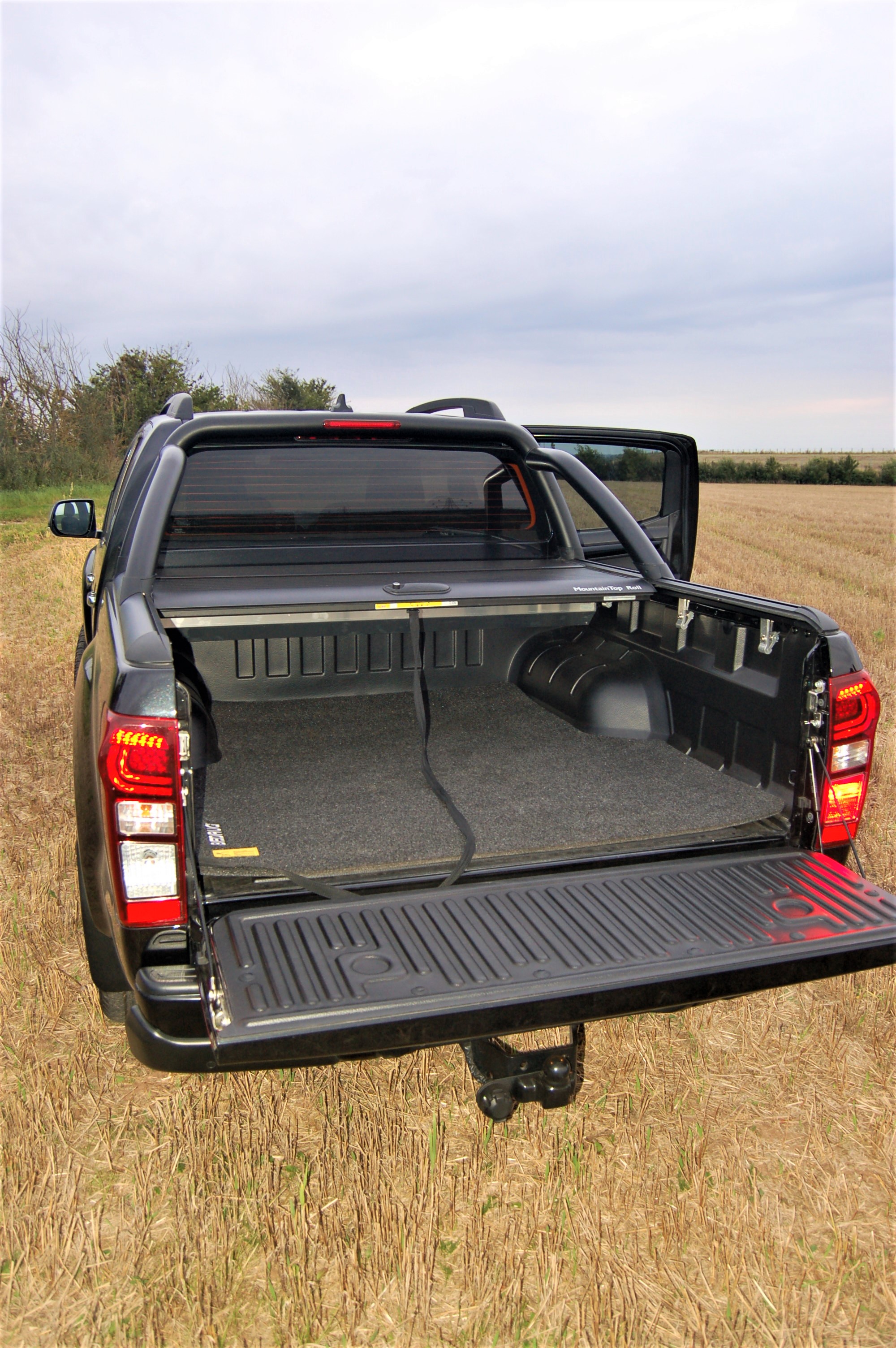 Considering that most trucks seem to be incapable of providing strident performance, the delivery of the 1.9-litre unit in the D-Max is simply outstanding, especially when you realise that it is driving through a six-speed auto-box, which does infer a damping effect on any urge. Yet, the Blade can clock the 0-60mph dash in around 12.0 seconds, before topping out at a most respectable 112mph. Its power output is given as 161bhp, while its torque output is rated at a healthy 266lbs ft at around 2,000rpm. Yet, it revs cleanly and willingly, emitting a not unpleasant bark as it approaches 4,000rpm, when applying the transmission 'kick-down'.
Its CO2 emissions are rated at 205g/km, which equates to a first-year road tax bill of £1,200, although it reverts to a more reasonable £140 annually thereafter. Bear in mind that to qualify as a low-taxation business vehicle it must be proven that private use is merely incidental, because, otherwise, the Blade will be treated like any company car and taxed accordingly, albeit at a markedly lower rate due to its 'commercial vehicle' status.
If there is a slight downside from downsizing the D-Max's engine from 2.5 to 1.9-litres capacity, it will lie in the fact that, even though the specification figures are broadly similar, the smaller unit is having to work proportionately harder for its crust. As a result, its Official Combined fuel return of 36.2mpg, while attainable with care, is all too easy to reduce to less than 26mpg in normal motoring. Naturally, attach a trailer, or even fit an on-deck demountable caravan body, to the truck and 20mpg will become the norm. While that might not be a deal-breaker to some users, I can imagine that even the costlier VW Amarok, which promises slightly better fuel economy, might prove to be a more attractive option, not least because of a stronger residual value too.
However, the Isuzu benefits from a five years, 125,000 miles warranty, with an annual (12,000 miles, or 24 months) servicing requirement, which enhances the proposition a bit more. There is no getting away from the fact that the Blade model is well-specified, with heaps of car-like details and a dynamic balance that is normally difficult to obtain in a pickup truck. Truth is, there is plenty to like in the Blade and I would agree with Isuzu that a tranche of company car drivers will be drawn to its LED-spots and privacy glazing, while they are able to take advantage of some taxation loopholes.
Handsome and excellent to drive, the Isuzu D-Max Blade, while hardly the new boy-on-the-block, does benefit in some ways from its new, 1.9-litre turbo-diesel engine. It is zesty enough and, with the automatic gearbox, is very easy to drive, although you need to be aware of its overall dimensions, as single car parking slots in multi-storeys and at the supermarket are pushed to accommodate its length. There exist better truck models, which are marketed at similar rates to the high-end Blade but the Isuzu is surprisingly charming from several viewpoints.