There is a lot to admire in the latest Audi e-tron, even though it carries a hefty price tag, suggests Iain Robertson, yet, very much a car of today, its hybrid technology is not merely fascinating, as it can prove to introduce a sense of fun to gaining frugality.
There are two distinct aspects that come to mind, when writing about this particular Audi model. One is food-related, while the other is somewhat more glamorous and movie-related, more of which in a moment. Personally, I like to think about hybrid cars in the same way I do the soya bean. You do not have to veer towards vegetarianism to be a soya fan and innumerable catering organisations have dipped into the soya supplement to stretch ingredients and earn additional profits…all without being forced into informing us. Eking out extra MPG is what hybrids do.
On the other hand, 'Tron', the Walt Disney movie, was a science fiction, action-adventure film that enjoyed modest success in 1982, when it premiered. It was revisited in 2010, with its stars, Jeff Bridges and Bruce Boxleitner reprising their roles in the Steven Lisberger production named 'Tron: Legacy'. The films have become something of a cult classic; the story-line involving Bridges' computer programming character being transported inside the software of a computer mainframe, from which he must escape. You might understand my diversion.
To be transported in an Audi 'e-tron' can be almost as involving for the driver, fortunately without the Hollywood sci-fi glamour. Yet, we live today in an era of transportation that 36 years ago simply did not exist, even in the fertile minds of novelists and movie producers, although carmakers were making early noises. Hybrid motorcars became a small part of the motoring scene at the turn of the Millennium. The first two, Honda Insight and Toyota Prius, were treated suspiciously by both the motor trade (that gave them shockingly poor residual/trade-in values) and car buyers (some of whom believed that battery conflagrations were inevitable). Even the car manufacturers were unsure of what the future held and how durable their tenuous efforts might be. However, with many brands turning to alternative fuel options, hybrid's prospects started to look increasingly attractive and major investments in the operationally safe technology were made.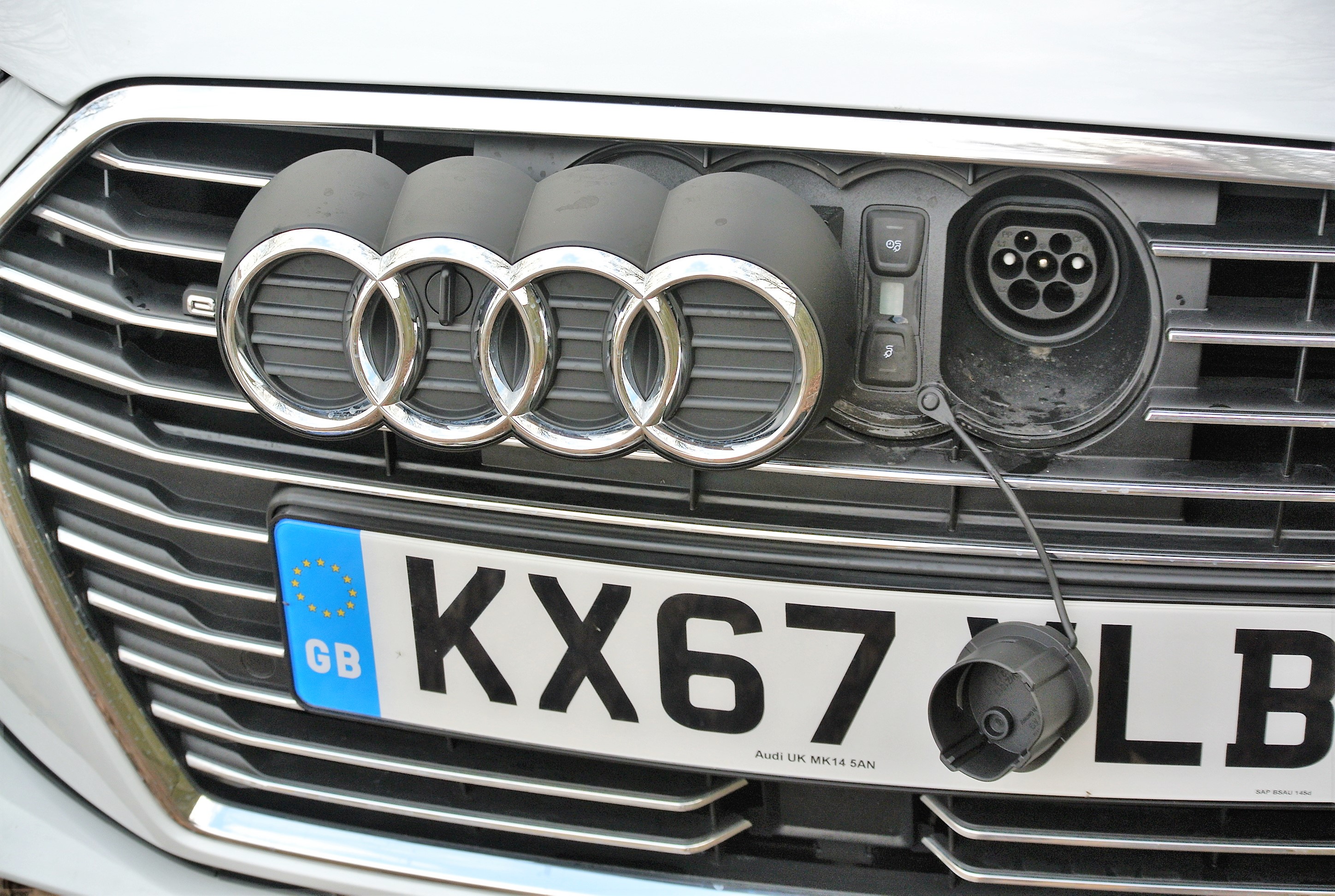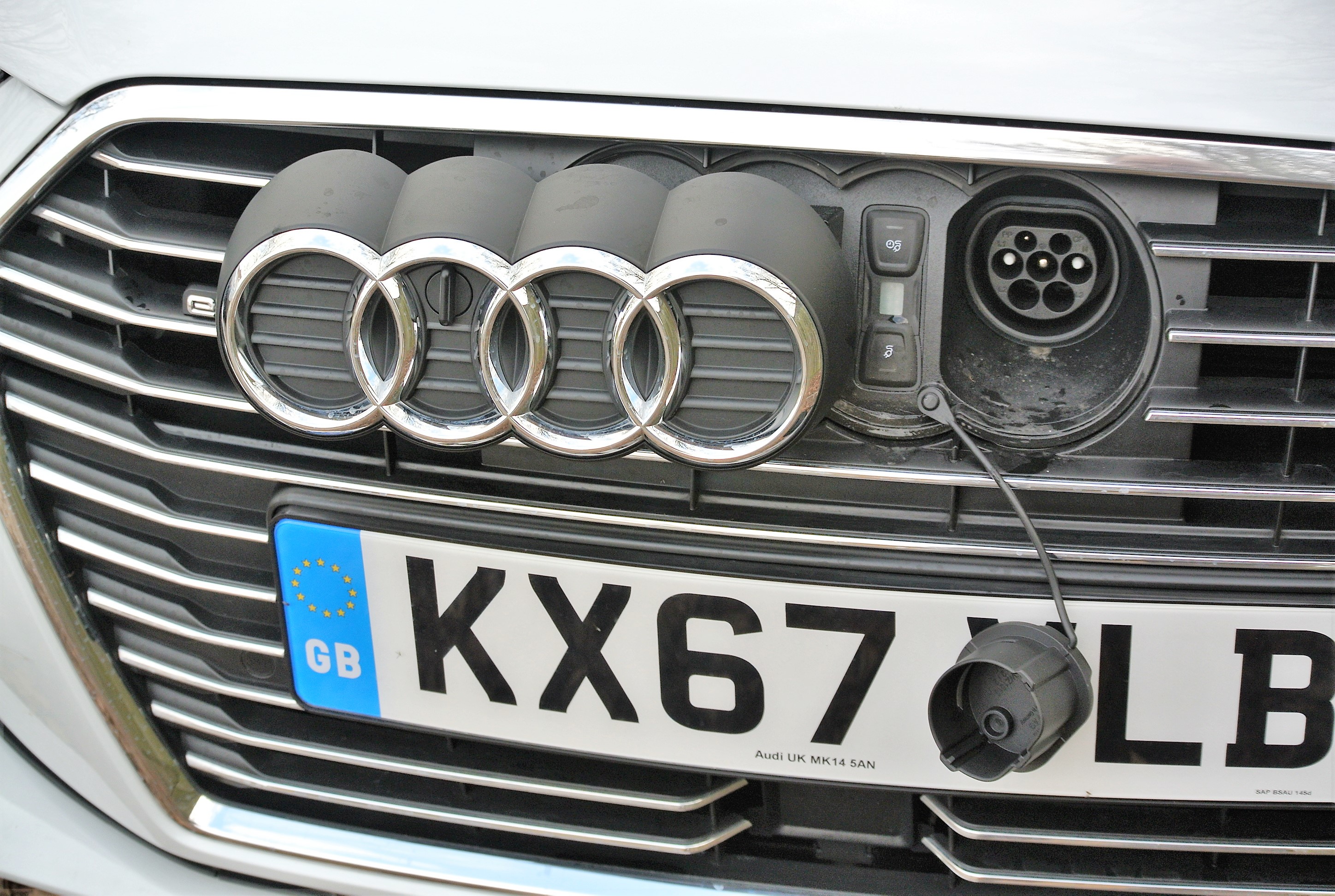 In Audi's case, as a tech-led carmaker, 'e-tron' exemplifies an application of sound petrol engineering, allied to a Lithium-ion storage battery system and an electric engine. Power runs through a modified twin-clutch, automated manual gearbox (DSG technology), with a third clutch that can decouple the engine and enable elements of freewheeling. The entire system is optimised for the maximum efficiency, which enables Audi to post a remarkable 166.2mpg on the equivalent of an Official Combined test cycle, while emitting a mere 38g/km CO2 (for business users, 5% Benefit-in-Kind tax), while not falling into a pure-EV, zero-rated classification. It is this 'soya'-style engineering that proves quite alluring and relieves EV owners of their inevitable mileage anxiety.
According to Audi, the car should present no ugly compromises. The smart A3 Sportback, 5-door body styling could never be described as 'ugly'. More importantly, Audi was determined that 'e-tron' buyers should never feel as though they are driving an 'oddity'. Therefore, embodying a sizeable amount of accessible technology into a largely familiar outline was the concept-turned-reality. To be fair, it is shared with the Q7 e-tron and both VW Golf and Passat GTE models and, when it comes to incorporating plug-in technology, flipping back the 'Four Rings' emblem within the radiator grille reveals its 'zero-emissions' bonus.
Plugged-in to a domestic supply, or almost any of the electricity stand-points dotted around the UK, and a notional EV-only mileage range of around 31 miles results. It takes only around two hours to recharge the compact battery pack. However, you are advised to watch the contents of the left-hand digital 'fuel tank' gauge set into the bottom of the instrument nacelle, as the heated rear window, air-con, stereo system and other electrically-powered aspects can 'glug' its contents far quicker than you might believe, reducing the potential range by half. Ironically, it is still drivable as an EV, with all of the congestion charge zone free accessibility and taxation benefits associated with it.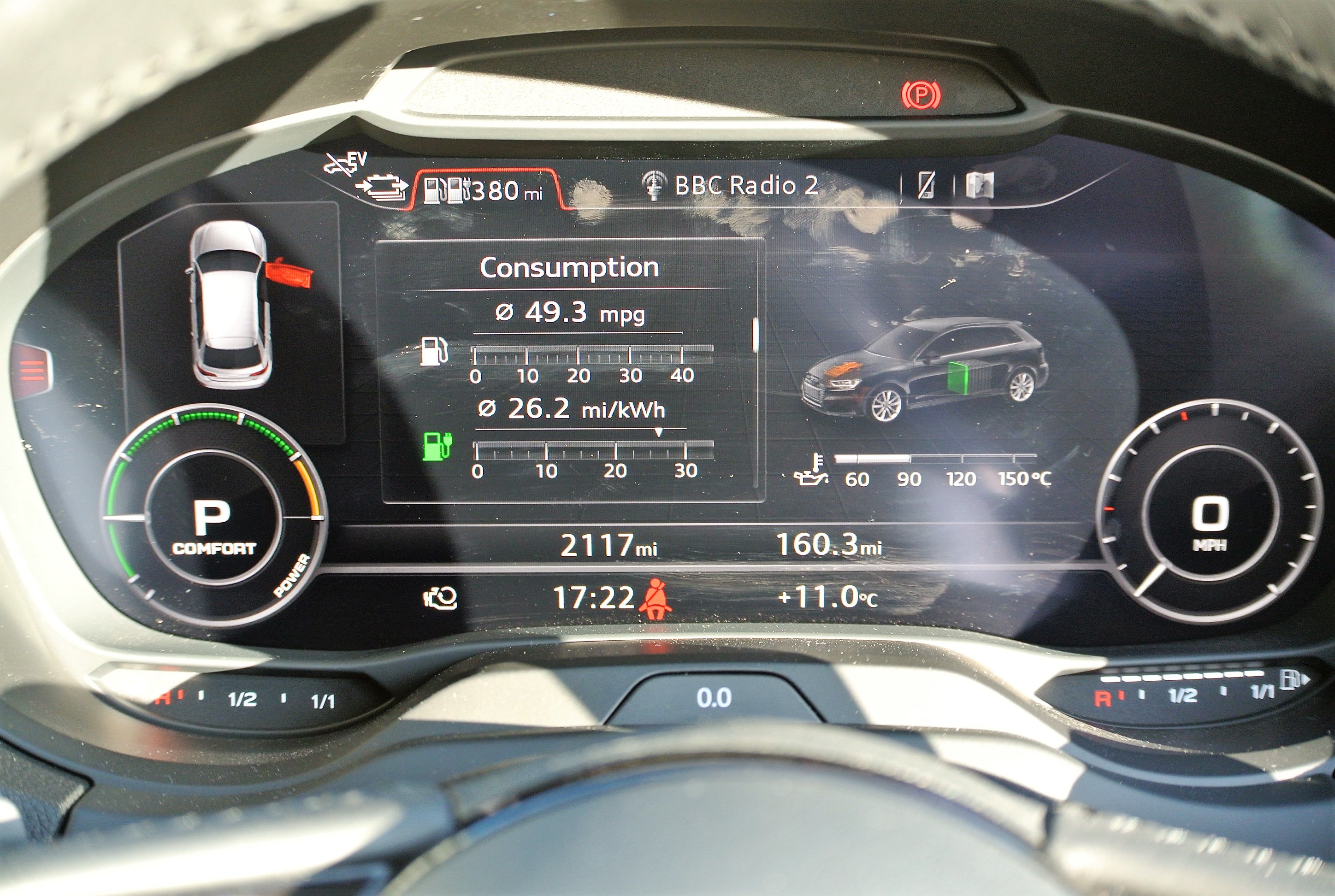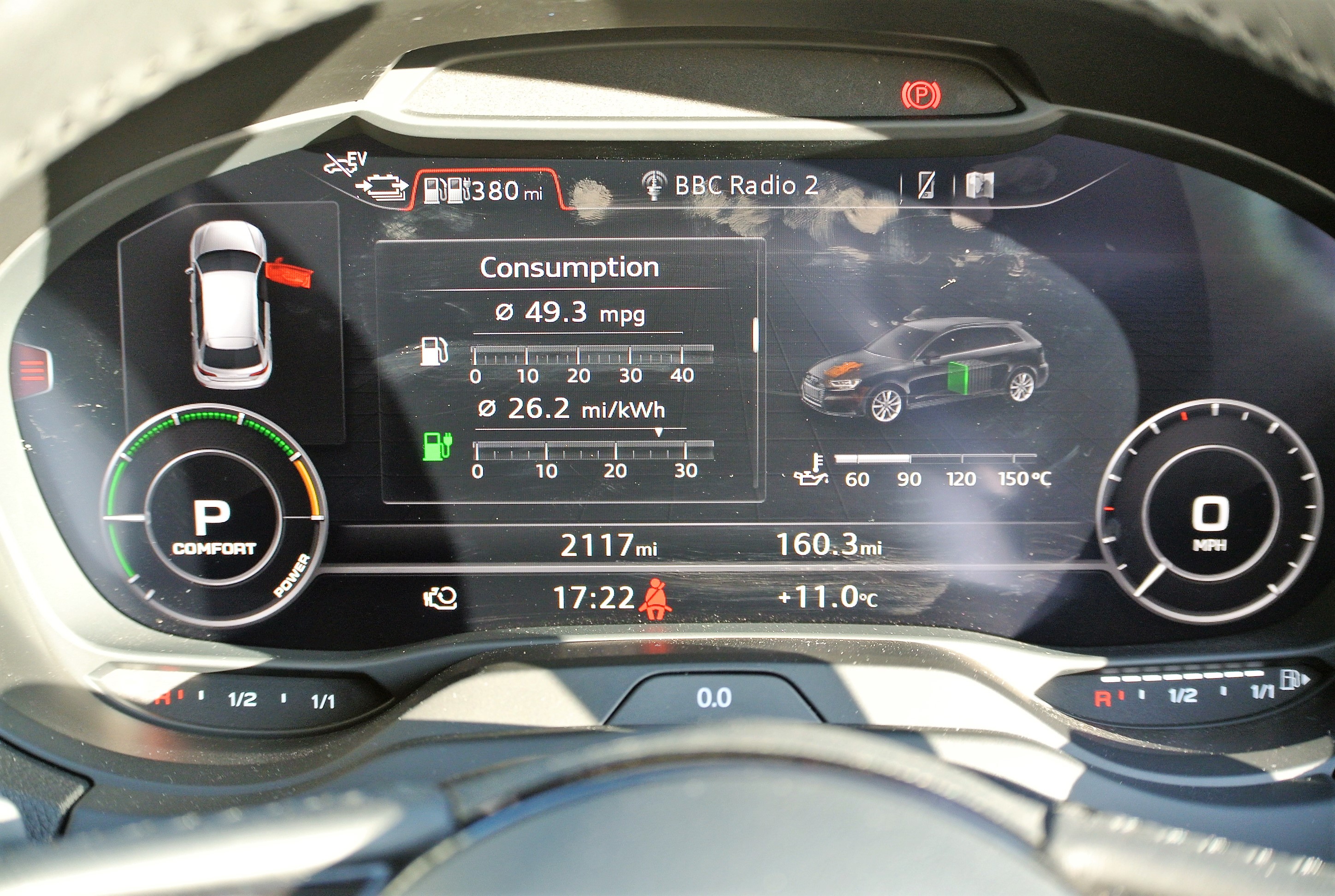 Yet, as a measure of the overall efficiency of the A3 e-tron, the on-board battery pack can be recharged within around ten miles of normal driving, during which period, the petrol economy can dip disturbingly into the high-20s. It makes good use of its braking and coasting energy recovery system and accessing any of the available driving modes (EV, Auto, Battery Hold and Charge), via the single toggle switch in the centre console, soon becomes instinctive and even fun. While you are not required to drive around like 'Reginald Molehusband' (and I do apologise if you are him!), on a trickle of throttle, the sense of achievement that arises from maximising the blend of electric and petrol frugality is immensely satisfying.
It is worth noting that the A3 e-tron can reach a maximum speed of 81mph in EV-mode, while in Hybrid-mode its top speed is given as an impressive 138mph. Developing a hybrid total of 201bhp, with access to 259lbs ft of torque, e-tron can blast from 0-60mph in a brisk 7.3s (12.4s in electric-only mode), which underscores that it is not a compromised slouch and it is recharging the battery simultaneously. However, it is also worth highlighting that the petrol engine is a fairly conventional 1.4-litre injected and turbocharged unit but it is so refined and well-insulated that even the keenest of ears can scarcely tell when it is propelling the car, or the electric drive is doing the task. The unit is said to weigh around 100kgs.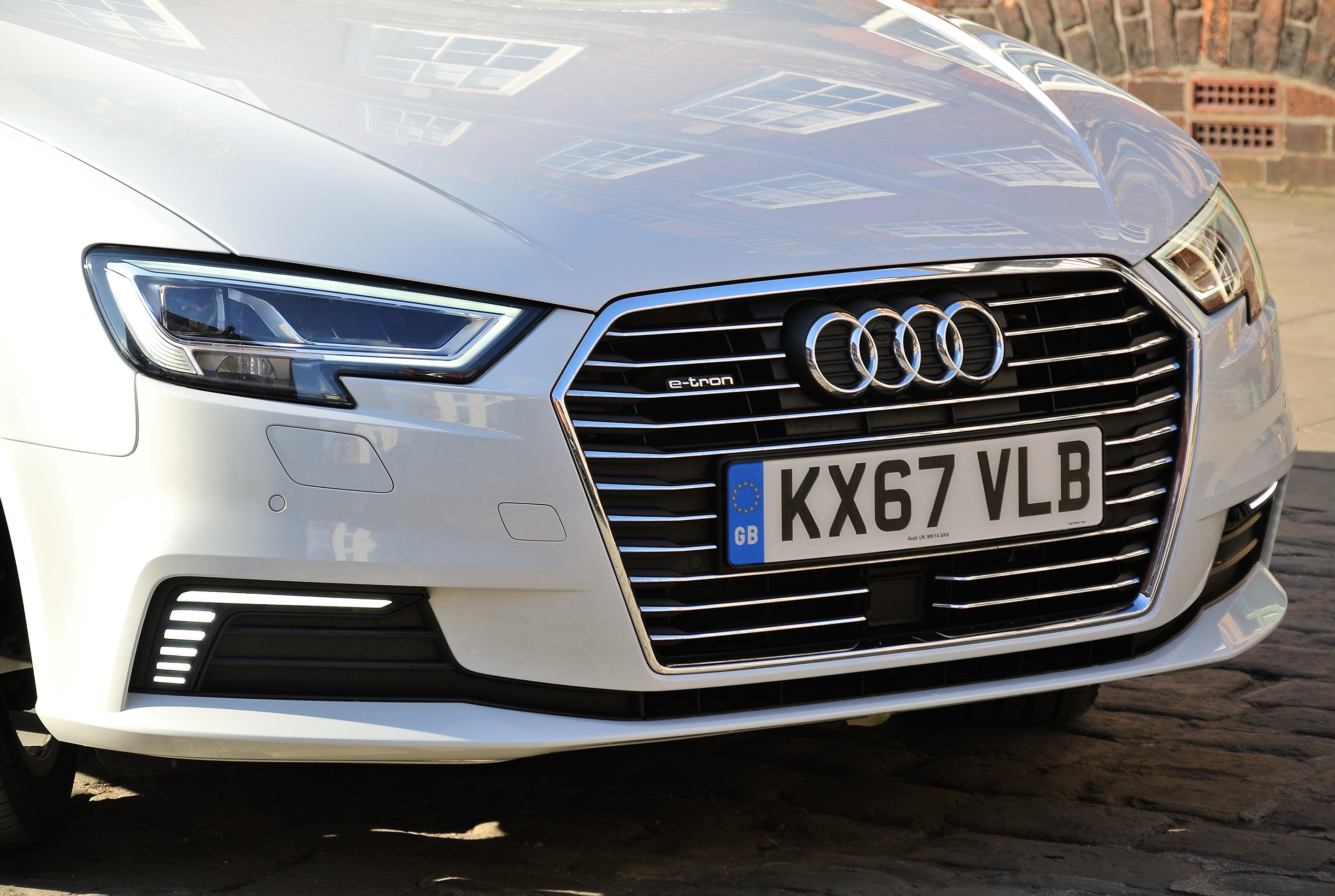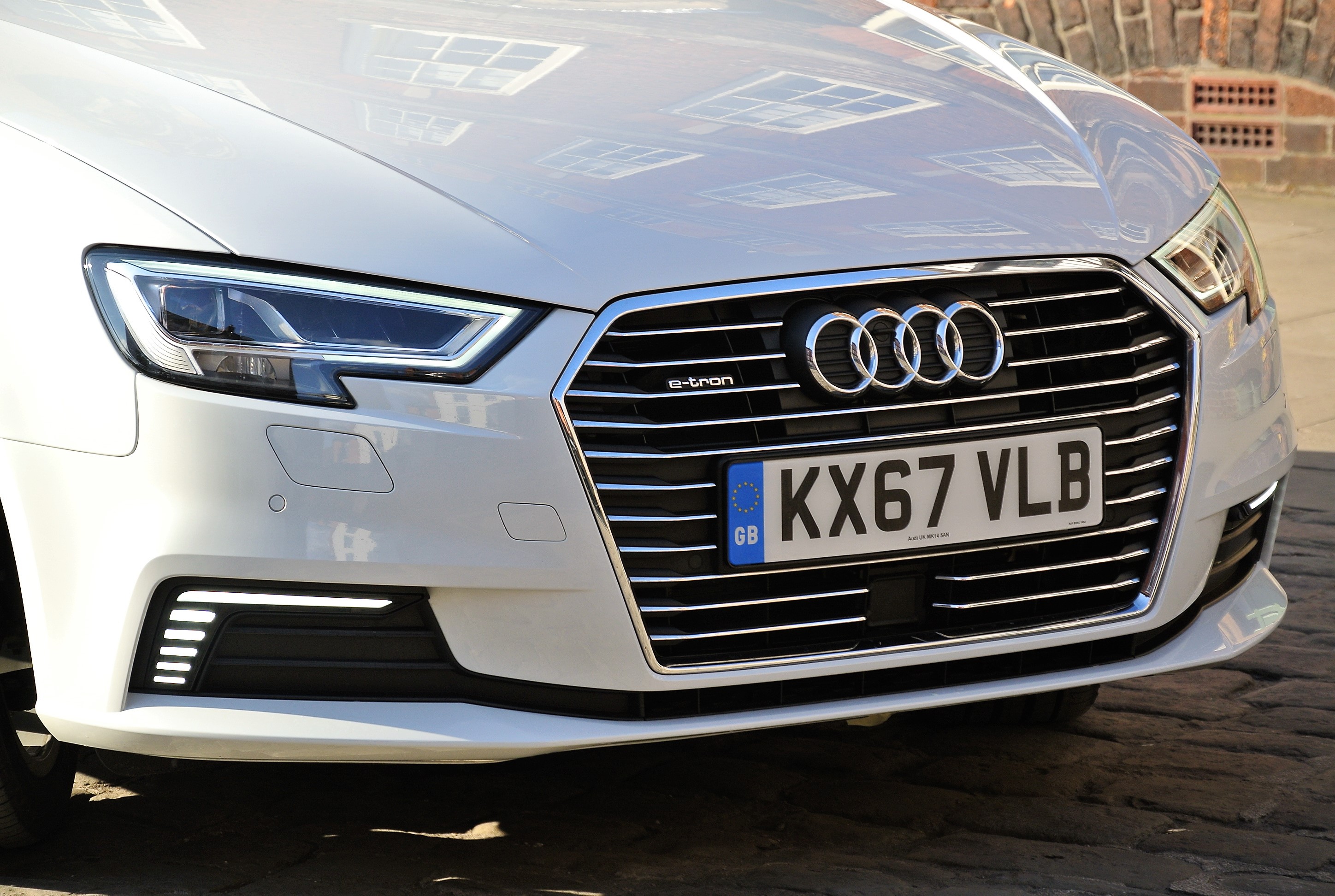 In normal cross-country motoring, I was able to attain a respectable 64.2mpg (on the car's computer), that settled to around 50mpg in town centre trawling…although using the battery eked out markedly higher economy figures. The 6-speed DSG 'box works its usual magic, being imperceptible on gearshifts and disconnecting the drive dutifully for surprisingly effective coasting. It can be controlled using the stick, or the steering wheel paddles. Both engine and gearbox are optimised for the e-tron installation, to ensure greater efficiency.
As with all VW Group models using the excellent MQB platform, the ride and handling, despite the extra weight of electric and battery components (total kerbweight: 1,540kgs), remains in civilised territory. In fact, the steering possesses a crisp turn-in and the relatively sporty set-up of the A3 Sportback means that, while road imperfections can be heard, they are seldom felt by the driver, or occupants. Adjustable damping can be altered using the Drive Select switch. There are slight differences between the e-tron and its conventional stable-mates but they are not so accentuated that the average owner would notice them, which complies with Audi's 'no compromise' rule.
The interior is typical A3. As Audi's Golf, the quality is exemplary and includes a sat-nav screen that pops out of the dashboard centre automatically but can be retracted on demand. As with other models in the Group, the mapping can be spread across the full width of the main instrument cluster. Sports seats clad in hide and Alcantara (+£1,000) create a comfortable and supportive environment for both driver and front passenger and the range of steering column and front seat (manual) adjustment is superb.
Trying to spot the difference between run-of-the-mill A3s and e-trons is tough. Only the more prominent grille emblem, slightly lower stance and the badges tell the story of a charmingly anonymous but up-market compact hatchback. It is listed at £35,345, plus £550 for the Glacier White metallic paint finish, to which you must add extra cost items in the case of the test car, which whisk its on-the-road price to £41,350, a figure that reduces with the £5,000 government eco-transport subsidy. Live with the e-tron costs and motoring life could be most enjoyable.