Think Volvo and you also think safety, a factor that Iain Robertson knows is inherent to the brand but Volvo has been thinking with its feet and its latest V40 displays other positive virtues that hike it above its rivals.
For some reason, in the early-1990s, a media-created inference possessing some North American influence, was instilled upon a selection of motorcar brands. While I have always accorded the handle of 'The Teutonic Threesome' to Audi, BMW and Mercedes-Benz, which does suggest elements of potency that have been more than realised, Lexus, Jaguar and Volvo were also branded with a 'premium' label.
The apparent definition of 'premium' in the automotive scene is an alloy of higher cost, grander status and enhanced perceived value. In its own way, it is as bad as defining 'rich and poor', or the 'North-South divide'. It instils an 'us and them' remit, which is totally compliant with British car snob-values and our outmoded populace class system, which some observers suggest no longer exists…even though it does, almost like never before.
It also aggrandised the status of the driver and occupants of those cars thus endowed. Not unlike Harry Enfield's comedic, "Oi'm exceedingly richer than yow!", the inference led to a more than apparent drop in driving standards exhibited by premium motorcar users. Displayed like a badge of wealth, the headlamp flashing, rear bumper worrying and preference parking associated with them have become an annoying expectation.
Yet, the irony of western wealth is that more than 90% of these premium-branded machines are company-funded conveyances. Their drivers are mere conductors latching onto the inferences like life-preservers, because of what they deliver for them. The odds are in favour of those premium car operators not holding the funds commensurate with actual ownership, a factor that should exalt the true owner of the other classes of motorcar that might be regarded as personal, or mainstream, because that vital element related to 'ownership' is attached to him, or her.
In typical, retiring and conservative form, Swedish Volvo kept 'mum' with the situation. It made zero critical comment, either in support of, or against the premium inference. In some ways, Volvo could be said to have gained some valuable ground from an application of the handle, although I prefer to side with the subtlety of saying nothing and thereby neither honouring, nor denigrating the accoutrement. However, Volvo experienced a change of heart. It determined that being a member of a club that it had never actually agreed to join was tantamount to diminishing, perhaps even damaging, its brand's core value. To issue a statement was a wise choice.
If there is one thing that I have always admired about Volvo and its 'ice and steel' stance, it is that it is a stand-alone brand. Even though it is now owned by a Chinese parent company (the Geely Corporation), it has been allowed to retain its stoical Scandinavian ethos. After all, it is a marque possessing a defined intuitive and inventive streak. Its on-going influences on vehicle and occupant safety continue to be marked with developments that will see a zero crash casualty rate in all of its models by 2020; a promise that it made around a decade ago and is on target to achieve.
Volvo is not premium. It never has been. If you think about it, those other brands that appear to enjoy the premium tag ought to perform a little reappraisal and not navel-gaze as they do. Volvo produces uniquely appealing motorcars that possess a design integrity and quality style that is appreciated mostly by people who want to avoid following the herd. Yet, there is still some criticism that can be levelled at the company, not least in the area of vehicle pricing, which is painfully reflective of that very premium tag that Volvo eschews.
The latest V40 carries some of the mid-life enhancements that connect it to the much-praised XC90 model, most obvious in the use of the signature 'Thor Hammer' daytime running lamps incorporated within the headlight casings. Yet, the same wedge-profile V40 model that was introduced to rationalise the entry platform to the Volvo line-up, in the process replacing the former S40 saloon, V40 estate car and C30 coupe, remain largely unsullied.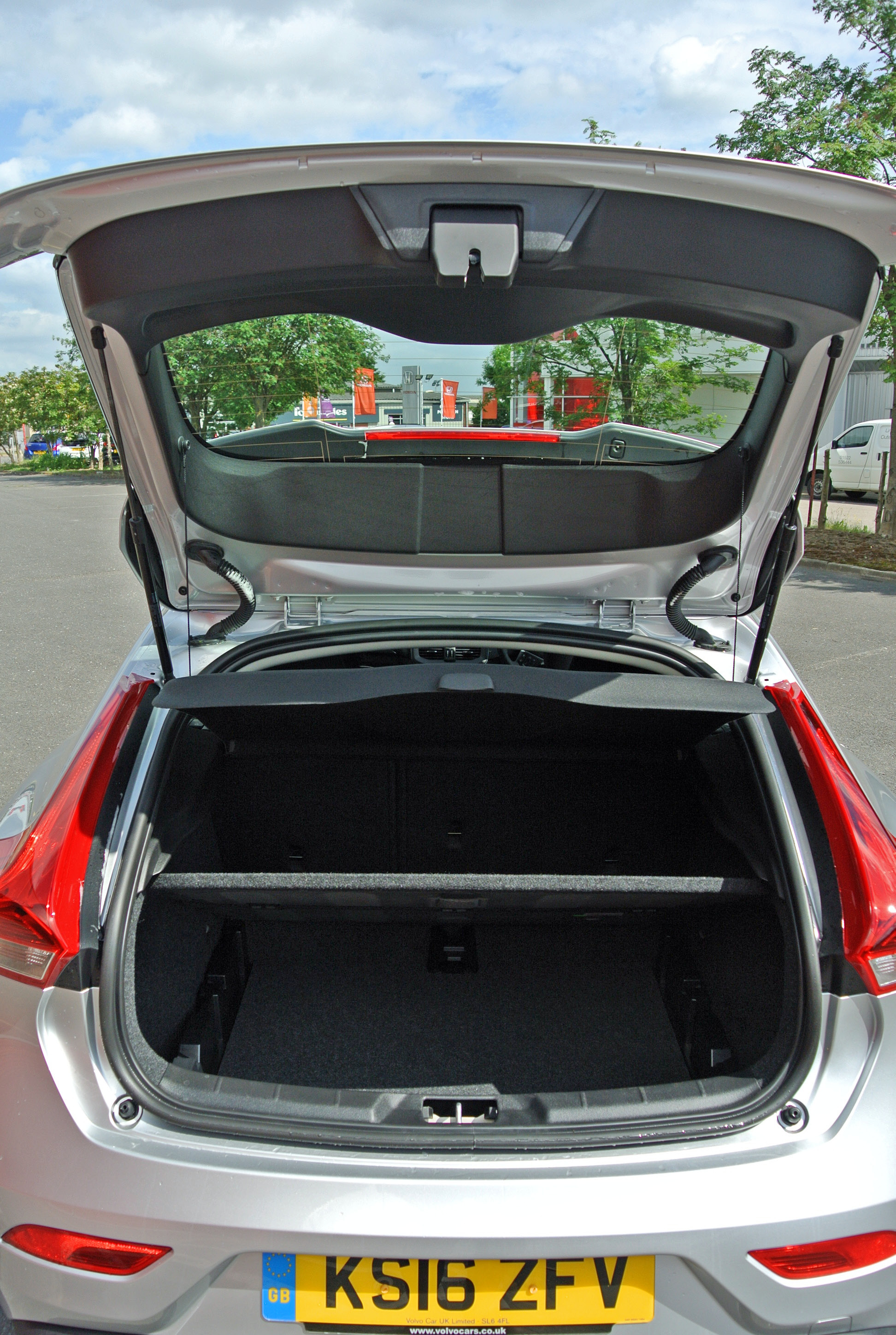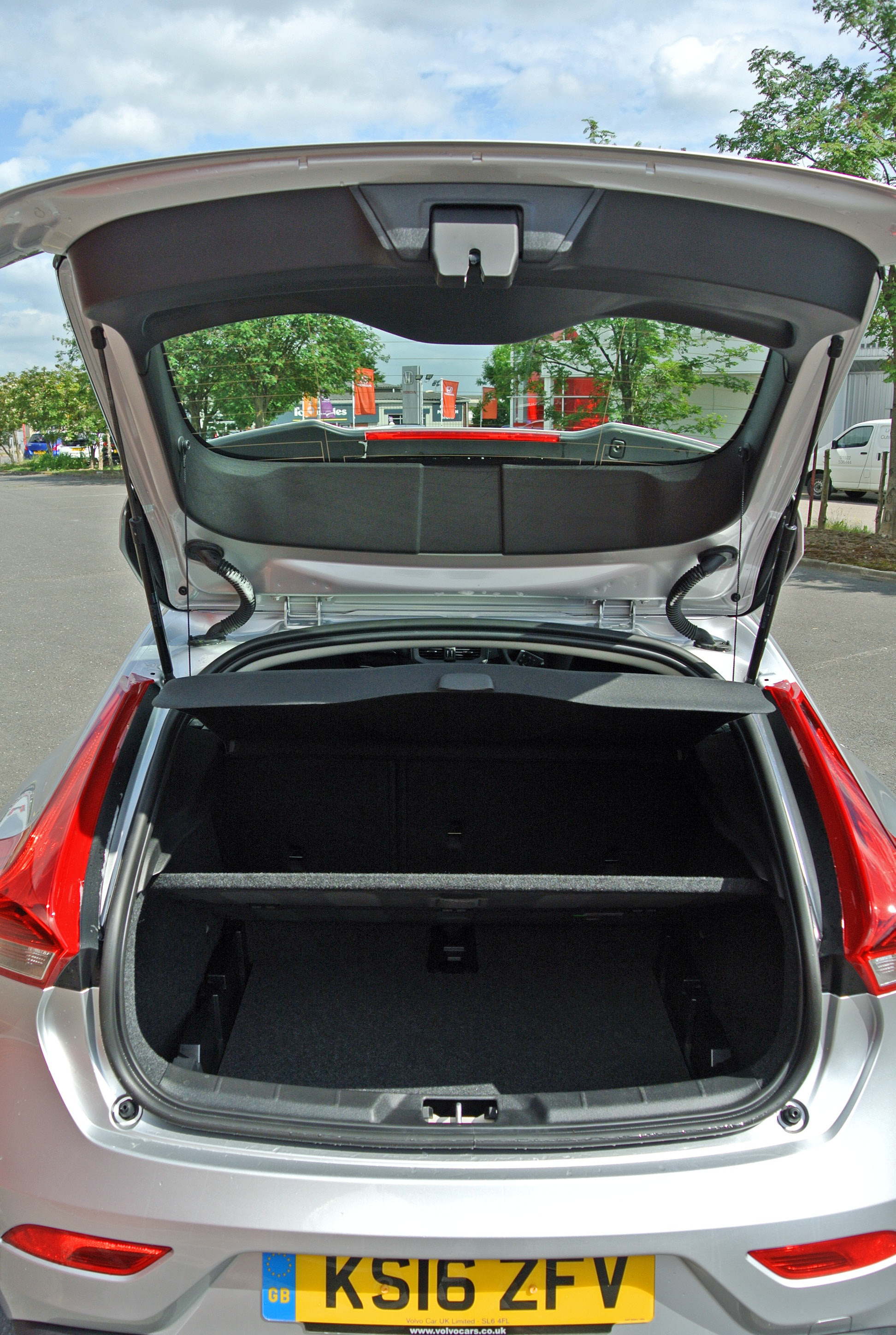 It offers excellent design clarity, with a touring category boot capacity, featuring a split-floor, and comfortable cabin accommodation for four adults. A fifth passenger, for which a safety belt is provided, might be possible but only with some discomfort. The driving environment features first-class ergonomics, in that all of the major controls fall readily to hand, or foot, although the centre console is clustered with an array of buttons that make sense with long-term familiarity but none with early acquaintance. It is an operational medium that has been altered to its less complex benefit in the latest XC90 and those improvements (I am assured) will filter down to the other models in the range in due course. In the meantime, it is just as well that most Volvo 'owners' are in their cars for the longer term (a lot longer than some cars in the class).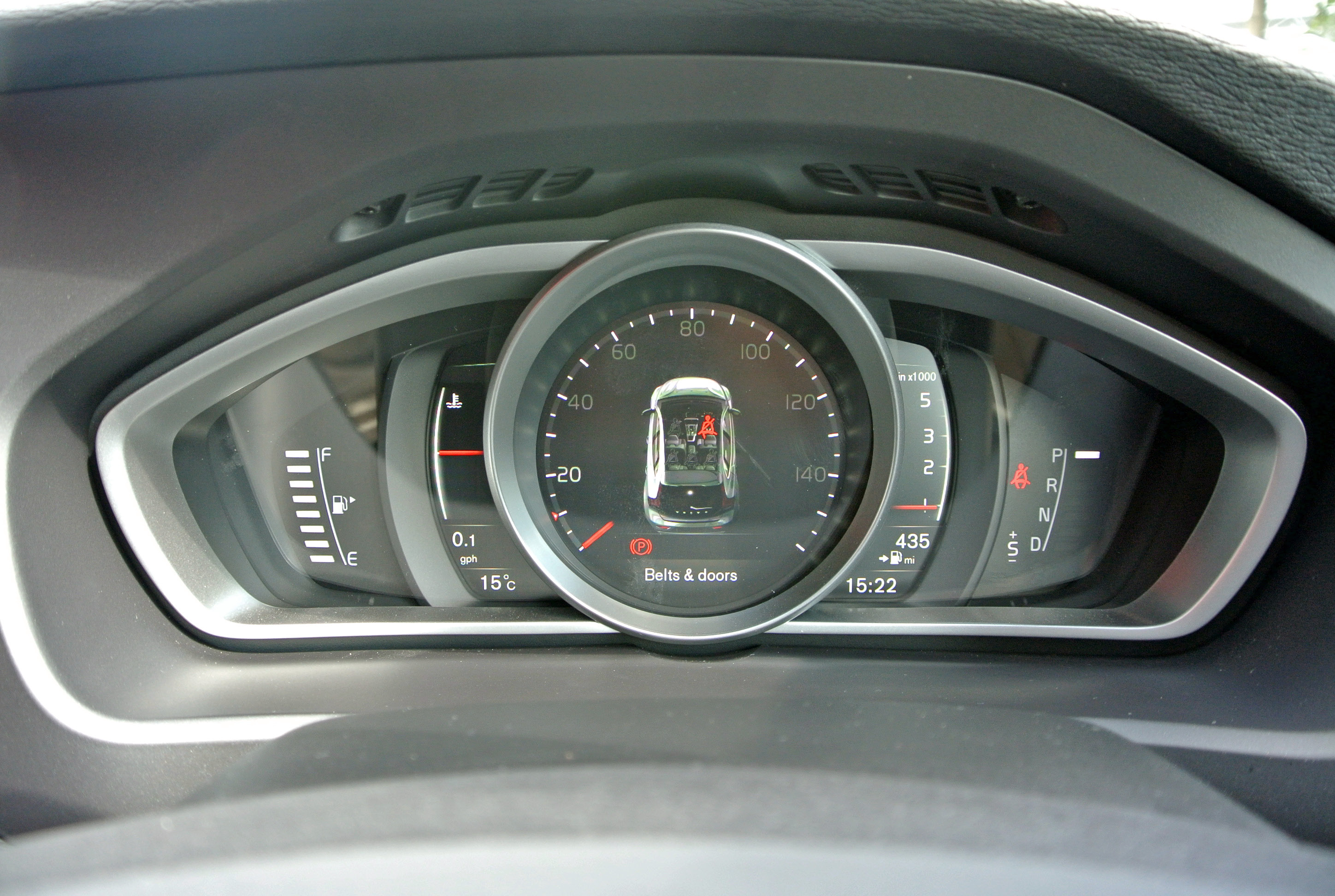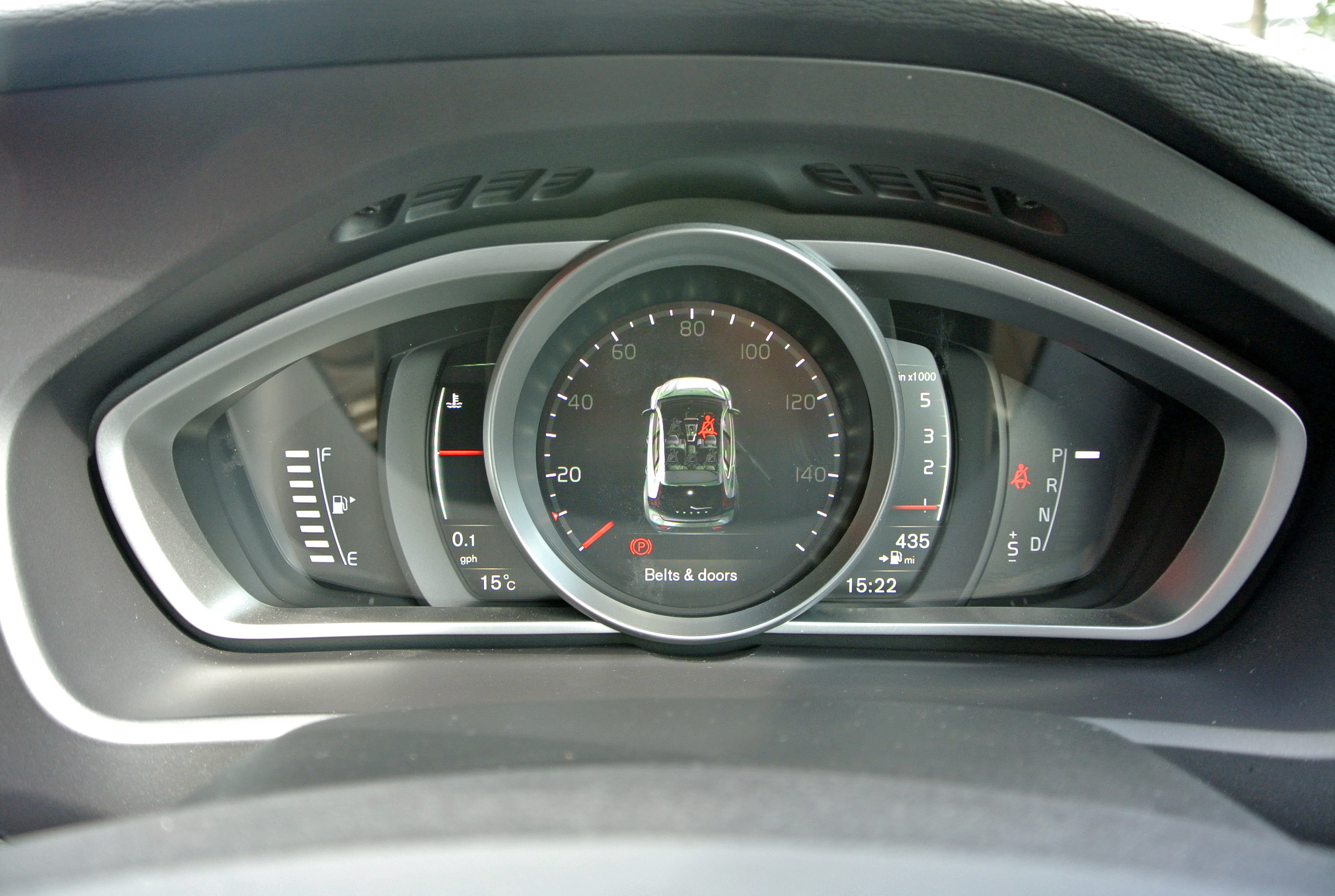 The driving position is excellent, with a wide range of adjustability on both seat and steering column and plenty of space around the driver, even though the side-impact protection system (the much-vaunted Volvo SIPS) does hem-in the driver a little, for inherent safety reasons. When you work out how to do it, the instrument panel can have its priorities changed, to suit mood, or purpose, but its combination of digital and analogue-type readings work most fluently.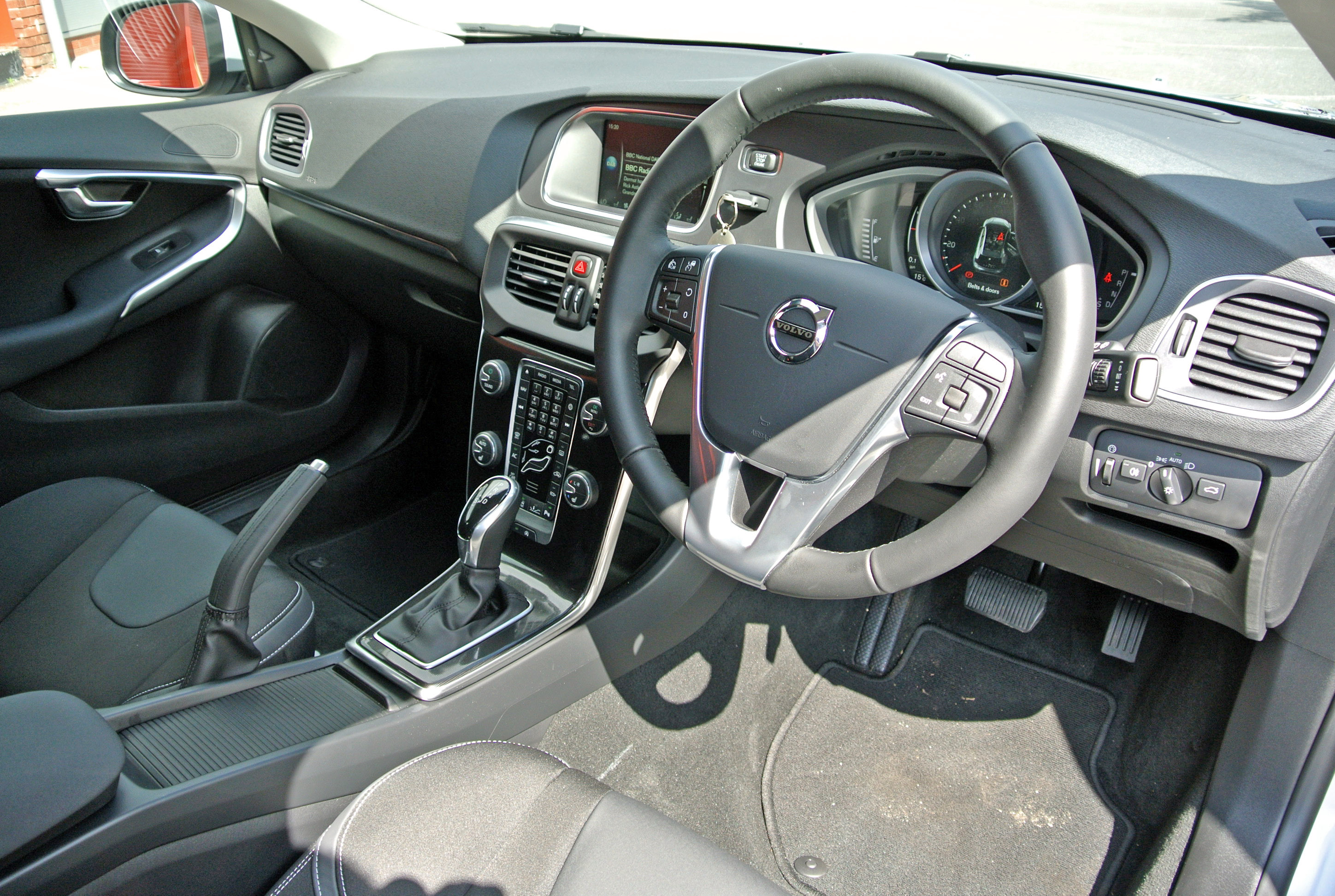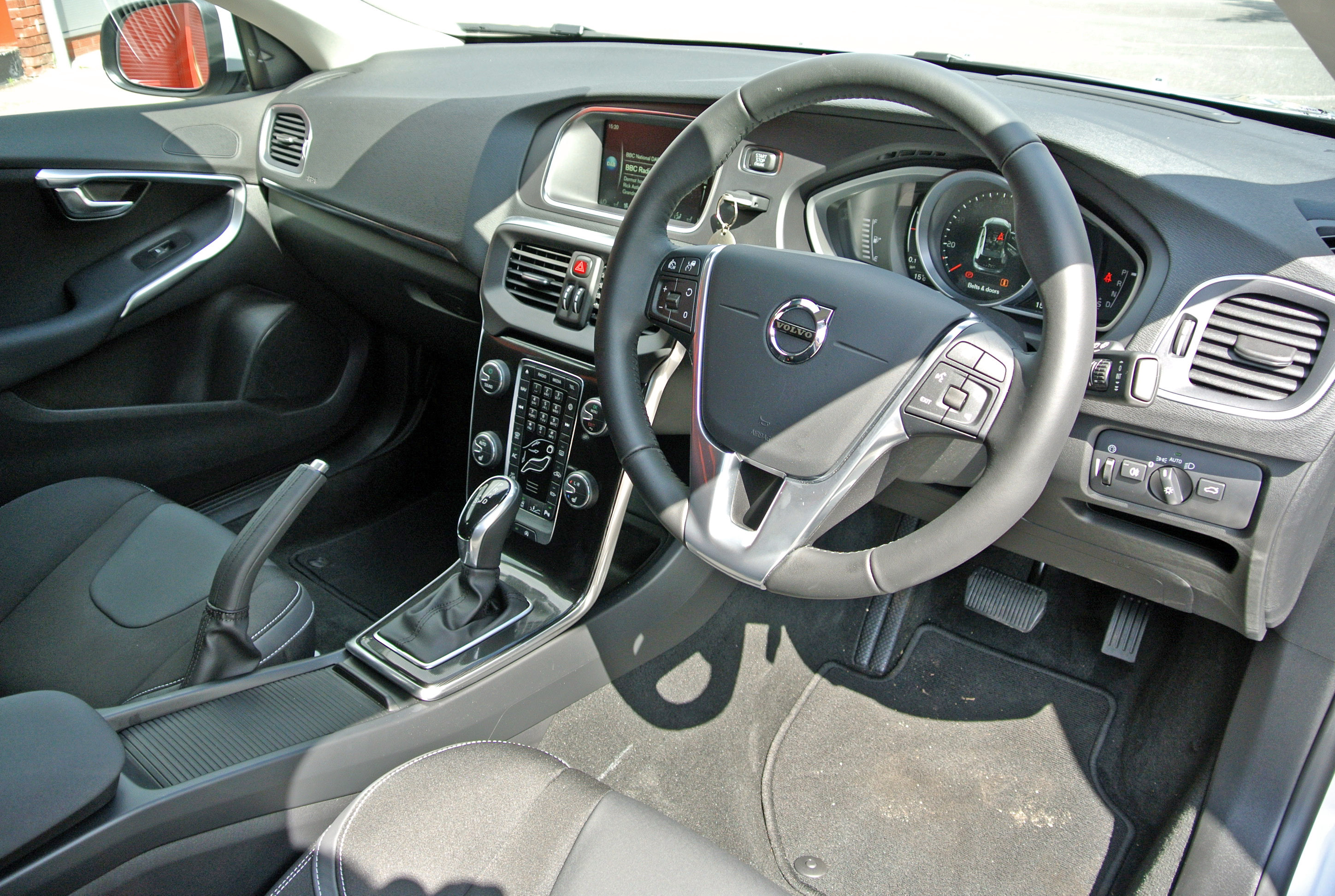 Although powered by the least punchy of the turbo-diesel engines (D2 trim, 2.0-litre, 120bhp) from Volvo's latest Drive-E modular range, the moderately refined, four-cylinder unit works very efficaciously through a six-speed fully-automatic transmission, with manual gear selection either by the lever, or a pair of paddles located behind the cross-spokes of the steering wheel. The developments in gearboxes of recent years have meant that shift speeds are now very fast and the transmission locks into each ratio with barely perceptible slippage, which means that the driver receives the maximum control at all times.
There is an adequate amount of storage around the cabin, with the customary sliding cover to the drinks-holders between the front seats, a deep glove box and door pockets. Clad luxuriously in a neat blend of leatherette and cloth, the seats are exceptionally comfortable and will be unlikely to raise complaints from occupants, even on lengthy driving exercises. The view outwards, a key safety issue, is excellent with no visibility blind-spots, although the Volvo BLIS (blind spot information system) works efficiently via the door mirrors, a useful aspect in town, when errant cyclists, who usually make up their own version of the Highway Code, sneak up alongside and unsighted.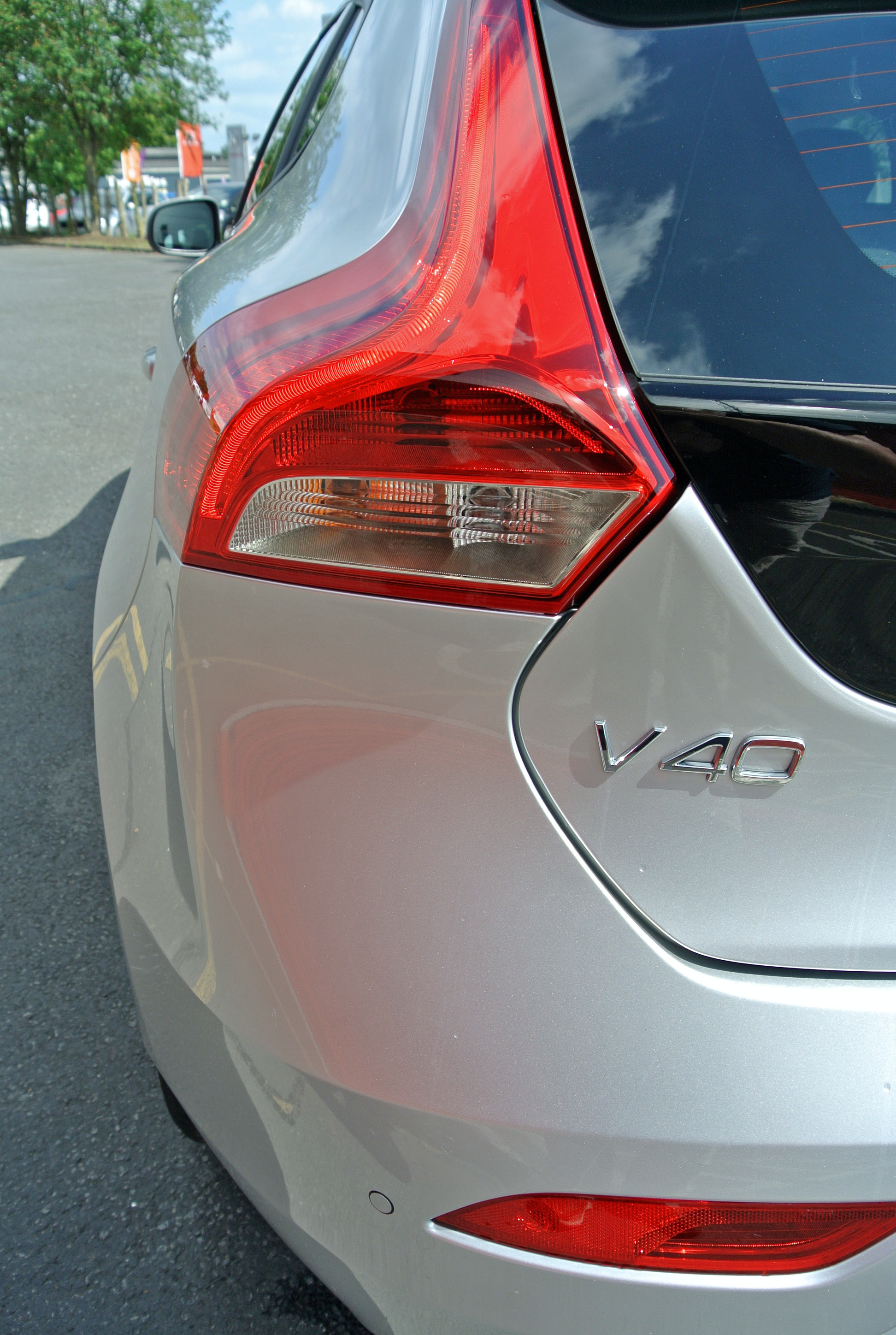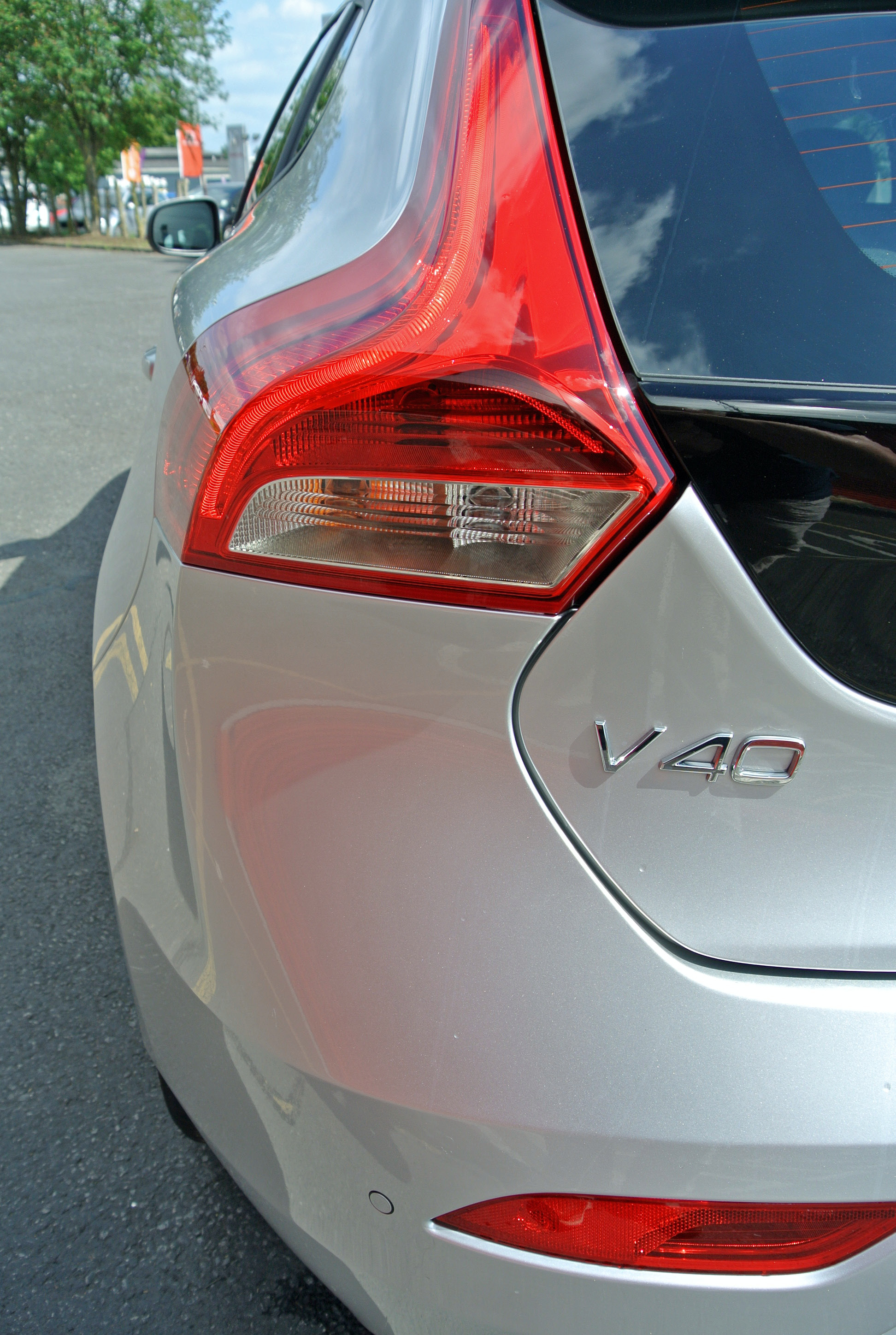 Externally, the new headlamps, revised radiator grille and tail-lamps constitute the bulk of the enhancements. Not much has been altered since this model was introduced around four years ago, after all, why change something that is not just market acceptable but also meets so many user parameters? The driving experience is first-class. The car is smooth in operation and it looks great. Its steering is crisp and responsive and the brakes, despite an initially over-servoed feel at the pedal, are positive and shed speed efficiently.
The other aspects of its dynamic behaviour are also exemplary. Most notable is the quality of the ride, which is firm but manages to iron out bumps and road imperfections with consummate ease. The V40's handling is strong, with only limited body-roll during cornering manoeuvres, even at quite high speeds, and a sense of solidity and security that is imparted fluently to its occupants, displaying scarcely any front-wheel-drive traits.
Running costs are maintained at a low level, with a posted 74.3mpg (Official Combined), although I returned a laudable and more likely 59.8mpg, and a lowly 101g/km CO2 rating, which equates to free VED in year one and £20 annually thereafter. The D2's performance is acceptable, despatching the 0-60mph sprint in 10.2 seconds, with a top speed of 118mph, more than adequate for Britain's roads.
Priced at £22,800 for the V40 in D2 Nav-Plus Momentum (entry-level) trim, before factoring in the various options and personalised accessories, which can hike-up the price tag significantly (just like Volvo's premium rivals), the V40 makes sense as a classy tourer that is suitable for either private ownership, or business operation. If primary safety is important to you, a Volvo is a 'no-brainer' option. Most importantly, Volvo is a stand-alone brand that is perfect for stand-alone buyers. Simple.