Leading from the front is an essential aspect of Volvo's international stance and Iain Robertson believes that no other carmaker can touch it in that respect but he ponders over how deeply imbued is the ethos.
While not wishing to enter into a 'Brexit' issue, because I feel that we have all experienced enough of that so far, Volvo is the EU's preferred player in the autonomous motoring jungle. To a certain extent, Volvo asked for it. Since the mid-1950s, it has been a carmaker in the forefront of safety monitoring and innovation.
In fact, no single car manufacturer anywhere else in the world (although Saab did come close, whether by xenophobic association, or not, is open to question) has invested as much of its annual budget on preventing the human relationship with the motorcar from turning sour, as Volvo has and does. Such irrefutable evidence put Volvo firmly in the frame for the EU job, almost whether it liked it or not.
Yet, the company adopts and adapts and develops as always. Its deeply-rooted work with several major insurance companies has formulated vital research information that is filtered world-wide. Its advanced crash test cells are a model for the entire industry and they take account of the impact of the driver, car occupants and both animate and inanimate objects, with which the car comes into conflict.
Hence Volvo's 20:20 plan, which promised to result in zero accidental fatalities in any of its cars by 2020. The ultimate irony is that Volvo is on target to achieve its goal but, as I have already outlined, were it not to, by virtue of the immense amount of work it has carried out in both accident prevention, let alone occupant and pedestrian protection, its commercial existence would not be worth living.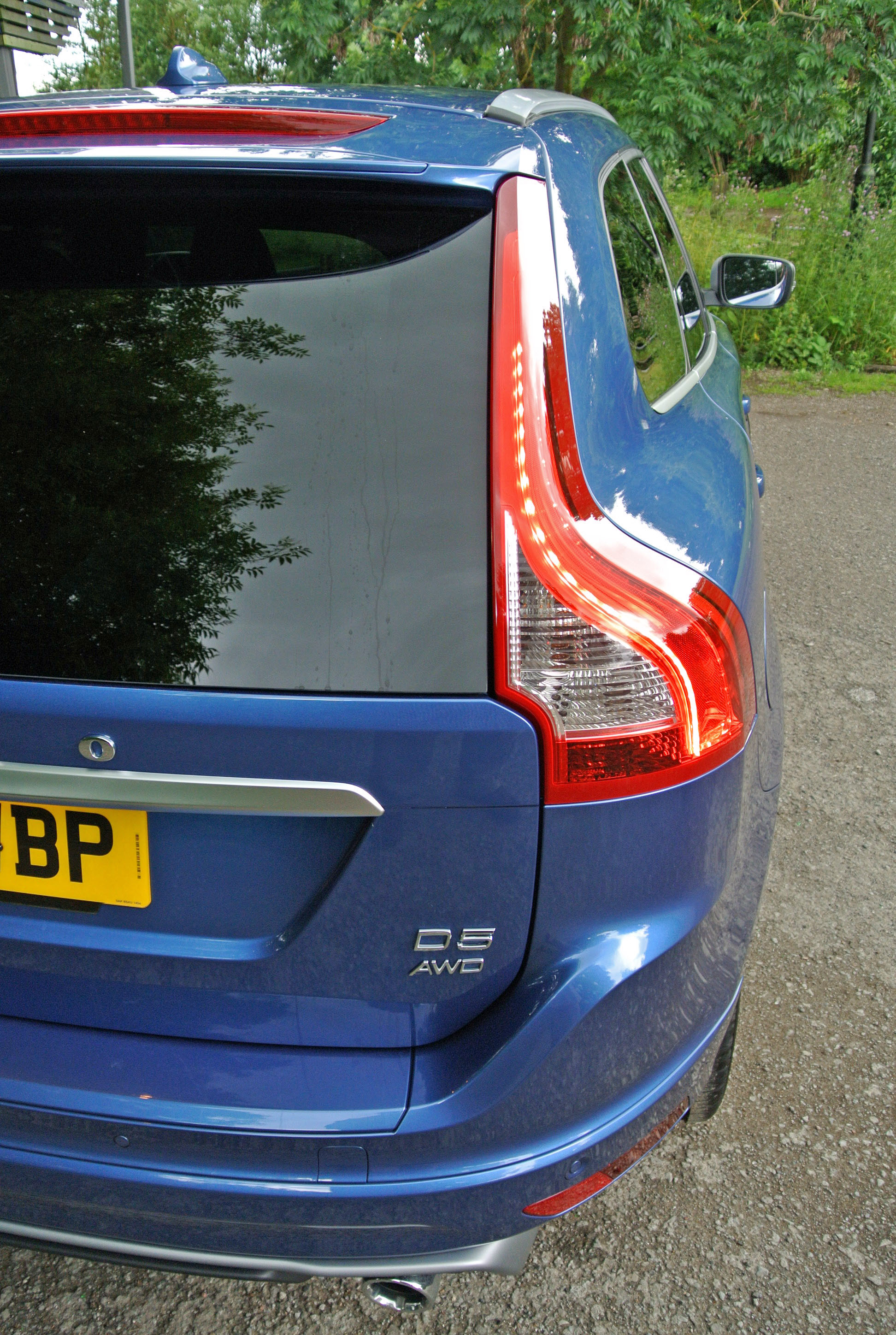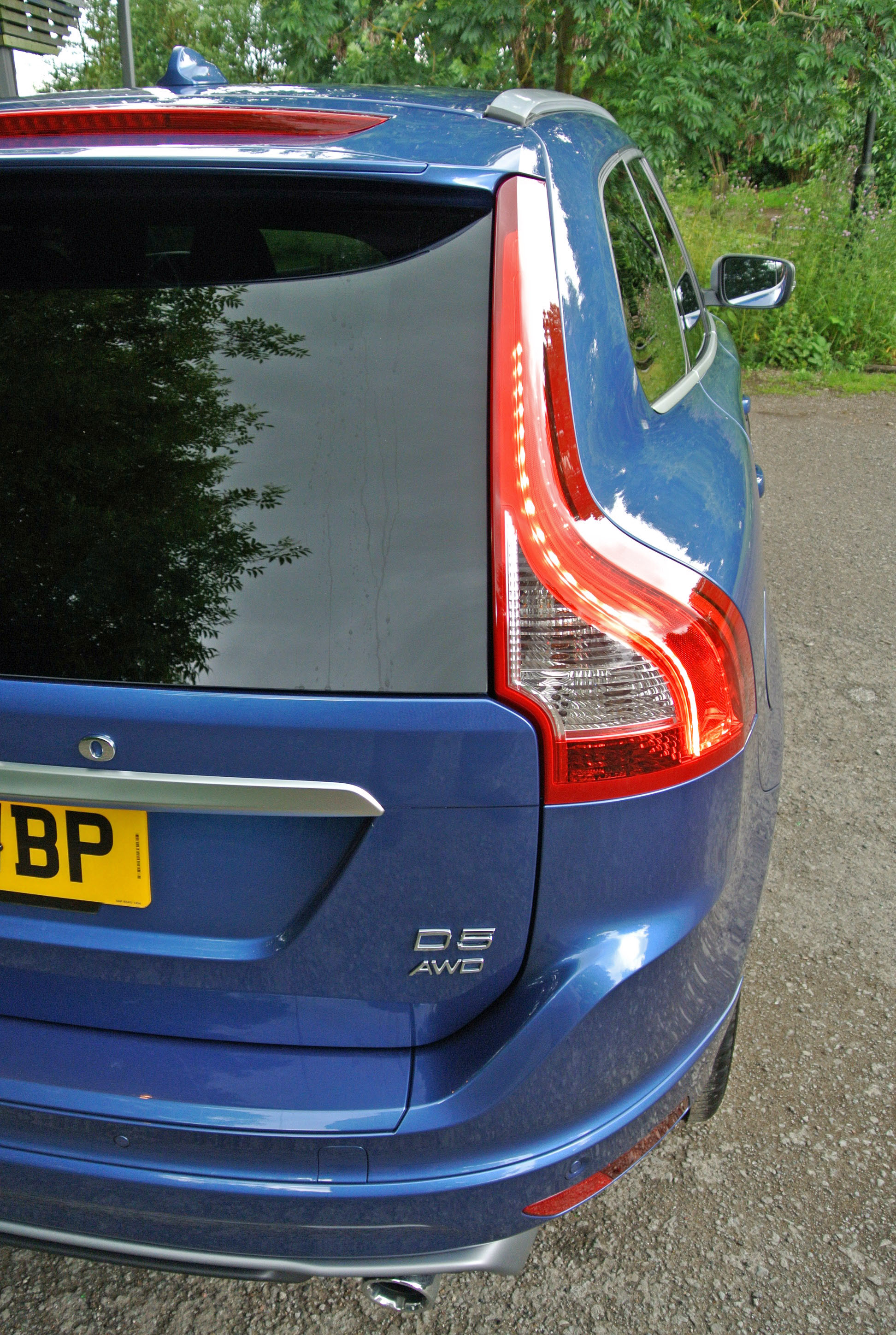 Take the latest version of the XC60 model, Volvo's rival to the Porsche Macan, the Audi Q5 and other mid-size competitor models. It complies with the dimensional expectations but manages to look stoically like a member of the Volvo family. Naturally, all of them have clashed with the NCap test barriers and conform to the highest EU crash safety standards but Volvo has managed invariably to take some important extra steps.
Okay, some of the advancements will cost you extra but at least they are available. Mind you, every XC60 gains from a comprehensive standard telematics system and City Safety, Volvo's autonomous self-braking system that provides non-intervention emergency stopping at speeds of up to 31mph (50kph). While you might not give it much thought, Volvo's Cleanzone air quality system, which is also standard, ensures a temperature-controlled filtration medium that ensures a sound cabin environment that is free from nasty niffs that can be a distraction.
However, spend an additional £1,900, over the £38,390 base-line, when specifying your Volvo XC60, and a collision warning capability will be added to the autonomous braking. Pedestrian and cyclist warnings will be factored into the car's telematics. Even the cruise control will have the distance aspect (behind the vehicle being followed) blended into the autonomous braking system. Queue warning, lane departure warning, active high beam headlamps, road sign recognition and the cross-traffic alert mechanism will be added to the package.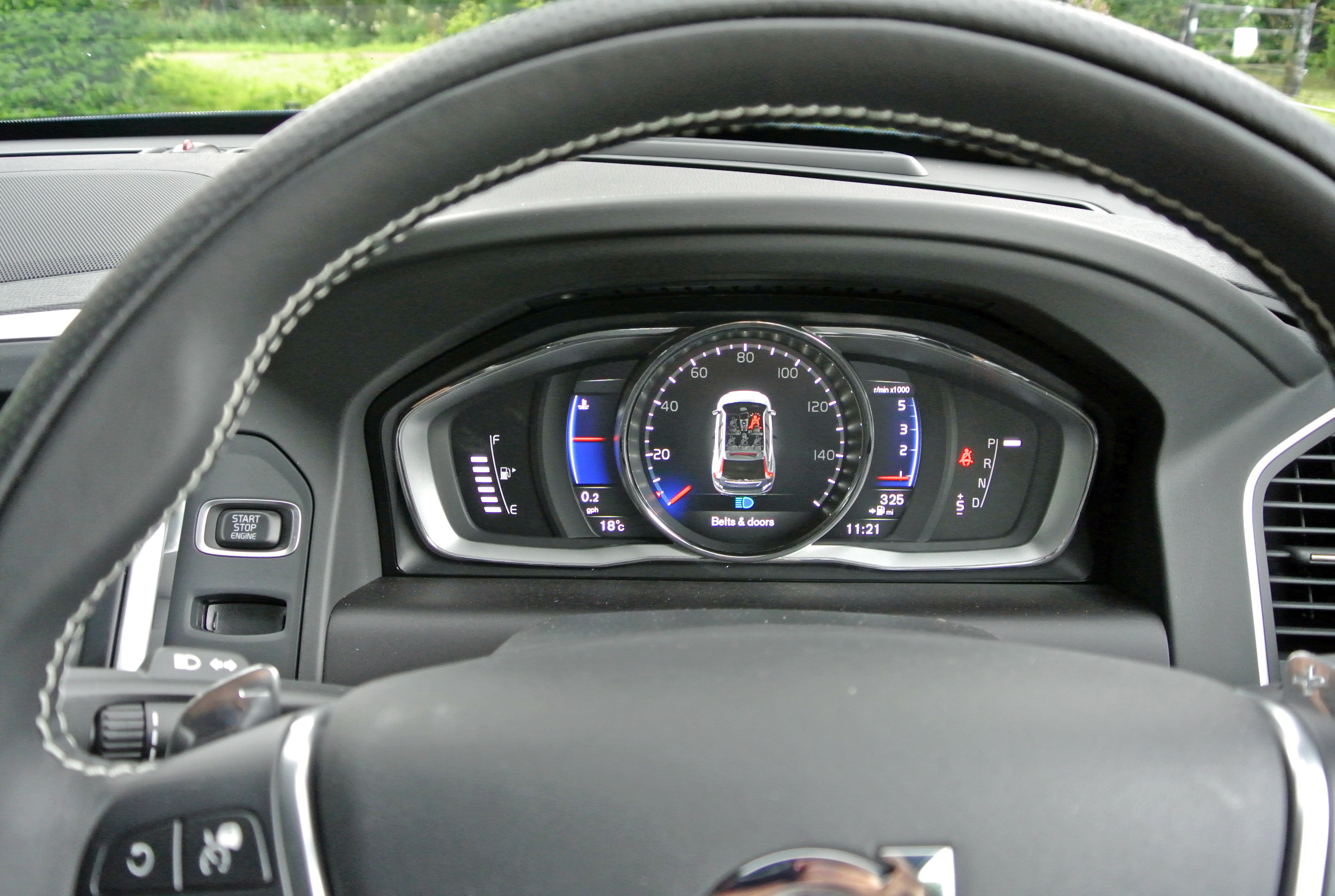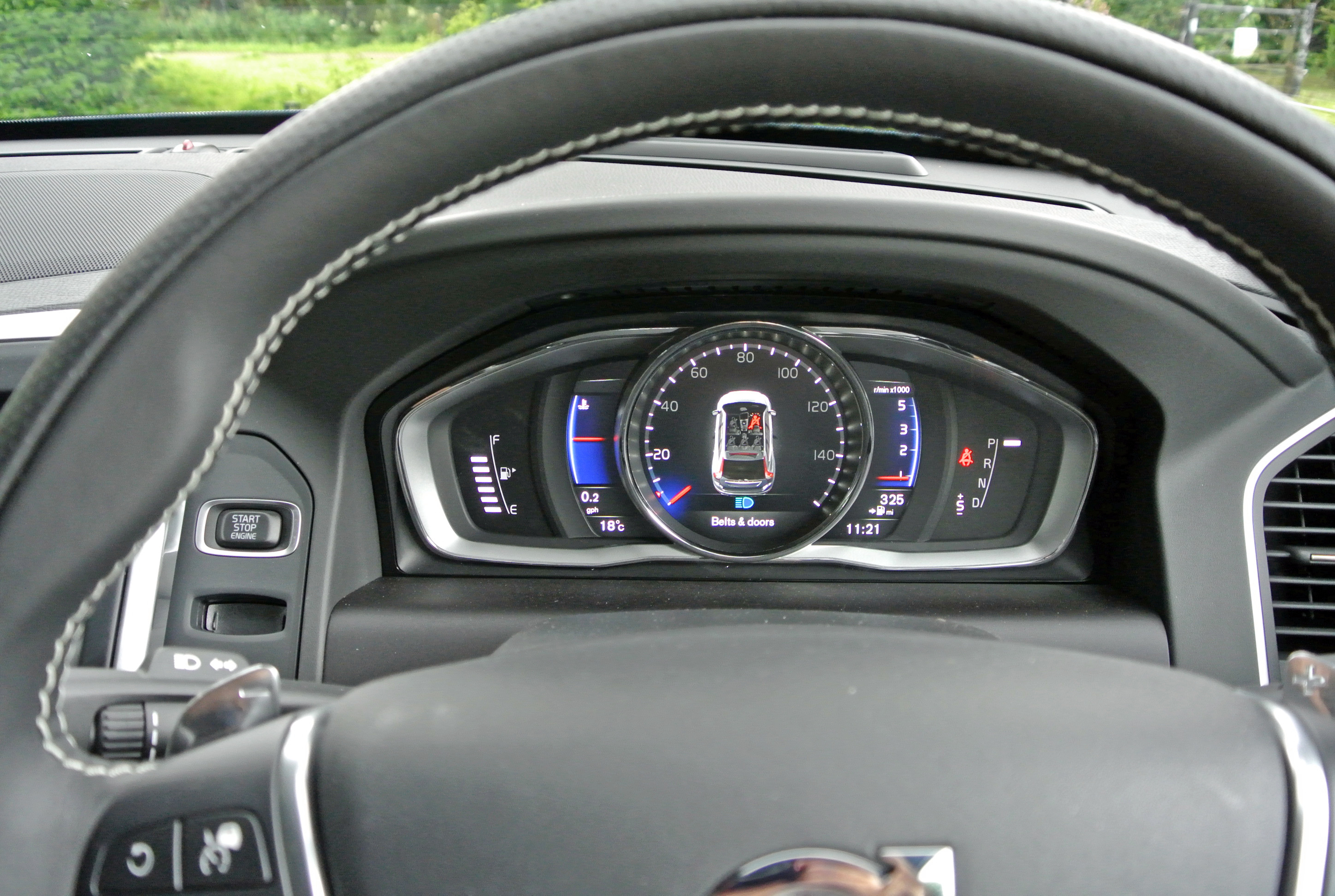 While Volvo has been a leader in nocturnal illumination, a further £375 investment will introduce heated front seats, heated windscreen, heated washer nozzles for both lamp washers and windscreen and active cornering lamps. Many of the developments have arisen from the large expanse of unmetalled roads still in use in Scandinavia, allied to the large amount of wildlife that will cross public roads as a matter of their survival. Enhanced vision and visibility are inevitable safety attributes.
In D5 AWD R-Design form, the XC60 looks superb, its 19-inch diameter alloy wheels being every bit as stylish as the original 18-inch Titan alloys introduced on the 850R model several years ago, when Volvo (under the design pen of Peter Horbury) discovered 'style'. Its Bursting Blue paint finish suits it too.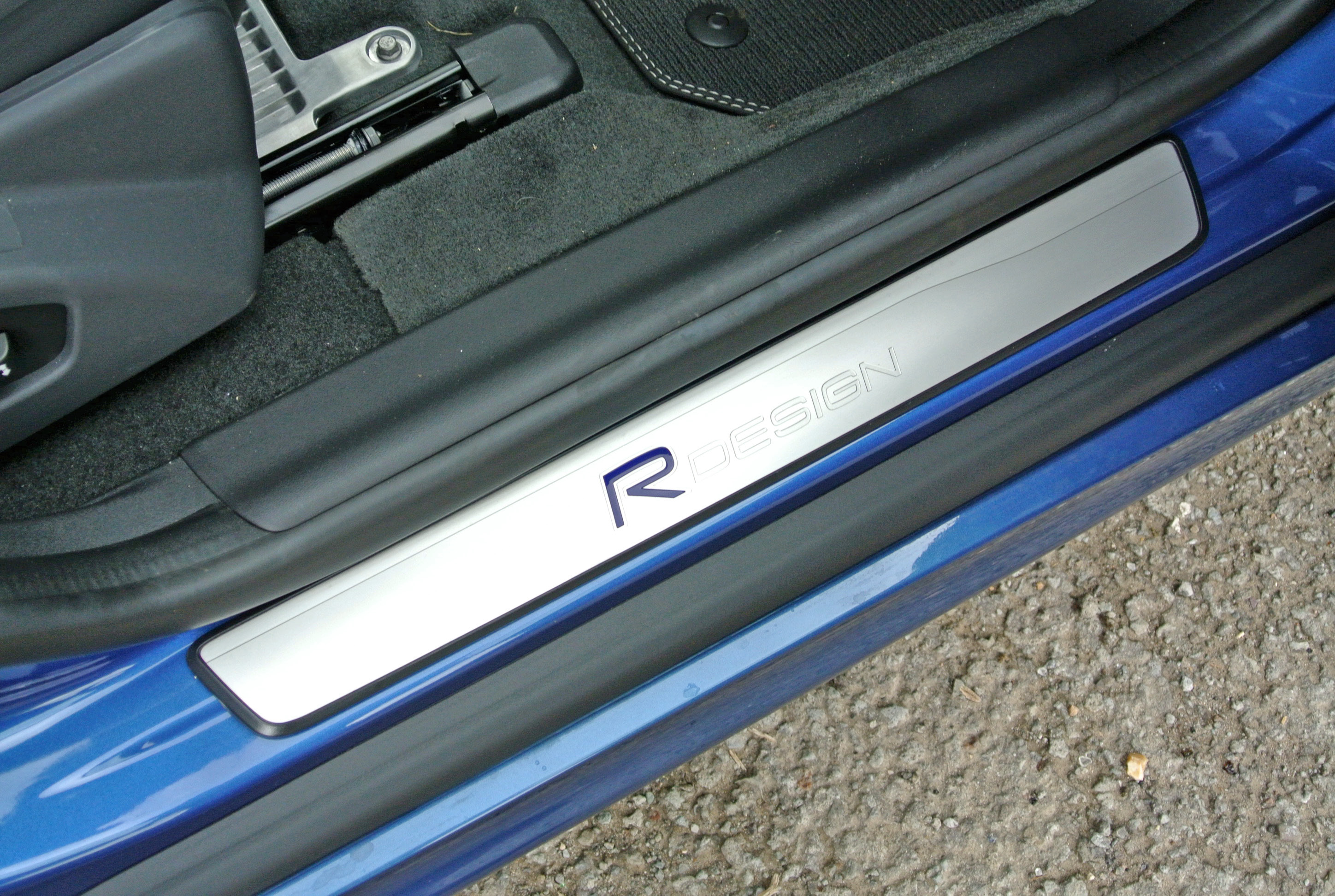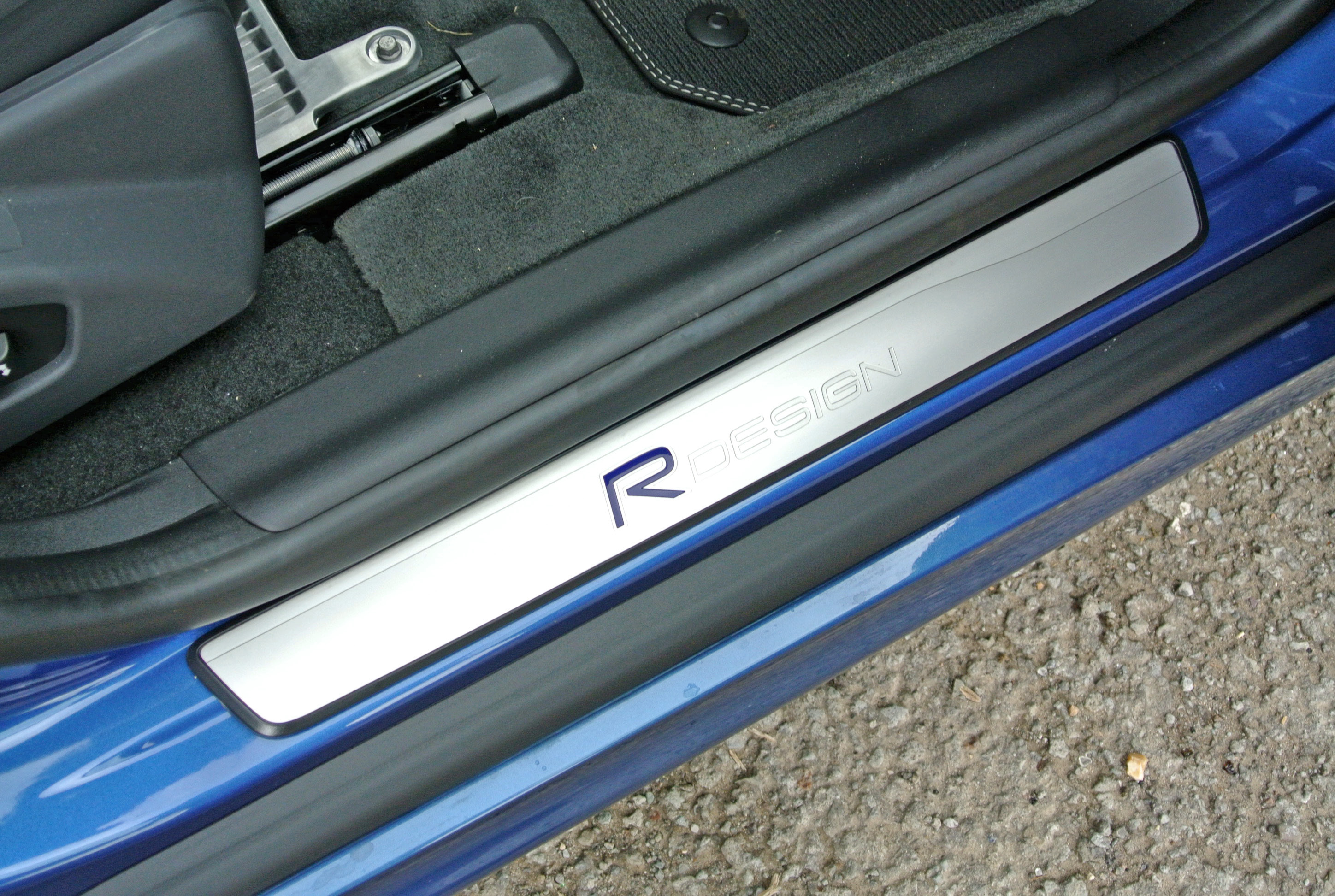 Beneath the bonnet is a 220bhp, 2.4-litre, five-cylinder turbo-diesel unit that also develops a whopping 324lbs ft of torque, granted an extra 15lbs ft of punch, because it is hooked up to a 6-speed automatic transmission instead of the standard manual 'box (apparently to counter efficiency losses through the gearbox). It is fairly 'clean', in that its CO2 emissions rating is given as 149g/km (manual: 137g/km), which equates to an annual VED charge of £145 (the manual demands £15 less annually). Buyers will be drawn to its Official Combined fuel return of 49.6mpg, unfortunately, I struggled to better a disappointing 36.5mpg in a mix of driving conditions, which included 60mph cruising and using only light pressure on the throttle around town.
In performance terms, the XC60 boasts a top speed of 130mph and can despatch the 0-60mph sprint in around 7.8 seconds, which makes it almost hot hatch quick and it certainly never feels sluggish. Of course, all four wheels are driven, which assists the car's inherent stability at all speeds. The car's ride comfort is fair to firm, which is pretty much par for the course, although the Teutonic offerings in the class (BMW X3 and Mercedes-Benz GLC) tend to be more coarse.
The handling envelope is impressive, with nicely weighted steering that guides the car religiously around obstacles and on twisting country lanes. Thanks to fairly compliant suspension damping, the body control is excellent, with minimal roll and almost no front-end dive under hard braking. The XC60 provides a most engaging drive experience, considering its stilted stance and soft-road aspirations. It will tackle off-road situations with some aplomb, although it is not quite as 'go-anywhere' as a Land Rover Discovery Sport, as neither its frontal nor rear body overhangs will tolerate too many clashes with the scenery.
Having said it before, I repeat that around 60% of driver satisfaction comes from enjoying a cosseting cabin and the XC60 plays its Volvo comfort card with confidence. From the first moment that you slide across the lovely hide-faced upholstery, there is a feel of outstanding quality that greets you. The driving position, for taller occupants, could do with an extra inch, or so, of rearward movement but it is still a most pleasant place from which to enjoy one's driving. The seat adjusts electrically in every direction and a wide range of additional adjustment is included in the steering column.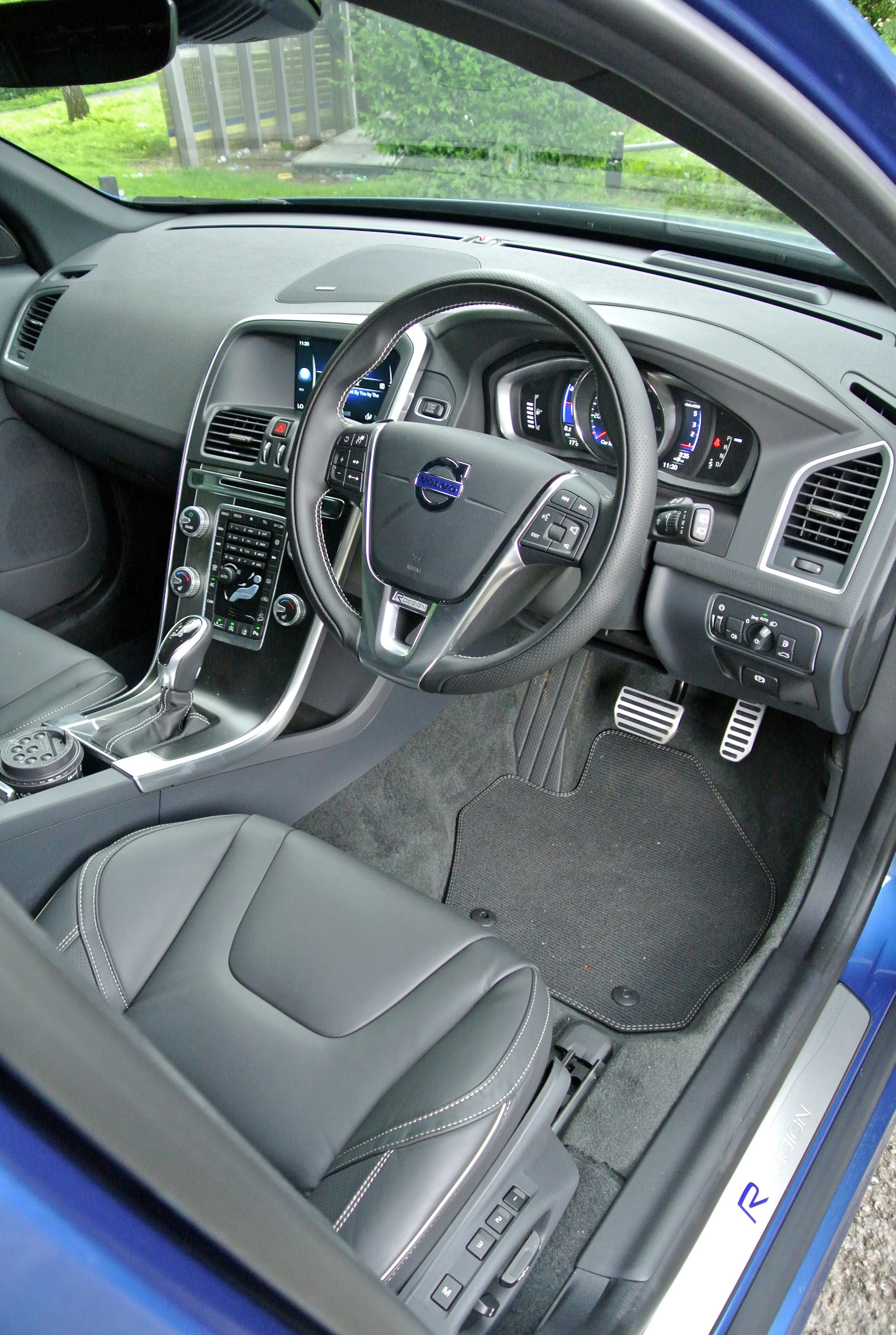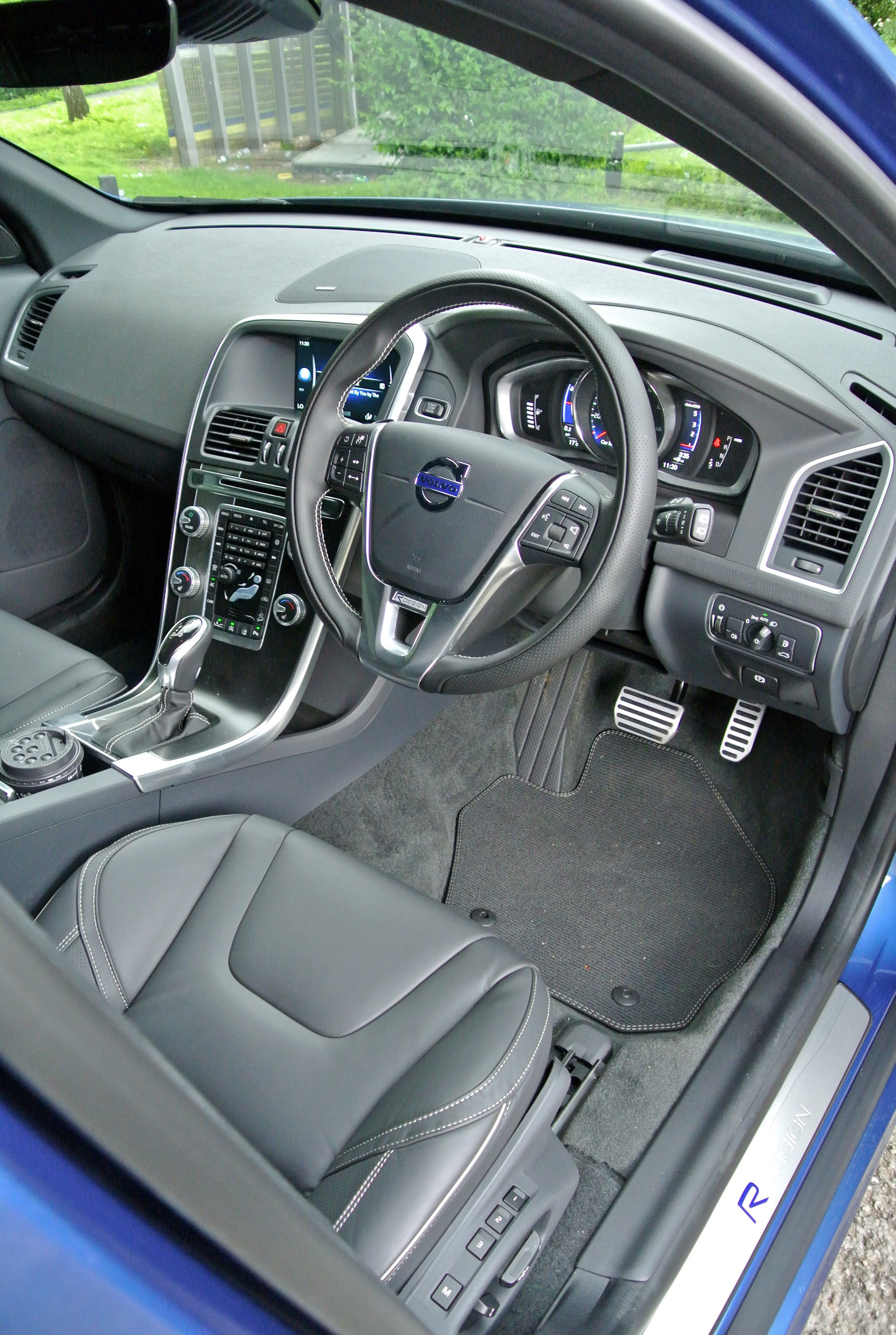 The soft-touch dashboard shares much of its visual architecture with the rest of the Volvo family, with the notable exception of the lovely XC90, which, at not quite a year old, is the latest member. While the instrument panel is largely familiar, so, too, is the centre console stack, which is yet to receive the XC90 treatment of minimising the button-pushing and being more reliant on the touch-screen. It is easy enough to become accustomed to pressing buttons but navigating the mapping system and even the on-board computer is unnecessarily involved, an aspect that throws some elements of Volvo's attention to safety detail into question.
There is decent space in the cabin for passengers, although the boot does not appear as accommodating as in some of Volvo's rivals. It does feature the excellent flip-up 'shopping manager' that keeps store bags upright, instead of spreading their contents all over the boot floor. Of course, I could always drive a little slower….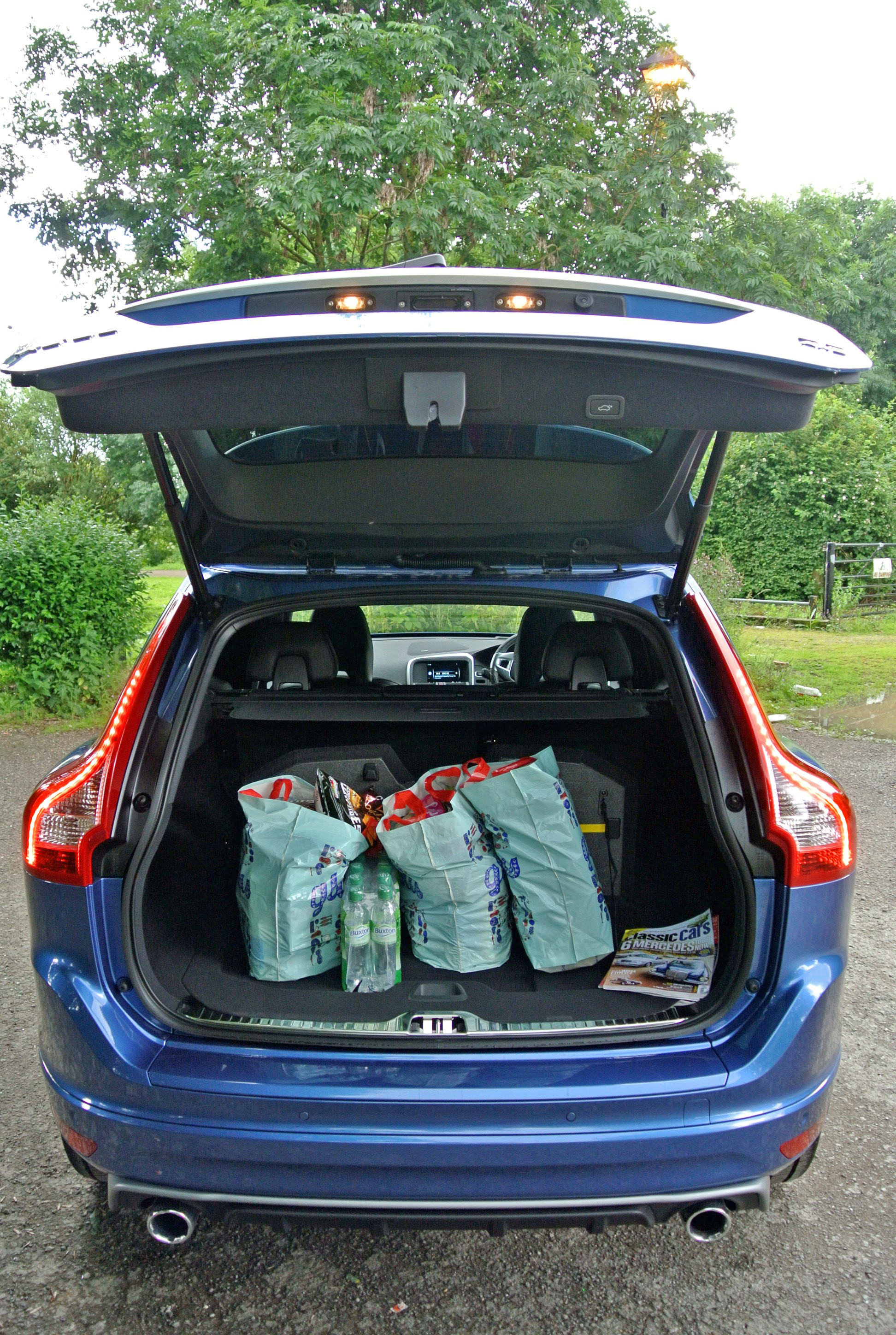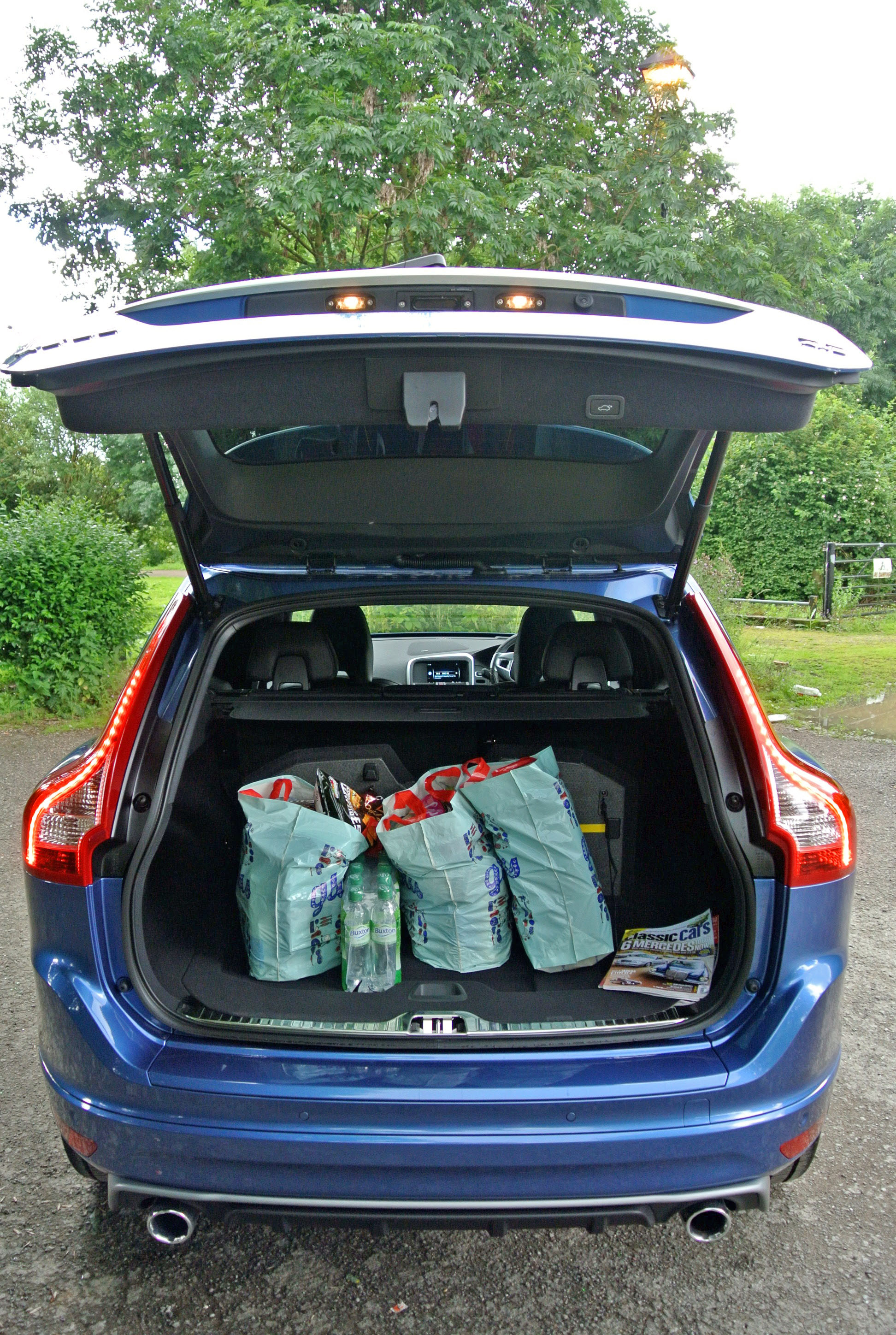 It's a Volvo. What's not to like? The XC60 R-Design's stance is on the money (in this case, £46,250, which includes the aforementioned options packs and just over £6,000's worth of extra-cost accessories), if a bit over-priced, in the hectic SUV sector. It presents well both externally and inside. Its engine is not the best in class but it is far better than some offerings (notably the 2.0-litre Ingenium used by both Land Rover and Jaguar in the F-Pace), although it is a bit of a guzzler, which does dent the back pocket a touch. However, its active safety remains a positive virtue, while its dynamic capabilities are unimpeachable. Volvo knows its onions and I can assure you that there are more layers to come.