Good looking, spacious and cost-effective are attributes of the latest version of Vauxhall's large car range that Iain Robertson highlights is set to be replaced early next year, which makes it eminently business-suitable.
'End-of-line' is terminology usually applied to consumer goods, allied to a healthy discount, to clear unsold back-stocks, in readiness for the next best version to appear. It applies equally to furniture, white goods, fashion clothing and technology, as it does motorcars. Model changes are made partly as a means to introduce new technology but mostly to address design and advanced feature activities from competitors in a fast moving commercial market sector.
Naturally, with some aspects, incorporated predominantly under the umbrella of 'safety', a completely new version of a model that has been appreciated and even admired by customers is often warranted as a means-to-an-end. In the car business, it has become an expectation and, to be fair to Vauxhall, the inclusion of items like autonomous braking (also known as 'city-stop' by some brands) and distance cruise control, while they could be incorporated in the current Insignia line-up, need a fresh styling approach that is driven by market pressures.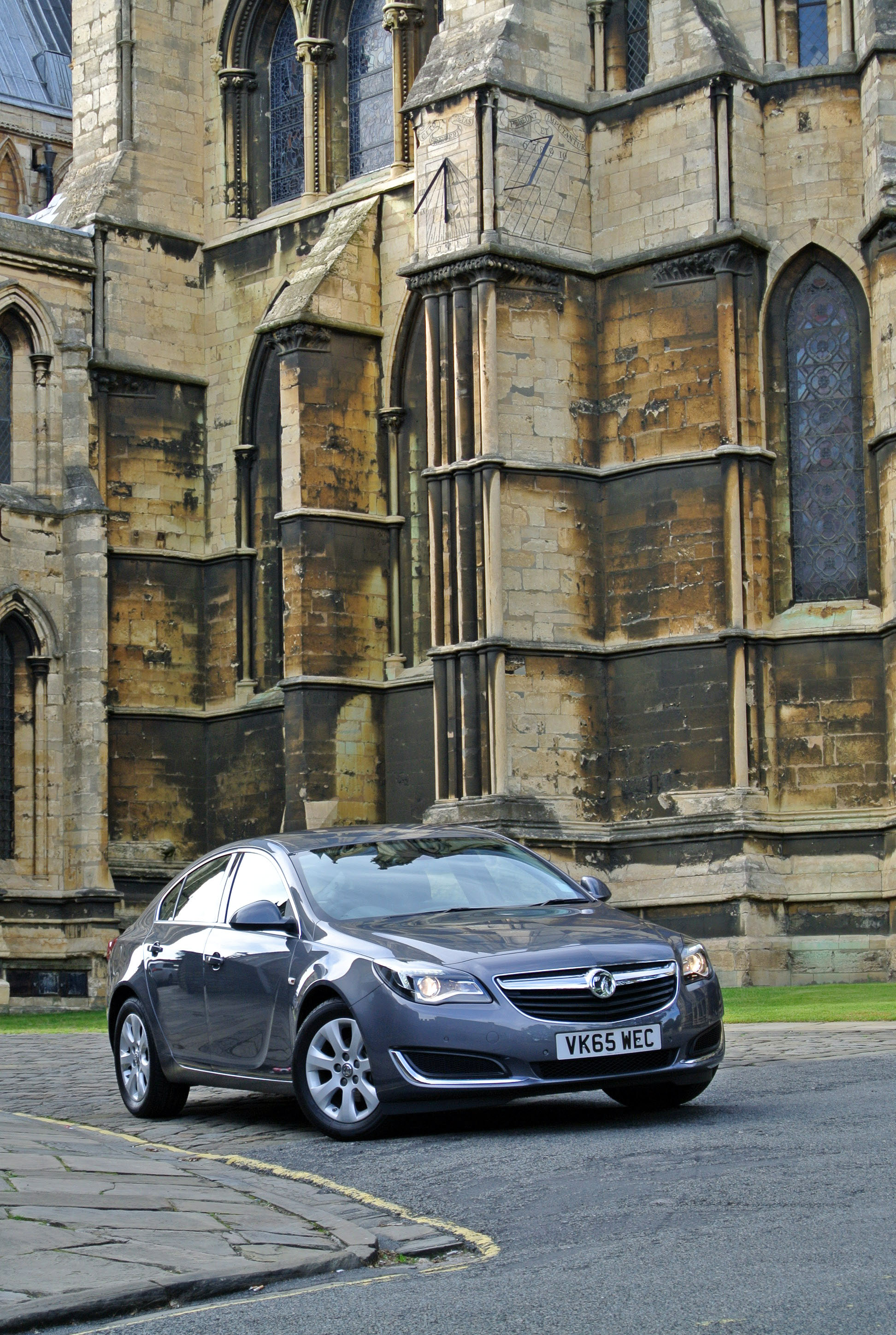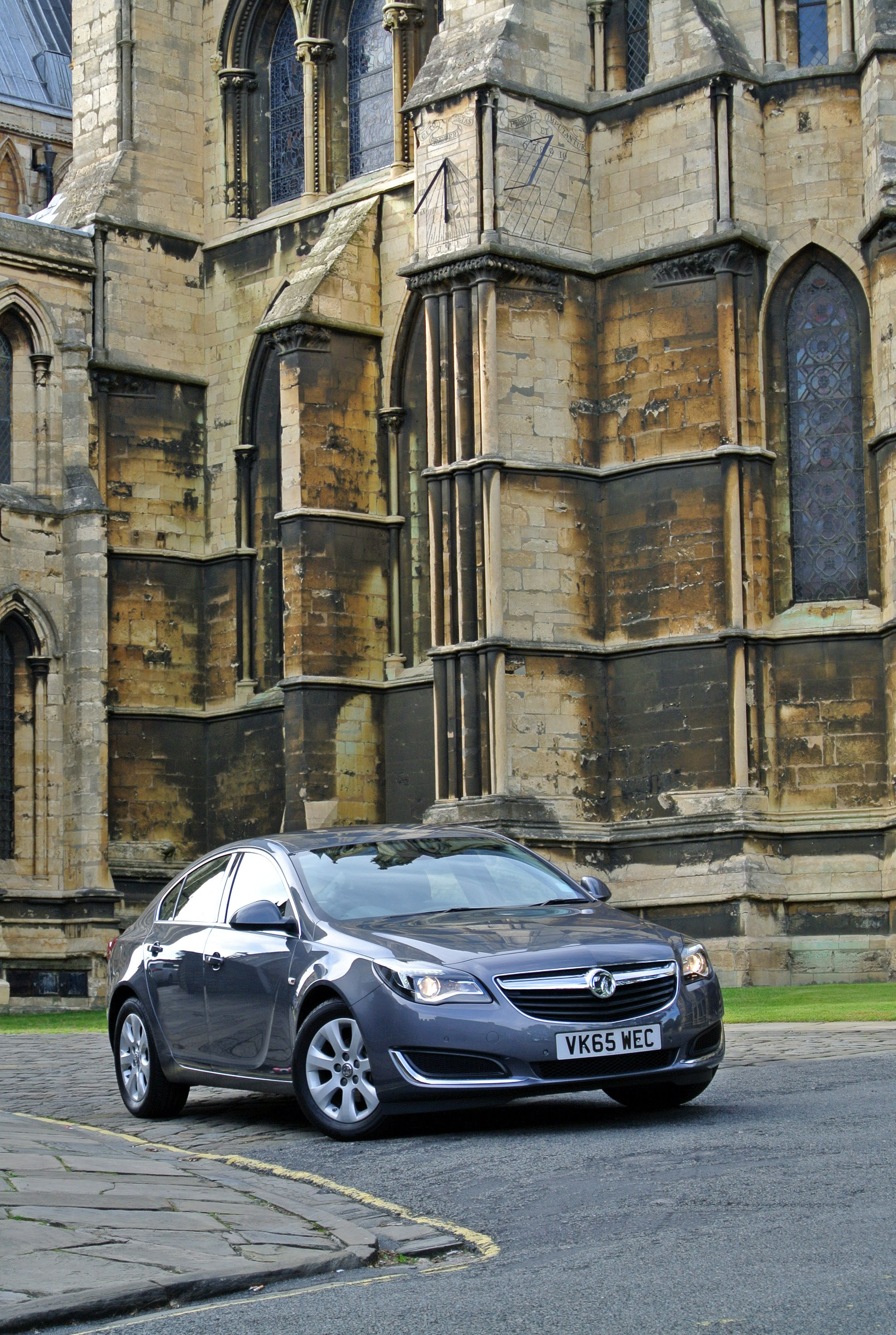 Yet, I want to make a few pertinent points about the current, run-out Insignia. On price, the range starts around the same £17,500 level as top models of the sorely over-priced Ford Fiesta. For a 4.8m long family car, capable of transporting five adults in comfort, the big Vauxhall hatchback represents exceptional value for money. Put into even greater perspective, the Tech Line model tested here, which is equipped to a more than acceptable and business-like level, weighs in at just £23,819, which is markedly less than the ridiculous price tag of the rip-off Fiesta ST200 tested just a few weeks ago.
While appreciating that they are in somewhat different categories, to me, the Insignia's pricing highlights an honest value intention by Vauxhall that makes the equivalent Ford Mondeo look like an even grander consumer theft that Ford appears to be getting away with! Is the Mondeo the better car? Absolutely not, yet it is the Insignia's biggest rival in the UK. Park both cars side-by-side and the Mondeo is a carousel ride of styling nuances that just do not seem to work harmoniously. The Insignia, on the other hand, is a graceful, classically elegant shape, styled by the intuitive Mark Adams, that looks as right today, as it did when it was first unveiled at the London Motor Show in July 2008, when it represented an entirely new name for Vauxhall (having replaced the former Vectra).
Although I did state that Vauxhall has altered very little of the attractive Insignia since its launch, it has incorporated a number of practical developments, not least on the engine front. Despite the 1,538kgs kerb weight, the firm's most recent 1.6-litre 'Whisper' turbo-diesel engine powers the test car. Considering that it is mated to a six-speed manual gearbox that is surprisingly long-legged (35mph per 1,000rpm in top gear), you might not expect a decent performance spread but you would be wrong. If anything, this unit provides the perfect balance between stirring on-road urge and relaxed, sustained high-speed cruising. It is a brilliant motorway car.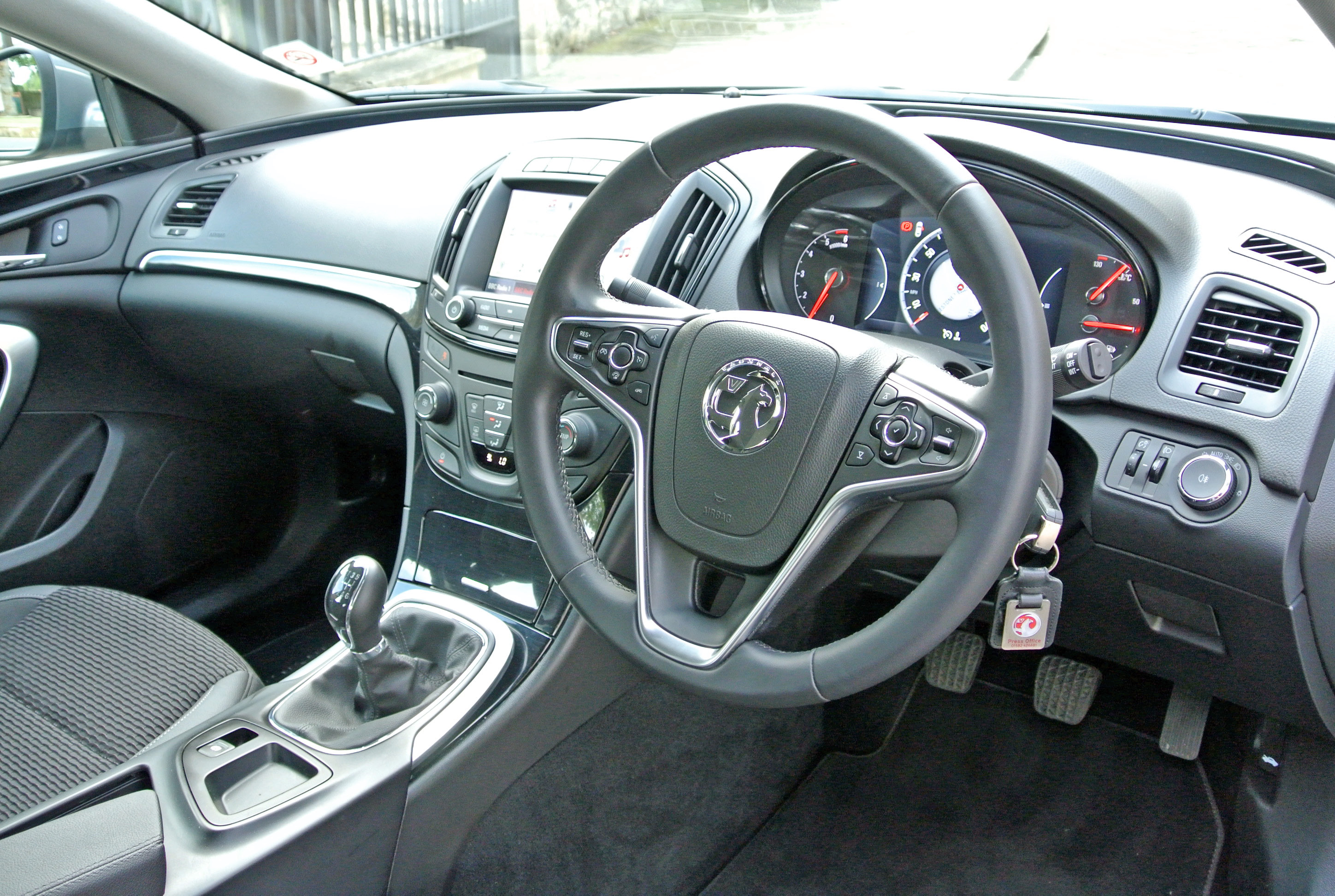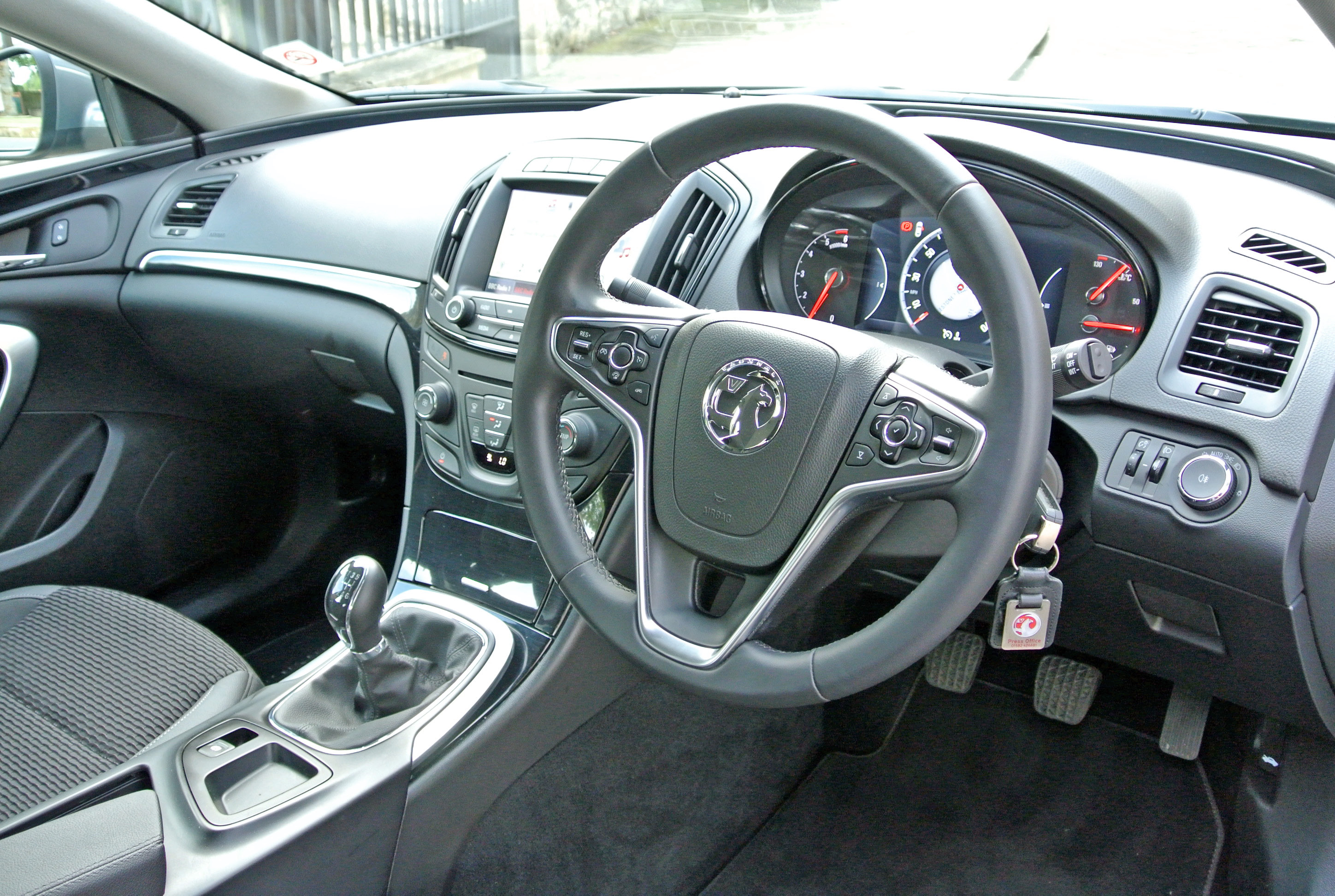 It develops a modest 133bhp, which is allied to 236lbs ft of torque, developed at a lowly 2,000rpm. Find yourself 'wrong-geared', i.e. in fifth (which is still a lofty 30mph per 1,000rpm) at 30mph and the off-boost lethargy is disappointing. Yet, the deliciously slick manual gearbox shifts effortlessly into a lower gear and the pick-up from (let's say) 3rd gear at the same speed is strong. The fact remains, you get used to keeping the revs up, which would happen with any turbo-diesel, regardless of engine capacity.
However, this diesel retains its smooth and seamless progression to deliver a top speed of around 130mph, having despatched the 0-60mph benchmark in a moderate 10.9 seconds. It is not an engine that you will want to rev up the range anyway and it delivers its punch in the important middle ground, the reward being felt in a consistent 55mpg fuel return (74.3mpg Official Combined figure), which is virtually the same as my 1.0-litre petrol Citigo but ensures a useful full-tank range of upwards of 775 miles. Okay, 70-litres costs twice as much to replenish as 35-litres but a high mileage driver will appreciate filling-up less frequently. Most owners will top-up their Insignia tanks just once a month.
The other significant benefit of the 1.6-litre diesel unit lies in its 99g/km CO2 rating, which equates to a zero-cost VED. It is helped by the Start:Stop facility, which is as unobtrusive as any other aspect of the Insignia. Factor in a low insurance rating of Group 17E and the Insignia makes a lot of sense on the economic front. Trust me, there is almost nothing to dislike about this car.
Crack open the hatchback and the boot is a massive 550-litres that can be expanded to 1,470-litres carrying capacity by folding forwards the rear seats. The fully carpeted boot floor is not entirely flat, because of a pair of angled braces adjacent to the inner wheel arches, but there is additional security storage below the floor and it is more than big enough for most applications. Ironically, the Astra estate car is even roomier in the boot than the Insignia Estate.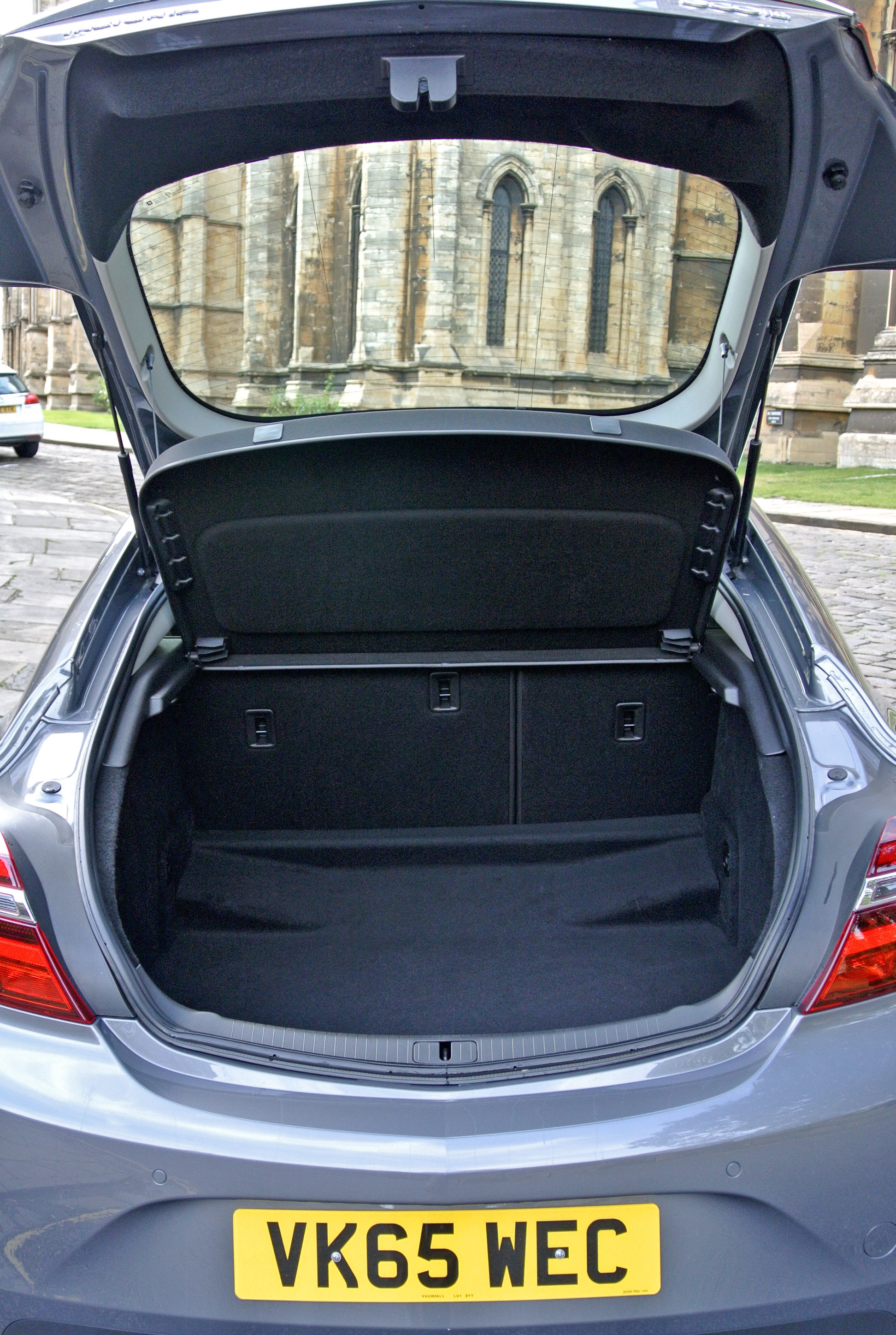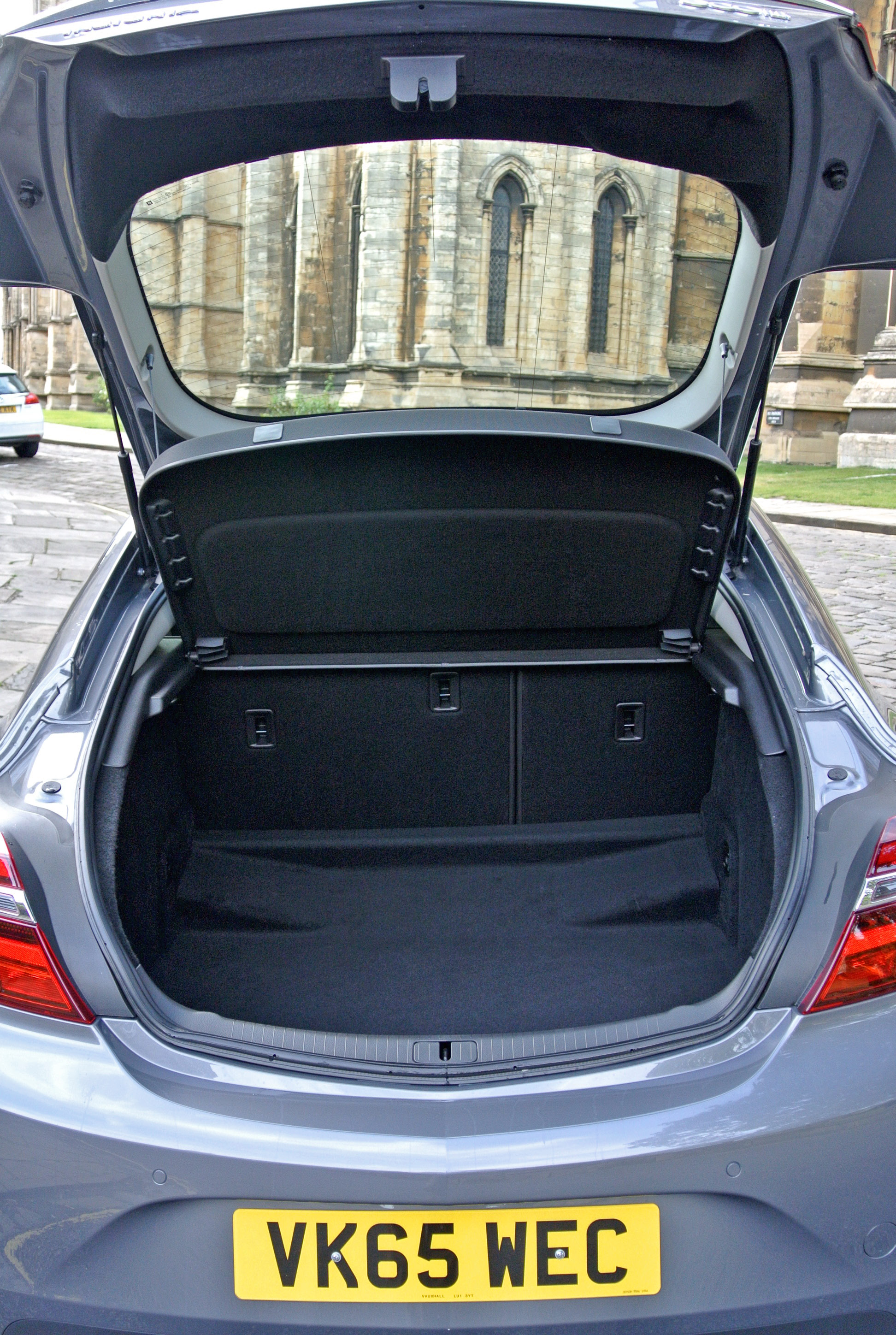 Within the spacious cabin, the driver's seat benefits from electric lumbar support and height adjustment. However, the manual elements, combined with the rake and reach adjustability of the steering column, enable a safe and commanding driving position, most especially for a tall person, like me. Although I have never been a fan of electronic parking brakes, that in the Insignia works well and releases automatically, with throttle depression. Auto-on wipers and headlamps, an anti-dazzle rear-view mirror, electric windows and a decent stereo system support most driver's needs. A trip computer and cruise control are also fitted as standard equipment.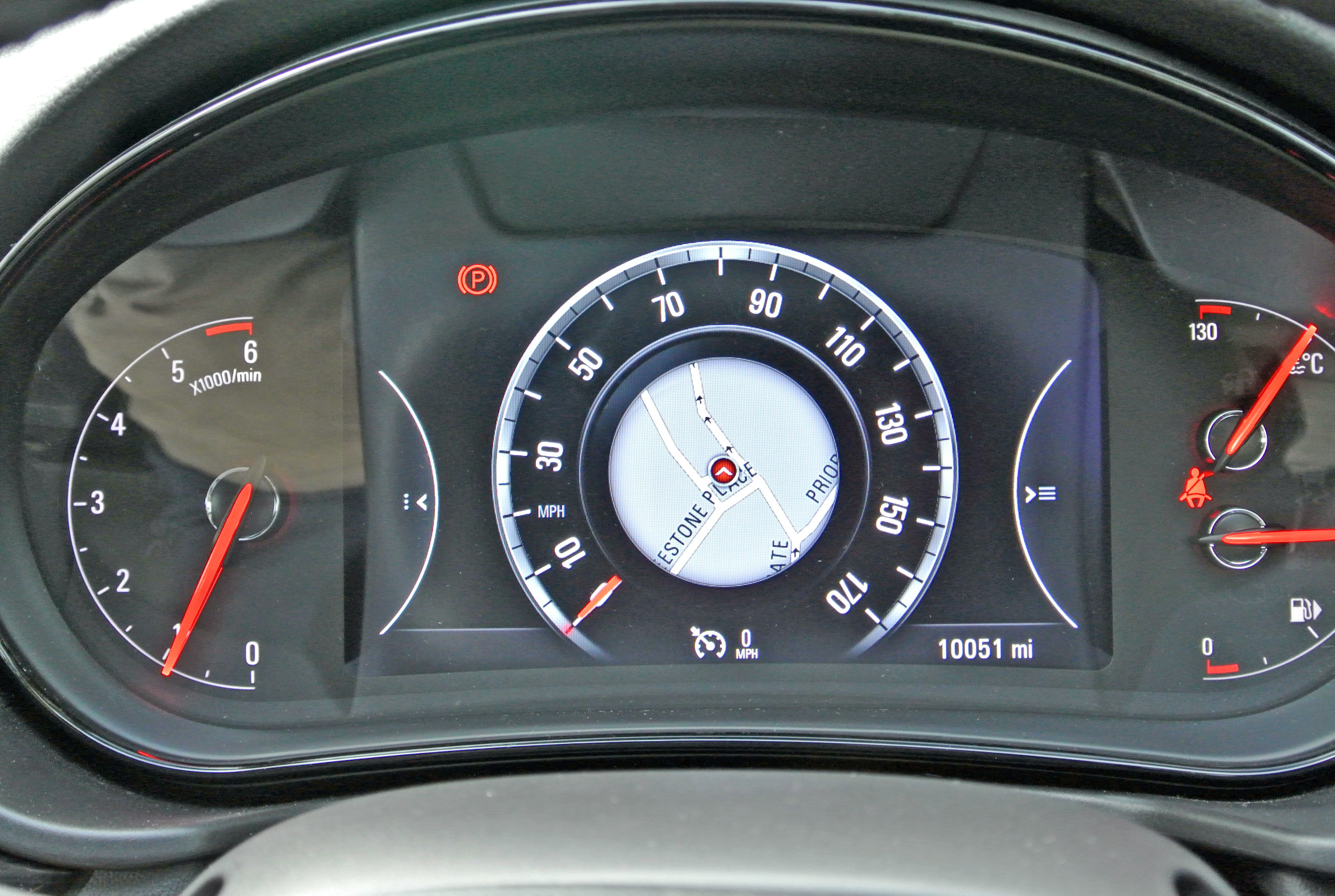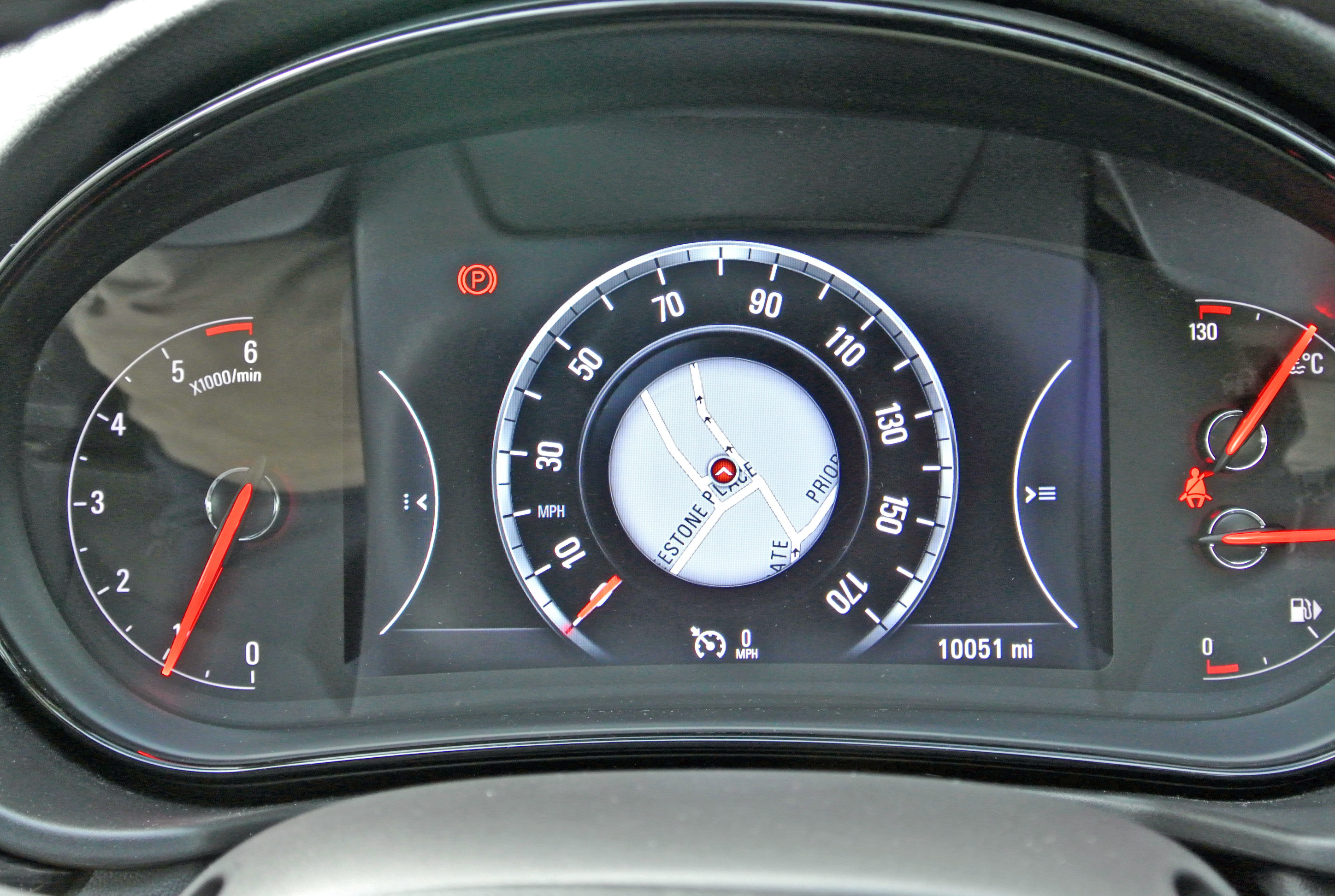 The IntelliLink touch-screen in the centre console links up easily with my android mobile phone and its in-built music files. A nice safety feature is the ability to listen to text messages and to send one-line responses on the move. Interestingly, a £400 option fitted to test car is another 8-inch TFT screen located ahead of the driver in the instrument binnacle. It can be configured colourfully in several different ways and can include sat-nav, as well as other functions in its range of visuals. It is flanked by the rev-counter on the left and the water and fuel gauges on the right. The fit and finish inside the car is up to BMW standards and consists of a mix of soft-touch and textured trim sections that are classy and non-distracting. Vauxhall's useful OnStar service (+£395) and front and rear parking sensors (but no camera; +£450) are also fitted.
The Insignia's handling and dynamic responses are superb. Its ride quality is fluent and compliant, ironing out even the nastiest of road surface imperfections and aiding the high-end, luxurious feel inherent to the car. The steering responses are delightful and allow the driver to set up the car for high speed cornering, while there are almost no front-wheel-drive traits imparted to the helm, with the car assuming a neutral and balanced stance regardless. The 17-inch alloy wheels are clad in 225/55 section tyres that provide plenty of grip, even on very wet roads. If Vauxhall can achieve this sublime level of chassis control on its large model, it begs the question about why the majority of its rivals seem to be hooked on a smooth autobahn-type ride that falls apart on typical British roads. Vauxhall has got it absolutely spot-on!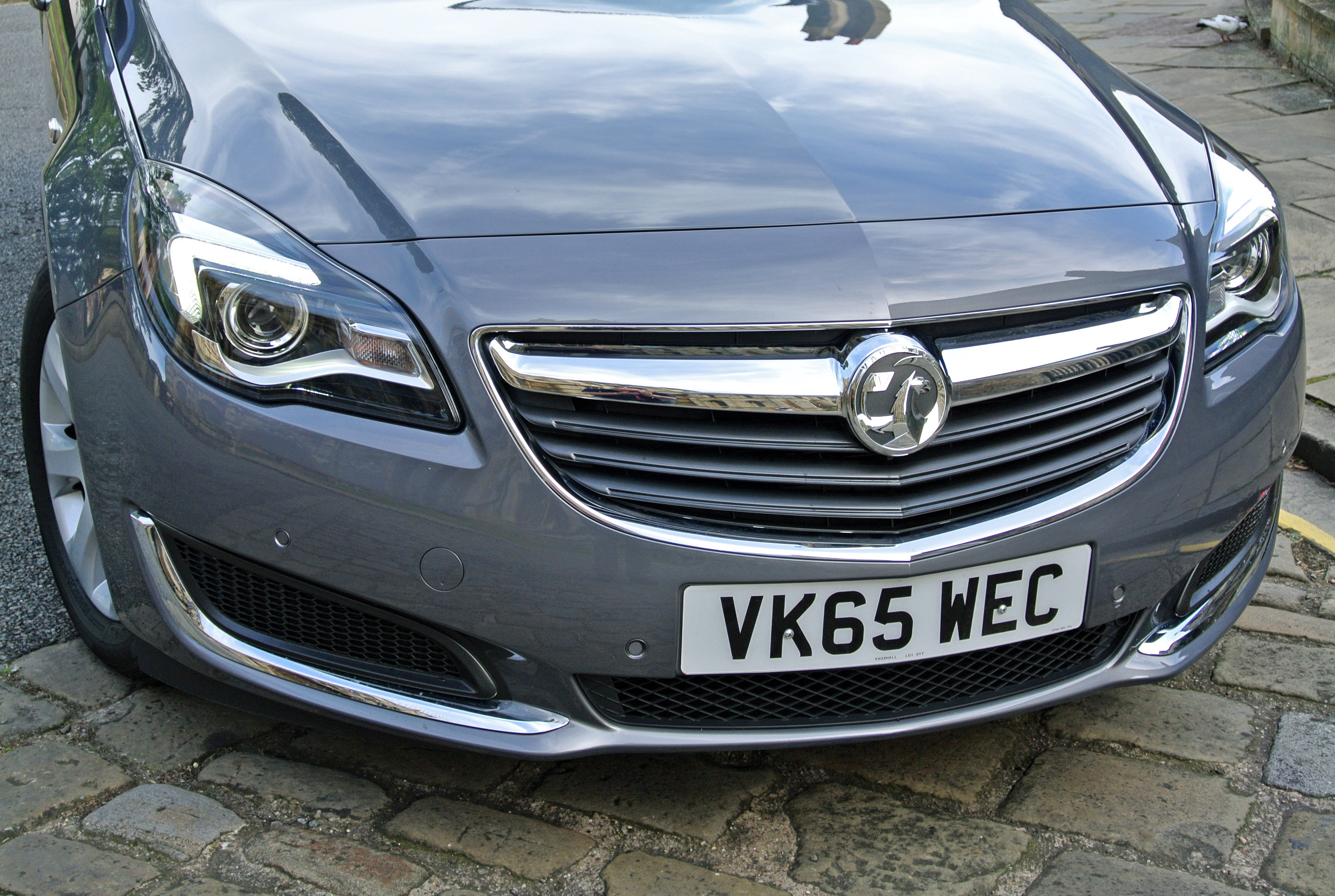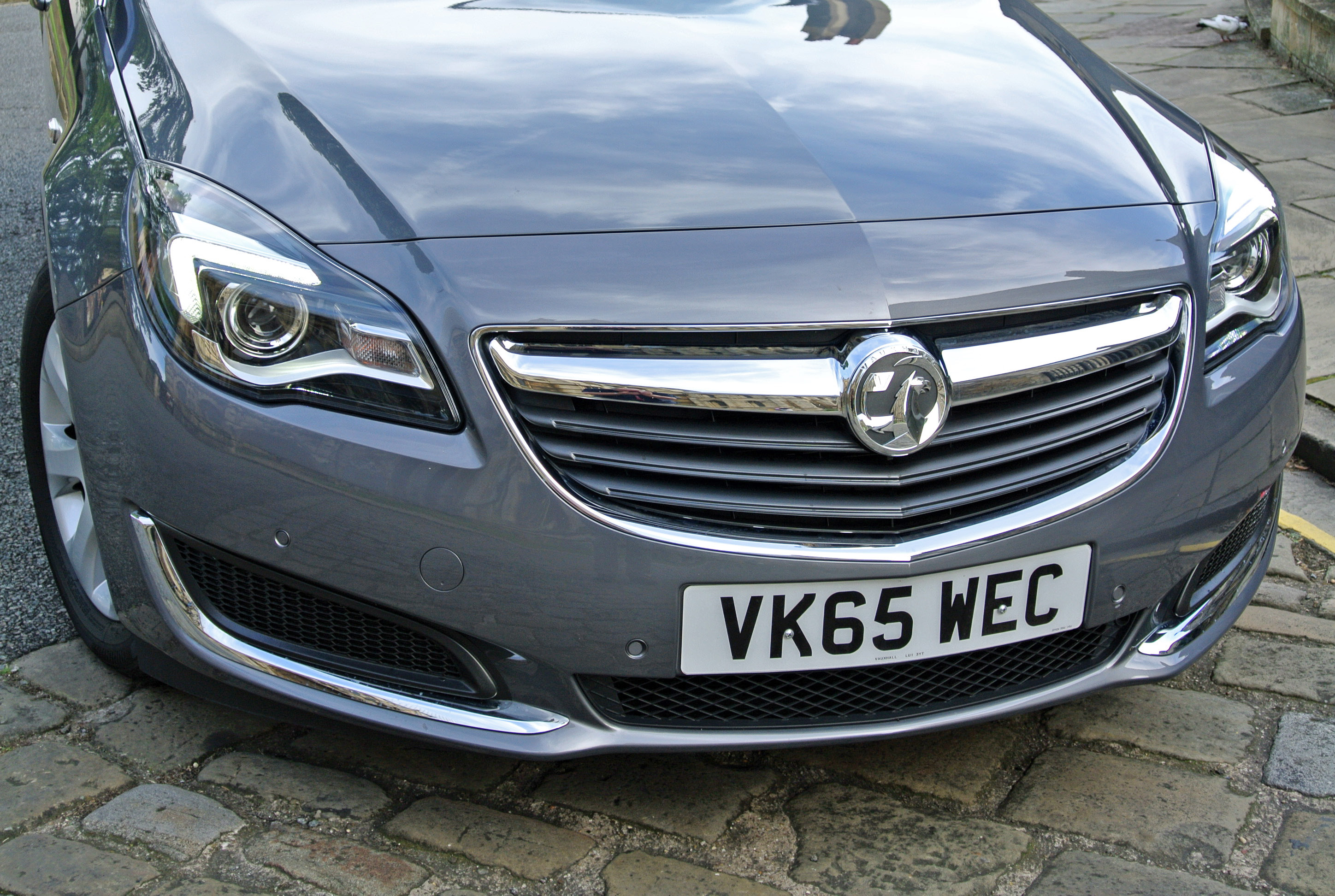 It is difficult for carmakers these days to justify new models in sectors of the market that are actually in slight decline, which goes a long way towards explaining the extended gestation periods for replacements. Bear in mind that this class is predominated by the equivalent BMW, Audi and Merc rival models, all of which outsell both Insignia and Mondeo offerings. Yet, there remains a place for these mainstream models (and their estate car variants), not least in the burgeoning fleet/company car sector.
However, as with Mondeo, Insignia does suffer from massive depreciation, when bought new. As a result, I have no fear about recommending the Insignia as a used proposition. Bullet-proof mechanicals and low operational costs make it a phenomenal opportunity at comfortably less than 50% of its original list price. The prospect of obtaining a lot of car for the money is hugely entertaining and even a one year old example makes a lot of sense for both business and private users, especially with the balance of a three years warranty and 20,000-miles service intervals being factored into the financials.
Vauxhall's good looking, well-packaged and well-equipped family car will soon represent the bargain-of-the-decade on used car forecourts, once the new model emerges, probably early next year. Its timeless design and both cabin and boot roominess are key attributes, while the 1.6-litre diesel engine ensures cost-efficiency at unexpected levels, with no negatives on the performance front. I love the Vauxhall Insignia, not least because it makes the Ford Mondeo look and feel like an unwelcome tin can!