Suzuki motorcars are renowned for their compact competence and large hearts but, as Iain Robertson proves exhaustively, looking a little deeper reveals a raft of mechanical capability considerably greater than the retail price expectation.
Picture the scene: Swansea, South Wales. Five of Suzuki's seven-model line-up available. Fifty miles north, in the Brecon Beacons, an off-road ground that offers 1,600-acres of unbridled car heaven. The objective: to reach Walter's off-road experience, to sample four-wheel-drive technology, as applied to each of those five Suzuki models.
What Suzuki brands as 'AllGrip' is actually four-wheel-drive applied scientifically in 'Auto' form (for Ignis and Swift), 'Select' (for the more sophisticated Vitara and S-Cross models) and 'Pro' (for the diminutive but eminently capable Jimny that features both low and high gear ratios). The bottom-line is that in excess of 25% of all Suzukis sold in the UK are equipped thus but, ironically, seven of the ten most fuel-efficient 4×4 cars are also Suzukis. It is a compelling story.
Armed with the keys to an S-Cross, powered by the firm's brilliant BoosterJet engine in four-cylinder, 1.4-litre form, I can tell you that some very hard driving up into the Welsh mountains highlighted the surefooted nature of the car on tarmac, as the road bucked and twisted and the car ironed-out every imaginable imperfection. Understeer (the mechanical push forwards that ignores selected steering input) is all but absent from the S-Cross. Twirl the tiller and it responds positively and delightfully to direction changes. Not even mid-bend bumps can upset its course, despite sudden, Armco-inhibited drops to left and right of the tortuous route above 'The Valleys'.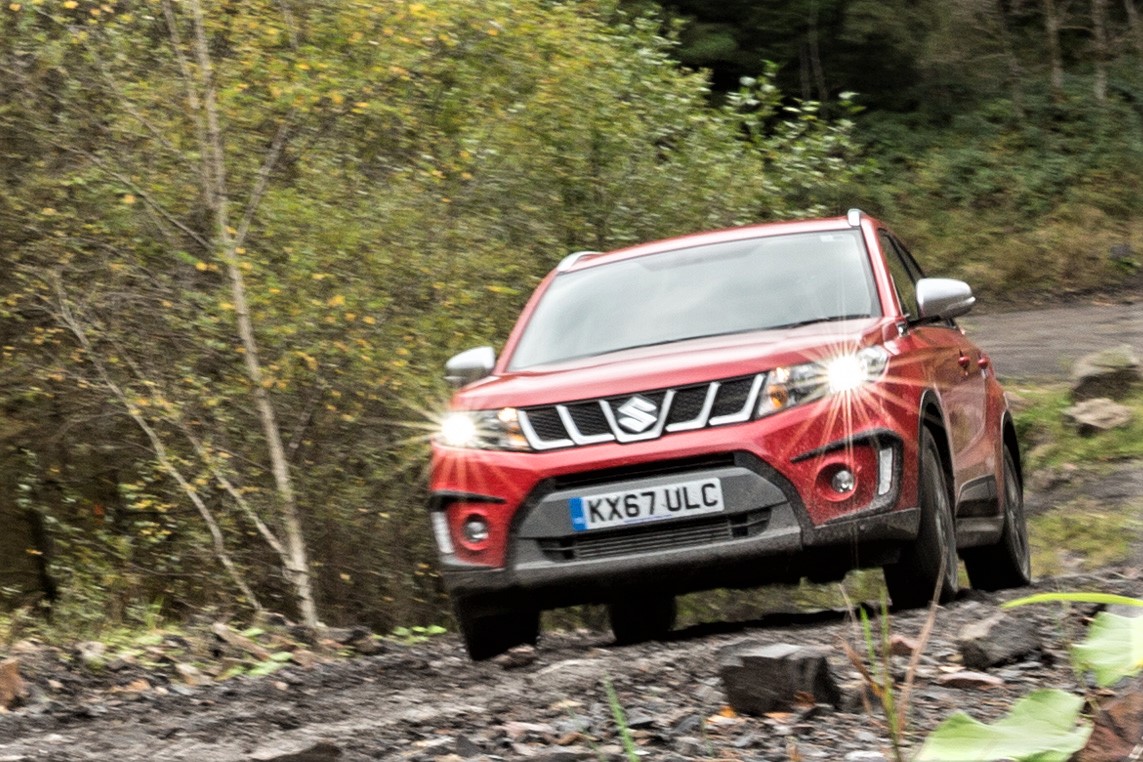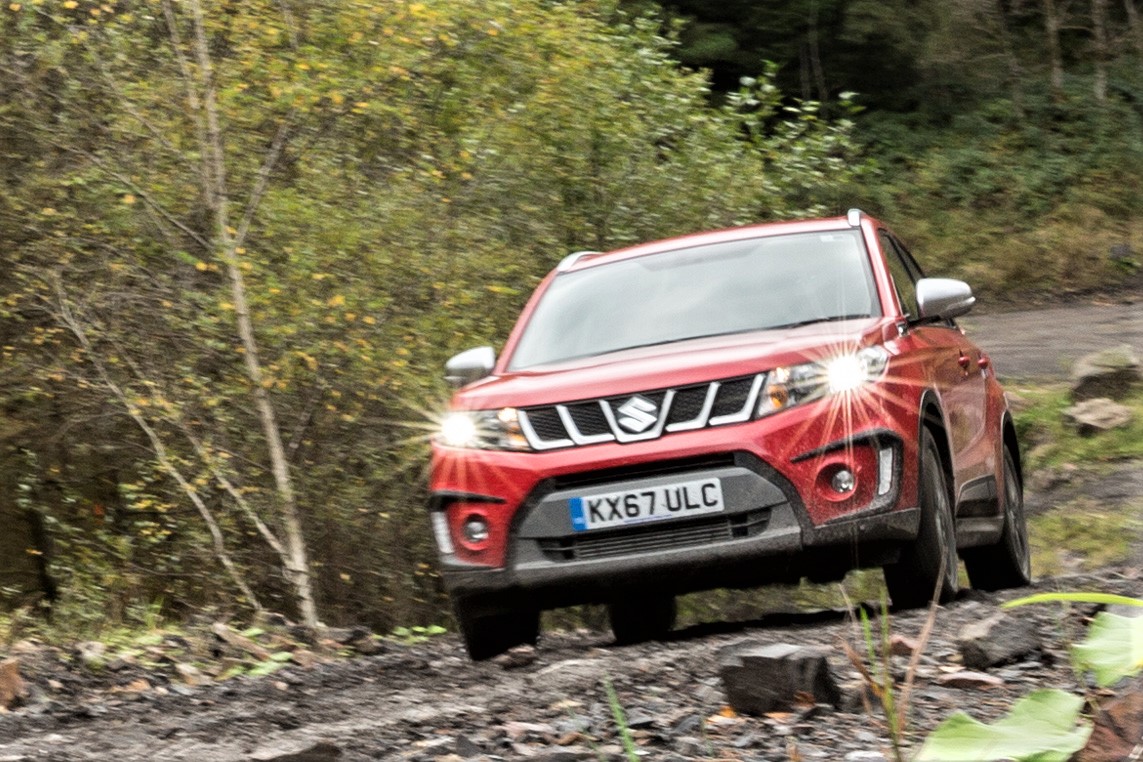 Despite incurring some acrid smells from the car's brakes, while arresting high-speeds on downhill sections, brake fade was also absent and 'recovery time' was not even a contemplation. The five-speed manual gearbox was worked extensively but there is adequate torque from the punchy engine to warrant third and fourth as the gears most in demand. Squeezing past slower vehicles on these passes was eased by the compact dimensions of the family estate car and superb suspension damping, which simply never became overheated and, thus, did not demand reduced speeds, also served to enhance well-engineered chassis dynamics.
Arriving an hour later at the Walters Arena, which sounds so anachronistically small, we swapped into an Ignis and followed in convoy a cautiously-driven Land Rover around an orange-arrowed, gravel surface route. While the S-Cross 4×4 system status can be selected manually, the Ignis relies on a viscous coupling to sense any loss of traction and apply, or remove, torque automatically to whichever driven axle requires it. The most amazing test was taking a road-registered example up a one-in-one slope from standstill…an action further elucidated when dropping downhill, with the system's Hill Descent Control engaged.
As my physical dimensions preclude my driving of a Jimny, I left my colleagues to experience the phenomenal off-road and mud-plugging capabilities of this relative tiddler. None of them returned from the experience feeling any less than convinced of the car's mountain-goat tendencies. I have suggested it before and repeat that, if Land Rover has been stupid enough to leave the workhorse 4×4 sector unattended, until its new Defender model appears in around two years' time, Suzuki needs to get in there, with an SZ1, stripped-out version of the Jimny, riding on farmer-preferred steel wheels. Just as Suzuki can sell around 1,000 examples of this model every year, without spending a bean on marketing it, Land Rover was able to find 10,000 homes annually for its much-loved Defender. Now, were Suzuki to offer a low-rent scheme to former Defender customers, it could double its Jimny turnover in a trice and, once those 'customers' appreciated the indefatigable go-anywhere status of the Suzuki product, I cannot see too many examples being returned to the company.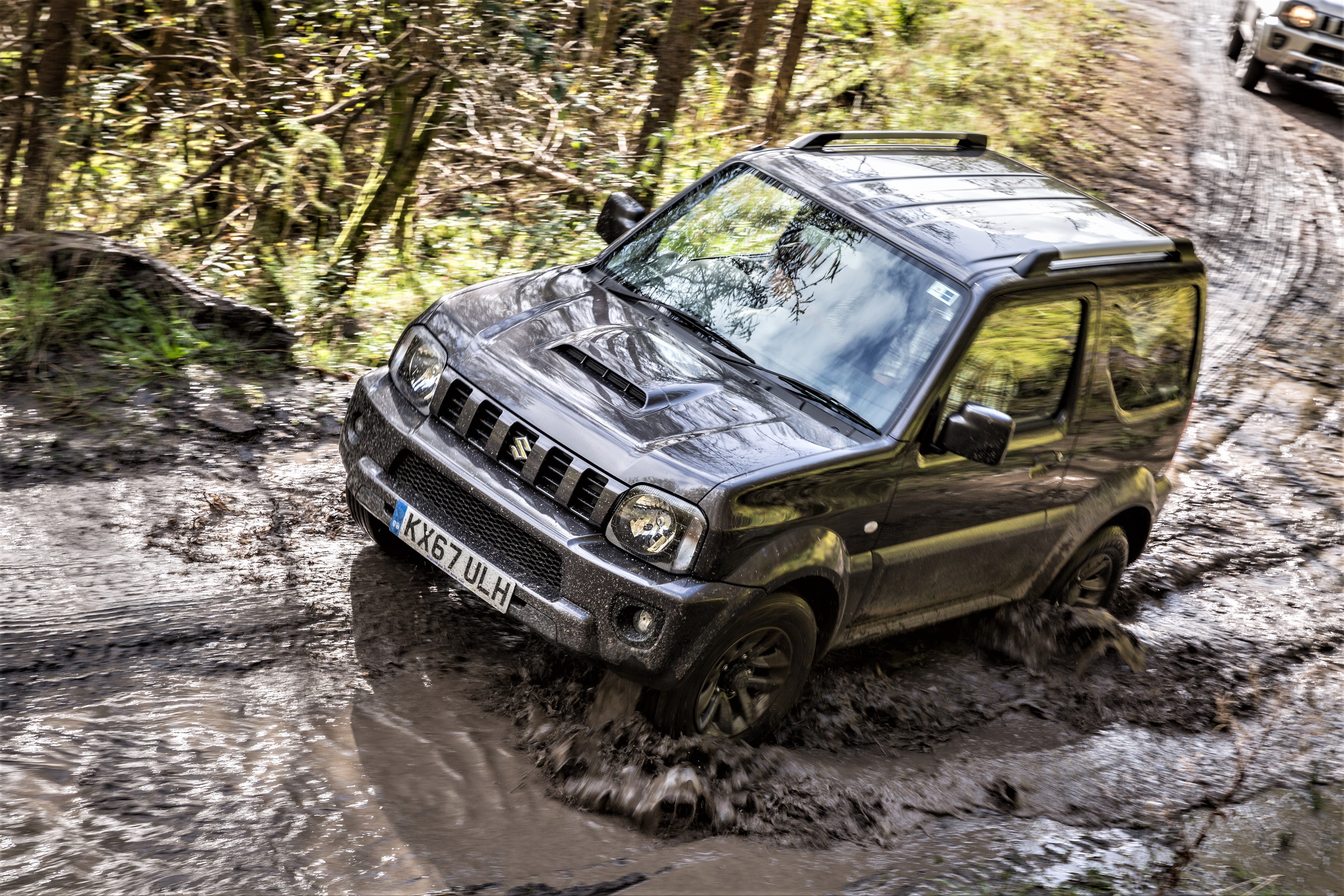 Thanks to Alun Parry, the perpetually energetic Head of PR for Suzuki GB, a special arrangement had been made for me to tackle the alternative 'orange route' in a Vitara 1.4S, again powered by the utterly amazing 1.4-litre BoosterJet engine. Remember that this is a production model, featuring no modifications. With warnings issued to staff on-site, I relented not an iota and drove the car at full-tilt on the off-road ground, sliding it from one lock to the opposite, using the blend of available traction and torque. I have already stated that the Vitara S is the best-ever rallycar for the road. Now I can state that it is also a most competent rallycar off-road too! For drivers that desire the maximum fun from their cars, the Suzuki Vitara 1.4S provides it, without drama, totally compliant to a driver's desires and capabilities. It represents a value-for-money tag that is virtually unbeatable. A second high-speed run, with Mr Parry as passenger, only served to underscore the Vitara's value.
The fifth of the available cars, a Suzuki Swift 1.2i AllGrip, was our on-road transport back to Swansea. Again, its only-when-needed 4×4 system provided a level of surefootedness and inherently safe balance that highlights its role as an all-surface, all-weather, competent all-rounder that costs less than a Panda 4×4. Yet, it is an eminently modern, compact hatchback, possessing a likeable character and more than enough urge to make driving fun.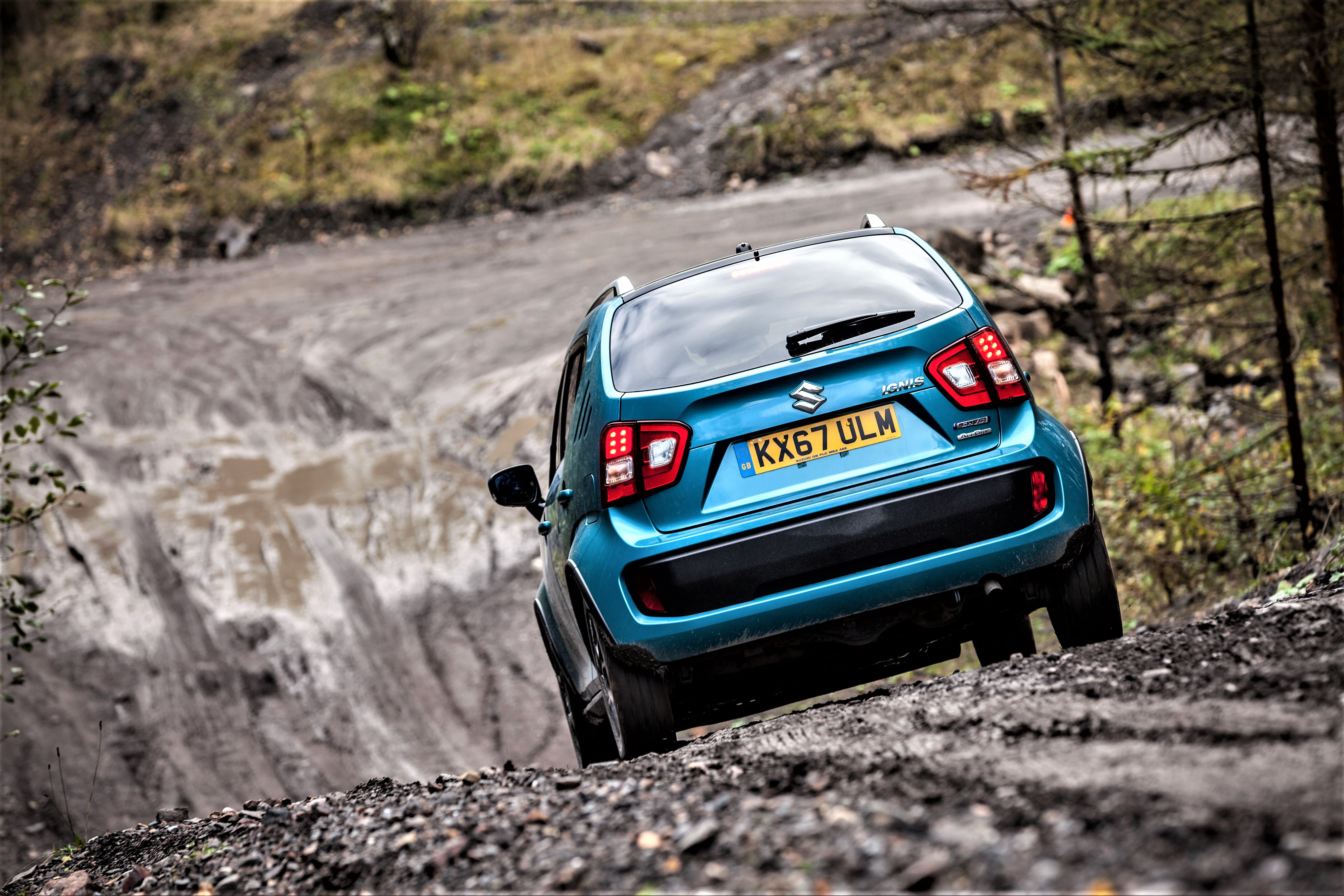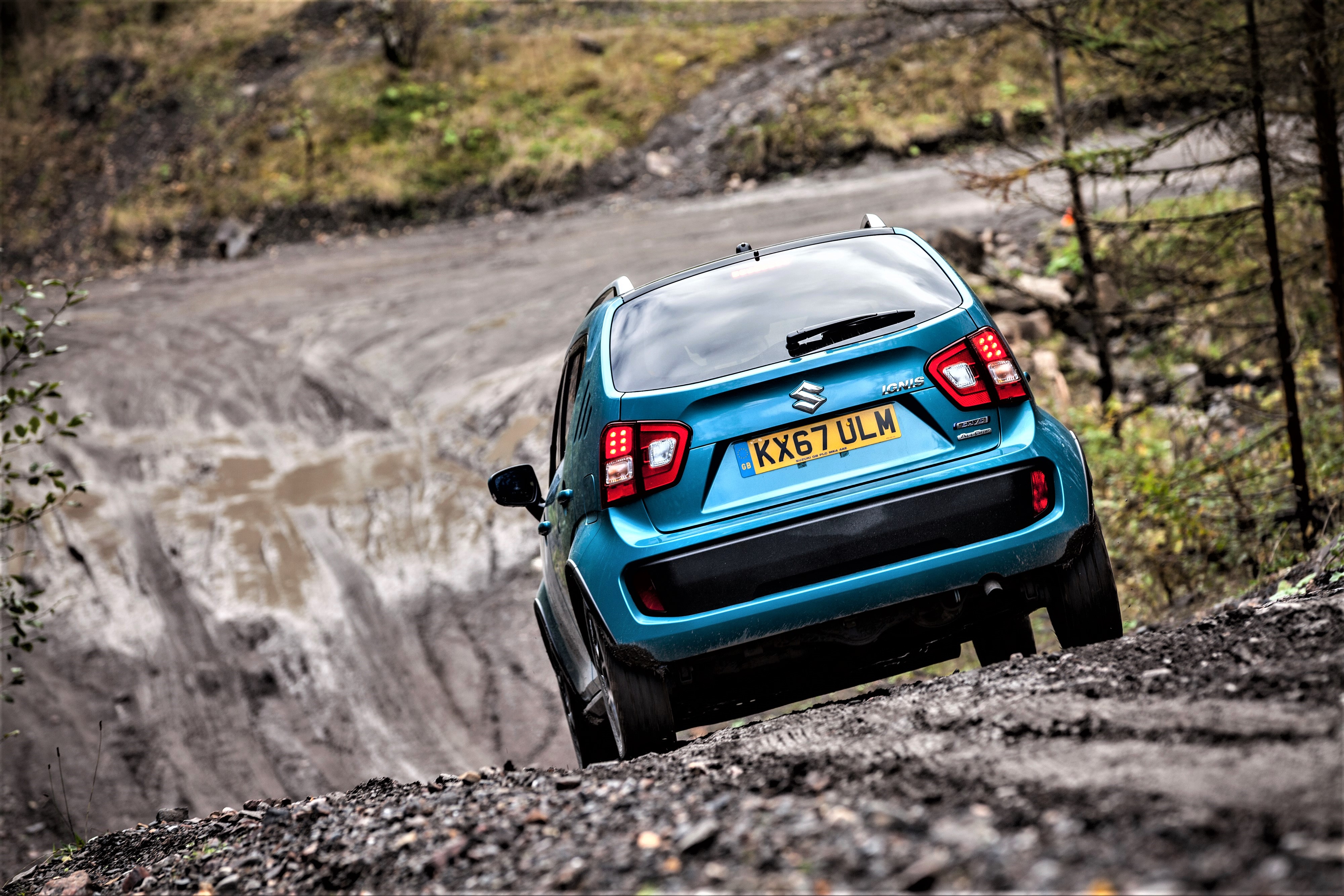 You can criticise Suzuki for the questionable quality of the plastics it uses to trim its cars but there is no doubt as to their engineering integrity and, even after a day spent wringing their necks on all manner of surfaces, the Suzukis remained driveable, safe and secure in the way they looked after their occupants. From the funkiness of the Ignis, to the practicality of Jimny, or the style of S-Cross and prettiness of the Swift to the all-round capability of the Vitara S, Suzuki manufactures 'giant-slayers' of compact proportions that have driver appeal at their cores. Spending one day experiencing that range of competences is enough to confirm the viability of Suzuki, not just as the UK's leading 'value brand'.