In tackling a gruelling 1,500-miles Irish road trip, Iain Robertson proves not only the viability of Suzuki's Baleno but also its eminent practicality as a most competent family car that also delivers a low carbon footprint.
Officially on sale in June 2016, the latest Baleno model from Suzuki will have a positive effect on car buyers, as has already been demonstrated to me with its cracking and sporty 1.0-litre Boosterjet version. Yet, it is the 1.2-litre (1,242cc) mild hybrid model (SHVC) that will set the market alight for the small volume car producer, as it meets current consumer demands squarely.
Given the opportunity to drive a bright red version of Suzuki's new, Indian-built contender in the compact car class on the stunning roads of the west of Ireland, I was not going to squander it. The Wild Atlantic Way is receiving a lot of media attention at the moment, through BBC Radio Two and as a result of a tremendous promotional push by Visit Ireland, the tourism organisation in The Republic.
It is the longest, defined coastal route in the world, being over 2,500kms in length. Epitomised by its stylised 'WAW' signposts, as I have now discovered, it is not merely testing, both on the car and the driver, but it is also one of the most spectacularly scenic routes that I have ever driven. Driving on road surfaces that would defy the suspension engineers of many carmakers, complete with sudden camber changes, severe dips and exceedingly rough and poorly finished tarmac, I pity the classic car owners that feel encouraged to tackle this designated route, as it is little more than a car-wrecker!
Yet, despite the Baleno receiving a thorough drubbing, it seldom placed a wheel in the wrong place, continued to ride comfortably and also to grip prodigiously, even in very changeable weather conditions, when many other cars might bounce, jounce, slip and slide most undesirably. Despite sitting slightly lower than the standard car, partly as a means to encourage a better airflow beneath it, en-route to providing outstanding fuel economy figures (more of which in a moment), it never bottomed-out, regardless of the severity of the road imperfections.
In addition, the car's steering is not just fairly light to heft, in overall manoeuvrability terms, but it provides a sensible amount of feedback to the driver's fingers, so that he is under no illusion about the intended direction dialled in. It is quick enough in reaction terms, to ensure that the driver seldom has to call on the car's stability control, or the autonomous (self) braking that is also standard.
Powered by a 1.2-litre four-cylinder engine (as opposed to the 1.0-litre triple that is turbocharged and develops 110bhp), which features Suzuki's Dual-Jet injection system, the SHVC model produces 88.5bhp. Naturally, its performance is going to fall short of that of the turbocharged version. Yet, installing an integrated starter-generator and placing a battery pack beneath the front seats has the effect of turning a potentially sluggish five-door car into a far from lagging front-runner.
Provided with an electric boost to its torque curve means that the driver is seldom having to seek a lower ratio for clambering up hills with ease, something that the Baleno does with some aplomb. It is not that there is any hardship attached to motivating the SHVC model through its five-speed manual gearbox but, rather, that you just do not need to and that pays dividends at the fuel pumps. The fact that the fuel tank only carries 8.1 gallons of two-star is not a demerit, when even hard driving results in 58mpg average returns. Many drivers should be able to exceed 65mpg with consummate ease.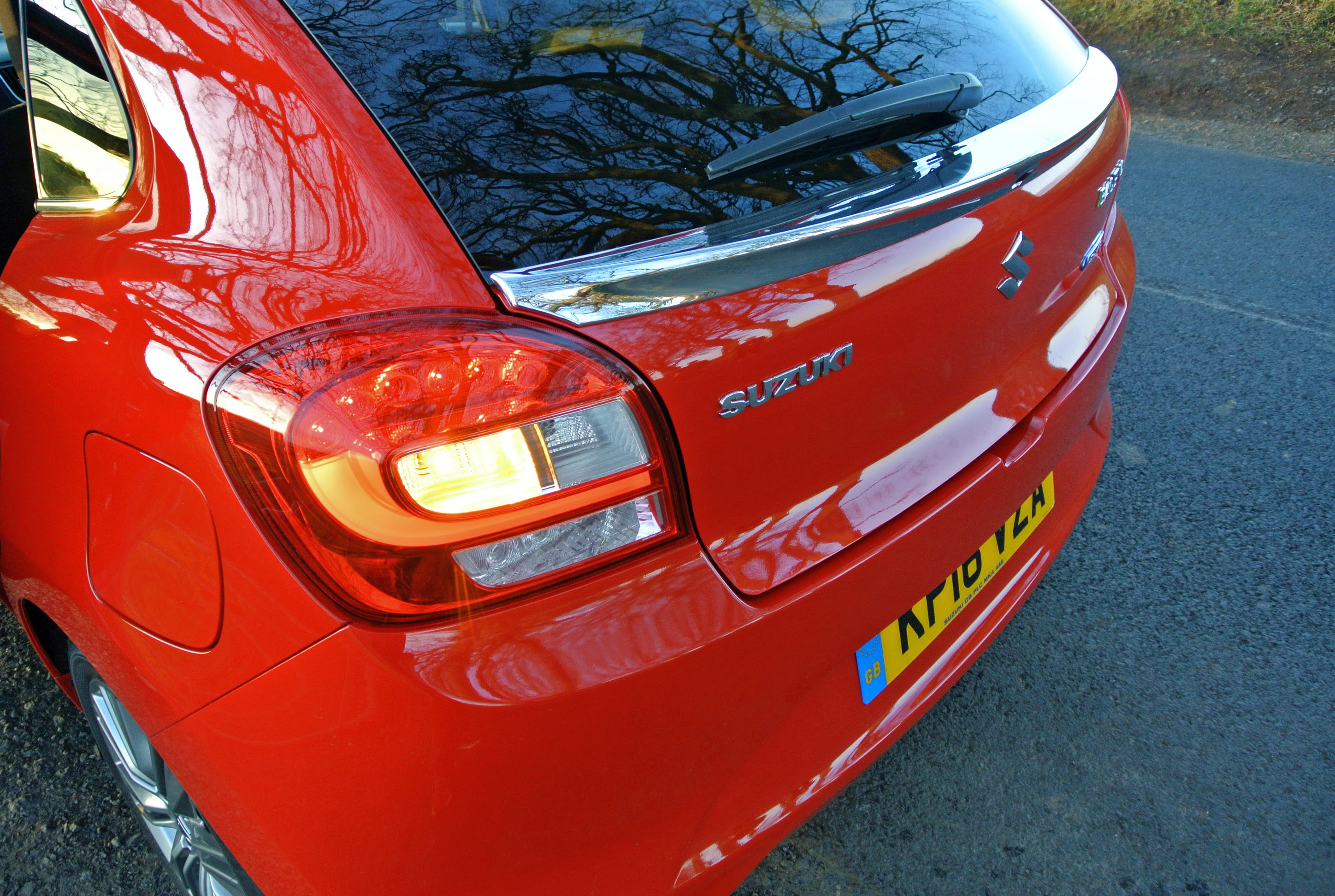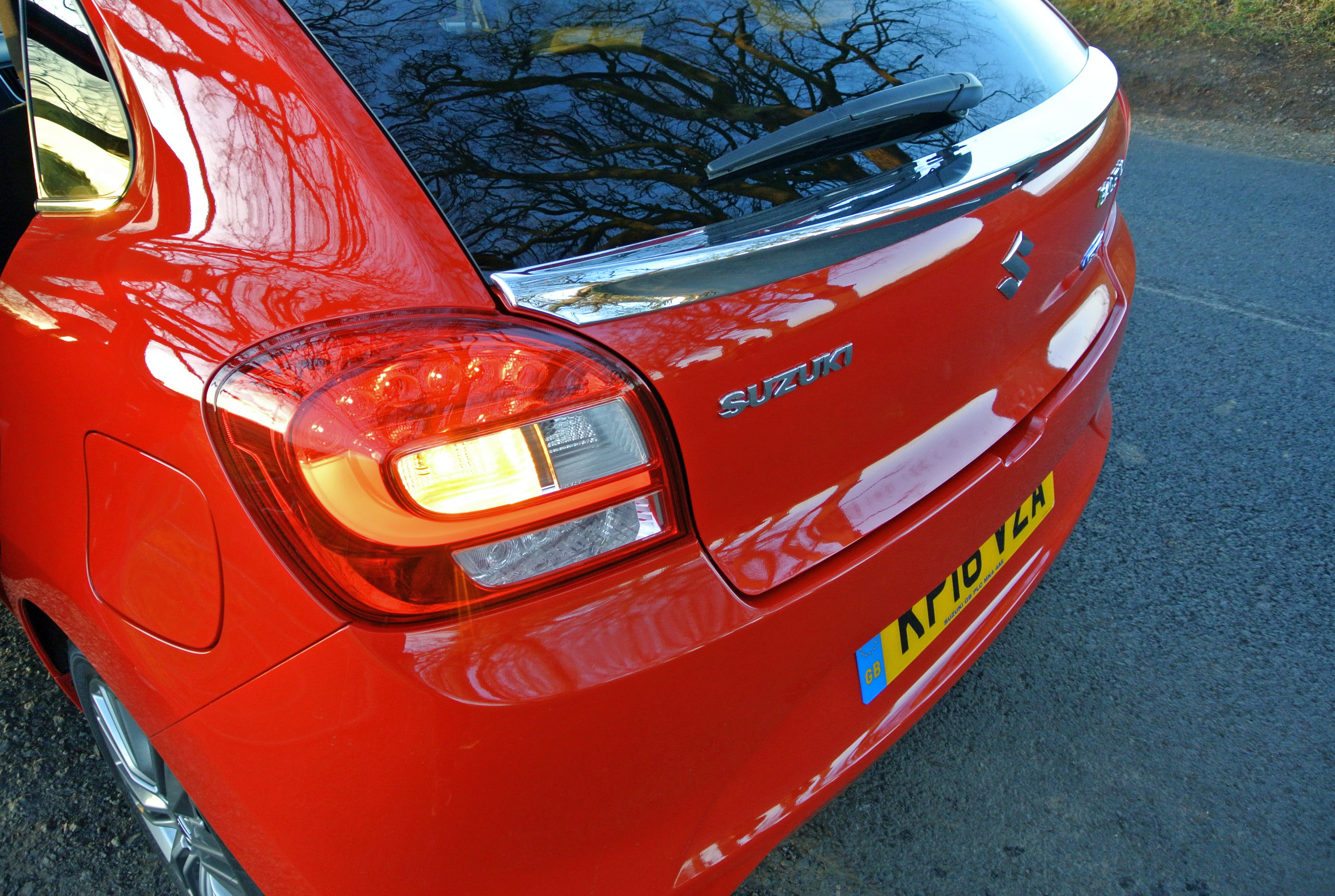 One of the reasons that I have felt entirely happy with my little Skoda Citigo is that, despite its sub-1.0-litre engine capacity, when you hit the accelerator pedal, the engine still sounds like it is wanting to get up and go. It is the same for the Baleno. In fact, it is its overall willingness that makes it such a beguiling small car. That it returns even greater fuel economy than my Citigo makes it a compelling proposition at replacement time and, as you might be aware, I am enduring those throes at the moment and the Baleno looks like a most enduring option for me.
It is helped by being the lightest car in its class, tipping the scales at a mere 920kgs, which is truly lightweight, when you take its hybrid battery pack and other equipment into consideration. It is that lightness that also aids its overall performance and a 112mph top speed is matched by sparkling acceleration of around 12.0s for the 0-60mph sprint. Although the taxation regime is set to change from next April, its 94g/km CO2 rating means that it is presently a 'tax free' car, which is a great help to potential buyers.
However, away from the statistics and onto the realities of modern motoring, the new Baleno is an eminently practical, five-door family hatchback. It transported two adults (me at two metres tall and a slightly shorter colleague) to Ireland, complete with five cases of video equipment and our personal luggage for a week. The split-level boot floor lowers to enlarge the space behind the rear seats, while, despite a small boot height increase due to a body-strengthening cross-brace below the rear seats, although we did not do so, folding the 60:40-split rear bench more than doubles the available space.
When being used for people-carrying purposes, while I could probably do with an extra inch, or two, in extra runner length, there is space behind me for another six-footer. The immense range of adjustment of both the driver's seat and the steering column is such that the Baleno will accommodate almost any size of front seat occupant, regardless of their dimensions.
The equipment levels of this less sporty but no less competent Baleno are very consumer pleasing. A multi-screen TFT read-out between the main instrument dials provides a series of MPG read-outs, both instant and on-going, as well as torque vs. power graphics, a hybrid battery recharging graphic and also brake and acceleration energy graphs. While some of them might appear superfluous, they all combine to help the driver make the most of the car's overall efficiency. The same screen also provides confirmation of the cruise control, which can be adjusted via a switch on the right-hand steering column spoke, as well as the distance regulator for the autonomous braking facility, which can operate through a series of settings, sooner, or later. The nocturnal blue hue of the instrument panel is also most pleasant on the eyes.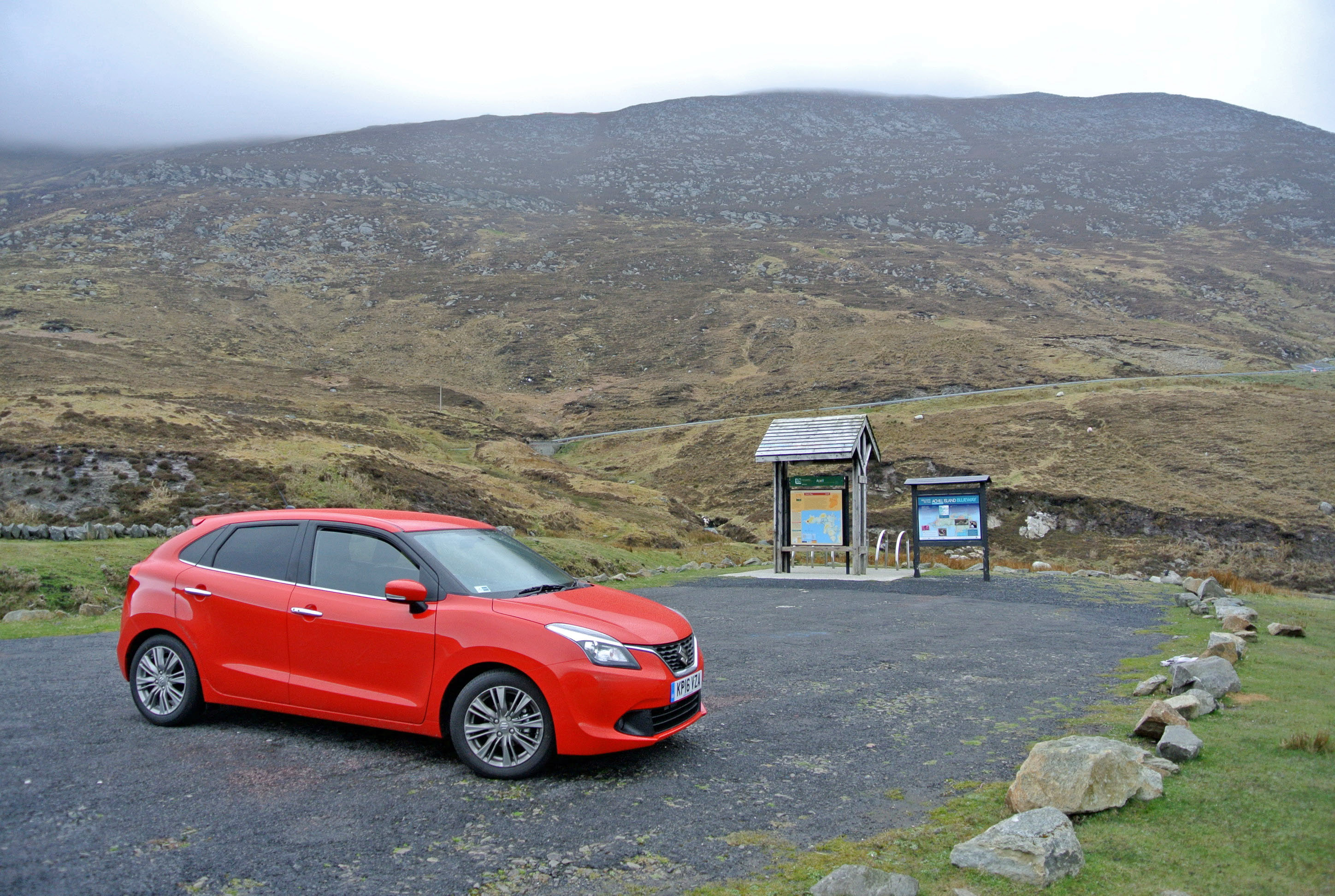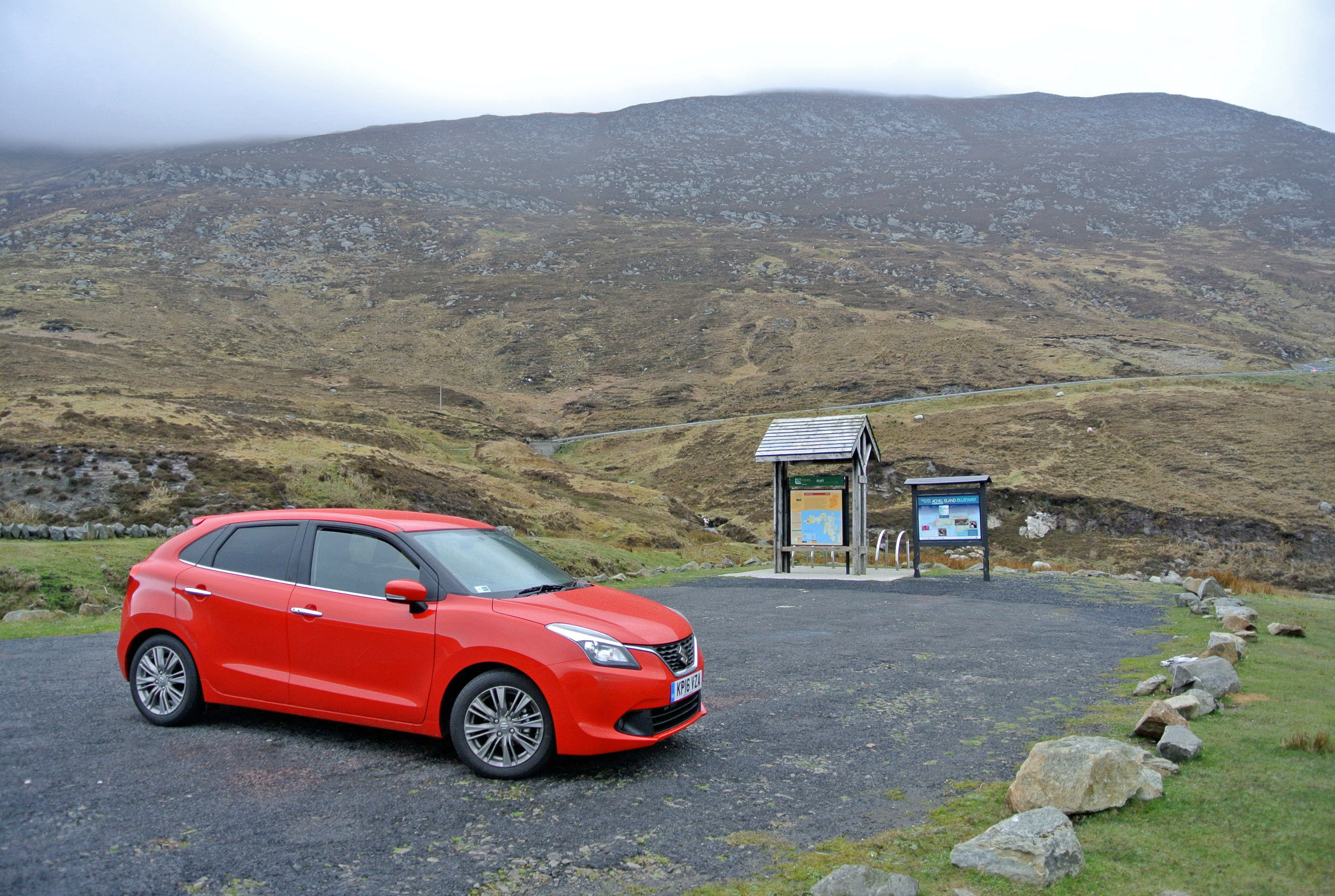 The centrally located 'touch-screen' is typical current Suzuki fayre, with touch points for sat-nav, stereo, plug-in media, the 'Mirror-link' function for smartphones and a Bluetooth link. Sadly, there is no CD slot, although it was gratifying to test the sat-nav in a 'foreign' country that does not (as yet) have post codes to aid location finding. It worked faultlessly, supported by 3-D graphics that help to navigate around built-up areas. Electric windows and mirrors complete an up-market specification that is unexpected in a car of this class, to be sold at an affordable guide price of less than £14,000.
To say that I became increasingly impressed with the Baleno would be an understatement. It was most engaging to drive and, while it is not exactly a road-burner, in convoy with a zesty Skoda Octavia, it more than acquitted itself for the majority of the challenging drive along Ireland's Wild Atlantic Way.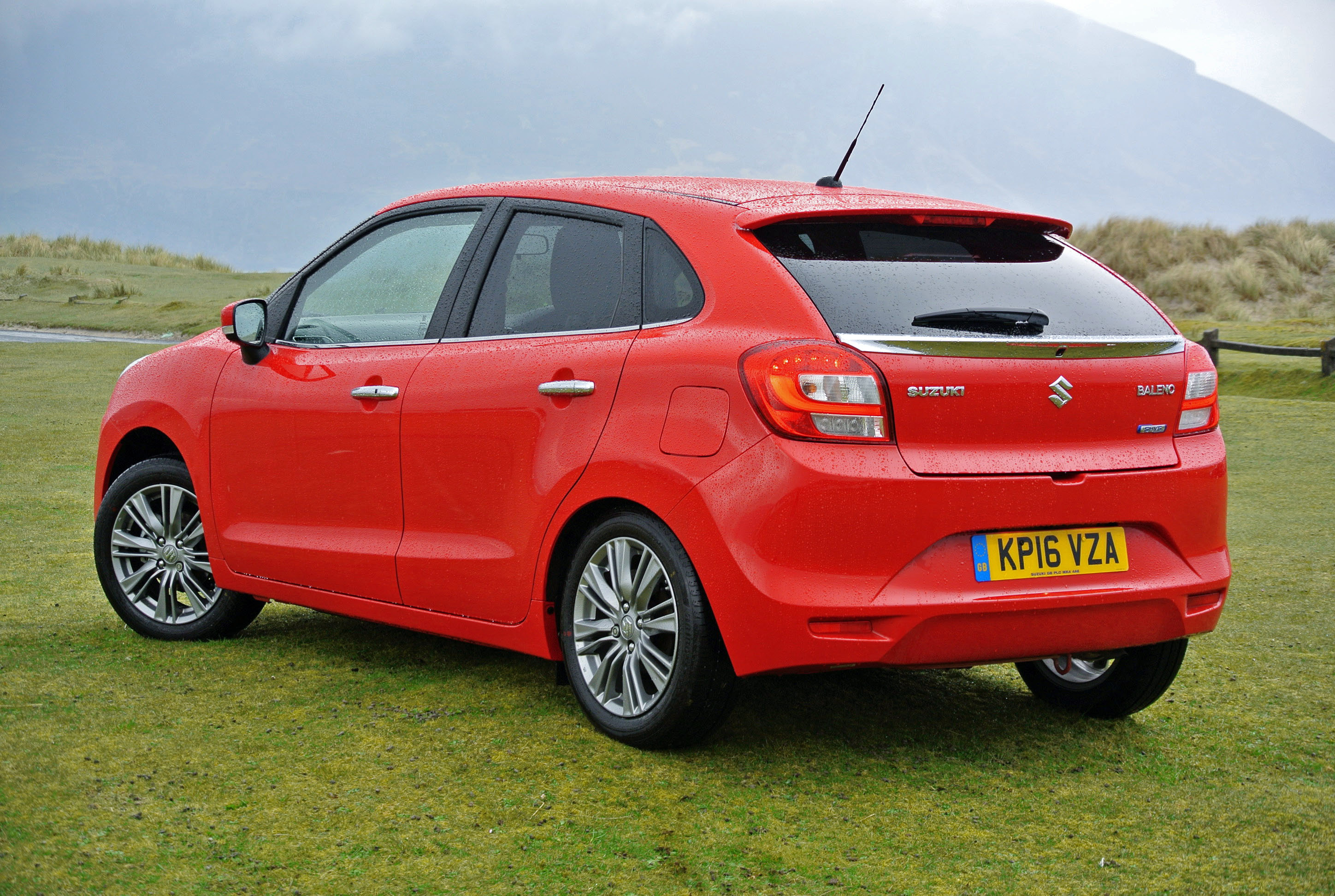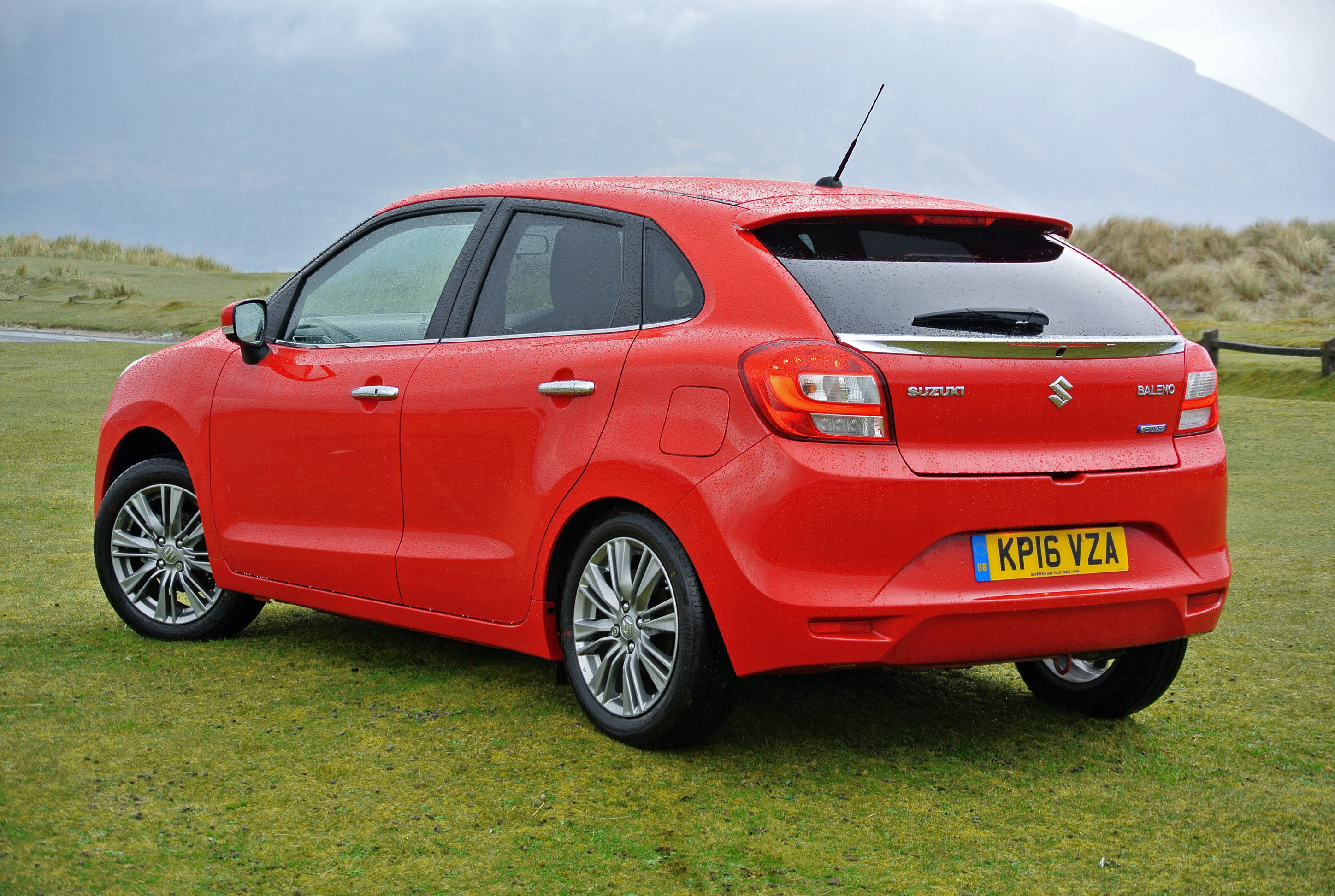 Suzuki has produced a genuine winner in its new Baleno, which is perfectly judged to occupy a pertinent slot between the Swift model and the Vitara. Its plastic mouldings are a bit low-rent but they are durable and can be wiped clean quickly. Its styling is markedly different to any other comparable model and it presents a pleasingly smiley face and an unique daytime running lamp signature. It also represents great value for money, especially when compared with the equivalent Skoda Fabia, Nissan Note and Hyundai i20.