Perhaps it is because of a seemingly insatiable market demand, writes Iain Robertson, that Mitsubishi's elder statesman continues to find purchase but it does so with a combination of guile, charm and overall capability.
The other evening I watched a surprisingly good television programme that I had not intended to view. What was on the other channels was rubbish, so I resorted to an appreciation of boxing great, Muhammad Ali, presented by comedian Frank Skinner. While I am sure that Mr Skinner has his fans, I cannot count myself as one, on the other hand I remembered and idolised as a child Mr Ali, the three-times World Heavyweight Boxing Champion, from when he was known as Cassius Clay, whom had passed away in 2016, which must have been something of a relief to his family and was one of several markers in the sand of a grim year.
Having written those words, I actually appreciated Frank's adulation of the great man and enjoyed the programme immensely. I was fortunate to be in a relatively small group of people, who met and shook hands (he had massive and strong hands) with Ali at a book signing in Leeds several years ago. He was already suffering from the demoralising effects of Parkinson's Disease but, even at my six feet six inches of height, I felt small alongside a truly large gentleman!
However, a key aspect of the Skinner appraisal lay in the fact that Ali, despite his engaging bluff and bluster, supported by his undoubted championship status, continued to fight until he was almost forty years of age and suffering clearly from the debilitating effects of what would become an interminable condition. Even his staunchest supporters urged him to throw-in the towel, as Angelo Dundee, his trainer, was forced to, in his last-ever boxing match,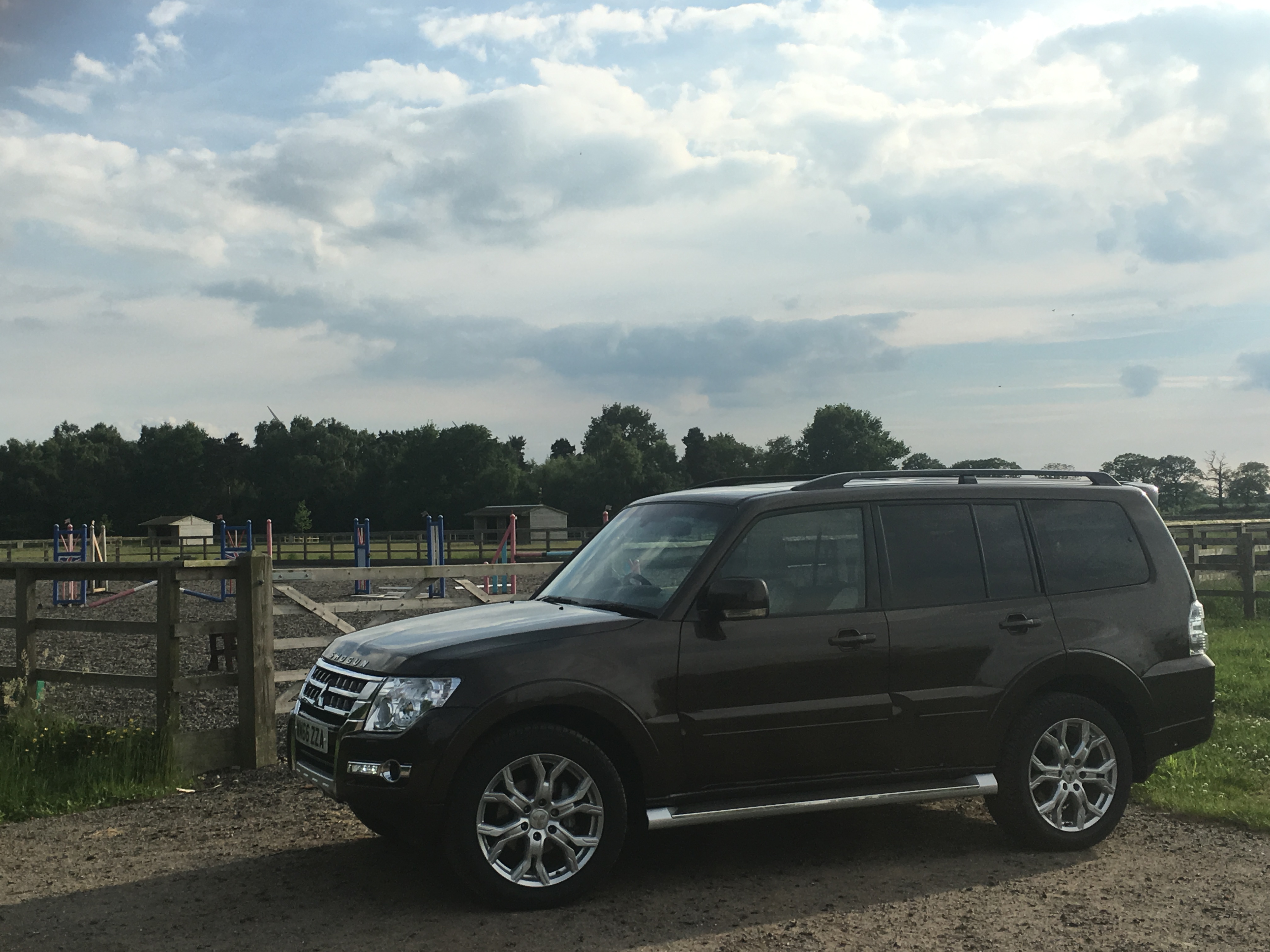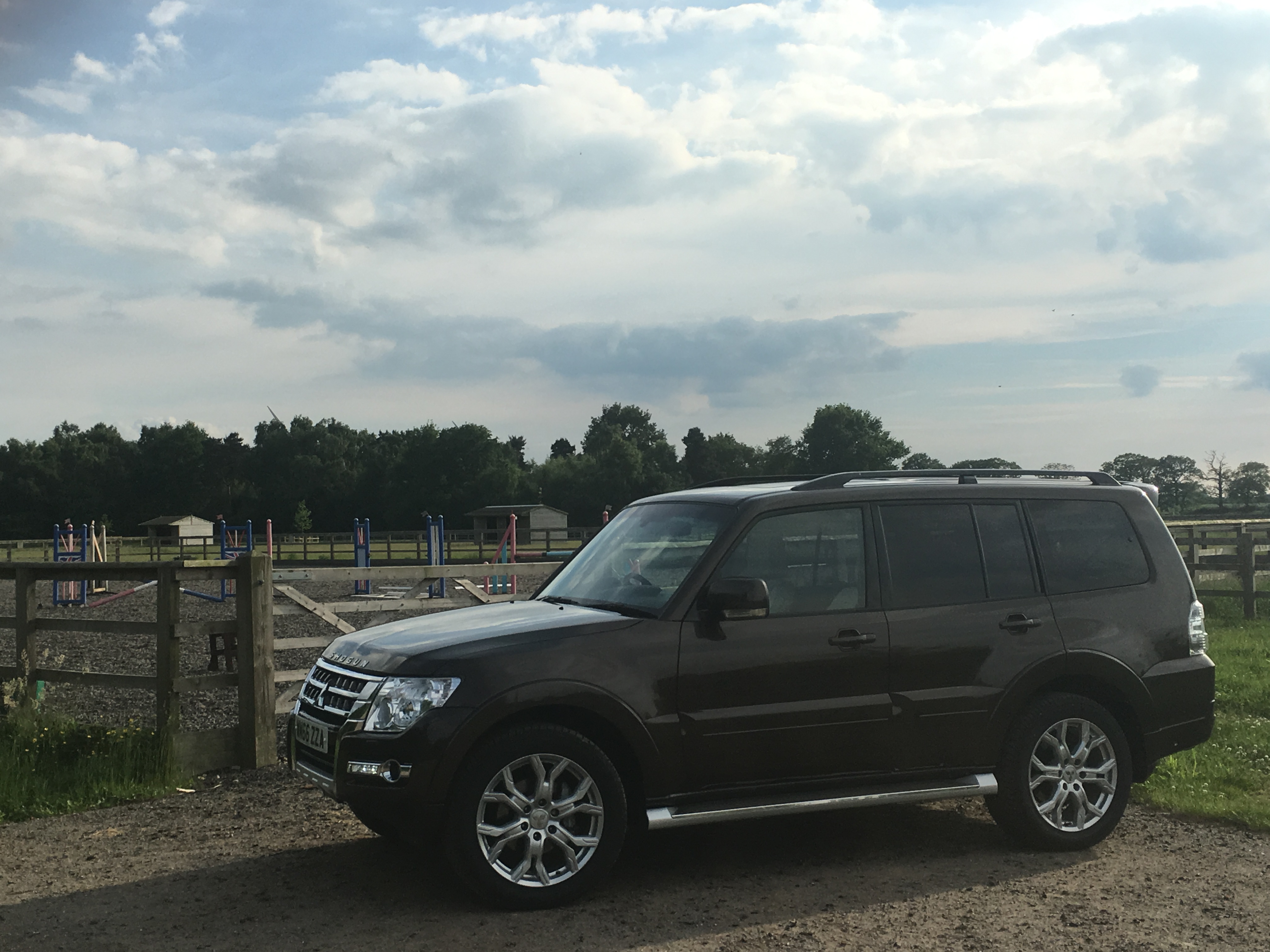 In some ways, I feel that the big bruiser known as Shogun falls into a similar classification in automotive terms. When Mitsubishi was at its performance peak, it had virtually no rivals. It punched at its weight and delivered killer blows to Toyota and Nissan on home ground, with equally devastating and market-altering force on both European and American brands, keen to tilt at its crown.
The Shogun of today is a shadow of its past, albeit not a pale one. It is still a great car, capable of mixing it with whatever else exists in the market (Kia and Hyundai models), even though it recognises, if not admitting it entirely, that the only customers investing in it are those that can be described as 'die-hards'. They have been part of the Mitsubishi 'thing' through thick and thin and still hold a firm belief in the product. However, successive years of limited investment, mainly because replacing it entirely, even in a hectic SUV sector, would be an astronomically steep and almost impossible mountain to climb, have ensured that even major titivation cannot conceal its darker, ageing process.
Yet, look at the pictures. The Shogun's finish is first-class. It is looking great and its paintwork simply glistens. While I am not that fond of metallic bronze paints, the colour does add a sense of purpose and is contrasted by a cream leather interior that is not the most practical, even though you can spot mud splatters easily. The Shogun in long wheelbase specification is also a seven seater, although positing two kiddywinks in the rearmost pair of pull-up chairs might demand some forward planning, not least in finding a place to stash the extendible parcel-shelf and the boot carpet. Adults might just about manage to fit, albeit complaining about legroom. The middle row, which splits 2/3rds-1/3rd and rolls completely forwards to allow access to the rear, is as accommodating as it needs to be for three full-size occupants.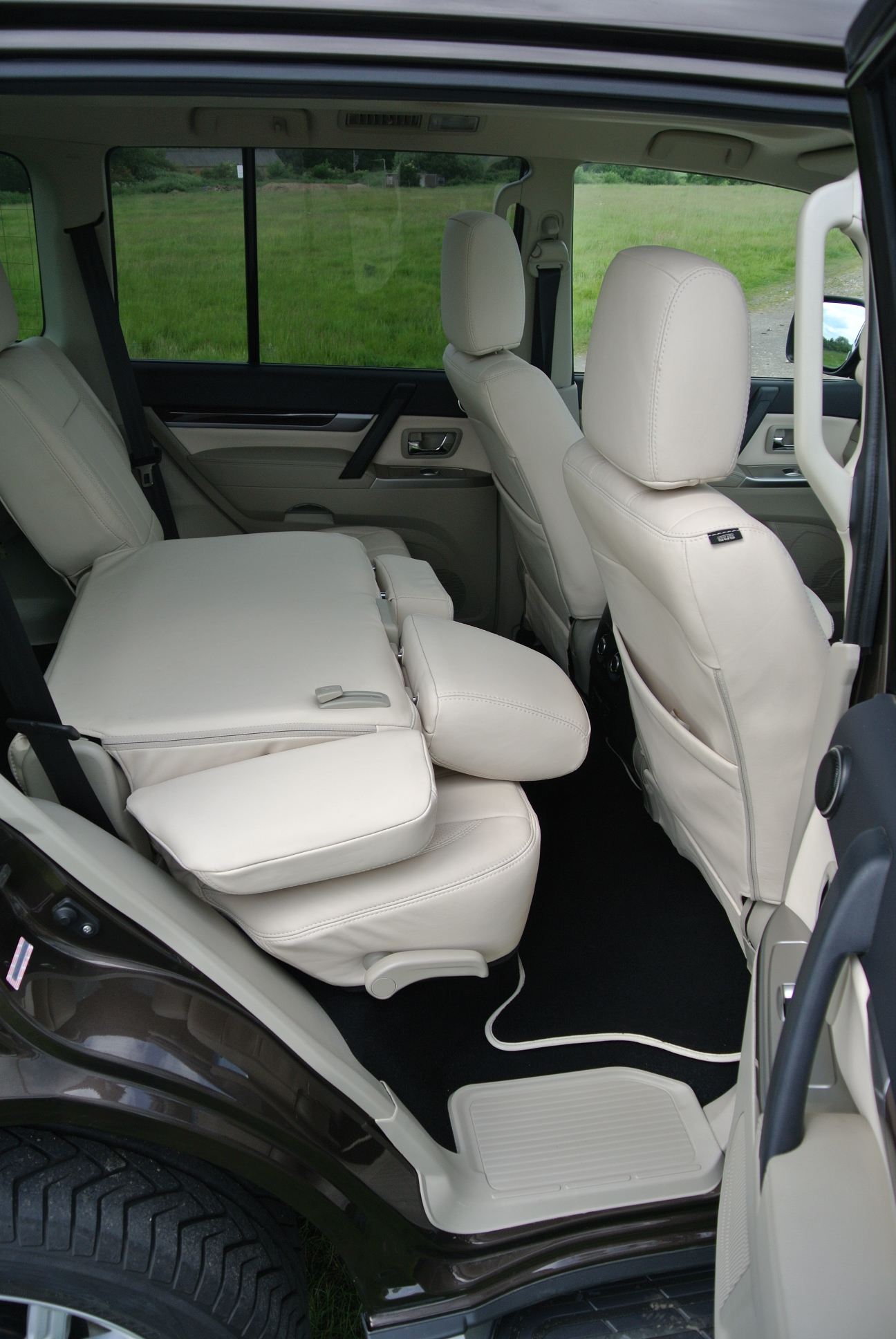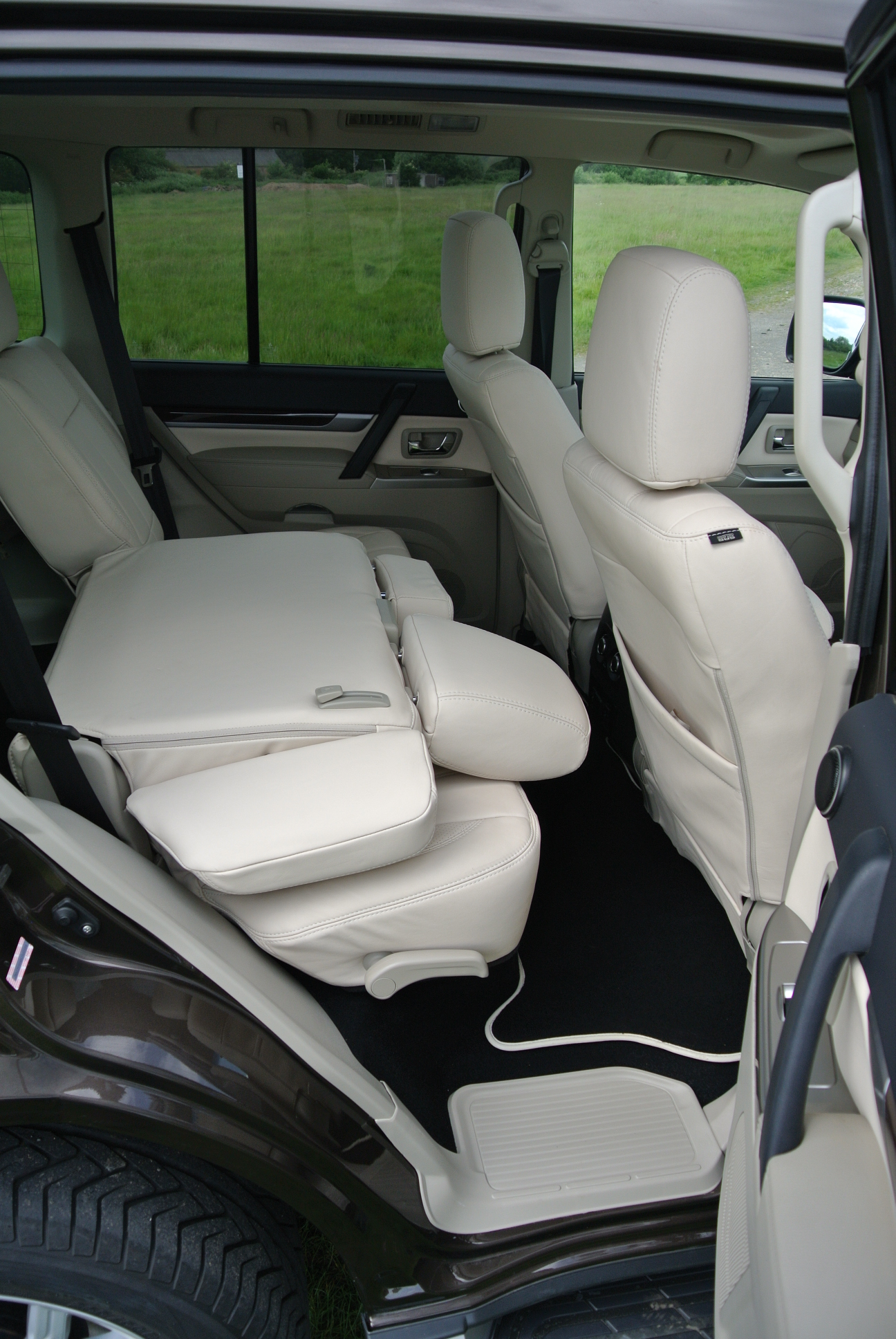 Its centre armrest folds down to reveal a pair of cupholders, although rearmost occupants are denied that fillip. However, mid-row comfort is expanded with heating for the outer pair and even a socket for plug-in devices. To be fair, it is all neatly executed and using the sill-steps outside the car, there is even an obliging 'mini-step' cut into the rear floor.
Naturally, front seat occupants receive all the bells and whistles, with a centre-stack containing an old-fashioned on-board computer strip, complete with dot matrix display, located above a fairly small but accessible touch-screen for the stereo (factory upgraded in the test car), Bluetooth phone/media connection and sat-nav. Below it is an odd space that also contains the rocker switches for the front seat heaters and an elaborate fold-out cigarette lighter, a rarity these days, although the element can be removed and electronic devices run off it instead.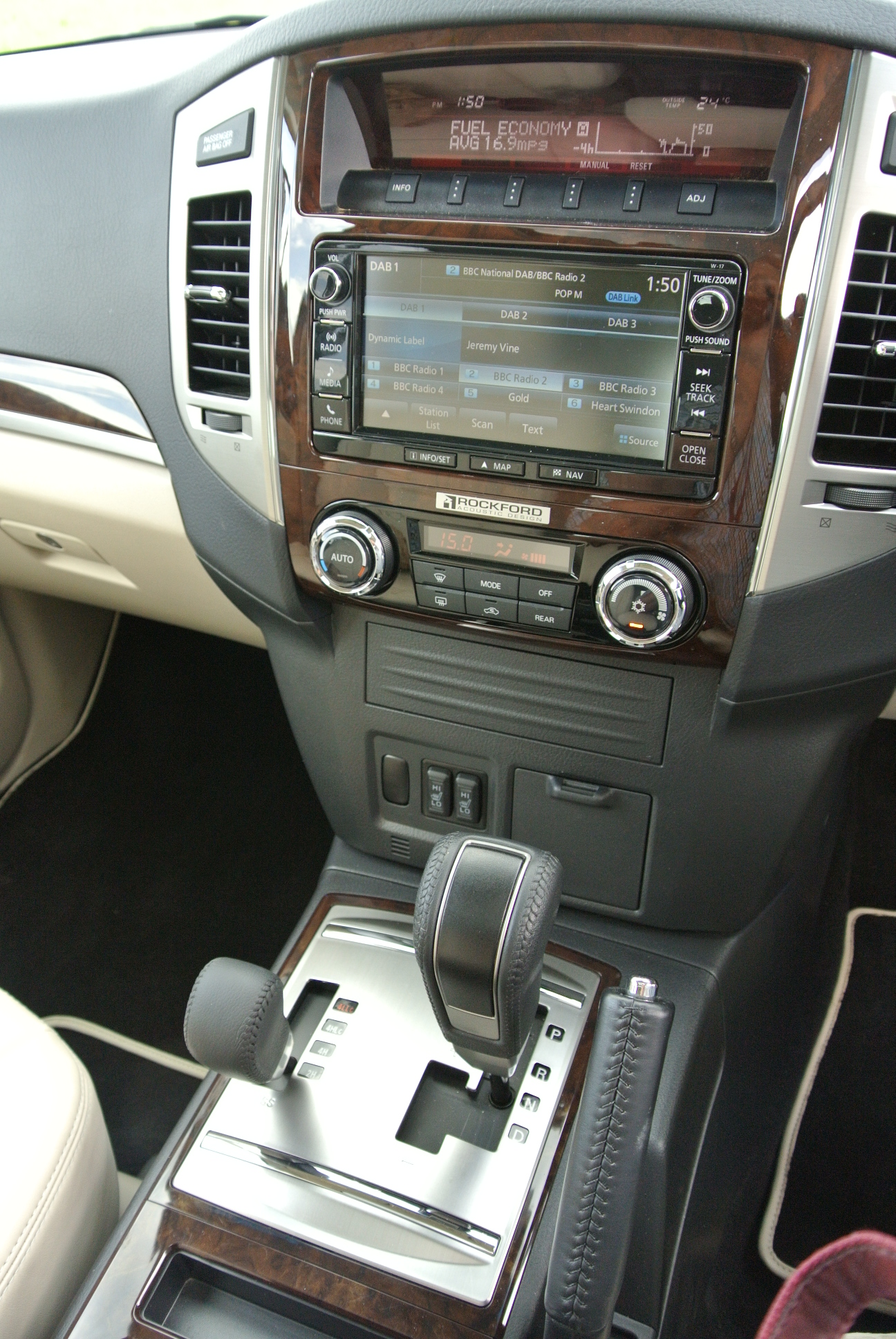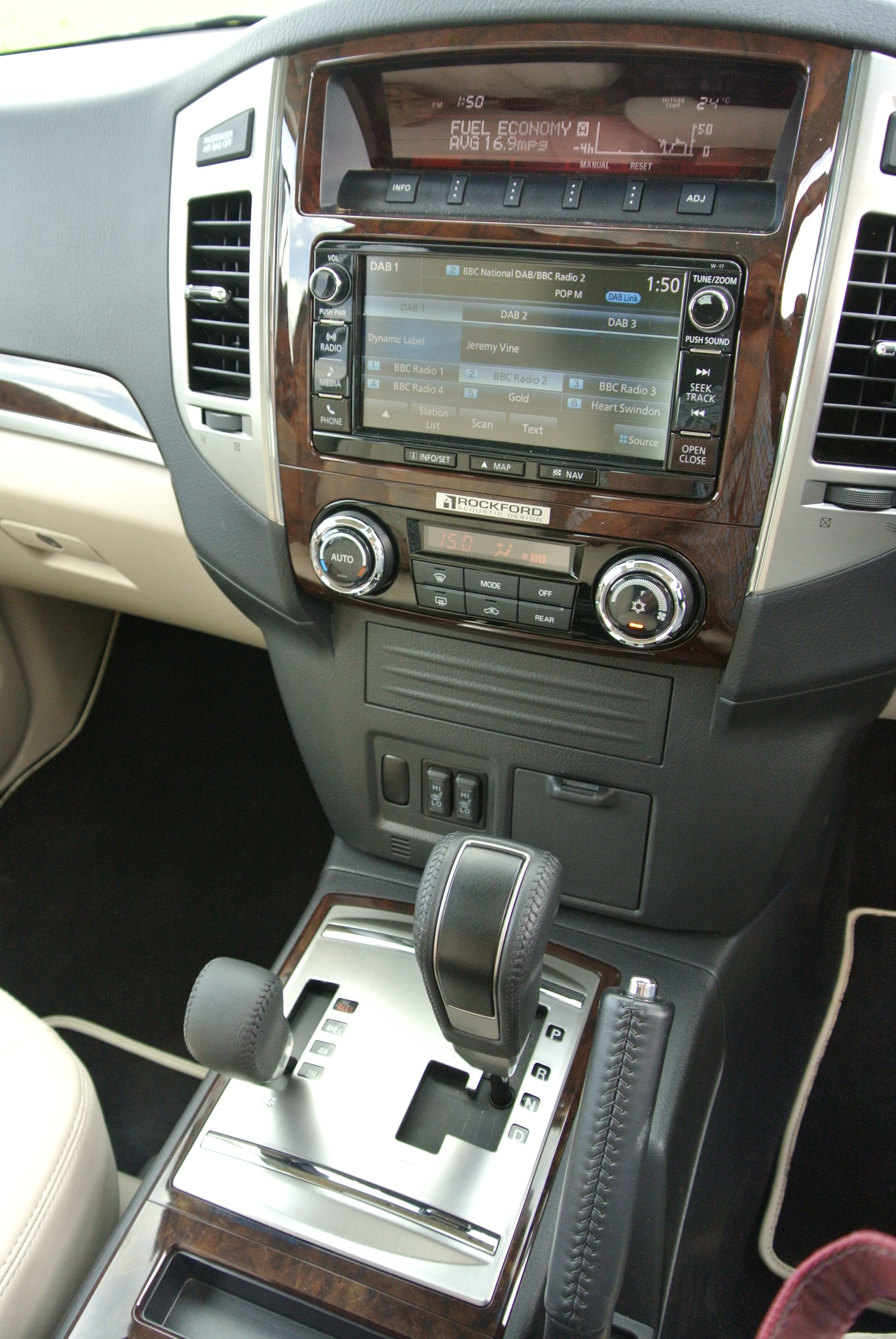 Behind that is the automatic gear-selector and the manual 4WD control lever, again a remnant of the past, as so many of these systems are now managed electronically, on more modern rolling stock. Yet, before the mists of memory cloud the scene, I should point out that I actually prefer the separate lever, with its more positive click positions (confirmed by an in-dash indicator light) and I recognise that Mitsubishi's agricultural core market appreciates it too. Ahead of the driver is a binnacle containing the main rev-counter and speedometer dials in twin, plastic and 1980s' stylish tubes that are not as easy to read as some more up-to-date displays. The dashboard moulding is a strangely flimsy affair, albeit with hints of 'soft touch' to it. It wipes clean easily.
While wishing that I could state that I was comfortable at the helm, in truth, I cannot, because, in an old-fashioned rush to make space available to rear passengers, the fully-electrically adjustable driver's seat just does not move back far enough and my left knee connects with the 4×4 differential rocker switches, while my right knee does the same to switches on the other side of the steering wheel. Even adjusting the column, which works through a small range of reach and rake, is of little benefit. If you are over six feet tall, I would advise looking elsewhere for your large SUV thrills.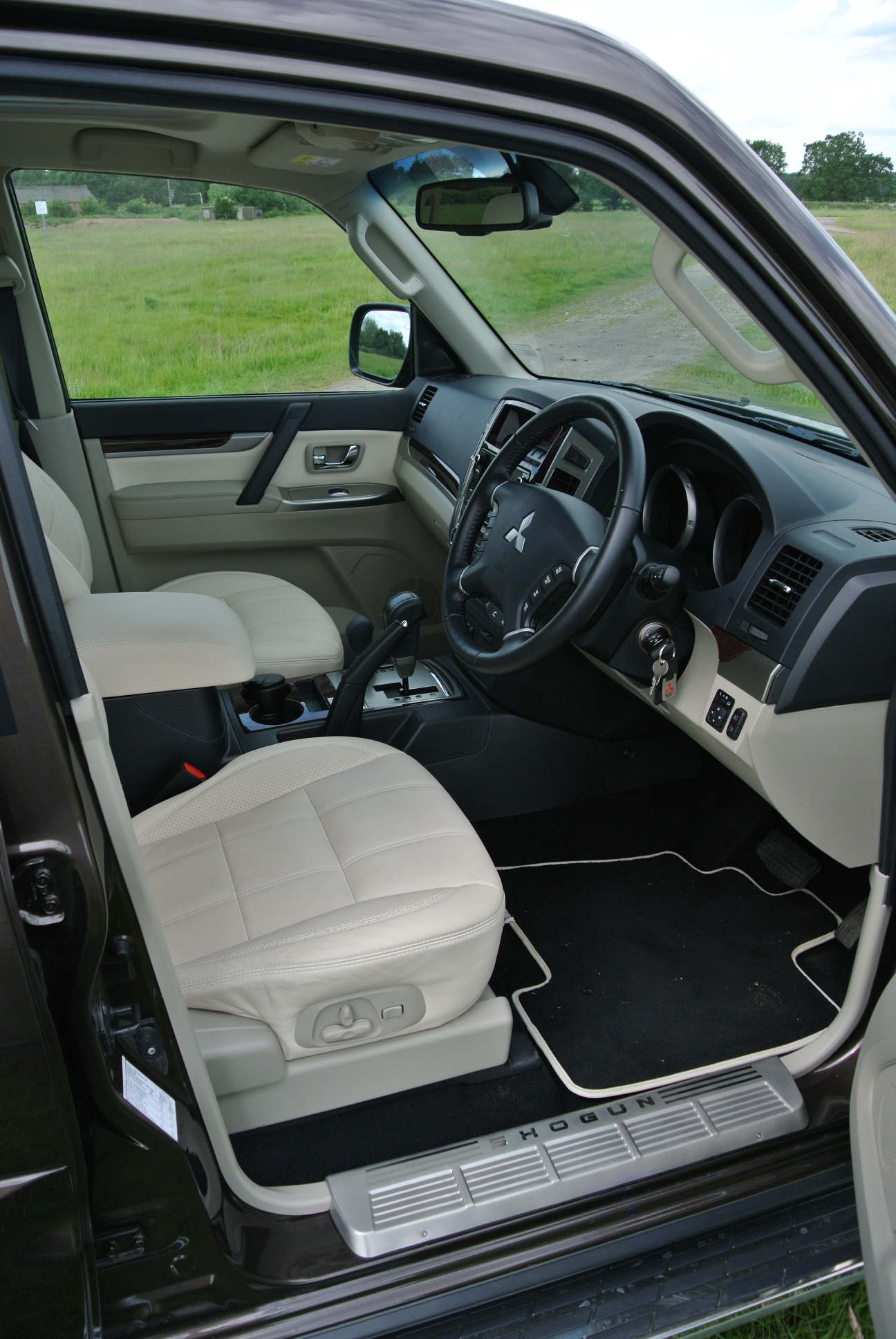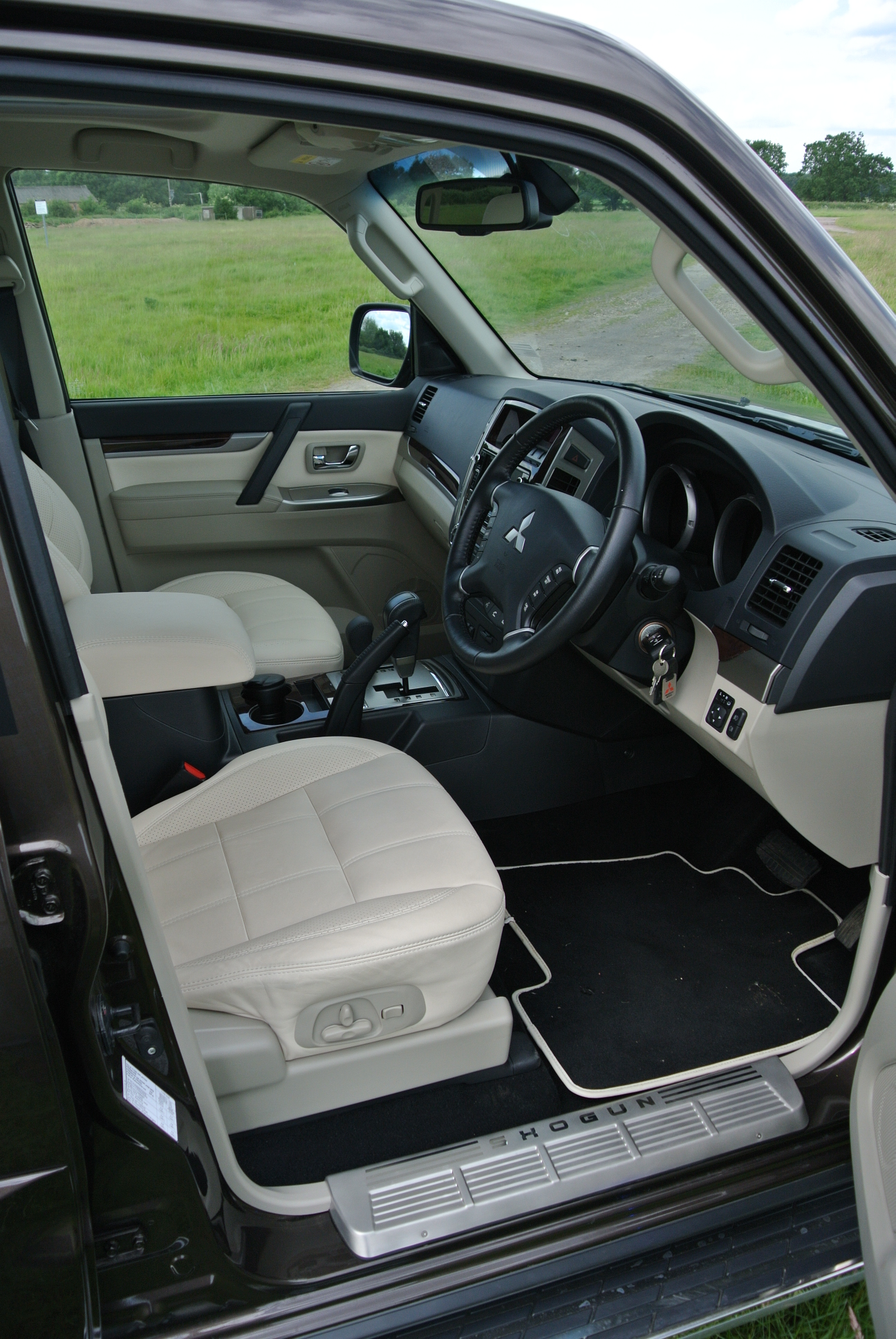 The result was that I had to engage the services of a significantly less imposing colleague to carry out handling, manoeuvring and driving experiences, all of which are eminently sound for a car that boasts quite traditional underpinnings. Despite the cramped driving position, the Shogun is never a car that shrinks around its pilot and it feels big (it weighs 2.3 tonnes), slightly floaty but controlled and does not rank highly for overall driveability, even though it is inevitable that being capable of towing 3.5 tonnes, it does make an excellent vehicle for caravanners, or equestrians.
Its steering is pleasantly weighted and acts fairly positively for changing direction, accompanied by a modicum of body roll. Grip levels from the 265/50R20 tyres are very good and the Shogun liveried alloy wheels do look the business. If you need to haul-up a marauding Shogun, being equipped with 13.1-inch diameter, ventilated discs all-round serves that manful task. The five-speed automatic gearbox operates silkily and, featuring INVECS II technology, it also learns and reacts to driver style. By slipping the gearlever across to the left of the gate, manual over-ride of the ratios is obtained, which is beneficial when mud-plugging, or attempting to depart a wet grass field. There is nothing intrinsically wrong with the Shogun's handling, as long as you remember that it is not a sports wagon and is a true multi-surface vehicle.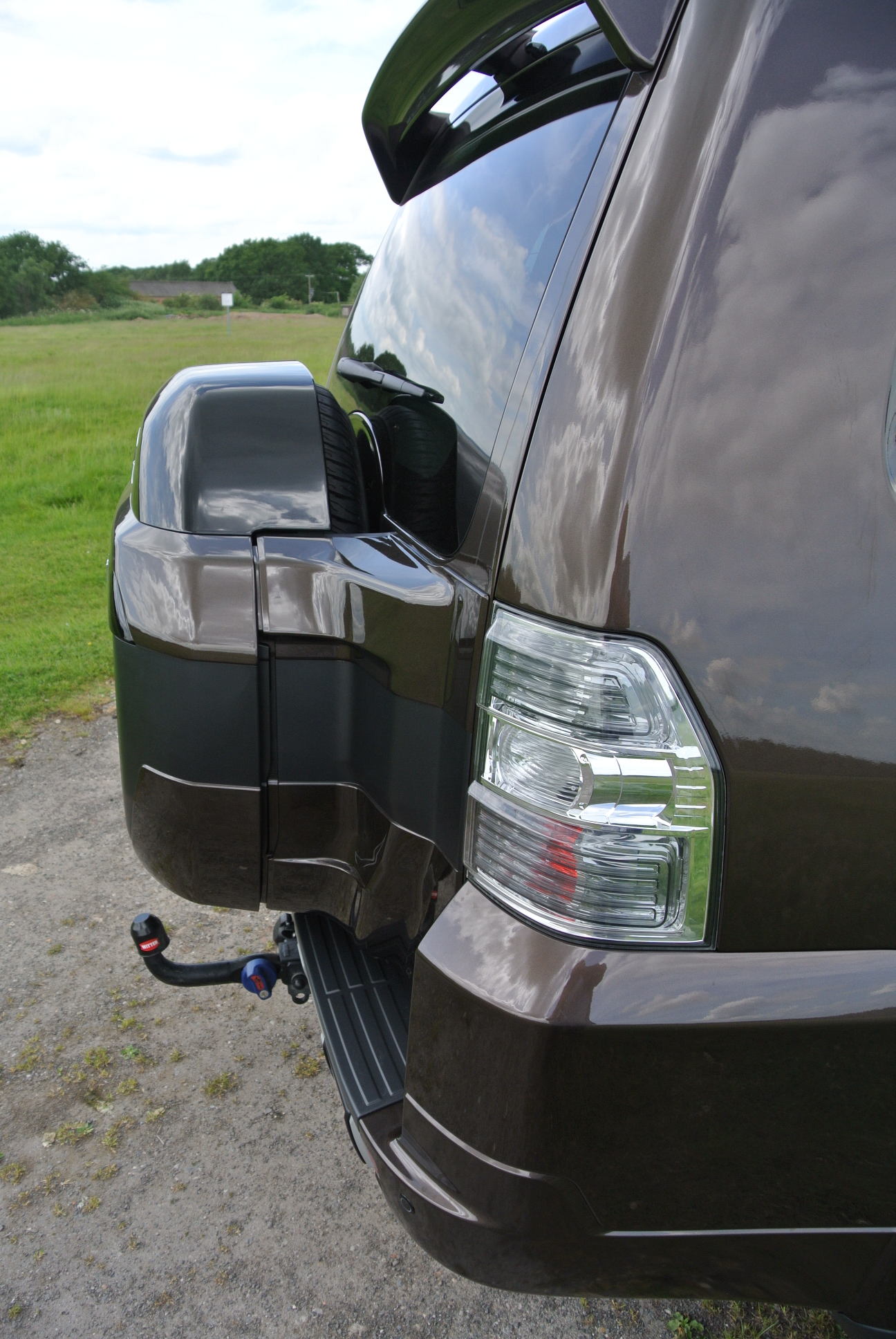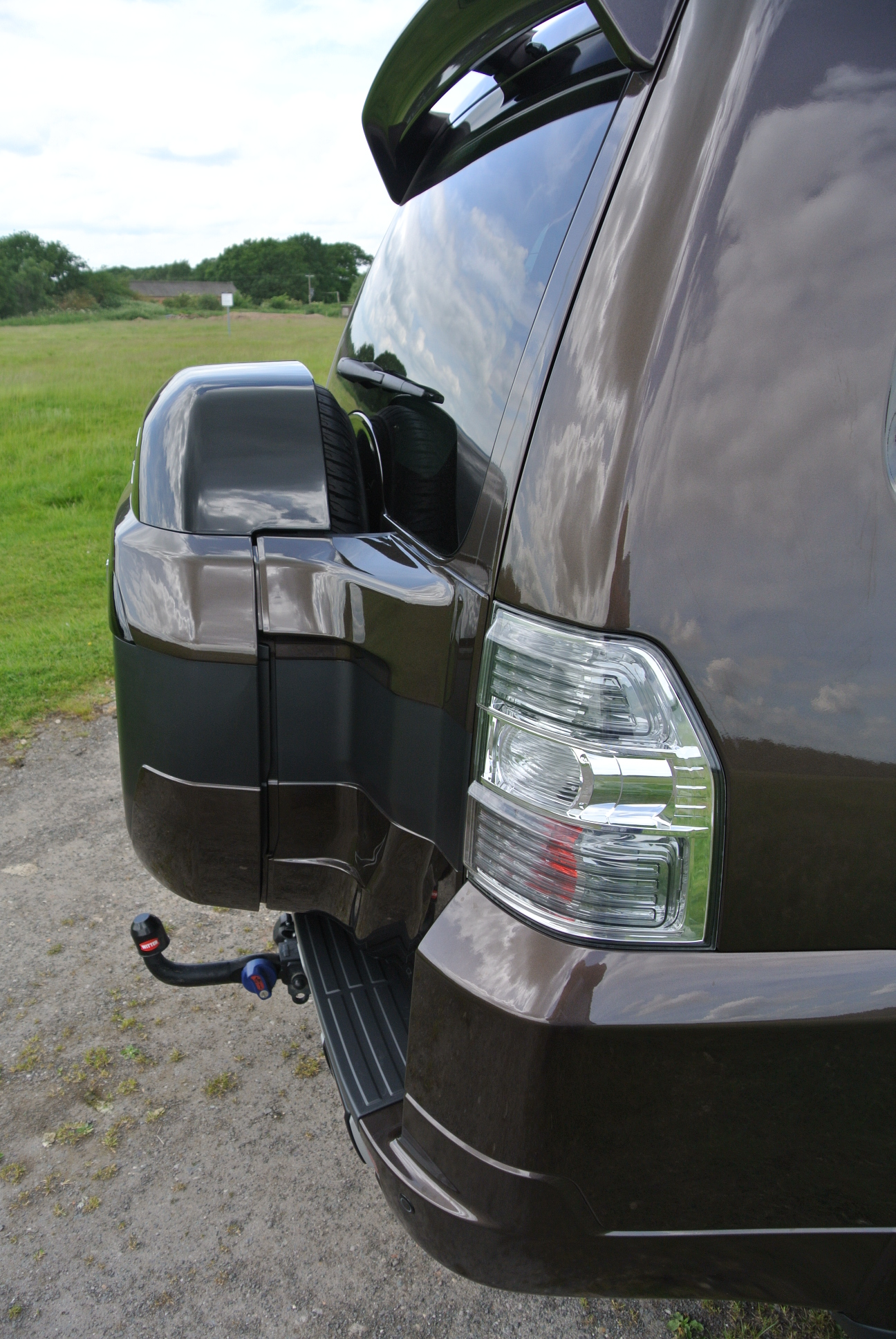 Having mentioned earlier that the Shogun does inform you of its chunky kerbweight, the 3.2-litre, four-cylinder diesel engine is more George Foreman than Muhammad Ali. Fortunately, it does not shuffle around, but 187bhp and a decent 325lbs ft of torque is verging on mid-ground potency. It could do with a tad of extra urge at low-speed. Having highlighted it, the engine's mid-to-upper range performance is certainly up with its key rivals. Zapping from 0-60mph takes a modest 10.8 seconds, although its top speed is limited to 112mph. Unfortunately, despite the moderate amount of grunt, its fuel economy is dented  by having to heft around its bulk and a 30.9mpg Official Combined average is not only difficult to meet, let alone exceed, a factor highlighted by my best return of 27.3mpg, which demanded very judicious applications of throttle.
In a range that starts at £32,034 and tops out with the test example at £40,299, if potential owners want to avoid an extra road tax payment of £870, they need to keep to the models listed below £40k. The Mitsubishi Shogun is certainly not inexpensive to live with.
Thanks to an indefatigable reputation for reliability and with strong engineering ethics, Mitsubishi soldiers on with its full-size Shogun model, which is also available in short-wheelbase, three-door, as well as commercial (van) forms. In long-wheelbase form, it presents a luxurious face and offers an enormous boot, as long as you are not using the rearmost pair of seats. While it is no longer the default 4×4 choice these days, it is still a respectable buggy and one that can boast innumerable fans, not least around the business community,  as did Muhammad Ali, the world's greatest boxer.