An acknowledged aficionado of the smaller class of motorcar, Iain Robertson believes that one Gallic carmaker has addressed successfully owners' desires to drive a city car with a greater edge to its presence. 
Inevitability is a treat that awaits the vast majority of us, most especially if we hang onto a hope for long enough. Of course, it can be bred by dropping in hints and suggestions to the 'powers that be' and, believe me, I have dropped more than a few of them over the years, most especially around the motor business.
It is inevitable that it will rain in our lovely country and it is a dead cert that it will rain in Scotland, even in the most glorious of summers. It is inevitable that we shall complain about politicians, bankers and double-glazing salespeople, let alone those awful telephone canvassers that annoy us unsolicited both on landline, as well as mobile phones.
While I would never have believed it inevitable that the SUV sector of the new car scene would be as hectic as it is, I have always held faith that the city-car scene would start to mature, after what has seemed like an interminable length of time, with car manufacturers satisfying themselves by making small cars for the most impecunious, when factors other than bank balance ought to be considered instead.
In recent years, a raft of truly exciting small cars has wafted into dealers' showrooms. Although I am sure that the Mercedes smart car was not a major influence, until it arrived in earnest (remembering that the first versions were all left-hand-drive and not imported officially to the UK), small cars were not regarded in a particularly serious light. Instead, they have served purpose by satisfying basic transport requirements, as long as the consumer was prepared to accept a lack of refinement, a lack of comfort, a lack of dynamic excellence and a distinct lack of performance.
However, genuine needs must. In post-WW2 Britain, the sub-compact runabout was a means to a transportation end. However, the Issigonis Mini proved that something else motivated the motorist; a sense of fun. While my very first car was a side-valve Morris Minor, my first 'proper' car was a Mini and, since then, I have remained a small car fan, despite owning and operating cars of considerably greater dimensions and potency.
Yet, carmakers only really started to design and sell small cars of any merit over the past five years or so. Most notable of them has been the VW Group's Up!, Mii and Citigo variations on a theme, of which I operated one of the latter examples for the past three years. Kia/Hyundai has its alternatives, while the PSA Group, in league with Toyota, has produced the 108, C1 and Aygo models respectively.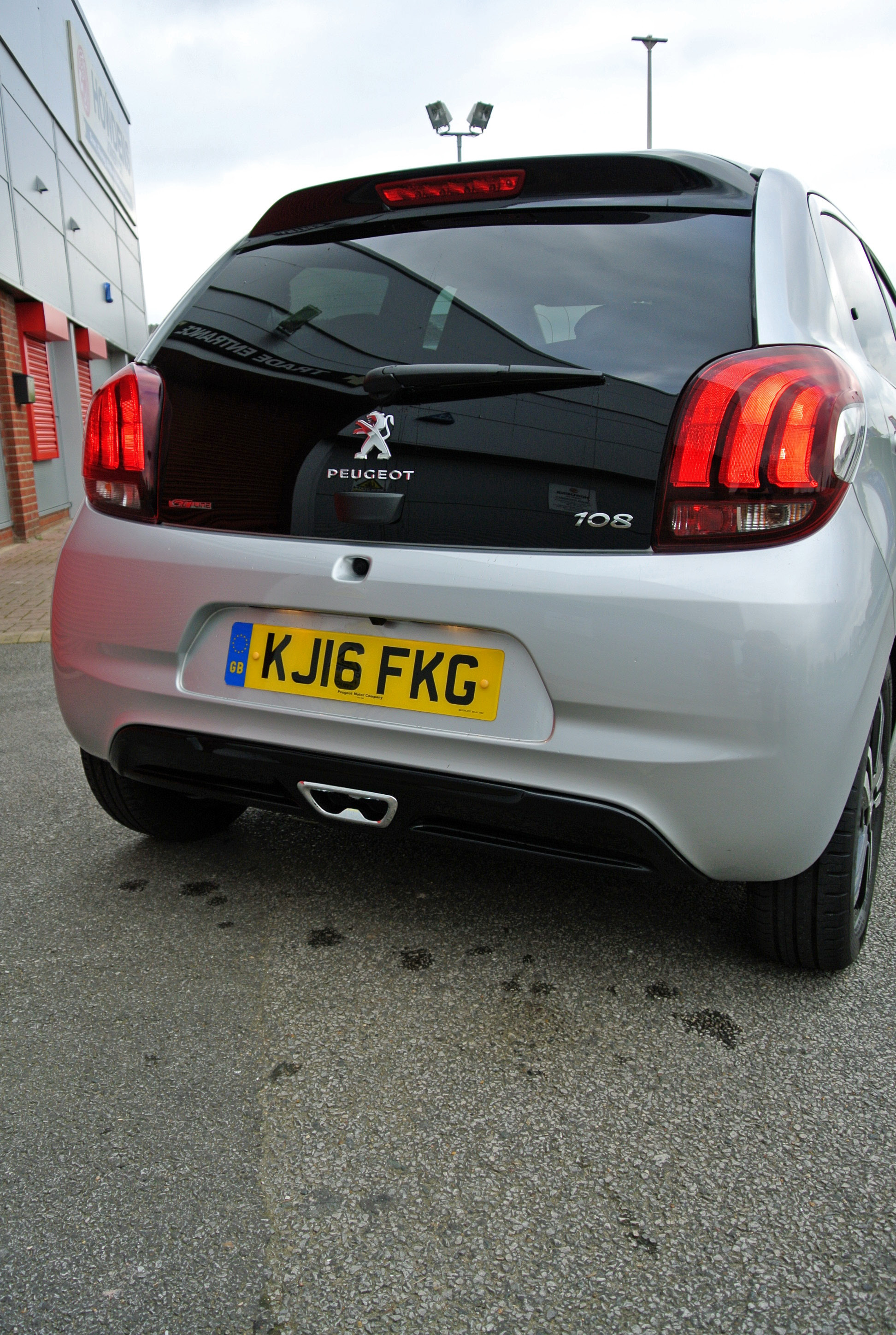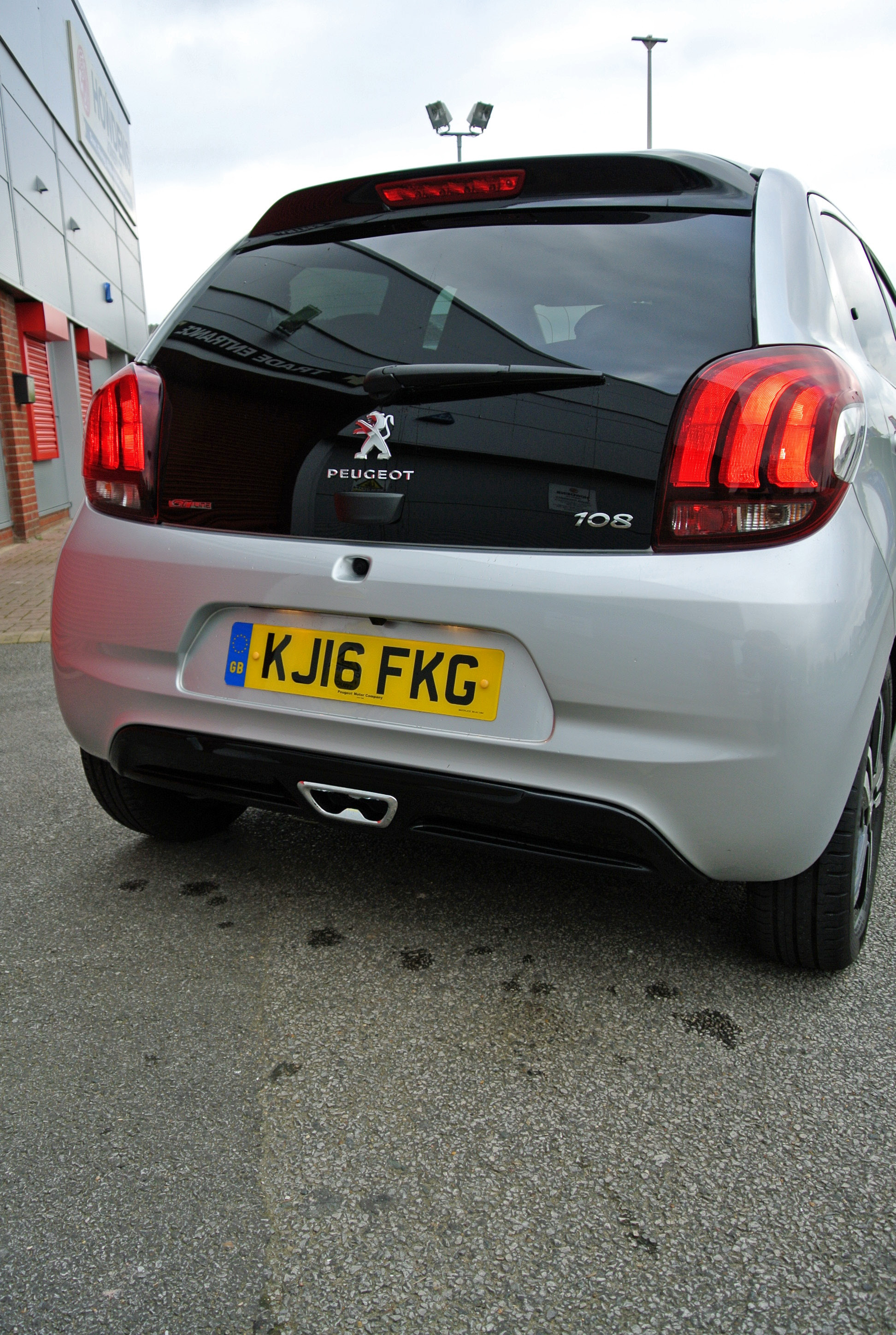 However, my perpetual cry for a little bit extra has finally come true in the form of the GT-Line version of the Peugeot 108. Perched on a set of five-spoke alloy wheel rims, carrying little flashes of red on its front spoiler and the wheels themselves, with black door mirror-caps and a tailgate spoiler, the exterior changes are subtle but effective. In the lower rear bumper is another black section, from which emerges the stainless steel twin exhaust outlets, another nod to a more sporty stance.
Inside the car, a bright red dashboard moulding sweeps from left to right, within which is sited the instrument pod and the piano black centre stack. However, the car has lost none of its more basic attributes, which include the brittle plastic dashboard moulding and door cards, as well as the body-coloured and untrimmed elements. The shiny black finish is carried onto the steering wheel spokes, which also house the fingertip controls for both the stereo and any connected mobile-phone. Someday, in the not-too-distant, higher quality trim will form part of the remit…I hope.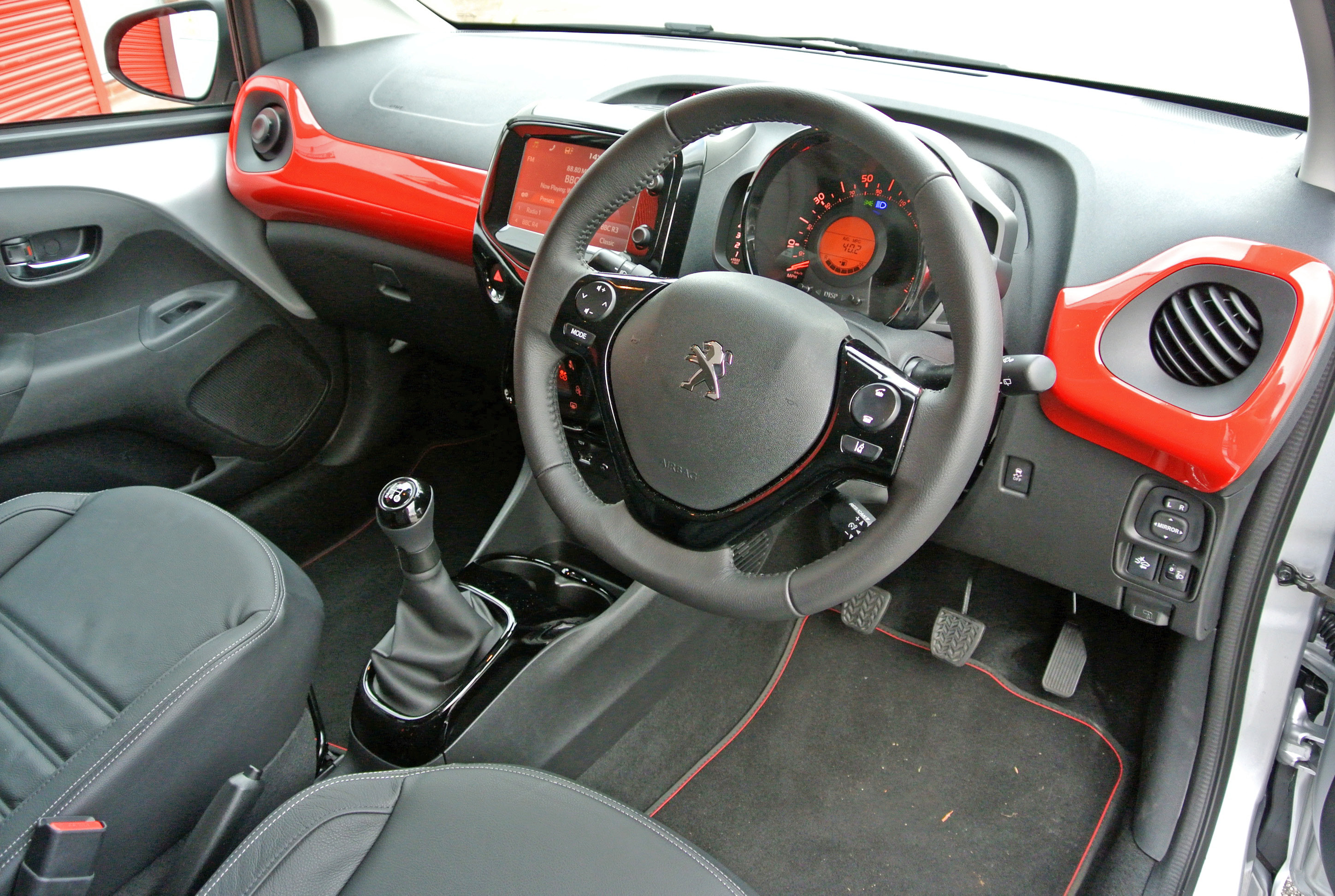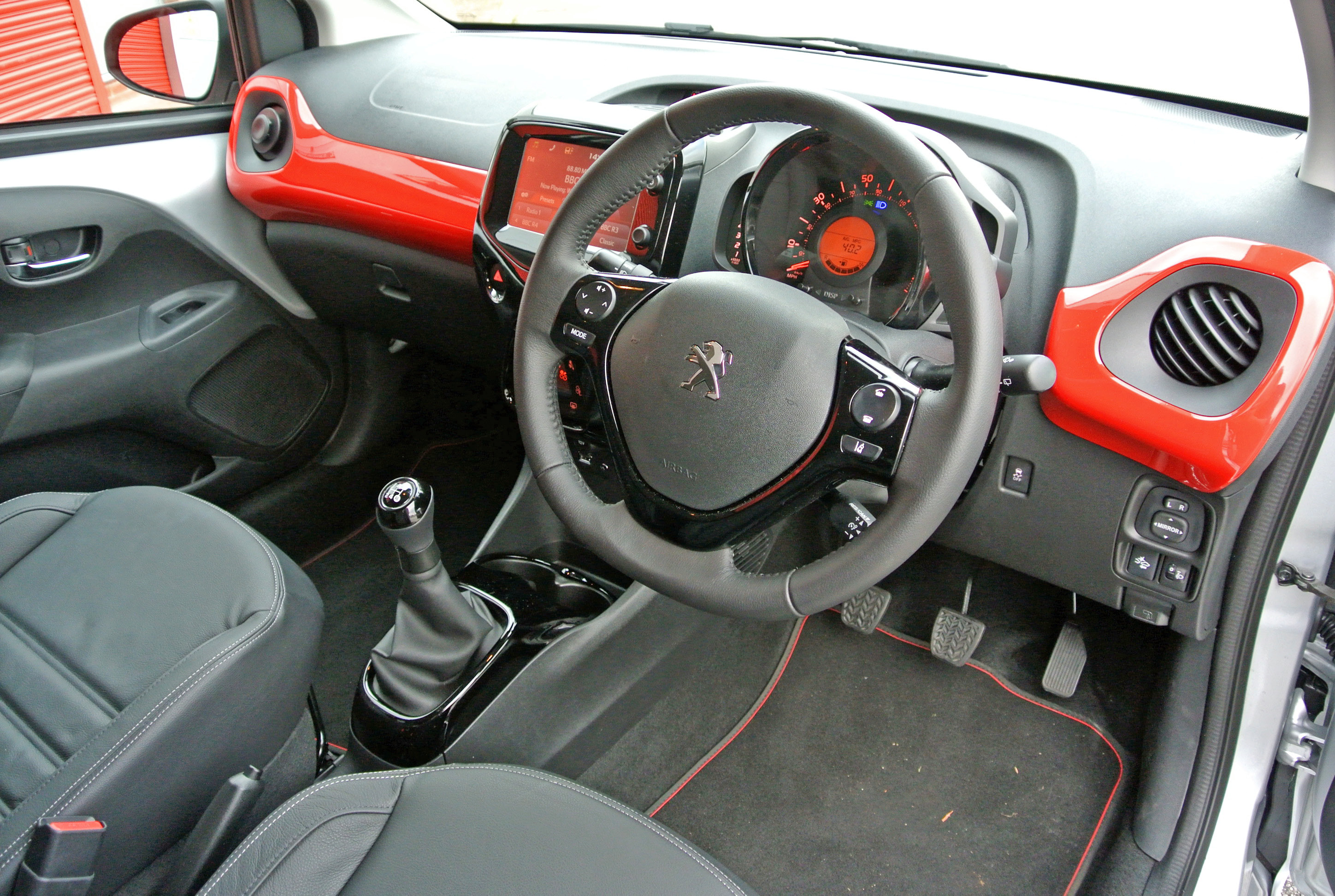 It is quite simple and quite basic, yet there are little flourishes of genius, such as the reversing camera that uses the central screen to aid parking manoeuvres, as well as the 'mirror-link' to one's mobile communication device, which enables stored music playback, as well as a full digital radio connection and sat-nav, of course. The air-con that chills the cabin for summer motoring is a welcome stock feature. It is worth noting that City Brake and Lane Departure Warning systems are also standard.
Although the boot is really small, either of the rear seats can be flopped forwards to increase the carrying capacity. However, rear seat occupants have to deal with 'pauper-class' features, such as the pop-out, rather than conventional winding, glass panes and rear seat space is at a premium behind taller front seat occupants. Yet, there is bags of room in the front seats and, while their controls feel a little cheap to operate, there is a good range of adjustment and the steering column also alters position to clear the knees.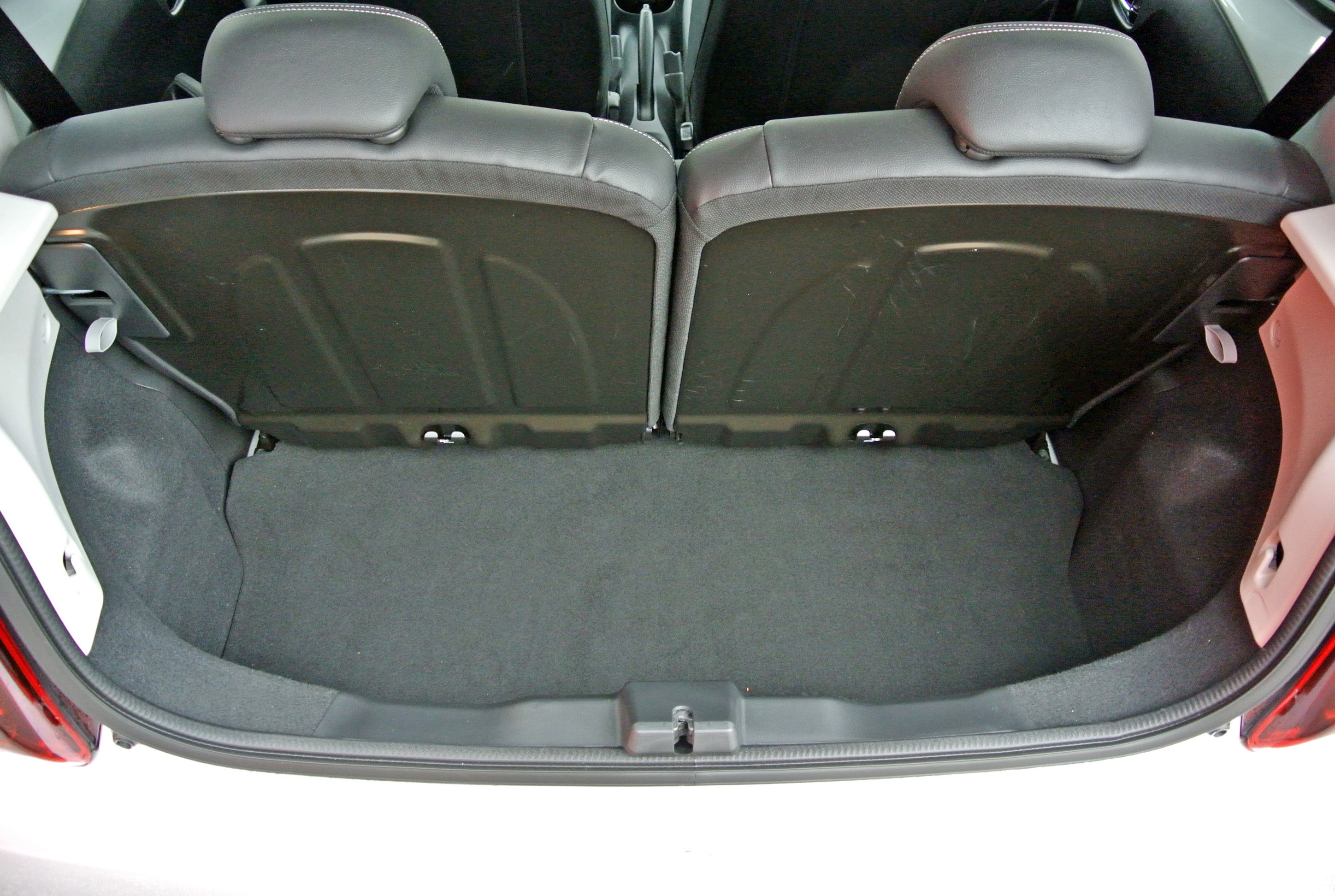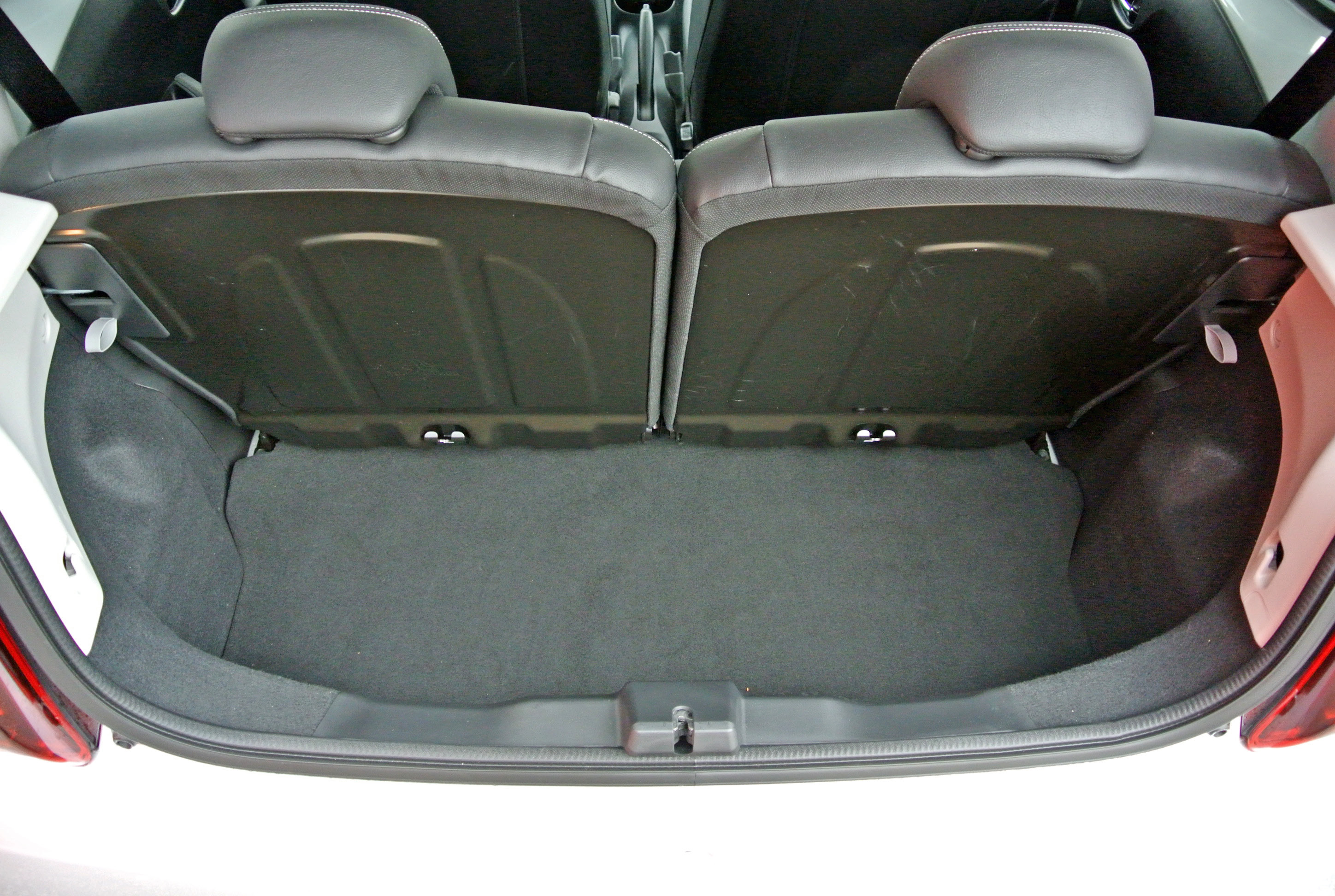 Peugeot has always offered two engine options on this car, a 68bhp 1.0-litre, or an 82bhp 1.2-litre. The GT version features the latter, which is both more aural in its delivery and punchier too, benefiting from around 87lbs ft of torque, which does not sound like much but, in a car weighing just 865kgs, it is adequate. In typical three-cylinder form, the engine never sounds less than willing and responds instantly to throttle depression. The five-speed manual gearbox is fairly sweet in operation, although it did baulk occasionally on downshifts from third to second, an unusual occurrence, when you consider how exemplary Peugeot's shift quality has been on most of its models.
The 1.2-litre unit is satisfyingly frugal, with a reported 65.7mpg on the Official Combined fuel cycle. In reality, the figure that most owners can hope to attain is somewhat closer to 56mpg, although past knowledge highlights that the lightest of throttle dabbers can exceed the posted economy figure by a handsome margin. Its CO2 emissions of 99g/km means that it qualifies for free VED, although the regime change to be introduced in April 1st next year will result in a standard £145 charge, so, if you want to avoid that, buy soon!
The 108GT is a sparkling performer, capable of topping out at around 106mph, having accelerated from 0-60mph in just 10.6 seconds, accompanied by a delightful guttural growl. As such, it makes the Skoda Citigo, in its most potent 72bhp form, feel positively pedestrian. The mid-range pull is acceptable and the car has no difficulty maintaining station with other cars on motorways, which it tackles with aplomb thanks to fairly leggy gearing.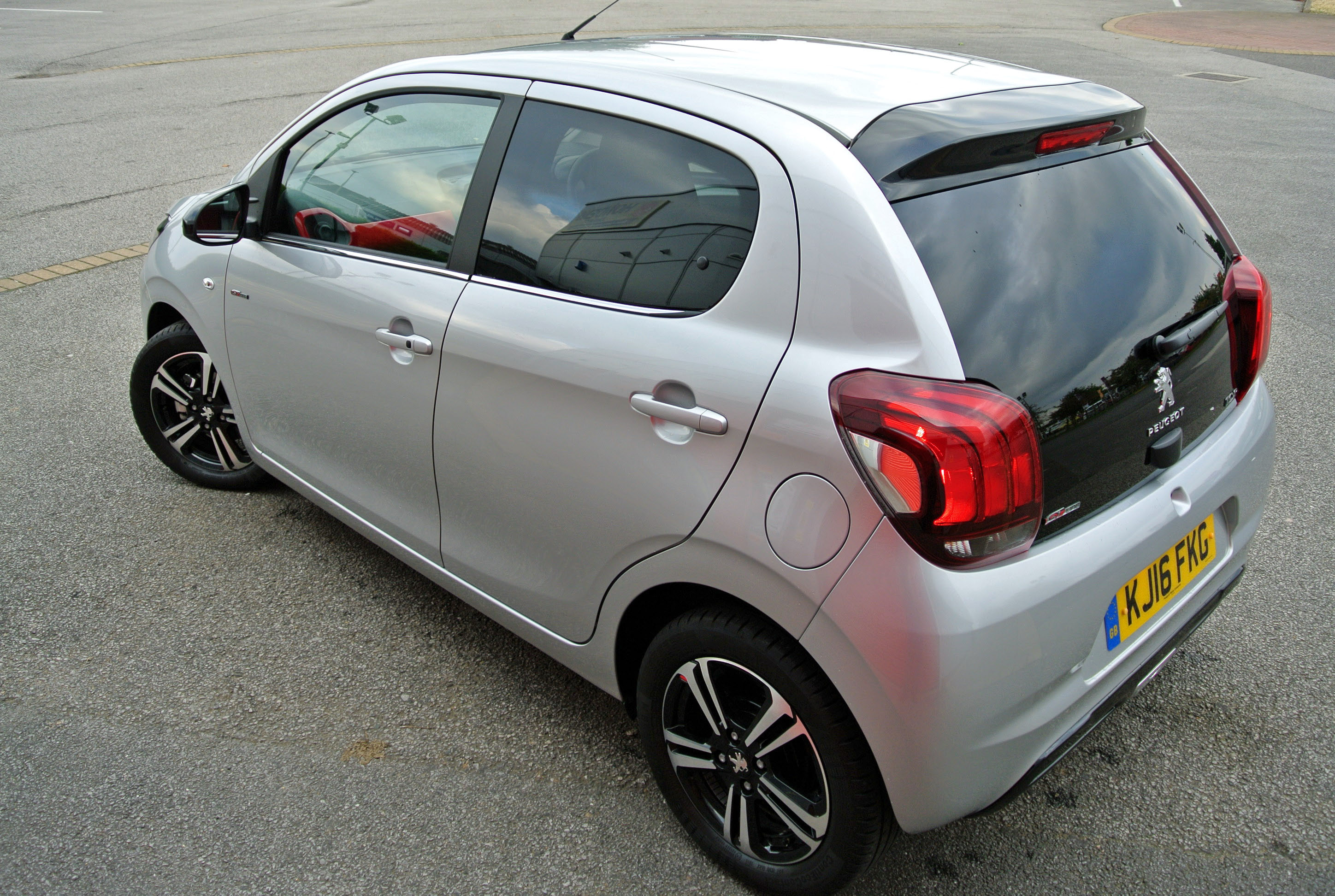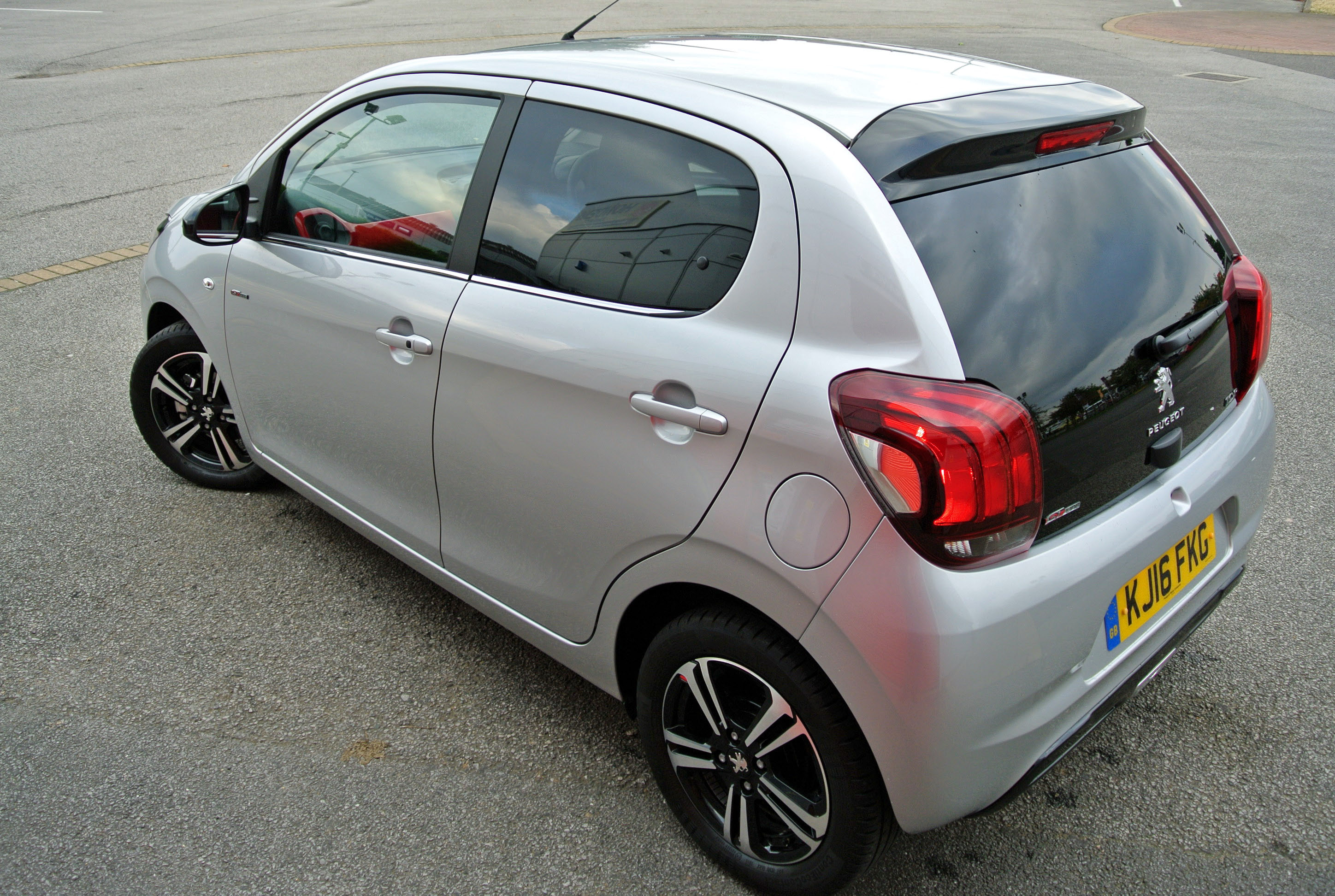 Through several generations of models, Peugeot has set a high bar for their chassis dynamics and the 108 is no exception. There is a fairly good reason for it, as it is fractionally wider and squatter than its key rivals in the class, an advantage made obvious, when you view the car from behind. While its suspension set-up, with pseudo McPherson struts on the front and a compound twisting beam back axle, is far from sophisticated, well-chosen spring and damper rates ensure that the ride quality is balanced and surprisingly resilient, despite the mildly sporting intentions. The car's electric power steering is lovely, being both high ratio (fewer turns from lock to lock) and realistically weighted, while providing moderate feedback to the driver's fingers. Grip from its modest 60-profile tyres is exceptional.
Overall, despite its compact dimensions, despite possessing four occupant access points, its cabin is easy to get into and alight from and, even with the swathe of red dashboard, which could ignite passions (not necessarily in a beneficial manner), as well as a wealth of practical equipment, occupants are made to feel 'special' with every drive.
PSA Group developed a truly excellent small car in the 108 (and its other Citroen and Toyota branded variants) but the GT tagline enhances the driving proposition and adds to the charm of an already superior city car. If you desire inexpensive transport, the only aspect that is worrying is the 108GT's steep invoice price (£13,385), which I consider to be at least £1,500 over-inflated. Yet, deals can be done and, if a PCP, or lease, fits with your business motoring intentions, underwritten by Peugeot, truly low-cost and eminently satisfying motoring can ensue.