Although he has renamed it as 'Custard & Coulis', Iain Robertson took the latest pro_cee'd 1.6T-GDi GT by the scruff of the neck and enjoyed the time of his motoring life on the back lanes of Cheshire.
If I were Skoda, Nissan, or Toyota, I would be looking to my sporting laurels right at this moment in time. Were I Ford, Vauxhall, or Peugeot, I would already be running scared, knowing that my company would be incapable of addressing what Kia is doing to the new car scene, mainly because it would take too long to alter direction. It is not one free of issues, of course, and since Kia adopted the European common thread of 'market pricing', it has sidelined its sometime 'value brand' status. However, it does demonstrate most competently what a little free thinking and gentle radicalisation can deliver to the new car scene.
While it is true to state that the hot hatch sector has moved on a touch and 300bhp is fast becoming the norm. Yet, so too has the lukewarm segment, once populated by 'Sport' designated, rather than GTi-badged variants. Suzuki will soon introduce its zapped-up version of the simply outstanding Swift model and it is more than likely it will retain the 'Sport' label, rather than indulging in a grander touring innovation, even though the 1.4-litre Boosterjet version will probably give most of the lukewarm brigade a boot up the pants. Time will tell.
Tipping the scales at a tonne and 359kgs, the awkwardly-named Kia pro_cee'd 1.6T GDi GT is not exactly a sub-tonne featherweight like Suzuki (the badge alone probably factors in an inordinate weight penalty, even though you will find no signs of it anywhere on the bodywork!), although 201bhp is something to write home about. As it is developed by a mere 1.6-litre petrol engine, while breaching the 100bhp/litre of engine capacity that denotes a racier alternative and it does rev most freely to the 6,700rpm redline, it is not really an over-stressed unit, which suggests that its more than plentiful seven years warranty is unlikely to be troubled by the vast majority of potential owners.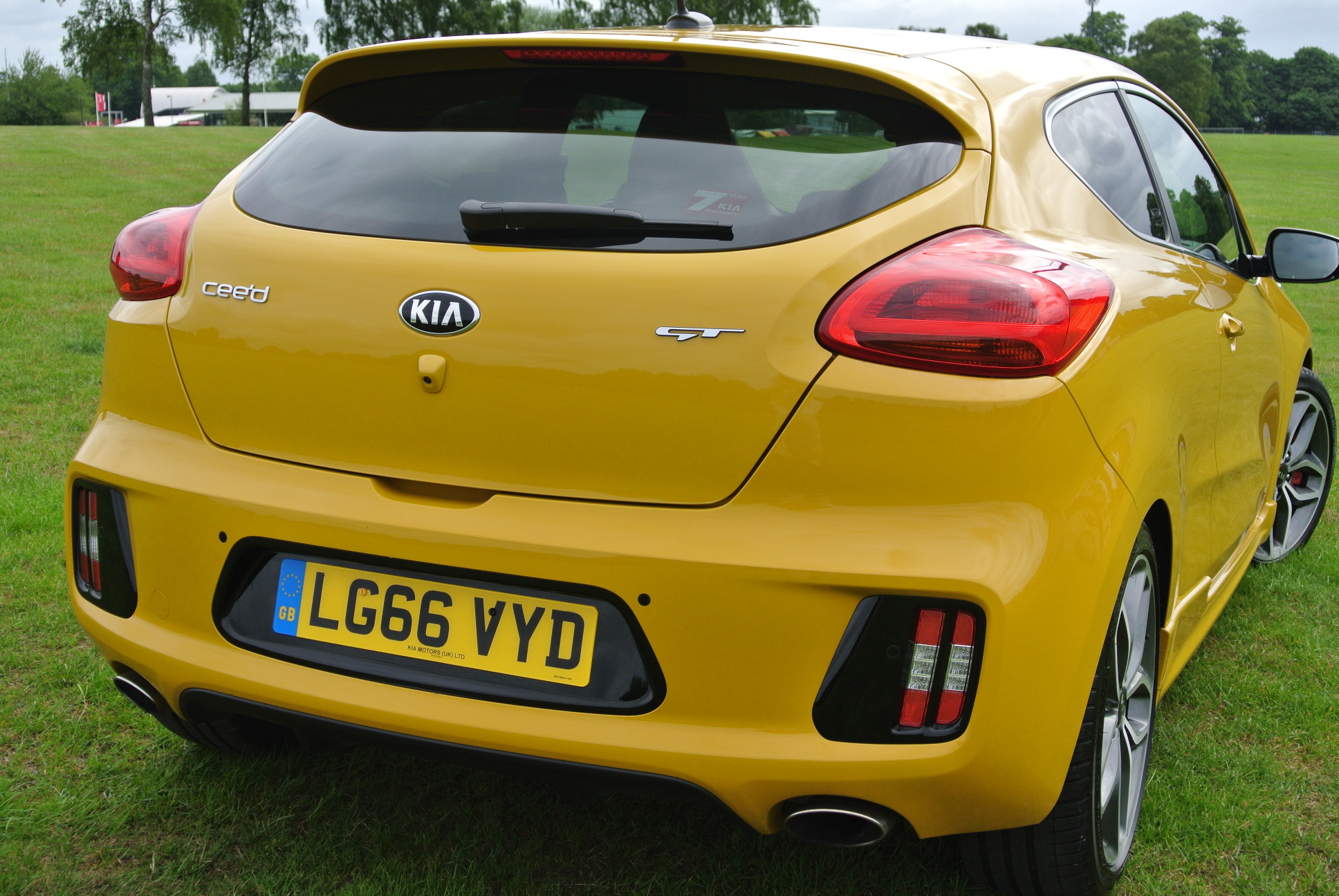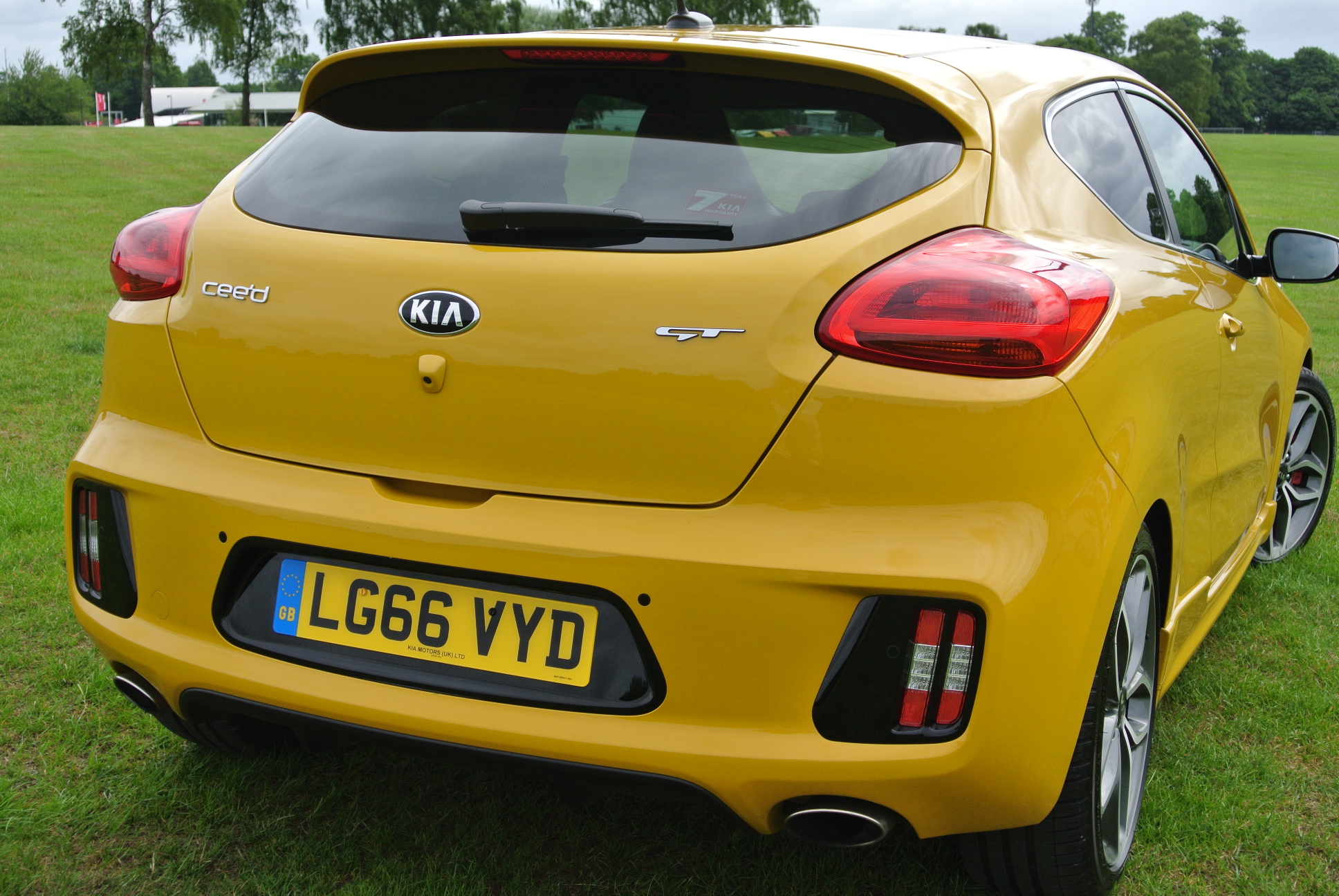 Transmitting the power to the road is the task of the six-speed manual gearbox, which works rather well, as long as you do not rush it. The gearchange mechanism, while delivering fairly brisk shifts, does baulk a tad, if you attempt anything approaching a 'racing' change, which can become a minor dish of ointment, should you wish to exploit the more boy-racerish aspects of your personal capabilities and hear that beguiling intake and exhaust 'roar', which is plumbed into the cabin for added enticement.
However, boasting a 0-60mph acceleration time of 7.3 seconds is plenty quick enough and the pro_cee'd will top out at a reported 143mph, performance pinnacles that I would never reach on the surface of Oulton Park, Cheshire's beguiling parkland racing circuit (scene of the photo-shoot), or on the public roads of the surrounding county. Yet, the drive experience is charming to say the least, the car supported by Macpherson strut front and multi-link rear suspension, with the damping set to firm but not unyieldingly so.
The revelation comes with the delicious engine-driven, rack and pinion power steering system. It lacks the remote and artificial 'feel' of electronic systems and, thanks to high gearing, demands only 2.8-turns of the tiller to change from full left to right locks (with a turning circle of just over 34 feet). It is beautifully and consistently weighted and helps the driver to position the car with surgical accuracy. The engaging nature of these mechanical aspects is like a lesson in how the very best cars in the class used to behave and I am thinking about the original Honda CRX, as well as the earliest versions of the VW Golf GTi.  It is worth highlighting that NONE of them can match today's Kia in terms of its dynamic grace.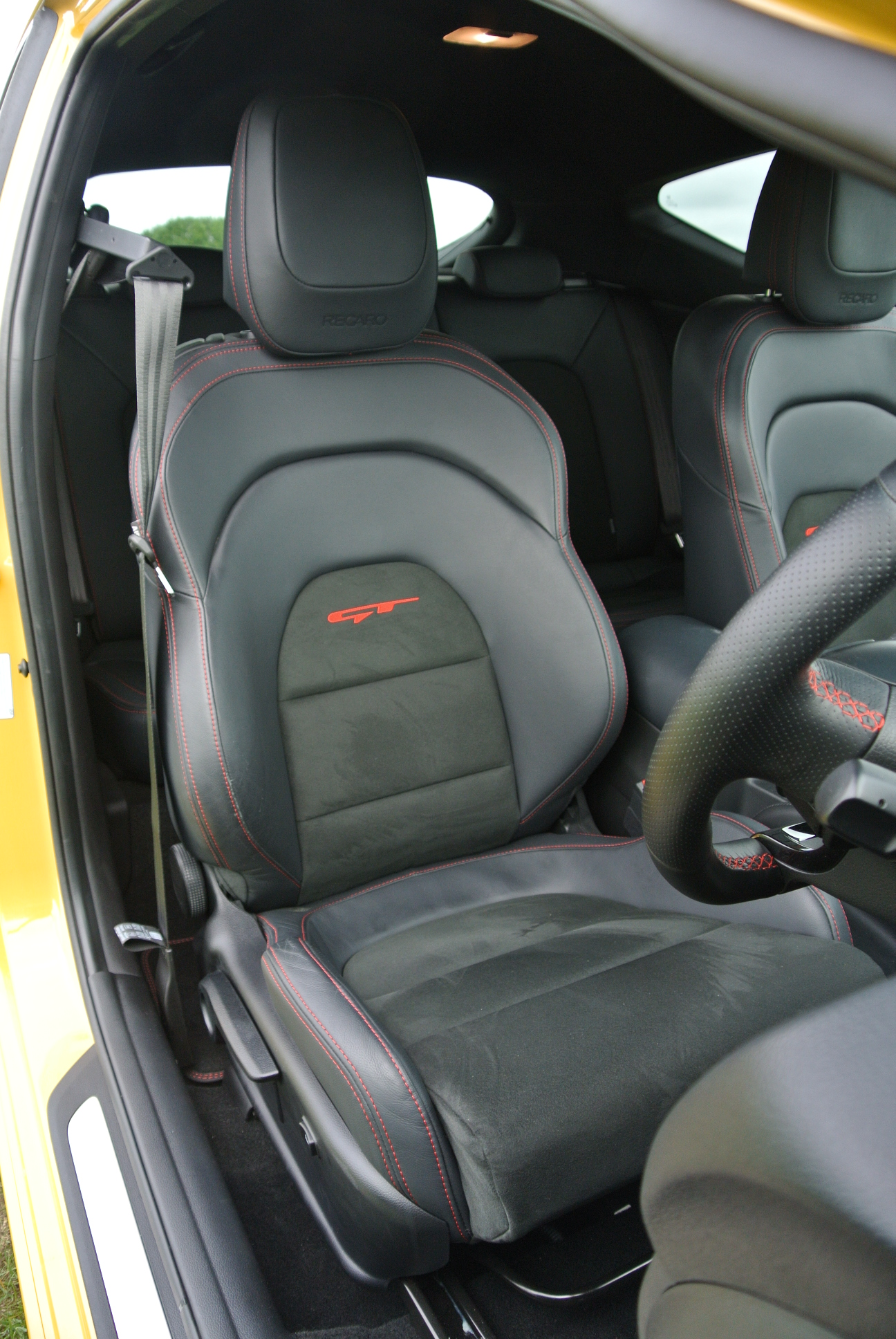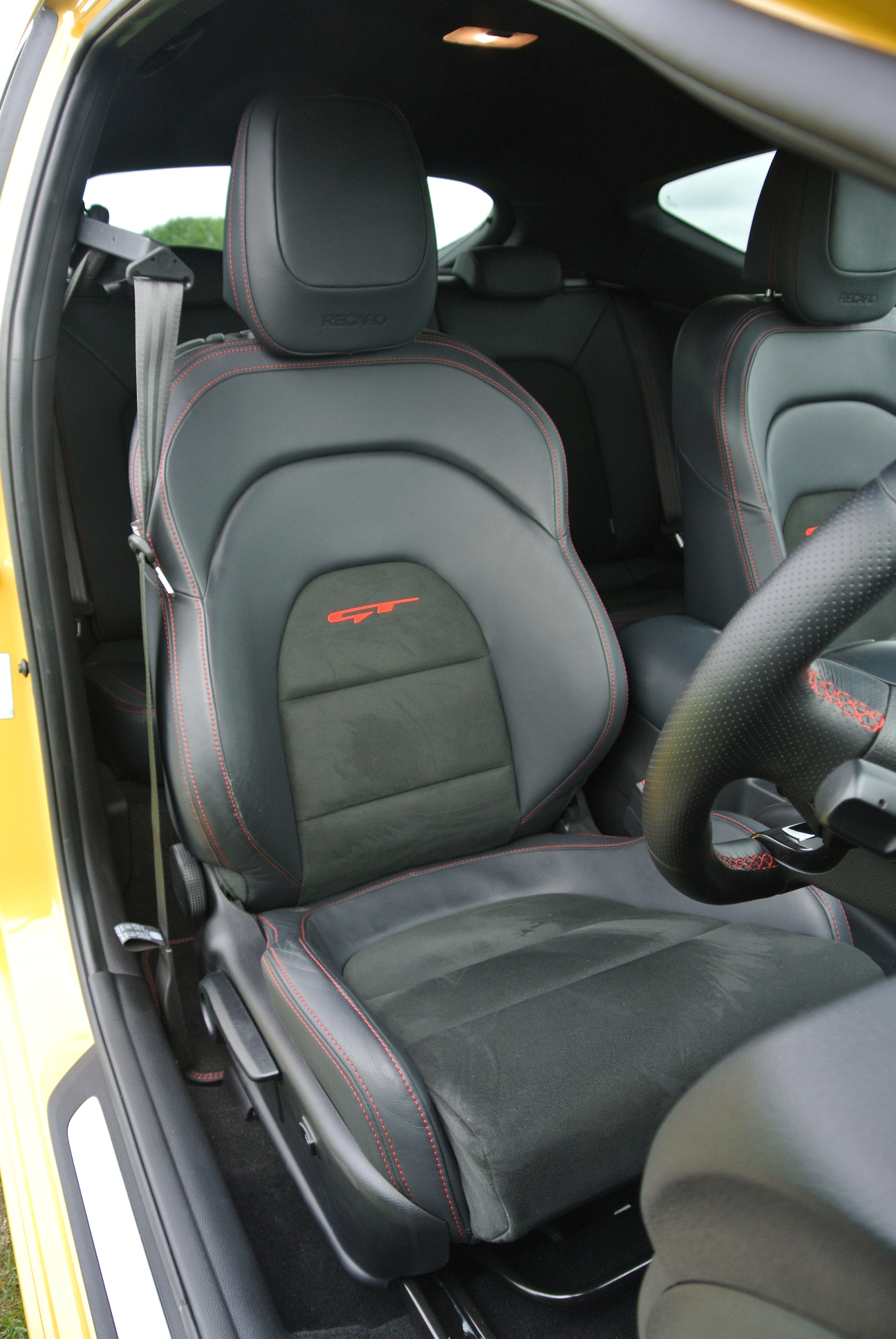 Before savouring the interior of the car, it is worth looking at its other figures, such as the 38.2mpg Official Combined figure, which I believe to be attainable by almost any driver, although its 170g/km of CO2 does herald in a £500 initial, first year road tax payment, which is steep, although it reverts to the £140 annual standard fee in subsequent years. The price tag is verging on the 'better check it' variety, at £23,510 and, while I am certain that most Kia dealers will play ball on the bottom-line, it will not be by enough to call this model immediate 'good value'.
Naturally, Kia leads with a loaded specification and those important little details, such as red-painted brake callipers, smart alloys and the sporty red 'drizzle' of coulis in important highlight areas, along with gloss black detailing, affords a higher-end status to the car. The body-colour side-skirts lower the visual height, while the 'ice-cube' DRLs make it stand apart from its key rivals. Hide-wrapped Recaro front seats look great and prove to be exceptionally comfortable and supportive, although the taller driver could do with a small amount of extra space as a teensy bonus.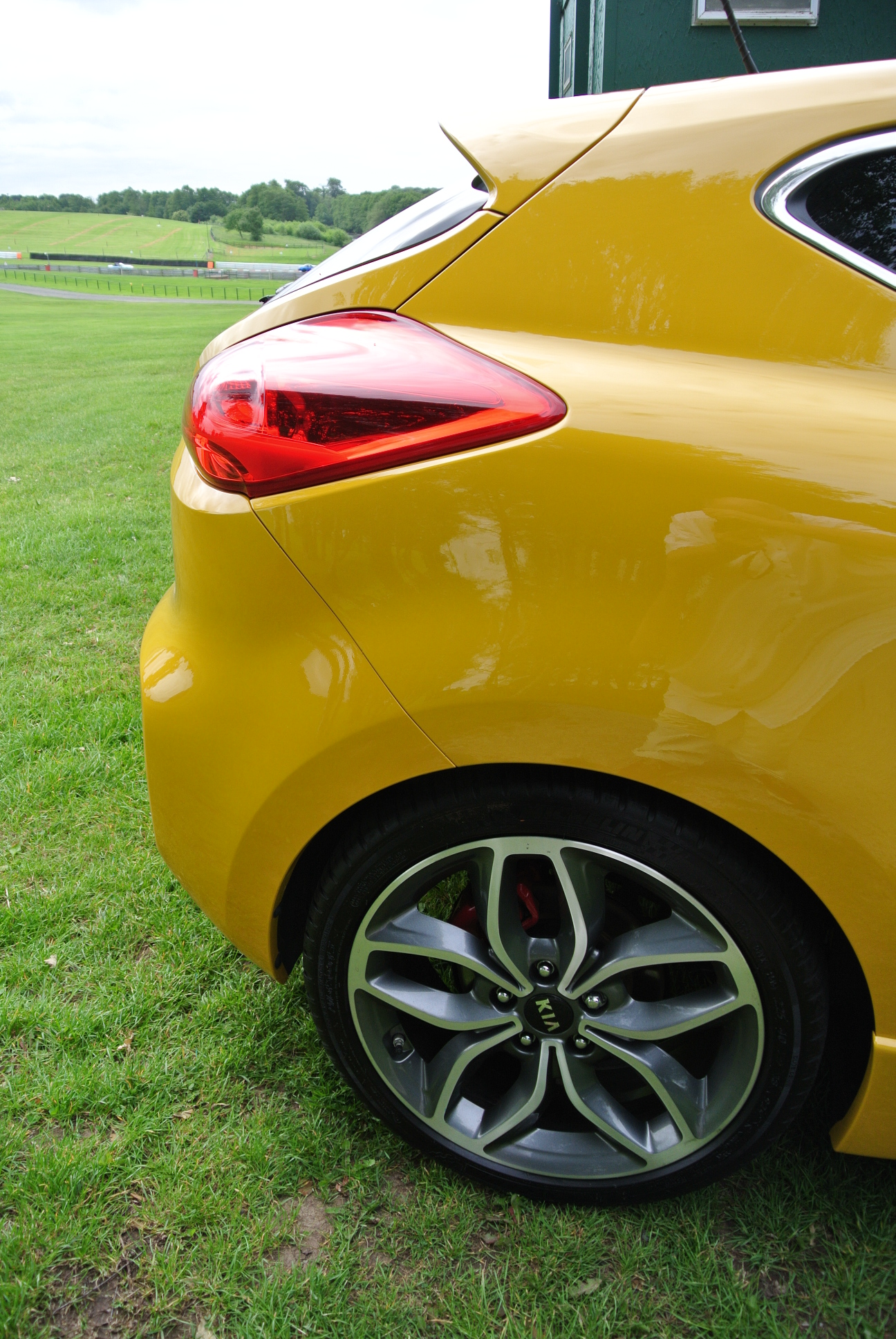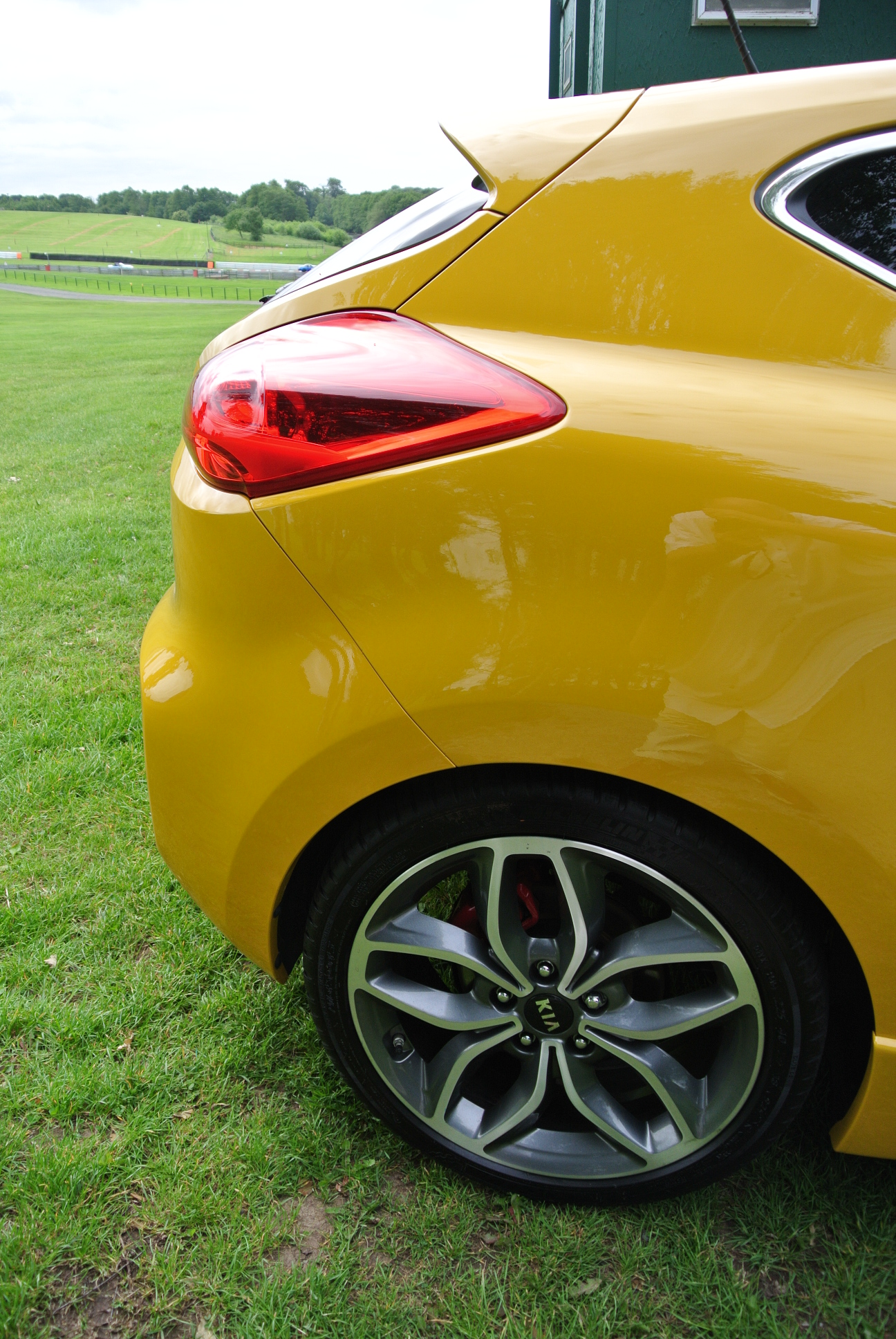 The front seats adjust in every direction, across a decent range, as does the steering column and, having mentioned the lovely steering responses earlier, it is worth noting that the flat-bottomed wheel is a leather-coated aid to enhanced driveability. It's tactile and lovely! Depress the 'GT' button located below the left-hand spoke and the central instrument display alters from analogue to digital, complete with some interesting numerical colouration. Of course, the centre stack is topped by an instant reacting touch-screen that caters for most of the in-car requirements, including sat-nav and the excellent stereo system, which will link into your mobilephone effortlessly, either for calls, or to listen to downloaded music. Rear vision is aided by the camera. Comfort is provided by the efficient climate control.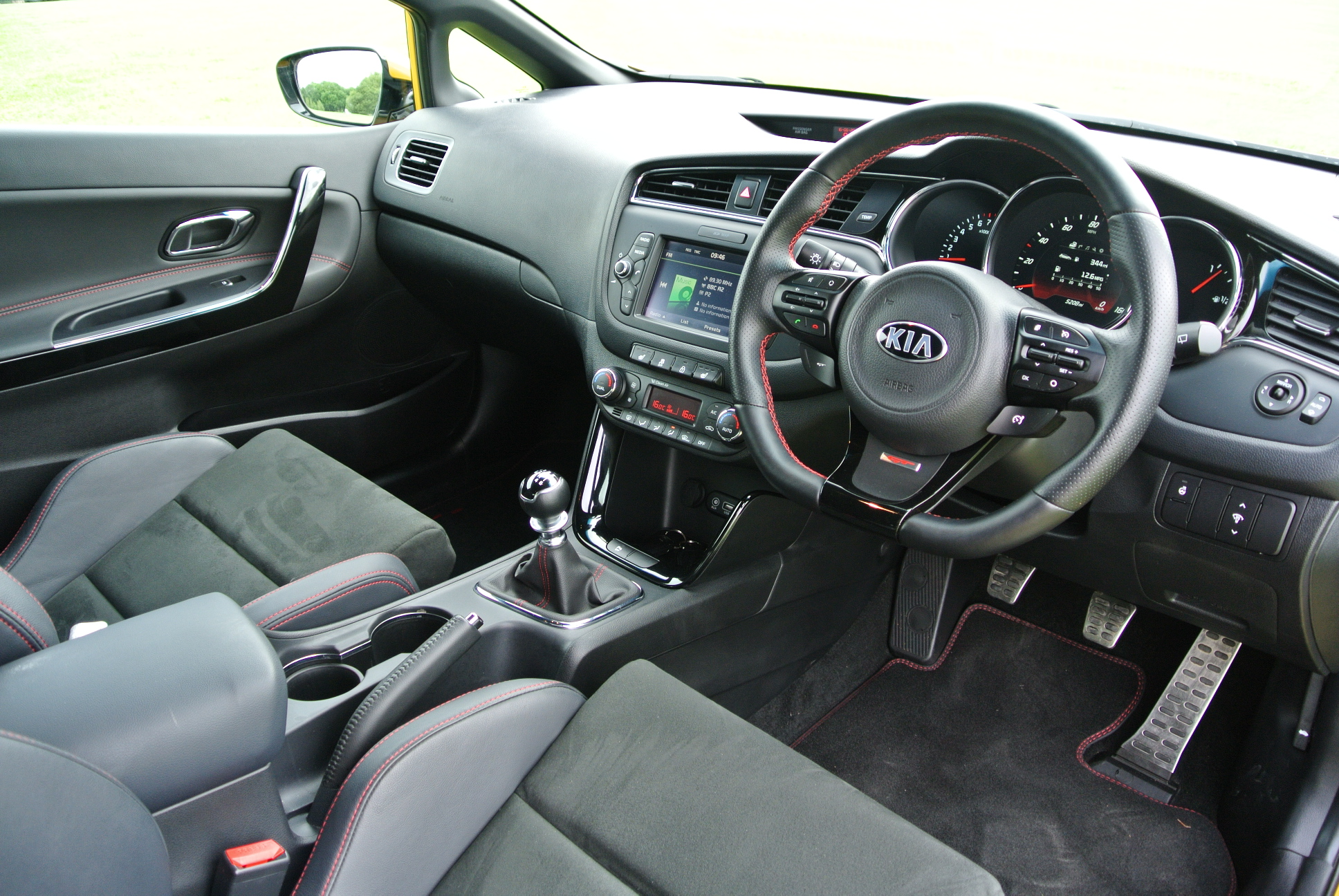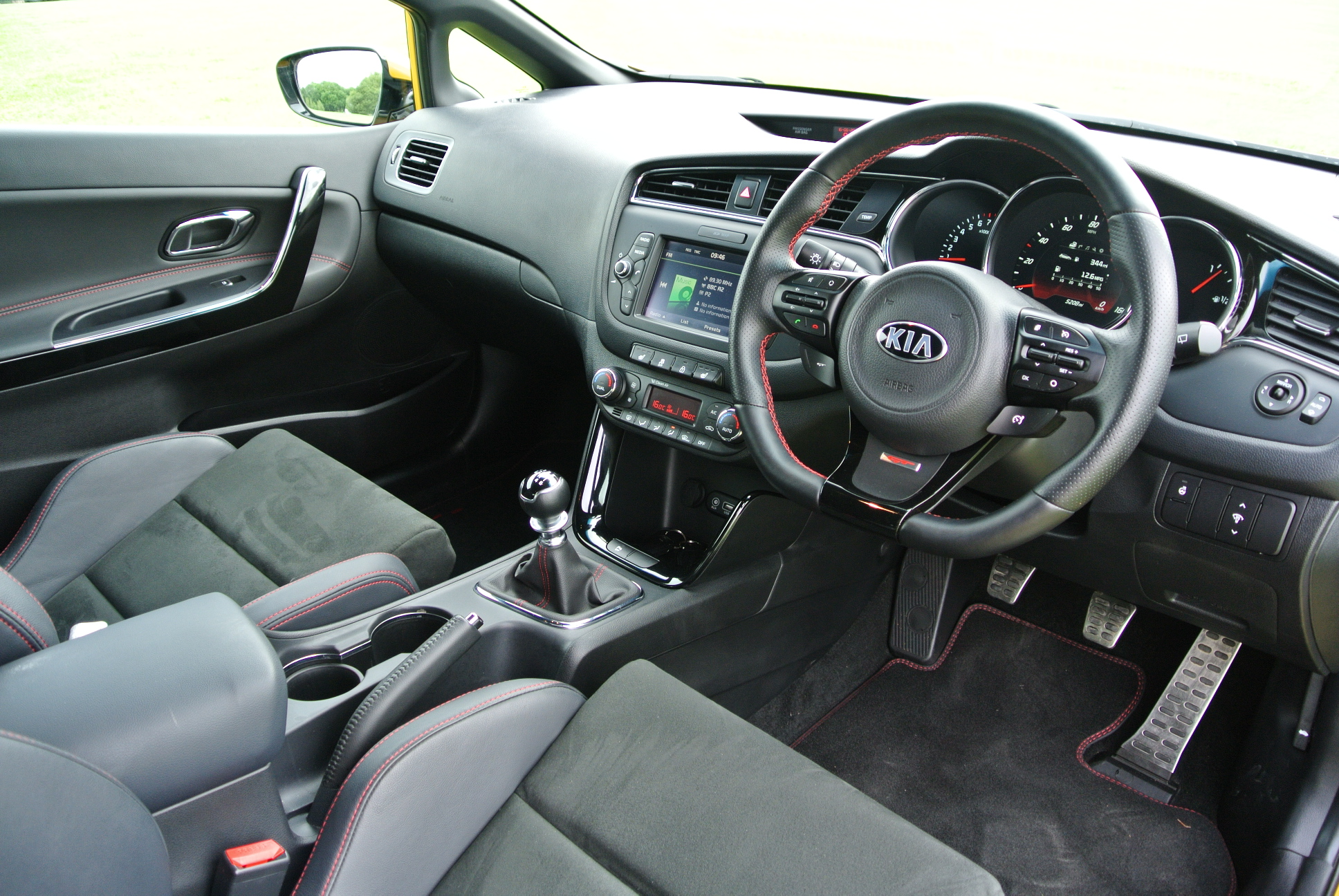 While there is an adequate amount of cabin space for average height and width occupants, those in the rear will be forced to endure mild claustrophobia, thanks to a combination of the high-back front chairs and the kinked upwards rear side windows. It is as a close-coupled coupe that this hatchback will earn its stripes, although there is a modicum of space for rear seat occupants, if you absolutely have to carry them. While the boot is of decent proportions, there is an underfloor storage area for valuables and the back seats will split-fold (60:40) for longer loads, or more luggage for continental hoppers keen to sample Kia's performance edge on unrestricted sections of road.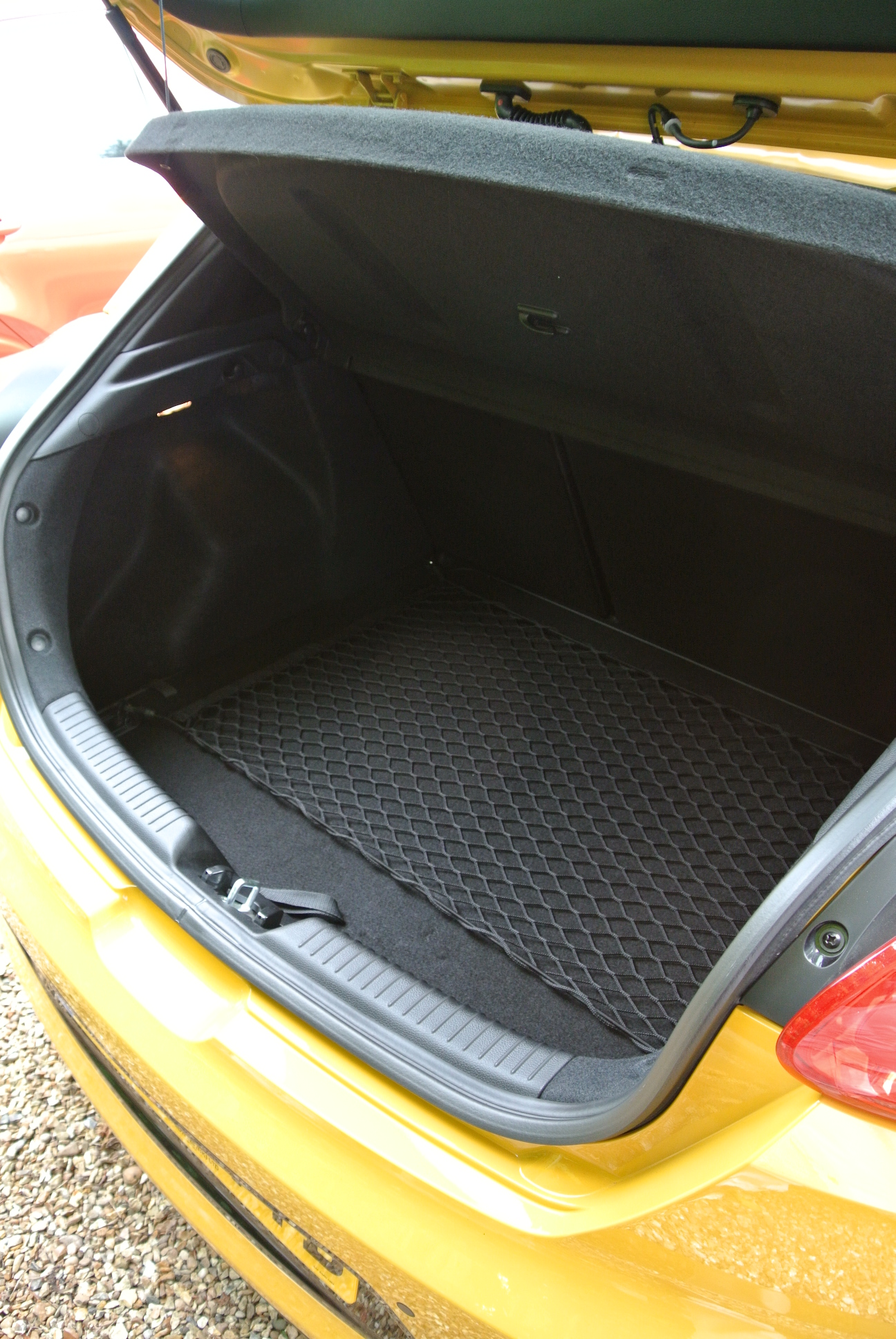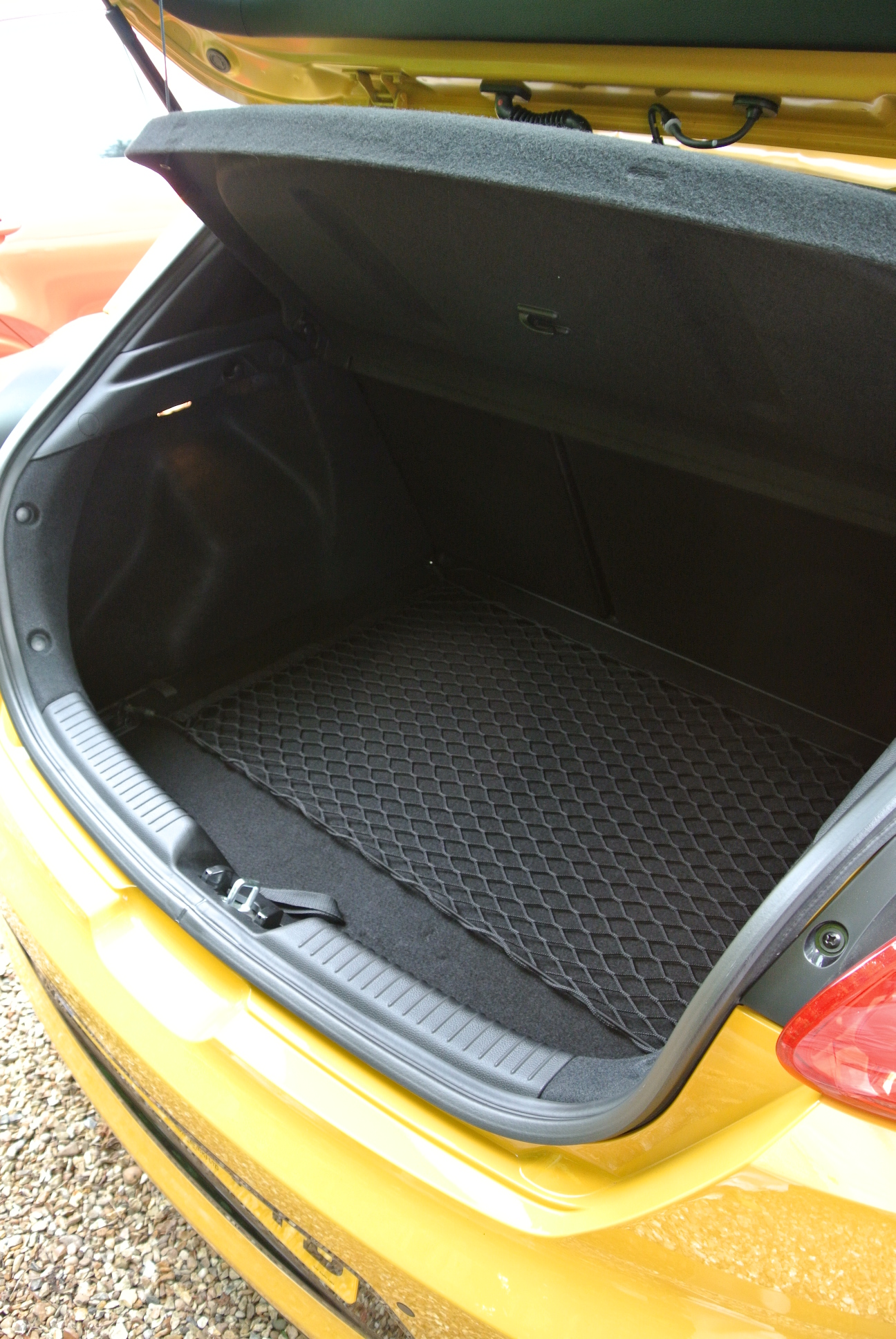 Of course, all the usual safety gubbins is included, from traction control to airbags and even ISOFIX child seat locators. Fortunately, the driving aspects are not of a 'nannying' type, which means that it takes real hooliganism to activate them, almost as if Kia's European engineers wanted drivers of this car to indulge themselves from time to time, without interference. Incidentally, the glovebox, which is decently proportioned, is also a cooled unit.
In its yellow and red accented finish, the Kia does stand out from the crowd but not to the extent that it looks daft, or even overtly garish, despite my nicknaming of the car, which is more a term of endearment than any attempt to blaspheme it.
The Kia pro_cee'd (in GT trim) is a delightful go-faster model that delivers on all counts. Beautifully assembled, even though some of its plastics are slightly low-rent, it is taut, responsive and thoroughly enjoyable to drive, whether in stop-start, or open-road conditions. Its handling is neutral and the comfort levels excellent. Ultimately, no owner will find much to complain about and most will be charmed by its character and sheer willingness to give of its best. If you can justify the price tag and it is fair to suggest that Kia residual values have strengthened immensely in recent years, this car is a compelling acquisition.