Over the past 20 years, Iain Robertson, having owned seven different models, became an 'authority' on Skoda, although a perpetual move upwards by the brand has also involved financial aspects, which make 'value' questionable.
Although I had driven/sampled Skoda products for several years prior to the 136 Rapid in the mid-1980s, it was that single model, rear-engined as it was and a hangover of the Communist regime that still populated the Czech nation's psyche, that turned me onto the brand. While it was superficially cheap and nasty, what lay beneath was as well-engineered, some critics even suggested 'over-engineered', as the Forth Bridge, erected in the Victorian era and still serving purpose today.
My first but not last visit to the Czech Republic happened in 1990. The Berlin Wall had fallen; the Iron Curtain dismantled. The Czech government was keen to attract foreign investors, not least to prop-up and develop its industrial sector but also to raise the wages expectations of Czechs, who were earning, on average, 10% of their equivalents just over the German border.
Although Renault and Fiat were the first to place their legs below Skoda's negotiating table, thank heavens that it was Volkswagen that won the day. Renault would have turned the factory at Mlada Boleslav into a sister plant to its Dacia factory, producing inexpensive motorcars to meet East European and further Eastern demands. Fiat proposed what Fiat always used to propose: the installation of previous model Fiat technology to assemble previous model Fiats at lesser retail prices. On the other hand, VW promised a staged takeover, effectively rewarding the Czech state over a ten years programme of gradually taking over the Skoda brand but allowing it to flourish, rather than be subsumed. It was the preferred and best solution for all parties.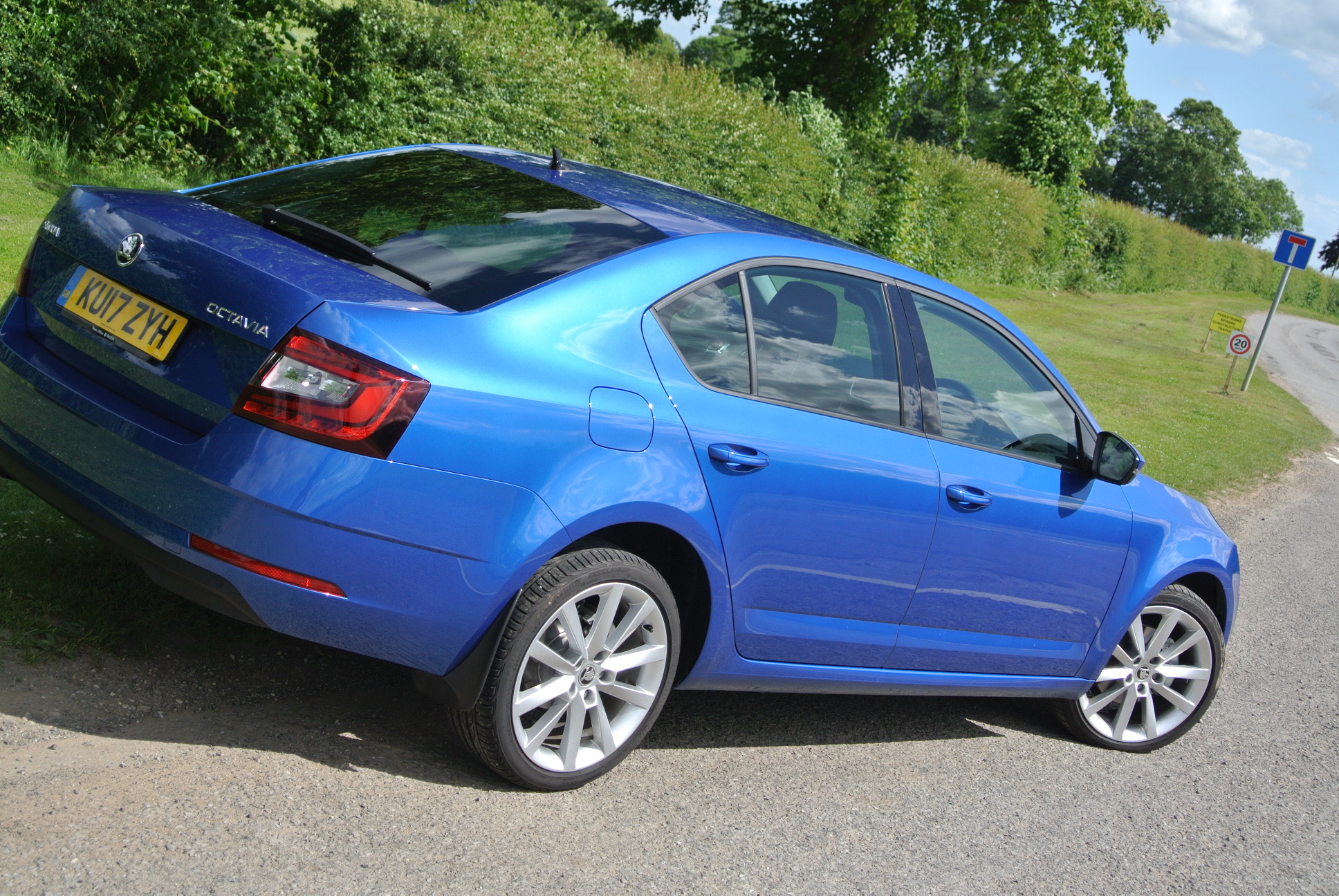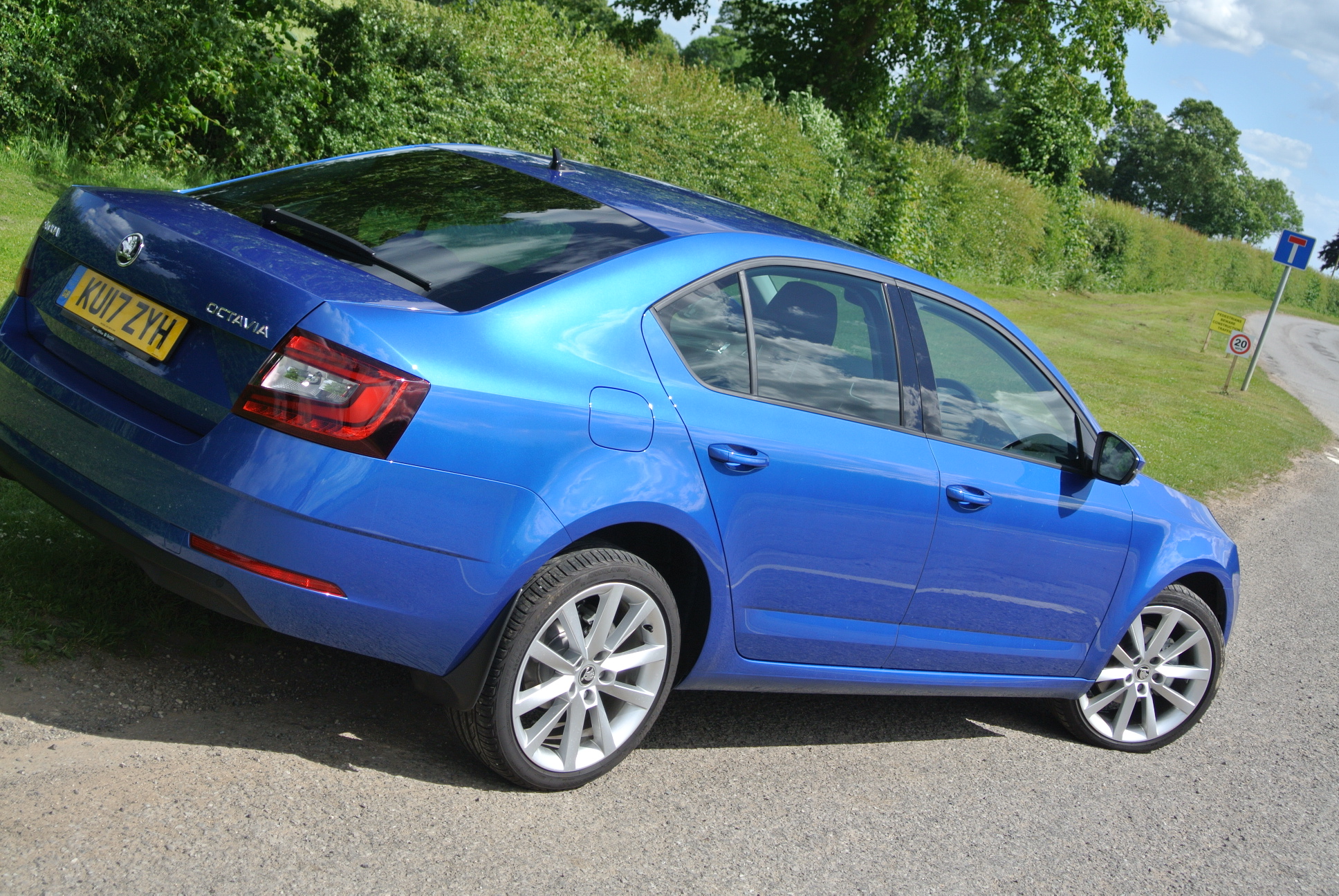 However, no sooner did the early Favorit model (now the Fabia), styled by Bertone, arrive in the UK, it became abundantly clear that VW was looking significantly into the future. It became the Felicia, a melange of Polo and Golf components within a well-detailed but stoically Czech-designed body. Skoda'sSkoda's large car offering arrived in 1996 in the form of the Octavia. I was present the week prior to British motoring journalists attending the international launch and I can still recall the company's PR boss of the period, Jiri Hrabowsky, asking me if the car would be acceptable to a British car market. I said that it would not make the grade. However, it did not stop me from breaking the story in the UK and making some interesting pronouncements about the brand.
Less than a year later, I owned the very first Octavia registered in the UK (1.6GLXi) and I lived with it for three years, prior to buying the very first of the new Fabia generation of compact hatchbacks. I was hooked by Skoda. Even then, its core customers were complaining that they were being left behind by constantly upwards-spiralling list prices. Quite what they would make of a new generation Octavia being sold for £28,550 (as tested) in SE-L hatchback form, powered by a 2.0-litre turbo-diesel engine developing a modest 147bhp, I have not ascertained but I cannot imagine that they would be pleased.
The last Octavia that I bought was in 2011. A fire engine red example, in vRS trim, with sat-nav, DSG and a heap of extras that rolled onto my driveway at a price of around £23,500…a full £5,050 less than the test car, which is a lesser model in any case. I do wish that I still owned it. It was a very special car and the bulk of its most laudable qualities is carried wholesale into the latest models. However, I want to stick with the pricing for a moment, before I lunge into the car. While I accept that car prices have crept up inexorably for the past six years, VW Group's price-tagging has been around one to two percentage points steeper than any of its rivals. While Skoda does have an input, rest assured, it is VW Group that determines where the brand stands in all respects.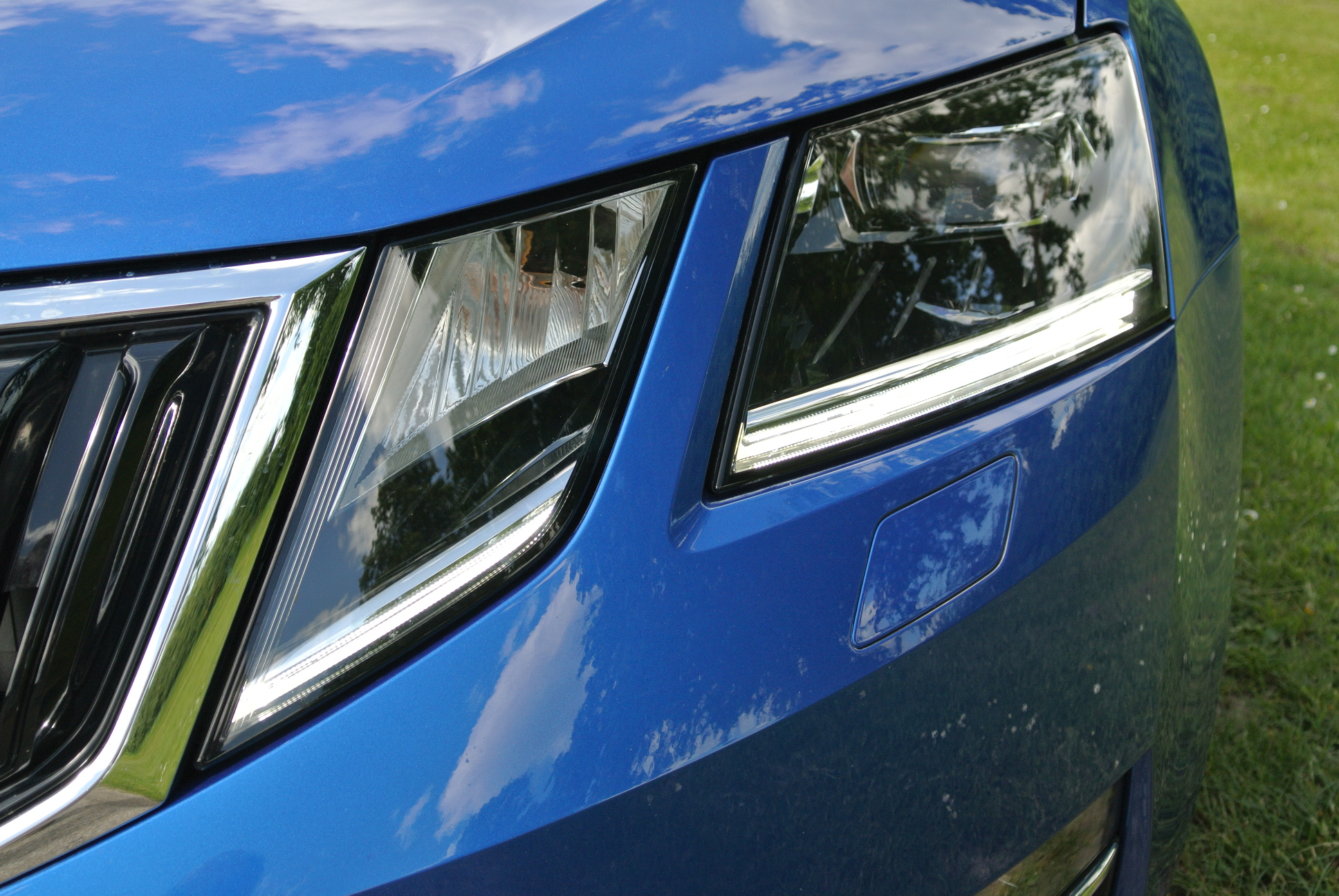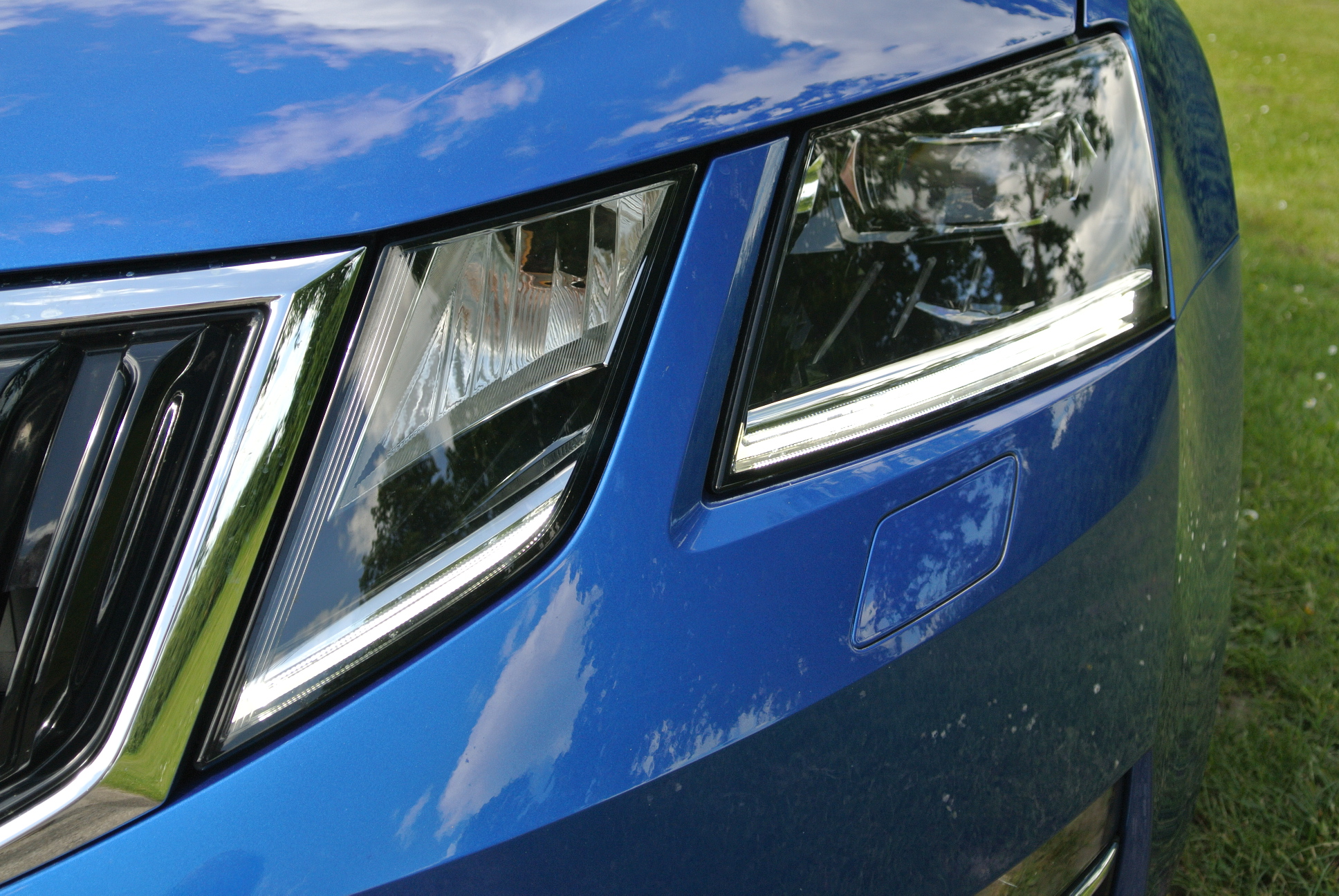 Does the Octavia represent good value for money? To be quite frank, I do not believe so. It has adopted the rest of the Germanic Group ethos in that the consumer acquires a 'basically priced' model and then adds accessories to personalise it. It is regarded as creating an aura of 'free choice', except that the actual number of specifically specified new Octavias, i.e. those examples 'made to order', is very small. To avoid the stated 'production delays' of upwards of 12 weeks, 'stock' examples are supplied to customers not prepared to wait for their new cars. Thus, a model like the test car (prices in brackets) that includes 18-inch alloys similar to my old vRS model (£400), Columbus sat-nav (£1,050), cruise control (£200), heated steering wheel rim (£155), heated front seats (£250), LED rear lamp clusters (£150), metallic paint (£555), three years Care Connect system, with private emergency call (£400), rear-view parking camera (£375), space-saver spare (£100) and the useful but costly wireless mobilephone charger (£300), bumps up the base price of £24,615 to the level stated earlier.
Powered by the 147bhp version of the common-rail injected 2.0litre VW Group motor, its performance is brisk to say the least. In fact, it feels almost as swift as my original 177bhp vRS TDi. It is such a strong engine and it results in a 0-60mph dash in just 8.2 seconds, before the Octavia runs out of steam at a more than merely acceptable 134mph. Were I buying an Octavia today, I would feel compelled to choose this model and ignore the go-faster goodies inherent to the vRS.
While the parent company remains under fire from both governments and consumers, since the dawn of 'dieselgate', especially so, since VW Group has stated that it will provide a two years additional 'guarantee' to owners, rather than making them a financial award (as it has done in litigation-conscious North America), that tried and trusted diesel engine still delivers a modest 118g/km CO2 and a 62.8mpg Official Combined fuel return. Naturally, VW/Skoda would not dare to get those figures wrong and, as I attained a regular 56mpg in the test car, I think you could call the figures honest.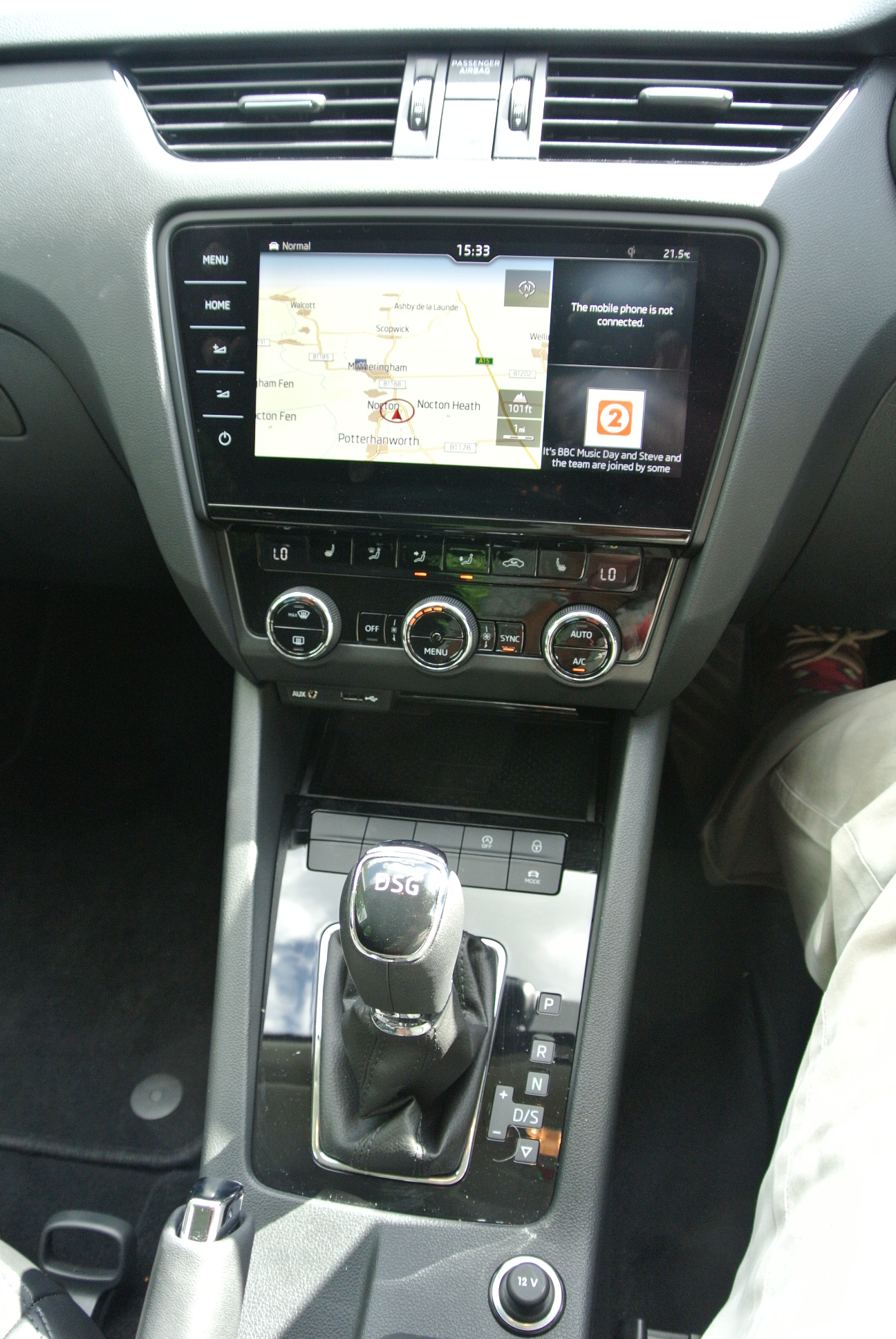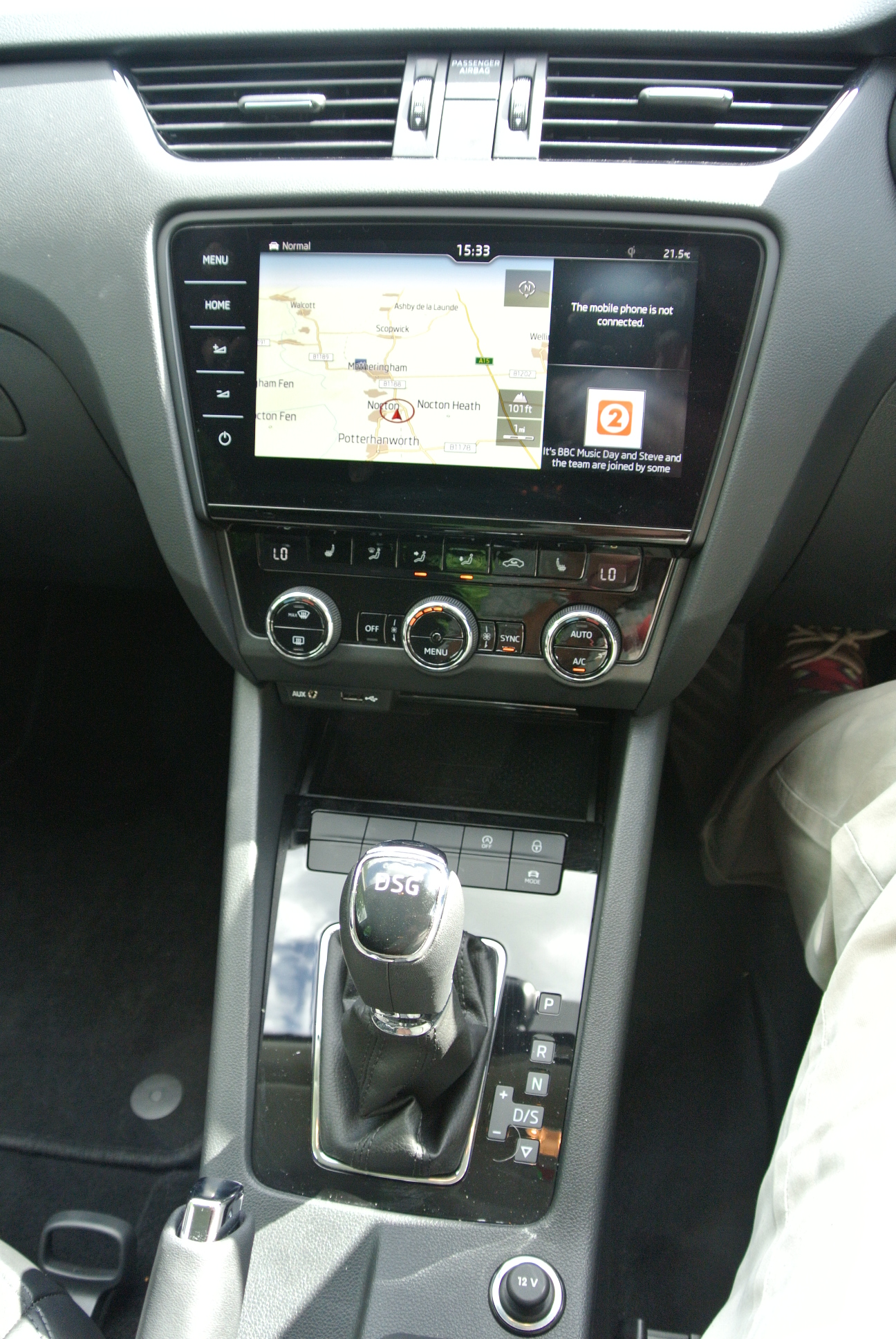 The core reason for choosing a vRS was to gain from its vastly improved chassis dynamics. However, even without the adaptive damping, the 'standard' offering on the test car is more than up to today's cut-and-thrust driving situations. It is damped firmly but not uncomfortably, which means that the car responds positively at the helm, can steer its way competently out of bad scenarios, rides comfortably and quietly, making lane-changes in a balanced and neutral manner, while providing an unerring level of grip from the tyres in a variable mix of both driving and weather conditions. It is a perfect package in those respects.
Of course, SE-L is one of those popular 'enhanced' specification levels designed to captivate the fleet sector and there is no denying the relevance of Skoda to it. After all, why invest at least another £2,500 on an equivalent VW product, or £4,500 for an equivalent Audi (Seat does not have an equivalent), when you can claim all the benefits at a lesser sticker price on a Skoda? While the clear differential remains, just bumping up the rest of the Group's prices is not an answer that the consumer, or even the business-user needs to hear. Yet, it is that reliance nowadays on the company car market that has made Skoda the non-bargain that it is. Personally, I do not regard it as an 'honest price strategy' and it is the key reason that I have turned my affections onto Suzuki, which does possess a value-for-money stance.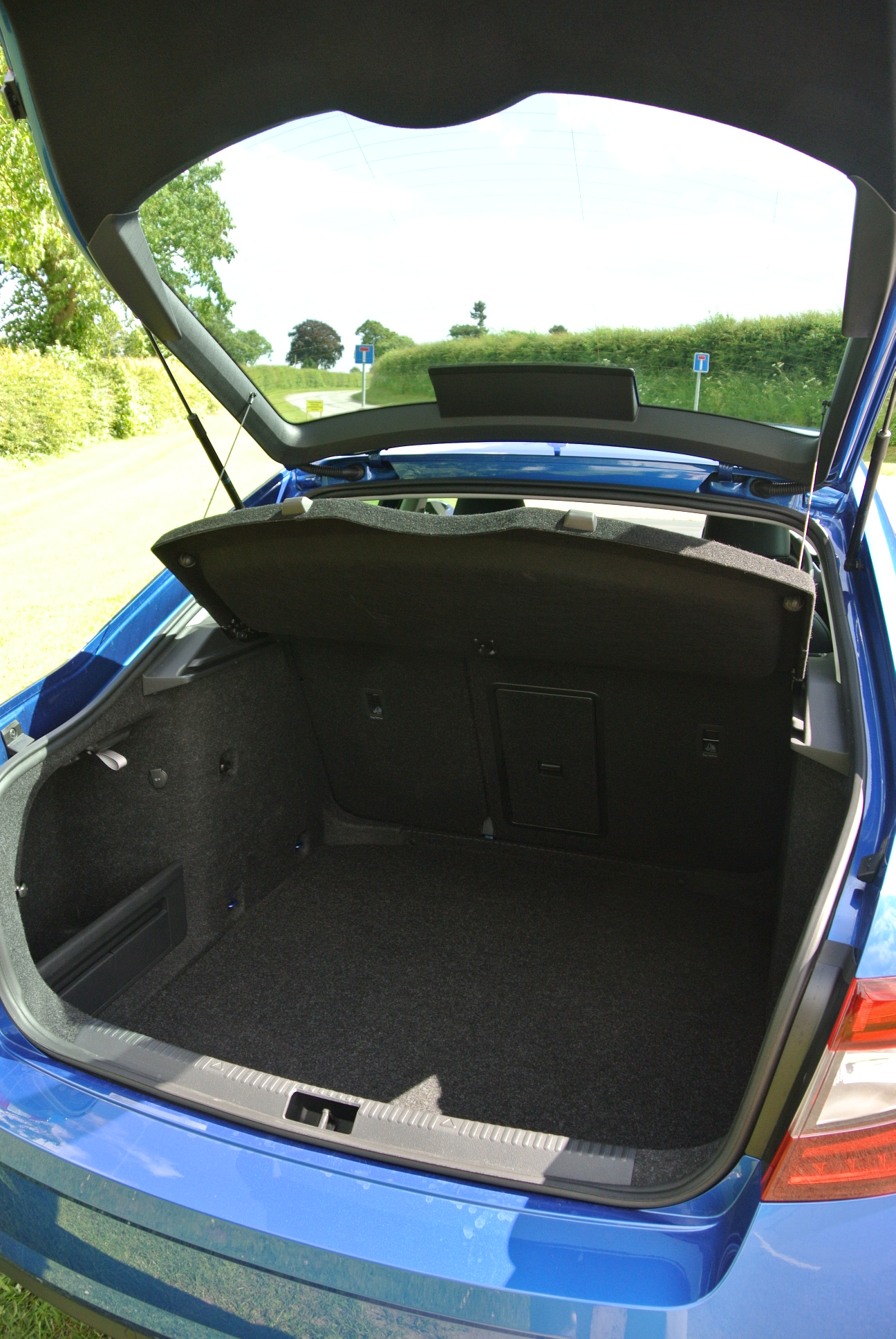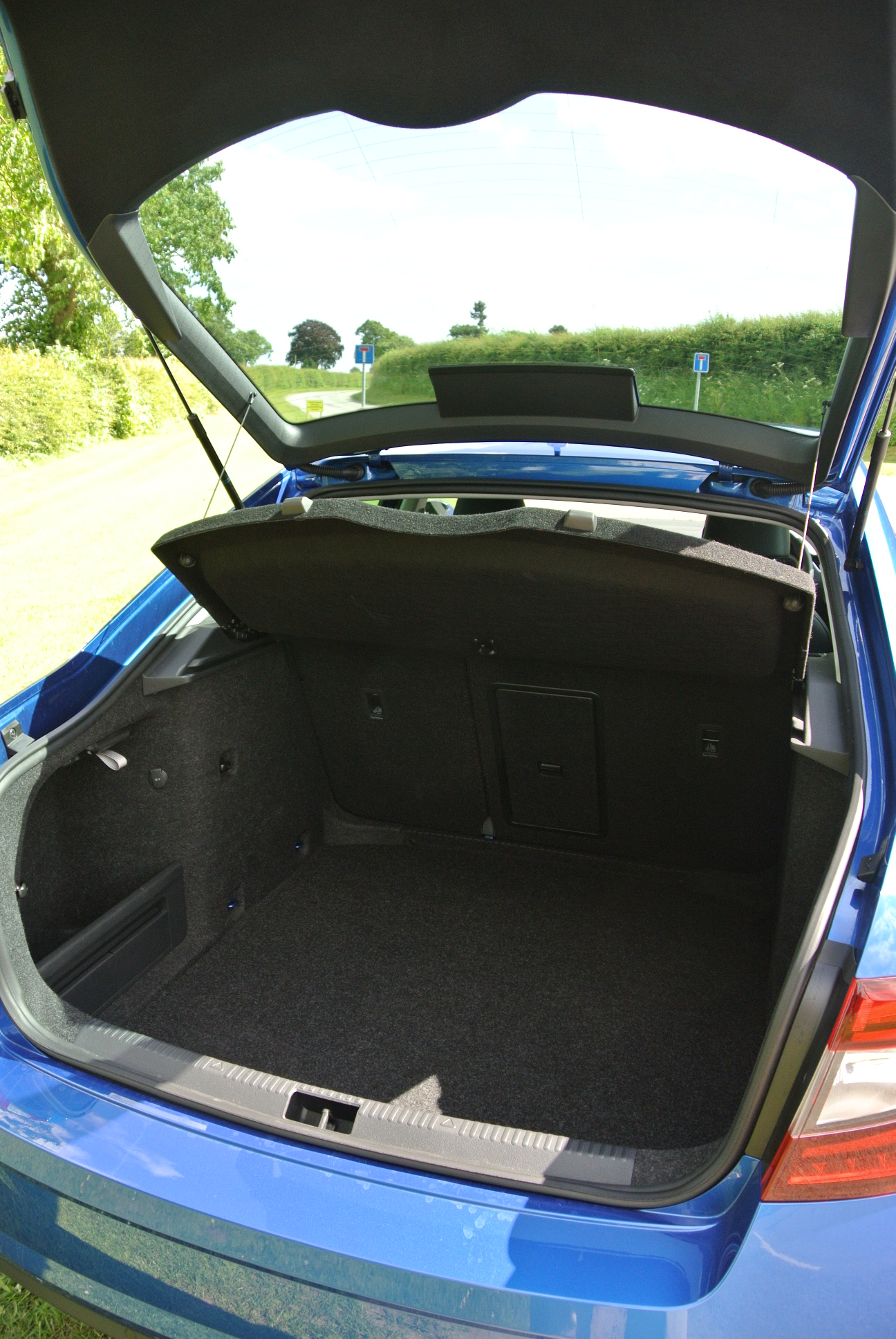 Please do not misunderstand me. The latest Octavia, with its Merc E-Class split headlamps and toothier radiator grille, is still a great car. Its Alcantara seats are accommodating and comfortable. Its driving position is as good as any other car in the class and better than most in what we used to know as 'the medium sector'. While its instruments are fairly basic, although slightly stylish, and a new full-width 8-inch touchscreen occupies the space at the top of the centre stack, it is still a Skoda. While the aeons-old jokes and jibes may have disappeared, Skoda still holds a reputation as a 'value brand'…which is a complete lie, as it is actually significantly more costly than several of its rivals, in a way that even an indomitable reputation for dependability cannot justify.
In truth, I cannot say that living with the latest Octavia for a week and around 500 miles was anything less than enjoyable. When you put your foot down, it goes. When you want to stop it, it 'stop:starts' with alacrity. I loved being able to charge up my depleted smartphone by simply slipping it into a slot where the ashtray used to be (although the rubberised phone-holder in the cup-slot was largely useless) and its Bluetooth linking was intuitive and glitch-free. I also enjoyed its fuel range and climate-controlled comfort levels. However, if you asked me would I buy one? The answer is an emphatic no. Skoda no longer represents value-for-money, as it is now part of the money-grabbing VW machine that could not give a toss about its customers.
Today's Skoda Octavia is an amalgam of all that Skoda has learned about its model over the past 20 years. The company has not lost sight of what makes the Octavia a most satisfactory motorcar. Yet, the brand is being forced to move onwards and upwards, never being perceived as better than Volkswagen, even though it is in a number of respects, which has caused it to lose sight of its market intent and that is truly sad. In just 20 years, the Octavia has become a Teutonic machine and the Czech Republic is now just a sub-plot in an adjoining geographical territory.