Never swayed by the turn of a beautiful ankle (much), Iain Robertson admits to having fallen head-over-heels for the latest Alfa Romeo model, despite early misgivings based on a chequered past for the brand. 
FCA Group, which owns both Fiat and Chrysler brands, may not be having the easiest ride in deliverance terms at this moment. Yet, it is a master of the 'long lead', allowing product information to seep into the automotive psyche, with a continual drip-drip feed that provides encouragement, while teasing and engaging with its intended markets.
One of its charges is Alfa Romeo, a company epitomised by its gloriously colourful badge and a history steeped in a blend of automotive fascination and past motorsport prowess. However, it is also a brand that remains troubled and often lacking in direction. It is a brand that can embody emotive charm with signature design elements that can also send critical appraisal rocketing to its redline. Personally, while appreciating a marque's past, I have limited space for excess baggage and Alfa has carried rather too much of it throughout its history.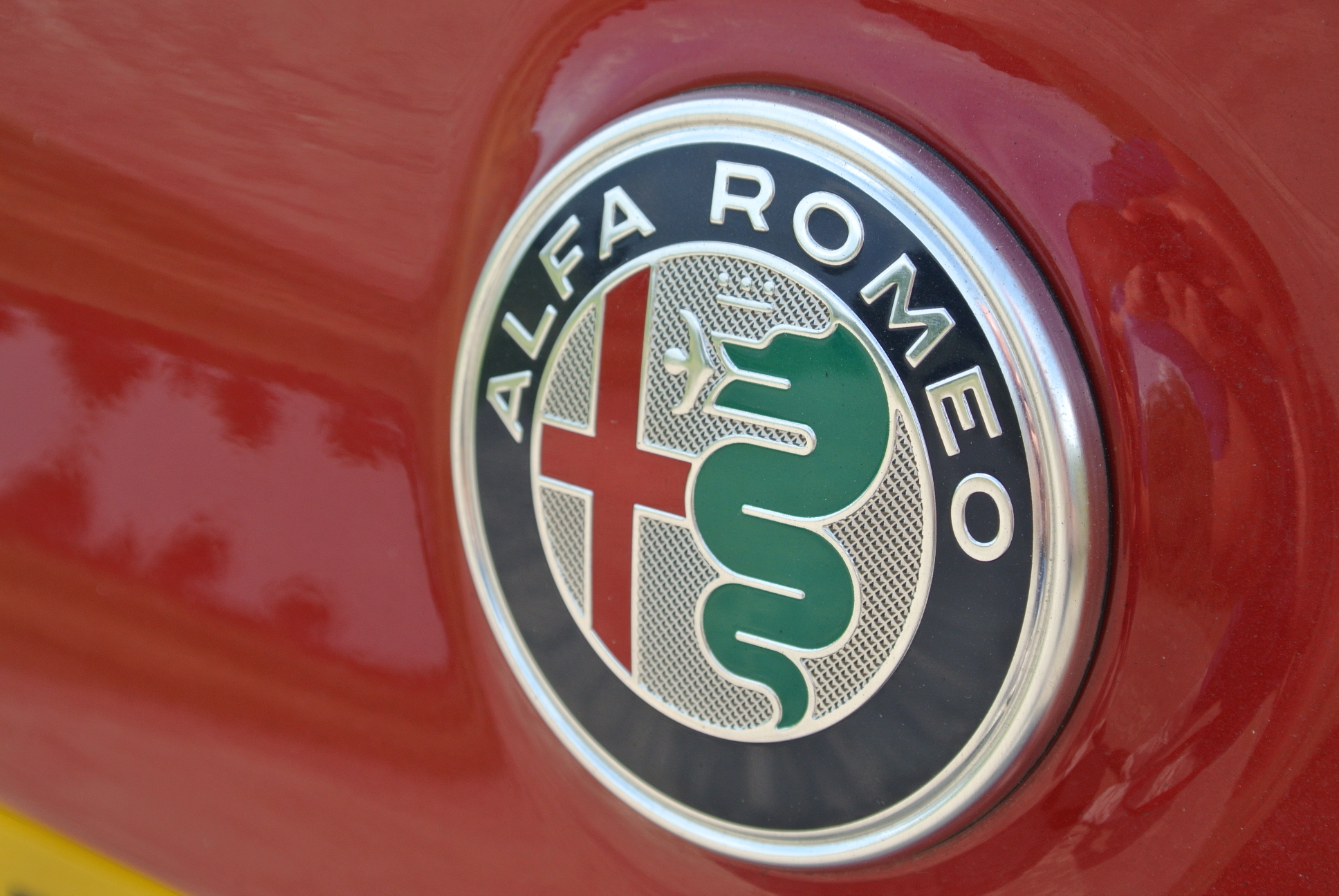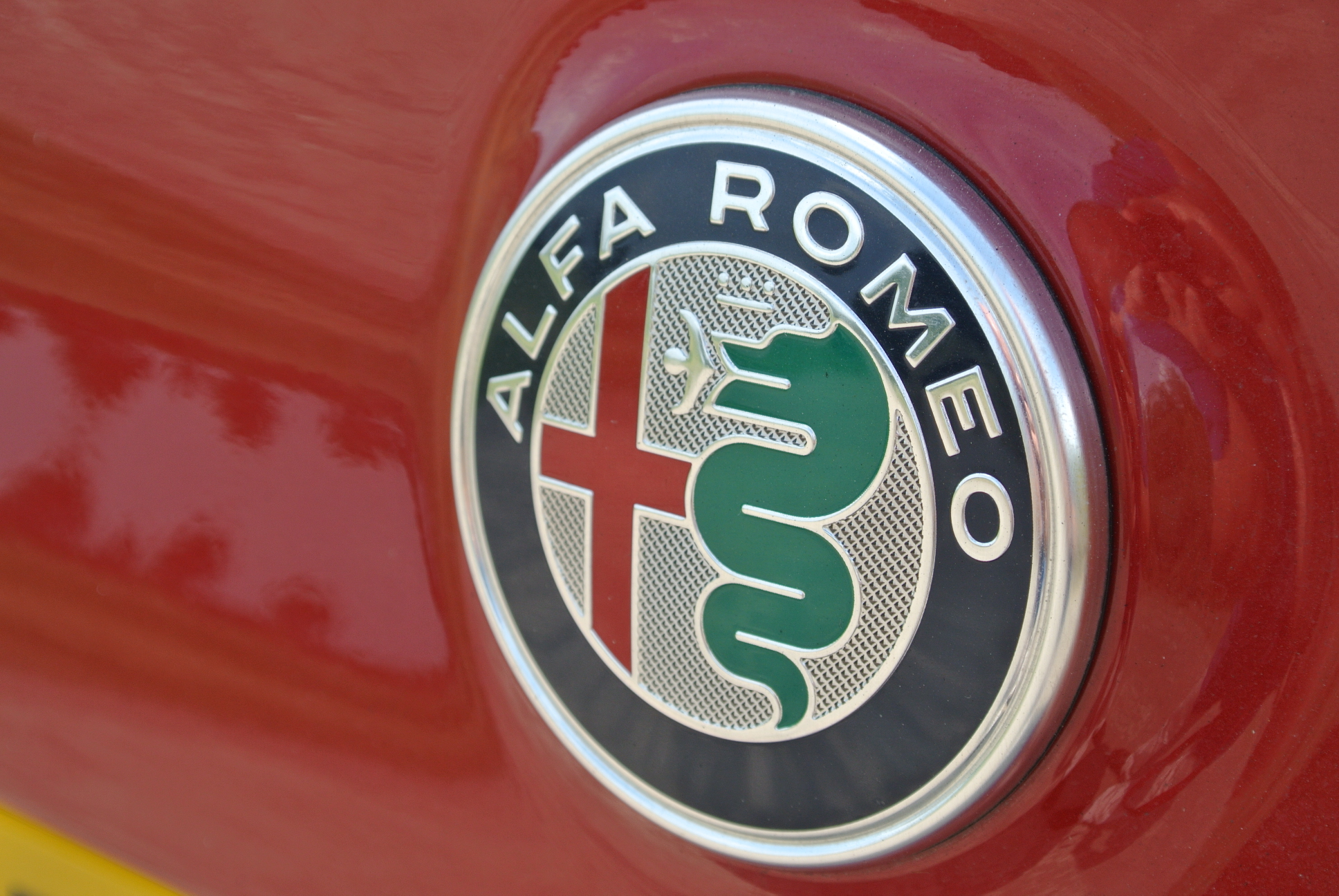 When I hear colleagues referring to the 'retrospective styling aspects' of Alfa Romeo, I find little with which to concur. What I see is a modern interpretation of a few classical elements, which I find perfectly acceptable but I refuse to ogle at its new models and experience paroxysms of emotional heartache. Very few modern cars can warrant that level of adulation…although the Giulia can get surprisingly close to it.
Whether the company admits it, or not, it has a major task in hand. It has been very quiet on the Alfa front for a number of years and it needs something to turn a tide that has run against it. I am not a 'naysayer'. I do believe that Alfa needs to secure its place in the automotive hierarchy and, while it may have run out of options, the Giulia is not a bad starting-point. FCA needs to allow Fiat to do what it does best in small cars aimed at mainstream, if quirky, customers. Although Lancia, aided by deft defibrillation, is knocking on death's door, Alfa Romeo, a name that rolls beautifully off the tongue, can fly a BMW-like flag and arise like an Audi-to-VW back into mainstream consciousness. It can do it. It needs to do it, otherwise it will find itself relegated to the same dank ward as Lancia, a place from which it will be unlikely to re-emerge.
Although I was harbouring some doubts about Alfa resurrection capabilities, especially when contemplating the mess of issues that the rest of the corporation is having to deal with, when the red saloon was reversed onto my driveway, I shall admit that I felt a soupçon of regret for my mental meanderings. It looked truly splendid, not just from the rear haunches, which are most pleasingly detailed, not in a bejewelled manner, like a 156, but altogether more competently strung together and possessing a strength of purpose familiar to Lexus and some BMW owners.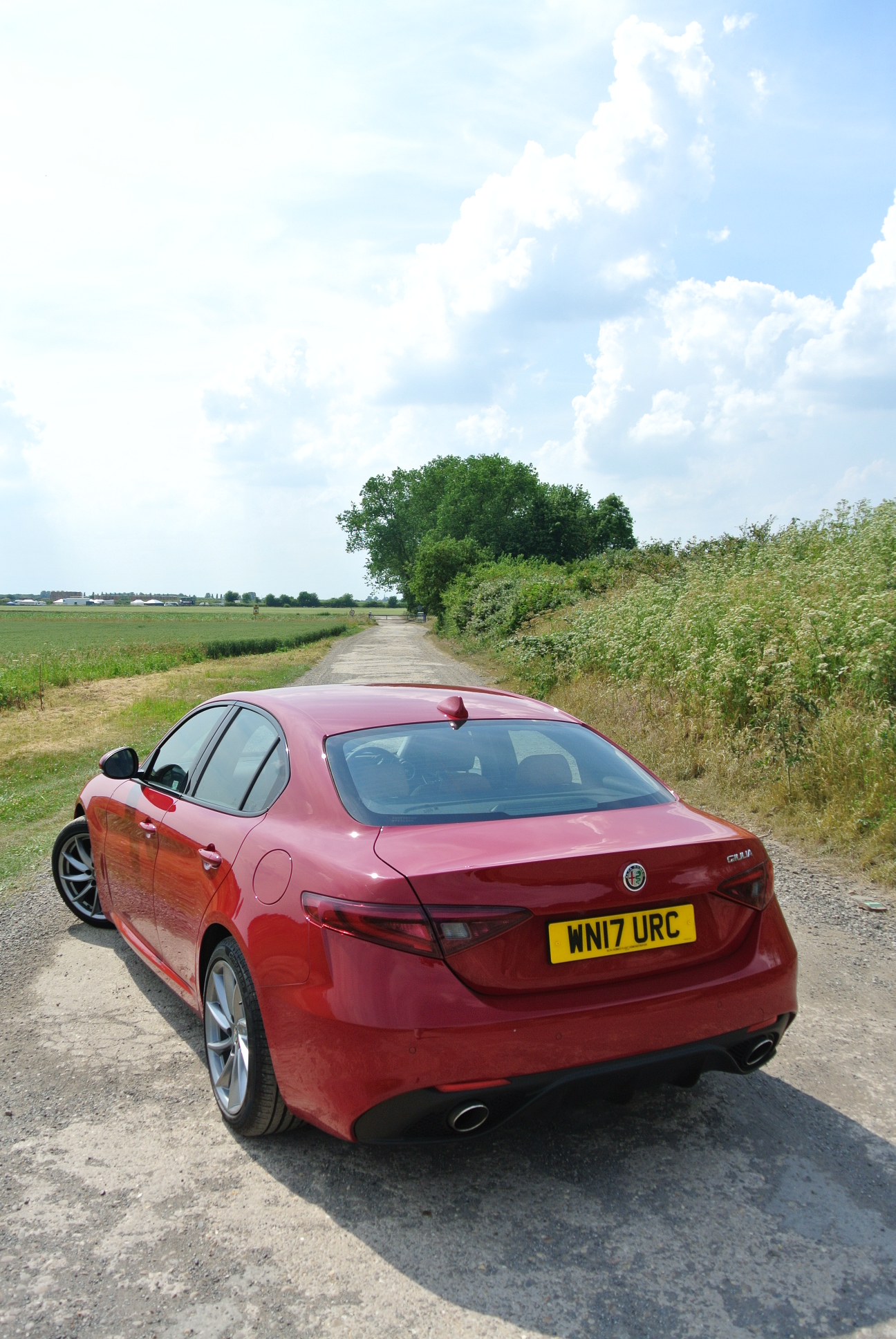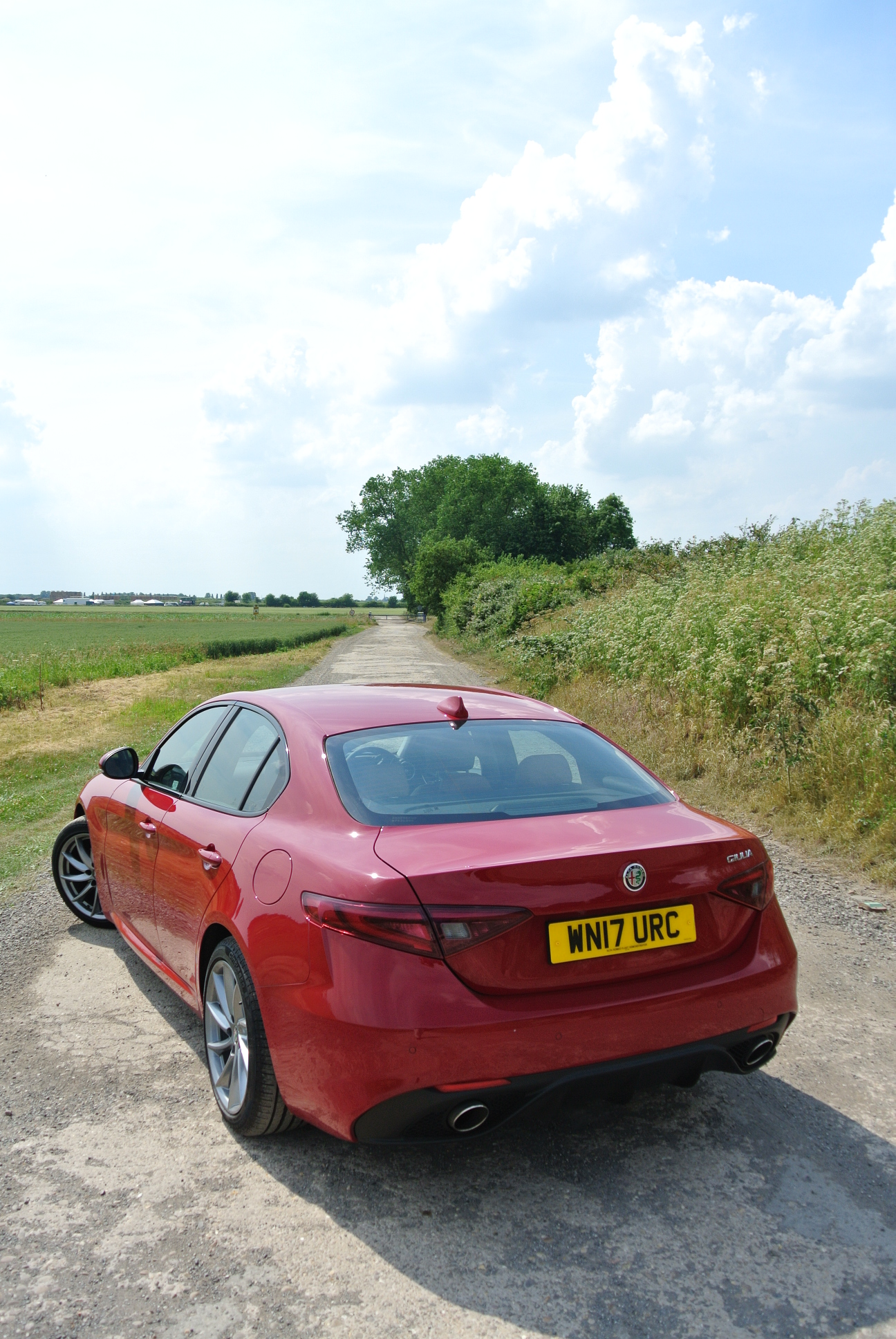 As I perused the exterior, noting the taut structure and the tight panel shut-lines,  more of Giulia's character was revealed. Despite a lack of the Hofmeister 'kink', the flanks create a very 3-Series profile, which is as potent a motion of intent as any needs to be, although the current 4-Series 'wedge' seems to highlight that Bavaria might be losing its edge ever so slightly. A slight pout to the door sills aids a hunkered-down stance that is supplemented by the fully encircled wheelarches fore and aft, again a sporting visual ploy to draw the car closer to the road surface.
The nose is pure Alfa, from shield grille and prominent, charismatic badge, to the moustache elements, the silver shadow accent and lower hint of an aerodynamic splitter. Yet, it avoids fussiness and clutter, instead gifting the car a clean flow that is supported by a slightly feline quality to its bonnet and fenders. It is a most complete design that imparts masterfully an impression of unerring quality, solidity and strength of purpose. The all-pervading impression is that it was styled with heart and body in mind; a more visceral study than its ultimate purpose might, or ought to suggest. I was intrigued, which is more than half the battle.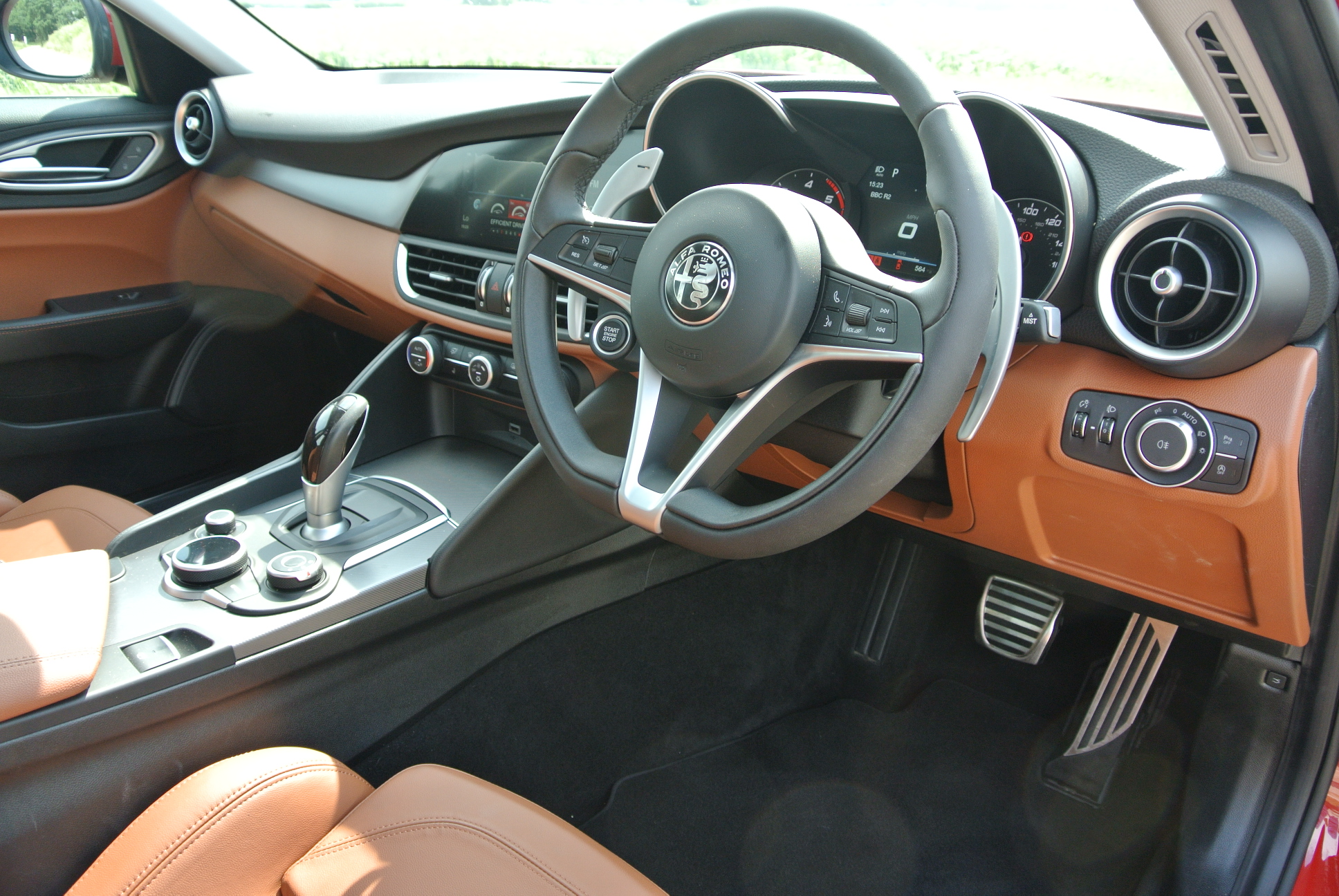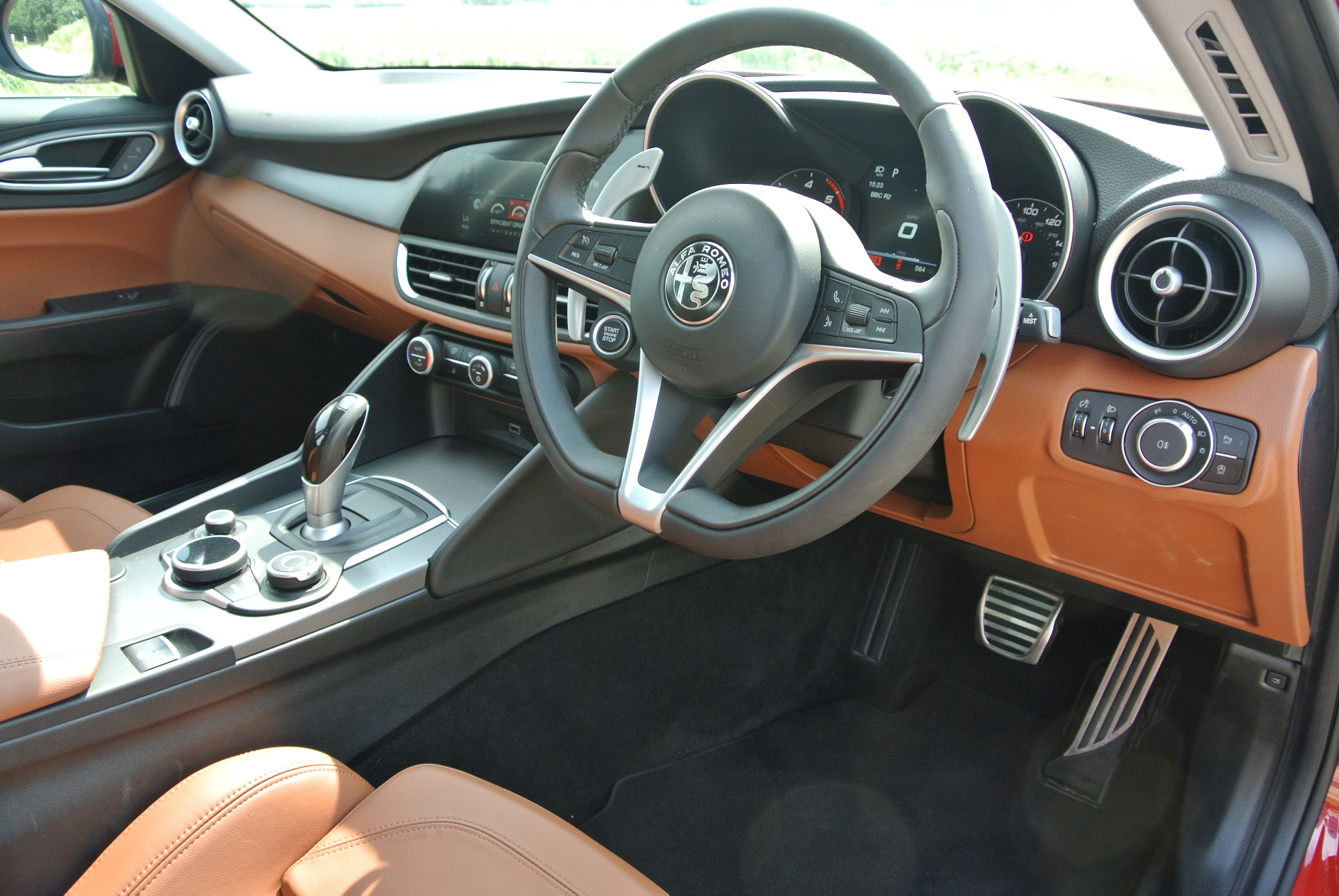 Cracking open the driver's door to a potential treasure trove is similarly not disappointing. There exists a Ferrari-esque appeal to a red body containing saddle coloured hide in abundance, the dashboard divided from its upper black section by another swathe of neatly stitched tan material and a tasteful sliver of 'alloy' trim, all of which is eminently tactile and features no visible brittle surfaces. The signature 'twin cowls' harbour the main analogue instruments, although a wider gap between them contains a legible digital display, the contents of which can be altered by depressing the button in the end of the right-hand stalk.
A large, configurable information screen is located in the dash centre, a knurled hand control (just behind the gear selector) providing an interface to its simple text displays and clickable elements. Apart from the vinyl cushioning to the side buttresses of the central tunnel, an 'alloy' slider reveals a pair of cupholders but the overall impression of the interior is that it is as unfussy and unadorned as the exterior. There are no complications, yet it is well-stocked and possesses a 'does-what-it-does' relatable quality.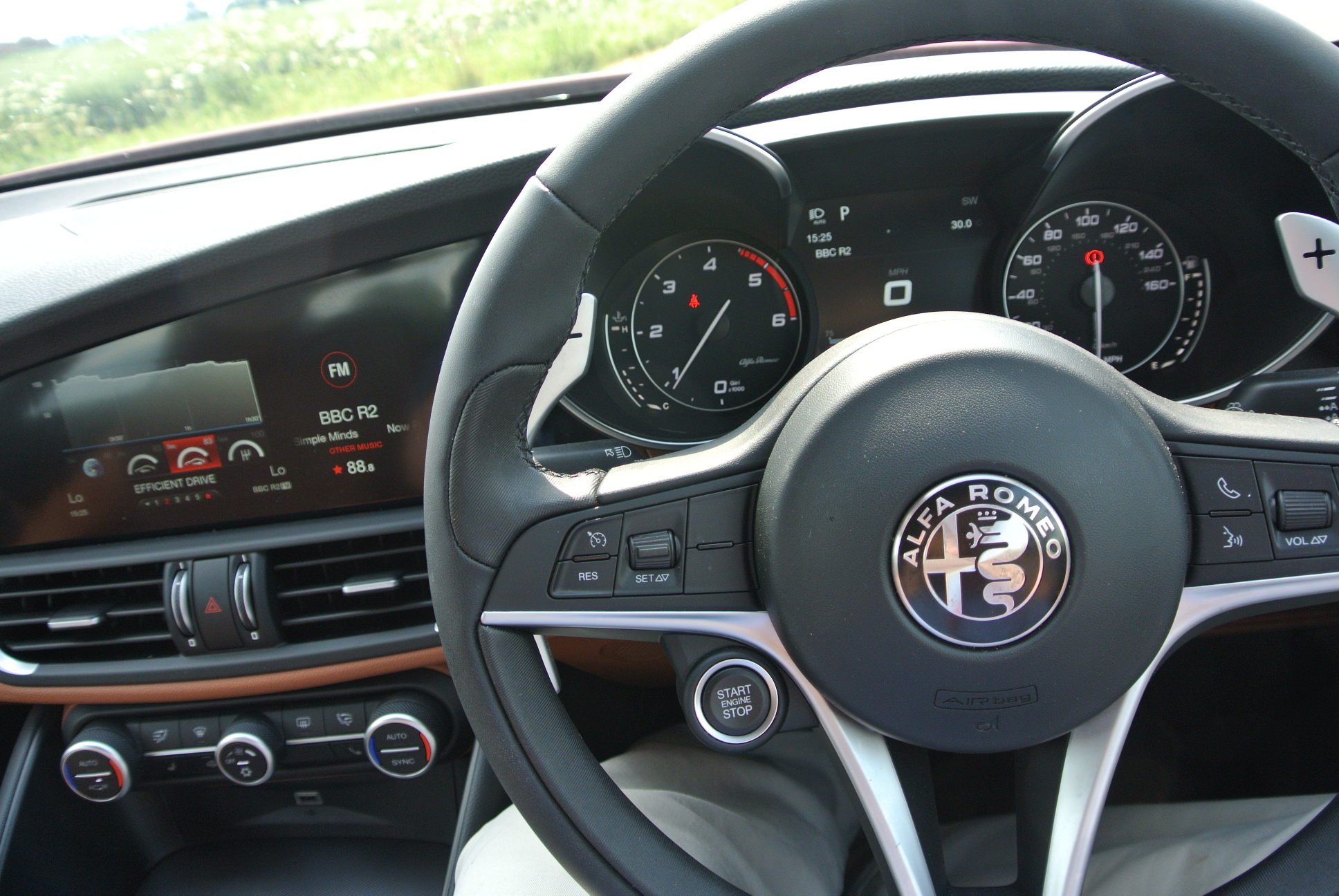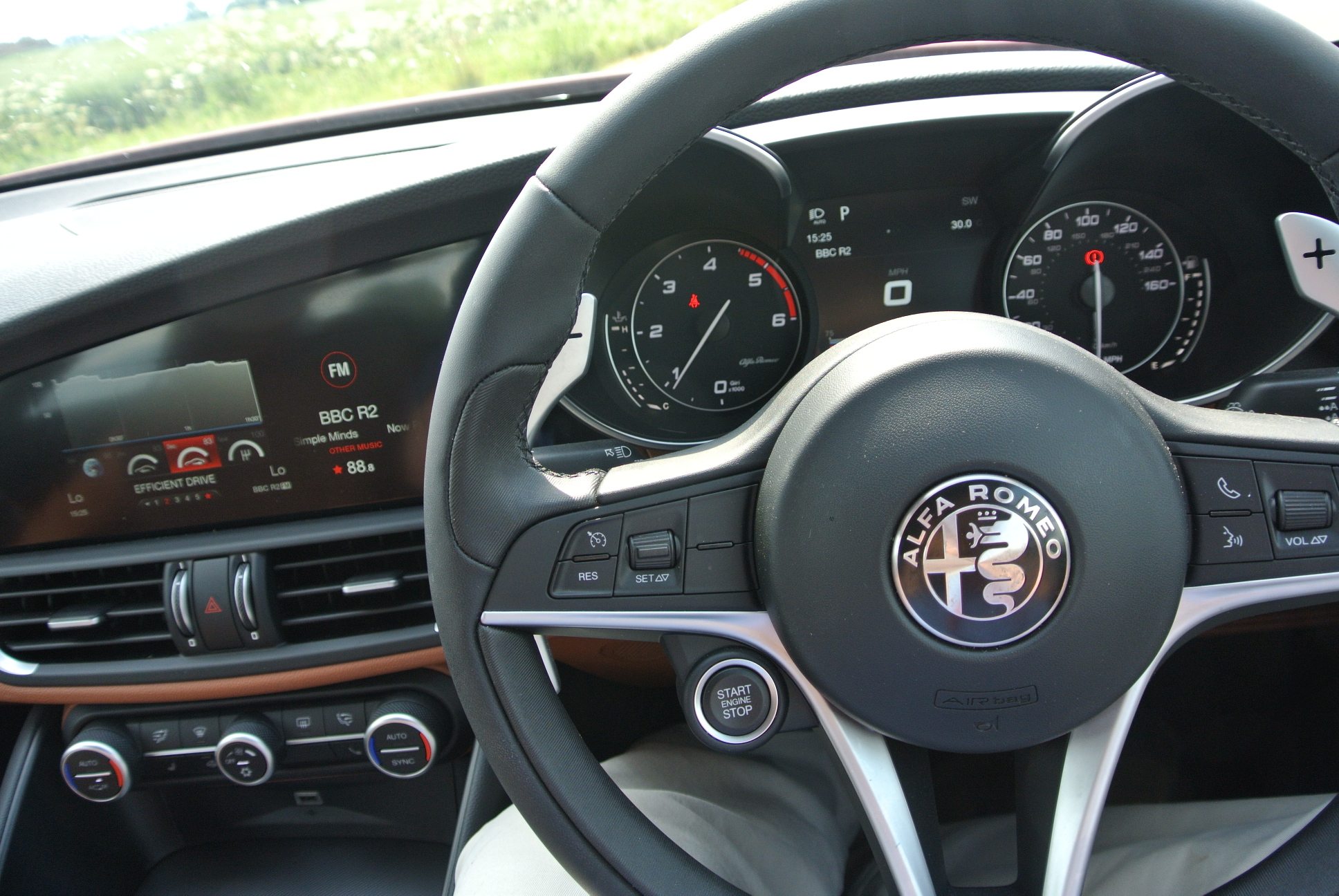 Those tan seats, electrically operated, with their sportingly stitched lateral panels, hip bolsters, manually adjustable thigh supports and a near unheard of extensive range of adjustment ensures a northern European level of comfort that southern Europeans have been reluctant to provide for many years. I would venture to suggest that Audi may have inspired the cabin couturiers in Milan, as the resultant driving position is not merely comfortable and accommodating to an enormous range of drivers but also eschews the sometime notorious 'Italianate ape' compromise familiar to owners of older Alfas.
However, there is space in the rear seats, even though taller front seat occupants might have to jiggle their chairs forwards a notch or two for more comfortable accommodation. It is no better than with any of the Giulia's perceived class rivals. The boot is well-shaped, with storage panels in the carpeted flanks, although the underfloor is predominated by a large, sound-deadening polystyrene block. There is space for a couple of loaded golf bags but it is not as practical as might be hoped for.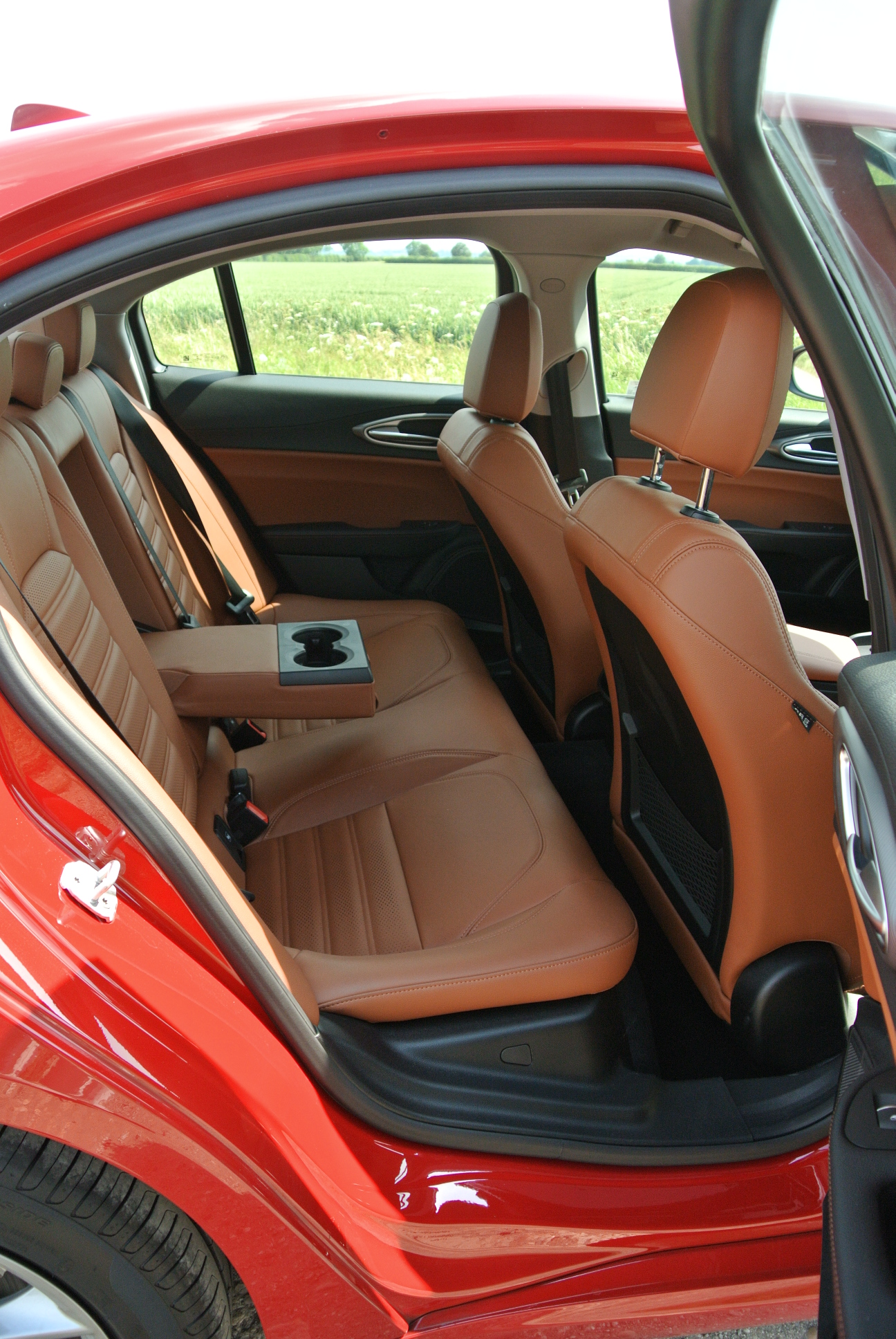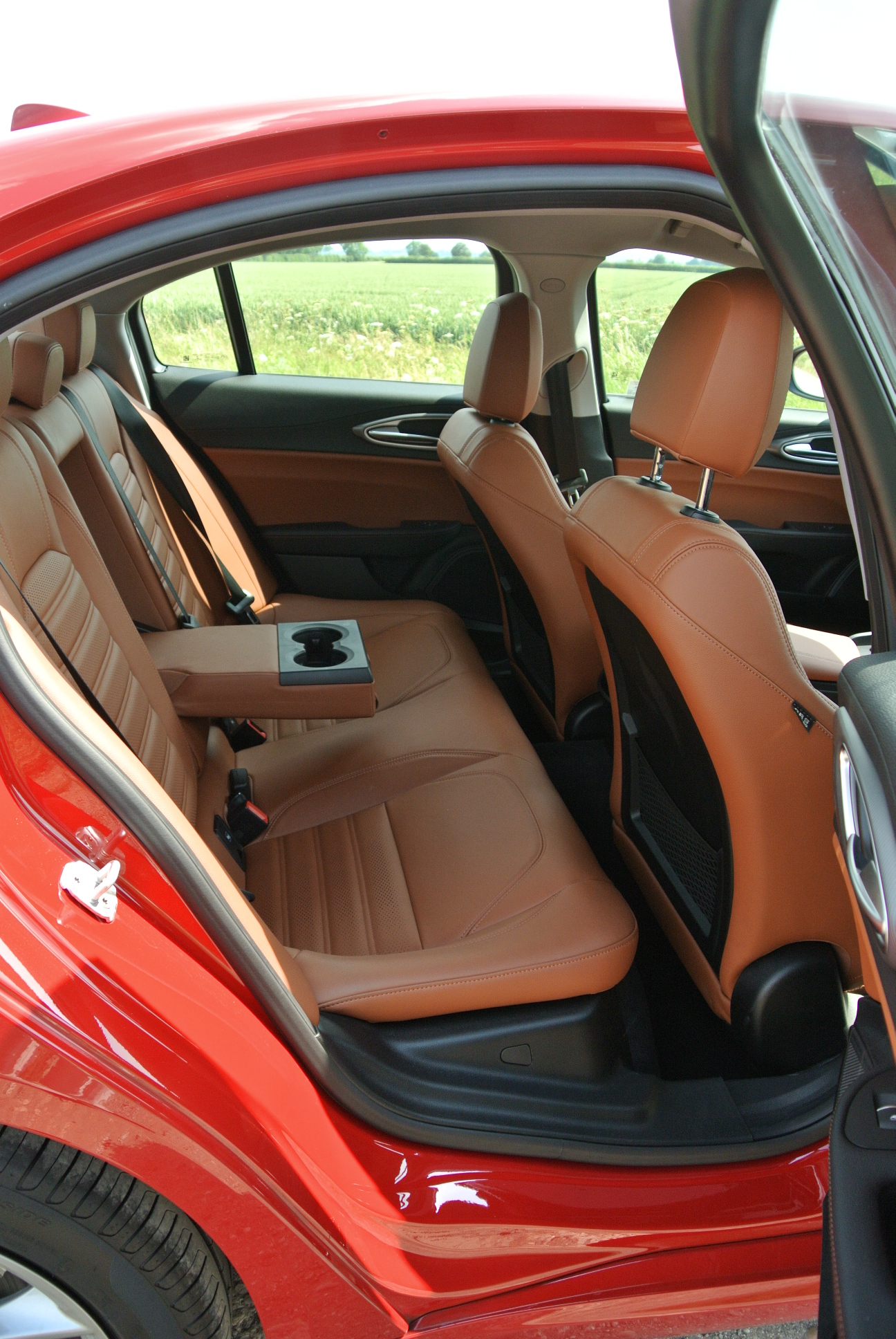 While wishing to save the best for last, I have to make comment on the poor fit of one of the interior panels, as the inside of the driver's A-pillar trim had already popped from its snap-fit mounting; unfortunate and I hope not a signal of a return to former quality issues for the brand.
The best way to describe the Giulia's on-road deportment is to use words like sinuous, muscly and fluent. Although the customary 'DNA' adjustable chassis settings are carried into this car, I believe that they are truly superfluous. The default setting is 'N' for Normal and the Giulia behaves beautifully when left to its own devices. The 'D' (Dynamic) is just a tad too stiff and unrelenting, while 'A' is difficult to discern. I have zero issues with the seamless sensuousness of this Alfa's ride quality. You can feel the suspension working but even the worst effects of broken road surfaces are massaged away from the cabin.
Body roll is only slight and the turn-in to corners is crisp and measured, helped in no small part by high geared steering that demands little more than thought to alter a chosen direction. The wheel itself is of just the right diameter and features (Ferrari-style) the stop-start button within a left thumb's reach of its rim. Lane-change manoeuvres are fuss-free and the general handling is a match for any of Alfa's rivals and is significantly better than most.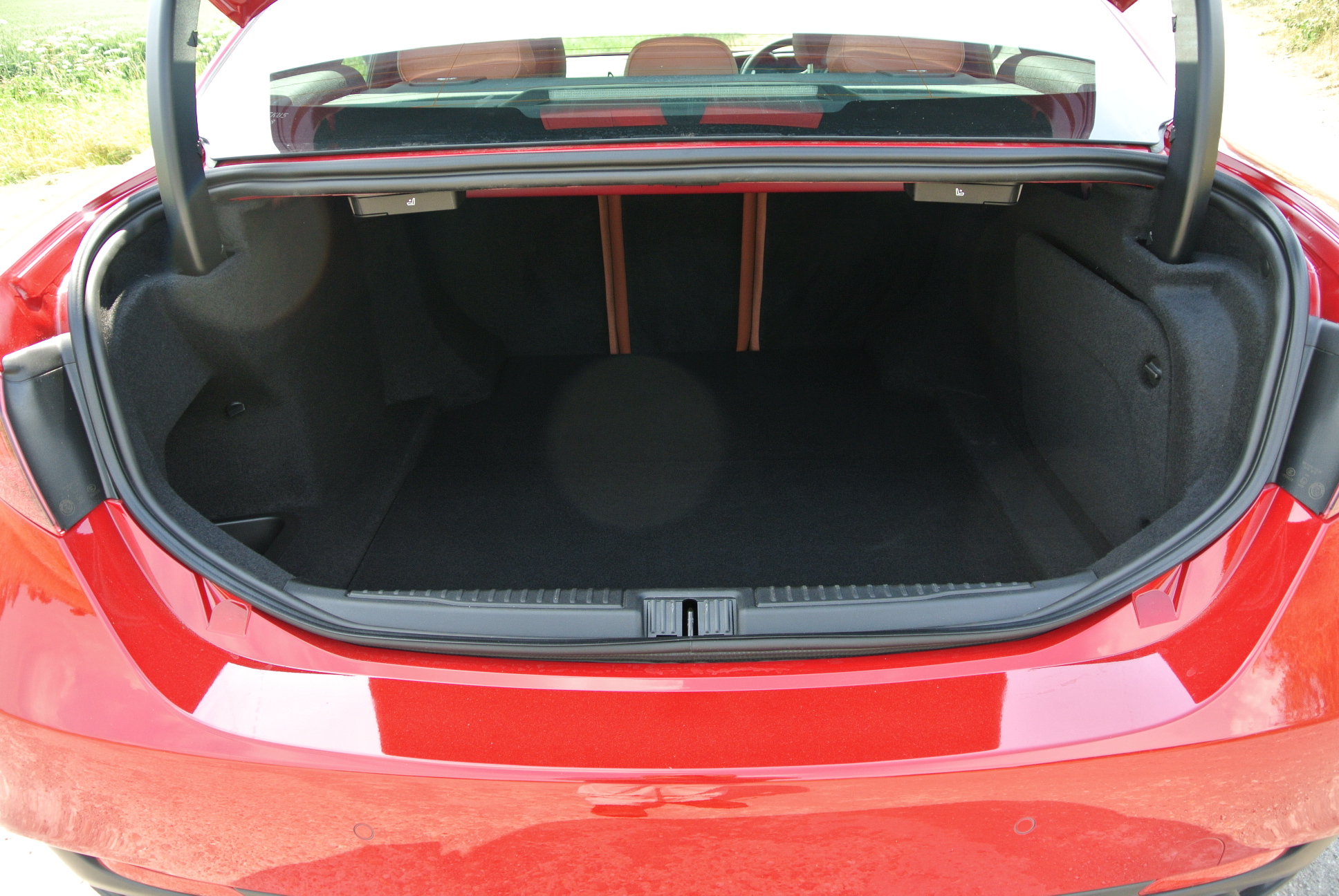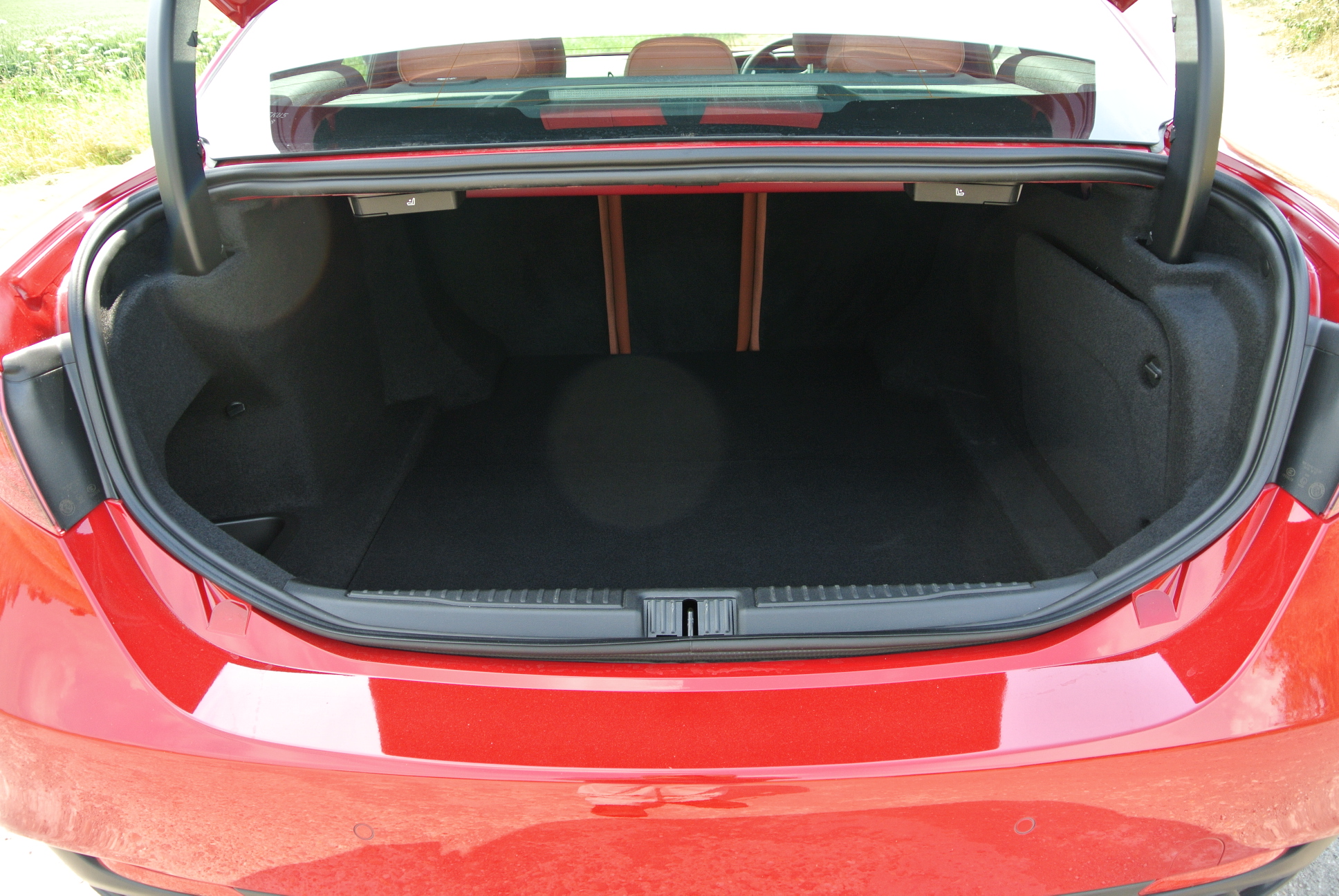 Of course, what helps Giulia's stance is a kerbweight of just over 1.37-tonnes. This Alfa is a welterweight. Rear-wheel-drive is its 50:50 weight distribution cause celebre and weight-savings have been made by the use of carbon-fibre for the propshaft, aluminium for several body panels and advanced plastics for the sub-structures. Powered by a silken 2.2-litre turbo-diesel four-pot that develops 180bhp and a very healthy 332lbs ft of torque, driving through an 8-speed automatic gearbox, the Giulia's performance is sparkling. It despatches the 0-60mph benchmark in 6.8 seconds, provides a top speed of 143mph, emits only 109g/km CO2 and sips fuel at an Official Combined rate of 67.3mpg (I obtained 57.9mpg in a mix of town and country driving conditions).
Price-tagged at £35,190, in Speciale 180hp form, from a range that starts at £29,550 (2.0-litre petrol), the Giulia is market-priced, which is understandable, if not entirely excusable. However, it is pitched directly into the middle of the A4, 4-Series, C-Class, GS and XE sector. Fortunately, it outruns all of them and out-punches the Teutonic threesome. It makes a Jag's handling feel contrived and makes an Audi look, smell and feel like a dental surgery. It makes the Lexus look sorely over-priced (as it does the rest of its competitors) and makes the Merc look over-wrought. Quality niggle apart, it gives all them a run for their build-integrity money and feels so eminently gorgeous that I was resenting its key fob being prised from my bony fingers at return-to-maker time.
Despite my misgivings, the Alfa Romeo Giulia Speciale in 180bhp turbo-diesel form is a genuine giant-killer. It possesses a lightness of touch that is lacking in the premium mid-sector. It is undeniably handsome and imparts a feeling of inscrutability that is a rarity, especially in cars from Italy. On the personal front, I have seldom felt so enamoured about a car in this class, although the current C-Class does a very good job. Yet, the Giulia has been built with heart and mind working in unison for people to whom the art of driving is still an enjoyable facet. I totally love it!