We all need to feel 'alive' and the best way to get there is often via visceral thrills, which Iain Robertson believes is rare enough, except to the Dangerous Sports Fraternity, until he drove the new Focus RS.
We are all beset by the issues of the world these days. The Middle Eastern situation. 'Brexit'. Trump. Euro crises. Immigration. Just every now and then, I do not know about you but I would love a respite. Just stop the world! I want to get off!
The importance of being earnest is perceived these days with significantly greater fervour and far less humour than our Victorian relatives ever intended. It is little wonder that suicide rates are up; booze consumption is at an all-time high (especially in Scotland); and violent action is hitting the frustrated streets of every European capital.
My antidote has always come in the form of motorised transport. If there is one aspect, for which I shall be grateful eternally to Henry Ford, it lies in his creation of mass production. By making cars more readily available and at a relatively affordable price, that revered gentleman gifted us freedom. When governments try to whisk that flying carpet from beneath our feet, we still have an ability to escape.
Okay. I appreciate that those same civil servants, all of whom seem to have elected to ignore the definition of their job descriptions, are doing their damnedest to slot us into cleaner, greener and even autonomous modes of transportation (anything to remove the humanity from freedom of choice), the days of true, independent mobility may be coming to an end rather too abruptly. Yet, for as long as I have air in my lungs, blood in my veins and some sustenance in my tummy, I shall resist any such administrative attempts to allow my privacy to be diminished in as many ways as I am able. I can only hope that right-minded followers might do the same.
My personal car choice is underwritten by a combination of affordability, frugality, accessibility and fun, although I wish to underscore that final attribute heavily. It was why I came out of a run of high-performance saloons and hatchbacks into my current Skoda Citigo 1.0-litre. It is why I have declared that the Suzuki Vitara 1.4S is the ultimate go-anywhere car. It is also why my next car will be a Suzuki Baleno 1.0T. However, had I £35,135 drilling a hole in my cotton trouser pocket, it would be spent on the latest Ford Focus RS.
It is a choice that is not driven by potential collectibility. Nor is it the allure of that conjoined and much-protected pair of R and S upper-casers. I am not even propelled by the model's posted 165mph maximum speed, as it is a near irrelevance, even though part of the joy of individual freedom, that which upsets the rule-makers so much, is the risk associated with stretching the envelope every-so-slightly, from time to time.
Instead, it is the sheer smile-a-second pleasure that can be had, with every dip of the throttle, every twitch of the steering wheel, every audible pop from the exhaust-tips. Prior to the arrival of this much-demanded 4×4 version of the inescapably rudimentary Focus, the previous generation of the car offered a run-out RS500 variant. While all and sundry raved about the regular RS of that generation, complete with its 'innovative' Revo-knuckle front suspension location, I remained unmoved and, thus, seriously questioning about the RS500.
However, it proved to be one of the most thrilling machines that I had ever driven. It was limited by front-wheel-drive but not in a negative vein. Understanding the principles of left-foot braking (a rally technique that must be taught by a professional) gave me a head start with the car. Dispensing with the clutch pedal (it was there; I just ceased using it), I could cross-country faster than almost any other car on the planet and I was both proud and also saddened that I fell into a genuinely appreciative minority. The 500 was loads better than the 'stock' RS and its enhanced 350bhp were put to beneficial use. I coveted one, even though I could never afford it. Oh, the joys and heartaches of being a road tester!
Well, the latest RS develops an identical power output, albeit from a US-sourced, 2.3-litre 'blown' four-pot. Accompanied by 347lbs ft of twist energy (torque), with an overboost facility, the run-of-the-mill Focus blitzes the 0-60mph sprint in just 4.4 seconds, which places it in the pantheon of supercar capabilities, in the process making it the fastest ever of the road-going RSs.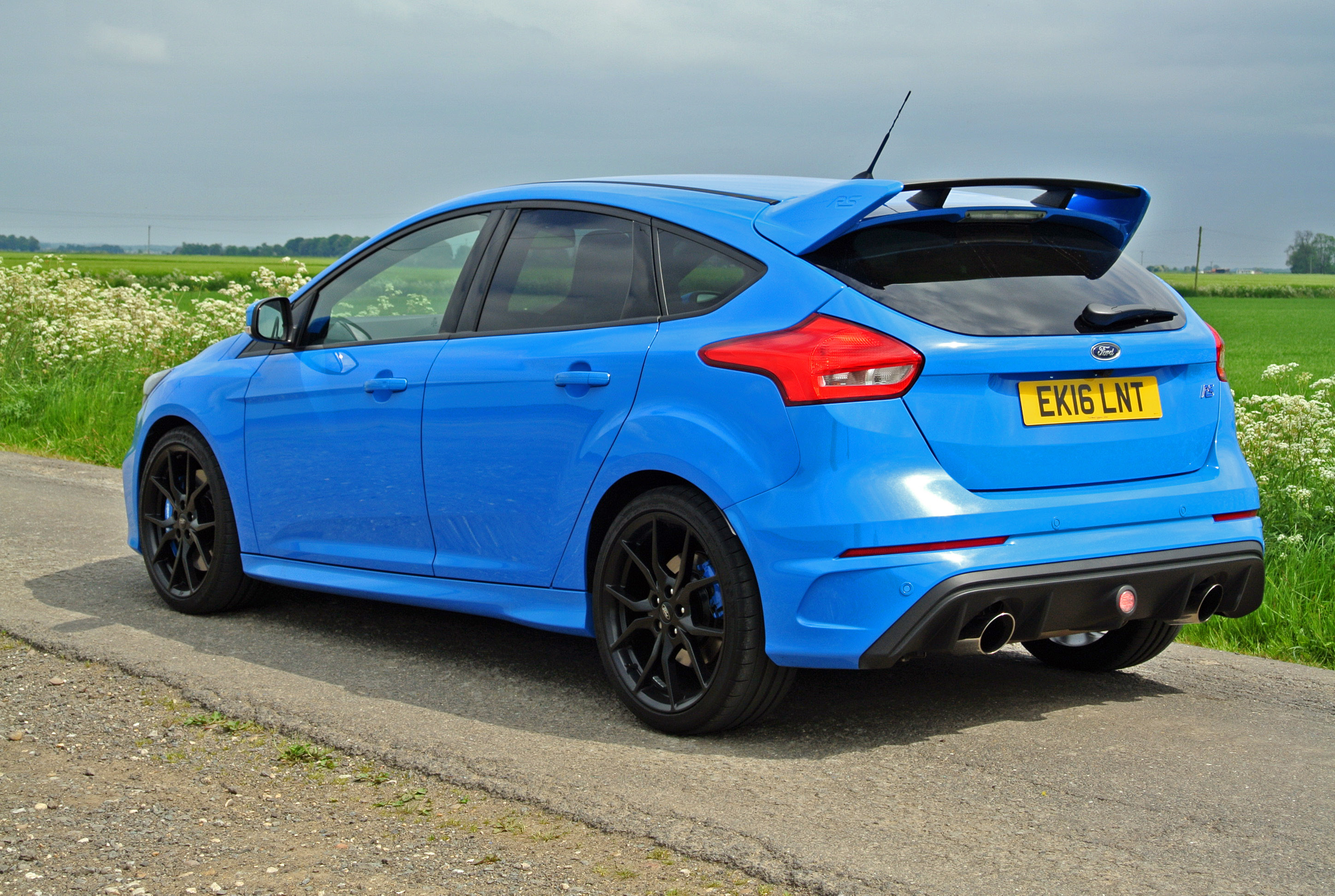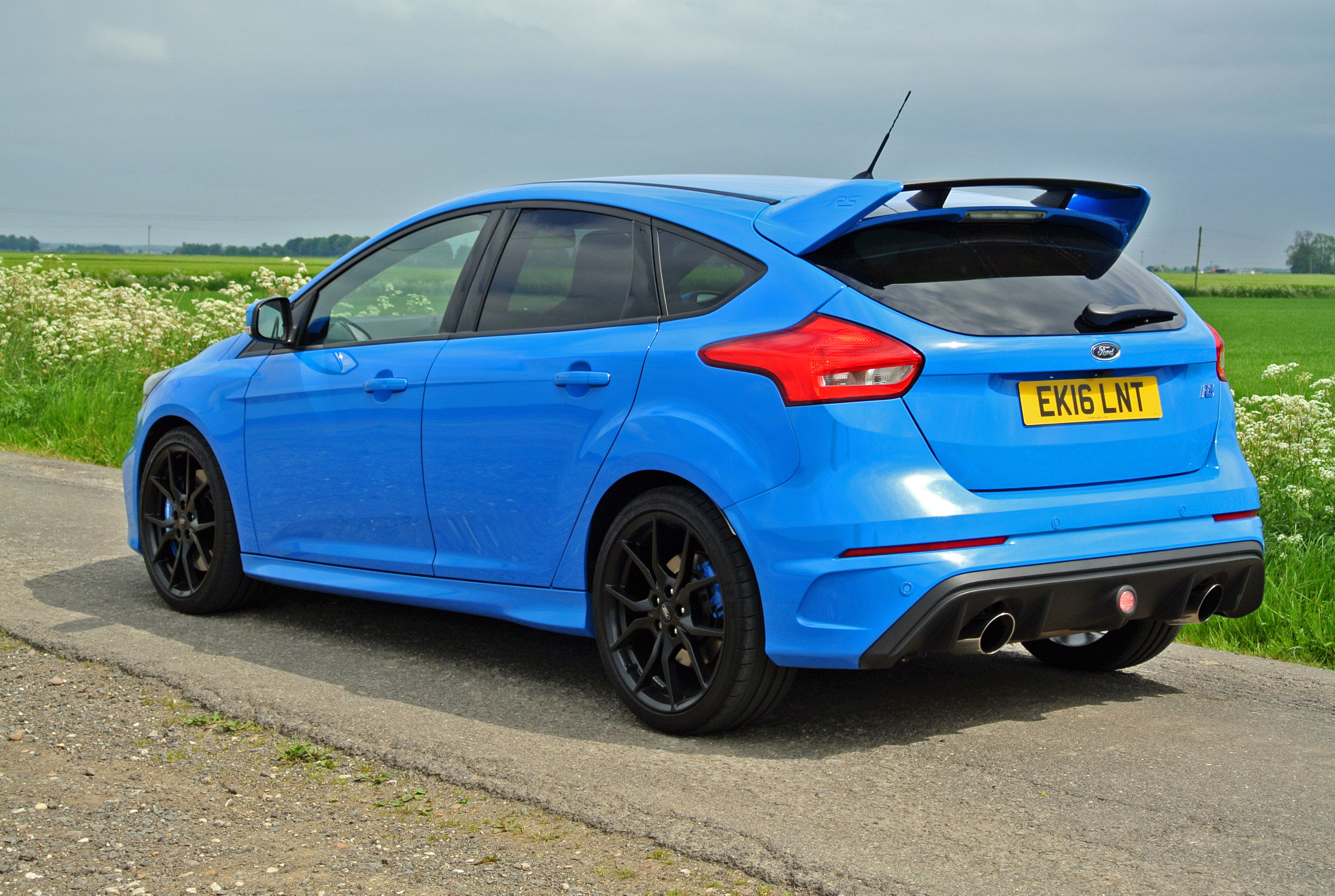 For many years, Ford has invested in its performance variants. From the original Lotus Cortina of 1963, to the first Escort RS, the precept of providing higher but accessible, first-class performance from a mainstream model has been intrinsic to the manufacturer's psyche. There have been GT, Sport, Turbo and ST derivatives in the intervening years, some of which worked, a number of which simply did not, but RS has remained sacrosanct (with the notable exception of the disastrous first-generation Focus RS, which was utterly and despicably hateful, due to its seriously flawed chassis dynamics).
The new Focus RS has been a long time in gestation but the result is prodigiously awesome. Its four-wheel-drive system possesses dynamic torque vectoring, which is engineering gobbledy-gook for the most engaging, driver-friendly, opposite-lock-capable means of transferring potency to road surface that I have experienced since declaring that the Porsche Cayman was the 'best handling car in the world'. I have changed my mind…it is the Focus RS that warrants the plaudit.
Its six-speed manual transmission works with Oriental efficacy and is perfectly geared for equal mechanical prowess in standing starts and top speed runs. It shifts as fast as man can make it, taking rev-matching, pedal modulation and hand coordination into account. Select any of the four engineered drive modes – Normal, Sport, Track, or Drift (which incorporates 'Launch Control') and the differences are both tactile and audible. Searching out a deserted back-double not far from my home in the Lincolnshire countryside, I discovered a hair-bristling, heart-pumping, temperature-rising range of feral performance responses that I feared might have been lost not just by society but also by me, personally. My only riposte was to engage with the marvellous RS for a return run…and a second, third and fourth opportunities, which seemed somehow so obligatory.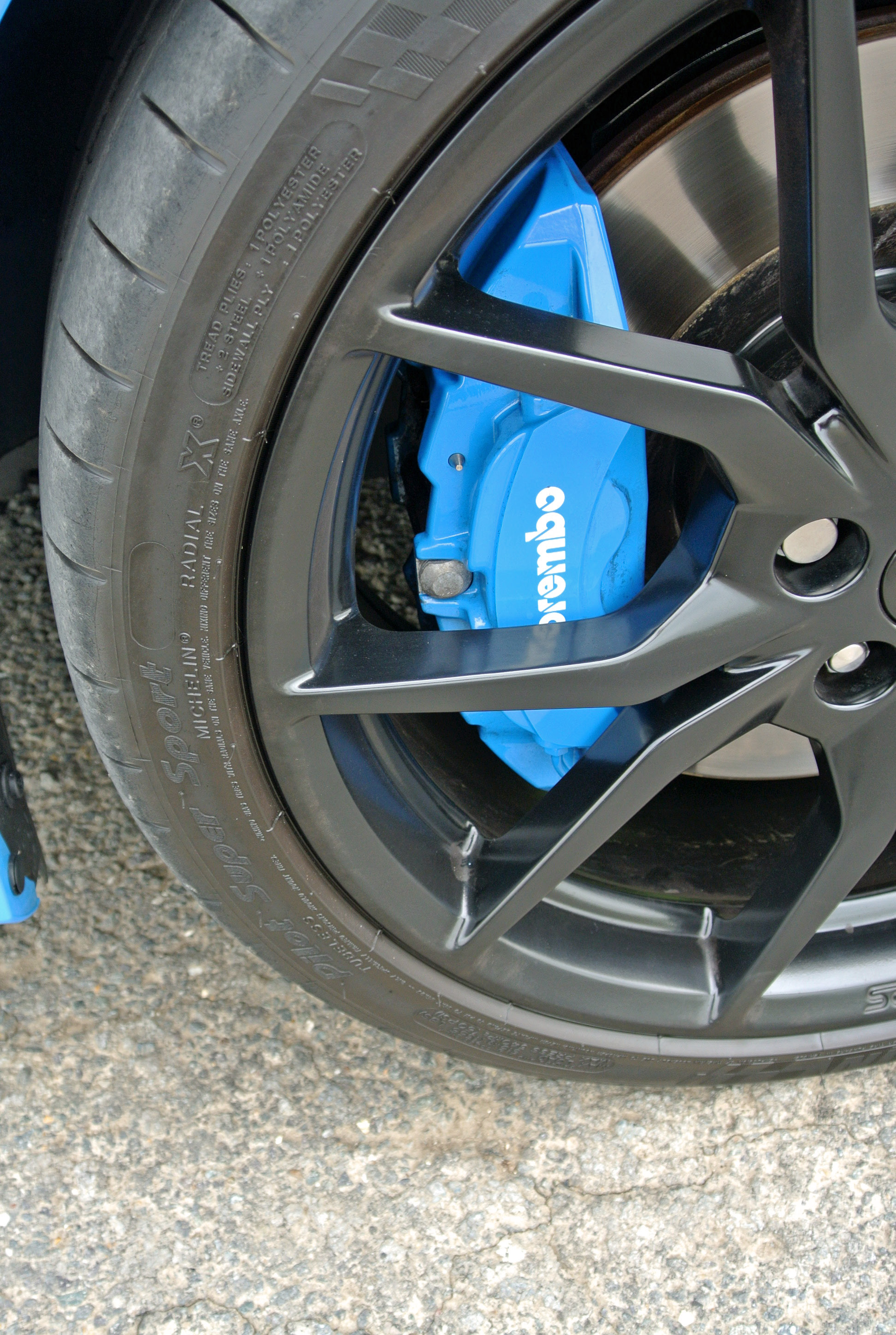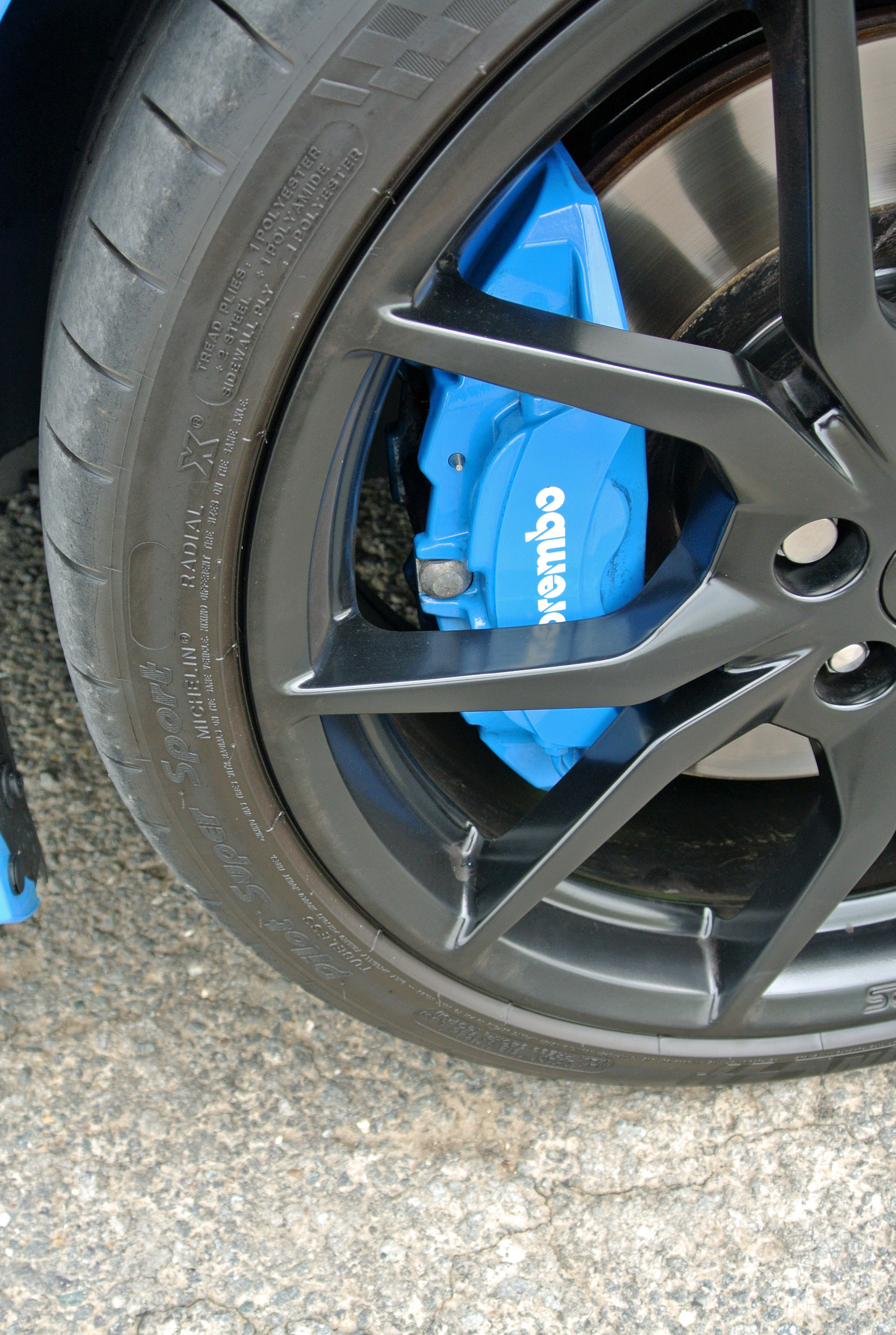 Its Brembo monoblock calliper brakes (350mm front discs) work effortlessly and without fade in their linear responses. The steering, while lock-limited by 19-inch alloys and 235/35 section Michelins, is surgically precise. The power transmission is relentless, from idle to almost 7,000rpm. Yet, it is the exquisite, leather and Alcantara upholstered, Recaro front bucket seats that are the revelation, keeping this 'fat man' secured firmly, in just the right position, to grasp maximum benefit from all dynamic aspects of the RS's overall competence. The mechanical grip is neck-snappingly prodigious, until you entice the chassis into full-on dance mode, at which point that floaty, nirvana state intervenes and the driver feels empowered to carry out any and everything that he desires of the car. At no point does it kick you in the balls, or try to teach you a salient lesson about over-exuberance. Instead, it aids you on that waft into enhanced reality. It is better than drugs.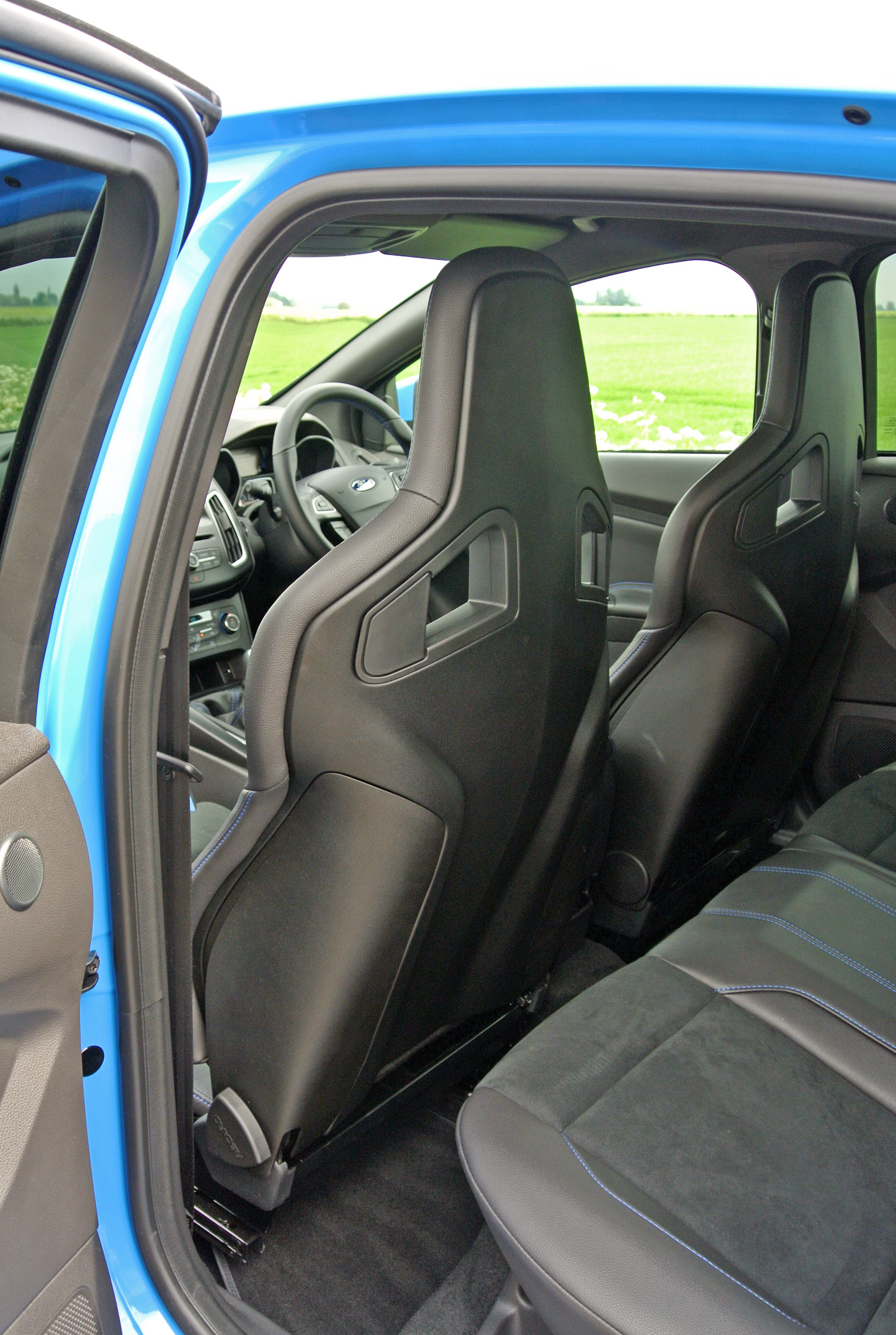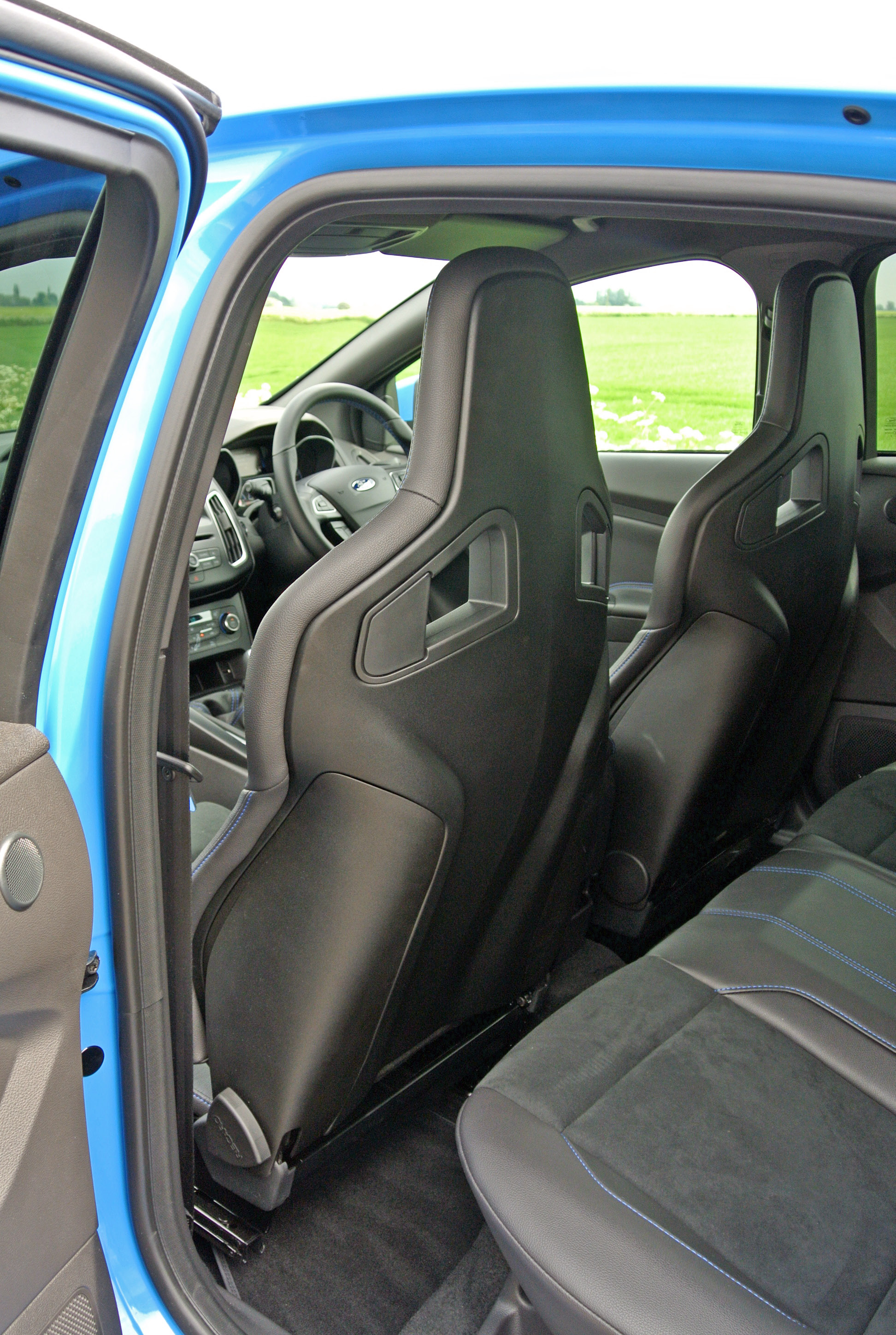 While the Nitrous Blue metallic paint finish (stunning, even at a costly £745 extra) is more Bugatti than Ford Racing, the £1,000 Luxury Pack provides all of the customary comfort options (electric door mirrors, park sensors, 'key-free' start/access, cruise control and privacy glass), the 19-inch forged alloys add £595, while the race-style seats are £1,145. Ford's innovative flip-out, door edge protectors are £85, the blue callipers are £100 and the sat-nav, 10-speaker Sony hi-fi and rear camera factor in an additional £465. Together, they add £4,135 to the car's list price of £31,000. As much as I love the VW Golf R, the Ford only gives a little away in terms of build quality (it has its squeaks) but wins in all other respects, even on price tag.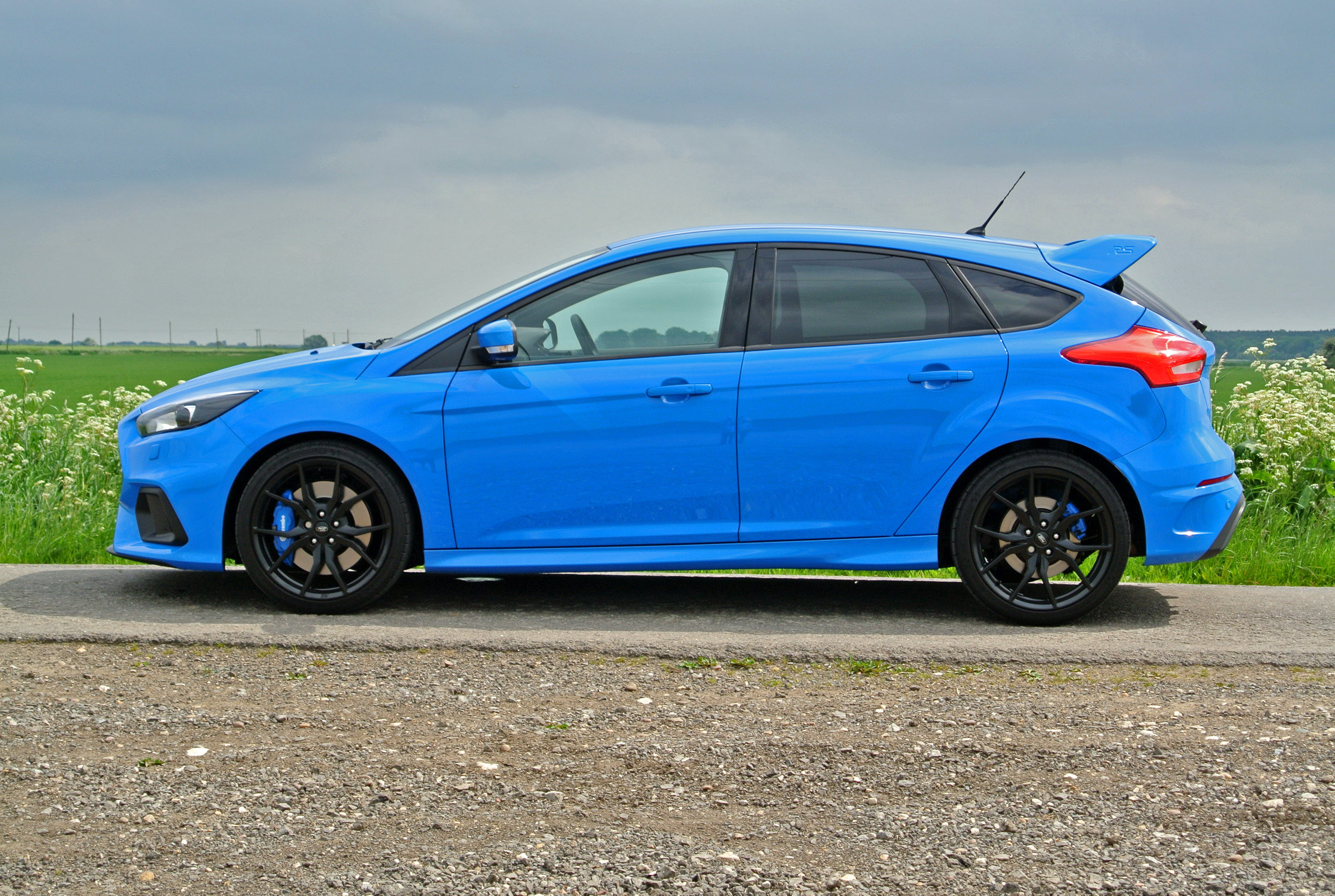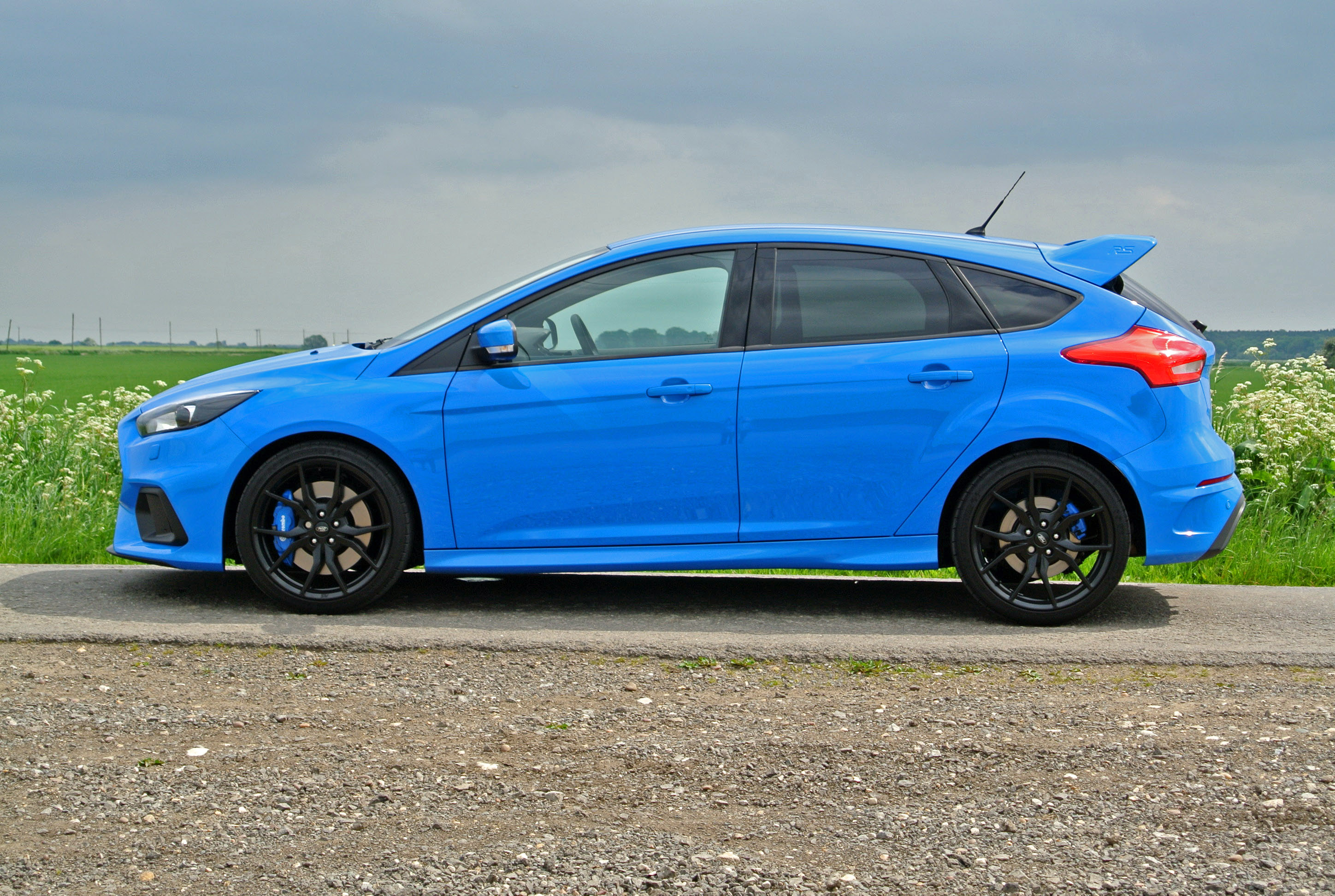 Living with a Ford Focus RS is not so demanding. It returns a modest 36.7mpg on the Official Combined cycle, although dipping frequently into the performance curve can make that figure plunge with ease into 22mpg territory. Its CO2 rating is 175g/km. It offers five-door practicality, with a moderately roomy boot. Its RS addenda are a bit flash but nowhere as overtly yucky as those of the Honda Civic TypeR. Above all, it is a car that makes some sense, with an enormous and accessible performance potential that is so beguiling that you can never feel that your freedom of motoring choice has been curtailed. It is the best RS by far.