Available in Audi's line-up for the past eight years, the Audi TTRS is a spirited cocktail of classical coupe allied to sledgehammer potency and Iain Robertson, despite some genuine misgivings, is an eternal fan of the Bauhaus-inspired machine.
Letters maketh the man! Well, actually, it is manners that do that but letters certainly make an impression, whether they precede, or follow one's name. While some 'professional students' will toil to attain their solitary BAs, MAs, or MScs, others will glide through the corridors of further education collecting letters like cat litter stuck to the soles of their shoes.
Letters on clothing certainly create an impression, however shallow, as evinced by the products of British entrepreneurs, Julian Dunkerton and Ian Hibbs, with their Superdry brand. Literally a Cult Clothing Company, established in Cheltenham in the mid-1980s, its vintage American styling that carries Japanese inspired graphics has been turned into an over-£600m international venture worthy of both praise and respect.
Yet, it is the motorcar business that has taken the application of letters that carry loftier definitions to its heart. While ABS and BHP have been popularised and fairly readily comprehended over the years (ABS derives from the German company that invented it but is an acronym for Antilock Braking System; while BHP is Brake Horse Power, a rating of an engine's performance potential), it is notably the German brands that have abbreviated everything quite confusingly from in-car entertainment systems, to stability control and myriad operational aspects between them, although the Japanese can take some credit too.
I can still recall driving a Mitsubishi Minica Dangan ZZ Turbo4, which, had the letters adorned the bootlid, might have been somewhat tail-heavier than its teensy city-car classification would have allowed. Mind you, it did feature four-wheel-drive, a carbon-fibre propshaft, a turbocharged and supercharged 660cc engine and 12-inch diameter wheels doing their level best to transmit a ludicrous amount of power to the road surface through bicycle width tyres!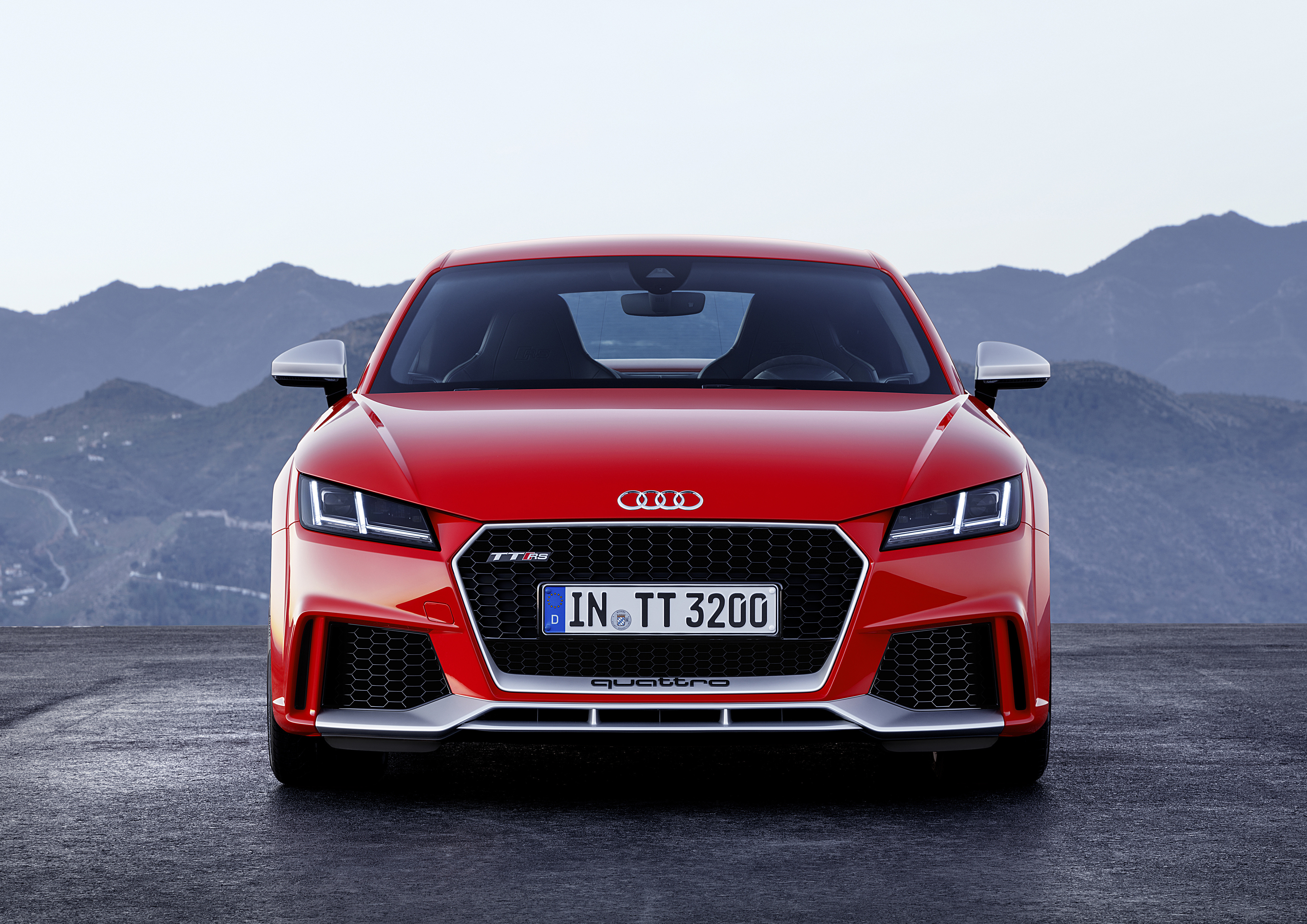 No such issues with the latest Audi TT RS (the TT refers to Tourist Trophy, a race; while RS is Rally Sport, part of Audi's history). Its power has been increased steadily since 335bhp of 2009, to the Plus-spec 355bhp a few years later and now a whopping 394bhp. As suggested in the title of this piece, this is weapons-grade performance potential, complete with incipient pops and bangs from the exhaust system. However, before I give you a sampler of what that means, let me highlight that it is the aural response that will generate enormous appeal, especially to rally fans of the mid-1980s, when Audi ruled the forestry, gravel and tarmac stages of the world. Powering this hot rod is a 2.5-litre displacement, five-cylinder, twin-cam, 20-valve, turbocharged entity that reminds enthusiasts of the brand's competition successes, of which there were many.
When you first hit the throttle, expectations are high. Yet, the combination of four-wheel-drive (Quattro), a seven-speed twin-clutch, automated-manual transmission and almost superglue levels of mechanical grip remove every ounce of drama from the equation. In fact, the early part of your experience with the TTRS feels almost numb and devoid of any sense of occasion. Were you to drive an example around the block (as you might do on a dealer-based test run), I can assure you that you would automatically direct your £57k+ elsewhere.
However, as the miles build and you start to appreciate the closing speeds on other road-users and deviations in direction, accompanied by that beguiling off-beat, five-pot burble, another sense of reality kicks in. In some ways, the TTRS is lethal, because it feels so sublimely benign. Yet, in other ways, dipping into its potential is a means to turn Mr Meek&Mild into Mr Suavely Conscious. However, I became increasingly aware that this is a car that might be best operated by some whizzkid on an X-Box.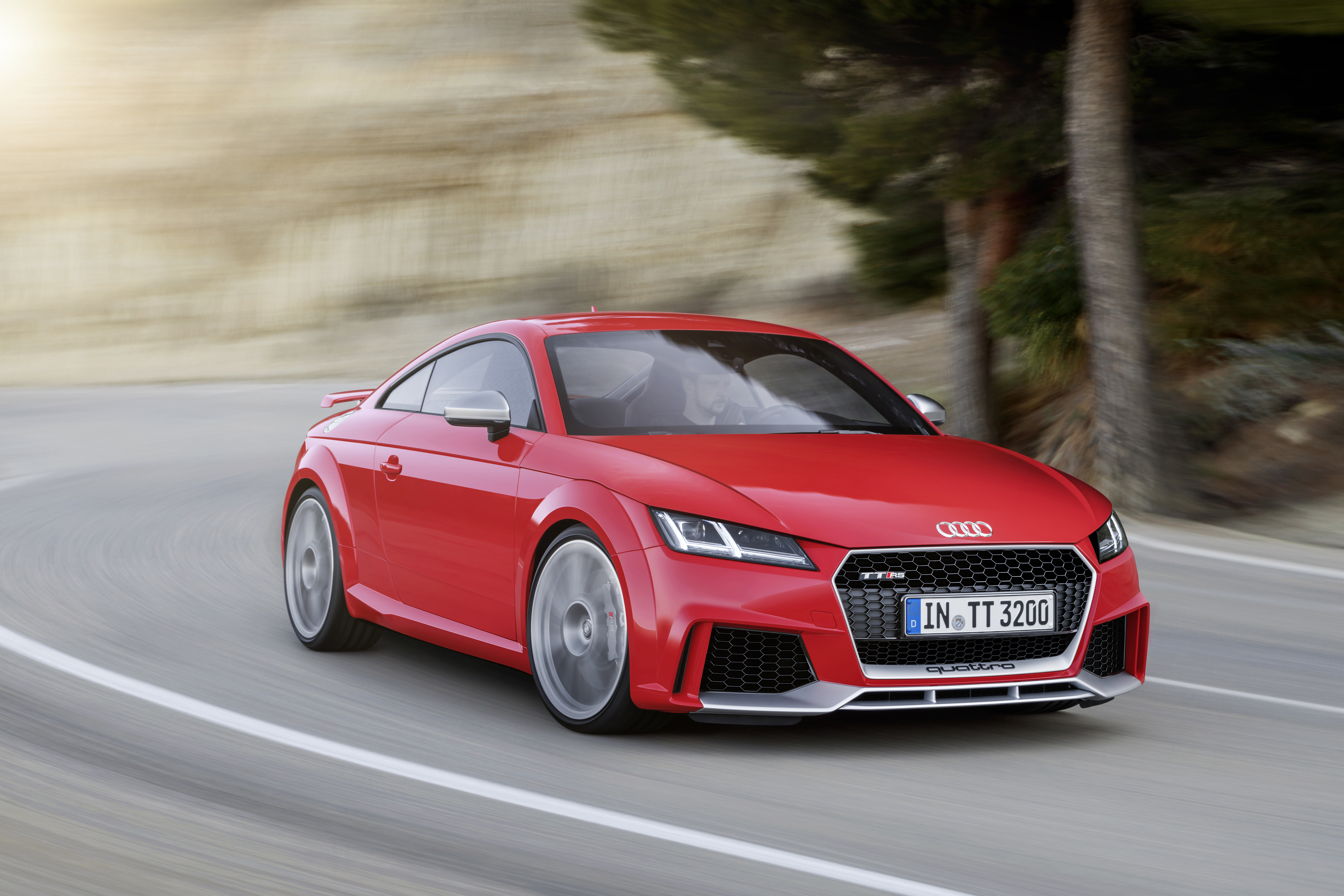 Trust me, it is flaming fast…clocking the 0-60mph sprint in a whisker over 3.4 seconds. This rate of acceleration is almost as rapid as a McLaren 650S at more than four times the price, or equal to a Porsche 911 Carrera4 S at more than twice the Audi's cost. Put into perspective, even with Audi's posted top speed of an electronically limited 167mph, the TTRS is a conspicuous bargain. Sadly, it is not the enthusiastic driving machine that I had hoped it might be before its arrival.
Oh, it is not that it lacks character…it has that in abundance. It is not that it lacks quality…it is supremely well-built, impeccably detailed and trimmed in enough high-end hide, Alcantara and carbon-fibre that you are never under a mere illusion of sporting intent. The problem is, you could give it to your granny to drive to the supermarket on a busy Saturday morning and, apart from the slight issue of a poor over-the-shoulder view, which is practical for parking purposes, or the low seat height, which might cause the sainted lady's back to ache painfully, even inhibiting her egress from the cockpit, she would be almost as unmoved by its WMD appearance.
Part of the reason for this situation lies in the fact that the core TT model has been around for some years now. Please do not misunderstand me, I have always loved the TT, right from its pre-spoilered introduction and nothing has changed my mind, it remains a delightful machine. However, it is a model that, despite inserting all manner of latest technology on-board, feels out-of-step with its perceived rivals from Porsche (Cayman) and even Lotus (Evora). Naturally, it sells in decent enough numbers to entertain the market and ensure that Audi is not compelled to spend too much money on it but the question needs to be asked: is that enough? I would suggest, no.
Audi has shaved some weight from the car, which helps a touch, but it is still nose-heavy (60:40 split fore and aft), a factor that is not conducive to instilling an engagingly sporty driving impression, which means that the car relies heavily on its technology. Its suspension, which features adaptive magnetorheological dampers (a mouthful for sure), is best left on its 'softest' setting, because its low ride height and beefy springs do work better that way for smoother on-road progress. Yet, regardless of the suppleness, there is no avoiding the knobbly ride quality on some roads, which can become wearing after a lengthy drive.
The exterior trimmings shout out your arrival, from the deep front radiator shield and equally immense air intakes flanking it, to the four-piped tail, with similar deep vents exhausting hot air (probably generated by the immense disc brakes). The fixed wing on the bootlid adds to the visual drama, although I think that I might prefer something less invasive and more electronically subtle. Overt does not cover it and it does turn heads.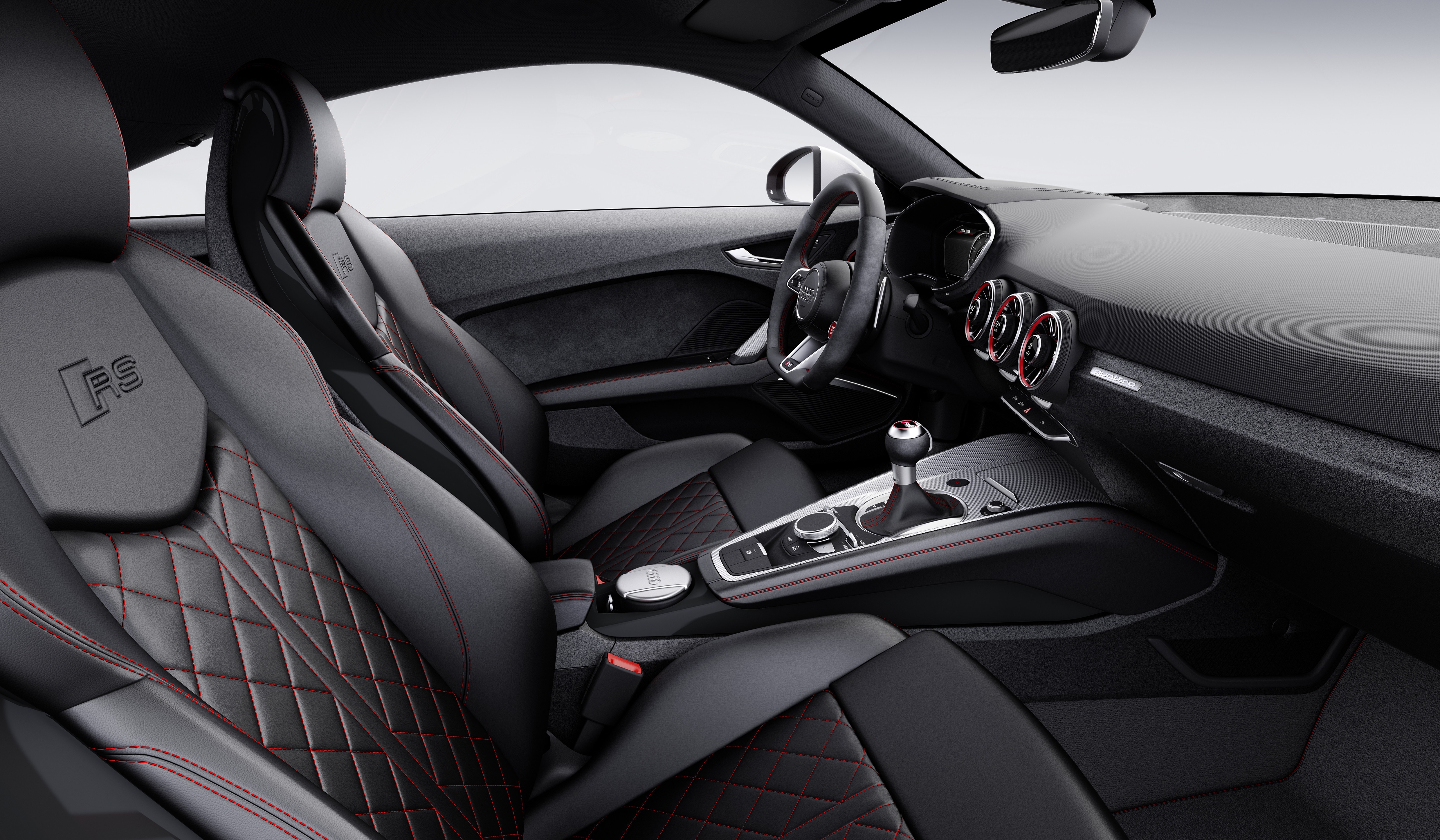 While boasting 'four seats', occupants even markedly shorter than five feet tall will struggle in the back, a space that is best left for soft baggage, or granny's shopping. The boot is not much to talk about but, at least, it has one beneath its weighty hatchback, where another sign of the aging aspect of the TT is realised. Many modern hatches, even those possessing metal frames, feature full-width glass. The Audi's does not.
If my words read as though I am complaining, rest assured it is the furthest thing from my mind, because the instant you crack open the driver's door, the full essence of Audiness strikes you square between the eyes. It is spectacularly lovely. The leather seat covering features diamond stitching that is redolent of a Bentley Continental, a model that comes from the same Germanic (albeit British-built) stable. It is so beautiful that it might confirm potential ownership from within an Audi dealer's showroom…an aspect that enhances the mild disappointment, following the subsequent test drive. Oops!
The driving position is excellent, with enough adjustability in the seat and steering column for almost any stature of driver, ahead of which is a digital instrument pack that is reconfigurable through several settings. Interestingly, without an additional screen in the centre stack (because there is simply not enough space available) and the sat-nav working from within the airvents, I can state categorically that I have never driven a modern car with better graphics and more user-friendly access. All of the controls are to the customary high-quality Audi standard. The Bang & Olufsen hi-fi system delivers a sound quality not dissimilar to a high-end domestic set-up and the climate control ensures that both occupants are chilled appositely.
Despite its performance punch, if driving the TTRS in a relaxed frame of mind, it is feasible to log a modest 35mpg overall (which compares favourably with its posted 34.4mpg Official figure). The engine emits 187g/km CO2, which equates to a road tax bill for £1,250 in the first year (Band J), which includes the over-£40k list price fee premium of £450, although subsequent years are the standard £140. Business users will pay a 36% BIK tax. In typical Audi form, there are optional extras that you might like to contemplate, at the usual premium price tag.
Let me tell you that I adore the Audi TTRS. In so many ways, it is my type of car. It is beguilingly easy to drive and feels so exceptionally well-planted that it might readily attract an extra star for safety considerations. It is blisteringly fast and, yet, so compact. Its handling and roadholding is remarkable. In many ways, it represents a performance-per-Pound bargain of undilutable value. Yet, despite possessing one of the best executed car interiors I have seen in ages, it is no sporting giant and, in my estimation, is crying out for that vital additional edge. What a pity it is missing.