With its new 90-Series model range complete, Iain Robertson determined that a closer look at the regular large Volvo saloon was in order and runaway sales would suggest that it has squared up to its Germanic rivals with great aplomb.
Masters of 'micro', the Japanese carmaking scene is predominated by teensy-mobiles that are the populist clockwork equivalent of the Swiss watch industry. Personally, I believe it has something to do with the Japanese physique. They are all a lot smaller than we are and I can still recall tourist-walking Tokyo streets, towering at my two metres above the average camera-toting Honshu resident, who marvelled at my 'otherworldliness' and was only too keen to record, most apologetically, for future reference, that this giant walked among them.
In northern Europe, standing six feet six inches in one's stocking soles is not too far above the average male height expectancy, which makes our demands on larger motorcars somewhat more understandable, even though, in the UK at least, our best-seller is still the Ford Fiesta and models of that ilk. On a purely personal front, I have always preferred the smaller construct, as long as there is space in abundance for me and A N Other, a factor that goes a long way towards explaining the vital British role in the development of the two-seater sportscar, which is so perfect for zipping around our tortuous country lanes, from deepest Dorset to the sublimely beautiful Scottish Borders.
Throughout our history, the small, medium, large approach to satisfying transport requirements has a solid base. Whether Humber Super Snipe, Ford Zodiac, or Mercedes-Benz upper-cruster, larger machines (the new versions, of their day) became the measure of prosperity. You would expect the doctor, bank manager and landed gentry to drive the grander marques and the most experience that the majority of us gained from big motorcars was the marital drive from church to reception, or the final drive to a funereal resting place.
Of course, the corporate sector of the burgeoning company car scene that grew like Topsy from the early-1960s placed greater pressure on a bigger class of car, because it became the best way to differentiate the boss from the rep. While we had home-grown luxury models, the gravitation to the European brands was inevitable and the biscuit seller was assigned his Escort and later Focus, while the drugs rep would have a Bimmer. Regardless, status was the key.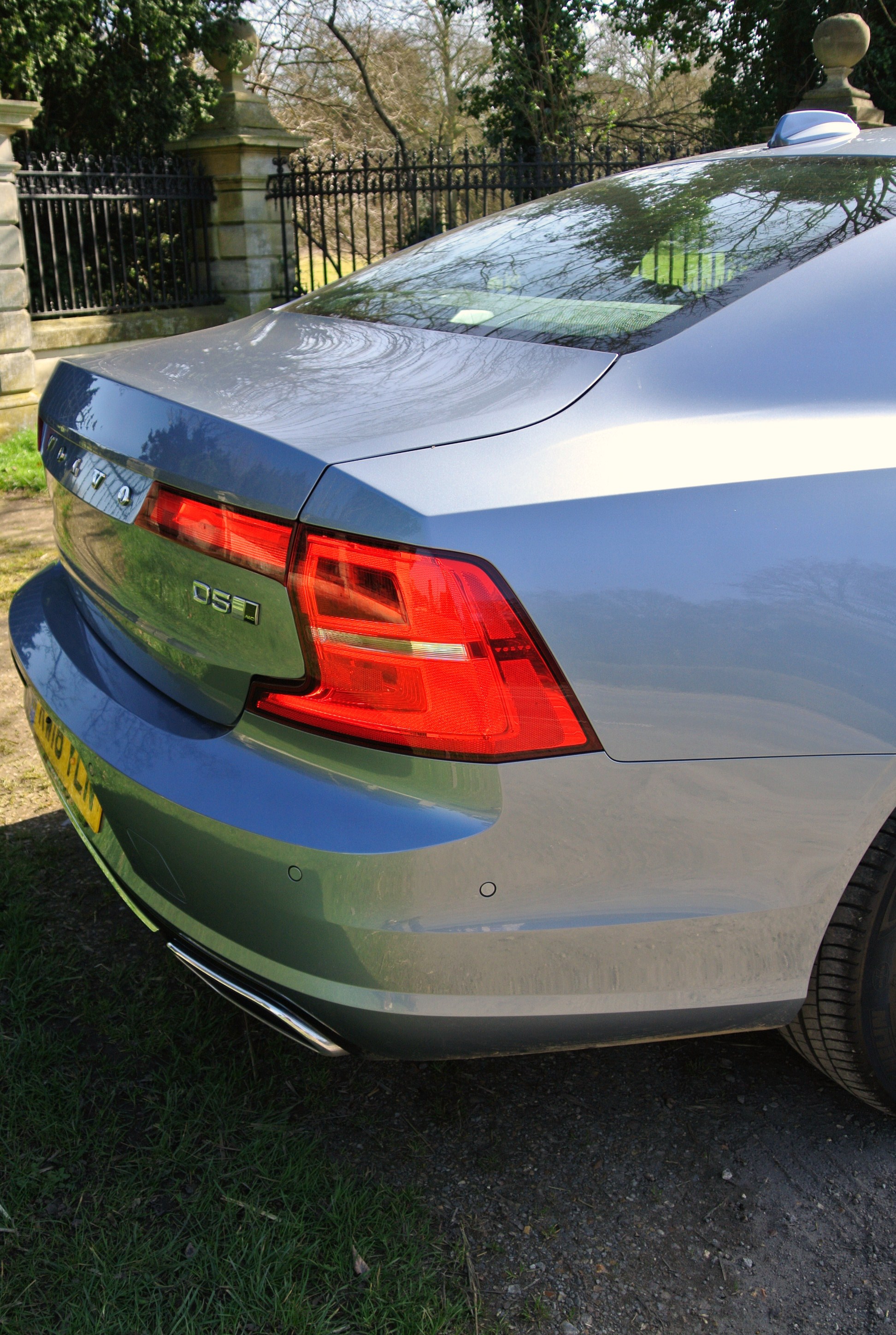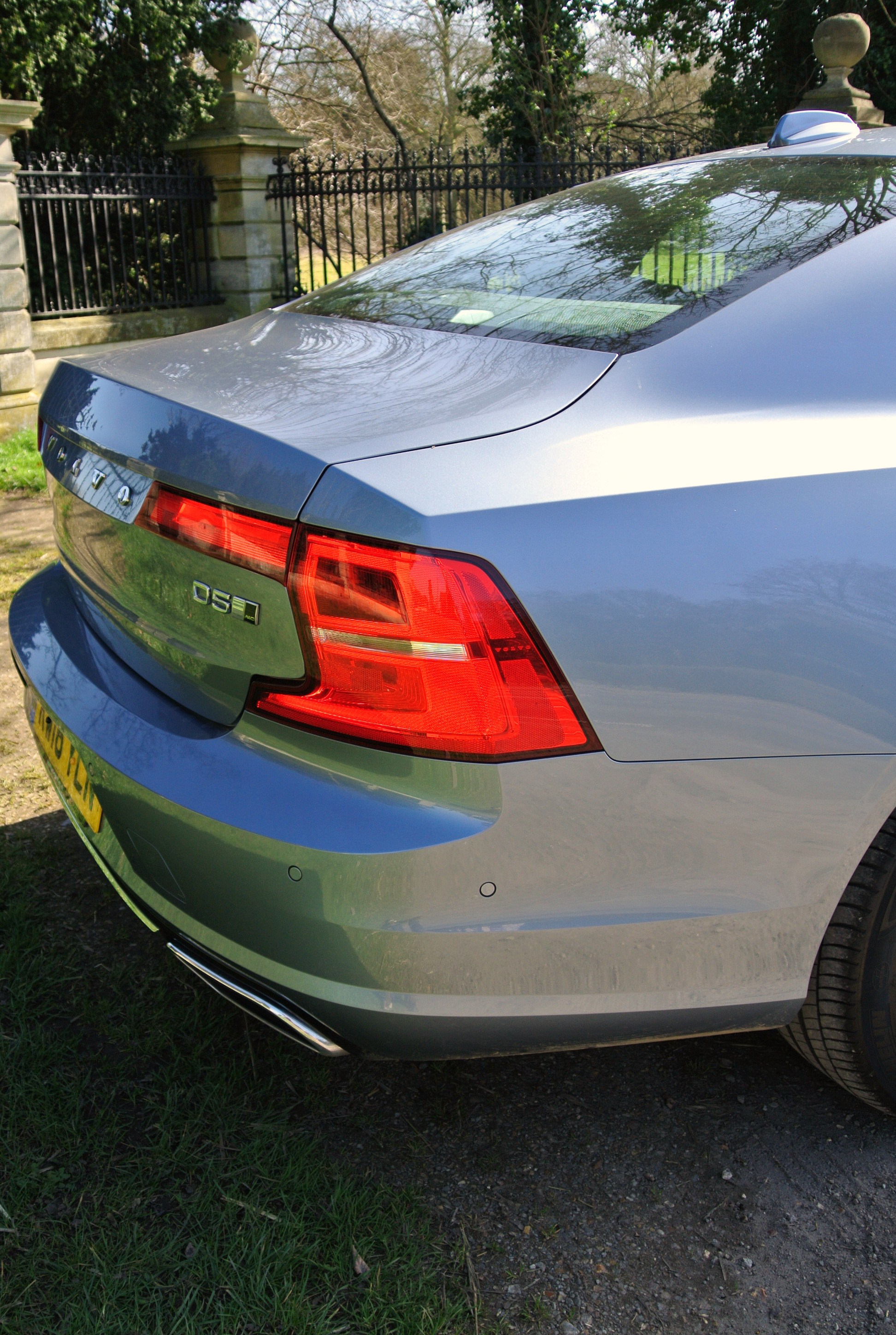 While the short Romans played a major part in the development of our island cluster, we were more than merely influenced by the taller Vikings, with whom we have shared many cultural similarities and mutual respect. The influence of Volvo is a natural fit. As the Swedish car industry grew and matured, its reliance on the UK for a fan base led to cross-border trading long before the EU was in prospect. The simple truth is that we appreciate the inherent quality of Volvo and, while the Teutonic Threesome (Audi, BMW and Merc) have made massive in-roads to the British car buying scene, Volvo owns a special place in our hearts.
Of course, Volvo's rate of development has never been mass market orientated. Much like modern Sweden's ancestors, for whom rape and pillage is merely a semi-romantic notion, solidity, design integrity and adopting a less market-influenced role is central to its survival. The new world order that means Volvo is now owned by a Chinese automotive conglomerate that recognises the brand's inherent strengths is much to its credit and the latest 90-Series of models is enjoying organic growth world-wide.
Volvo is a brand that does not rely on fast lap times to sell its goods. It presents unabashed, occupant-pleasing luxury and comfort within its five-metres length. While there is a go-getter element that is swayed by boy racer performance enhancements, which the R version of the 90 serves eminently well, the Inscription version of the big saloon is Volvo's heartland. Well stocked with goodies and pleasingly different to its key rivals, its D5 version of the modular 2.0-litre diesel engine also denotes all-wheel-drive stability and the introduction of PowerPulse technology.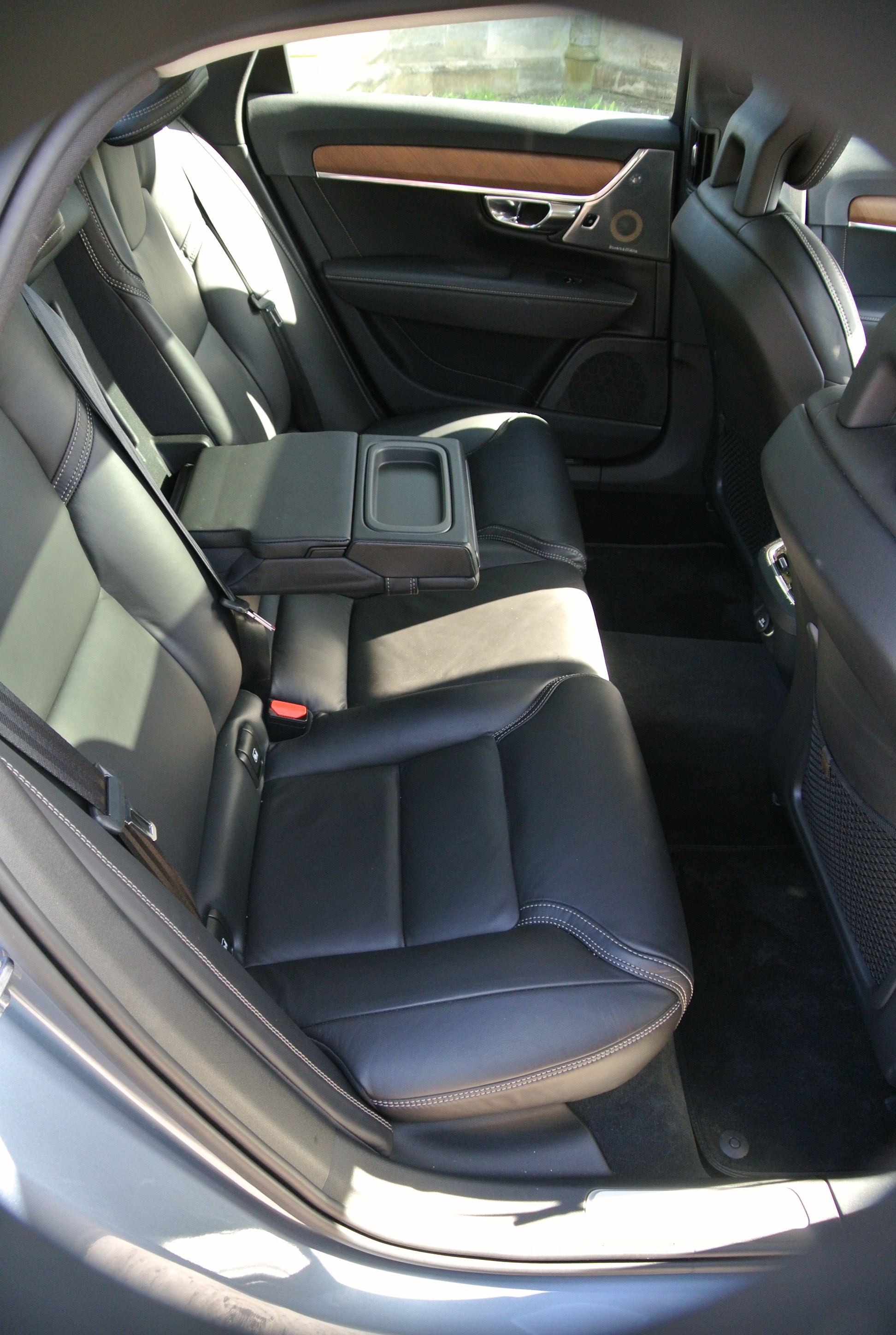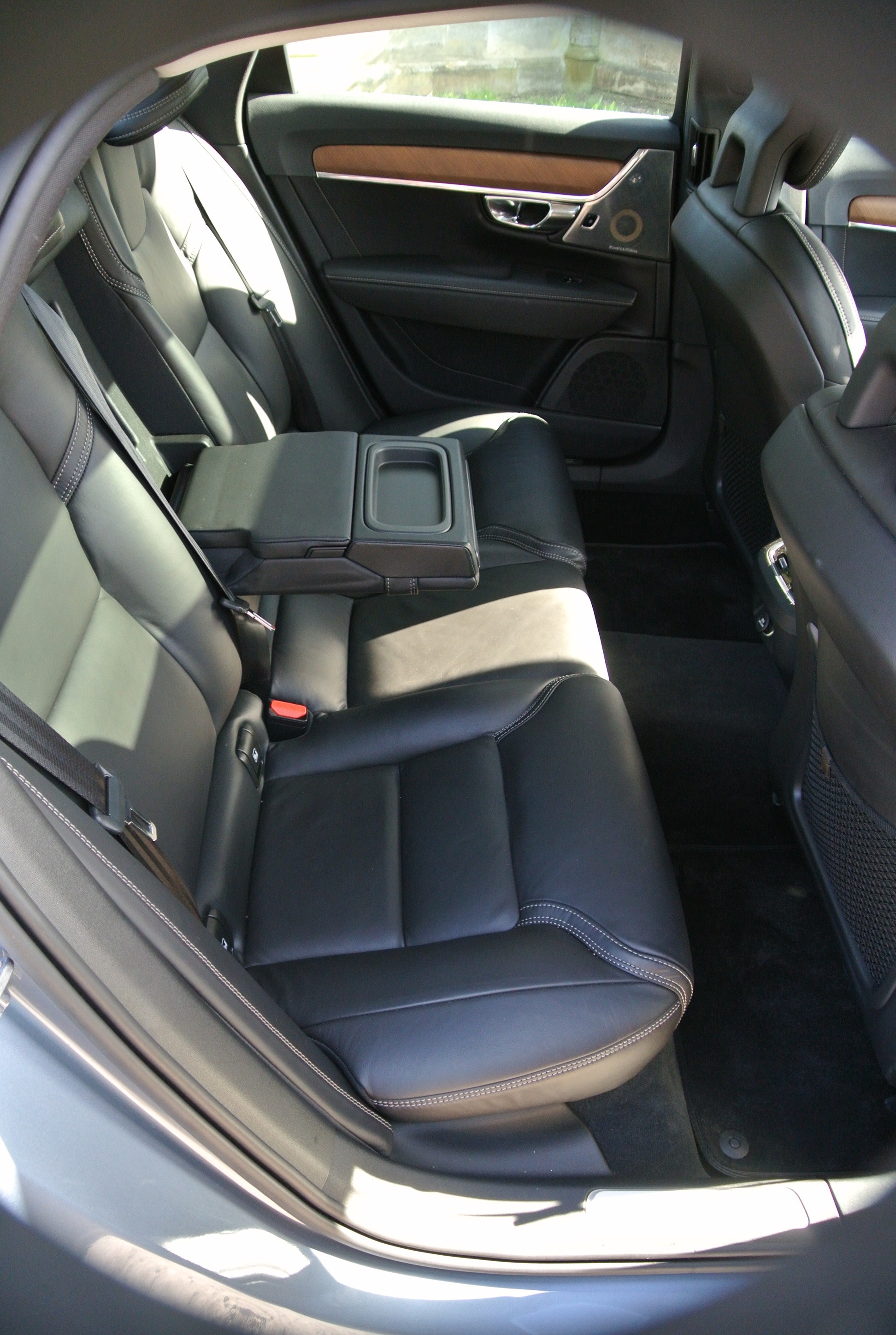 Featuring a twin-turbocharging system, allied to an ingenious 'collector' device that boosts both power and torque, its resultant 232bhp and 354lbs ft of 'twist' energy across a moderate rev-range more than just meets the class average and its 127g/km CO2 exhaust emissions demonstrates an aim at a greener end-game. It gifts the around two tonnes car with sound performance statistics, despatching the 0-60mph benchmark in 6.7 seconds, with a maximum speed potential nudging 150mph.
Apart from a slightly intrusive diesel grumble at lower engine speeds, the S90 makes serene progress a reality, supported by luxurious padded hide seats and a sublime ride quality on the optional air suspension. Yet, dip the throttle pedal and the 8-speed automatic transmission wafts between its ratios and spirits the S90 towards the horizon, with all of the might of its Thor's hammer influenced headlamp design.
Naturally, dipping into its reserves will shift the MPG downwards from a stated 58.8mpg Official Combined, to a more measly 42.9mpg, the figure I was able to return on a give-and-take drive around my locale. While I believe that 50mpg, which is a most respectable figure for a large and weighty saloon, is within the reach of an average driver, do not count on it.
Trust me, the S90 is a technological tour de force but it is not by the 'in yer face' methodology employed by its German competitors. There is a subtlety to the S90 that is uniquely Volvo. Conservative and caring, you feel it every time you enter the cabin, because it instils an atmosphere of homeliness that actually masks its broader purpose. In fact, delving into the contents of the large, portrait format touch-screen in the dash-centre reveals all that you need to know about the car.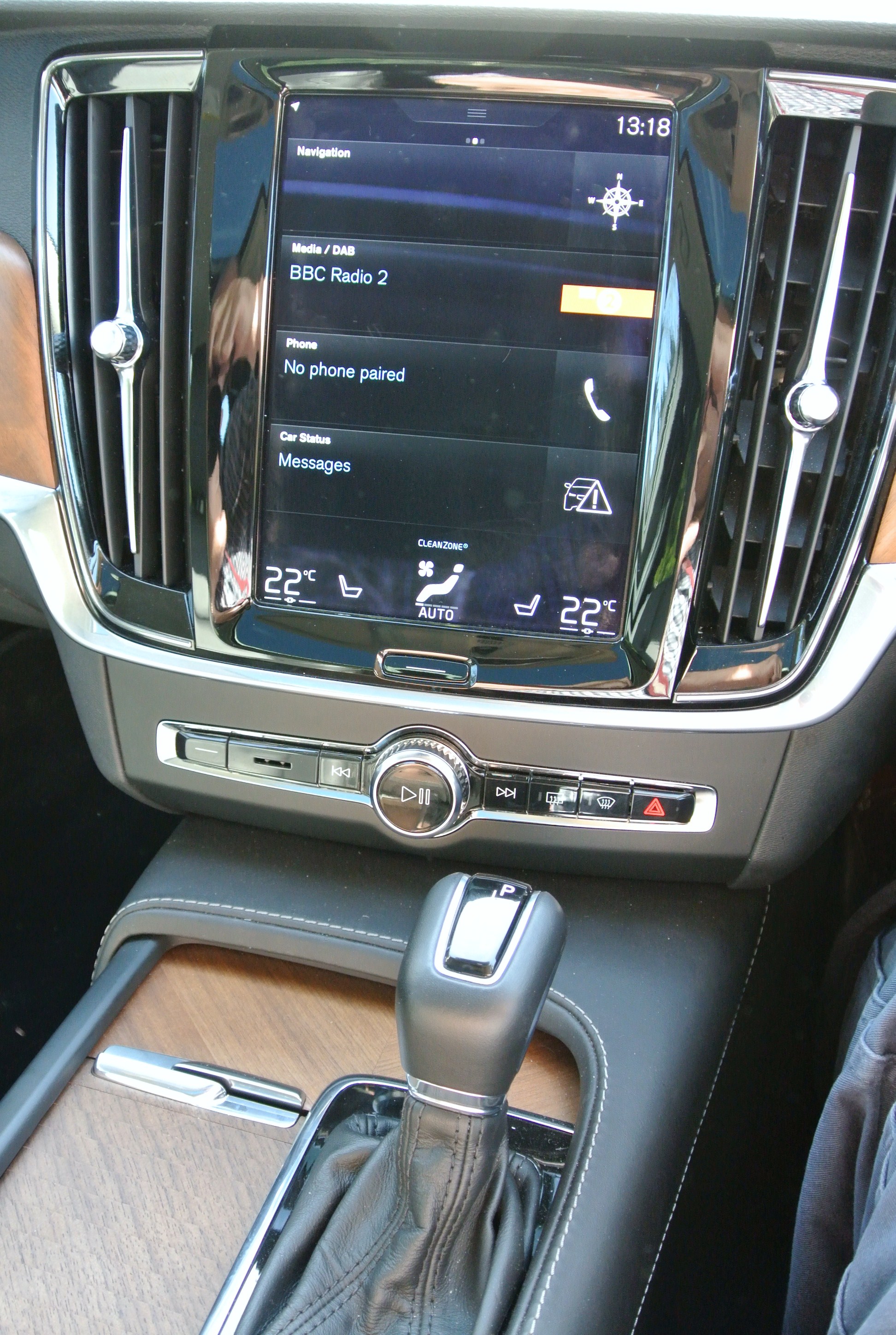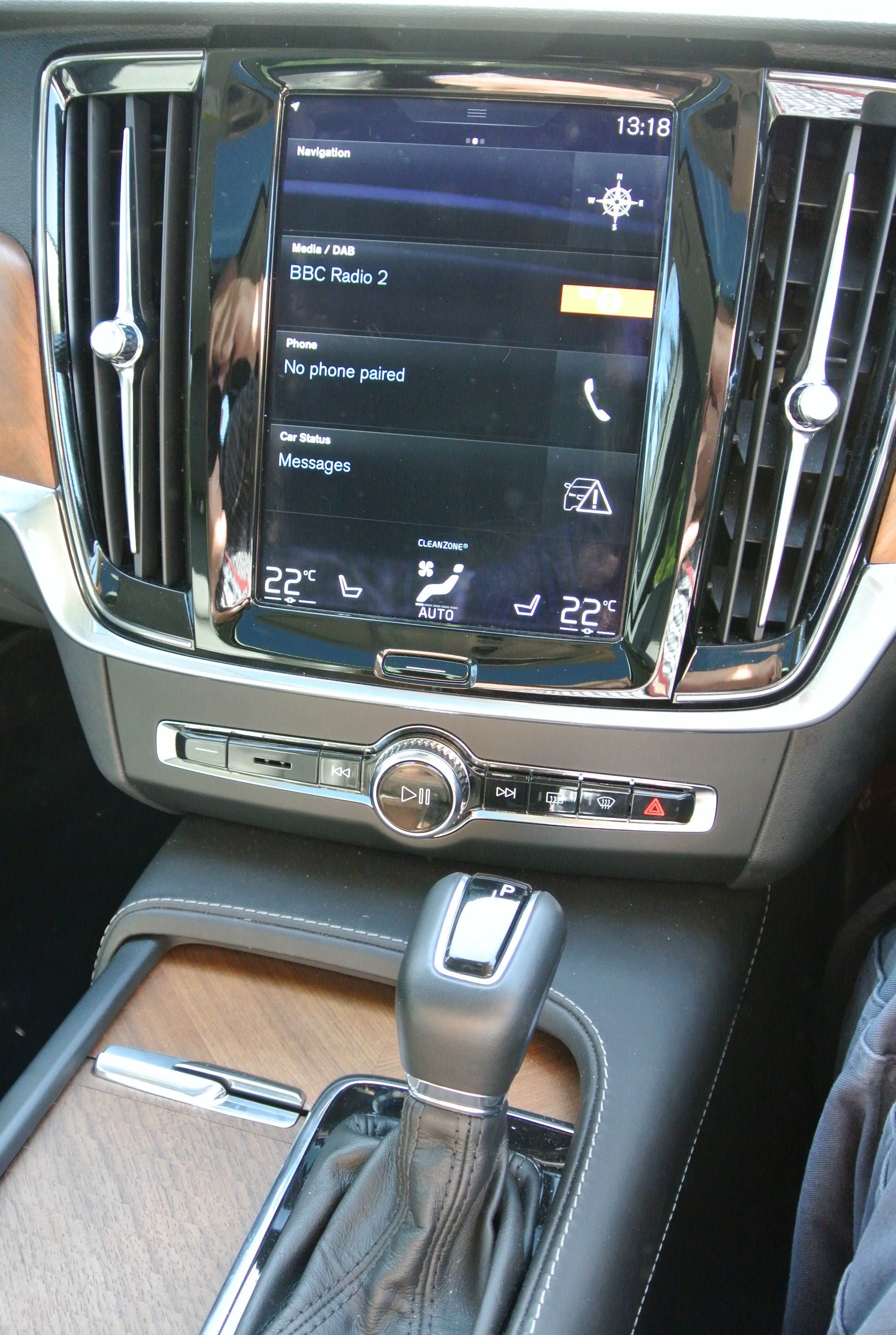 While the lack of switchgear is unsettling initially, because larger cars are 'supposed' to offer a plethora of confusing pushbuttons (aren't they?), everything and a bit more than you actually need is contained within that swipe-able screen and it is legible, even to gentle-folks of a certain age. The rest is consigned to the customary stalks, thumb switches on the steering wheel and a pair of jewel-like controls in the centre console – one that twist controls the stopping and starting of the engine, while the other provides rolling quick access to a preferred Eco, Comfort, or Sport driving mode, which also changes, Volvo-style, the instrument layout ahead of the driver. Familiarisation is essential but it happens quickly and naturally.
Of course, larger cars can provide more accommodating space, a factor from which Jaguar needs to learn from Volvo, as its XJ is hatefully cramped. Even with the driver's seat adjusted to suit my form, there is enough foot, leg, shoulder and head room in the leather-bound sofa behind to allow somebody else of similar stature to lounge languorously. Its centre armrest features not only a pop-out drinks-holder tray but also a shallow cubby, with enough space for a palm-held computer.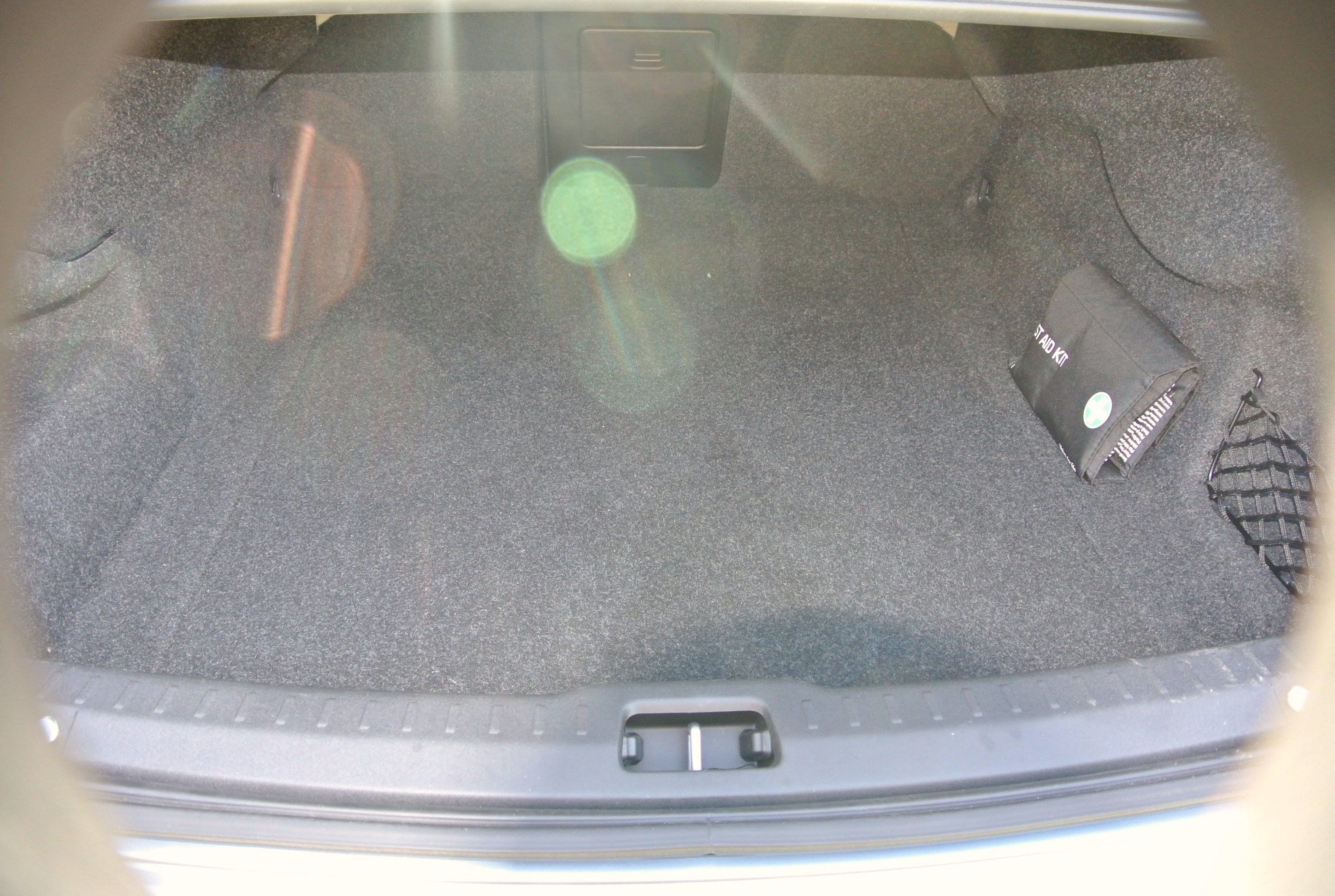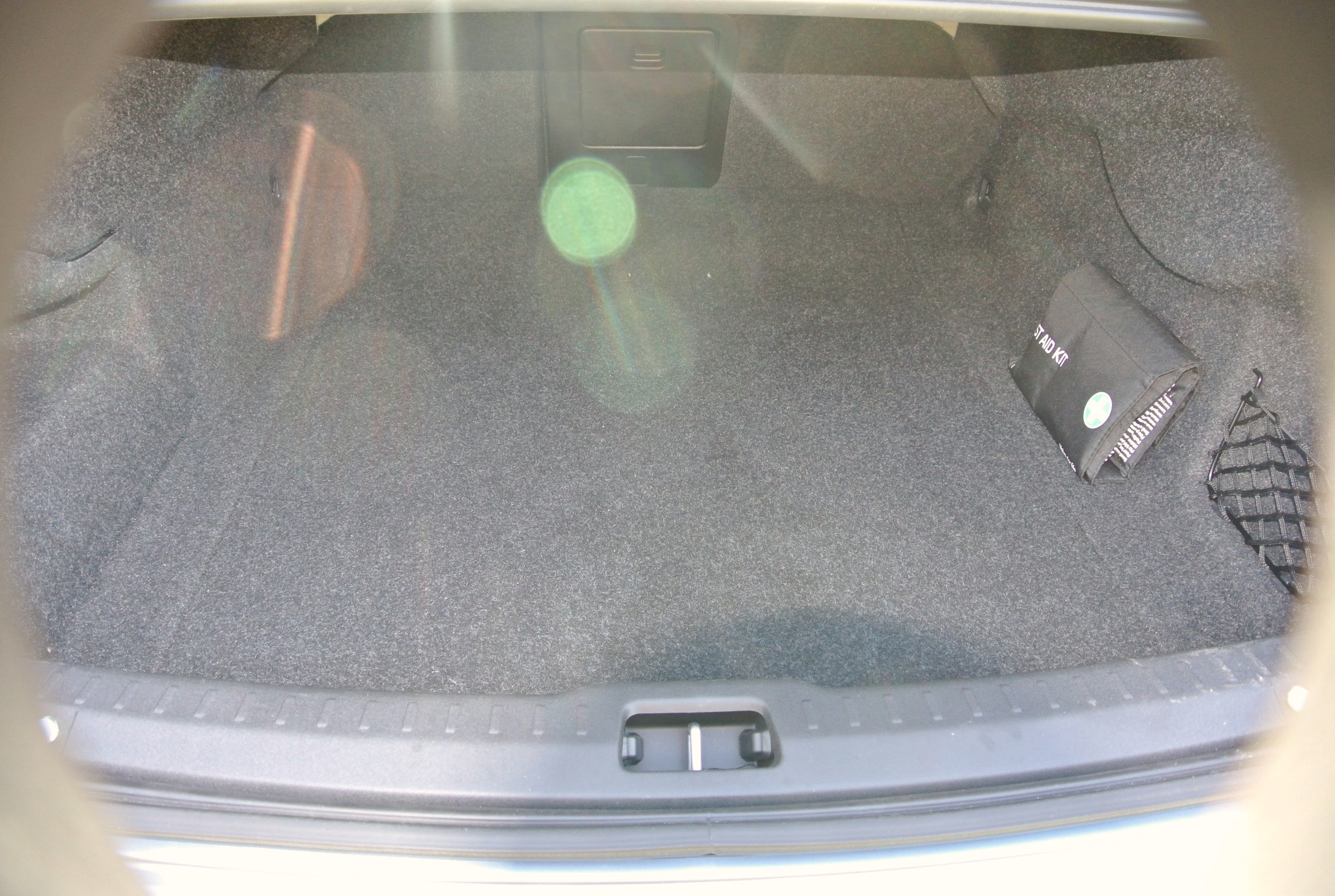 While the boot is long, it is also surprisingly shallow. Yes, you can slide in, cassette-like, four golf bags, or even a holiday's worth of luggage for four people but standing cases upright will be difficult. The fairly low height access, while looking lovely outside does compromise its otherwise generous dimensions. There are more accommodating boots in the BMW 5-Series, Merc E-Class and even the swoopier Audi A6.
Although you will scarcely notice, probably taking it all for granted, because it is a Volvo, the S90 is packed with life-saving technology, most of which, it should be noted, can be neutralised by touching the appropriate element on-screen. Summed up under the 'Intelli-safe' branding, semi-autonomous driving is possible, as well as various lane-keeping, distance alerting, adaptive cruising, impact protecting, off-road mitigating and even First Aid kitting means within the confines of S90's rigid safety cell construction.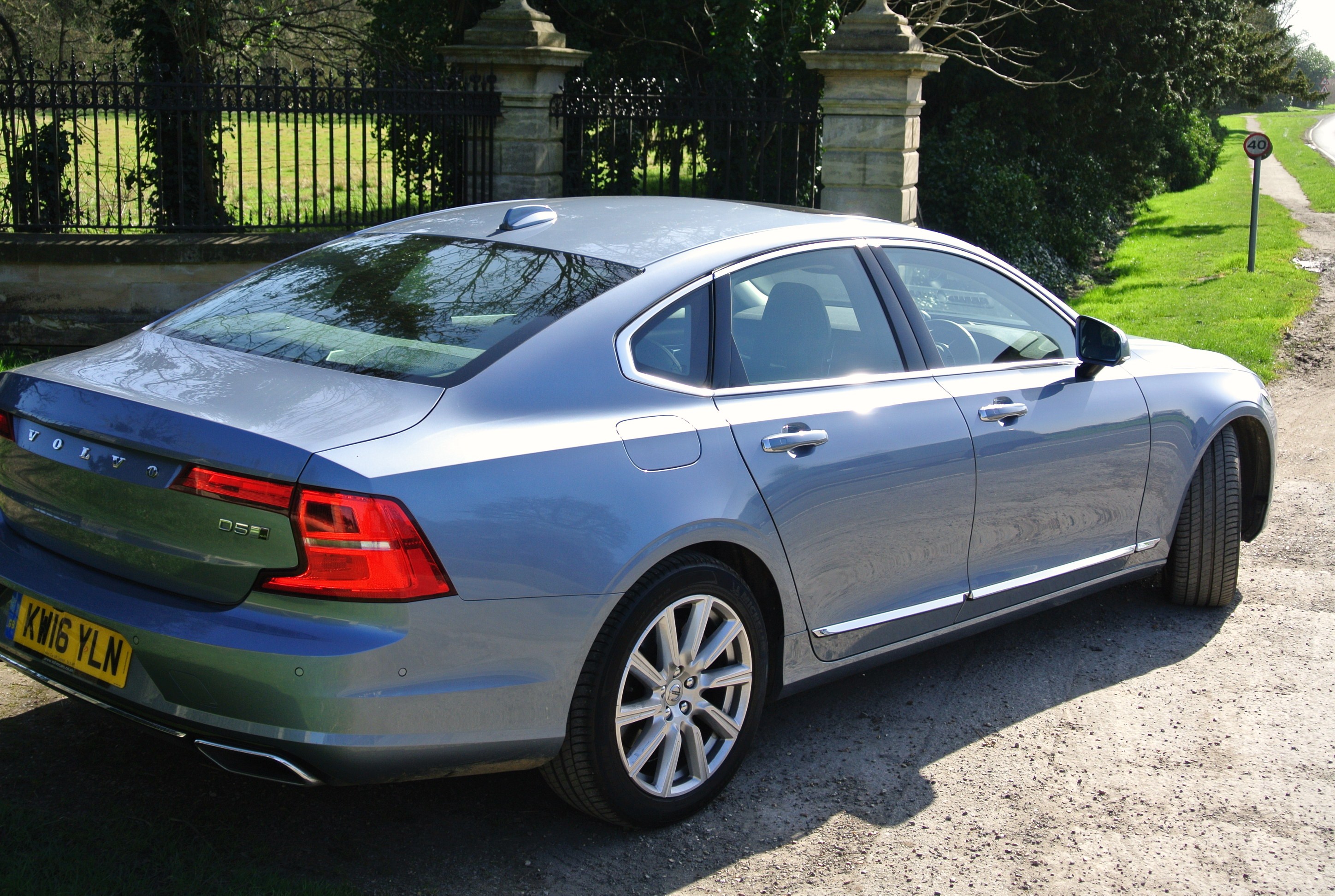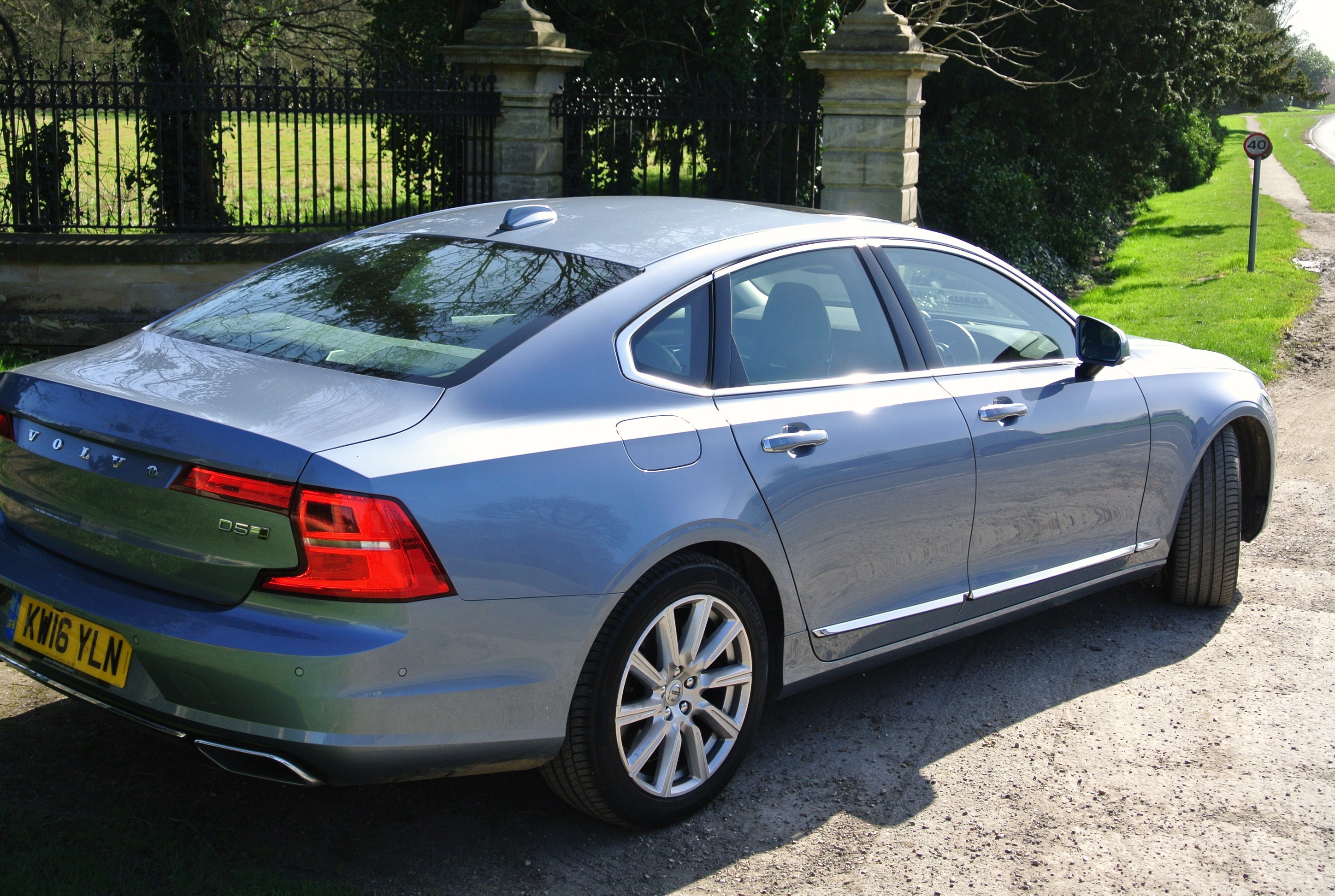 Paying the price is the final issue. On top of the standard Inscription specification of £43,400, you need to add £525 for the Winter Pack, £1,550 for the glass sunroof and park assist, £600 for the auto-dimming mirrors, £1,500 for the air suspension, a whopping £3,000 for the Bowers and Wilkins stereo upgrade and £700 for the metallic paint, which tallies to £51,275 for the test car. While this reinforces my comments about the smaller but stupidly over-priced Audi A4 of a few weeks ago, it is still a king's ransom and, under the new Road Fund Licence effective post-1st April 2017, as the S90 weighs in at over £40,000, despite its zero first year rating prior to that date, it will cost £160 in the first year and £450 every year thereafter in taxation.
While Volvo remains Volvo in its stance, it is classified as a prestige model and priced accordingly. It is large and accommodating, even though its boot space is compromised. However, it stands head and shoulders above its main rivals from Germany and notably above Jaguar too. Classy and elegant, it will look great in the company car park, as well as providing superior transport for the whole family.