The past few years have not been the happiest for Renault, suggests Iain Robertson, and the company needed a monster performer in its midfield, which it now has, in the form of the latest Megane generation.
Since the earliest days of the motorcar, Renault has been in the forefront of creating stylish models. Naturally, you might consider that France is the root of all style but, while Citroen was always the avant-garde automotive alternative, with Peugeot holding a more conservative position, Renault applied couture style by the bucket load.
When Patrick Le Quement, the great anglophile and developer of the 'shakin' that ass' era of Renault's timeline, held the top stylist's role at Renault, it could be suggested that being radical was one of his core responsibilities. There was certainly no denial of the popularity of models like Megane and Espace but even those as wild as the Avantime (a 2+2 Espace 'coupe') and Vel Satis enjoyed more than their fair share of notoriety.
With Patrick becoming a little grey and wrinkly around the edges, the Gallic firm determined that a fresh appraisal needed to be taken of its mainstream offerings and, there is no denying, a softer approach resulted in the Mark Three version of Megane, with Patrick receiving his marching orders. Sales plummeted; not helped by reports of grim electronic failures. New blood was essential and Laurens van den Acker, who had given Mazda a positive stance, was engaged as the new head of Renault's design team.
Hopes were high and not without justification. Although the best-selling Clio is about to receive a serious mid-life makeover, the current model was the first declaration of intent from Laurens. It led to the introduction of Captur and, more recently, to the charming Kadjar, the junior and mid-size SUV contenders, both of which are enjoying strong sales and are responsible for revitalising a troubled patch in Renault's modern history. However, the stable medium sector hatchback arena, populated by the VW Golf, Ford Focus and Peugeot 308, is of tremendous importance and Lauren's attentions were drawn towards the company's Megane line.
To make an error in this class can have an unfortunate outcome, so strong is the competition. Based on the platform technology that Renault shares with its strategic partner, Nissan, the desire to provide the Megane with an unique place in the market was led by increasing its wheelbase and track, with the primary aim of providing a dynamic presence and balanced proportions. Yet, interior space and enhanced comfort levels were primary considerations.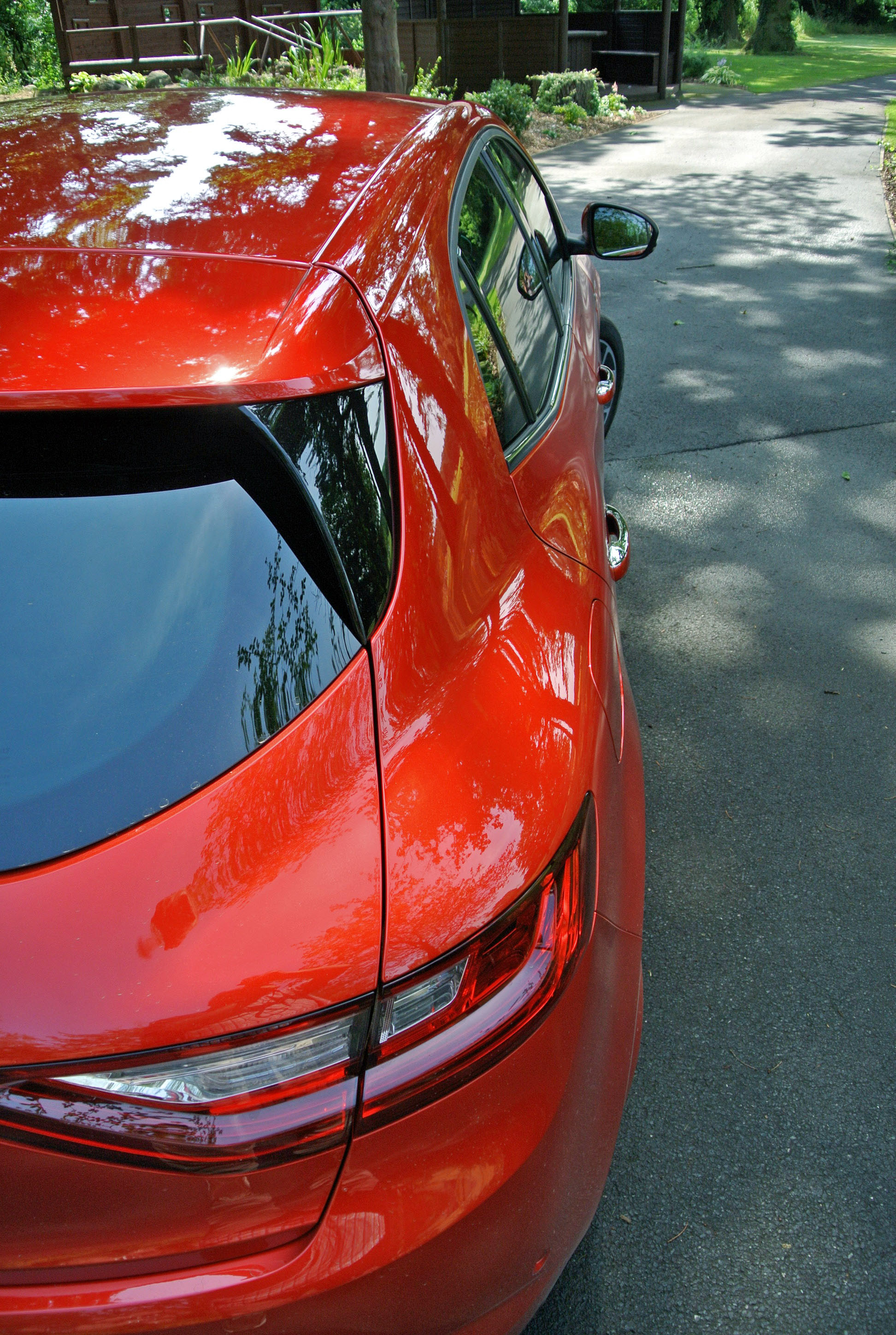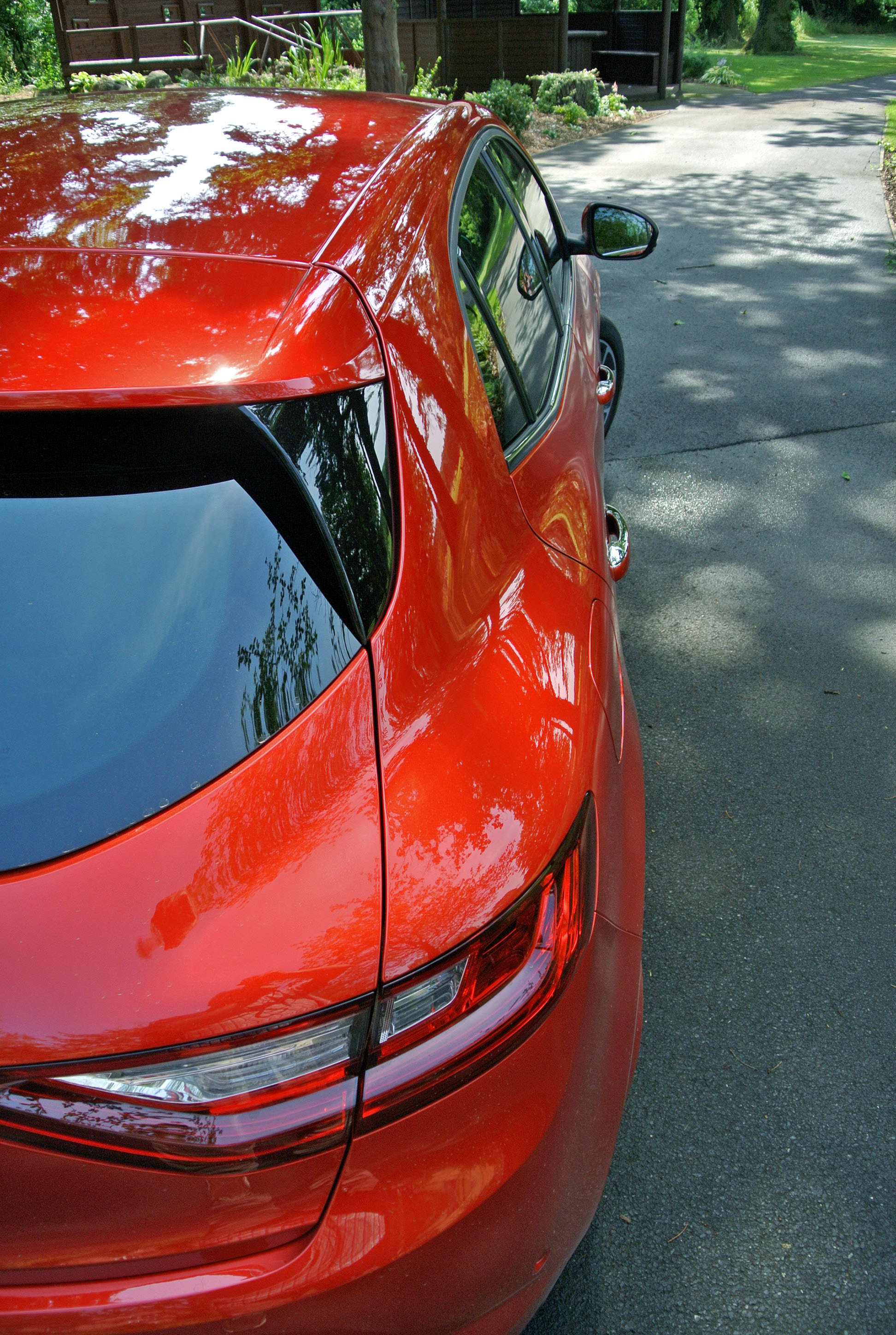 The body outline is wondrously organic, possessing a strident flow from its rear 'shoulders', to its shovel-nose, which is made to look even wider with the adoption of a Lexus-like front lamps' signature. While the firm's legendary diamond establishes the grille shape, the outline is not dissimilar to that of the latest Suzuki Baleno. Incidentally, that lozenge is also the repository for much of the new radar technology employed by the company, which I shall touch on momentarily.
While daytime running lamps are now de rigueur fitments, for the first time, permanently illuminated rear lamps also feature on the Megane. The elegant lighting units are stretched across the hatchback and rear wings, affording a high-class appearance to this mainstream model. While some of its styling cues can be seen in rival products, a factor that cannot be avoided with modern CAD/CAM design effects, the Megane retains a strong on-road presence that will create a desirable 'double-take'.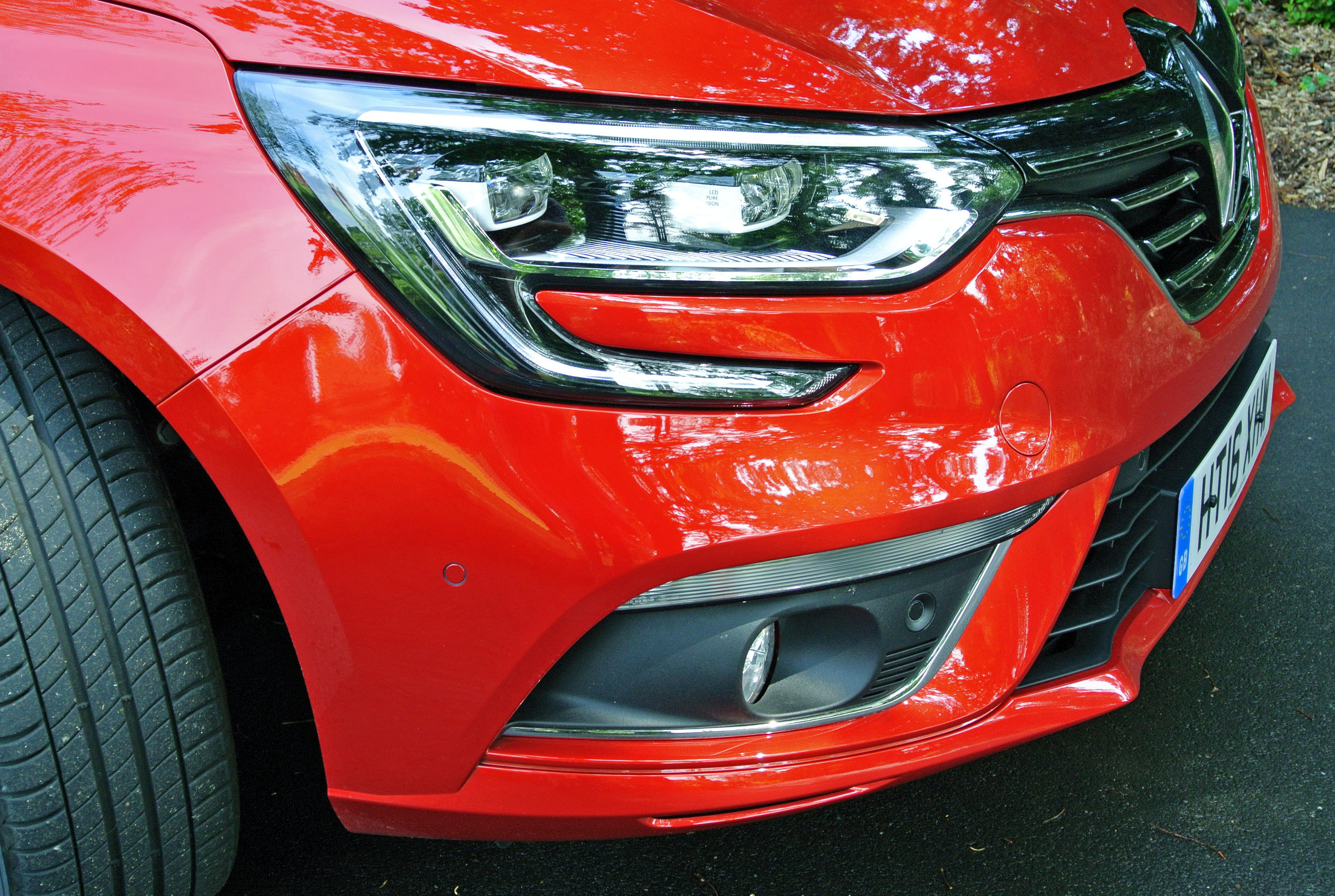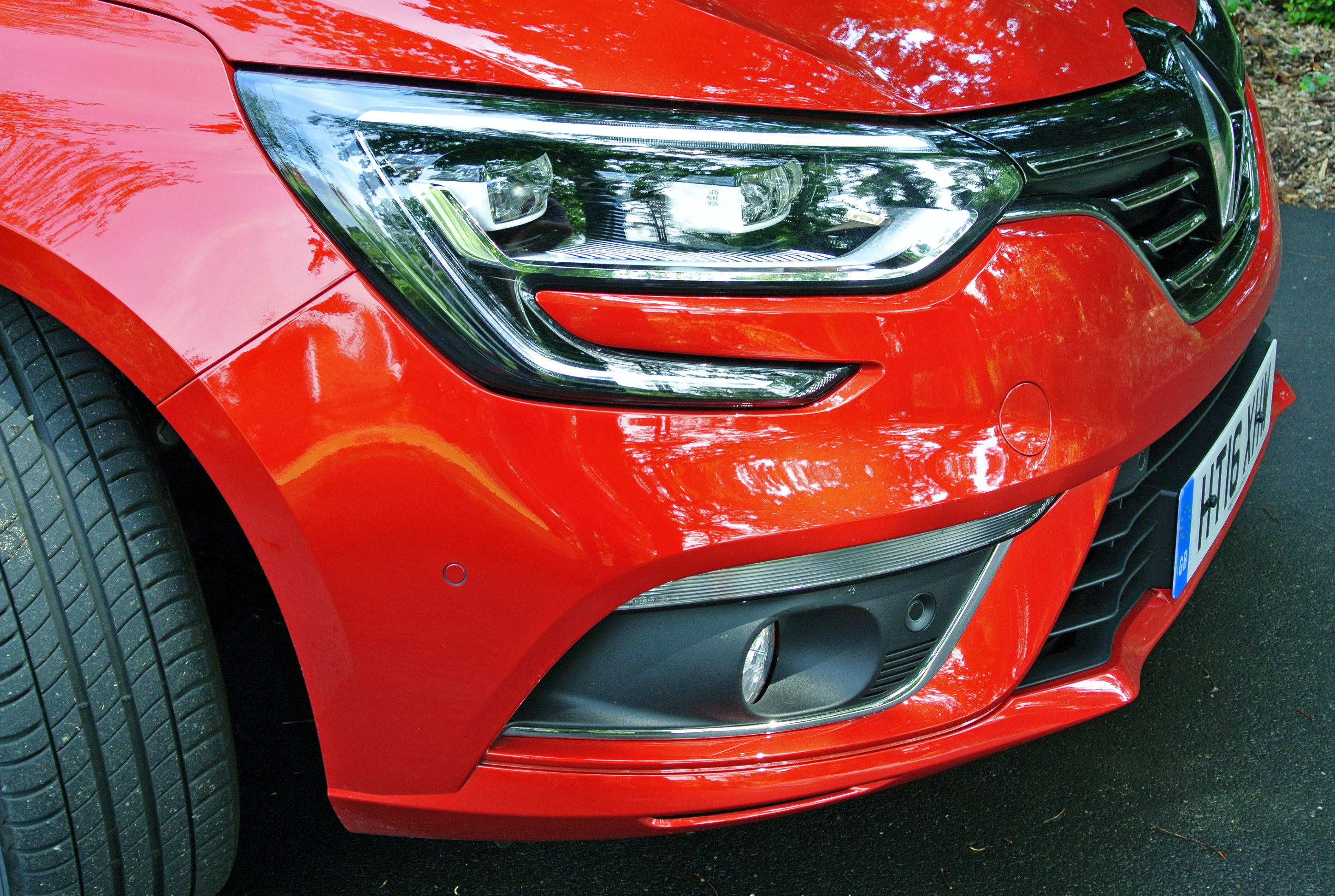 Its beautifully integrated cockpit design, with numerous 'soft-touch' elements and an abundance of interest-generating surfaces and textures, with ambient lighting, add tremendous appeal. While lesser versions benefit from a more conventional 7.0-inch, TFT touch-screen in the dashboard centre console, higher-specification models gain an 8.7-inch portrait format screen, upon which to display several information sources. While not as 'impressive' (or, perhaps 'oppressive') as the lap-top sized screen exploited by Tesla in its high-price EVs, this larger, upright screen adds a touch of technological class to the interior, in a similar style to that of the latest Volvo XC90.
While I am sure that user familiarity will breed, my initial view that only Renault personnel and 12 year olds will be able to operate it effectively holds true. It took me several minutes to find source menus, let alone adjust sat-nav settings, or even play some music. I do worry that the advancement of technology on cars that will only ever be bought/acquired new, by people of a certain age, that require a major tutorial to operate, is a display of manufacturer arrogance that has no current bounds. While I am familiar with hopping from one diverse car to the next, the on-the-move distraction does harbour some primary safety issues…no matter how smart the equipment looks.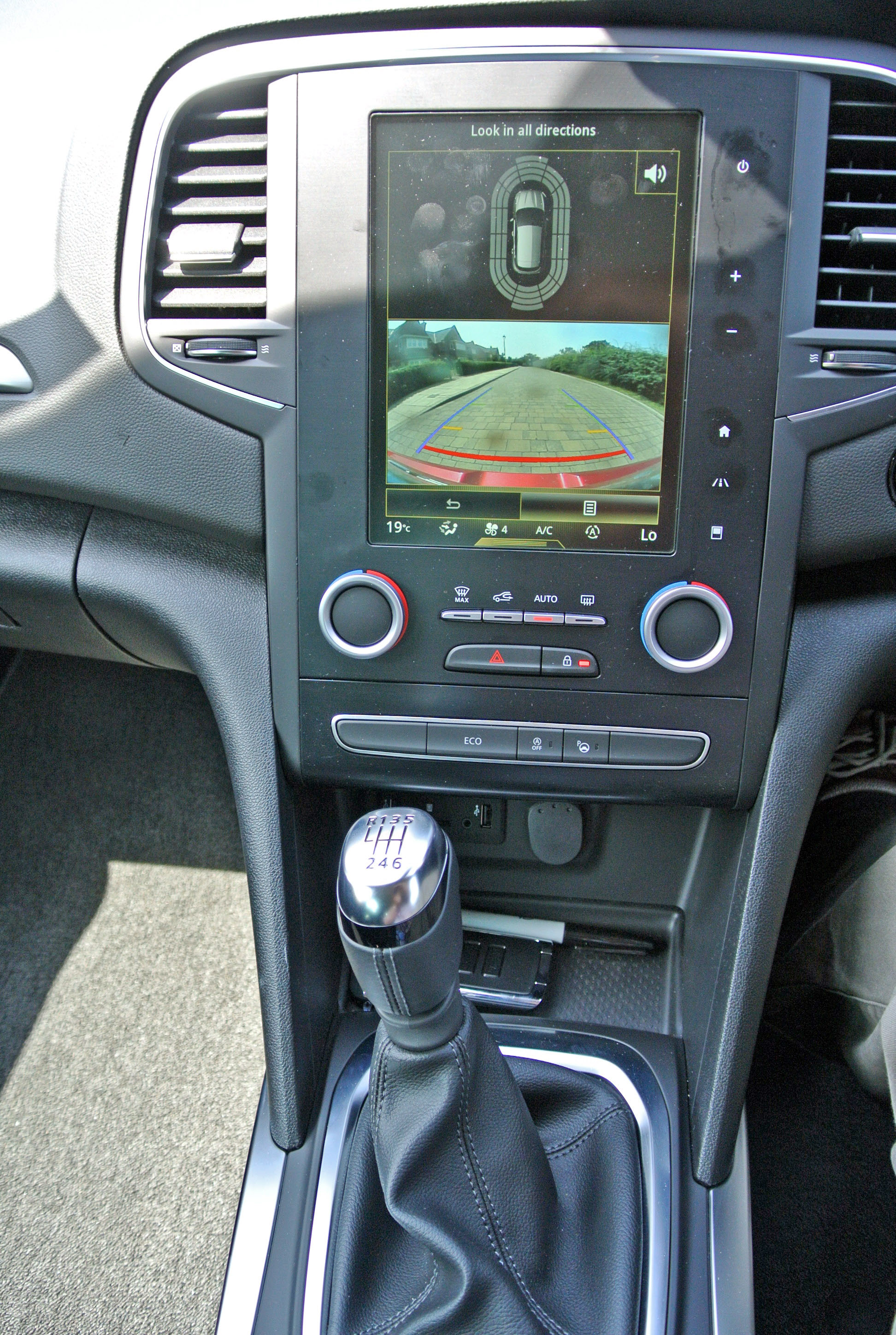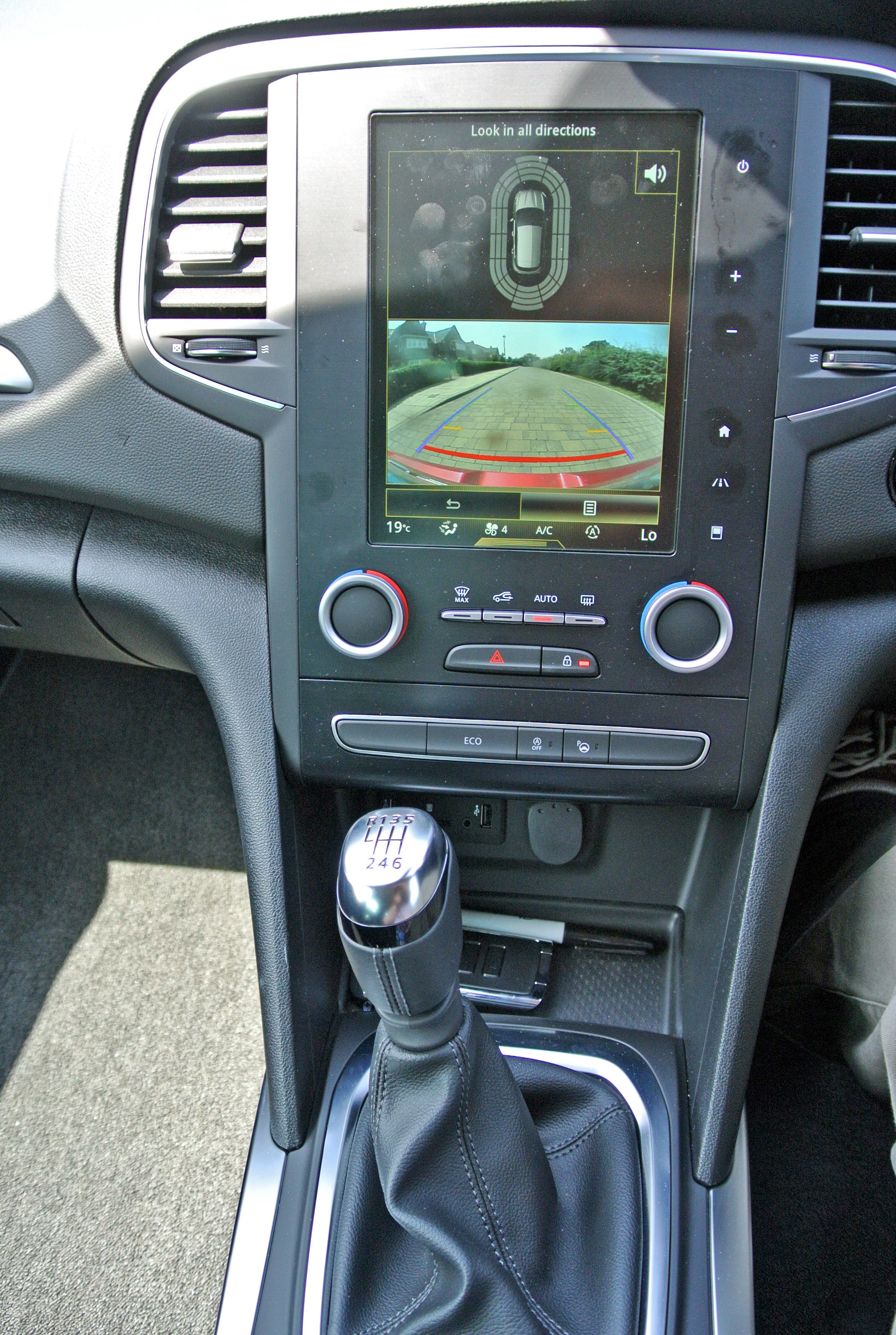 Although lacking slightly in headroom for taller front seat occupants, a factor exacerbated by the tumblehome of the A-pillars, which demand a Swiss Army knife method of physiological folding to gain access and egress from the cabin, the front of the car has plenty of space for luxuriating in its supportive seats (even more so in the sporting GT variant also on test). Space in the rear is class competitive, if slightly missing the point of the longer wheelbase, while the boot is spacious enough for most family, or business, needs.
On the move, the Megane proves to be exceptionally refined, an aspect that arises from the significantly stiffer body structure (over the previous model), thicker glazing, vastly improved door seals and the application of sound-deadening felt, foam and pads all around the vehicle. For all the additional cost, Renault has finally relented and applied 'carpet' within the door pockets, which stops items stored there from rattling annoyingly. Other storage slots use rubber mats to quell noise but the overarching impression of a car company making a positive impact for consumers by reducing extraneous noises is appreciated.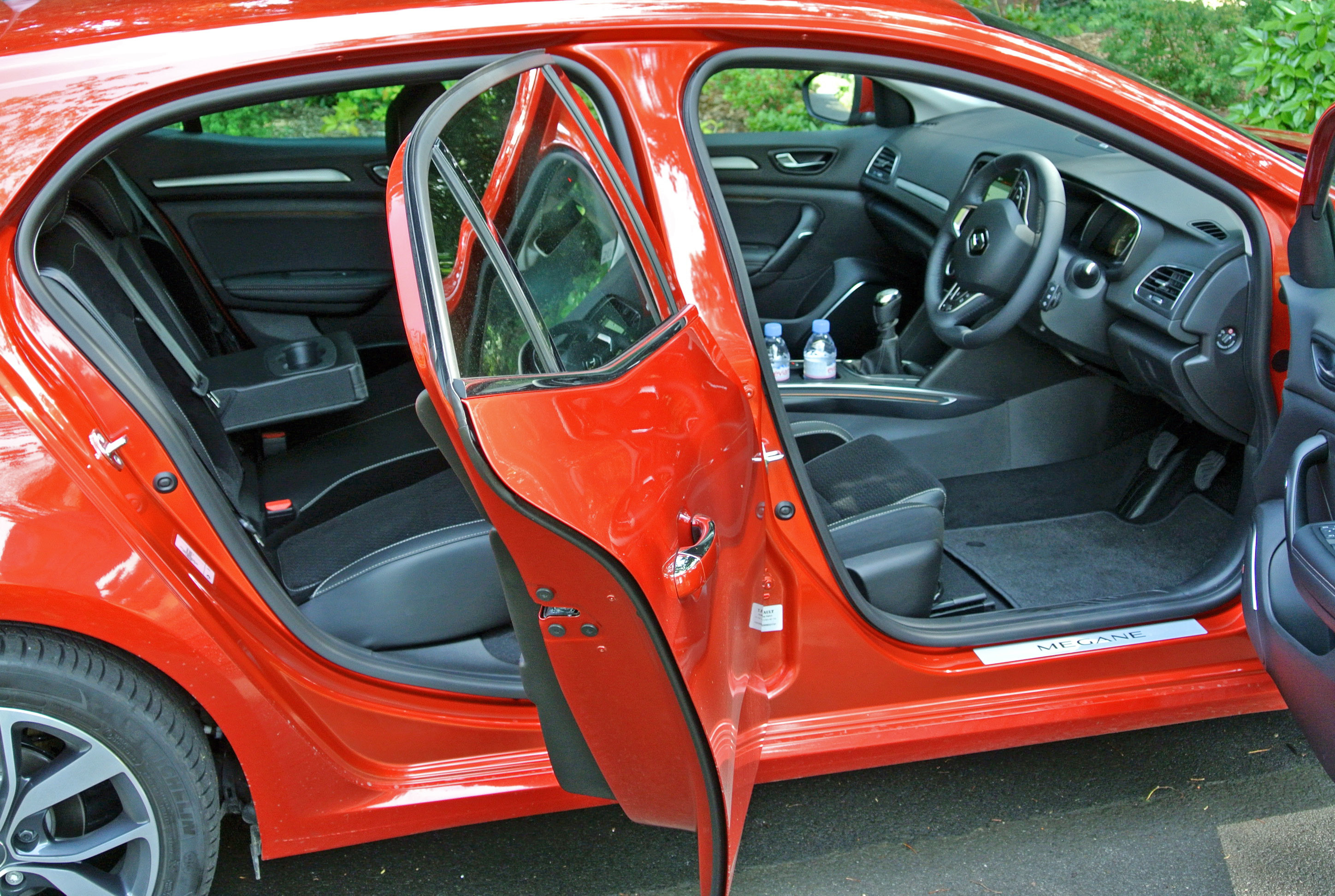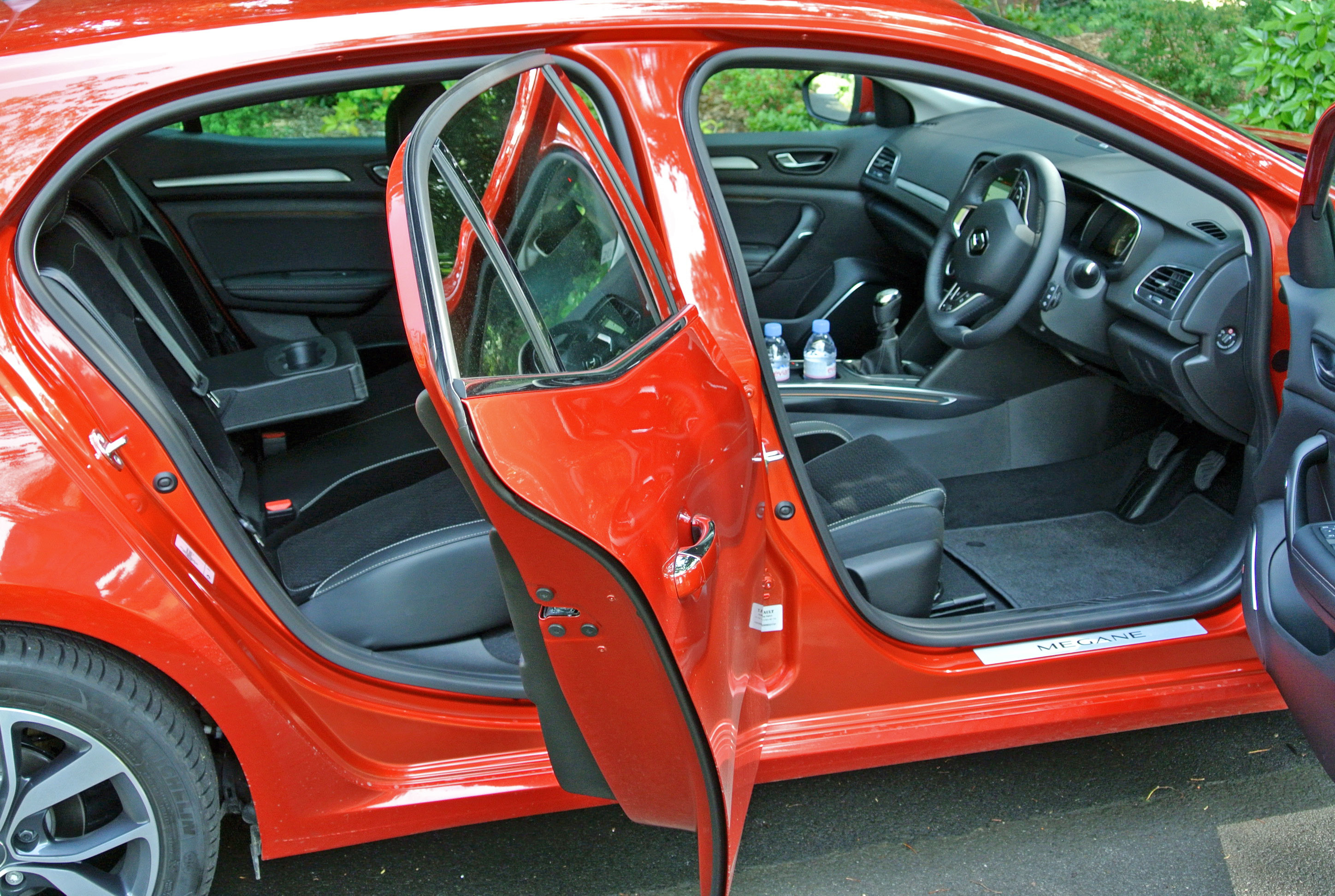 Sadly, all this relative silence has a slight downside…as the inherent character of the car is erased from the equation. The diesel version is now so quiet that you cannot even feel the throb of its compression-ignition engine; as for the GT alternative, I might as well have been driving an EV.
Common to all models is the TFT display that constitutes the instrument pod. Dependent on model, Renault's R-Link2 connectivity system that operates via either of the centre screen formats available allows up to six different profiles to customise the car. There are three configurable Home pages and even the 4Control adaptable chassis (with its semi-active four wheel steer mechanism) on the GT models can be tailored to specific driver needs. While an Arkamys sound system is standard, Renault's fascination with BOSE offers its high-end audio system as an option.
As mentioned earlier, the Renault 'diamond' on the Megane's snout contains sensors and the radar device that allow the adaptive cruise control, autonomous braking, lane departure, safe distance warning, traffic sign recognition and auto-main beam headlamps to operate. The Megane also features a reversing camera and, if specified, hands-free parking.
Two versions of the Megane were available for testing. The Dynamique S Nav that is pictured, powered by the 110bhp dCi turbo-diesel engine (priced from £20,400; £22,925 as sampled) and the 205bhp 1.6-litre turbo-petrol in GT Nav trim but with the twin-clutch automated EDC gearbox, with paddle shift (from £25,500; £28,575 as sampled).
While the sportier model (an even racier version will be launched soon) was comfortable, its suspension tended to crash violently over poor road surfaces, an aspect not helped by the 18-inch alloys and 40-profile tyres. The four-wheel-steer imparted a pointiness to its chassis dynamics that was not overly intrusive and its performance is best described as lively, despatching the 0-60mph sprint in a moderate 6.9 seconds, with a top speed of 143mph, while returning an Official Combined fuel return of 47.1mpg (actually around 37mpg) and a CO2 rating of 134g/km (Band E for VED; £130 annually). The paddle-shift transmission worked smoothly enough under most conditions but could become confused on country lanes and at lower speeds.
The diesel, apart from the aforementioned comments, riding on 17-inch alloys and 50-profile tyres, is a compliant dream drive. There is enough punch from its meagre 110bhp motor to deliver a 0-60mph dash in a competitive 11.0 seconds, before coursing up to a top speed of 116mph, returning 76.4mpg officially (around 60mpg actual) but emitting a VED-free 96g/km of CO2. Its 6-speed manual gearbox slices through the ratios eagerly and, even without the four-wheel-steer, it handles beautifully.
Renault needs to hit the road running with its latest Megane and it is able to do so, if the two examples tested on the roads of County Durham were anything to go by. Renault cannot offer up excuses for failure in this highly competitive and mostly competent market sector. In my view, the company has addressed both its and the market's needs to perfection. I particularly like the sense of occasion attached to slipping behind the steering wheel and its driver comfort features are many and varied. With Renault's current upward trajectory needing a solid midfield player, it can do what it needs to revitalise its fortunes with the new Megane line-up…and the best news is that there is heaps more to follow.