To make a bold automotive statement demands sizeable 'cojones', highlights Iain Robertson, although Mazda has a history of ballsy behaviour and GT is not just a throwaway tag, as he explains in moderate detail.
Mazda is a car manufacturer that always seems to slip 'below the wire'. Unfortunately, its products do precisely that all too frequently, almost as if there exists a Mazda-cognoscenti that refuses resolutely to publicise the fact that their cars are markedly better than the norm, or those of key rivals.
When I resided in Canada during the late-1970s, I acquired my first Mazda, an RX3 coupe powered by a Wankel rotary engine. It was technologically amazing. Boasting around half-a-dozen reciprocating parts, the unit would spin-up to almost 10,000rpm, before a buzzer would sound to warn the owner of impending doom, usually by way of collapsing rotor tips (the rotary engine equivalent of cylinder rings). During the eight months and 18,000 miles I lived with that car, they were replaced once, fortunately under warranty.
While the company has always produced more conventional models, it is only in recent years that it has shelved the last iteration (Renesis) of its amazing engine-type, which was licensed originally from its German inventor. Unlike other manufacturers over the years that dipped their toes into rotary technology (inc. NSU, Citroen, General Motors and even Norton motorbikes), Mazda persevered with the issues and even though it had to declare oil, as a 'total loss system', and high fuel consumption, let alone CO2 emissions, as major deterrents against owning a rotary-engined car, buyer curiosity kept sales buoyant.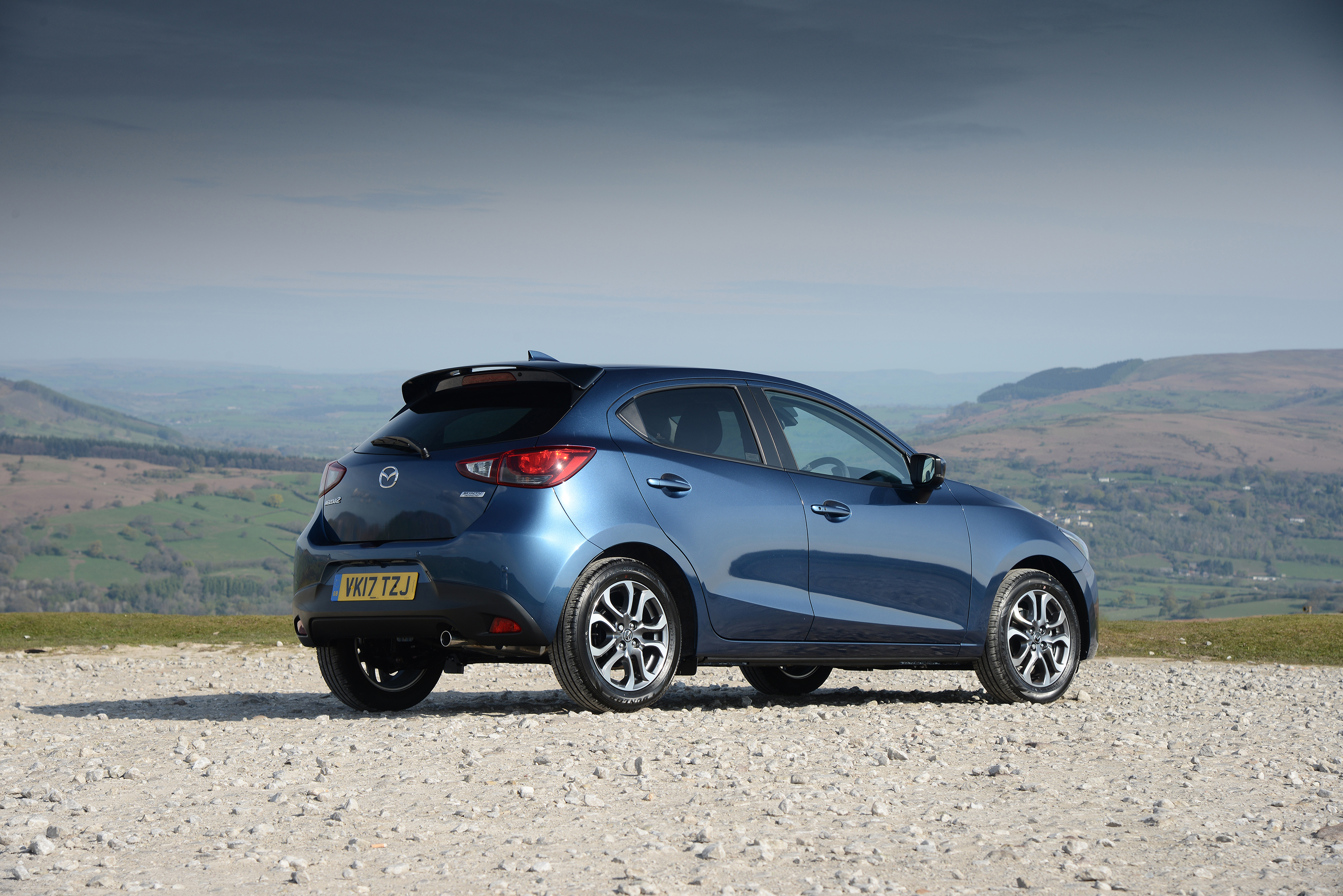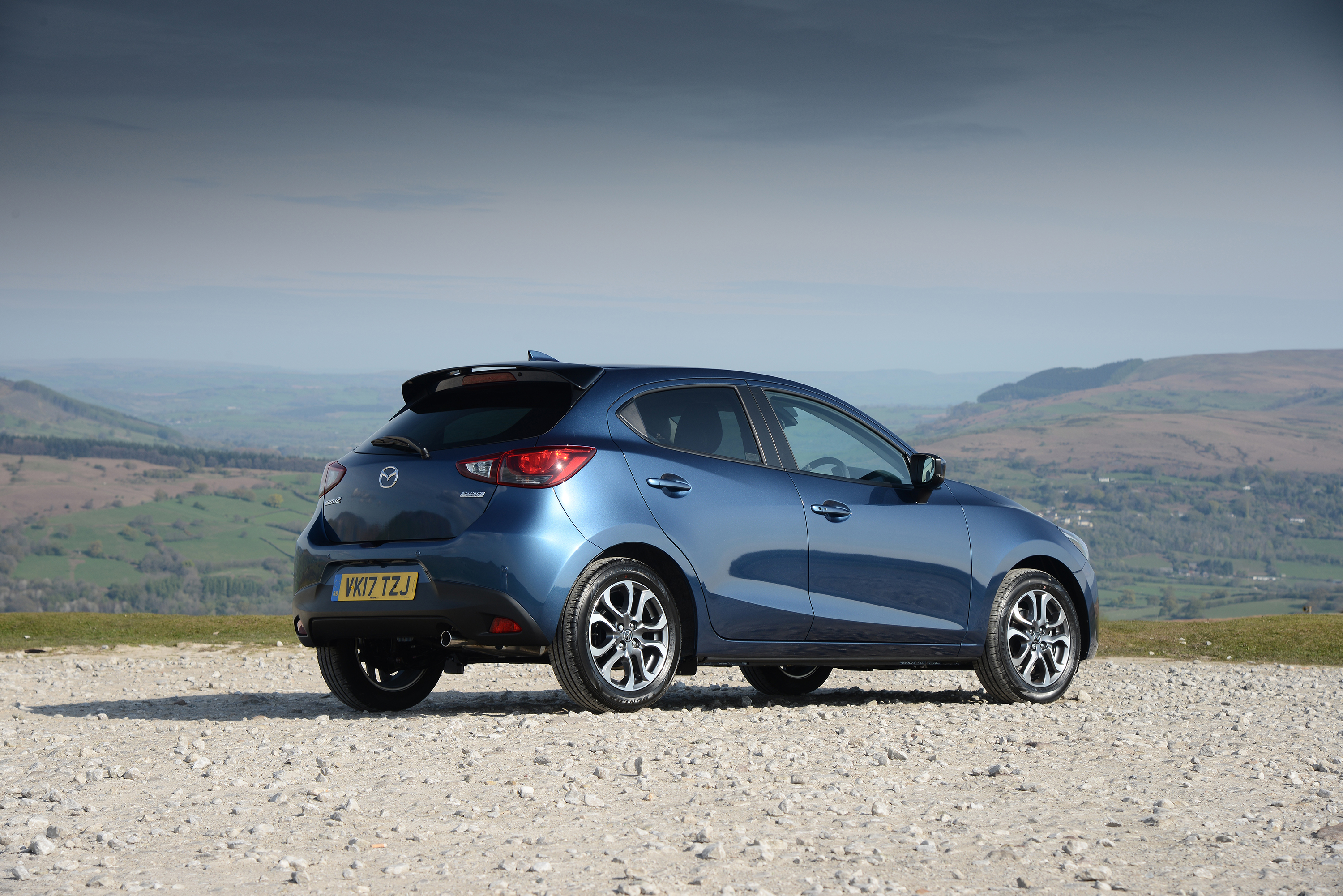 However, Mazda has always been a company that led on the dynamics front and it was among the first of the Japanese carmakers to dispense with the steering inconsistencies presented by recirculating-ball systems, replacing them with the more direct and responsive rack-and-pinion. From my personal experience of Mazdas over more than four decades, their handling and roadholding has always been markedly better than any Nissan, Toyota, or even Honda models, although the other brands have caught up now. No matter, whether driving the full height of Europe, in the Cape-to-Cape Rally, or attaining exceptional and winning fuel economy figures in the annual MPG Marathon, my reliance on Mazda's inherent strengths has been total and rewarding.
Historically, Mazda has been shoved from pillar-to-post during its life. It started as Toyo Kogyo in 1920 but, within a decade, had to be rescued from bankruptcy by the bank. Hit by the 1973 fuel crisis, the company was forced into another rescue bid by Sumitomo Bank. For no less than 41 years, between 1974 and 2015, Mazda was up to a third owned by Ford Motor Company and a number of joint effort products were produced, or badge-engineered by the firms. Although Ford still holds a 2.1% of Mazda stock, it is no longer involved in any aspect of the company's management.
Worse was to come though, when in 2011 it declared its largest ever annual loss and was forced to raise $1.9bn. Yet, Toyota stepped into the breach in 2015 and agreed a technology sharing arrangement for Mazda's SkyActiv petrol and diesel engines, while Mazda would gain from Toyota's fuel cell advancements. Naturally, the 1.5-litre GT version of the charming Mazda2 boasts SkyActiv technology, which delivers a practical mix of lightweight and fuel-efficient, optimised components.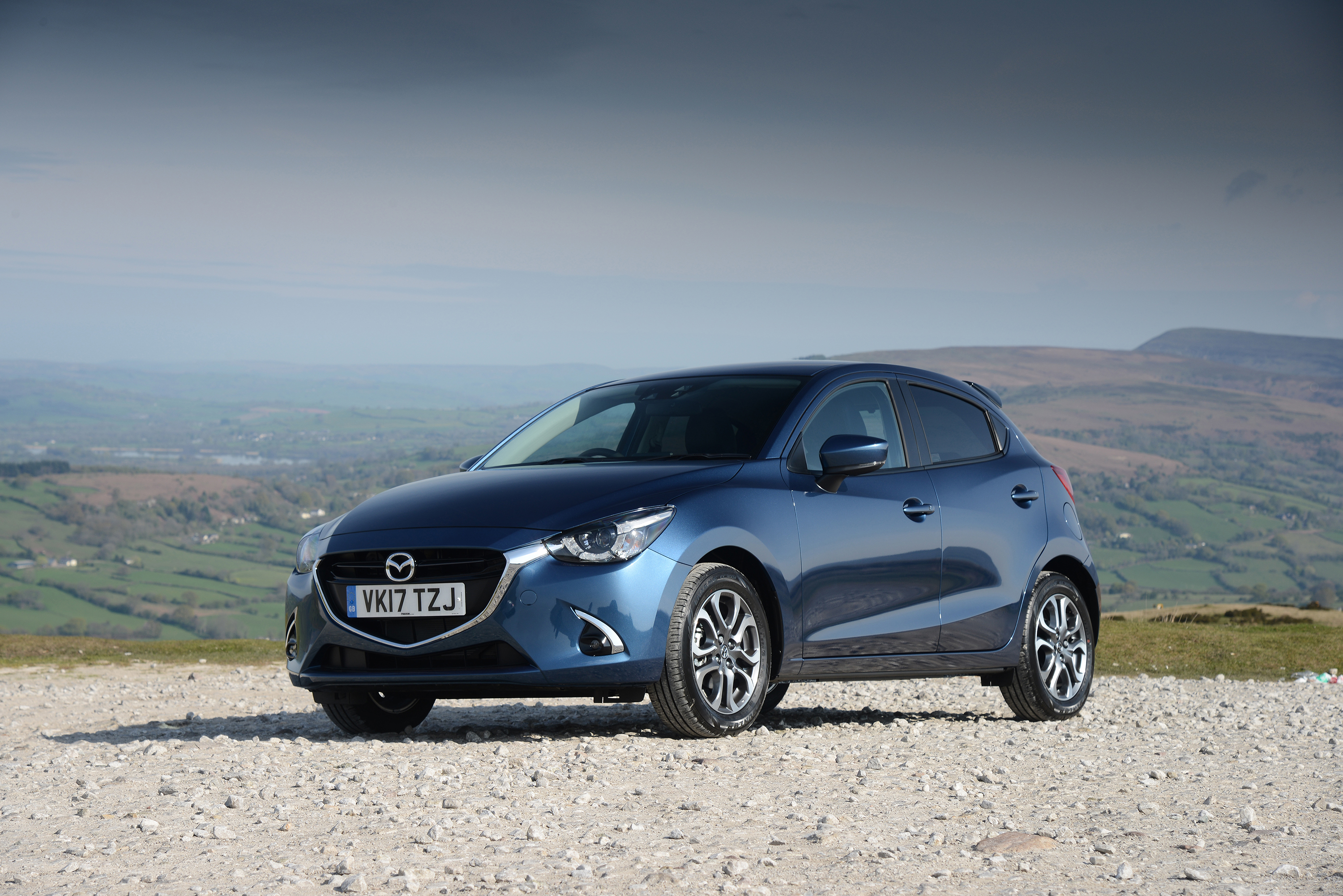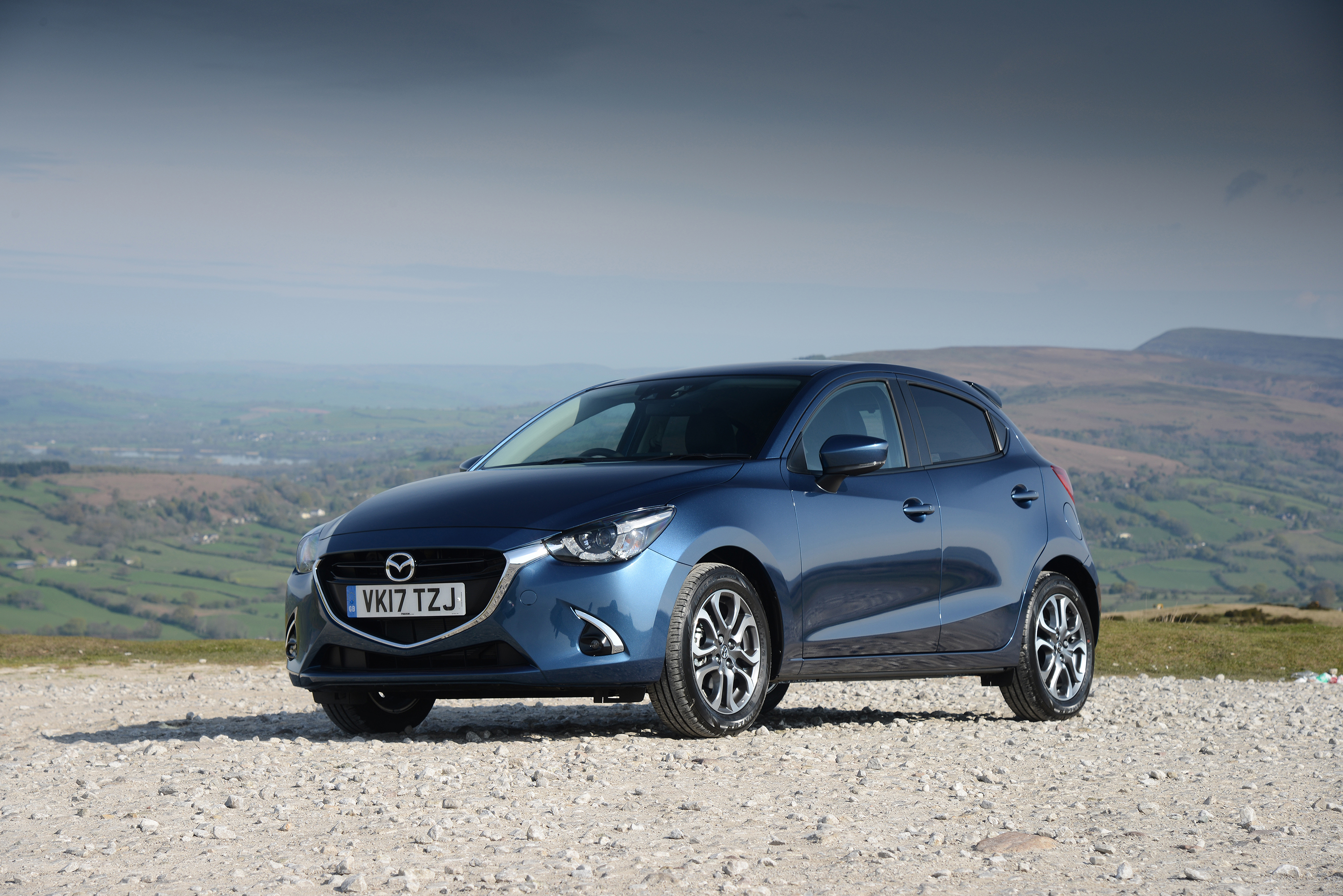 Although a compact model, in the mould of the latest Toyota Yaris and the Suzuki Baleno, thus occupying one of the more hotly-contested market segments, once you take SUVs out of the equation, a 1.5-litre, 115bhp power unit offers a lukewarm performance potential and the '2' does not disappoint, with a top speed of 124mph, having despatched the 0-60mph benchmark in around 8.4 seconds, figures that were in Golf GTi territory not so long ago. It is matched by an excellent and attainable 56.5mpg statement of frugality, although its 117g/km CO2 rating means a £160 first year road tax and £140 annually thereafter. In fact, the engine is an assuredly good reason to contemplate a Mazda2, being smooth, refined and emitting a mildly sporting edge to its exhaust note that is eminently engaging.
Within its modest cabin is a stitched section of dashboard covering that adds a soupcon of class and, while the 'cyclops' eyeball air-vent adjacent to the left side of the instrument binnacle, which looks a little odd and off-balance, is the only unconventional aspect of an otherwise clean and exemplary design, the large diameter rev-counter, offset by a digital speed read-out and both on-board computer readings, as well as bar graphs for fuel contents and water temperature, seem entirely suited to this little character car's role in life.
Its Alcantara and 'hide' seats are exceedingly comfortable and supportive, although knee-room for tall front seat occupants is at a premium (there is scarcely any in the back seats), which is a pity. VW Group products perform better in this respect, which is sure to dissuade a small percentage of Mazda buyers. Although there is major use of hard plastics for the car's trim, it is little different in tactility levels to most of its competitors.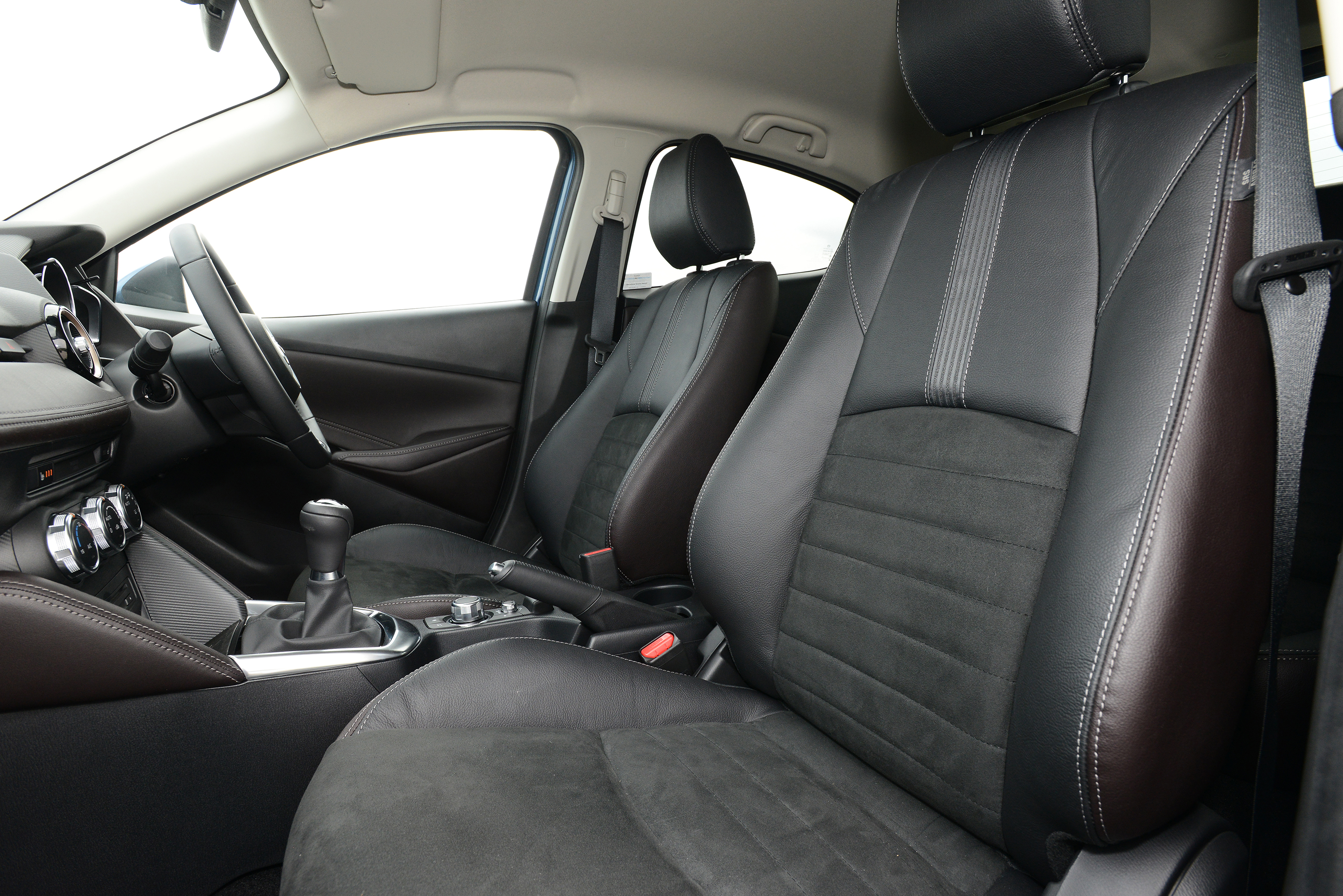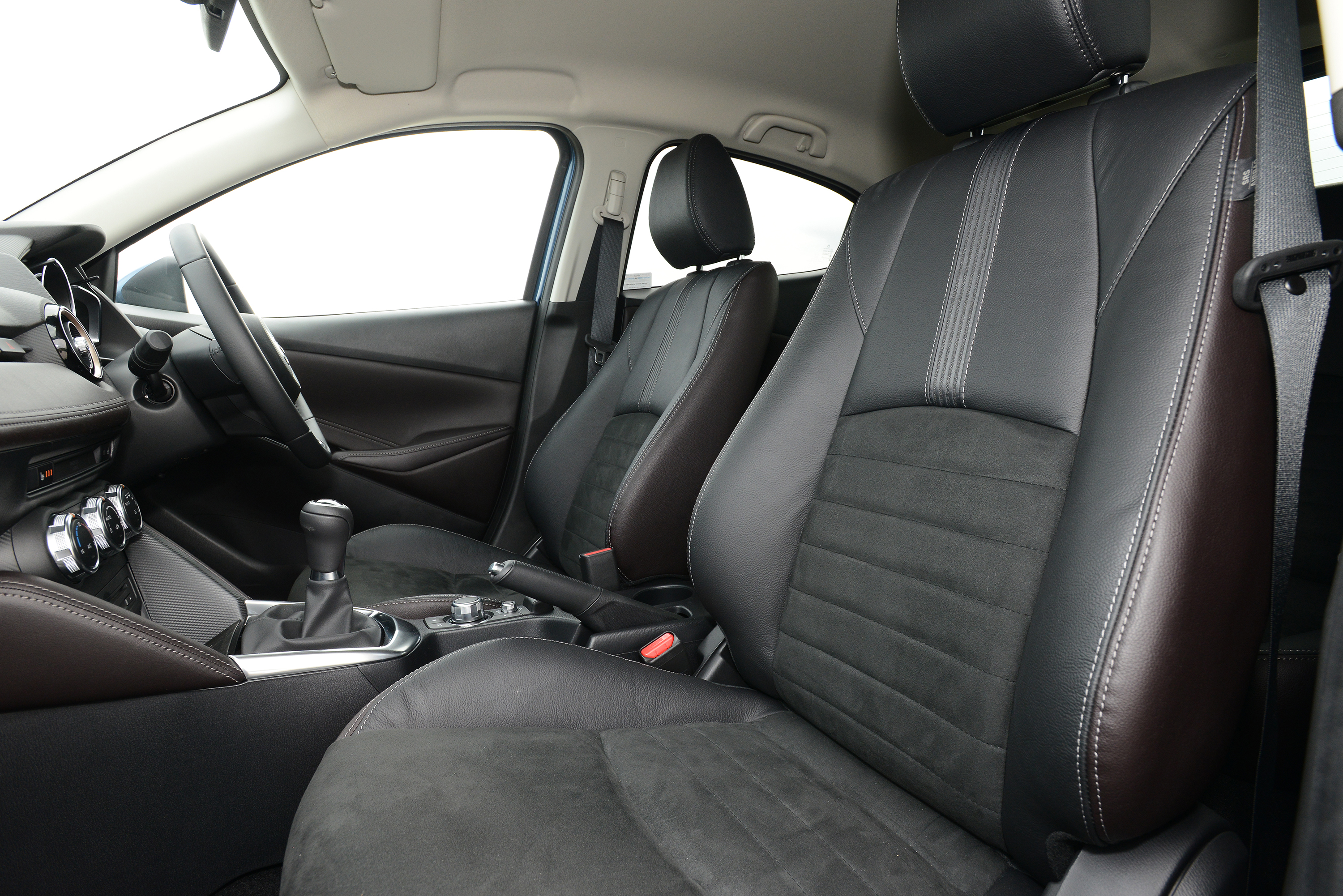 On the other hand, the exterior has always been a key attraction. Mazda has invariably been very good at factoring in style elements that normally do not appear on smaller cars. The sweep of the '2's' front wings is an example and the way that the bonnet dives forwards to create the top edge of a 'five-sided' radiator grille is very attractive. Even the way in which the DRL (daytime running lamps) signature is linked by chrome trim to the grille and across the flanks of the car serves to strengthen the design stance. The way that light reflects off the Mazda's sinewy and muscly bodywork is more BMW-like than a run-of-the-mill, volume brand styling nuance ought to be.
Should you invest in a Mazda2, with this version weighing in at £16,995, from a range that starts at a reasonable £12,695, while you are unlikely to want much more, as most of the available options from lower down the range are included in GT Sport specification, it is at least £2,000 less than the latest Seat Ibiza, although over £2,000 more than the Suzuki Baleno. It creates an interesting proposition.
The ride quality is a little knobbly, especially on give-and-take B-roads, but it smoothes out on major As and motorways. The handling of the '2' is crisp and largely roll-free, although there is considerable dive under hard braking, as well as some rearward pitch when accelerating. It is not uncomfortable and the feedback is telegraphed most successfully to the driver, mostly at an enjoyable level.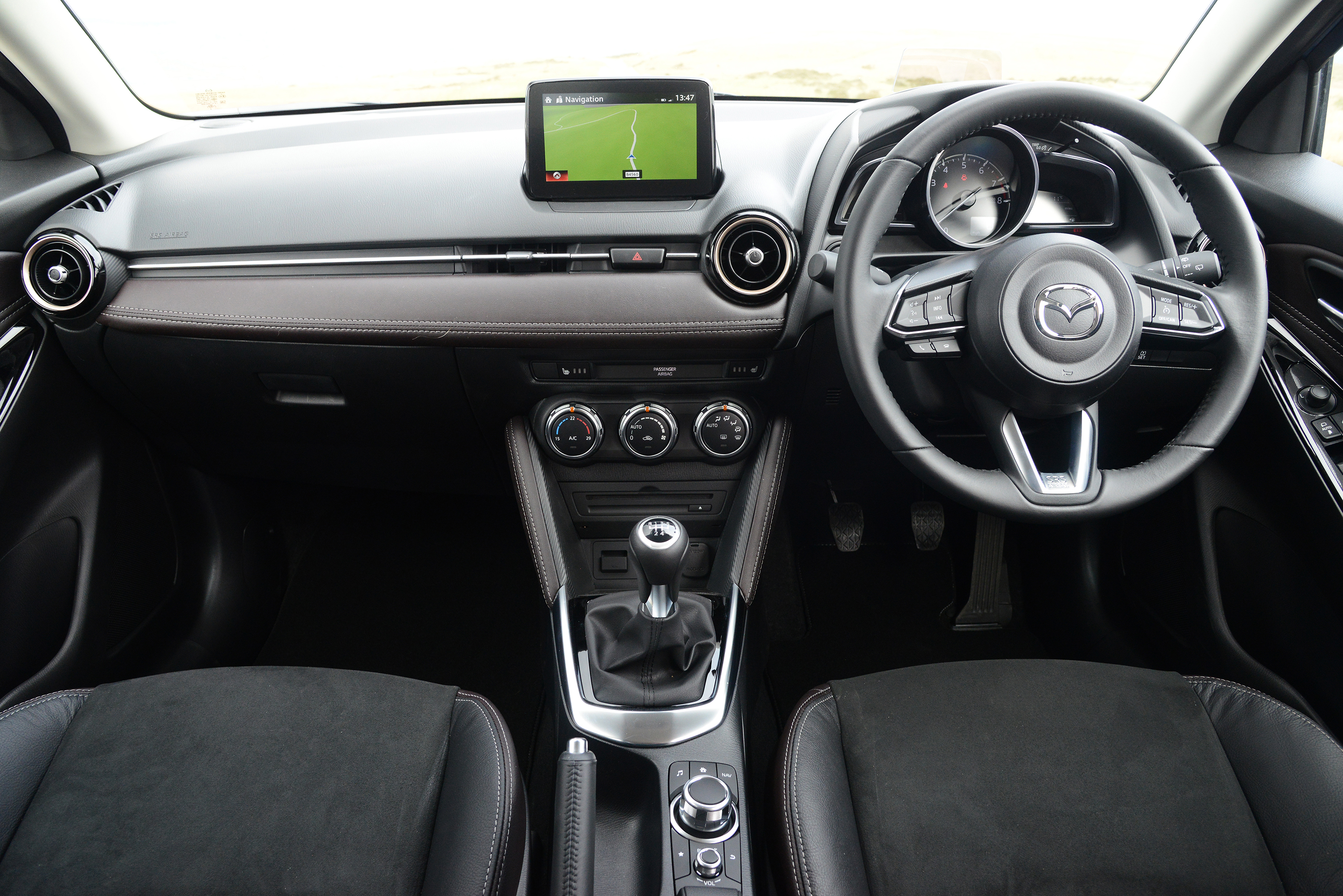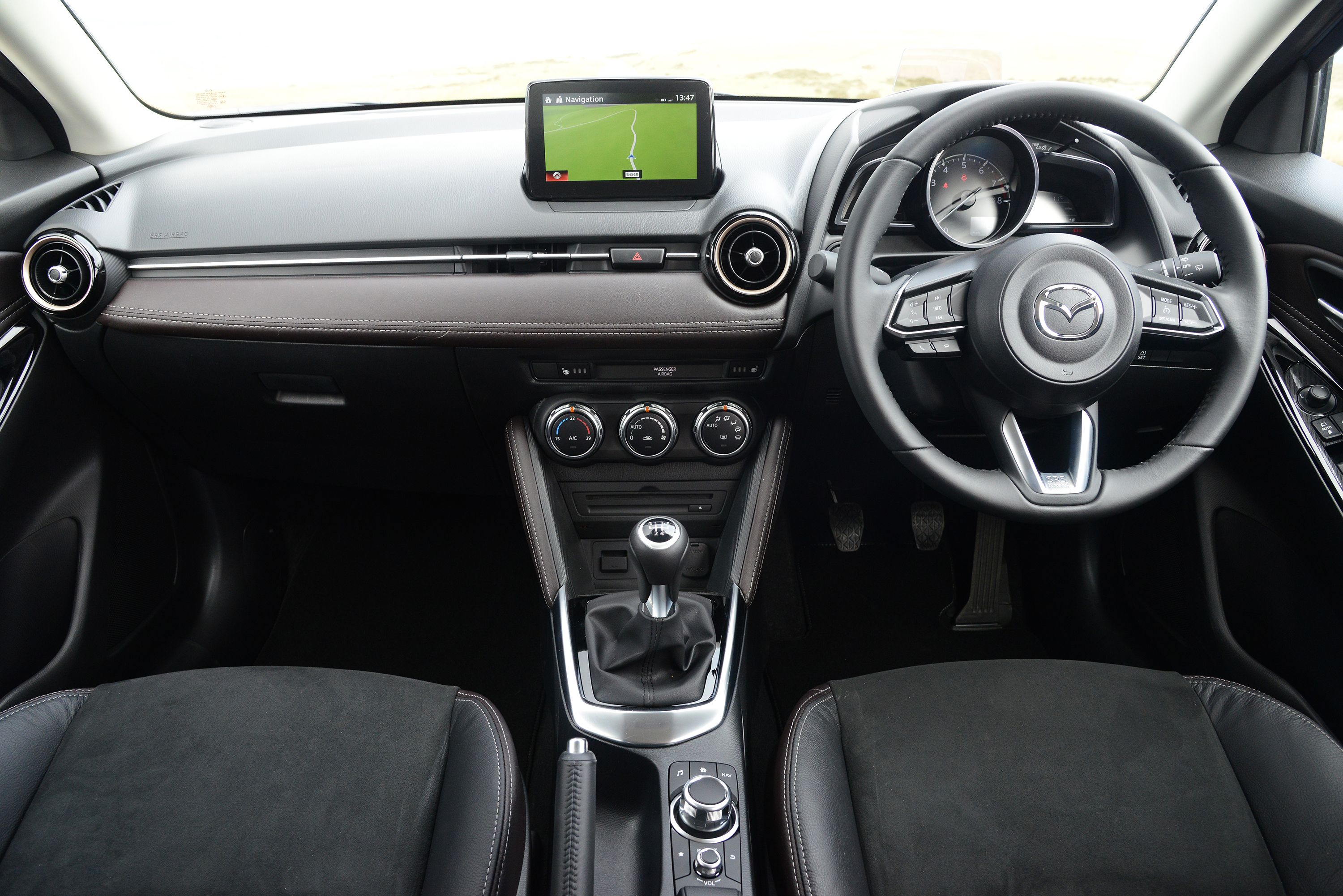 The company makes great play of its Jinba Ittai, a Japanese sense of being at one with the car, not dissimilar to a horse and rider. While Japanese love their existentialist thing, there are some elements of truth to the marketing intention. Its connectivity standards are mostly what the iPod generation desires in a car, the centre screen serving most mobile requirements, as well as rear-view camera and the customary on-screen aspects.
The Mazda2 would be perfectly at home in the midfield company car sector, being neither a value brand, nor one that is sorely overpriced. While it incorporates the usual raft of safety addenda, it retains its driver-focused competence and is a lot of fun to pedal around, while also satisfying business use, thanks to a decent boot space and good security levels. Would I drive one? Yes, I would. I have always liked the cut of Mazda's jib and even the compact '2' carries similar responsibilities to the larger models in the line-up. If the firm has one problem, it resides in the fact that not enough potential customers are prepared to make the dive from other mainstream brands into a Mazda, which is sad, as the '2' is a brilliant and well-engineered compact hatchback.