Do not be dissuaded from sampling the latest 1.0-litre  VW Golf, urges Iain Robertson, as the rewards are plentiful across all parameters and technological advancement, rather than 'poverty-spec', is the intended message.
Give me a small capacity internal combustion engine these days and I am like the proverbial pig-in-poo. I love almost all of the latest crop of one-litre, three-cylinder tiddlers, with the notable exception of Ford's variation on the theme, which might deliver the punch but fails abysmally on the frugality front. Therefore, before commencing on a diatribe, let me advise potential buyers, renters and acquisitors to invest in anything but the current small Ford, until that American giant does something to remedy its poor efforts.
During the post-WW2 austerity years, when 'that word' possessed a somewhat truer definition and had not been hijacked by a shoulder-swinging, Scottish west coast politician and apparent 'leader' of those peoples living north of Carter Bar, a great many motorcars were powered by sub-one-litre petrol engines. Diesel was still a smelly, messy fuel type, which was the preserve of Austin Cambridge and Morris Oxford taxis that used to proliferate on British Rail station forecourts.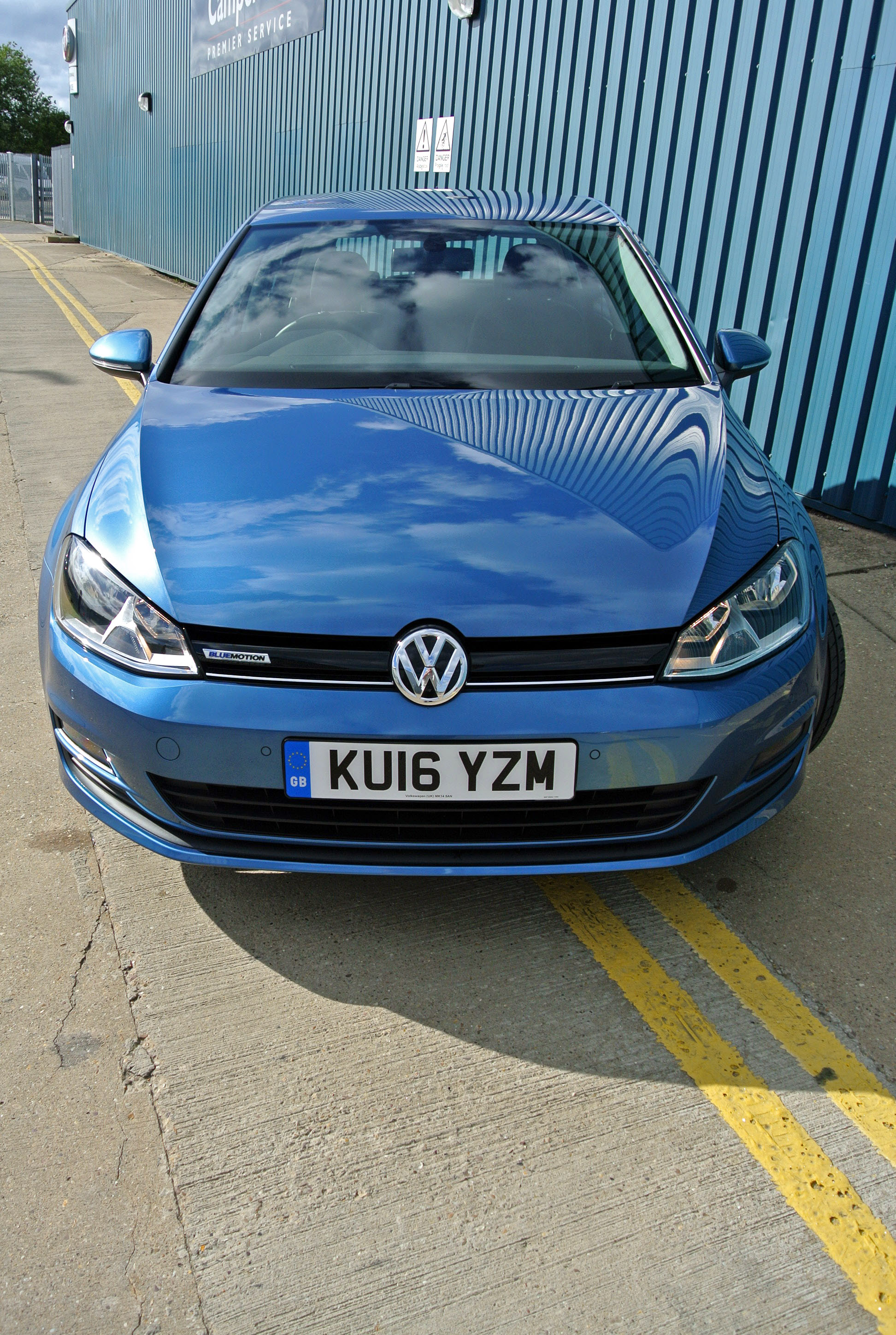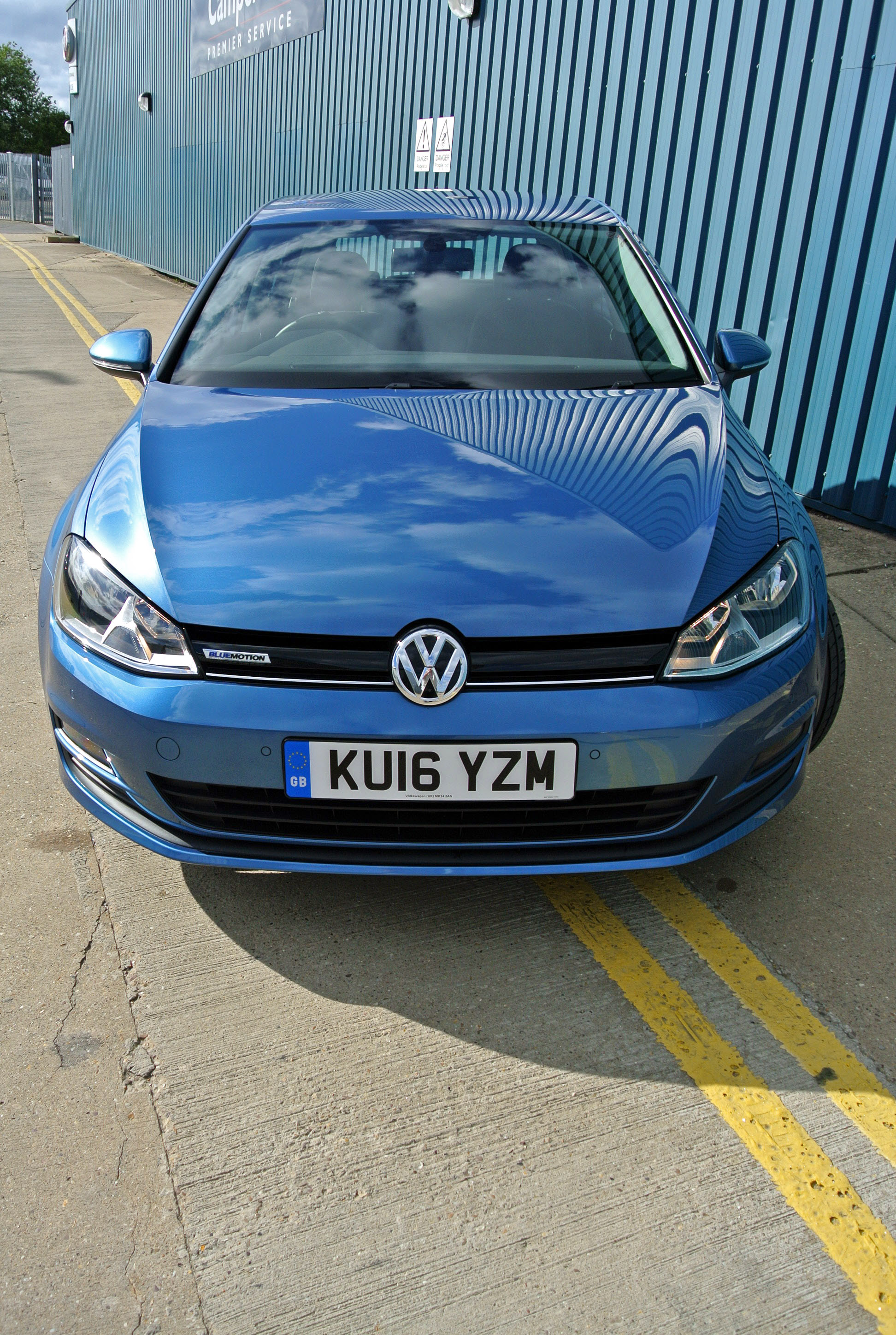 The motoring scene was peppered with 750 to 998cc four-stroke, four cylinder units, or imported two-stroke triples, all intended to eke out a few extra miles from every rationed tank-full of petrol, all of which had the same aim in mind. Most of them were unsophisticated, lacked power (most developed well below 50bhp) and refinement. Yet, they served purpose.
They also created a barrier, which still resonates with customers today, even though engine downsizing is not just 'in vogue' but is also essential to enable motor manufacturers to reduce their Car Average Fuel Economy (CAFÉ) figures, to avoid hefty EU fines. While Japanese markets formulated the 'kei-class' of city car, powered by 660cc petrol engines latterly, most entry-level machines (apart from US markets, where the 'ain't no substitute for cubic inches' mentality remains deeply entrenched) have hovered around the 1.0 to 1.4-litre capacity level for some years. Any engine smaller than one-litre in size is perceived as a 'poverty option'.
However, nothing could be further from the truth. Today's, immensely advanced, highly sophisticated and tremendously punchy one-litres are not just 'of the time' but are also a signpost to the future. I was desperate to sample the latest VW-produced one-litre-triple (in turbocharged form) and I did so only a few weeks ago in the latest Seat Ateca SUV model. It was a first-class experience. However, to do so in the current VW Golf was always going to be an important exercise.
Unlike the 'txting' generation that believes fecklessly that 'icon' equates to 'great', the current Golf remains an important model, not least to VW, which has managed to sell well over 33 million examples, across seven generations of trendsetting models, since the (genuinely) iconic first iteration. Equipping the latest Golf Match BlueMotion model, which is a value-added entry level to the range, with the turbo-three-pot is an engineering masterstroke that does not denigrate VW's vital place in the new car scene.
I have gained a lot of experience of the unit in non-turbo form, from living with a 72bhp Skoda Citigo for the past three years. Bear in mind that I owned and drove a 228bhp Skoda Fabia S2000 prior to Citigo's arrival. Yet, only on a few occasions did I ever miss the power of the predecessor. The turbo factors in an extra 40bhp (now up to 112bhp) and a generous 148lbs ft of torque, more on which in a moment. It is a truly fascinating and superb engine to drive, emitting a muted but gravelly, three-cylinder 'thrum' that seldom intrudes but never feels anything less than willing and able.
With a promise of 65.7mpg (Official Combined fuel economy) that VW is under some obligation to attain these days, allied to a CO2 emissions figure of 99g/km, which means no road tax (at present, although acquisitions made from April 1st 2017, will attract an annual fee of £145), there are significant reasons to focus on a Golf with this power unit. Without trying especially hard, I managed to attain around 56mpg on longer runs, although that figure does dip into the mid-40s around town. However, there is no lack of performance, as the car's 127mph top speed and 0-60mph acceleration time of 9.4 seconds can attest to.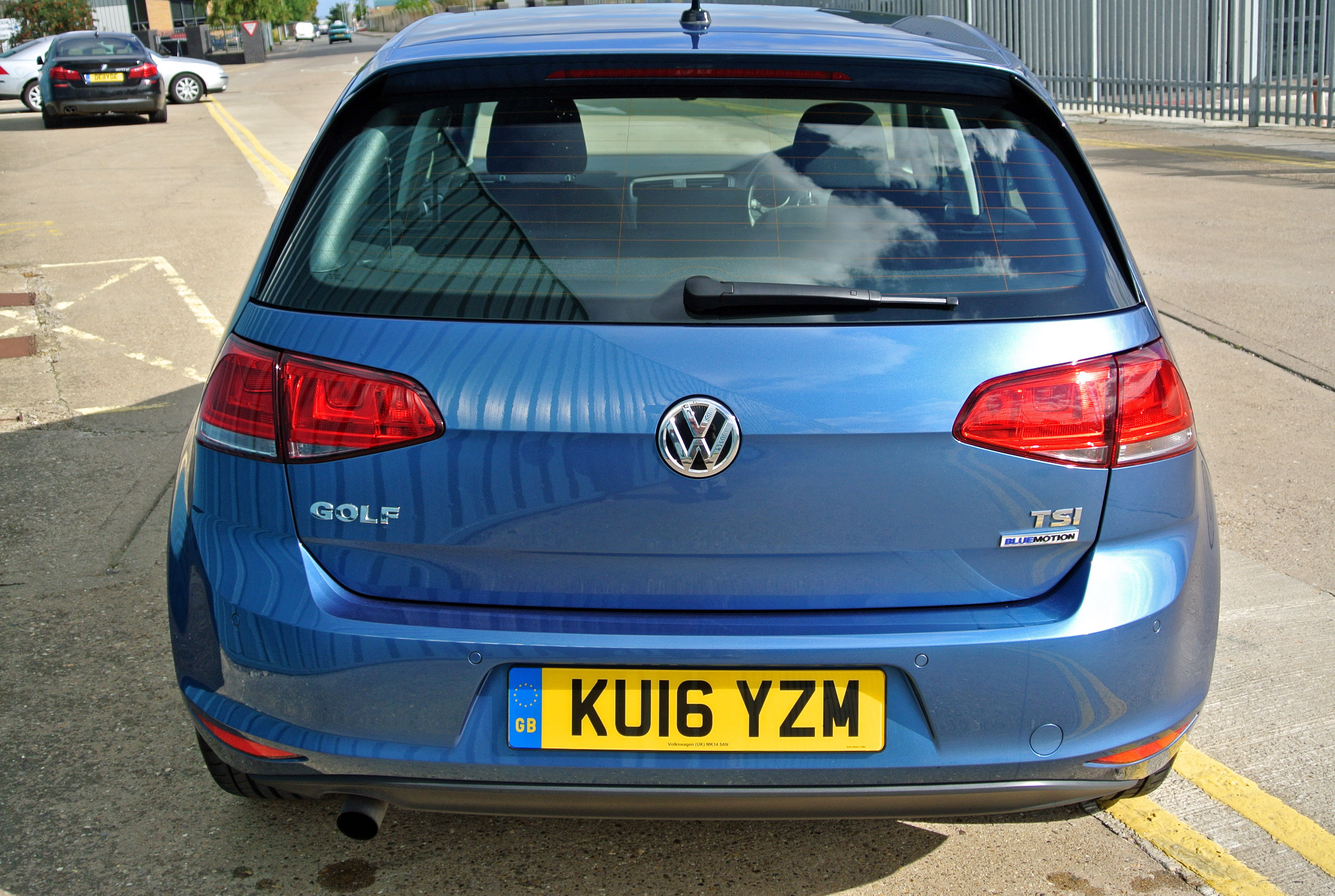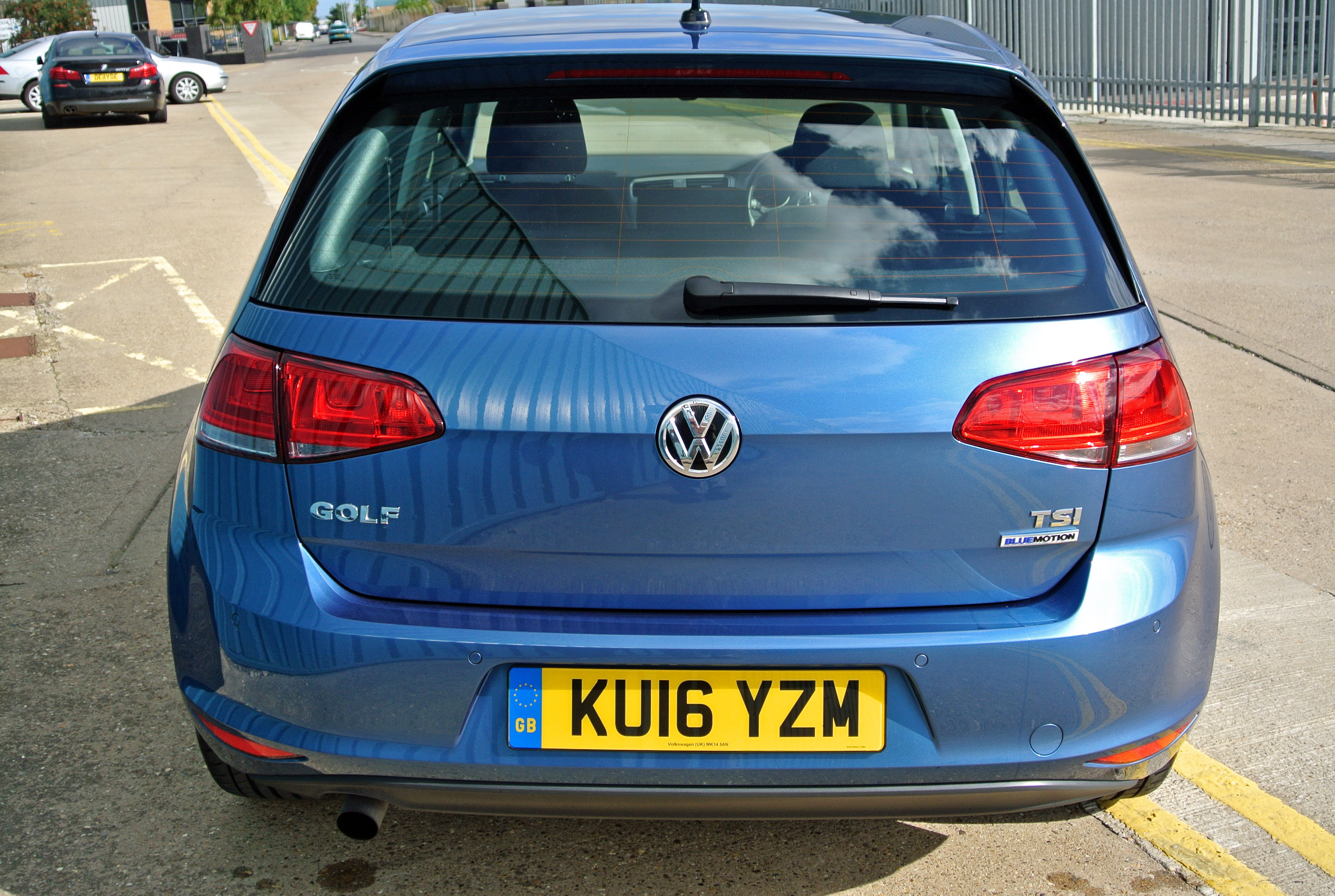 Yet, it is the miraculous bottom-end urge of this engine that will prove to be its most satisfying attribute. In fact, there is no low-revs lethargy at all. It pulls like a steam train from little more than 1,200rpm in the gears and behaves more like a diesel unit than a small capacity petrol. Matched to a 6-speed manual gearbox, although I feel that I would opt for the 7-speed automated-manual alternative, it is a fantastic engine, even though it might be lugging around a 1.2-tonne five-door hatchback, complete with driver and passengers.
Despite its hefty price tag of £21,530, which includes £560 for metallic paint (ridiculous…I'll have mine in primer, please!), £125 for the 'App-Connect' and £85 for floor mats, the Match is comprehensively equipped and incorporates Bluetooth connectivity, sat-nav, adaptive cruise control, electrically folding door mirrors with in-built puddle lamps, stop-start function, corner-lamps, air-con and a on-board computer. Although I believe that it is wrong for VW to make its customers pay for its recent 'misdeeds', the fallacious strain of 'market pricing' that inhabits today's new car scene is never less than obvious with the Golf.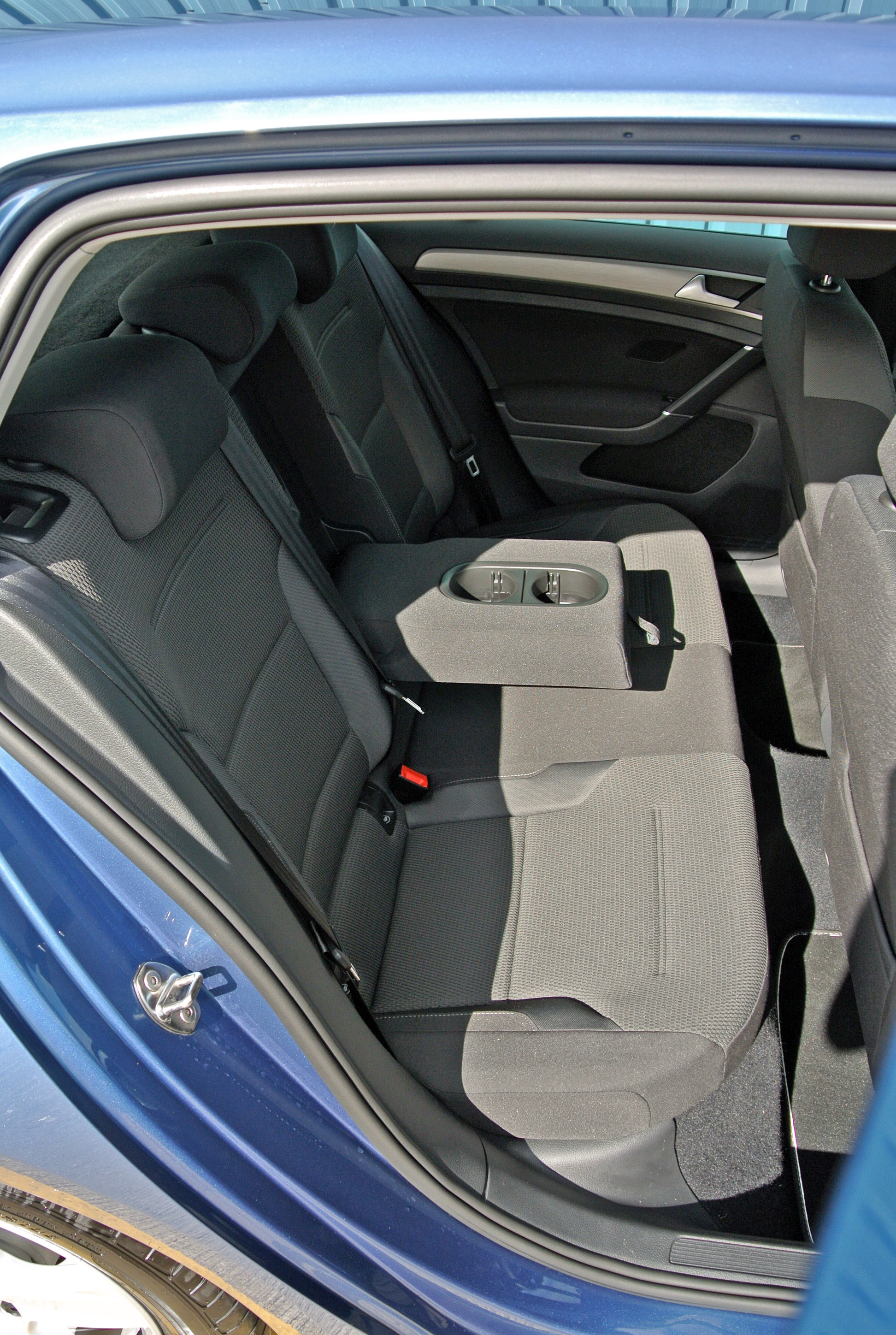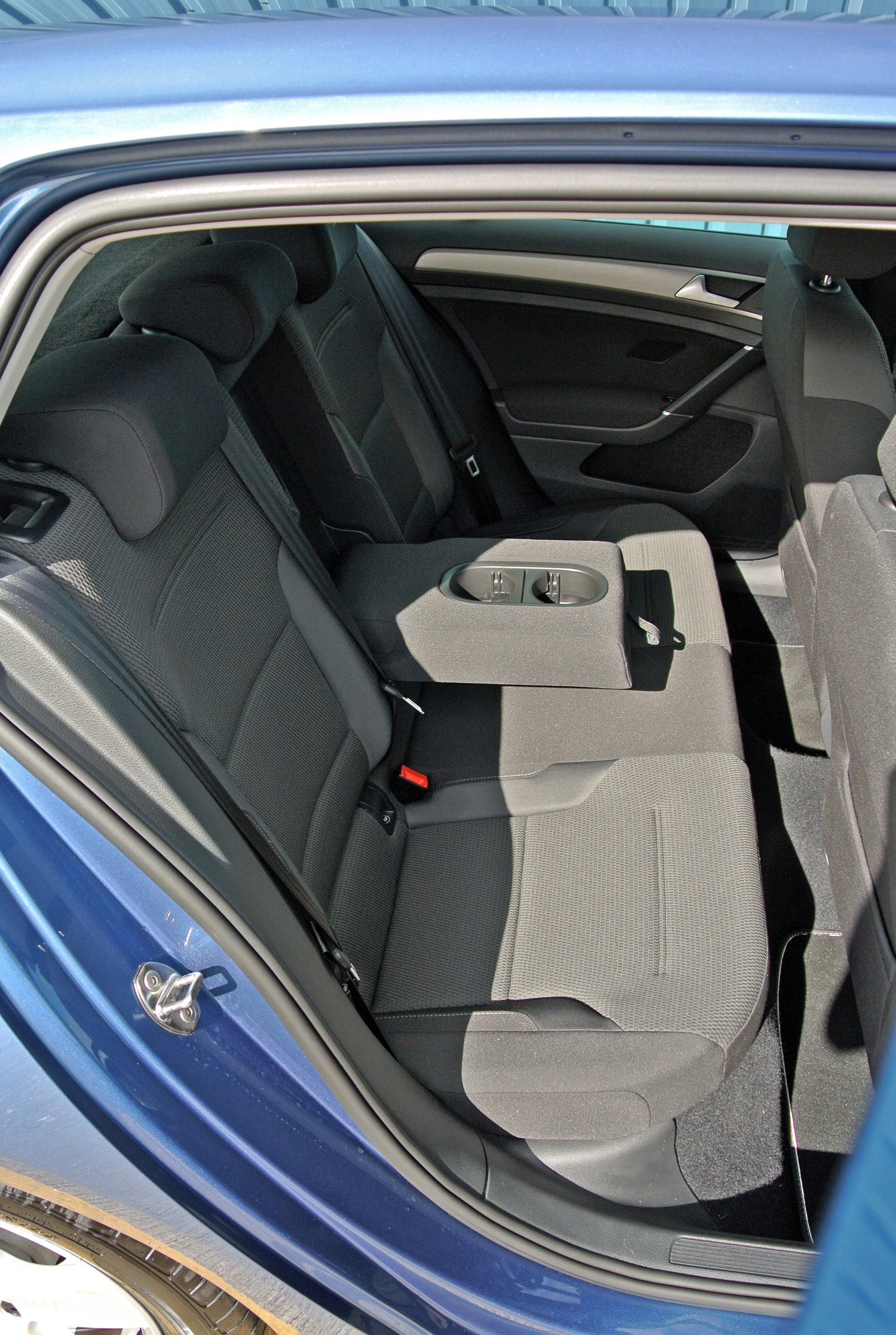 However, there is no denying that Volkswagen does invest heavily in gifting its mainstream models a sense of high-end quality. The interior of the Golf, while fairly 'basic', is of only the highest merchantable grade of finish, from its comfortable and supportive cloth seats, to the warm-to-the-touch pliant plastics used for the dashboard and door pressings. Even the grey 'metallised' panel on the driver-focussed instrument binnacle is classically elegant, while the rubber bases, or felt inserts, to all storage slots, highlight the manufacturer's desire to reduce noise intrusion to minimal levels.
The BlueMotion aspect of this car, which is intended to concentrate its ecological benefits, results in a slightly different treatment to the car's C-pillar, a more aerodynamic roof spoiler and the 10mm lower sports suspension, as well as the 'qualifying' badges. This version of the Golf does appear to hug the road somewhat better than non-BlueMotion versions, which is the point, after all. While reducing the amount of air rushing around the car to an optimised level (why BlueMotion is not standard across the entire range is a question that the company has never answered successfully to me), the lower and slightly stiffer springs do herald in some dynamic benefits.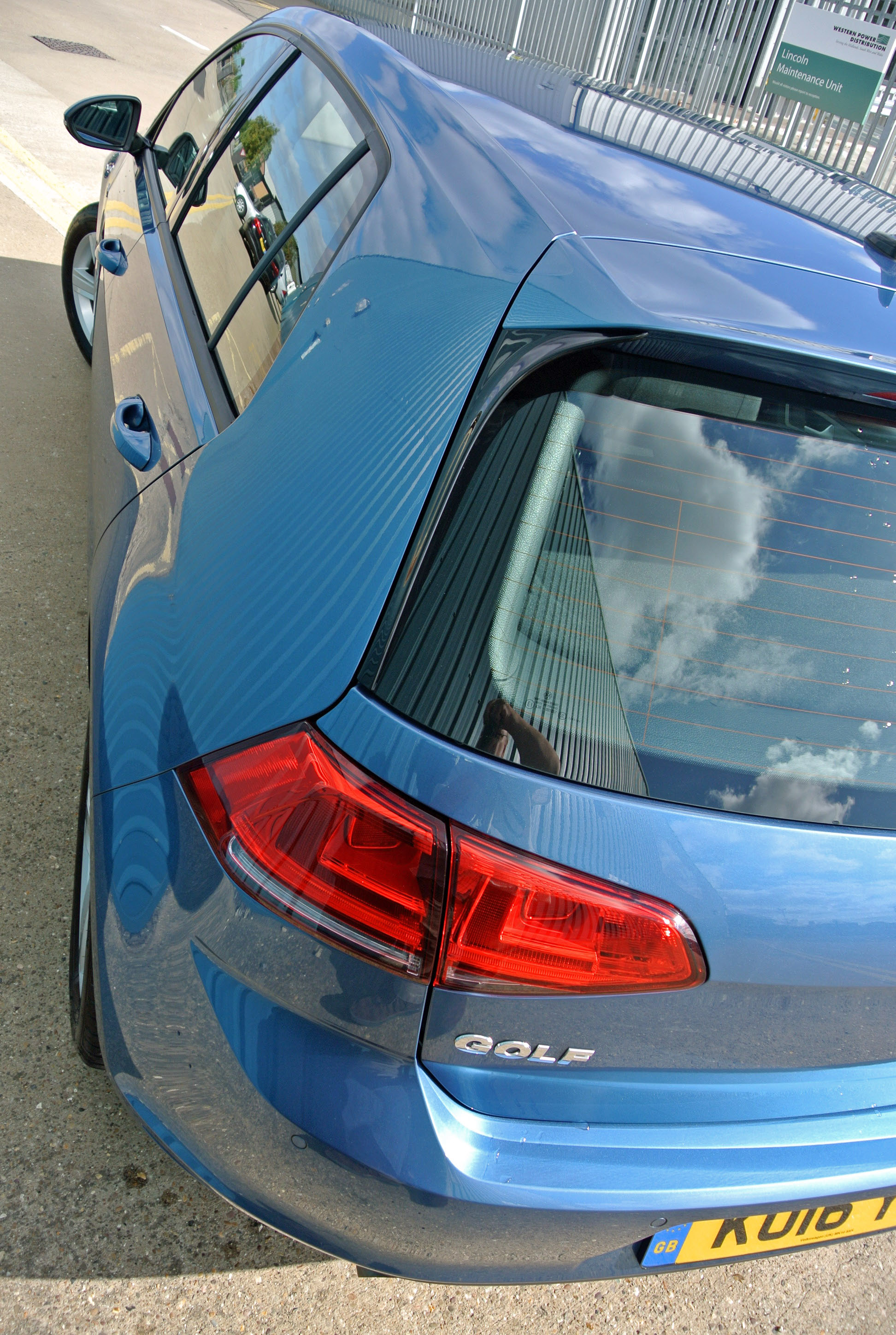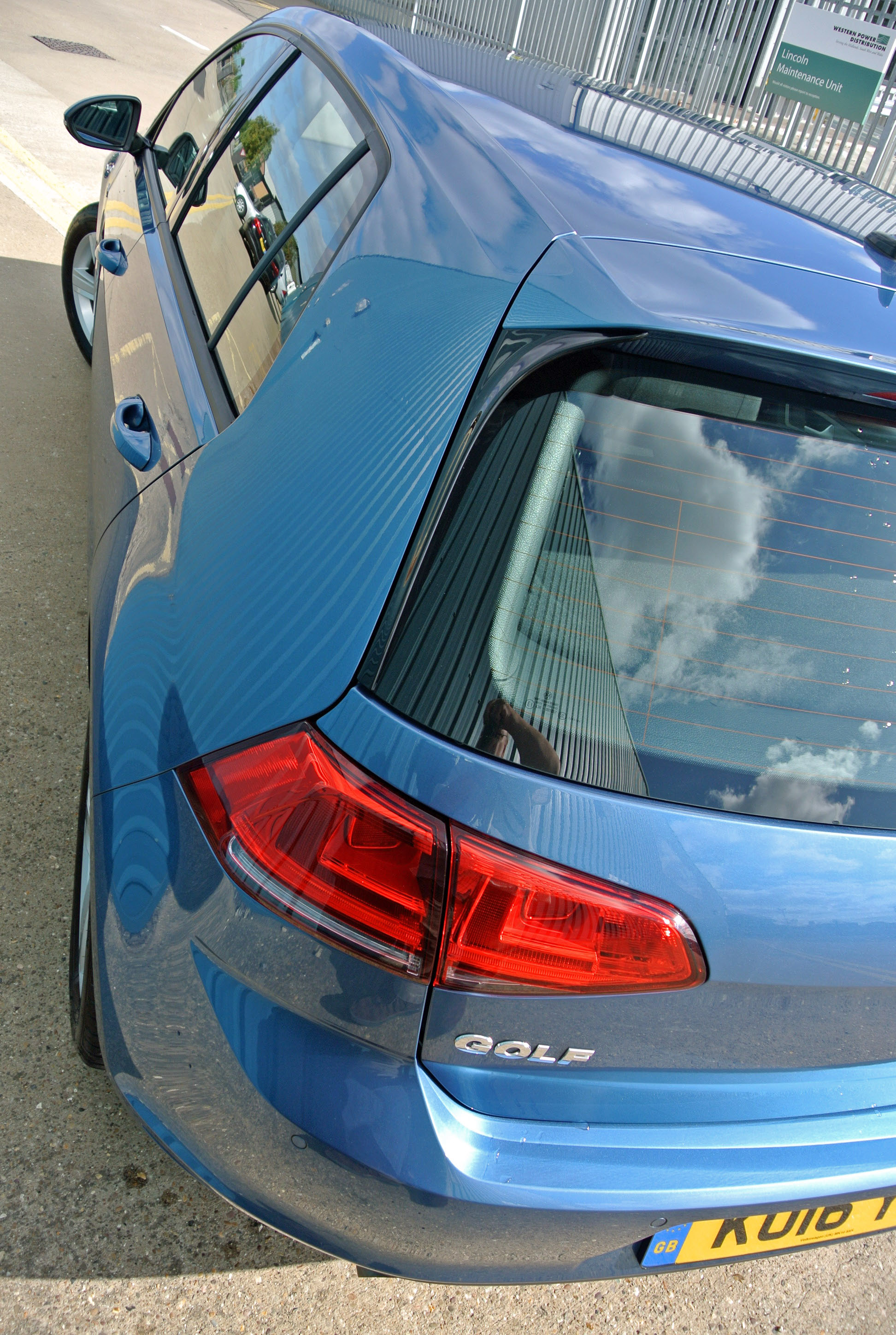 Bump absorption is undiminished and this model's 205/55×16-section tyres provide unerringly good grip levels, even on wet road surfaces. However, there exists a very slight lack of directional stability, which feels like mild nervousness at the helm on straight-aheads. It is a characteristic that I have started to notice increasingly on VW Group products, almost as though a teensy amount of bump steer is starting to reveal itself. Of course, for vehicles produced in Germany, intended to set a standard on smooth autobahns, perhaps VW ought to spend more time refining its models for other markets. Our roads possess certain characteristics that I am sure are not being managed individually by VW, despite selling large numbers of its extensive range of models in the UK.
Pitting the Golf against its obvious rivals in the market, I can tell you that it is Kia that gets closest to the Lower Saxony product, followed narrowly by the latest iterations of the Vauxhall Astra. The Ford Focus, which I accept is the UK's default choice, really does not get a look in. All, of course, offer 1.0-litre, three cylinder options, although it is the VW that tops the chart for me in virtually all respects.
This story is as much about that marvellous engine, as it is about one of the UK's more popular models. I have no qualms about recommending it to anyone, regardless of age, or expectations. It is a sturdy, frugal and characterful power unit that never feels overworked. Naturally, the Golf is a handsome, comfortable and beautifully detailed family car and placing them together highlights confidence, an eye to the future and judicious care for consumer views and demands.