Factoring in on-road experiences with several of the models intended for UK consumption, Iain Robertson reaches a conclusion about satisfying his future transport requirements and it will be powered by the best engine in existence.
Progressive evolution is an important business ethos for some car companies. After all, when a particular model sells strongly and enjoys a sound reputation in specific market sectors, it is something to celebrate. Just look at the success of the VW Golf. The German carmaker must surely have a minor shit-fit, every time that it contemplates updating its most popular model. As a result, the changes are usually little more than in the detail, perhaps to encompass fresh technology, which ensures that the car remains ahead of the herd.
It is a fine balancing act. After all, straying too far from an accepted 'norm' can be almost as commercially damaging as making no alterations whatsoever. I am reminded of when the Coca-Cola Corporation changed the recipe of its world-renowned soft drink. Sales plummeted and complaints reached unheard of peaks. Coke was forced to backtrack and to do so sharply. It is one of the reasons that you can buy the beverage in green, traditional red, black (zero) and silver (low cal) labelled varieties today, so that all eventualities are covered.
On the other hand, the Nissan Micra has made a radical shift in design and presentation terms, with all models destined for the UK coming from a Japanese plant, as opposed to an Indian one, and with particular attention being directed at quality control and formulating a stand-out styling stance. Nissan had no choice in the matter, as its second generation, British-built example had been a consistent Top Ten contender. Sadly, the out-going model was a poorly-assembled, numb and charisma-free zone.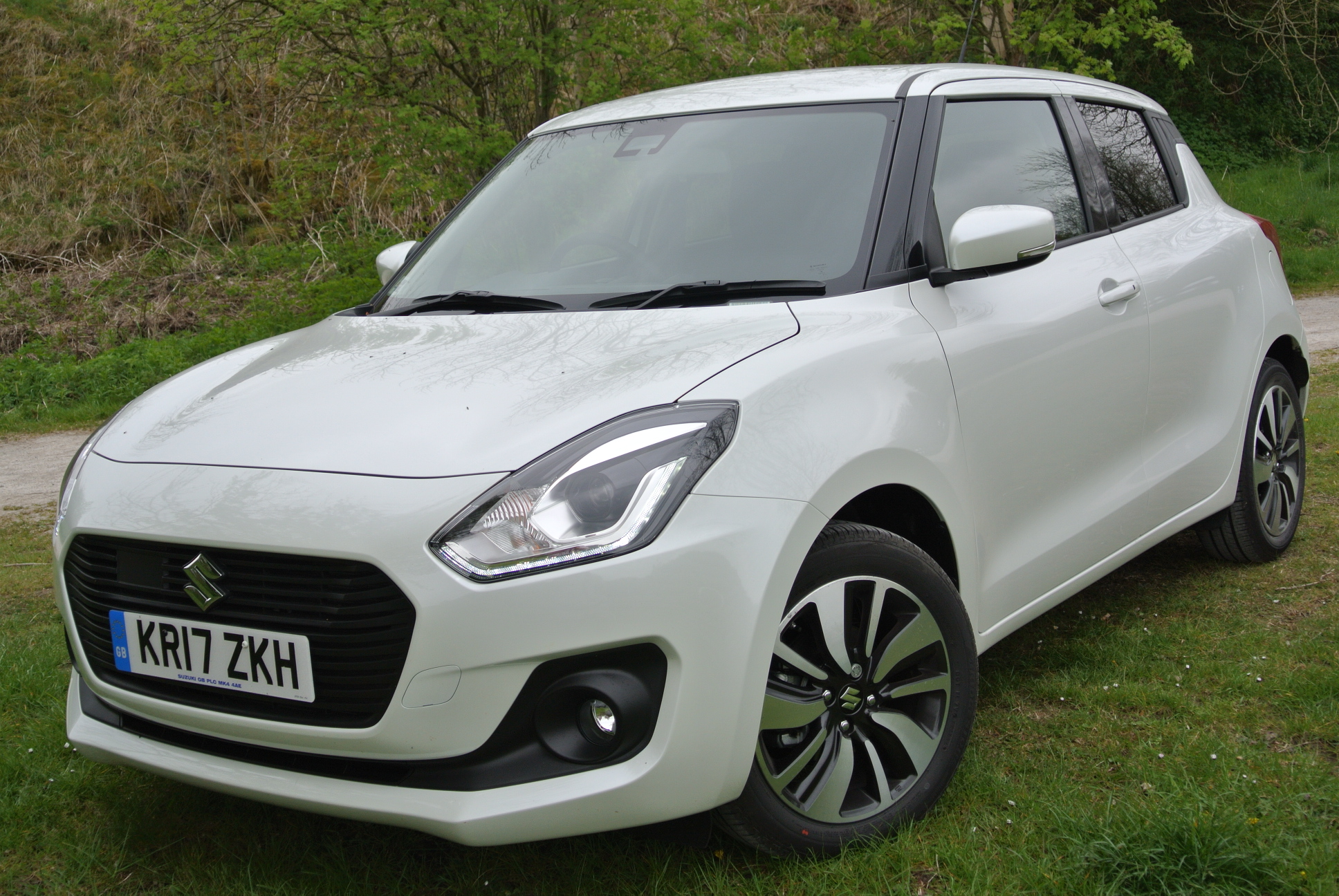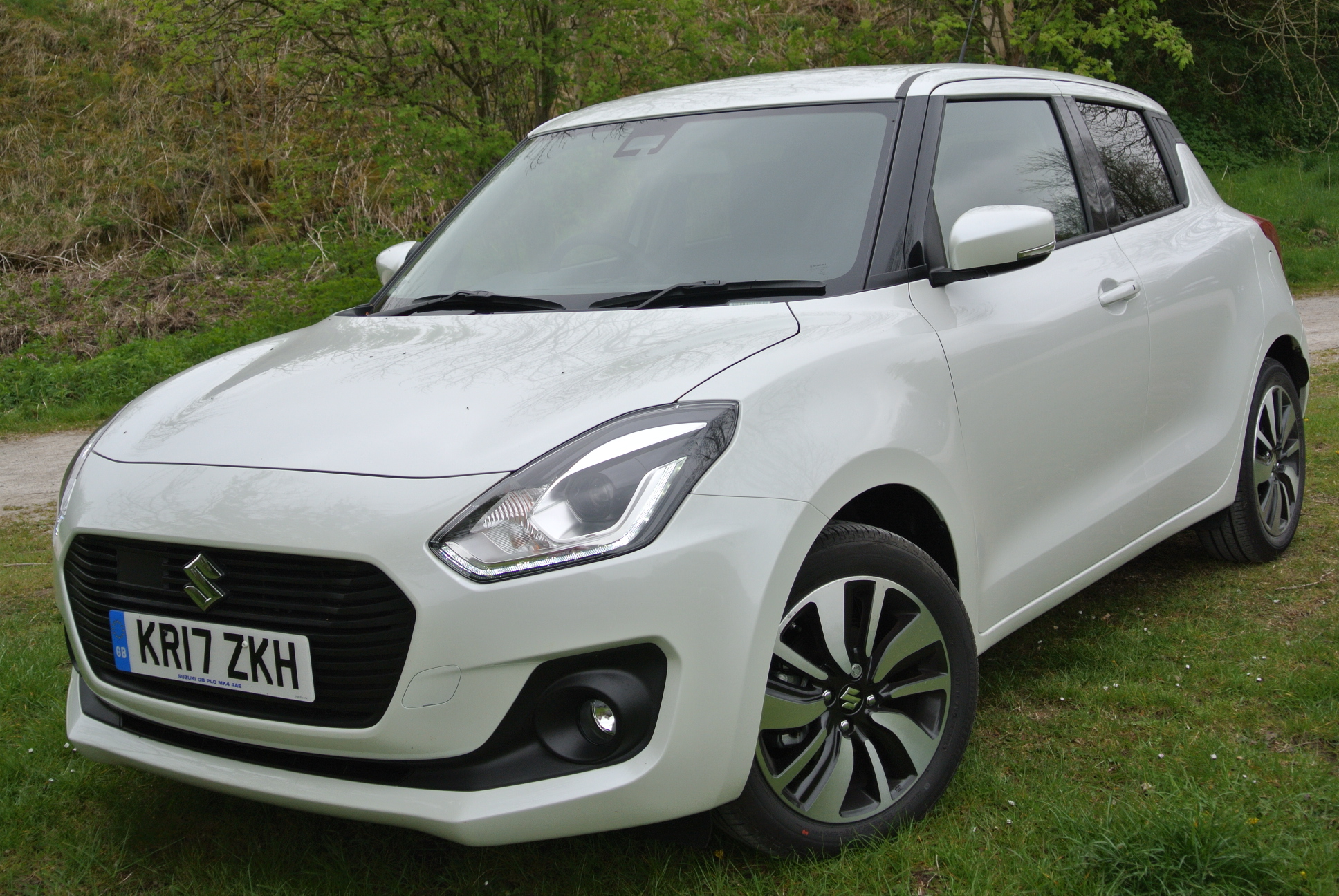 Suzuki, on the other hand, needs only follow the VW idyll. Its Swift model has been a top-selling mainstay of the marque since the early-1980s. Intriguingly, the now previous generation sold out every example at a similar rate to when the model was at its peak, thereby allowing the new version to make its entrée to car showrooms in late-May, unfettered by the past, no matter how successful it had been.
When launched in Monaco earlier this year, I was able to drive the 1.0-litre mild-hybrid model. Armed with 109bhp and a decent slug of torque (aided partly by the hybrid battery assist), it proved to be a thrilling performer. However, as my services had been commissioned to create an audio-visual production on the newcomer, my priorities were to stick to that one model and deal with the others, when they arrived in the UK.
To be fair, I have not (as yet) driven the most basic, £10,999, 1.2-litre DualJet (four cylinder, normally aspirated; the 1.0-litre turbo is a three-cylinder design), in SZ3 form, although I was able to engage with the one-off-the-top AllGrip variant that combines the unit with mild hybrid technology, a 5-speed manual transmission and a real-time 4×4 system, which retails at £15,499 in SZ5 trim. Thanks to the combination of extra weight of 980kgs (65kgs increase over the 1.0-litre hybrid; the system known as SHVS) and a well-tried engine that develops a modest 87bhp, its performance is blunted somewhat over the 1.0t.
Yet, it will still clock a 0-60mph sprint in around 11.3 seconds (12.3s stated by Suzuki), with a top speed of 105mph. In areas troubled by extremes of weather, I can see this tiddler enjoying a keen following, not least because it is markedly less expensive and a lot roomier than the Fiat Panda 4×4. However, I ought to add that, while the dimensions of the new Swift are less in some directions (it is shorter and not as tall), its width and wheelbase (the distance between front and rear axle lines) have grown, as has the boot capacity (by 25%), resulting in a remarkably spacious interior, possessing a great driving position, even for a two-metre tall occupant such as me.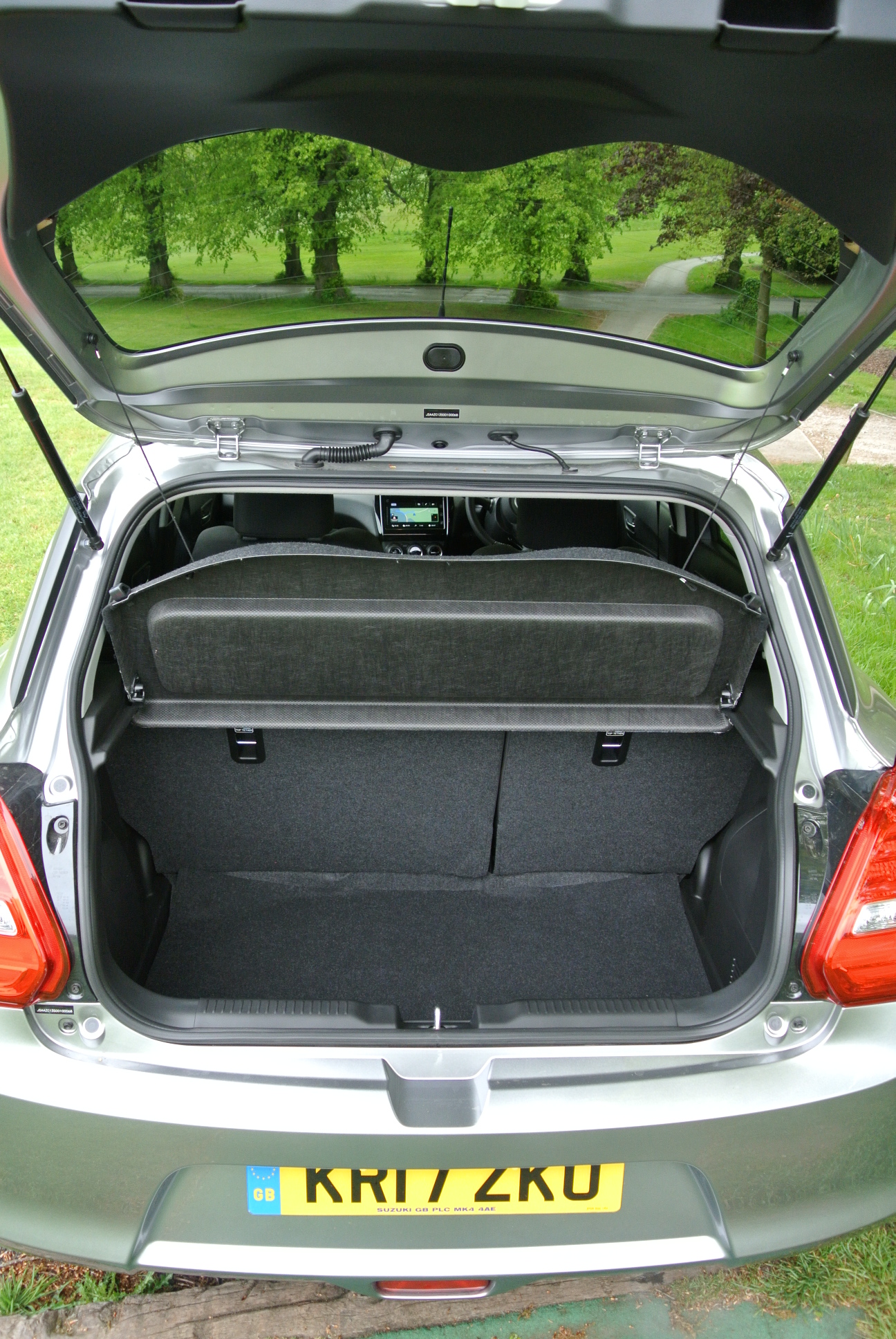 Unlike some new models that I have named in the past, the new Swift's styling is rather pretty. Featuring a more prominent snout and bolder shoulders, as well as the unusual treatment of the rear pillars, it retains the 'floating roof' signature of the last generation car and Suzuki has managed to create a compact hatchback that possesses tremendous street presence, which is a difficult act to carry out, when the car occupies a mere 3.8m footprint. The AllGrip technology ensures that it is still immense fun to drive, with the added bonus of enhanced stability and traction.
Another version I am yet to experience is the SZ-T specification that is likely to be the most heavily sought after in the range, in Suzuki-speak being powered by the 1.0t engine mated to a 5-speed manual gearbox. Price-tagged at £12,999, I can fully comprehend why it will remain a popular choice, not least for its stunning performance potential and exceptionally light kerb weight (925kgs). However, I did reacquaint myself with the 1.0t BoosterJet with SHVS and manual 'box that retails at a mere £14,499 (add £485 for paint!).
To be frank, were I to acquire an example of the new Swift, this is probably the one I would go for. It can crack the 0-60mph dash in around 8.6 seconds (Suzuki says: 10.3s), before reaching a top speed comfortably in excess of 120mph, as such, it is probably closer to being regarded as a junior league hot-hatch. It is certainly grunty enough to make me thrill to its handling capabilities on the High Pennines, where the UK launch exercise was held, and despite some very testing hills and tortuously twisty lanes, its amazing spread of torque factored in loads of fun to the driving experience.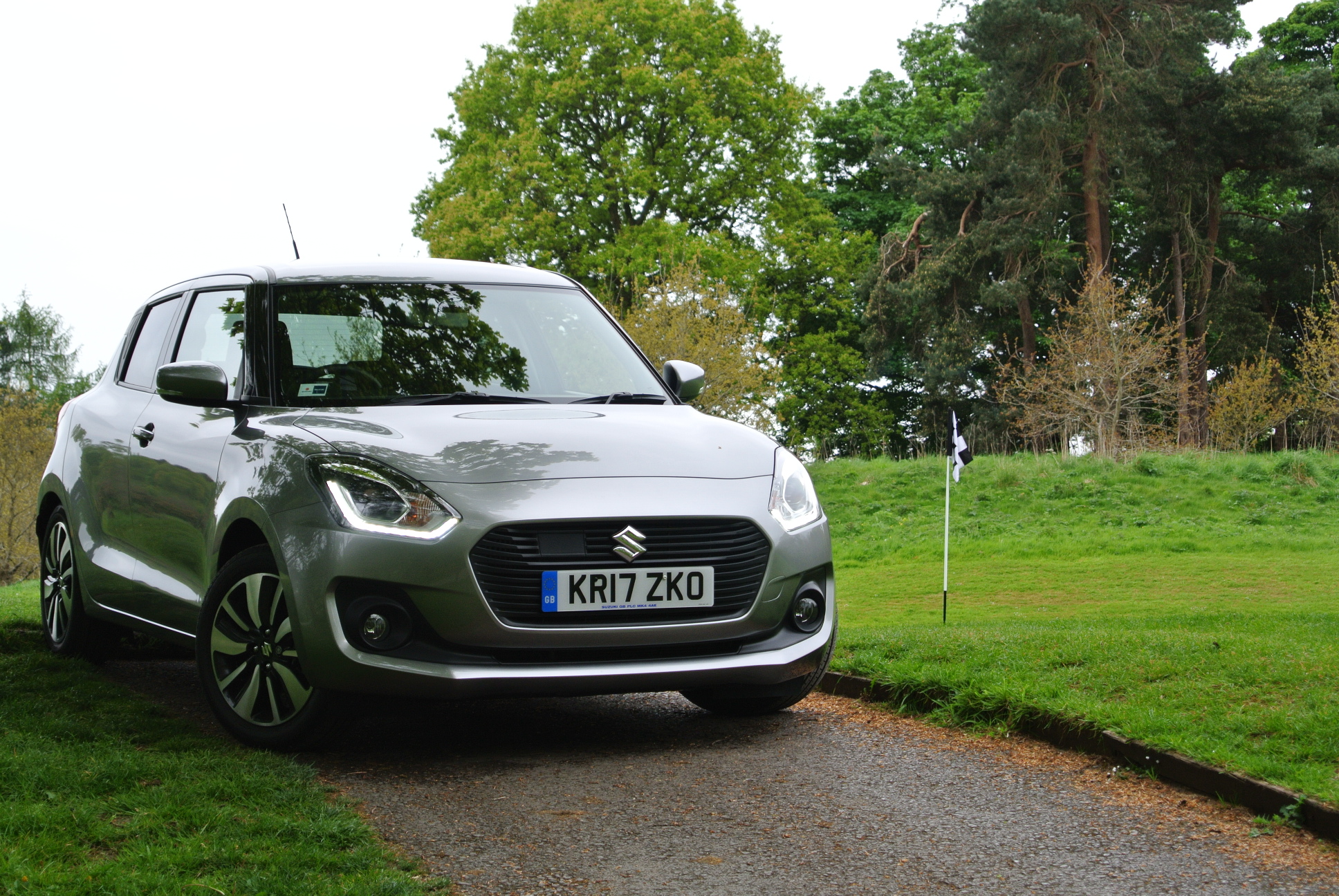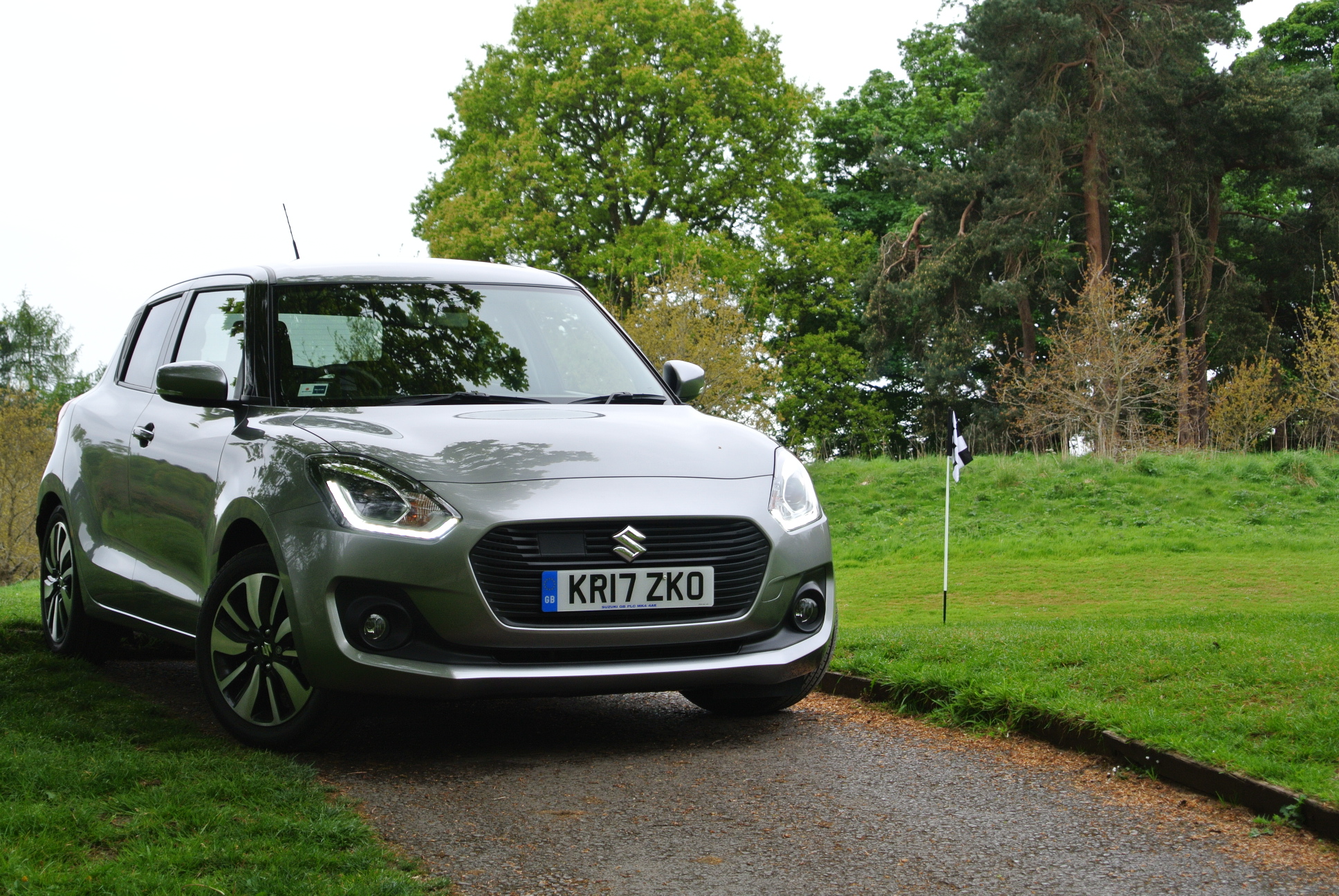 Pricing transparency is one of the keys to Suzuki's success and the remaining, most expensive model in the line-up that I grappled with featured the automatic 6-speed transmission but no hybrid option, priced at £15,849. Boasting a 0-60mph acceleration time that is half a second quicker than the manual, with a quoted maximum speed of 118mph, it promises and delivers urge in abundance. While it is a good fully automatic transmission, providing speedy, jolt-free up and down-shifts and a smidgen of learning control, in that it adapts to the driver's style, complete with paddle-shifts located behind the cross-spokes of the steering wheel, it also features a number of inevitable electronic safeguards to protect the reliability of the gearbox. It is good to drive but you would have to want, or need, an auto-box to appreciate it.
Although exhaust emissions play a less significant role in car operation, since the Road Tax implications were altered, the 1.0t engine with SHVS emits a truly low 97g/km of CO2 (98g/km for the 1.2i). Punting around the back lanes did very little positive for fuel consumption, although the 61.4mpg Official Combined return of this model (65.7mpg for the 1.2i) is eminently credible, given that I still obtained 53.1mpg giving it large. Driven with more caution, I believe that I might be able to return in excess of 70mpg, perhaps an even higher figure.
Even at this early stage, the future valuation pundits have placed the new Swift on an elevated platform, forecasting that an SZ3 should retain around 41% of its value after three years and 60,000 miles. As a direct result and full in the knowledge that very few private Swift owners will ever cover that mileage, trade-in values will be competitively high, which will bring down PCP rates to make the Swift even more affordable. As Suzuki GB is already investing in the car's potential as a business vehicle, these figures hold even greater significance.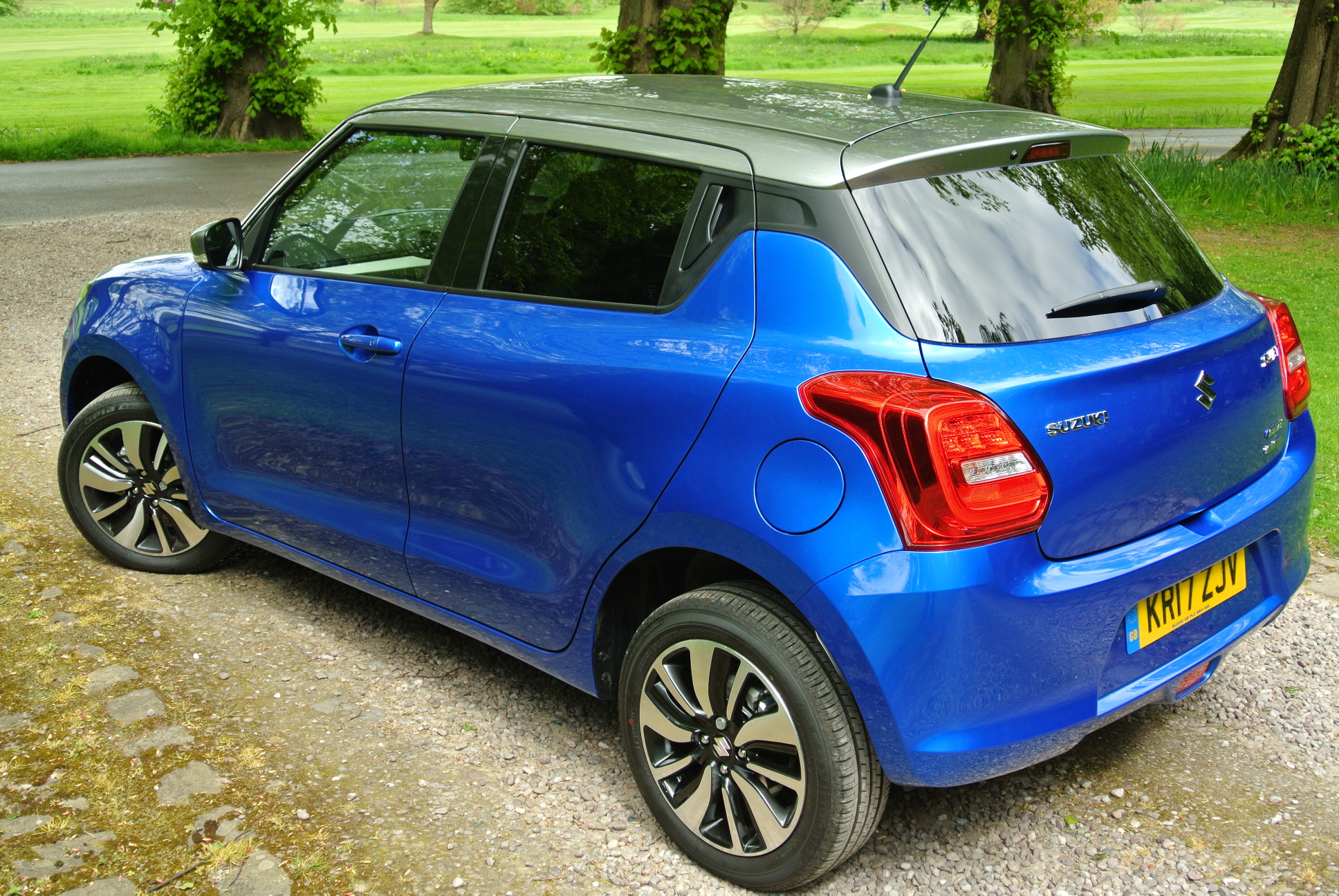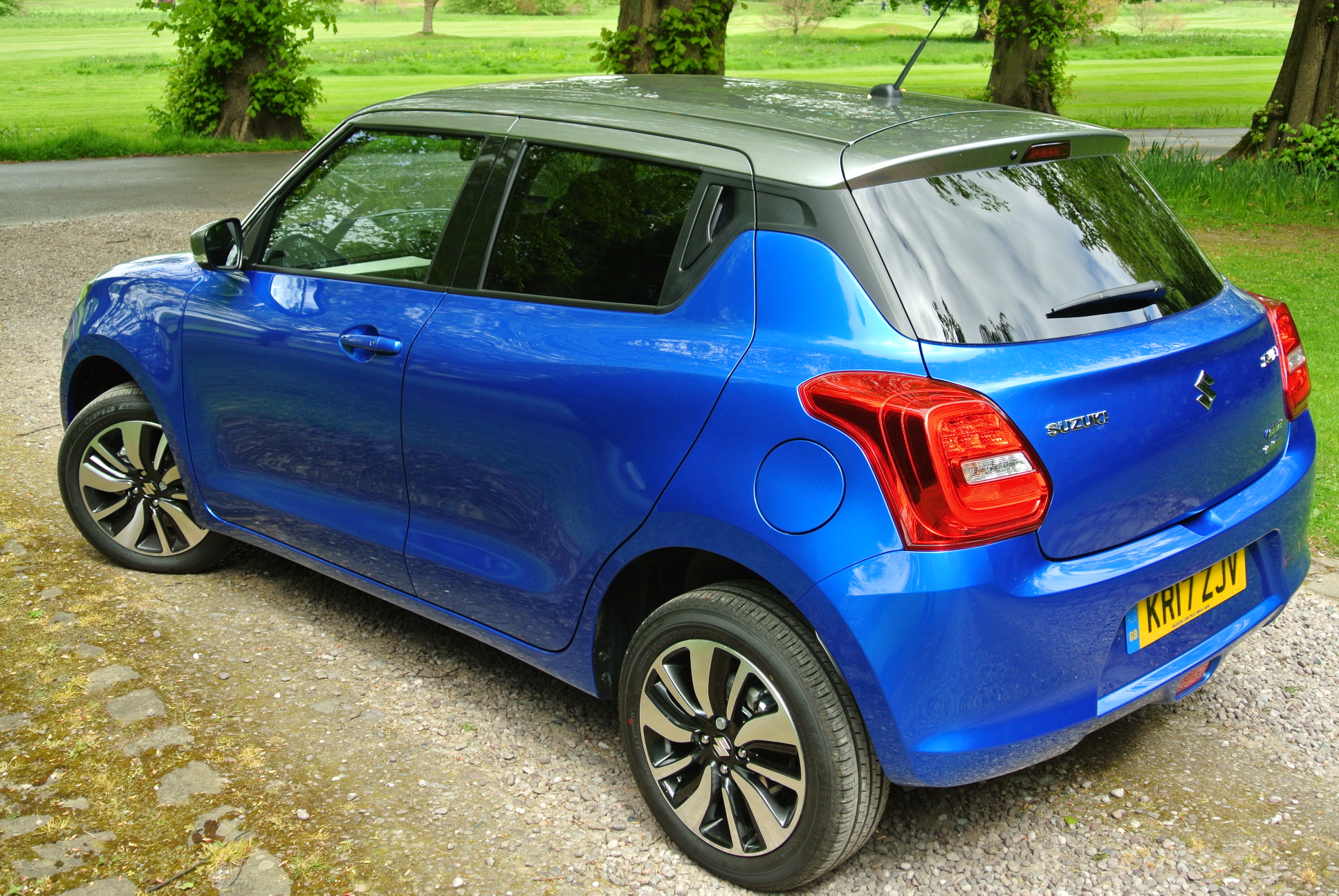 Although the customisation potential is restricted at this early stage to a few, minor trim details, a dual-tone paint finish (of which there are several available) adds £650 to the baseline costs. Following a simple remit of spending more to receive more, Suzuki is second guessing the success that the new Swift should enjoy. I am in no doubt, it will retain its best-seller crown for the brand and a great many converts to Suzuki will ensure that past pinnacles will be exceeded in short order.
Powered by what I believe is the best engine in the world, the 1.0-litre turbocharged three-pot, complete with mild hybrid technology, is the undoubted winner of the Suzuki Swift line-up. The car handles supremely well, rides comfortably, is exceptionally well-equipped and is so much fun to drive that you can take it for granted, I shall be replacing my Baleno (in 35 months' time) with a new Swift. Personal motorcars should be able to put a smile on the faces of their owners and you will soon be able to pinpoint why some drivers appear to be cackling most self-satisfyingly at the controls of their new cars. They are the Swift owners!