Hailing from an era when hot hatchery was rife, Iain Robertson has just realised how much he misses the thrill of driving a car, with feedback, that has been overcome by the political pressure-pot of modern times.
A need to be 'politically correct', or to be perceived as such, may have produced some benefits in terms of interpersonal relationships but has led to so much bandwagon-hopping that it might fairly be described as stymieing, even stifling of progress, enterprise and enthusiasm. While calling a spade a flaming shovel may possess further reaching ramifications, to be afraid of one's own shadow is a real shame.
Yet, in almost every walk of life, from media to manufacturing and most points between, we are affected, often negatively and sometimes destructively, by the impact of being PC. Just look at the car business. Naked and raw performance is not an issue related to the removal of clothing layers, even though additional lightness might be called for. Being naughty at the controls of a motorcar is a personal pleasure that possesses no sexual connotations but might imply a degree, or few, of stretching the bounds of decency.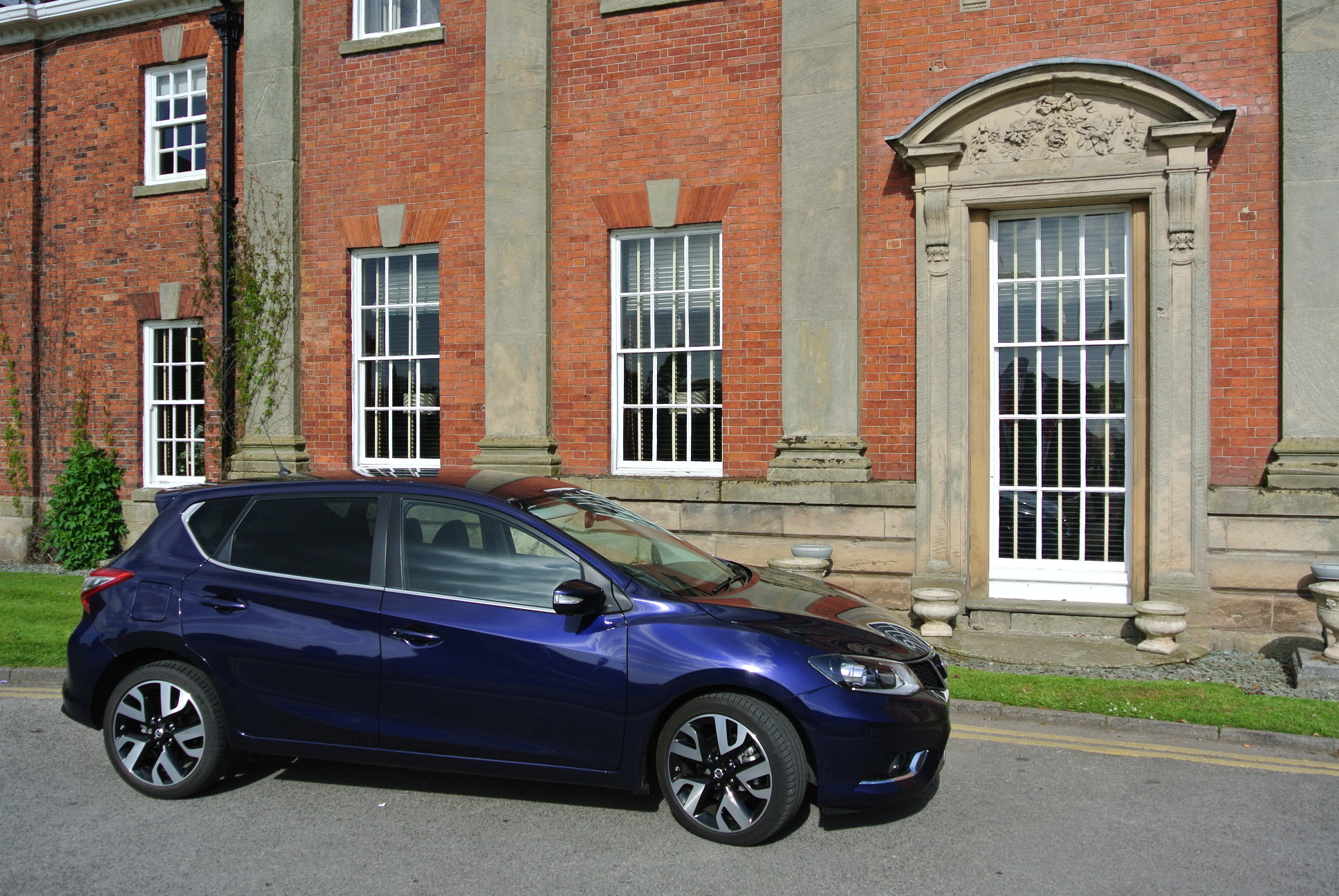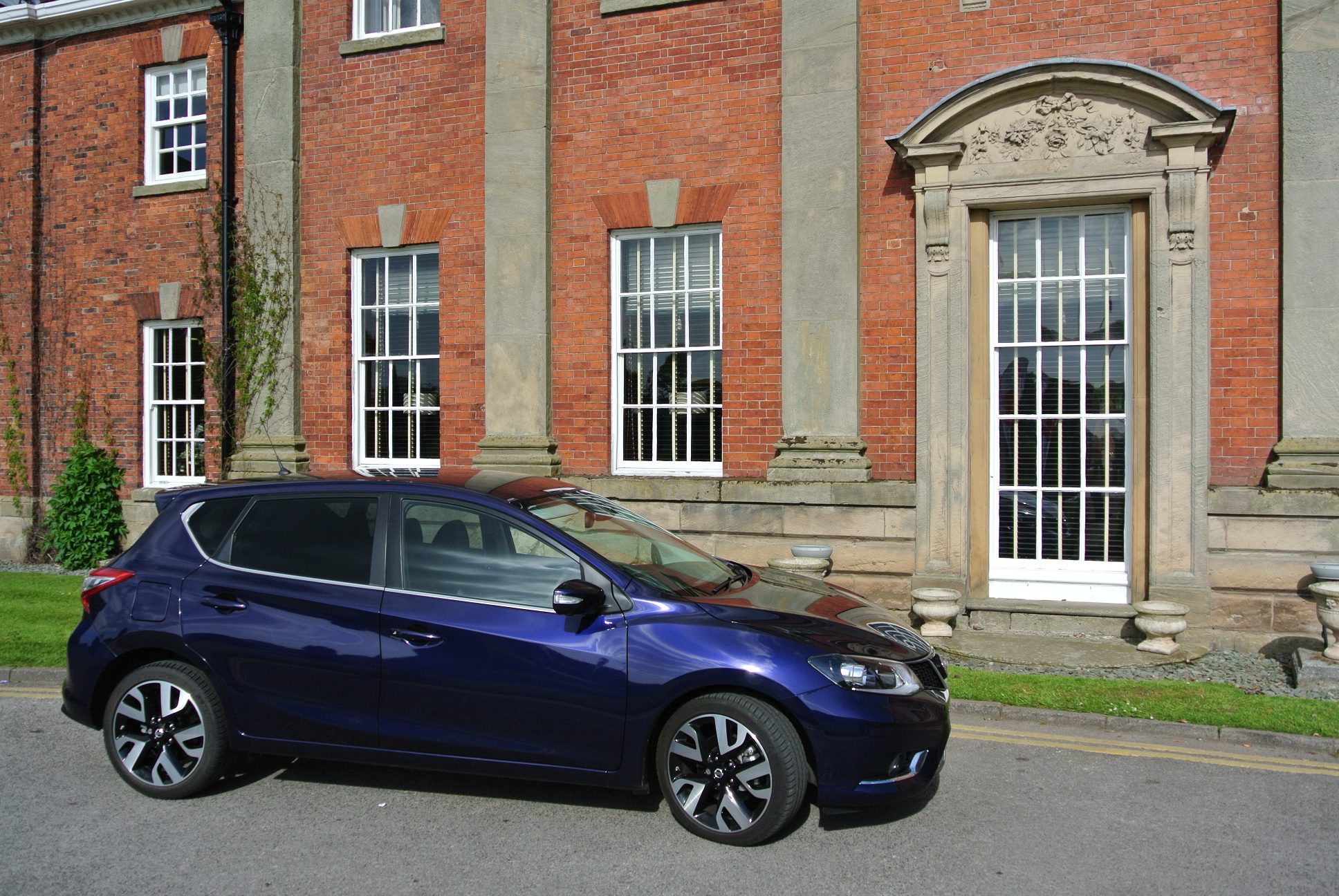 When my personal lifeline reached the dawn of the hot hatchback, I grasped it eagerly and thrilled to the innumerable parts-bin-specials, many of which involved little more than inserting a larger model's engine into a smaller car body and beefing-up the underpinnings to suit more engagingly brutal performance envelopes. Over the years, I have owned GTis, GTEs, RSs, VXRs and VRSs of so many hues and racy outputs that I feel confident in my knowledge of the market segment.
However, it is one that has become blurred with the passing of time and the omni-present insistence of the PC brigade. While GT has become redefined and justifiably so as the Grand Touring alternative, the 1980s' traditional hot hatch has been all but outlawed; taking fire from insurance companies, the emergency services, the corporate sector and parents worried about the corrupting effects of the very rawness that removed sex from the equation but introduced levels of raciness to make the novels of D H Lawrence read like the Parish Pump!
Now an advocate of the ever-so-PC 1.0-litre turbo-car, which I fear is an age-related thing, allied to a firm belief that it can be more enjoyable to punt an underpowered but dynamically gifted vehicle at 10/10ths, than an overpowered one at 7/10ths, I have been fast forgetting the intrinsic values of the hairier-arsed hatchback. Fortunately, Nissan, a company that I would seldom describe as being anything less than 'mainstream', to which you might add the word 'mundane', has shone a light into my life and its name is…'hot hatch'. Well, its real name is Nissan Pulsar Tekna DIG-T 190….and dig it, I do!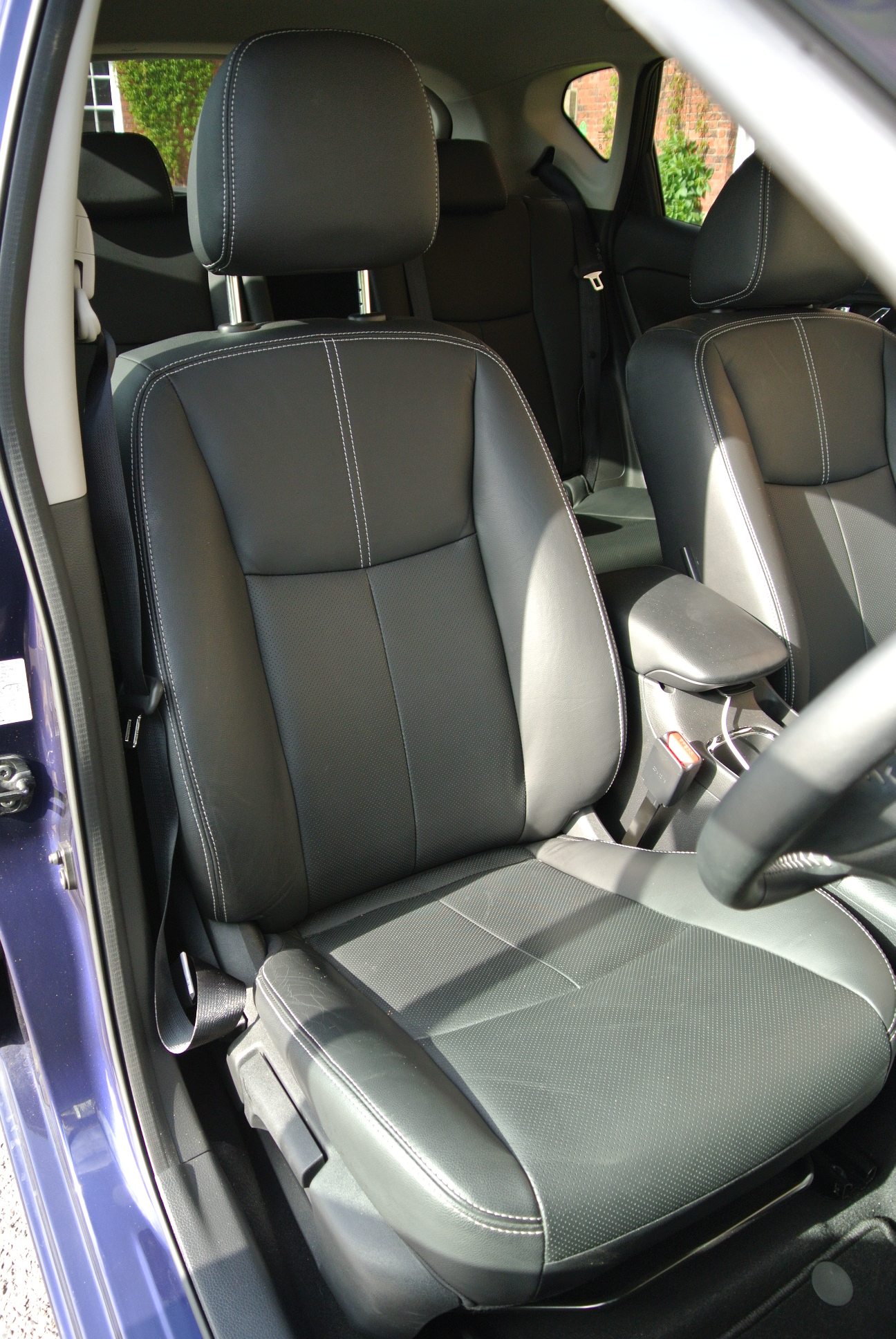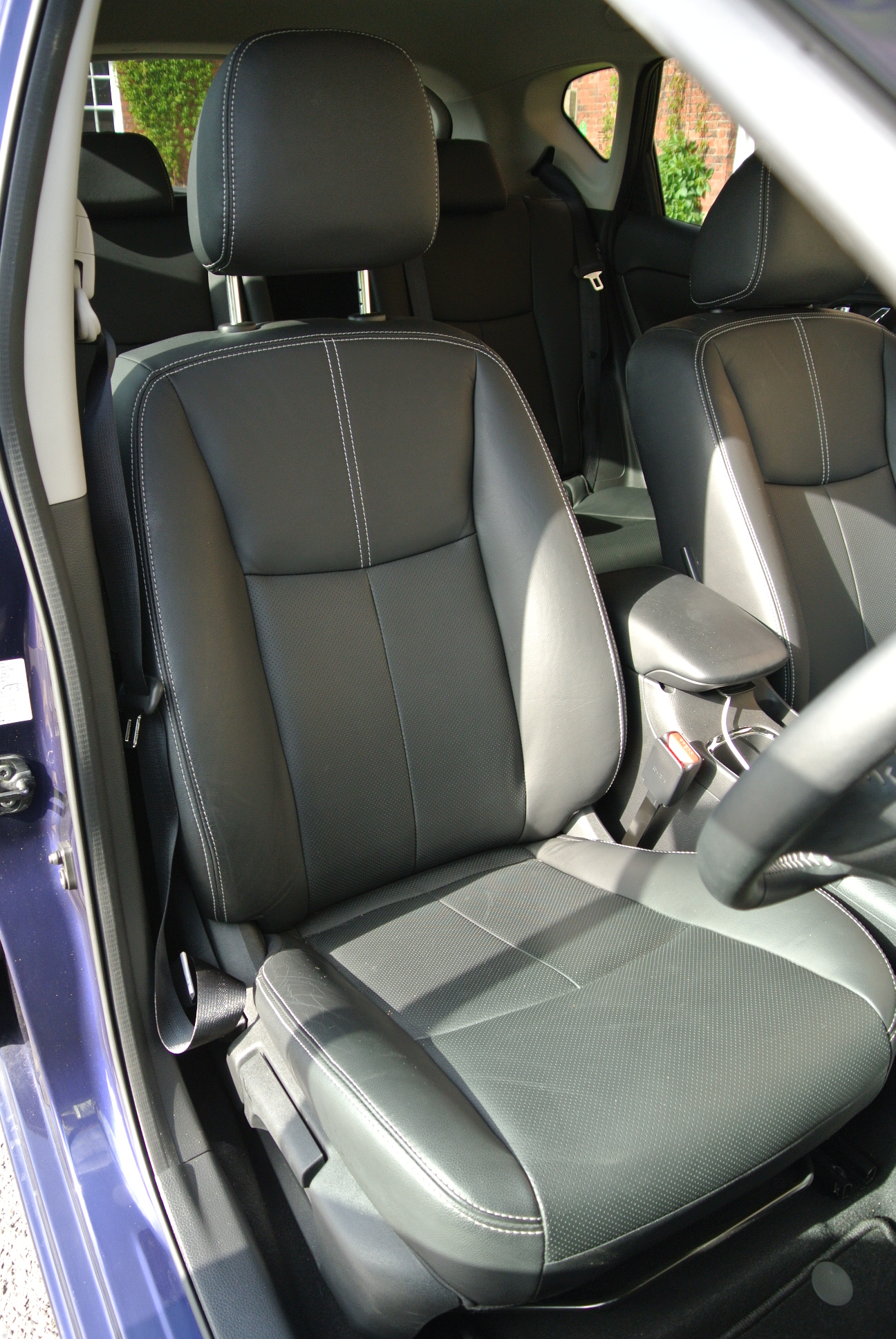 Nissan's sly approbation of less than overt sportiness is visible only via the Pulsar's 18-inch diameter alloy wheels, clad in 215/45R section tyres. Its leather-clad interior could be from any high-end version of an otherwise rudimentary 5-door hunchback, which is not to suggest that it is a 'duffer' in any respect, although its core rivals carry Auris, Focus, Astra and 308 badging, all perfectly respectable in their own little ways, while also being comfortably numb in other respects.
Beneath Pulsar's bonnet is one of those 'downsized' petrol engines that are all the rage at the moment, in Nissan's case displacing 1,618cc but which develops an impressively healthy 187bhp (the '190' of its designation in PS form). While classification of a hot hatch these days seems to surround the figures 265-315bhp, do not, for one minute, suspect that the Pulsar has been left behind, as that would be a terrible error of judgement. As I highlighted earlier, this hatchback is most satisfyingly 'Old Skool' in its approach and delivery, as is accentuated by a modest 177lbs ft of torque (138g/km CO2 rating), albeit across a wide 1,600-5,200rpm rev-range. Considering that it has to motivate a kerb weight of around 1.3-tonnes, it is worth noting that its task could be arduous.
Yet, nothing could be further from the truth. Pulsar's top speed is given as 135mph and it can despatch the 0-60mph benchmark in a cool 7.4 seconds. While I appreciate that the latest VW Golf R (a near-pornographic hot hatch) can top 160mph and scorch to 60mph not quite three seconds faster, it does cost 55% more and, in our era of 'austerity' that is a major determining factor worth clinging to, I repeat: Pulsar is 'Old Skool' but none the worse for it. While the aforementioned Golf might be able to blast between bends a bit swifter, the Pulsar is definitely not left behind, which is a legacy of its deliciously firm but compliant suspension, lightly weighted steering, slick and well-spaced gearing and efficient braking.
My test route across the high Pennines (the road to Pot Shrigley and beyond) revealed all. Thanks to a well-balanced power delivery, there is no unfortunate scrabbling of the front driven wheels and, being free of torque steer (thankfully), there are no bad habits for the customary traction and stability nanny-controls to deal with, in the process masking and curtailing driver enthusiasm. Instead, the Pulsar is a car with which to grapple in that time-honoured hot hatch manner, whereby 'on-road feel' is the discretionary blessing that some of the hyper-potent alternatives elect to ignore. Thank you very much, Nissan! I love you.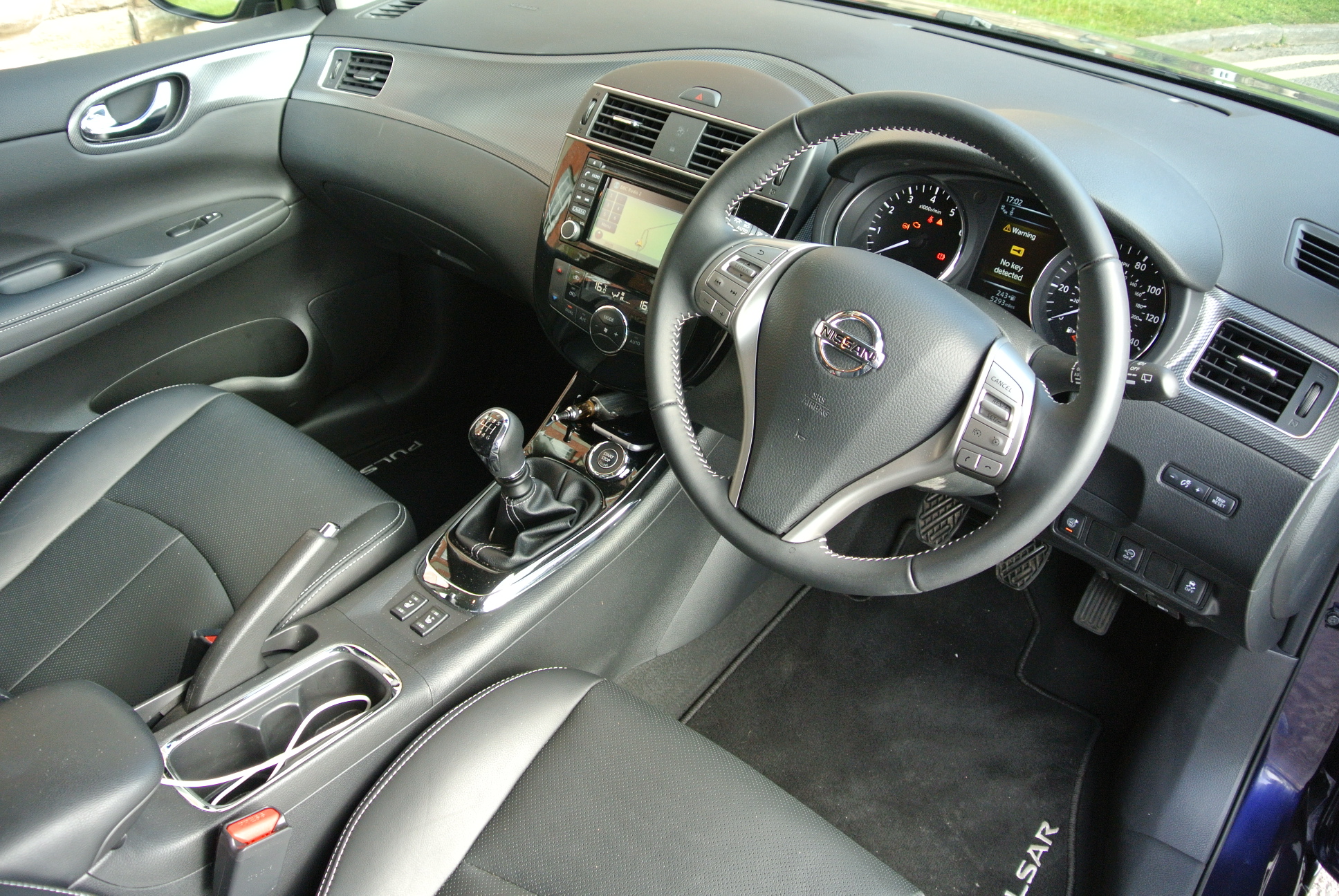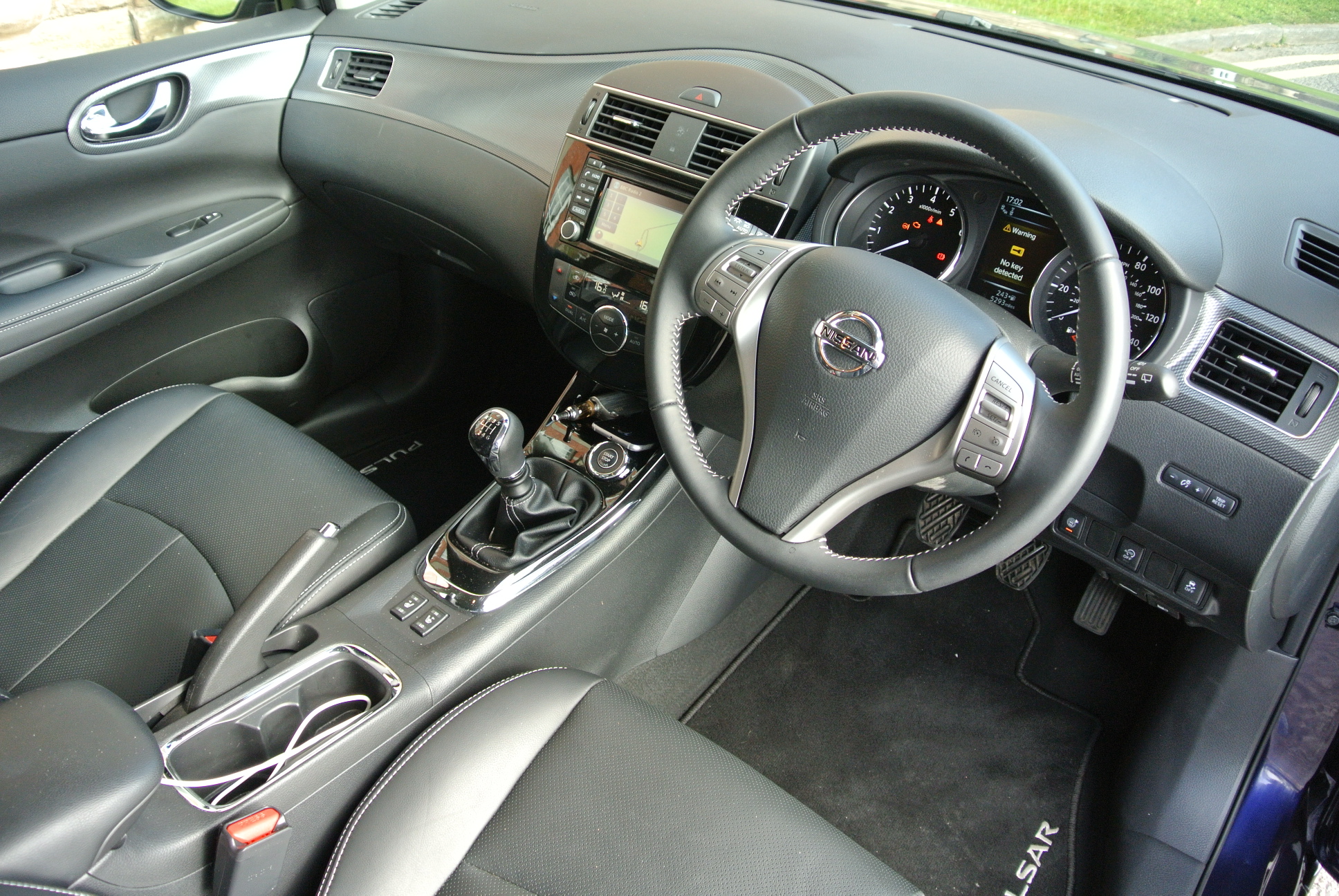 Its handling is a priceless gem. Although the steering wheel diameter is unnecessarily on the large size (it does have power steering for heaven's sake!) and adjustment to clear my knees makes the driving position slightly bus-like, the turn-in to bends is crisp and even, while mid-corner bumps do not deflect it off the chosen line. When instant direction changes are called for, the Pulsar responds like a faithful sheepdog and there is grip in abundance. Thanks to careful weight distribution, plough-on understeer is seldom felt and, even when it does curb enthusiasm only slightly, a throttle-lift tucks in the nose of the car and the tail follows dutifully. It is so flickable and malleable that delight comes in driver-induced waves. As I stated: 'Old Skool'.
Of course, to attain that sort of engine punch, a turbocharger with intercooler is employed and its less desirable effects can be felt by a fuel consumption that can dip uncomfortably and inevitably into 20mpg territory. However, my achieved return following a genuinely racy drive on some of Derbyshire's and Cheshire's beguiling back-doubles (sod the potential controversy!) was 42.9mpg and I have no doubt that its stated Official Combined figure of 47.9mpg is not merely attainable but might also be exceeded with more judicious use of the accelerator and the gorgeously slick, 6-speed manual gearbox.
The throttle response is harmed by switching on the air-con. On a couple of occasions, at town speeds, I applied insufficient loud pedal and stalled, a result of the additional drag on the engine by the air-con pump. It did work better and more efficaciously without chilled air entering the cockpit but I soon adapted to it. The rest of the cabin, which is clad in hide, as mentioned earlier, is moderately luxurious and the front seats are both well-bolstered and comfortable, without being overtly sporting in form.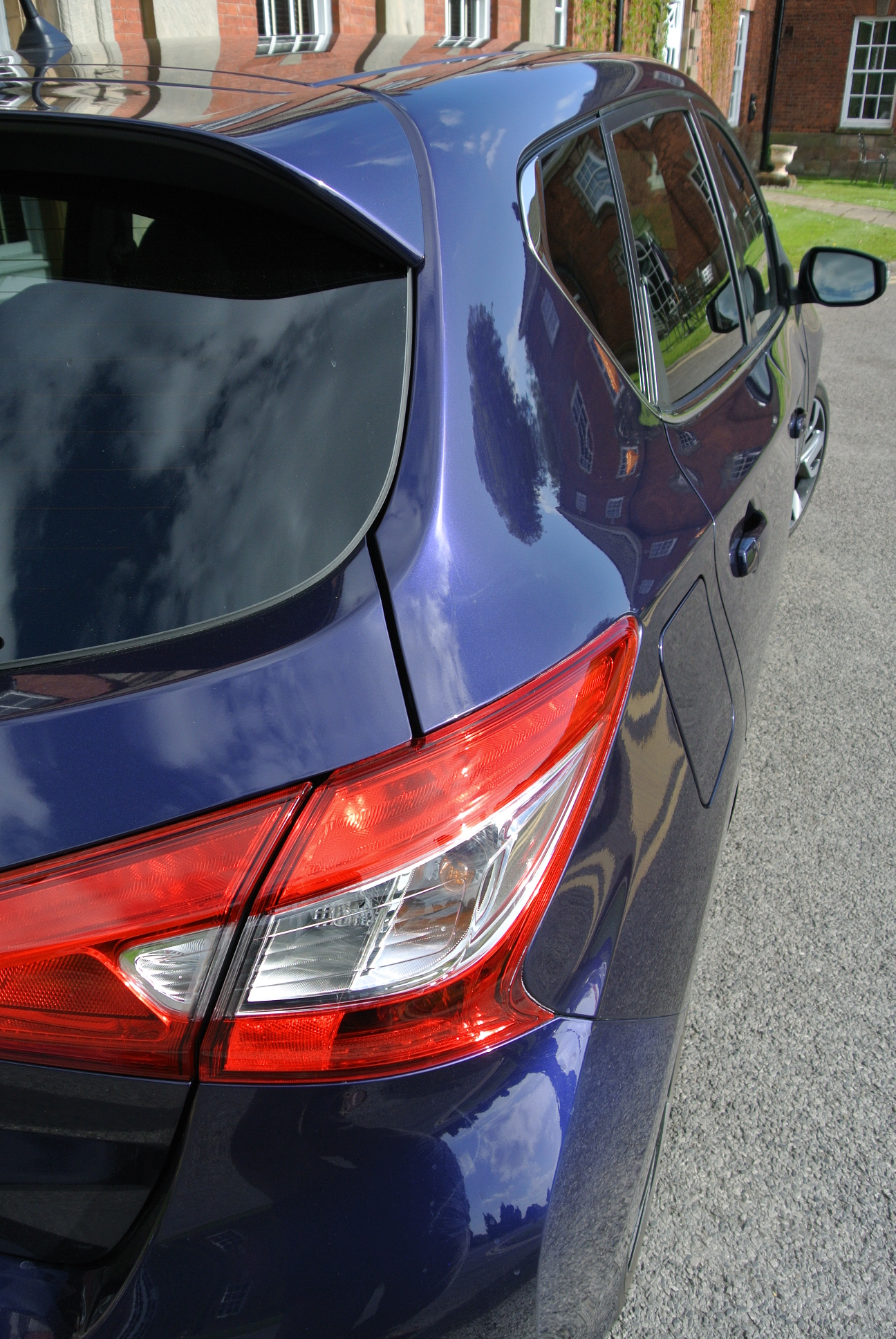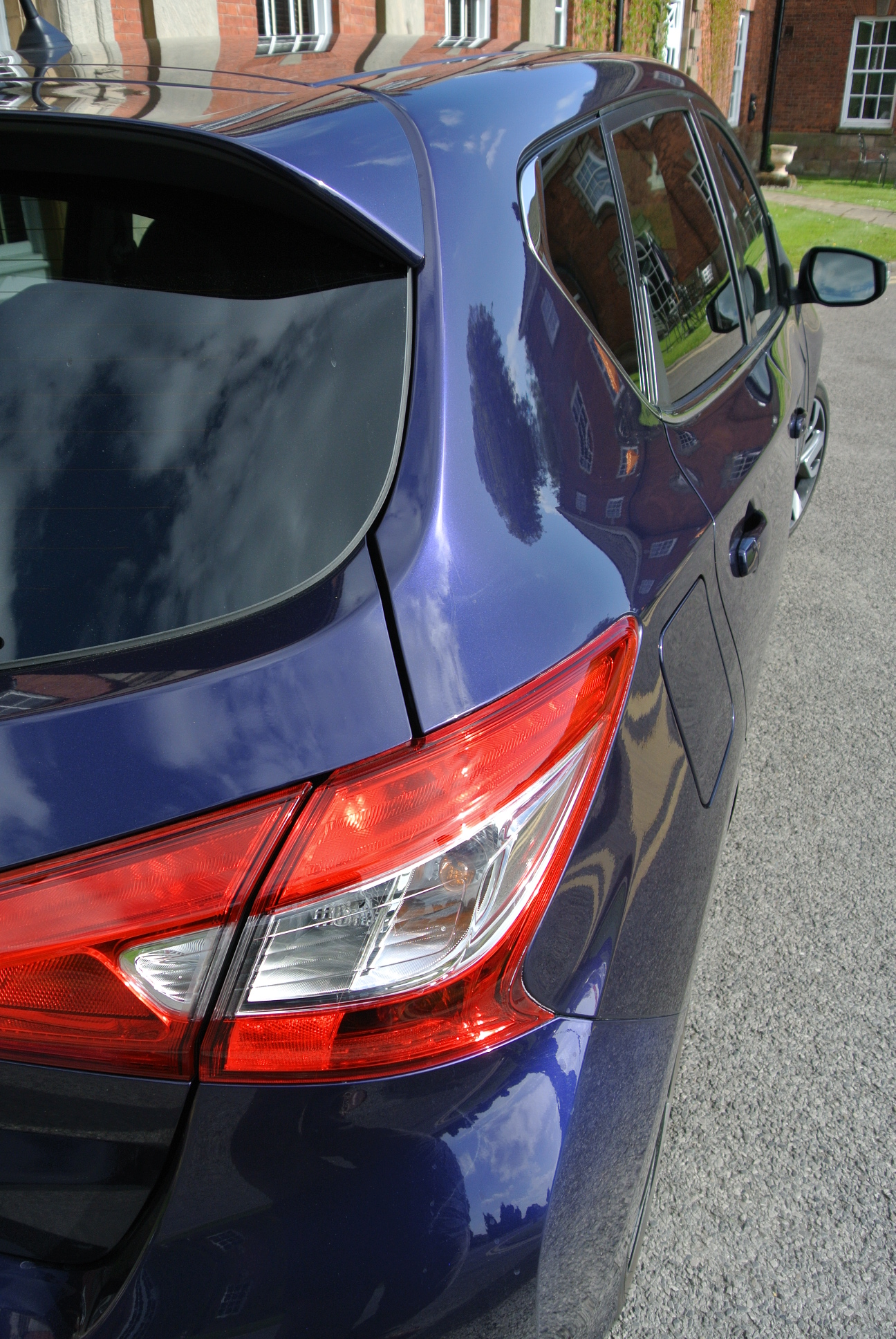 There is an immense amount of space within the 4.387m long car, as evinced by me being able to sit in moderate comfort behind a driver's seat set for my two metres of height. With soft-touch upper surfaces, a curved plank of alloy lookalike trim running across the dashboard and a centre stack topped by a 5.8-inch sat-nav touch-screen, the interior is purposeful and user-friendly, with a decent stereo, instantaneous Bluetooth phone connection and a neat display of analogue dials and digital info display ahead of the driver.
The most important aspect, apart from the deep and accommodating boot, which also contains the extra-cost spare wheel (+£100), is that none of the Pulsar's practicality has been lost en-route to creating a charming hot-hatch. However, Nissan could be missing a trick here, as, in this form, which verges on  near political incorrectness, the Pulsar is a little like hiding a mad relative…the company does not want to admit that it exists but knows that it might have to acknowledge the fact.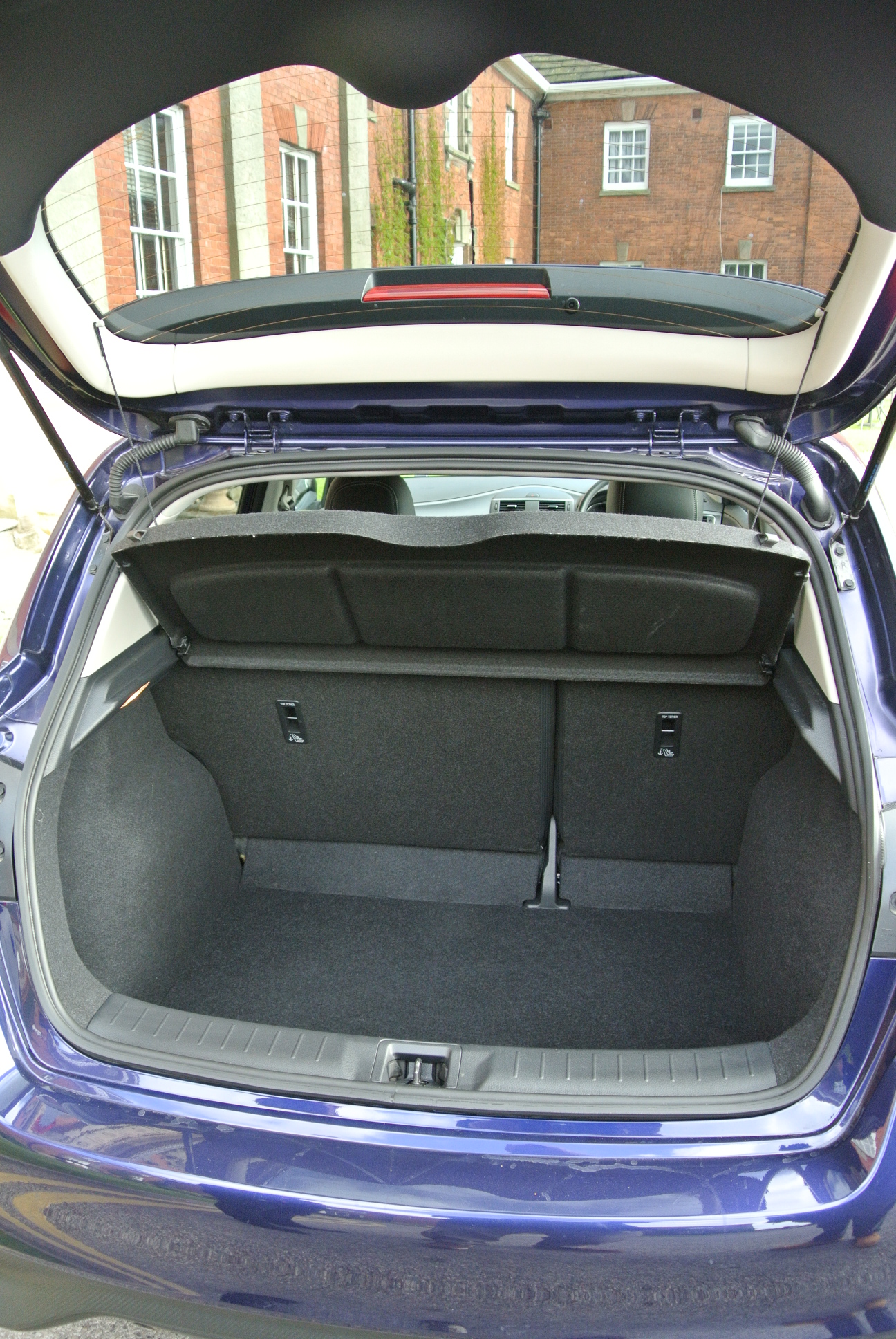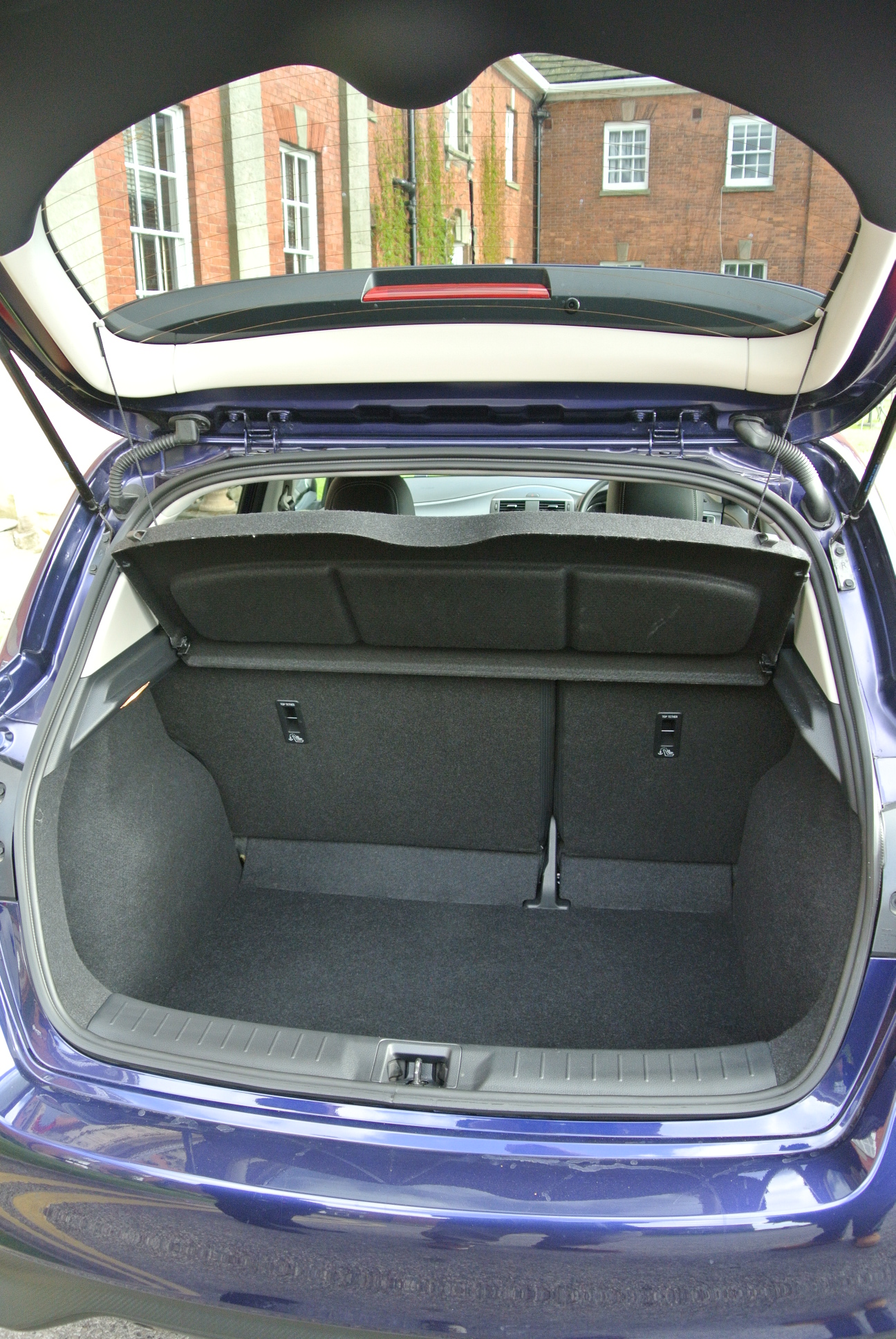 All I know is that the Pulsar DIG-T 190 is an outstanding bundle of fun and frolics, even though I had to search for it, without signposts declaring it. It is packed with all of those semi-autonomous items that seem to aid its credibility in a modern automotive society, from lane discipline, forward distance control and blindspot warnings, as well as stop:start and TPMS, although you scarcely notice them, because its revvy engine and snickety-snick gearbox become the all-consuming features, to the enthusiast at least.
Priced at, what could be the bargain of the decade, a cool £21,520, Nissan's unsung hero is the fantastic Pulsar in its least overt 'GTi' form. It drives beautifully. Handles supremely well. Possesses enough grunt to make life enjoyable. Yet, it keeps running costs within sensible bounds and, on the obverse side of the coin, no company car fleet manager will complain about that. While possessing old-fashioned attributes, it is thoroughly modern, refined and capable but it does harbour its devilish side and it is eminently engaging.