At a time when low operational costs are a key criterion to motoring contentedness, Iain Robertson recognises that Seat's latest model might also be its greatest one and the FR package has relevance to a large tranche of the new car scene.
When you look at the latest crop of Volkswagen Group models, you could be forgiven for believing that a new 'corporate' look is very much the 'in-thing', as dictated by HQ in Wolfsburg. All sharply creased and crisply executed, it does seem as though origami is the new design direction for all of the brands, as Seat's former curvily organic stance has been changed to one of rhomboid geometric, both inside and out, and you need to be careful that you do not cut a finger on those edges, so sharp are they.
Of course, styling is very subjective. It can and does create Marmite situations, by which polarised views result that can be as extreme and simple as 'love', or 'hate'. While I am an advocate of more precise design directions, I am concerned that VW Group, in making ALL of its models share the same folded-paper ethos, might fall down the sluice marked 'badge-engineering' with uncanny alacrity. All you have to do is reflect on the damage caused to Austin-Rover (or perhaps Rustin'-Over might have been more apposite?), when it produced several brands from just one original model. One minute they were 'in'; the next they were 'out'.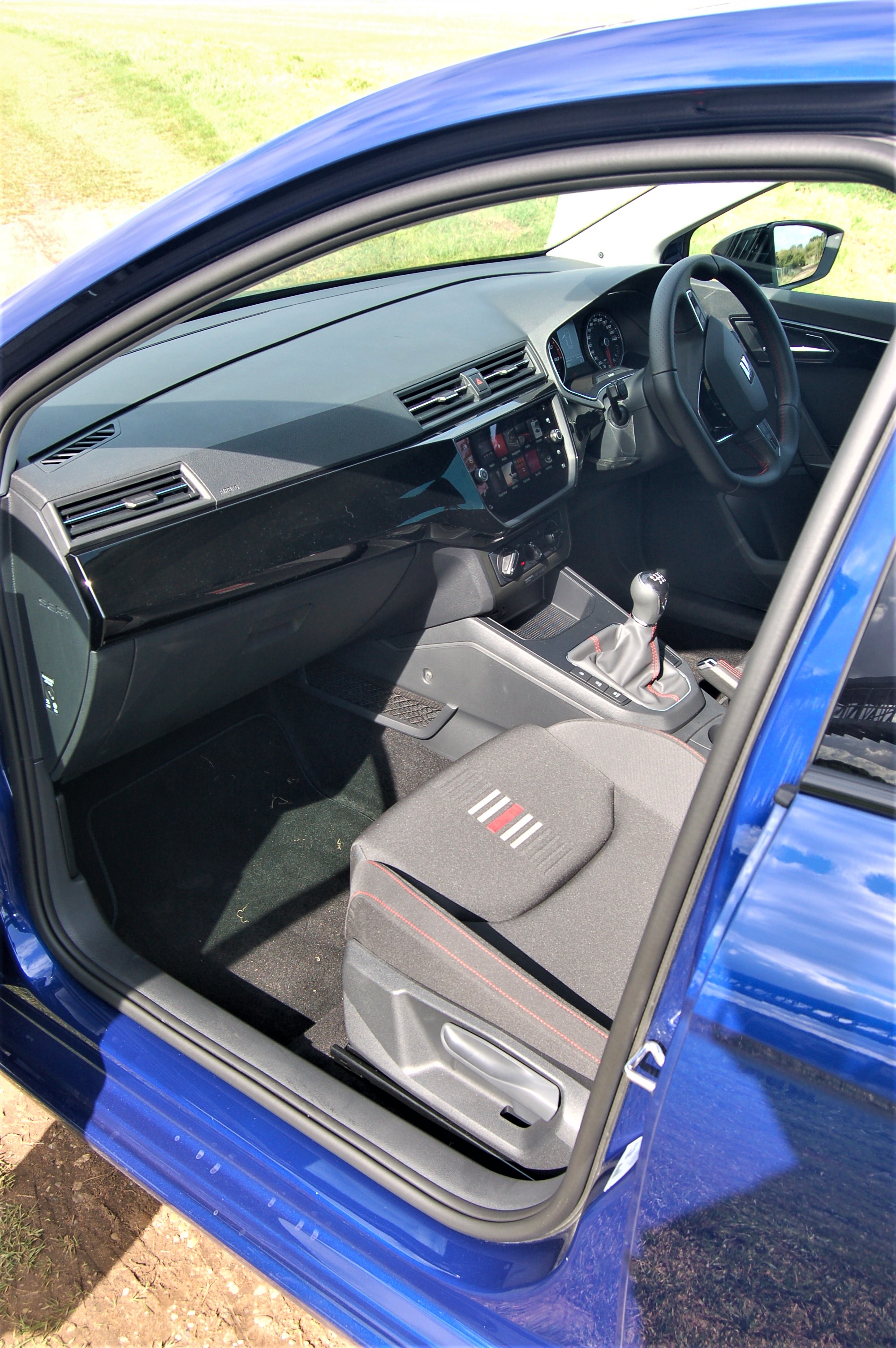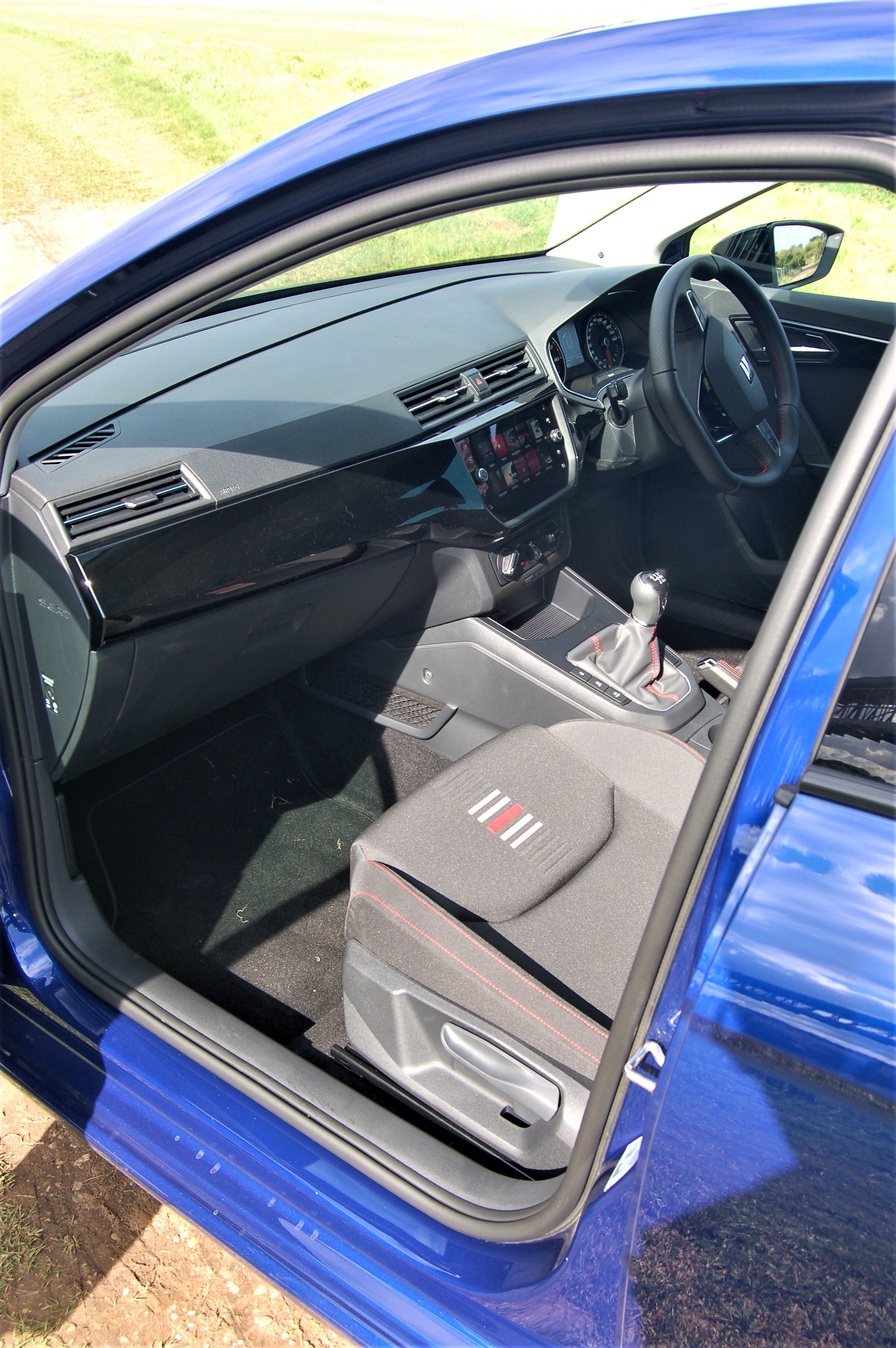 While not wishing to compare the latest generations of Skoda Fabia, Seat Ibiza, Audi A1 and VW Polo with the unfortunate Austin-Morris 1300GT (a best-seller in period), I am starting to notice some disturbing shared similarities between them that I hope sincerely will be picked-up by VW Group's main board, before the damage is incurred. Although technology sharing, from platform architecture to engines and transmissions, is not just logical but eminently sensible, most especially from a manufacturing costs reduction (and, thus, profits-maximising) premise, when the mincing machine simply churns out replicas bearing different logos, you know that something else has gone awry.
Seat has not exactly been a glitch-free brand for VW. It gave the parent company a firm toehold on the Iberian Peninsula and a sunnier option to the smoky grey of the Czech Republic (Skoda) but the cardinals at head office have tried to rid themselves of their troublesome priest on more than one occasion. In some ways, it is the shared technology aspect that has backfired a touch, drawing the two brands into too-close proximity too frequently, a factor that will surely strike at the Vauxhall-enlarged PSA Group in the very near future, which will make a fascinating comparison soon.
Yet, the latest Ibiza, which has been made available only in three states of 1.0-litre tune so far (72, 92 and now 112bhp forms; a 1.5-litre 147bhp unit will give weight to a Cupra introduction), is clinging onto its individuality most manfully. I still love the way in which the tipping badge on the tailgate continues to open it. Okay, VeeDub does the same with Polo, but you get the idea.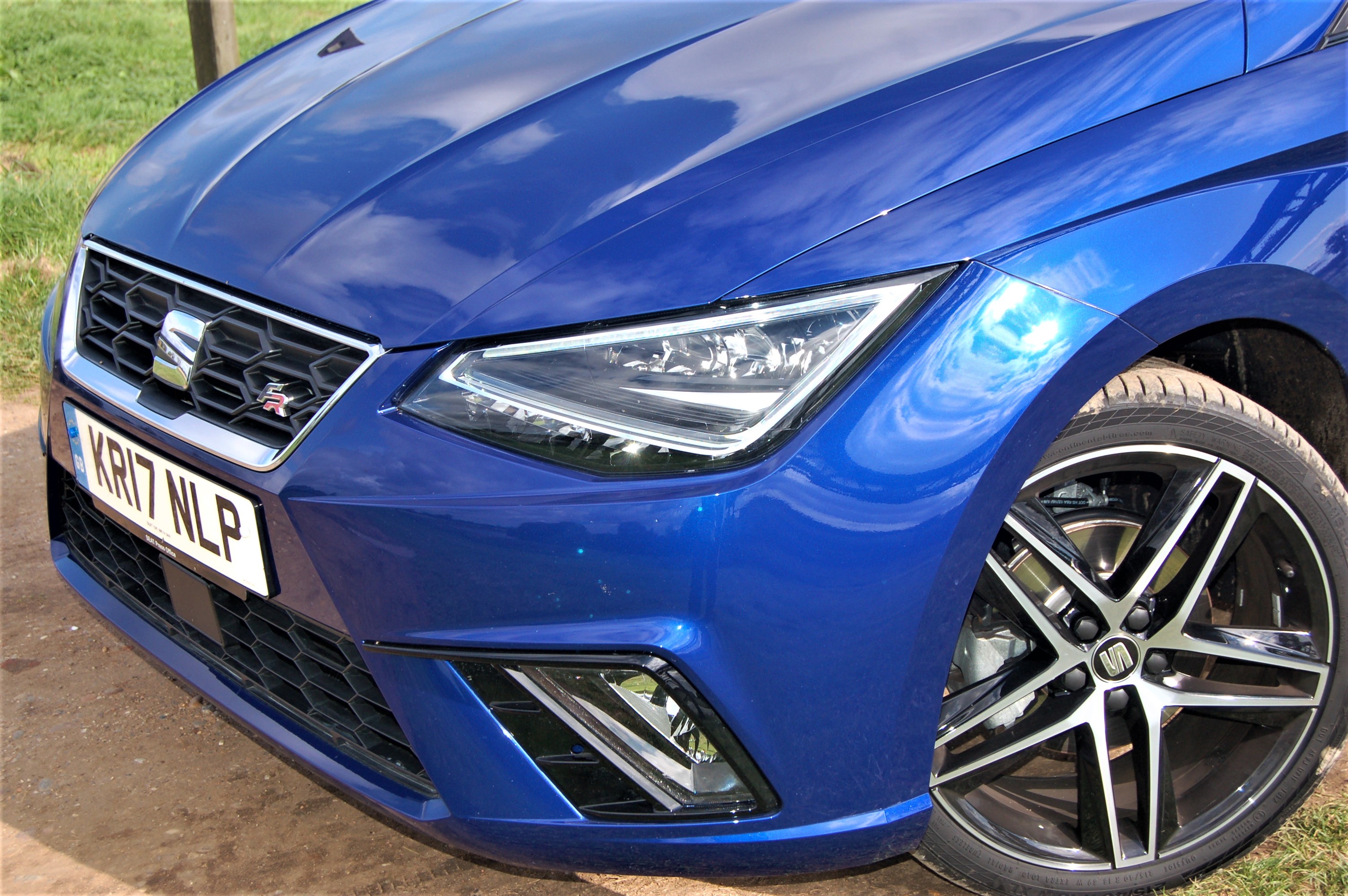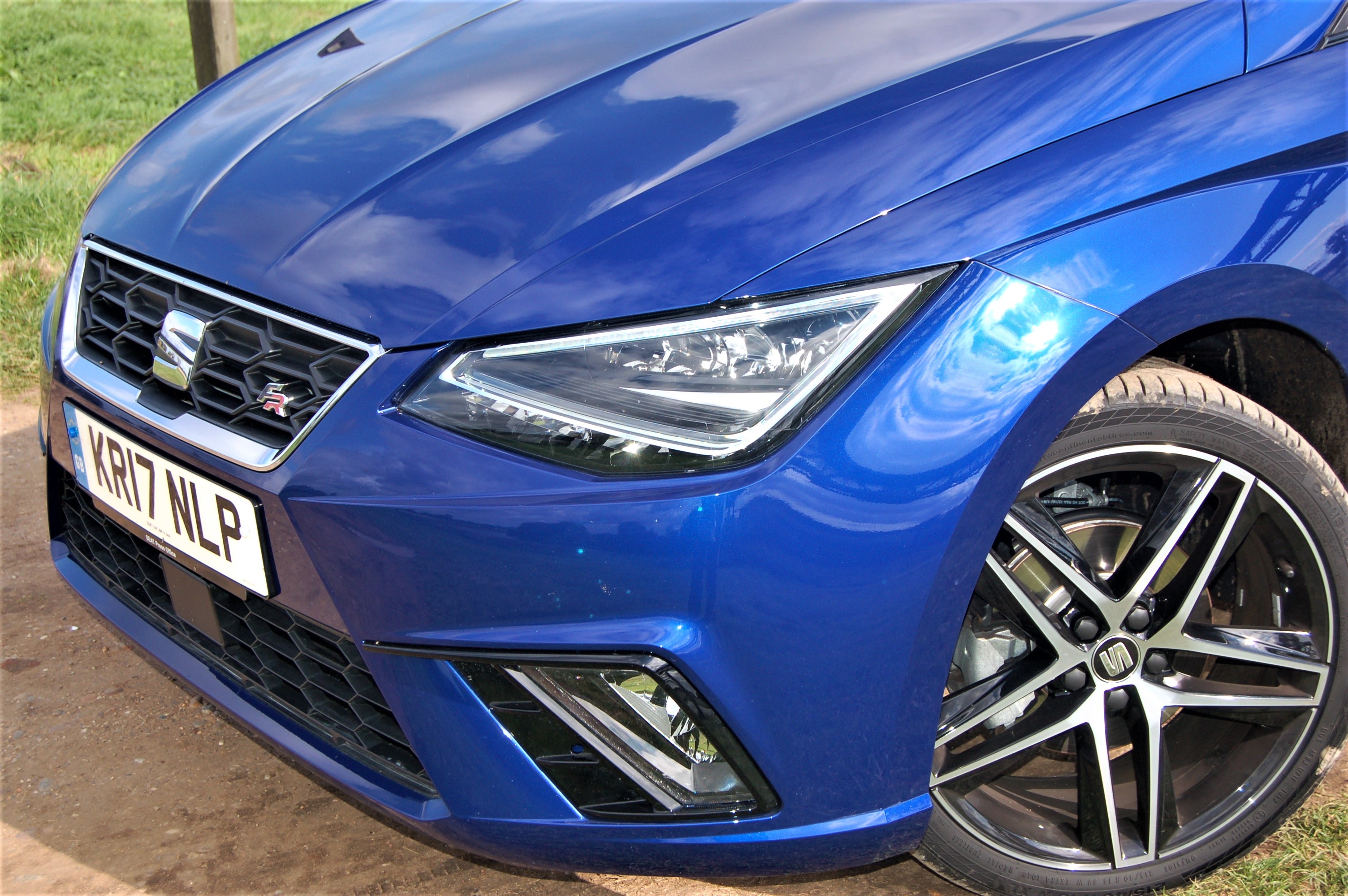 If you flick back through the files, you will find my review of the new Ibiza family, following a test driving session organised on some of the best roads of North Wales. I was hugely impressed by the car. It drives beautifully, with delicious steering, surgically precise brakes, decent throttle responses and a sweet manual transmission all working with fluid transparency to ensure that the taut new bodyshell delivers crisp handling, strong grip levels and sweetly balanced dynamics.
In FR trim, users can expect a marginally enhanced package and, I am happy to state that is what they receive. FR is not Cupra and neither should it be. It is a lukewarm variant that, much like polishing pebbles, has received a few extra moments on the honing equipment but, as the stock package is so competent, all it needs to do is demonstrate a finer focus, which it does most competently.
My only major criticism arising from the first drive of Ibiza earlier this summer was that the grey skies of list pricing loomed largely above the model line. Rising above that psychological hurdle of paying more than £12-£15,000 for a ONE-litre car is a bit like 'tough love'. While accepting that new car retail prices have been in runaway mode for much of the past two to three years, I cannot accept the manufacturer-promoted premise that 'people don't buy new cars on list prices these days'. Although such a statement may have a whiff of truth about it, this marketing-led and largely thoughtless ideology loses credibility, when, like stated MPG figures, the consumer prefers a measure by which to judge and compare particular models and being 'in their price range' remains a vital marker-post.
The Seat Ibiza FR 1.0TSi 115 6-speed manual is listed at £16,630 (verging on 'shock territory'), to which must be added £530 for its essential paint-job (in this case, Mystery Blue, a beautiful and deeply glossy finish that does add value to the car). However, the Beats audio system, which includes a boot area sound-deadening enhancement, weighs-in at a modest £365, the 18-inch diameter, machined alloys factor in a further £325, LED headlamps are £480 and the electric tilt-and-slide, panoramic sunroof (with manual blind) costs £665…a total of £2,365's worth of accessories that weight the price tag to a hefty £18,995. Contrast that with Fiesta, Fabia and Polo price-tags and the Ibiza is 'market-competitive', although the significantly zestier (because it is so much lighter) Suzuki Baleno and even the Vauxhall Corsa are some £3,000 less expensive. In a cash-strapped market, it is a major consideration.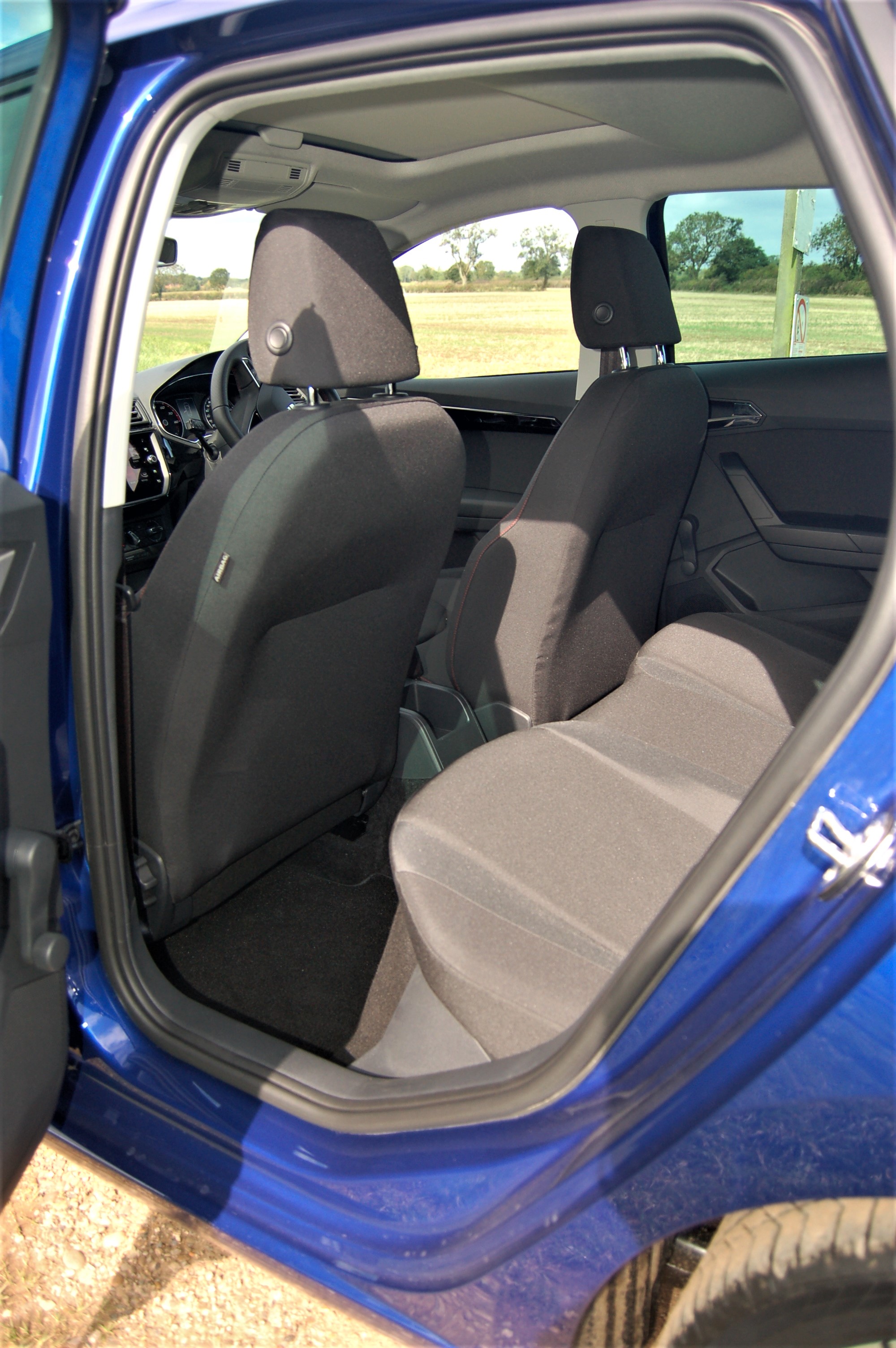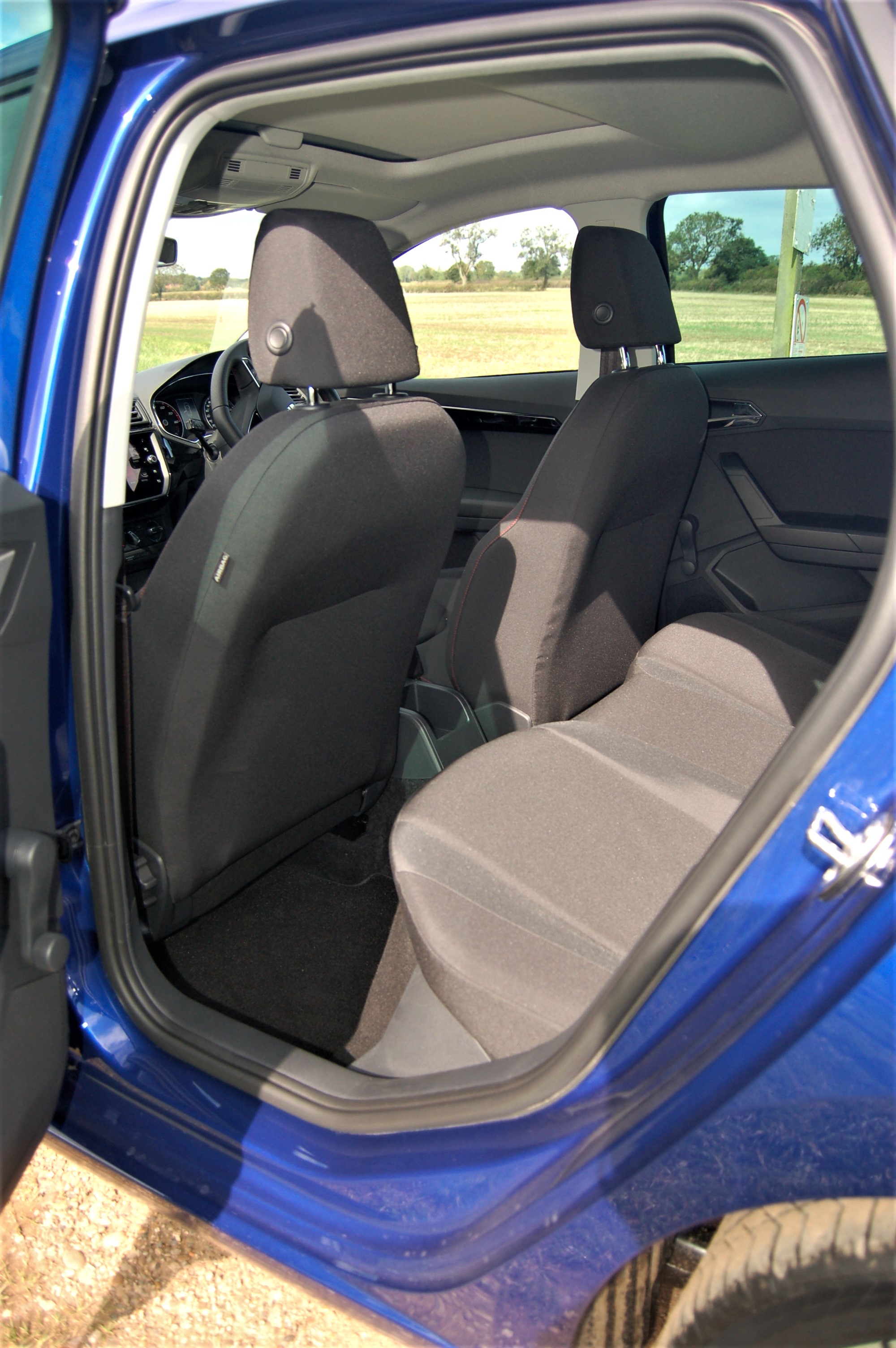 In terms of performance, this is the first time that I have driven the 112bhp version of VW's excellent three-pot motor in the new Ibiza and it works rather well. It is exceptionally refined and the slightly off-beat thrum expected from the odd number of cylinders is only distantly audible. There are zero vibration issues, whether at idle speed, or anywhere throughout the rev-range and nothing is transmitted through the gearlever, or steering wheel.
Given its head, the little unit does feel slightly unwilling to rev freely, although, once the turbocharger spools-up, it delivers strong performance, despatching the 0-60mph acceleration benchmark in 9.0-seconds, with a maximum speed potential of 121mph, to place the FR fairly close to the top of the 1.0-litre table. It sips fuel at a stated rate of 60.1mpg, although its 108g/km CO2 rating equates to an annual Road Tax levy of £140, from the outset. Now that sub-100g/km is no longer a CO2 target and VW dare not fib about its ratings, this is one of the results. However, I have no complaint about this excellent performance spread and the FR seldom feels less than competent, because it is so well suspended.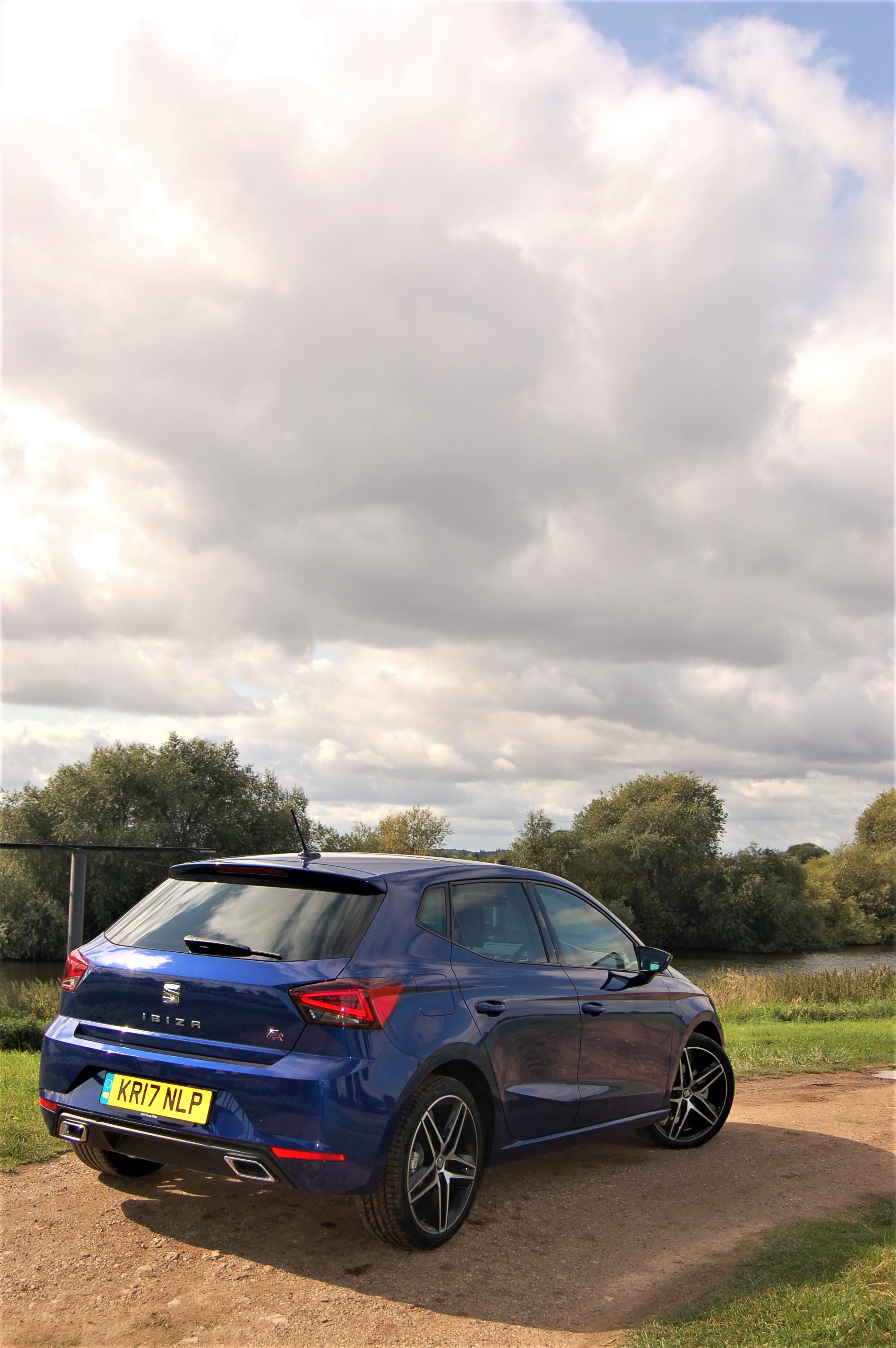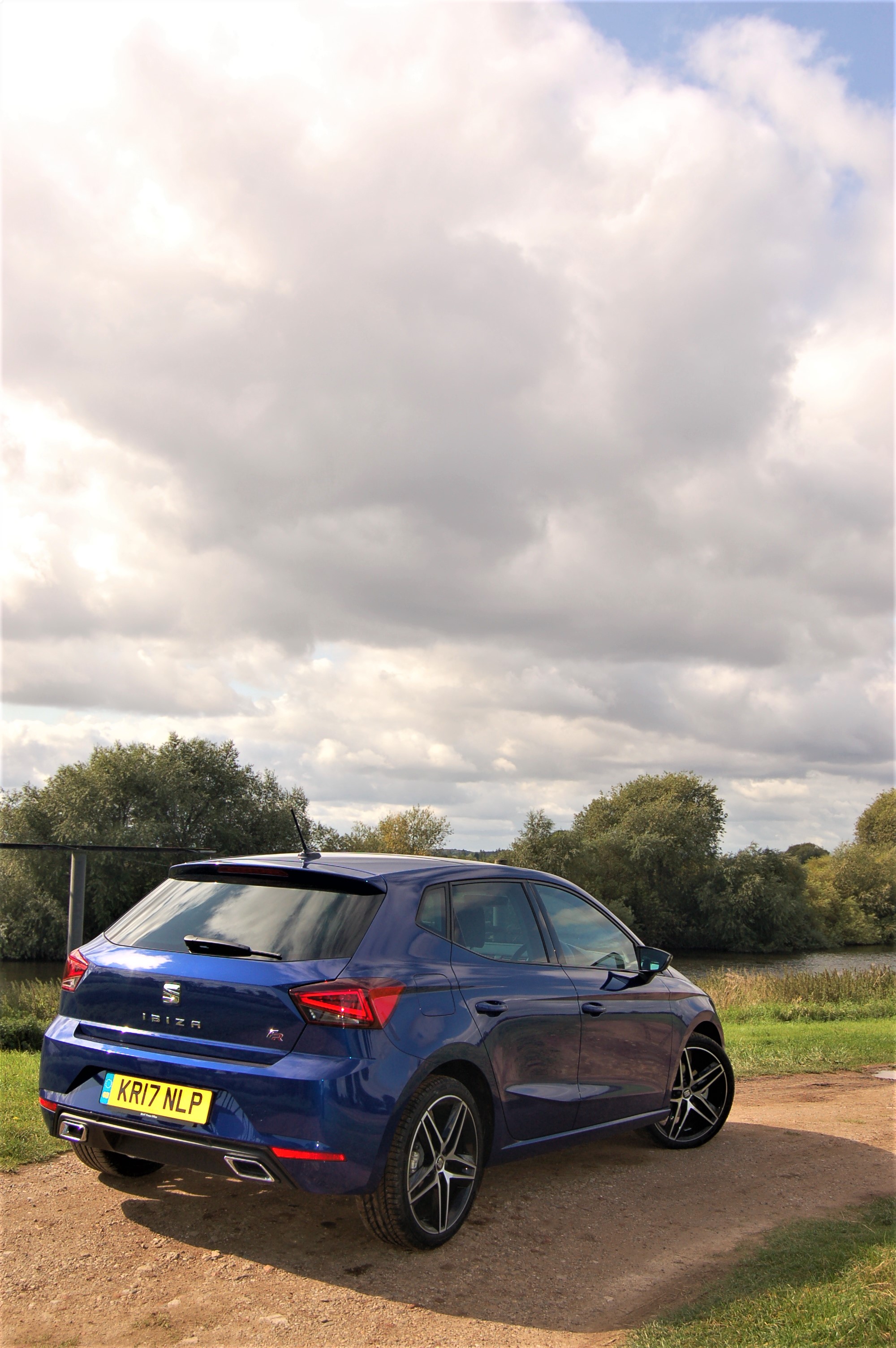 The bigger wheels, in this case, help by giving the FR a more stable stance, the lower-profile tyres providing superior levels of mechanical grip. The damping is firm but quite compliant, to result in well-judged handling, crisp cornering and bump suppression. It is never uncomfortable and high mileages can be tackled without incurring driver weariness.
One of the options I would avoid is the LED headlamps, which will save potential customers almost £500, as the spread of nocturnal illumination is not as good as Xenon, or Halogen alternatives. However, the triangular daytime running lamps signature is smart, not least because they revert from white to amber, when indicating a change of direction.
Internally, it is more of the jaggy pointiness again, although the instrument panel is crystal clear and the centre stack touch-screen is not merely comprehensive in its range of media but it hooks-up to Bluetooth eagerly and provides excellent DAB reception and sound reproduction through the Beats speaker system. The driving position is multi-adjustable, with both seat and steering column affording safe and supportive comfort. Typical of cars converted from left to right-hand-drive markets, the parking brake lever is positioned too far left in the centre console, although there are plenty of storage slots that result, even if a centre armrest is not standard equipment.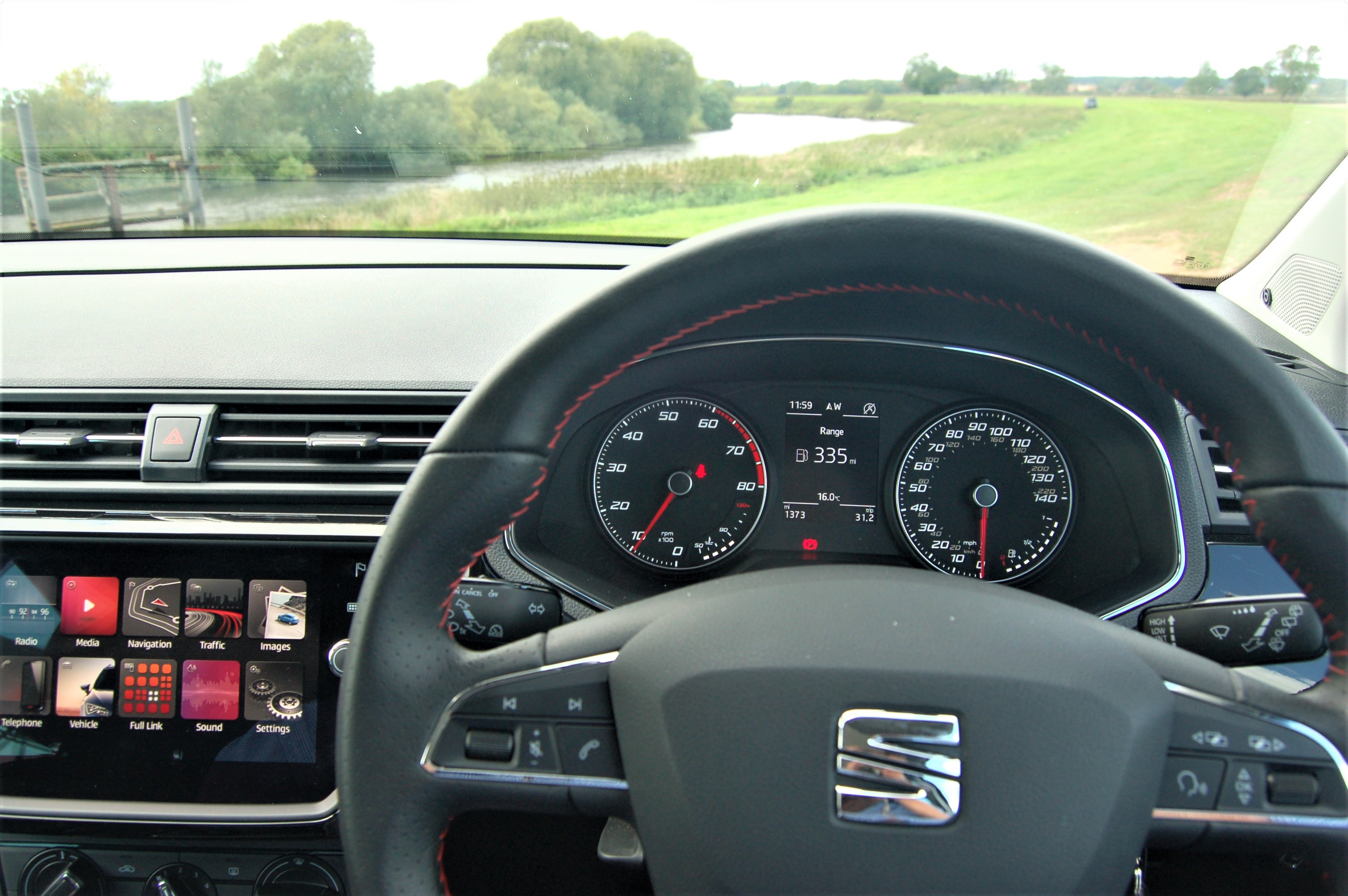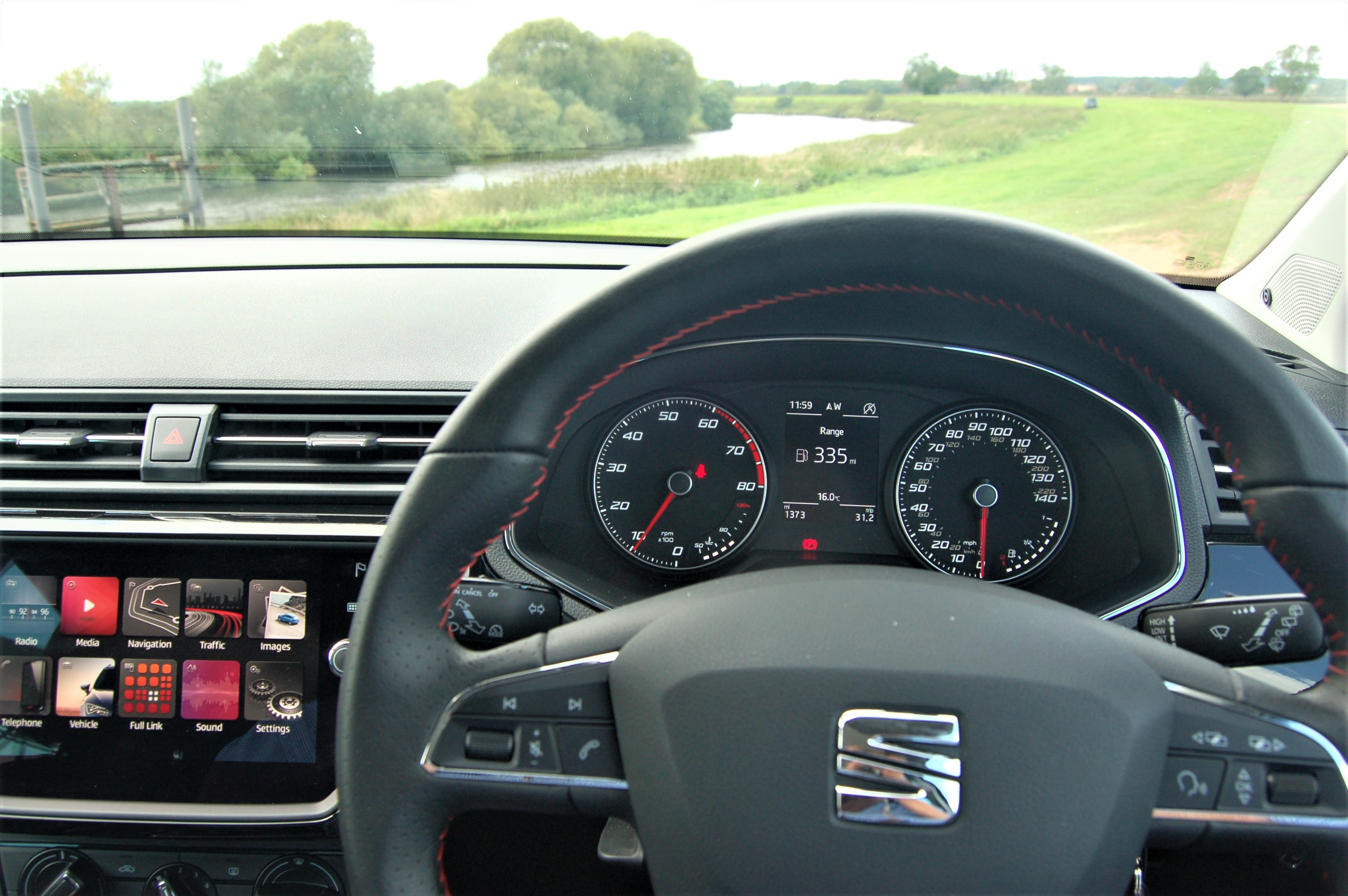 All of the controls, from steering column to foot-pedals, are typical VW fayre and work most efficaciously, with a satisfying operational high quality. Vision fore, aft and laterally is excellent and a plethora of primary safety and semi-autonomous addenda completes the overall package.
The latest iteration in the Seat Ibiza saga is the best example of what the Spanish arm of the VW company can deliver. No longer the 'ugly duckling' of the line-up, it looks every inch the marginally downsized alternative to the attractive Leon, right down to its chromed, twin exhaust outlets. My usual 'pricing issue' is prevalent but the new car is so good that it is an aspect of near-secondary consideration. I am a lover of 1.0-litre triples and this is without doubt one of the better examples that loses nothing by being a baby of the final range. It would make sense as a business vehicle and, if the monthly payments are right, it will warrant its place in the private buyer's eyes too.