Having endured more detail changes over the past five years since its launch than is remotely acceptable for a new car, reports Iain Robertson, the Ford Ecosport has received another repackaging exercise that Ford prays will work this time…maybe.
It may be a company 'in-peril' at the moment, with many of its model upgrades dependent on ever-tightening budgets, but Ford is nothing if not resilient (even though time might be running out on that score too). With senior management only too happy to hike their feet onto their desks and wait for the 'right retirement package' to land, it is unsurprising that 'big company mentality' is probably denting its broader resolve.
When the crossover car sector was kick-started with some vigour in the early part of the New Millennium, it was not envisaged that a full complement of model sizes would be demanded from each car manufacturer. The compact segment was soon joined by medium sector contenders and, then, larger variants. Yet, the combination of easier access, better space utilisation and a desire for lower running costs started to take precedence and the makers of even smaller models found themselves in direct competition with the big players, because they all wanted to stake their share claims.
For Ford, despite being unusually late to market, that meant just one thing…Fiesta. Widely hailed as being one of the most competent small hatchback benchmarks around the world, the designers and engineers at Ford worked feverishly to develop a wee brother to the well-received Ford Kuga, which is based on the Ford Focus platform. It would be fair to suggest that, as one of the largest car manufacturers in the world, the 'Blue Oval' probably has an easier time of it than most of its rivals. However, as the US equivalent of Volkswagen, it also has a 'people's car' remit to fulfil, an aspect that can actually make the task more fraught; one not helped by an obvious desire to avoid spending too much money.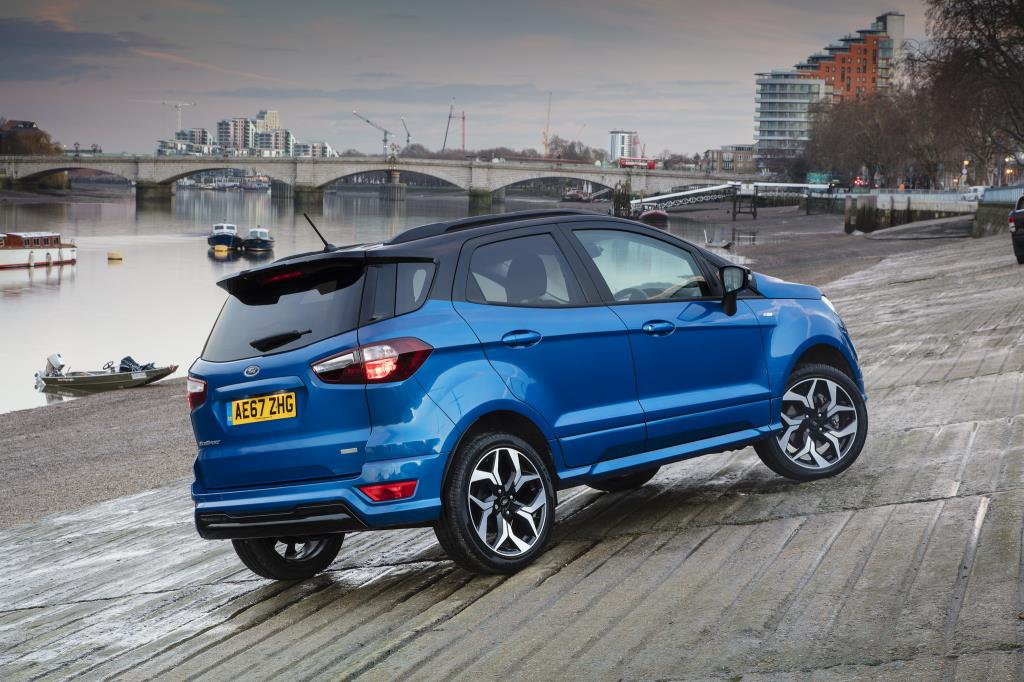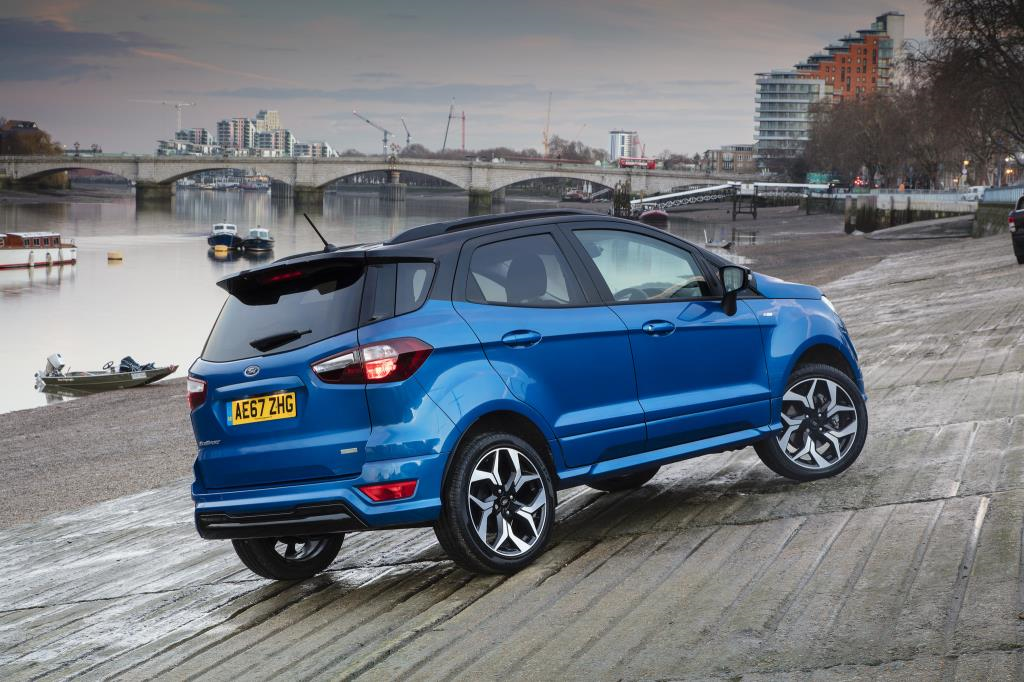 The first generation of Brazilian-built Ecosport models (2012) was received quietly by the new car buying public. A muted response from the omnipotent motoring media, in 2013, was not encouraging. However, the Ecosport is as much about niche-filling, as it is a highlight of genuine internationalisation; this new Ford was developed initially for the Brazilian market and was built locally at the Camacari plant but its relevance as a cost-efficient car for developing markets in India, China, Thailand, Russia and Romania, lent its manufacturing competence to their local factories too. Yet, those early models were shocking in the poor quality of the assembly and the abysmally cheap plastics used to trim their interiors. The car was rushed to market, paying little attention to what the consumer and press responses might be and three, or four, additional upgrades, including the removal of the spare wheel from the back door, in reality, achieved very little. Ecosport was poorly named and a complete cock-up.
The latest (2018) versions of the Ecosport demonstrate Ford's remaining flexibility and, while the UK market has been supplied initially by Brazil, then by India, the Romanian plant is recognised as an East European resource better suited to supplying our showrooms. Complete with the new Ford family face, which links the Ecosport to both Kuga and US-built Edge models more succinctly, the latest iteration reflects the interior upgrades that maintain Fiesta in its Number One spot in several markets.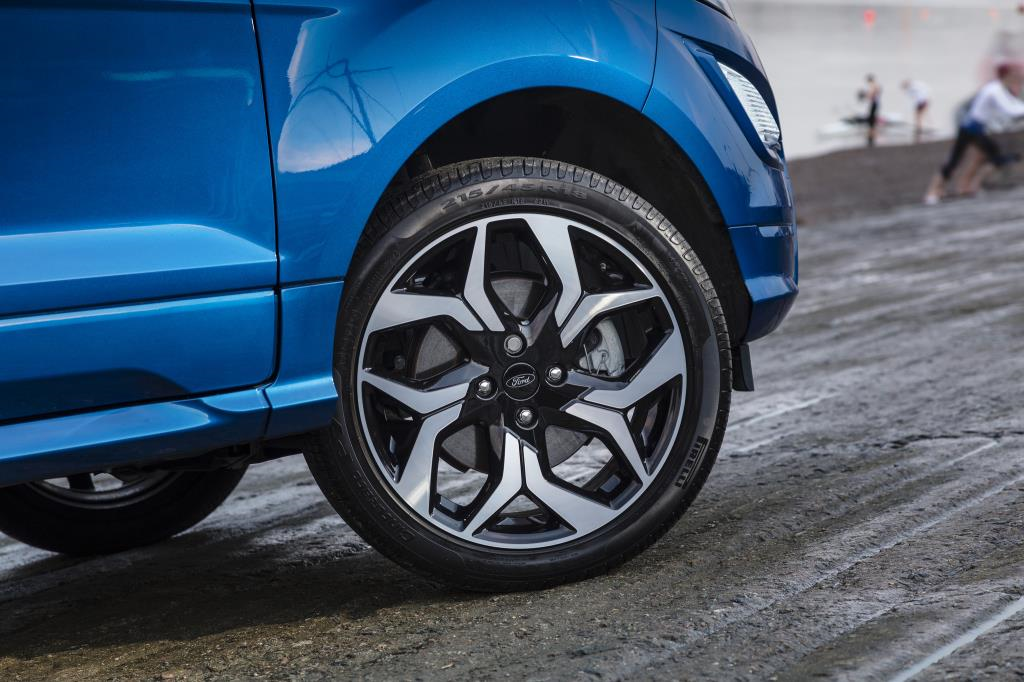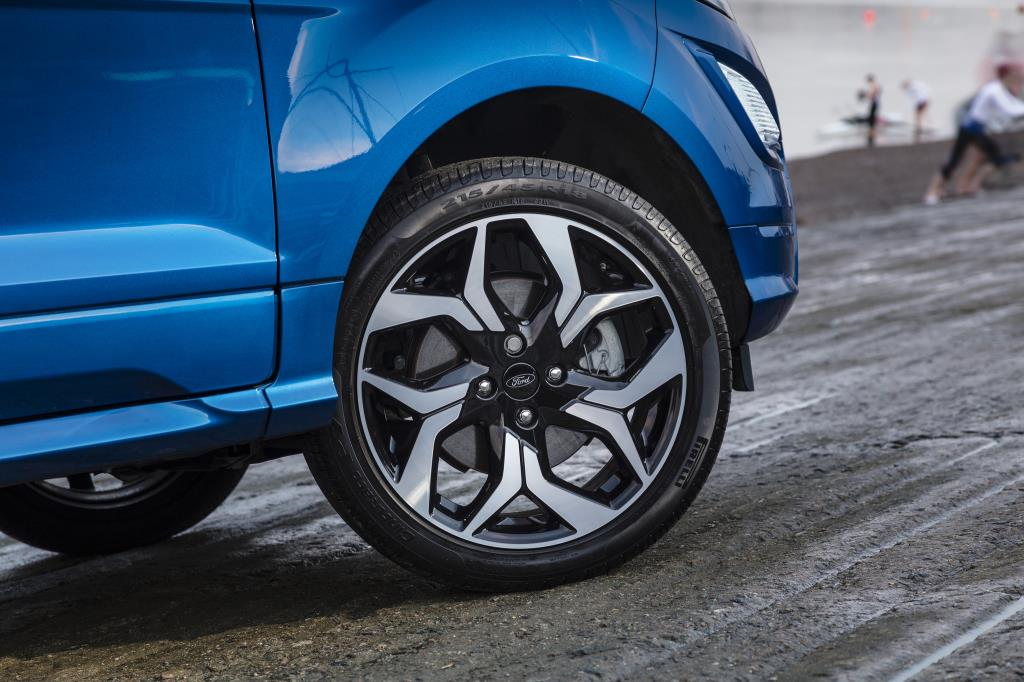 Central to its success has been the British designed and built, three-cylinder, petrol engine line-up. Developed at Dunton, the 1.0-litre unit comes in 99, 123 and 138bhp (the preserve of the ST-line trim) forms and is renowned for its astonishing, low-revs punch, which starts from a mere 1,300rpm and continues through much of the rev-range. Ford is unceasingly amazing at creating benchmarks by which all other competitors are judged. The all-alloy construction ensures that its warm-up time is halved over an iron block, which pays immense dividends in reducing pollution levels. Where a number of odd-cylindered engines use contra-rotating shafts to smooth out inherent imbalances, Ford has employed an 'unbalanced' flywheel into its drive-train that works most effectively, while its timing belt runs through an oil bath to extend its life-span and aid overall efficiency.
Factor in the exhaust manifold that is part of the cylinder head casting process and further warm-up times and fuel efficiency gains are made. It is a most ingenious design, upon first acquaintance, and possesses a footprint of around the same as a sheet of A4 paper, which further underscores its teensy dimensions and prodigious performance claims. Of course, the Ecosport is sold predominantly as a front-wheel-drive car, although a 4WD version, complete with a 1.5-litre, 124bhp alternative to the standard (2WD) 99bhp turbo-diesel engine is set to arrive on our shores soon. Of course, in diesel-demonised Britain, it remains to be seen how great will be its uptake rate, although the petrols are more than adequate. However, be aware that the three-cylinder units have displayed aspects of unfortunate unreliability, mostly around the cooling system, so beware of overheating, loss of coolant and leaks from the header tank.
Driving through a choice of 6-speed manual, or automatic transmissions, the Ecosport's handling is sound, even if its roadholding is only average, and accompanied by moderately crisp steering responses at the pleasingly weighted helm. Replacing the standard 16.0-inch diameter alloy wheels with either the 17.0, or 18.0-inch optional alternatives, succeeds in enhancing the Ecosport's on-road stance but the larger alternatives also tend, thanks to their lower-profile tyres, to make the otherwise smooth low-speed ride and handling compromise somewhat more knobbly, perhaps even disconcertingly so. If you like the looks, be prepared to endure a ride comfort trade-off.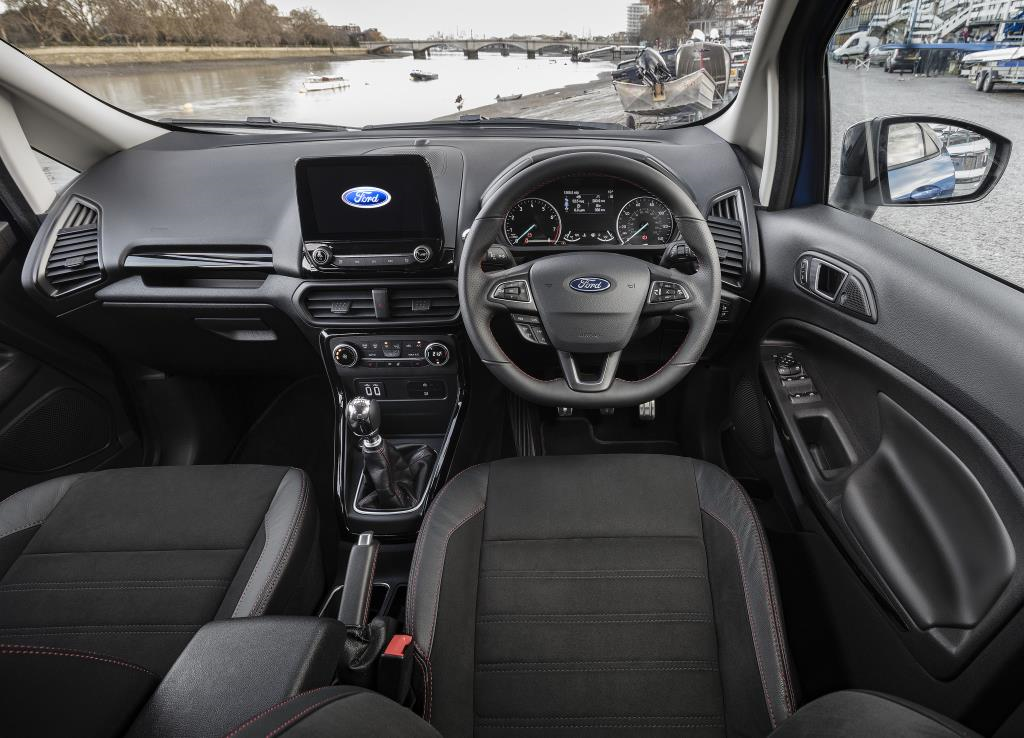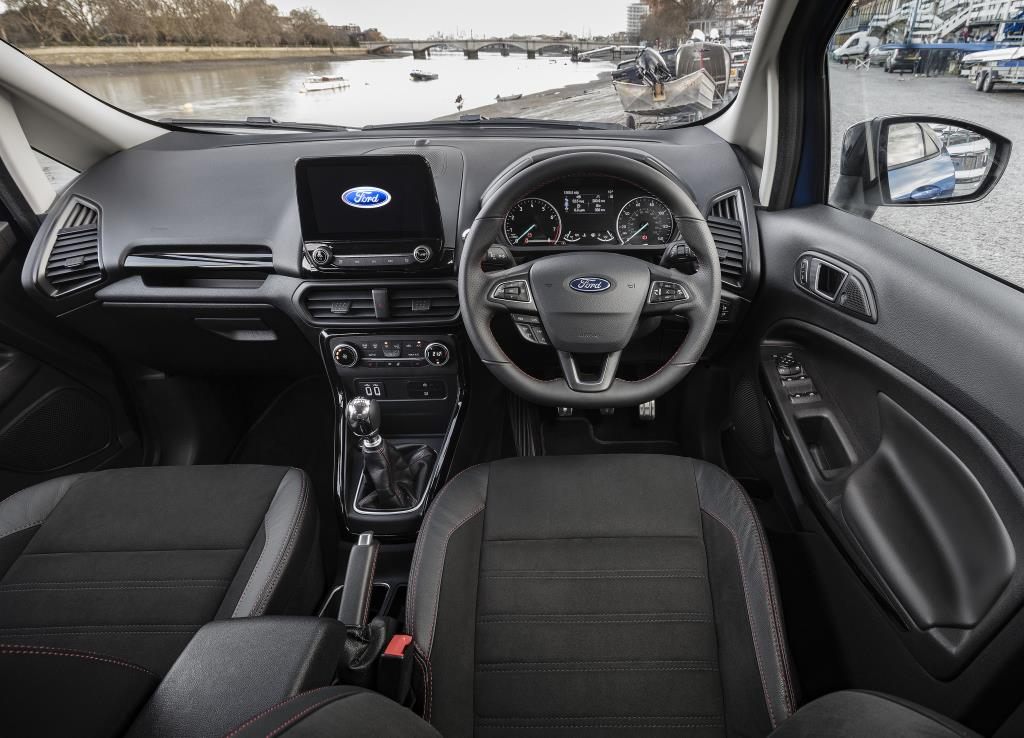 Naturally, all occupants benefit from the higher ride height of the pseudo off-roader, not least from the easier access to a modestly-proportioned cabin. The view outward is first-class and the driver benefits from being able to gauge the car's dimensions most satisfyingly, which makes parking and around-town manoeuvring significantly easier than many of Ecosport's rivals. However, space is tight in a narrow body.
Adopting the latest Fiesta dashboard is a master-stroke. Its blend of tactility and visual clarity is superb. While a 6.5-inch, full-colour touch-screen is standard fayre, both Titanium and ST-line alternatives receive the 8.0-inch option. Bang up-to-date, the system reacts quickly and offers immediate connectivity with Apple CarPlay and Android Auto smart-phone mirroring. The dashboard is alive with colour, which also makes it a joy to view, although the main instrument pack is a paragon of clarity.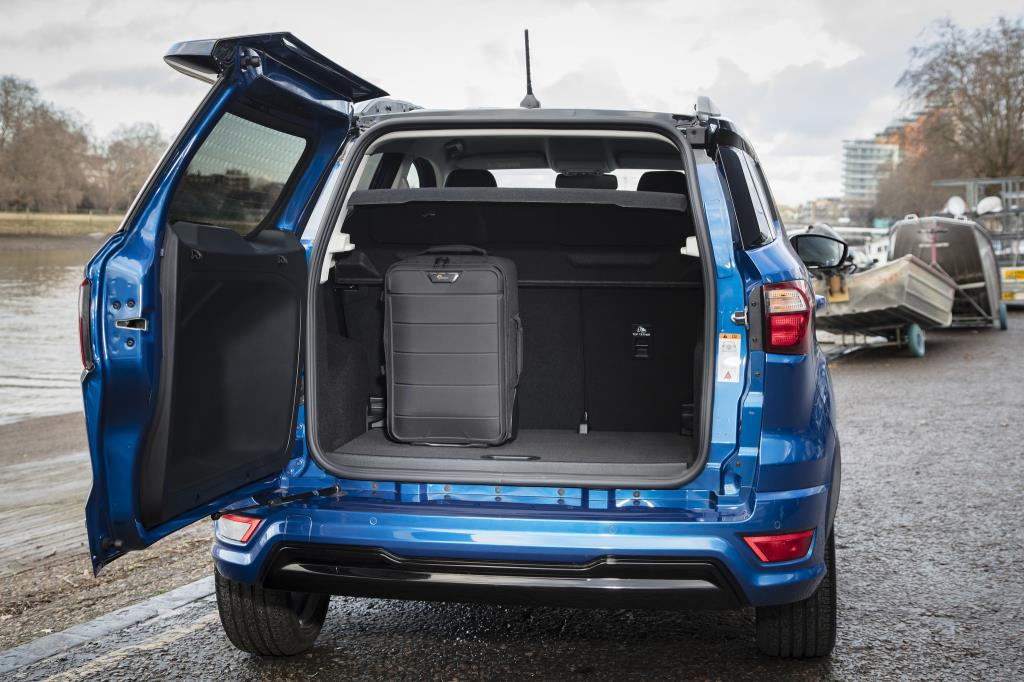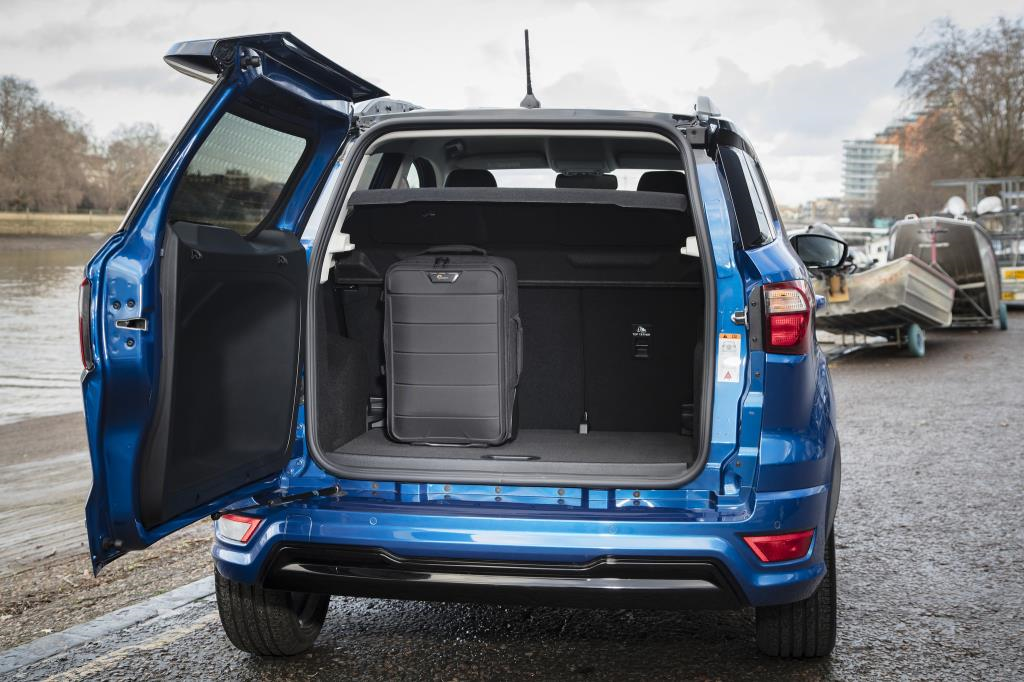 Bearing in mind the Ecosport's narrow footprint, its 4+1 seating accommodation is understandable but all occupants should be contented with the amount of space available. The rear seats split-fold 40:60 for added flexibility, while the side-opening rear door adds an unusual and eye-catching access to the boot, which is opened by depressing what looks like the reversing lamp in the offside-rear lamp cluster. Cleverly integrated, the door emits a lovely solid 'clunk', when it is slammed shut. However, the amount of space it needs to clear obstacles like posts in car parks, allied to its hinge being at the nearside of the car (which means it opens easier for left-hand-drive markets), is a major negative. Yet, the overall build quality of the new Ford Ecosport is very good. Combined with its cheeky overall styling, it is not surprising that it is a popular crossover and is better than the previous generation.
Ford's intelligent upgrades to the Ecosport crossover range have enabled even greater integration with the rest of the line-up. While the 123bhp 1.0-litre is my engine of choice, a full complement of trim and engine options provide greater consumer choice and might enhance the model's popularity, in a case of third, or possibly, fourth time lucky. With prices ranging from £17,295 to £23,450, its pricing might be a tad bullish.