You can blame Nissan for taking the SUV from rudimentary roots to mainstream success, suggests Iain Robertson, but Nissan's 'cash cow' also remains one of the world's best-selling family cars, possessing plenty of business-pleasing features.
Had you gazed into a crystal-ball back in the mid-1990s, perhaps to take a 'view' of how the new car scene would change in the coming two decades, rest assured, the growth of the SUV/crossover market would not have appeared. The sector was punished by high operating costs, questionable residual values and a pertinent lack of dynamic stability.
Every which way you turn these days, another carmaker is introducing another SUV, or crossover model. To be frank, the vast majority of them fall into a single classification: front-wheel-drive, style-centric, yet roomy enough for the modern family, or practical enough for business use. However, even those primary assets have now been diverted into mainstream models, with super-sporting and 4×4 offshoots factoring in spicier options that ensure the entire sector continues to grow like Topsy.
Yet, it is worth remembering that, since the Qashqai's original launch in 2006, it has been designed (at the firm's own design centre, near Milton Keynes) and produced in the UK, at Nissan's Sunderland factory, and it is the car that epitomised the description 'crossover' – a refreshingly uncomplicated and accommodating family car, possessing compact hatchback running costs. It is a model that has set a number of landmarks during its life, which consists still of just two model generations, not including upgrades of which there have been several, over the past twelve years. However, millions of them exist around the world, carrying names as diverse as Dualis, Rogue and Venucia, in other markets, further highlighting Qashqai's remarkable reputation.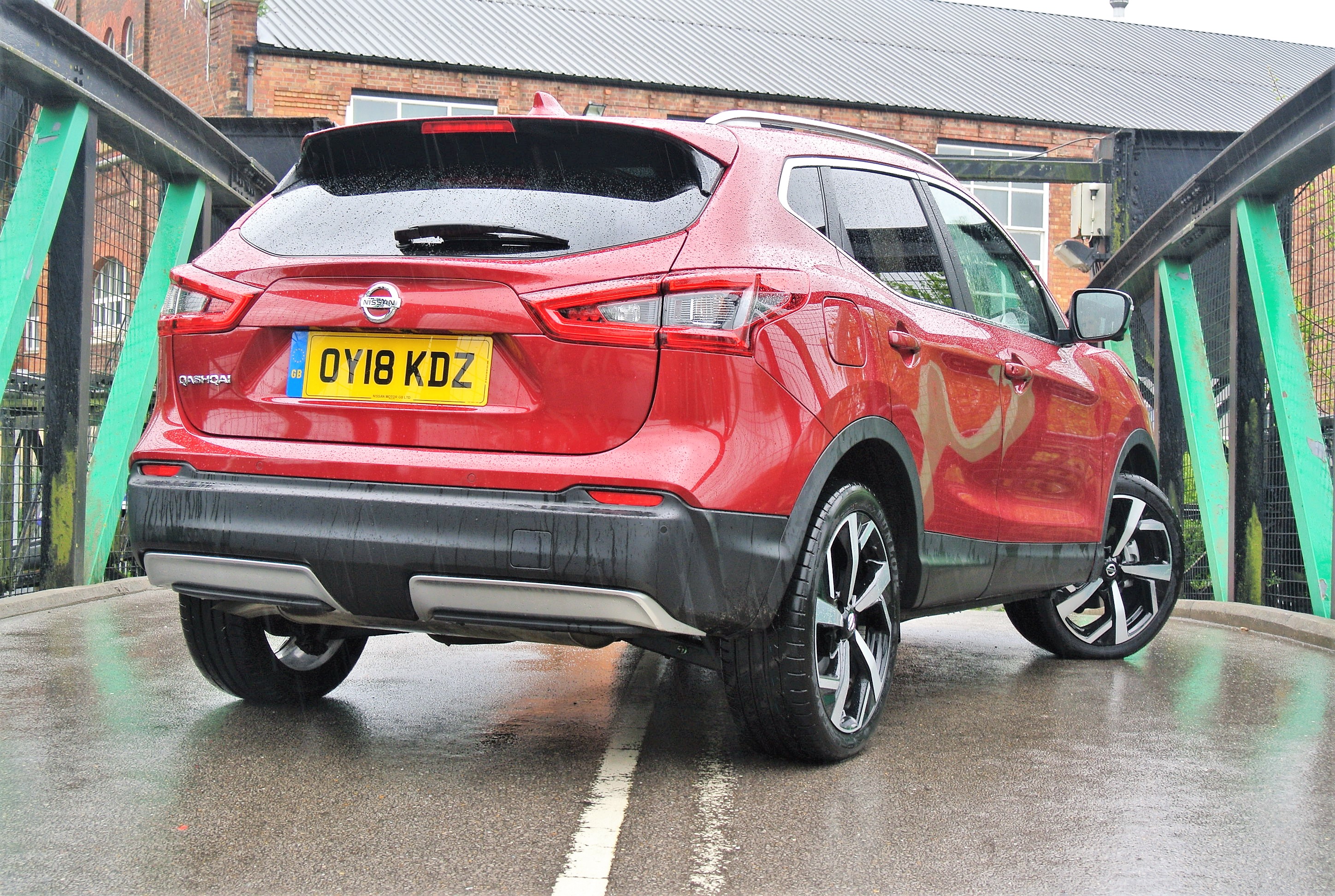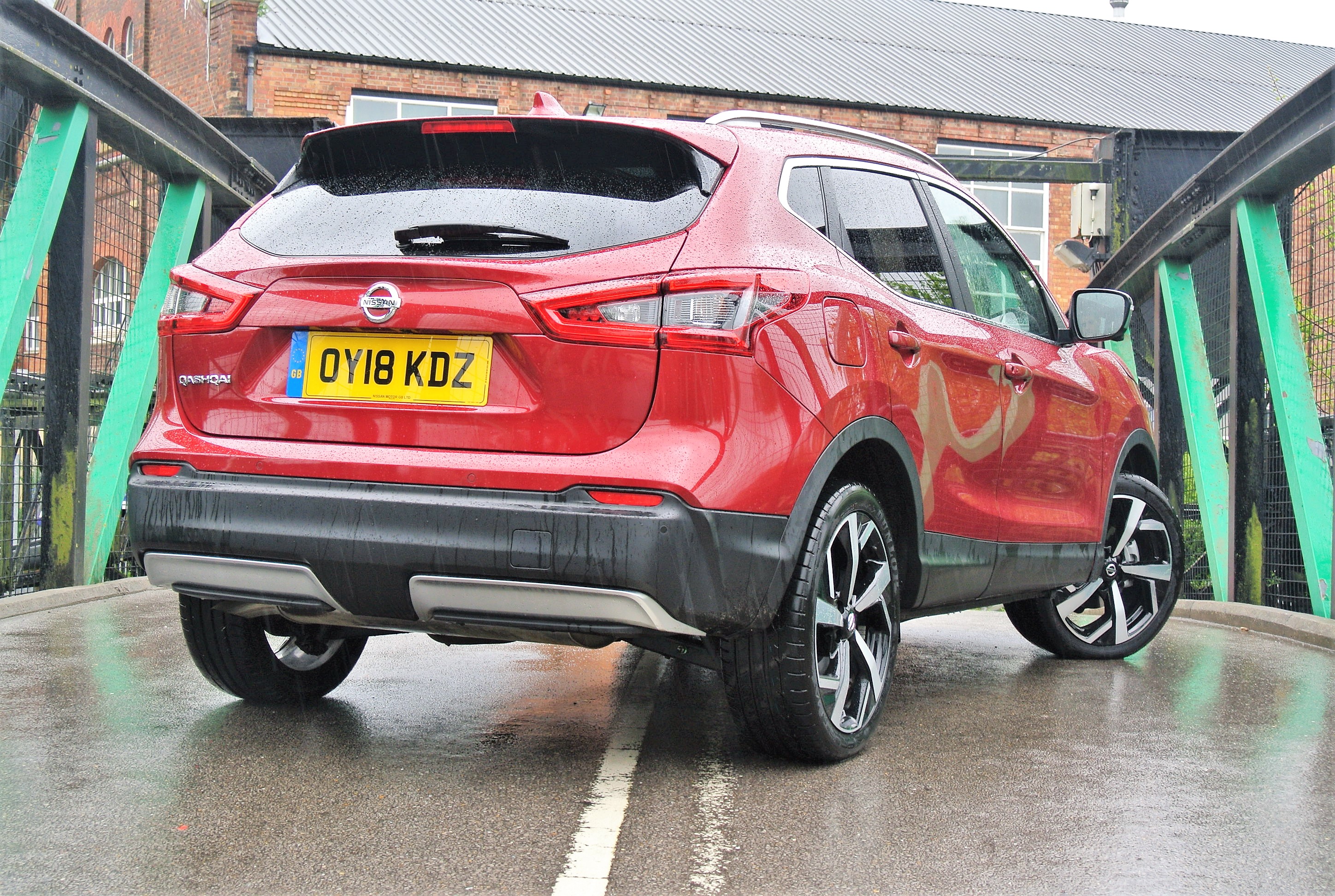 Interestingly, despite the existence of the present, second generation model since 2013, you will spot several different Qashqai day-time running lamp signatures across the period, usually resulting from minor model upgrades. In fact, the Qashqai shares its platform and running gear with the Renault Kadjar, a factor that has been beneficial to both brands, not least with the test example using the 1,618cc, four-cylinder, 16-valve, 160bhp petrol power unit that also powers the French product, as part of the firm's joint strategic partnership.
It is a very fine engine, producing a lively turn of performance (0-60mph in a zippy 8.6s; top speed of 124mph), in conjunction with a crisp six-speed manual gearbox (there is a CVT automatic alternative, if you can tolerate the engine revving). Refined, with a smooth power delivery, it supports its original remit with a posted fuel return of 48.7mpg on the Official Combined test cycle, while emitting a modest 134g/km CO2, which equates (based on its list price of £28,995, for the Tekna+ specification) to a first year's road tax of £205 and subsequent years at £140 under the new regime. Interestingly, the equivalent 1.6-litre diesel version, were that the preferred option, would attract the same tax levies but a better overall fuel consumption of around 55mpg. However, it would take longer to amortise the list price differences, let alone the extra fuel costs associated with diesel, making petrol the sensible option in this case.
It might also be worth noting that Nissan's original status has made the company very conscious of ensuring that the Qashqai is as close to the top of the tree in consumer selection terms as it is possible to be. While its be-fendered and cue-laden SUV accoutrements are abundant, thus ensuring that no mistake can be made about Qashqai's place in the new car scene and especially in the new SUV sector, its build quality and interior detailing are so singularly impressive that I am unsurprised that it is such a major best-seller.
While the test car tips the scales with its on-the-road price tag of £32,575, which includes an excessive £745 for the red paint finish, it could be described fairly as being 'loaded'. Its keyless entry and start procedure is at the head of a long list of standard fittings in Tekna+ trim that include driver assist and safety features that are bang up-to-date and either match, or exceed, what is available on any other car in the class.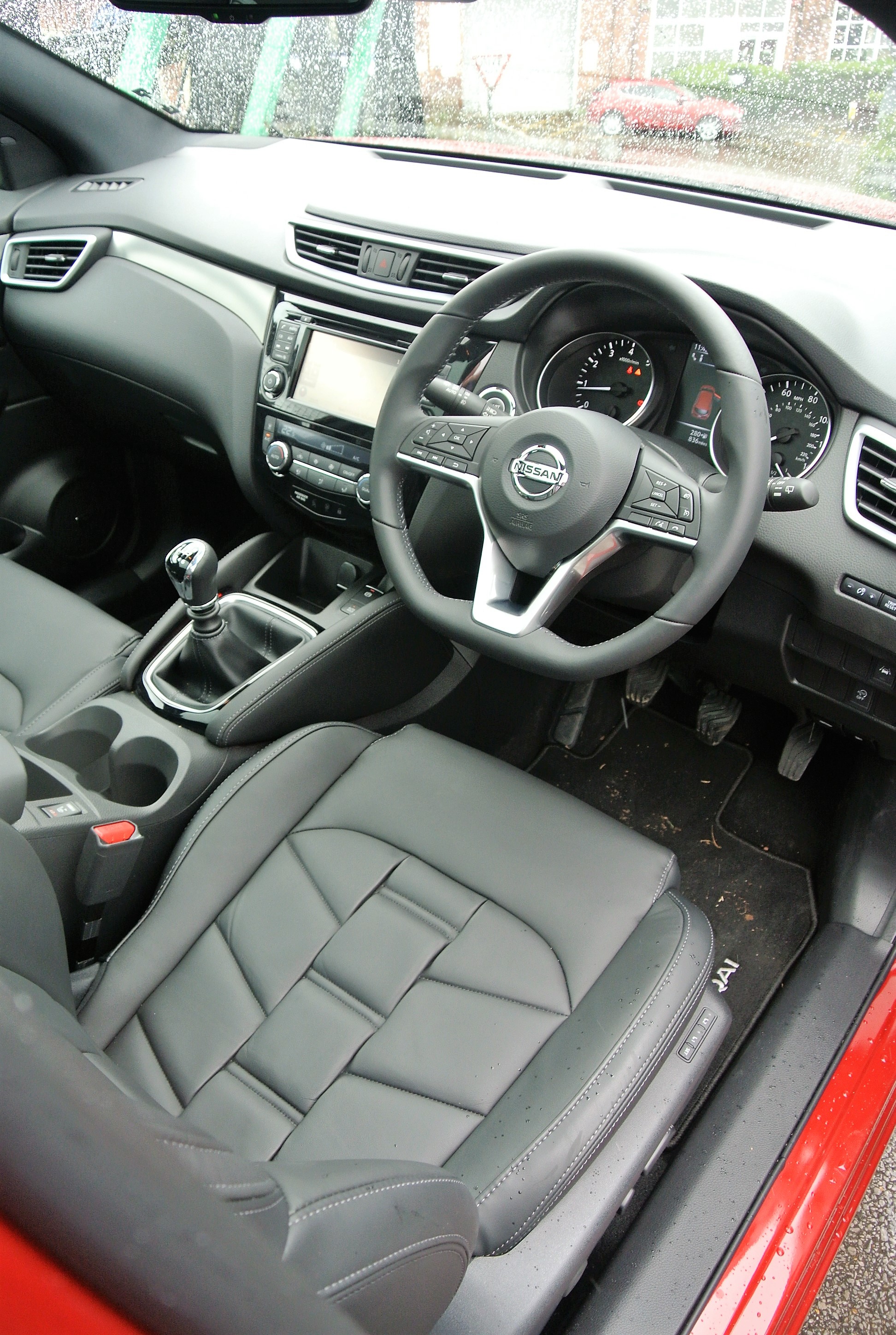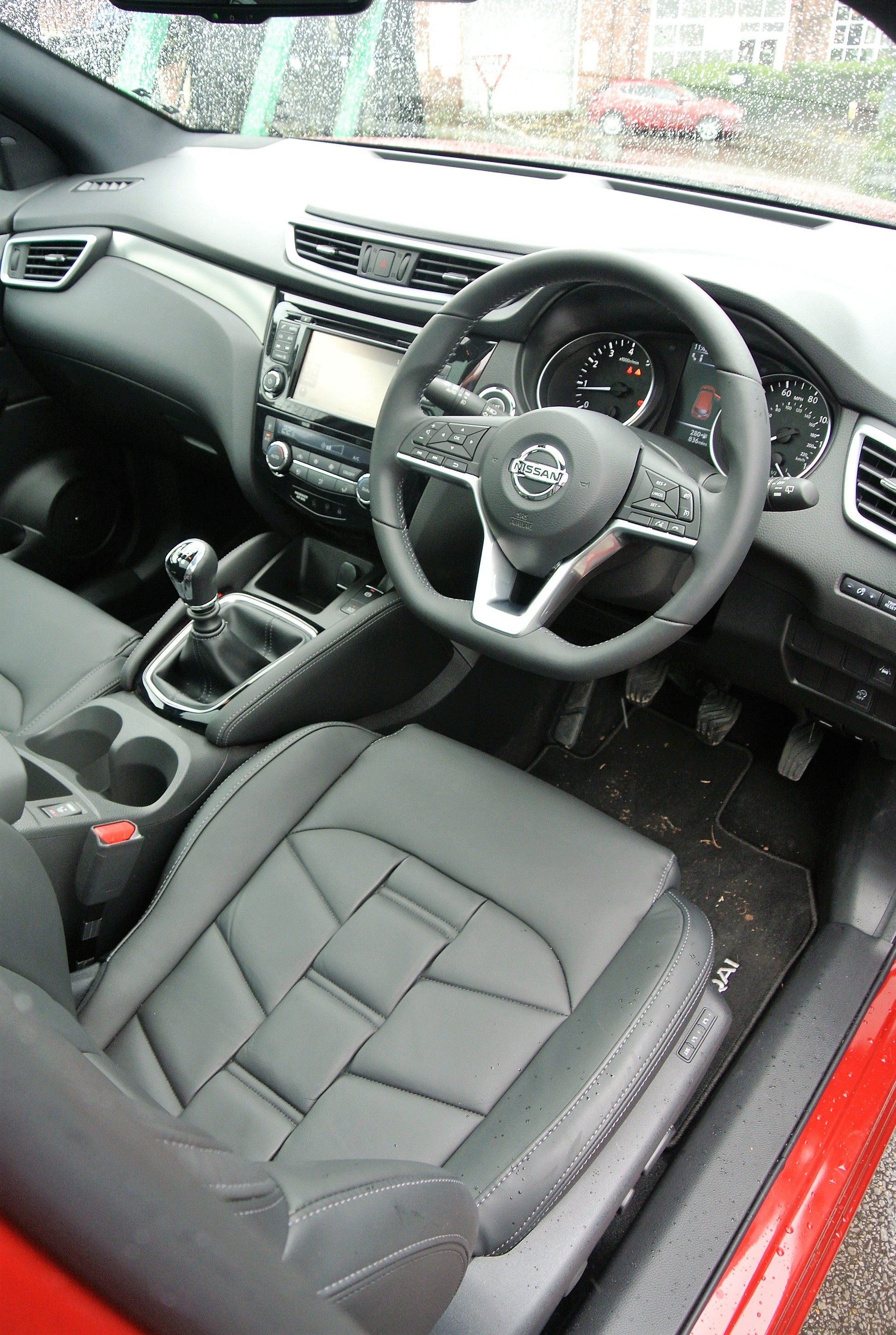 An high-quality BOSE stereo, complete with subwoofer and a comprehensive array of connectivity options keep the car on a technological track, while climate control and exceedingly supportive, multi-panelled, hide-covered seats and plenty of soft-touch and highly tactile surfaces ensure that users want for little on the creature comforts' front. A full-length glazed roof panel, complete with electric blind, means that natural light floods the interior and provides a draft-free open-air impression, while also relieving the otherwise sporty, but oppressively black, interior trim.
The cabin is exceptionally roomy, with plenty of space both in front and rear compartments and a 401-litre flexible boot area, with lift-out panels for added storage, adding to its tremendous practicality. A thoroughly competent, 360-degrees camera system, which is slightly more realistic than some systems, provides added safety and assistance for parking, or manoeuvring, in tight spaces. If anything, the dash-centre mounted information screen is unfashionably small, which can make reading it awkward.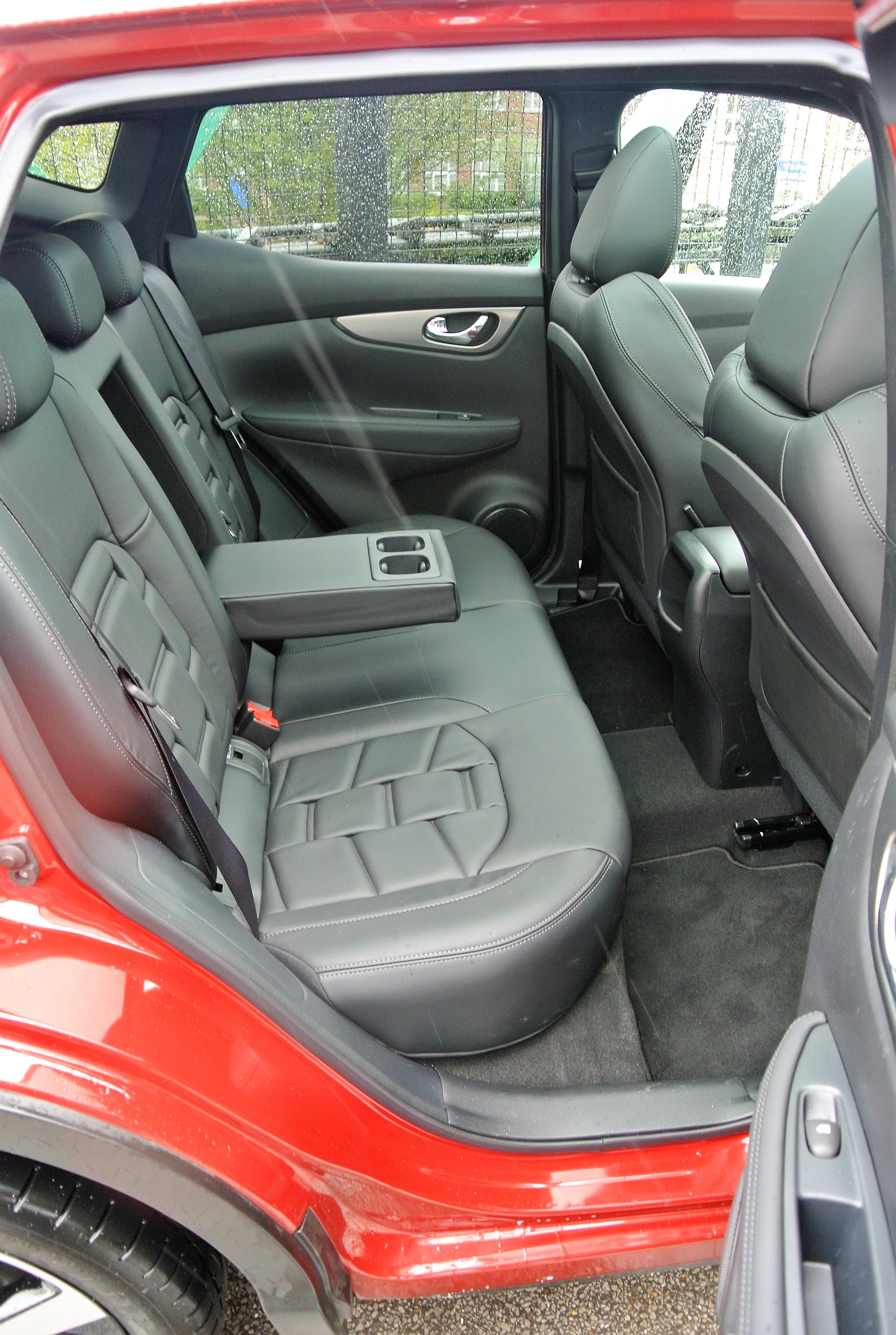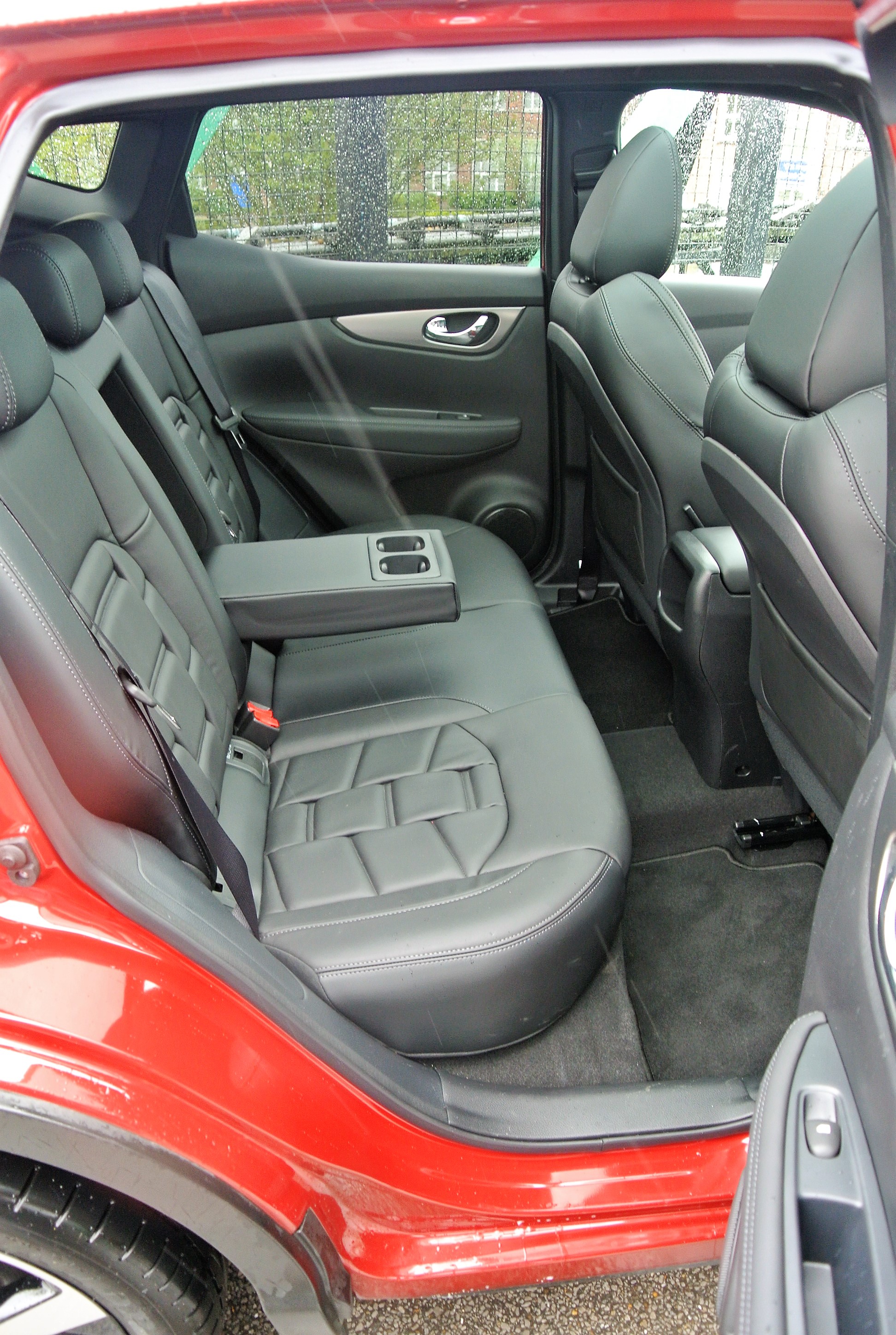 Yet, it is the Qashqai's on-road appeal that proves to be one of its most satisfying aspects. While it is only front-wheel-drive, its chassis balance is excellent, possessing neither the top-heaviness of some of its rivals, nor the suspension harshness of others seeking to support the 'S' of Sports Utility. However, it is firm enough to resist body roll and, even running on ultra-low-profile tyres, fitted to 19-inch diameter and very attractive alloy wheels, it provides excellent bump-thump suppression. However, the low-speed ride quality can be affected adversely by surface ripples and the tyre racket caused by driving on concrete sections of motorway can become disturbingly noisy.
The flat-bottomed, leather-wrapped steering wheel, with its useful cross-spoke located micro-switchgear, directs the Qashqai most positively and without undesirable tugging, even on give-and-take road surfaces, despite the fat tyres, which do provide unerringly strong grip. Meanwhile, large diameter discs provide assured stopping power from the fairly high speeds at which this Nissan is capable of travelling.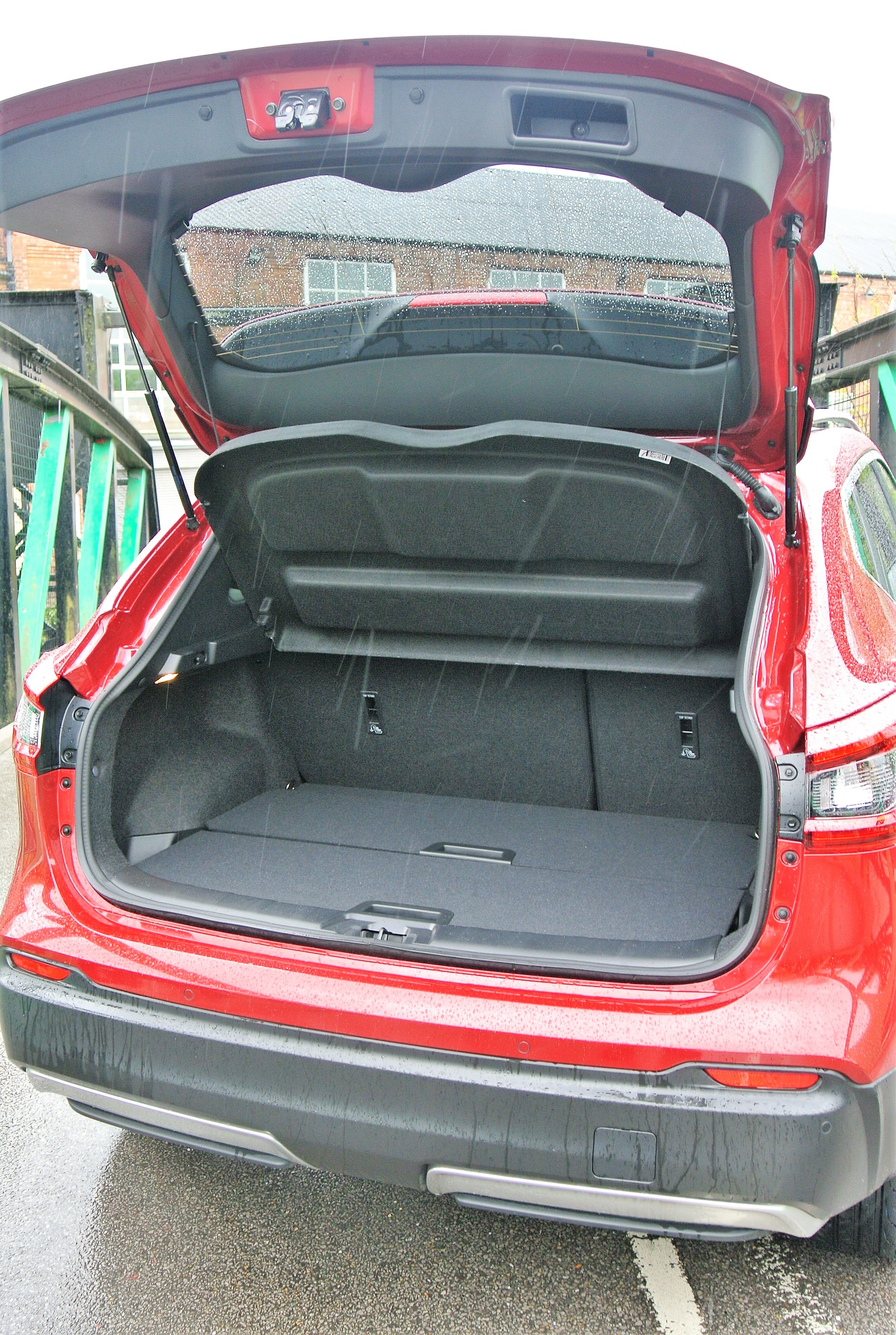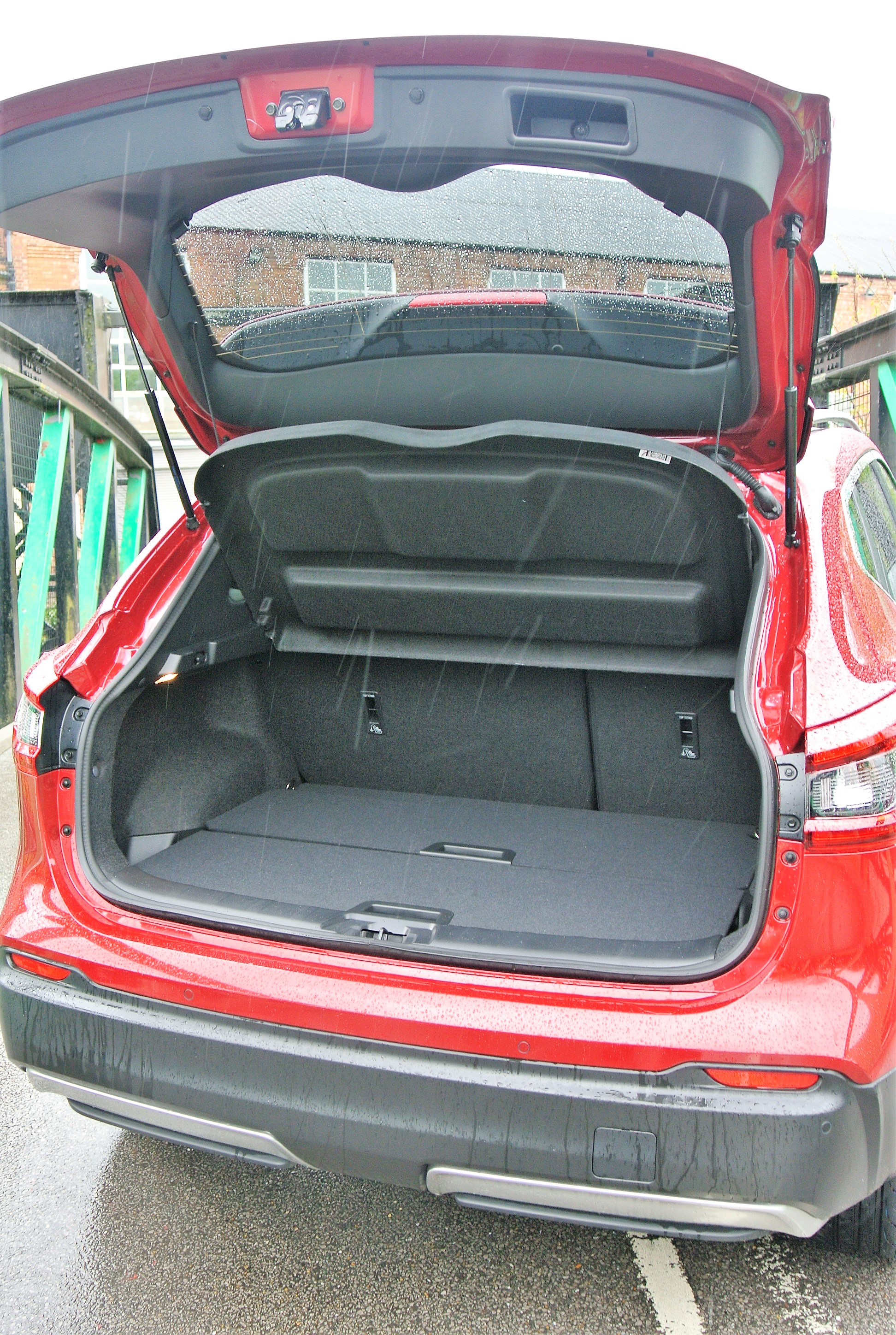 While design is invariably an individual demand, the Nissan Qashqai fits the SUV/crossover mould (that it created, after all) to absolute perfection. It is subjectively handsome, without presenting the overbearing nature of its 4×4 larger brethren and, if you really want all-wheel-drive, there are several options on Nissan's table including those wearing the Qashqai badge. While the engine choice is good, the 1.6-litre petrol is certainly the class of the field, possessing more than adequate verve, allied to very reasonable and affordable running costs.
Working on the basis of 'original is best', Nissan works hard to keep its Qashqai model at the coal-face. From a purely personal viewpoint, I have seldom been so impressed by a latest iteration of a popular model, as I am with the Qashqai. That it can boast near-indefatigable levels of reliability, while holding a strong residual value is much to its credit, which suggests that it is as much in demand second-hand, as it is box-fresh.