Never a brand that fears technological advancement, suggests Iain Robertson, the latest Mazda3 relies wholeheartedly on high engineering integrity but affordable pricing, with the end result being levels of driver satisfaction hitting fresh peaks.
While The Kinks, a popular beat combo of the late-1960s, may have preached about a 'Dedicated Follower of Fashion', Japanese carmaker, Mazda, pursues a different style of automotive evangelism. Normality is an aspect that can be twisted by marketing departments into gormless fashion sense. Sadly, when a 'new-normal' is formulated, the original and often the better form of it drifts into a rapidly ignored memory. No matter what your pennies are drawn to in a commercial sense, food, furniture, financial opportunities, or personal transportation, being goaded into the 'next best thing' can become a myopic gesture that leads to a downward spiral of perpetually desiring more.
In many ways, motorcar marketing is closely akin to the partaking of social drugs, smoking, or drinking. A promise of life enhancement, added colour and some distant aspirational high, always for a few bucks more, becomes a compelling issue. Mazda Cars has always been a traditional 'small, medium, large' class of carmaker. Over the years, it has been driven into both SUV and MPV sectors. It has been a fashion faddist, yet it has never forgotten its roots, as is exemplified by the charming Mazda3, a car that fits the corporate requirement to perfection, without insisting on modern technology to make its point.
Personally speaking, I have a long history of technically interesting Mazda running through my arteries. Apart from early ownership of 1300, 323 and RX3 models (in the 1970s), the brand supported my endurance driving endeavours of the mid-1990s and my MPG Marathon class and outright victories of the noughties. In fact, those challenges resulted in many fresh records being established that drew significant attention to the marque.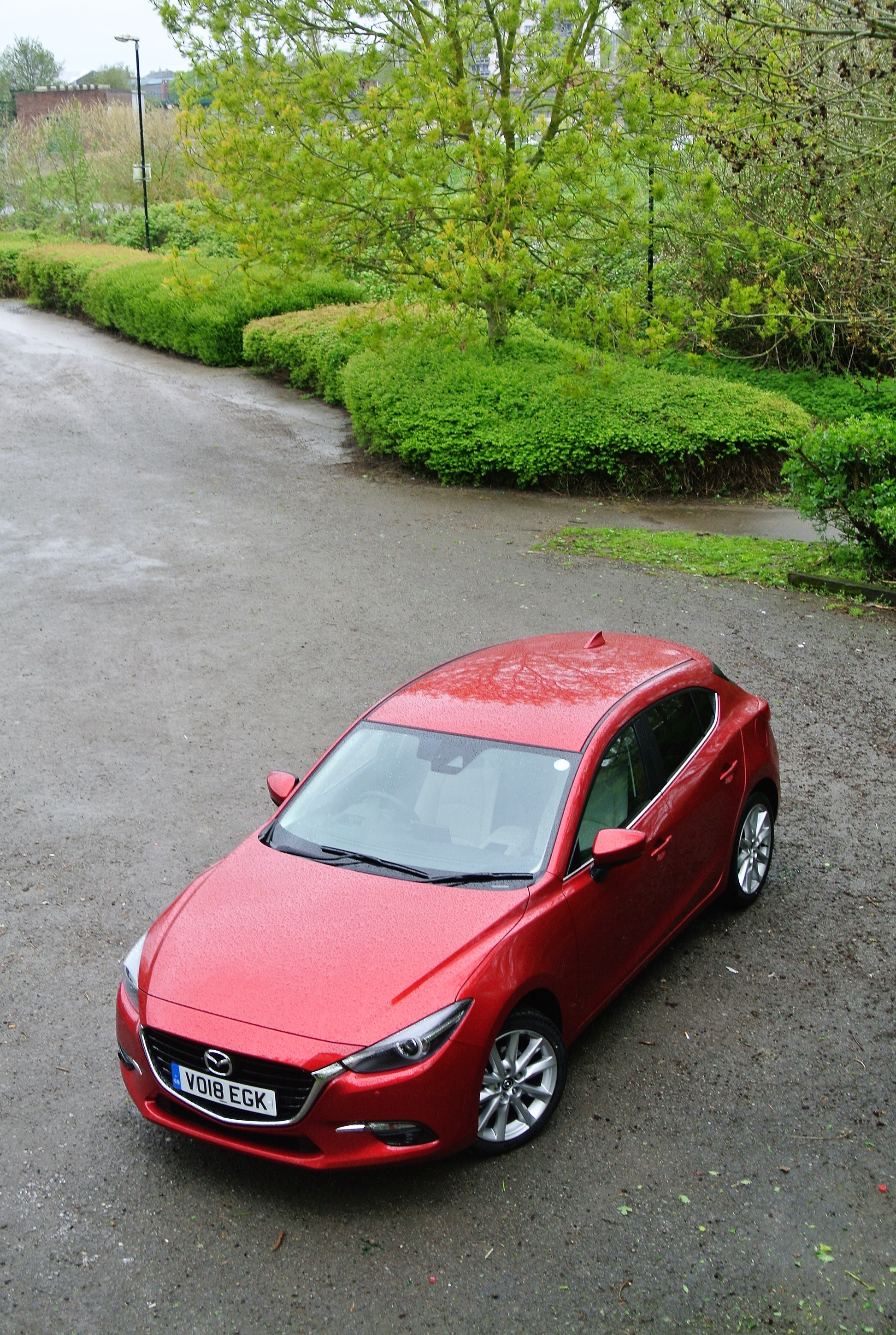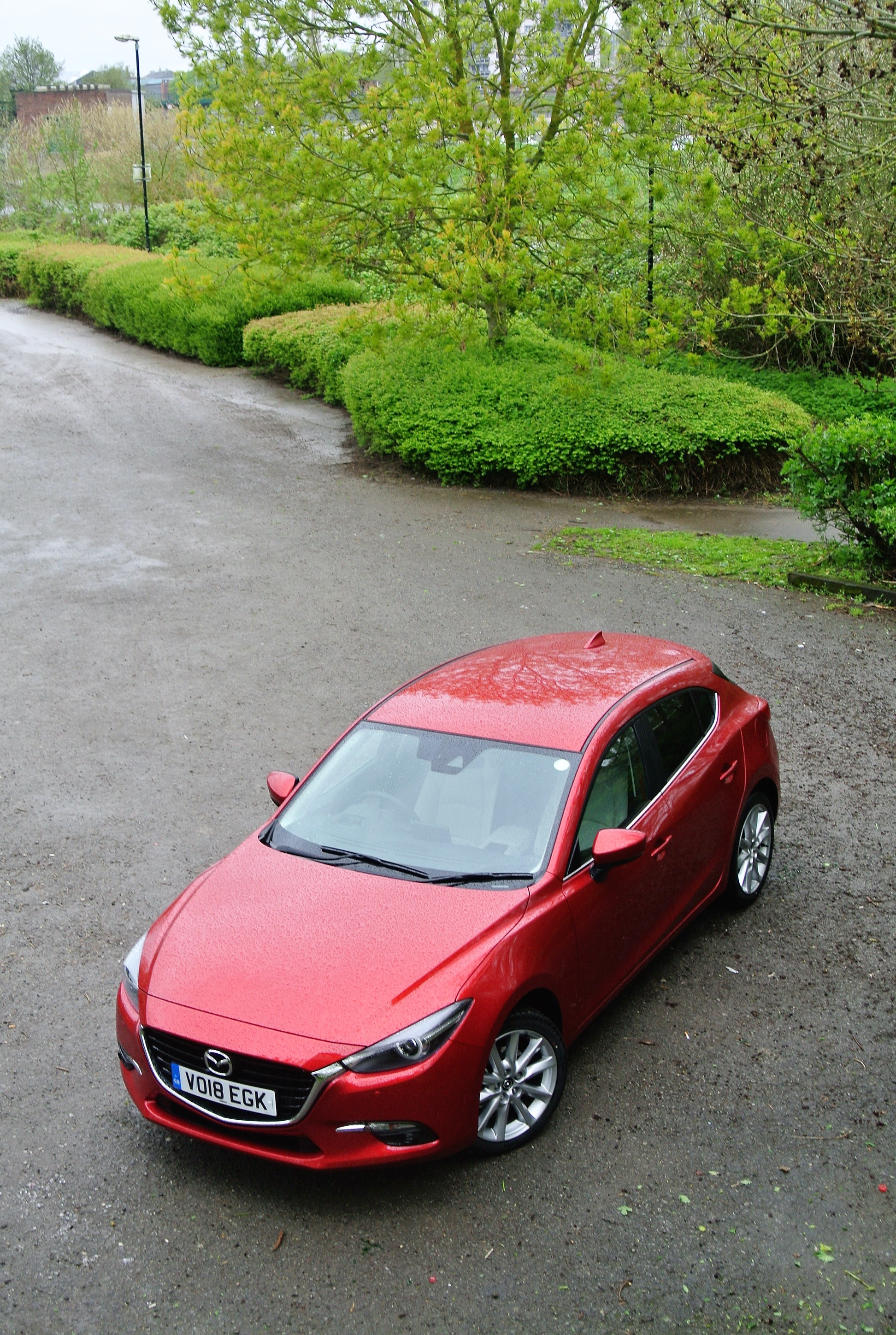 While beauty has always been in the eye of the beholder, I can state categorically that the current Mazda3, a rival to the Ford Focus and Peugeot 308, manages its style stance to perfection. From its elegant snout, via its wave-form flanks, to its coupe-like tail, it is every inch an effortlessly good-looking car, all without being nervously self-conscious. From whichever angle you view the 3, it presents a natural sense of balance, being both hunkered-down, long and wide enough to be sporting in aspiration, yet possessing practicality in abundance, once the cabin doors and hatchback are opened.
However, delve beneath the bonnet and, rather than following the current market trend of installing a teensy, turbocharged, three-cylinder power unit, Mazda appears to have headed off in the opposite direction. Displacing 2.0-litres across four, petrol burning cylinders is a major buck-trending exercise. Intriguingly, its power output is a relatively low 117bhp, albeit allied to a decent chunk of torque (155lbs ft @ 4,000rpm) and exceedingly leggy overall gearing. Yet, the figures only tell a partial story.
Wind it up and the unit can deliver a decent amount of verve, despatching the 0-60mph benchmark in around 9.0s, with a top speed of 121mph. However, the 3 never feels as swift as those on-paper numbers propose, which might lead you into believing that the 160bhp petrol alternative, or either the 1.5/2.0 turbo-diesels would be the better choice, but stick with it, as the base 2.0-litre is capable of an outstanding 55.4mpg on the Official Combined test cycle, from where it tips its main rivals out of contention.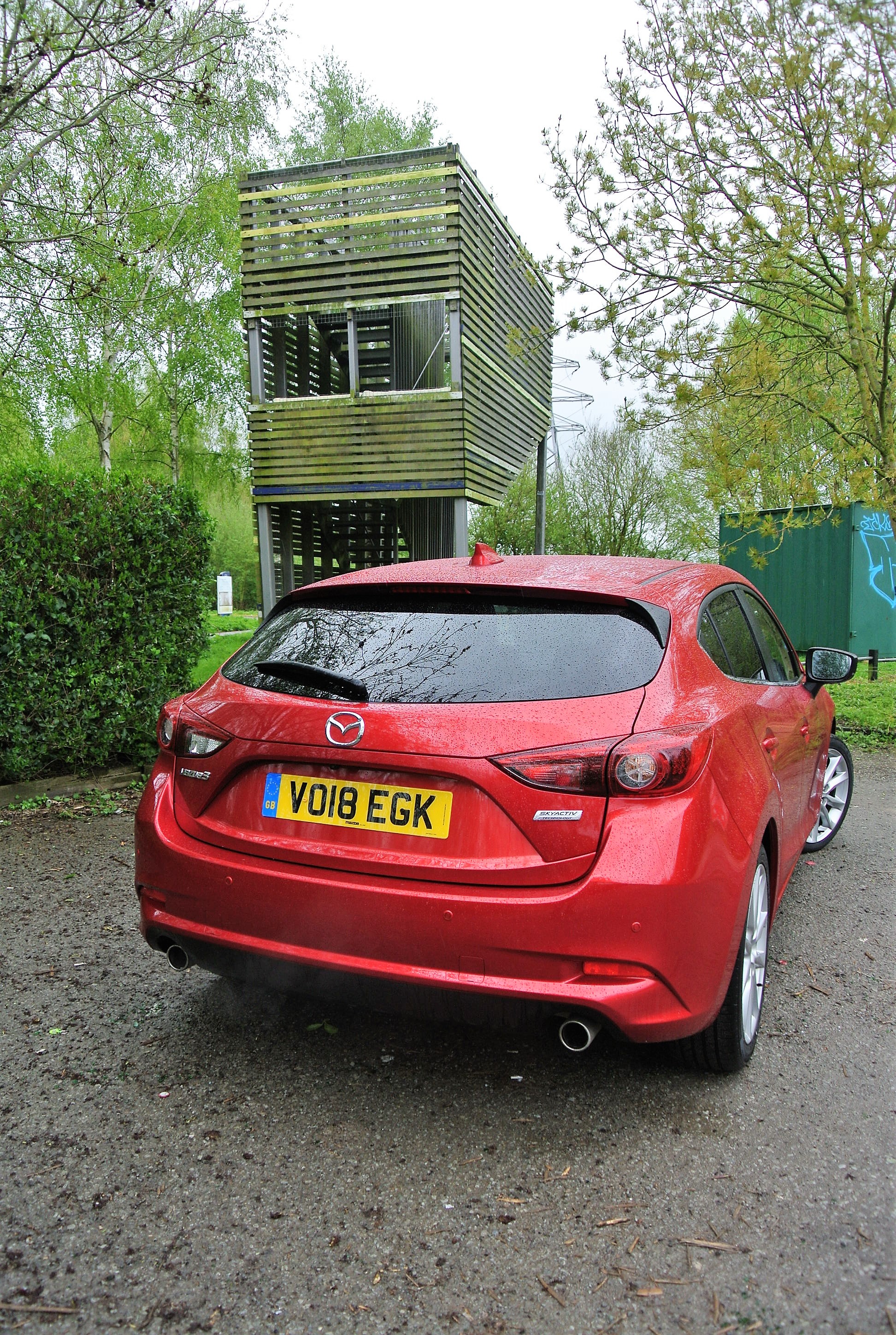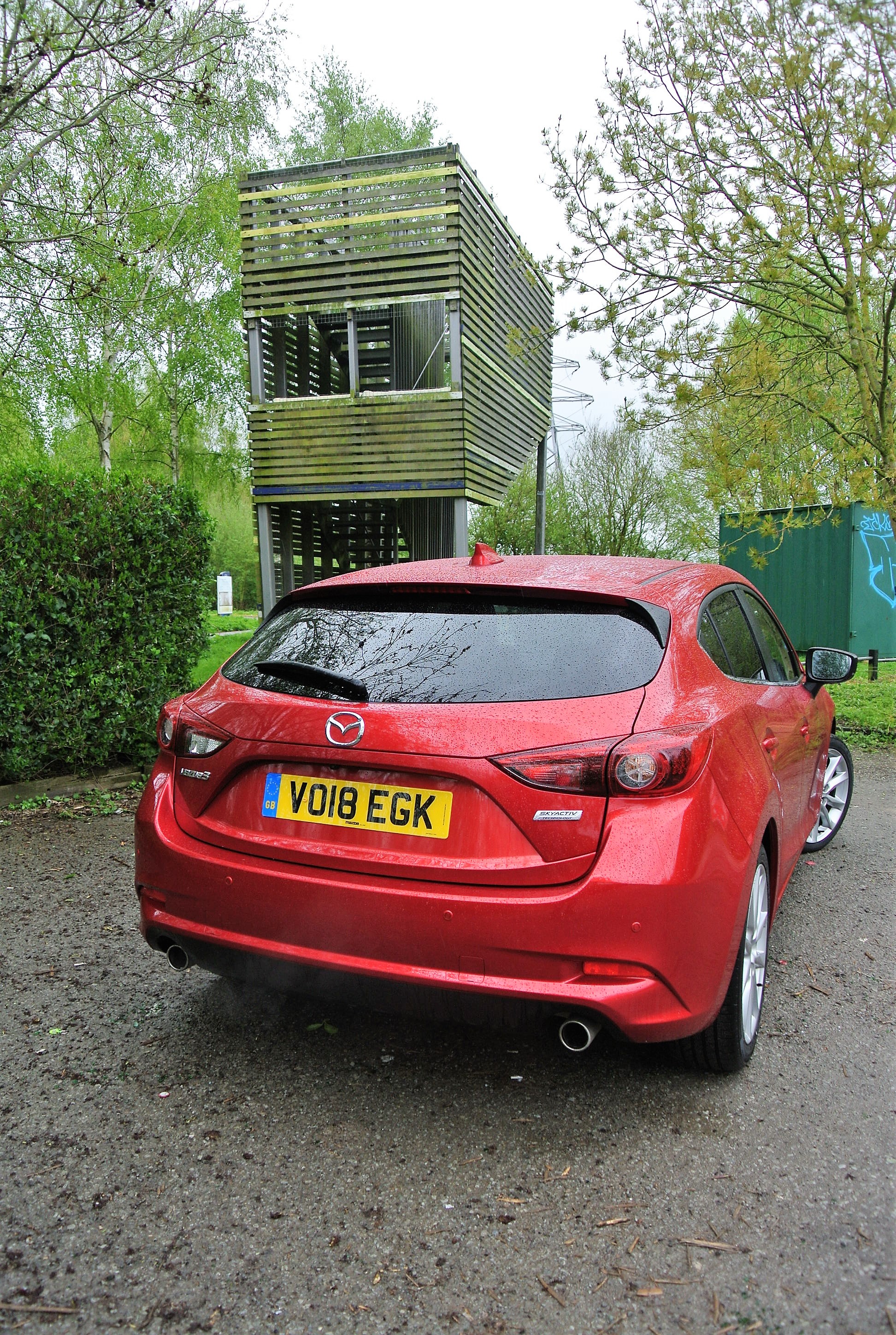 Turbochargers have their benefits, mostly from relatively easy access to overtaking grunt. However, any form of forced induction, whether on petrol, or diesel engines, will also guzzle fuel, sometimes, when you least expect it. The Americans have a long-held belief that a larger engine capacity is not a substitute and, in Mazda's case, they might be right. After all, in this form, the 3 is as frugal as any diesel might be but provides the meaty, yet lazy delivery of a bigger unit and has no difficulty in making zesty progress, its short-travel gearchange enabling speedy ratio changes.
Naturally, in Sport-Nav specification, price-listed from £21,295, as a modestly-sized car manufacturer, Mazda cannot oblige buyers with a raft of alternative models, although the concise options list enables a decent mix-and-match selection, in which case it reflects a more traditional and less customised offering. As such, the test car features a very smart monochromatic interior, with white leather seat facings and dark grey detailing. The driver's seat benefits from electric operation, moves through a sizeable range and, in combination with the rake and reach adjustable steering column, provides space in abundance for almost any stature of occupant. Despite being quite thin, the front seats are exceptionally supportive and hug both driver and front seat passenger strongly, even when exploiting the limits of the 3's delightful road manners. There is plenty of back seat space and the boot is a competitive and well-shaped 364-litres, before splitting and folding the backrests.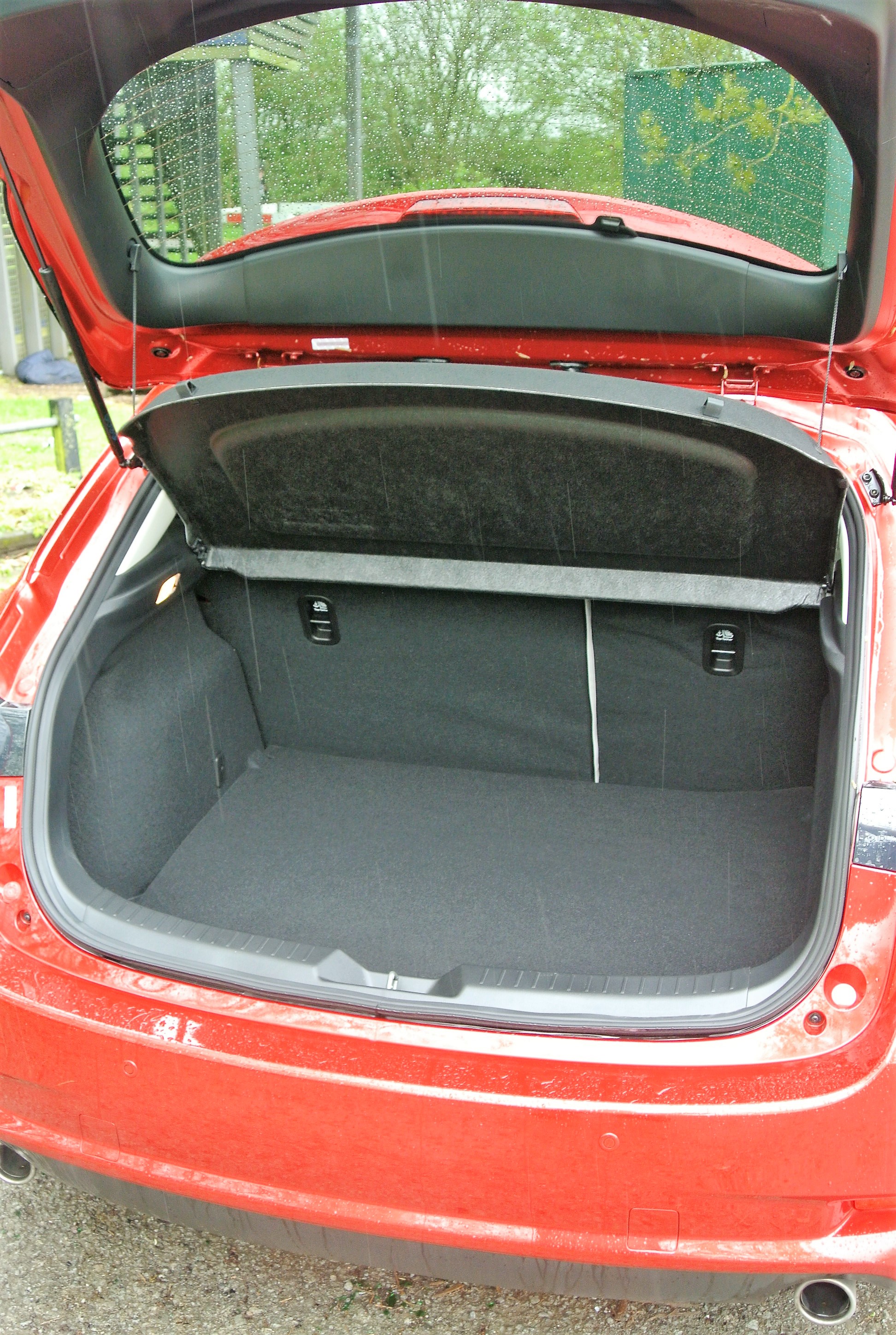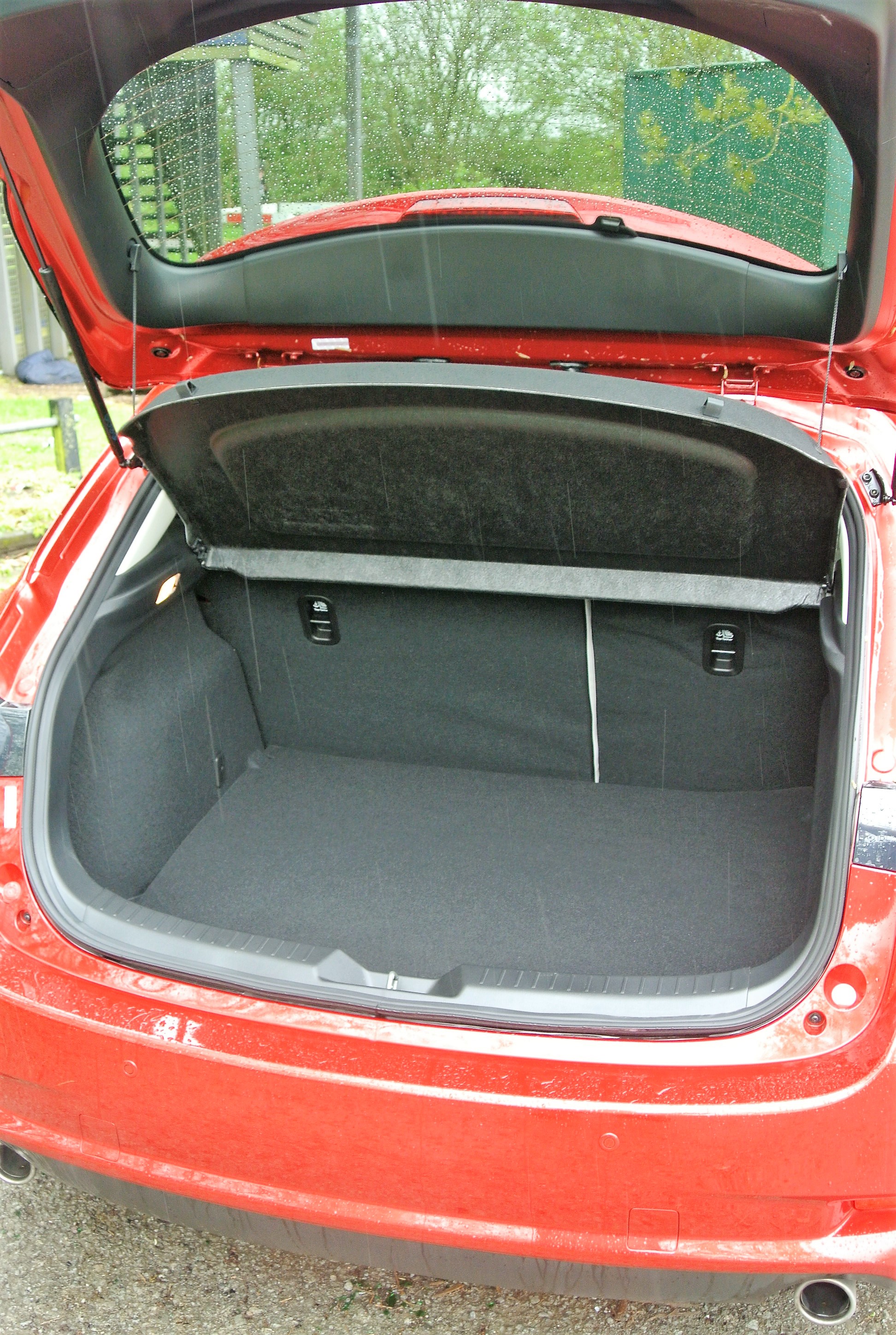 Personally, I love the tactile dashboard design and the main instrument binnacle ahead of the driver consists of a large diameter rev-counter, with a digital speed reading in its lower-right quadrant and digital bar graphs for fuel and temperature readings in the 'wing' displays. It is minimalist and clear. The high-end Bose stereo system, rear-view camera and sat-nav work through the 7.0-inch screen (that is, thankfully, not of a primary 'touch' variety) and a separate slot exists (make a fanfare noise!) for the CD player, which the majority of carmakers seem to ignore these days. Sadly, it can be an annoying and very limited information system, operated using a rotary controller behind the gearstick. It is not the most readily accessible, or logical system. A small, motorised 'head-up' display can carry speed limits, road speed and arrow directions, to allow the driver to concentrate more on the road and less on the dials.
As hinted at earlier, the 3's dynamic competence is both driver orientated and very positive. Lithe steering and firm but not crashy suspension, allied to strong braking performance from the all-disc system is helped by a good overall balance that creates both excellent feedback to the driver's fingers and engaging on-road behaviour. The 18.0-inch alloy wheels that are part of the Sport package not only look good but the big tyres provide first-class grip, without compromising the ride quality.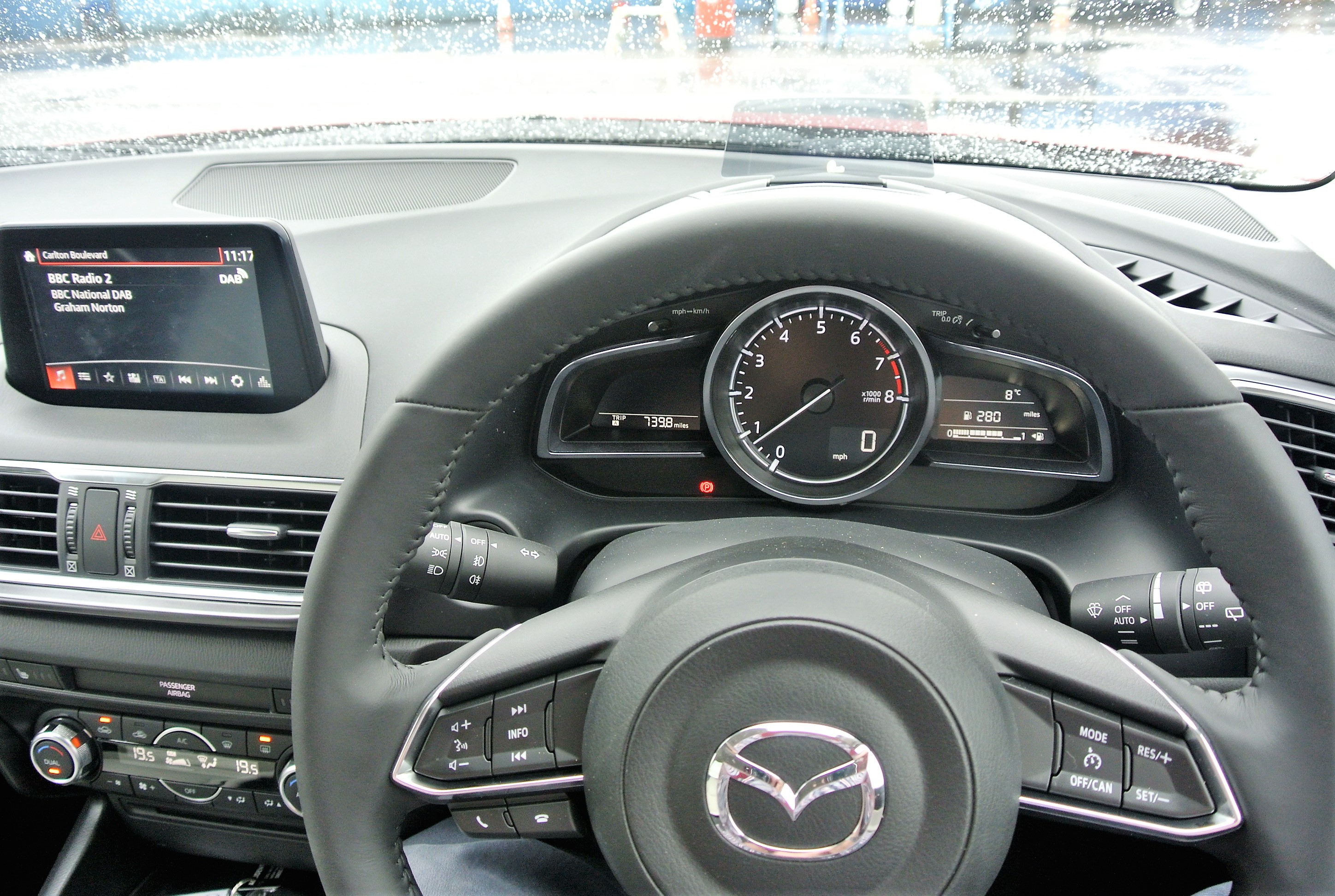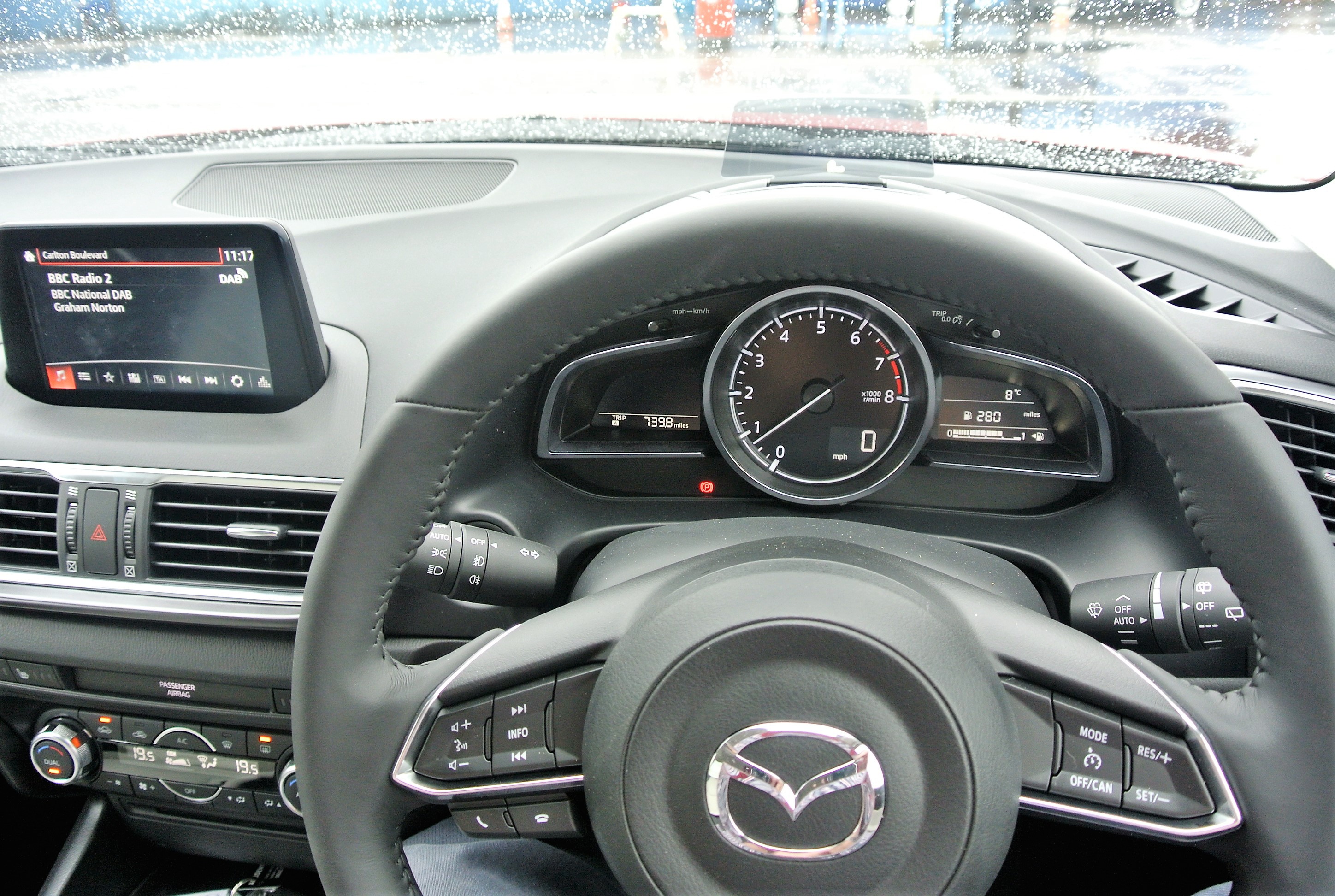 Mazda may well be a leftfield choice these days but, as the latest 3 pinpoints, good quality, sound build and great looks combine to create a charming package that most discerning buyers will find beguiling. Its connectivity is on point, as is the plethora of driver-assist programmes but the important aspect of driver desirability has not been squandered. There is much to like and enjoy with a Mazda3.
Mazda continues its subtle progress and, unlike many of its rivals, it retains a driver focus that is eminently satisfying. The Sport-Nav specification of the test car also happens to be the most popular consumer choice, while the brand has a tremendous reputation for dependability and is supported by a three years/60,000-miles warranty. The Mazda3 represents solid value for money and keeps a manageable attitude towards the perpetually stressed compact hatchback sector.