Bringing a wealth of talents to the automotive table, writes Iain Robertson, the latest coupe model from Lexus breathes life into its sector and heralds several pinnacle achievements in the process.
There is something inescapably and definably excellent about selecting the right brand, with all of its associated cachet, to accompany an individual's lifestyle. A Rohe and Reich Barcelona chair. A Louis Vuitton briefcase. A Philippe Starck Aprilia motorbike. We all hanker after something special, which does not necessarily mean mainstream pretenders like Nike, Levi Strauss, or Parker-Knoll.
Rarity adds to the distinction. Brand awareness is the great motivator of the 21st Century, responsible for upward hikes in sales figures and profitable volumes for the major corporations. Yet, subtlety is one of the most desirable attributes for the judicious style ambassador. Car companies spend inordinate fortunes on limp-wristed, dank-haired and questionable sexuality fashion icons, believing them to be capable of imparting an essential brand message.
Some venture down an extraordinarily populist route, such as JLR did in nominating the sometime singist with pop sensations, The Spice Girls, as its design inspiration…I would love to know precisely what Mrs Beckham brought to Land Rover's table, because it was certainly not style. I am aware that Will.I.Am (also known as William James Adams Jnr), the black US music entrepreneur, has worked with Lexus in the past but, at least, their union resulted in a named product.
Yet, Lexus, regarded by all and sundry, as the luxury arm of Toyota, just as Infiniti is to Nissan, albeit with a touch more success across Europe, has managed its transformation from sister company to one of the world's largest automotive brands, in style, status and presence. It has taken time but the company has not rushed products to market. It has considered its options, built its repute and delivered only to the highest expectations. It is a thing worthy of admiration.
However, my personal view of its cars has been mixed. While the North Americans, who buy lots of Lexuses, do not seem to mind a bit of chintz, a soupcon of glitter-ball and detailing that might even make your Winceyette-wearing grandmother wince, they also tolerate plastic-clad sofas and double-knit stretch pants. Do not be concerned. I quite like Americans, even though their concepts of taste seem to be focussed on Burger King and Wendy's, which makes my sense of shock at the utterly lovely Lexus RC model all the more poignant and pertinent.
For what it is worth, RC stands for Radical Coupe. It is based on the Lexus iS saloon, in much the same way that a Mercedes-Benz CLK is based on a C-Class saloon, although that would be the only similarity between them. It actually possesses an abbreviated wheelbase, although it is longer and sleeker overall. Yet, where previous Lexus styling efforts have left me more than a little cold, with their odd panel shapes and ill-judged joints, the angular but effortlessly stylish RC provides a warming embrace that I am prepared to absorb, with great willingness. Scarcely an angle is out of place.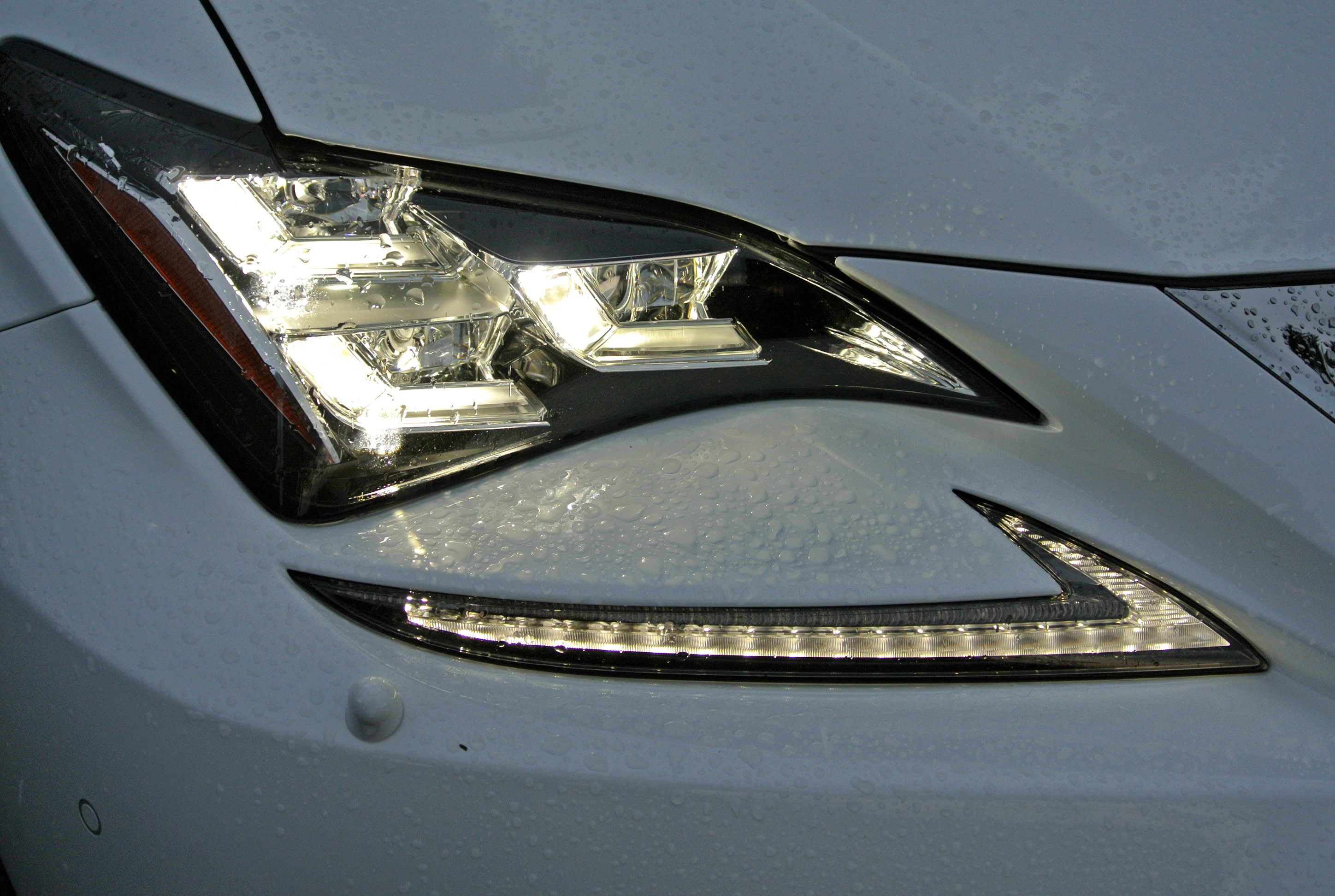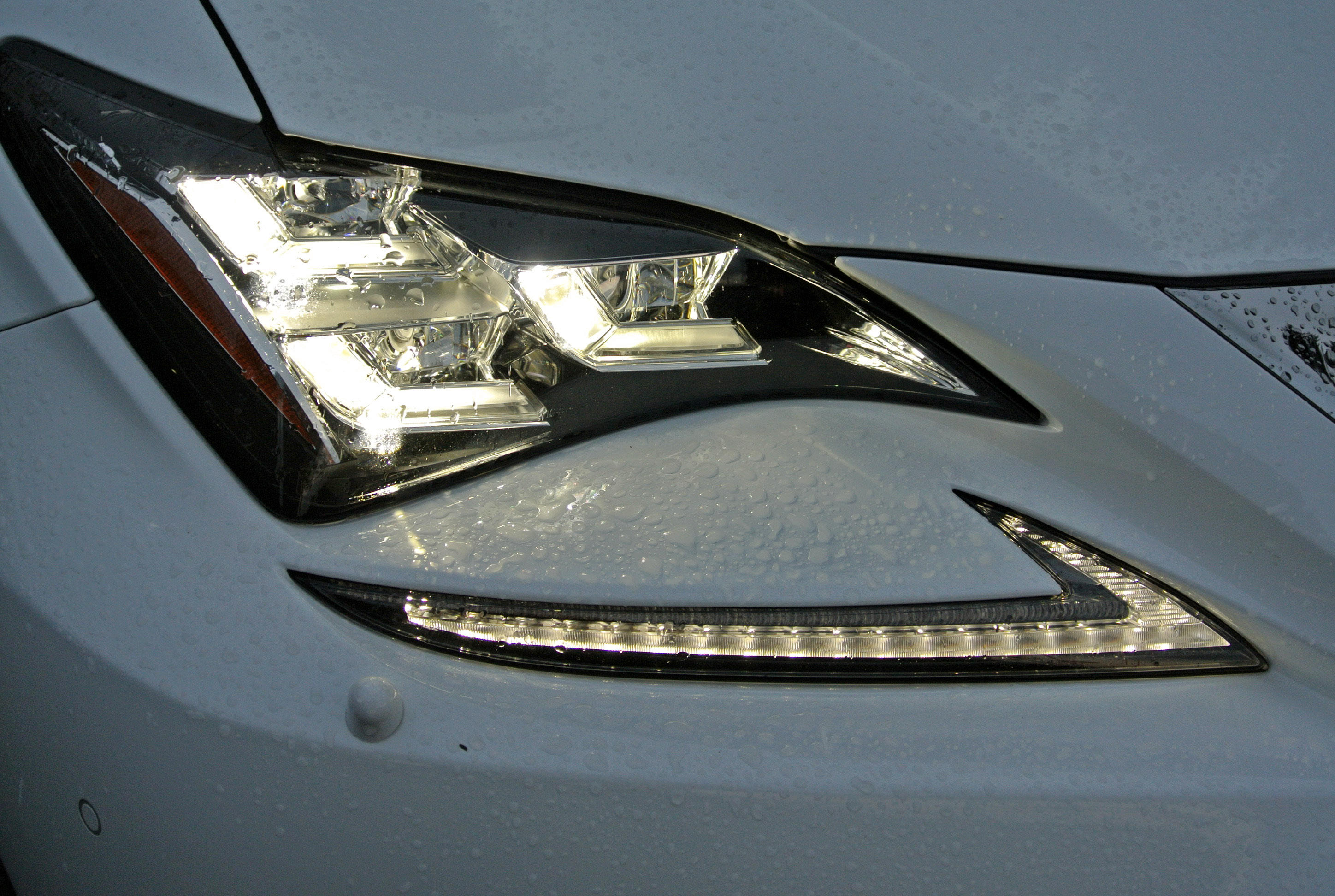 Adroitness is a valuable commodity in the branding scene. If it does not look right, or appositely balanced, it will falter invariably. The Lexus RC has a firm handle on being precise. It is abundantly obvious. Perhaps more importantly, it is a quality that runs through the entire car, someway beyond its up-front visual appeal. Its interior detailing is not just gorgeous but it exudes premium grade tactility, in the manner of 'money no object' desirability. Rather than being self-conscious, the RC is self-confident and that is an aspect that rubs off but not in wear-intolerant terms.
Reliability is a strength valued above many other features in the branding game and, while Lexus can boast the most literal levels of high dependability, it is the knowledge that, unlike Lancia, Fiat-Chrysler group's luxury arm, it is a brand into which continuous improvement and investment warrants its place. It is not about to be withdrawn unceremoniously, or reinvented with another brand badge attached to its snout. Lexus is here and now, with an eye to the future.
Class is a valuable attribute. In Lexus' case, for a brand to come from nowhere in the mid-1980s, to park alongside the establishment Teutonic Threesome of Merc, BMW and Audi, with such inestimable grace is commendable. However, endless eulogies, manna for the advertising and promotions 'suits', cannot convey the greatest quality of them all; the one that means most to a driven individual: driveability. The RC possesses it in spades and nothing I could do, would upset its apple cart.
Sitting in the lightly-reclined comfort of the driver's hide-wrapped seat is a wonderful place, from which to conduct a driving experience of such uncommon excellence that it makes you rethink all previous opinions. The controls fall easily, logically and safely to hand. The steering wheel diameter is just right and the electric range of both seat and column adjustability is such that a huge range of potential drivers will be able to obtain a comfortable position. Personally, I would prefer a speedometer, rather than a digital read-out in the centre of the F-Sport instrument binnacle but it was not a nagging diversion.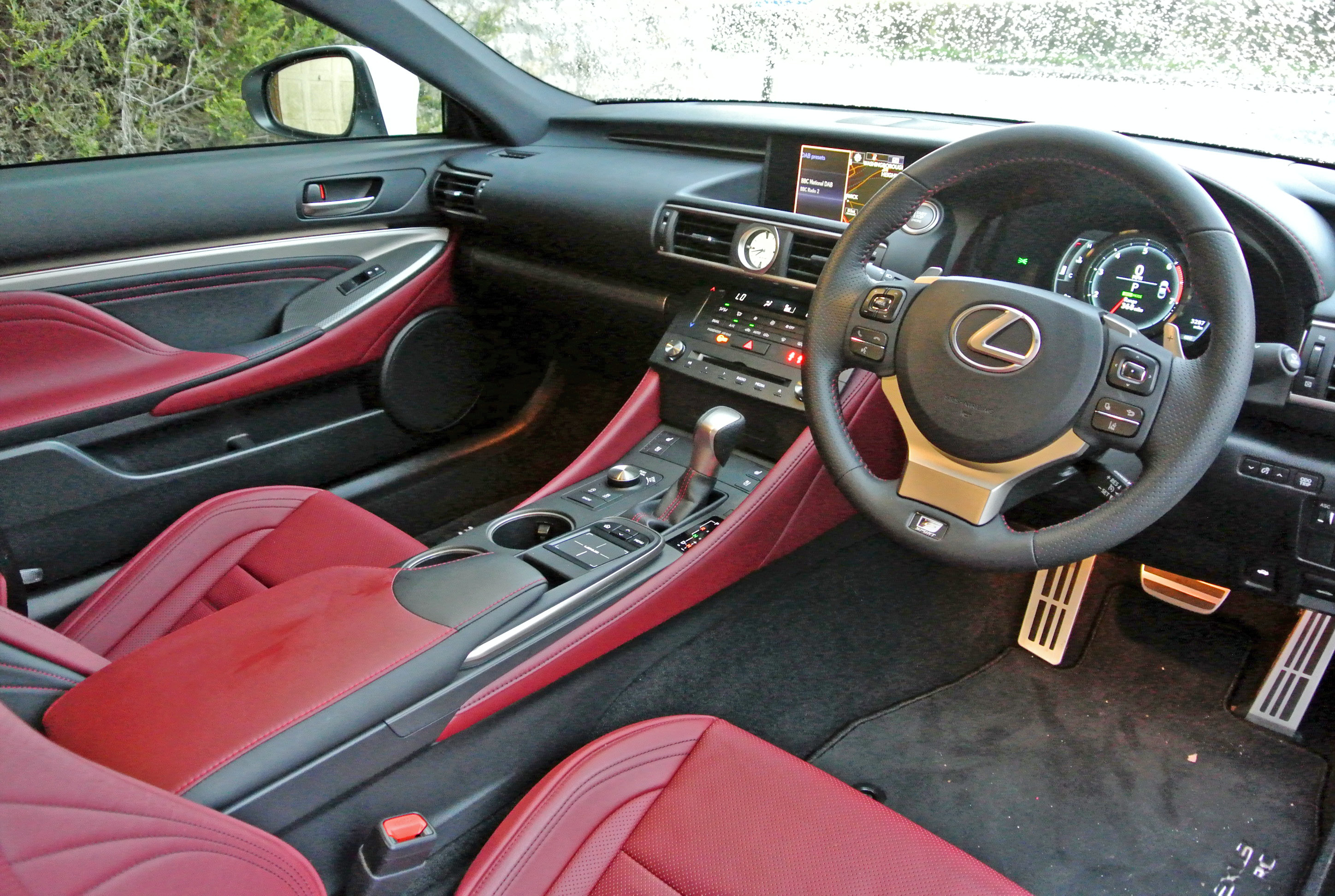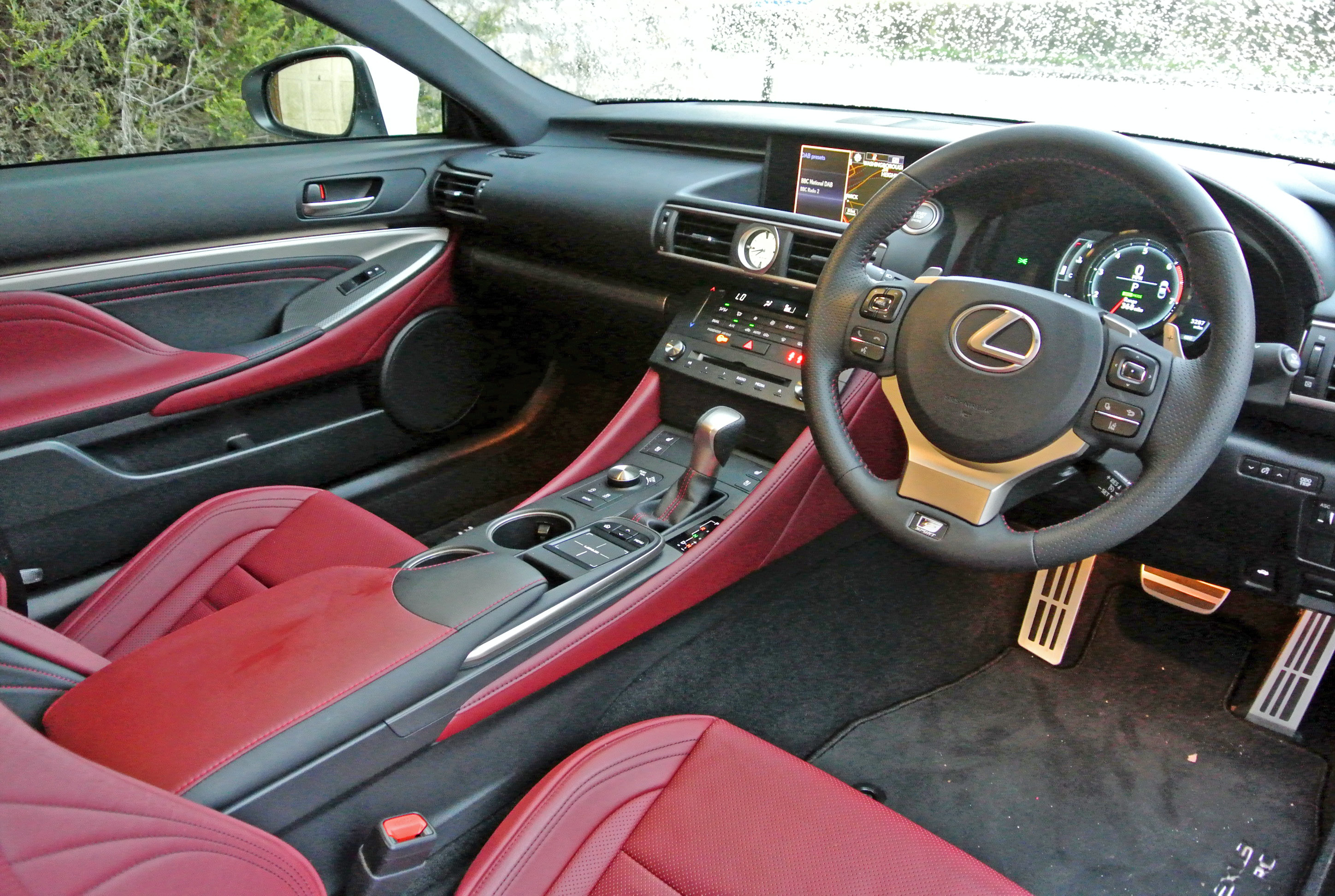 Depress the pushbutton starter (keyless operation) and the 2.0-litre, four cylinder, turbocharged engine spins into life. Despite twin exhausts, there is no extraneous barking, or grumbling, that can be heard within the well-insulated 2+2 cockpit. Frameless side windows that, by tradition, can be difficult to maintain refinement (notably at high speeds, when they try to pop away from their rubber seals) make no discernible difference. The lack of commotion is a surprise, when you know of the alternative, 5.0-litre V8 F-version of this coupe. In some ways, it is like the milder 2.0-litre 'S' of Capri fame, which contrasted so starkly with the 3.0-litre V6 alternative of the time.
However, this is a market sector that has moved on markedly since the late-1970s. The engine develops a crisp 241bhp, at a fairly high 5,800rpm. It is matched by 258lbs ft of torque in a wide band, from 1,650 to 4,400rpm, which means that flicking the beautifully machined transmission paddles, located behind the spokes of the steering wheel, is only essential, when you tire of leaving the lever in 'Drive'. Eight forward ratios fill any delivery gaps and ensure that automatic shifts are seamless, which accentuates the silken flow of power.
Performance figures put everything into perspective. At its top end, the RC 200t will manage around 143mph, reaching 60mph from standstill in a sparkling 7.2 seconds. No. It is not supercar quick. Yet, tackle the driving mode selector, to the left of the transmission gate, and, through four phases (Eco, Normal, Sport and Sport+), the chicken-coop will turn into performance-coupe, at will. In the process, its dampers firm-up, the throttle becomes more sensitive and the gear shift speeds become enhanced. It is not sorcery but it is an exemplary display of modern 'chassis engineering' that cossets and supports the driver but not to the point of remote desertion.
In fact, for the enthusiastic driver, the Sport+ setting also alters the amount of slip granted by the traction and stability control systems. Although not entering the realms of 'drifting', it is possible to set the car up for bends and allow its rear-wheel drive system to work in a most entertaining manner. I should also highlight that, even in this advanced mode, the ride quality remains undisturbed and smooth. In Eco, or Normal, mode, the RC rides as quietly as its engine's lack of fuss underscores.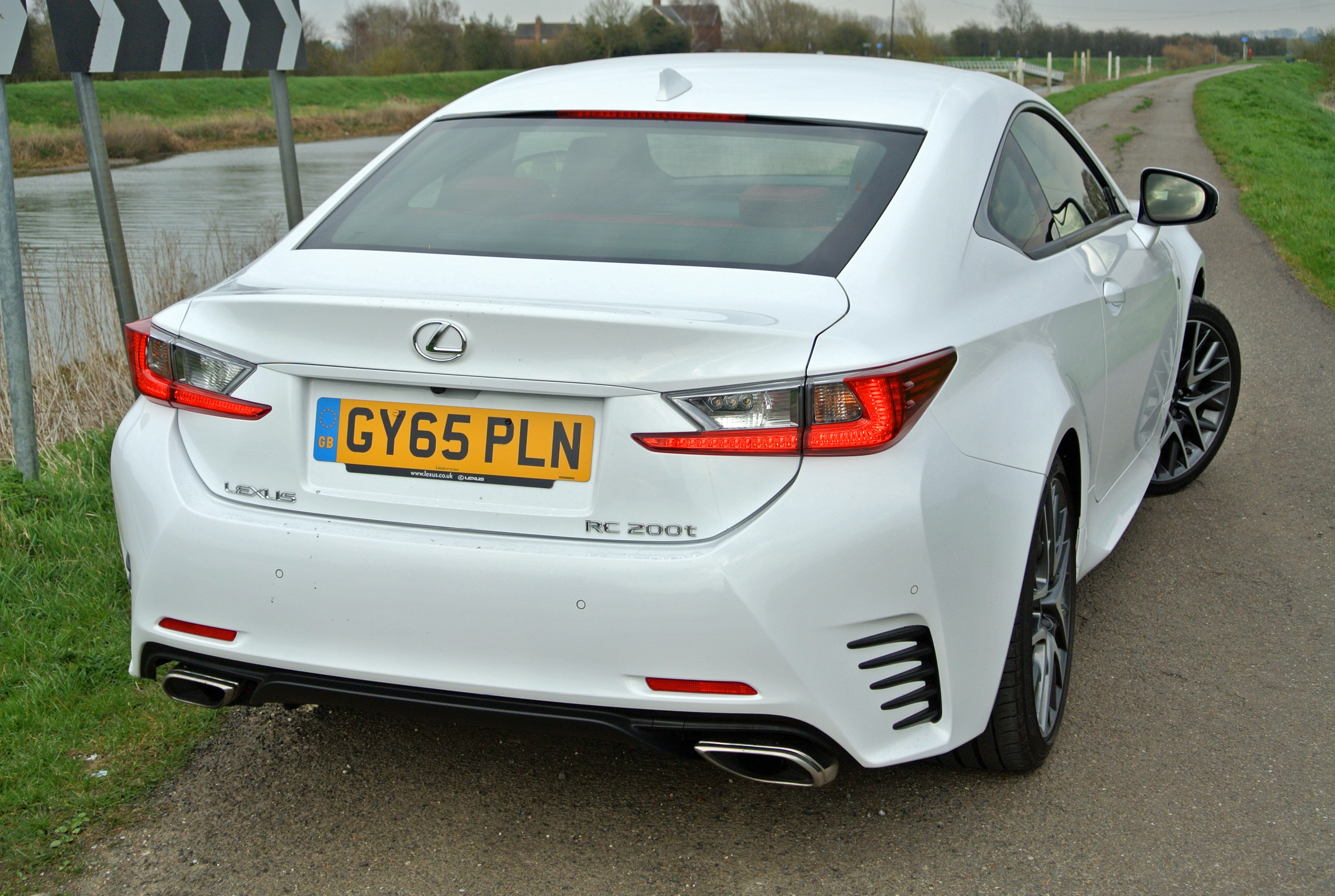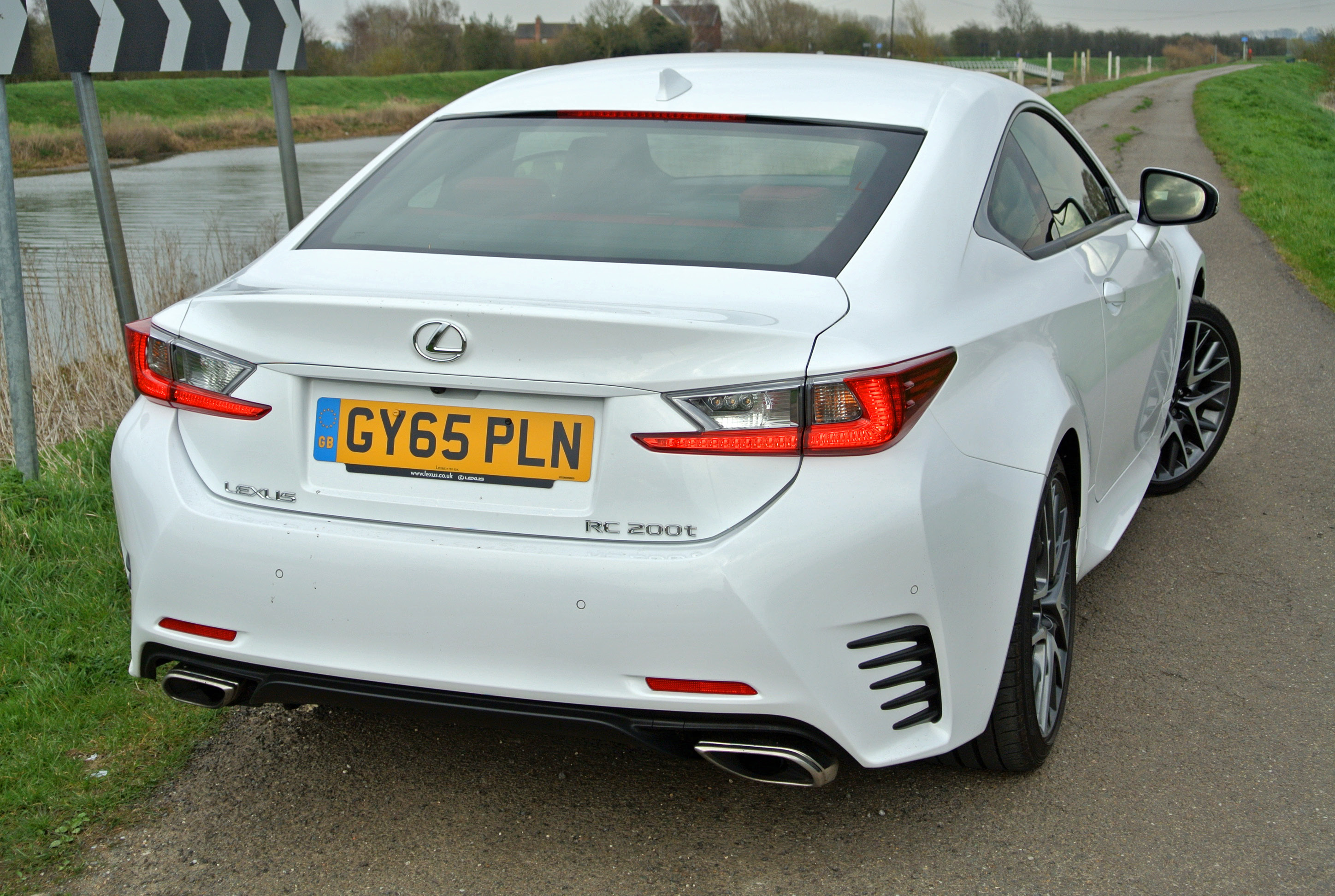 While running costs can be an issue for some potential owners, few will complain about my considerate return of 36.4mpg overall, which compares favourably (just for a change) with the posted Official Combined figure of 38.7mpg. Its CO2 output of 168g/km equates to £285 in the first year and £200 annually thereafter, which is hardly a disaster area and the insurance rating of 40E is good for a premium-badged model. Naturally, you want to know how much and I can inform you that, with the options of the F-Sport white body colour (£625) and the Premium navigation system (£1,995), the Lexus RC200t F Sport costs a cool £39,115. For a lovely looking, dynamically sound and classically elegant sporting coupe, it has no peers.
Lexus has developed its latest RC into the consummate 2+2 mile-eater. It is handsome and stylistically well-balanced. Comfort, a Lexus priority, is well-considered. Even its boot space is practical and, yes, there is room for a couple of golf bags. Oozing with interior quality, epitomised by its finely panelled and stitched burgundy leather seats and plenty of soft-touch surfaces, its external appearance is eye-catching and verging on the right side of avant-garde. I would venture to suggest that Lexus might have a future classic in the making with the RC200t.