Getting old is not as enjoyable as it ought to be, states Iain Robertson, which makes actions like car-buying all the tougher, although Toyota may have found the answer in its latest avant-garde, front-driven SUV.
It all becomes abundantly clear when you peer inside the latest Toyota C-HR to discover a wealth of blue-rinse satisfying features, not least in the mauve sweep of padded faux hide topping the beautifully layered electric blue and grey, metal and moulded detailing. What granny would not feel the affinity between her own barnet and that placed immediately in her line of sight?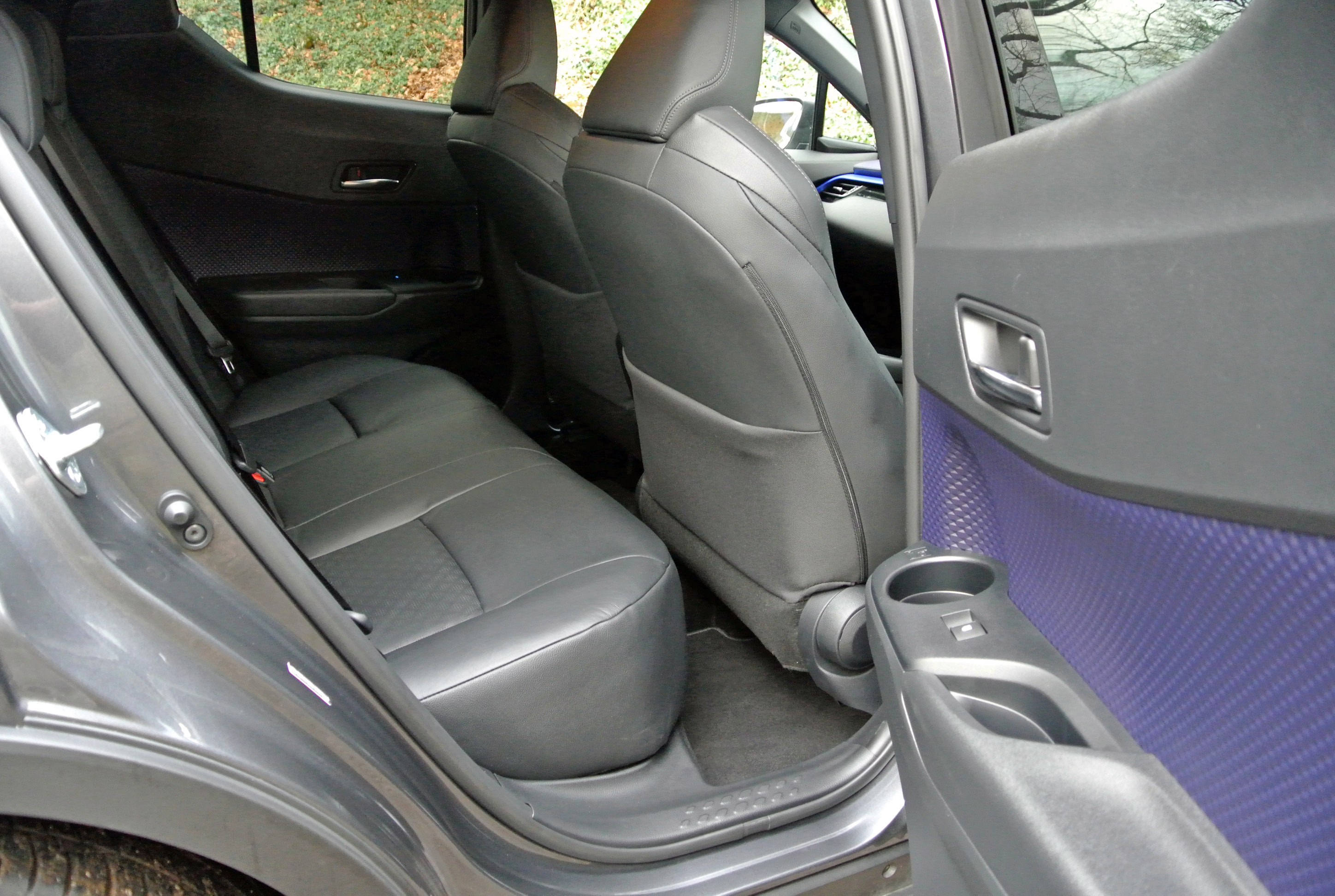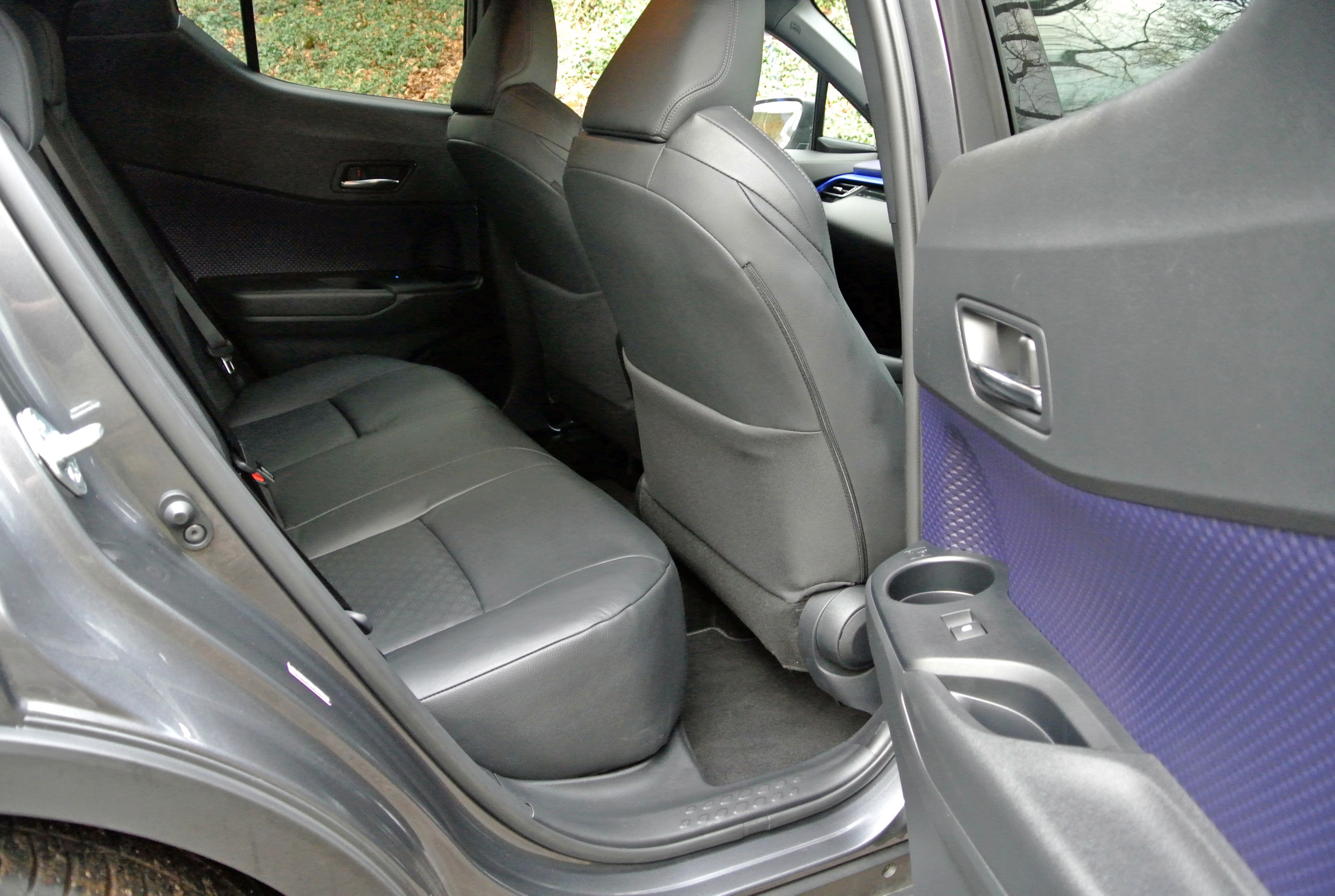 Access to the cabin offers the right hip-height consideration, to ensure that the Charnley replacement joints are not stretched to snapping point and, once ensconced, comfort levels are excellent, with a conveniently positioned central armrest, a grog-holder immediately ahead of it and a 6-speed stick shift within equally easy reach. With engine started, the power-assist of the steering demands little more than fingertip pressure to effect direction changes and all dials and screens work efficaciously if wearing either the horn-rimmed, or Dame Edna, spectacles.
If space were required for bottles and packets of prescription unguents, there are square rubber-lined receptacles, space in the door pockets and even the door pulls, as well as a deep drinks-holder cavity ahead of the gearlever, which is illuminated for nocturnal forays. Under the bonnet is a subtly quiet 1.2-litre turbo-petrol engine that will neither upset the 'anti-dieselists', nor ruffle the permed ears of those preferring the reflective silence of a country churchyard.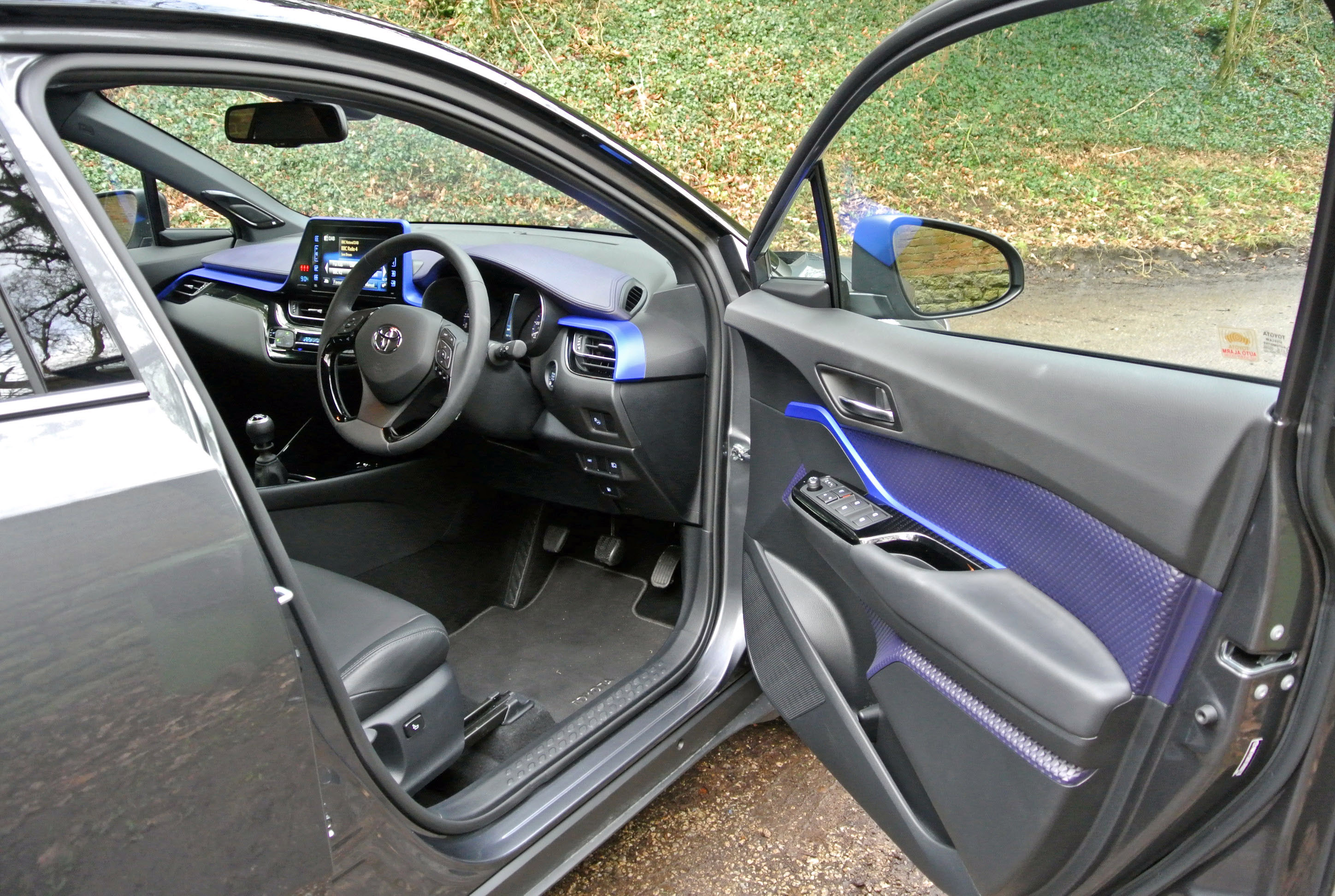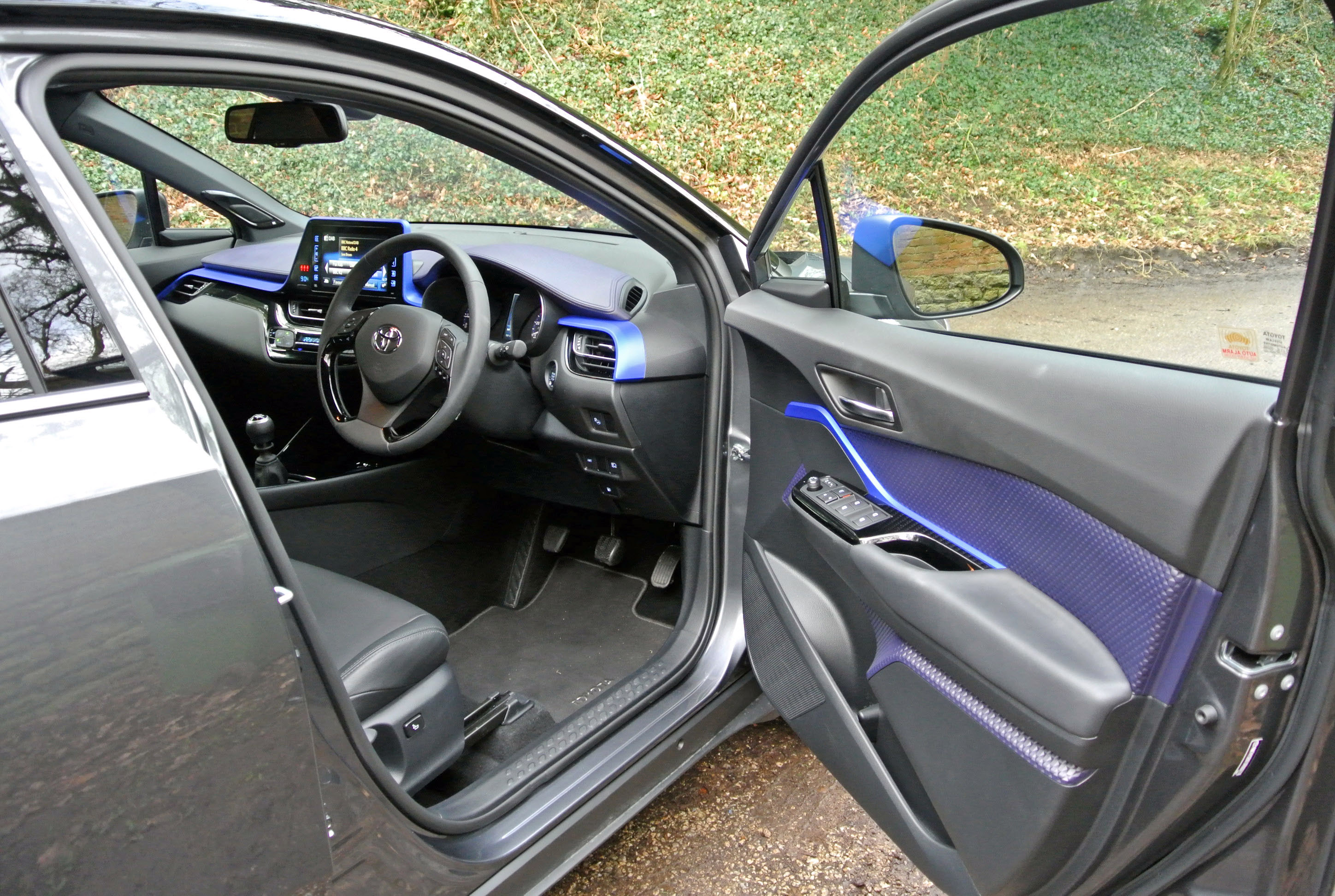 Yet, as a body of oldies that neither wishes to highlight its age, nor shake off the treats of its youth, one that has become familiar with the appeal of the cramped and largely feckless Nissan Juke (more than 65% of its customer profile is aged over 60 years), the C-HR can transport both Mr and Mrs Molehusband (as that is the surname I apply to the archetypal blue-rinser), as well as at least two upstanding members of the local Derby and Jones Club to competitive whist drives, with prog-rock blasting away on the stereo.
Am I just being disrespectful, or glib, in my declaration? Well, as a gentleman in his early-60s, who still thinks, even though he cannot act, like a 25 year old, I do not believe so. Toyota may have created the C-HR model to offer immense appeal to the younger generation…but the youngsters cannot afford the £27,635 of the test car pictured (in Dynamic trim, with £1,595 Premium Pack attached), even though a PCP paves the way to greater affordability. Naturally, 'market pricing' is the primary enemy of sales progression but, despite funkiness in abundance, it remains a car with which a member of a more thoughtful older car-driving population will engage.
Reflecting on my personal motoring past, had Toyota introduced this model forty years ago, while I still might not have been able to afford it, I would have been the 'cock o' the street' with an example parked outside my front door! To be frank, I feel no different about it today, as it meets my motoring requirements to perfection. It's smooth. It's frugal. It's slick. What's not to like?
To me, the ultimate irony is that the C-HR is actually little better than the aforementioned Juke. It is styled in an avant-garde manner, designed to upset the eye and even the stomach, factors that will make a second generation extremely difficult to develop. Yet, the Toyota has an important element on its side of the ensuing, comparative argument; it presents by far the better balanced outline and gives all the appearance of having been formulated by a committee (ALL cars are designed thus) that feels and thinks the same way, which is a genuine novelty.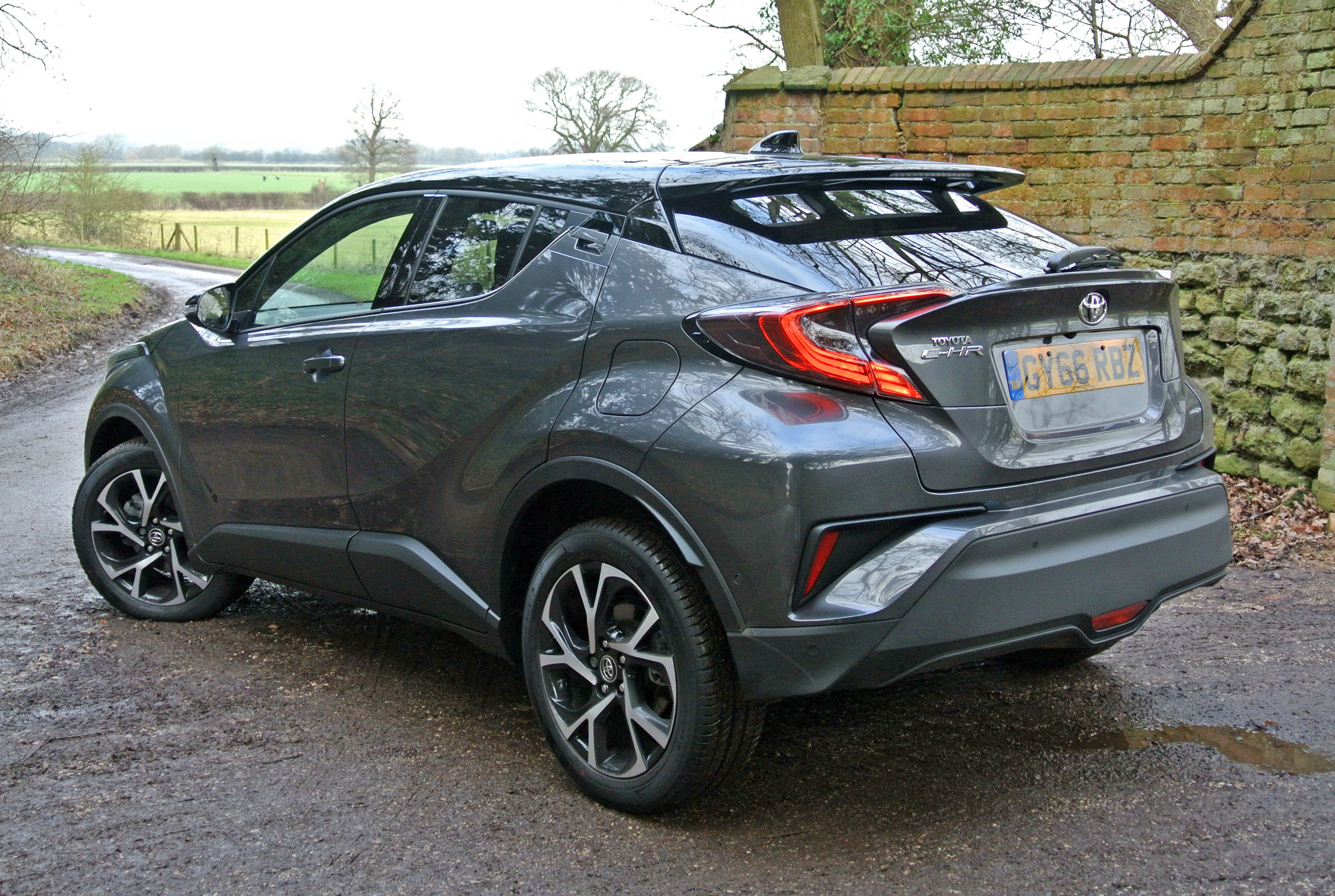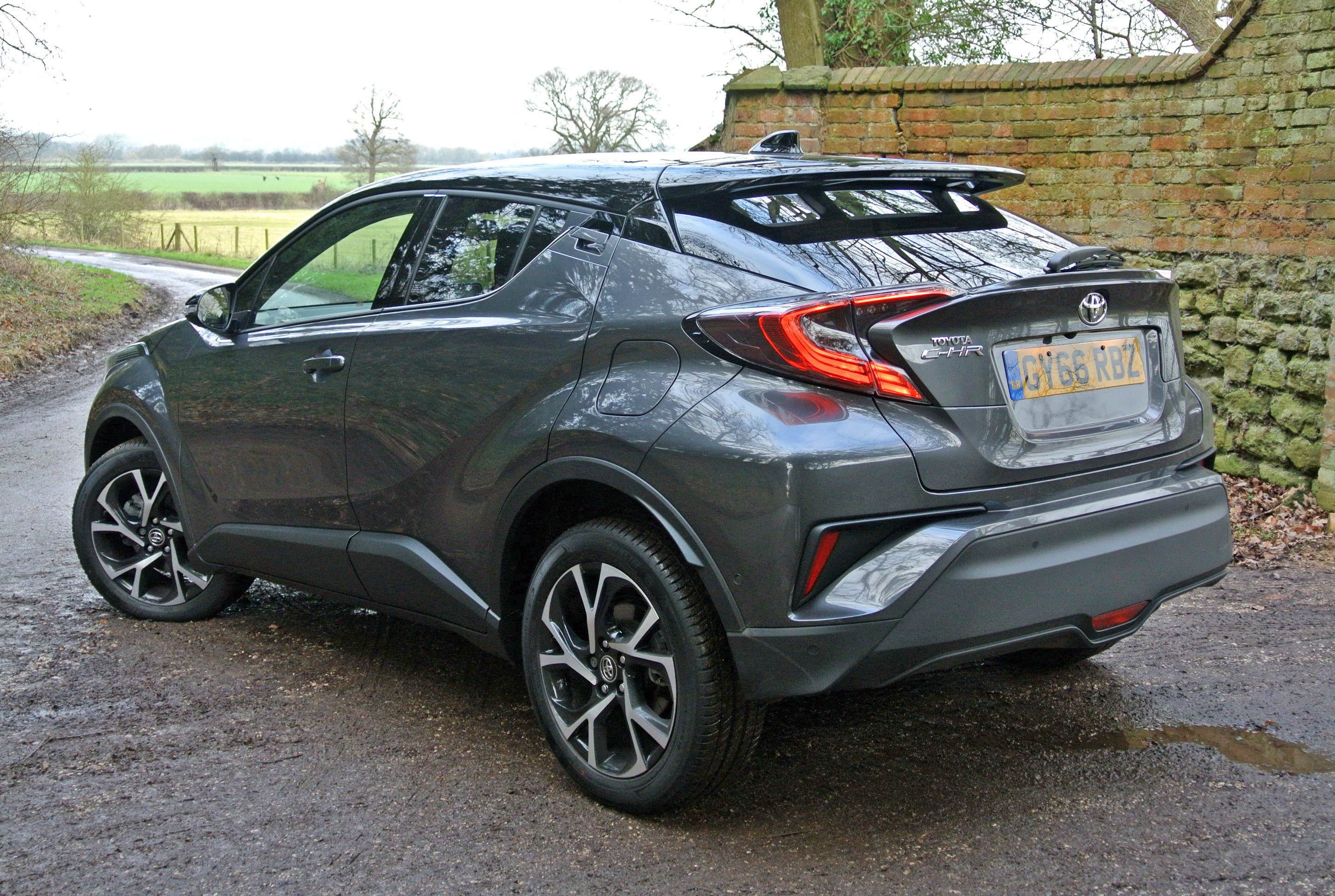 Late last year, I stated my affection for the Toyota by declaring it my 'Car of the Year'. The arrival of the non-hybrid version has not altered my stance one little bit. Yes. I have a leased Suzuki Baleno sharing driveway space with it at present but, had I seen the C-HR prior to committing to the excellent Baleno, it would have captivated me and would be my permanent ride for the next three-plus years instead, it is as elementary as that.
As far as its engine is concerned, I have now driven it in a couple of guises and I consider it to be a genuine revelation. It is not in the least bit revvy and its redline commences at 5,500rpm, which makes it appear almost diesel-like. That characterisation is reflected in the way it delivers both power and torque. Its modest 114bhp and 136lbs ft respectively are nicely matched, the torque curve running from 1,500-4,000rpm and highlighting that there is no need to take the unit much beyond 4,000rpm for the best acceleration. As a result, progress is quite stately, with 0-60mph taking around 10.6 seconds, before the C-HR tops out at 118mph, both respectable for a 1.2-litre, light-pressure turbocharged petrol engine.
If there is one minor disappointment, although it will not be so bad following the new car tax system being employed from 1st April this year, it lies in its 136g/km CO2 rating, which seems a little steep, if honest (perhaps this is what we all need to expect from carmakers determined not to enter the 'dieselgate' arena in future?). Its reported Official Combined fuel return is given as 47.1mpg, which I found credible, as I returned 48.9mpg on my 50-mile economy check route. Most drivers can expect 39-45mpg in normal use.
The six-speed manual transmission reminds me of an early Corolla, so speedy, light and slick it is in operation. All of the foot-pedals are matched beautifully, which means that smoothness becomes the order of the day. Why other carmakers cannot reproduce similar consistency on their manual transmission models confounds me. The parking brake is electronic and operated by a switch located just behind the gearstick. I still prefer a pull-up lever but, at least this C-HR has a soft-hold option, although you have to remember to depress the button for it to operate, as its default setting is always 'off'.
Every other aspect of the user-friendly interior is a sensory delight. The mauve door cards, even though they are produced from a plastic moulding, feature a diamond pattern, with a satin finish. It may be moderately inexpensive to make them but they feel lovely. The tops of the doors and the grey moulded areas of the dashboard are all soft-surfaced and warm to the touch. Even the seats, with their perforated wear surfaces, are exceptionally comfortable, yet also very supportive of hips, thighs and lower spine (support for which can be augmented by using the electrically inflatable bellows). The C-HR is very quiet in operation, much of which is due to the car's taut construction that is supported clearly by the clever use of sound-deadening materials. Opening and closing the doors, or hatchback, reinforces the feeling of tremendous solidity and integrity of the car's construction.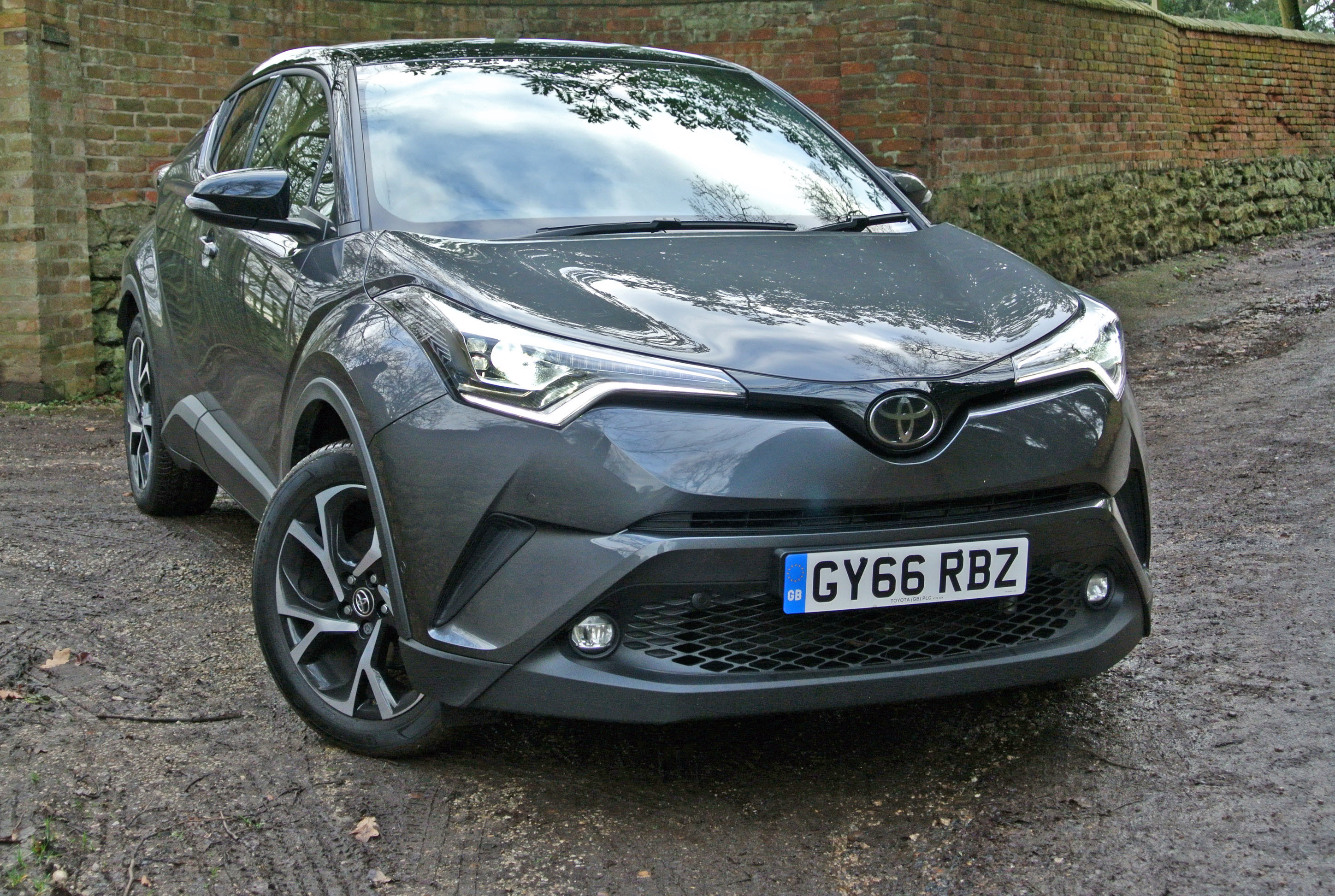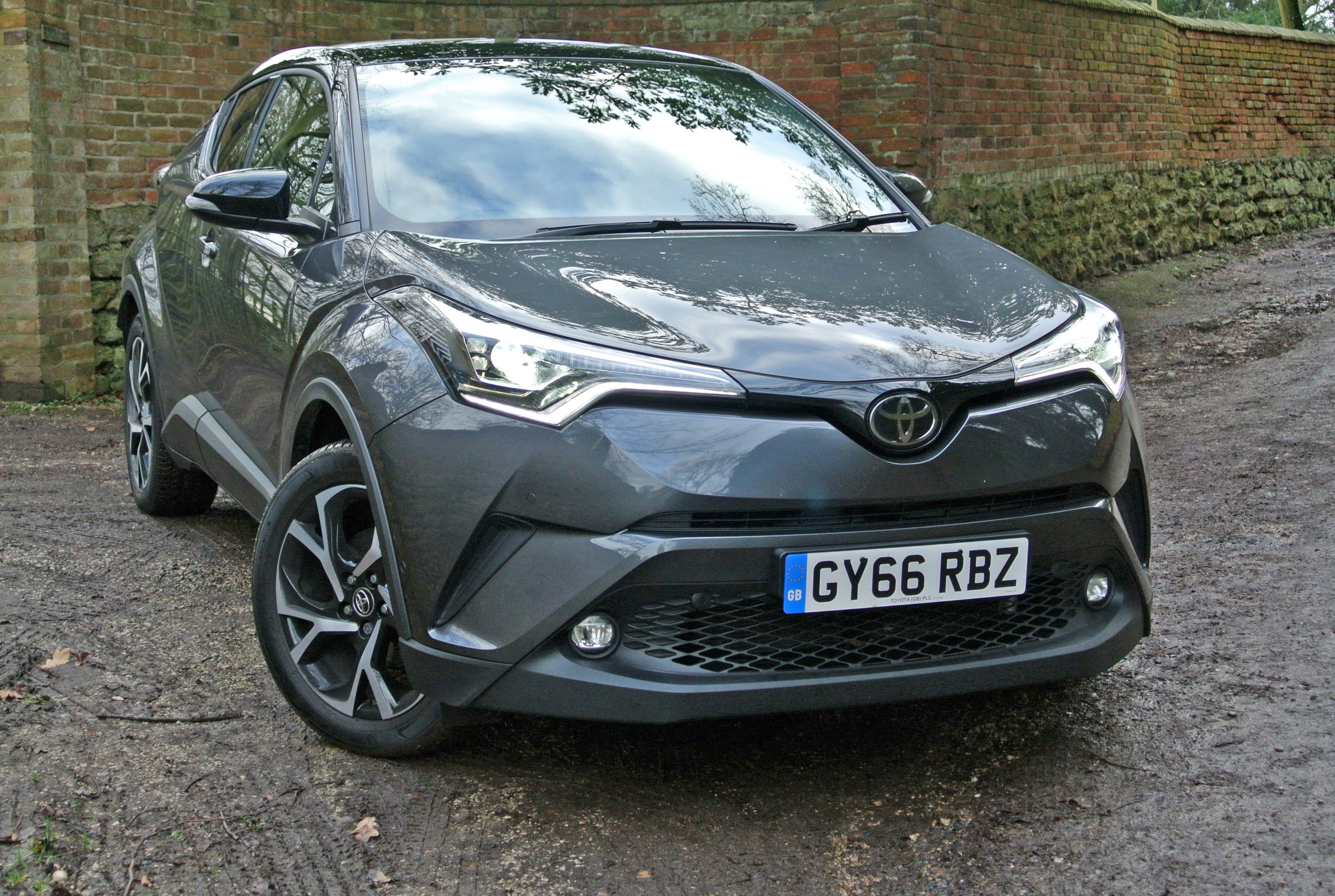 Although the exterior is a potential mess of strakes and creases, intakes and cavities, by which it could be inferred that the C-HR is more rally car biased than SUV, as mentioned earlier, there is a balanced coherency to the styling that makes it seem right. When you investigate a little further, you will notice the little Gurney flap on the tailgate and both extra 'blips' on the tail-lights and even one on the trim located just ahead of the door mirror. These are designed to break-up the airflow so that excess dirt, or water, neither builds up on the rear panel, nor on the mirror surfaces. It is all very thoughtful and helps it to score a 0.32Cd factor, which is very slippery for the class.
The driving experience is wonderful. Bump absorption is good. Body roll is restricted by firm but not uncomfortable damping. Spirited cornering is immense fun, as feedback to the driver's fingers is excellent. The turn-in to bends is crisp and dive under hard braking is minimal.
The Toyota C-HR is already a sterling proposition in my book. It manages to present a style that straddles most age barriers, with an appeal to both the young and the young at heart. Its packaging also makes it attractive to the company car user, aided by a decently proportioned boot. For something that is a little bit different to the norm, it meets the majority of demands head on and, for that, it must be lauded. Yet, if you want a hybrid alternative, it is also available.