Executive car choice is enhanced with the latest model from Kia, explains Iain Robertson, even though the Optima might not be the first model to come to mind, with or without JD Power's 'most reliable' status award.
Assumptions about one's position in life are seldom the result of an error of judgement. Money is a key influencing factor, just ask any member of the landed gentry with a leaded roof to repair on their 'castle'. Short of donning the red cloak and ermine collar to claim your seat in the Upper Chamber, a title certainly goes a long way. Your alma mater will play its part, with even the lowest grade private educational establishment and subsequent university serving to enhance a life role.
Whether your idea of a happy working existence is swanning the length and breadth of Cannes' La Croisette, or hopping onto the ladies/chaps-who-dine in the Wilmslow, Winchester, or Worcester circuit, it might determine the combination of affluence, self-aggrandisement and adroitness of one's place in society. However, selecting the right car in which to be seen is a critical decision.
It stands to reason that the premium brands, epitomised by the badges of office borne by BMW, Audi and Mercedes-Benz, might be considered apposite. The particularly wealthy will not bat an eyelid spending five times as much on a Bentley, or a Roller. Yet, reality bites for even the least impecunious and the realists of the world, as opposed to the badge-snobs, will tack their personalised (never the made-up-words, or 'my initials' slaves) licence-plates onto examples of some of the most rudimentary makes of car. In many ways, this 'anti-snob' gesture is the ultimate exemplar of inherent, as opposed to perceived, position.
When you contemplate Kia's origins and its sometimes troubled escalation onto the world car stage, to now discuss its most recently revised but healthily up-market Optima might be considered a little previous. After all, Kia cannot lay any claim to status-consciousness. While not exactly the same as the car-owning proposition in neighbouring China, where 'ownership' remains a distinct novelty, South Korea is not exactly a hive of intense wealth, even though the number of wealthy persons is increasing.
This relative lack of financial acuity, unlike in the affluent west, does play a part in raising the game for a carmaker that is no longer just a niche player. When the Japanese first started to delve into the luxury car sector, with models as kitsch as the Datsun 300C, or even early Lexus models, scrolled, embroidery and hand-tooled plasticky leather, shaded by green tinted windows, were a perception soon eschewed by westerners (notably not the North Americans), who expected fine hide and refinement of a markedly higher order. Sadly, the Japanese can still lapse into moments of cloistered non-awareness.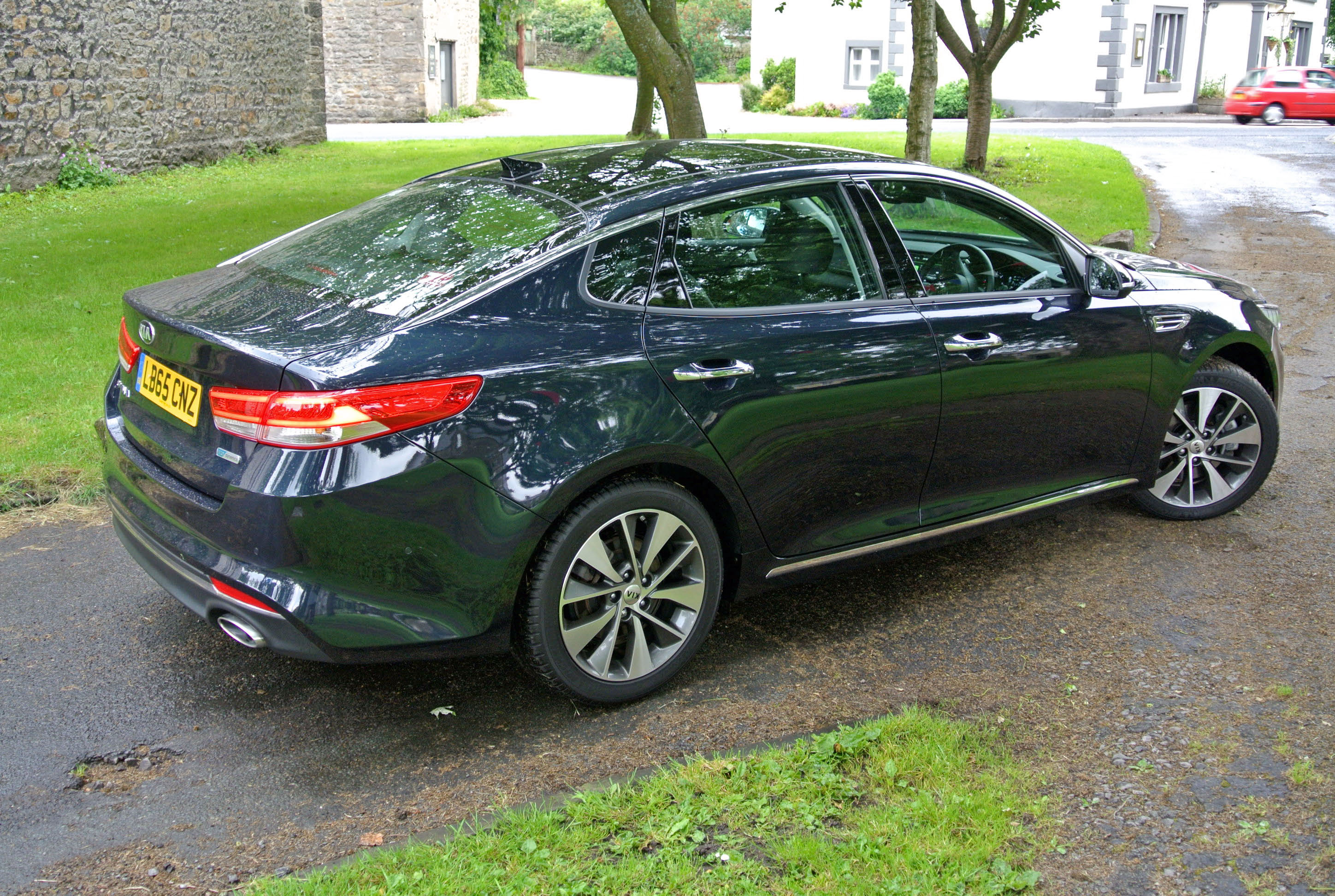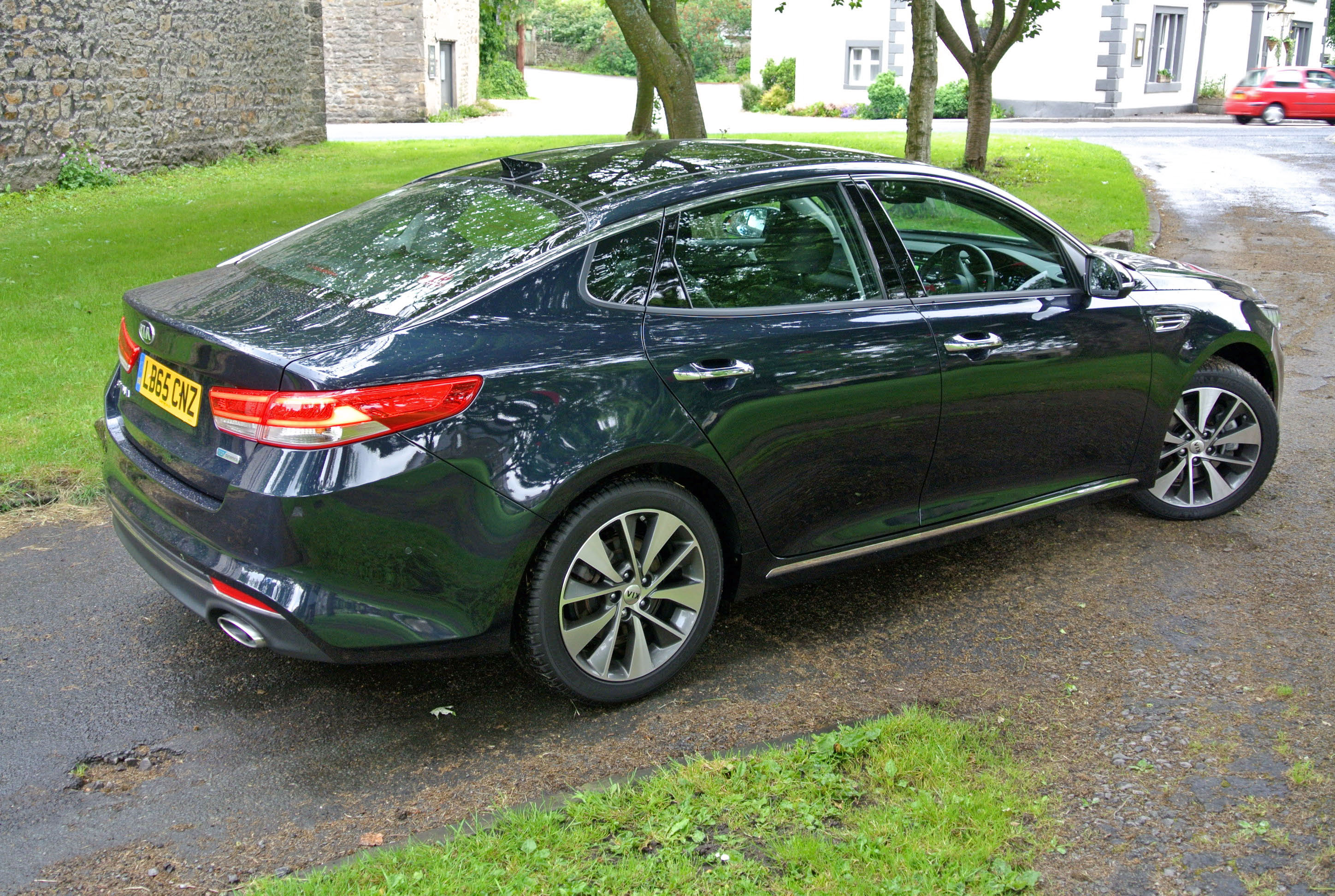 Kia is in a different league. While it might have pursued the Japanese marketing model at some stages during its development, buying-in western talent in sales, design and engineering has proven to be a master-stroke. Opening not only a design but also European manufacturing centres quite early in its developmental trajectory highlights a keen eye for meeting market desires. Therefore, having made its mark with the mainstream offerings, an executive line-up was a given.
Interestingly, the Optima is the third generation of a larger model line-up that started with the car known as Magentis, during Kia's formative value-brand period. Recent mid-life revisions only serve to sharpen the 2010 model's finer qualities. It is a Mondeo-size saloon and, subjectively, is a stylishly attractive contender in the class.
What distances the Optima from the Mondeo, both of which are 'world cars' from their respective manufacturers, is the impression of high quality that makes the Ford not only feel like the lesser vehicle but also lacking in several key areas. Okay. Ford has its recent and high-priced Vignale alternative as a potential boost to its status, which it failed abysmally with Ghia, but even that up-market attempt cannot quite match the impression left by experiencing the Optima. In this case, handsome is, as handsome does.
Its keyless-go system (as long as the fob is in your pocket, access is granted) works effortlessly and a pull on the exterior driver's door handle felt as solid as any Saab had ever been. Even the briefest of scans around the interior reveals a high-end intention on the part of Kia. In an interior awash with light grey, the eight-ways adjustable driver's seat is comfortable and accommodating, the dashboard neatly and non-extravagantly laid-out and all controls deliver an up-market feel. The soft-touch dash moulding and touch-screen, with judiciously grouped heating/ventilation and stereo controls look very classy, without being overtly self-conscious. It all feels real in here.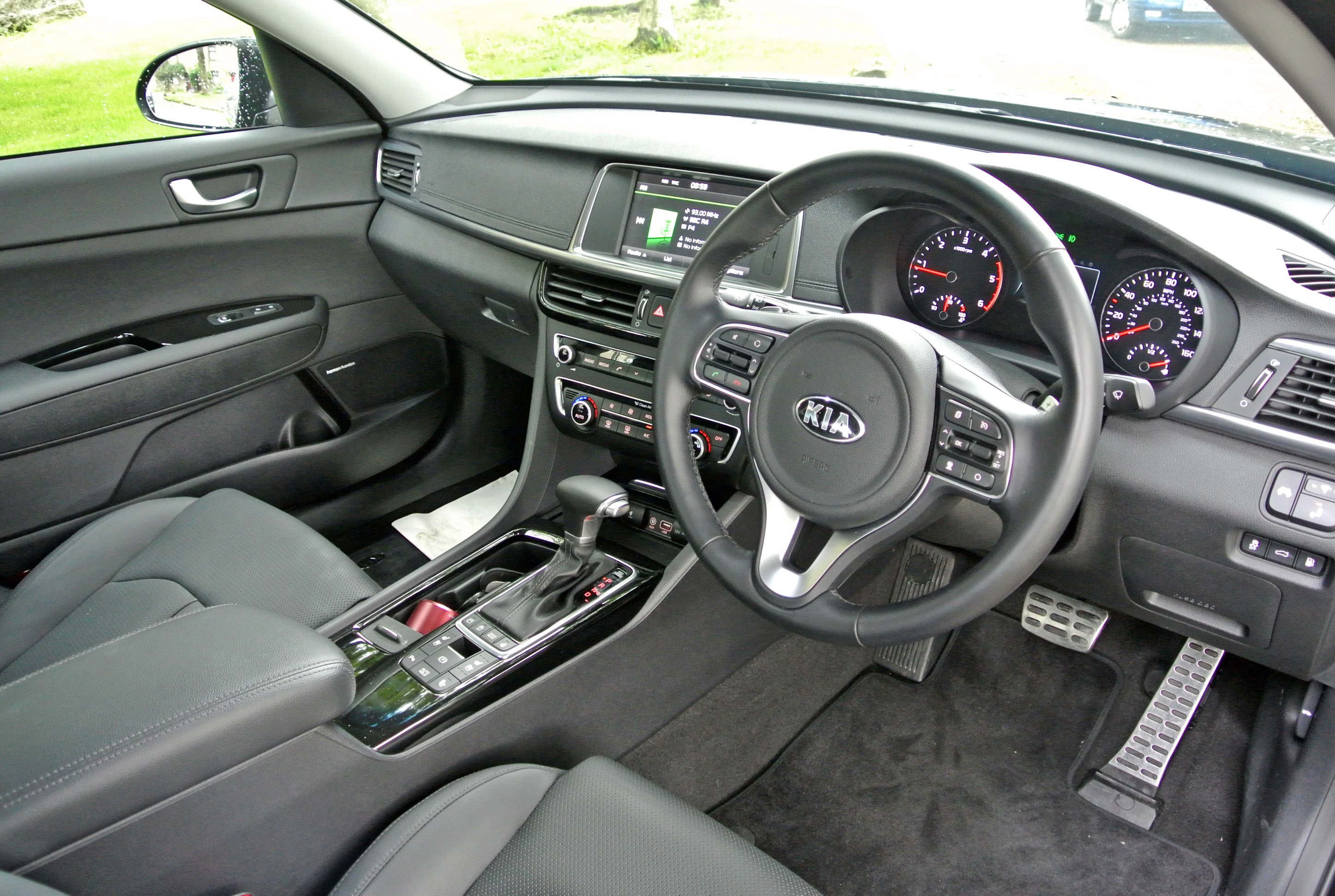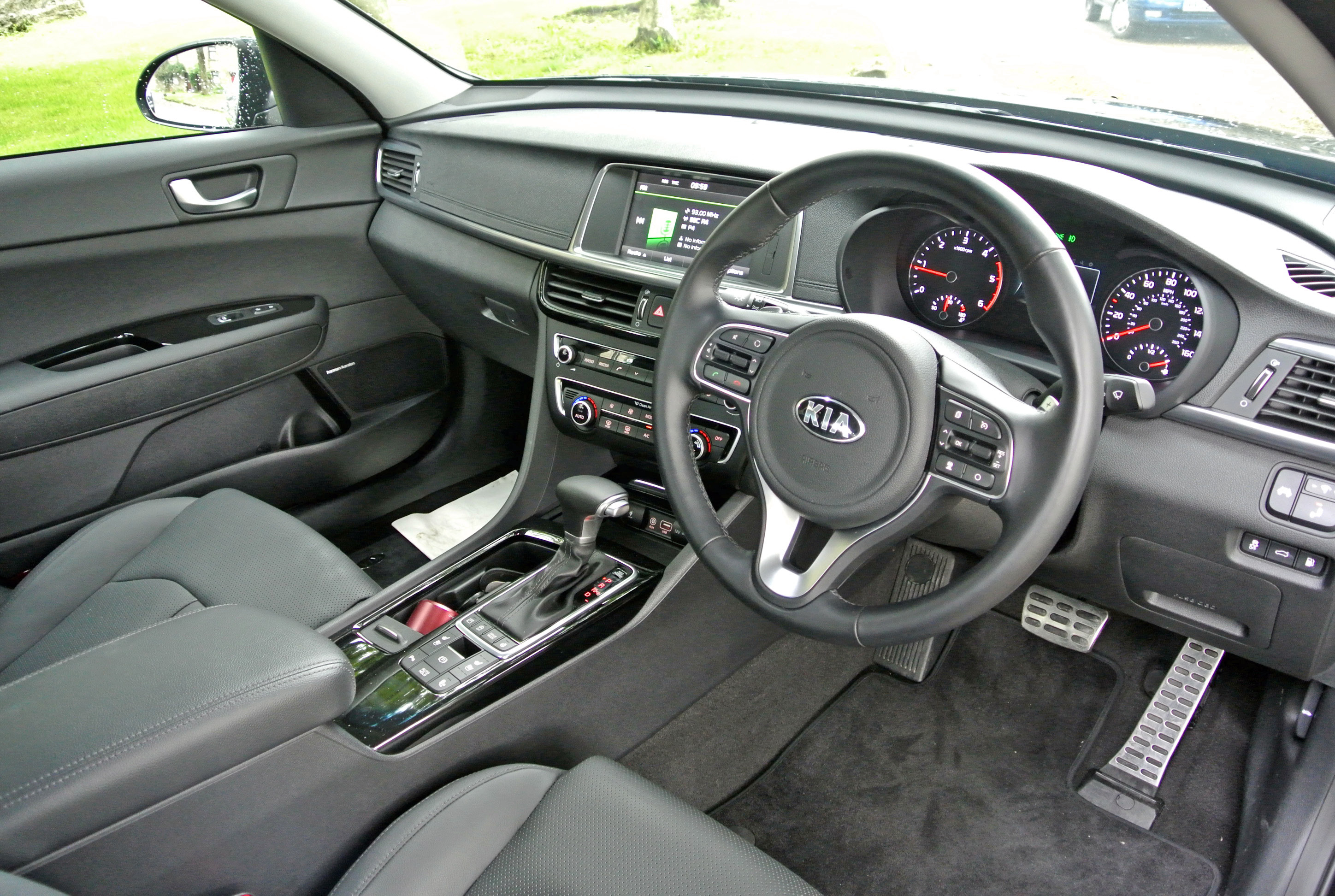 The steering wheel located minor controls operate efficiently and connect with a small digital display screen located between the two main dials, within the binnacle. Nothing is missing. Everything has its place. Yet, there is a subtlety of approach that is both satisfyingly grand, yet self-servingly anonymous. The Optima is no Bentley. Neither is it a BMW. However, operators of either of those brands would not be out of place within this Kia's cabin.
Space utilisation is excellent, with bags of room up-front and plenty of space for three adults abreast in the back seat. The boot is sizeable and the 60:40-split of the rear bench allows it to accommodate longer loads. Within the cabin, each door has deep pockets and trinket trays in the grabs, while additional pockets are located in the front seat backs and below the front central armrest.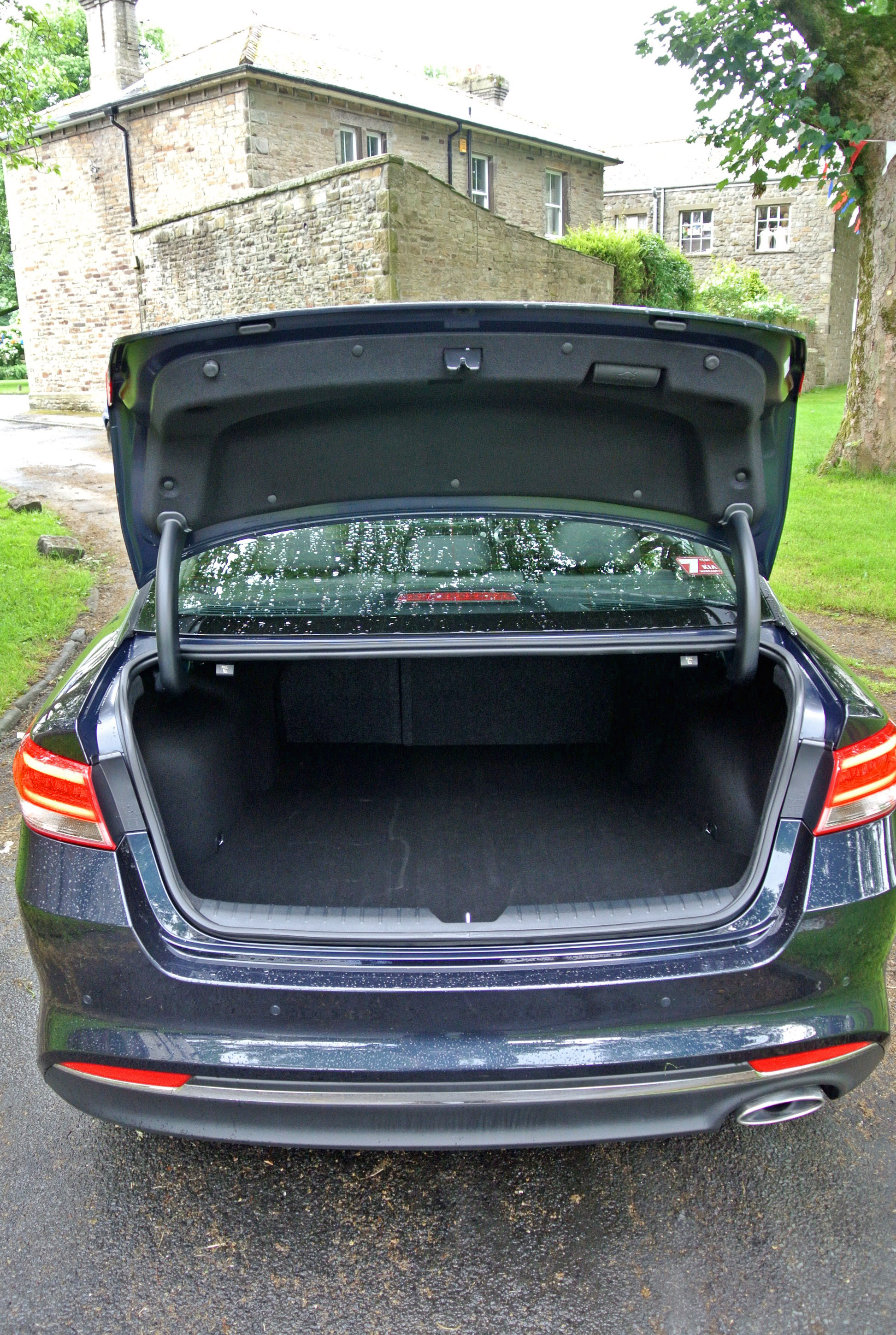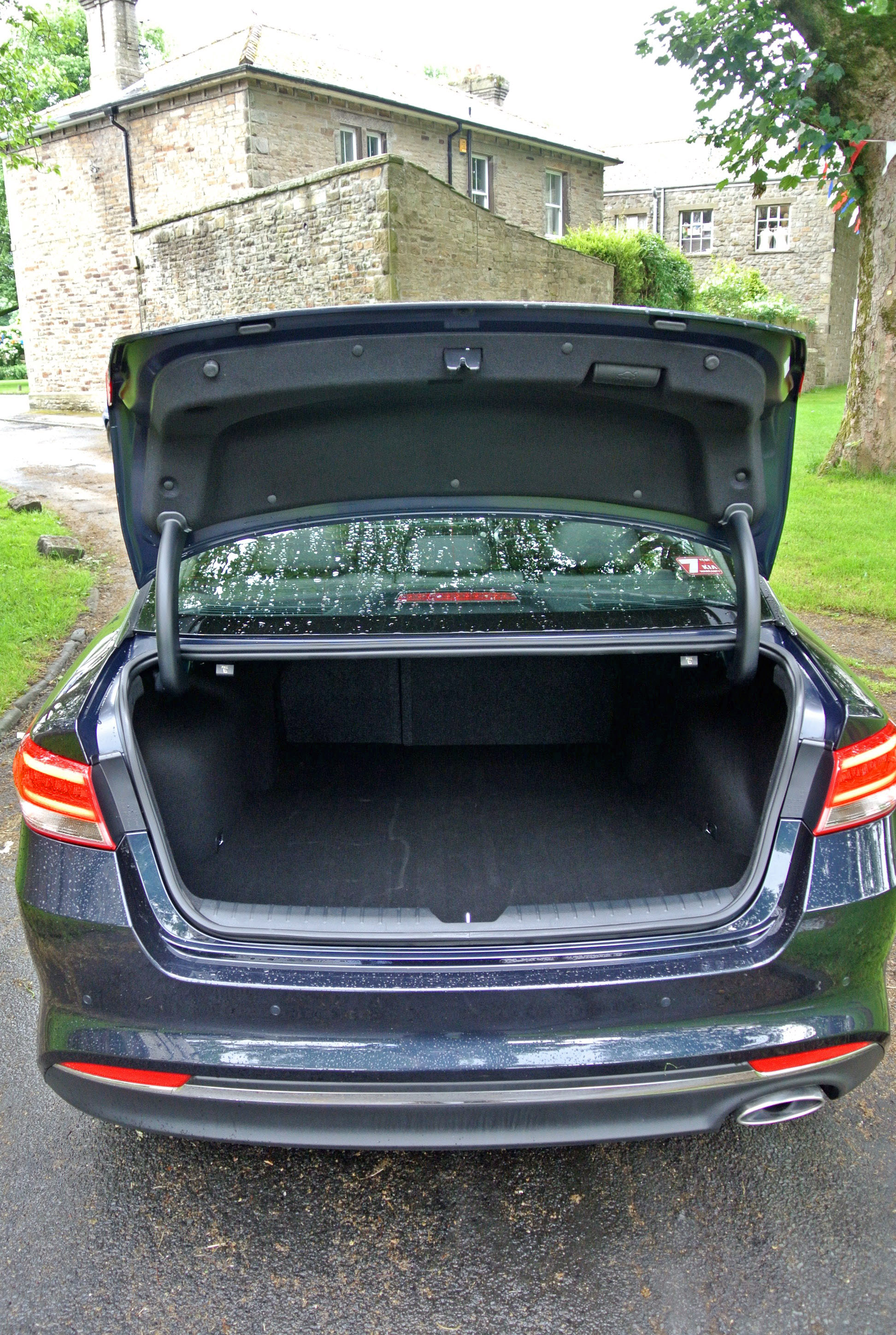 In design terms, the Optima is beautifully balanced, from its spangley radiator grille and its hawk-like headlamp units, past the intriguing chrome-outlined side windows to its coupe-like, upswept tail. LED lamps predominate fore and aft, with triple-LED fog lamps located in the lower front spoiler area. In truth, there is not a bad angle from which to view the Optima. It exudes an effortless air of optimism through the depth of its paint finish and is beautifully detailed, without a trace of excess, all of which conspires to gift it the classy, yet amazingly classless visual appeal warranted by its intended place in the executive sector.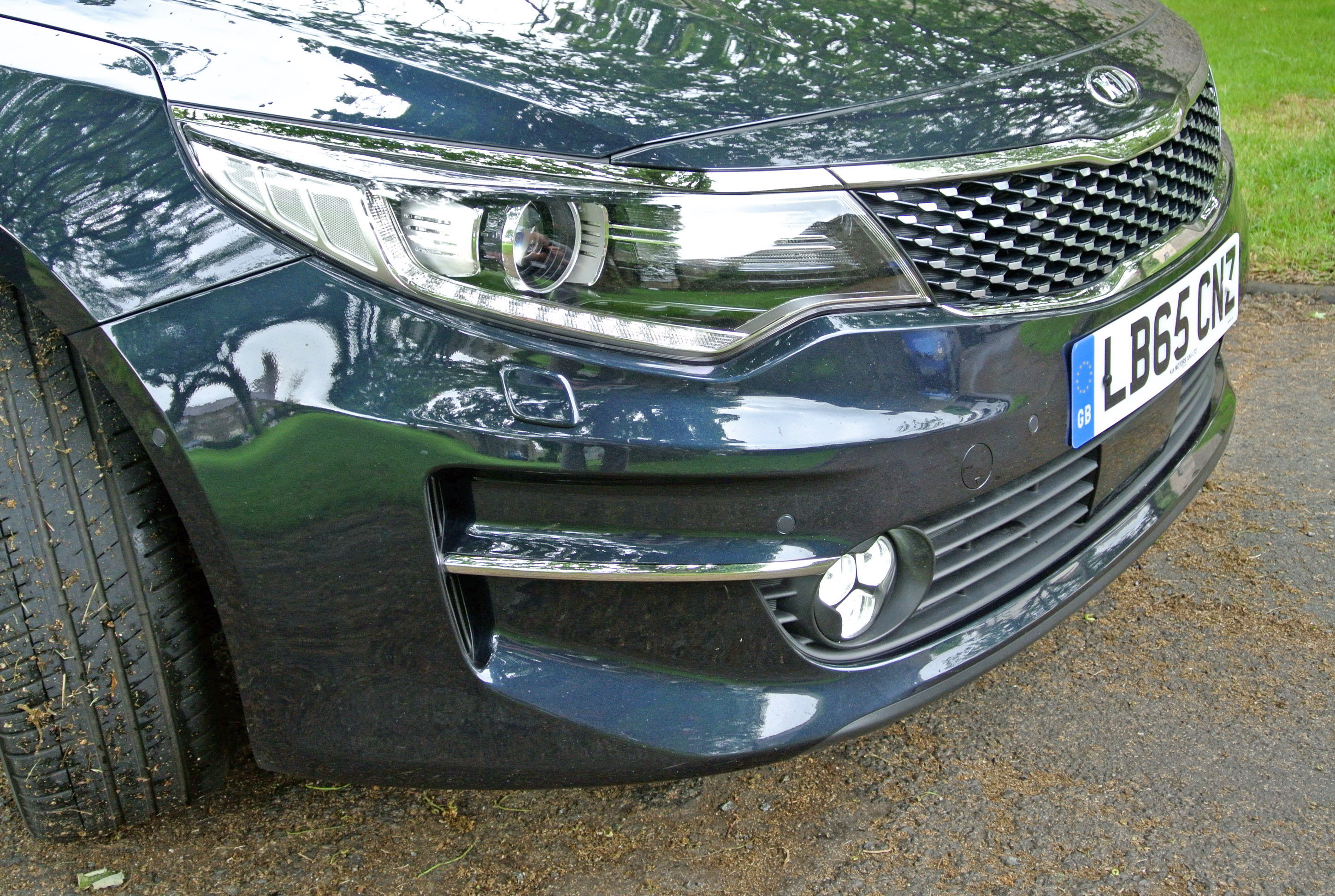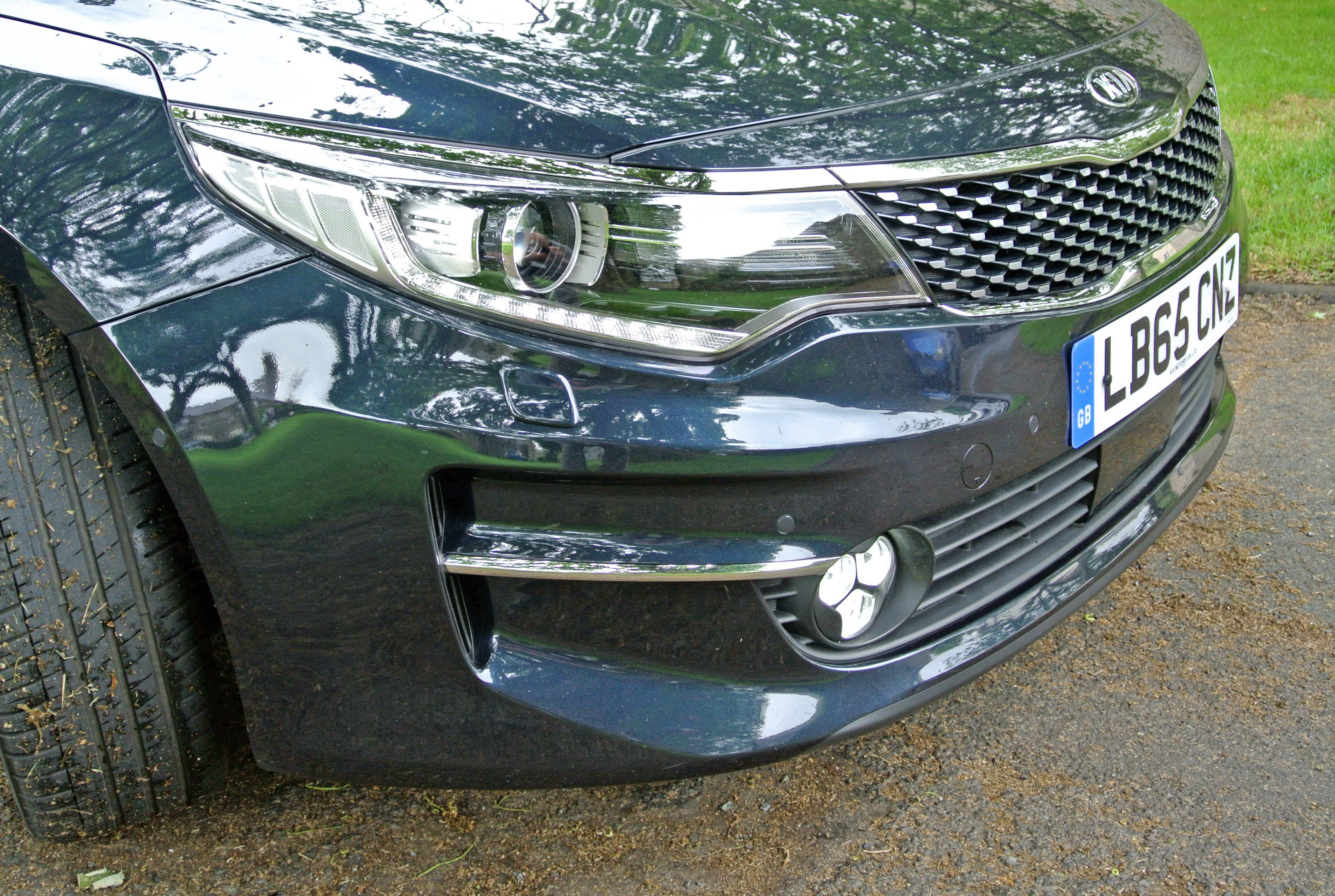 Driving the Optima is a revelation. Its power steering is light but direct and affords the car a feeling of agility that I had not expected, considering its over 4.8m length and almost 1.9m width. It tips the scales at 1.6-tonnes but you would never know, because its multi-link and gas damped suspension works so fluently that the Optima sometimes feels like it is gliding on surgically sharp skate edges across an ice-rink. Flex one way, or the other, and the direction changes are immediate but never imbalanced. Grip levels from the 235/45×18 tyres are excellent, even in the mixed bag of weather conditions that blighted the test opportunity. Body-roll is minimal and directional stability excellent.
Powered by the firm's proven 1,685cc four-cylinder turbo-diesel engine, which, in this guise, delivers a generous 250lbs ft of peak torque and 139bhp (at 4,000rpm), you might not expect startling performance figures but, driving through a seven-speed, twin-clutch, automated transmission, complete with paddle-shifters (located behind the steering wheel cross-spokes), a 0-60mph full-throttle blast can be completed in just over 10.5-seconds, before reaching a top speed of around 126mph. It is a moderately parsimonious unit returning a consistent 50+mpg (64.2mpg Official Combined), while emitting just 116g/km CO2, which equates to a VED tax bill of zero in year one and £30 annually thereafter.
The transmission is a delight to use, delivering rapid up and downshifts on demand, or even left to its own devices. Selecting reverse engages the full-colour camera and central screen display for added safety. Taking a brief look down the specification of this Optima reveals that it possesses just as many safety, luxury and engineering acronyms as any high-end Mercedes-Benz, or Volvo for that matter, which further enhances its exceptional value for money.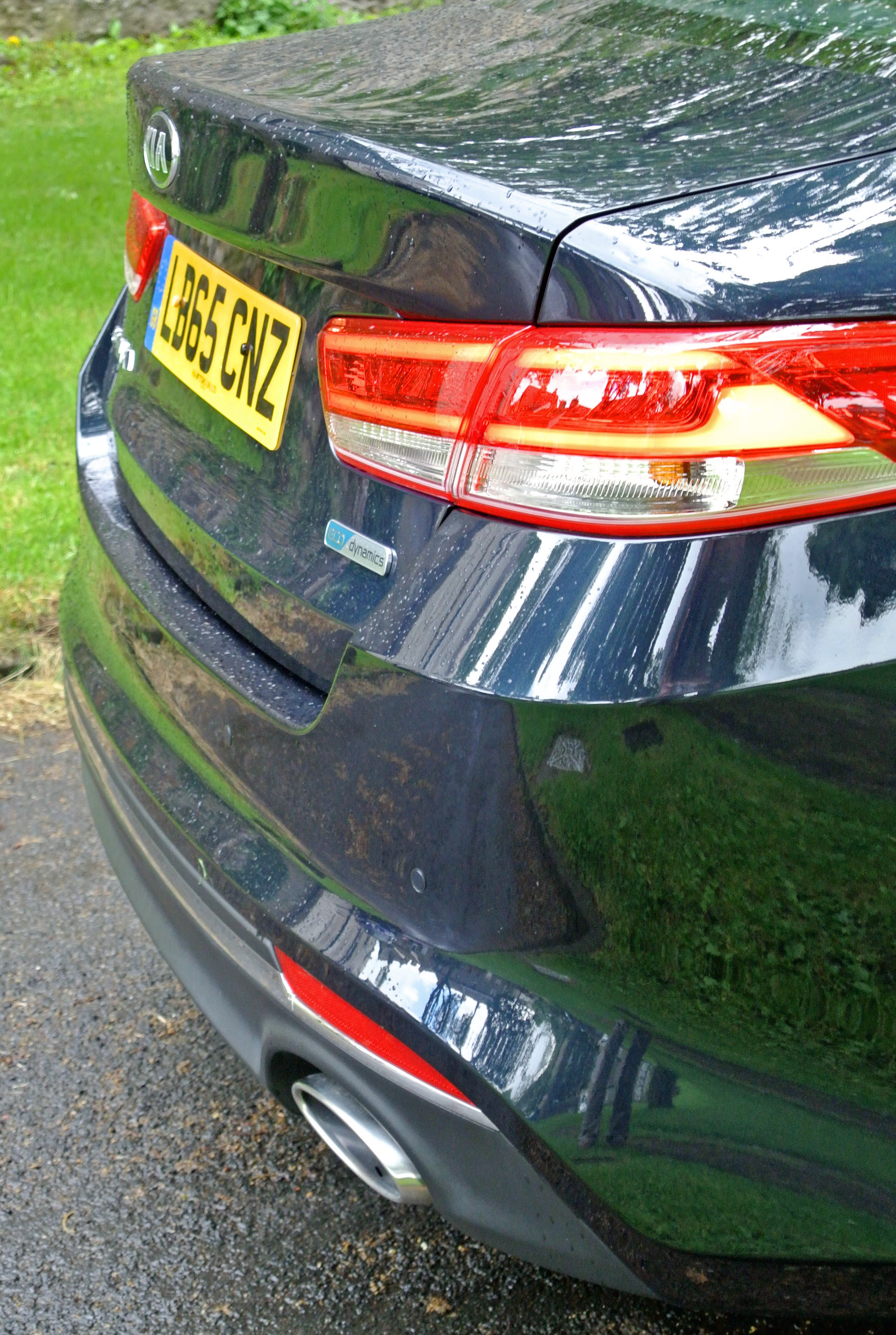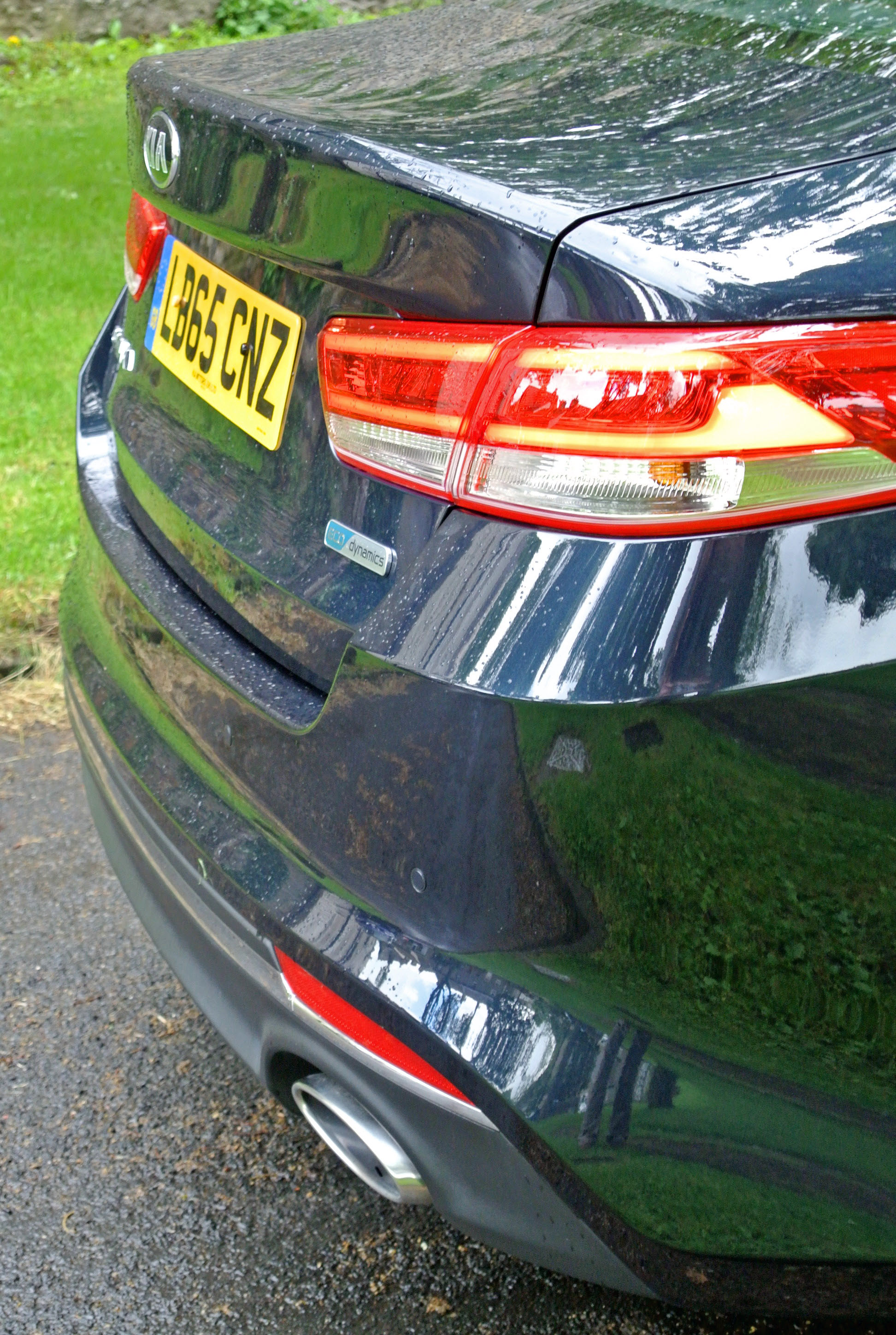 Priced complete to compete at £28,895 on the road, the latest Kia Optima in automated gearbox form is a consummate executive mode of transport. While I do harbour some issues with Kia's market-pricing stance on several of its smaller, more mainstream offerings, I believe that the Optima turns that argument on its head. Good to look at. Great to drive. Inexpensive to live with. Kia has its sums right with the Optima and the only bug in Kia's ointment will be to excite a fairly conservative sector of the market to which it has only a limited reputation. While Skoda may have dropped stupidly its 'Surprisingly Skoda' advertising tagline, Kia has re-imagined it as 'The Power to Surprise' and I have no argument with that.