Admitting that he harbours admiration for Kia's crossover model, Iain Robertson also believes that the best example has just hit the road running, without making serious demands on potential customers and that's really cool!
When I first attended the Kia Soul launch in 2009, I shall admit that I felt very warm towards it. In many ways, it was an honest machine. It was one of a new breed of 'crossover' vehicles, which were not SUVs but neither were they MPVs. It was not promising 4WD, or some fancy traction control system (beyond that dictated by EU regulations, of course). It offered space in abundance and was aimed squarely at younger go-getters, or those who, at least, felt young enough at heart to indulge in a Soul.
It was moderately sporty, in that its suspension was less compliant than it might be in a family hatchback, and its slightly high-riding stance (1.6m body height) made the most of its modest body length (4.1m); the long-ish wheelbase (2.57m) aiding a less-than-choppy ride quality, while imparting an overall design impression of a city car on steroids. Of the two engines available from the outset, the turbo-diesel held the clear advantage, mostly due to a moderate mid-range power delivery and markedly better fuel economy.
However, it was eight and a half years ago and Kia was hardly renowned for making eco-friendly in-roads with most of its engines. Good heavens! The company was only just finding its feet, in design terms, and this Irvine, Californian effort, which commenced back in 2005, did introduce a host of potential customers to a new face of popular motoring that Kia was keen to perpetuate.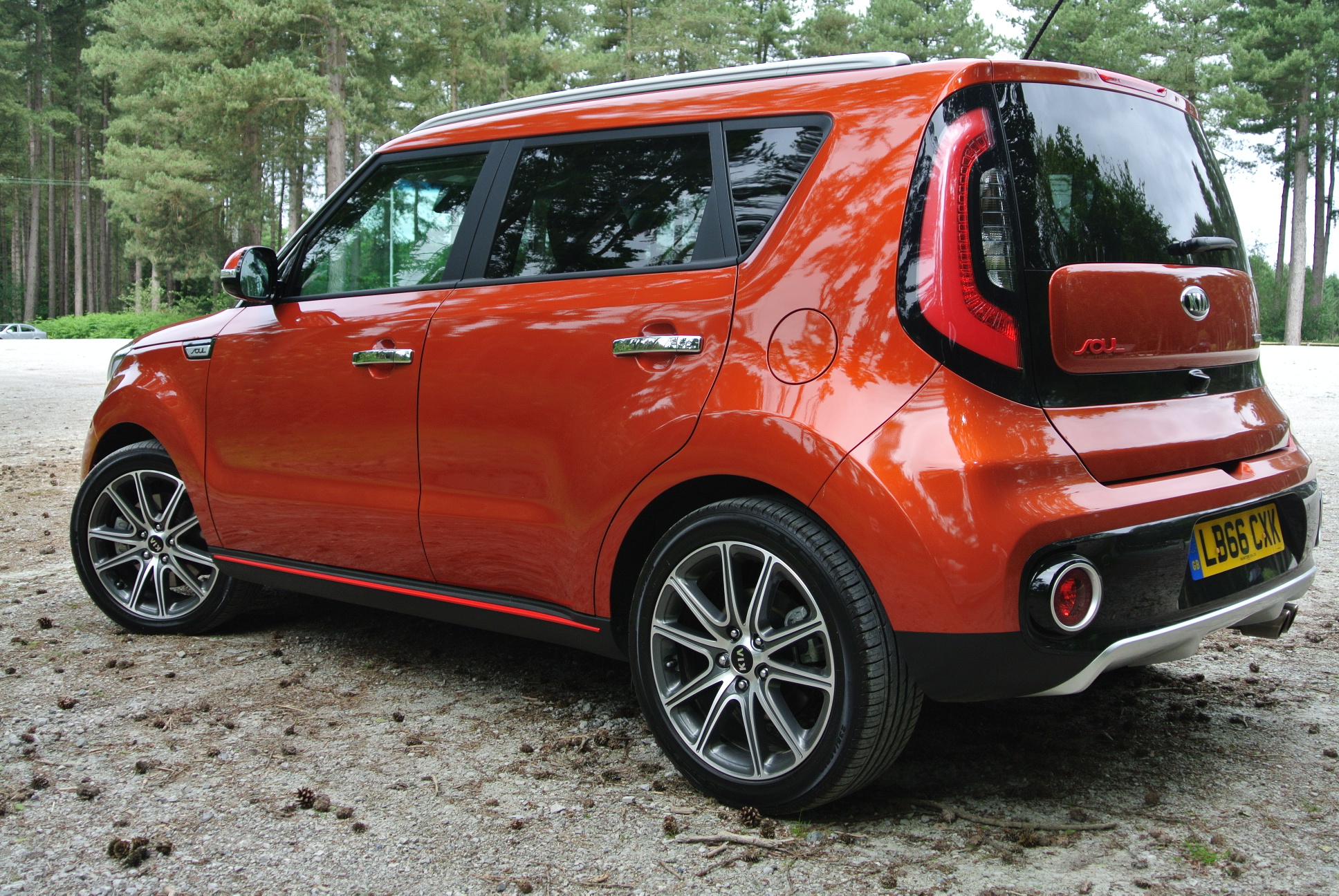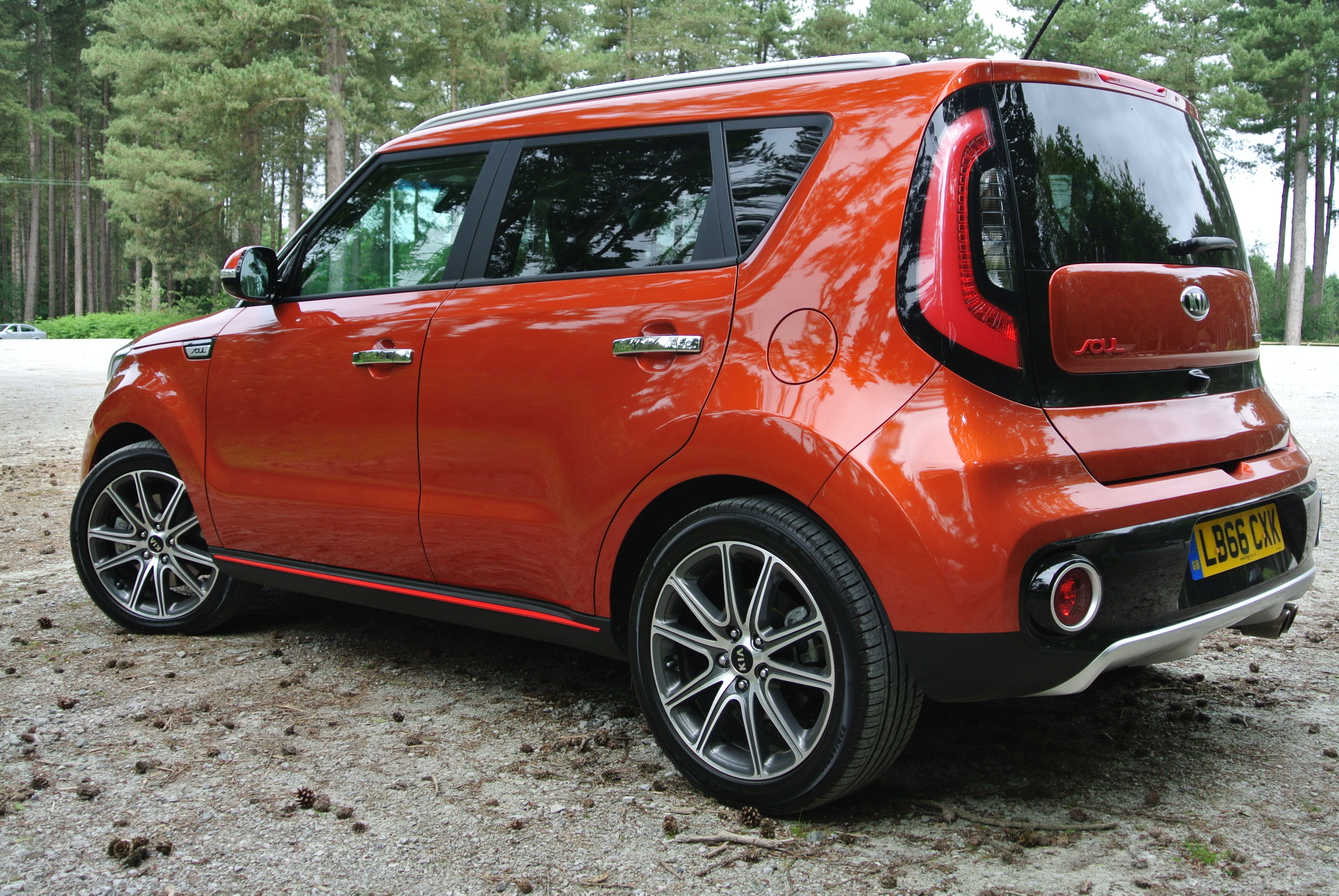 Fortunately, very little has changed for the Kia Soul. It remains a largely what-you-see-is-what-you-get kind of car and it is none the worse for that, being a prime example to carmakers that seem to stretch the bounds of reality beyond breaking-point, with their over-wrought offerings that promise to advance the class but actually do little more than confuse the poor flaming consumer. There is no such mess with the Soul, which almost whisks us up to date, as there are only minor changes made to create the latest version of a range that starts, in Soul 1 form at £14,310 and progresses upwards through Soul 2 (£17,065), Soul 3 (£20,910) to the Soul Sport, as tested here at £23,565, which is pretty much top-of-the-shop and virtually a single model in its own right.
Of course, there are some options to contemplate, should you be looking at the specification, but, as it is a comprehensive package, the need to add anything else might be termed as superfluous. It is exceptionally well-equipped, counting among its standard fittings, attractive 18-inch alloys and low-profile tyres redolent of a Sport designation, a twin-tailpipe exhaust, privacy glazing, inoffensive body styling addenda and a massive tilt and slide sunroof. Heated, hide-covered seats (including the outside rear pair), an immense chilled glovebox, an eight-speaker JBL sound system, complete with subwoofer and even mood lighting that can be linked to the music, supplement a package that is best described as 'complete'.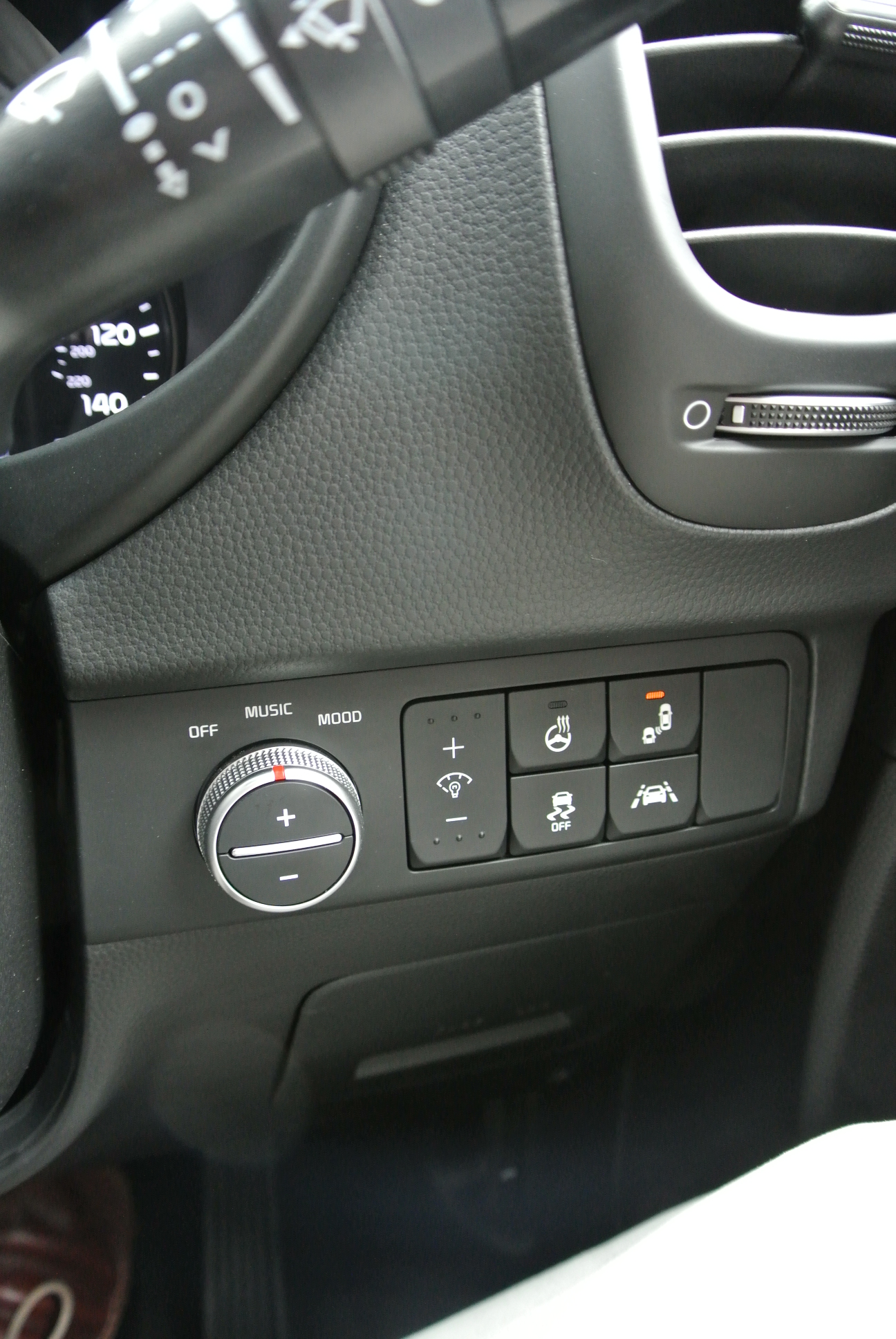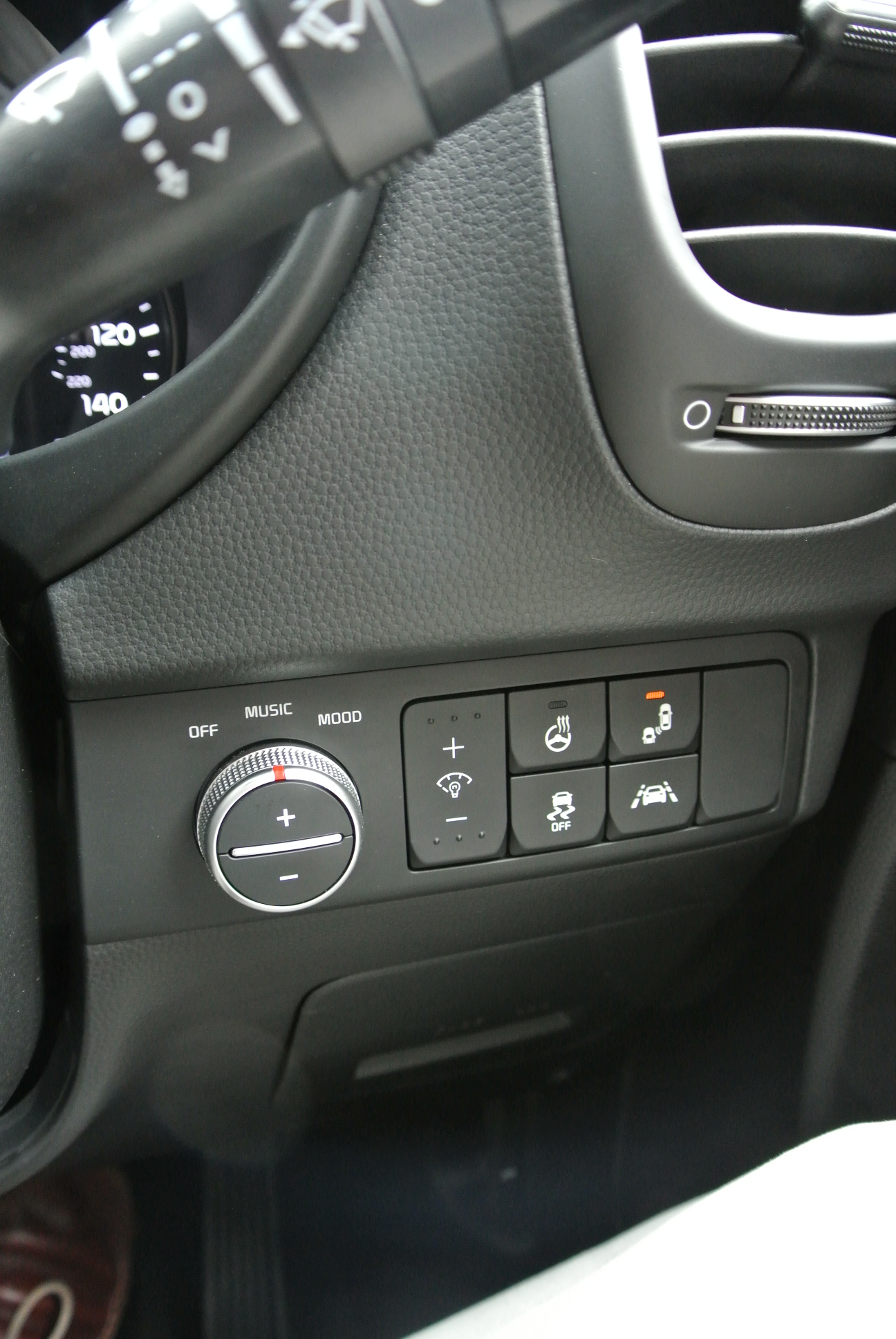 Power comes from the latest version of Kia/Hyundai's 1.6-litre, turbocharged, diesel motor that develops a healthy 134bhp and a stump-pulling 221lbs ft of torque, which is more than enough to give the near 1.4-tonnes of Soul the motivation it requires. Playing through the firm's most recent development of a twin-clutch, automated (NOT automatic) seven-speed transmission that swaps gears eagerly and seamlessly, the Soul Sport delivers a modest 0-60mph acceleration time of 10.7 seconds, although it does feel a lot brisker, before hitting the buffers at a reported 113mph, a figure I cannot confirm but which I believe to be conservative.
As far as the other numbers are concerned, it emits 130g/km of CO2 from its twin exhaust pipes, which equates to a £160 road tax fee in the first year, followed by annual £140 increments, which is all eminently affordable. It is said to return 56.5mpg on the Official Combined fuel cycle, although a brief test such as this car endured on the lanes leading to and from the Delamere Forest, Cheshire, meant that I seldom witnessed better than 39.3mpg on the on-board computer. Somewhat less stop-starting and long periods with the engine idling, as I took photographs, would return an average somewhat closer to 45mpg I feel certain, as the principle of cars equipped with automated gearboxes is that they are not fuel-guzzlers.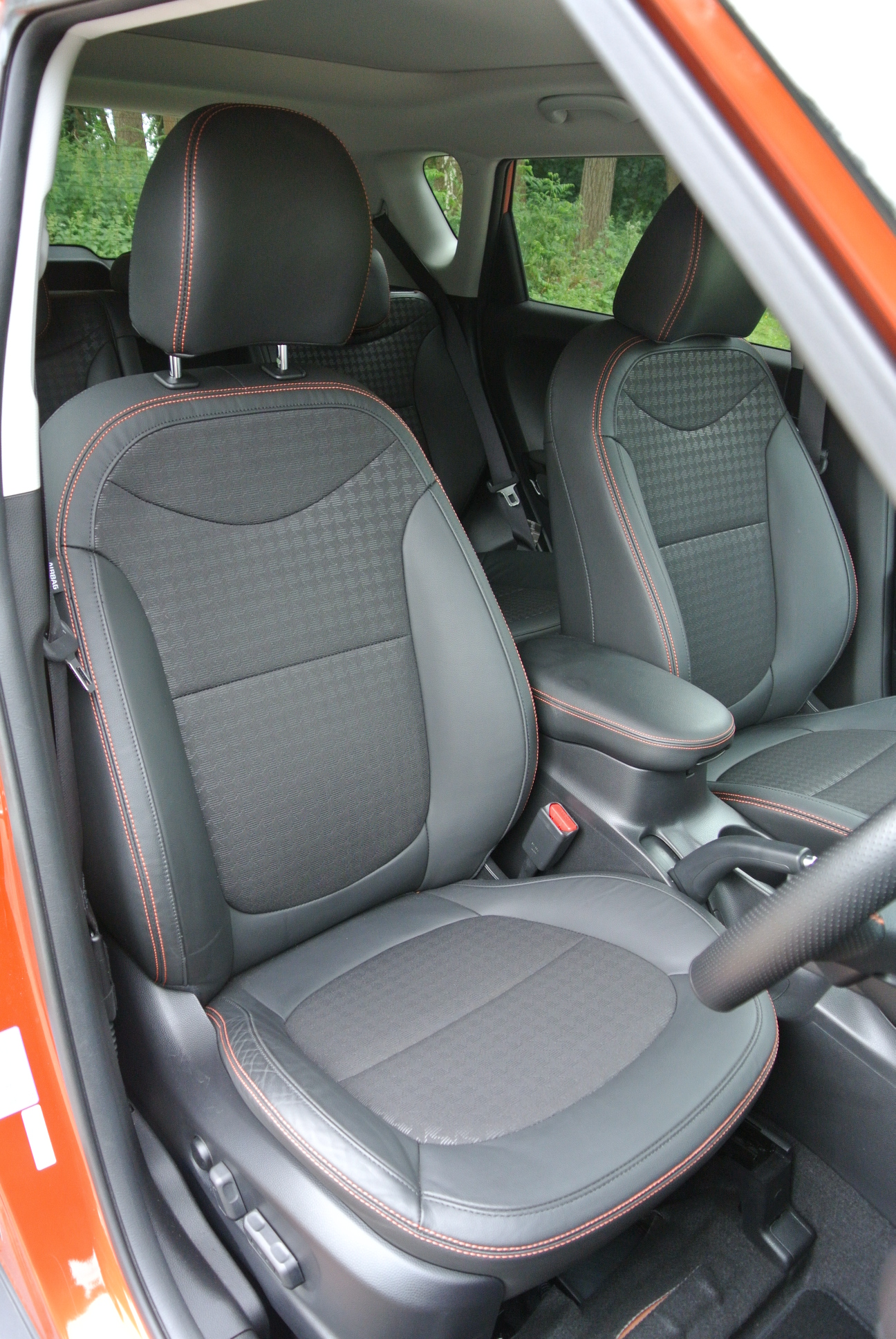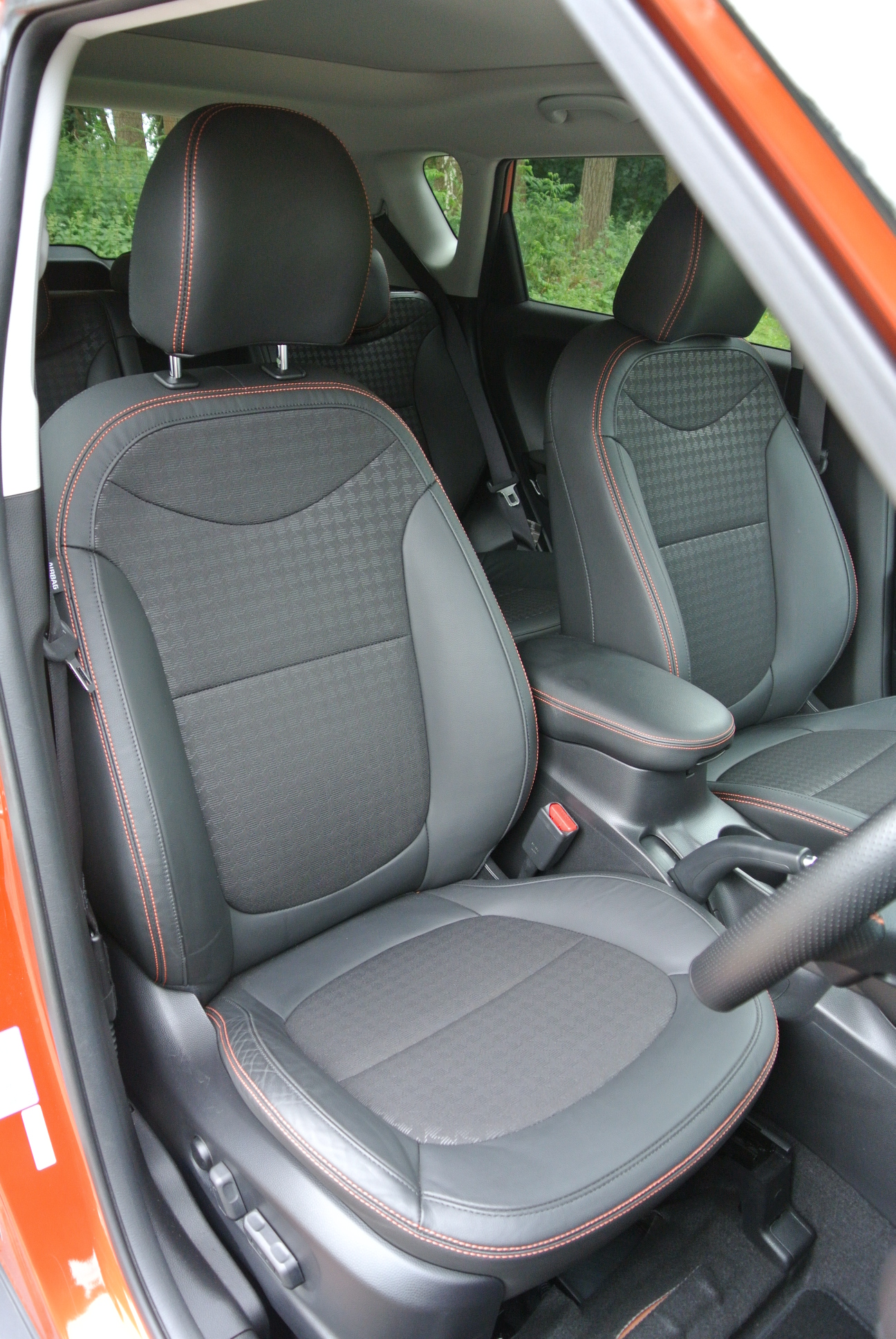 Access to the cabin is easy and obtaining a supportive and comfortable driving position is facilitated by having a decent range of both seat and steering column adjustment. Space in the rear is good, while the spacious boot can be optimised further, by folding the 60:40-split rear seats, or by lowering the board that provides a twin-level boot floor (the highest level being at bumper height, with a decent carpeted trough below to place valuables out of sight).
Being a modern Kia, its kit is also packed with what is fast becoming the standard raft of safety features, such as lane discipline, rear-view blind-spot recognition and anti-skid controls, which can be cancelled via the block of switches to the lower right of the steering column, where the heated steering wheel rim and lighting mood adjustments can also be effected. Of course, a plethora of airbags and ISOFIX mountings for child safety seats are also fitted. The Soul also benefits from a rear-view colour camera that operates through the 8-inch central screen display that also provides graphics for in-car entertainment, Bluetooth phone/media linking and the sat-nav. Fully automatic air-con ensures that interior comfort is pegged at a high level.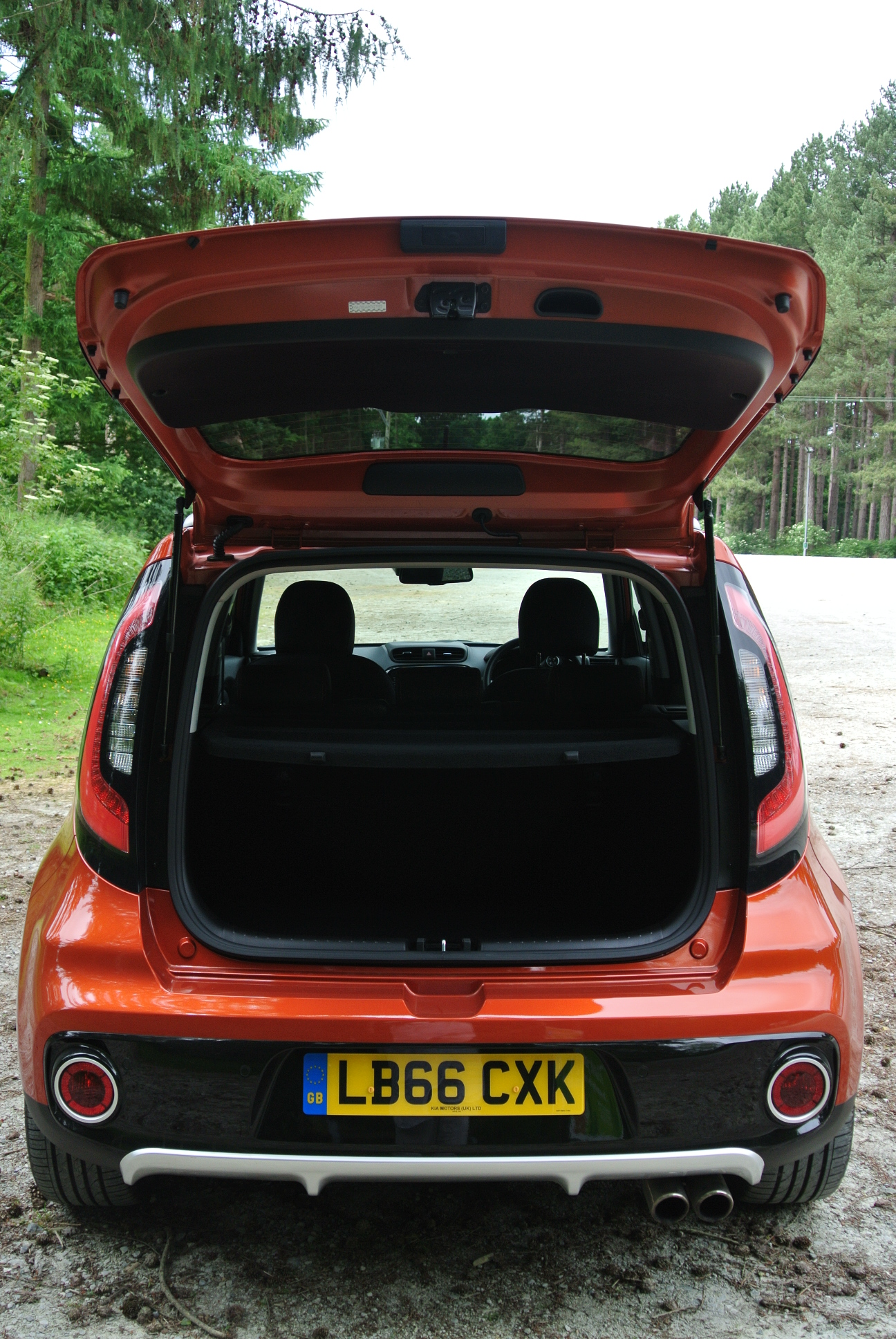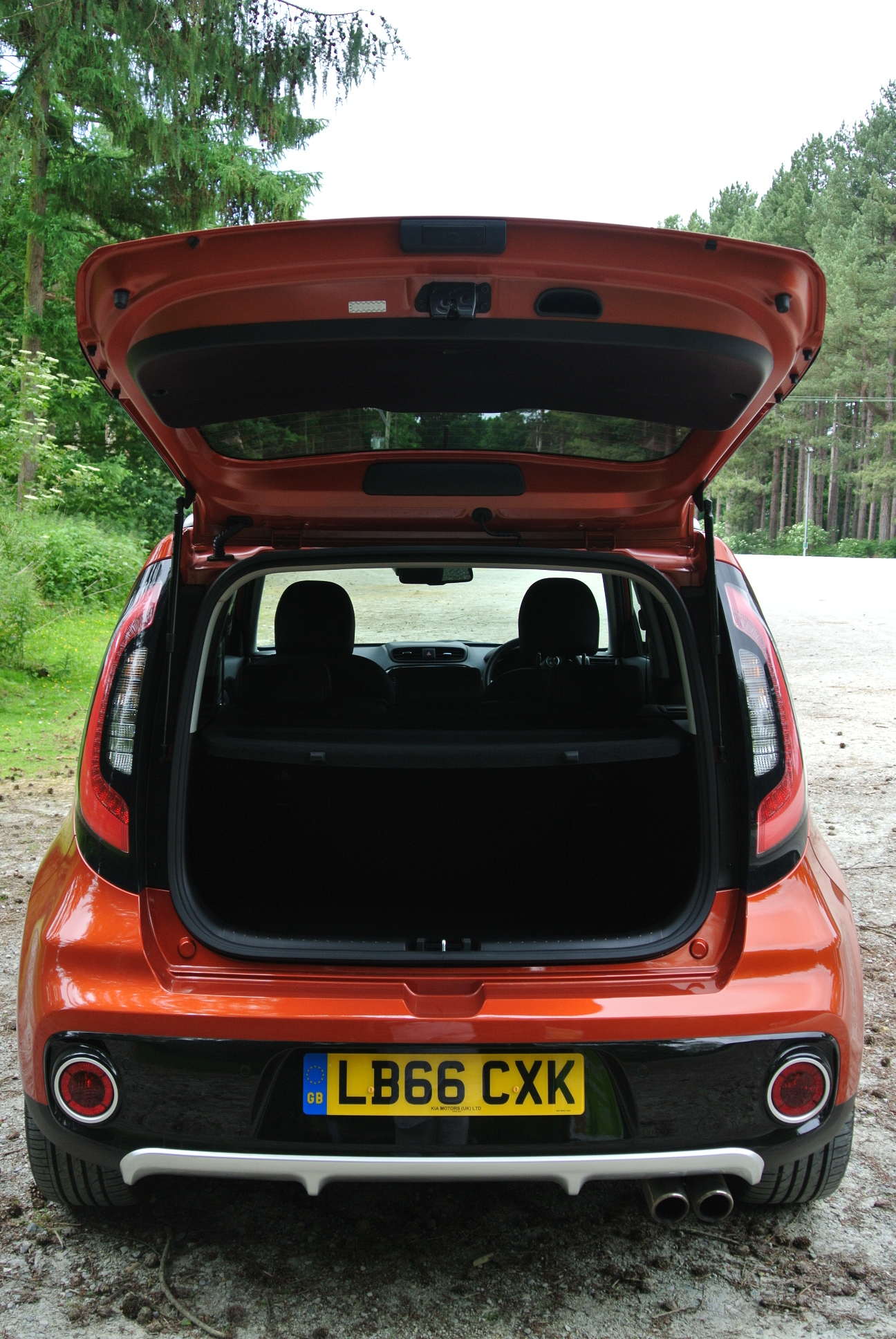 It is worth highlighting that auto-on wipers and lamps also feature and, apart from LED structures for the DRLs, front and rear fogs and in-cabin illumination, the headlamps are first-rate Xenons, which I far prefer to LEDs and which also feature high-beam assist, which means that they dim automatically at night-time (if that is your whim). Of course, many of the minor controls can be operated by clicking on the steering wheel-mounted switchgear.
Driving the Soul is a genuine delight. Its handling is crisp, aided by excellent mechanical grip, fluent steering, which can be adjusted electronically through three pre-set parameters (Normal, Comfort and Sport), and firm but not unforgiving suspension. Body roll is well-controlled and the Soul imparts a feeling of solid build integrity to occupants.
Overall, I am highly impressed by this top-spec version of the Soul, which has quite masterfully enhanced the original proposition to a fresh pinnacle. The last time I actually drove a Soul (not to be confused with Dover Sole…sorry!), it was the EV model, around a year ago, which was also based on the pre-midlife refreshment styling exercise. While it was impressive in many ways, were I to opt for a Soul, my attention would be drawn to the Sport model, probably in diesel form (although Kia's sweet 201bhp 1.6-litre petrol unit is also available…) and definitely equipped with the 7-speed DCT gearbox.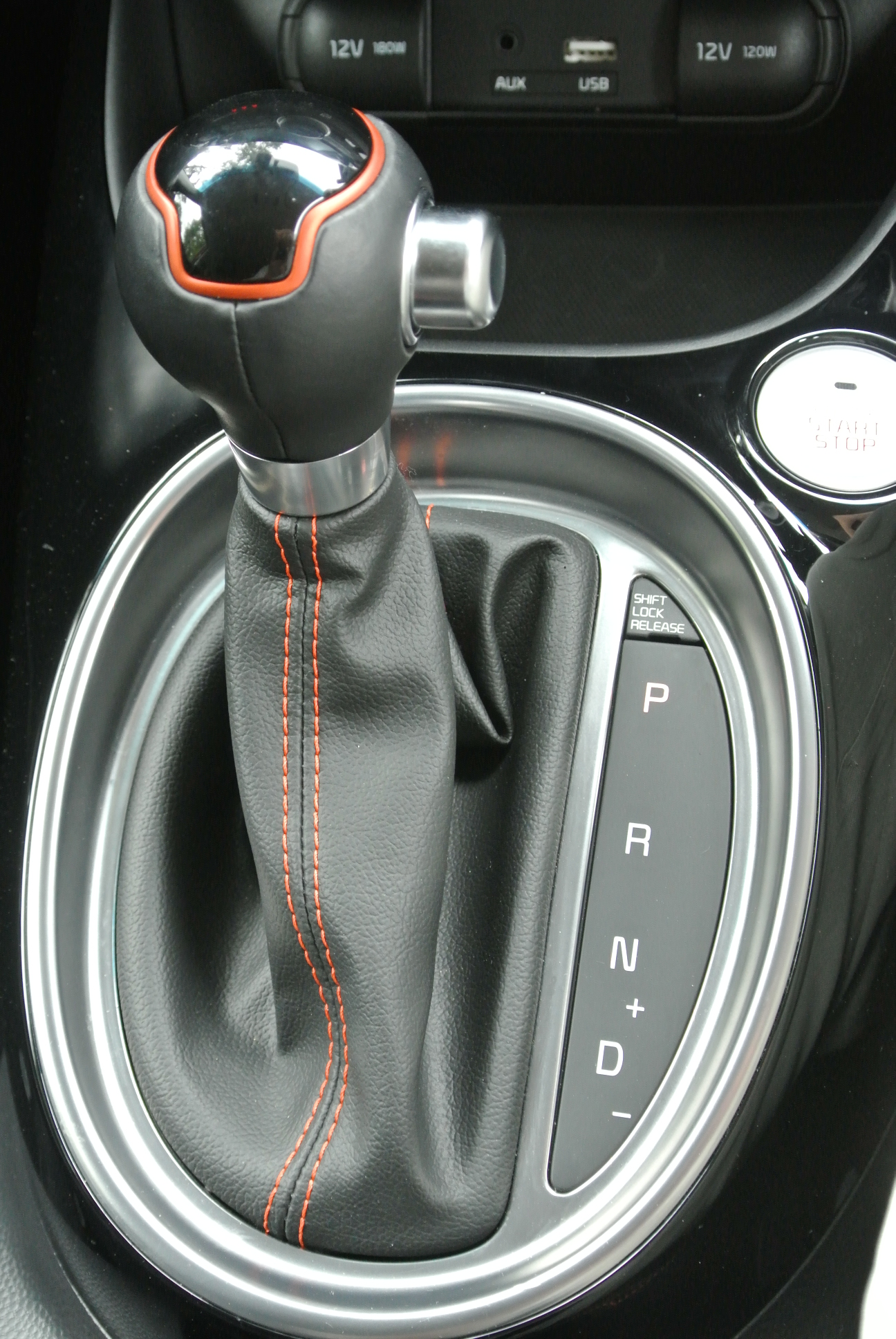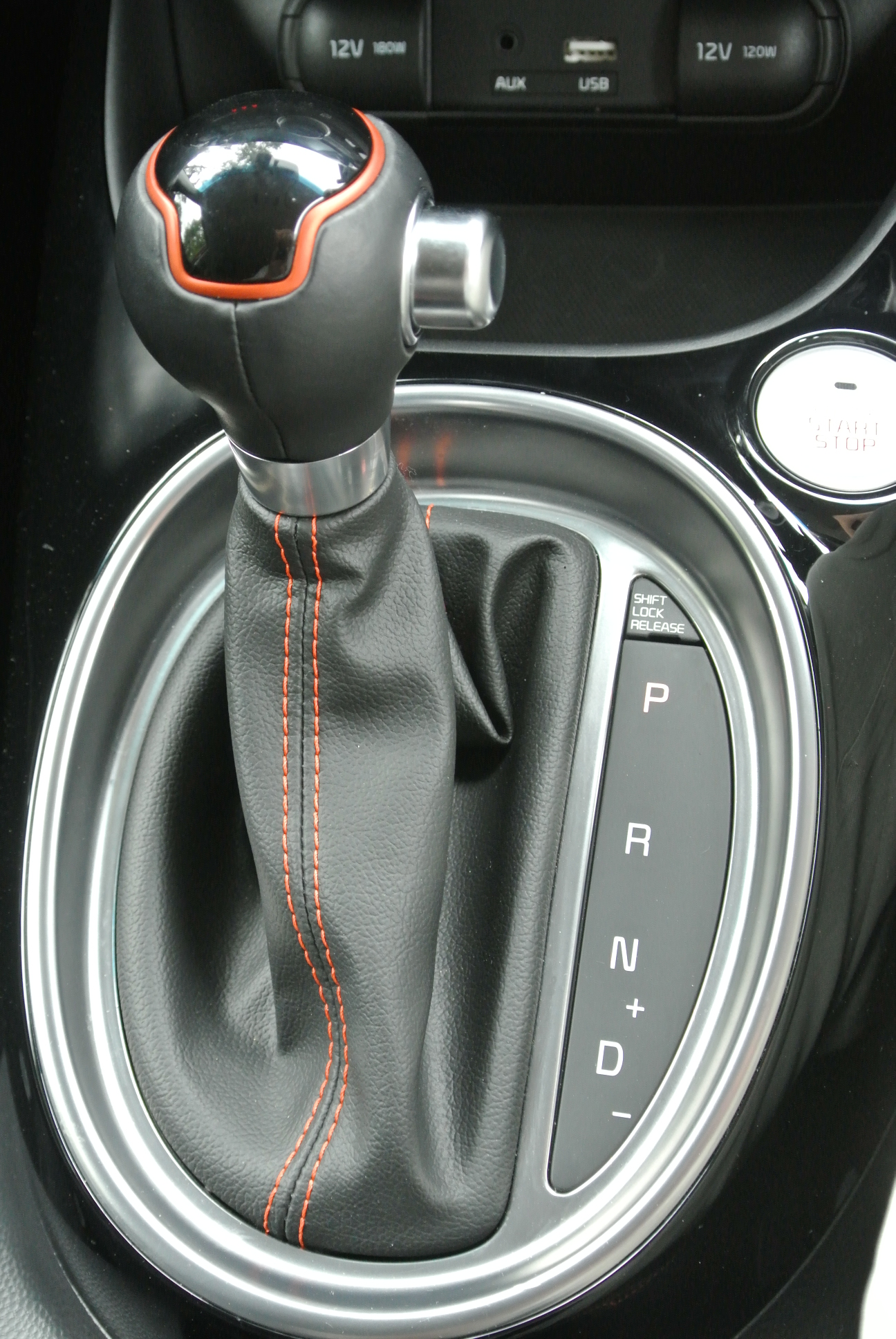 For a well-equipped, user-friendly and highly charming family vehicle, the Kia Soul 1.6D DCT is near perfection. Owners do not need to indulge in the fancy, optional cost, graphics packages (for the bodywork…although some will) and a car like this can have the broadest appeal to drivers of all ages. Even the company car user-chooser could decide to run one and be satisfied with its low operational cost potential. It is a good looking vehicle and, protected by Kia's all-encompassing seven years warranty, it can make a lot of logical sense to future owners.