Performance engineering is not all about drag-strip figuring (although acceleration times and top speeds can help a little) and Iain Robertson reveals that judicious chassis engineering can turn an already sound motorcar into a most exquisite one.
As is so often the case, with luminaries like Messrs Rolls and Royce, Simon and Garfunkel, or Ant and Dec, two is a partnership and three is an unwelcome crowd.  In fact, two far-from-youthful gentlemen, one German, the other of New Zealand extract, have played a vital role in volume carmaker, Vauxhall's vastly improved dynamic character. Volker Strycek (61) is a much-respected former German racing champion, who became the head of the company's performance arm at Opel (the Teutonic equivalent of Vauxhall). As fit as a fiddle, he continues to race and prove the performance of Vauxhall/Opel motorcars.
On the other hand, 40-a-day smoker, Rob Wilson (66), has enjoyed an hugely impressive international racing career that is actually greater than Herr Strycek's and, despite looking seriously 'unfit', is the immensely respected chief instructor to more than half of the current Formula One drivers' grid and, when not playing bass guitar (he used to be a member of 1970's chart-topping pop band 'Edison Lighthouse'), he provides technical feedback to Vauxhall. To be 'coached' by either, or both of these people is a genuine privilege that is underscored by the immense strides that they have created not only for the excellent Insignia but also other models in Vauxhall's range.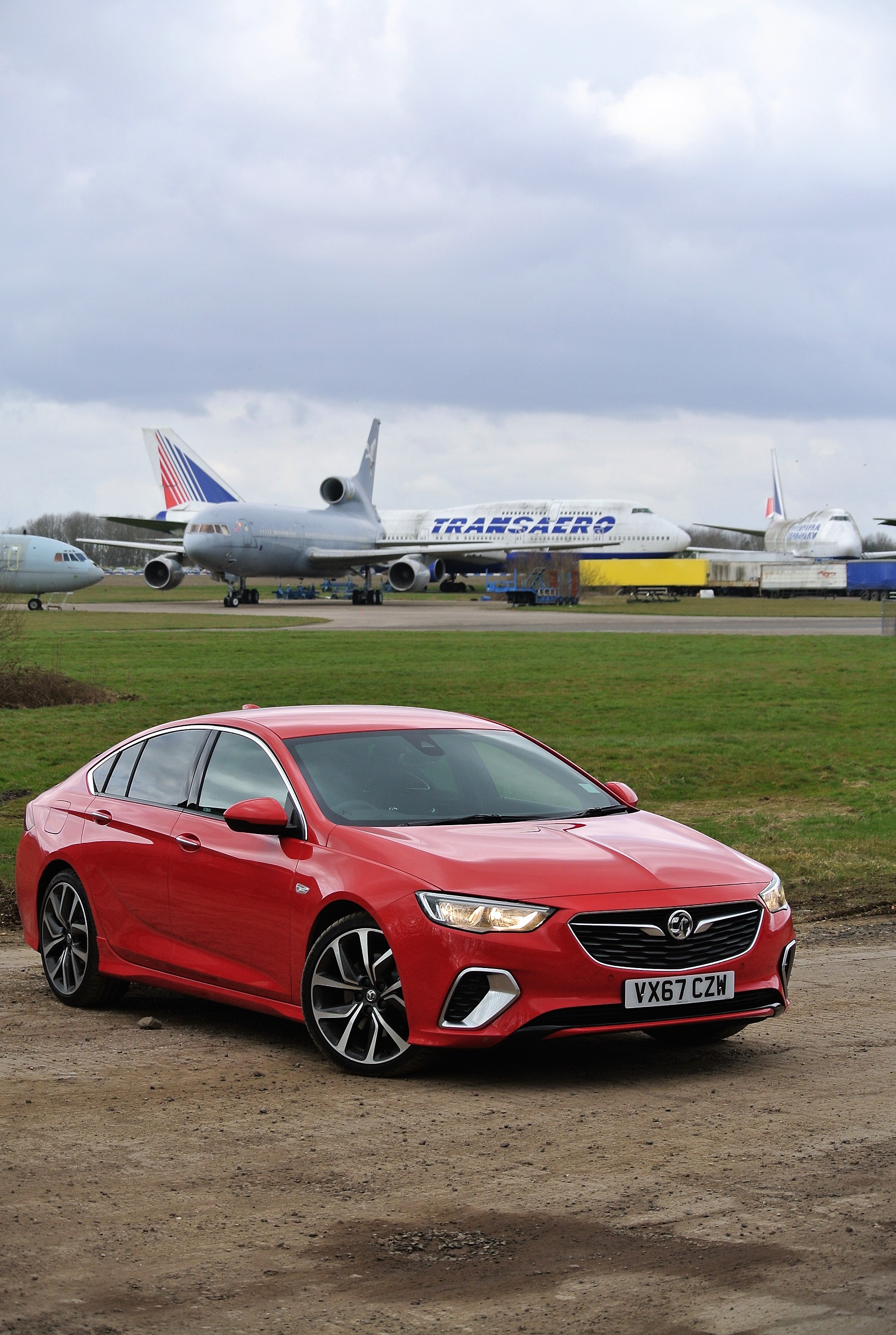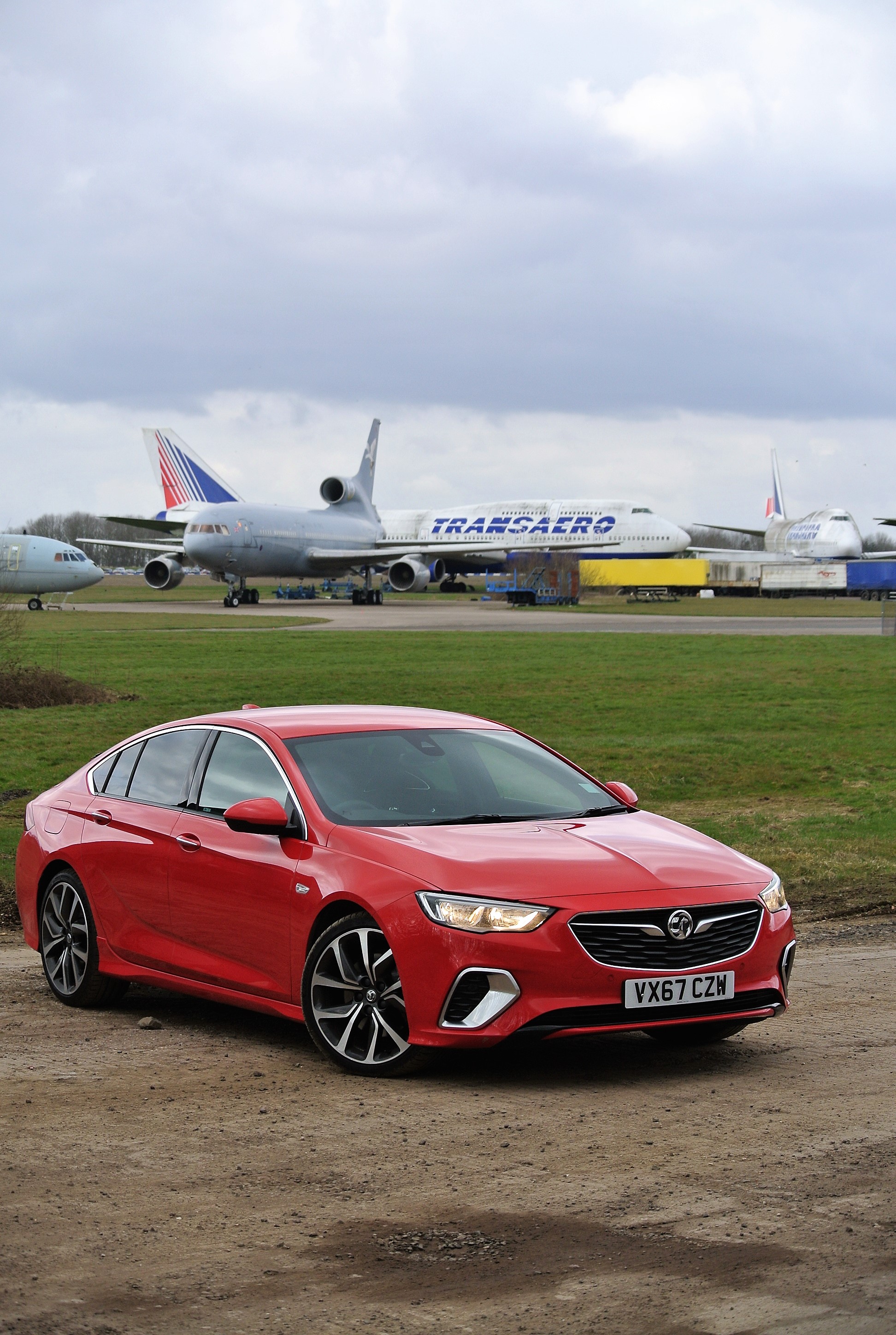 Vauxhall brought the specialist pair together for the benefit of members of the motoring media. Naturally, being able to glean their knowledge is to understand the level of fine tuning levelled at the Insignia model, which is actually on a different plane to that exercised by the Gallic PSA Groupe that now owns Vauxhall (and Opel). While Vauxhall is keen to mention that its former performance label, 'VXR', is yet to have its future determined under the new regime, it has launched the GSi badge on its superb large hatchback and sports tourer line-up. Incidentally, the same tag has also been gifted to the compact Corsa model, for the first time in almost a quarter of a century. VXR will lend its enhanced image to future hybrid and electrified developments for the brand, in line with PSA's future corporate reshaping exercise.
Available in both body shapes, powered by the firm's new 207bhp bi-turbo-diesel, or the 257bhp petrol-turbo engines, while retaining a luxurious cockpit environment, the GSi is focussed primarily on first-class traction (aided by a constant 4WD transmission, complete with ingenious twin-clutch rear differential), surgically precise steering and 'superglue' levels of grip. The models' stance is helped by a 10mm reduction in chassis height, allied to 245/35-section Michelin Pilot Sport 4S tyres fitted to model specific, 20-inch diameter alloy wheels. Stopping power is managed by Brembo high-performance brakes, featuring 345mm front discs.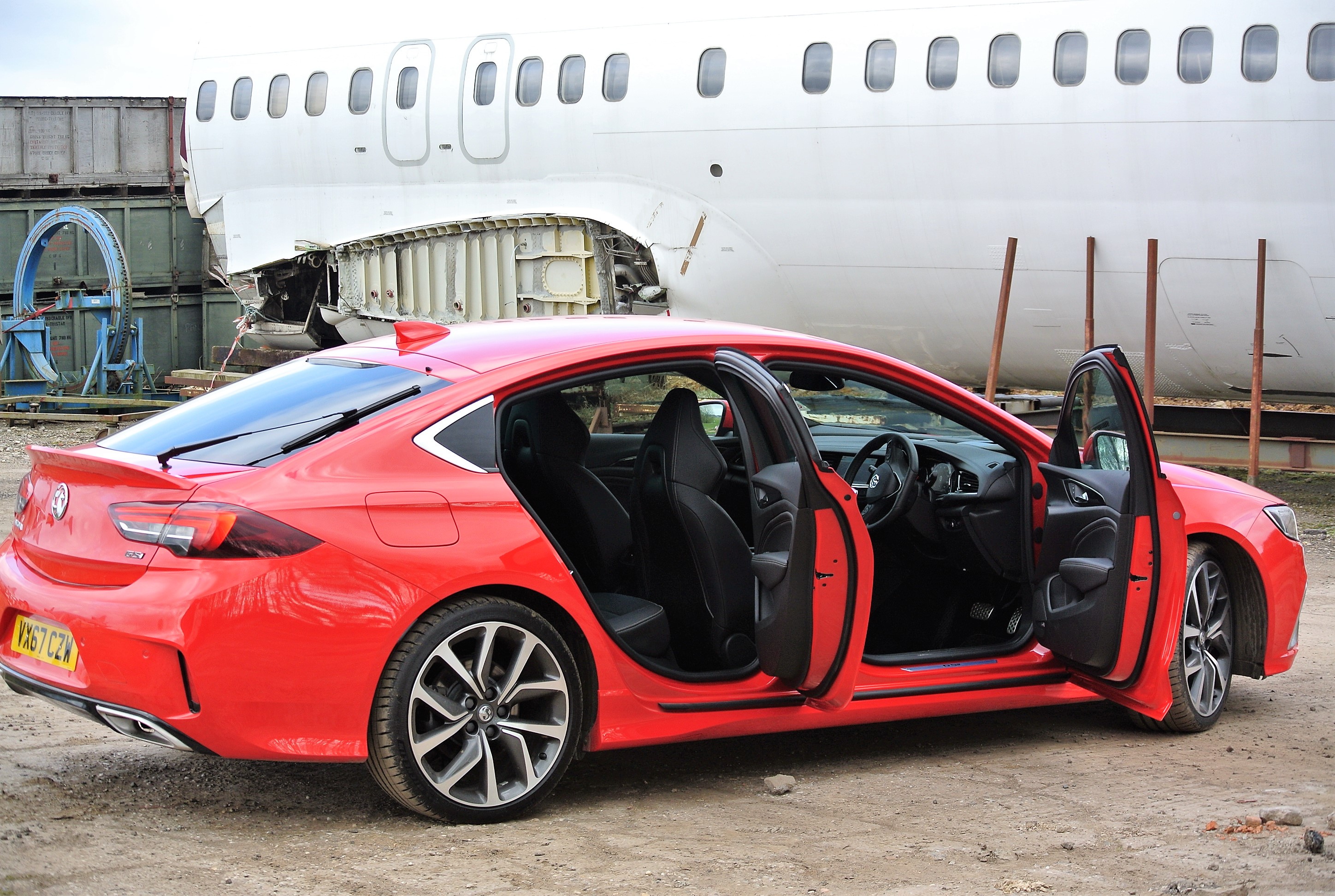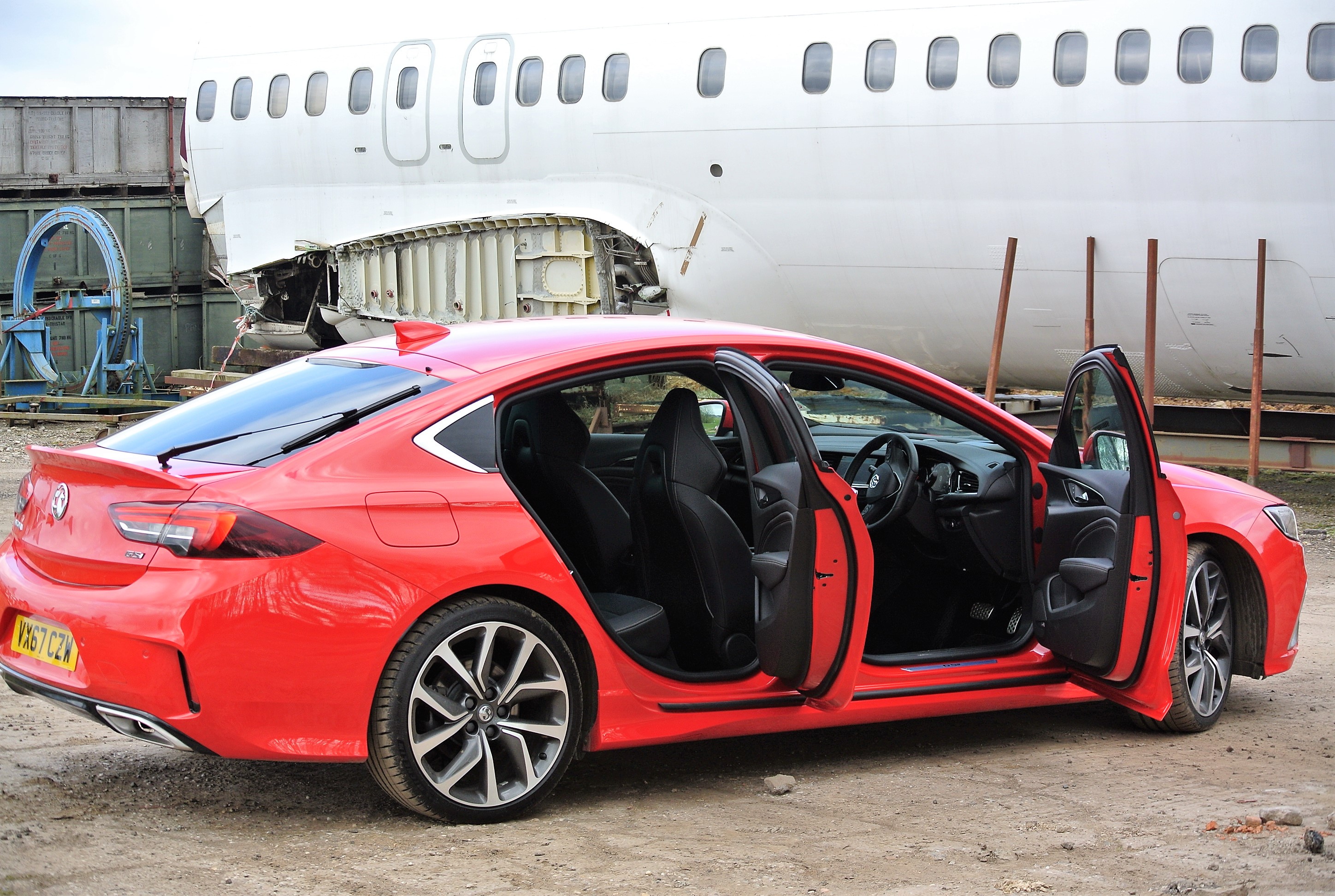 Mention of these aspects of the Insignia GSi is relevant, following an on-the-limits driving exercise held at Bruntingthorpe Test Facility (South Leicestershire), which underscored every aspect of the GSi's intense focus. With the programmable chassis mode set to 'Sport' of its three settings (Tour, Normal, Sport) and the Electronic Stability Control (ESC) set to 'Competitive', discovering that even harsh braking would not upset the car's balance, let alone sudden direction changes and some wild attempts to unsettle the car, instead its dynamics proved to be exemplary. It is rare these days to be able to experience a car's ultimate handling and roadholding capabilities in such a safe environment, where spinning-off involves little more than clearing grass from tyre treads. The Insignia behaves impeccably and feels capable of handling whatever punishment might be meted out to it, not least by a hap-handed motoring scribe more familiar with the cut-and-thrust of local commuting.
However, a two-hours cross-country driving route that took in most of the deliciously open and flowing B-roads around Leicestershire, Rutland and Nottinghamshire, added further might to the GSi's armoury. With its bespoke 'FlexRide' spring and damper settings, the mechanical torque-vectoring nature of its all-wheel-drive system (rather than an introduced electronic package) and the lighter and more effective braking system, the GSi, itself lighter by around 165kgs over its VXR forebear, has become the consummate cross-country sports touring machine. Dodging potholes is part of the fun of instant reactions to driver input. Yet, something special occurred, when I selected the 'Sport' chassis mode, as it not only enhances the throttle response but adjusts the gearchange settings in the 8-speed automatic transmission. Not all similar adjustments in rivals' products work as efficaciously. Once again, due to the sterling efforts of Messrs Strycek and Wilson, this is a setting that works WITH the driver, who wants to enjoy the driving experience.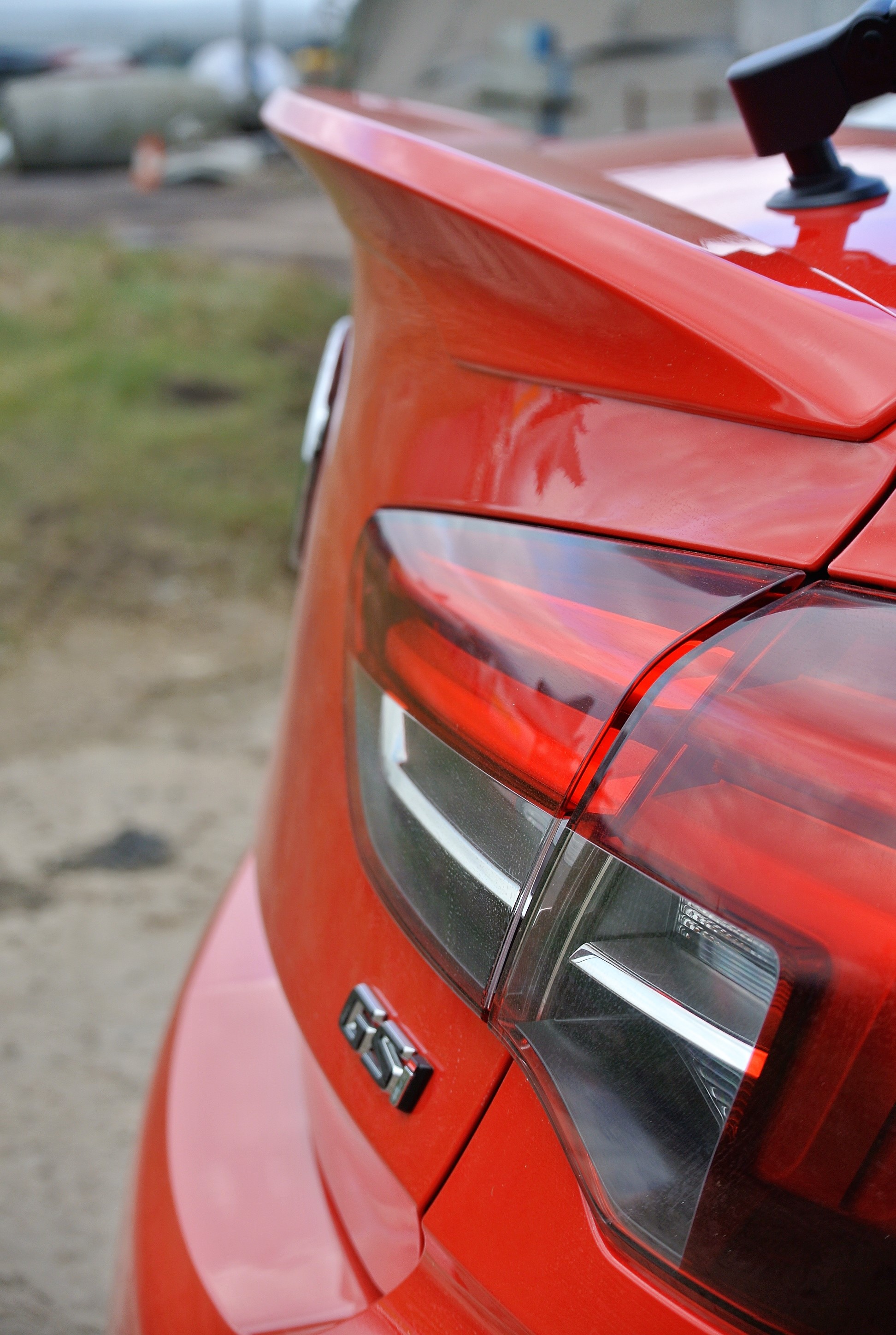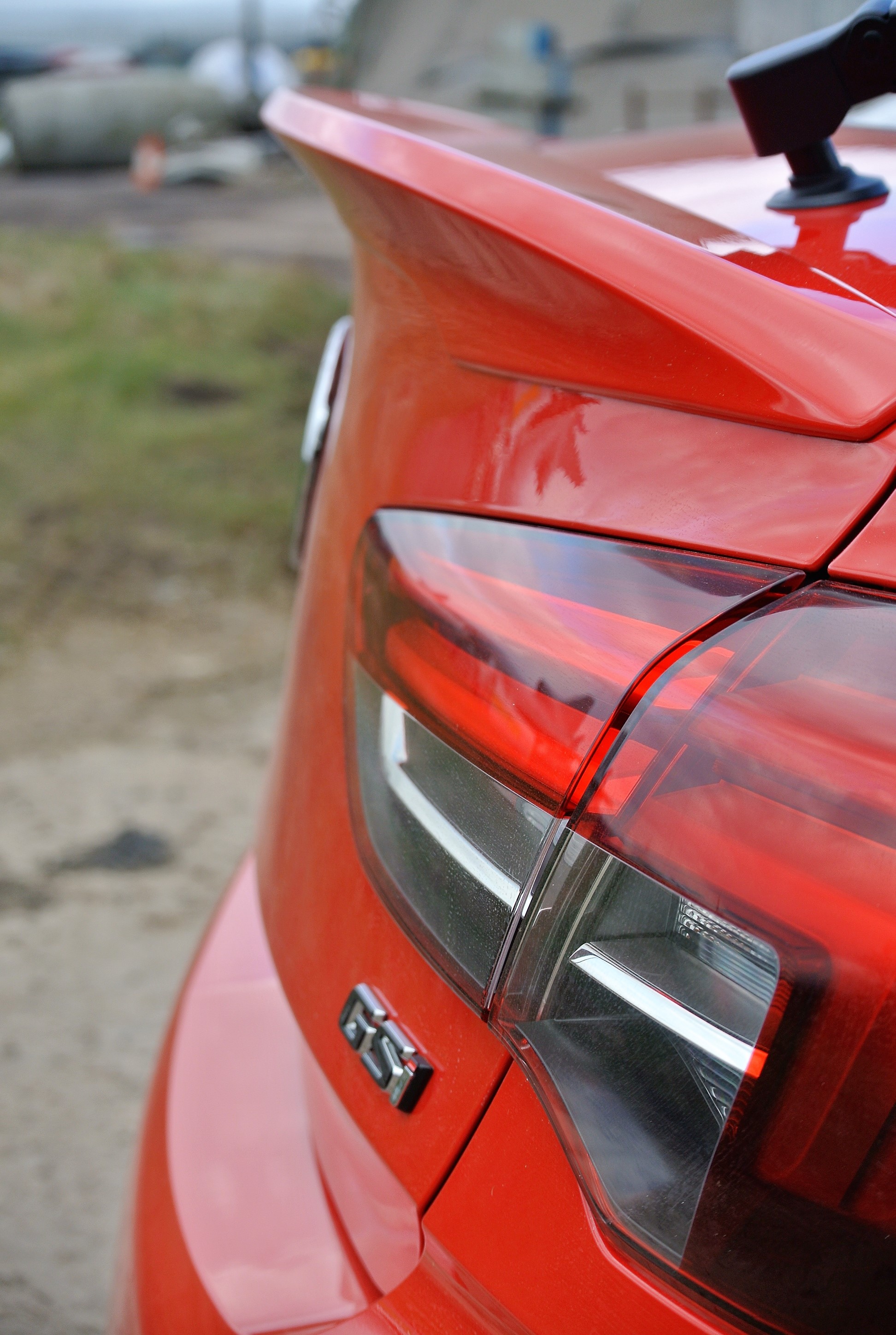 Body enhancements are part of the GSi specification and apart from the big alloys and tail spoiler, bigger exhaust tail-pipes support a sportier package. The cabin (well, the front seat occupants, at least) gain from Vauxhall's AGS seats, which are not merely exceedingly supportive, thanks to their competition-type shoulders and generous dimensions, but are lighter and stronger than the regular perches and even the former Recaro options. Both of them feature heating, ventilation and massage controls for added driver comfort. The flat-bottomed steering wheel and the outer pair of rear seats are also heated.
The driver benefits from an adjustable and colourful 'head-up' display projected into the base of the windscreen that carries speed limit, sat-nav directions and as much information as is practical, to avoid peeking at the main, configurable and quite busy instrument panel behind the steering wheel, or the 8.0-inch touch-screen in the dash-centre. The gearbox can also be selected manually using the steering column-mounted paddles. Apart from extra support bolstering of the split-fold rear seats, the rest of the car is to expected Insignia standards, i.e. well-equipped, including a Bose stereo and speakers, and ergonomically laid-out. Vauxhall's innovative and multi-faceted Intellilux LED headlamp system is also standard on this model and not an £1,100 optional extra.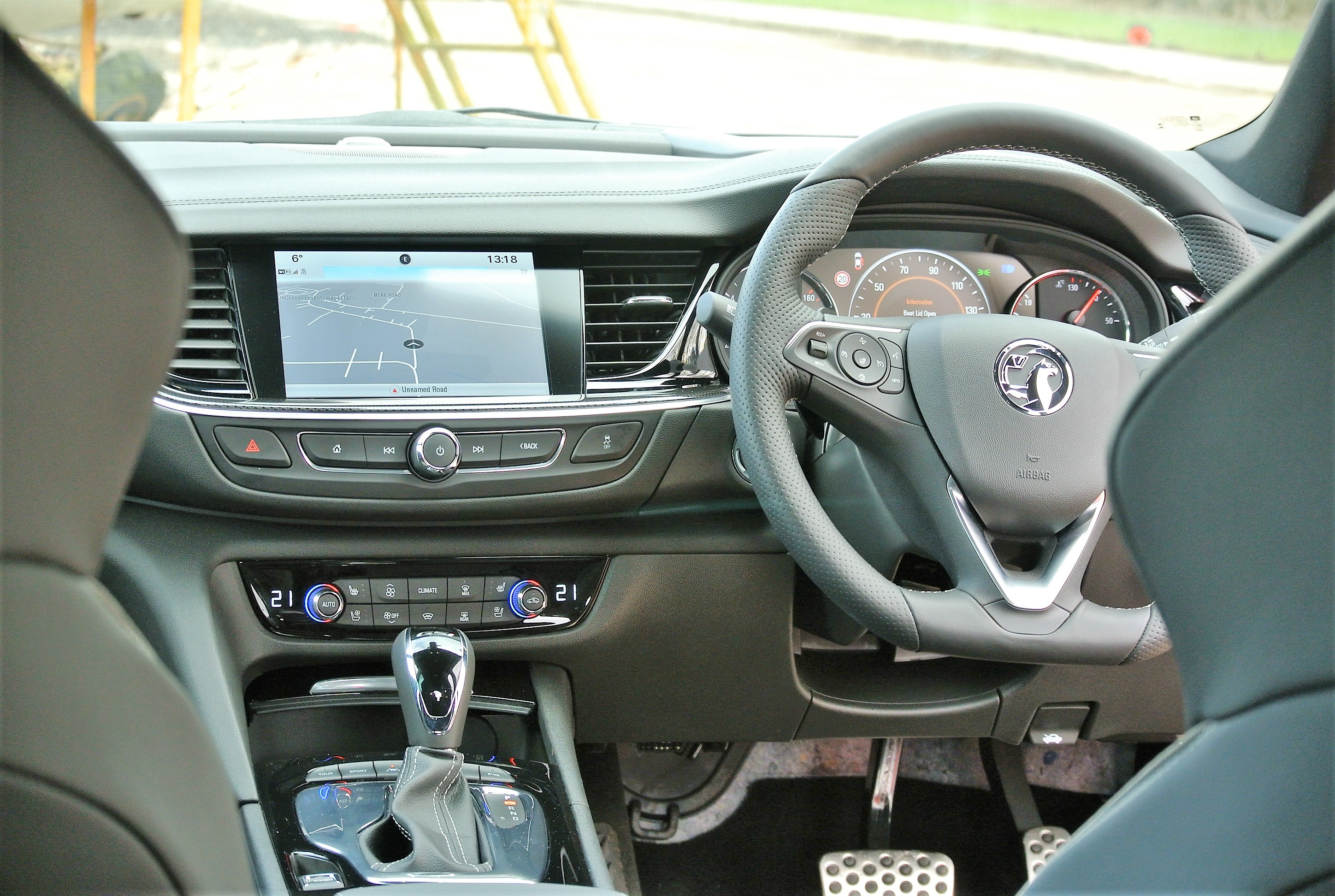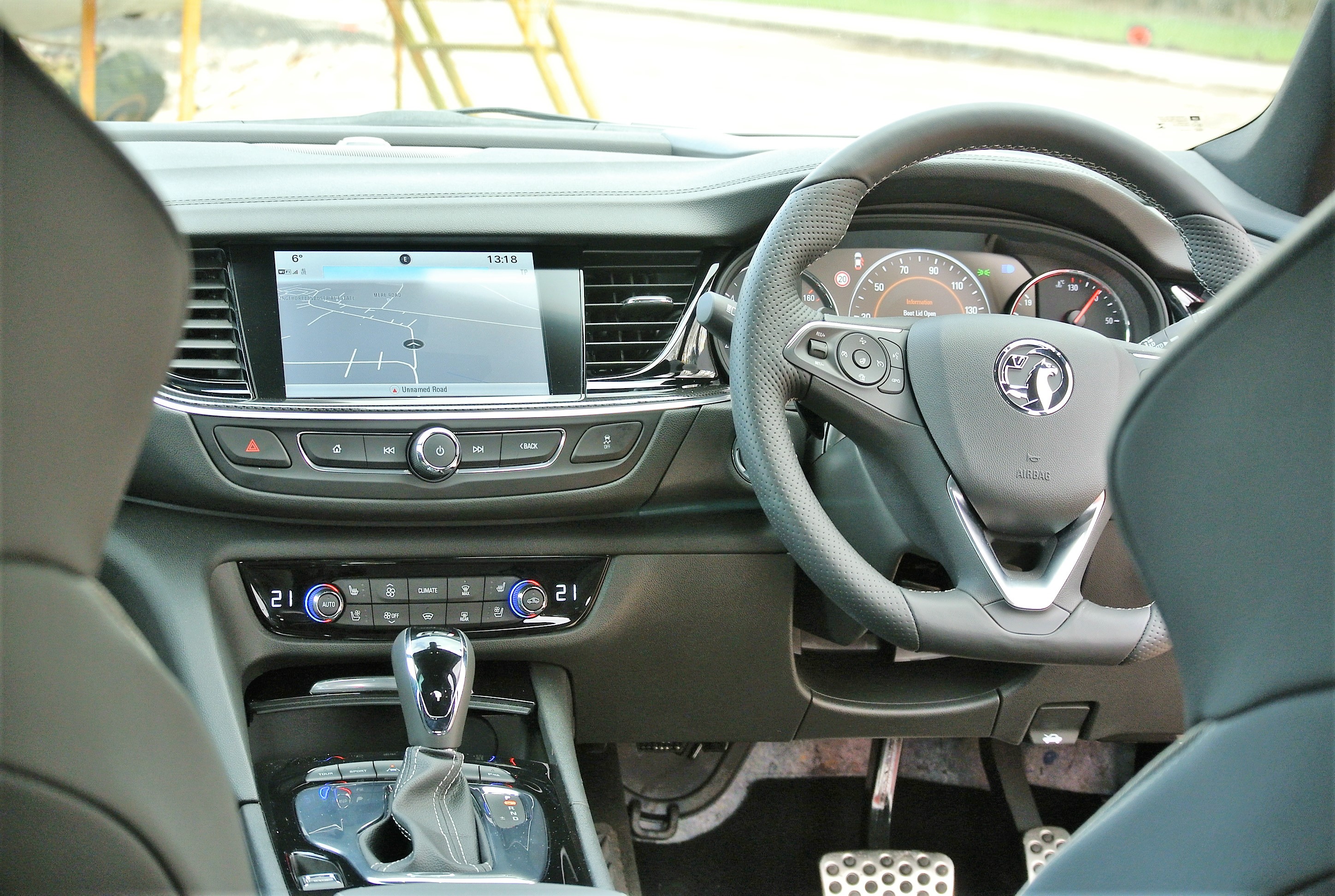 Of course, GSi specification is performance focussed and, armed with 354lbs ft of torque, the sequential, bi-turbo diesel version of Insignia provides the sizeable mid-range grunt that makes driving very pleasurable, allied to a most non-diesel soundtrack that has been turned into a lovely growl. Its 0-60mph time is a zesty 7.3s, with a notional top speed of 145mph. While the petrol alternative has access to 295lbs ft of punch, the on-road differences (6.9s; 155mph) are truly negligible, which should make engine choice less of a chore, when you appreciate that caravan towing will make owners lean towards diesel, regardless of the higher tax implications. For the record, the CO2 emissions are 186 and 197g/km respectively. The diesel takes a 20% advantage in fuel economy over the petrol (40.4 vs 32.8mpg), which is hardly a surprise.
The price list also provides a more levelling difference between diesel and petrol variants, unusually being £400 less for the bi-turbo-diesel unit; £32,975 vs. £33,375 (hatch) and £34,475 vs £34,875 for the Sport Tourer (estate car). Although the Insignia is positioned in a segment of the new car scene that is predominated by some interesting competitors' products, in a choice between it the latest and highly impressive Kia Stinger 2.0-litre (244bhp), my vote would fall in favour of the Vauxhall. Taking its value proposition into account, it also leaves behind the Audi A6, Merc E-Class and BMW 5-Series, all of which are markedly costlier. Ford's Mondeo simply does not get a look in.
Regardless of how you measure the Vauxhall Insignia's value, thanks to a high equipment level, tremendous comfort, an eye towards running costs' efficiency and the advanced technology and engineering focus that forms the GSi package, it is a car that ought to be placed on the top of a choice list, whether for private, or company car use. In terms of sheer drivability, the Vauxhall Insignia GSi is a pinnacle product that possesses no peers.