In a massively determined activity to demonstrate that the British-Japanese car firm has rediscovered its 'mojo', states Iain Robertson, Honda's second-stage sport-utility introduces CBAS, TSR and ISL to a panoply of vital initials.
Surely I cannot be alone in loathing the sheer uselessness of marketing twaddle presented by an endless raft of acronyms that fault our automotive industry? To be frank, I have given up trying to decipher the vast majority of them. The Germans, most notably Mercedes-Benz, cannot exist without an endless and confusing screed of purportedly descriptive initials, which they spout forth at every new model Press Conference, in the vain hopes of impressing increasingly illiterate motoring scribes.
Perhaps it is the influence of the 'txting' generation? Lord alone knows. I refuse to resort to 'txt' when sending mobile telephone messages and even my e-mails give off the whiff of full-blown missives, because I have always believed and was brought up to use my language skills in order to impart information that abbreviations cannot hope to. As a child of the 'telex' generation, which is where communicative abbreviations started to afflict both commerce and industry, I have always preferred a fuller descript, simply because it avoids confusion.
When Honda first launched its HR-V model to the British motoring press, the event was held in Barcelona. Although the model (we were informed) had been created by a kind of 'Saturday Club' of enthusiastic Honda engineering employees, which was received most willingly by senior management that they signed it off as a production reality in 1998. It was never intended for the company car market. We were also informed that its name stood for Hi-Rider Revolutionary Vehicle. 
While a latter-day Chairman Mao might prick up his ears at such a suggestion, I found greater humour in providing my own acronymic definitions, among which were: Hugely Radioactive Variant and Helplessly Redolent Van. Although available initially in three-door form, with lengthy side windows (a five-door followed), the moderately appealing non-off-roader, the 'Joy Machine', as it was promoted, was ultimately as much use as a chocolate fireguard. Its 4×4 system proved incapable of extracting it from a sandy beach and a non-diesel option proved to be a further sales limiting factor to the Jazz-based high-riding hatchback.
Despite an intervening gap of more than eight years since the first generation HR-V disappeared, to the introduction of an all-new version, which only commenced sales in the UK late last year, Honda is hopeful that it might have lucked onto a growing niche in the SUV scene, which, this time, includes the corporate market. The new HR-V boasts the lines of a coupe, a factor enhanced by the visible lack of rear door handles, although they are incorporated within the darker C-pillar section of the bodywork, combined with the robustness of an SUV, albeit while retaining its small Honda (Jazz model) platform.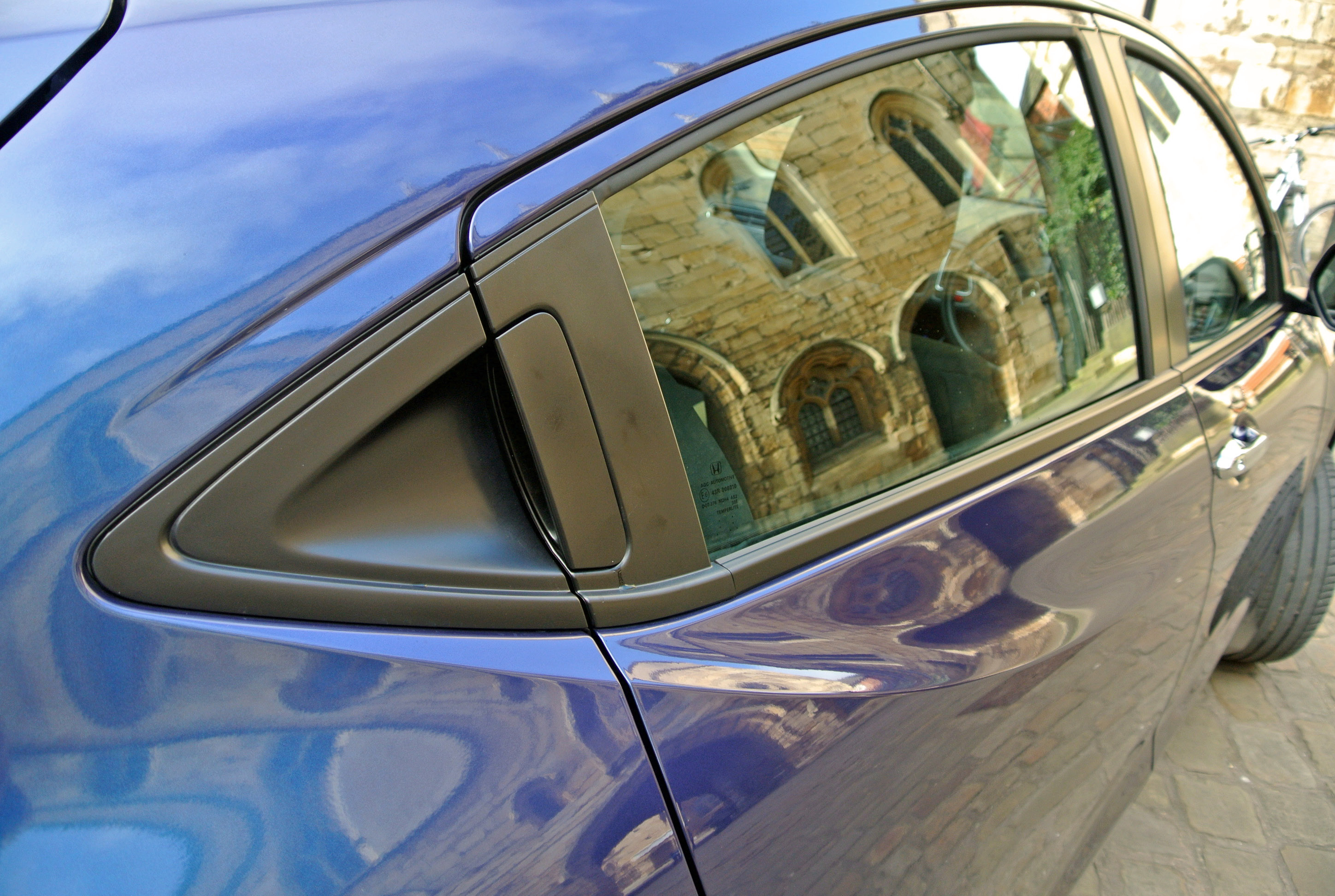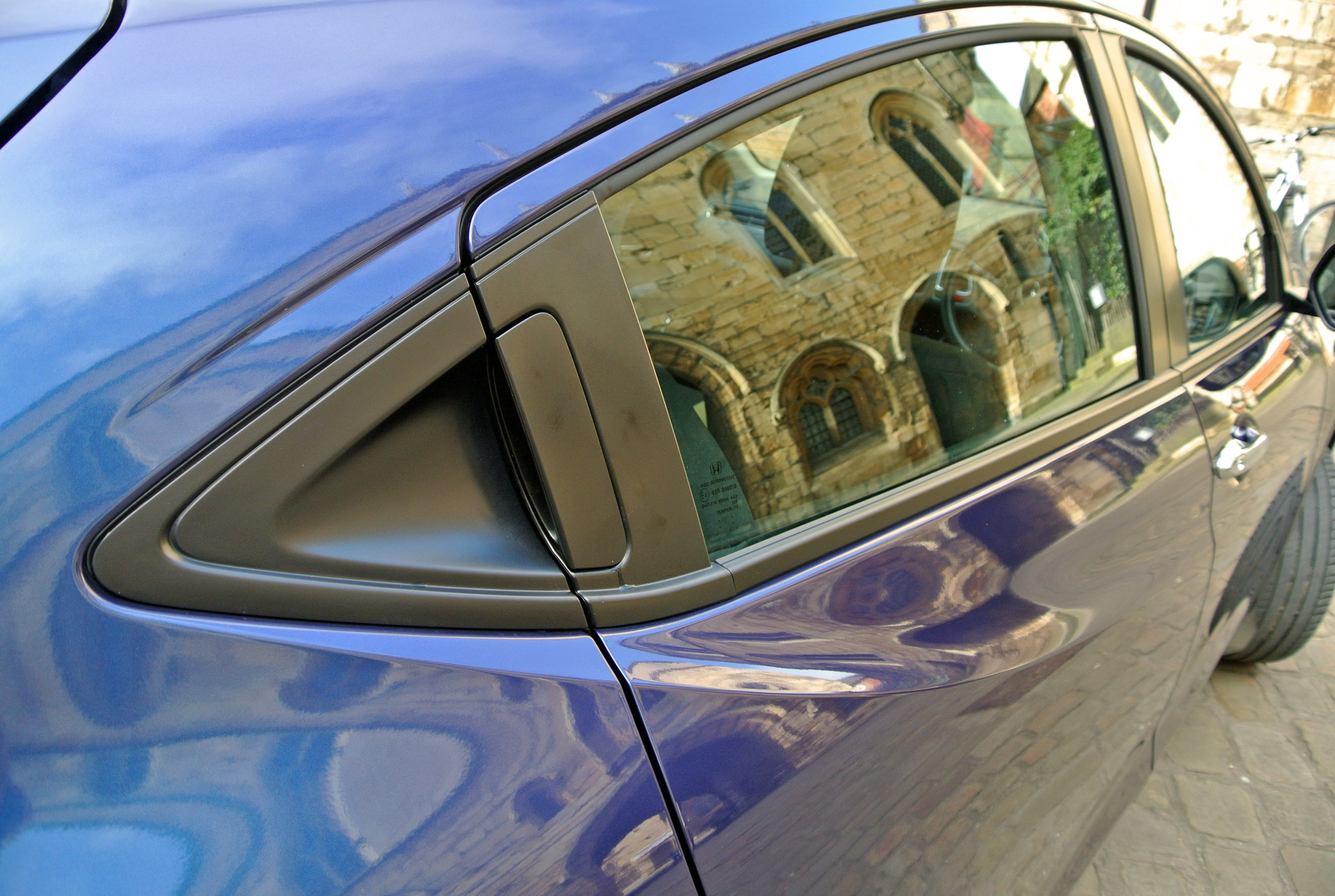 Firstly, despite all of the more recent negative implications of engaging with diesel power, the new HR-V offers a 117bhp 1.6-litre i-DTEC (sorry… injection-Diesel-Technology) option (as tested) to the 127bhp 1.5-litre petrol alternative, which features Honda's unique Variable Valve Technology. Interestingly, the whisper-quiet diesel is marginally the quicker of the two, despatching the benchmark 0-60mph time in just 9.7 seconds, before reaching an identical top speed of 119.3mph, according to the supplied figures, which seem uncannily accurate.
Naturally, the biggest difference lies in fuel economy; the petrol boasting a 49.6mpg Official Combined figure (CO2 rating of 134g/km), while the diesel is said to be capable of up to 68.9mpg (CO2 of 108g/km). Needless to say, these guide figures are difficult to achieve and 'my' diesel version, in SE-Navigation Manual form, managed a still respectable 54.2mpg in a mix of driving conditions. There is a CVT (again, sorry…Constantly Variable Transmission) option for the petrol engine (if you particularly love to rev it and wait for the car to catch-up), which manages to attain a reported 52.3mpg/125g/km CO2. Regardless, the HR-V is one of the most frugal and cleanest of ALL SUVs and crossovers, which should please some fleet managers and company accountants.
The ingenious little Jazz that underpins the HR-V also donates its wonderful 'Magic Seat' configuration for the rear of the cabin. If you are unaware of this innovation, it is simply the most practical and space-saving device known to the automotive scene. While the rear seats fold in a typical hatchback style, their bases can be lifted upwards and the metal support framework simply folds and clips into the underside of the moulding, leaving a carpeted space the full width of the car, into which clean and precious items can be placed most conveniently. You see, Honda might not have Soichiro (its deceased founder) checking out its every development these days but his practical spirit remains in some important areas.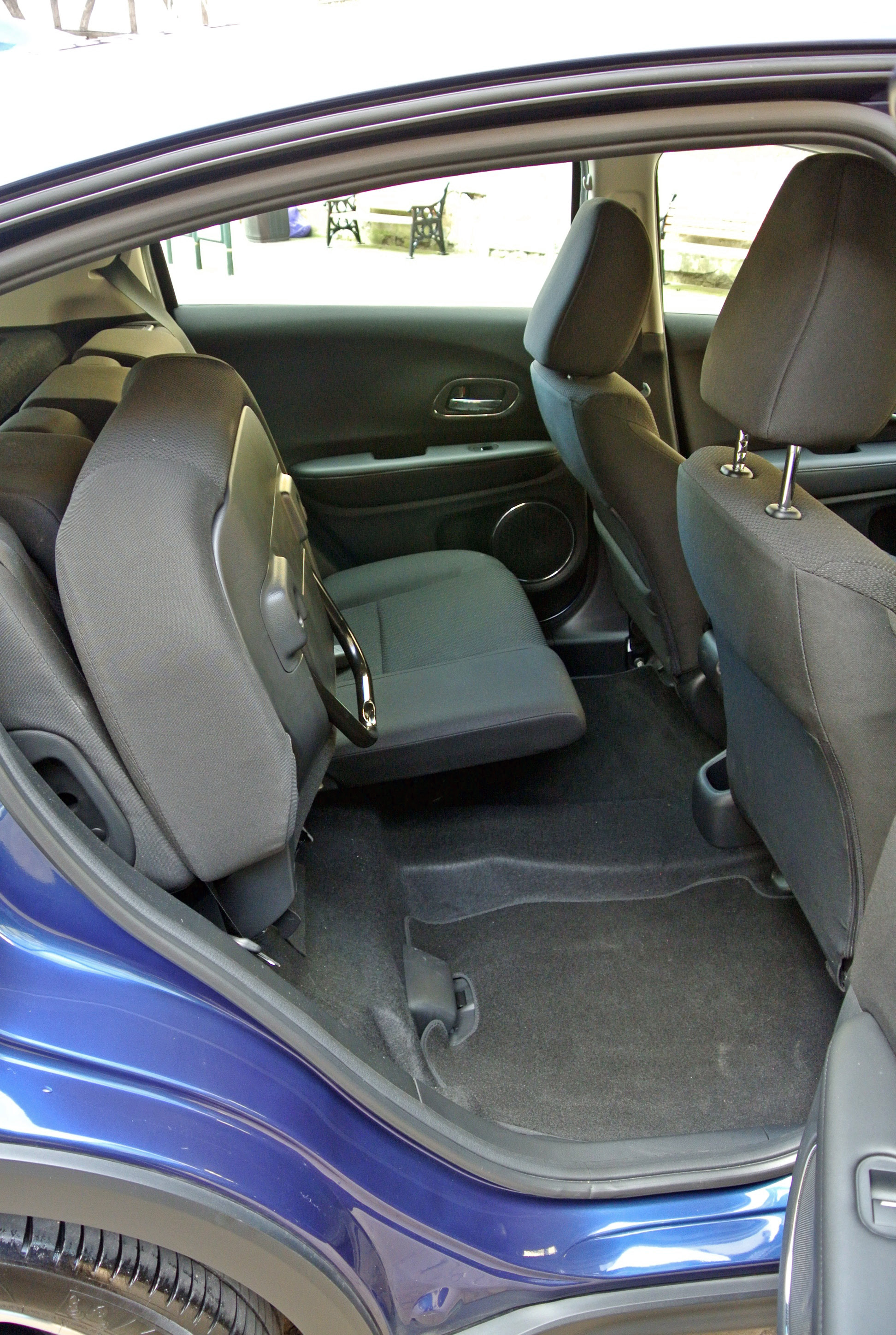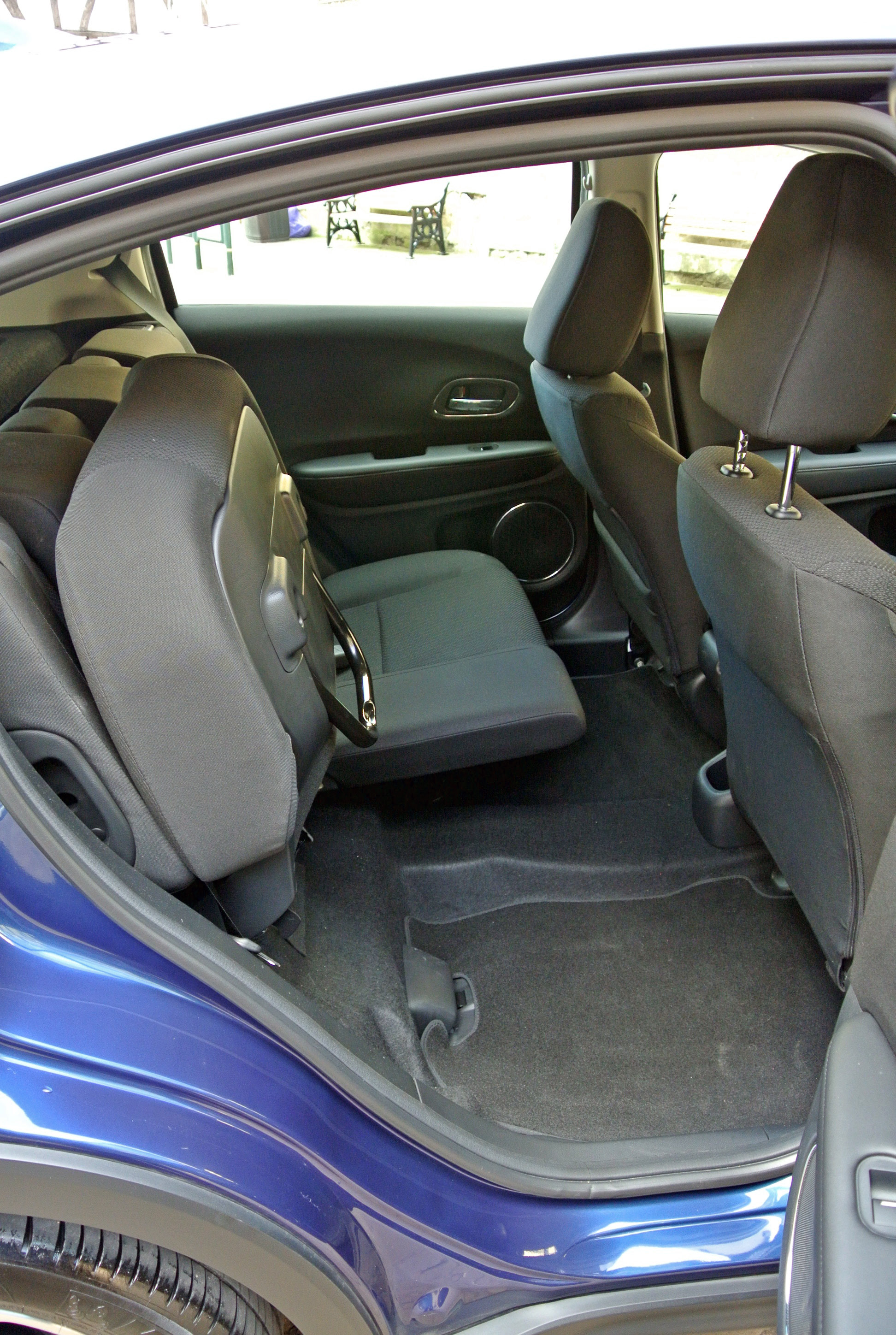 While I am sure that Mr Honda, great Anglophile that he was, would have ensured that his latest models would have been capable of accommodating the larger European frame, it seems that his influence is not felt in other aspects of the cockpit. Sadly, the driving position for me (a taller version of the typical Northern European) is restricted in both leg and headroom. While it is not an impossibility for me to drive the HR-V, unlike the Nissan Pu…sorry…Juke, the need to fold and unfold like a Swiss Army Penknife is not entirely conducive to maximising both safety and comfort levels. The driving position is atrocious and it is not just for those of advanced height.
While I almost like the dashboard layout, a distinct leaning towards a multiple-screen display looks better than the reality of trying to use it. Honda has gone down this route before, placing the volume control for its stereo systems on the right hand side of the head units, which is in direct opposition to normality. However, like the latest versions of the Suzuki Vitara and one of the aspects that I did not like of it, turning the volume into a finger-slide becomes annoying, allied to the loss of fine control. Apart from anything else, even the cleanest of hands leave grubby little marks on reflective screens. It just cannot be helped.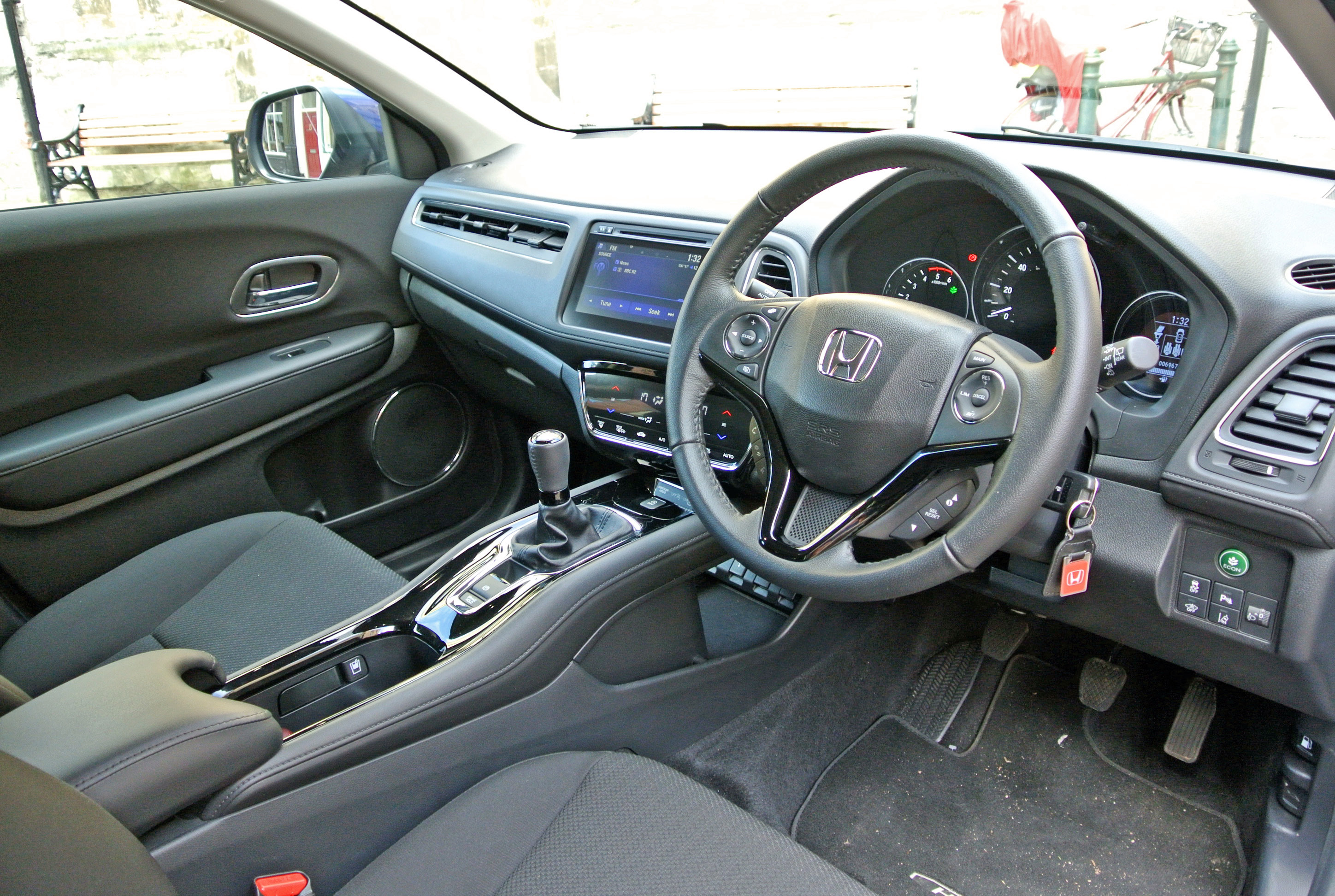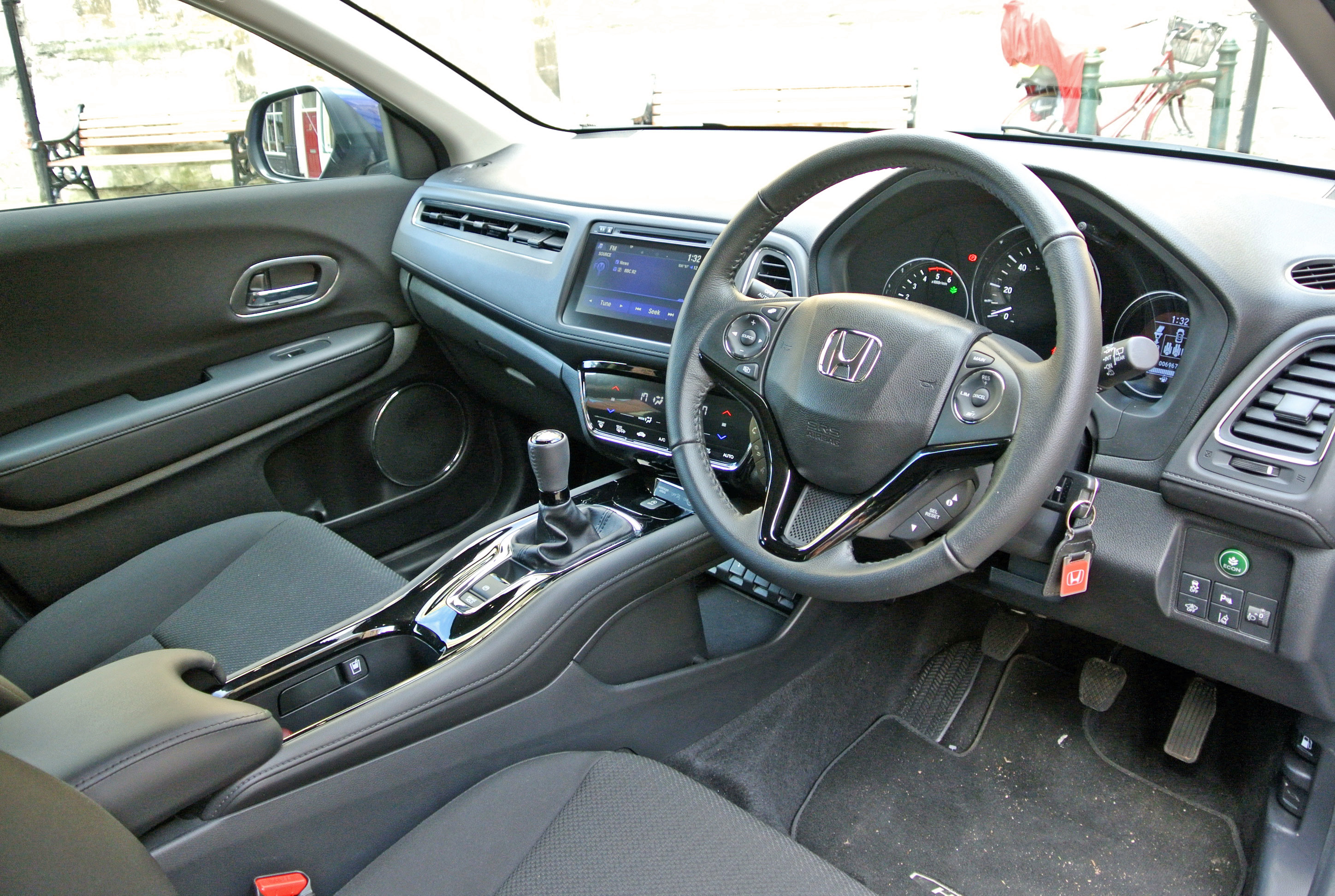 However, Honda has even extended this 'clean screen' appearance to its heating and ventilation controls. Why? There is no logic for it. It is as senseless as Peugeot's recent insistence on swapping the in-dash positions of its rev-counter and speedometer (fortunately, not a Honda failing, as its dials are crystal clear and in the right spots). Allow me to make myself clear…for the sake of both safety and convenience, ALL main use functions within a car should follow a familiar ergonomic pattern and should not force the business motorist to reconsider, or relearn, control usage.
In appearance, the 'little' HR-V is actually a moderately roomy four-to-five seater. It conceals its 4.2m of length quite succinctly, with prices starting from a modest £18,495 for the poverty 'S' specification, which is not as grimly trimmed out as it could be. The SE-Nav model tested weighs in at £23,575, including a whopping £525 extra profit line for the paintjob, but incorporates an excellent Garmin satellite-navigation system as standard (although it is not worth £1,120 extra over the non-Nav model). The problem for me arose with the 'sleep' function of the CONNECT touch-screen, which tends to drift-off at its own volition just when you need it most. While I know that it is designed not to distract the driver, it became even more of a distraction from tapping the screen to revive the bloody system!
I suppose that I ought to illustrate the other acronyms mentioned earlier… CBAS is not the fishy comestible that we all love to consume but it is Honda's version of the City Brake Active System that can haul up the car, in the event that the driver fails to do so. TSR is the Traffic-Sign Recognition System that works in nannying conjunction with the ISL (Intelligent Speed Limiter) to identify speed restrictions and restrict the velocity of the HR-V accordingly, because somebody within Honda believes that we are all witless idiots that cannot judge these things adroitly for our personal survival. Mind you, having spotted the average age of a high percentage of blue-haired Honda drivers (still!), it might just stop them from travelling at 42mph absolutely-everywhere!
Finally, while I have not enjoyed a drive in a new Honda for a number of years (I have driven plenty of them but I really have not desired the experience), at least the new HR-V is rewarding on that score. Its steering is light but responsive. Its brakes are pin-sharp. Its gearbox is 'snick-snick' perfection. Its ride quality is fluent and controlled. The overall handling of this front-driven high-rider is pleasant and predictable. What more could a company-operating Honda owner ask for?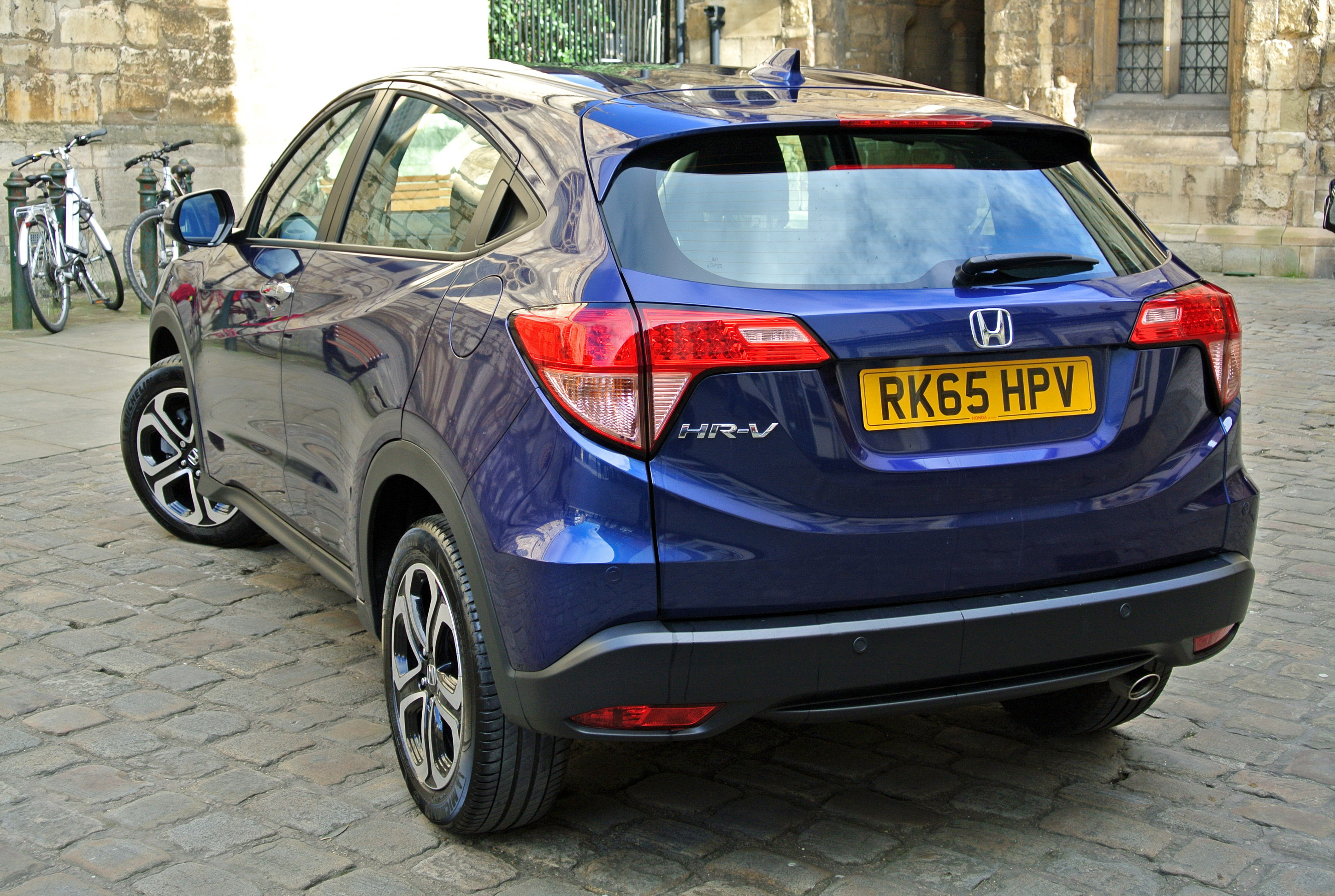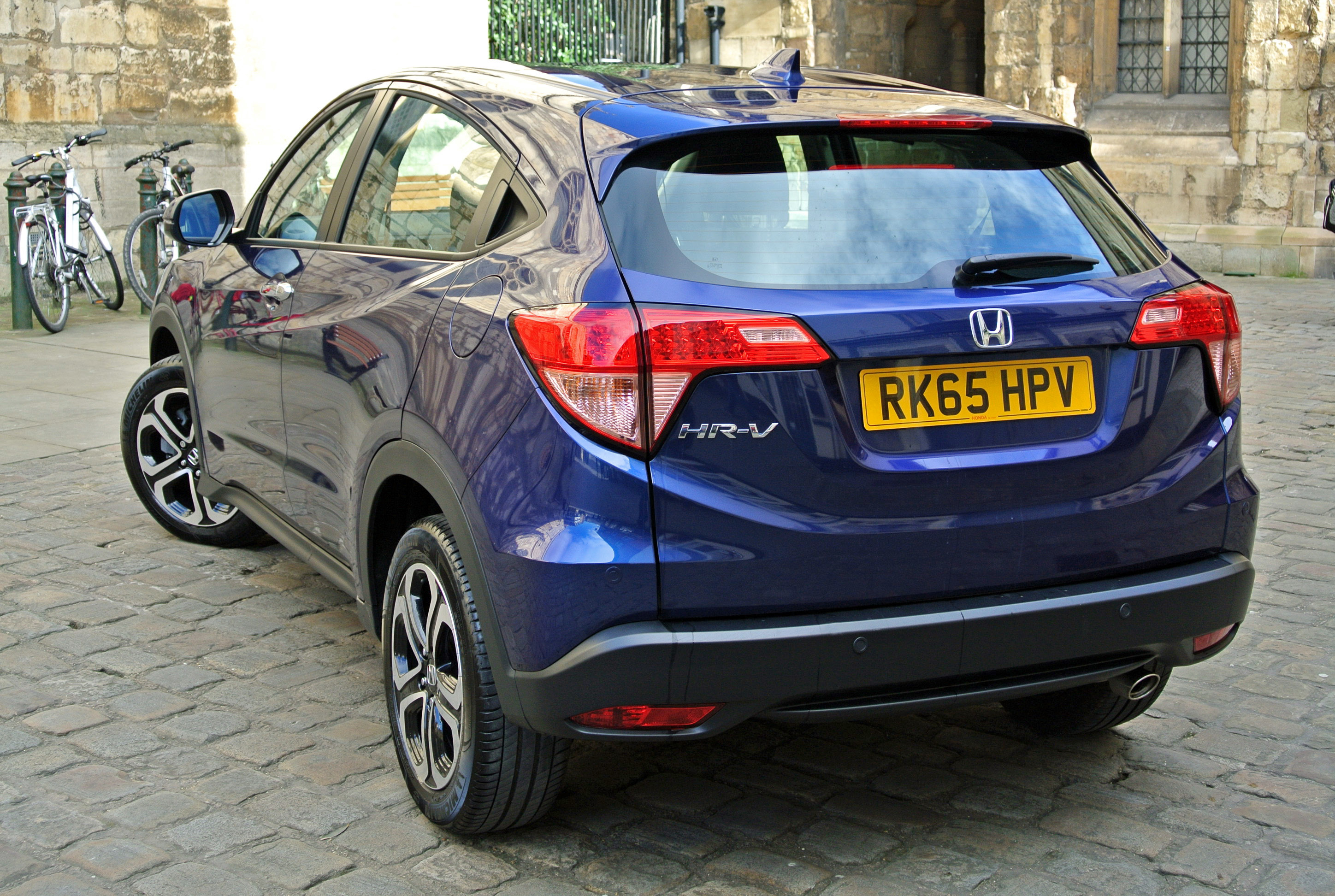 For the first time, in a long time, I have been able to state that Honda has returned to some of its former values. If you can tolerate the brittle plastics of some elements of its interior trim, at least there are some lovely, tactile aspects too. It is an attractive hatchback overall and it will find corporate buyers seeking a diversion from some of the more avant-garde offerings, whether it will help the company to reduce its average age rating remains to be seen but the HR-V does possess a more youthful vitality overall. Honda is finally heading in the right direction.