Despite Honda making a raft of solid changes to the latest Civic model, Iain Robertson fears that there are still design issues that need to be dealt with, otherwise this car will be forever stuck in 'blue rinse' mode.
Had I emerged from a cocoon, without prior knowledge of the Honda brand, I swear that I might have been drawn to the latest version of its historically significant Civic model. Instead, armed with immense detail knowledge of the brand, the model (since its very first iteration in 1972), and Honda (Soichiro-san) the man, critical commentary is my only defence.
Contrary to what some readers of my comments might believe, my career includes having been editor of Total Honda magazine, having written about all Honda models for forty years at least, having interviewed Soichiro Honda at the 1990 British Grand Prix, having met ASIMO (the company's amazing robot R&D project), as well as being an ardent supporter of the current Matt Neal and Gordon Shedden British Touring Car Championship twin-entry, I can only be described as a Honda fan. I have tremendous respect for the brand, which remains stoically independent, supported not by another car company but by its own intense developments into cars, light vans, motorbikes, power tools, boats, engines, robotics and even aeronautics.
When the 'old man' died in 1991, at the age of 84 years, he left a legacy of premier league excellence. Remember, without Soichiro, Honda's Swindon plant would not exist, which, it is worth highlighting, has NEVER been a draw on UK government funding, unlike both Toyota at Derby and Nissan at Sunderland, which have both received millions of Pounds in backing and incentives over the years, that 'we' continue to pay for.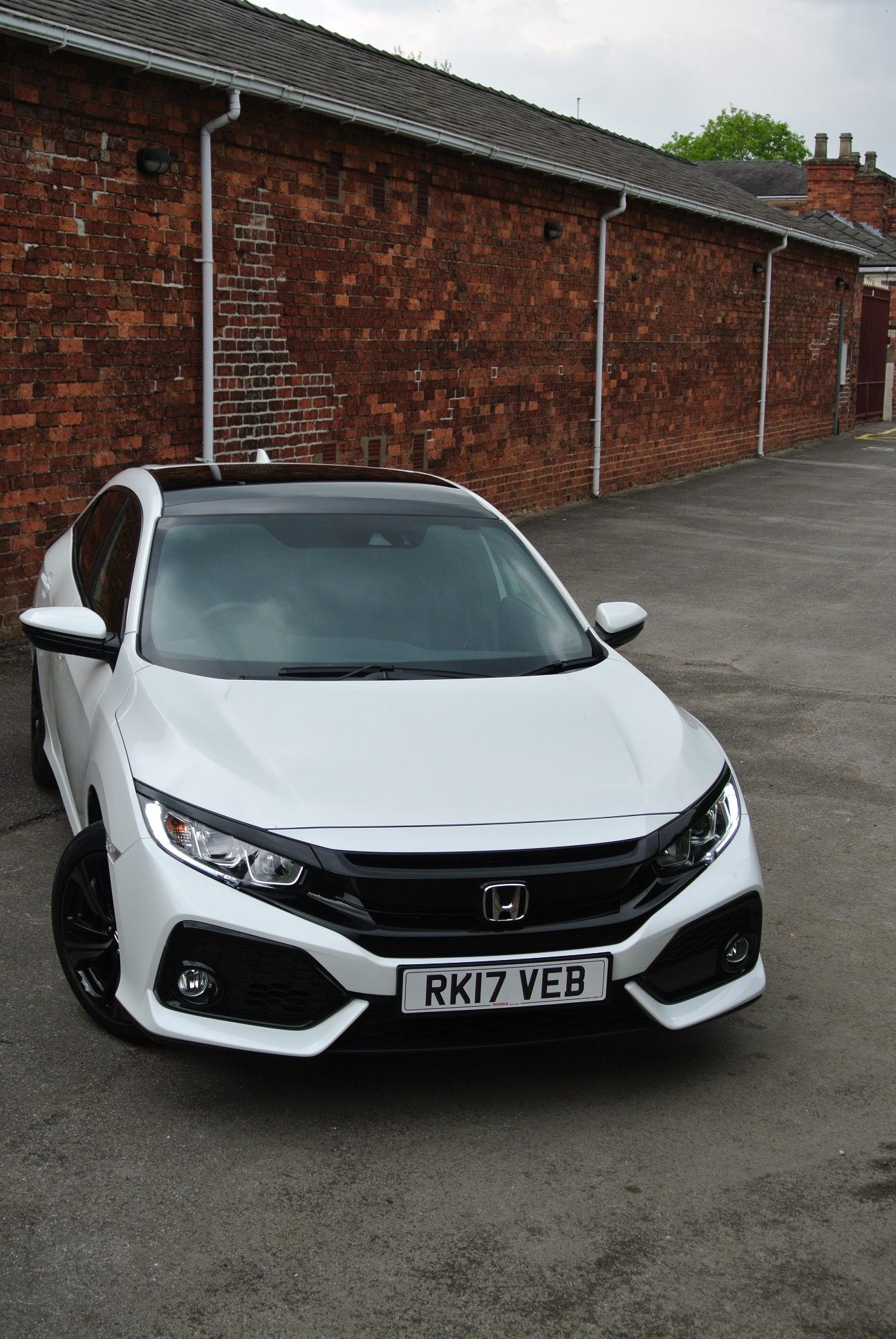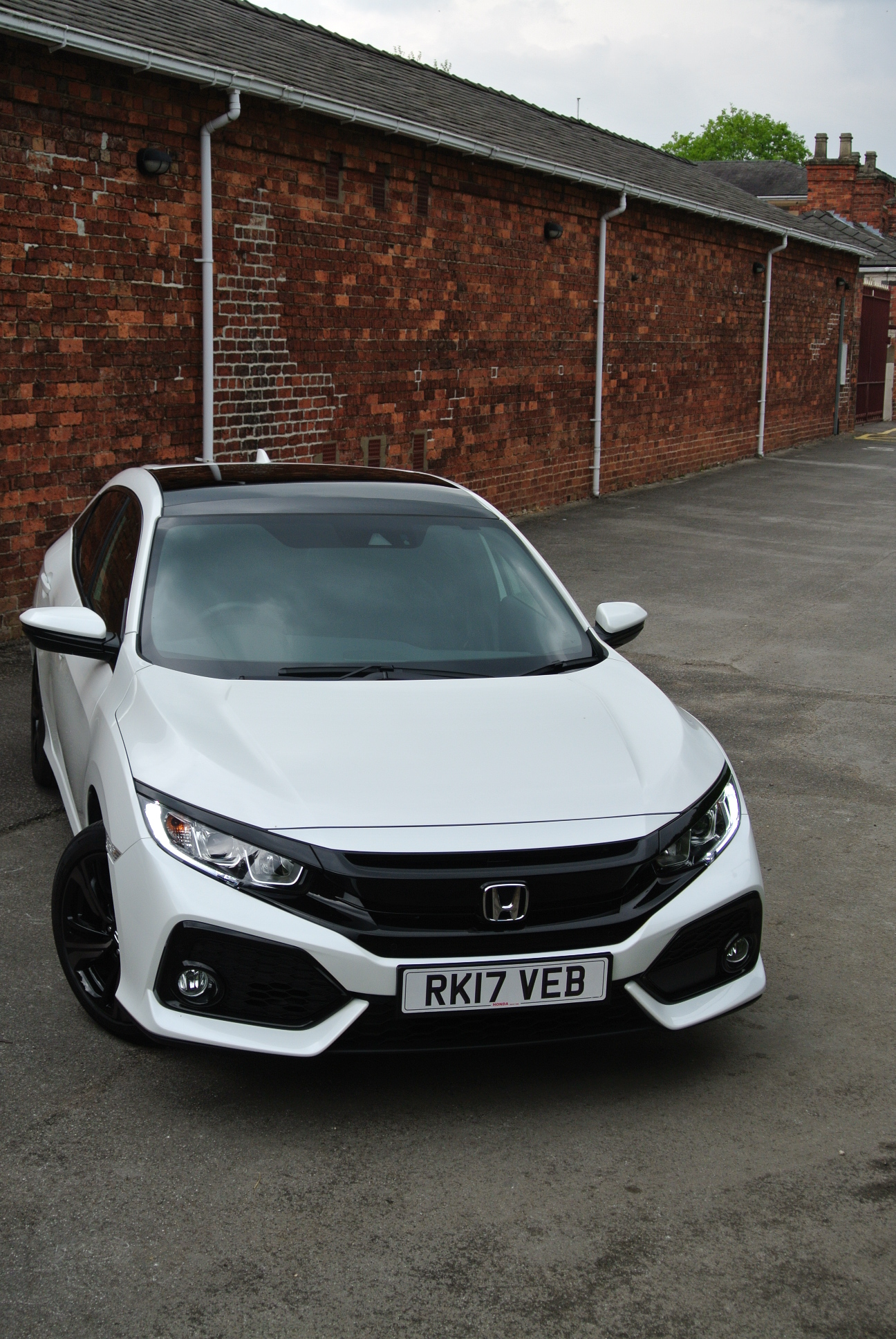 For many years, I have tried to put my finger more precisely on what makes Honda Honda. I have to state that it is the little things that have always made the difference for me. Tiny details. Small nuances in the design of the dashboard, the door pulls, seat upholstery, trim elements and the fit of components and dials. I have owned a number of Japanese cameras, stereos and other goods from that country that seem to share many of those teensy elements, which create great empathy. Then, there are the control interfaces: the gearshift mechanism that is snickety-snick precise; the stalk controls that impart an impression of tactile high quality and switchgear, however minute, that works efficaciously and delightfully. Every Honda Civic is packed full of these details and has been since the very first example.
Sadly, I have noticed a distinct slump in the brand's enthusiasm since the mid-1990s, a factor that I can only lay at the door of Mr Honda's mausoleum. His leadership was all but single-handed, perhaps even autocratic, although it was always positively directed and invariably to the benefit of his customers. The last Civic that I truly enjoyed was the seventh generation (also known as FK series; EP3 in hot Type R guise) of the early-2000s, before it was changed radically into the egg-shaped (FN2) eighth generation, where the design plot started to be lost. My comments on the just replaced ninth Civic series are not worth repetition, most notably in its hottest Type R form, that I believe missed the point so widely that it should never have carried the 'H' emblem on its malformed snout.
My first impression of the new car was that it looks like a model in which your maiden aunt would be more than happy to trawl down to Sainsbury's for the shopping, to pop into M&S for her new under-garments, or to be whisked at a steady 37mph to the local whist drive at the 'social'. Then you inspect the nose. Boy! It is quite a conk! Deep, dynamic chunks are removed from the front bumper's extremities, while something approximating a Honda grille of a decade ago decorates the area above the licence-plate, flanked by skinny, orientally-slanted headlamps, all of which is stylistically at odds with the 'old girl' lateral view. The hatchback tail is a mish-mash of what came last time, thankfully not as overt, which means a better, less-obstructed view outwards, although the gashes from the front bumper are repeated in the rear.
As a result, the Civic looks like a runaway from a fancy dress ball, wearing gear that is not really appropriate for a person of that age. Thankfully, it is a million times better inside, with a neat dashboard containing all of the aforementioned elements that I like so much. If I have one tiny complaint, it is that the graphic display in the centre of the three-element instrument binnacle, while looking very much an electronic version of the original Honda Prelude dials, contains far too much detail information that would not only confuse Auntie but managed to fox me too! The flanking dials for water temperature and fuel contents sit in cavities that could have carried easily more information to spread the visual load on the centre display.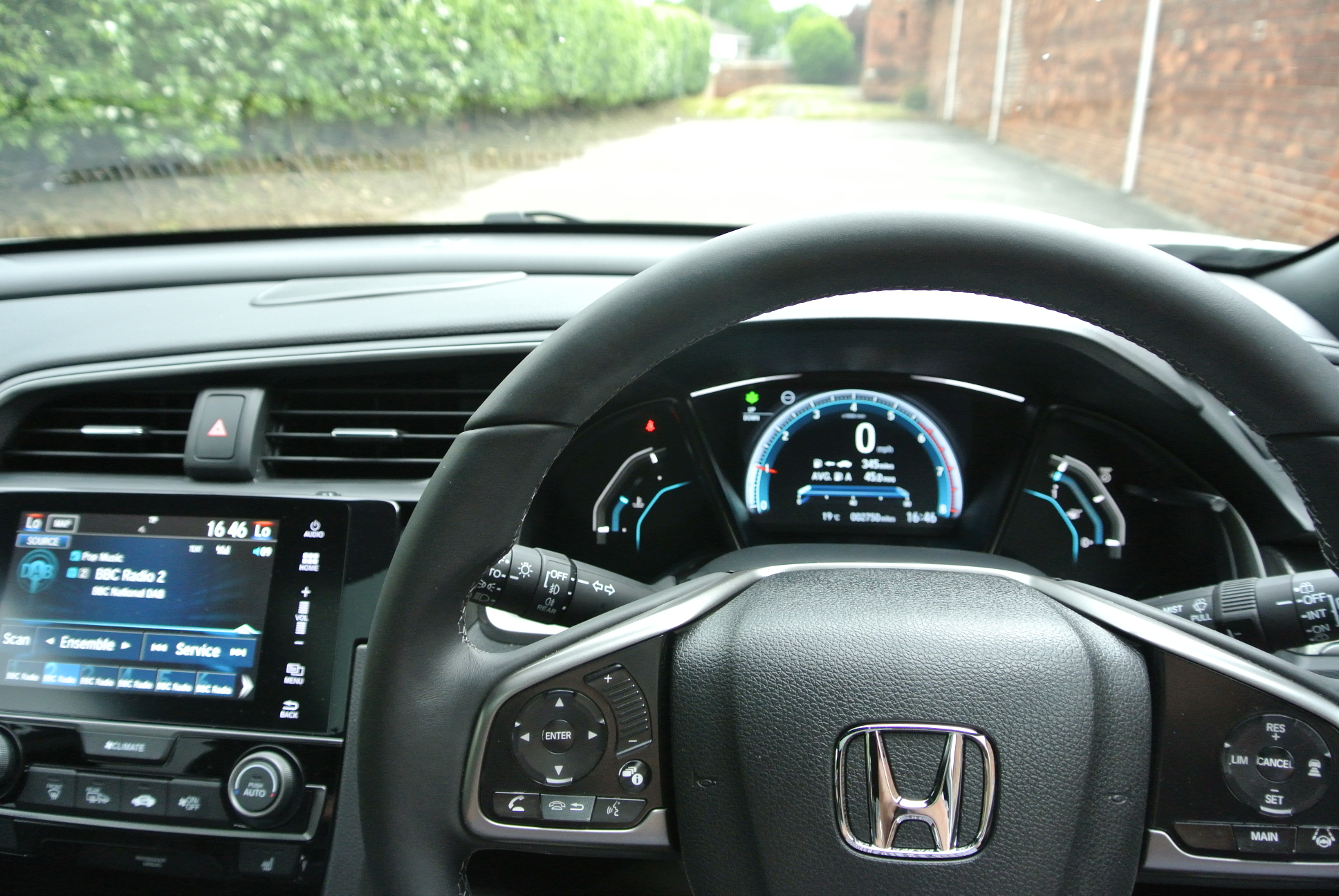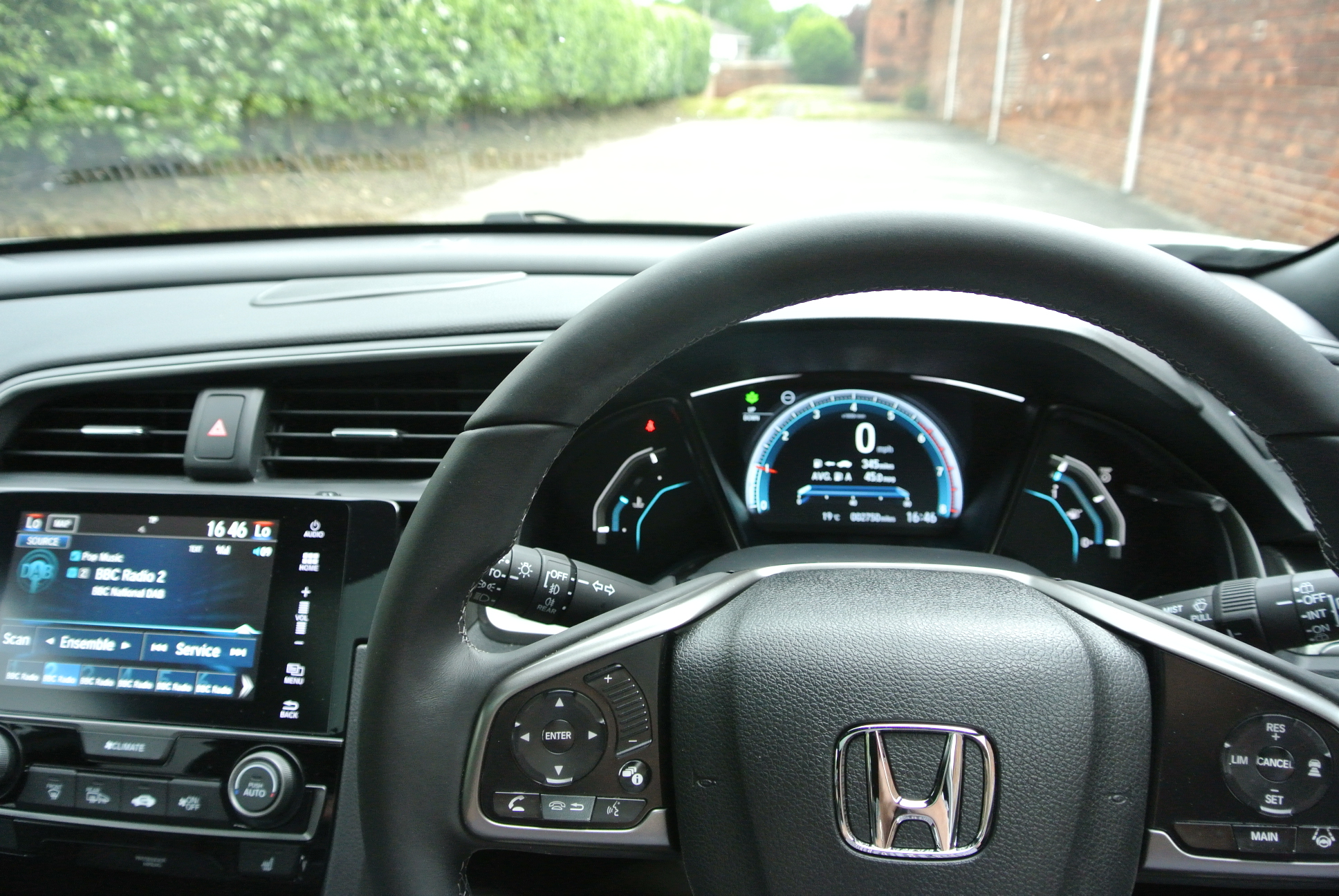 The steering wheel spokes carry a mix of unfamiliar switch operations, with which I became more familiar (although I should not have needed to) as time passed. However, unlike some remote switches on some brands of car, at least these work well. However, the sat-nav in the dash centre, despite featuring a useful on/off switch on its upper edge and sharing the current craze for 'i-Pad' lookalikes, featured one of the worst sat-navs I have ever tried to use in a modern car. Why car companies cannot buy-in expertise from Tom-Tom, Navigon, or any one of a number of original manufacturers just defeats me. Honda needs to!
As far as the seating is concerned, it is comfortable once ensconced, possessing a decent range of reach, height and tilt adjustment, matched by less effective movement of the steering column. The result is a compromised seating position that is thankfully not as bad as the previous model but can prove awkward for a number of driver statures. Honda: for heaven's sake, be aware that not all drivers are shaped like racing snakes, or eat sushi and drink sake all the time. The average European will have difficulty with some aspects of entering, or alighting from a Civic, and it is about time that you ceased using small, oriental models, or jockeys, when formulating in-cabin dimensions. For what it is worth, the rear seat is more spacious than before, as a result of the car's slightly longer wheelbase and the boot is typically Honda, nicely carpeted, above and below its false floor and with bags of room for most eventualities.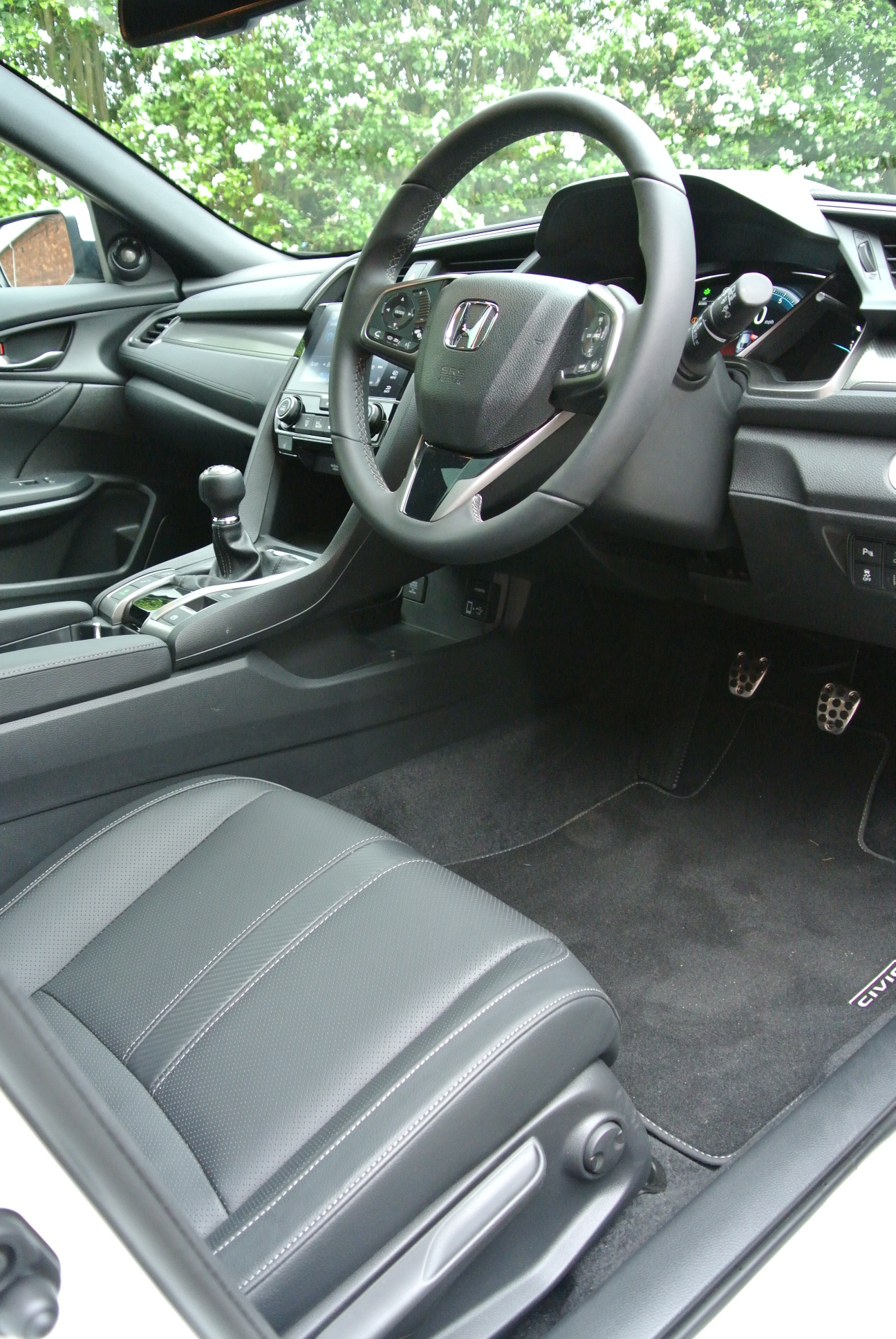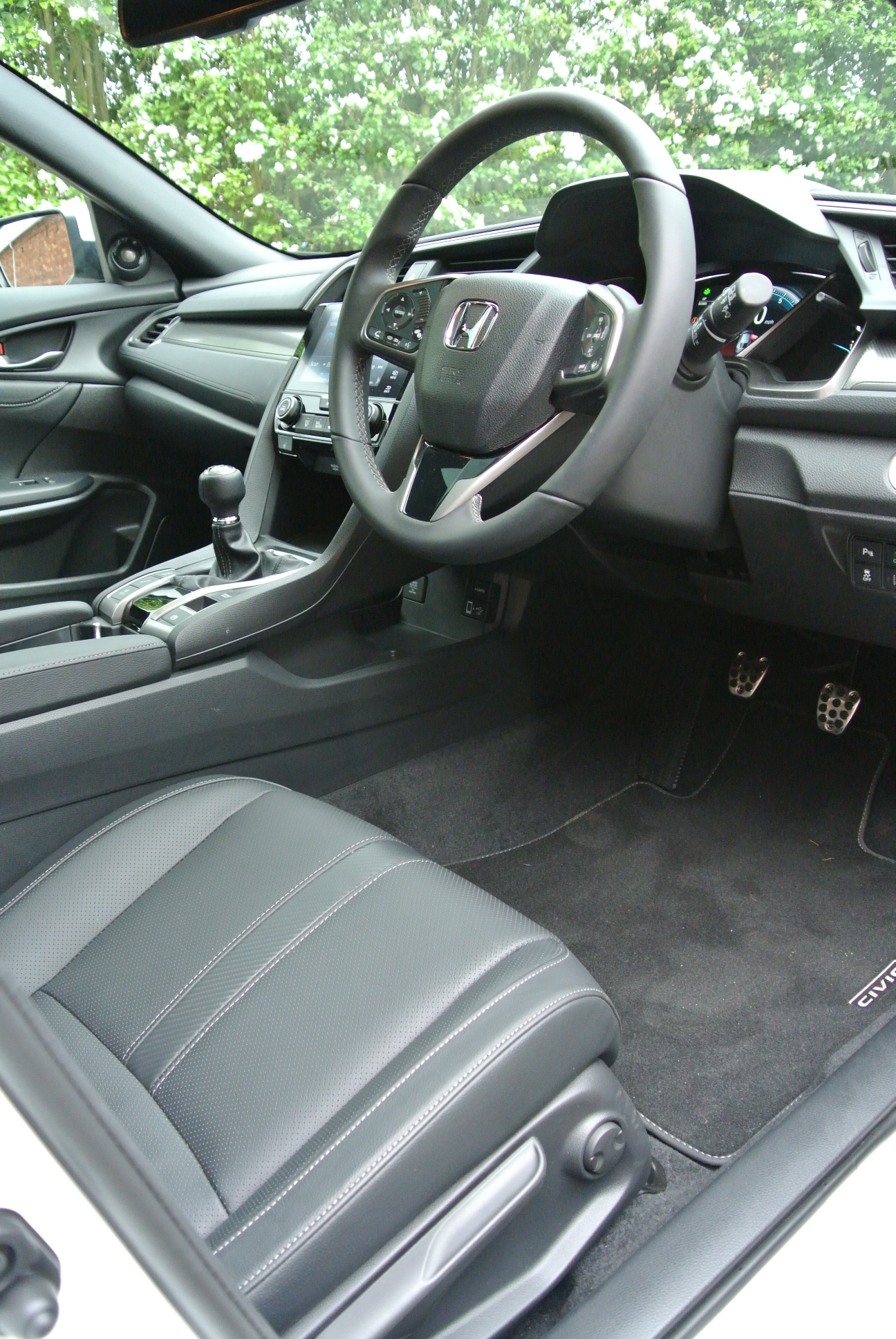 The overall equipment level is very good in EX trim, complete with heated front seats, blindspot information, cross-traffic monitor, all-leather interior, a two-way adaptive damper system, a decent stereo and keyless entry/start. If you want LED headlamps (personally, I would not) then you can opt for the Tech Pack, which includes heated rear seats and lamp washers for £600. However, the price of the test car was a fairly steep £23,725 (including an incessantly annoying £525 for the pearlescent white paint finish). The new Civic range starts at £18,475 in SE specification, without additions.
When you realise that this model is powered by Honda's latest engineering gem, a turbocharged one-litre, three cylinder engine that develops a handsome 126bhp and 147lbs ft of torque. On the face of it, these figures are quite respectable, making the Honda one of the punchiest (potentially) of the one-litre brigade. Unfortunately, the engine has to deal with a kerbweight of around 1.3 tonnes, which is quite a lot to overcome, when requiring a decent blast of mid-range acceleration. There is a 1.5-litre, 179bhp alternative engine option.
The on-paper figures boast of a top speed of 126mph, with a 0-60mph dash of around 10.9 seconds, figures which are certainly up with the Civic's rivals. However, the car seldom feels as zippy as that, although switching off the air-con does help reduce the load on the engine a wee bit. The fact that, unusually, the unit does not rev much above 5,500rpm does not help its case, especially as first gear in the deliciously sweet gearbox is on the low side, demanding as quick a shift into second as the driver can muster. Progress is best described as 'stately', which will more than suffice for maiden aunt, although her racier sister will probably want for more. I did but did not get it.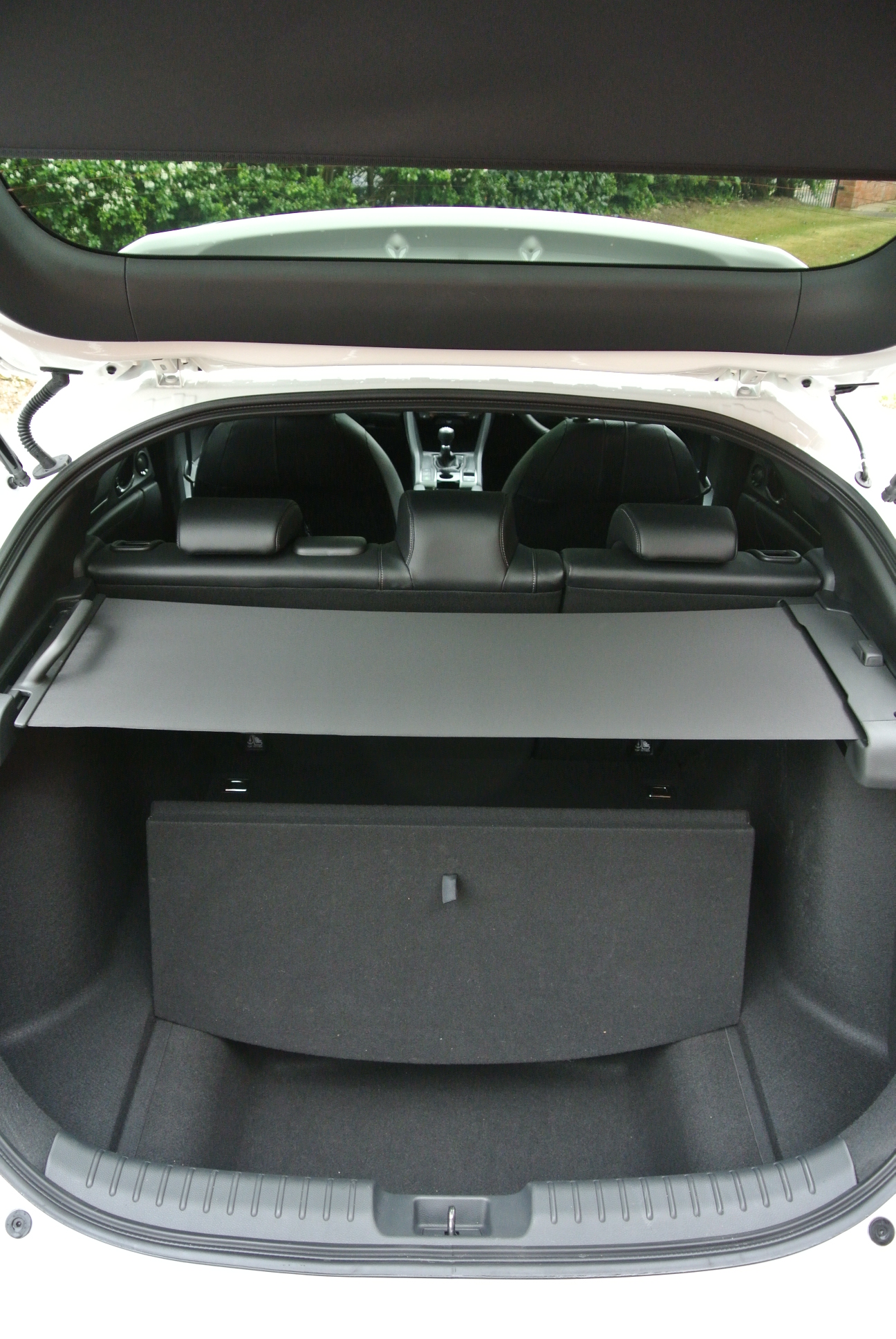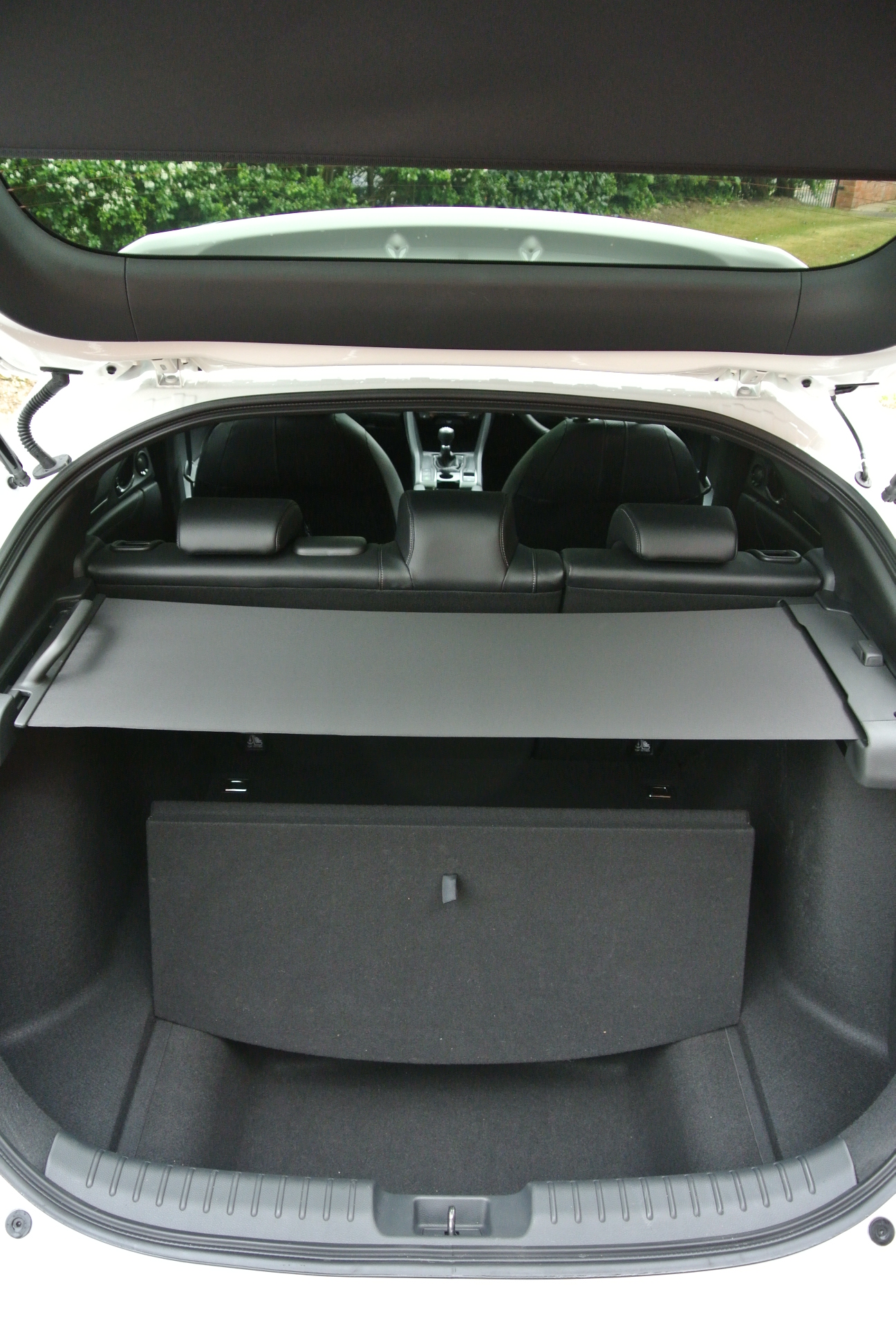 The car promises a fuel return of around 55.4mpg (Official Combined), which I believe to be credible, as even I obtained a consistent 52mpg without trying hard. It emits 117g/km of CO2 into the atmosphere, which is about average for the class taking its power output into account.
On the handling front, the new Civic benefits from super-fast steering, requiring just over two turns of the tiller to go from left lock to right lock, which demands, for both around town manoeuvring and fast-road lane changes, seldom more than a flick of the wrist. It is aided by strut-type front suspension and multi-links on the rear that is beautifully damped to control body roll to minimal levels, while enhancing stability and balance even during press-on cornering.
While being a marked improvement on the previous generation Civic, Honda clearly has not got its mojo back, even though the signs are very positive. A fresher design inspiration is needed and taller/wider models are required when formulating the cabin dimensions. My gravest fear for the company is that the same blue-rinse buyers that have flocked to Honda in the past, will continue to do so for the foreseeable future, which is not all bad, because Honda can command a fair share of that market segment. However, if it wants to broaden its profile, to gain more sales, much work needs to be carried out still. It will be intriguing to see how well the 1.5-litre engine plugs the performance gap but that will not respond to the minor accommodation issues mentioned above.