Demonised by government and some sections of the media, diesel remains a natural power source for a luxury car like Stinger, states Iain Robertson, despite a fresh push towards petrol-hybrid and electric vehicles and their taxation advantages.
For as long as motorised transport continues to use dwindling supplies of fossil fuels, there is surely a positive argument in favour of business-class vehicles using diesel, because it ekes out a greater mileage range per tankful, by comparison with petrol. The EV halo-wearers need to reflect on a fact that, until ALL electricity is provided by non-fossil sources, both petrol and diesel possess motive potency. In the meantime, the fuel has a valuable role to play for owners of larger and greater mileage vehicles, while small capacity petrol engines serve perfectly well the compact and city car end of the vehicle production market.
Boasting an Official Combined fuel return of 48.7mpg, in a car that weighs a substantial 1.81-tonnes kerbweight, suggests to me that Kia has got its sums right, with its full-size luxury hatchback. Powered by an EU6-compliant turbo-diesel engine that displaces 2.2-litres across four cylinders, it will come as no surprise that the company has managed to squeeze a decent 197bhp from it.
Accompanying that affirming amount of specific potency is a no less impressive 324lbs ft of torque (plateaued from 1,750 to 2,750rpm), with a silken punch across an even wider rev-range. Mated to an eight-speed fully-automatic transmission, it means that Stinger D can blitz the 0-60mph benchmark acceleration time in just 7.3s, before coursing onwards to a top speed of 143mph. There is no point in its delivery, at which the car feels anything less than monumentally refined and capable.
Naturally, as hinted at in my previous witterings about the car, Stinger is also something of a design-centred achievement. It is subtle, as all luxury aspirants ought to be, aided by ingenious trim details clad in smoked chrome, which adds to its eye-catching appeal. The 'vents' in the lower front wings, the intakes in the nose and both door mirror cappings and front grille surround are clad tastefully in the non-rusting material. However, I also love the roof rails that run the entire length of the cabin exterior and provide a perfect shut-line (a feature that so many carmakers struggle to balance) to both the rear doors and the enormous hatchback aperture.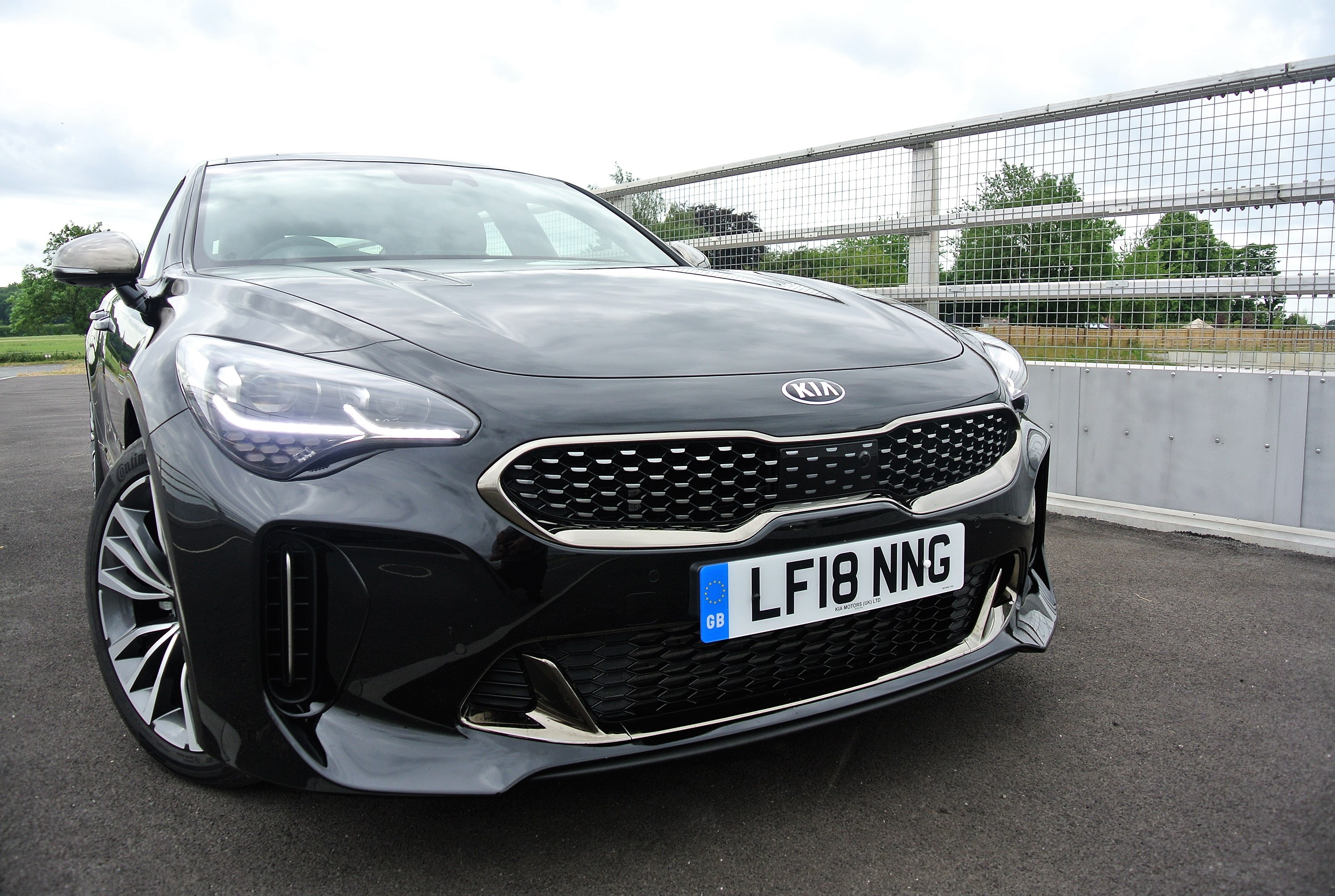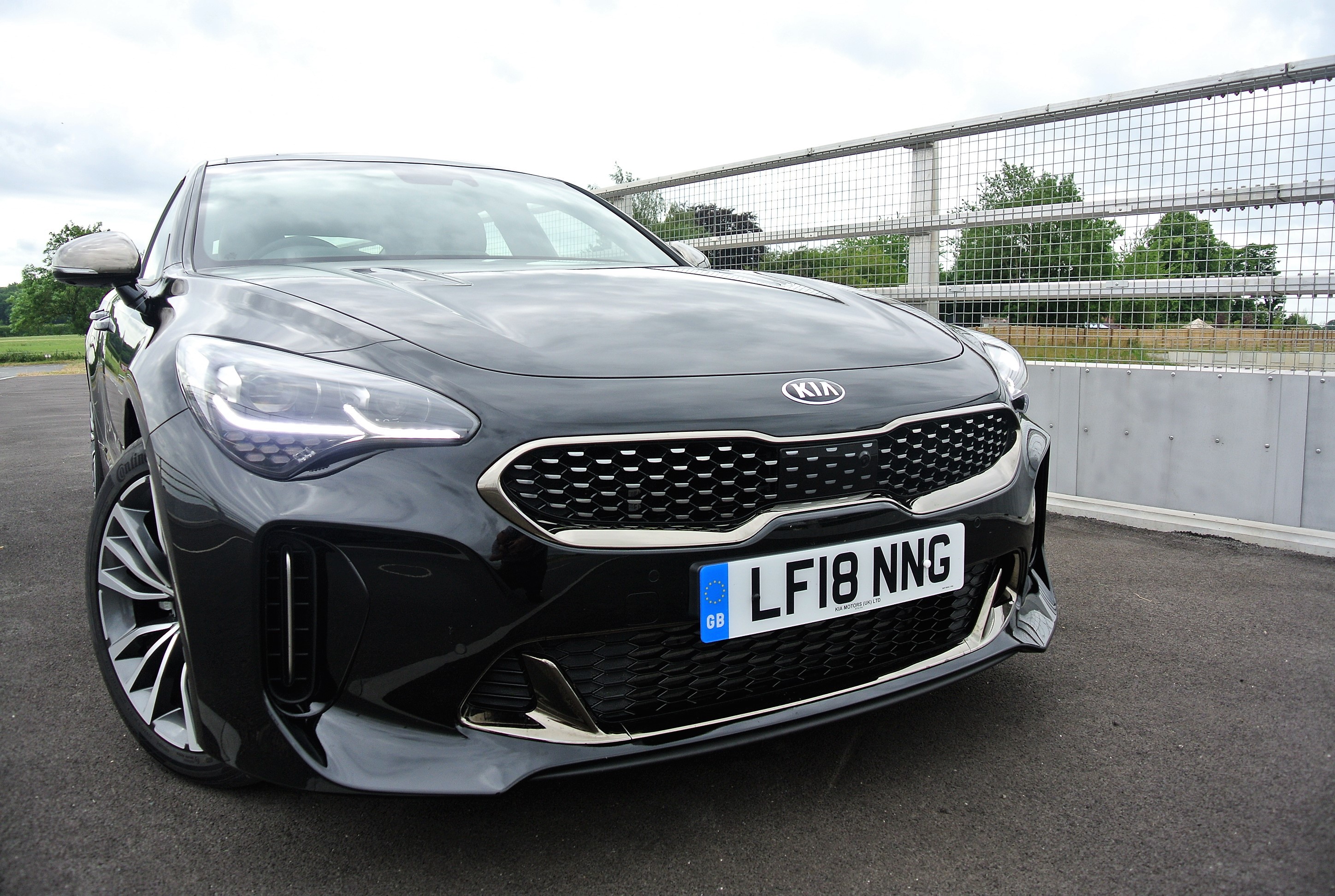 It does not take a time-served reviewer to highlight the classical elegance of the Stinger. It is what it does. In so many ways, the road-hugging stance that is promoted by larger than semi-circle wheel-arches, filled with 18.0-inch alloys, clad in ultra-low-profile rubber do the rest. Getting into and alighting from a Stinger also highlights the low-line design and, while both bolstered front seats offer an enormous range of all-directions adjustability, supplemented by a similarly rangey steering column, the driver does sit low in the car, a factor that promotes a feeling of incredible security and desirable stability.
At 4.8m in length, its 1.87m width and 1.4m height, while looking right undoubtedly, also highlight its hunkered-down appearance, although the Stinger is not as unwieldy as some of its natural, large car rivals. A moderately long wheelbase (2.9m) means that there is no rear wheel-arch intrusion into the back-seat area, which ensures that Stinger's role as a four adults carrier is undiminished and it will take a fifth, legs splaying the centre tunnel, without major discomfort.
If the exterior is a lesson in dynamic car styling, so, too, is the utterly gorgeous interior. The dash-centre is dominated by three circular air-vents, a la Mercedes-Benz, with a 'leatherette' stitched finish to the broader dash panel, which contains a typically clean instrument binnacle ahead of the driver, a non-lowering digital screen above the vents, with minor controls across both the lower dashboard and in the centre console. It is not overly busy, which makes it easy to learn and additional switchgear is carried onto the steering wheel cross-spokes and both of the Euro-spec column stalks. It is classy, because of the high-quality materials used and the red leather swathed across the seats and door cards, with metal finishers, contrasts with the pristine black body and grey interior colour of the test car.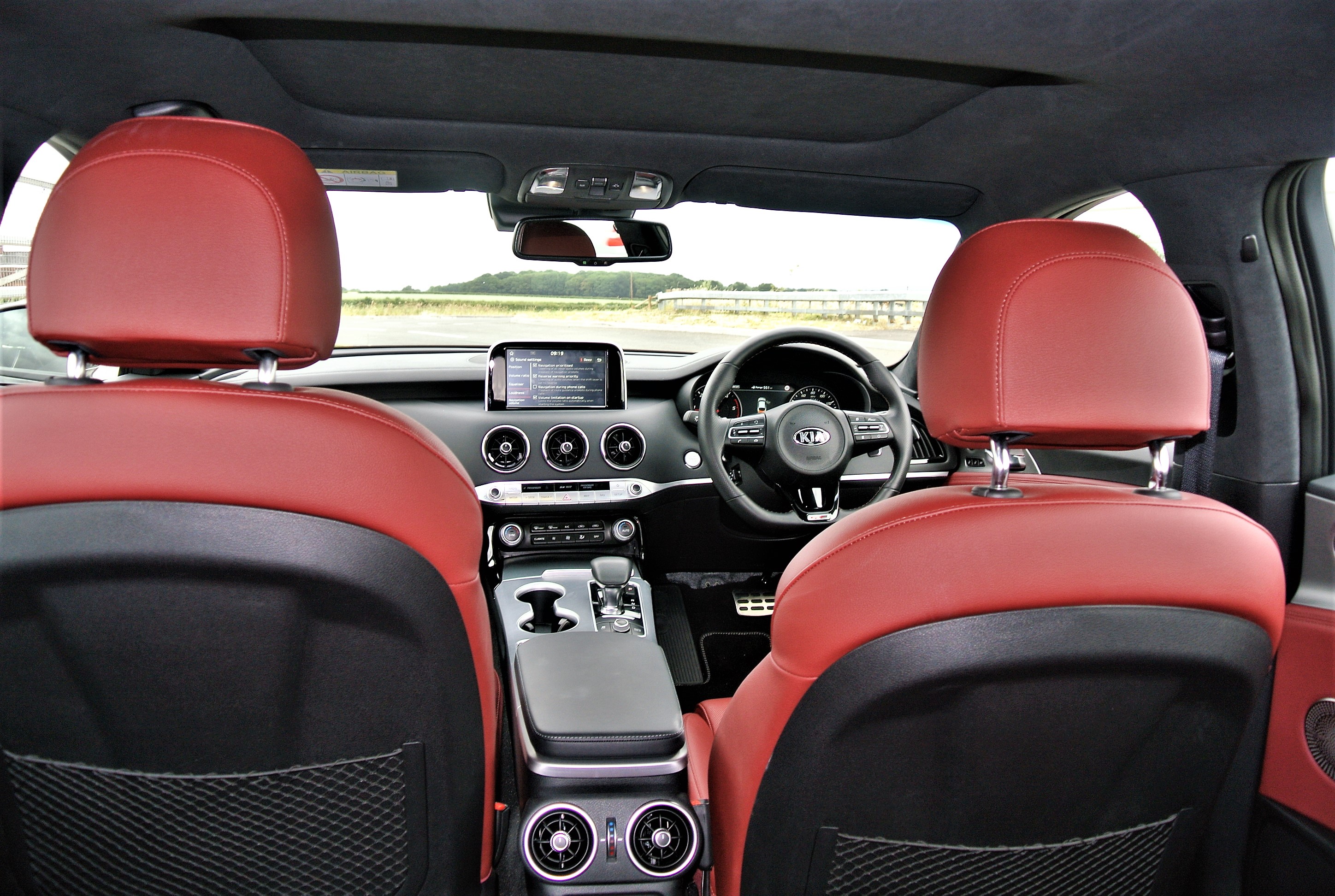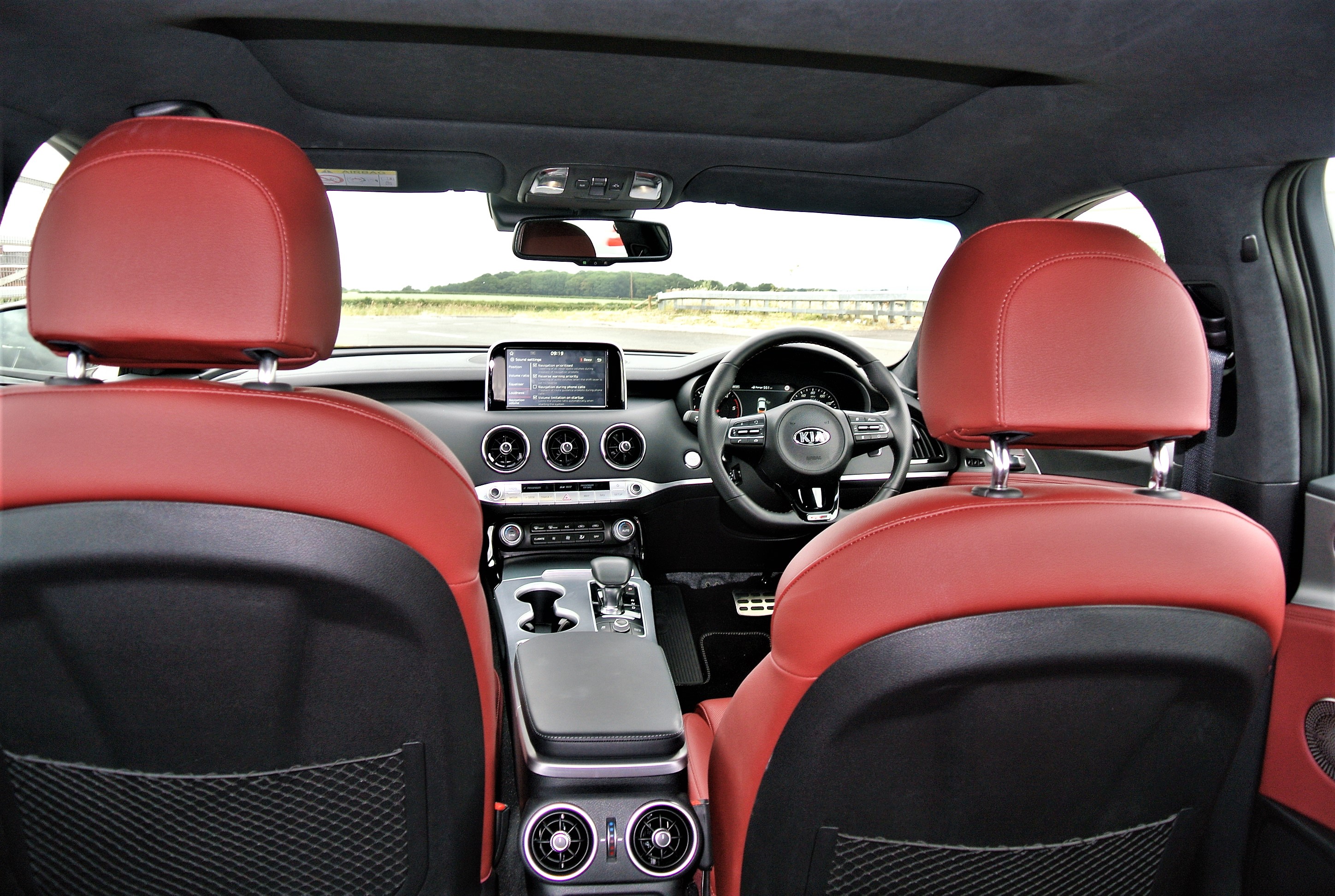 Both electrically heated and driver-only adjustable front seats are well-padded and supportive, helping to make long motorway drives a relaxed pleasure; the driver's seat also incorporates a memory function that adjusts automatically the door mirrors and the customisable, head-up (in-screen) display, should another driver take the controls. However, rear seat occupants are also well catered for, with the outer pair gaining from in-built heater elements, copious legroom and space within which to move. Raising the hatchback door reveals an enormous boot, which will carry four golf bags with ease, or luggage for four on a driving holiday, all concealed by a heavy-duty luggage cover. If extra load space is needed, the rear seats split-fold 60:40.
Naturally, as a prestige model, both connectivity and safety addenda are in abundance. The central screen integrates Tom-Tom sat-nav, in-car entertainment (through an impressive 15-speaker Harmon Kardon high-end sound system), rear-view camera and 360-degrees monitoring, as well as mobile-phone linking. There is even a wireless charger built into the centre console for phones that allow it.
Stinger's handling and roadholding is exceptionally good, although it is difficult to disguise the car's weight, which will temper any potential derring-do at the helm. It is not that it is incapable of a press-on driver indulging in its fine balance, rather that it telegraphs a preferred stance to the driver's fingertips and seat-base. The chassis features adjustable dynamics that can cope with more energetic demands, although the 'Smart' setting, which adjusts automatically to driving style, will be probably the most popular one. Comfort/Eco and a couple of more focused Sports ranges can also be dialled in easily to deliver on-demand.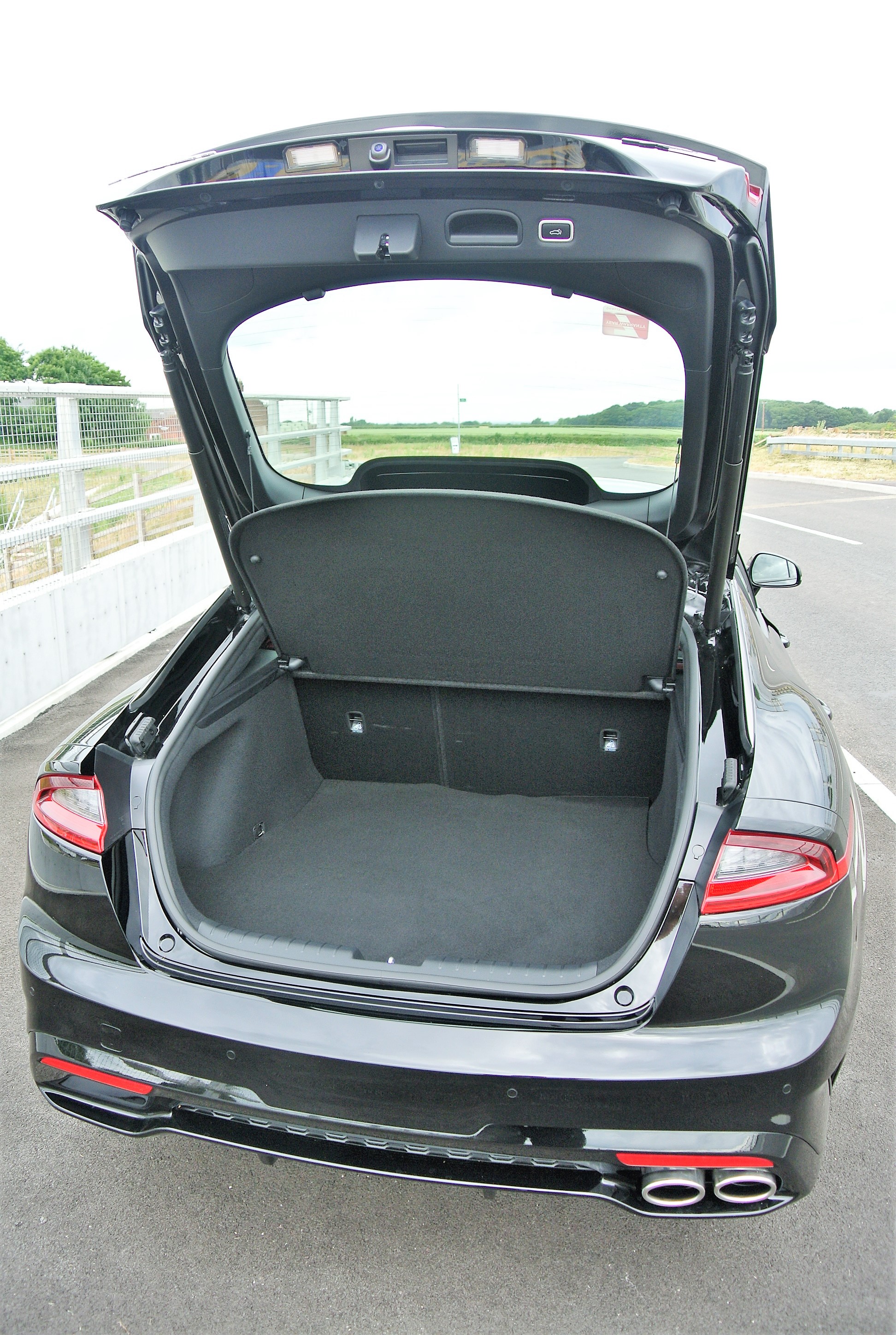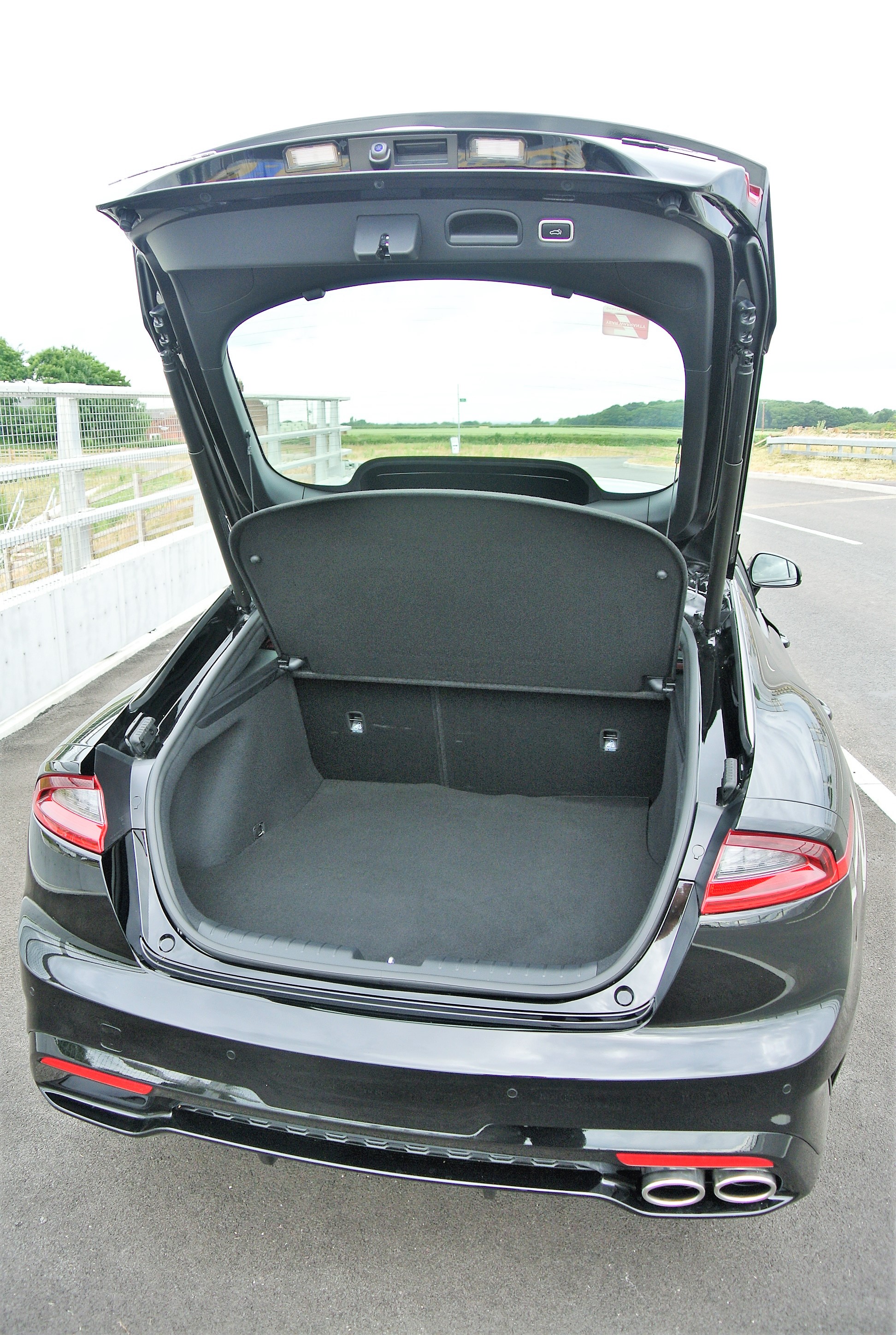 Kia appreciates the task ahead of it, to convert potential business customers from any number of executive brands into its luxury model line. After all, buyers at this end of the market are seeking established values, on which Kia cannot lean, as it has no real history in the class. Yet, while its price tag is a very complete £37,725, before any dealer discounts and allowances are applied, it can also be perceived as a genuine bargain. Most of its rivals are 15-20% costlier.
While I can tell you that driving the Kia Stinger back-to-back with a Lexus, Jaguar, or any one of the German threesome (Audi, BMW and Merc), reveals that it is a worthy competitor to any of them and is actually better in some respects to most of them, base-line cost will be the element most in its favour. However, only a test drive of some merit will help with reaching that decision, due to the aforementioned brand credibility gap.
Kia has focused on unusually handsome style with its relative newcomer. Stinger is unerringly attractive. Yet, it is also dynamically gifted and it turns the heads of observers, even in the company of its peers. As a business vehicle, it can score vital points in the corporate car park comparison stakes.