It is not an advertisement for a new Harry Potter episode, although the GRMN in question is a wicked little beast, suggests Iain Robertson, as he tackles the essentials of vehicle homologation and the value of converted road cars in motorsports.
Since the dawn of the motorcar, competition activities have been inherent to the research and development duties of a succession of carmakers. While there was a wild period of 'anything goes', as soon as proper, legally ratified World Championships came into being, a new word entered our vocabulary: homologation.
Some of our best 'made-up' words boast Greek, or Roman (as in this case), origins and 'homologation' is no exception. It defines as 'to approve, especially to confirm officially'. Every single new car (and its parts) that is produced must comply with the homologation process, as must the venues, where they might be raced, or rallied. Determined by volume, a specific number of cars must be produced to allow that manufacturer to contest race, or rally championships. Homologation is a means to standardisation and commonality.
Toyota is well-versed in the process. However, in my driving past, I have owned a handful of what are termed 'homologation specials'; a Ford Sierra RS Cosworth, a BMW M3 Evo, a Ford Escort RS2000 and, more recently, a Skoda Fabia S2000. In the latter instance, the car was powered by an uprated version of the VW Group's 'twin-charger' (both supercharged and turbocharged), 1.4-litre petrol engine that developed 228bhp. Only 25 examples were ever UK imported; 75 fewer than for Toyota and its GRMN.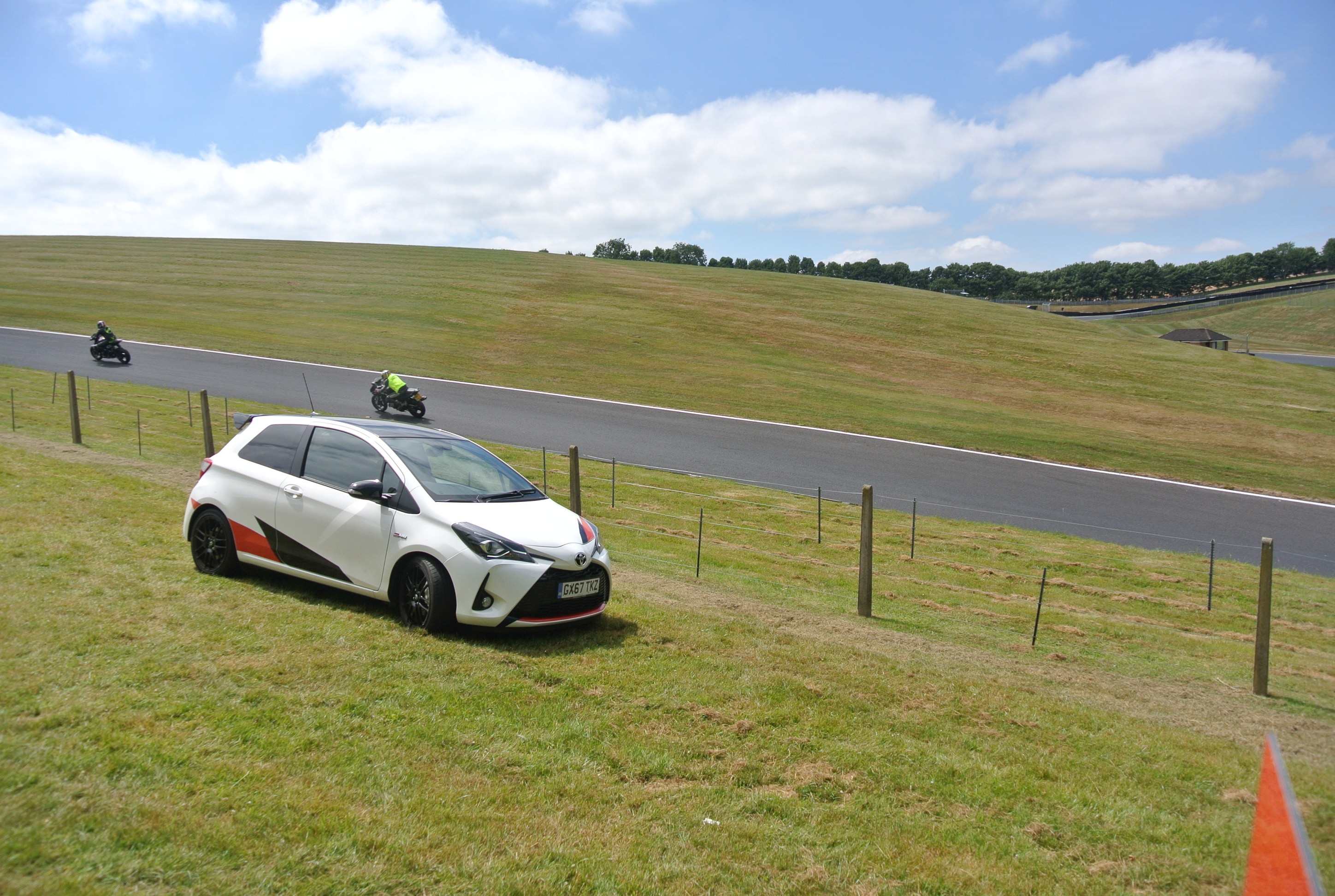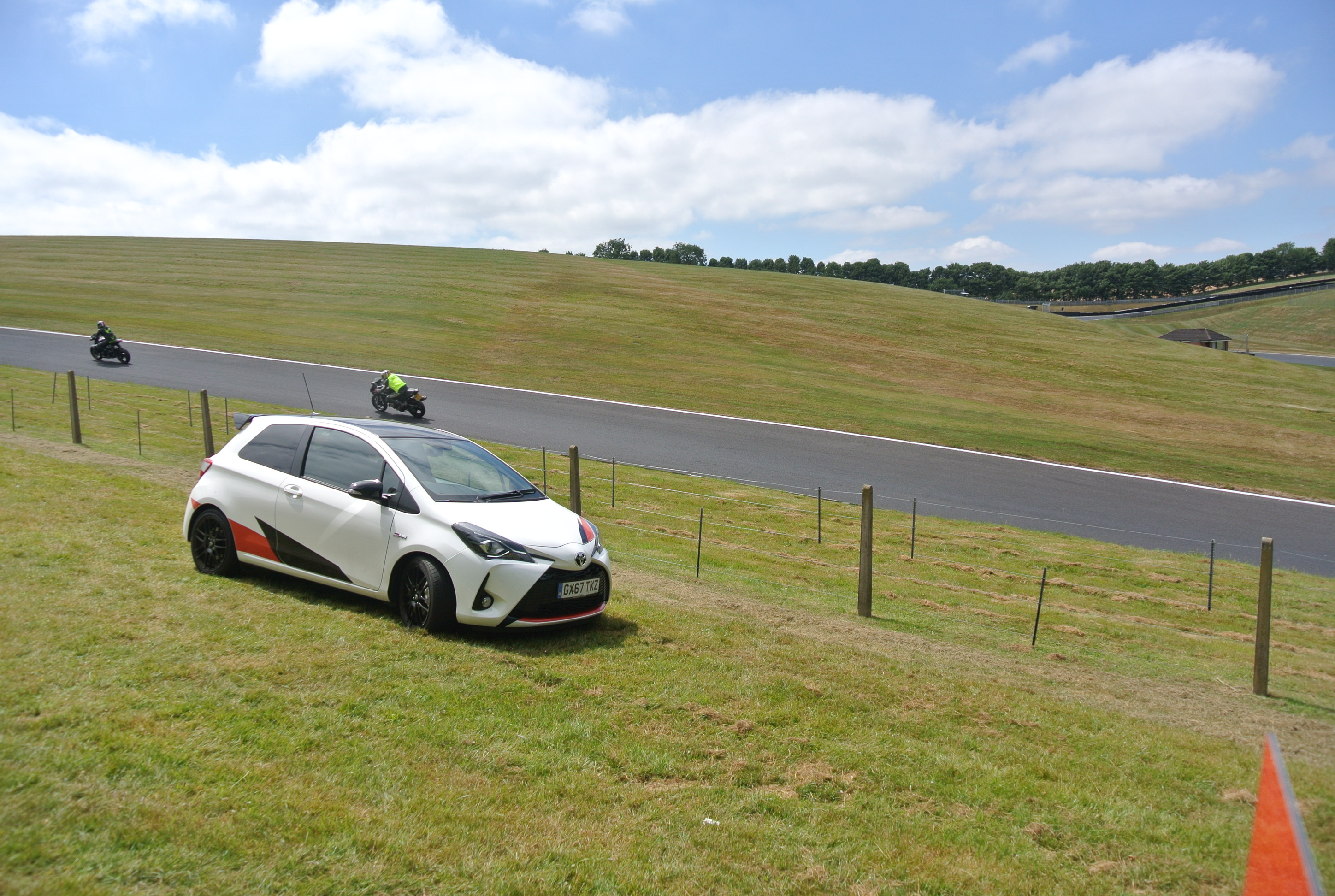 The appeal of this class of car lies in its focused approach…although it is one that does not always work, as could be evinced by the popular and now exceptionally valuable Ford Sierra Cosworth, which was an utter pig to drive. Fortunately for Toyota, the GRMN, which is based on the Yaris model, not only delivers to perfection but also provides a most engaging parallel character. Powered by a 1.8-litre, supercharged, four-cylinder petrol engine that drives the front wheels (unlike all four of the equivalent and significantly more complex rally car) through one of the sweetest and slickest six-speed manual gearboxes, it is unerringly rapid and feels as durable as a pair of 'Old Skool' squaddies' boots.
As an 'homologation special', you can forget the 70mpg potential of its 1.5-litre hybrid stablemate, or the low taxation of the regular 1.0-litre petrol. The GRMN emits a barely excusable 170g/km CO2, which equates to an initial £515 road tax bill and £140 annually thereafter. However, the forced induction provided by the supercharger unit also means that 212bhp is on tap. In a car that weighs a smidgen over 1.1-tonnes, it delivers a 0-60mph acceleration time of just 6.0s, before coursing on to a maximum speed of 143mph. Its combined fuel return is given as 37.0mpg, which makes it a genuine 'swings and roundabouts' model.
Bear in mind that Toyota has a defined need to shake-off a 'boring' descriptive tag that has not dented its international sales successes but may have been beneficial to the company, in staving off the assault from VW Group. The German company whisked up on Toyota's 'blind-side' during recent years and, despite 'problems' of its own making, has overtaken Toyota in the world car-making stakes. Toyota used to possess a solid motorsport heritage, which only serves to underscore the value of GRMN to its more progressive outlook.
In the meantime, beefed-up suspension, a quick steering rack (2.2 turns from lock to lock), copious body-strengthening measures and minimal slack in the Yaris's drive-train turn a practical and fairly-tall, compact family car into an urgent and engaging sports-hatch. It is a most competent effort. Yet, it is not perfect, as the turn-in to corners could be sharper and the reactions from dampers and springs that are forced to deal with a moderately high centre of gravity result in a jarringly sudden ride quality on bad road surfaces. The tugging effects of the Torsen limited-slip differential can be felt through the steering wheel rim but it does provide an extra degree of directional stability and grip, even though the front tyres will scrabble slightly, when applying full-throttle out of bends. Yet, live with its idiosyncrasies, by adjusting your driving style to the GRMN, and the rewards are in abundance.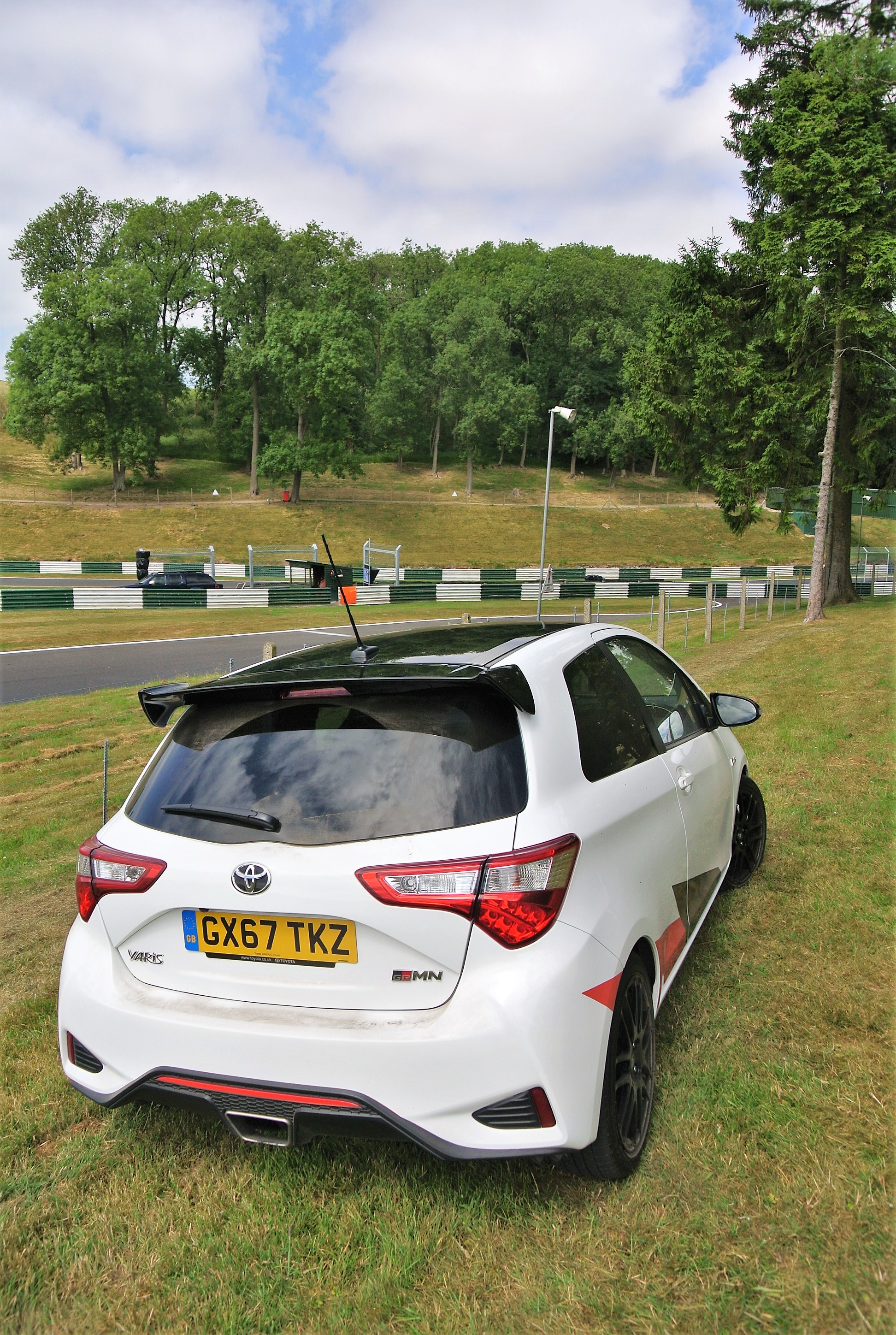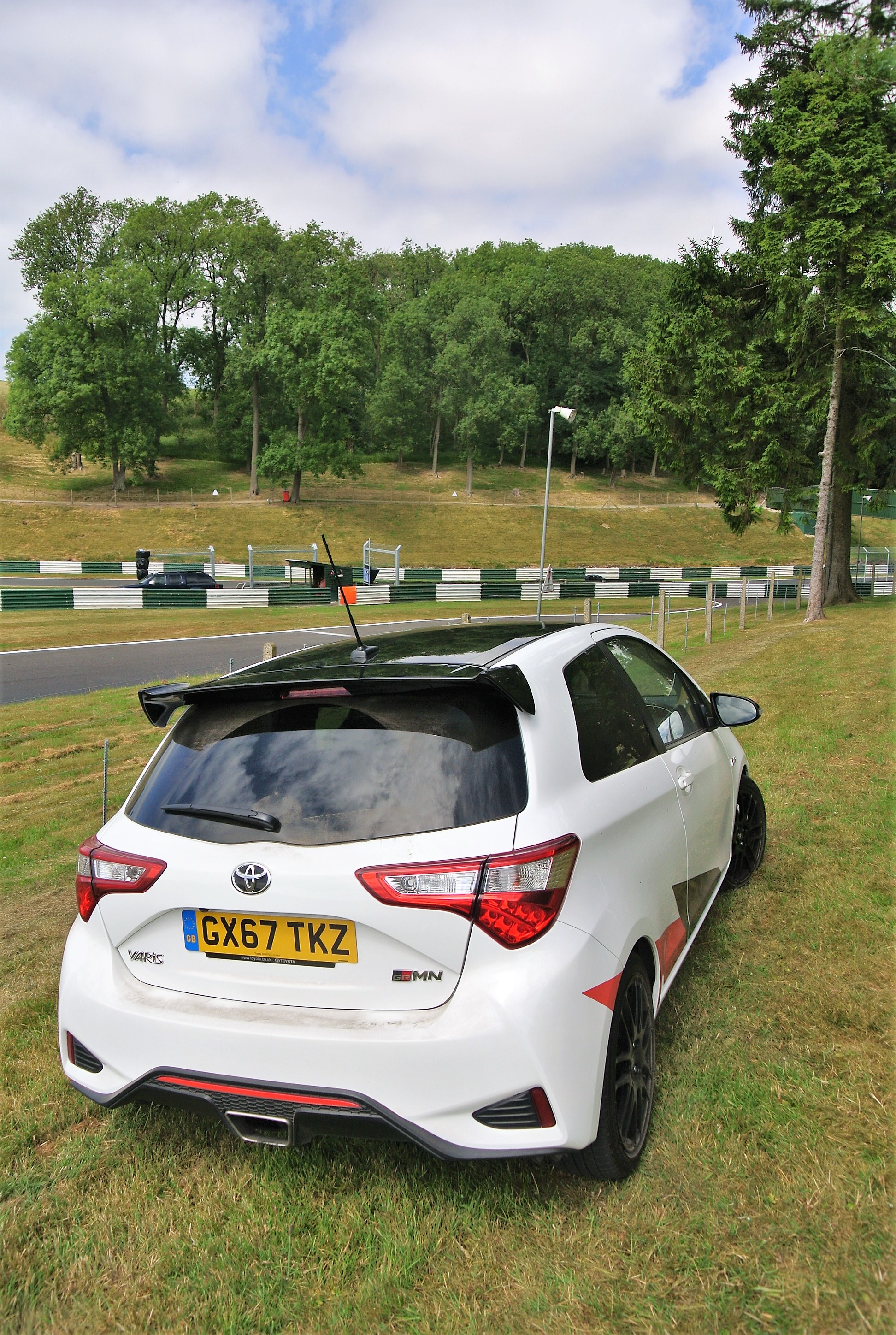 Supercharging the engine means that the power band is a lot wider than with turbocharging and the engine in this Yaris does demand revs to obtain the best performance. However, the deliciously close ratios of the manual gearbox, allied to a short-shifting and mechanically proficient gear-lever, mean that it is a car that reacts well to a planned approach. The engine also emits a gruff but not unmusical engine note that just gets louder and (genuinely) more enjoyable the more the envelope is pushed. I can promise you, the GRMN delivers fun in wondrously measured but highly accessible doses.
Unlike the regular Yaris, the GRMN is available only in three-door form, partly due to the greater inherent strength and rigidity of the body. However, sporty 3-doors are an added rarity factor. Access to either of the anatomically-bolstered and monogrammed, high-back front seats is excellent. Although they are not true competition perches, they do provide great lateral and spinal support. A small diameter, leather-wrapped steering-wheel rim, still featuring practical cross-spoke minor controls and a 'straight-ahead' red strip, while adjustable for both rake and reach, provides a good, if slightly high-up driving position, assisted by the rake, reach and reclinable, Alcantara-clad front seats.
While the analogue instrument faces are given a more 'technical' appearance, the rest of the dashboard is to business-as-usual Yaris standards, with a soft-touch strip that is continued into the door cards. The 7.0-inch 'touch-screen' serves sat-nav, stereo, mobile connectivity and car computer needs, with useful access controls on its perimeter, which makes it much easier to garner information on the move. As far as space for other occupants is concerned, while the fold-forwards front seats do compromise access slightly, the Yaris does not lack room in its back seat and the boot, with its height-adjustable, solid floor, does provide 286-litres of space, before flipping forwards the split-fold back seats.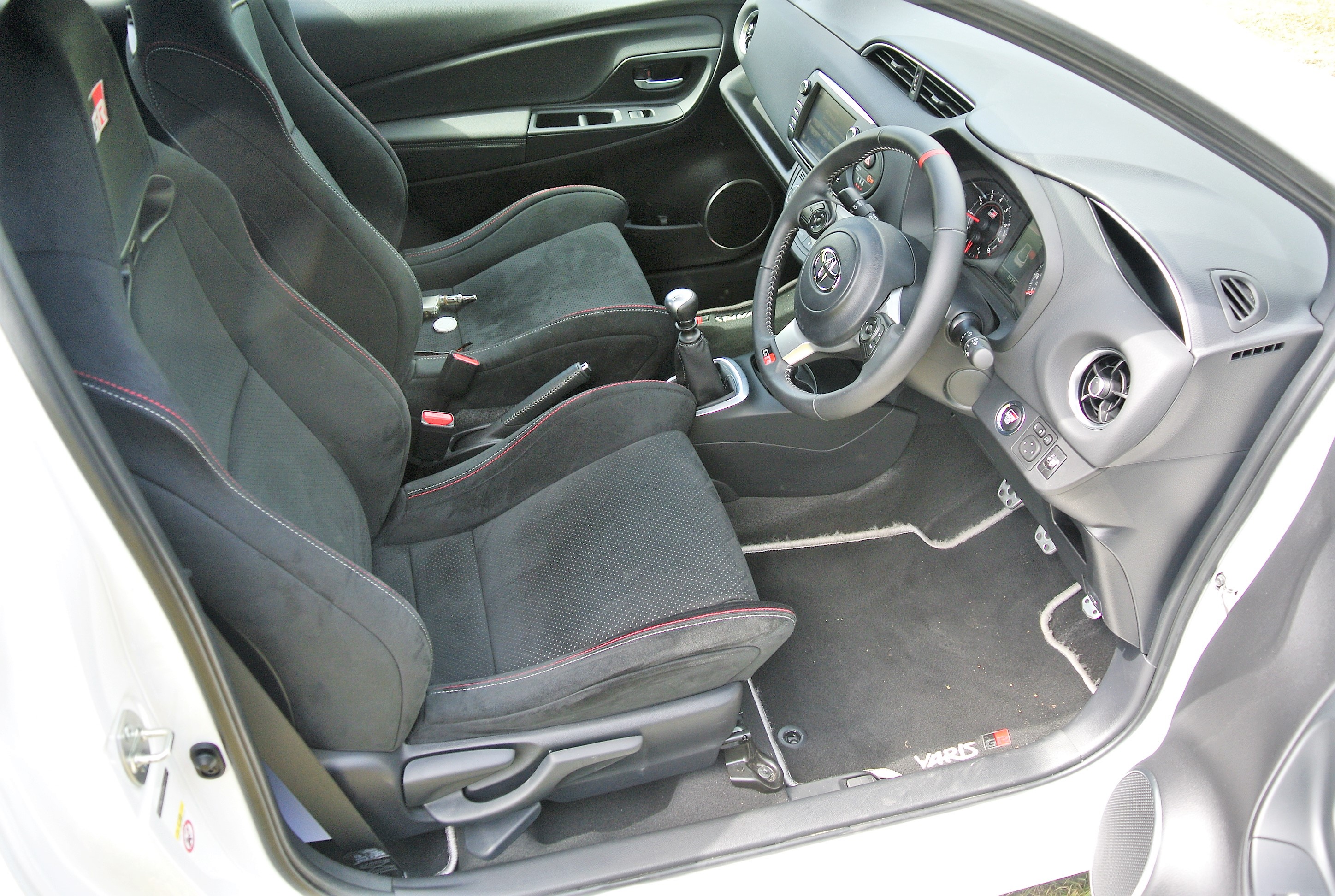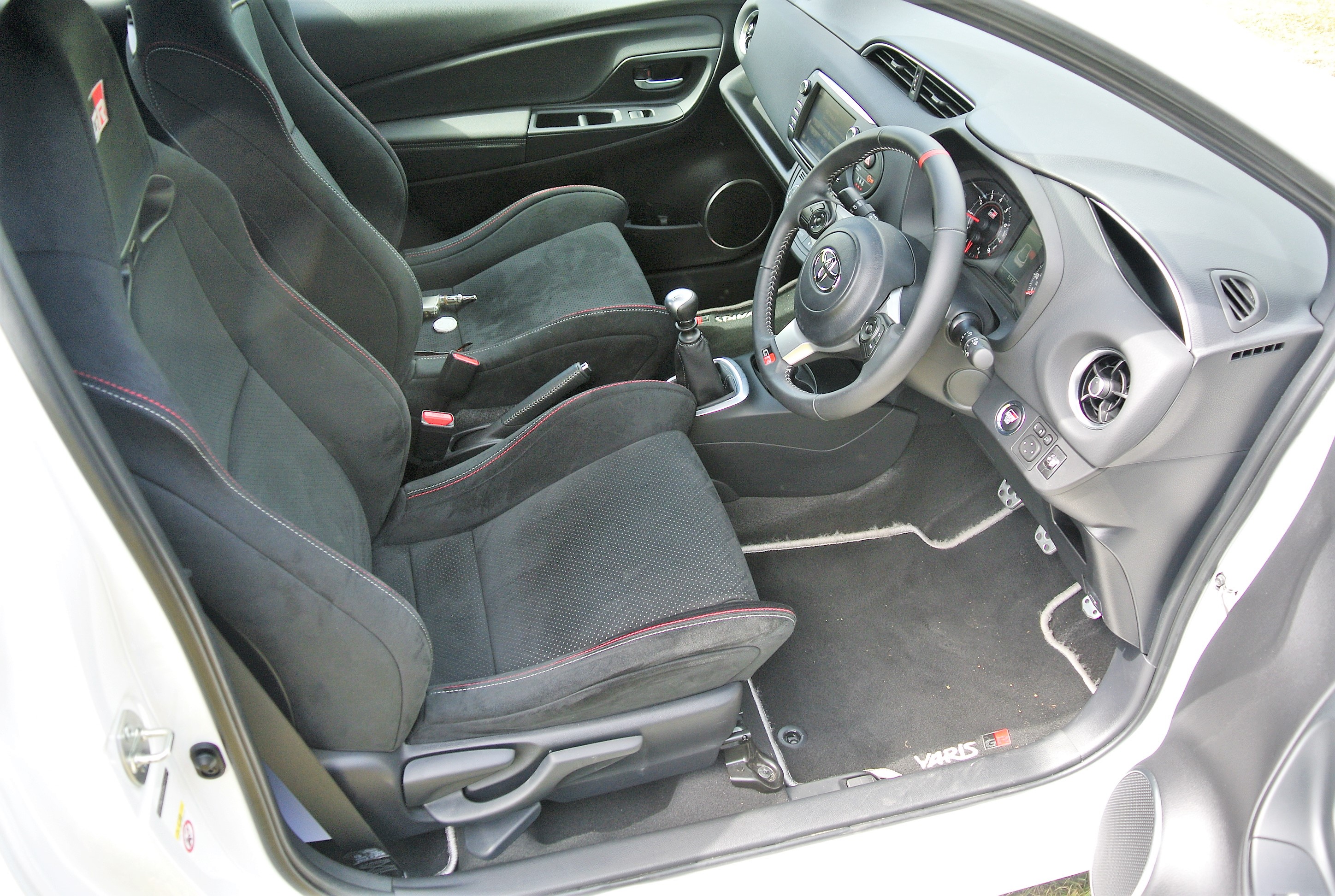 A squatter ride height, white-logoed brake callipers, the purposeful roof spoiler, a mid-rear bumper exhaust pipe, 17.0-inch BBS alloy wheels (in enamel black) and a slightly garish black and red decal kit do make the GRMN hard to miss, for such a small car. However, I have seen worse body-kits, such as the OTT sticker kit that I demanded be removed from my Fabia, before I took delivery of it, and that of the Toyota is purposeful and subtle enough not to look too boy-racerish.
The GRMN's bottom-line is fun (with a capital 'F'). Its relative rarity (only 100 examples in the UK, all of which are sold-out) and fairly high price tag (£26,295) restricted its bounteous appeal. Yet, I do recommend that you keep your eyes peeled for used examples, while almost but not quite as rare as hen's teeth, stewardship of a GRMN is one of motoring life's pleasures that I urge you to enjoy…if you are able.
The GRMN, which stands for Gazoo Racing tuned by the Meister of Nurburgring (really?), is not about availability but is about highlighting Toyota's return to form, as a manufacturer of sporting and capable motorcars that possess, with some variants, a 'no limits' attraction. The regular Yaris is no less a car at half the price.