In order to maintain model viability, mid-life model refreshment exercises are an essential element of model marketing but, highlights Iain Robertson, they need to be carefully considered, a factor that Suzuki adopts with due care.
It was British author and playwright, George Bernard Shaw, who stated: "Progress is impossible without change and those who cannot change their minds cannot change anything". Apocryphal and powerful words from a renowned writer. However, from a personal viewpoint, I have seldom regarded 'little' Suzuki in the same light that I do Audi, which I regard as little more than a superficial and costly Skoda.
The people who buy into Suzuki know what they are getting. The product is honest. It conceals nothing. Yet, their loyalty is the powerhouse that maintains momentum for the marque, supported by a mish-mash of motor dealers, largely from out-of-town franchises, run by families, who seem to recognise what it is that their customers want most from the several models constituting the Suzuki brand in the UK. There is not really room for the major corporates in Suzuki's firmament, even though fleet business is very much a target.
Yet, Suzuki could be said to have fallen foul of its loyal retail customers. One of the supportive tenets of the brand (apart from honesty) is value-for-money. While I am a staunch Suzuki fan, even I have questioned the positioning of some of its models and the most recent S-Cross, which Suzuki refers to as an SUV, is actually more in the mould of crossover (the hint lies in the model name) than mud-plugger.
However, a danger lies in presuming too much about model designations. After all, the S-Cross, with its on-demand 4×4 system, is as tough and uncompromising in the trickiest of environments, as any of its somewhat truer SUV alternatives, from within the marque, such as the Vitara, or the diminutive Jimny. In all cases, it is wrong to consider them as '4×4-lite', as, for those models specified with 4WD transmissions, they are no less capable than any heavyweight 4×4, with the notable benefit that they do not sink into the mud and tempt inextricability.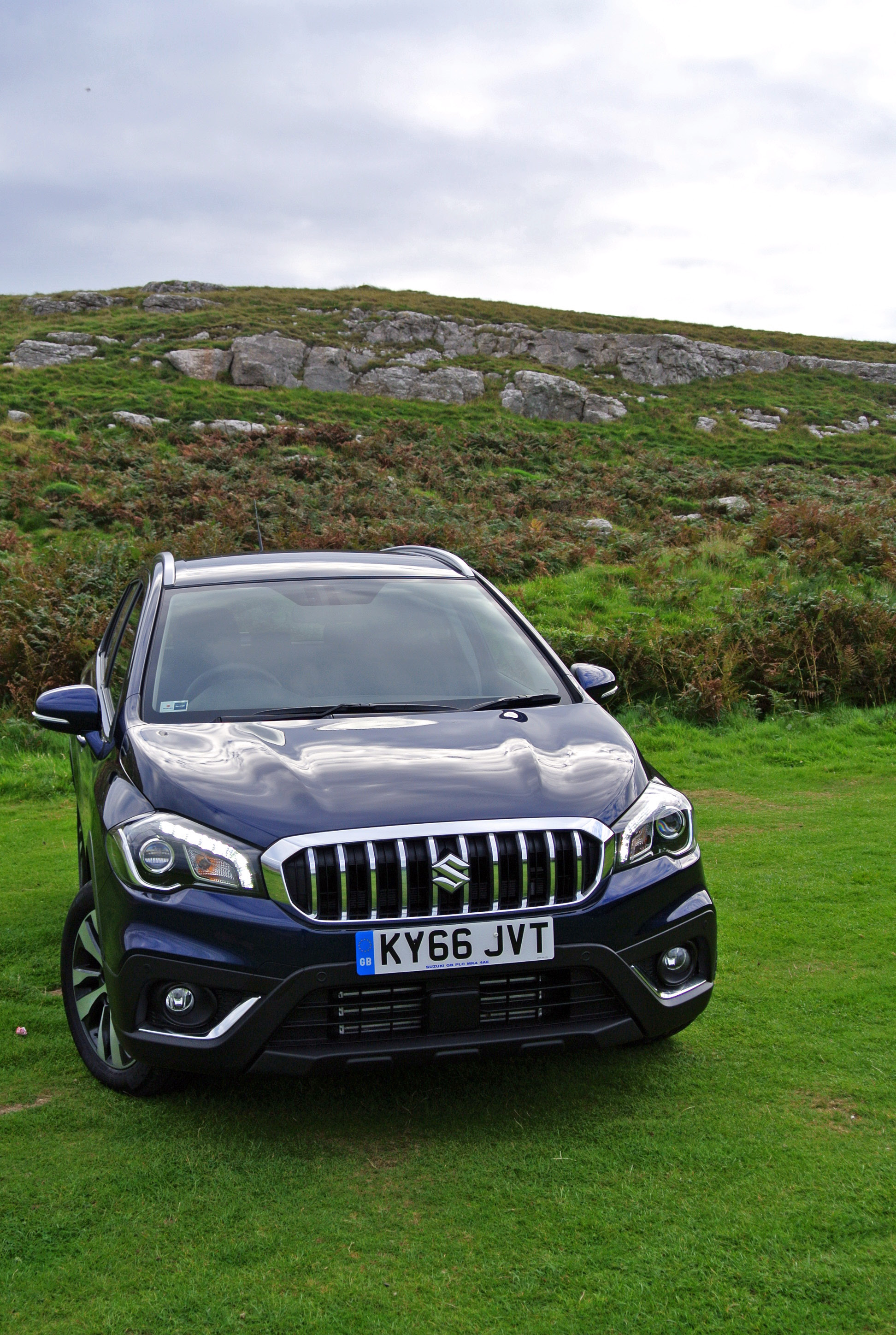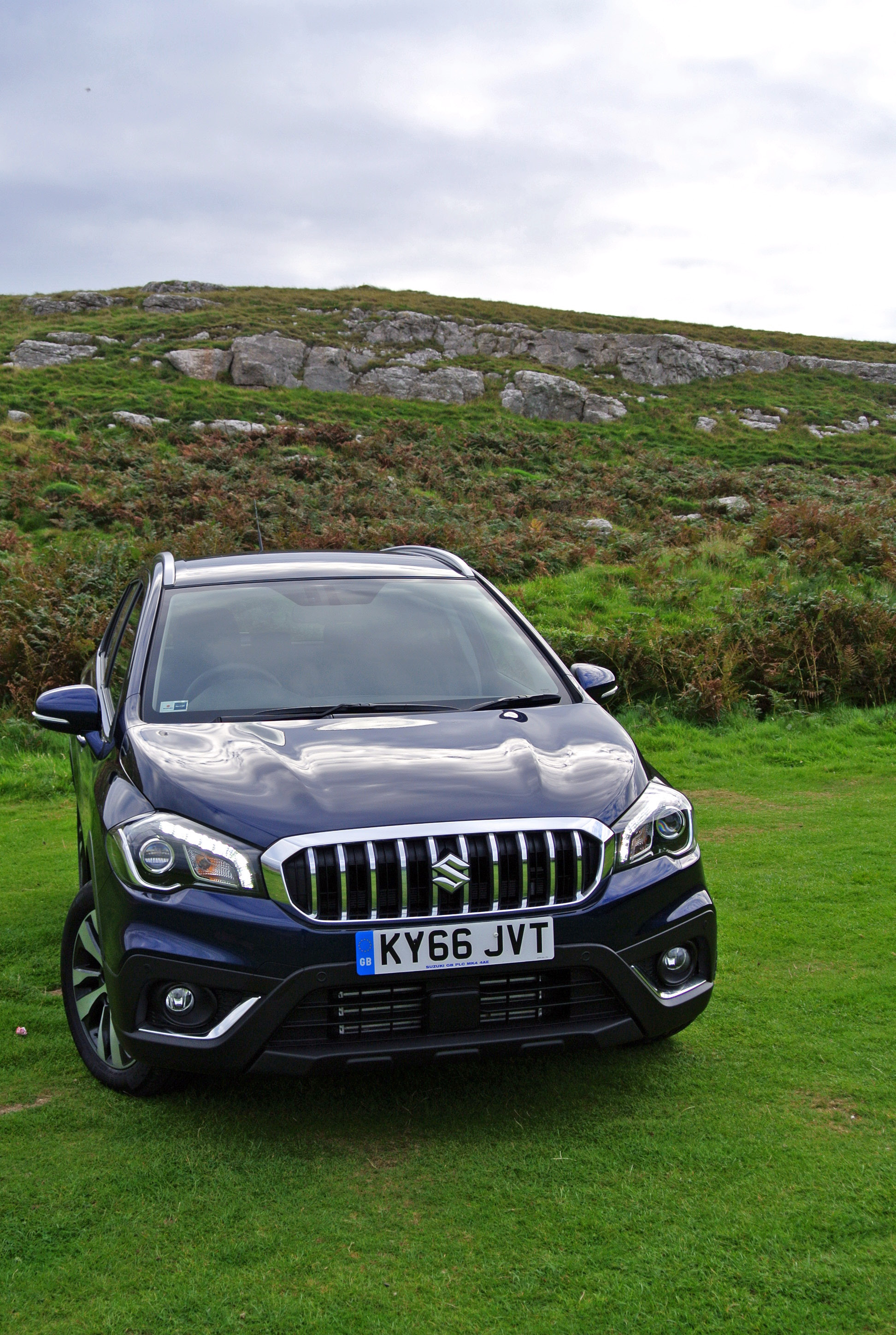 Yet, the S-Cross has always given me something of a headache, even when based (when Suzuki was 'owned' by GM, which owned Fiat Group at the time) on the same platform as Fiat's cleverly named Sedici model. In typical GM 'madness', Fiat was allowed to sell (technically) more 4×4 versions than Suzuki. How that should have been allowed remains inexplicable. Thank the Good Lord that Suzuki was able to drive its way out of that disastrous partnership…even though the Fiat turbo-diesel remains as a hangover power source.
On current reckoning, the S-Cross is the top of the shop in Suzuki world, even though it is far more Subaru Forester than off-roader par excellence. A bigger problem has existed for S-Cross in the UK market, over the past three years…it sold well in year one but repeat and conquest business has been a touch harder to come by in years two and three. A change was necessary.
It could be said that the droopy-eyed appearance of the outgoing model lay at the heart of consumer resistance. After all, it looked more like 'Deputy Dawg', than Tom & Jerry's 'Spike'. All of the more successful 4x4s possess a more aggressive stance. Therefore, Suzuki has performed the improbable and given the S-Cross a 'chromed' ten-bar grille that outnumbers Jeep's seven, in the process gifting the model a less family cruiser ashamedness, turning it into a snarling rictus-grin, possessing wit and wisdom beyond its kith and kin.
Superficial it may be but, rather than performing the role of an automotive wallflower, the S-Cross is now hiked into thorny territory and head-turning will follow in abundance. You cannot help it. The new S-Cross is an attention-seeker, albeit with a convenient price hike. However, what lies beneath the skin is far from Fool's Gold, as BoosterJet, Suzuki-speak for its latest small capacity turbo-petrol engines, is central to the mid-life refresher. Available in both 1.0 (three cylinder) and 1.4-litre (four cylinder) petrol forms, they provide the driving force behind Suzuki's munificence, even though the 1.9-litre Fiat diesel delivers the low-cal, corporate/towing competence. I did not try the latter, because petrol is presently 'in vogue'.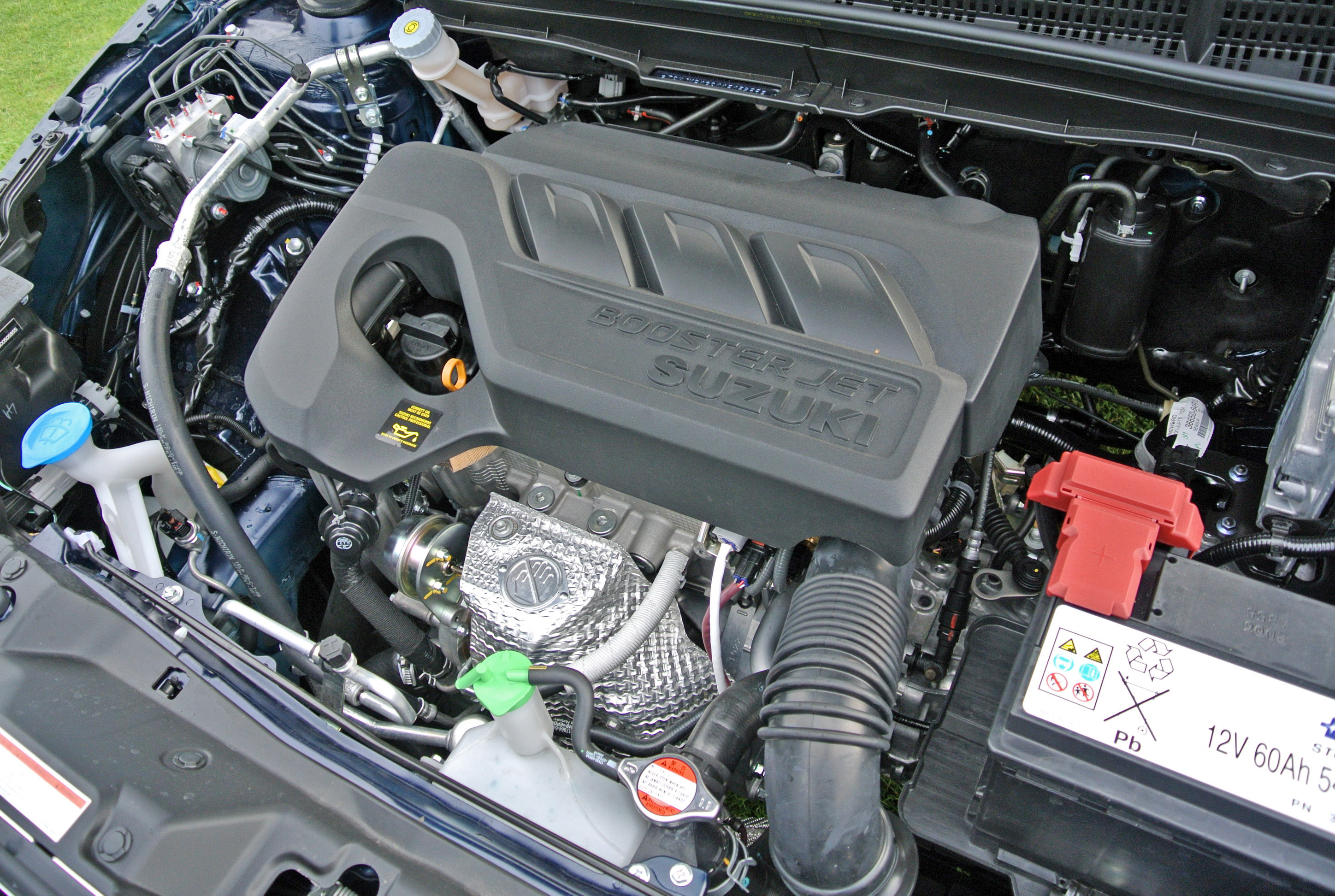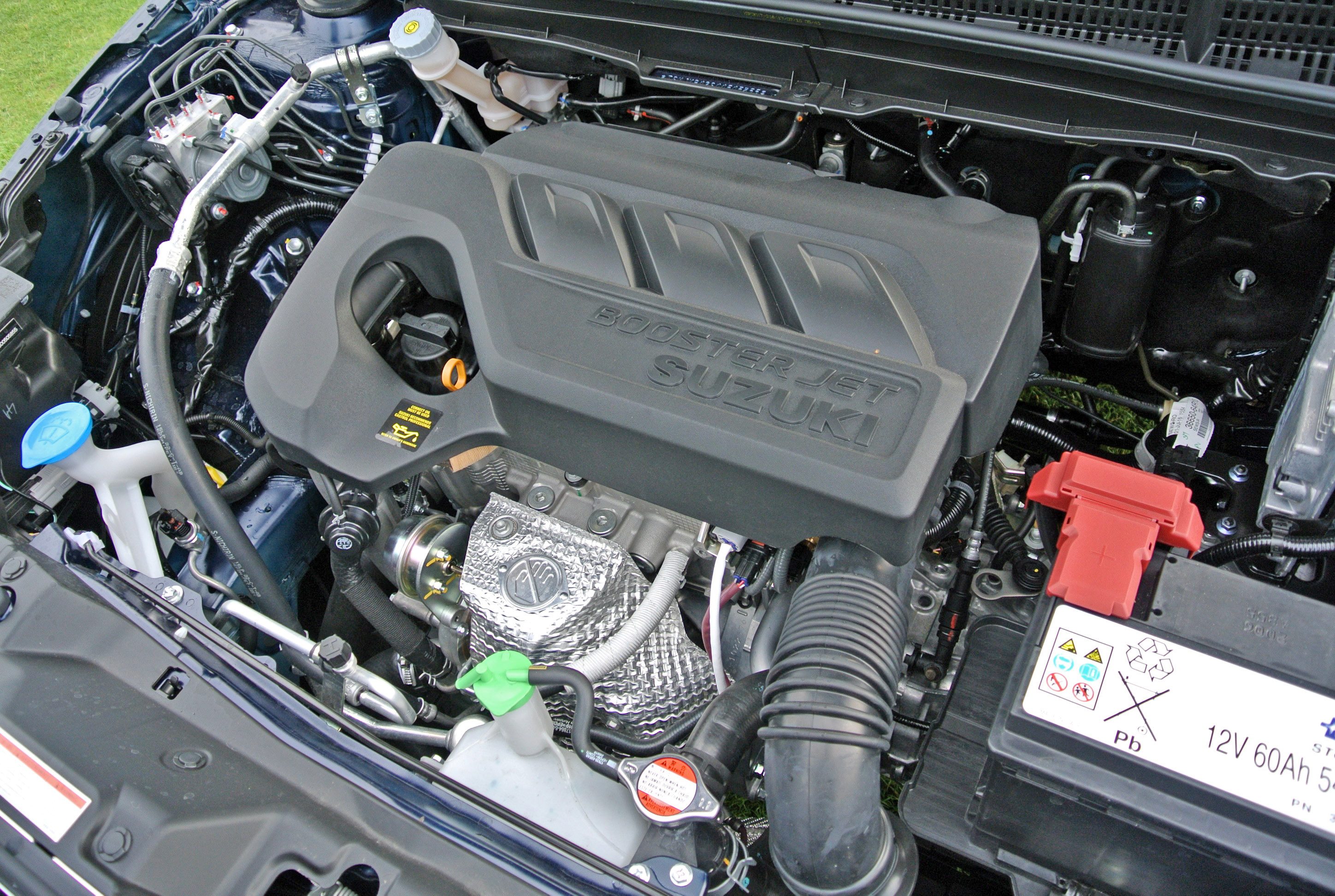 On a driving route across North Wales, from Chester to Llandudno, but taking in a no holds barred punt around the toll road at The Great Orme (if you have never been, it is truly worth it!), where I took the photographs, I discovered that the 1.0-litre unit, armed with 111bhp and 125lbs ft of torque, provides a satisfying amount of pick-up. Although I feel it might benefit from the use of a six-speed manual gearbox, the 5-speeder is leggy enough to avoid higher speed restlessness and the unit emits a charming, guttural grumble that endears itself to the driver, while seeming to lack little in the grunt department.
Its top speed of 112mph and a 0-60mph dash in just 10.7 seconds are more than up to class standards, most of which is occupied by larger capacity engines. With a CO2 rating of 113g/km and a purported 56.4mpg (zero VED in year one; £30 thereafter) on the Official Combined cycle (I attained a respectable 46.4mpg), it is abundantly clear that its sturdy construction is not encumbered by excess baggage, as the 1.0-litre S-Cross tips the scales at a mere 1.16 tonnes, making it markedly lighter than its rivals.
Swapping cars at Wales's oldest pub, The Groes Inn (just south of Conwy), my subsequent drive down the picturesque Welsh spinal route (A470), then the A5 and a minor deviation across country towards Chester, was carried out in the 1.4-litre, 6-speed manual version.
Naturally, all the figures take a healthy advantage: 140bhp, 162lbs ft, 124mph, 9.9 seconds. Of course, CO2 increases to a still reasonable 127g/km, while 50.4mpg is still impressive (44.2mpg actual; zero VED in year one, £110 annually thereafter). However, the most astonishing thing happened. Fiat Group was carrying out the 124 Spider launch exercise on part of the Suzuki driving route and, despite some highly enthusiastic wheel twirling on the part of the journalist in the sporty Fiat (when he realised that I was sniffing his exhaust fumes), the real-time competitiveness of the Suzuki 1.4-litre BoosterJet was tested to an extreme.
However, more importantly, the delightful and predictable chassis behaviour of the S-Cross meant that the Fiat could not lose it through the sometimes tortuous and very testing bends of the A5. In fact, its driver had every right to feel relieved in taking a junction to the left, allowing me to explore the S-Cross's superior ride and grip levels en-route back to our starting base, as I would have overtaken the Fiat on one of the A5's longer open straights. The 1.4-litre S-Cross is far sportier than its resilient suspension and communicative steering might suggest.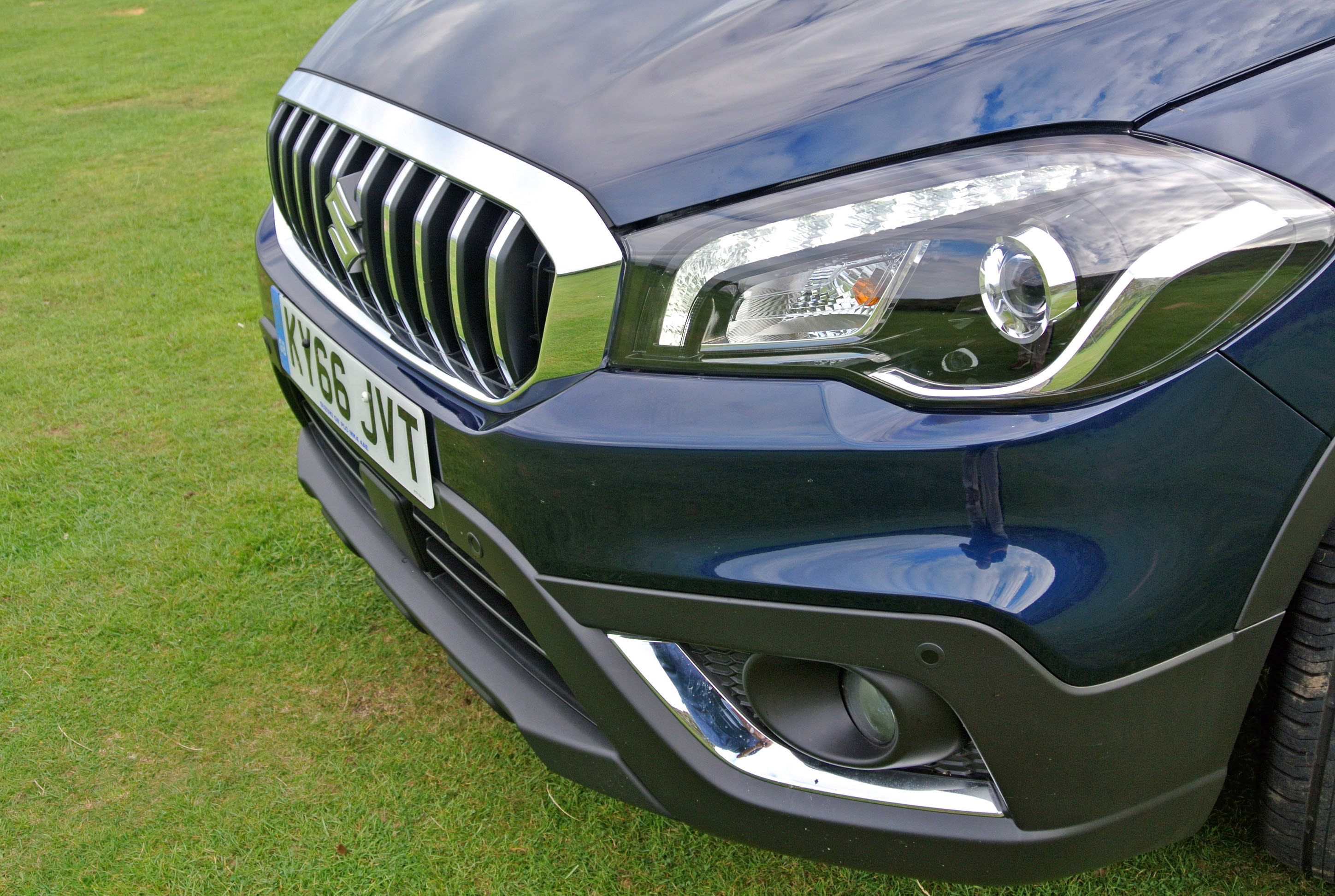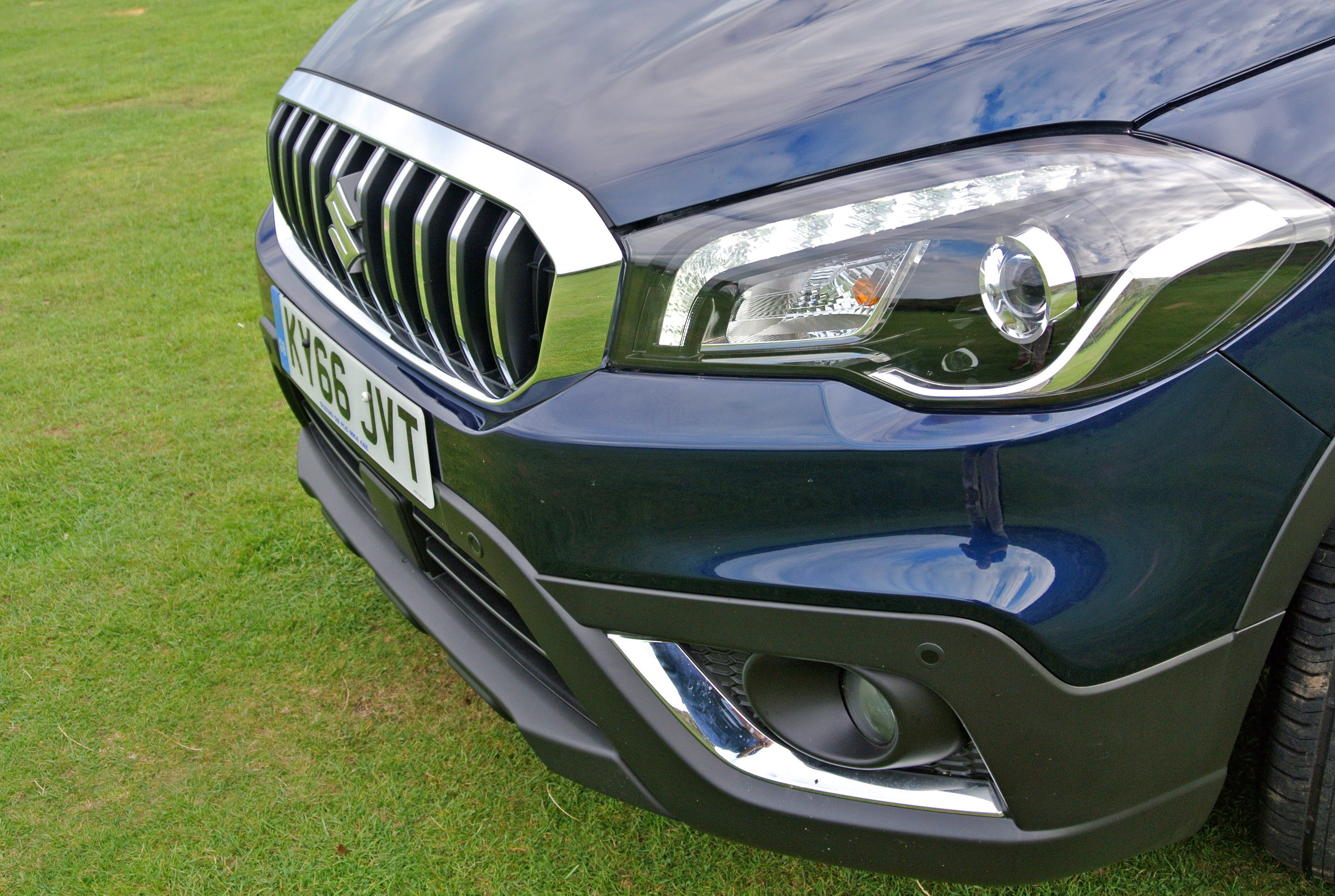 The changes continue with new tail-lamp units and the addition of a 'soft-touch' dashboard panel. While not the more wholesale alterations that I had been hoping for, as the S-Cross's biggest let down is the continued application of 'cheap', scratchy, hollow plastics within the cabin, I live in hope that the completely new S-Cross of 2019 will up the ante on the trim front. The firm might also contemplate some racier colour choices, rather than the greys, blues and scarlets of its limited palette.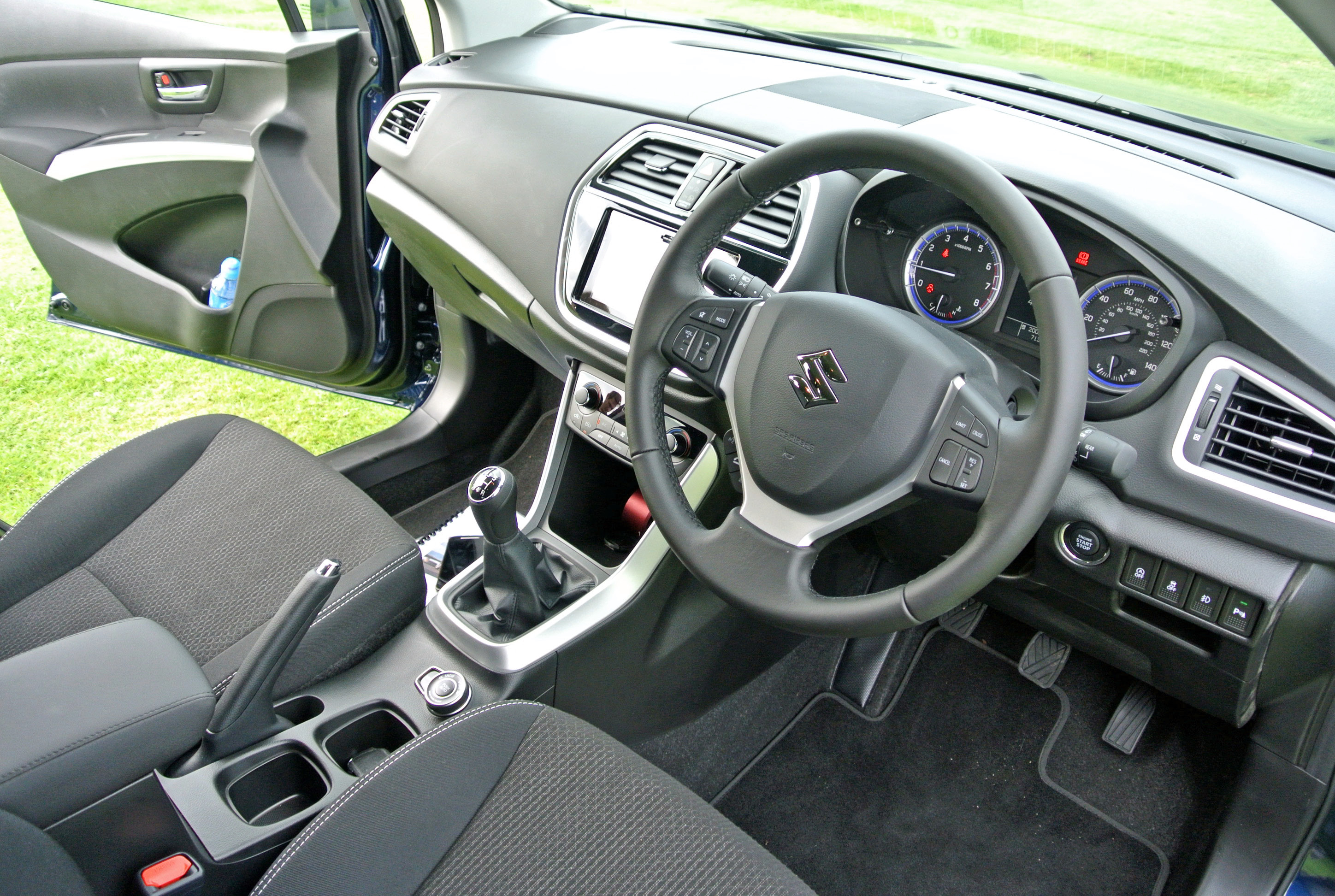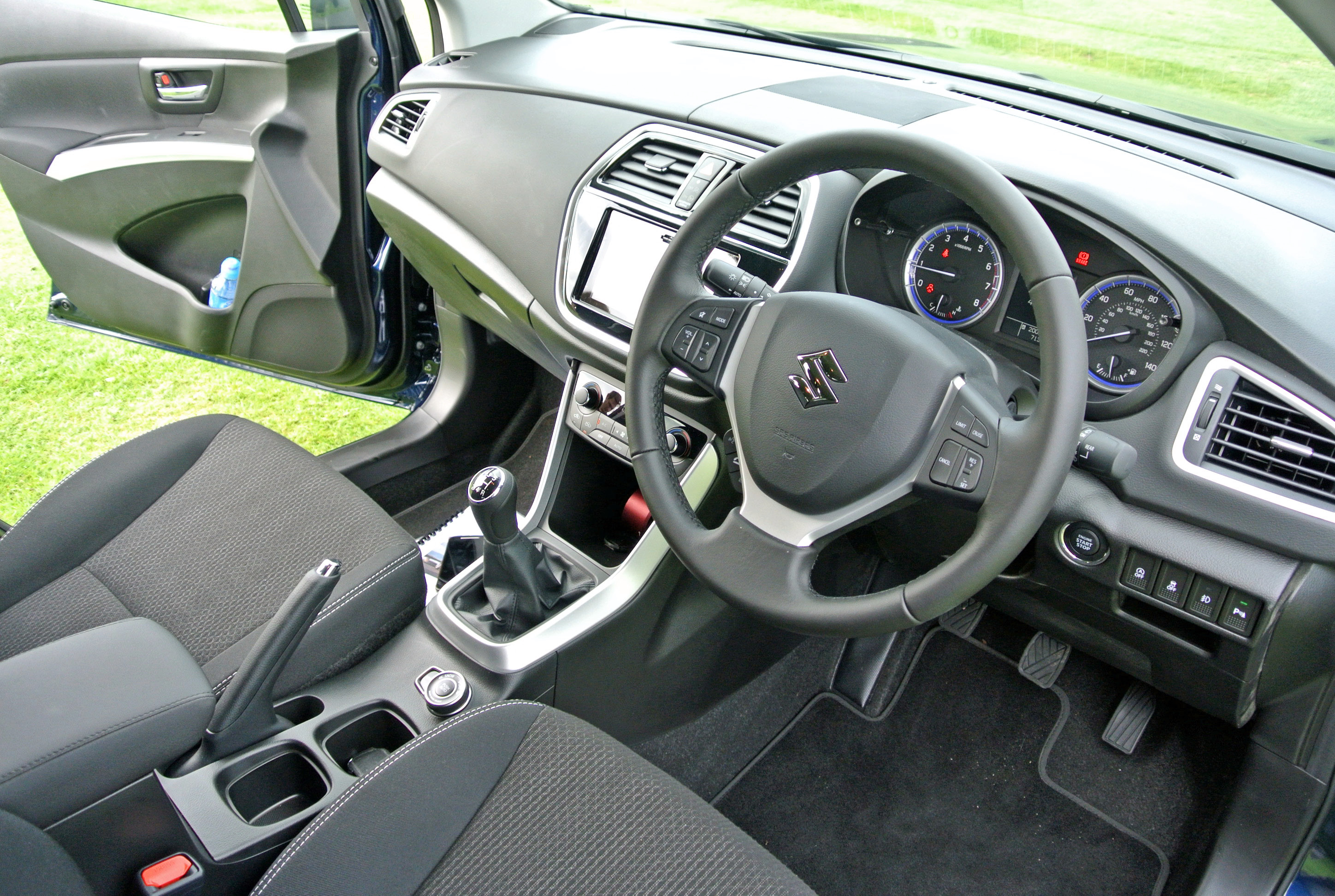 Suzuki must never be underestimated in its ability to shift direction most appositely. It remains a small car company, which makes major alterations somewhat more difficult to justify. While it does not look to be, S-Cross is exceedingly well-equipped across its three trim levels SZ4, SZ-T and SZ5, although you need to opt for the top version to receive the radar brake support and adaptive cruise control, heated front seats (in leather) and the enormous panoramic sunroof.
Prices start at a modest £14,999 for the 1.0 SZ4, to £21,299 for the all-singing-and-dancing SZ-T All-Grip. The 1.4 SZ5 All-Grip is £22,849 (add £1,350 for the optional 6-speed auto-box).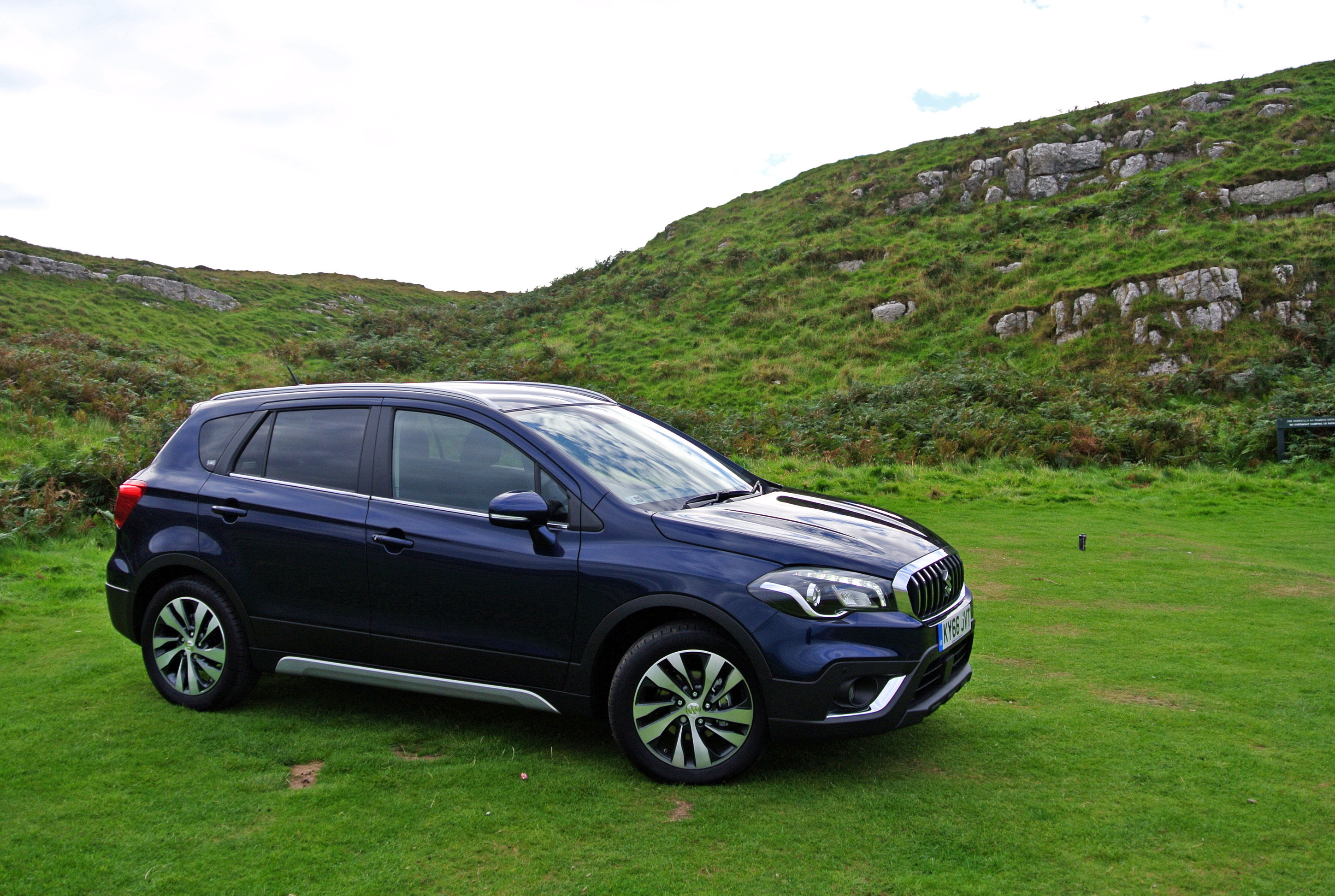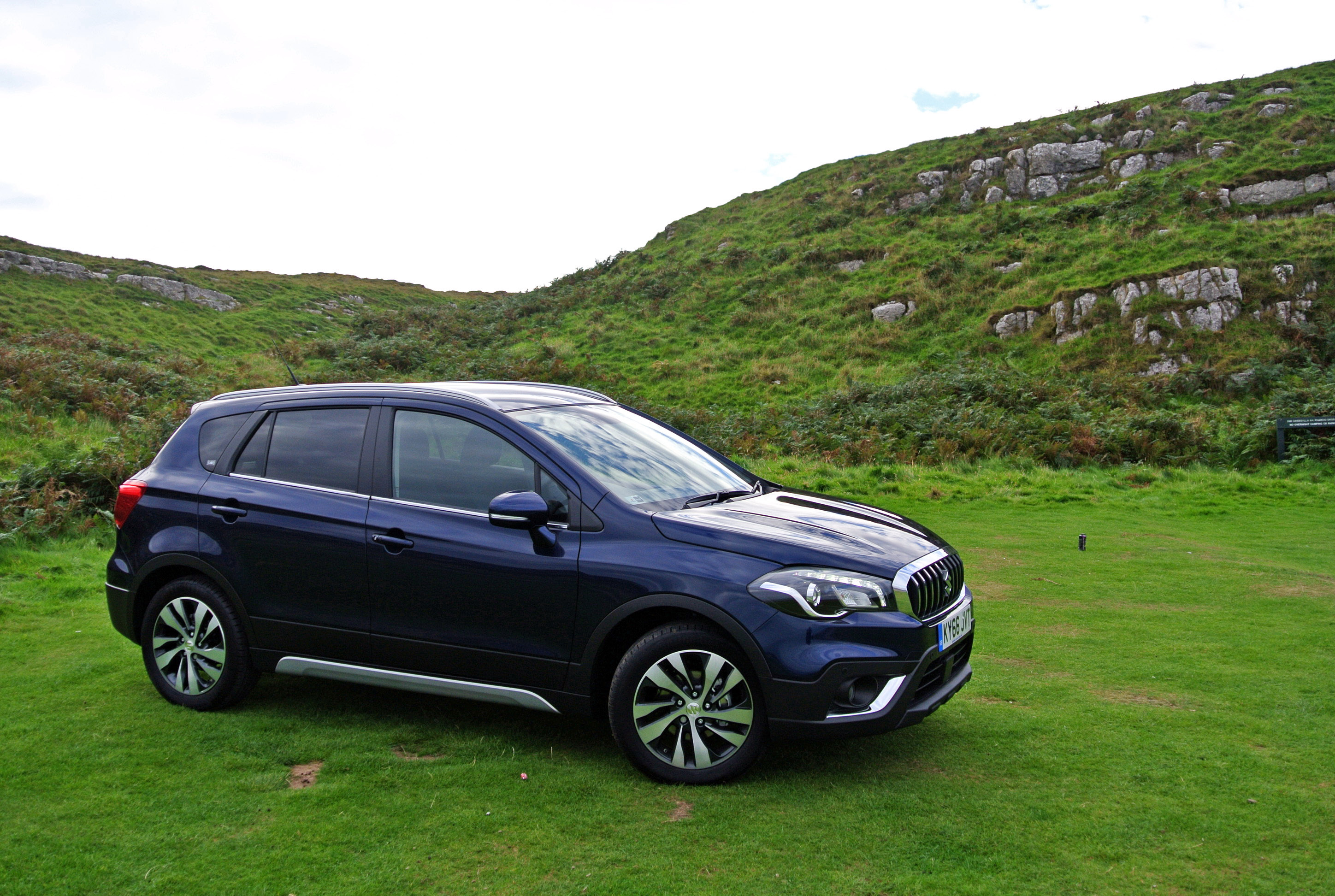 Suzuki has four main pillars that underpin all of its cars: eager performance, superior suspension design, faithful steering and unbeatable reliability. The S-Cross, even in mid-life refreshed form, does not disappoint. It feels as tough and resilient as any Suzuki does. Yet, it is safe, rewarding to drive and engaging at levels that are considerably higher than its pricing proposes. Perhaps Winston Churchill summed up Suzuki's S-Cross most appropriately, when he stated: "To improve is to change; to be perfect is to change often!".