Blending a little known Japanese brand with a significantly better German one, writes Iain Robertson, results in a cocktail that is not as tragic as it might sound, in fact, it is a most satisfying end-result.
While I am quite certain that cross-border breeding can result in some fascinating and attractive hybrids, taken on their separate merits, both Mercedes-Benz and Infiniti (which, if you were not aware, is the luxury arm of Nissan, in much the same way that Lexus is to Toyota) are respectable car marques. Using the Merc GLA version of the ubiquitous A-Class gifts the new Infiniti Q30 a 4WD system that is aimed squarely at enhancing on-road safety.
However, the most fascinating aspect of this unusual union lies in the fact that the Infiniti Q30 is built, in its entirety, in the UK, at Nissan's Sunderland plant. This makes the new model something of a future success story for Great Britain and, while the numbers are quite small at present, a growing dealer network and broader publicity activities will deliver the positive benefits of both export value and greater employment prospects at the north-east of England factory. It is a great story!
Although it might sound a bit crass to suggest that the Q30 is an A-Class 'in drag', it is not far away from the truth. In typical Teutonic form, the Merc GLA model is all square-rigged and, to some eyes, too conservative. Well, the Q30 will turn that suggestion on its head, as its curvaceous body, rather than being form over function, provides a truly stylish appearance that is organically head-and-shoulders above most of its rivals in the class. With scarcely a straight-edge anywhere, it possesses a design fluency that is rare these days.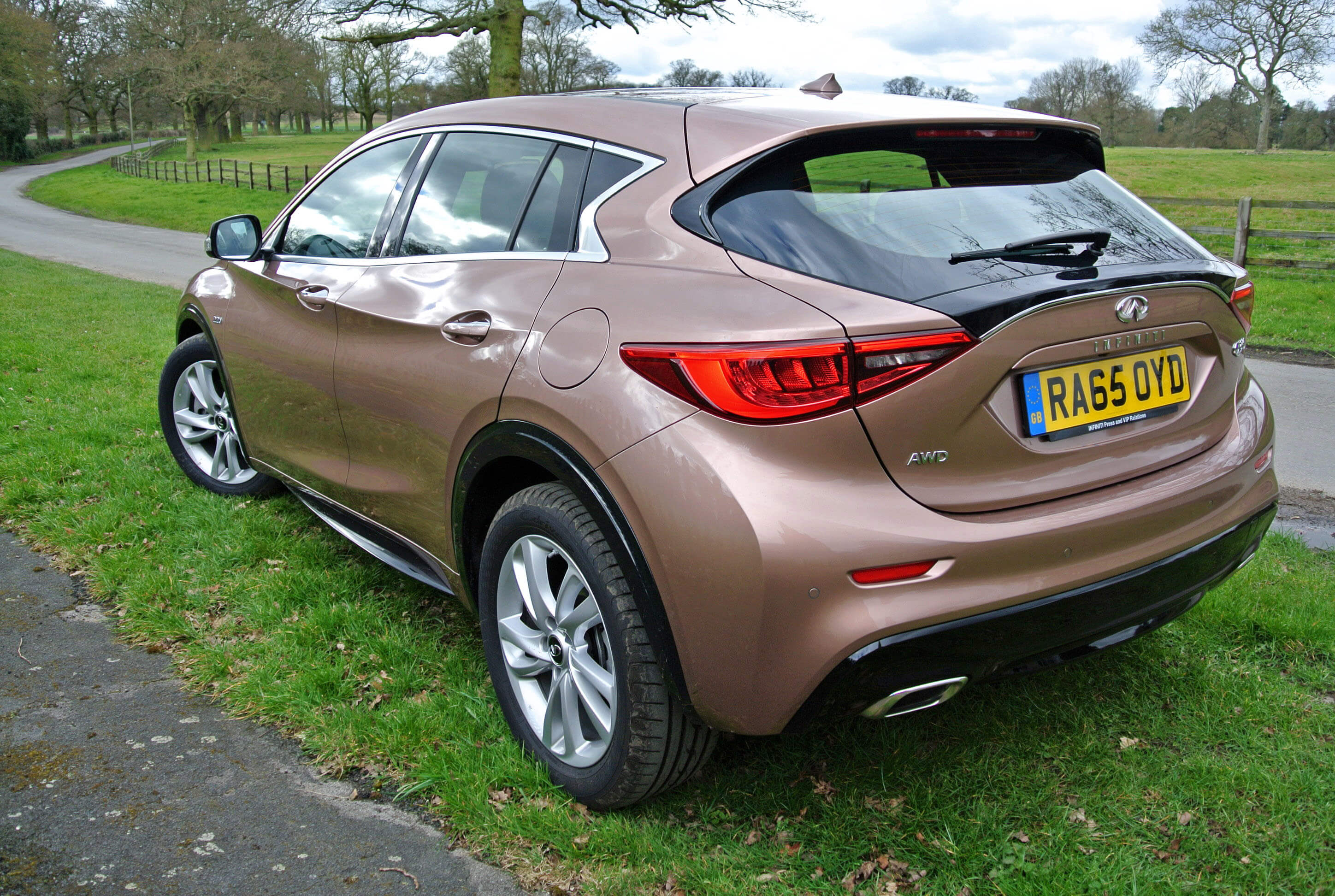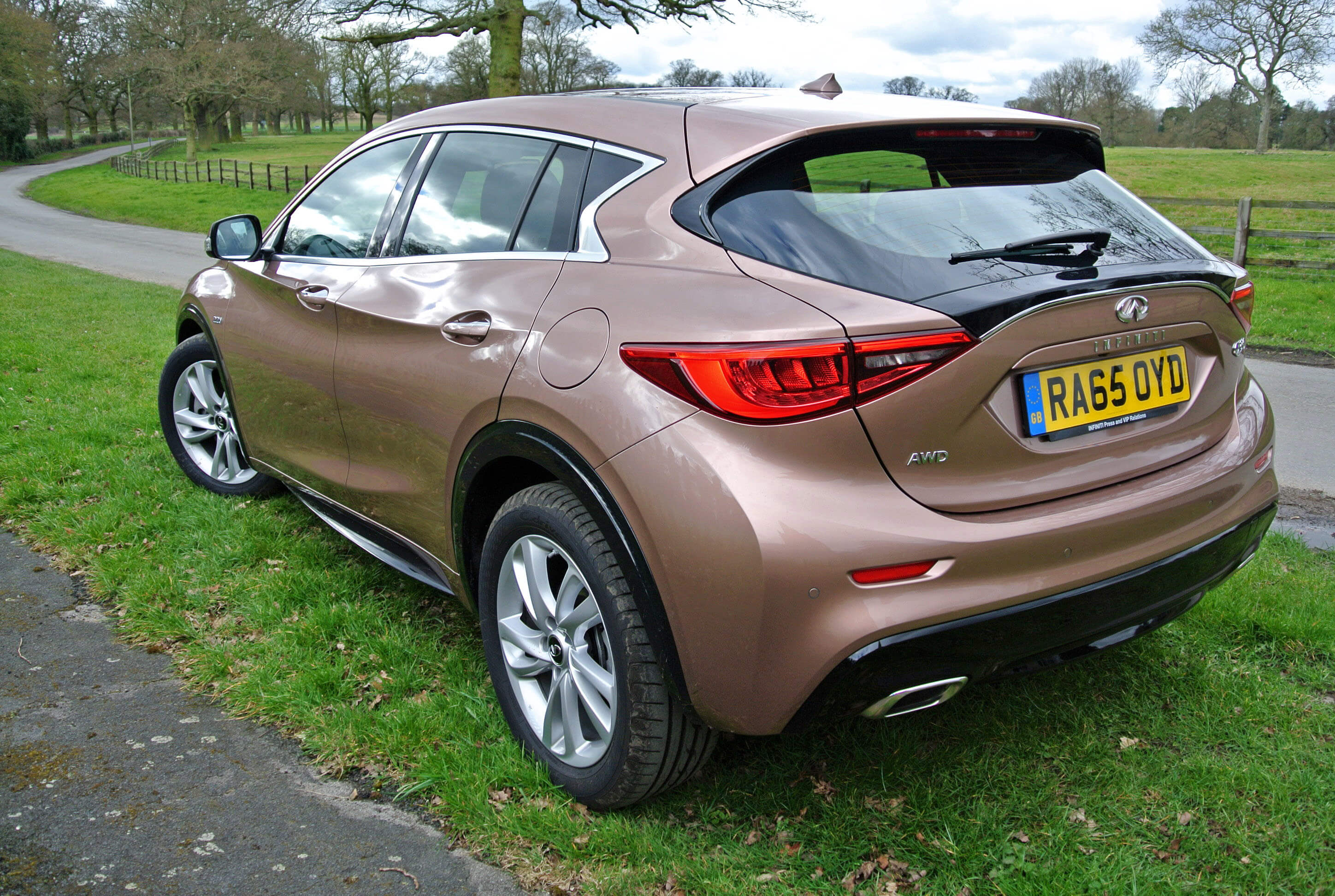 However, not that there is anything wrong in it, it is quite difficult to escape from the influence of Mercedes-Benz in this 'partnership'. It is at its most obvious from behind the steering wheel, which is almost the only Infiniti component, apart from the hide-covered dashboard and the main instrument faces. While the dial graphics can be traced back to Nissan, the heating, ventilation and air-con controls, which are eminently logical and easy to use, are lifted from Merc.
In addition, the main lighting control, located in the lower-right of the dashboard, the customary single-stalk indicators and wipers control and even the cruise-control are direct transplants. I wish that it were not the case, as I am known to be critical of the non-standardisation of column levers. They demand too much 'second thinking' to avoid indicating, rather than washing the windscreen, which I regard as anti-safety and Merc is one of the worst offenders. If there are grounds for Infiniti to improve its Q30, this is them.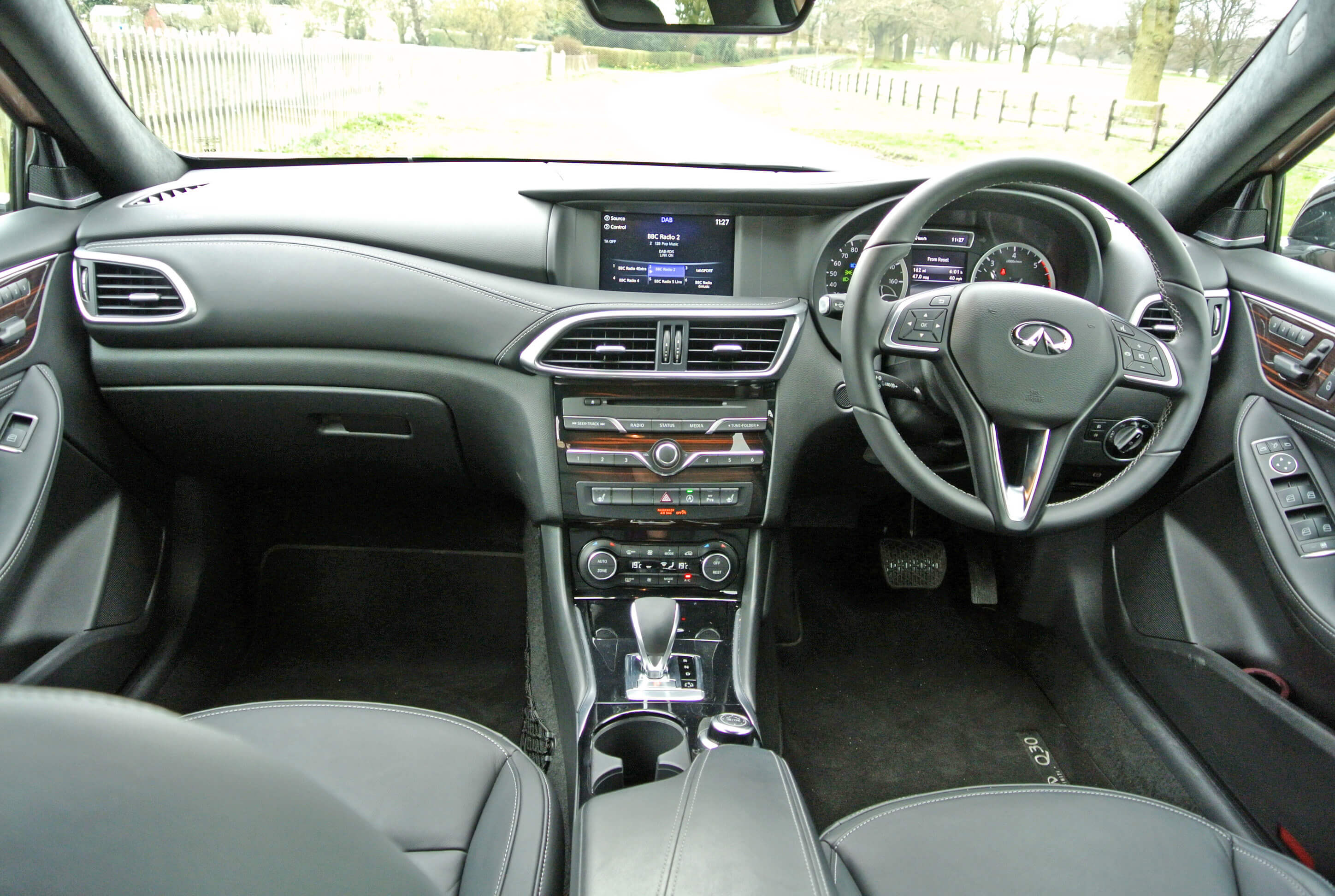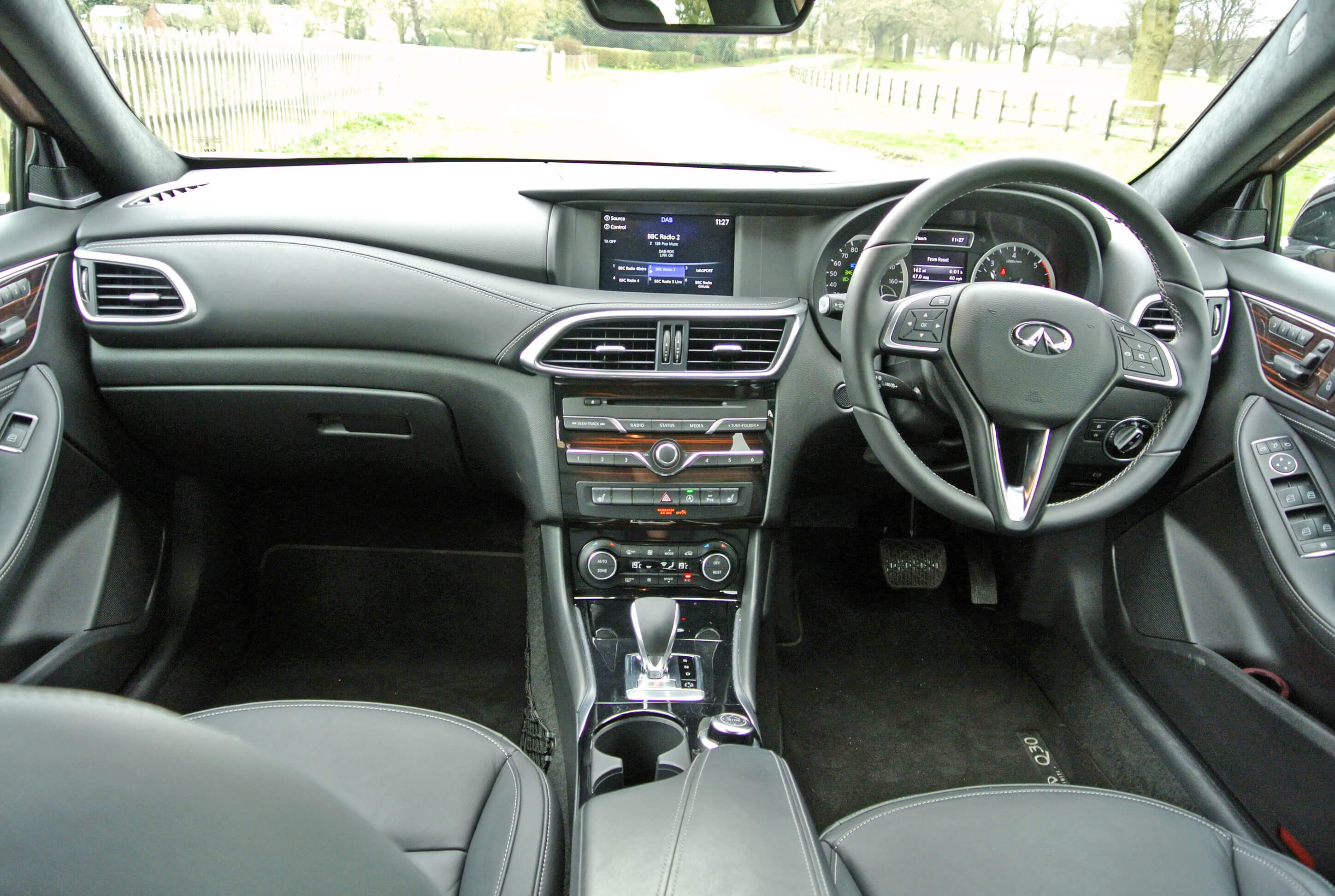 Overall, I find that the dashboard layout is not just quite elegant but is detailed beautifully and clearly in a manner that I have not experienced for some years in a new car. The 'wood trim' is not unlike most 'photo-etched' Teutonic representations but it works well in this installation, matched by a 'piano-black' gearlever surround and nicely-stitched and padded leather on almost all working surfaces.
It is below the bonnet that the German accent can be heard resounding most emphatically. The 2,143cc, four-cylinder turbo-diesel engine is identical to that of the GLA250, developing an identical 187bhp and the same 258lbs ft of pulling power (torque), between 1400-3400rpm. It is a solid piece of engineering and powers several Mercedes-Benz models most successfully. Refined and punchy in its delivery, it is a tremendous unit for the Q30.
However, it is mated to the same Merc 'twin-clutch', seven-speed, automated manual transmission. It can programmed through three settings and actuated via the stubby lever in the centre console, or using the customary shift-paddles behind the steering wheel cross-spokes. Regardless, it works effortlessly, changing ratios speedily and without jerking on either up, or down, shifts. However, it is worth highlighting that it is automatED and not automatIC, so there are some minor limitations to its usage of which potential owners need to be made aware. To avoid the issues that VW Group has endured with its similar DSG set-up, it is always advisable to limit full-throttle applications in first gear, as the bottom-end torque of the engine can wreak untold damage to the transmission's inner workings. Even with countless sensors and safeguards, the laws of physics can be difficult to overcome.
Although I fully expected the unit to make its vocal presence felt, especially under full-throttle applications, no extraneous noise is experienced within the cabin. In fact, the sound-deadening employed by Infiniti is of such a high quality that the Q30 qualifies as one of the most refined compact hatches currently on sale. In fact, it is an aspect of engineering carried out by the company's (Nissan, near Milton Keynes) Cranfield Technology Centre that also encompasses other aspects of the British designed and deftly re-engineered German platform.
The Q30's suspension is not merely free of noise transmission but, rather than providing the rock-hard, autobahn ride quality of the Merc, everything has been re-gauged to gift the car a silky-smooth and ultra-compliant ride and handling balance that is somewhat better suited to our more challenging roads. Even tackling my usual Lincolnshire 50-miles test route, which includes a real 'chassis-twister' of a road across fenland, the car's behaviour was predictable and comfortable, matched by well-weighted steering that aids precision and accuracy.
Far from being a lightweight, the Q30 tips the scales at a chunky 1,622kgs, which is not bad for a luxurious model and a good base for a tow-car, affording it a maximum braked trailer weight of 1.8-tonnes. Yet, the weight distribution (63% front; 37% rear) does create on-the-limit understeer, not helped by the 4WD, although it also has the effect of balancing the car's attitude at lower speeds. Grip levels are superb. It is more than obvious to me that the British translation service creates a necessary bridge that all too readily might have been ignored elsewhere. It continues in the rubber sealing of the doors, which allow no in-cabin air disturbance of any sort, at any speed. The end result is outstanding.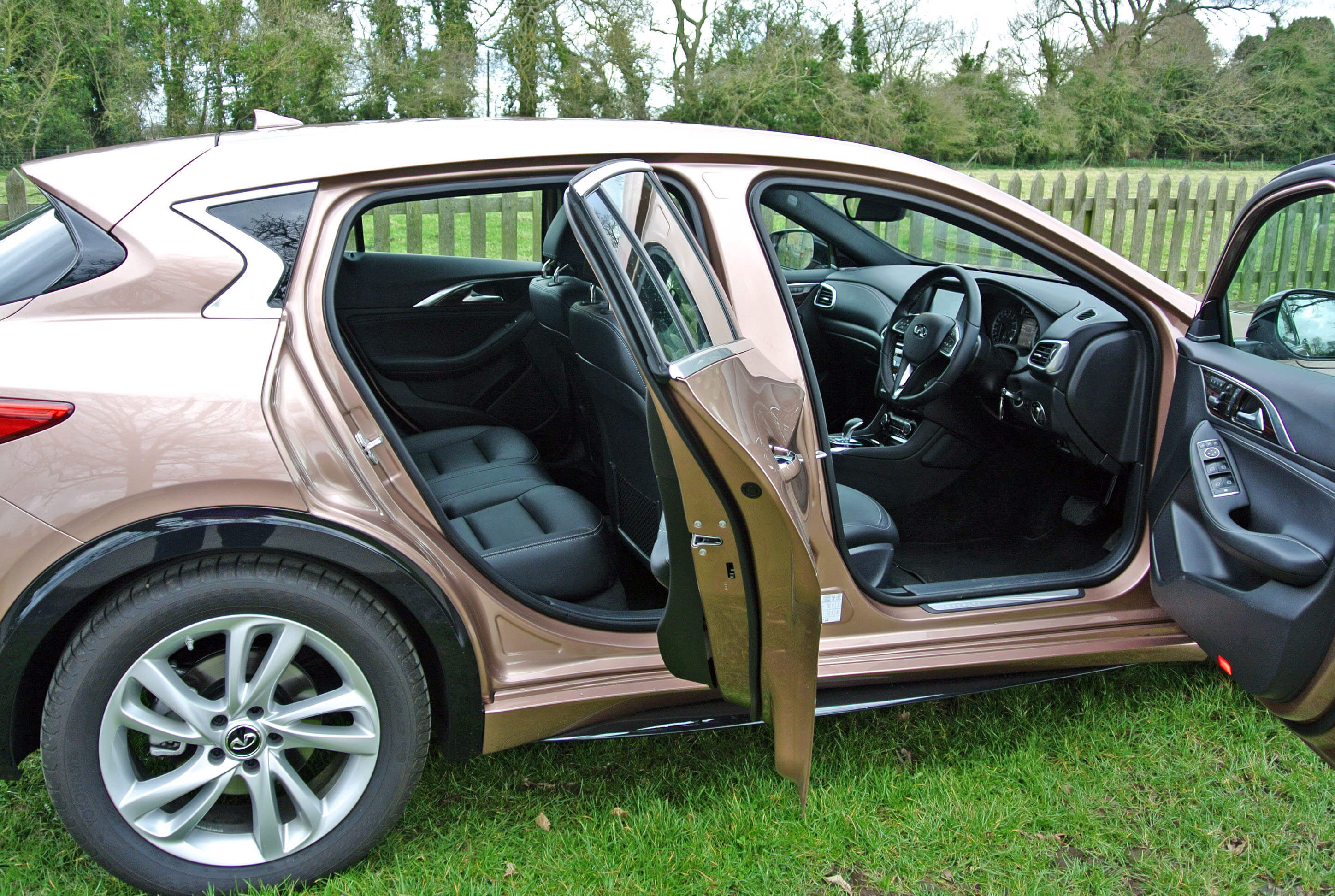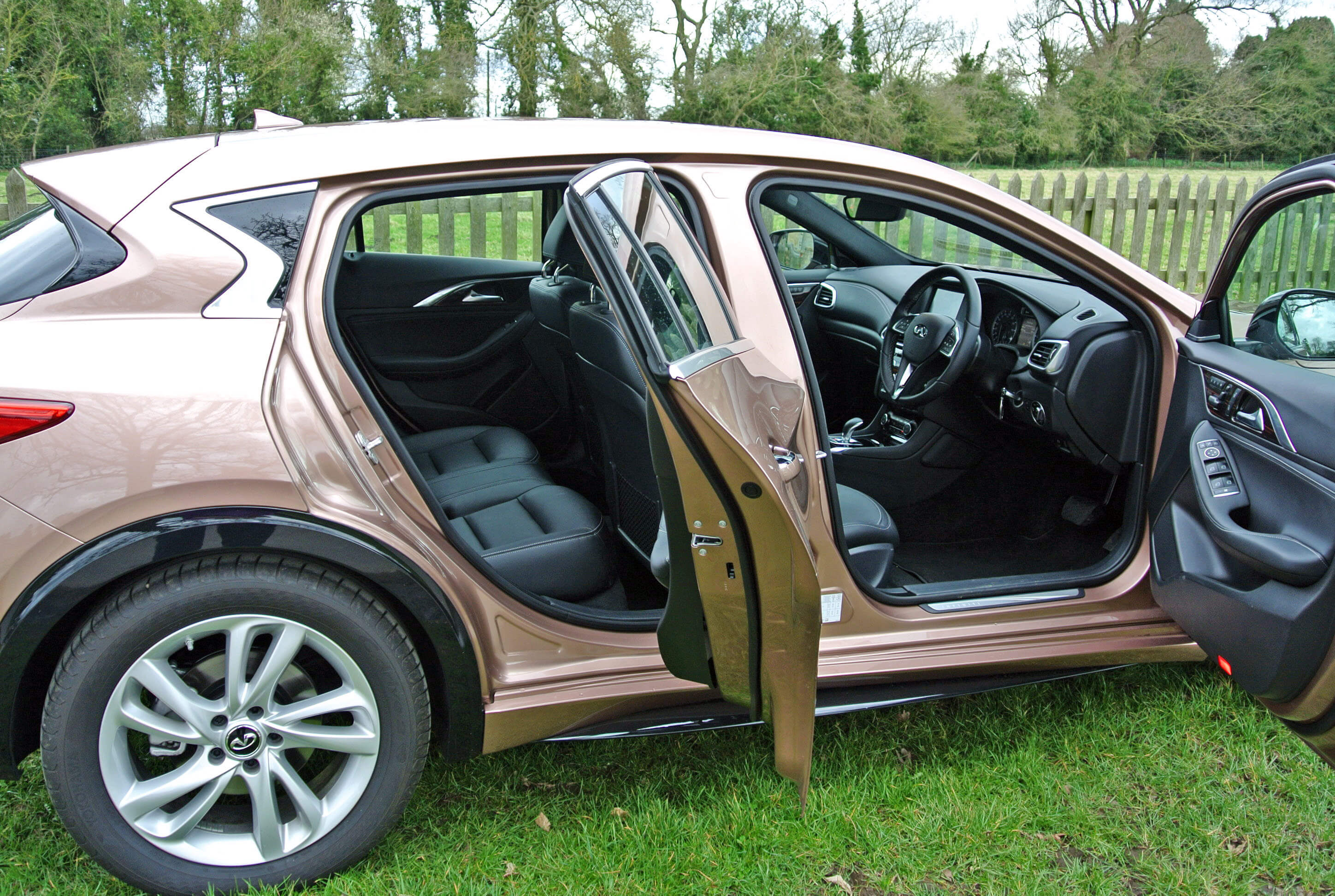 Of course, the performance cannot be ignored either. Despite the weight, the on-paper figures are good, the Q30 despatching the 0-60mph sprint in a zesty 8.2 seconds, before reaching a top speed of around 135mph. Yet, emitting just 127g/km of CO2, equates to a VED of zero in the first year but £110 annually thereafter, figures that are excellent for a premium-priced motorcar. Although its Official Combined fuel economy is given as 57.6mpg, I found that normal motoring returns around 48.3mpg, which is still a most respectable figure and one with which most 'owners' will be eminently satisfied.
Devoid of a conventional spare wheel, although the well is full of bass response speaker for the optional BOSE stereo, some tools and an inflation kit, the boot area, while not overly generous, is certainly spacious enough for most private, or business needs. Its capacity is around 430-litres, which can be augmented by flipping the 60:40-split rear seats, or using a 'ski-slot', which is built into the rear armrest. The door pockets are useful, although it is sad not to find them felt-lined to reduce rattling of items placed in them. A centre box (below the armrest) has space for some belongings, while there are two drink-holders and another box ahead of the gear-selector (where an ashtray might have been positioned a few years ago), which also hides the USB sockets and might provide a useful place to park one's mobile-phone.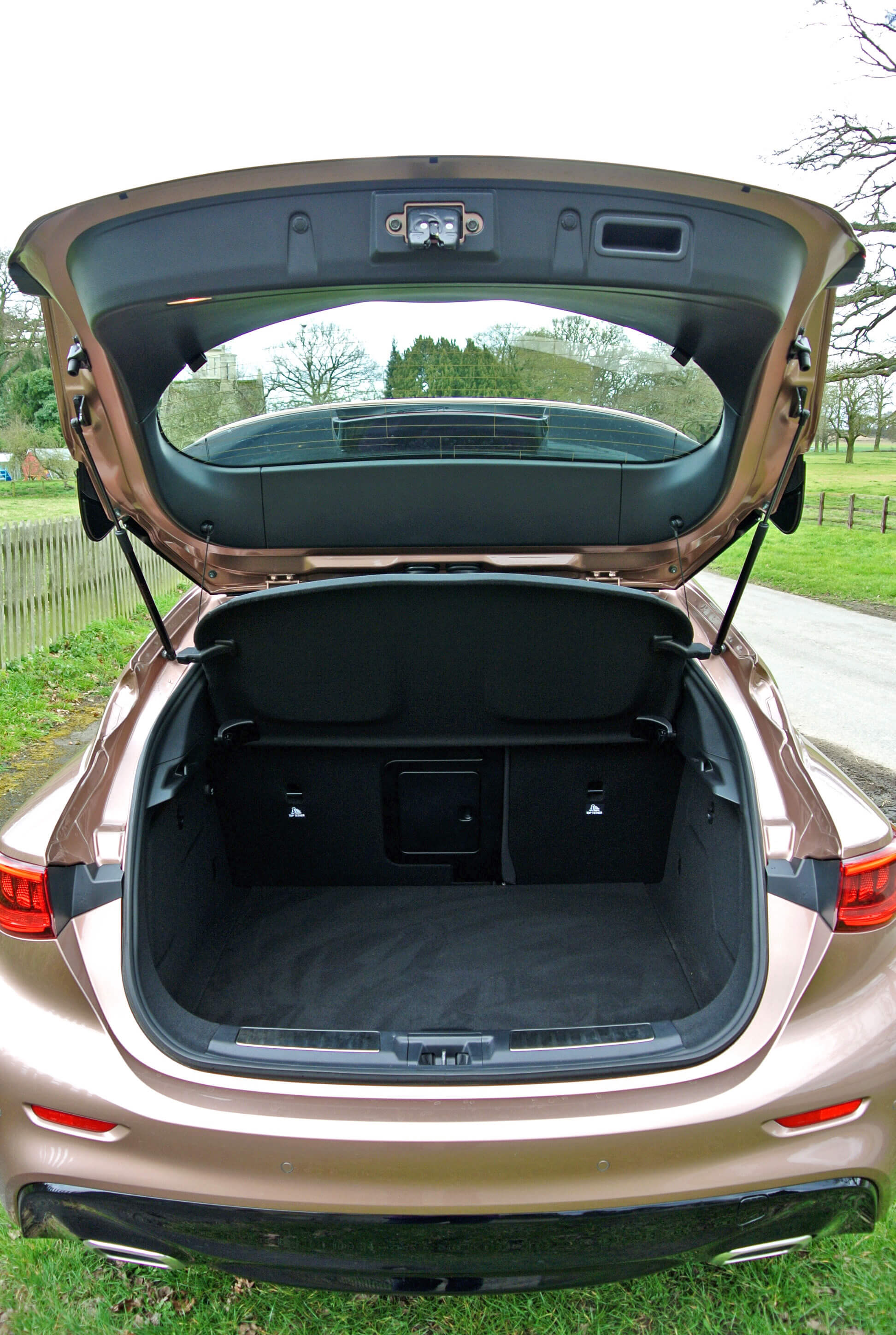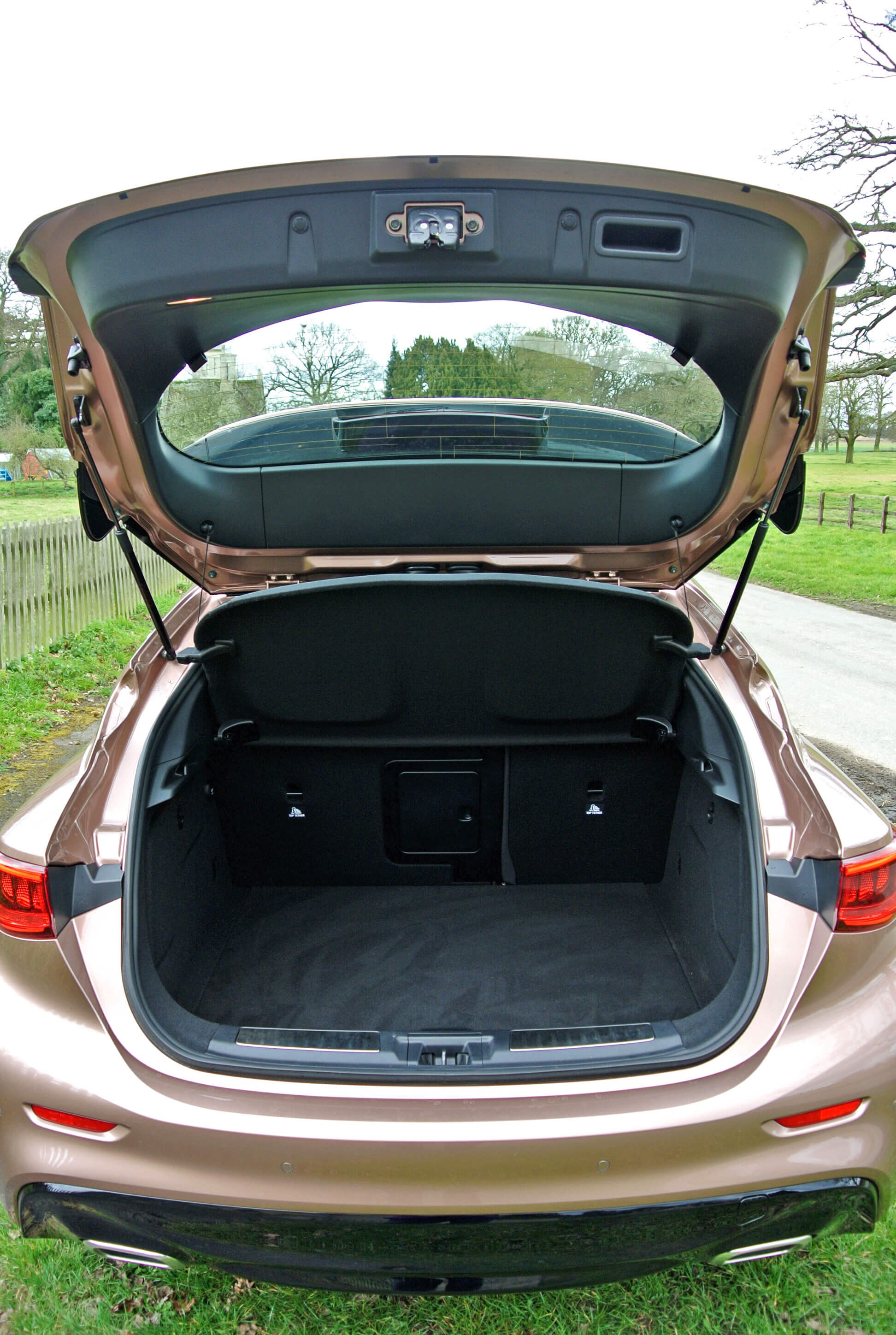 The very concept of combining German underpinnings with Japanese design might have been an alien practice a few years ago but Infiniti proves emphatically that its Q30 is the result of some very judicious (and British) re-engineering. While I have a few very minor 'niggles' with the car, I do find it to be highly impressive and the fact that it is built in Great Britain is much to Nissan's credit. This particular model weighs in at £31,180, however, with the BOSE hi-fi system, touch-screen sat-nav and the Liquid Copper paint finish, it is invoiced at £33,900 in Premium Tech trim. Yet, the model range starts at a very affordable £20,550 (1.6-litre turbo-petrol, front-wheel-drive) in SE trim, so ordering a Q30 could make a most viable business proposition, as it costs little more than an up-spec Ford Focus.