Admitting that he 'needs to be careful' in describing the core attributes of the Vauxhall Adam, Iain Robertson allows his emotions to overtake his more analytical self, following a drive of the latest 'Energised' 1.2-litre version.
It having been almost three years since first experiencing Vauxhall's enchanting Adam city car, sampling the most recent variant proved to be an uplifting experience, somewhat beyond expectations. While its name still sticks slightly in my craw, as it does limit its purchase to a predominantly single-female market (known as Opel Adam in Europe, which happens to be the founder's name – Adam Opel – creates less of an issue), in the UK, I am able to clear my throat and wax lyrically.
Vauxhall lucked onto a tremendously viable niche, with the Adam. In case you had not noticed, the 'poverty-class' mode of transport is popularised these days by a plethora of personalisation aspects, which not only whack up the desirability of the various models, from Mini and Fiat 500, to the VW Group Up! Range, but also whisk up the price tags.
We live in an era of 'customisation'. It is not like the late-1960s, when Croydon-based Link House Publishing was able to launch 'Custom Car' magazine on the back of the hippy scene, when music, fashion and colour were more lysergically-connected. Intriguingly, a car modified at that time, while it might be worth its weight in mint condition today, was frowned-upon and undervalued severely by the motor trade then.
However, 'personalisation' is very much in vogue today. It enhances values. It grants car designers and stylists a marketing-appreciated raft of weirdness that links red door mirror housings to grey metallic bodywork and introduces the designer's much-beloved fat alloys and rubber-band tyres to beefed-up suspenders and wackier interior treatments. Besides, it is fun! Face it, the Germans have led the consumer by the ring in his/her nose for the past few years, training us into believing that a £26k BMW 5-Series is great value but enticing us into a tick-box-mentality that guarantees the customer an invoice bottom-line (for largely the same car) of almost twice-the-price.
While exercising a 'caveat emptor' attitude, when I specified my personal Skoda Citigo, the Czech version of the Slovakian-built VW Group supermini, no single options box was left unticked. It has everything, from privacy glass and cruise control, to heated seats, sat-nav and DAB radio. Yet, I am not alone in up-speccing.
On the other hand, while a similar check-box routine exists for the Adam customer, Vauxhall helps the game along by adding various, ready-made automotive cocktails, of which 'Energised' is but the most recent. In currying favour, it introduces the customer to an acceptable base-line, from which to build their own version, or not. An all-pervading aspect of the 'buying proposition' is that Vauxhall has used Adam as its means to a monetary end.
The fact is, far fewer consumers are drawn to Adam for its list price. It is almost an irrelevance, as the per-month PCP rate is the financial motivator and well over 80% of all such cars in this class are acquired under the auspices of a rental contract, where whacking-up the specification amounts to a few extra Pounds every month, aided by a manufacturer-underwritten deal that is precisely what the market wants and needs, to avoid having to dig deeply at collection time, into funds that are simply unavailable.
To me, the Adam is a cutesy wee machine that is three-door practical for most needs (although mums might prefer a five-door for carrycot/kiddy access). Its boot is a bit of a joke but, then, the back seats fold easily enough to provide plenty of space for that inevitable shopping trip intended to warp the plastic in the wallet. Its appealing visage is about as warming as that of a three years old Labrador…mature enough not to be peeing and puking on the lounge carpet but young enough to remain bouncy, fickle and fun. Its pert tail, admittedly more Manx cat-like than spoiler-bedecked and wag-happy, demonstrates that small need not equate to unstylishly practical.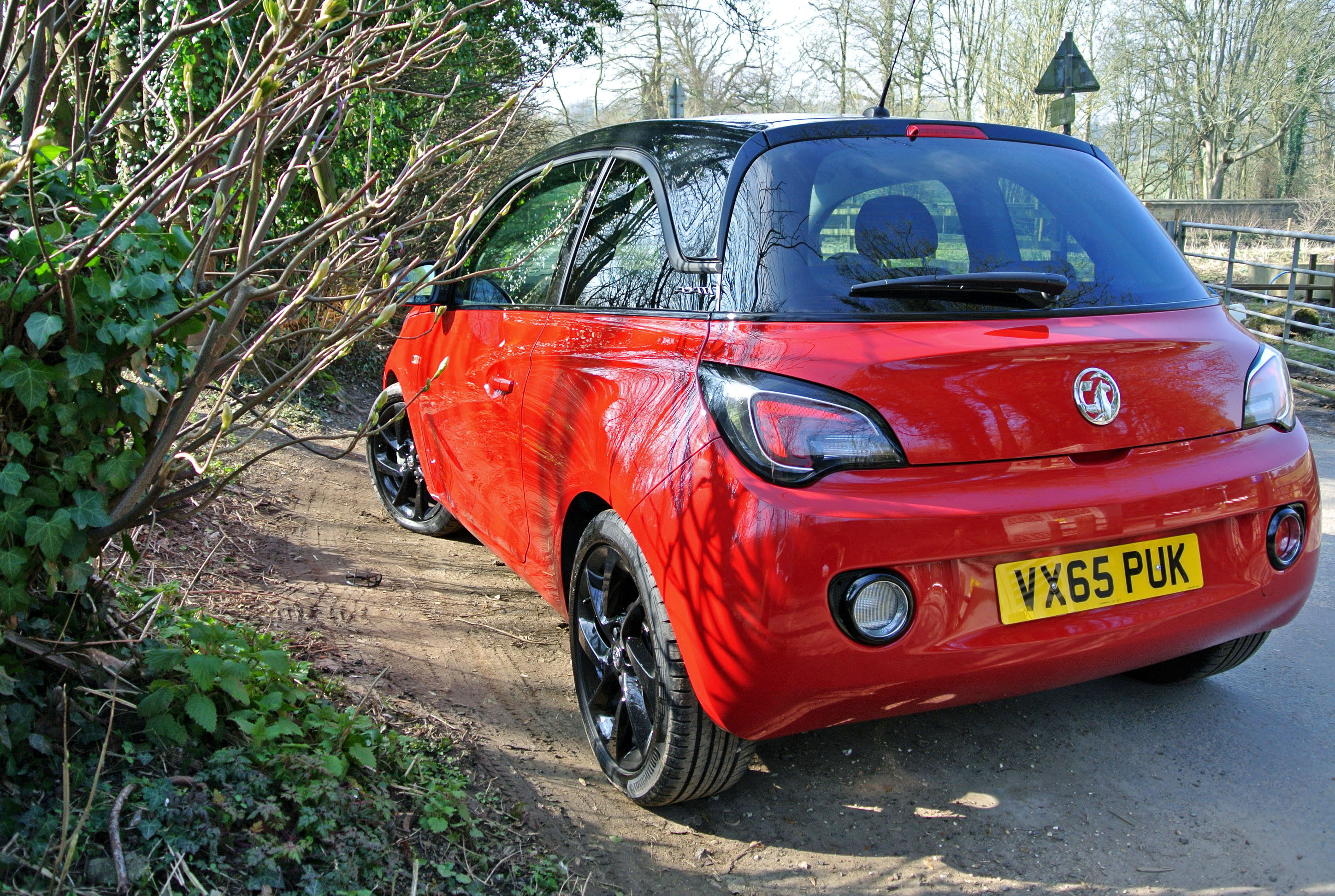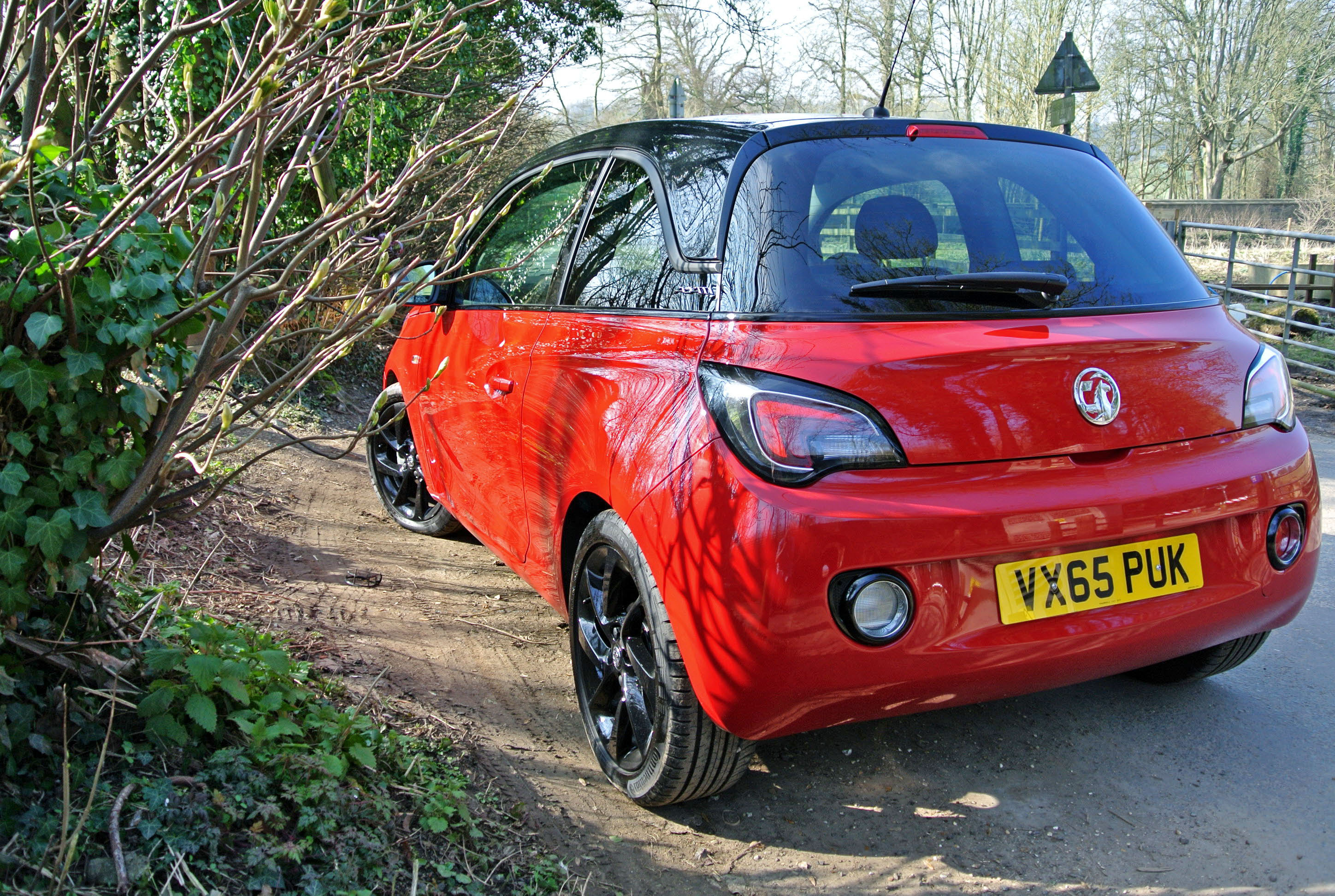 Apart from its obvious girlie intentions, I would have one, for its sheer attention to detail and copious pleasing features. The only problem is, I might have to relocate to 'gay-grand-central' Brighton, on the Sussex coast, to avoid the obvious jibes that I would receive in the more-manly East Midlands. Having said that, the red and black of the test car is a most satisfying combo for a 'men-only' consideration and it is only the 'wimpy' 1.2-litre four-pot that has the potential to upset the apple-cart.
However, before I delve into the engineering intent of the £13,705 Adam Energised, let me restate something that impressed me more than a couple of years ago. Quite a few of the latest crop of city-cars have undergone a fascinating transformation from insubstantial to meaty, on their ways to the new car scene. Products of this ilk a few years ago suffered from 'small car feel', which meant lightweight steering, poor stability and insubstantial trim quality. You only have to think back to the Nissan Micra of the mid-1980s to understand what I mean.
Sadly, the late-bloomers from South Korea continued the trend, as they developed their places in the market. Small wheels and tyres surely did not help. However, very few of the latest models have benefited from anything less than a more 'grown-up' attitude, which can present another potential negative (that I can swear has not actually afflicted my Citigo) of being over-driven by blokes. The Adam feels as substantial as a chunk of neatly fashioned granite, which is a measure of most recent Vauxhall products that I once used to describe as being 'wooden', in the cruellest sense of that word.
The Energised model has a truly superb 'feel' on road, granting the driver a genuinely planted stance, allied to a creamy suspension fluency and ride quality that ought to be the preserve of cars several classes higher than it is. Shortish wheelbases do not normally allow such high levels of compliancy and it transmutes into a relaxed, almost loping gait that is uncanny in a sub-compact. All the more to insist on being overdriven by this lummox…me!
For a start, I can slip my two-metres of height comfortably behind the attractive, hide-wrapped tiller, after entering easily through the long driver's door. There is not much space behind my seat position, a factor about which I am selfishly contented. While all of the controls, dials and switchgear are familiar fayre to existing Vauxhall operators, I shall applaud the company for its judicious function-over-form attitude. It is an example of primary safety that I fear a growing number of carmakers are ditching too willingly in favour of formulating the archetypal USP. Yet, sunk into a red plank (on the test car) and the 'cracked ice' finish of the dashboard moulding, the main dials present both youthfully and stylishly.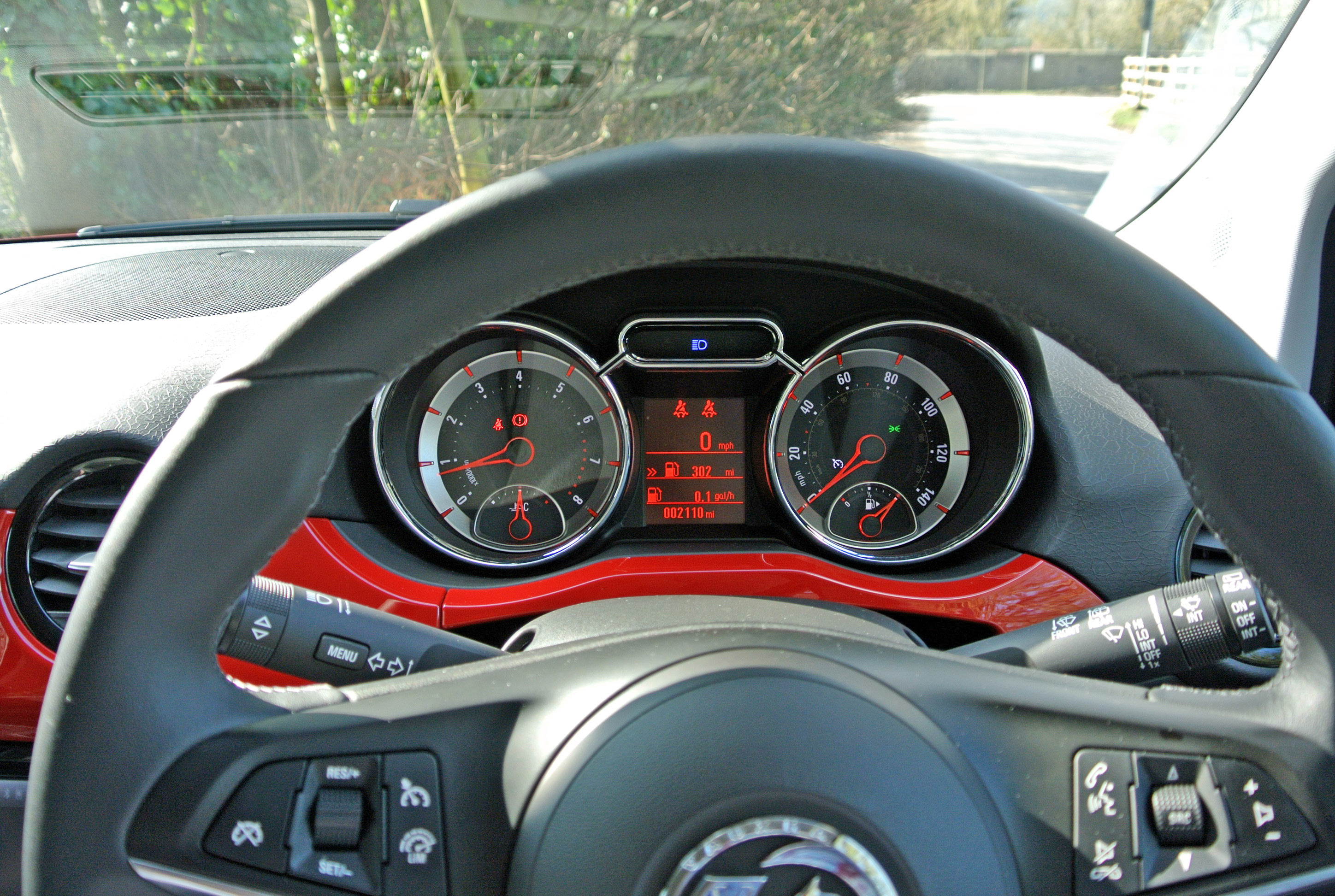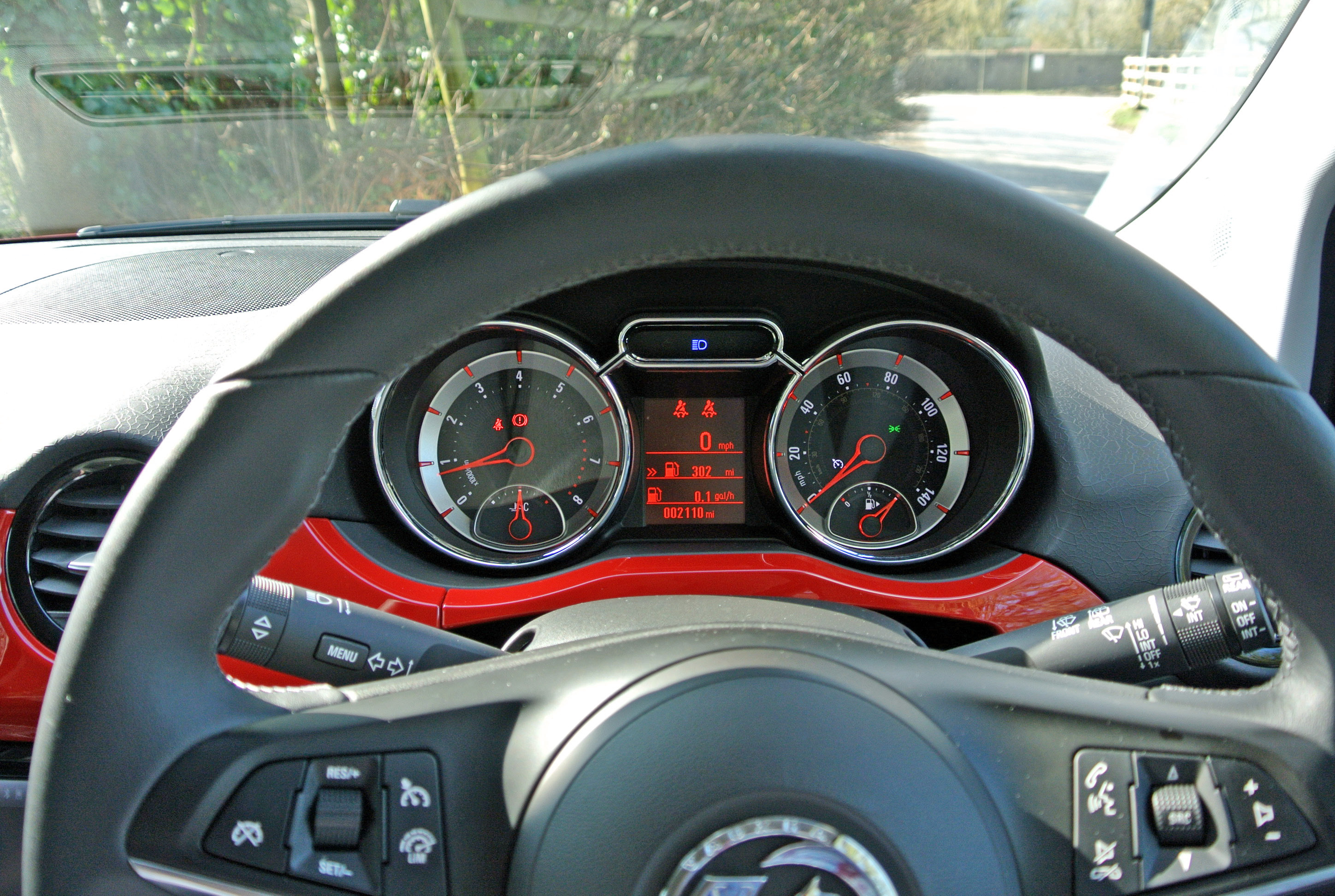 Supporting that 'grown-up' impression, the front seats are well-padded, sportingly bolstered and most comfy for those of larger acreage. The part-leather trim works well and adds a soupcon of class, being carried onto the door panels, where the body-colour continues. Hardly over-embellished with switches, the centre-stack touch-screen serves most purposes, including 'music streaming' (whatever that is) and the centre air vents ensure a decent flow-through of (if you wish it) chilled air.
Beneath the bonnet resides the 1.2-litre four cylinder engine that has propelled many a compact, or more basic, Vauxhall product of the past few years. It is still a capable unit and in this 70bhp form, while hardly providing scintillating performance, working its sweet manual gearbox results in eminently satisfying urge that is more than enough to maintain station in most traffic conditions. Its 0-60mph time of 14.6 seconds feels swifter than the on-paper figures suggest. The top speed is given as 103mph and its Official Combined fuel return is stated as 53.3mpg, which suggests that around 45-48mpg should be within the reach of most careful drivers. Unfortunately, the engine shows its 'age' with a CO2 emissions rating of 125g/km, which equates to zero-cost VED in year one, but £125 annually thereafter.
In truth, I quite like the fact that even Vauxhall is surprised at the success of the Adam model. While removing (not entirely) the personalisation aspect of the car, a pre-made cocktail is actually not a bad idea for the customer that wants to 'fix' the price of an acquisition. It is a superb little car to drive and is quite keenly priced for a limited edition.