Monstered by the arrival of vast numbers of SUVs, the sometime practical and valued remit of the MPV is dwindling, a factor that Iain Robertson finds to be most sad, even though the flawed but enjoyable Citroen Picasso still flies a flag for it.
How can you expect me, a 42 years, time-served motoring scribe, to be anything but cynical, when it comes to comprehending the annual round of automotive awards that take place? Every motoring magazine worth its salt (and some not worth a bean) carries out specious awards ceremonies, which have the effect of aggrandising their primary players and the products that they, most subjectively, believe to be 'the best at whatever'. Every bloody year!
The fact that most of them are motivated by a perfectly honourable sense of self-preservation, which comes via regular advertising support (the greater the spend, the grander the prize), apparently has nothing to do with it. Poppycock! We live in an increasingly commercial world, which has been watered down ingloriously by innumerable failed motoring writers (those that have not managed to escalate themselves to the realms of motorcar PR departments, with their inflated salaries, company-supplied transport and expense accounts) starting-up their own largely pointless websites that provide a daily sluice for little more than press releases.
How can any of their pronouncements be regarded with anything more than warranted disbelief? No. I do not operate a personal website. However, I do pontificate about motorcars and an industry that I both love and loathe in equal measure. Sometimes, those comments cut deep. Sometimes, I can feel the sense of retribution building within those car companies. However, I maintain and vent my frank and honest views via this outlet.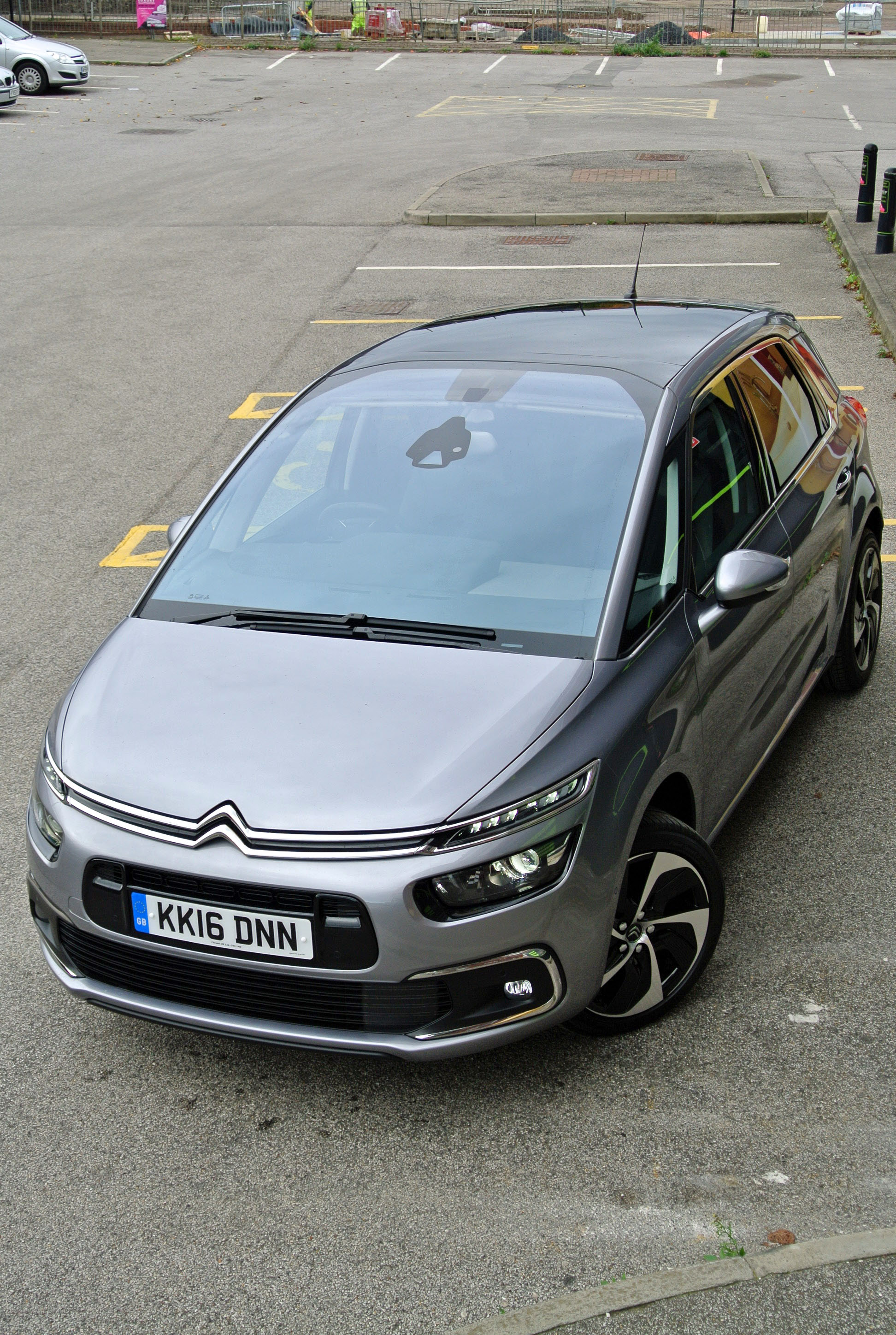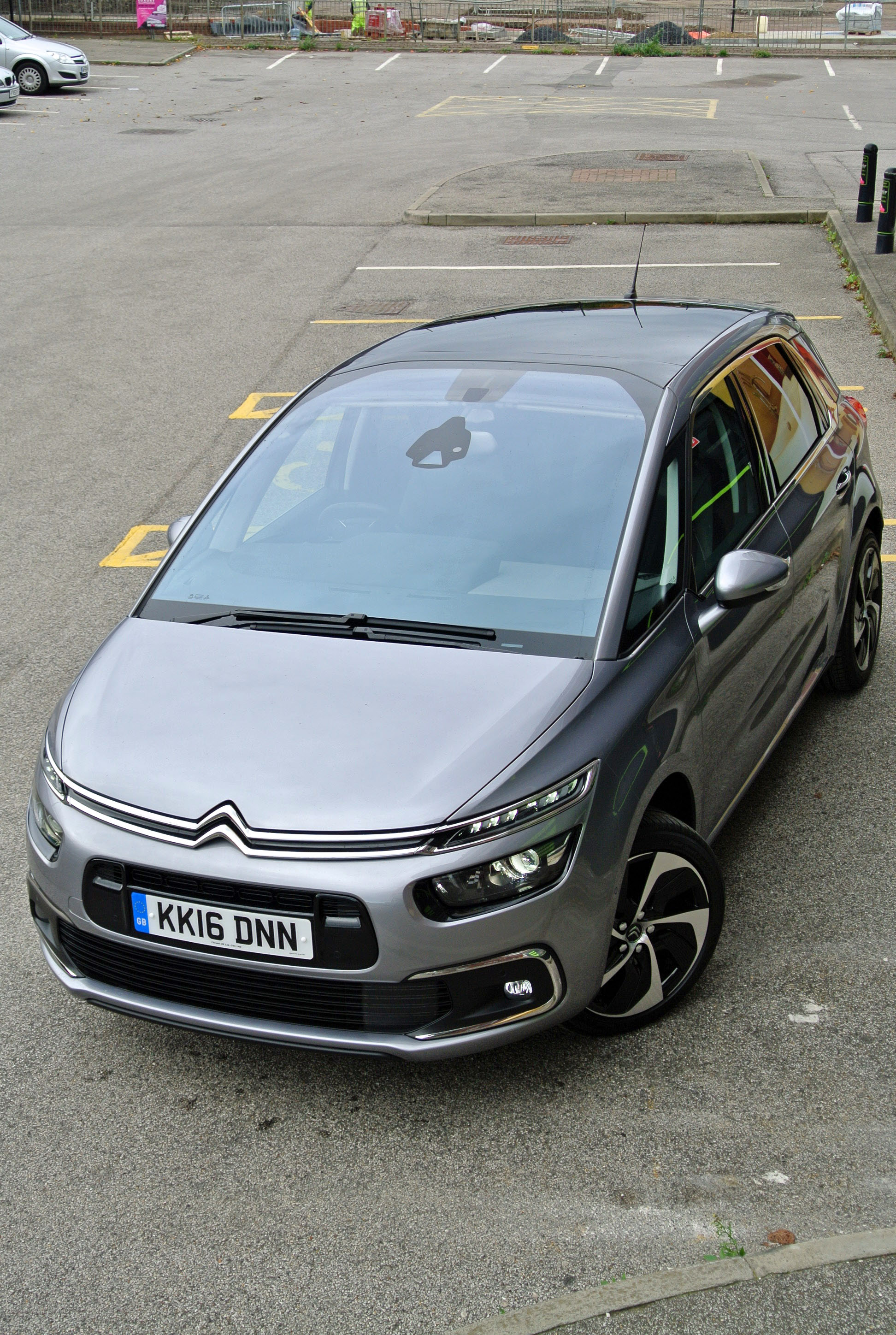 Ironically, in sampling the latest version of the Citroen Picasso, a several times multi-award-winner, which also happens to be available in a seven-seat Grand version, I became conscious of a desire to present it with an award. It is a stand-out, good looking motor vehicle, from its attractive front grille to its LED tail-lamps, the strong chrome line around the passenger compartment adding a visual strength of purpose. However, en route to my Damascene moment, there were a few aspects that served to upset my personal apple cart.
Although Citroen describes its latest 'wraparound' front seat head restraints as 'extra support', I found them to be no less than 'extra annoying', as I sought extra support from every passenger I carried in the front of the Picasso, to confirm my discomfort levels. They all agreed, regardless of different anatomical demands. The multi-adjustability of them is very good but the metal framework within them is rigid and, dependent on where the restraint is positioned, it either digs into the seat occupant's lower shoulders, or the back of the head, and is so annoying that it would be the first 'delete option' that I would make to any Picasso destined for my consumption.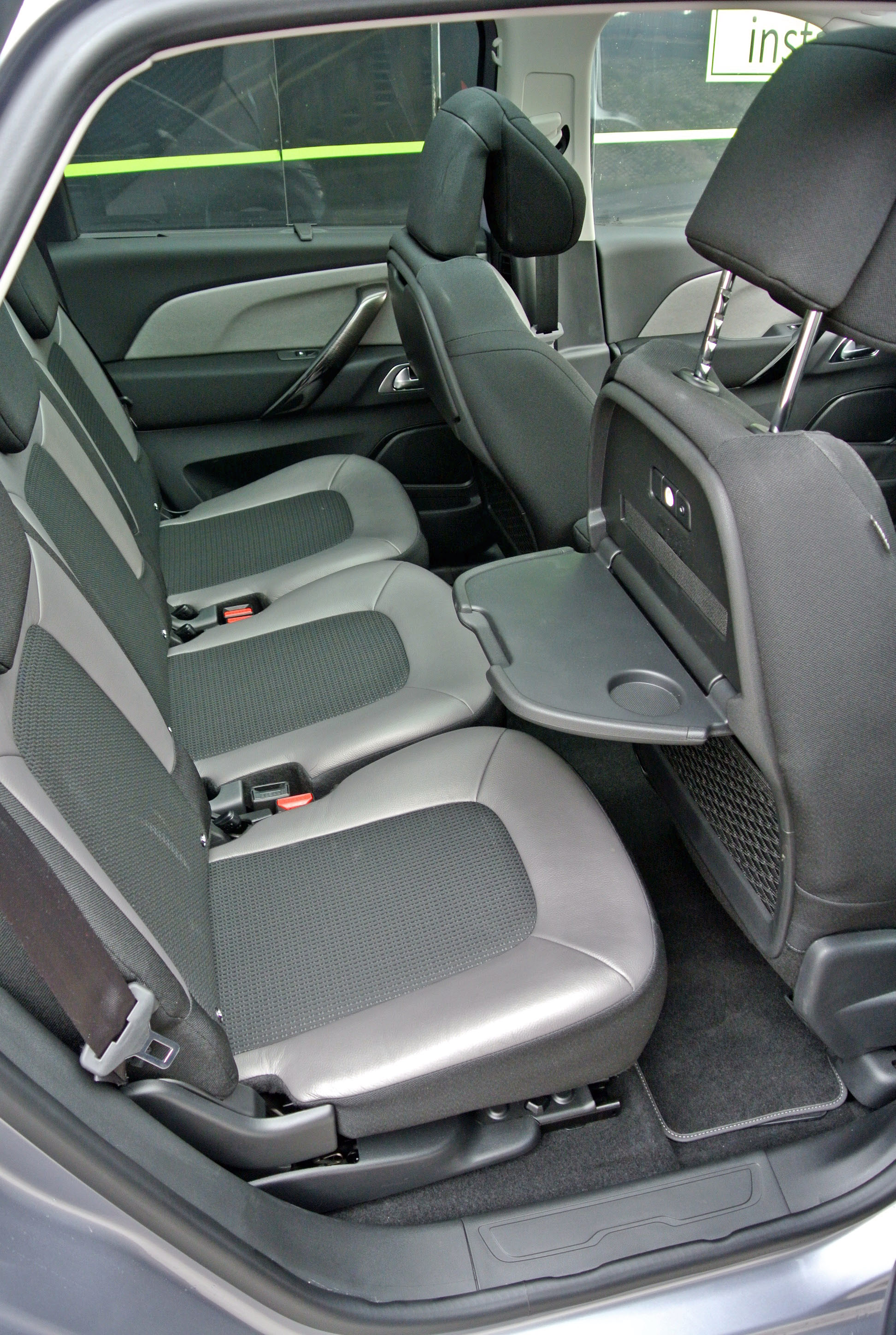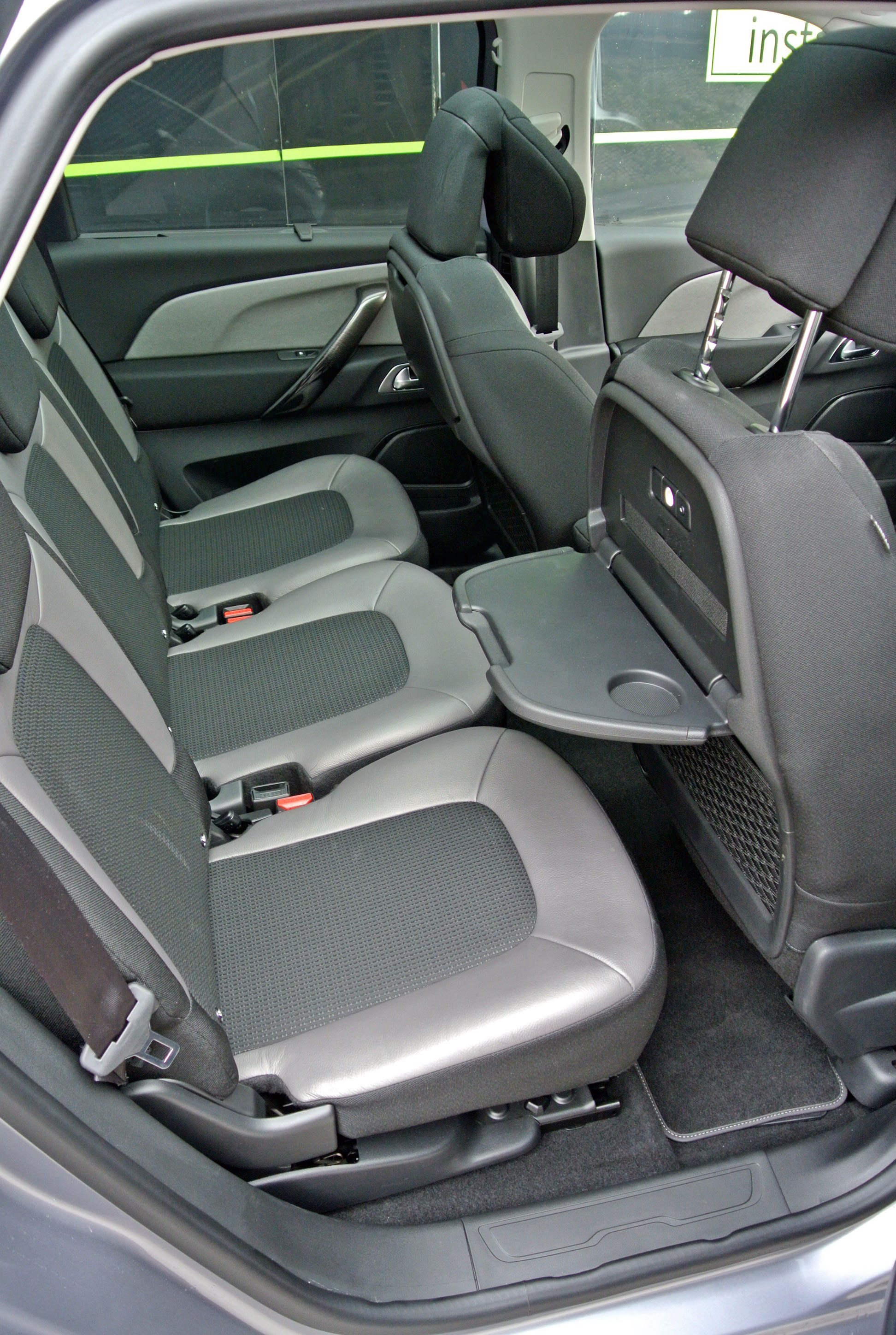 It was only the restraint's complete removal that made my subsequent drives award-worthy, as the shape and style of the asymmetrically patterned, leather and cloth seats proves to be both comfortable and very supportive. The front passenger seat incorporates another comfort function in the form of an electrically extendible leg support, which looks so much like a head restraint that it might lead to a potentially compromising 'soixante-neuf' for both front seat occupants. While I am not inferring any sexual proclivity here, I am almost certain that the 'dogging' community would find it immensely practical, despite the fact that it was not in the least bit comfortable for any of my foils requested to sample its lower leg support value.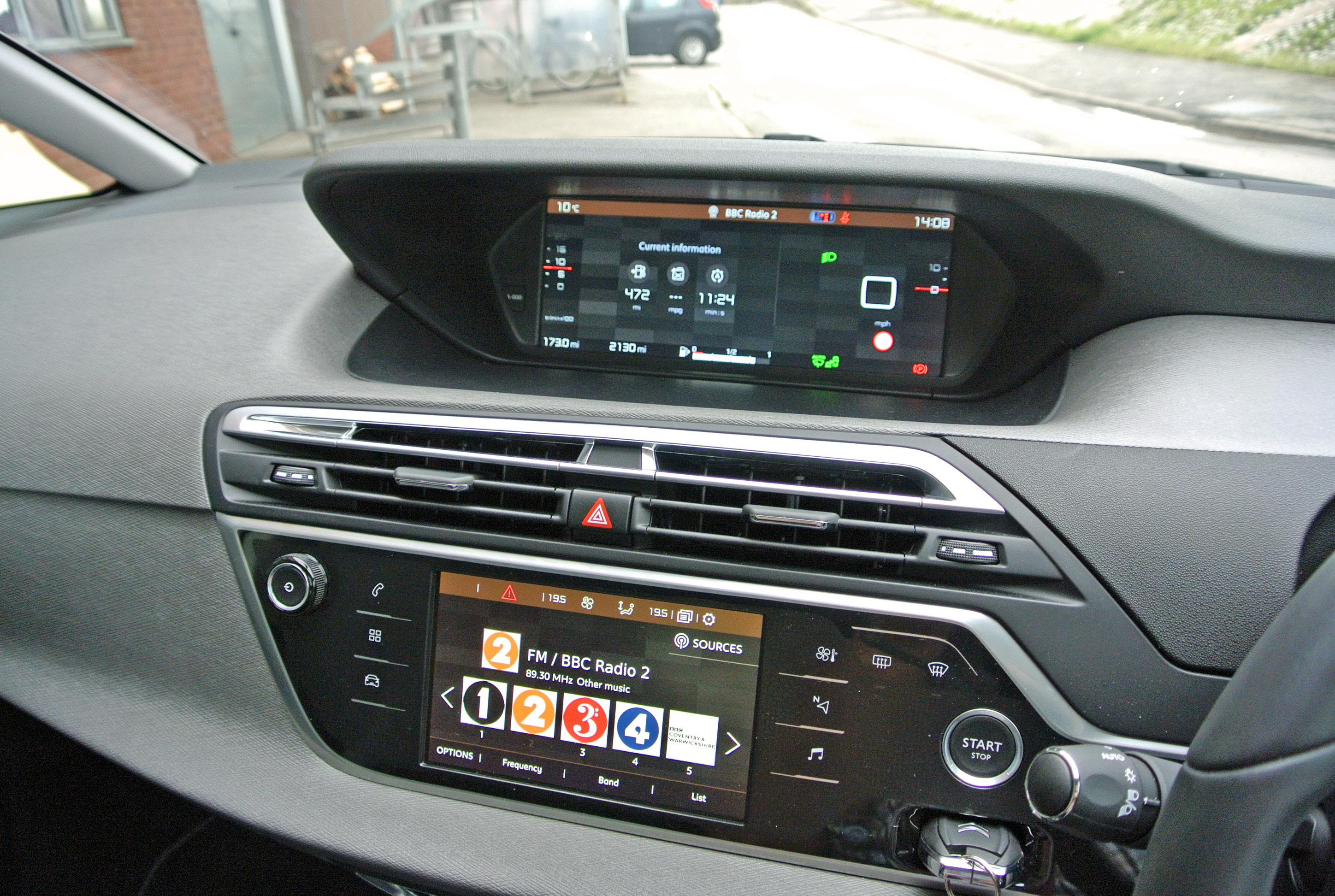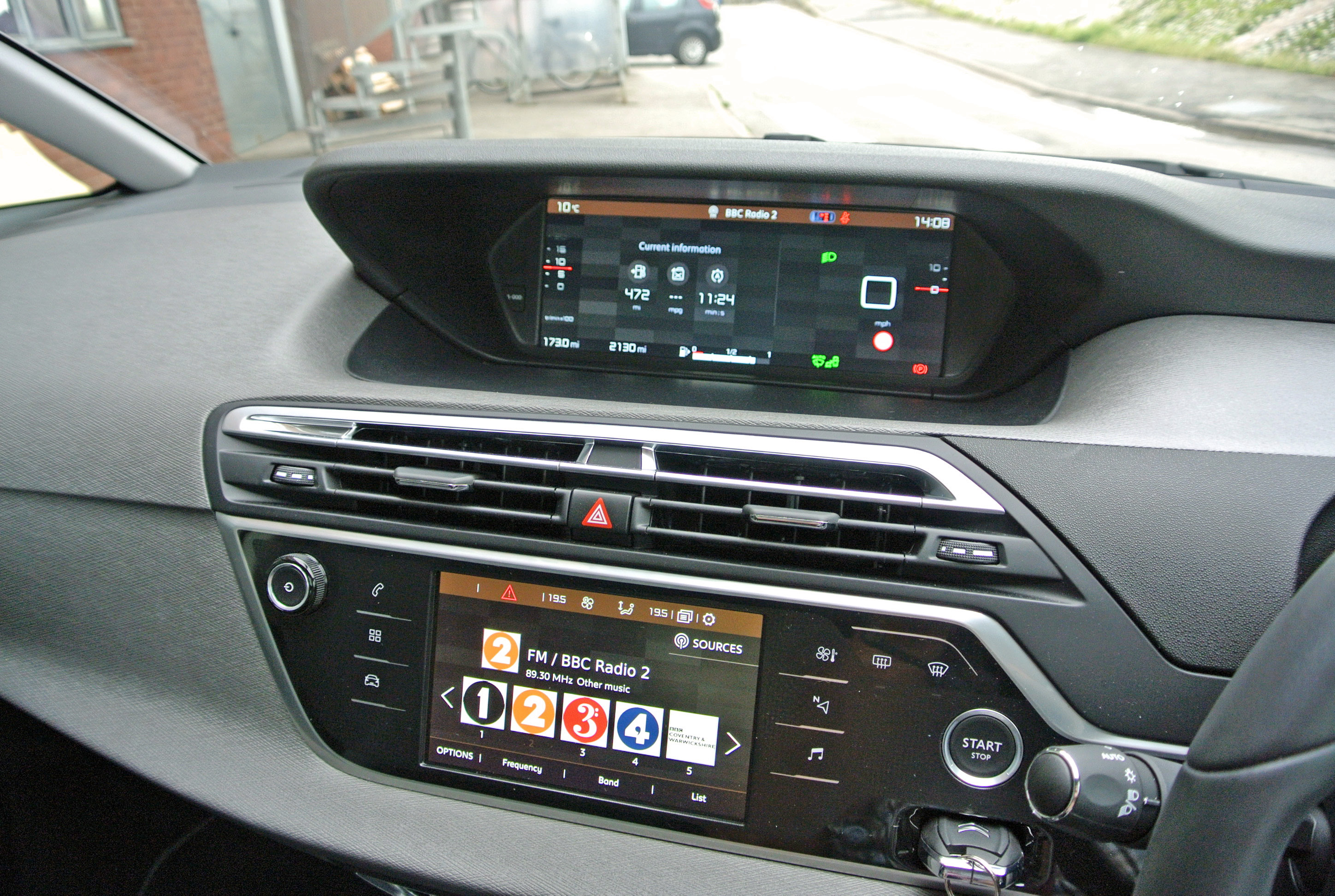 The centre of the car's dashboard consists of not one but two large screens, the lower of which is of the 'touch' and thus control variety, while the upper is simply the biggest TFT screen I have ever experienced in a car. Featuring large graphics, both are eminently legible and become quite familiar after the initial shock has passed. However, while I found it difficult to alter the format of the upper screen, although I am sure that it can be tailored to suit personal requirements, the stupid rolling barrel rev-counter and speedometer readouts (even though a digital speed reading is dominant), while harking back to past Citroen models in style terms, are desperately annoying from a visual perspective. For heaven's sake, just use regular dials, even if they are just graphic images, as they are a lot safer and less distracting.
Beneath the bonnet of this Picasso is a very strong power unit. Displacing 2.0-litres capacity, the Blue HDi four cylinder diesel engine develops a moderate 147bhp and a whopping 280lbs ft of torque. It pulls like a steam train from quite low revs and delivers warmed-over hatchback performance figures, such as a 0-60mph time of 9.4 seconds and a top speed of 130mph, which guarantees respect in the traffic lights' grand prix, even though it might be quite unseemly in a tall people-mover.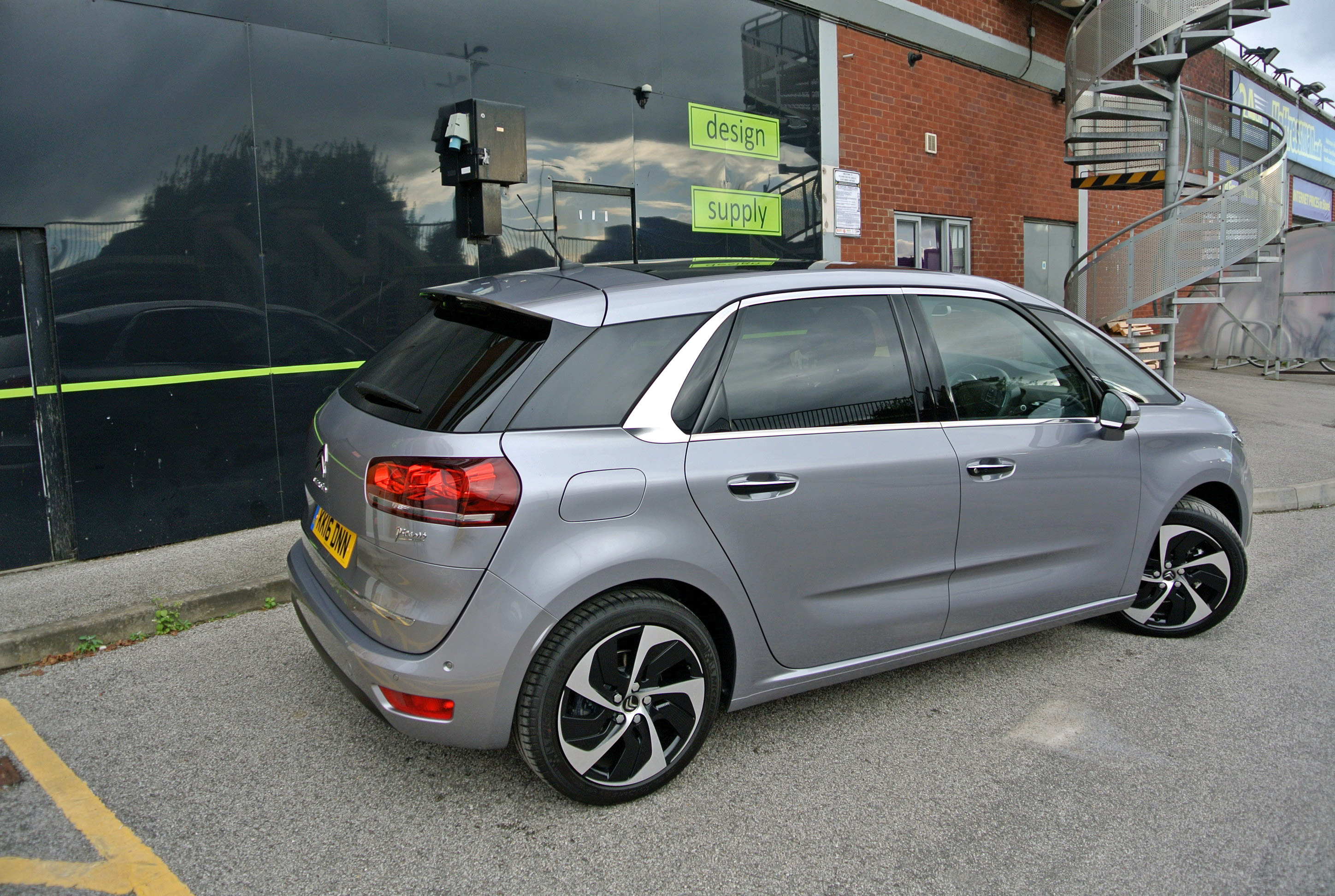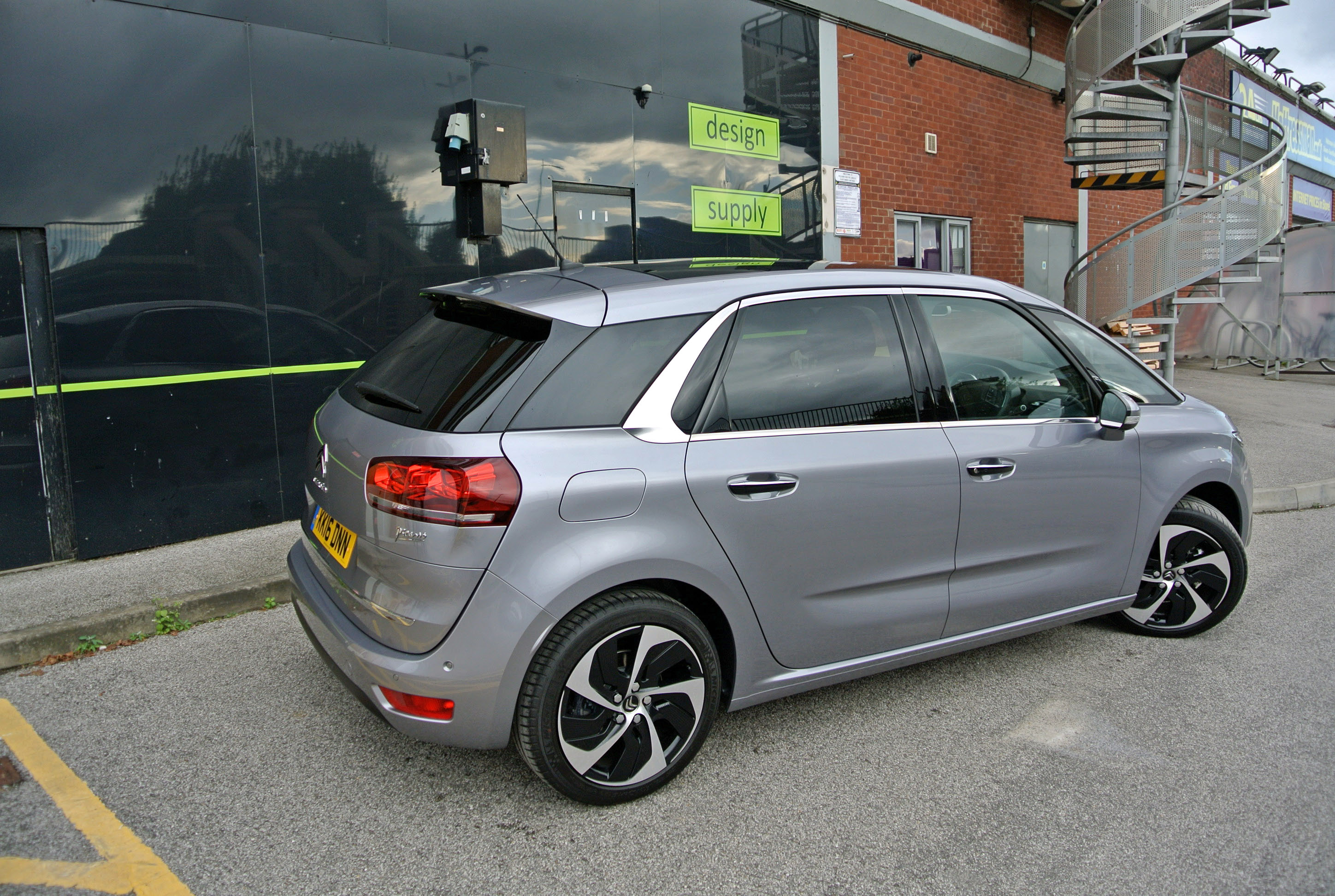 Yet, it is also a techno-fest of eco-competence, emitting a mere 110g/km (Band 8 for VED; an annual fee of just £20) and giving a reported 67.3mpg on the Official Combined fuel cycle, aided by stop-start technology. The actual figure I attained was a still immensely respectable 56.5mpg, which will not be disappointing to any family-user. Motivated by a six-speed manual gearbox that slices up and down the ratios with oleaginous fluency, the Picasso proves to be most rewarding to drive.
In fact, its ride quality, which is quite difficult to get absolutely right, because of the car's fractionally higher centre of gravity, varies from low-speed knobbly to higher-speed sublime. Road surface imperfections are picked up at lower speeds and transmitted to the cabin in the form of severe head sway, although the car remains quiet and refined. Yet, it adopts an unusual and very non-Gallic suspension sportiness the higher up the speed range you extend the performance, thus affording the Picasso somewhat of a Jekyll and Hyde character.
It is worth highlighting that I actually enjoyed driving this Picasso, in fact, every bit as much as I did the previous generation (in the most frugal 92bhp 1.6HDi form), when I drove an example to Paris for the pre-launch reveal of the Cactus model, around four years ago. The car's ability to cover ground most effectively, while remaining cost-efficient, is its great selling point. However, it is also a tremendously practical machine, offering numerous storage slots around the cabin, as well as the customary below-floor bins that are so beloved by children. The kids are well catered for, with their own aircraft-style trays, illuminated by LEDs, while a small wide-angle mirror located above the main rearview device allows the driver to see what mischief the 'little darlings' are getting up to, when on the move. As the consummate family car, the Picasso has it sussed.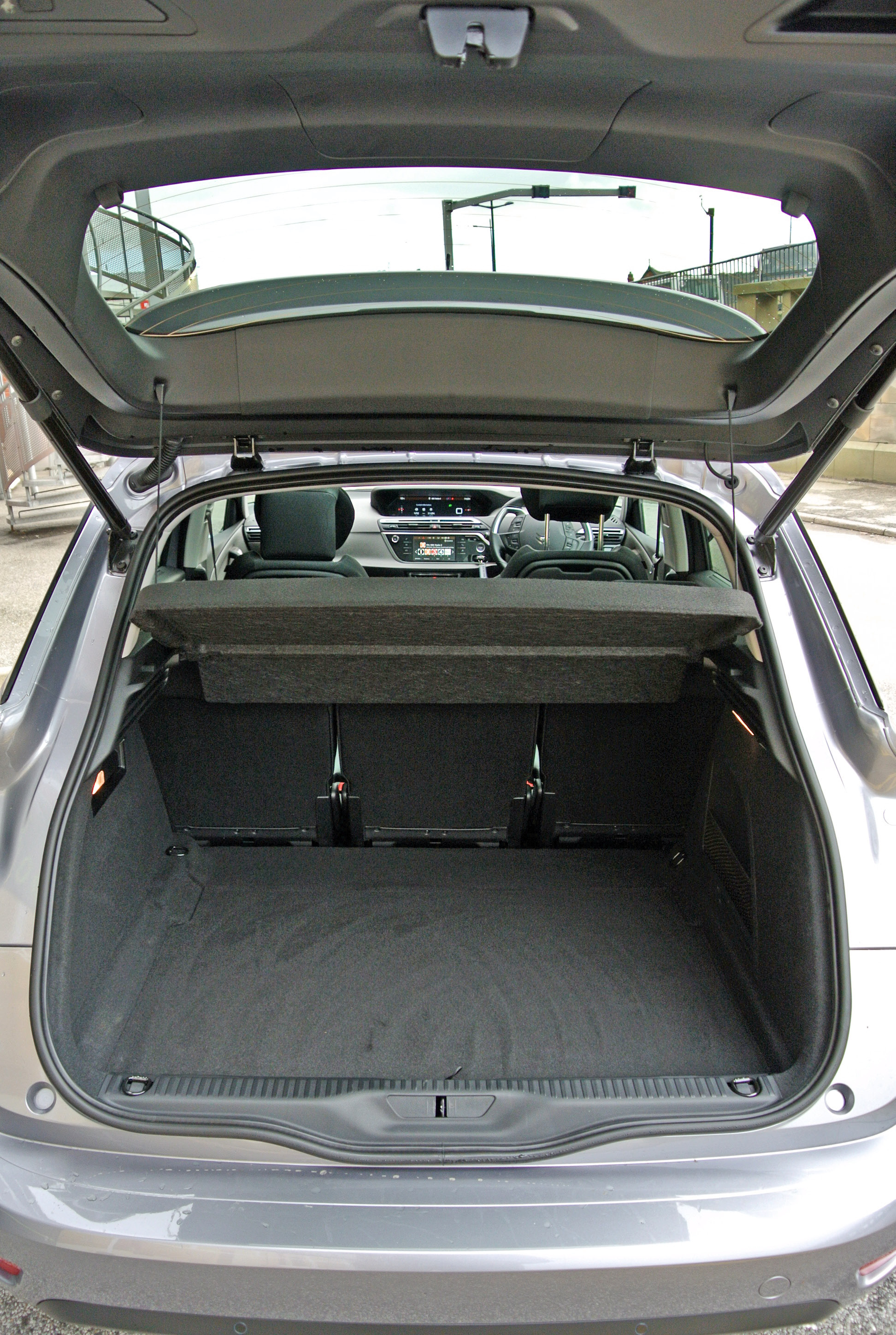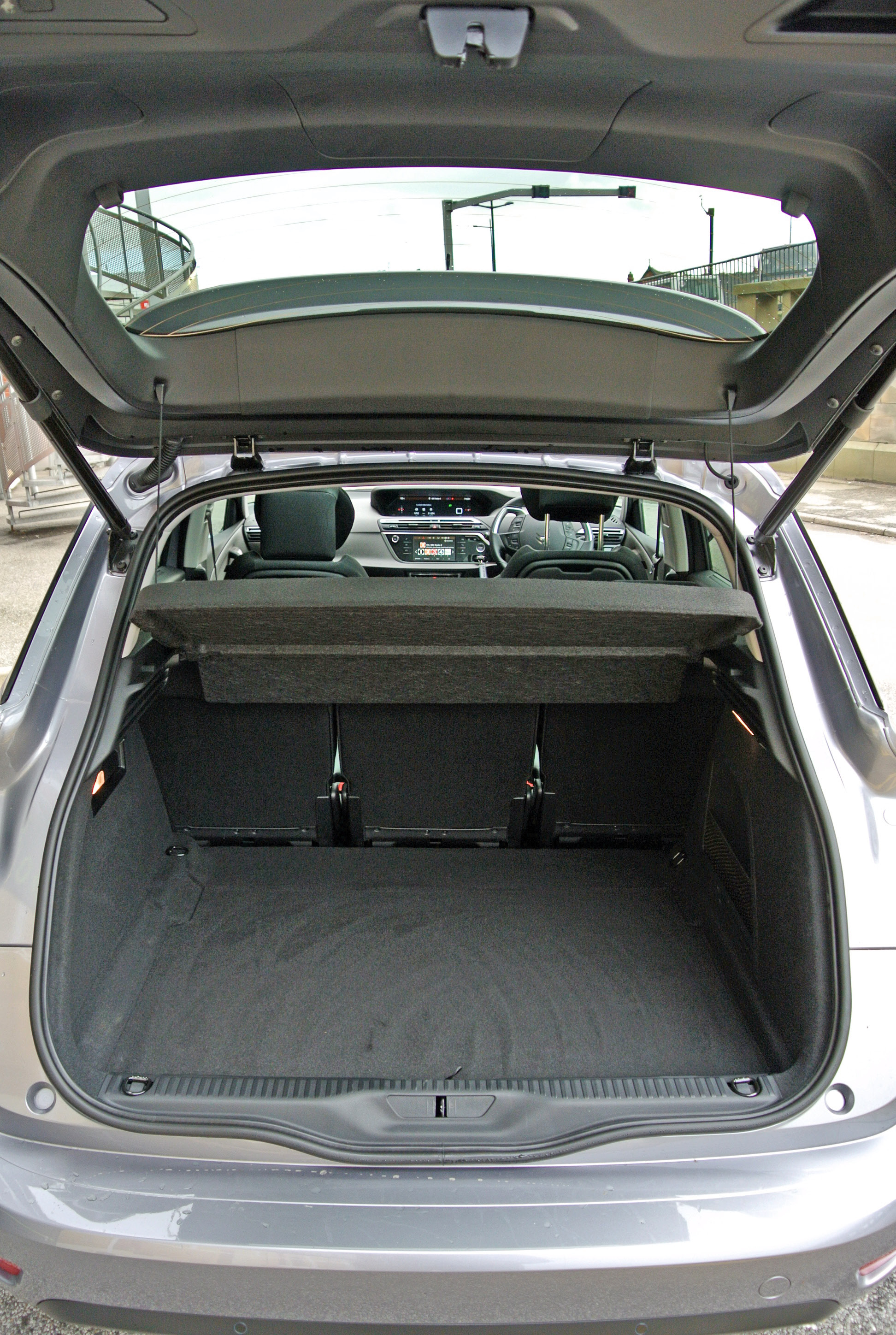 Sadly, it no longer possesses the value for money stance that it once used to (I can still recall the first editions selling for around £10,000), as evinced by a price tag of £28,380 for the test example, which, in Flair trim, only has metallic paint (+£520), Xenon headlamps (+£750) and the Driver Assist Pack (+£800) as fitted options over its nominal list price. Yet, it is an excellent example of how Citroen is claiming back its renowned quirkiness, while incorporating modern technology within a most driveable package possessing a relatively compact on-road footprint.
While it is true that the people-mover (MPV) sector is in decline, many buyers being drawn to the enhanced 'practicality' of the SUV instead, Citroen has not been suffering too much from the unfortunate market shrinkage, which suggests that the Picasso is a model that addresses demands to keep it in the frontline. It is a timelessly good looking car, which is an aspect that surely helps its presence. It would serve equally well as a business vehicle and attractive lease rates (underwritten by Citroen) make it a beguiling proposition.