A long-time advocate of 'value-for-money', Iain Robertson is concerned that new car prices are on a runaway upwards trip and the latest Volkswagen model seems to highlight the fact that proves difficult to justify.
If there is one singularly over-abused word in the English language that upsets me more, even than TV sports reporters referring to a team as 'they', it is quantum. It probably has as much to do with a poorly entitled US TV series, of the 1980s, as it does in highlighting the ever-weakening state of the British education system and English language skills in particular.
Quantum has been corrupted to mean something sudden and significant, in descriptive terms, which simply does not comply with its dictionary definition as 'the smallest amount of energy', or 'a tiny discrete quantity of a physical property'. As such, quantum is not exactly the term by which I would describe the price tag of the latest VW Tiguan SUV, over its previous iteration. The car you see here costs a whopping £38,100 and that asking price is for the model that is anticipated to be the most popular in its UK line-up.
Of course, VW is not alone in tagging its cars at increasingly higher levels. My issue is just when and where will it all stop? Audi (part of the VW Group) essentially started the ball rolling by pricing its models at what appeared to be a modest level, taking the brand's perceived status and quality aspects into account, relying on the customer to specify a decent stereo, different alloy wheels, smarter cabin trim and a few 'niceties', en-route to preposterous invoice bottom-lines. Merc and BMW perform similarly.
Naturally, as you are probably aware, very few people these days bother to even look at the invoice price, when they acquire a new car, because they either take out manufacturer-underwritten PCPs (Personal Contract Plans), or finance leases (if they are registered as companies). With a higher automotive power pitching a residual/trade-in valuation and the only real concern being what the individual can afford to pay-out each month, the deal is struck, with only limited concern for what the outcome might be. If you are really clever, you can live quite contentedly with your choice, knowing that there is no earthly reason for that residual value (the final value stated) ever to be settled, as most of them are significantly higher than the true values realised. Customers walk away from the deals and set-up new ones, probably elsewhere, because brand loyalty, a once valuable aspect, is no longer a genuine consideration.
Yet, the latest VW Tiguan, which now looks more like its big brother, the Touareg, is slightly larger, being based on the big car MQB platform used by other models in the VW Group's extensive line-up. It is roomier inside, although its footprint is only fractionally greater than the outgoing model. Perhaps this aspect alone might warrant a small percentage of the price hike?
Its detailing is faultless. VW has a tremendous reputation to live up to, of producing among the highest quality of vehicles, whether in the mainstream, or at the prestige end of the market. Although I have read some criticism of some aspects of the model's trim, mostly centred on its lack of vivacity, it needs to be remembered that this is a VW, which is the height of understatement and Teutonic conservatism. I like it.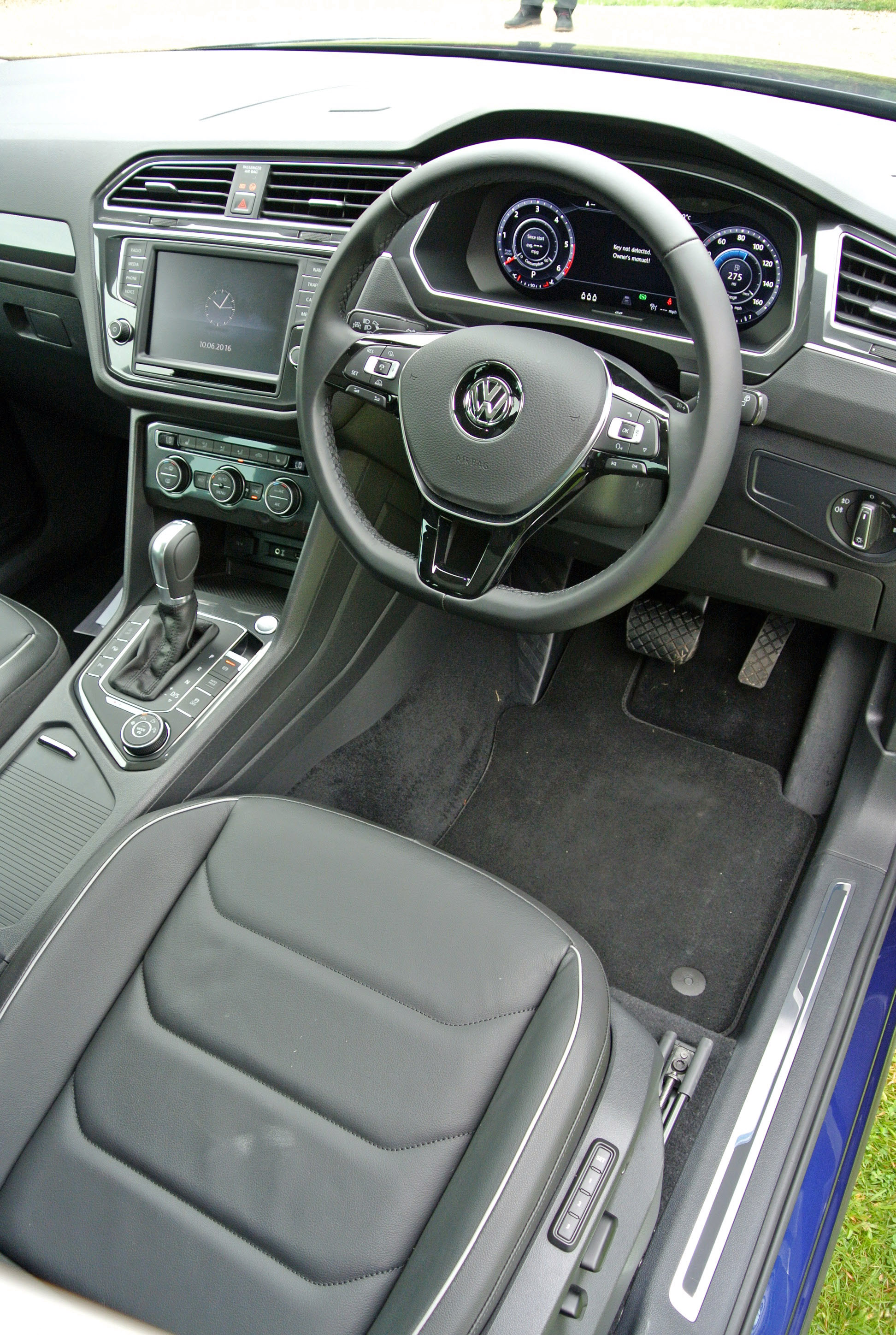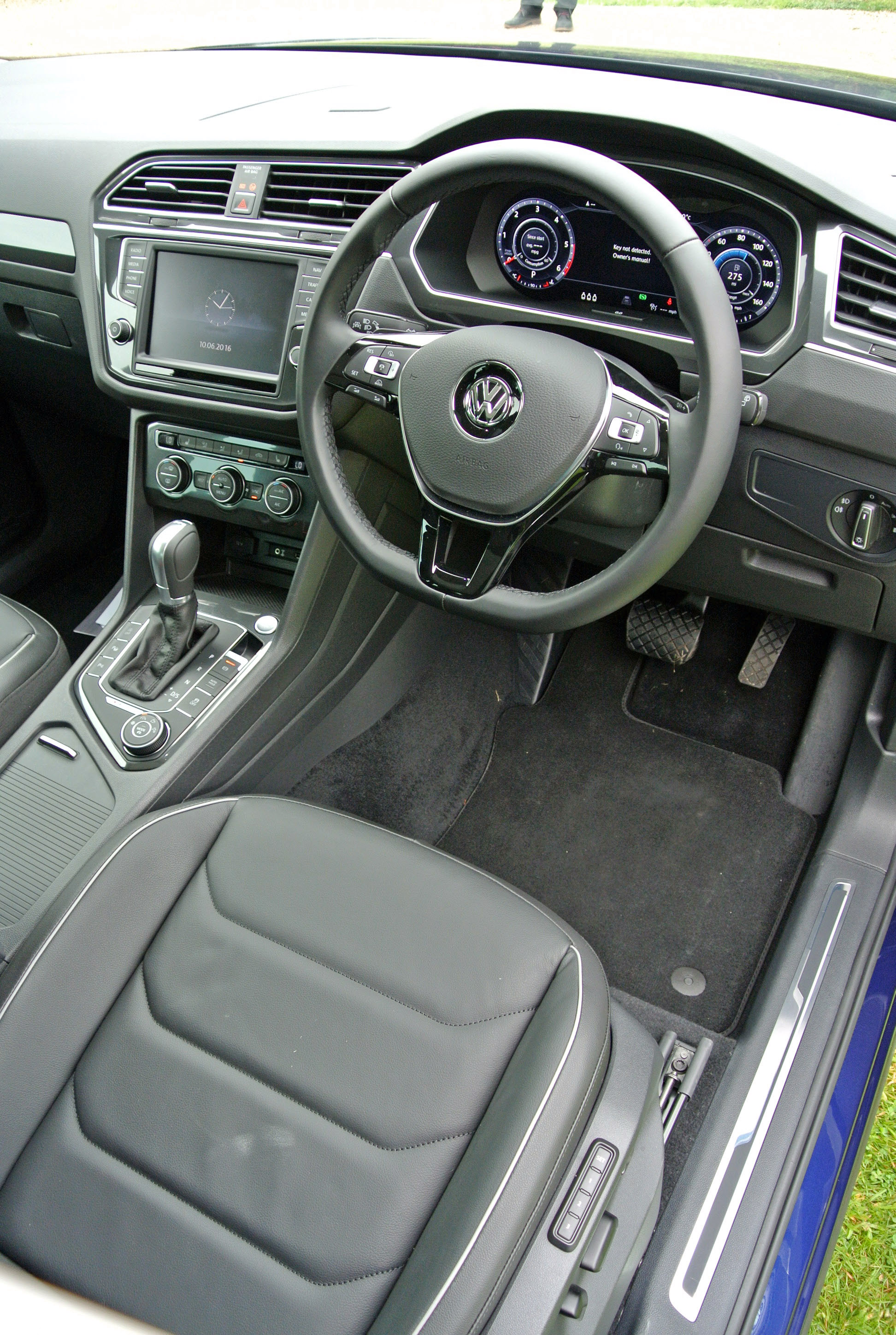 The application of 'soft-touch' surfaces, with piano-black and aluminium finishing strips is lovely and also easy to maintain. The usual 'top box' in which small items can be stored rattle-free is located in the upper section of the dashboard, while the driver-focused instrumentation is stylish and neat. The touch-screen is familiar to all VW Group customers and it works efficiently and is easy to operate, containing sat-nav, sound system and master controls for most in-car functions, as well as the Bluetooth communications link that worked faultlessly. I keep wondering why VW Group can manage this aspect so proficiently, when other car companies fall at the simplest of link-up hurdles.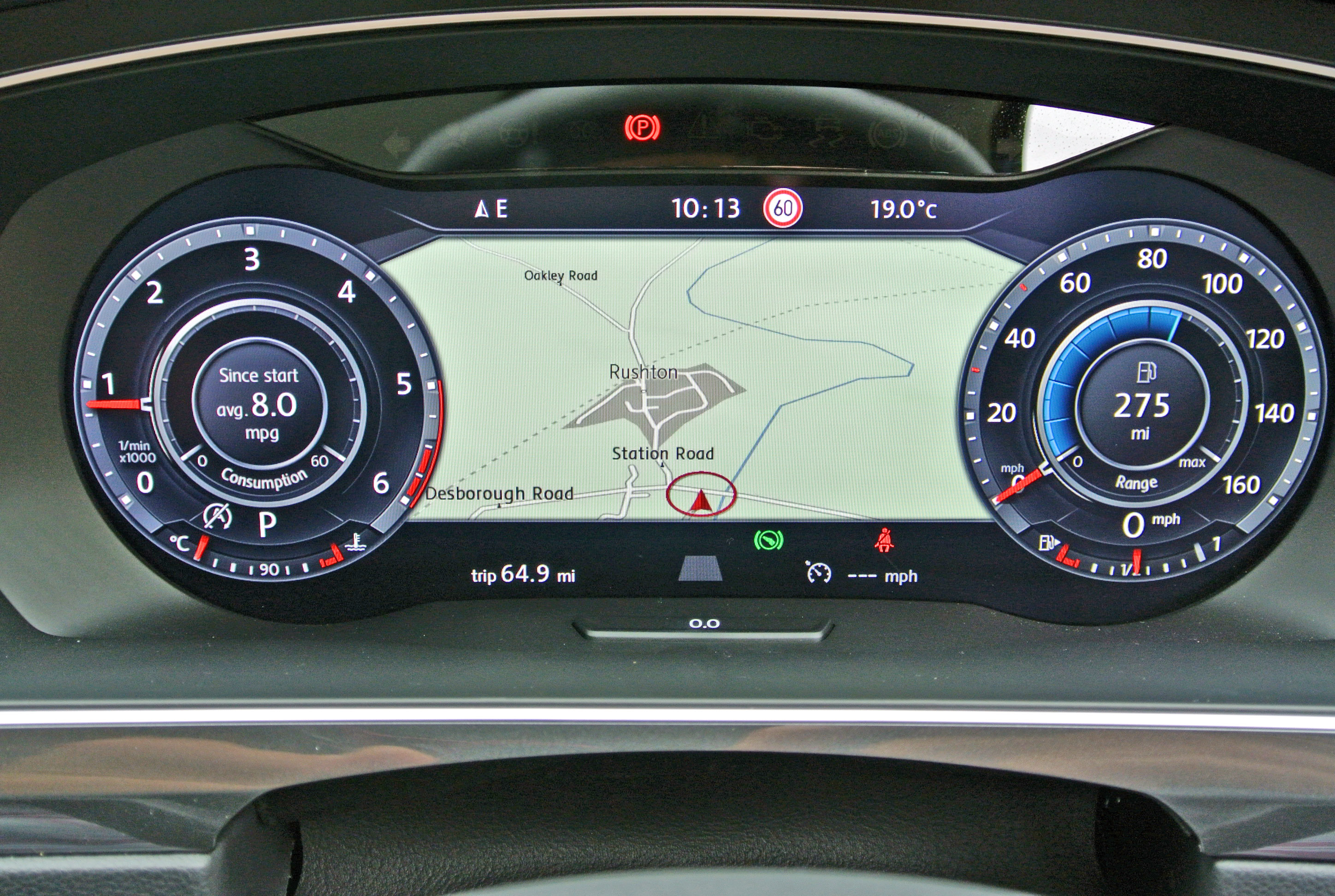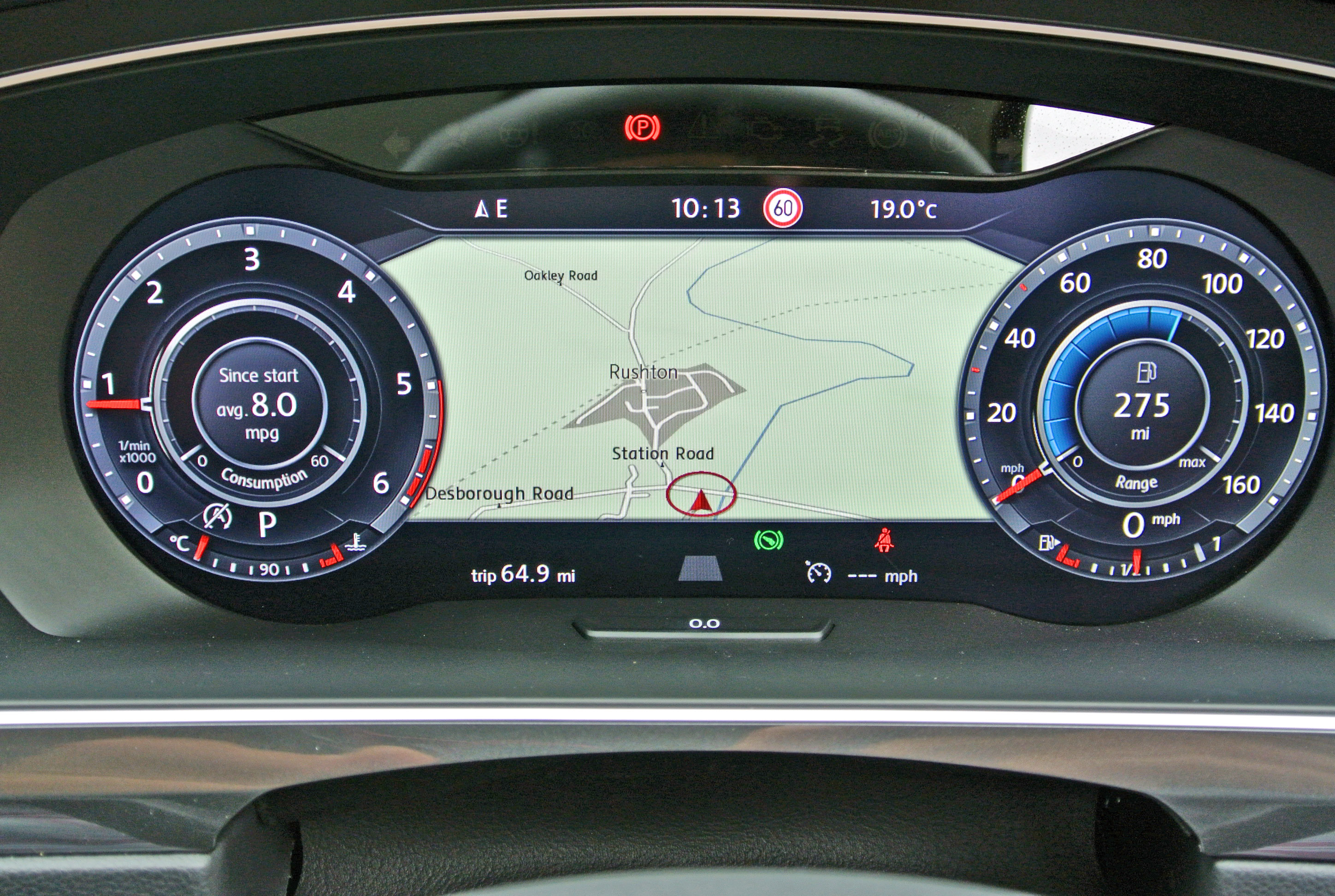 The instrument panel is worthy of note, as it now features a version of the video screen from which (when specified) Audi owners have benefited. Although conventional graphic dials appear, they can be altered to smaller readouts and a larger map, secondary to the centre console, that can fill much of the remaining available display space. It is a useful function…but not really worth the £1,365 extra cost over the stock item, which I appreciate is for a raft of other multi-media applications (Apple CarPlay, Google Android Auto and 'MirrorLink') included in the package.
As mentioned earlier, there is bags of space within the cabin, in both front and back seats. Electrically operated, the driver's seat can adjust in all directions, ensuring a comfortable and safe driving position. It is augmented by a manually-adjustable, for rake and reach, steering column. Clad in high-grade hide throughout (for which you must add £1,475), the back of the front seats also feature small flip-up and adjustable 'trays'. The rear seats also fold 60:40, with a large ski-slot between them, which also folds down as an armrest, small oddments tray and drinks-holder. Although demanding a modest lift upwards, quite sizeable loads can be carried in the boot, the area below the hard-floor containing a run-flat spare wheel and some additional space for personal possessions (door pockets and a decent glove-box augment the in-car storage).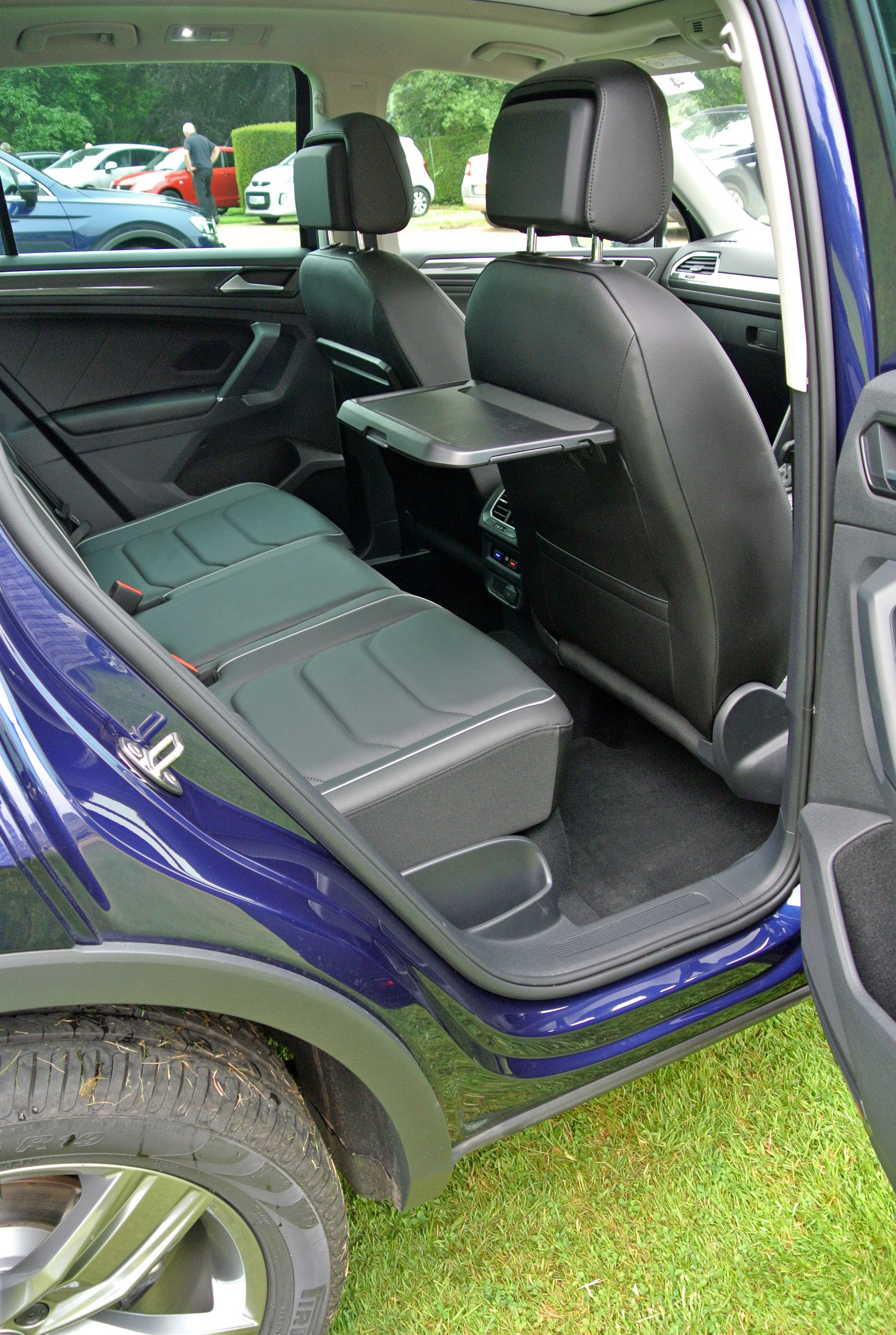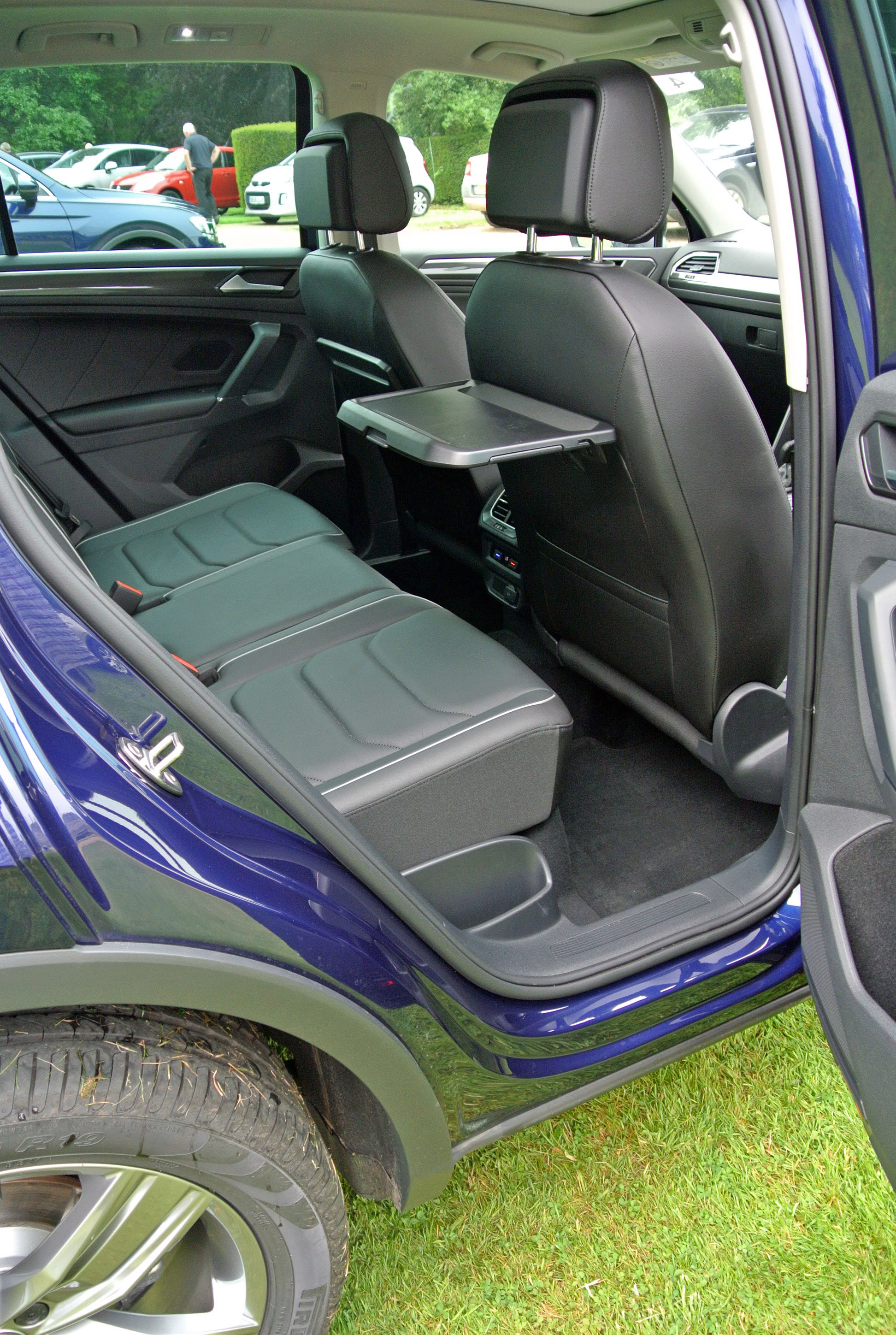 In truth, the photo-fit appearance of the Tiguan, identified mostly by its front grille and rear badges, complies with almost every contender in the class. However, I perceive that VW is starting to have a few in-brand identity crises that it needs to deal with imminently. Park an Audi Q3, even the latest Seat Ateca and forthcoming Skoda Yeti, alongside and the familial appearance blurs the brand lines too much. This, in itself, is a good reason to query the badge-engineering that is happening at Volkswagen, which further draws the value proposition into question.
In terms of driving experience, the Tiguan is sublime. It handles sweetly, features resilient suspension (adjustable through three settings) and excellent stopping power. However, it also feels safe, stable and hewn-from-the-solid, attributes that are intrinsic to all VW products. Although a six-speed manual transmission is likely to be the most popular gearbox option, the test car and my personal choice lies with the 7-speed DSG (direct-shift, sequential-manual transmission), supported with twin paddles located behind the steering wheel. The ratios are well chosen for both potent acceleration, excellent mid-range verve and relaxed cruising from the 2.0-litre TDi engine.
Developing a modest 147bhp, considering the 1.8-tonnes unladen weight of the car, it is a refined unit that can despatch the 0-60mph blast in a consistent 9.0 seconds, before reaching a top speed of 124mph. Its spread of 251 lbs ft of torque, from 1,500-4,000rpm, is its most significant feature, which makes for surprisingly frugal progress and an exceptional towing capability.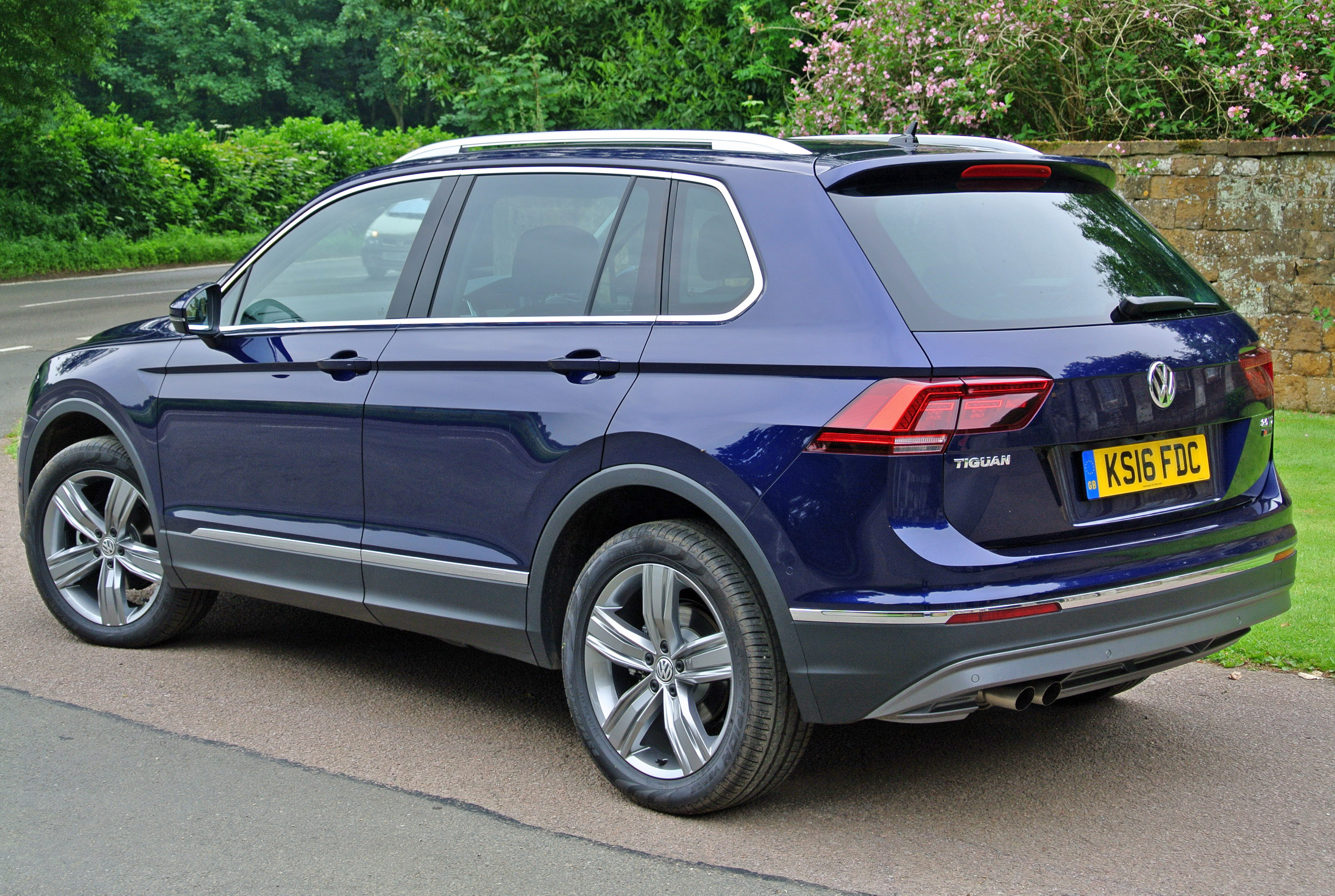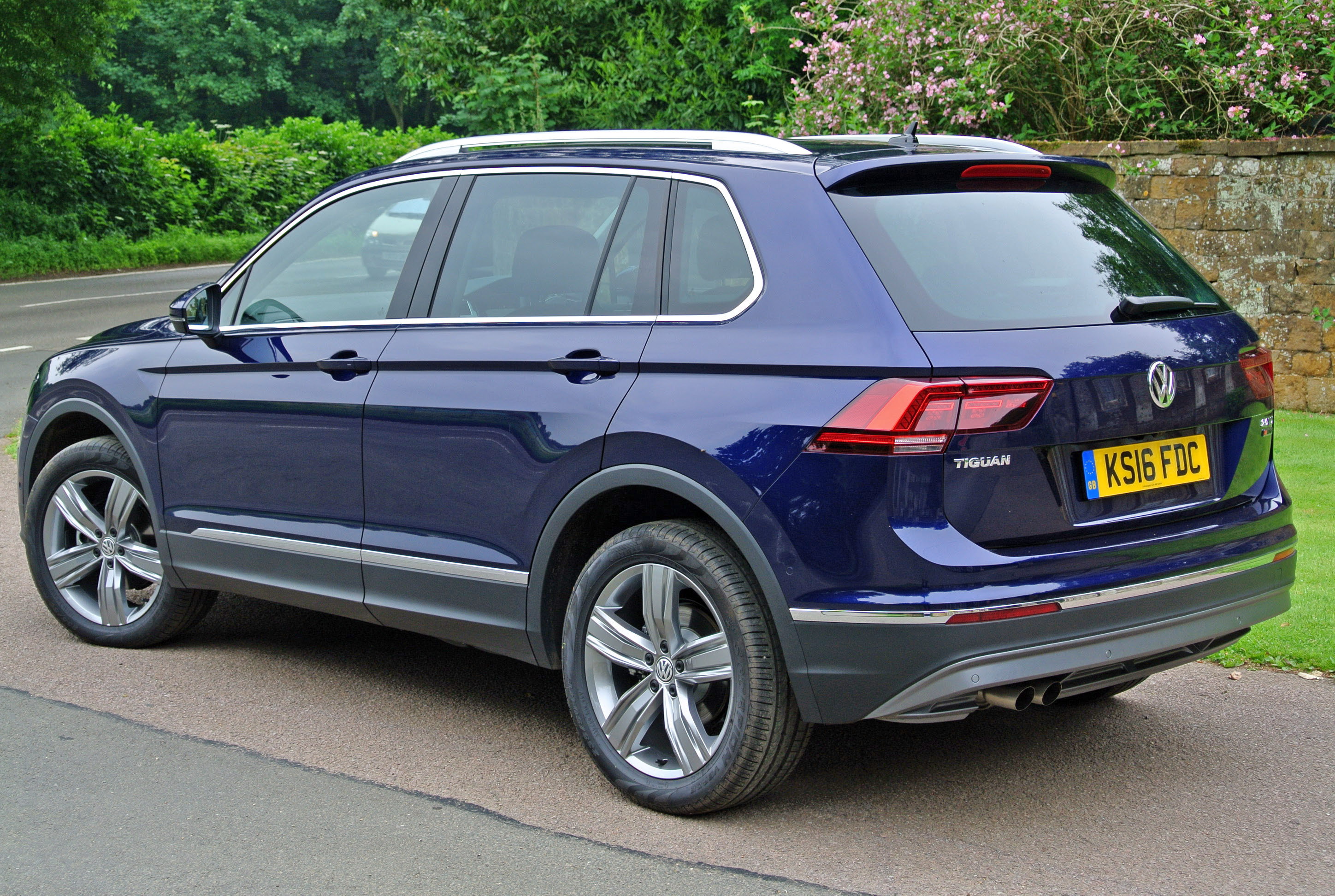 Incidentally, the test example also featured the £800 extra-cost Trailer Assist package that allows the automatic parking facility to be extended to the use of trailers and caravans too. Not everybody can reverse a car/trailer combo with ease, although touring practice does make for relatively perfect parking (by the end of the holiday!), which adds value to the option.
The factory-fitted towbar is a £715 extra-cost item, while the keyless entry/pushbutton start/stop is £375. Settling the bill for those extras will demand a keen eye on fuel consumption and, with 49.6mpg promised on the Official Combined test cycle (a believable figure this time), allied to a 149g/km CO2 rating, equates to an annual tax charge of £145; affordable but certainly not the lowest in the class. It is worth highlighting that the majority of new Tiguans will be 4WD and the Haldex developed 4Motion system is renowned for its efficacy, different settings being dialled-in from a rotary control next to the gear selector.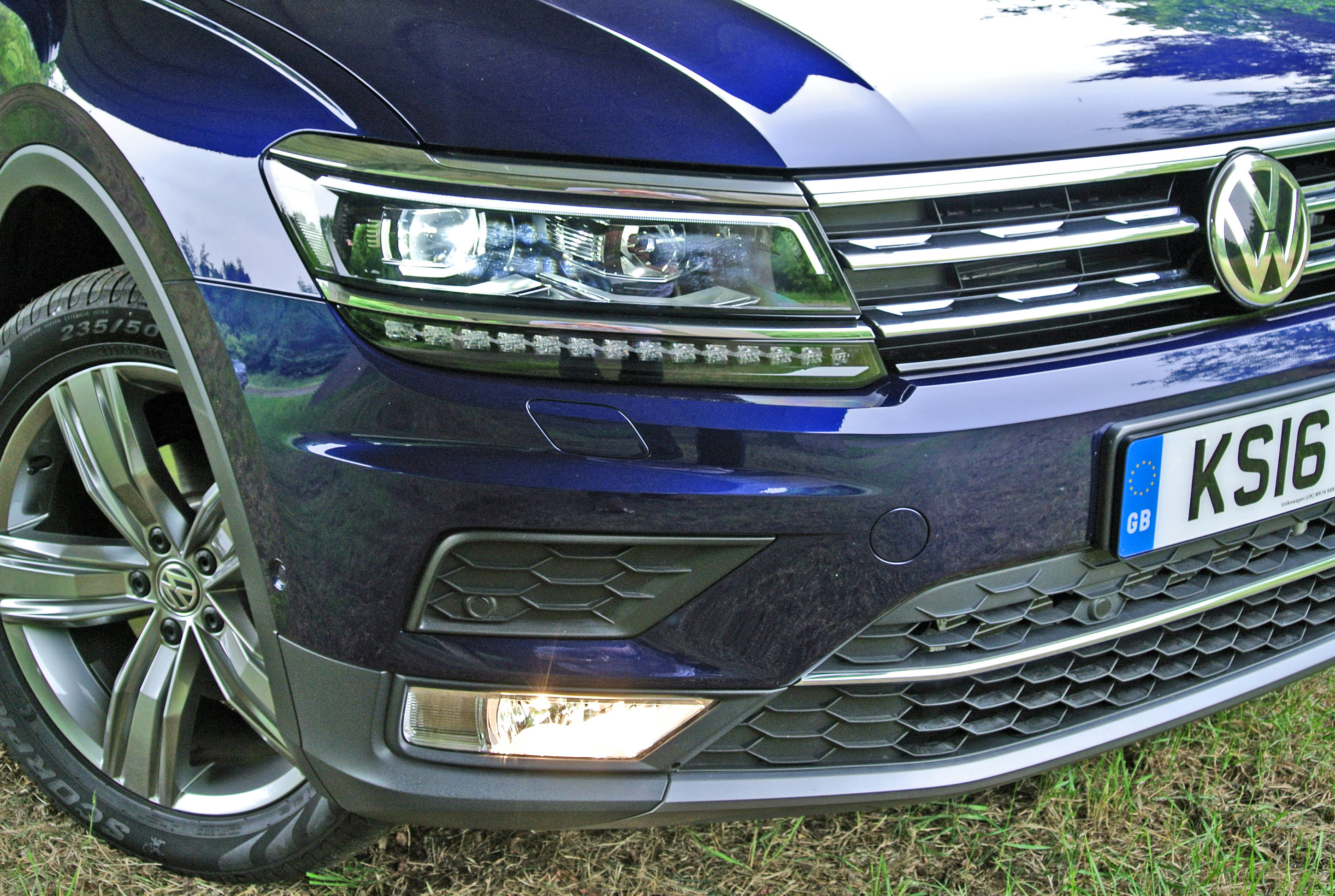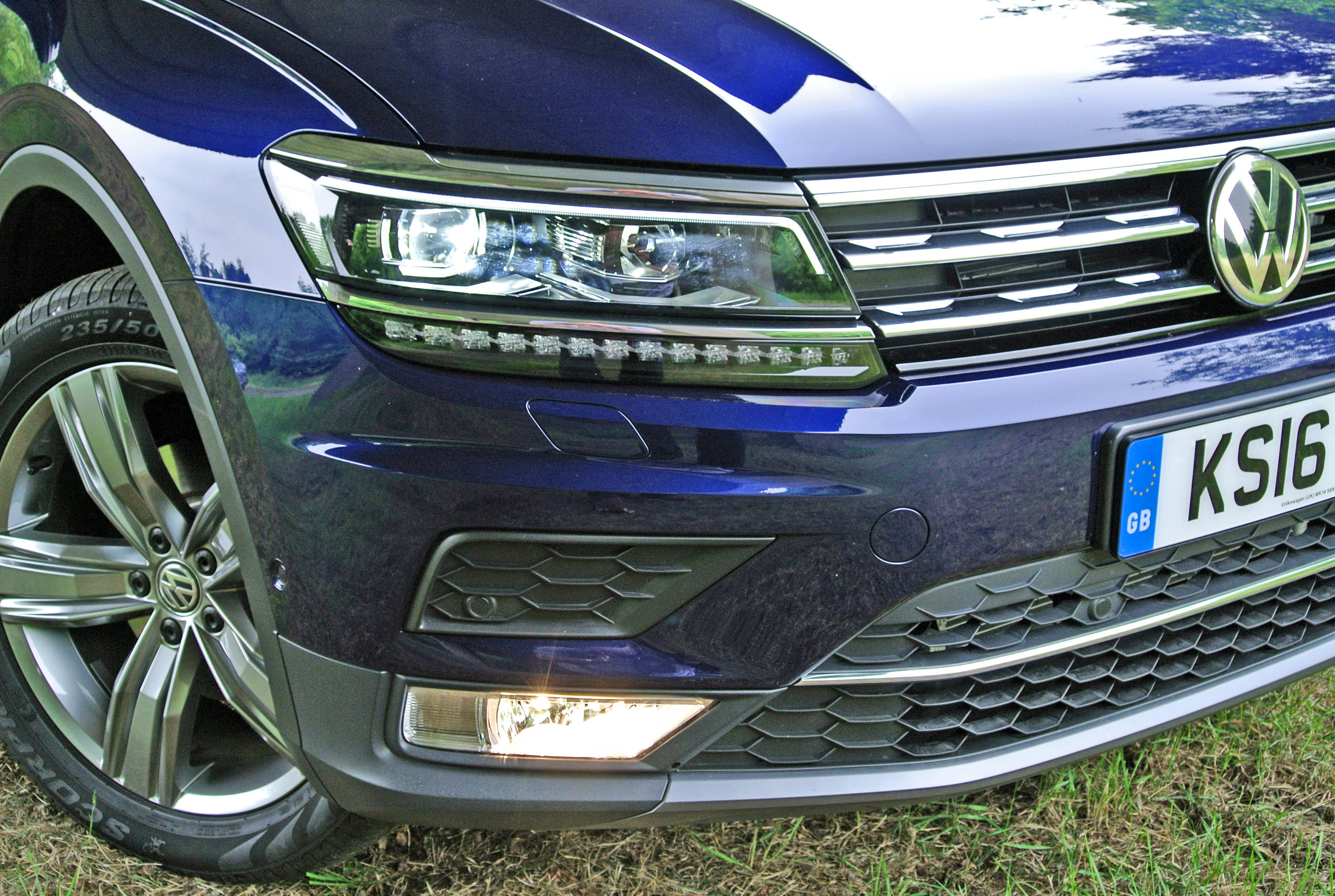 Try as I might, I find it very hard to justify the price that VW is charging for the car as tested. While its base price for the model of £32,010 is costly enough, adding over £6,000's worth of accessories that are not out of the ordinary, turns it into a very expensive commodity. I have no issue with the stance of the product, or any aspect of its performance and capabilities, but the Tiguan is targeted to compete with some eminently acceptable rivals, all of which are markedly less expensive. However, I cannot deny the car's acceptability levels and UK sales of the previous model have never slumped throughout the model's history. Therefore, it is understandable that VW is bullish about the new version's potential. Were it my money being spent, I would opt for either an Ateca, or an X-Trail, then I could enjoy my holiday with more financial ease.