In light of recent developments, with French PSA Group taking over Vauxhall-Opel, there was immense value attached to a recent 'boy's day out at Bicester', writes Iain Robertson, when he was able to take to the track in a raft of British classics.
Possessing 114 years of automotive history, from an original operating base in Lambeth, London, before relocating to 'hatter's country' at Luton, Vauxhall has produced in excess of 14.5m motor vehicles in its time. Many of them have been truly innovative, featuring advancements considered as unfeasible at the time of their introduction.
Coinciding with the launch of a new book compiled by arch-automotive compiler, Eric Dymock, but not the reason for a track day held for a select band of UK motoring scribes, key models from the company's past were given a rare airing on a test circuit at the former RAF Bicester. The venue, turned over to a selection of classic car buffs, is now home to an outstanding mix of race, rally and road preparation specialists, as well as a convenient, off-the-map storage facility for classic and collectible motor vehicles.
Mr Dymock, whose visual similarity to King George V is hard to understate, is a Scottish journalist possessing a motor-writing CV that is the envy of the industry. His extensive knowledge of the world motoring scene has been put to very good use in formulating definitive histories of several British car marques (like the new, 264pp Vauxhall model-by-model guide). Priced at £24.99, it is the perfect Vauxhall fan's marque compendium .
Leafing through the pages reveals a marvellous history and the first car that I stepped onto (a key description arising from the height of the chassis off the ground) was the two-seater 1904 6hp. Powered by a 1,029cc, single-cylinder, water-cooled engine, it is power-rated in the old RAC-style. A massive flywheel ensures that once initial rolling resistance is overcome, the surprisingly smooth-running engine can maintain its governed 18mph top speed. Steered by tiller and suspended on coil springs, with rudimentary, sliding wood-block 'dampers', it is a prime example of Edwardian enterprise and is one of around 70 examples that were produced in London and this one still contests the annual London-to-Brighton Run.
The next model on my list was the 1909 Vauxhall B-Type 16hp 'semi-racer', which is probably the only survivor of around 150 built at Luton between 1908 and 1910. Finished in Post Office Red, this largely 'stripped-down', 2.3-litre, four-cylinder machine features a fragile cone clutch, three forward gears (plus reverse), a bevel-gear rear axle and a footbrake that operates ingeniously on the transmission (although its balsa-like linings mean that the driver relies more on the rear wheels handbrake for arresting its 50mph top speed. Sadly, it suffered from dirt in the fuel system but still managed to impress before being temporarily side-lined.
For many years, I have wanted to indulge in a drive of the much-vaunted 1911 Vauxhall C-Type 'known as 'Prince Henry'. It was the GTi of its day. Powered by a 3.0-litre, four-cylinder engine that developed 19.9hp (although later models featured 22.5hp), its steering is sharp and the handling, even on skinny tyres, is simply outstanding. In era, it was a regular rally competitor and won many trophies.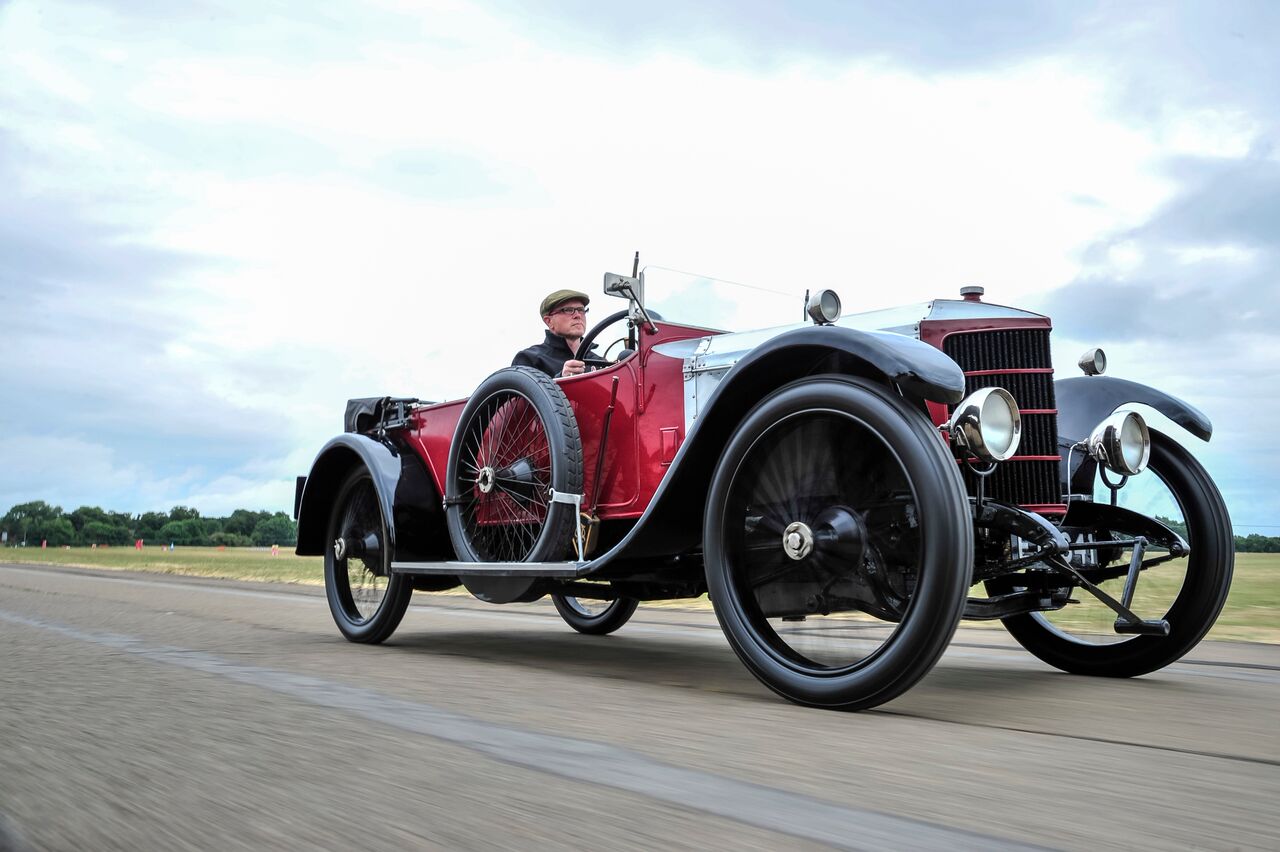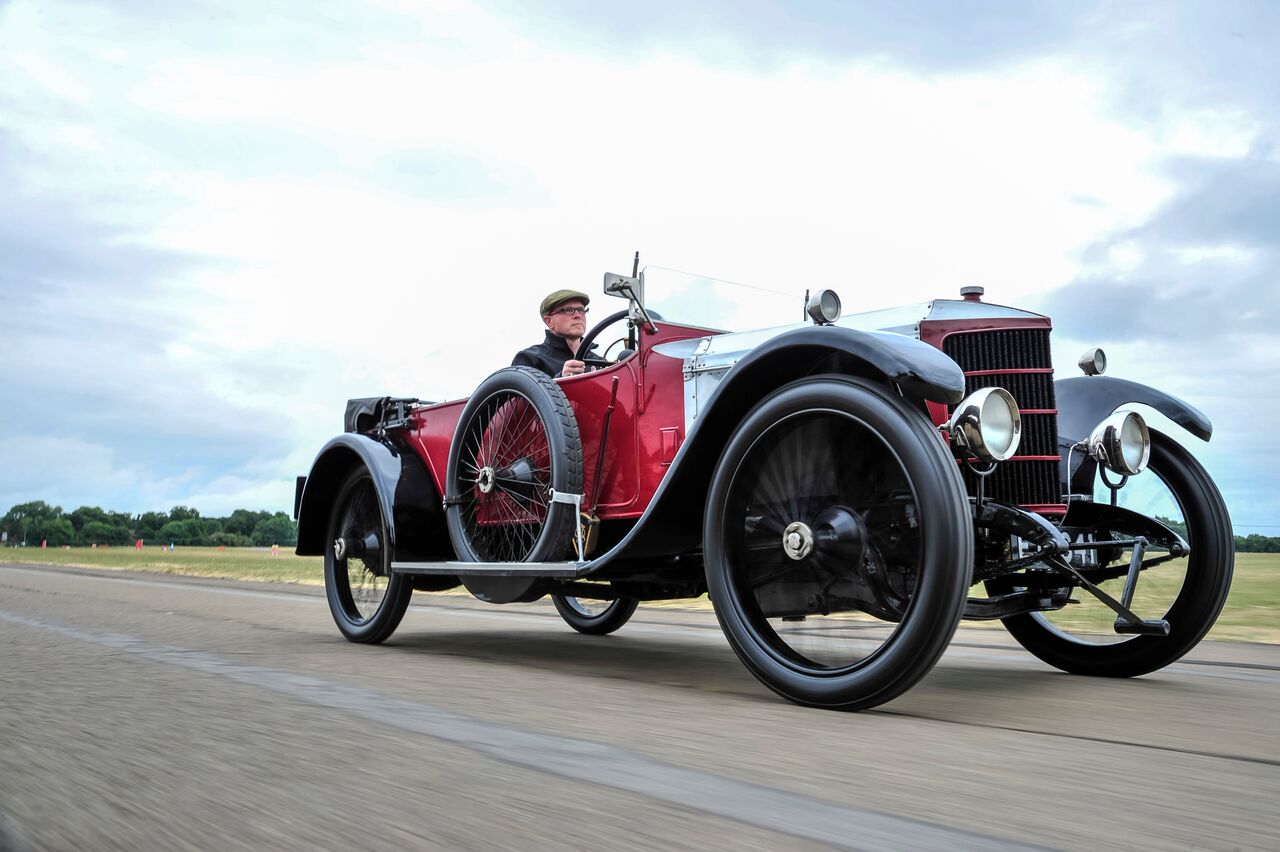 As I have rather long legs, driving either the 'Prince Henry', or the 1926 Vauxhall OE-type 30/98, were actually impossible for me but Vauxhall's PR Manager, Simon Hucknall, kindly lapped the small circuit at quite high speed, with me hanging on for dear life! This latter model is a very special machine, being the first car certified to reach 100mph in the UK. Its 4.25-litre, four-cylinder engine grumbles raucously but its predictable handling makes its competition successes understandable and, of the 600 examples built originally, a remarkable 170 remain in regular use.
Of the vintage machines available, one of the more interesting was the 1930 Vauxhall T-Type 20/60 Coupe. Designed as a gentleman's personal car, it attracted the soubriquet 'Golfer's Coupe', for the practical compartment, accessed from just ahead of the rear axle line, where a set of golf clubs could be carried. A 'dickey seat' unfolds from what might otherwise be a boot area to transport two additional passengers in the 2.9-litre, six-cylinder car.
Moving on to the 1950s, the Vauxhall E-type Wyvern featured a novel side-opening bonnet (could be opened either side for access) and a curved windscreen. Powered by a 1.5-litre, 43bhp, four-cylinder engine, it was not exactly the raciest in the range but, priced at £475, it was a popular model in the first year that Vauxhall topped 100,000 vehicles annual output. Although tempered slightly for the UK market, its American styling influences were obvious.
In 1957, Vauxhall introduced the F-type Victor, a name that became famous for the brand and also Britain's highest volume export model. The 1961 version on Vauxhall's heritage fleet, finished in a 'bananas and custard', brown-over-cream paint scheme, was significantly lighter than its forebear, which gave it livelier performance. Vauxhall was in the vanguard of factory-built estate cars with the F-type and around 100,000 models (inc. saloons) were produced in just 15 months.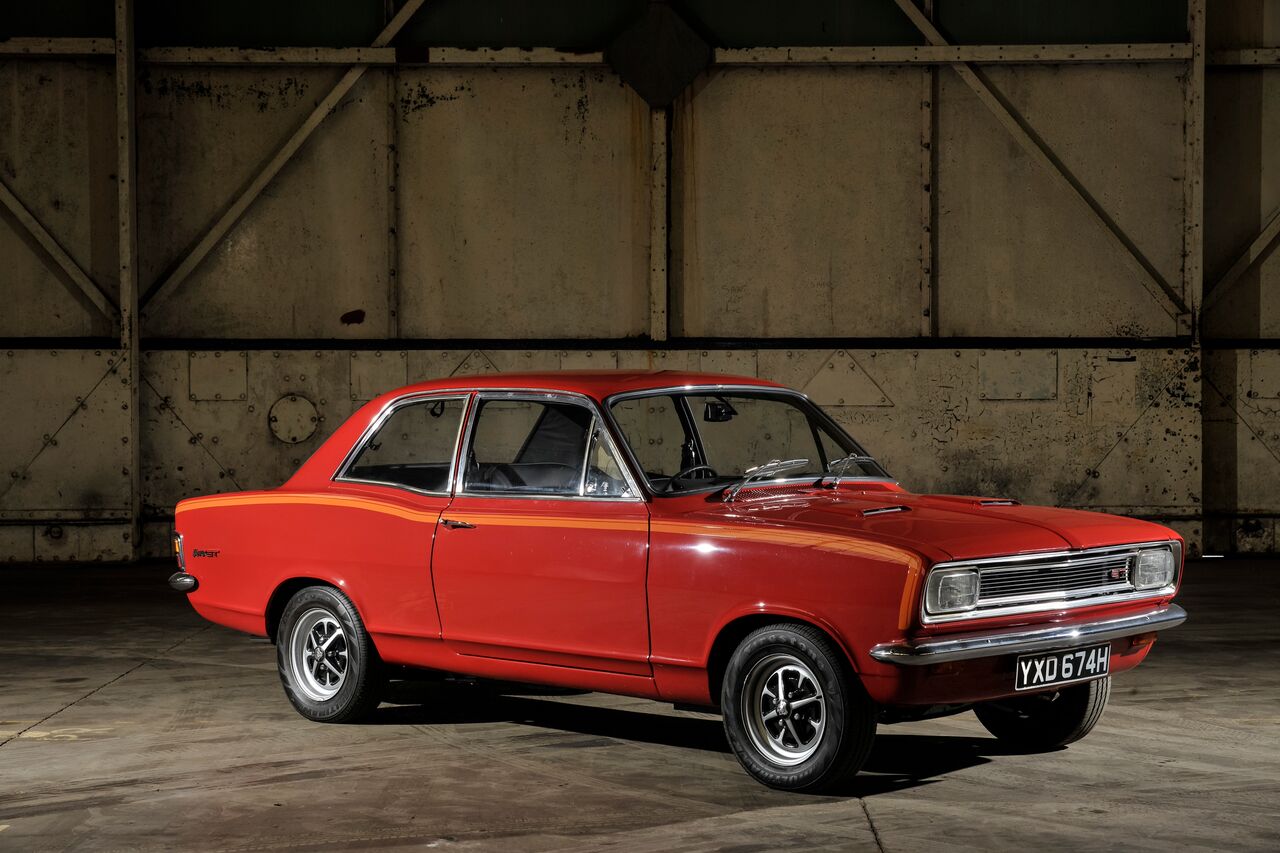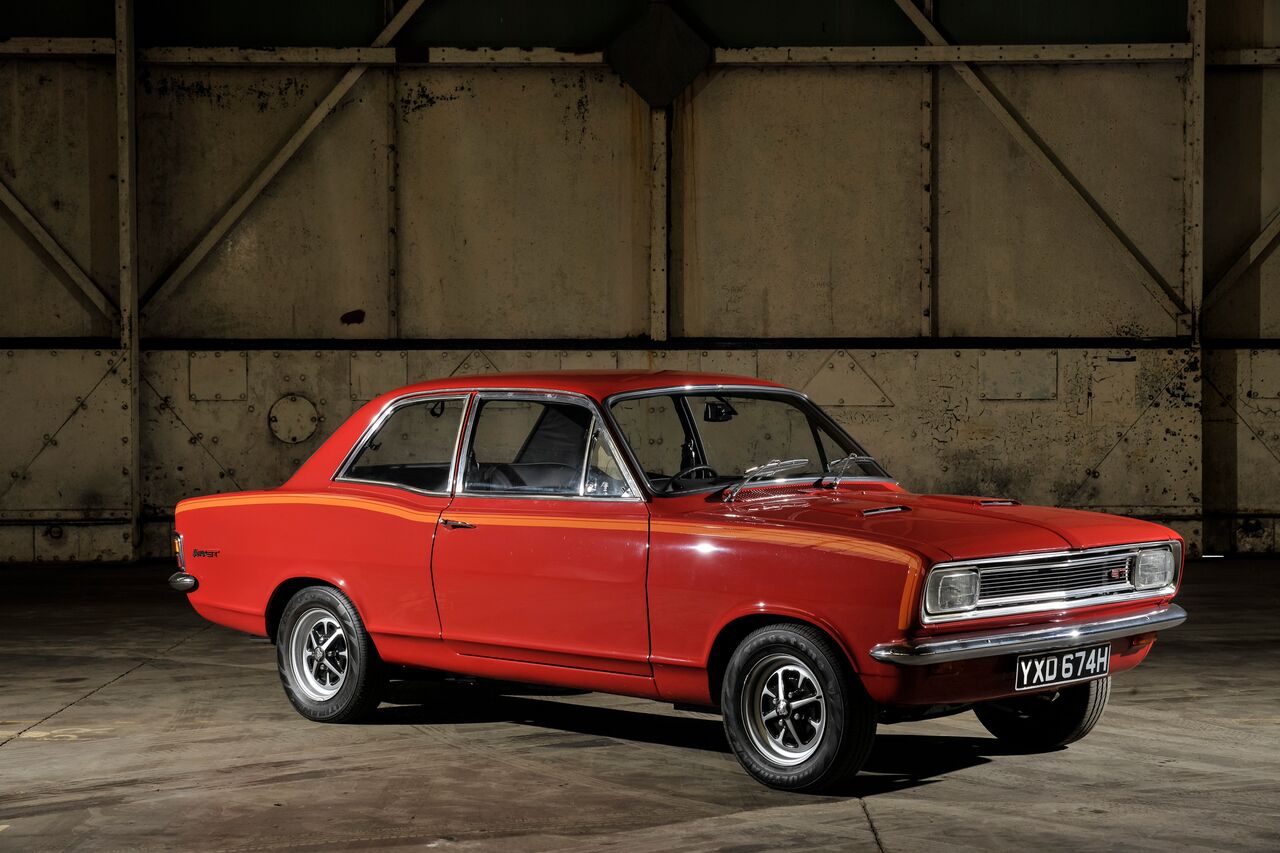 In 1965, the start of the 'flower-power' era, the FC Victor 101 Super was renowned for its spacious cabin, capable of carrying up to six people on its bench seats. Tipping the scales at 984kgs (about the same as today's Suzuki Baleno), its 1.6-litre engine delivered a decent turn of speed. Yet, just five years later, Vauxhall's recent acquisition, now fully restored, is an immaculate red HB Viva GT. Its 2.0-litre, 104bhp engine could power its excited owner to a top speed in excess of 105mph, cracking the 0-60mph sprint in around 10.0 seconds. It was a genuinely sporting compact saloon of its day.
Also present on the test day was the astonishing Bedford Mobile Cinema, a remaining, restored example of a vehicle fleet built in the 1960s, as part of a Ministry of Technology engineering initiative. Completely self-contained, it can seat up to 20 people in theatre-style, the projector working from within a Perspex control pod above the truck cab. It was rescued from a farmer's field by Rob Howell and Nancy Rose-Mills but restored lovingly by Oliver Halls to its present condition. A crowd-funding exercise is raising the funds to restore an original trailer that accompanied the vehicle on its government tours. More information can be gleaned from: www.vintagemobilecinema.co.uk and it can be seen at a number of classic events around the UK.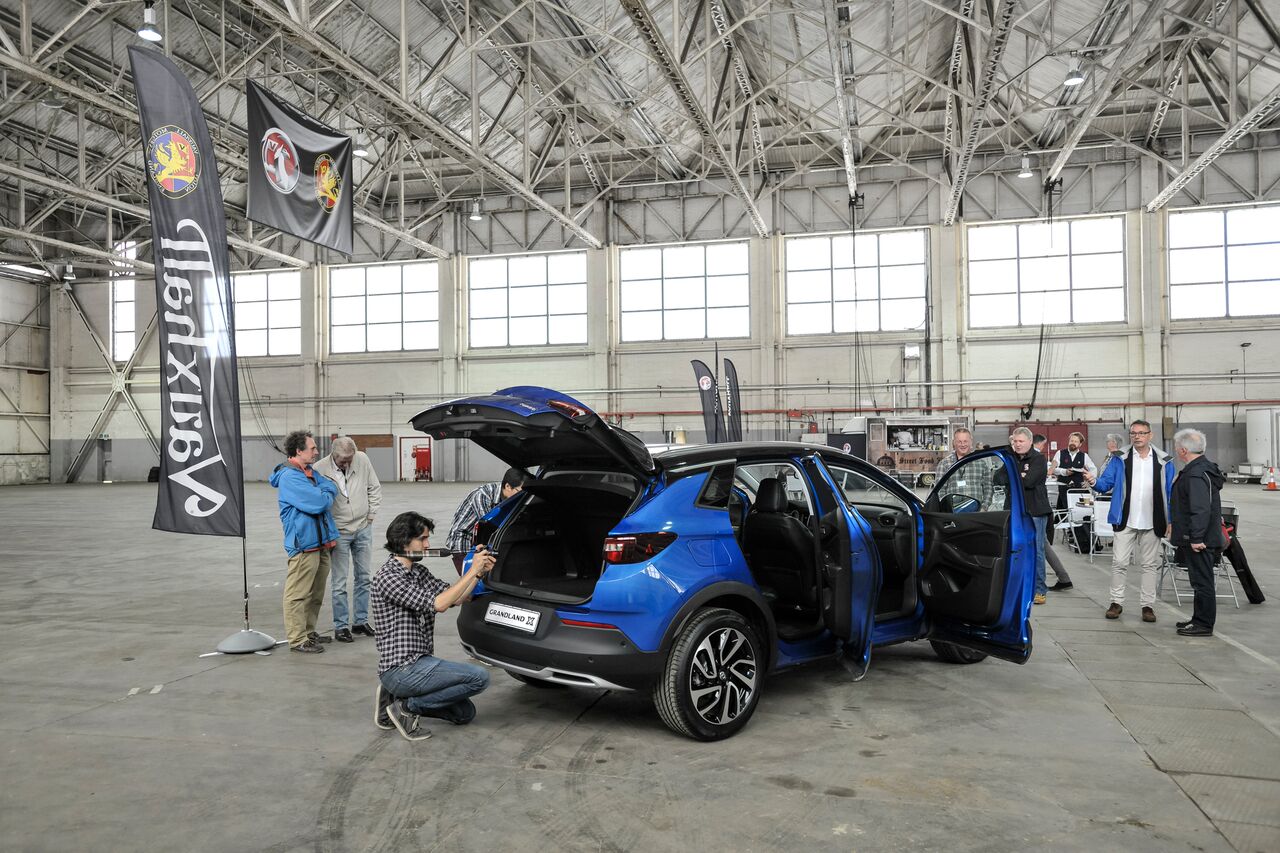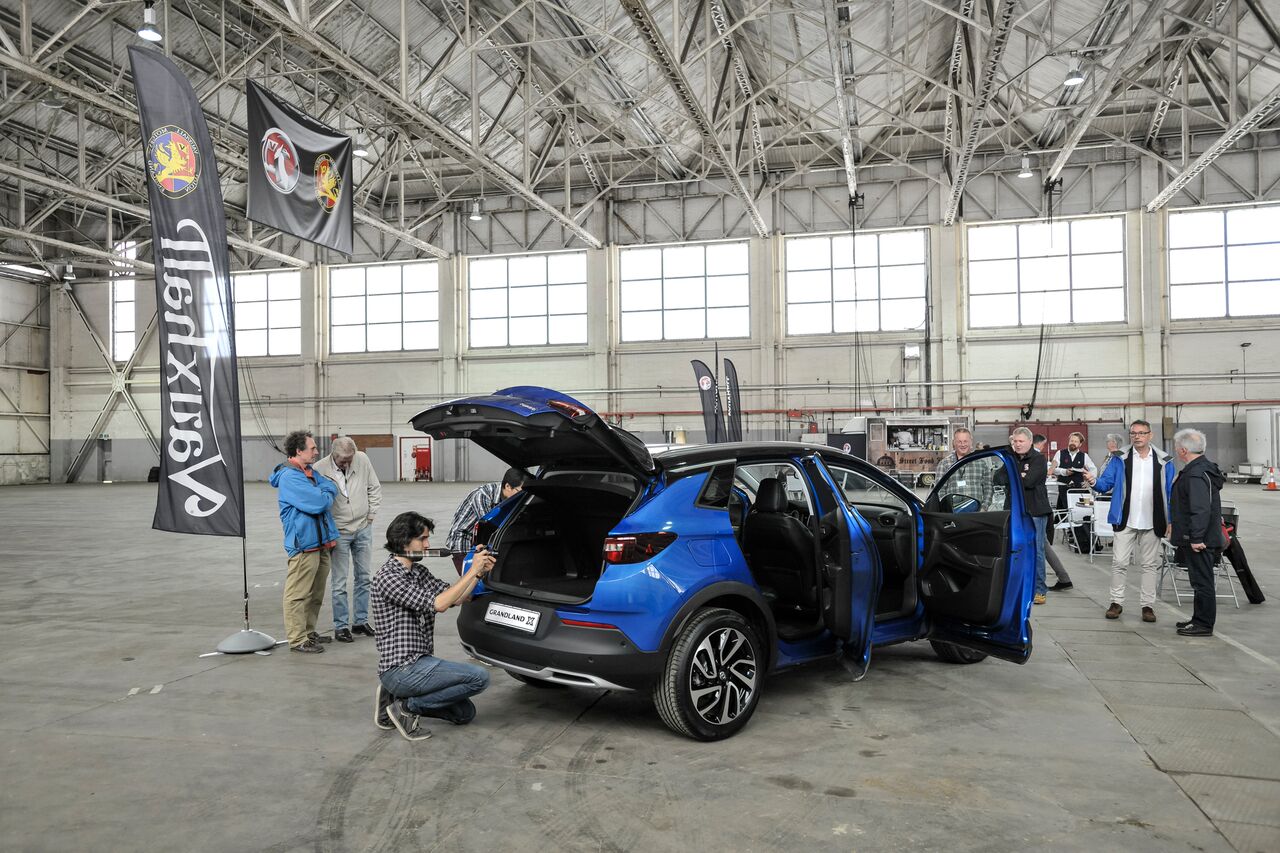 Vauxhall also took the opportunity for a first reveal of the forthcoming GrandlandX new model, based on the Peugeot 3008, that is set to be launched to the public later this year. A left-hand-drive, German-plated example, it is in the UK for various pre-introduction trials.
Vauxhall realised a number of years ago that concentrating on its marque history would prove to be important in the longer term and the opportunity to sample several models from its well-maintained, restored and immaculate collection is a rare privilege that can only be described as memorable. Having sampled PSA Group's collection at Sochaux, NE France, it is most satisfying to recognise that car companies do cater for their illustrious pasts.