For the ultimate 'throw anything at it' transport, reports Iain Robertson, the latest Toyota pickup has one heck of a reputation to live up to but, as he proves, it is a walk-in-the-park for its maker.
If you ever thought that you were just a number to your employer, pity the Toyota person. Were you an employee of the immense global player that even has a city named after it, you would be just one of its 344,109 members of staff, the company having been classified earlier this year as 13th largest in the world by revenue.
Of course, as large as it is, the Japanese giant possesses a heart that can be broken by any major body believing itself to be even more unassailable. Take a situation in which it found itself not so many years ago, when it dared to declare that it was the largest carmaker in the world. Hammered by the US Administration, which makes a limited show of how much emphasis General Motors plays in its support, the company underwent a series of costly warranty 'exposs' that might have shattered a lesser entity. Conspiracy theories notwithstanding, you can guess which company was behind those little gestures.
Reading its numbers is more closely akin to browsing through a telephone directory. On a number of recent occasions, it has produced more than 10m cars in a year, from its five-brand line-up that includes, Lexus, Scion, Ranz and Hino. It owns a controlling stake in Daihatsu and smaller shares of firms as diverse as Tesla, Subaru, Isuzu and Yamaha. In addition, it builds motor vehicles in several countries, which combines to make it a genuine world manufacturer.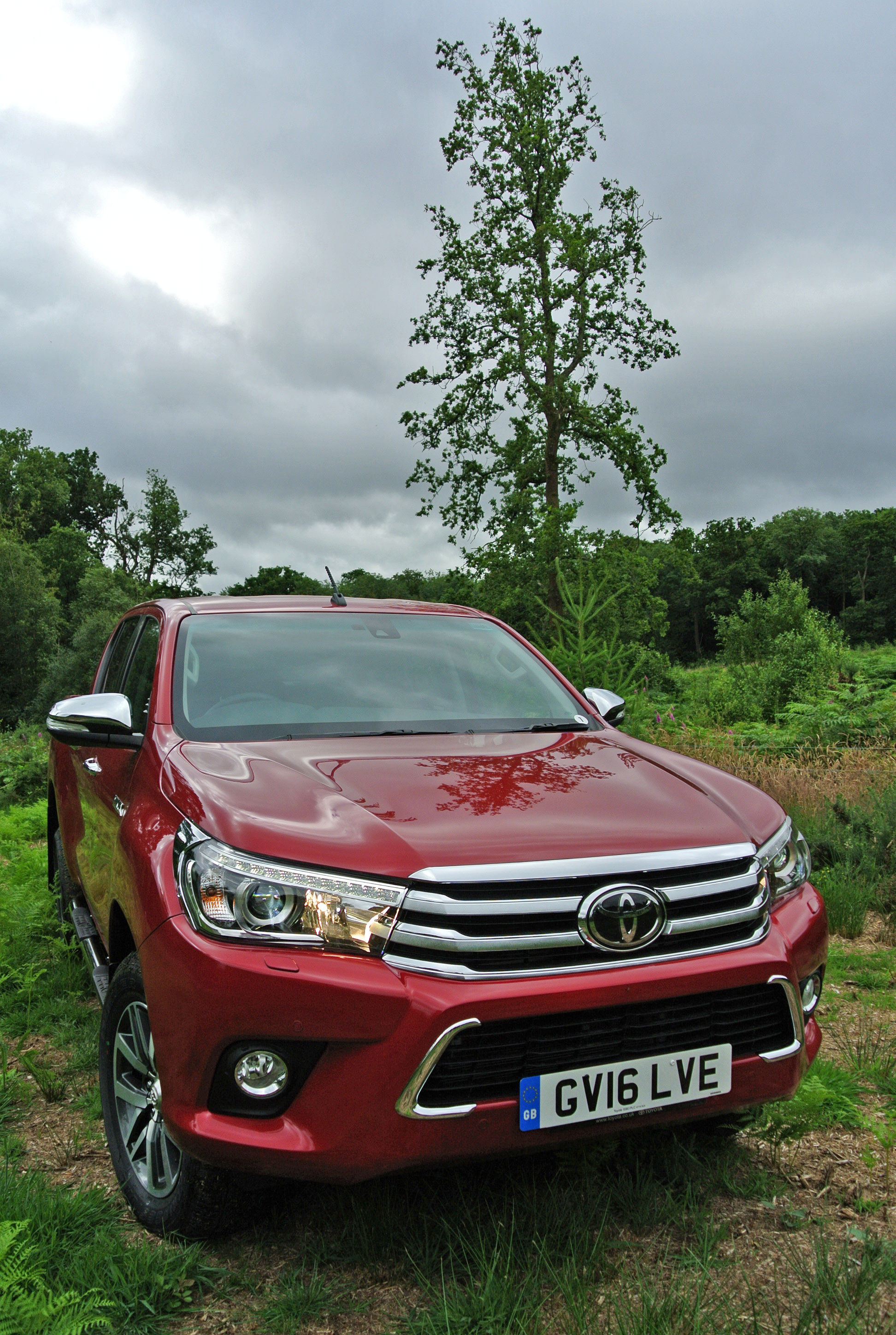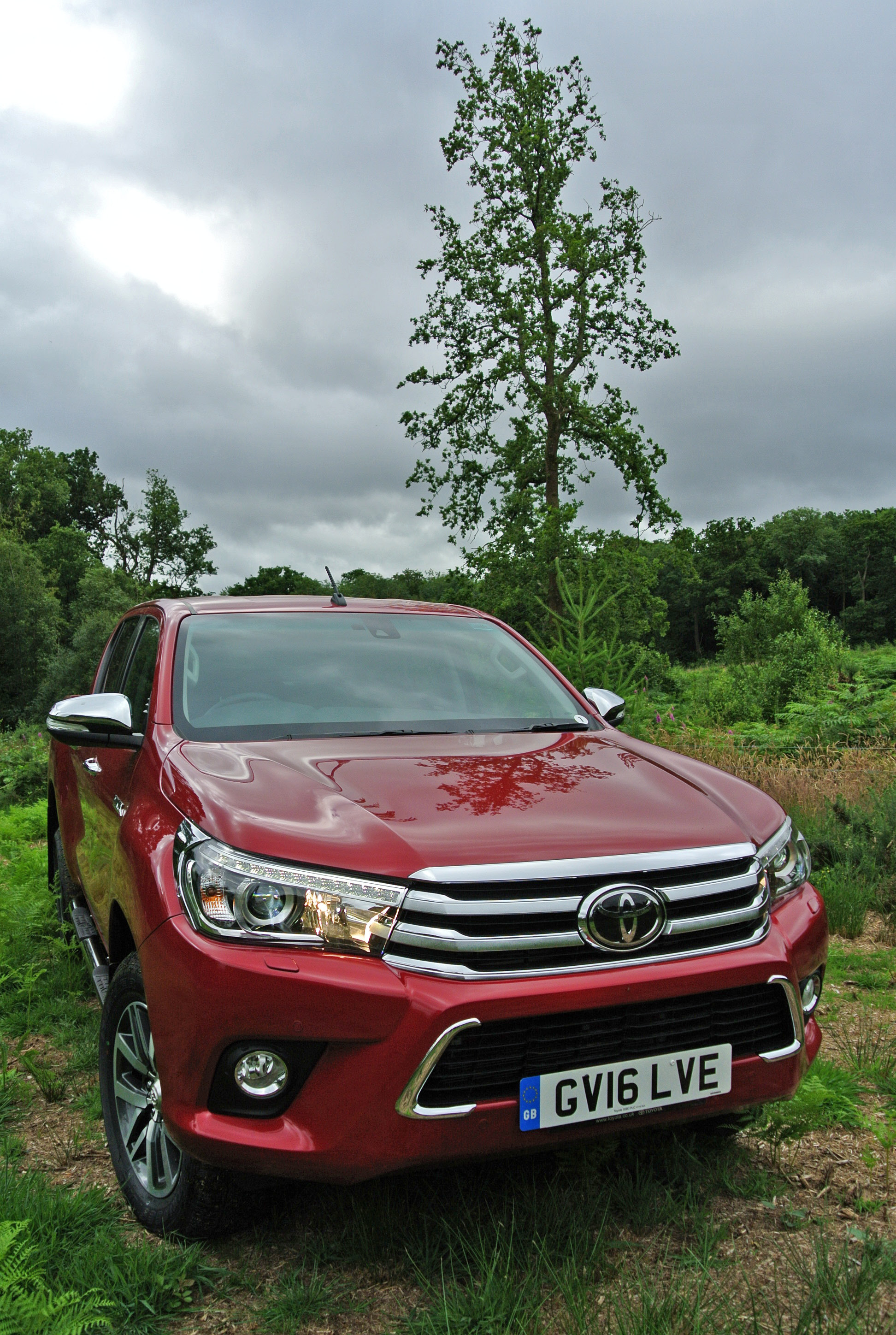 For the best part of the last fifty years, Toyota has built pickup trucks, from the most rudimentary to today's car-like and latest version of the Hilux, which remains the best-selling such model, with a one-in-four purchase popularity across Europe (18m sold world-wide). Its various exploits on Top Gear are well documented, the 'Terrible Threesome' using highly modified versions to cross the polar ice cap, or taking a second-hand example to destruction point, the vehicle surviving (almost) every assault from drowning to being blown-up. It never failed to restart!
As you might imagine, for a vehicle that serves as much purpose on a building site, as it does providing leisure transport to the nuclear family, a specific degree of toughness needs to be present. Its driver profile is certainly not Mumsy Grand Central, a sector best left to the kids-of-school-age brigade. In fact, the image is axe-wielding, two-metres-tall, bearded and less Frank Bruno, more Dolph Lundgren, with a soupcon of 'I'm no Nancy-boy!' thrown-in for good measure.
Yet, you might be pleasantly surprised at the cosseting and cuddly quality of its interior accoutrements. You see, Toyota remembers a time, when the benefit-in-kind, tax-dodging elite was prepared to muscle a one-tonne truck into town, rather than the weekend Lotus Elise. While taxation is now carried out at a slightly higher level, the BIK is set at £3,000, which means that a 20% tax-payer will be liable for £600 annually in vehicle tax and an additional £100pa for fuel tax. By comparison, a Nissan X-Trail 2.0dCi will cost its operator £2,385 in tax liabilities. You would be half-daft not to contemplate a truck.
Perceived wisdom demands that comfort and refinement, without detracting too much from the truck's more purposeful characteristics, remain high on the priorities' list. In fact, the four-door cabin of the Hilux Invincible, apart from being fairly easy for man-mountain to clamber into, while the children will love to play at part-time mountaineer with every trip, is beautifully trimmed and not in the least bit 'van-like'. There are no rattles, creaks, or groans, coming from the body-on-ladder-chassis construction.
The specification of this admittedly top o' the shop model is largely identical to the mainstream saloons, hatches and estate cars at which it might tilt. A full complement of airbags, Isofix child-seat mountings, antilock brakes, traction/stability control, cruise, climate and sat-nav are all standard fitments. It is fully carpeted and soundproofed and, because it can also deliver the 4×4 stuff, it incorporates hill-start control, downhill brake assist, a locking rear differential and even trailer sway control.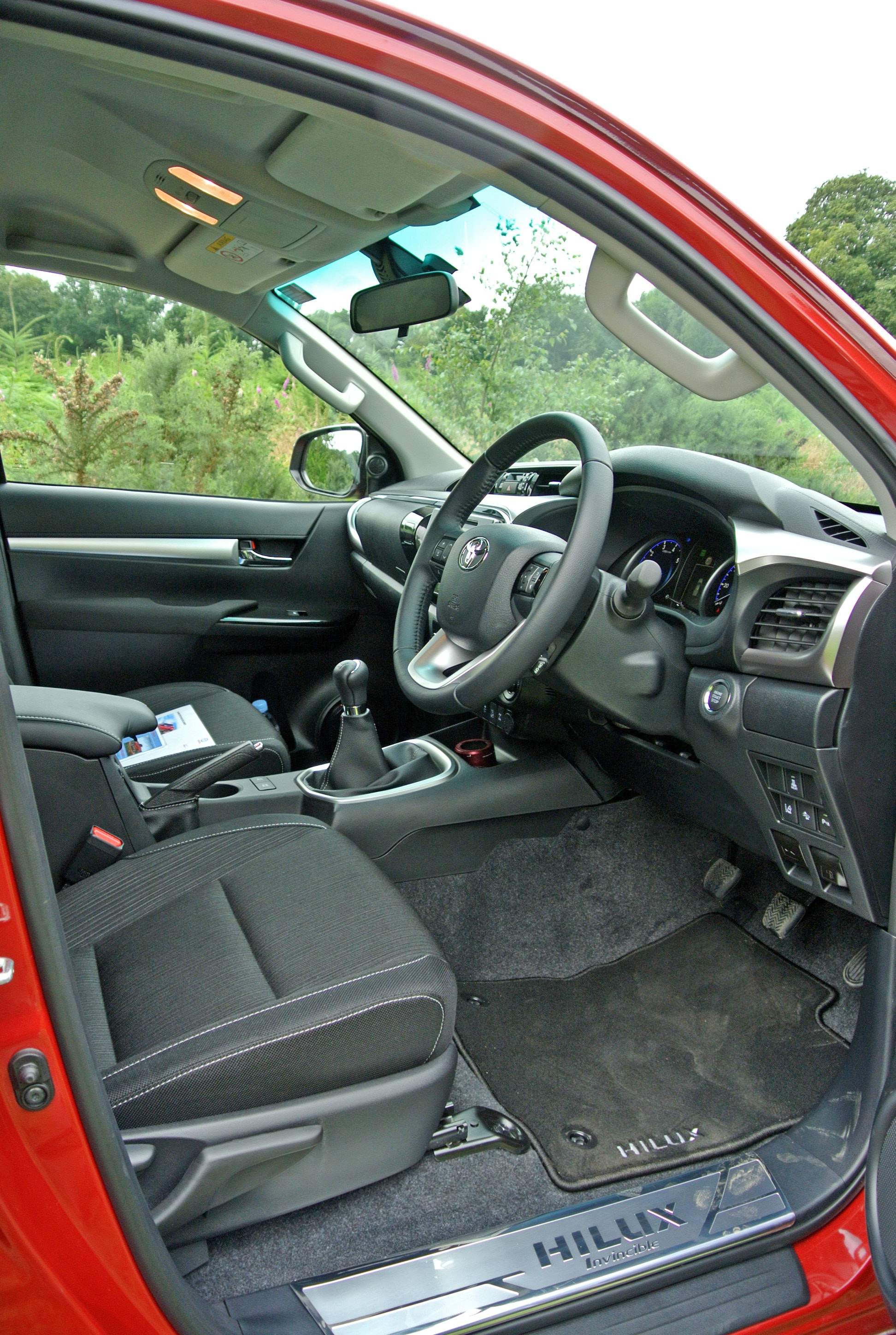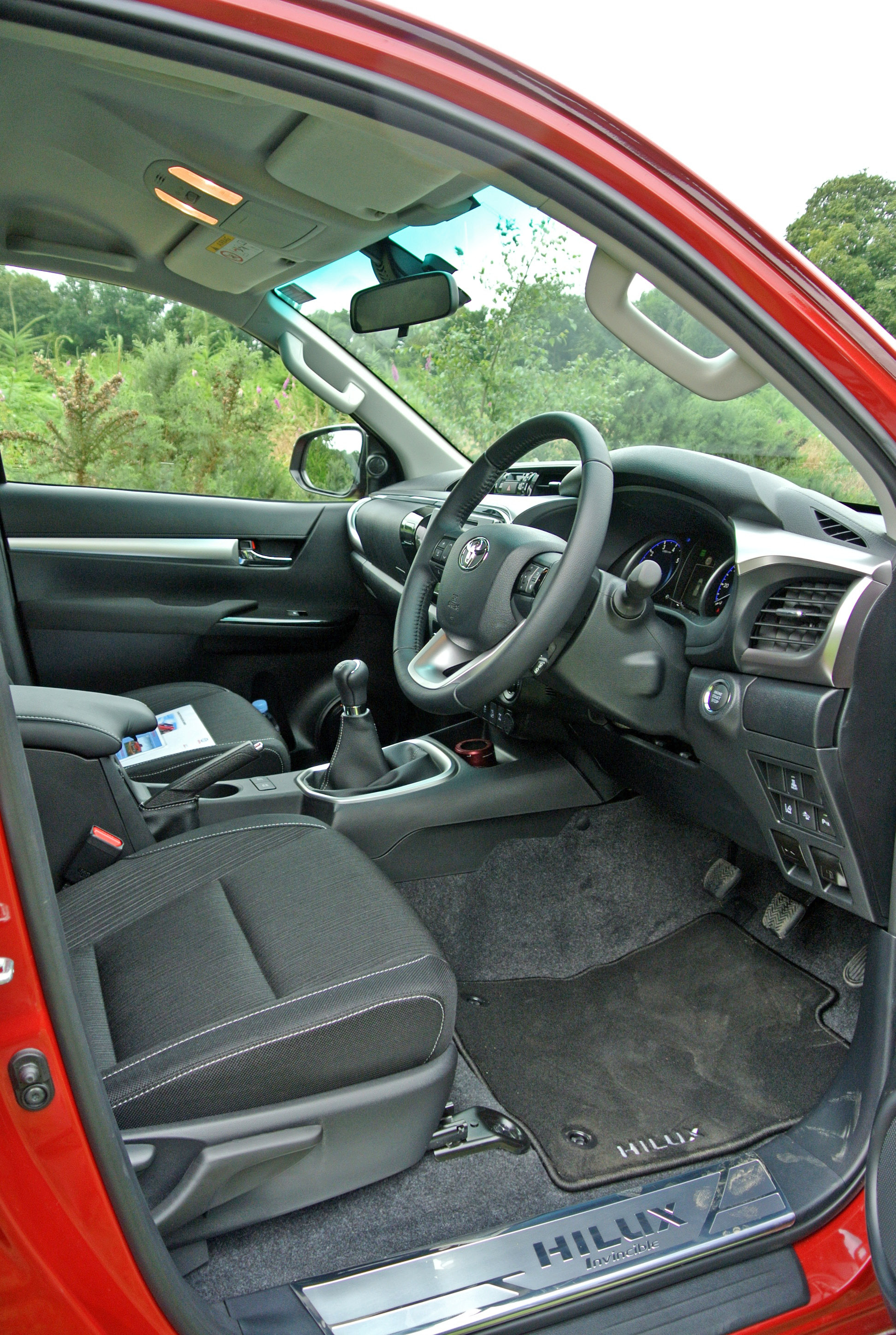 Although you might not want to, the lady in your life could be handed the keys and feel eminently at home with the Hilux. Power steering helps, as does the option of a six-speed automatic transmission (the six-speed manual shifts nicely enough but the auto-box means that the driver can concentrate on the road and not cog-swapping) and the only precursor lies in the fact that, at 5.3m in length, a single parking-slot at Tesco is insufficient to accommodate the Invincible.
In respect of the aforementioned refinement, the manual 'box is geared at an astronomical 40mph/1,000rpm, which means that a 60mph cruise demands no more than 1,500-serene-revs. Although the former version of this truck was powered by a chunky 3.0-litre diesel, the new power unit displaces just 2.4-litres but still produces 148bhp and a whopping 295lbs ft of torque (between 1,600-2,000rpm), which is enough to uproot a compact family abode. Its towing capacity is 3.2-tonnes, although it will be confirmed at 3.6-tonnes later in the year, which is pretty impressive for a two-tonne truck and leaves the vast majority of SUVs floundering in its wake.
While it can feel a little ponderous at low speeds, short-shift up the ratios and the 'old boy' hikes up its kilt and despatches the 0-60mph acceleration benchmark in around 12.9secs, before running out of puff and aerodynamic fluency at around 106mph. Trust me, you do not need more. Its CO2 emissions are stated as 185g/km and its Official Combined fuel return is given as 40.4mpg. As I averaged 35.7mpg on a test mix of cross-country roads and lanes in Buckinghamshire, I believe that most operators will be more than contented.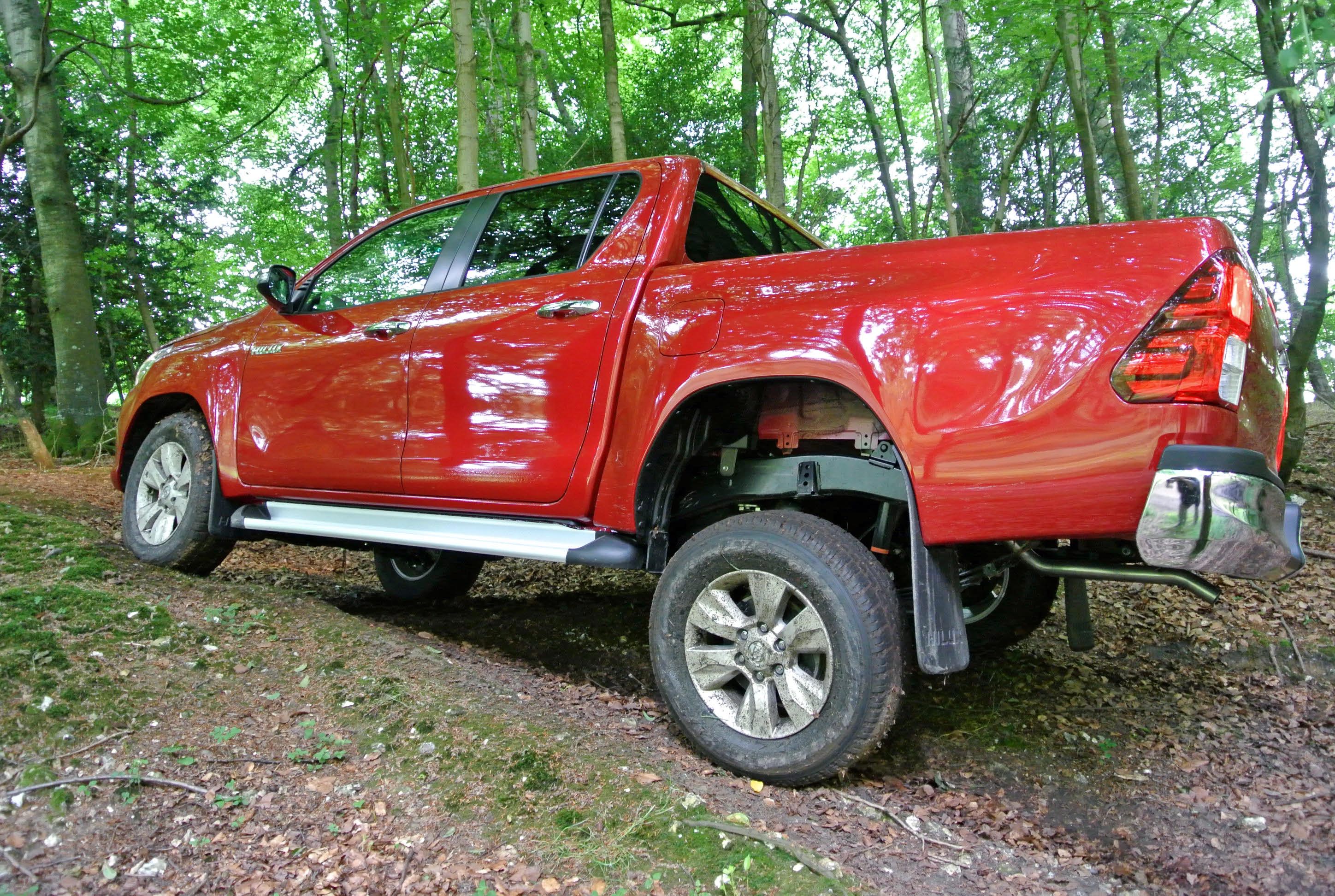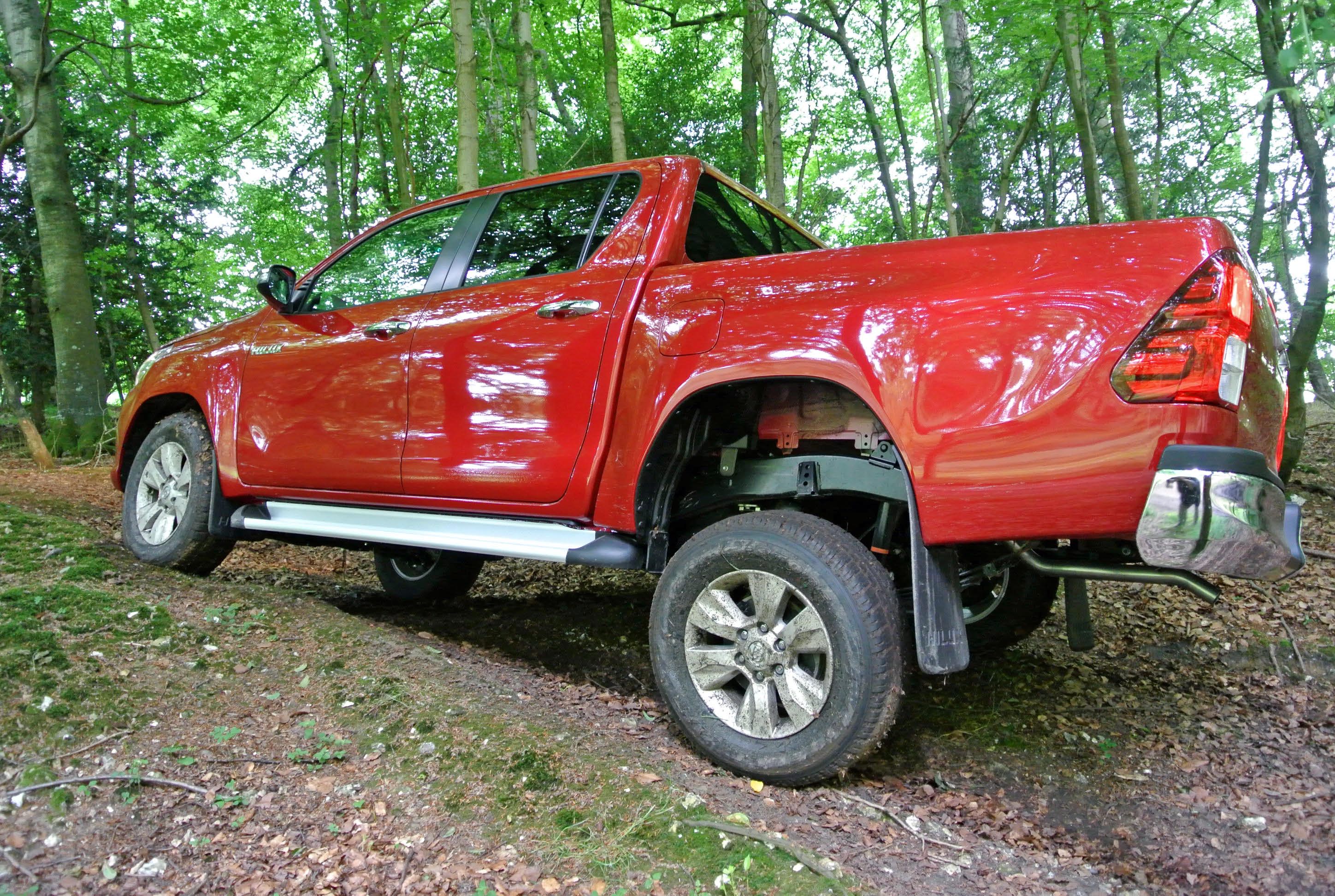 Ride quality is not normally a consideration with pickup trucks but, thanks to longer leaf springs on the live rear axle, an acceptable level of compliance exists. Its balloon-like 265/60R18 mixed-surface tyres create some road roar on dry tarmac but grip levels are generally quite good. Strike road-edge imperfections, or potholes, and the heavy-duty damping can make the rear-end of the truck patter slightly in unladen state. Even fitting an optional deck cover will help to weigh down the tail, although up to a tonne payload should balance it off nicely (no extra loads were available for the test exercise).
However, tapping into the truck's alter ego, that of off-road champion supreme, reveals its true competence. Despite a slippery, leaf-mould surface following early rainfall and using the truck's excellent anti-stall device, while in low ratio (dialled in electronically by a switch ahead of the driver's left knee), it idled up a one-in-two gradient and was outstandingly controllable between the trees. Its hill descent control worked efficiently on mud, wet grass and sand.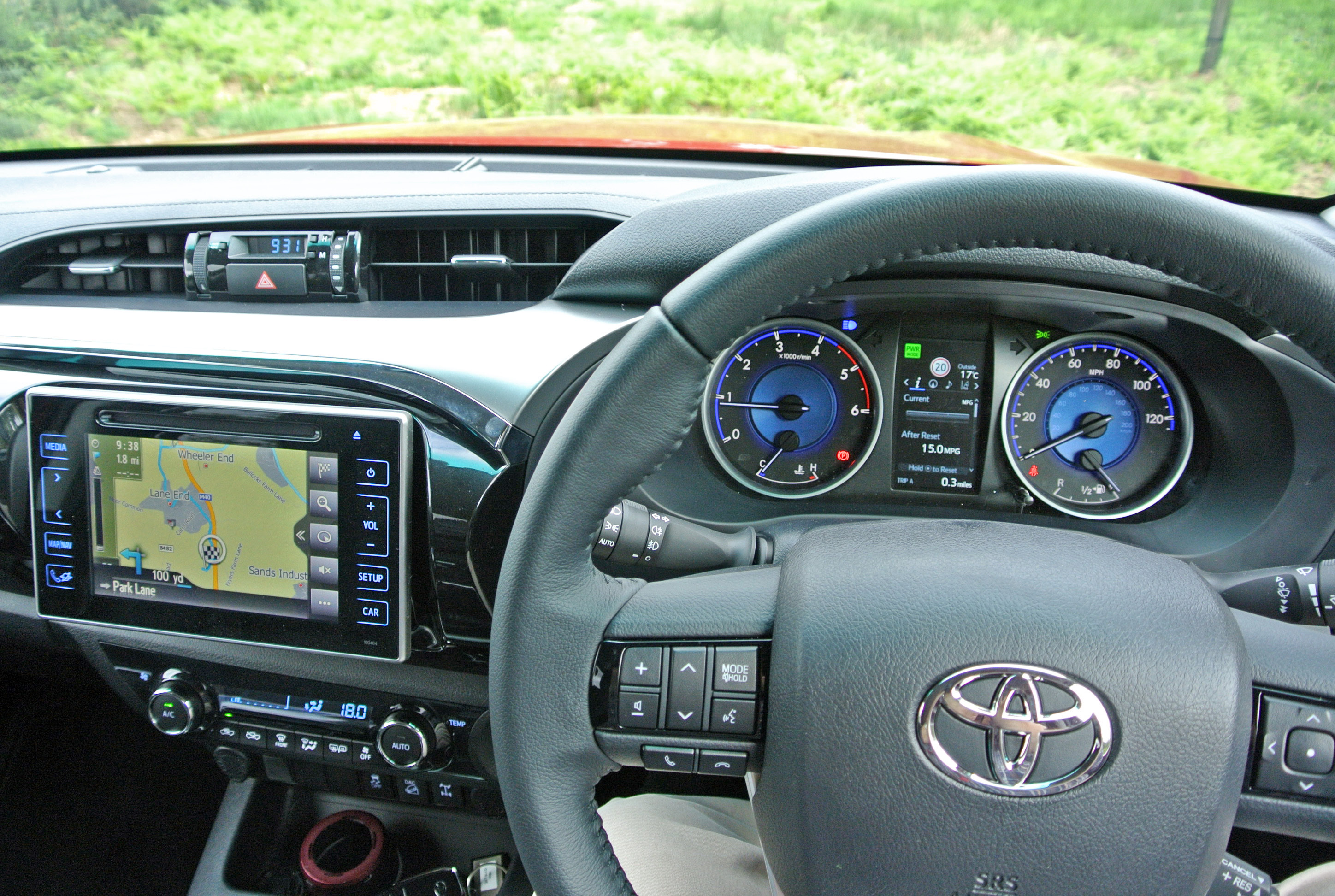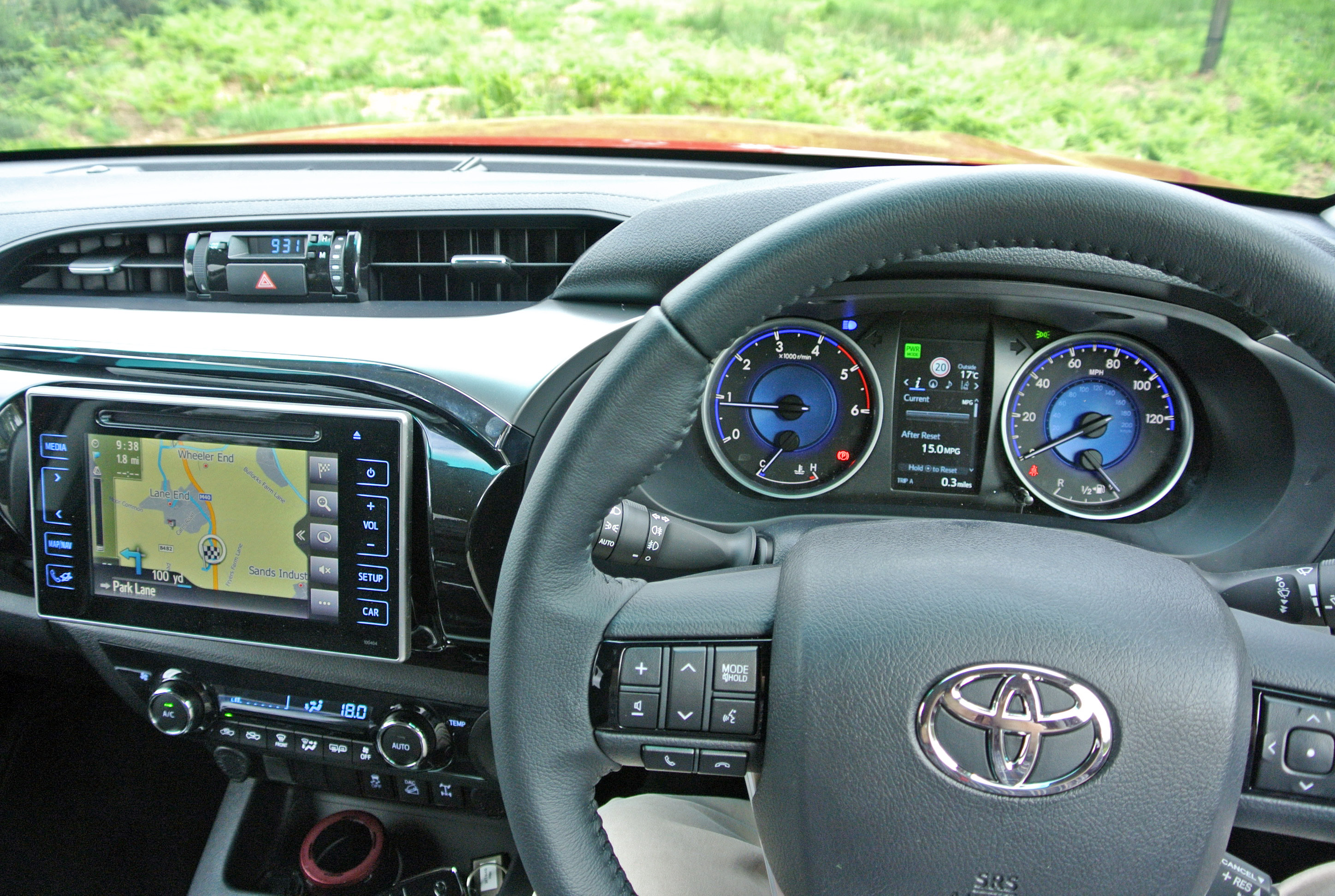 It was difficult trying to find an axle-twister of sufficient severity to demonstrate the Hilux's tractive talents, as a result of its revised suspension set-up, but I was able to take a photograph of its excellent articulation and its wading depth (through a river, on the private grounds at our disposal) of around 20-inches was also impressive. There were no leaks and the traction on shifting silt was outstanding.
Priced at £26,173 (as a commercial vehicle; £32,645 otherwise), complete with the optional Touch with Go sat-nav (£750) and metallic paint (£545), the Toyota Invincible is not quite the same price as its high-end SUV rivals, all of which are upwards of £4,000 costlier. Of course, there is a trade-off, as the truck is not designed to be car-user friendly, as it possesses a broader purpose in life, but that does not stop it from being eminently satisfying to drive. Its exterior is chrome-enhanced but with decent approach (31-degrees) and departure (26-degrees) angles to ensure that snagging the bodywork on the scenery is not a major consideration.
If paying a hefty annual tax demand for a company car is a bug-bear, a Toyota Hilux Invincible 2.4TD makes a solid case for all-round transport. Its dimensions are hardly city-car-friendly, either to drive, or park, but the driving experience is better than just tolerable. The Hilux covers ground most competently. Yet, it is a workhorse that can carry, or tow heavy loads and make a decent fist of charging across country, without fear of getting stuck. Protected by the same five years/100,000 miles factory warranty with which Toyota covers all of its UK range of models, it is fair to state that its reputation remains sound.