Having awaited its arrival, Iain Robertson bucks a critical trend that has knocked the Infiniti Q30 unfairly, as he suggests that the 1.6-litre engine creates a better balanced and no less attractive driver's car.
Lots of commercially-aware companies make business decisions from which they learn the error of their ways. They weigh into the market, promising great benefits from the 'next best thing', yet, due perhaps to just one infinitesimal aspect, they create hoops through which even the most lissom of contortionists would find it impossible to emerge.
The motorcar business, while not renowned for questionable practices (we are not talking 'dieselgate' here), despite having to deal through a motor trade that is infamous for them, has performed some outstanding cock-ups that would even amaze Dennis Norden (or, more recently, Griff Rhys-Jones). Two manufacturers come to mind.
The first was General Motors (GM), when it decided to re-launch the Cadillac brand in the UK. The US company had good reason to feel buoyant. Its relationship with Swedish Saab had resulted in a 2005 re-badging of the delightful 9-3 line-up as the all-new Cadillac BLS. Of course, you would not expect anything less than a cynical initial response from me in such matters, when I rechristened the car as a Bit-Like-Saab and also Saabillac (or even Cadillaab).
As a typical American rape of a sound European brand, something for which GM was renowned, having attempted to turn the Japanese Subaru Impreza into the Saab 9-4X, the premise was notionally wrong. However, so was the practice. As it happens, while GM did not manage to wipe-out Subaru (now safely part-owned by Toyota), it did kill Saab! GM determined that its speediest and most cost-efficient way to market was via a large UK corporate dealership chain. The project was doomed to failure. The Saabillac lasted for just a few months, as did the rest of the extensive Cadillac line-up, when the firm realised that its third attempt to encourage British buyers into US/Euro-built products was not really on the cards.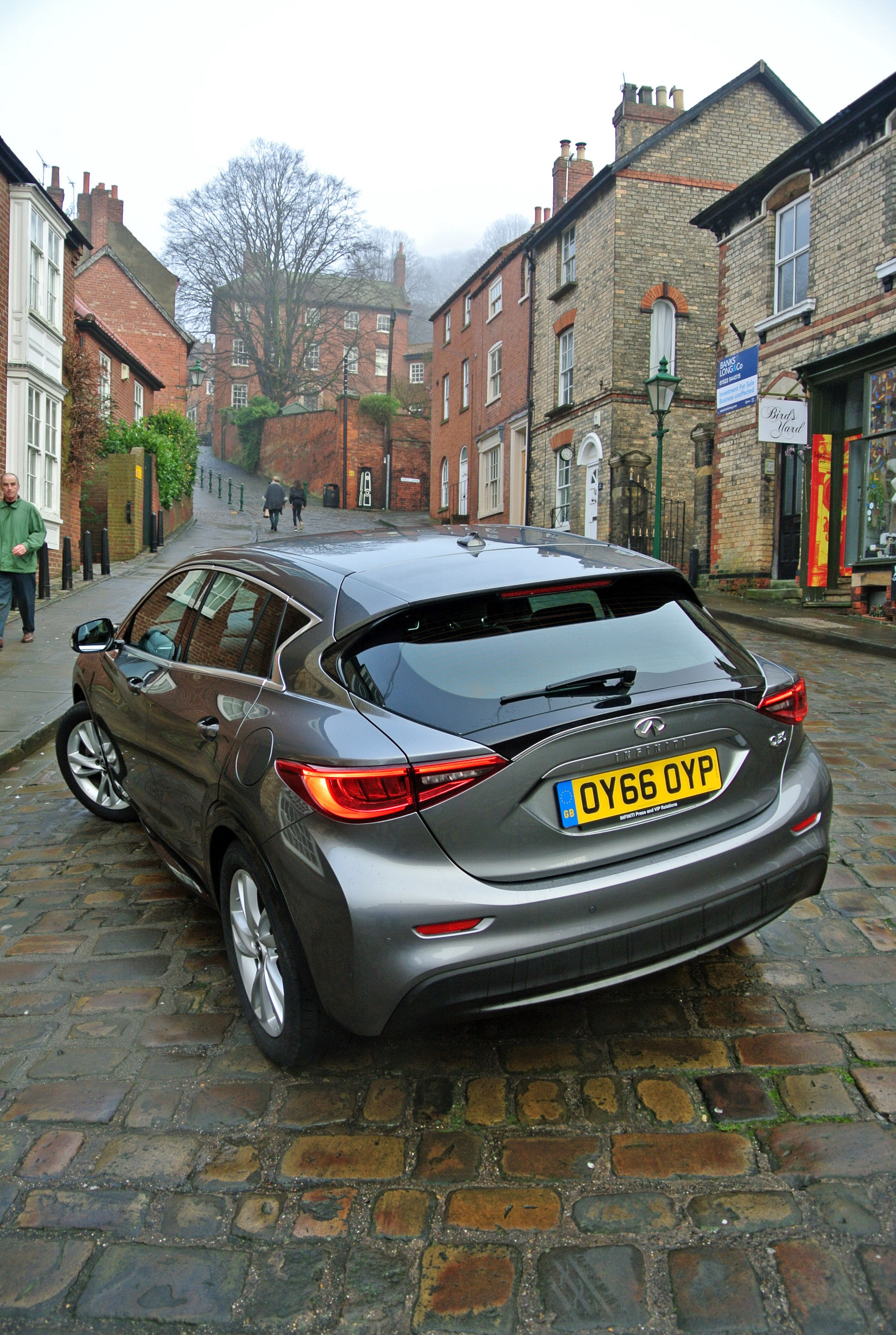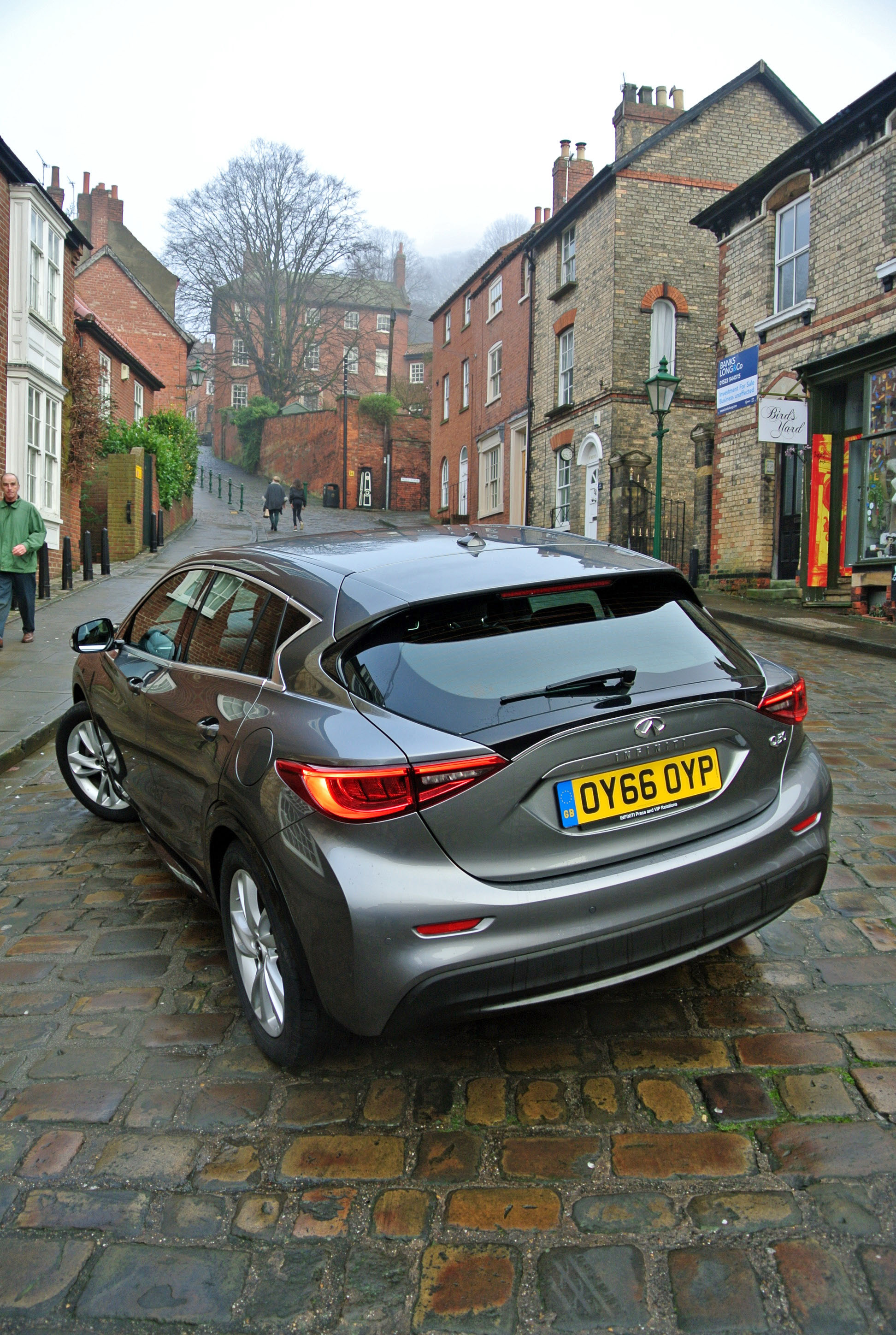 The second example that I present lies with Infiniti, which, for want of a better descript, is actually the Nissan equivalent of Toyota's Lexus; a luxury Datsun. However, where Lexus launched its brand correctly, in an Audi-VW manner, through a select number of its geographically-sound and better-performing Toyota dealerships, Nissan/Infiniti went down the Cadillac route and engaged with a major dealership chain. As with Cadillac, it was a time-consuming and wasteful gesture. Car dealers are a destructive lot. Were I a carmaker, I would steer as far clear of them as I possibly could. They wield far too much power and can be responsible for performing untold and almost uncontrolled damage to a brand.
Fortunately, Infiniti, despite its tediously slow introduction to our market, considering how much of a best-seller it is in North America, is now on a slightly faster development track. It is not going to break any Land Speed Records but there is a broader network of availability for what is a sensually more attractive motoring proposition than the equivalent (and quite grotesque) Lexus.
The most recent version of the UK-built Infiniti Q30, the smallest model in the luxury brand's UK range, which is based largely on the Mercedes-Benz A-Class, is powered by a 1.6-litre, four cylinder petrol engine that develops a healthy 153bhp and, in SE Business Edition form, drives through an optional, seven-speed, twin-clutch, automated-manual gearbox (complete with paddle-shift). Of course, the car is not all-Merc, as the body is definitely a Euro-Jap-US committee design but is not bad for all that. However, from the ignition key, to the switchgear and other controls, the Merc-ness relationship is far from murky.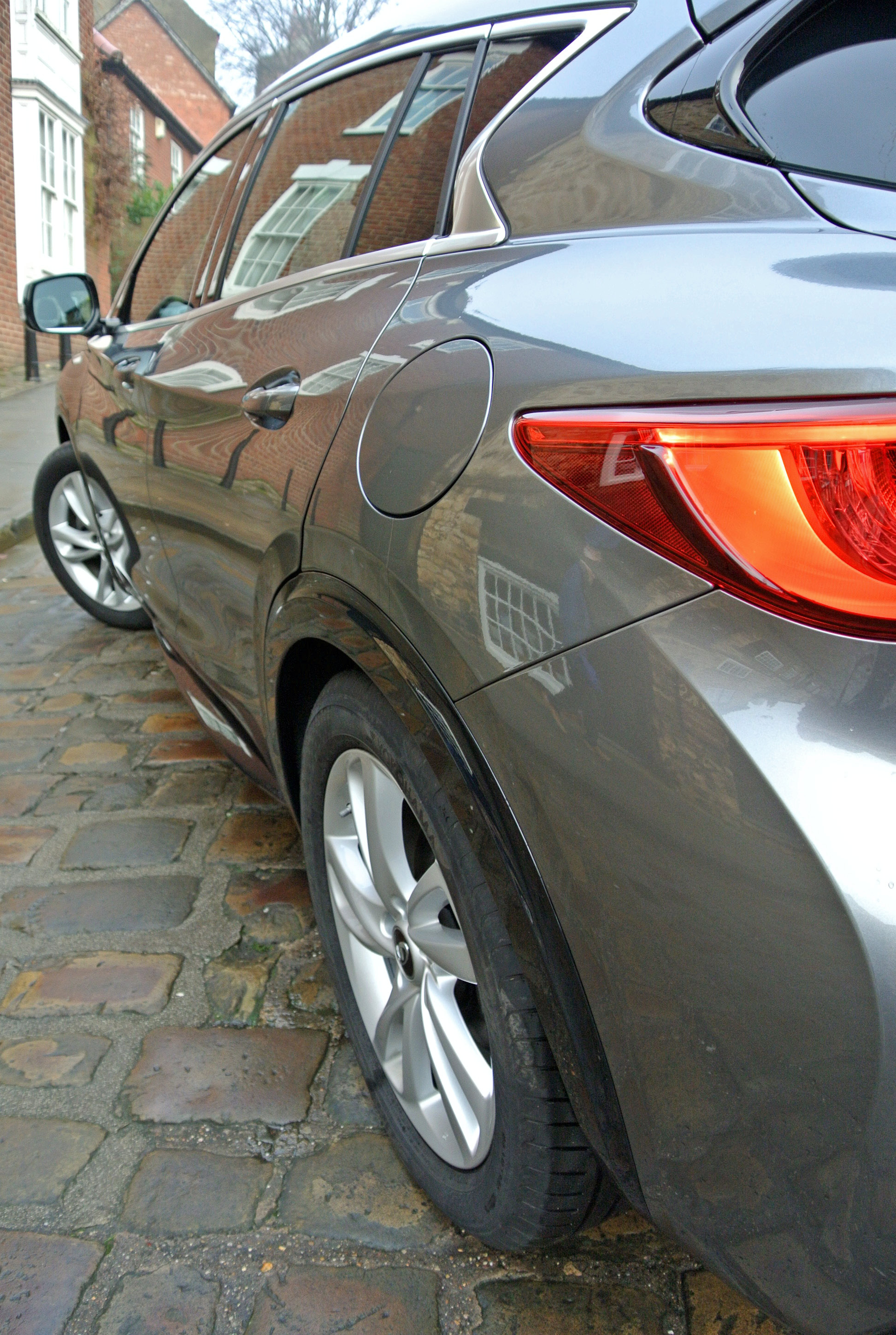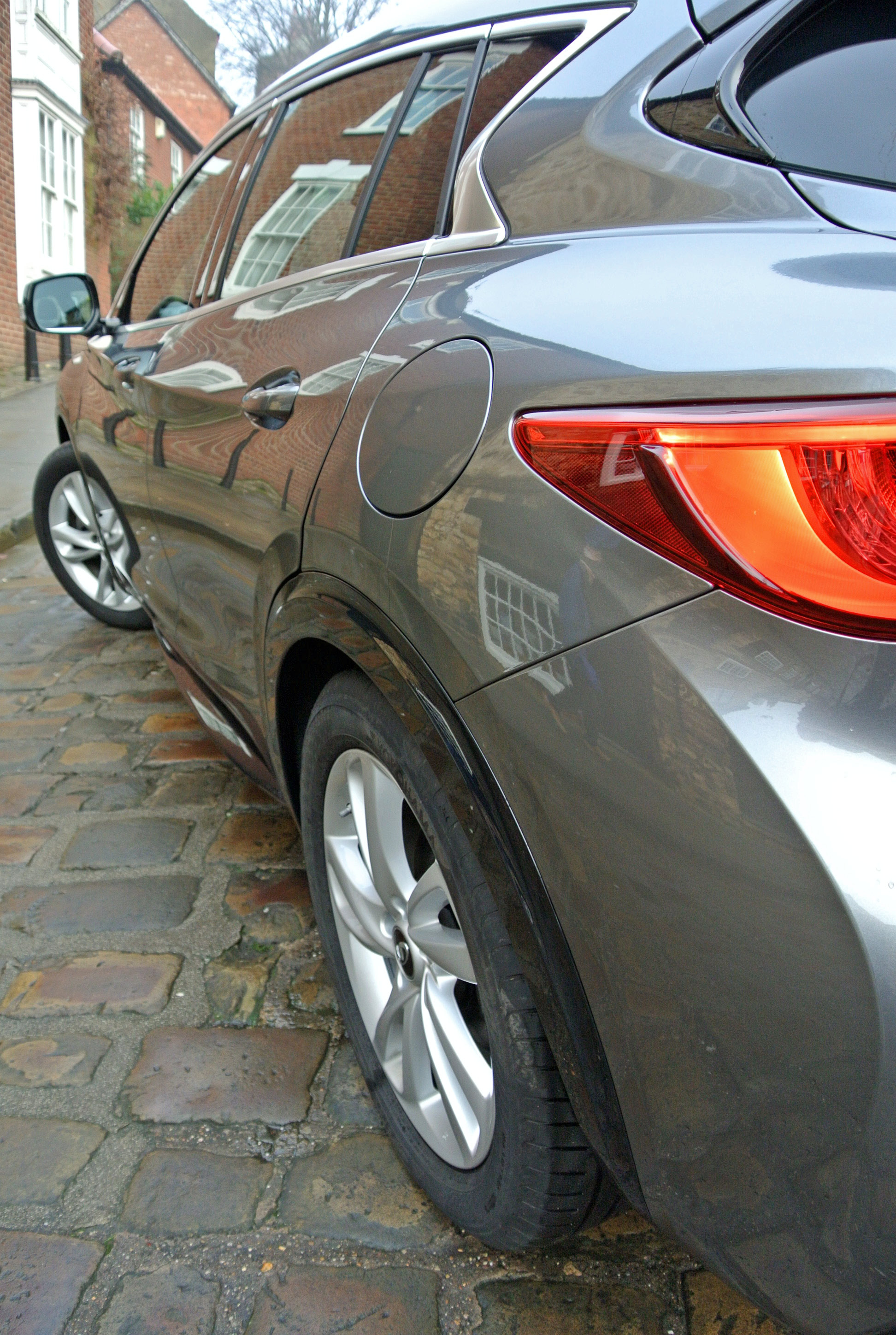 Mind you, recent, quite mischievous 'news' seemed to highlight that Mercedes-Benz was withdrawing from the strategic partnership drawn-up between the two companies, which would have left Infiniti bereft of a technology partner. Fortunately, the set-in-stone deal between Germany and Japan has somewhat sturdier foundations than the eager news-jockey had been suggesting. There is no breakdown in the partnership and Infiniti IS on safe ground.
Despite Nissan's questionable accountancy practices (it uses Rolle, Switzerland, as its European HQ…you can establish the logic for that, especially on the corporation tax front), Infiniti is actually a brand that is quite likeable. Possessing greater style-centricity than its fostering Merc A-Class does mean that the Q30 is not quite as practical as its Teutonic counterpart but it presents a far more plush and luxurious cabin than the compact plastic palace from Stuttgart.
When you factor in a price tag of £23,600, to which the test car's specification has been supplemented with £2,270's worth of personalisation options, its bottom-line of £25,870 is still within acceptable bounds. It is subjectively a very attractive machine and its leather-clad dashboard and up-market trim detailing certainly offers bags of customer appeal. Incidentally, the range starts at £20,550.
While some critics feel that the 1.6-litre engine is gutless, I do not share their views, as a 134mph top speed and 0-60mph in 8.6 seconds is not exactly in the city-car zone. Considering that the Q30 tips the scales at a moderate 1.45 tonnes kerb weight, 153bhp is more than man enough in motivational terms for most potential owners. The convenience of a two-pedal manual, although it is not the finest example of a twin-clutch device (you need to visit VW Group for that), proving to be caught out, in the wrong gear, on some occasions and reluctant to 'kick-down' on others, actually adds to the overall, front-driven package that I believe to be otherwise excellent.
The Q30 is not bad on the fuel consumption front either, my test car being capable of returning a pacy but comfortable 41.7mpg (contrasting with a stated 48.7mpg Official Combined) on longer trips, although that figure does dip into the 36-37mpg region zipping around town. On my usual 50-miles economy test cycle, I did attain a very decent maximum of 49.3mpg, which places this petrol car in diesel territory, which is impressive. Its stated CO2 emissions figure of 136g/km equates to an annual VED bill of £130. Bear in mind that, for cars registered after 1st April 2017, this rises slightly to £160 (under the terms of the new Road Fund Licence rules).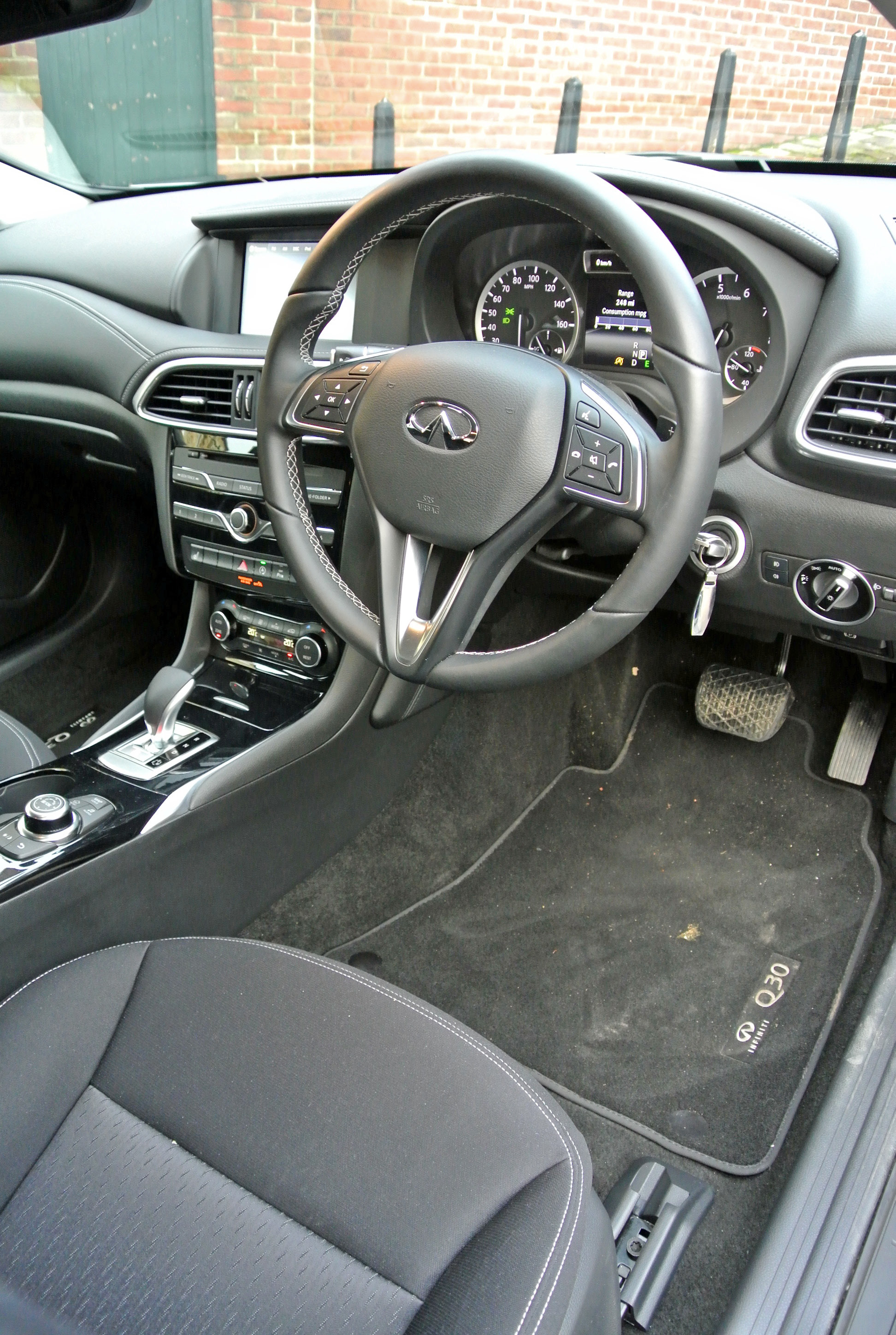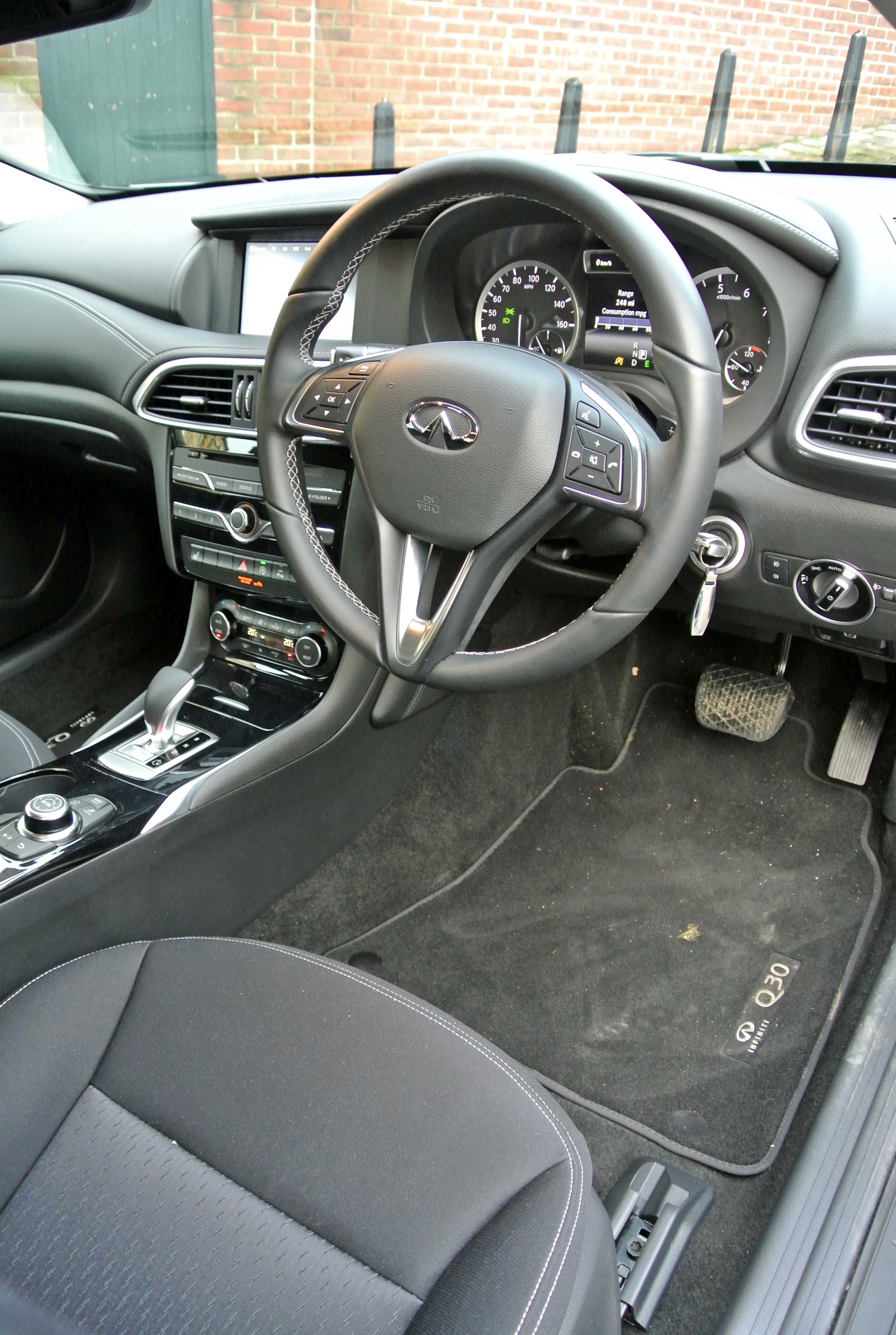 Although manually and not electrically adjustable, the driver's seat does offer an immense range of movement, which means that rear seat space can become very compromised. However, in conjunction with the rake and reach steering column range, an excellent driving position does result. The impression inferred from there is of a very high quality motorcar that feels a lot larger than its hatchback dimensions suggest. It is a feeling supplemented by the weight of the doors and most of the controls, all of which possess a distinctive 'meatiness' to them that is unexpected of a car in this class. While that might also imply a degree of unwelcome, perhaps even leaden, progress, it proves not to be the case on the move and the Q30 settles into a satisfyingly stable, relaxing and resilient drive. In fact, its suspension works supremely well at isolating Q30 occupants from the worst effects of our broken roads network; most surface imperfections can be heard but seldom felt.
The Infiniti Q30 in 1.6-litre guise is significantly more than the sum of its German, Japanese and British parts. That it is built in the UK should help its cause, especially in 'Brexit' Britain but notably without the interference of Carlos Ghosnads, the company's perpetually 'hands-out' boss. It is frugal, good looking and of high merchantable quality, factors that will help its cause for both private and business drivers.