Monstering market sectors has become the remit for VW Group products but, as Iain Robertson highlights, while Seat Ateca moves the game on a touch, the Group's other issues may be brought to the fore.
Several years ago, having been part of the suited-and-booted fraternity, I did a James Hunt. The former F1 Champion and full-blooded Bohemian was once stopped from entering the RAC Club, on Pall Mall, London, for his own prize giving, because he was not attired in an 'appropriate manner'. In fact, his T-shirt, which bore a print of a dinner jacket, frilly shirt and bowtie atop a pair of jeans (and he was wearing sandals on his sock-less feet) was the perfect bad-boy outfit. I quite admired him. I ceased wearing a suit.
Personally, I have always believed that, while outfitters would support understandably a remit of 'clothes maketh the man', it is what resides within them that infers individuality, character, charisma and the truth. Although my parents, both products of a post-Victorian upbringing, would not have tolerated my less formal garb, I was marking a desire purely to be more relaxed, especially as my 'job' was eminently laid-back.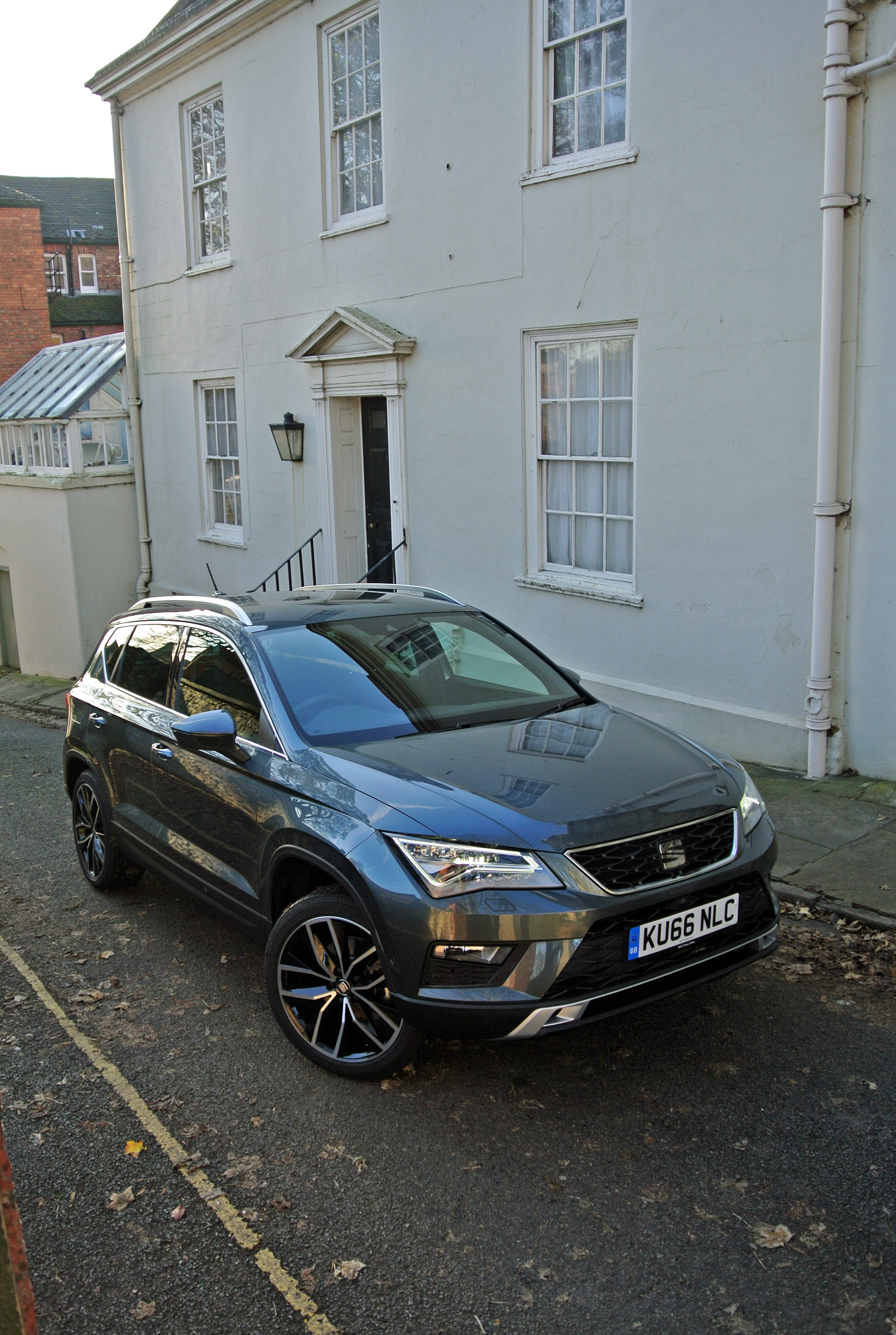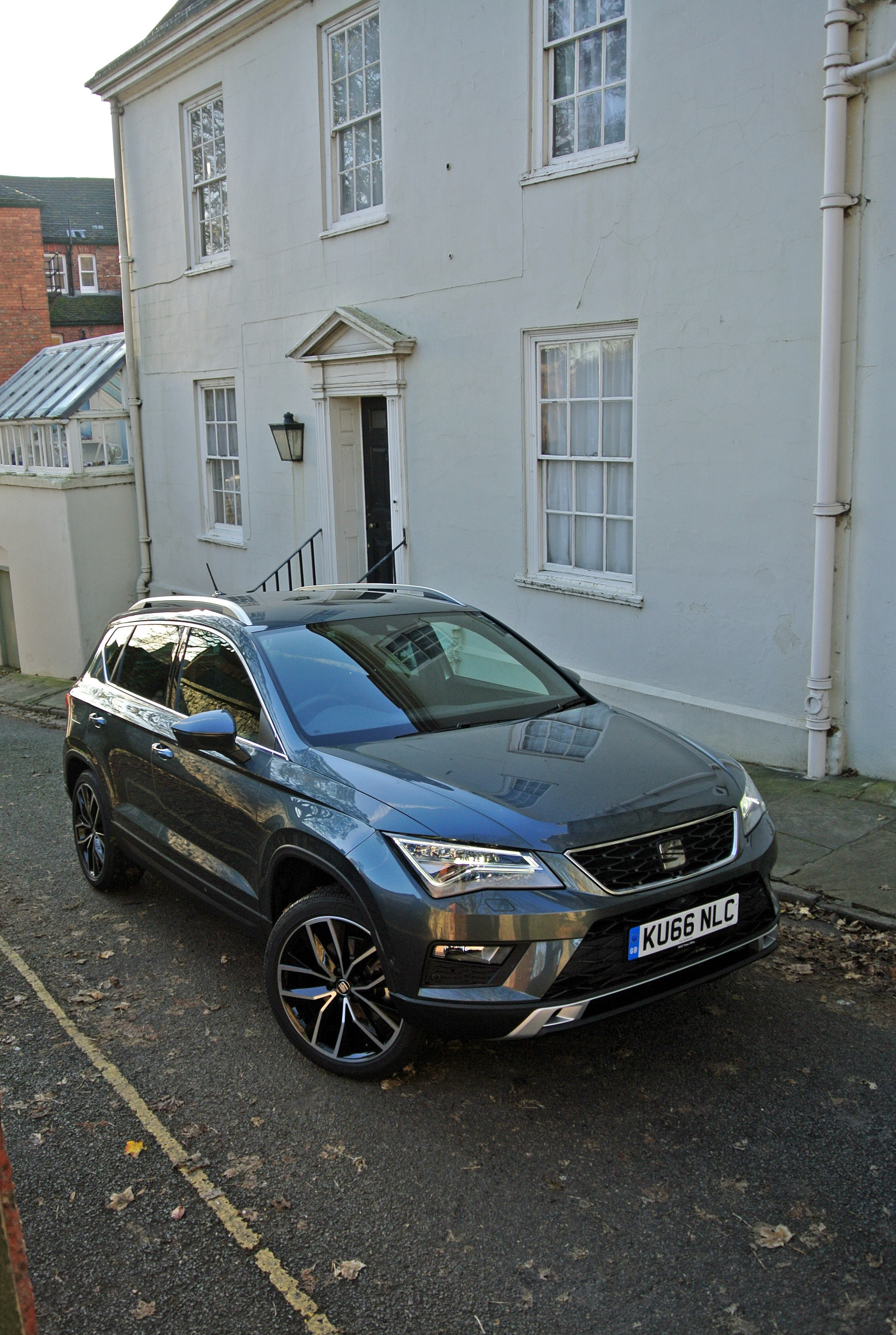 Yet, I can admire the smart suit and there is no denying that members of both sexes can look utterly stunning in more formal wear…it's just that I feel more comfortable in a pair of chinos, wearing a fine cotton casual shirt, with a pair of Timberlands on my feet. With the Seat Ateca, I am not certain if the fine creases are more like applying the iron to casual trousers to give them a knife-edge fore and aft, rather than seam-to-seam, or an attempt to turn a 'casual' motorcar into a smartly-attired city item?
Regardless, I really like the Ateca. Okay, I know that it is an Audi Q3, or VW Tiguan, beneath its well-ironed body panels but it does carry the signature Seat headlamps and grille most respectfully. Yet, remove the badges and the first of VeeDub's problems is aired. They are all gradually morphing into one and the same motorcar, which means that the Group's much admired and much vaunted (apparent) brand independence is being thrown to the four winds. I am sure that a reason exists for this and it lies probably in the lack of Herr Doktor Ferdinand Piech in the frontline role.
Of course, the other big issue being dealt with by the Group is its exhaust emissions' debacle. While the costs are being borne truly by VW's customers, by way of sneaky price increases, losing 30,000 jobs to save money, as well as ceasing its World Sportscar and rallying efforts, with the intentions of showing some form of return-on-investment to shareholders, are aspects not going unnoticed by the broader market. While neither of these suggestions is design-centric, Seat is actually one of the stand-out performers of the Group at present, if not in terms of turnover, certainly in its styling and image consciousness.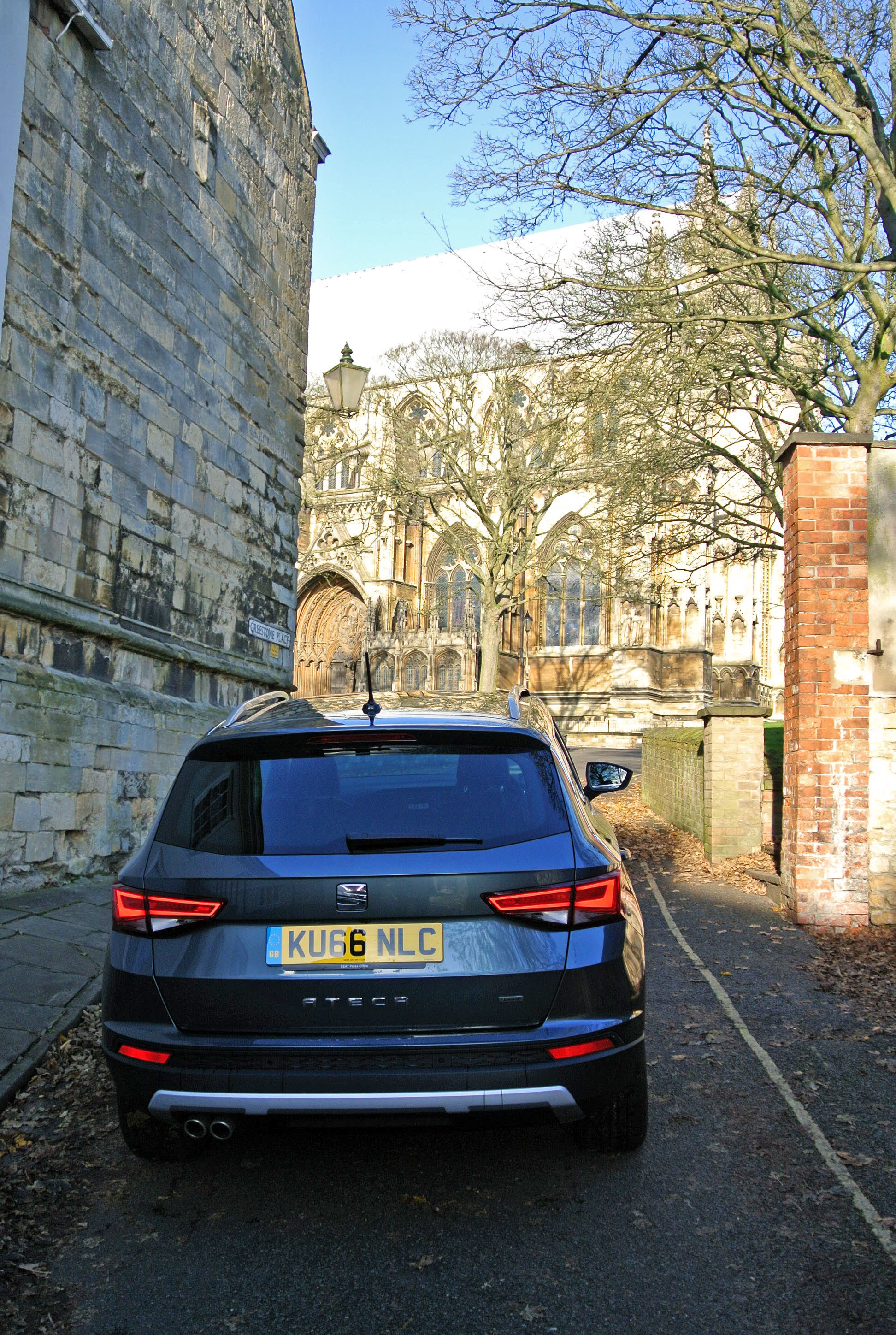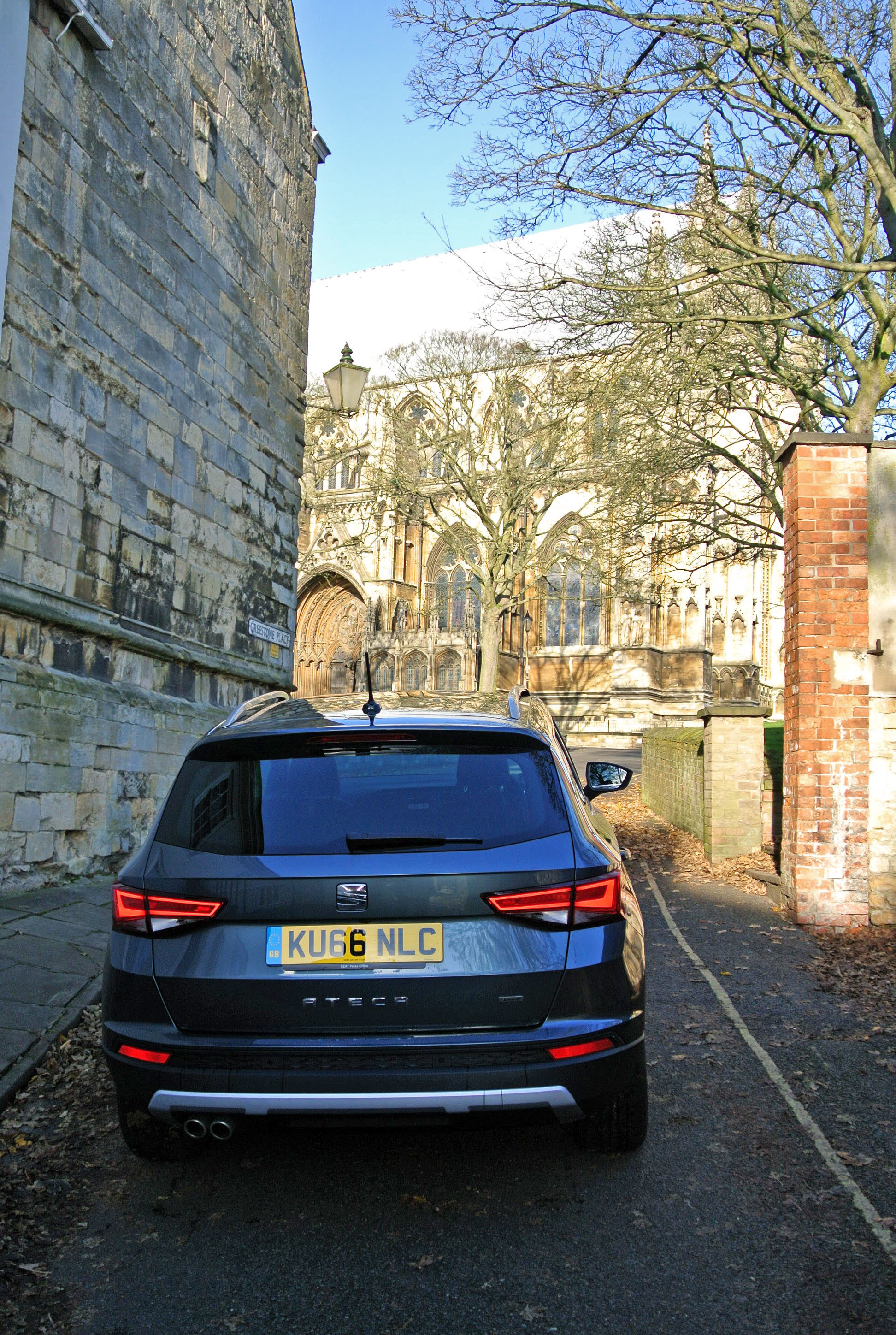 Having mentioned the pricing strategy, it is worth revealing that the test Ateca you see here, smart suit, or not, top version, or not, is still a whopping £33,510 on the road. Value is very much in the eye and back pocket of the beholder and, what with my fascination for 1.0-litre 'turbo-triples', I think that I would prefer to save a few bob (well over £13,000) and invest in the model at the other end of the scale, even though only its front axle is driven. Yet, there is a band of money-no-object 'purchasers', which will always opt for the fully-laden variant regardless. Therefore, Seat offers it.
In this trim, Xcellence (sic) 2.0TDi 4Drive 190ps with 7-speed DSG transmission, which starts at a tenner below £30k, but demands £575 for paint, so it is only a notional starting price, to which have been added £1,210 for the top-view camera, park assist and electric tailgate, £805 for the traffic jam assist, emergency assist, adaptive cruise control, blind-spot and rear cross-traffic alert, £105 for the spacesaver spare, £155 for the heated front screen and £670 for the 19-inch alloy wheels, it is fortunate that the black hide interior is standard.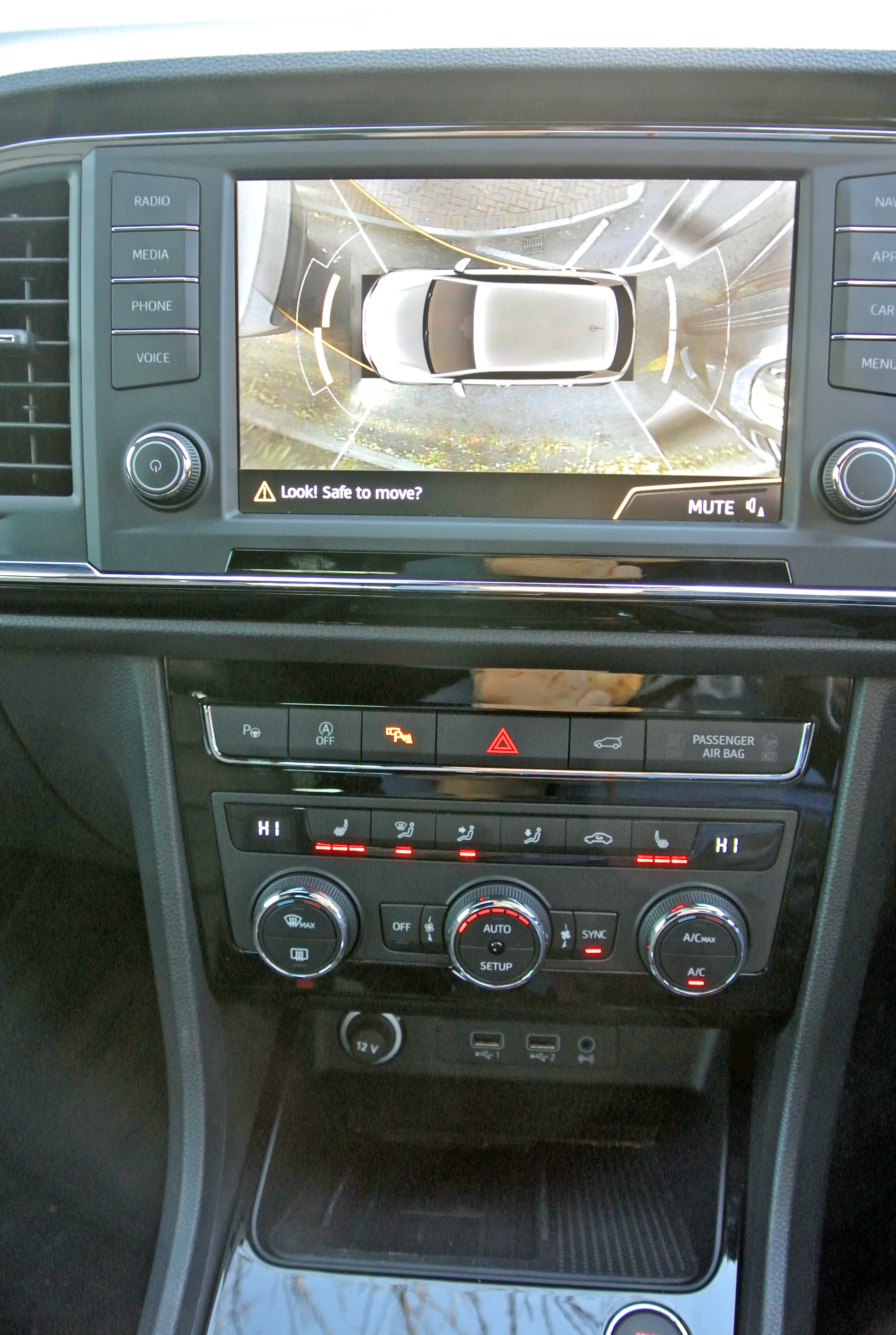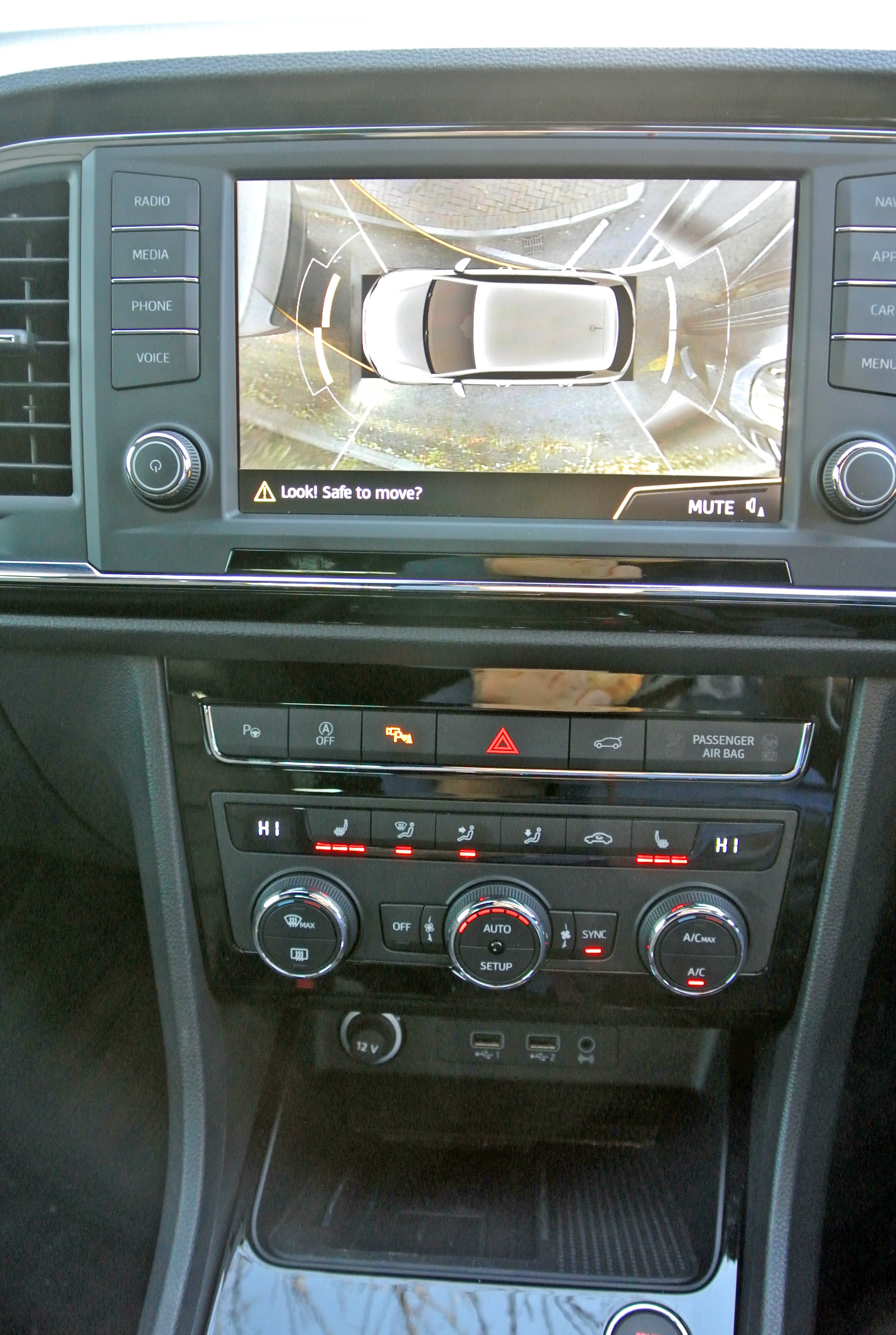 Power comes from the 187bhp version of the Group's venerable 2.0-litre turbo-diesel engine (in its latest guise, for anyone unaware of the 'cheat device'). The driver has access to a moderate 295lbs ft of torque that, in typical VW form, is spread evenly across the rev-range. Thanks to a modest kerb weight (with driver) of around 1,589kgs, it is the best performing Ateca in the range, boasting a 0-60mph acceleration of 7.2 seconds and a top speed of 132mph.
Mated to the Group's first-rate, twin-clutch, automated-manual gearbox, also known as DSG, now strengthened to enable seven forward ratios (formerly available only on lesser-powered models), the gear-selector can be operated via either the stick, or a pair of paddle-shifts located behind the hide-bound steering wheel cross-spokes. In truth, the only time you might ever need to select the ratios manually is when towing (for which this version of the Ateca should be fairly good), or mud-plugging. Mind you, the electronically managed 4×4 system, although selectable for a variety of terrains via a separate knurled wheel located just behind the gearlever, is more suited to soft-roading than chasing Landies across the boondocks, or down your favourite green lane.
Naturally, there is a price to be paid for lugging around all of this extra, high-end baggage. Its CO2 VED rating is given as 135g/km, which equates to an annual fee of £130. Its 53.3mpg on the Official Combined fuel cycle is the lowest return of all Atecas, equalled only by the petrol versions and, while a truly parsimonious driver might be able to eke out a figure close to the stated one, an average expectation is going to be somewhat nearer to 40mpg (towing will be significantly less).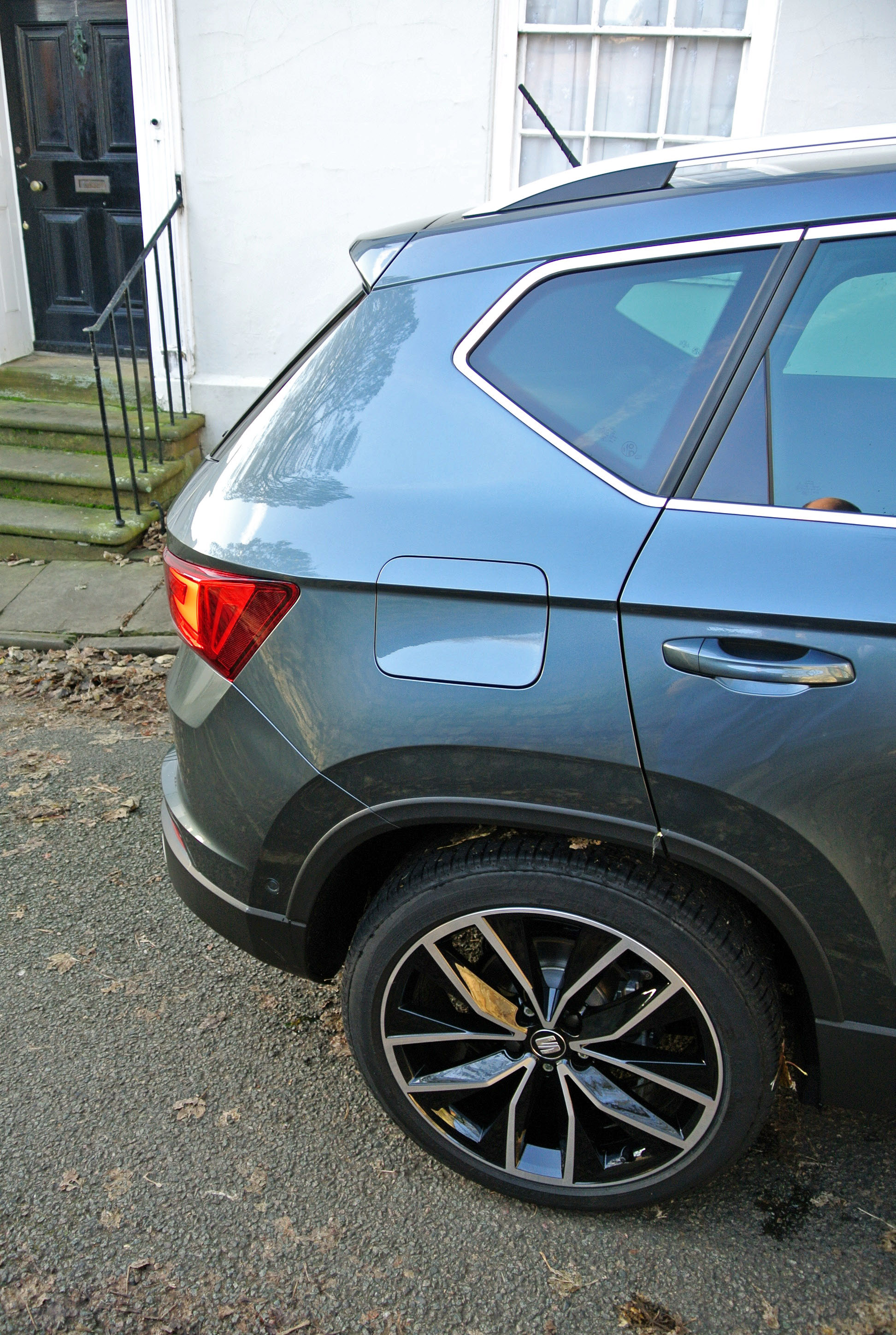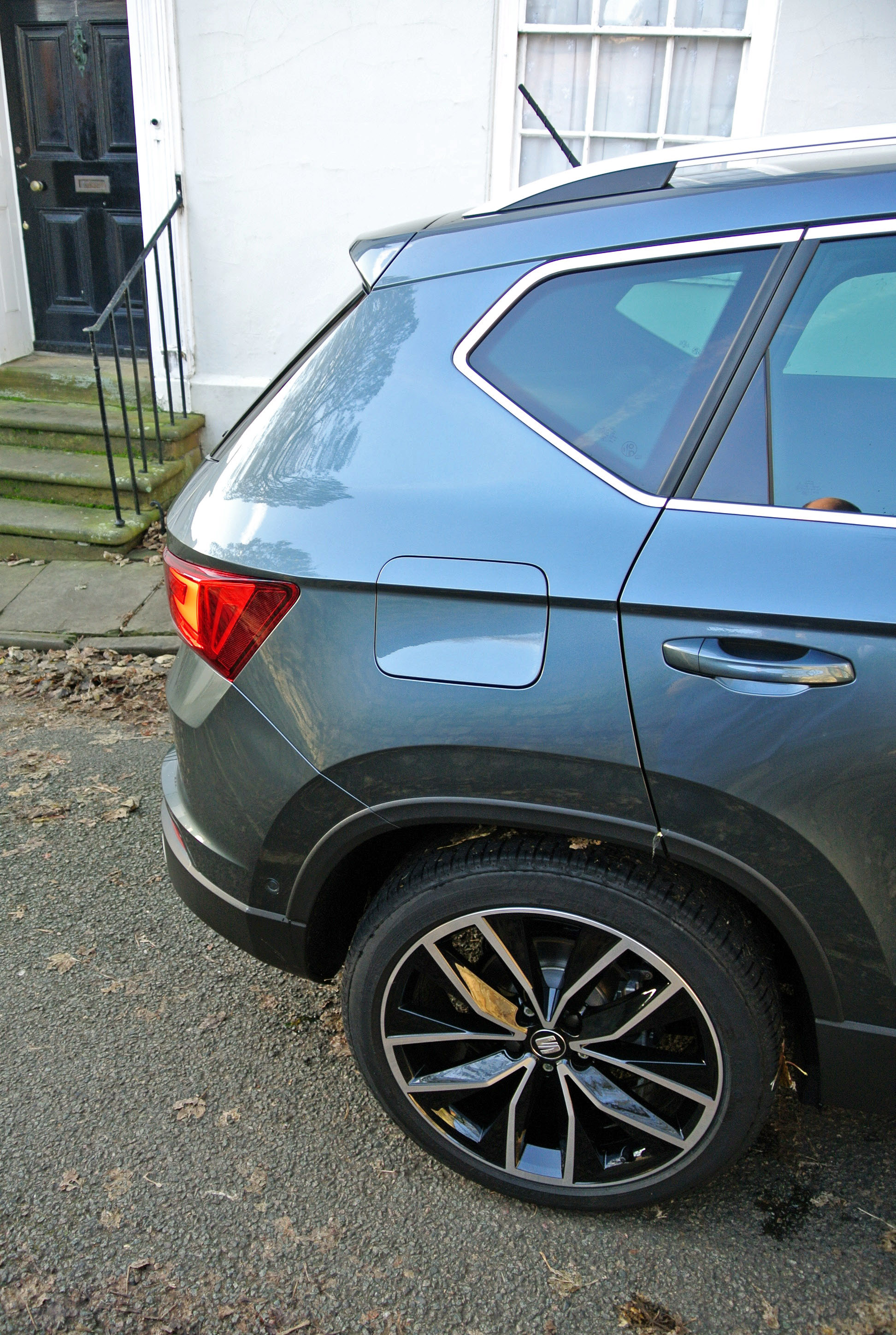 Despite the big alloys and 'big' engine, Seat's chassis engineers have managed not to destroy a firmly compliant ride quality. I would even venture to suggest that the Ateca can boast probably the best balanced suspension of any Seat model. The steering turn-in is crisp and allows the driver to make decisive manoeuvres, without fear of body-roll taking over. There is a sporting edge to the car's handling envelope that retains a surprising degree of comfort. It is worth noting that the Ateca is very refined, apart from when full-throttle is applied, when the rough-edged engine note of its aging power unit weighs in raucously.
Allied to the on-road comfort is a driver's seat that is well-matched to the suspension system, as a result, even on truly rough surfaces, the driver is not pitched uncomfortably, or forced to endure excessive head sway. There is plenty of support across the lumbar region and a goodly range of fore and aft, up and down and recline movement, supported by the usual rake and reach adjustable steering column, which ensures that the widest range of driver statures can be accommodated both safely and securely.
There is enough space in the rear for three-abreast travel and the boot, which can be accessed, when your hands are full of shopping, babies, or equipment, by waggling a spare foot beneath the rear bumper, is very roomy. Of course, it can be augmented by dropping forwards the 60:40-split rear seats.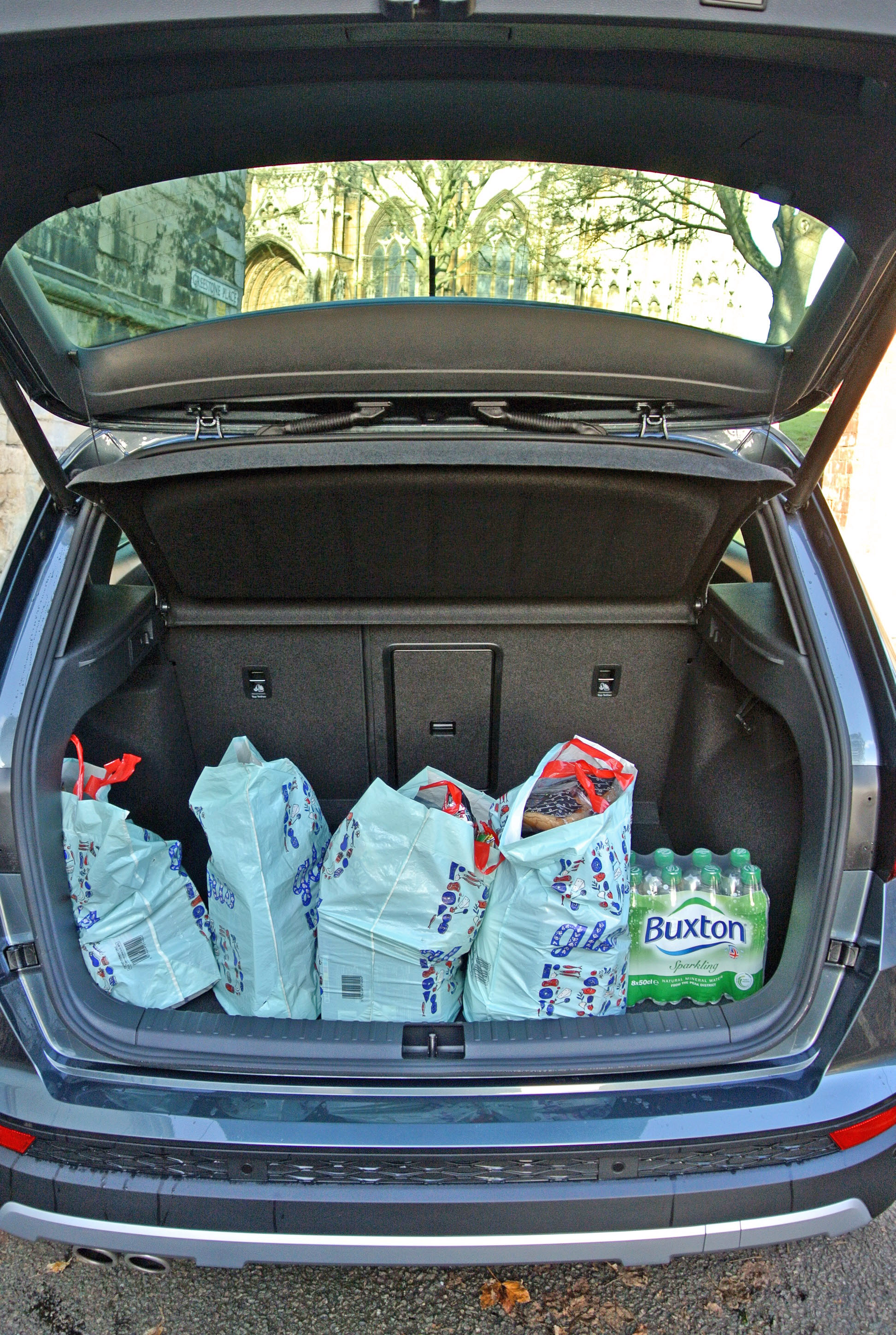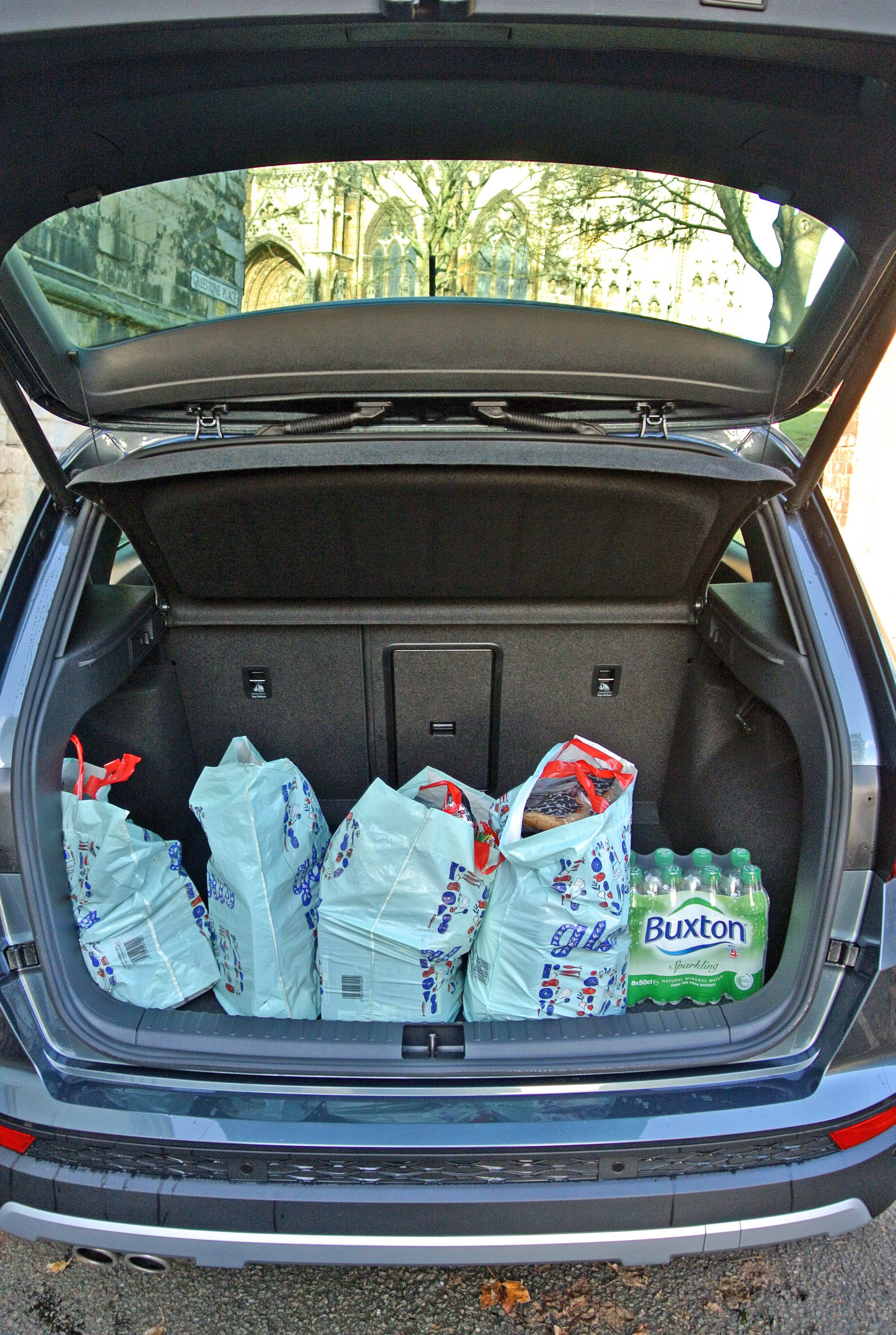 Just as the exterior detailing is crisp and sharp, so, too, is the interior of Ateca. You could be in any Seat model, really, as they all seem to share a similar 'soft-touch' dashboard moulding and analogue dials ahead of the driver. The 'touch-screen' main controller is typical Group fodder and both practical and of high quality in use. The balance of the controls, both major and minor, is exceptional and the Seat Ateca presents everything in a non-flashy but purposeful manner.
It is sad to say that I think that the Ateca is slightly over-priced and that, like Skoda, Seat has forgotten about the value remit it used to present to its customers. Yet, its overall competence is the Ateca's greatest selling point. In avoiding the silly and overt styling quirks of some of its rivals in the class, it manages to present an image that is both easy on the eye and perfectly matched to both business and social applications. While the 2.0TDi would not be my personal choice, I would settle happily with any other Ateca, which is something of a sea-change for a person known for his antipathy towards the SUV and what it stands for.