A long-time supporter of the family car sector, writesIain Robertson, Nissan could be said to have perfected the profile of its popular crossover to also fit with MPV demands, in a cost-efficient, frugal and exceptionally well-equipped package.
My father always said that it was incredibly difficult to tell the cars of his era apart, which is why he opted for a Mercedes-Benz more often than not. Yet, much the same could be said of the current and over-abundant crop of SUVs and crossovers that populate our overcrowded roads. Not for the first time, I have made a 'double-take' at most of them, confusing Hyundai with Ford and MG with Alfa. No such problems for the Nissan line-up…
One of the more important Millennial motorcars came from Nissan. In 2000, the Japanese company introduced us to its T30-designated, boxy but eminently useful X-Trail. In 4×4 guise, despite a consciously cost-effective price tag, it featured the same rear axle that was fitted to the firm's legendary and racy Skyline model, although few owners ever realised it. An expedient decision, it gifted the new car an intriguing combination of on-road dynamism and off-road traction, in the process establishing the X-Trail as the 4×4 to beat.
Nissan, which had commenced trading as Datsun, had already been through a number of major corporate changes but X-Trail presented a fresh face for its growing customer base, which also coincided with its strategic international alliance with French carmaker, Renault. The company's Sunderland plant was riding the crest of a production wave, as the most fruitful of all car factories world-wide and its model range was predominated by one of the broadest line-ups of 4×4 and crossover models of any manufacturer.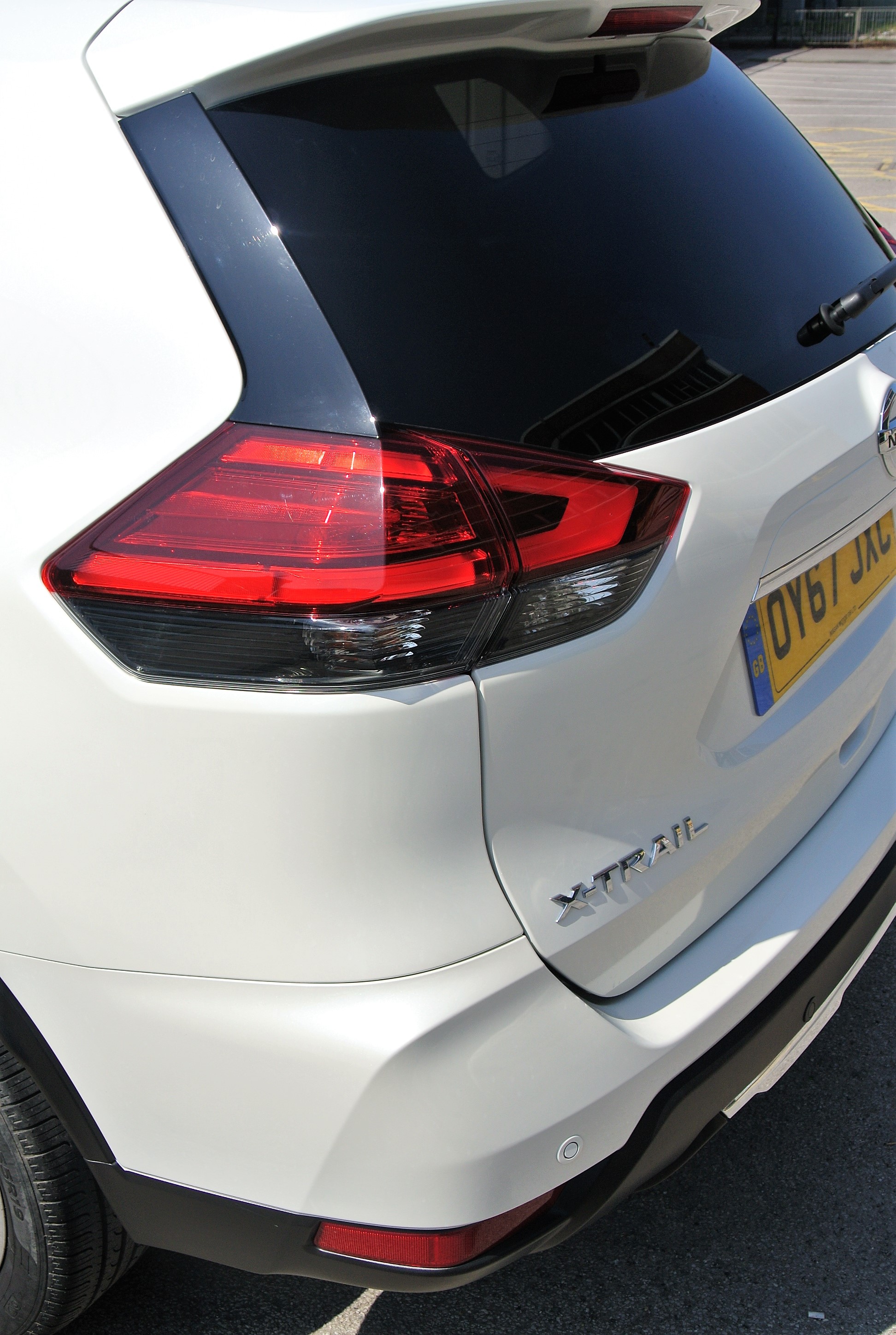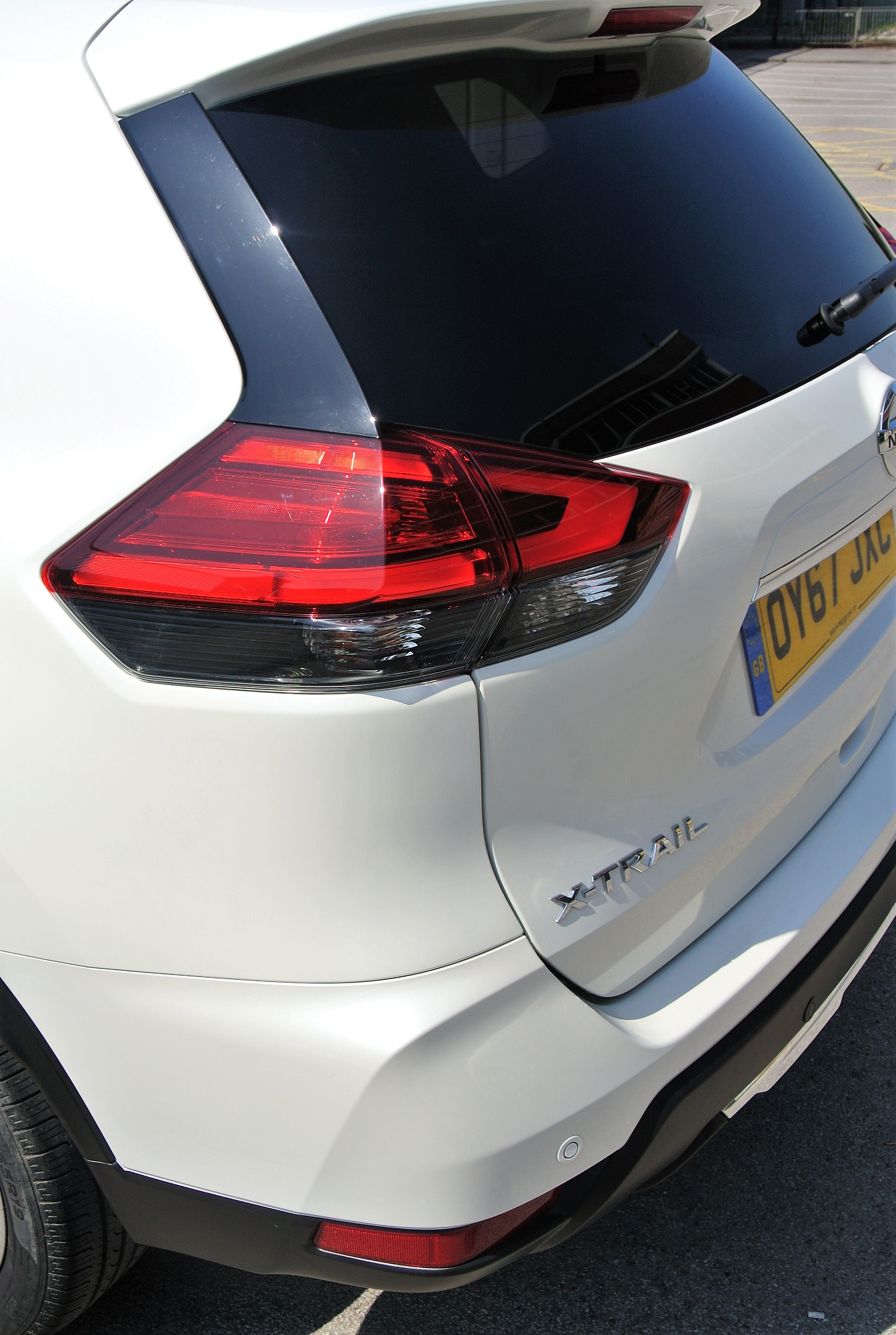 In fact, Nissan presaged the fast-track development of a model genre that would soon affect all carmakers; the arrival of the SUV generation. Such was its impact that traditional family cars, like Almera and Primera, would soon disappear from its UK model listings, replaced by more accommodating, more accessible and more practical alternatives, such as the Qashqai and the X-Trail. The top spot in Nissan's 'off-roader' range would be maintained by the doyen of the United Nations' transport in troubled hot-spots, the Patrol, or the Pathfinder.
Perpetrating the now popular 4×4-lookalike, the X-Trail was also available in front-driven form, as the company appreciated that all-wheel-driven motorcars would retain their appeal to utility firms and both business and private customers that needed the off-road traction, while front-wheel-drive would herald greater affordability overall. It was a key decision, as the drivetrain tipping point would be reached by the time the T31 facelifted model was introduced in 2007.
The current outline (T32), introduced in 2014 but recently and very mildly revitalised, follows more typical style trends, with more organic fender shapes, a pronounced grille and front bumper and a pursuit of customer demands for intelligent front-wheel-drive, allied to a zesty petrol power unit. If you desire 4WD, it is still available, even though the model range is predominated by front-driven variants. However, Nissan's ear-to-the-road has resulted in a crossover of great merit that is still one of the most popular choices in the upper medium sector.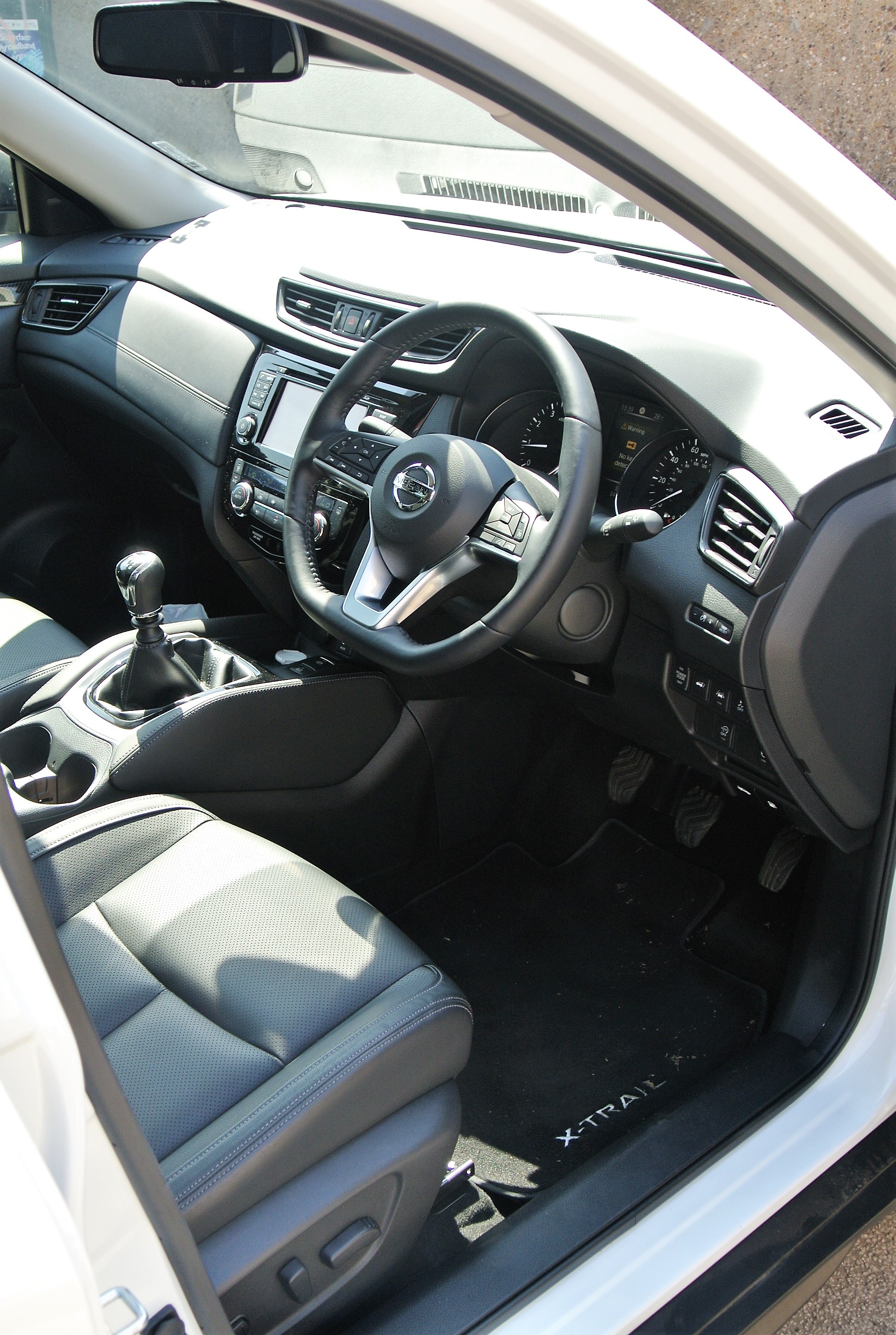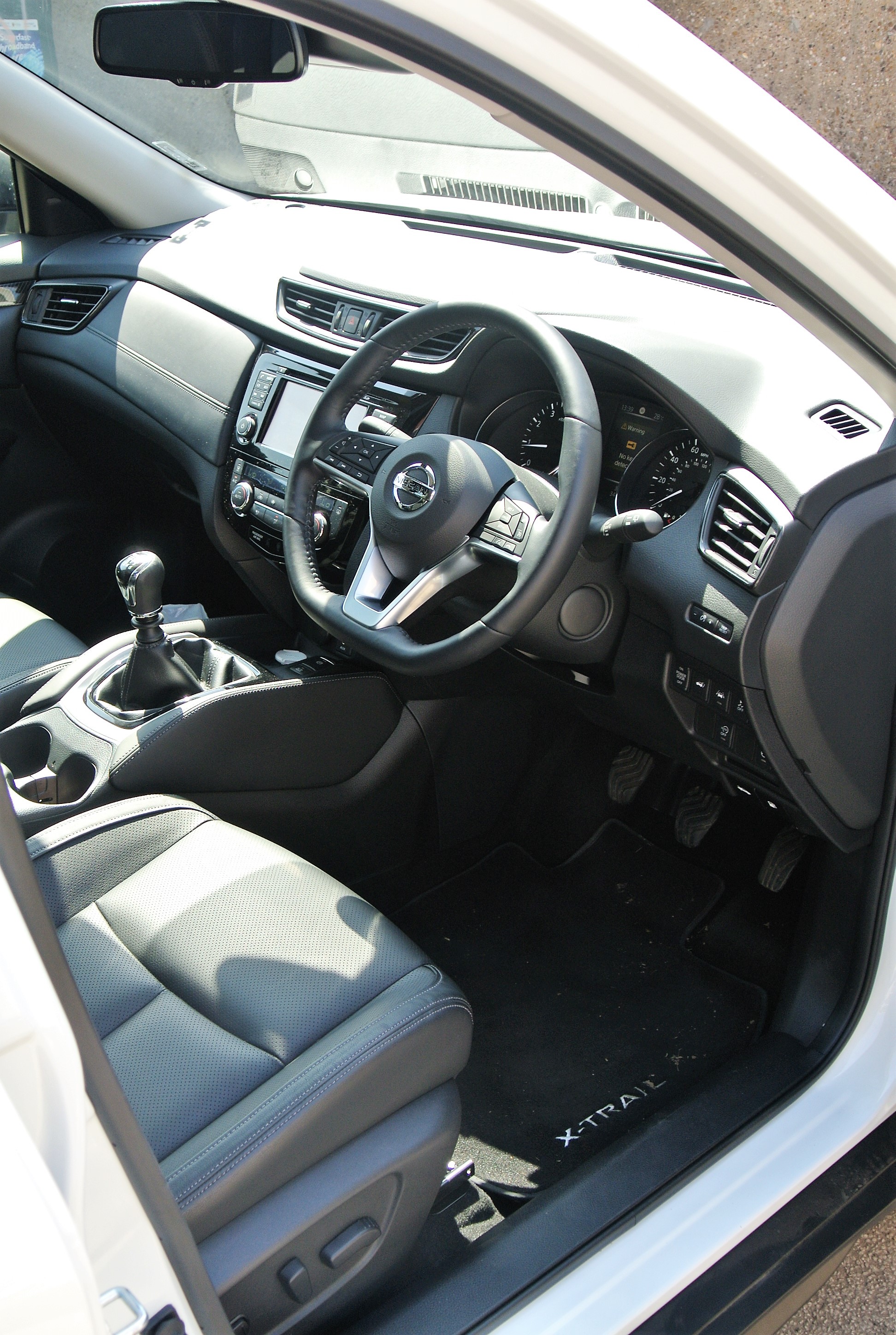 The 1,618cc, four cylinder, 16-valve turbo-petrol engine is a Renault development that is probably one of its best features. The unit is exceptionally refined and turns in some decent numbers, with 160bhp on tap, allied to a solid 177lbs ft of torque that is much-valued by the trailer and caravan set. With an Official Combined fuel economy of 44.1mpg, emitting a modest 149g/km (£200 first year road tax; £140 annually thereafter) and incorporating 'stop:start' technology, lower operating costs are its keenest marker-points.
While both 1.6 and 2.0-litre turbo-diesels are available in this era of diesel demonisation, the petrol alternative is not only punchy enough for strong on-road performance – 0-60mph in 9.4s, with a posted top speed of 124mph – but its leggy top gear (30mph per 1,000rpm) ensures that a 70mph motorway cruise is a most relaxed affair. Combining firm damping with softer springing results in a controlled but loping progress that is seldom less than comfortable, another strong point.
Nissan has always suspended its mainstream cars with a comfort bias and the MacPherson front struts and independent multi-link rear axle allow good suspension travel, modest amounts of body-roll but unerringly strong grip. In the Tekna trim of the test car, even the move to low-profile tyres on its 19.0-inch alloy wheels does not detract from its superb ride quality, with the added bonus of outstanding wet and dry road grip that seldom betrays any marked front-wheel-drive characteristics. In fact, the power steering works impeccably, the leather-bound steering wheel rim writhing gently in the driver's hands, even on the worst of today's give-and-take mottled road surfaces.
Tipping the scales at just 1.46-tonnes, the X-Trail is 4.69m in length, 1.82m wide, 1.7m tall and rides on a 2.7m footprint. Yet, within its modest exterior dimensions there is abundant space for up to five adults, although two more (smaller) people can be carried within the cassette-like but well-padded rearmost seats, which add £660 extra cost to the £32,095 price tag, before any dealer discounts are factored in. Access to the rear is helped by tilting forward the bases of the middle seats and there is an additional scallop built into the floor as an additional aid. With the back pair of seats lowered into the boot floor a decent luggage space of 565-litres exists, with a maximum of 1,996-litres load carrying capacity, when the middle row, which both slides and reclines, is also folded flat.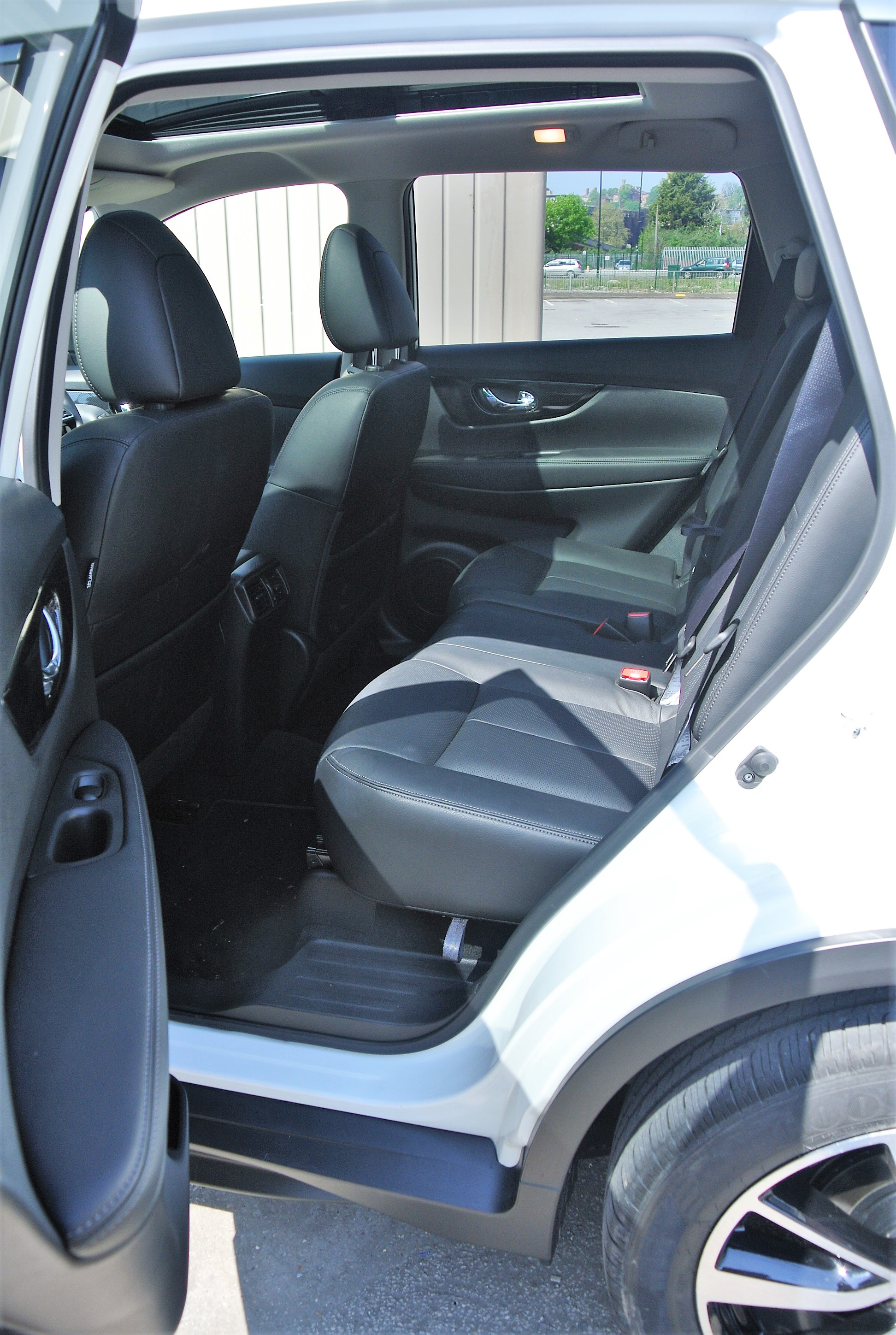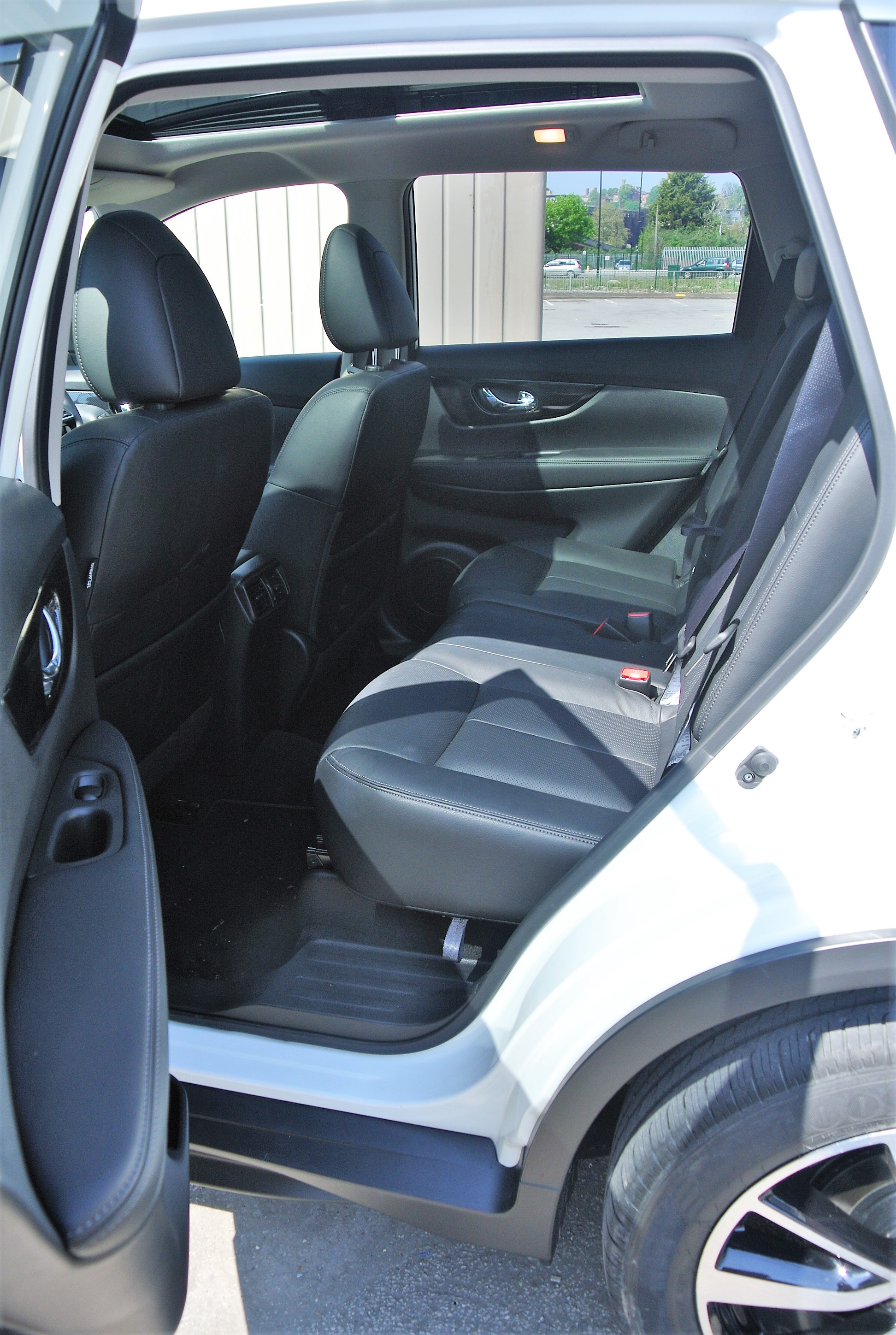 Equipment levels are high, with a full complement of driver and safety aids, some of which can be over-ridden, fortunately. A full leather interior raises the luxury quotient, the hide-and-leatherette-covered tally taking in the dashboard, door cards and centre console. With manual tilt and reach adjustability of the steering column, as well as electric slide, recline and height adjustment of the front seats (the driver's side also features an electric lumbar support), there is a large amount of space within the cabin and its airiness is aided by a full-length glazed roof (with a tilt-and-slide section) that also features a one-touch electric blind.
While both front seats are heated, so is the outer pair in the middle row. Keyless entry and start, full climate control, cruise, auto-tailgate, auto-headlamps (LED type) and rain-sensing wipers support the high-end interior fittings, while a 360-degree camera system and auto-parking facility make urban life significantly easier. With sat-nav and a high-quality stereo system completing a comprehensive package, there is only a limited accessories range to contemplate.
Value for money and a reputation for dependability are key factors in deciding to live with a Nissan X-Trail, which, in Tekna trim, is an equipment-laden delight. It creates a strong style statement but is underpinned by sound dynamics and satisfying performance. The extra pair of seats provide additional practicality for the whole family, or for transporting up to six colleagues…a Swiss Army Knife cannot boast that option!