All but unique for most of its existence, the Range Rover is a British-built game changer that Iain Robertson recognises is now attracting some upper-echelon rivalry in the large SUV sector of the new car market.
From the outset, in 1970, the Range Rover proved to be a game changer. Land Rover had sought to produce a larger version of its more agricultural short and long wheelbase models as early as the 1950s but it was the efforts of company engineers, Spen King and Gordon Bashford, who would bring the car to market almost twenty years later.
'Velar' is a name familiar to Range Rover historians and ardent collectors, as it was a separate company registered by a Land Rover employee and used as a decoy for the new model development. Around 26 examples were built, most of which remain, having been restored and held by a number of fans over the years. When the first, thin-pillared, light and airy examples of the Range Rover were launched, initially only in three door form and, despite their rubber floor coverings and plastic seats, although unintended, they were already being recognised as a luxurious, go-anywhere machine.
Powered by a 3.5-litre V8 petrol engine, in essence the same Buick-derived V8 that powered the Rover P5 and P6 models of the period, they possessed a performance that was other-worldly in an off-roader. Suspended by coil springs, rather than leafs, the ride quality, while slightly boat-like, was truly comfortable and, as it was also very long-travel, it gifted the car with an off-road prowess and 4WD traction that was simply unbeatable. Although upgraded, mostly to improve trim detailing and to add an extra two doors to the car, the First Generation models were built until 1996.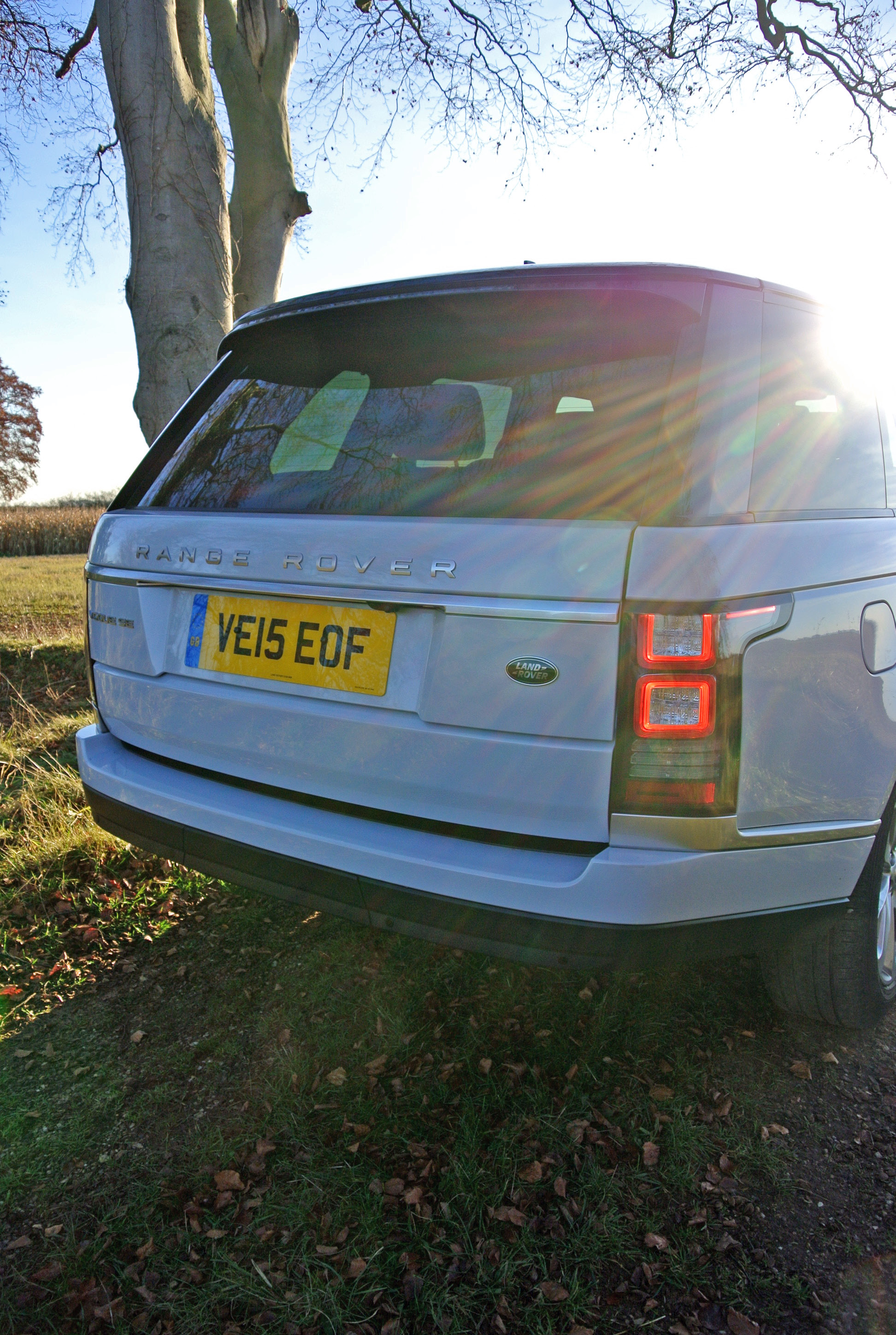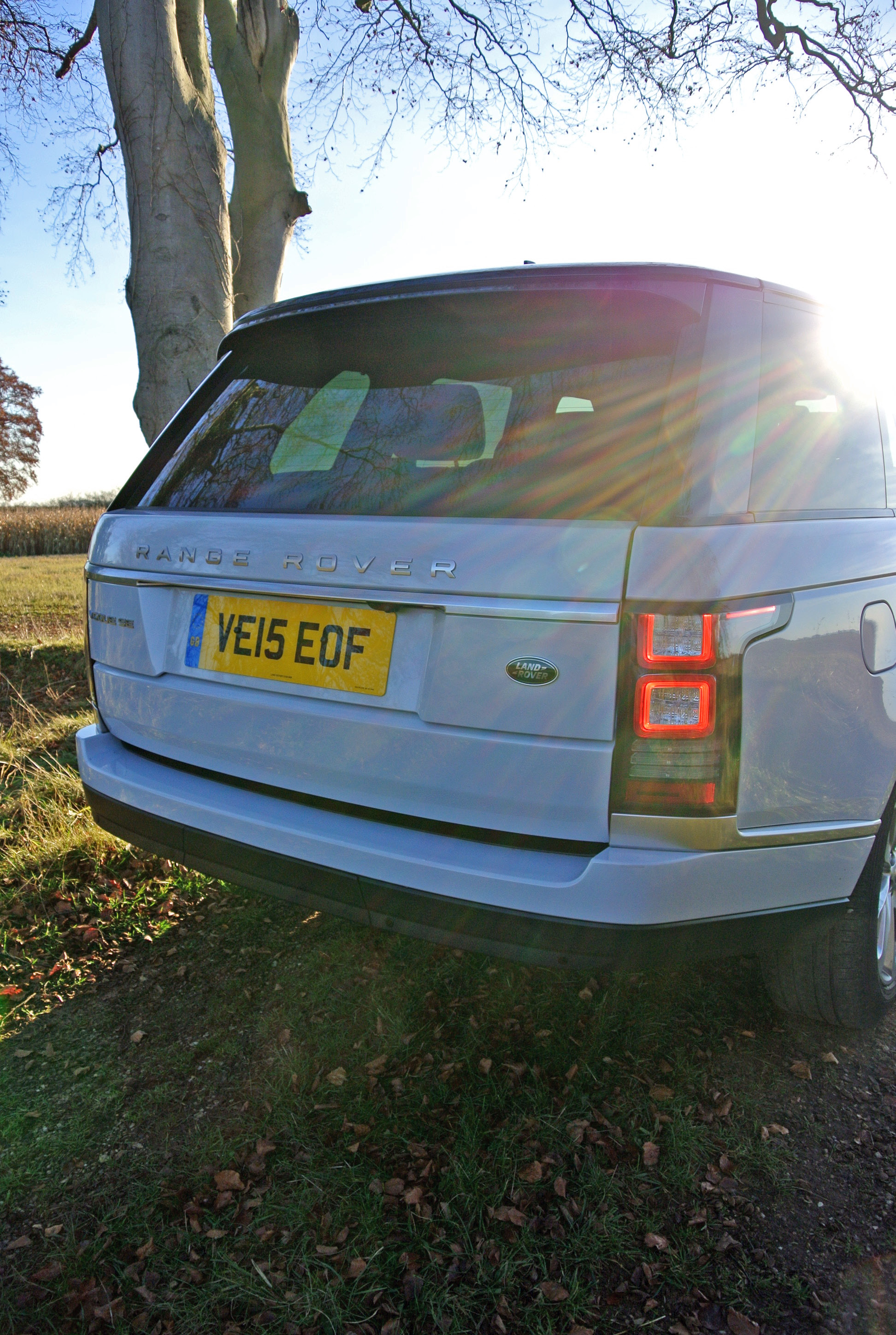 Yet, two years before the 'Classic', as it became designated, was discontinued, a Second Generation arrived. I always felt that this version looked more like a London Taxi on stilts and, while it was not a favourite, it did take the car onto a significantly higher plane in luxury terms, including the adoption of adjustable height air suspension. The Third Generation (2002) witnessed a return to the style introduced by the original, although luxury was now central to the model's existence.
The more recent Fourth Generation, which was introduced in 2012, has undergone only mild titivation but really needs very little in Land Rover's aims to provide a vehicle beloved internationally by kings and queens, lords and ladies, business leaders and its constant service to the agricultural scene. While the name alone is enough to carry its off-road competence to expected levels, it is fortunate that it still possesses a genuine go-anywhere status, even though the ingenious activation of it is more by rotary-electronic switch, rather than manual lever. Quite why anyone would feel inclined to drive a near six-figure Range Rover through paintwork-scratching, chassis-scraping, tyre-shredding, transmission-destroying, mud-lathering and cloying muck, rocks, sand and gravel is open to discussion but I am aware that the car will deliver almost faultlessly.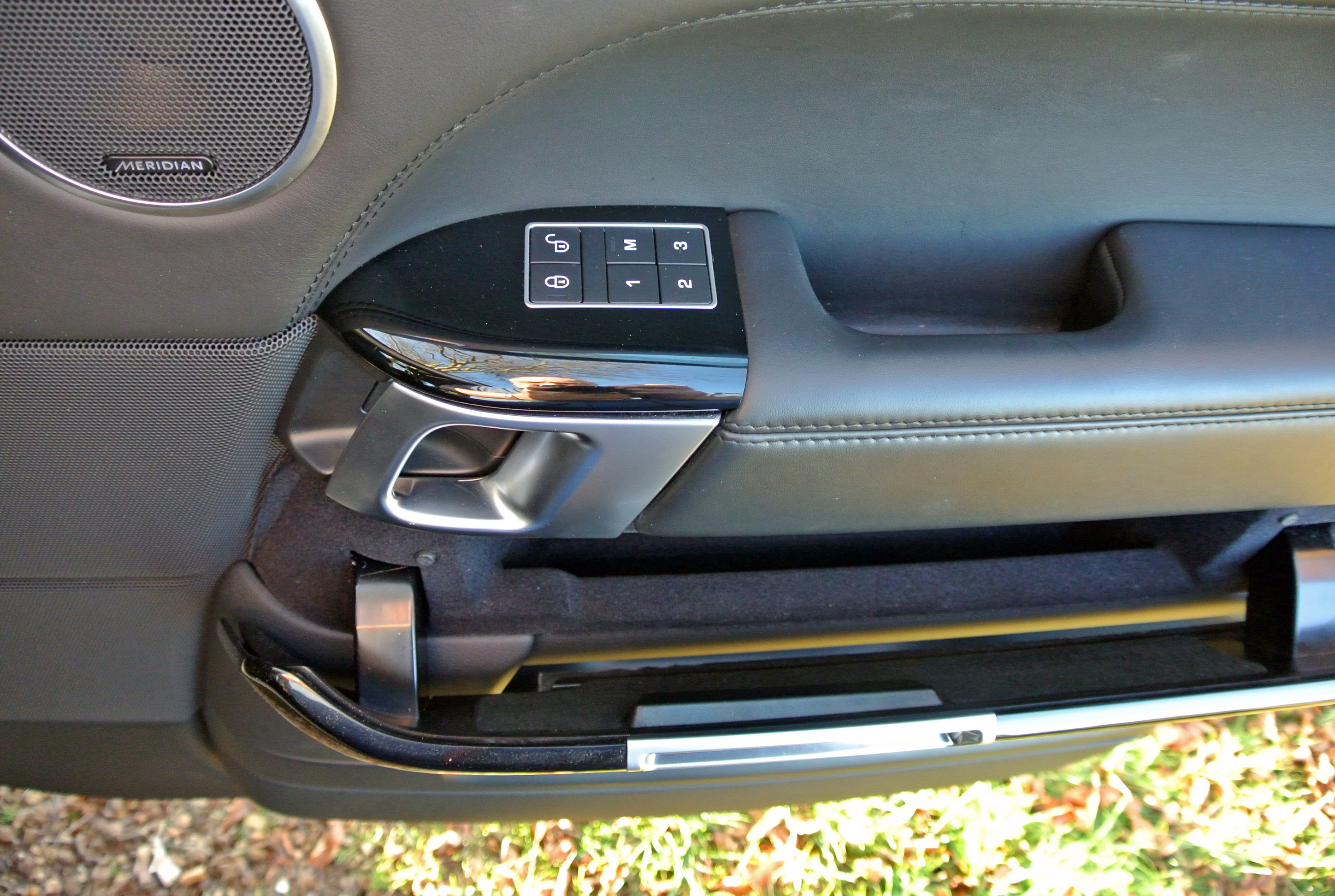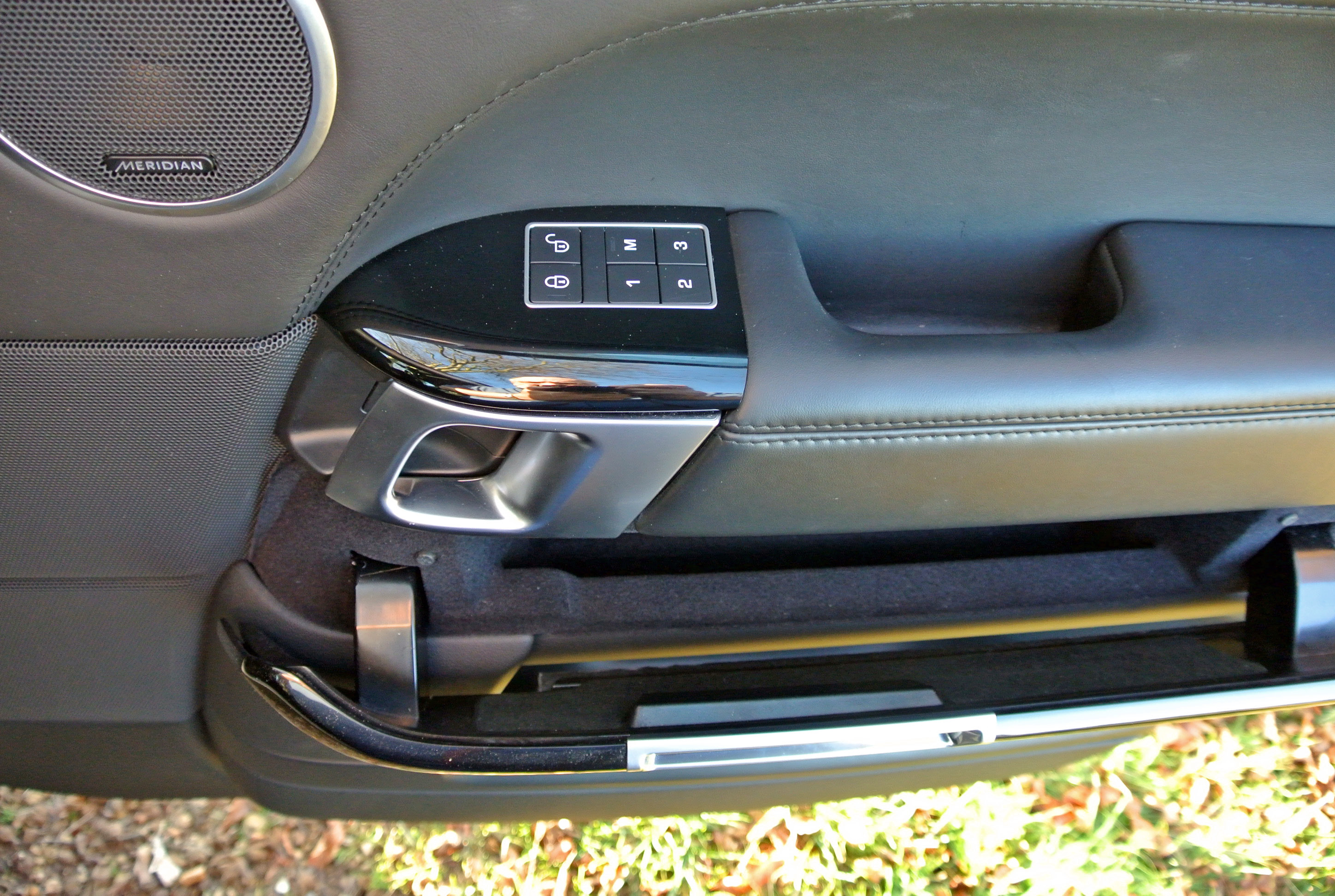 It is its role as a super-luxury estate car that makes the Range Rover the ultimate prestige model. Of course, it is eminently desirable and it looks the part. Even with height adjustable suspension, to enter the cabin, while not demanding the use of a Jumar rock-climbing ascender device, does require some physical energy exertion. It is a modest clamber at least. However, once on-board, the driver is greeted by swathes of dark grey hide on almost every upper surface and high-grade trim mouldings elsewhere, supplemented by Ebony Macassar wood veneer and lashings of alloy highlights and surrounds. More timely gentleman's club than Soho bordello, it is pleasing to the eye and, while not as hoseable as a First Gen example, it appears durable and dust and detritus can be wiped readily from surfaces.
The object of cars in this class is to create a sense of purpose and no owner/operator will ever feel short-changed in that respect. Even though the £92,865 asking price for the model tested is a substantial chunk of money, it is paled into cost-efficiency, when compared with a Bentley Continental, or a Rolls Royce Silver Shadow, both examples of which are quite likely to share stable-space with a Rangie of this order. Yet, hopping between them, the Vogue SE never feels like the poor relative.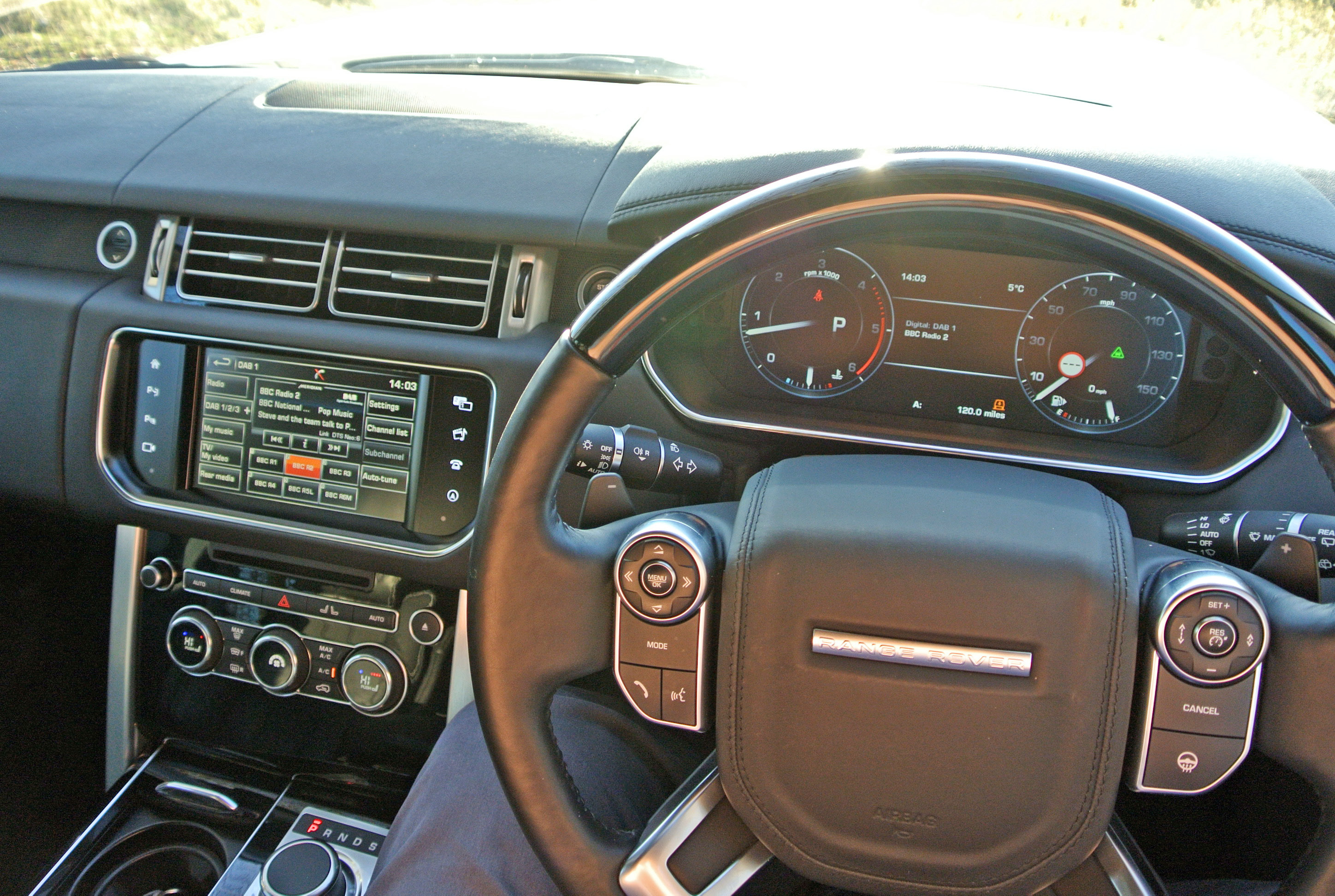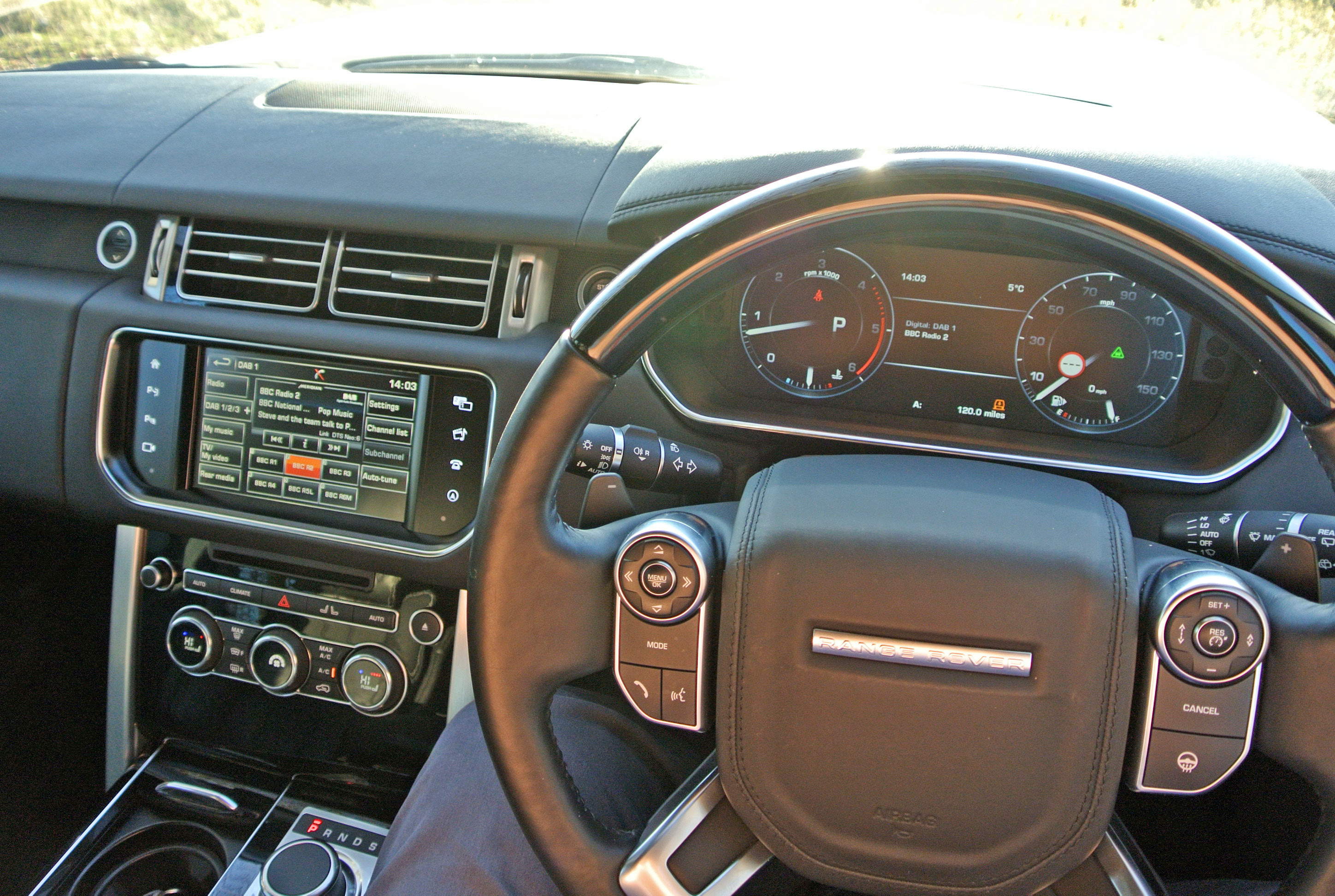 Naturally, the electrically powered driver's seat adjusts every which way, with additional fine controls taking care of bolsters and padding for extra comfort. Equally powered is the steering column, familiar to Jaguar users, with a range of adjustability that enables a supportive and very commanding driving position to suit most heights, weights and girths in that chair. The rear seats also recline through a small range and, although legroom is at a premium behind taller front seat occupants, lounging space is adequate.
On the other hand, at the rear-end of the Range Rover, is a double tailgate arrangement, with an upper hatchback and a lower stadium bench, both powered, which is ideal for watching the gee-gees at Burghley, or Ascot, depending on vehicular access to the sides of tracks. Beautifully carpeted throughout, notably in the boot area, there is plenty of space for the Hunter wellies, a couple of family hampers and the outdoor, all-weather gear…or a decent shopping expedition to Harrods. Mind you, once again, it is quite a hoist to lift heavier items into the boot, thanks to the Rangie's overall ride height.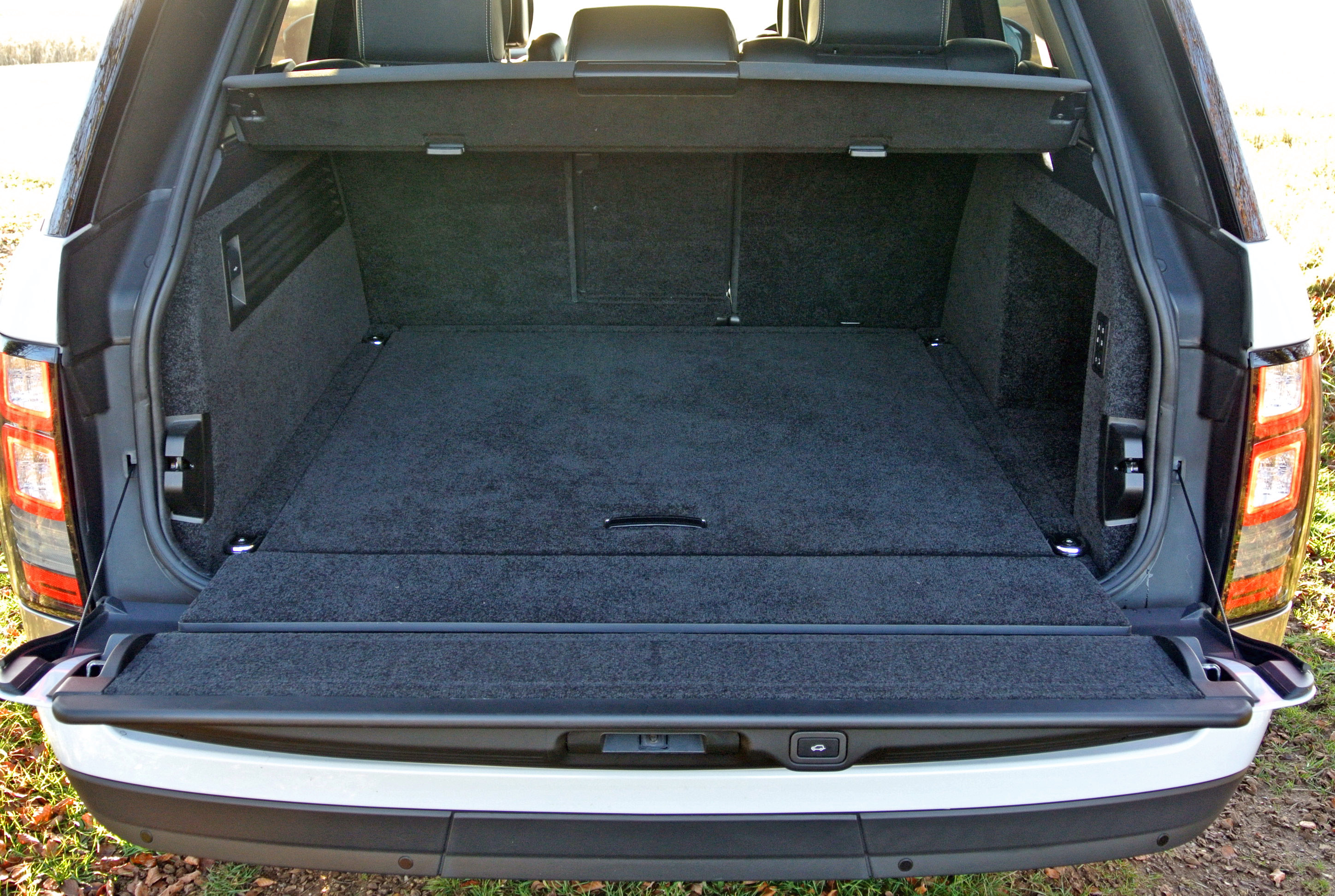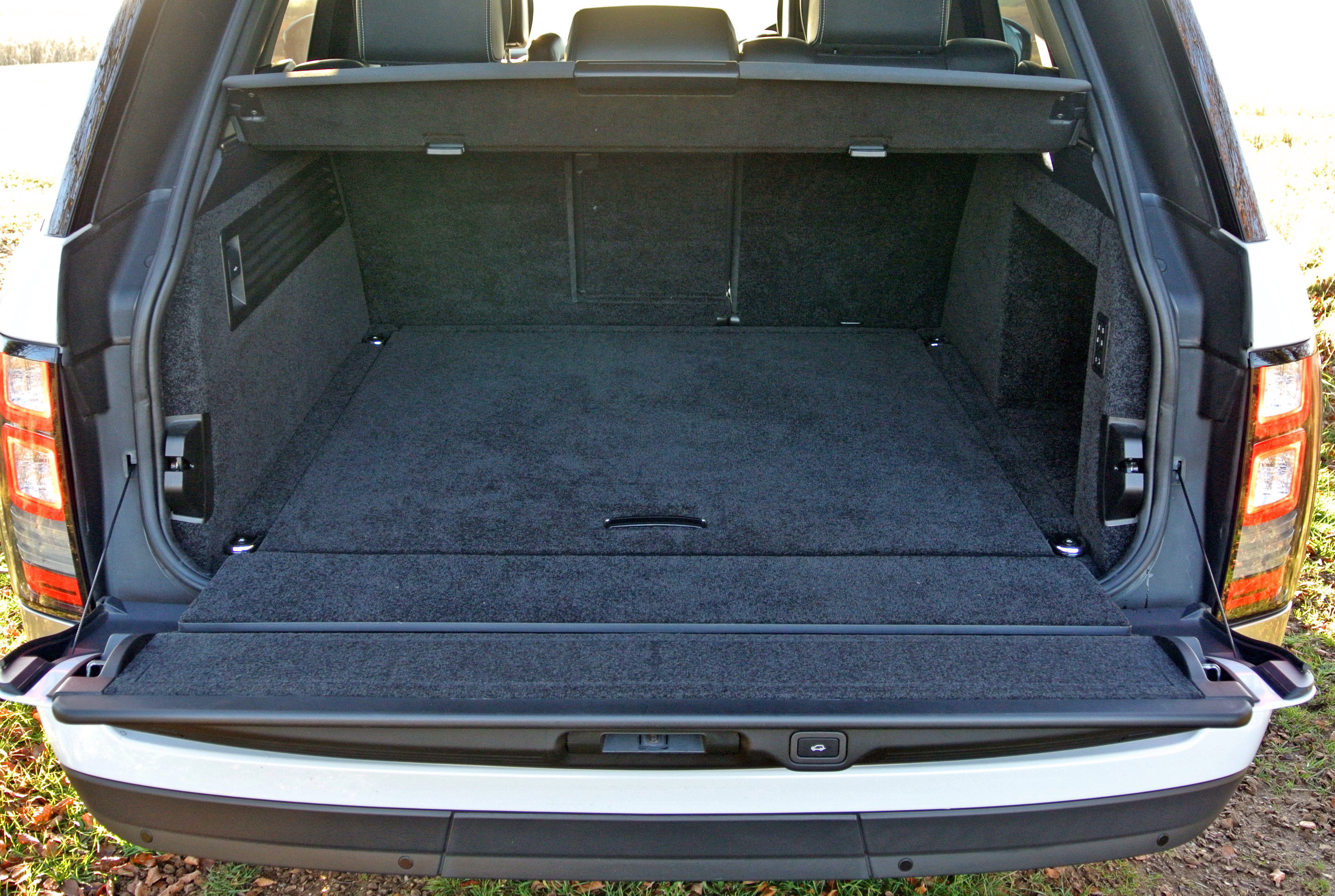 Since JLR (Jaguar-Land-Rover) improved its user interface, the touch-screen in the centre of the dashboard, there is a certain logic to selecting the various operating pages. Naturally, the screen doubles as on-board computer and television, not just for the reversing camera and checking the terrain but also to watch digital programmes (at standstill for the driver, while the front and rear passengers, were rear screens fitted, can also watch TV without distracting the driver illegally on the move). It also acts as a base for the excellent in-car entertainment head-unit, with its Meridian sound system, a mobile phone connection and the sat-nav system, which also works off-road.
Well-served with useful cubbies, including little hinged door bins and a chiller below the centre armrest and a double glovebox ahead of the front passenger, there are very few domestic lounges, let alone automotive locations, where one can be seated in as much comfort. The rim-heated steering wheel is both wood and hide-wrapped, with practical thumb controls located on podlets attached to either cross-spoke.
Sited beneath the enormous bonnet is the latest 3.0-litre V6 turbo-diesel power unit that also provides copious urge to other Land Rover and Jaguar products. It is a very good engine, regardless of how you view diesels. Developing a moderate 258bhp, allied to 442lbs ft of torque, while some minor climbing equipment might be useful for clambering into and alighting from the Range Rover with any decency, the car is a veritable climbing machine in its own right. All that punch weighs in from little more than engine idle speed and, mated to an 8-speed automatic transmission, progress is both without seam and effort.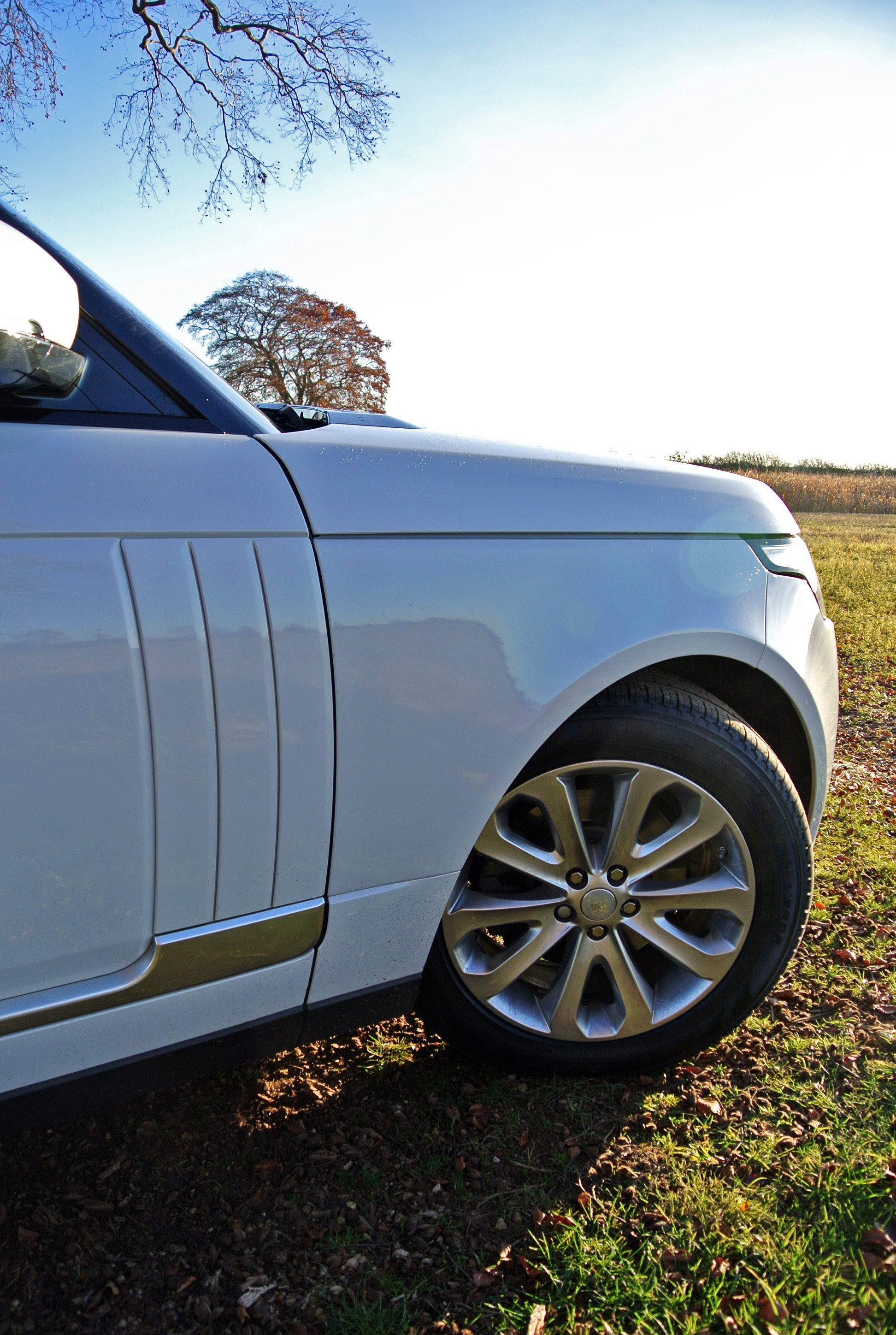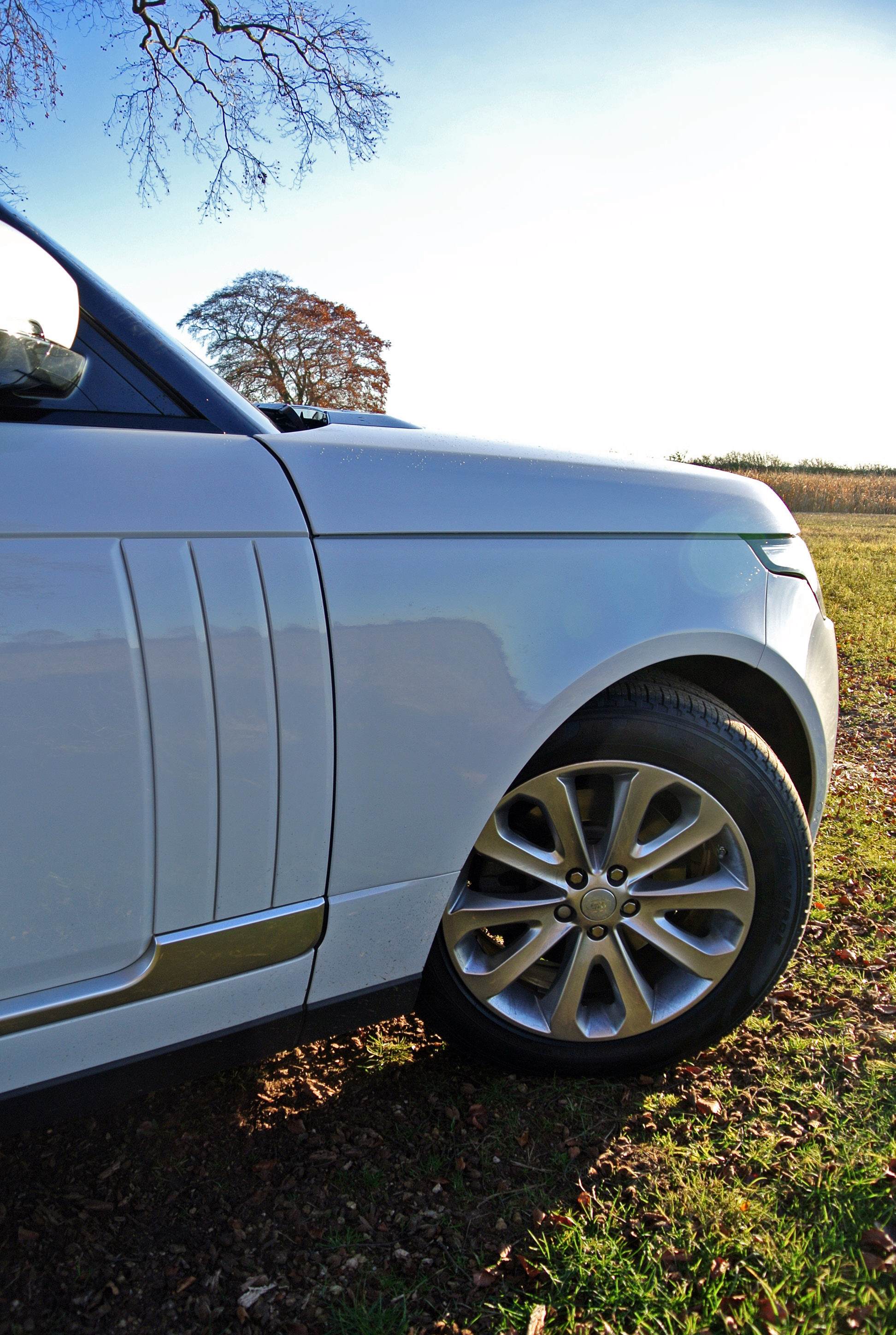 The exhaust emissions are significantly lower than with the petrol engine, pegged at 182g/km, which equates to an annual VED rate of £230. While the Official Combined fuel figure is given as 40.9mpg, I found that the 34.5mpg that I obtained in a mixed bag of motoring was just about acceptable. However, the car's performance is surprisingly good, being capable of despatching the 0-60mph sprint in a moderately sporty 7.4 seconds, although it does not feel it from the lofty driver's perch, with a top speed restricted to 130mph.
The substantial 350mm brake discs fore and aft provide assured and progressive stopping power, while the well-weighted steering enables a decent course to be tracked, whether gliding along main roads, or tackling the back twisties. Naturally, there is a sizable amount of bulk to heft around (2.16 tonnes kerb weight) and it is not concealed as well as it might be, the car 'suffering' from a fair amount of body roll, when pedalling along the lanes, which tends to emphasise its propensity to understeer around tighter bends. Of course, lifting off the throttle pedal resolves a lot of it but the traction is so strong that you are tempted to stretch the car's capabilities at times. On main roads, there are no such issues and the ride comfort is as luxuriant as you might expect it to be.
Land Rover has certainly grown its Range Rover line-up into an elevated position. It is a factor enjoyed by the JLR Group, because the enhanced profitability helps to support the perpetually troubled Jaguar brand. The Range Rover, even in this not quite top model (Autobiography) is expensive but I can understand why so many company bosses subscribe to one. It is a special machine, of that there is no doubt, and it does warrant its place at the top of the SUV tree, even though it will soon have some similarly high-class rivals from Maserati, Alfa Romeo and even Rolls-Royce (Bentley currently has the Bentayga SUV) to contend with. I reckon that it is capable of despatching most of them.