Step up, into the cabin of the latest Mitsubishi L200 and, apart from being surprised by its high-end specification, reports Iain Robertson, you can also marvel at its incredible off-road competence, even though the on-road aspects might be wanting a tad.
Is it fad, fashion, or definable corporate need? Attempting to ascertain the means by which certain classes of people acquire their vehicles is occasionally like moistening a forefinger, erecting it aloft and determining the wind direction. Sometimes it works; frequently it does not. There are no fail-safes.
Although my paternal grandfather was a Highlands farmer (actually, my maternal grandfather was too, albeit in pre-Partition India), he never owned a pickup truck, although he did have an Austin Gipsy (note: not 'Gypsy'), which was a Land Rover Defender rival of the late-1950s. On the other hand, my uncle John, who now runs the Robertson family's Scottish agricultural interests, operates a half-a-dozen one-tonne pickups, of which just one is a Mitsubishi and a fairly elderly example at that.
As a workhorse, the archetypal pickup is a godsend. It can go anywhere a Range Rover will, which means that even the most distant point, way up in the hills, is within reach. The pickups are used for transporting gravid ewes, or ailing tups, back to the barns for attention, while distributing foodstuffs, bales of hay, or building materials around the acreage, in fact, almost anything that usually exceeds its deck capacity (without venturing in that state onto local roads, naturally).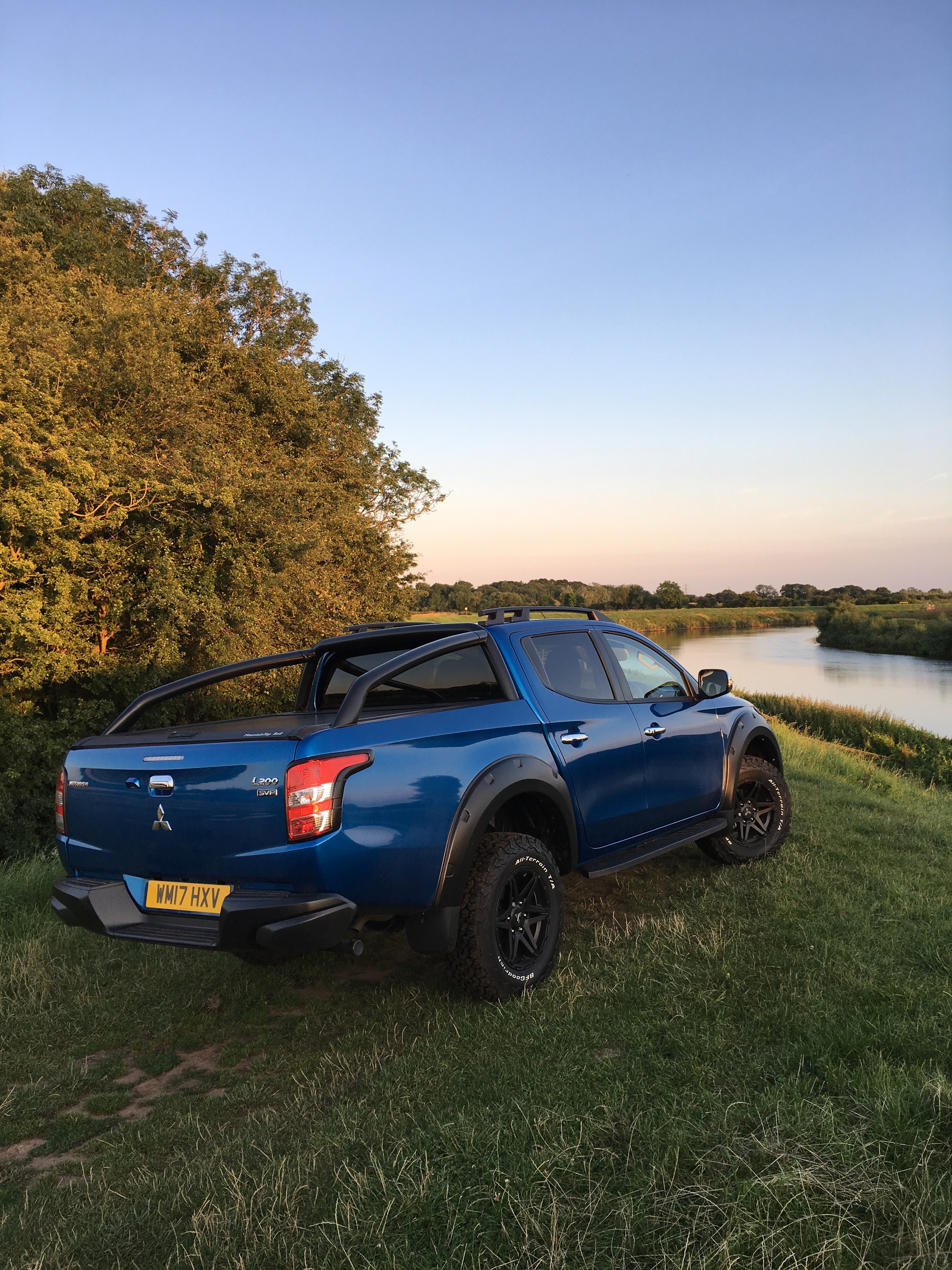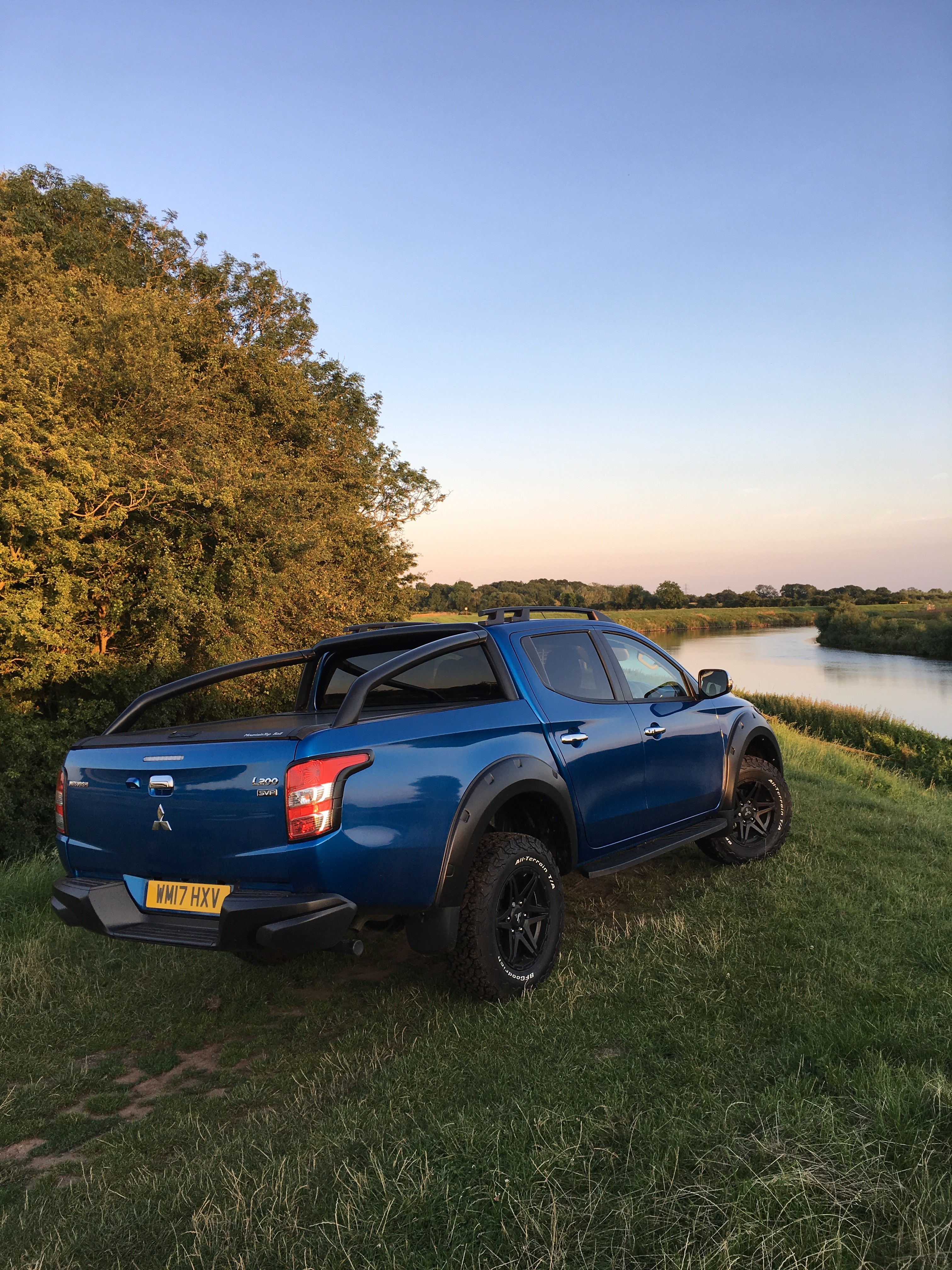 Yet, during the late-1980s, a taxation loophole was discovered in the often-questionable area of company vehicle dues. All of sudden, be-suited business executives found that commuting to and from their offices was not only a big-tyred joy but they could also intimidate London Cabs and even Corporation Buses, while negotiating city centre back-doubles, all while paying a fraction of the tax they might on the corporate Beemer, Merc, or Audi. Companies like Mitsubishi started to produce up-market versions of their agricultural stalwarts and there was a ready buyer awaiting every single example.
The very idea of hide clad seats, a fancy hi-fi, sat-nav and even a car-like interior proved to be irresistible and, for many high-earners, it became the main transport, with four door options enabling the prospect of taking the whole family on weekend adventures. With cash-in-the-bank, the city-slicker could buy himself the car-of-the-moment, a moderately new Porsche 911, from which he could 'wave his wad' with gay abandon.
The government of the day (in the late-1990s) soon closed the tax aperture and pickups reverted to their heartland customers in the outdoor sports, utilities, or agricultural sectors. However, when George Osborne's final (as it happened) Budget details were announced and everything except EVs (Electric Vehicles) would be taxed to within an inch of their lives, the illustrious pickup somehow managed to escape the noose. With an annual road tax levy of £240 on the Barbarian model you see here, it is markedly less costly than some posh motorcars would be. While not experiencing the flood of fascination of over two decades ago, pickups are back and better than ever.
Of course, Mitsubishi has one of those indefatigable reputations for both integrity and dependability that its rivals would die for. It helps a lot. Yet, it is the street appeal of this L200 that will be its greatest draw. The bolted-on matt black wheelarches, roll-over hoops and purposeful looking alloy wheels (also matt black) are just the start of a roister-doister specification that will have most blokes chomping on Yorkie Bars, knocking back tinnies of Fosters and donning their lumberjack gear at every opportunity.
However, this truck is also a practical proposition. The roll-back, lockable load cover over the interior-illuminated rear deck provides total security, while load hooks and myriad options for covering the deck (including an 'Armadillo' protective insert and various designs of top) add to the customising potential, not all of which is for the sake of it. The four-door, Double-Cab passenger compartment opens to reveal privacy glass in the rear but exceedingly comfortable seating for up to five people; there is acres of space in the cab.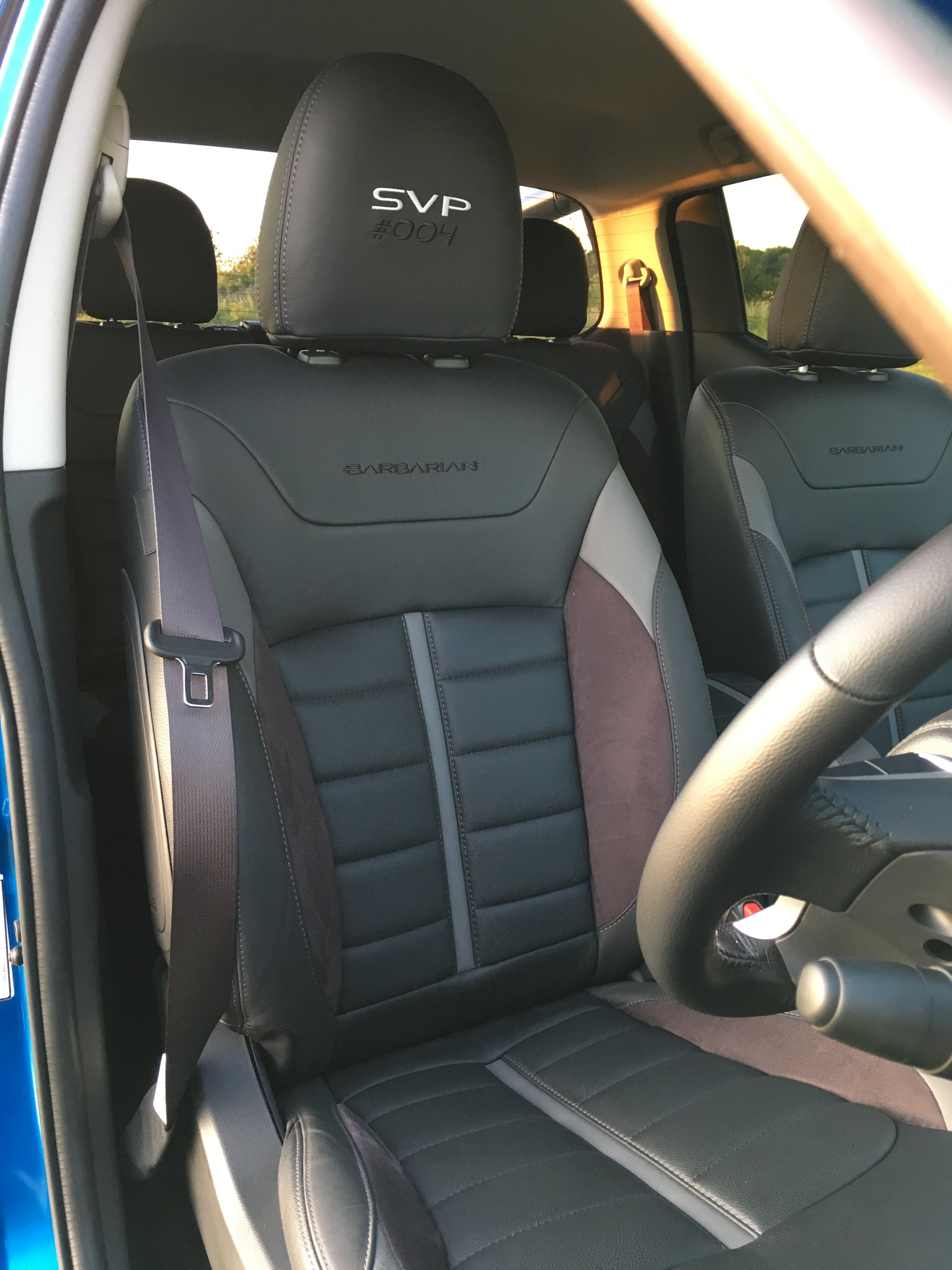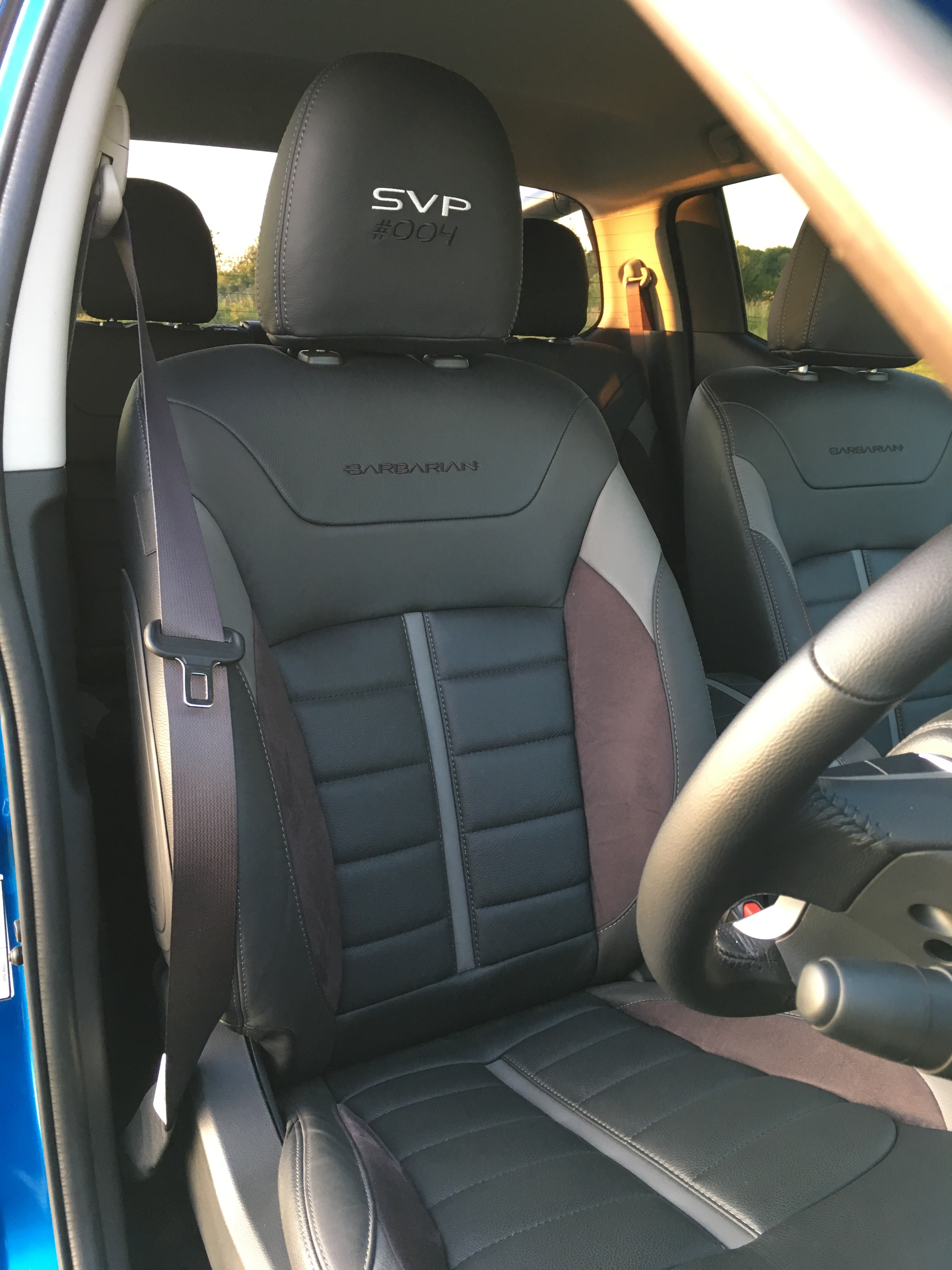 The upholstery, which is unique to Barbarian models, is perhaps a little over-the-top, with pleated leather, Alcantara and 'SVP' ('Special Vehicle Projects' and edition number, in this case '004') logos stitched into the head restraints and 'Barbarian' in the seatbacks. Electrically adjustable and heated, they operate through an enormous range, making them suitable for many sizes of driver. The steering column also adjusts for rake, reach and tilt angle, further supplementing its flexibility.
The impression of unabashed luxury, albeit not to Audi standards, as the finish nods more to Mitsubishi's agricultural backdrop, is all-encompassing, aided by a dashboard centre stack that looks and is immensely complex…mainly because of the multi-buttoned, touch-sensitive, stereo head-unit, which doubles as the rear-view screen (for the on-board camera), sat-nav, the around-truck sensors and several other functions, most of which are just too fiddly to address, unless parked for 30 minutes. The climate controls are located separately, just below the screen.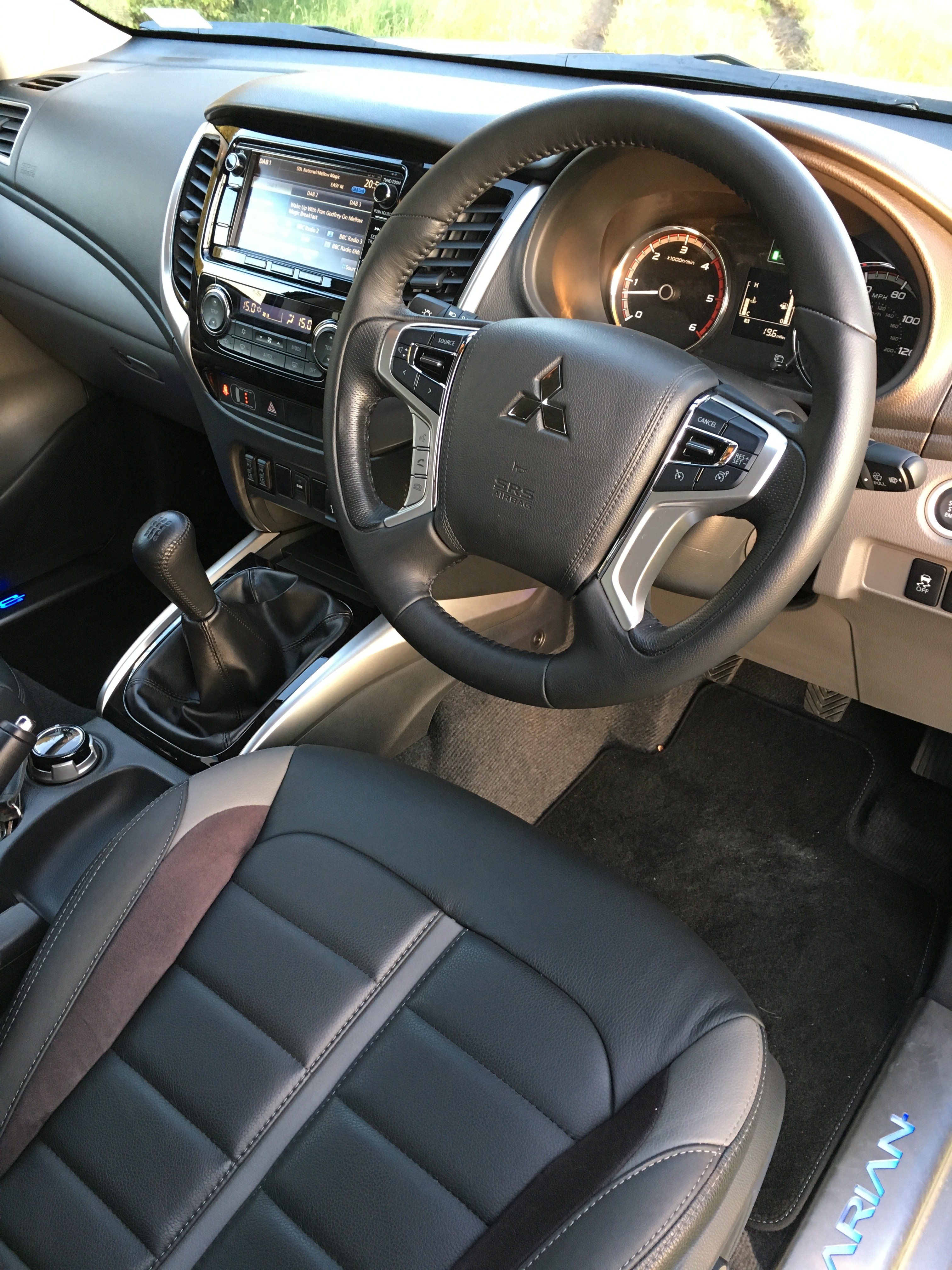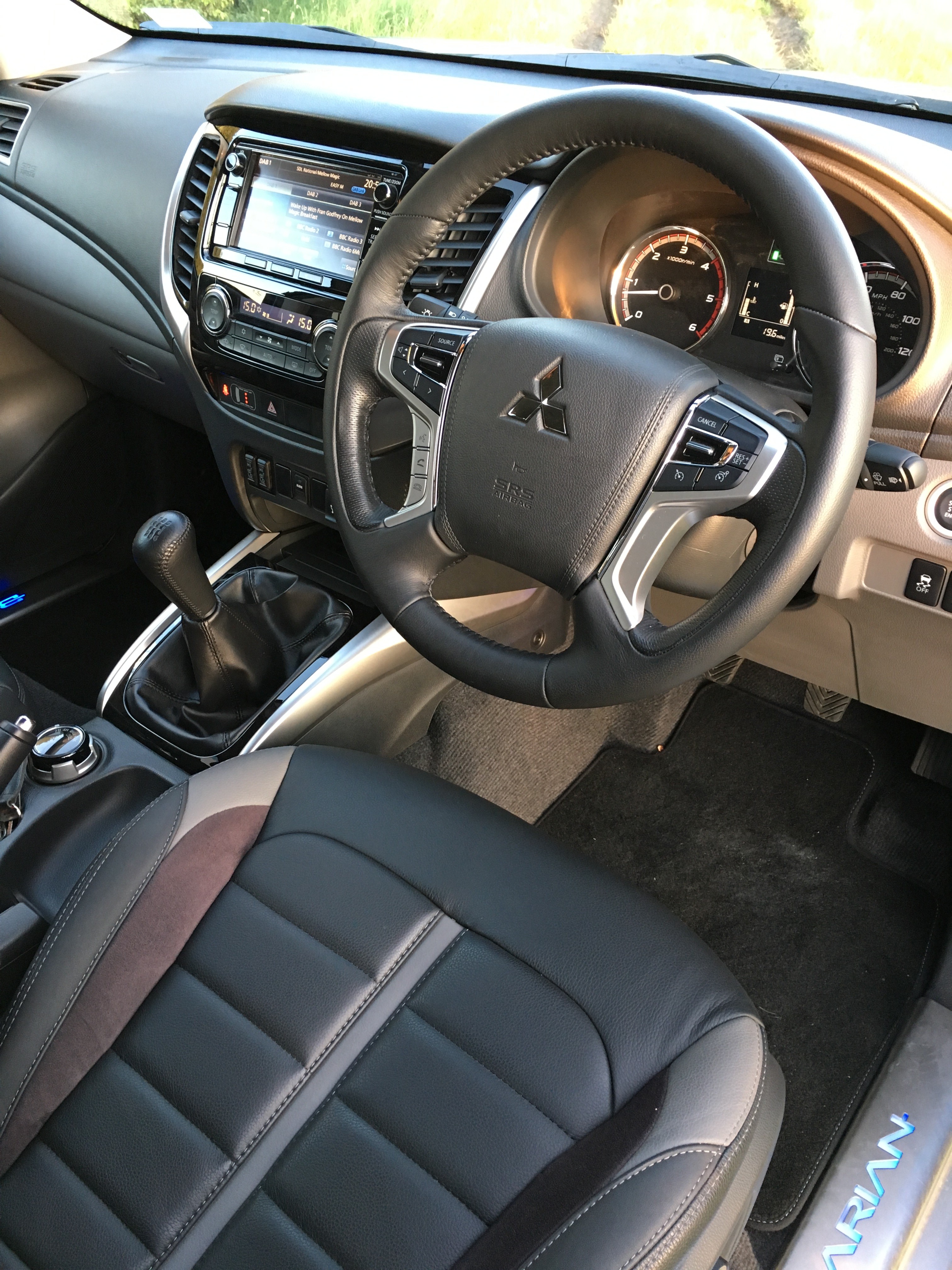 Fascinatingly, lane control, distance cruise and stability control also form part of the vehicle protection and convenience packaging that also includes pushbutton stop-start. The Barbarian is as well-equipped as any top-end family car but with the bonus of its superb go-anywhere drivetrain, which is so free of vices that, rather than expecting the diesel engine's 317lbs ft of torque to kick out the lightweight tail of the truck on every slippery roundabout, or lightly gravelled corner, it simply hugs its chosen line, with little more than a bit of 'nodding donkey' on bumpier surfaces and a small amount of understeering plough-on, should the chunky front tyres lose traction.
It cannot hide its more basic intentions when tooling down the open road. The 2,442cc, 178bhp, four-cylinder engine, driving through a six-speed manual gearbox, is quite raucous, especially when extended, and, while it can top out at around 111mph and clock the 0-60mph acceleration benchmark in a cool 10.0 seconds, on those BF Goodrich tyres, you will not want to experience sustained on-road performance. Truth is, this SVP version is designed for more serious mud-plugging, so you must take the off-road biased, compromise tyres into account. To be fair, the rodeo ride quality does improve, when a load is strapped into the 'boot'.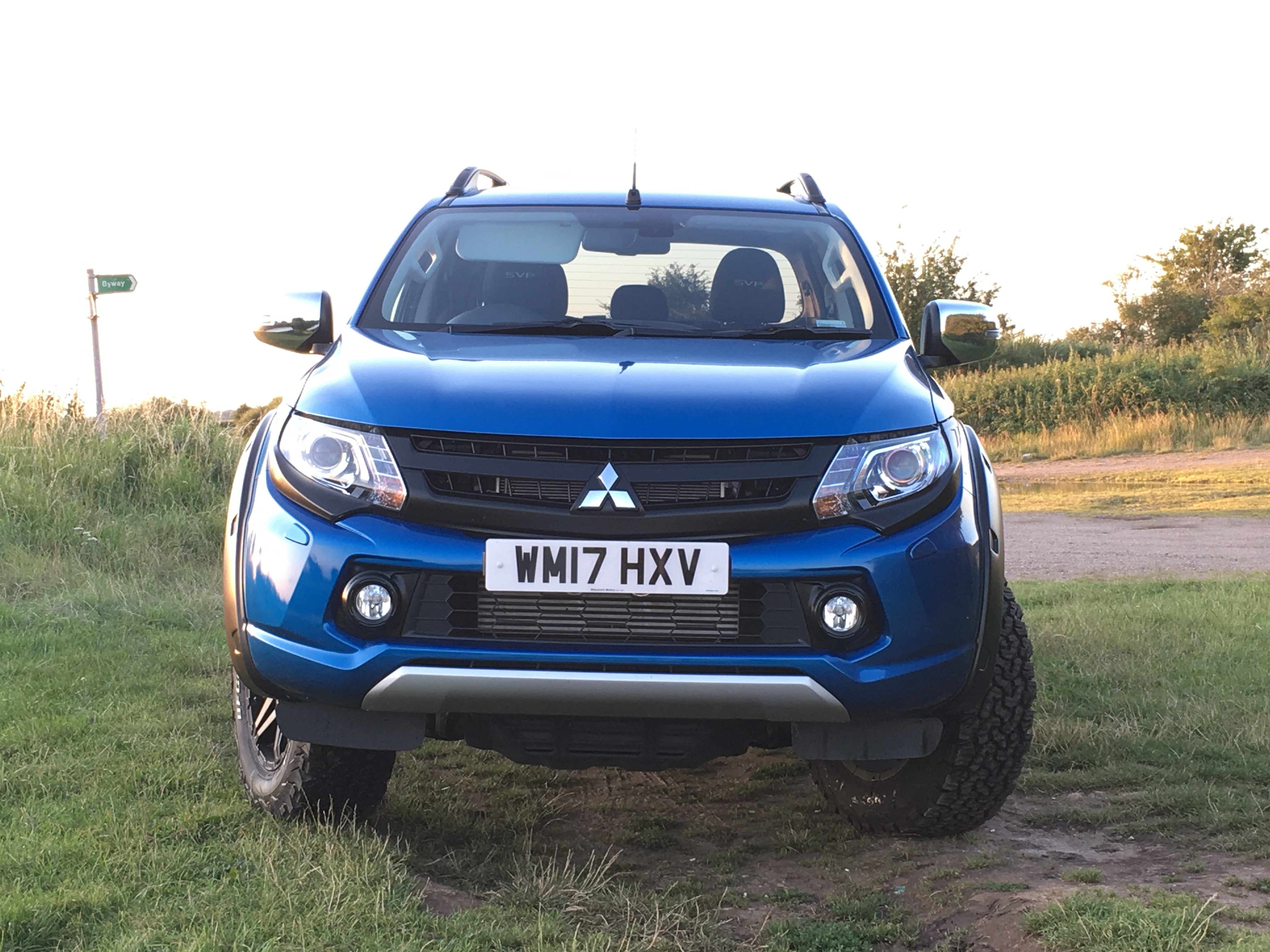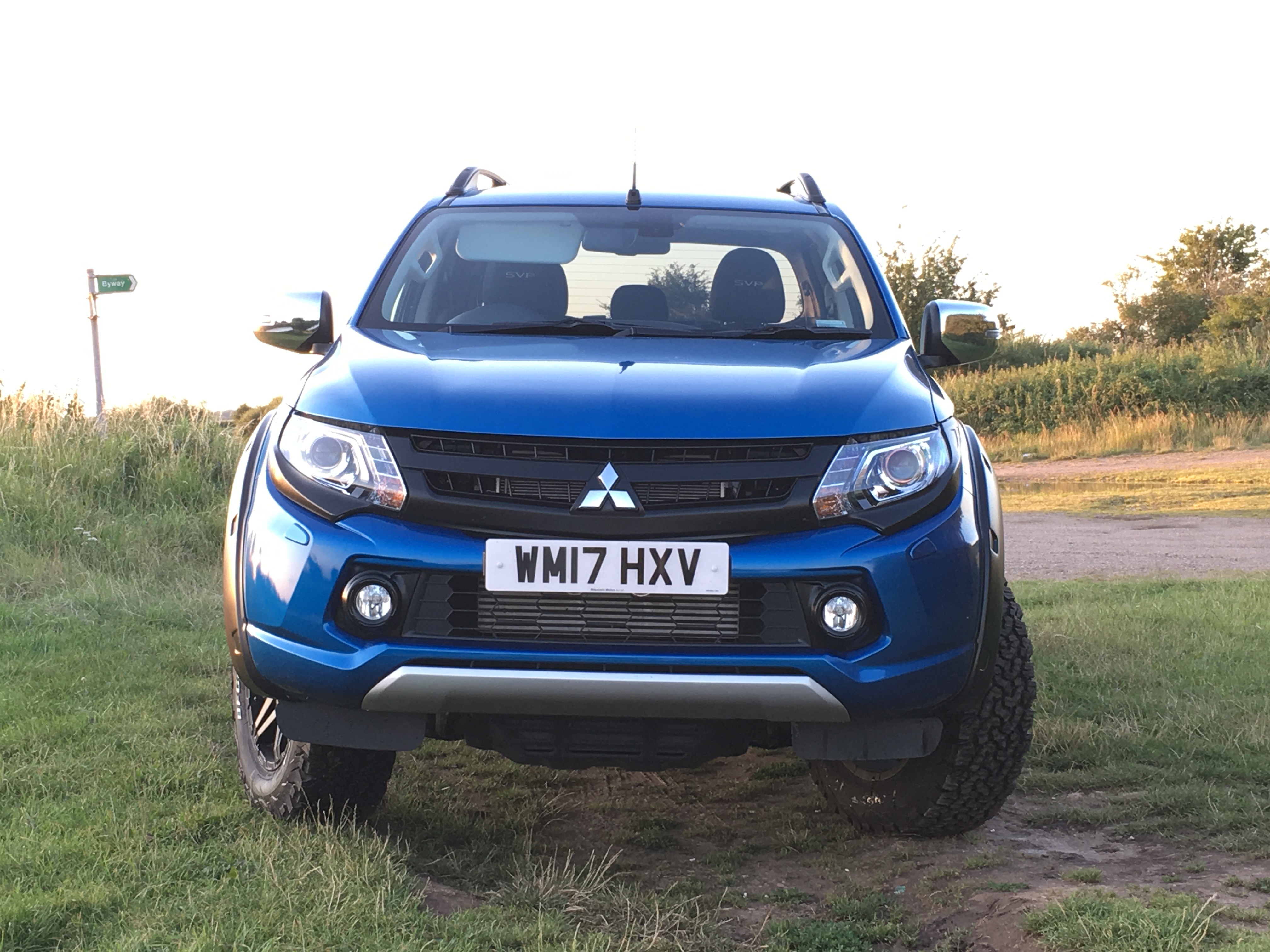 As mentioned earlier, the tax advantages are now abundantly clear, even though the Barbarian in this trim commands a £34,175 price tag (starts at £28,775), which is perilously close to Discovery Sport territory. However, before you opt for the British-built alternative, just remember Mitsubishi's enormous standard specification, as the Disco would cost you another £8,000 to equal it and its 'owner' would be liable for three times the Benefit-in-Kind tax, let alone a heftier road tax levy, based on the Mitsu's 186g/km CO2 rating. It is little wonder that the company car sector is re-awakening to the potential of the pickup in our troubled times.
Supported by a five year, manufacturer's warranty (12,000 miles annually), the Mitsubishi L200 Barbarian SVP looks great, whether cloaked in mud-splashes, or sparkling-bright at the carwash. It is genuine fun to drive, as long as you are prepared to tolerate its sloppy table manners. It can be a bit of a hooligan but that only seems to add to the amusement quotient. The fact that it can tow no less than 3.1-tonnes highlights that an ultra-luxury family caravan would be a doddle to deliver to the campsite of your choice. Can you see how logical this pickup might be?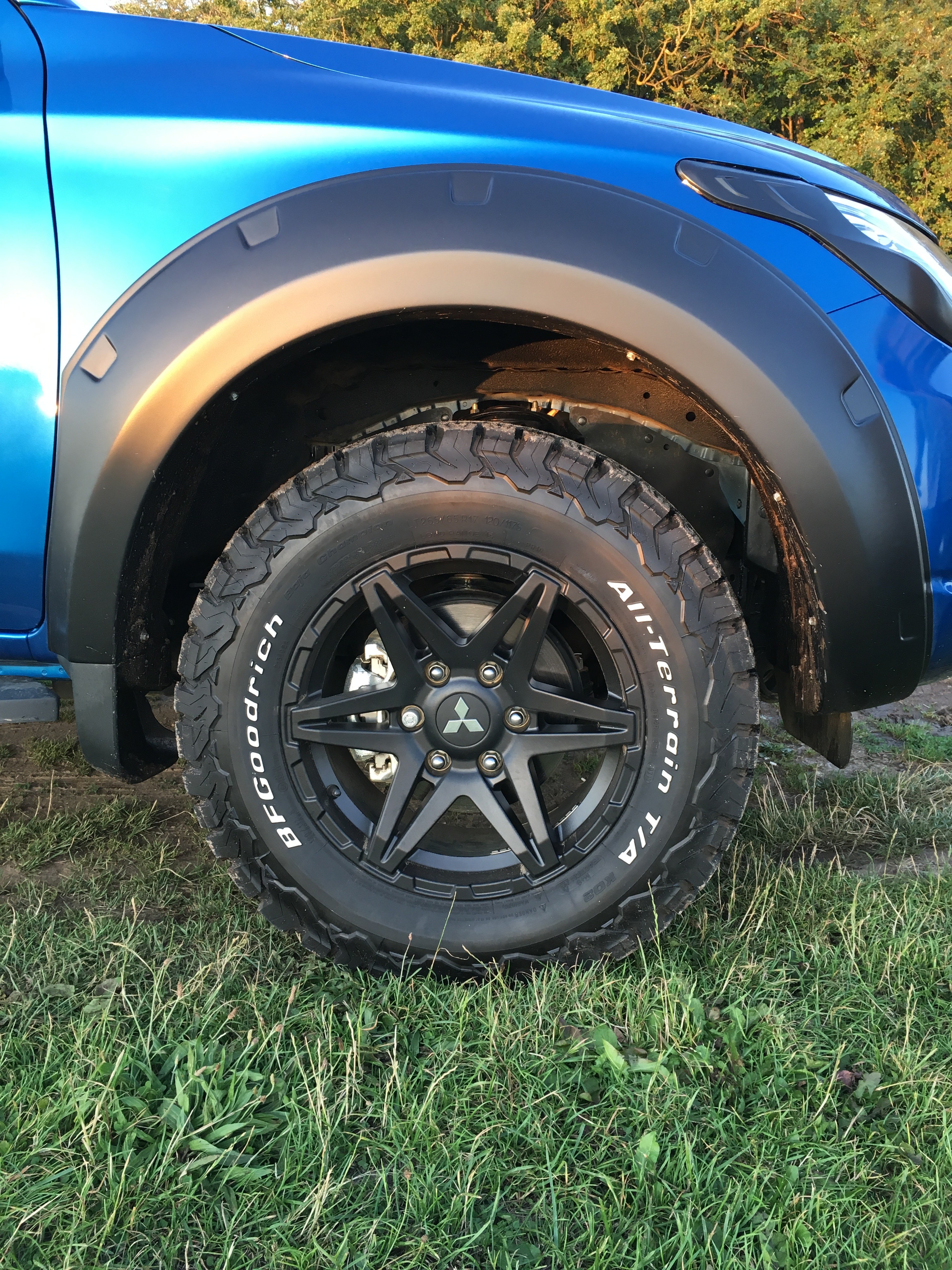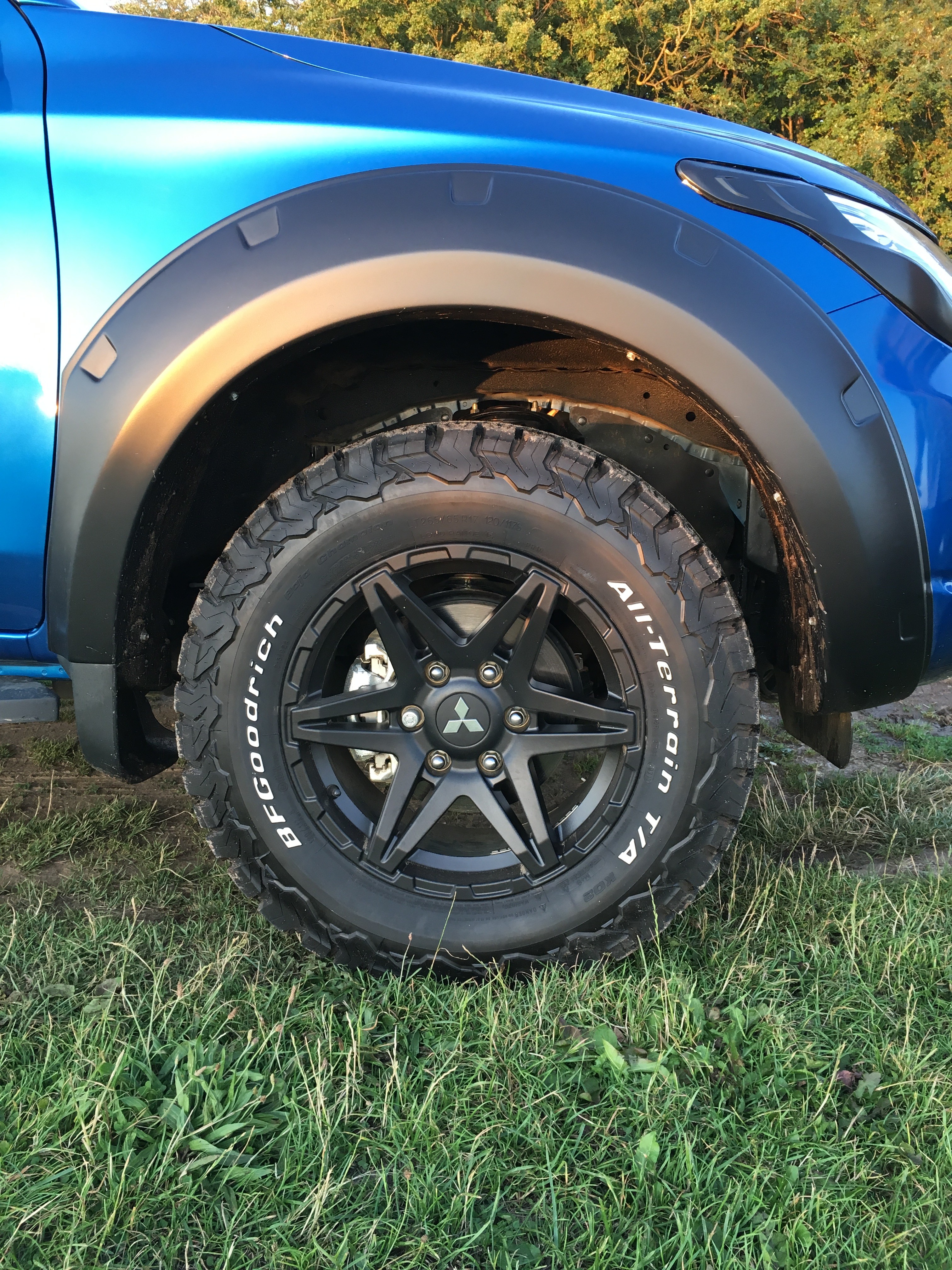 Drive it off-road and it makes even more sense. Its traction is phenomenal and, while the dampers are a bit on the heavy side, which will make kangaroo hopping a distinct possibility on rougher tracks, there is little fear of becoming stuck, especially in Low ratios. Against an Official Combined fuel figure of 39.8mpg, I believe that my average consumption over the course of a mixed week of driving tests (35.4mpg) to be highly respectable.
Mitsubishi is not alone in providing a high-end pickup truck in its range, as the Ford Ranger in Wildcat trim is quite highly regarded. Volkswagen produces a V6 version of its excellent Amarok but its heavier fuel consumption knocks it out of the park. Of course, Mercedes-Benz is soon to introduce its long-awaited X-Class but it will be priced in the stratosphere, putting it out of even corporate consideration. Nissan and Toyota both produce well-respected trucks but I still feel drawn to the Barbarian, after enjoying its capabilities immensely. It has its restrictions but it remains beguiling.