Although he admits to being both sceptical and cynical about car company claims, Iain Robertson is prepared to sample a monster slice of humble pie in his review of the latest version of Mitsubishi's popular eco-SUV.
Loving pies of either meat, or fruit-based, types but not necessarily those from a certain budget bakery chain (no insult intended), is a subject of personal joy. A well-made pastry, in either shortcrust, flaky, or water-based forms, wrapped around an appropriately packed filling, constitutes one of the deepest, most satisfying and most meaningful mealtime opportunities imaginable.
Much like the all-conquering fig, it is an outstandingly inclusive meal-in-one, which seldom needs accompaniment, although, if a plate is available, some boiled new potatoes and lightly steamed vegetables can enhance its appeal, even to Cordon Bleu standards. While not wishing to back reference that budget bakery chain, which, I am certain, can produce some eminently tasty humble pies, it is the pie of non-comestible value that can prove to be a tad irksome to consume.
When Mitsubishi Motors commenced its campaign around January 2013 for its eye-to-the-future PHEV (Plug-in Hybrid Electric Vehicle), based on a car platform (Mitsubishi GS) that was already nudging 12 years of existence, I believe that my subsequent cynicism was justified. Environmental transport aspects have moved on considerably since 2001, which means that the PHEV is operating on a base that is about as far removed from eco-friendly as it is possible to be.
Put into perspective, the GS platform has been used to produce cars as varied as the Mitsubishi Lancer (even in its rally-winning Evo-8 form), the Peugeot 4007, the Citroen C-Crosser, Jeep Compass, Dodge Caliber, Chrysler Sebring, Proton Inspira and Mitsubishi Outlander. It has clearly overdosed on applications. However, just adding an electric motor (or two, actually, one fore, the other aft) to the regular (but optimised) 2.0-litre petrol engine and making the chassis carry the weight of a substantial battery pack, is hardly a recipe for hyper-efficiency. Which also begs the question: 'Or is it?'.
In one-from-top specification (GX4hs), as sampled here, it weighs in at both £40,999 (before lopping off the £2,500 government grant) and 1,845kgs. You can spend an extra £2,000 on the GX5hs but I really cannot see the point, as the 4hs variant is more than adequately equipped. However, if a commercial version is more up your street, you can qualify for the up to £8,000 government allowance, which would ensure that the base price, albeit for a lower 3h+ trim, is just £23,131.87, which represents a veritable EV-hybrid bargain.
I have been delaying the inevitable here, which I shall cease immediately. In the past, I questioned seriously the integrity of Mitsubishi in claiming that its PHEV could attain in excess of 140mpg. If you peer closely enough, you can see me swallowing deeply…as I achieved an outstanding 173.9mpg, on a drive from Lincoln, across the Wolds to Skegness, travelling within legal speed limits but not trying especially hard to be economical. In fact, without plugging the PHEV into the mains socket (five hours for a full charge) and using its petrol engine to recharge the 12kW Lithium-ion battery pack, via regenerative brake energy (using the shifter paddles), over the course of a week's motoring, I actually attained 64.8mpg overall, which is hugely impressive for a large 4×4. By expending some additional effort, I believe that 100mpg is well within regular bounds.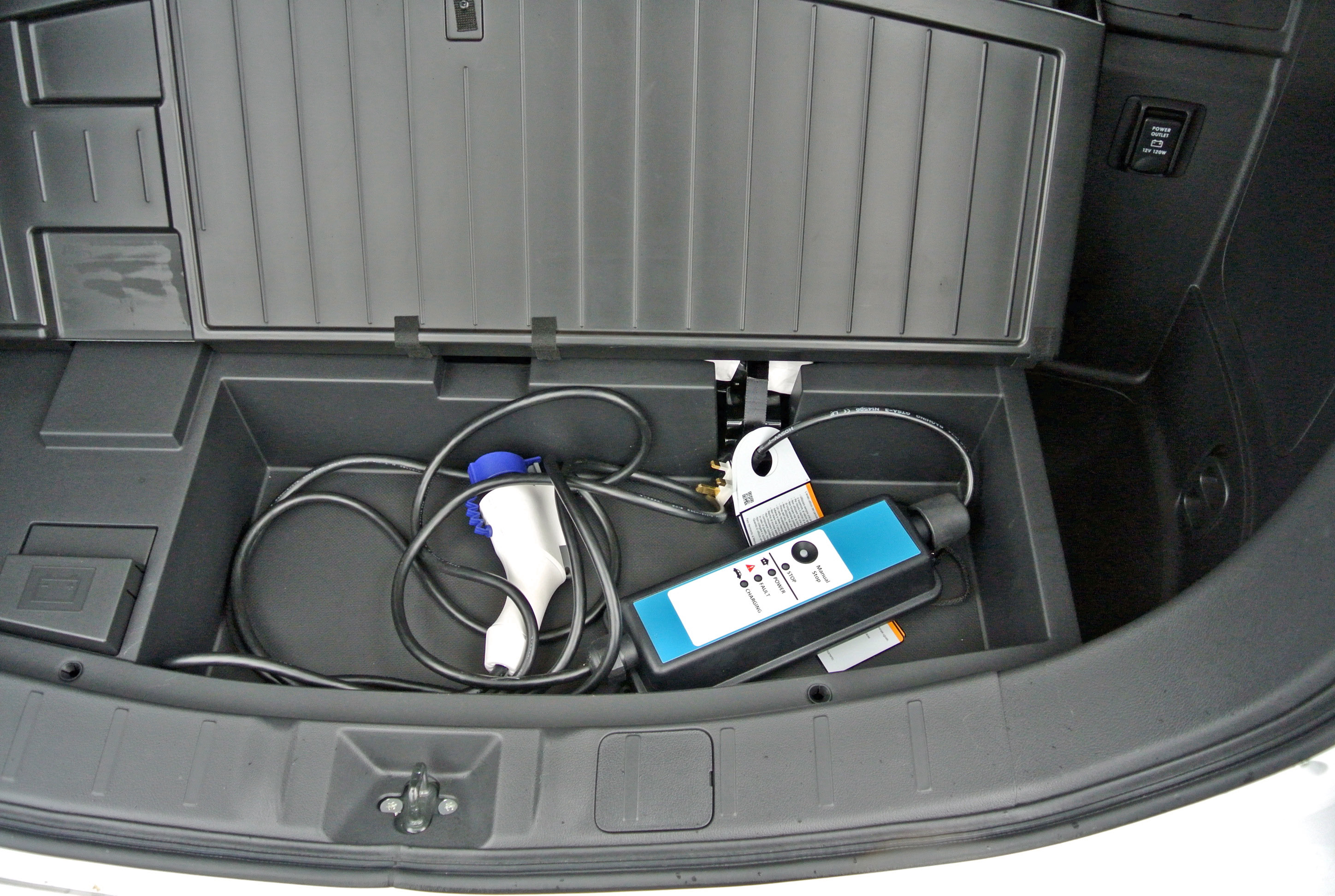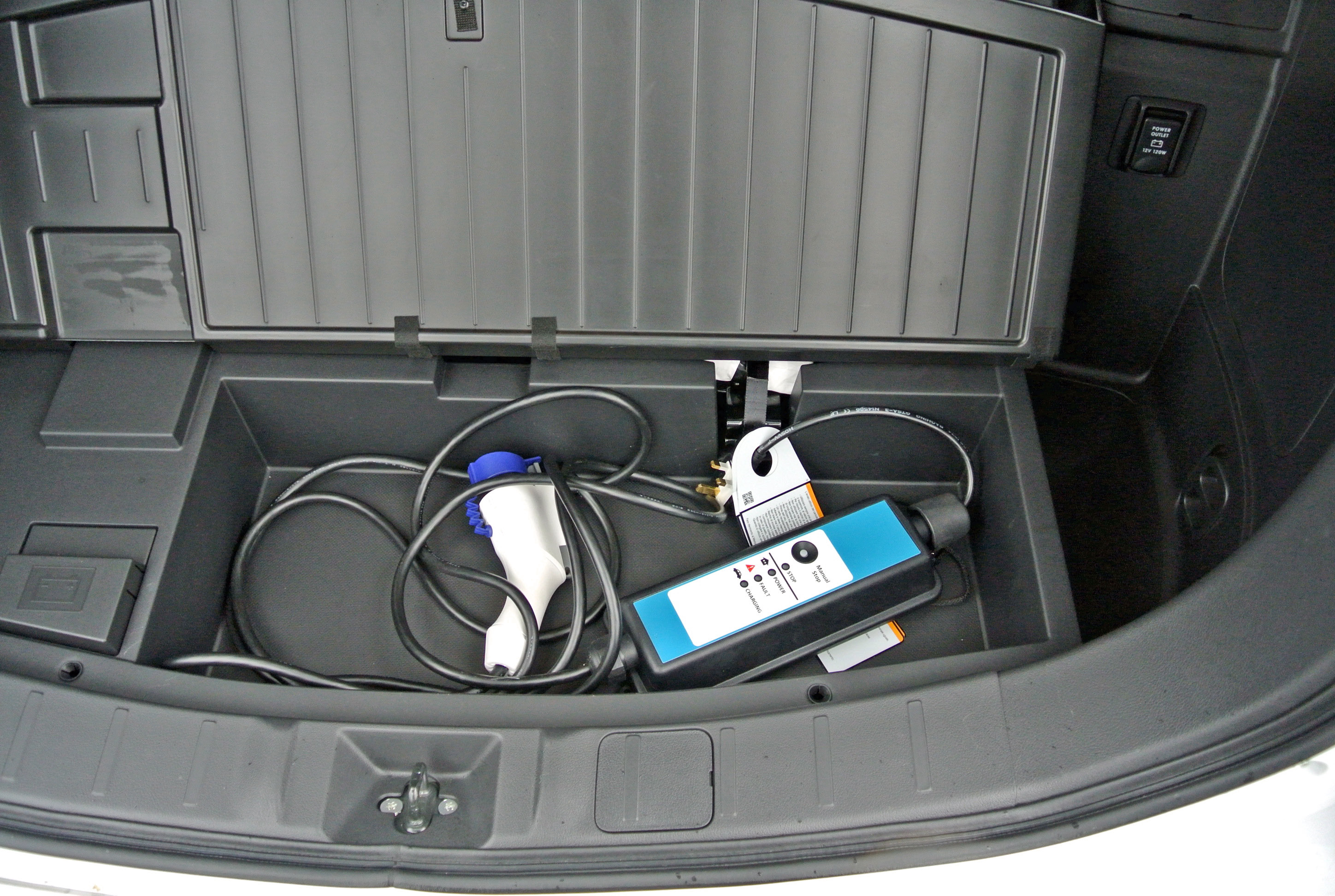 While on the subject of performance, the electric motors, which deliver the power to the road, allow the PHEV to crack the 0-60mph sprint in around 11.0 seconds, although the car's top speed is only about 106mph, despite the combined engine and battery pack power of 204bhp. Still, it accelerates strongly in the mid-range up to and beyond an indicated 100mph in the right places. There is more than enough performance on tap and the maximum EV range is around 25 miles (even though Mitsubishi claims closer to 35 miles), with around 9.9 gallons/500-plus miles of petrol as support. Juggling between EV, charging and Eco modes maximises the fuel economy range. The most important aspect was that I never suffered from 'range anxiety', a condition familiar to most EV drivers.
You might be aware that I enjoyed the long-term use of a Peugeot 4007 a few years ago. I enjoyed it a lot, because it was very comfortable, accommodating and most competent on the ride and handling fronts, despite being an SUV. As the PHEV is, barring a few minor trim, finish and technological details, much the same vehicle, it will be unsurprising to note that it still delivers on those aforementioned counts. In fact, its mile-eating capability is outstanding, aided in no small part by the phenomenal cabin refinement.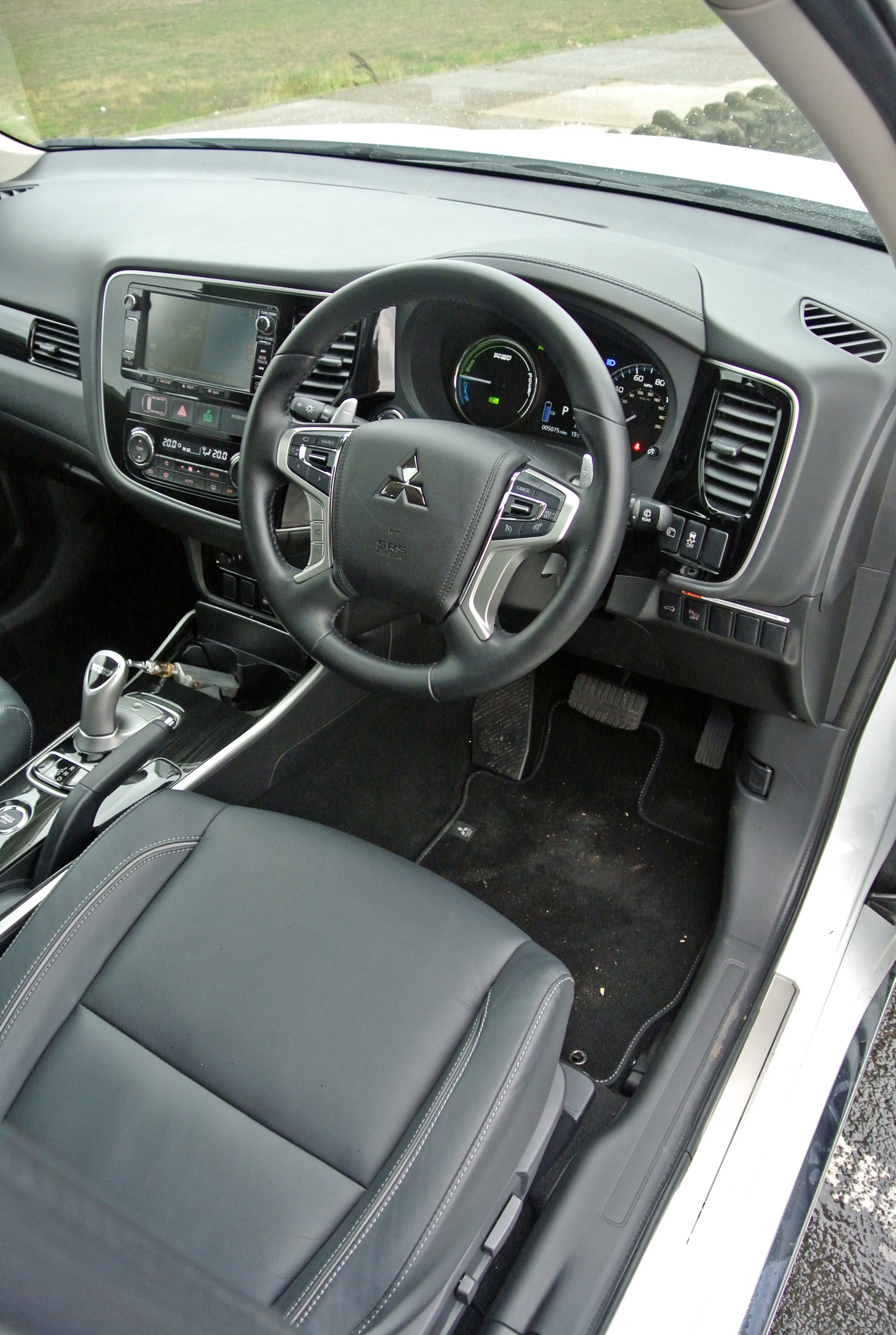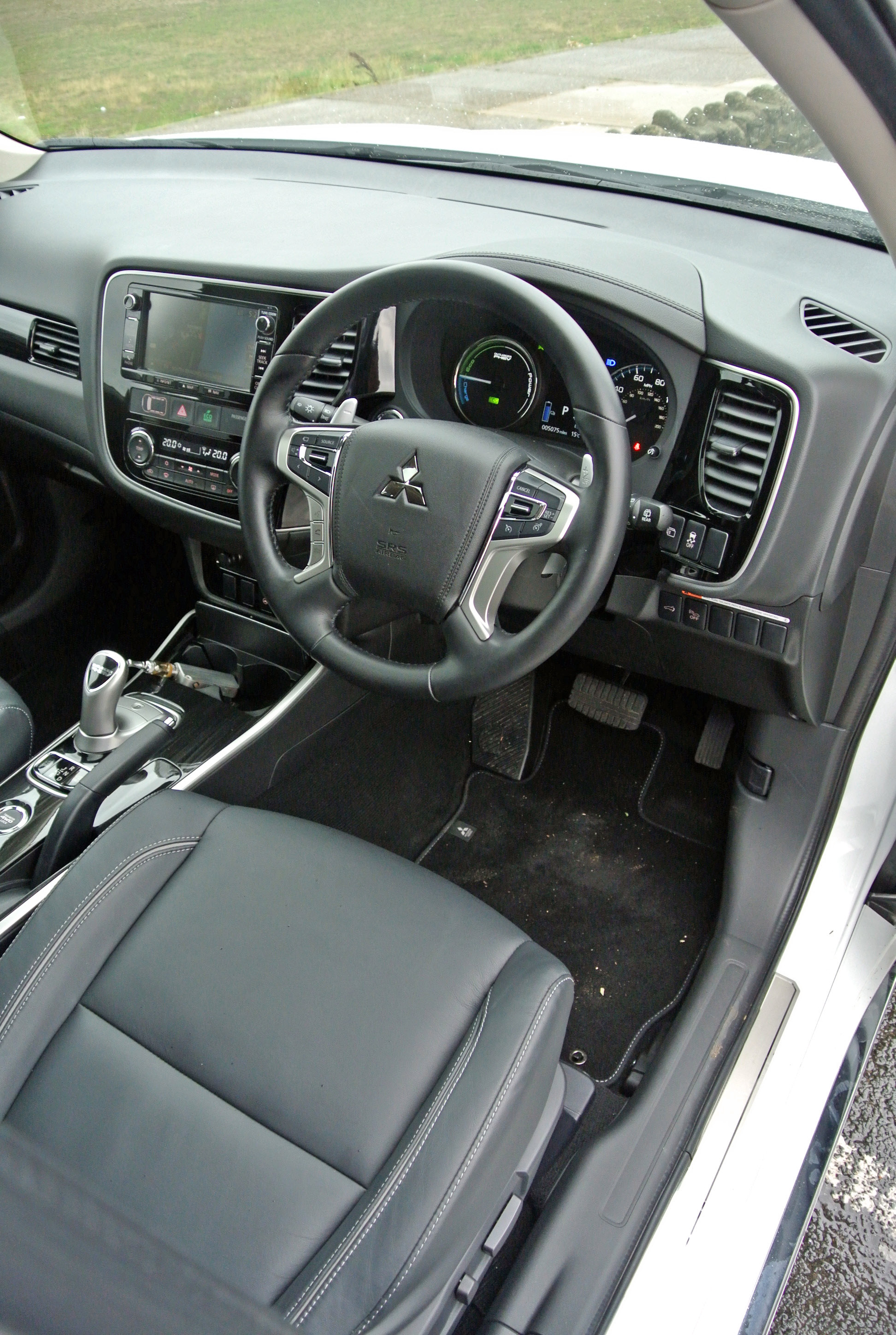 The seats are clad in good quality hide, with a small sliver of it being carried onto the dashboard trim, just above the instruments, with more on the door cards. The latest versions of the PHEV are now even better equipped than before and, apart from the usual safety addenda (airbags and ABS), the car features an 'Unintended Acceleration Mitigation System', lane-keeping technology and semi-autonomous braking, when using the distance cruise control. Not only the front seats but also the steering wheel rim are heated, while a 360-degree colour camera system provides useful vicinity viewing for parking, or diving off-road, for which the AWD system provides the maximum traction.
The Mitsubishi is a very spacious and practical estate car, with plenty of leg, head and shoulder room up front and in the rear seats, while the boot offers a moderate 436-litres of carrying capacity, which can be more than doubled, when the back seats are folded forwards. The battery pack is located low down and within the wheelbase, which also helps with the car's good dynamic balance.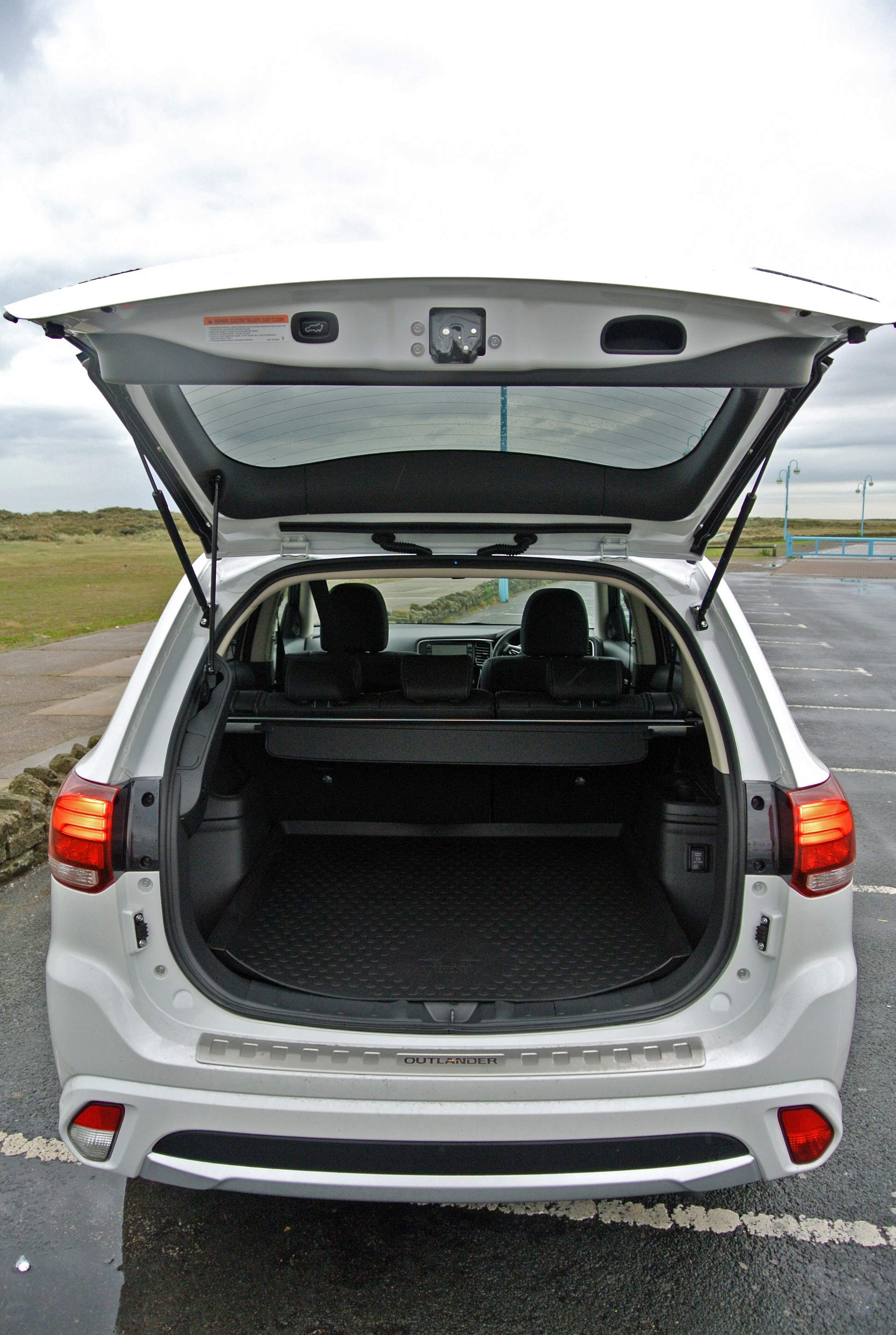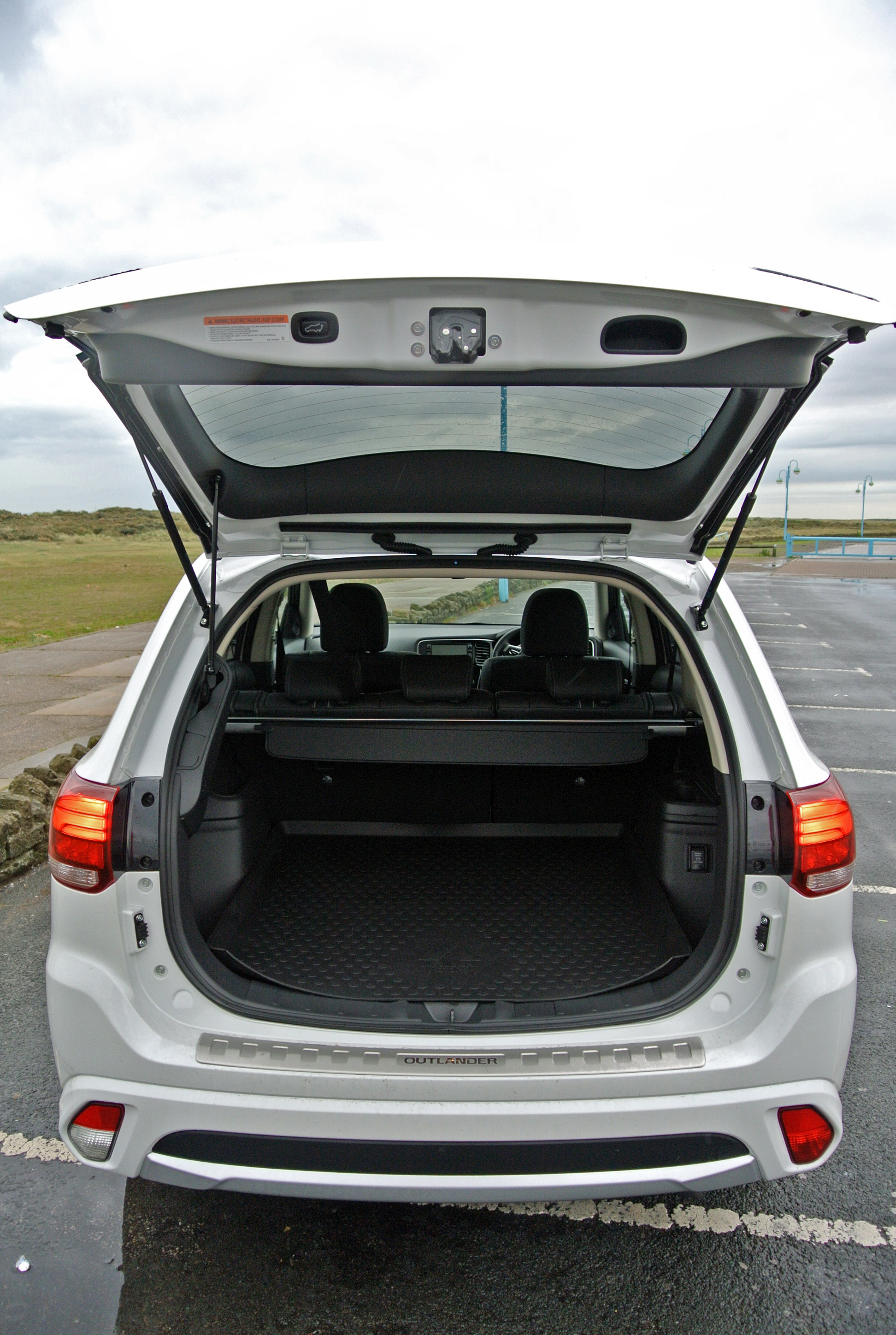 To be frank, I expected the PHEV to feel more 'leaden' on the road than it is. All EVs suffer from weight-related issues. Some are significantly worse than others. Yet, the power steering of the Mitsubishi provides a decent amount of road surface feedback, without dulling responses, and the suspension is not as firm as and more compliant than that of some regular SUVs. In addition, the brake energy recovery system works more fluently than a lot of rival products and does not detract from the overall braking efficiency. As a result, the PHEV, apart from its lack of mechanical kerfuffle, feels like any competent family estate car to drive.
The latest bodywork reskin works particularly well at disguising what is now quite an elderly design. The application of tactile trim surfaces within the cabin add to the overall impression of high quality, which goes someway towards justifying what is quite a hefty price tag. Of course, very few business users will be interested in much more than monthly rental rates, which are competitive due to the PHEV's undoubted popularity and fairly solid residuals. The other attraction lies in its zero VED (although its 42g/km CO2 rating will be taxed as a regular car from next April), zero Congestion Charge taxes and just 7% Company Car Benefit In Kind Tax (the average is around 25%).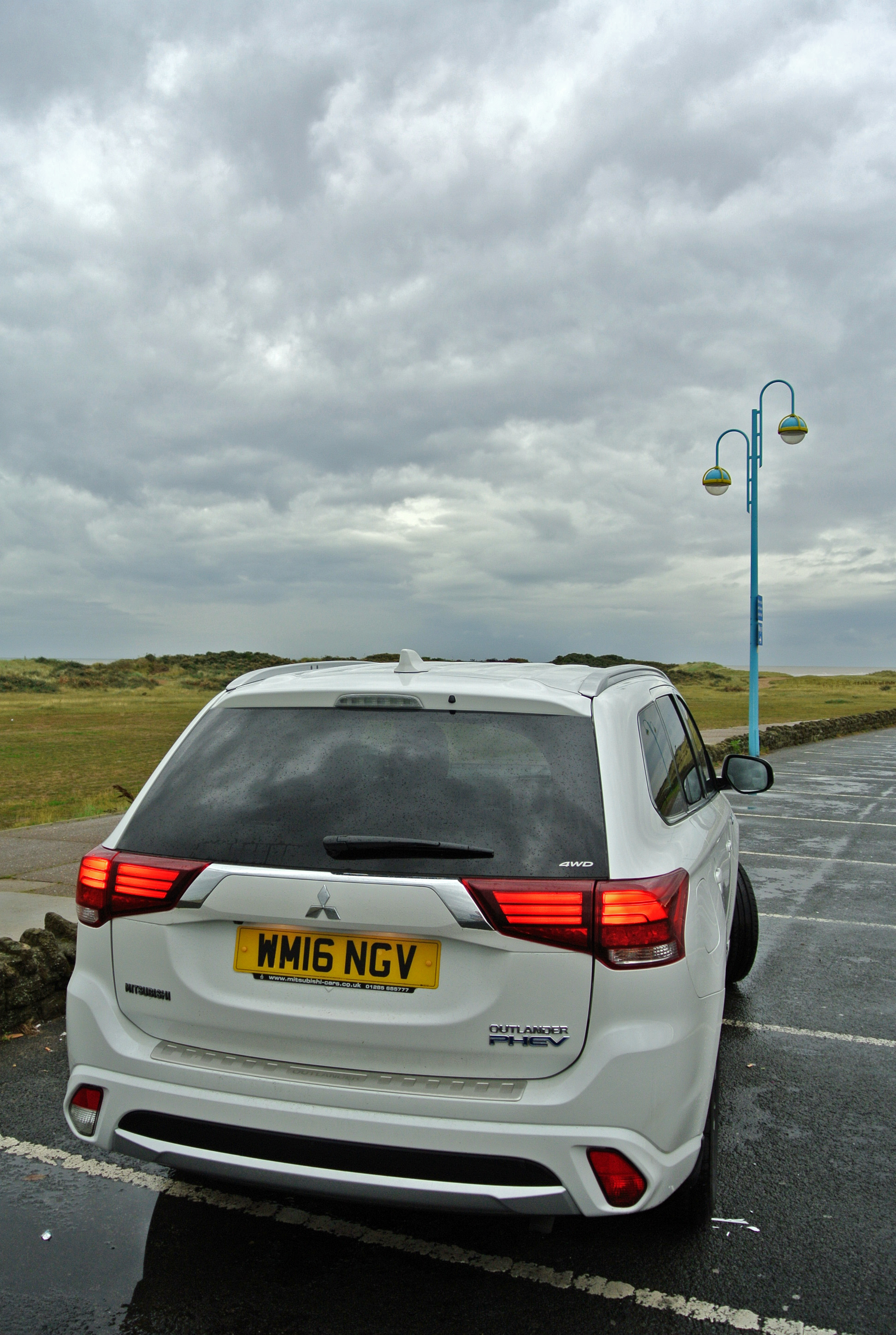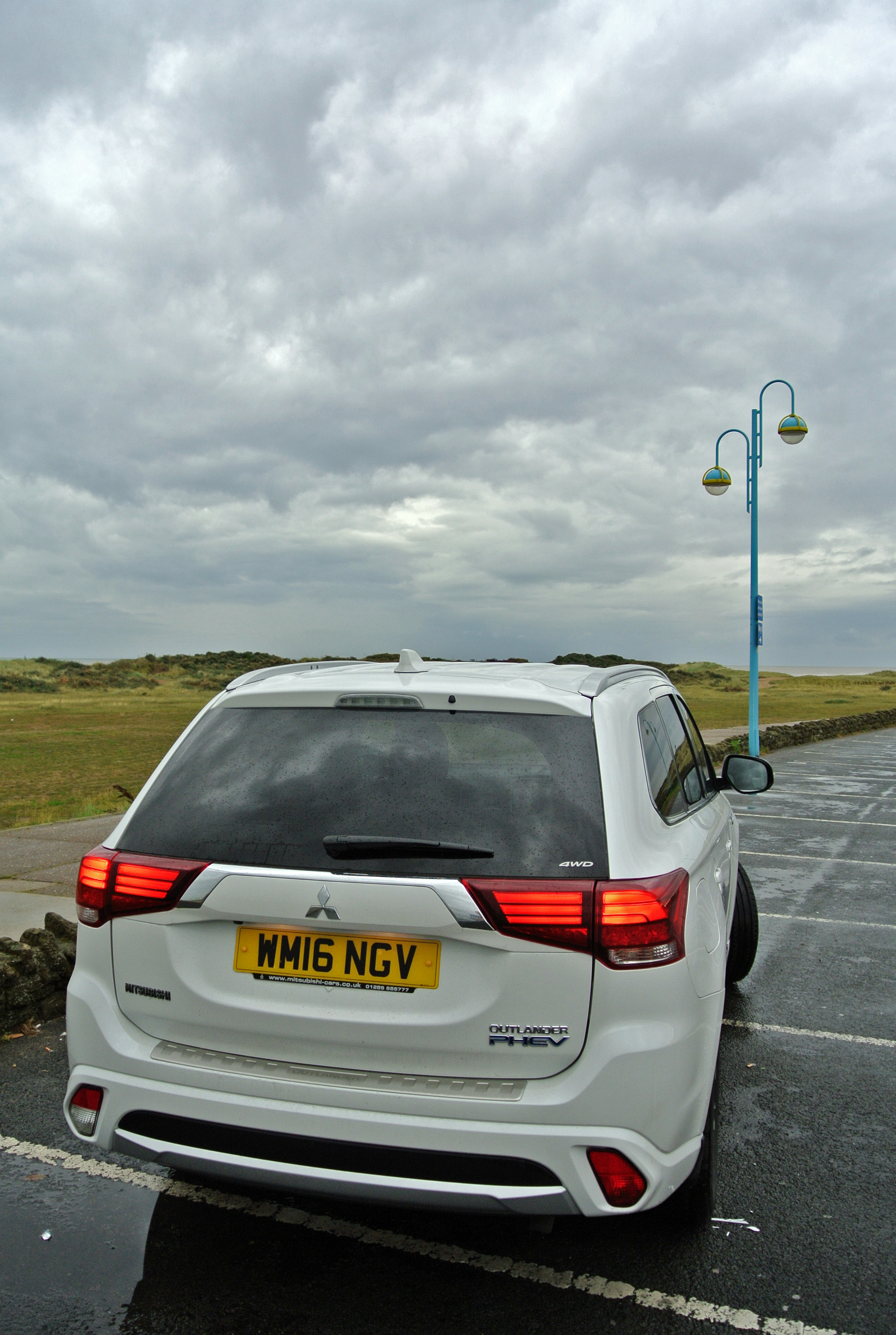 The acid test for me is always 'would I either buy one, or drive one?'. The answer remains 'No' to the first part, while I would be eminently happy to use one as a company supplied car in the second part. If that comes across as something of a sea-change, then, yes, I have seen the light! The Mitsubishi Outlander Plug-in Hybrid Electric Vehicle, to provide its grand title, is a roomy, comfortable and capable SUV, possessing a raft of product strengths that justify its place in the new car scene. It seems that eating humble pie has not been as distasteful as I thought it might be.