Hybrid technology has been adopted willingly by fleets, highlights Iain Robertson, even though the main advantages of zero road tax and free access to congestion charge zones were lifted by a former Chancellor of The Exchequer (Osborne).
In those days prior to GameBoys and mobile-phones, most children played with sticks and balls, making music with combs and Izal, while the Japanese art of paper-folding, better known as origami, entertained the brighter sparks. The prospect of taking a sheet of paper and turning it into a yawning cow, a flapping sparrow, or (amazing but true) a puffball, proved surprisingly engaging and, ultimately, an enticing challenge (books and on-line guides are available).
When designing motorcars, automotive stylists seek inspiration from a vast array of subjects. They can range from nature, even science, while some lean on surprisingly rudimentary but stylish kitchen utensils (for example, the front chrome fillets on a Jaguar XF that were inspired by a Moulinex electric kitchen knife). In many respects, these are good reasons for concept vehicles never to make production. However, all of them possess a 'made you look' element, while some, like Lexus, exercise paper-folding extremes.
While wilder displays of design genius tend to be restricted to more mainstream models, usually as a means of garnering attention, Lexus, the luxury arm of Toyota, has seldom been less afraid of alienation than it has in the past few years. The RX450h is brave and stand-out in its class, taking an uniquely intelligent approach to car design that is both refreshing and reflective, without losing touch with either elegance, or intrigue.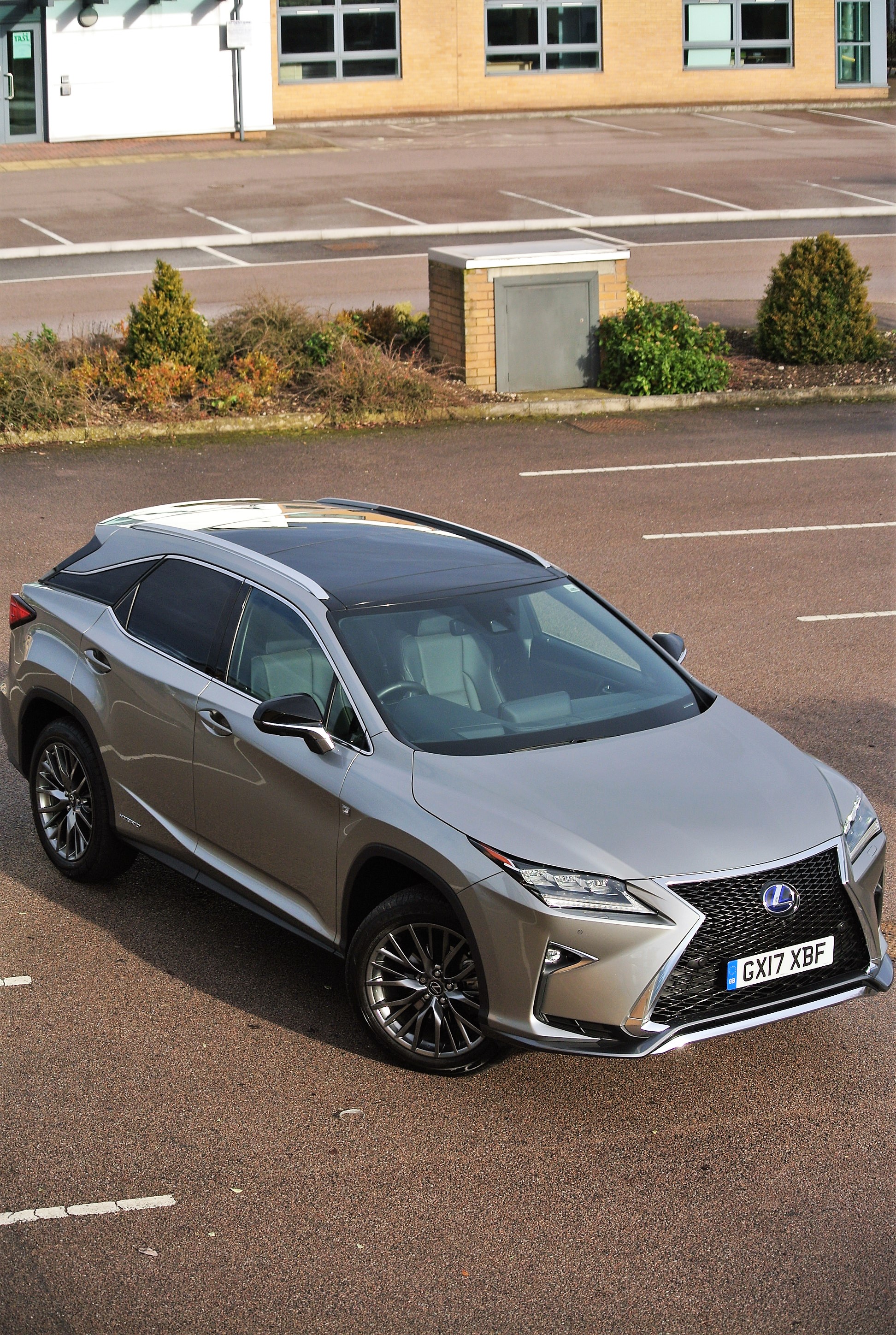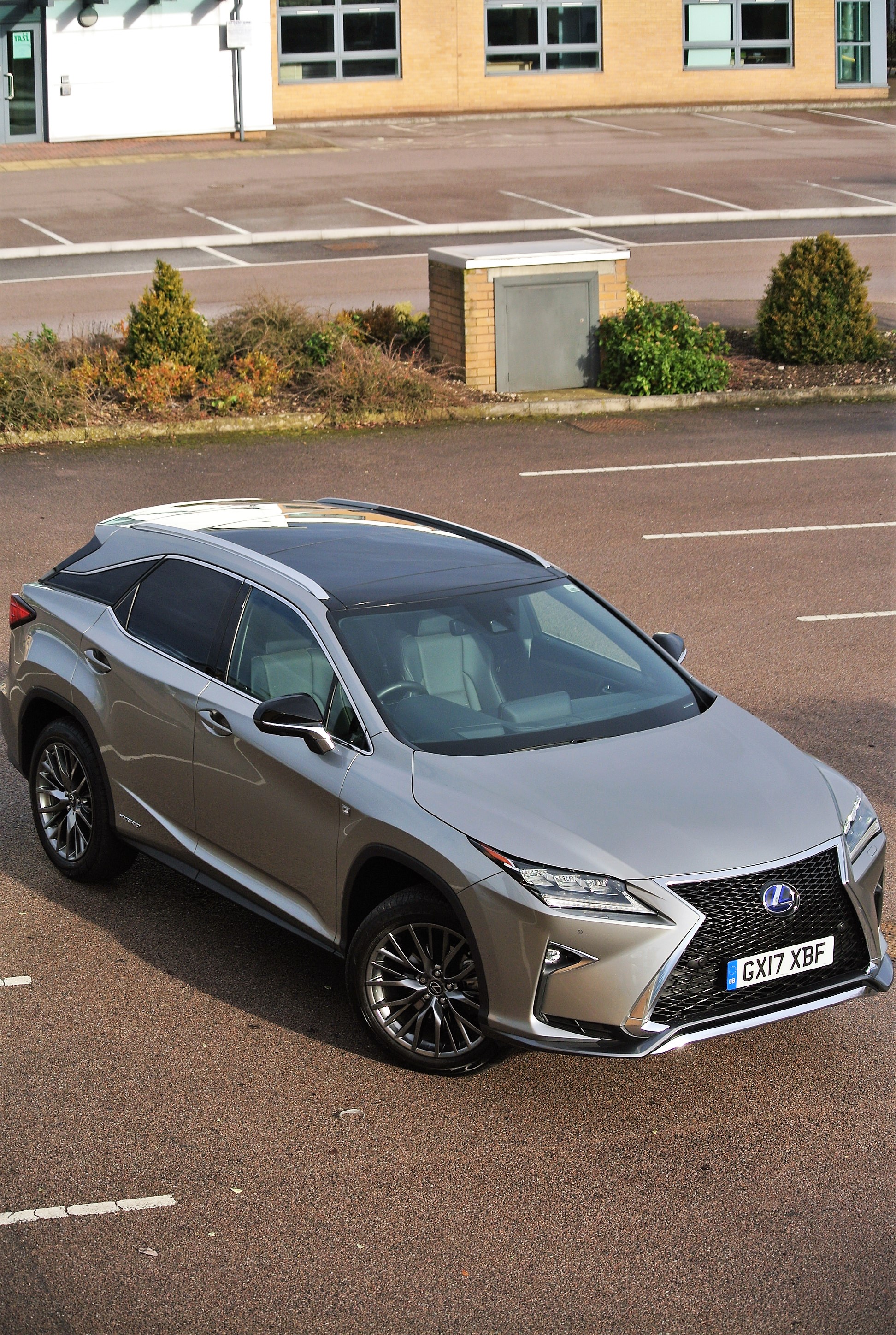 From its strident 'spindle' front grille, to its coupe roofline, the RX450h oozes eye-catching design elements and makes a vital impression that serves to highlight its diverting drivetrain. It is impeccably well-built but its interior is altogether more conventional, while lacking nothing in terms of creature comforts and levels of equipment. The test example is in F Sport trim, which happens to be the penultimate version, list priced at £60,585, including the £4,500 Premier Pack, £645 paint and £1,295 panoramic electric roof (SE, Luxury, Sport and Premier trims complete the range).
In truth, potential owners will want for very little, as the standard specification includes a wireless phone-charger pad, adjustable depth drinks-holder and a 12.3-inch screen accessed via an unusual 'track-pad' and mouse system, that features Haptic feedback force adjustment. In essence, the feedback to the driver's fingertips can be altered using the on-board computer's settings, which tailors it to make on-screen selections easier, notably while driving. Naturally, unless adjusted at standstill, the distraction of a cursor darting about the screen can be both annoying and quite dangerous.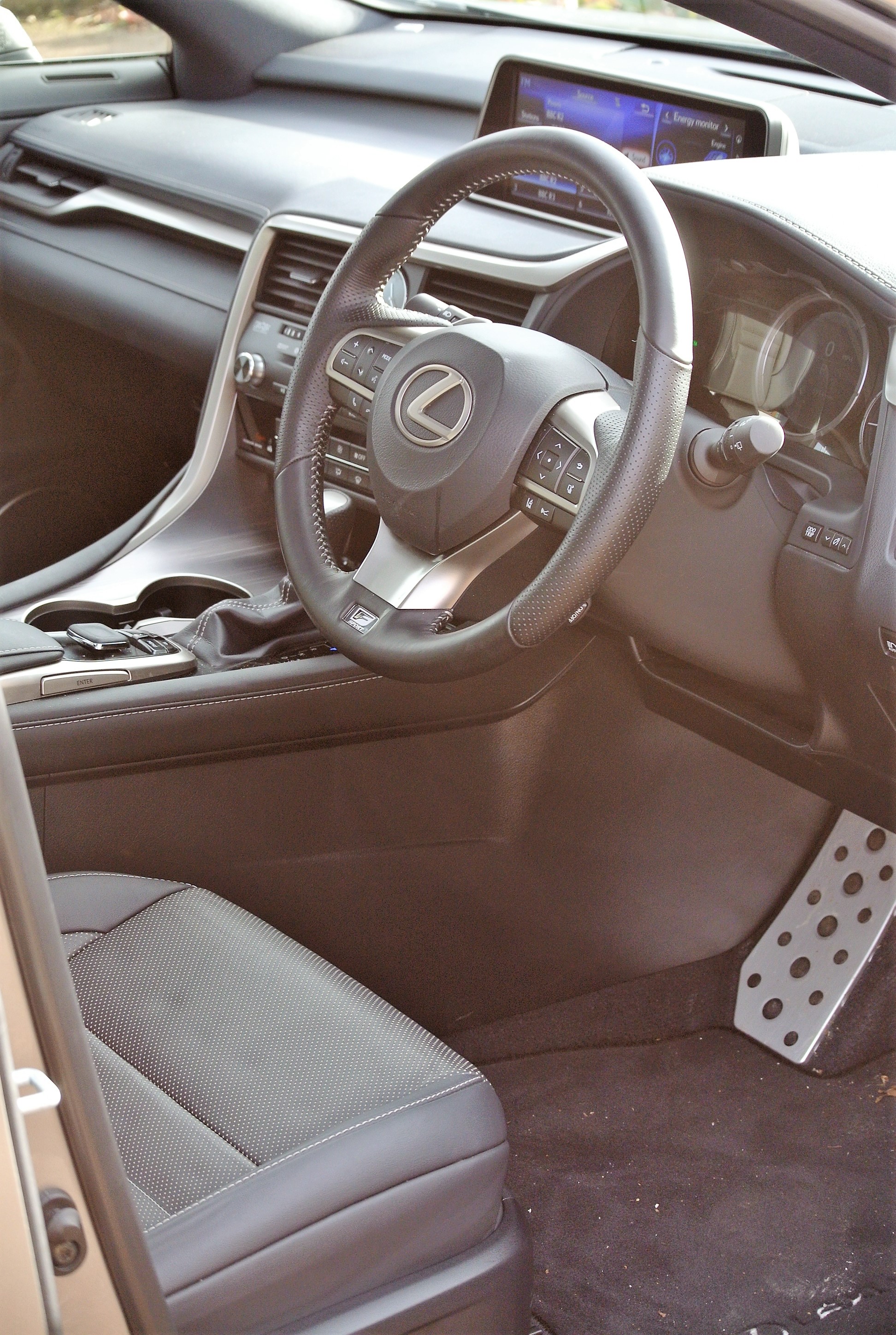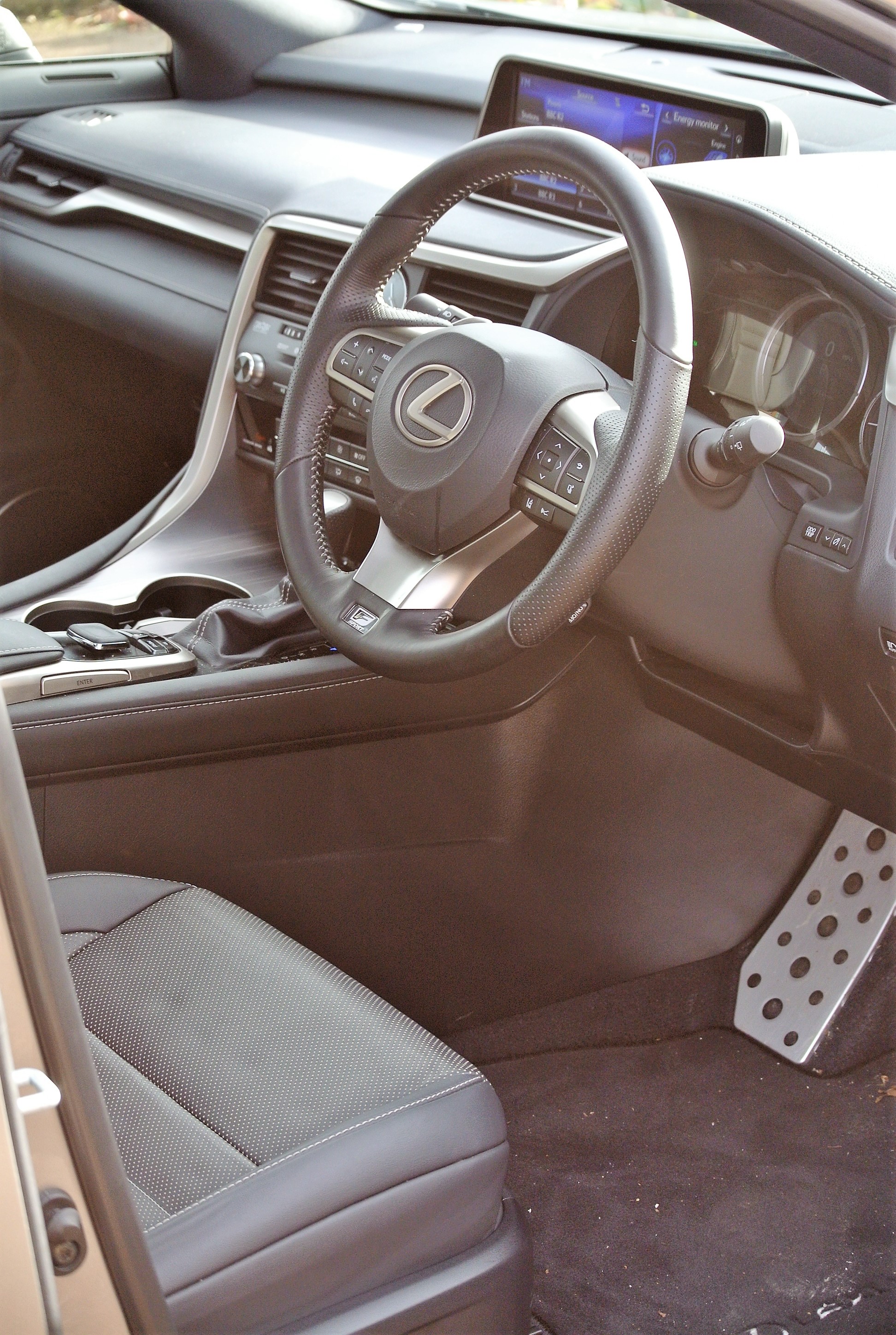 Featuring the largest and most comprehensive 'Head-Up Display' in use by any carmaker, its heated and ventilated front seats, heated steering wheel rim, powerful LED headlamps (that do not glare annoyingly on dipped beam), an electric, height-adjustable hatchback (which stops before low carpark headroom scratches the paintwork), a Mark Levinson 15-speaker hi-fi and 20-inch alloy wheels are all standard. The cabin is both spacious and airy, with an equally roomy back seat that will carry three-abreast, although seat bolstering for the centre occupant does limit available headroom. Actual boot space is reduced slightly by the battery and electric motor technology located beneath the floor but there is still 453-litres of carpeted load area available, which can be more than doubled by folding the seats.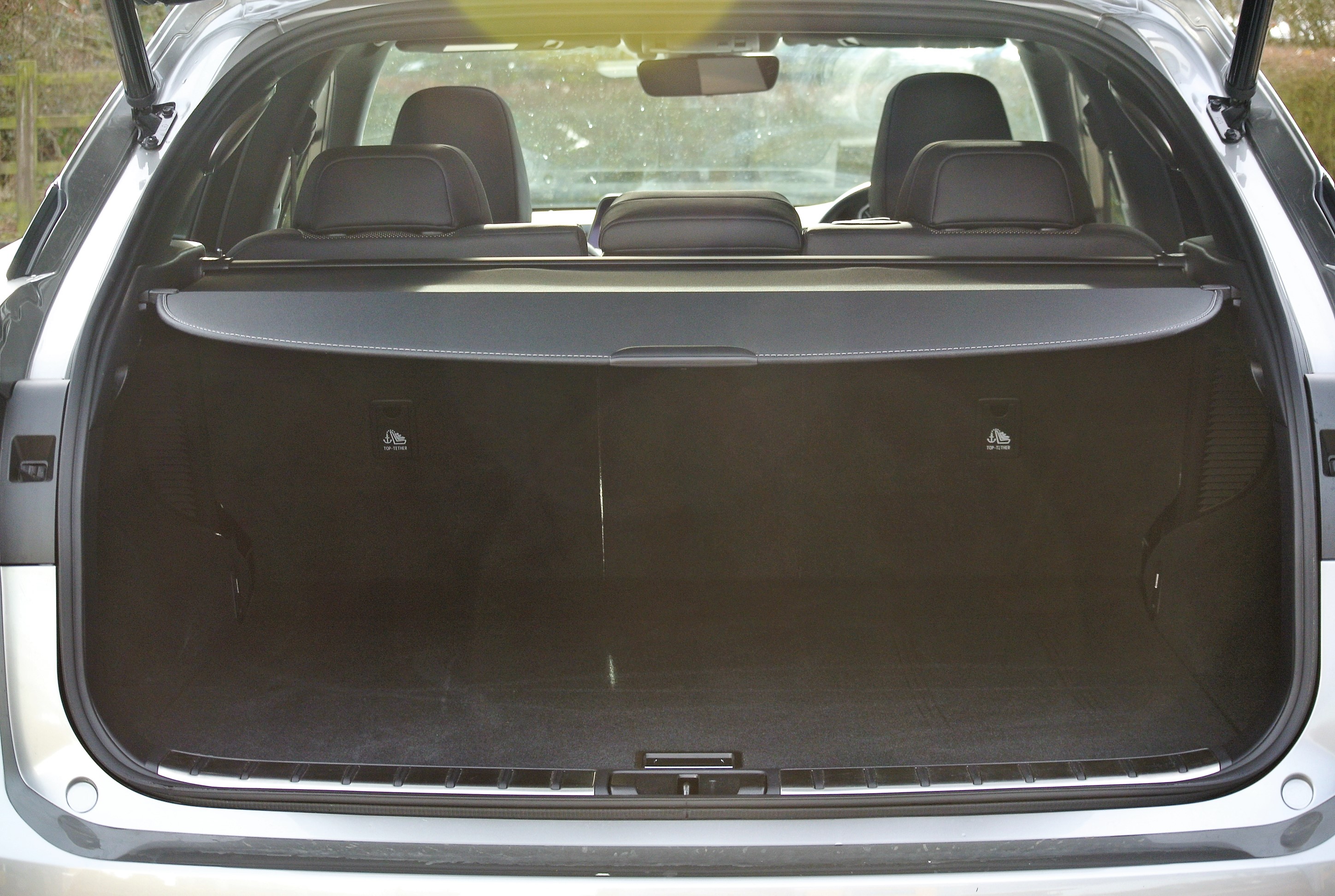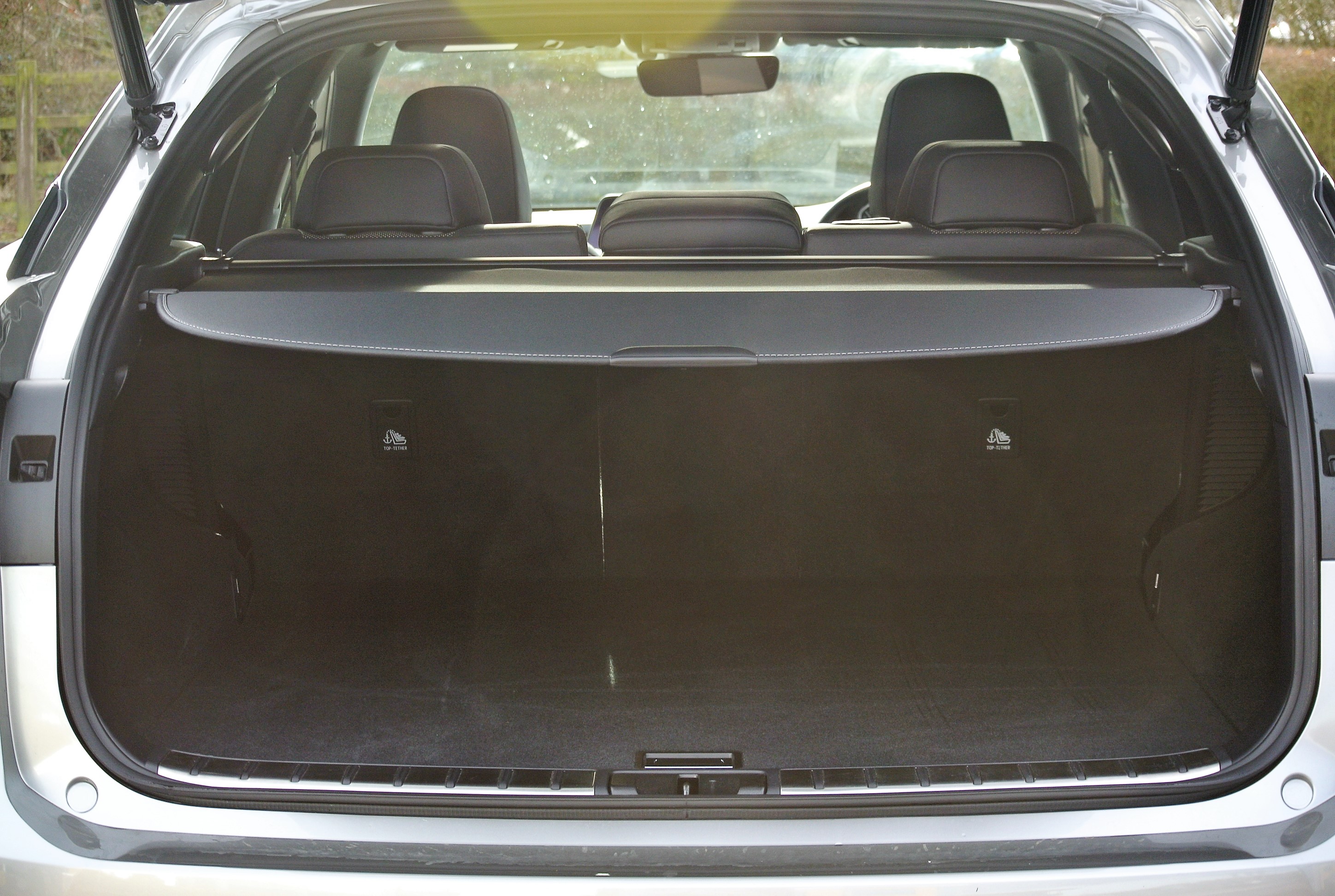 It is gratifying to know that there is no genuine rival to the RX450h. Beneath its bonnet is a 3.5-litre V6 petrol engine; there is neither diesel, nor smaller capacity turbo-petrol option. It develops a substantial 259bhp, which is supplemented by the firm's hybrid synergy drive system that positions an electric motor at both front and rear axles to provide four-wheel-drive and hikes the maximum power to 308bhp. However, as with all Toyota-engineered hybrids, the RX450h will operate automatically in EV mode, at speeds of up to 45mph, as long as the driver is light on the throttle.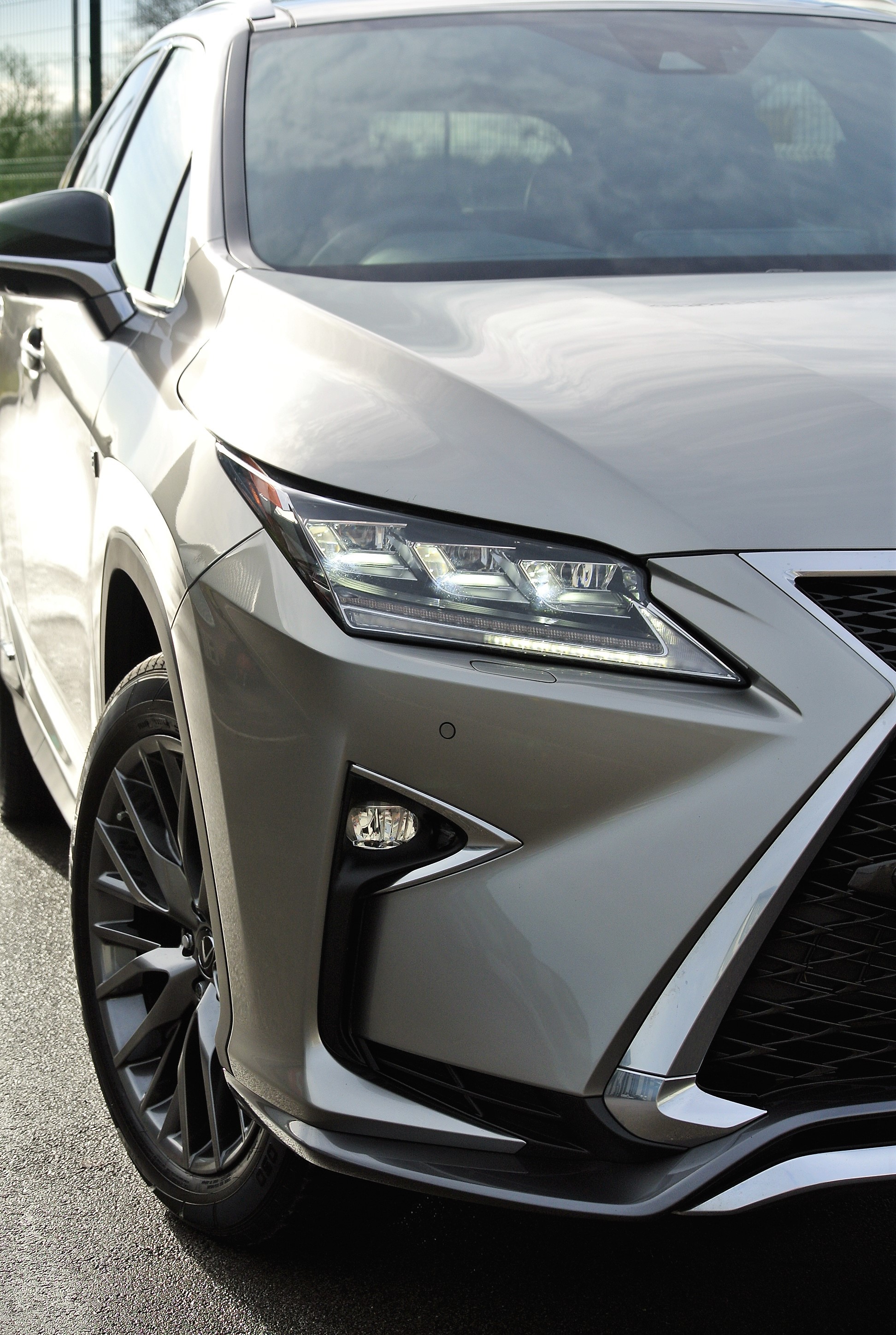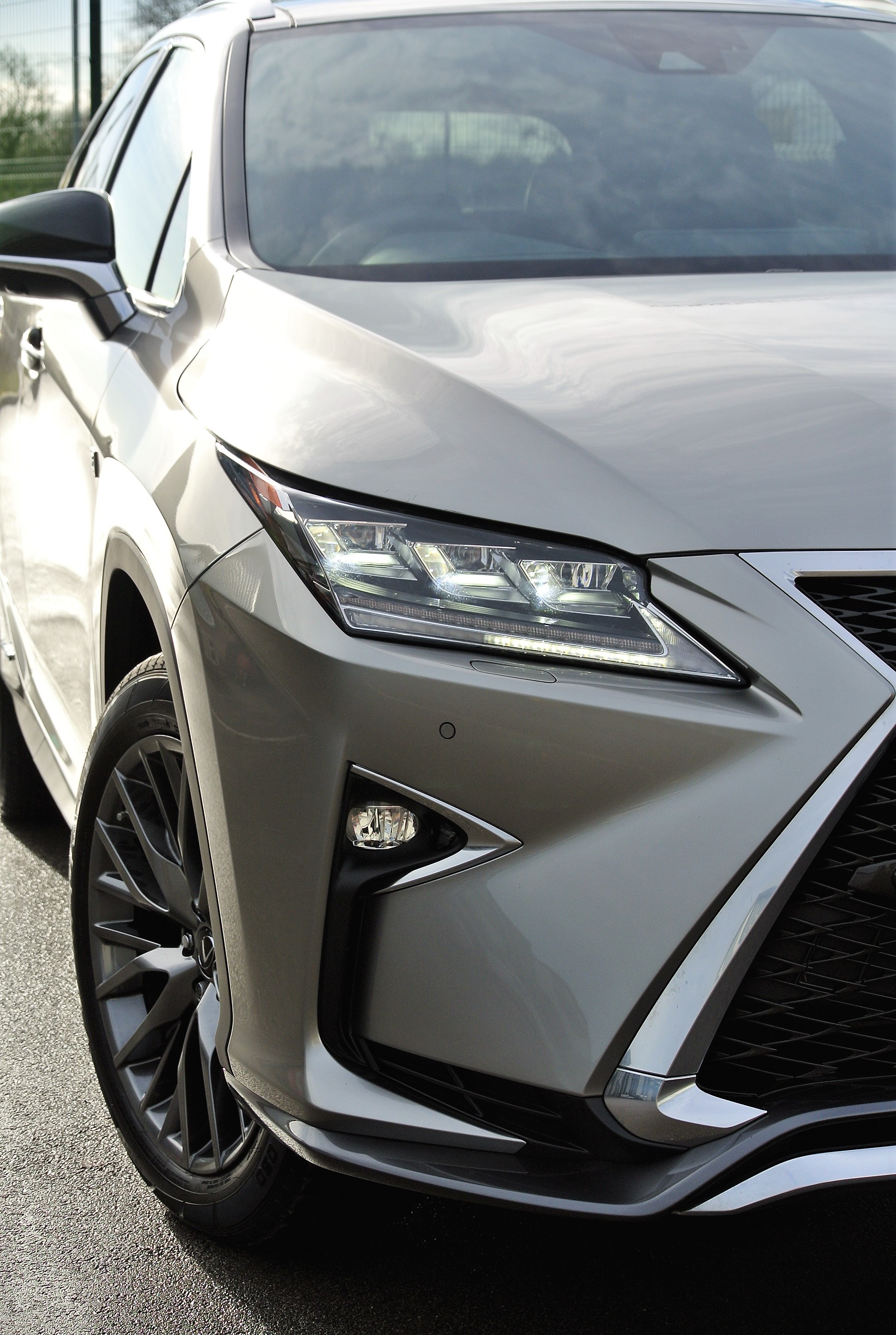 The only time you appreciate the petrol engine is under hard acceleration, when its guttural V6 notes rise and fall in accompaniment to its electric constantly-variable transmission (CVT, with steering column paddles). While not conducive to attaining much better than 30.6mpg in full-attack mode, it can despatch the 0-60mph sprint in a moderate 7.4 seconds, its top speed being limited to 124mph. If the distant wailing of the engine is distracting, selecting the manual-mode and using the column-mounted paddles, does provide greater control to the driver. However, driven smartly, it can achieve up to 51.4mpg (Official Combined) and emits a modest 127g/km of CO2, which makes it eminently cost-efficient for the business sector, where settling any Benefit-In-Kind charges is a consideration. However, as its list price is well over the £30k bar, the £130 annual road tax is bolstered by a surcharge of £310 in years two to six (£440 annually). It is in Group 41E for insurance purposes.
Five driving modes can be selected: Normal, Eco, Custom, Sport S and Sport S+. The latter pair also alters the air suspension, throttle and steering weights for sportier progress. The main power distribution dial also changes from a blue read-out to a red and white rev-counter (the speedometer reading remains digital). The RX accepts these mode changes readily and displays a determinedly sportier attitude that makes excellent use of the car's four-wheel-drive traction and the grip provided by the 235/55 section tyres. Yet, weighed down by its battery pack and electric motors, this is not a preferred setting, as it only factors in a compromise.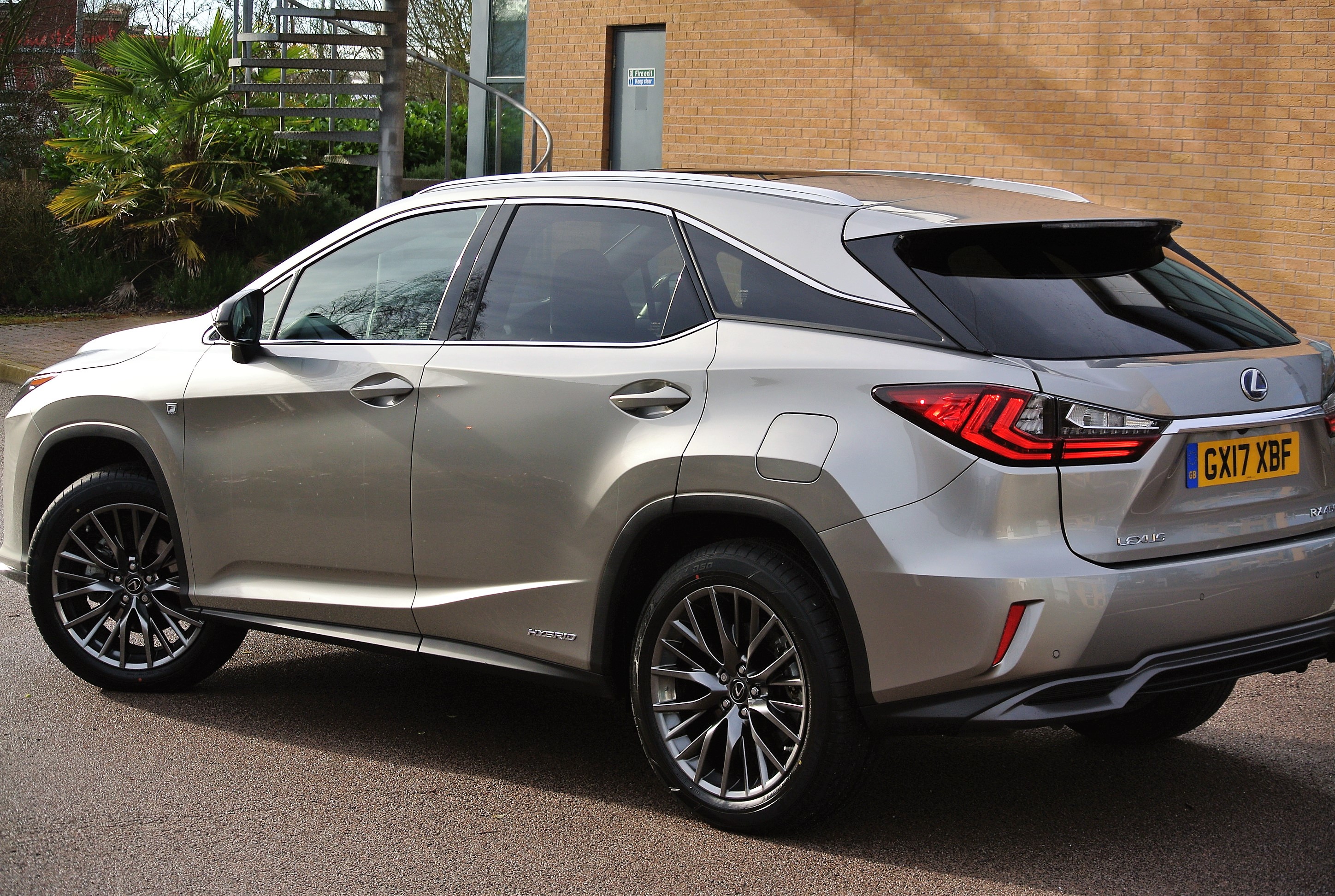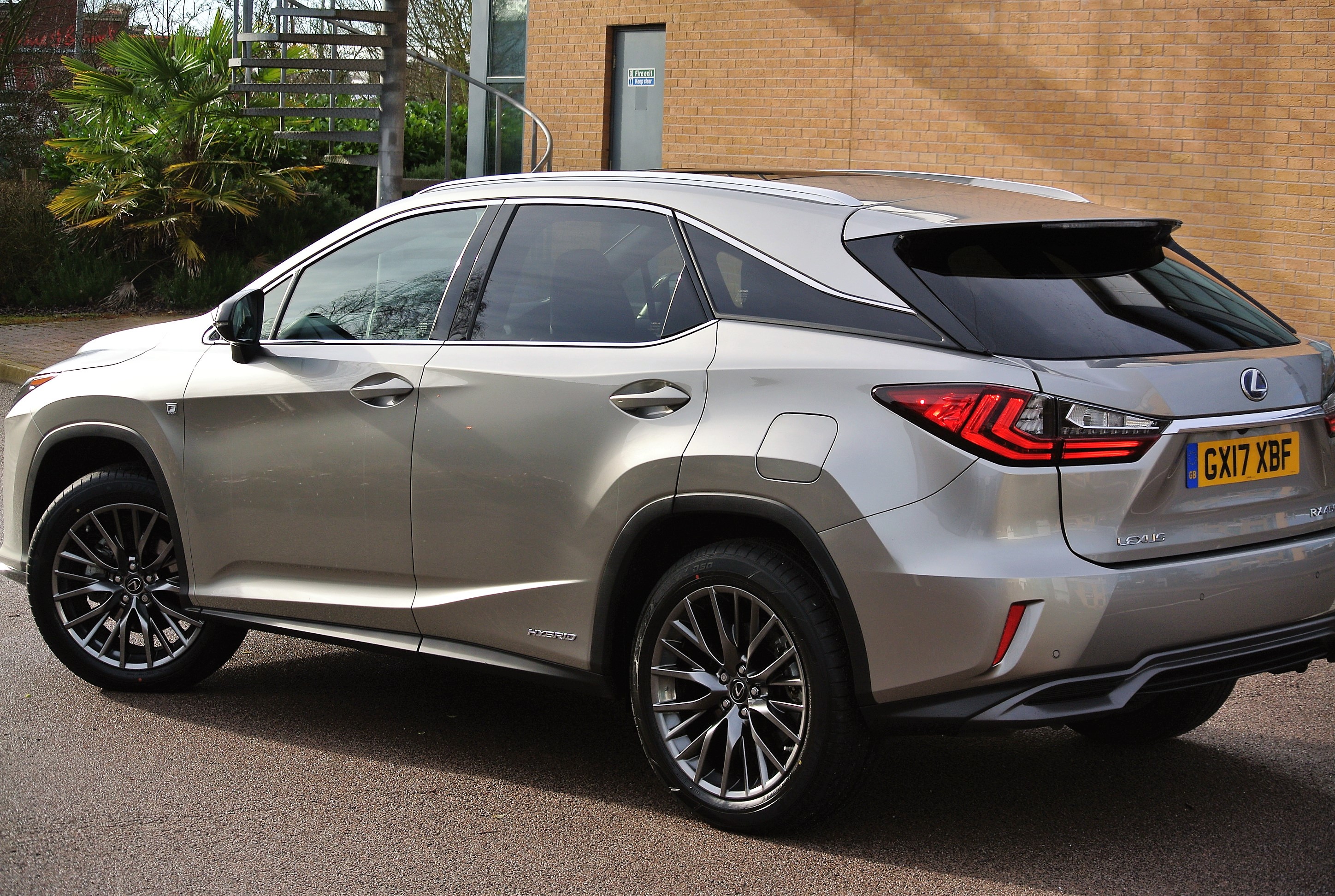 Yet, it is in the Normal mode that it feels supple, comfortable and quietly confident. Extraneous noise is subdued and progress can be as stately as you wish it to be, the drivetrain fluctuating between its various modes automatically. Most road surface imperfections disappear beneath the car's 'magic carpet' ride quality and it is only the most severe of transverse ridges that can catch out its suspension. In this respect, the RX450h is every bit the high-end luxury executive that compares very favourably with other top-end machinery. Its 4×4 system is more of an extraction medium; ideal for departing Jacinta's gymkhana field, the polo ground car park and the local antiques fayre but not for mud-plugging purposes.
An important consideration for all potential owners is Lexus' well-defined reputation for total dependability and driver satisfaction. A consistent top performer in various surveys, its dealer network is also praiseworthy apparently. A sound warranty and 10,000-miles service intervals factor in additional ownership comfort zones. Naturally, every Lexus benefits from the current crop of safety addenda, with Blind Spot monitoring, lane discipline and rear traffic alerts among a host of features. Hill-holder and an automatic 'hold' on the electric parking brake are also standard.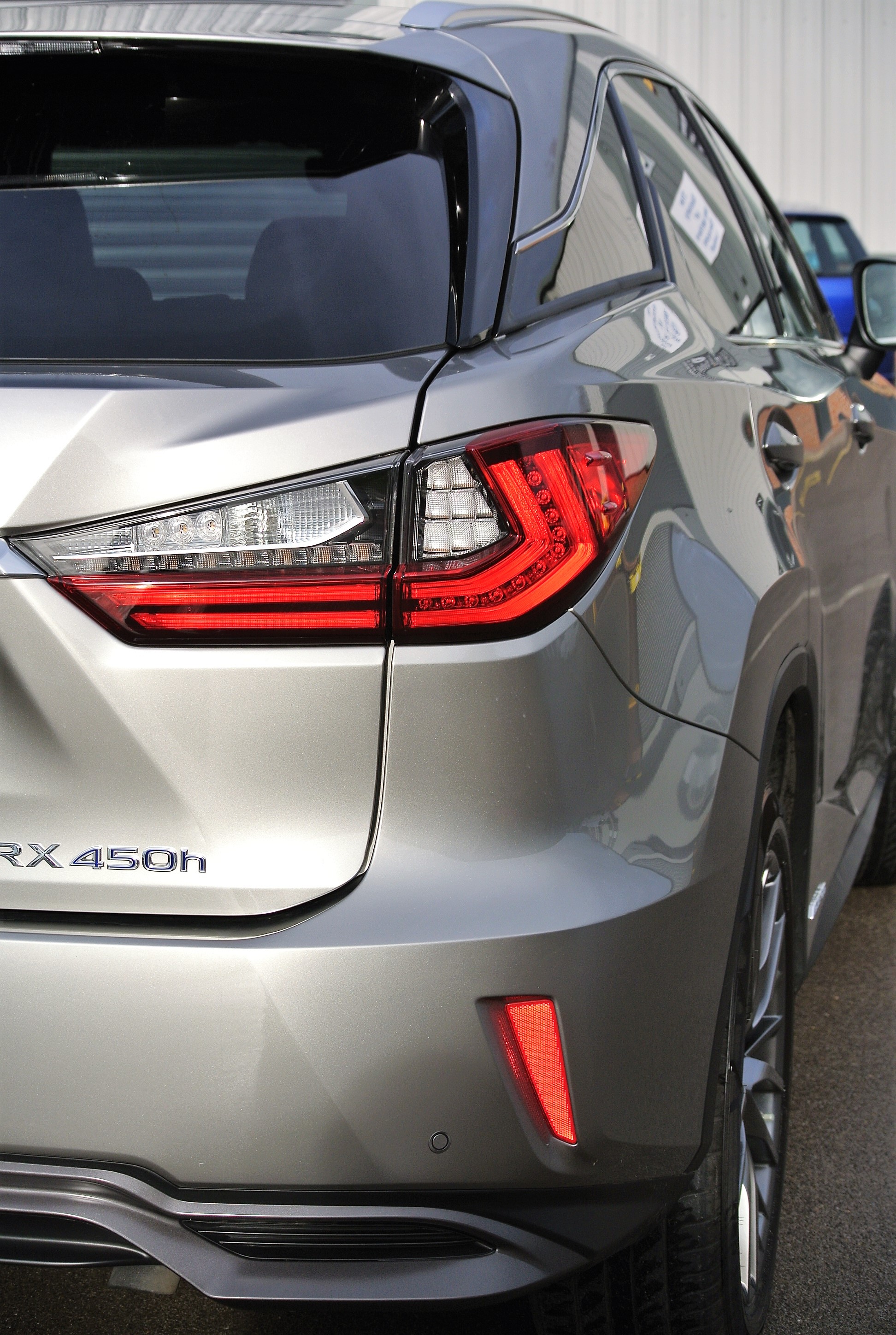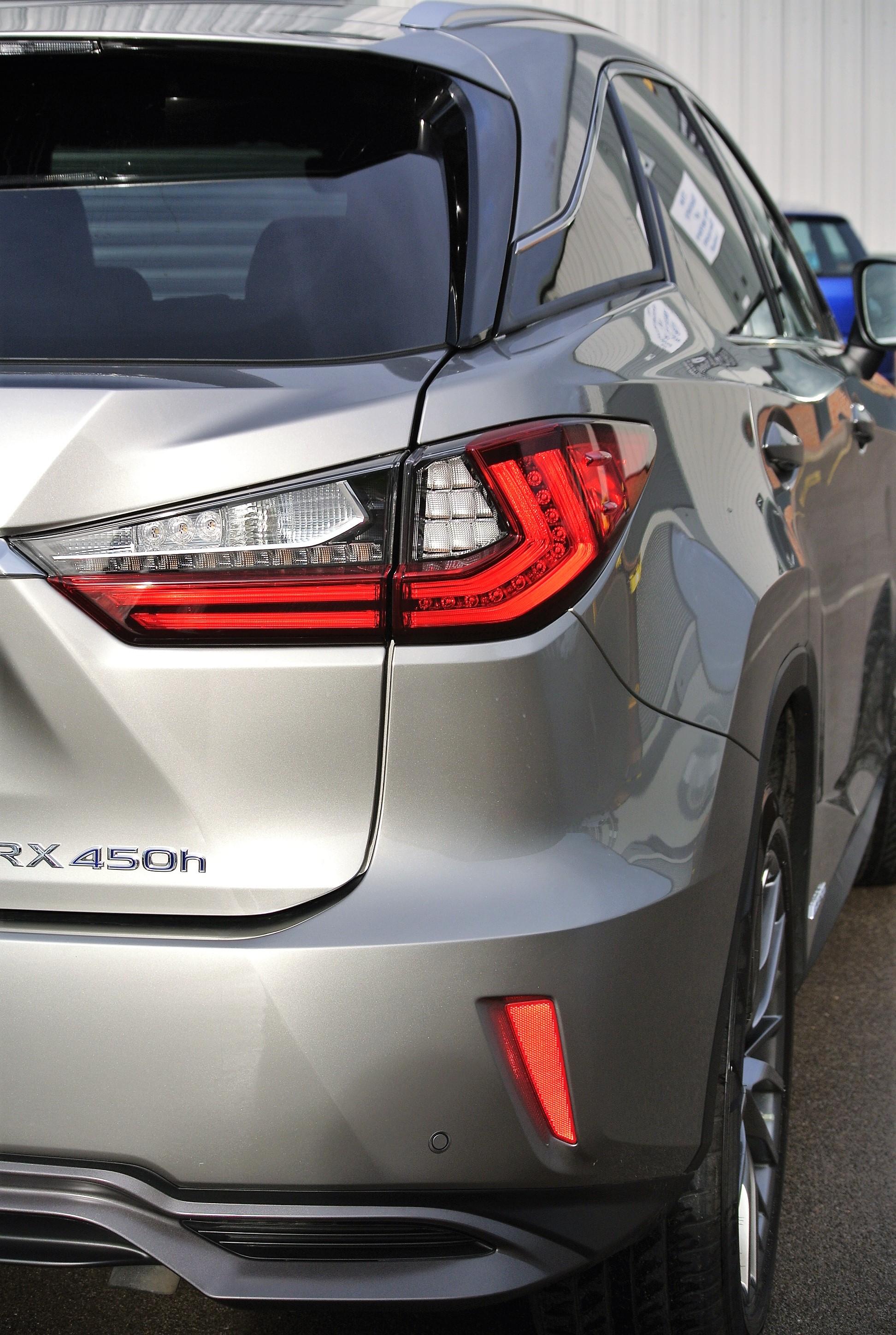 Buying into the luxury end of the 4×4 sector demands a lot of thought. Despite packing an outstanding amount of equipment into its RX450h, Lexus has managed to keep the car's pricing within sensible bounds. Its hybrid drivetrain is a technological tour de force and a key attraction, while its design is a real attention-grabber. Better suited to business use than private ownership, the Lexus RX450h has a well-defined space in the new car scene.