Having sought a technological partner, Infiniti settled on Mercedes-Benz, which, suggests Iain Robertson, results in a largely unflawed end-product that slots perfectly into the premium, compact hatch segment of the market.
My first dog was called Prince. He was a terrier-cross. With which breed he was crossed remained beyond my understanding and probably that of the entire veterinary profession but, whichever it was, it clearly worked for him, as he survived typical child abuse issues, eating human foods and seldom being exercised as often as he might have needed to be. He passed away at the ripe old age of 16 years, sorely missed and always loved but he had lived a good life.
My next dogs, a brother and sister, were of the Samoyed variety, a Siberian husky. They just about scraped a decade apiece but, whereas Prince had never cost a penny beyond normal care, they demanded regular visits to the vet, the hair salon and the speciality foods supplier. The last dog I owned, or which owned me, was a short-haired Pekinese. It died in its ninth year. To me, the mongrel was by far and away the most durable and least expensive to live with.
Cross-breeding, whether by intention, or incidental happenstance, is a fascinating subject matter. I recall a period in my life, when I owned a Manpower franchise. The well-known, US-originated work contracting company was fascinating and it introduced me to a number of self-improvement exercises and business opportunities that served to enrich my existence, let alone the many people I employed (long before 'zero hours' contracts were ever considered to be 'wrong').
Interestingly, Manpower was acquired by The Parker Pen Company at one stage in its existence. What the benefits were to it is open to question but the corporate world is crammed full of large and largely unrelated businesses owning rivals, or forging some truly unusual commercial marriages. This was never more obvious than during the mad-1990s, when the automotive industry went haywire, snaffling up competitors and building enormous corporations that became comprehensively unmanageable.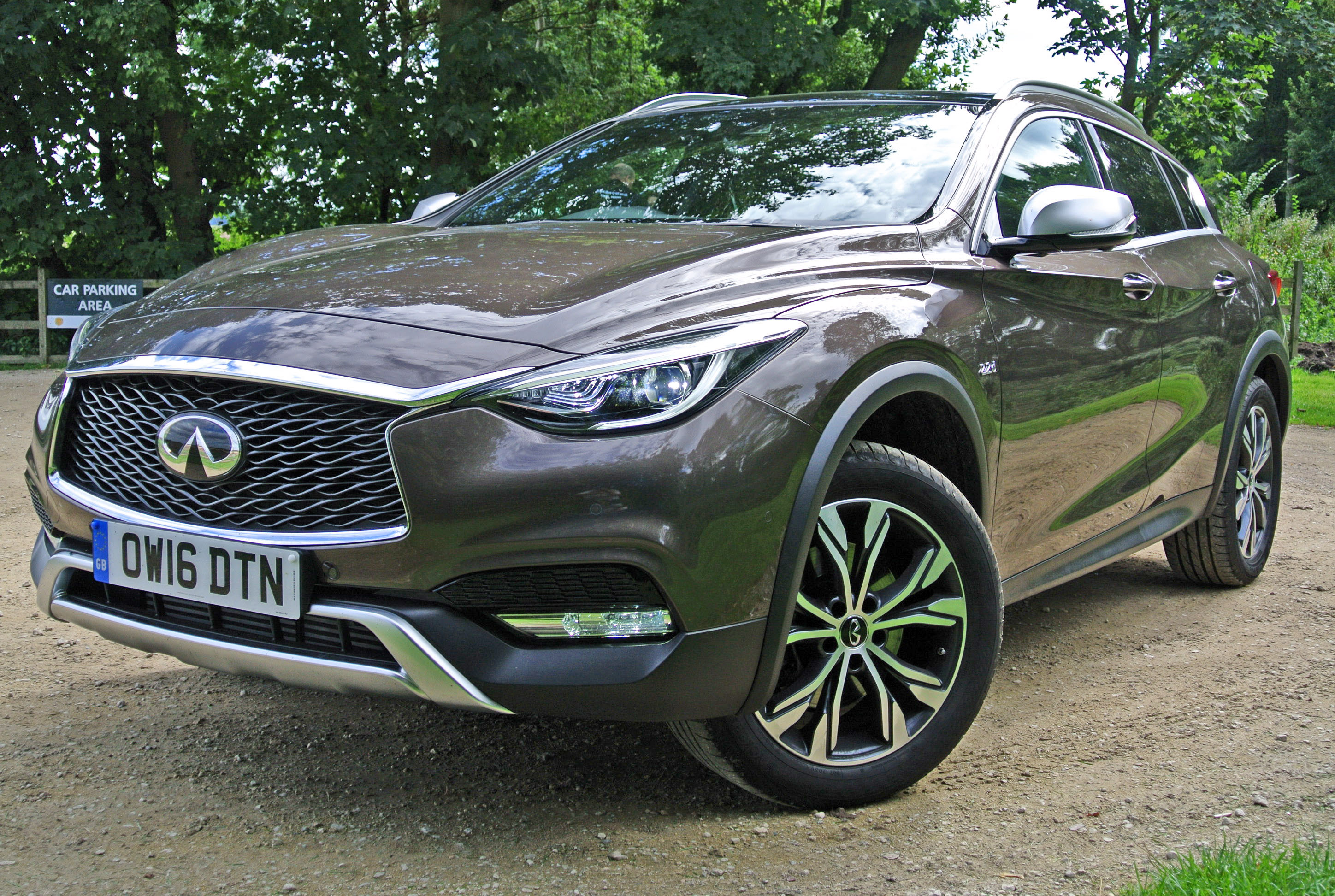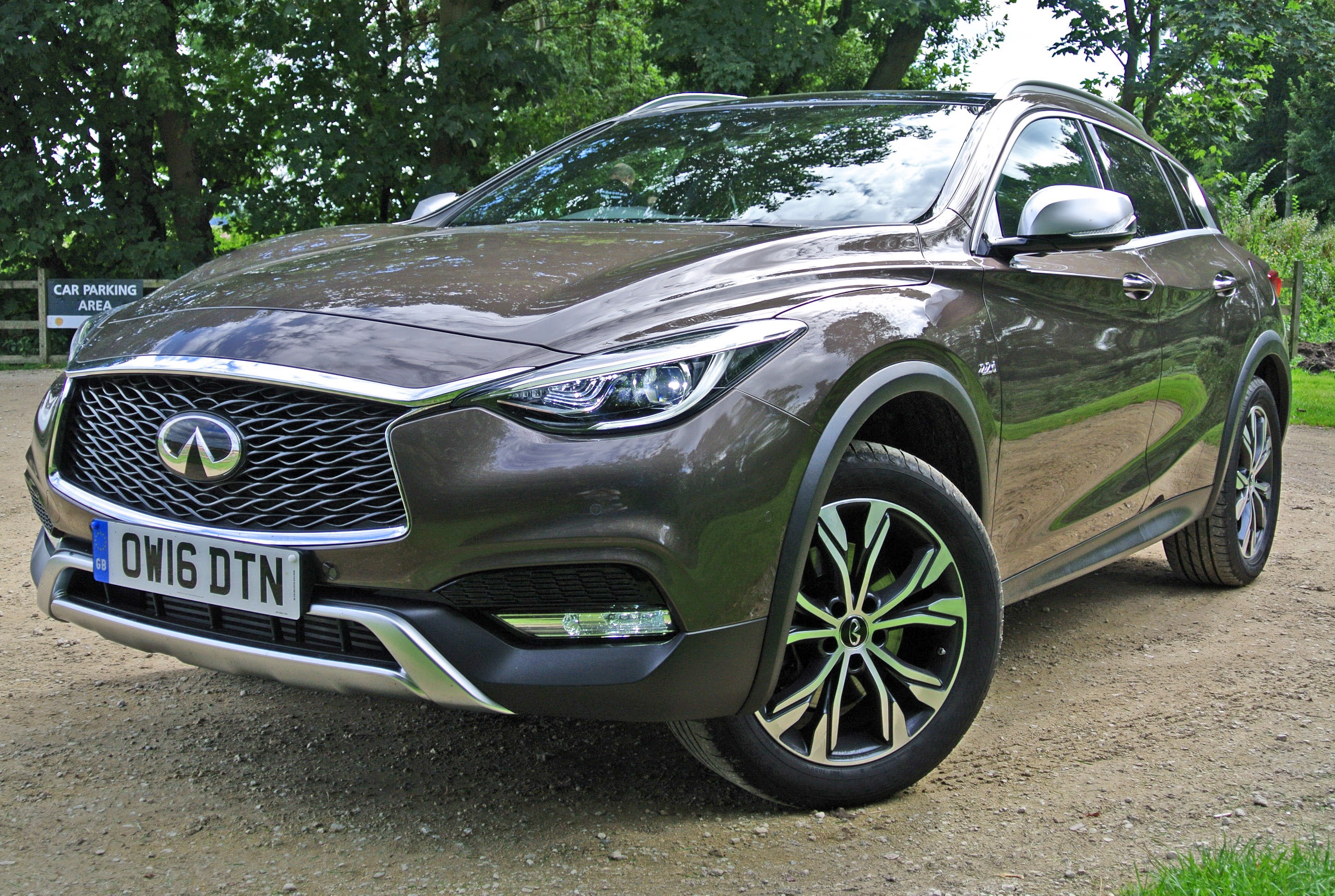 After all, at one stage, Ford Motor Company owned Jaguar, Land-Rover, Volvo and Mazda, while having engineering relationships with Peugeot–Citroen (PSA) and tenuous connections to other rivals. While the PSA link continues, all of the others were hived off to other major brands. General Motors had relationships with Fiat, Suzuki, Isuzu, Subaru and Saab, on top of its Opel and Vauxhall links, plus Cadillac, Chevrolet, Buick, Pontiac, Oldsmobile and even Hummer in its domestic scene. It needs to be stated that some of those 'partnerships' became seriously the worse for wear, with Saab and Isuzu Cars suffering the ultimate ignominy of closure.
Yet, rising clear of the potential internecine infighting and other strategic issues, Infiniti, which is to Nissan, what Lexus is to Toyota (a lower volume, luxury line-up), despite its parent company's partnership with Renault, struck up a technology deal with Mercedes-Benz and the ultimate 'mongrelification' occurred. To add some valuable spice to the recipe, the Infiniti Q30 and QX30 models, for European consumption, are produced in Sunderland, at the Nissan factory.
While Merc supplies running gear, which includes engines and transmissions, for several models in Infiniti's range, the deal extends to a number of other components on the Q30 (the QX30 is the 4×4 variant sampled here) including switchgear. Put crudely, the QX30 is Infiniti's equivalent of the Mercedes-Benz GLA, which happens to be the SUV alternative to the A-Class model. Priced at £33,370 plus £670 for the bronze metallic paint, £500 for the glass sunroof, £300 for the rear privacy glazing, £1,800 for the distance cruise/blind-spot/park assist safety pack and £380 for the chocolate brown hide seats/silver door mirrors and kick plates, it equals £37,020 in total. The equivalent Merc would be £37,930, which suggests that a teensy saving can be made investing in the Infiniti although the Merc badge may carry off somewhat greater driveway, or company car park cachet.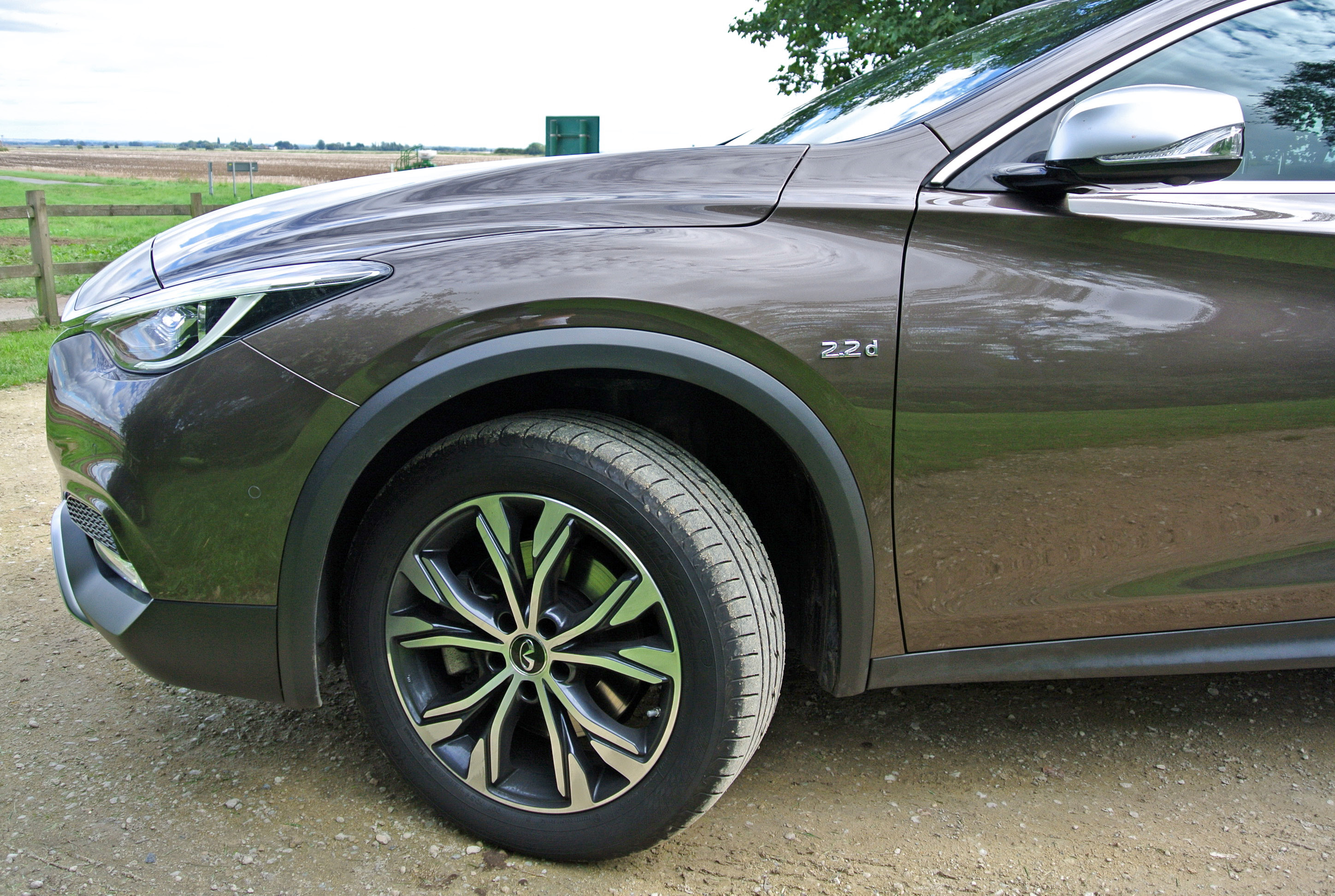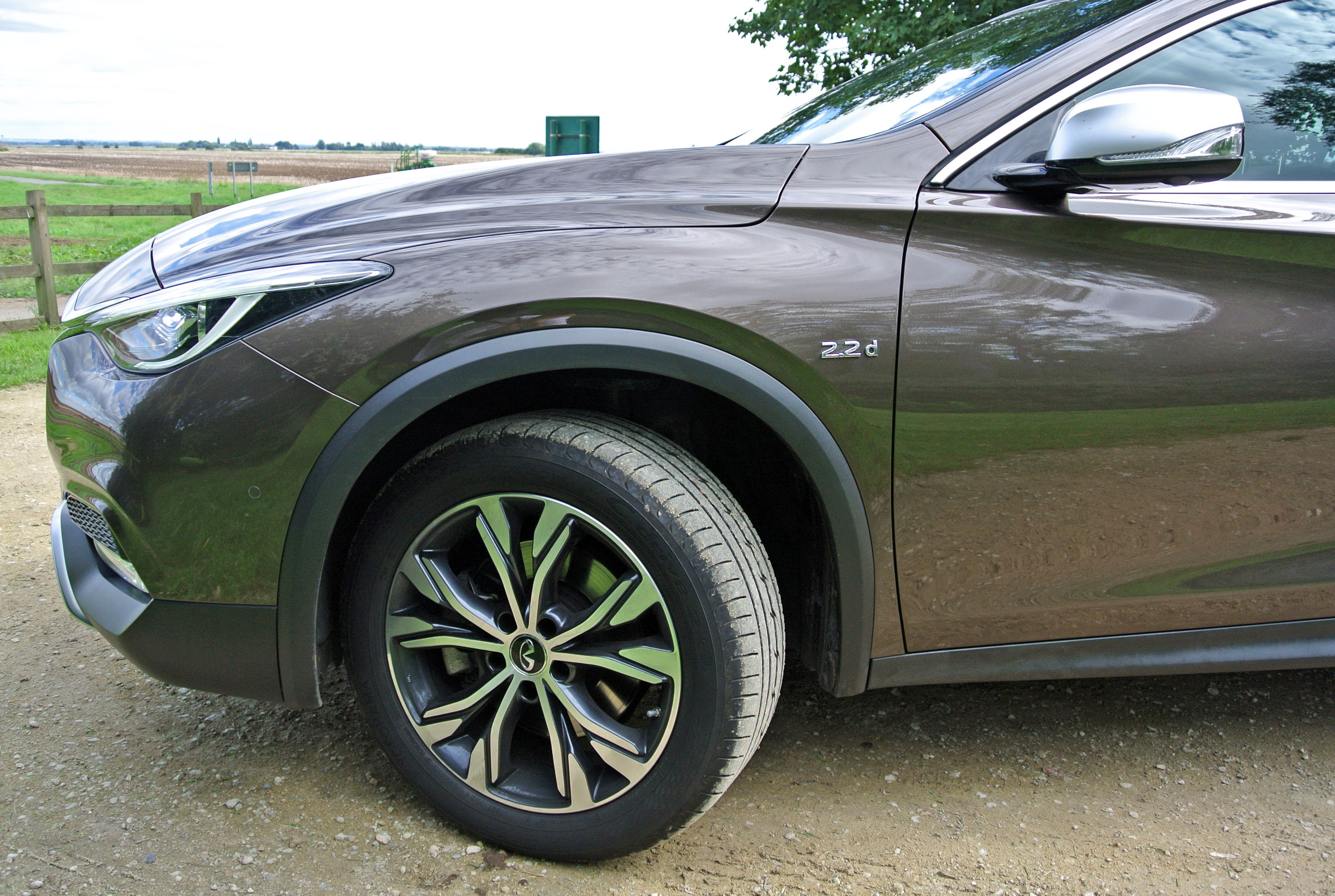 Personally, I prefer the deliciously organic, if slightly self-conscious styling of the Infiniti. It is a handsome machine, possessing some very attractive angles and stylish elements to its bodywork. Sitting a few millimetres taller than its Q30, non-4WD alternative, it would be fair to highlight that the Infiniti is not really an SUV…nor is it a coupe, although its 2+2 seating (notably behind the taller driver) might help it to fit that mould. Yet, it is a modestly roomy, compact and up-market hatchback.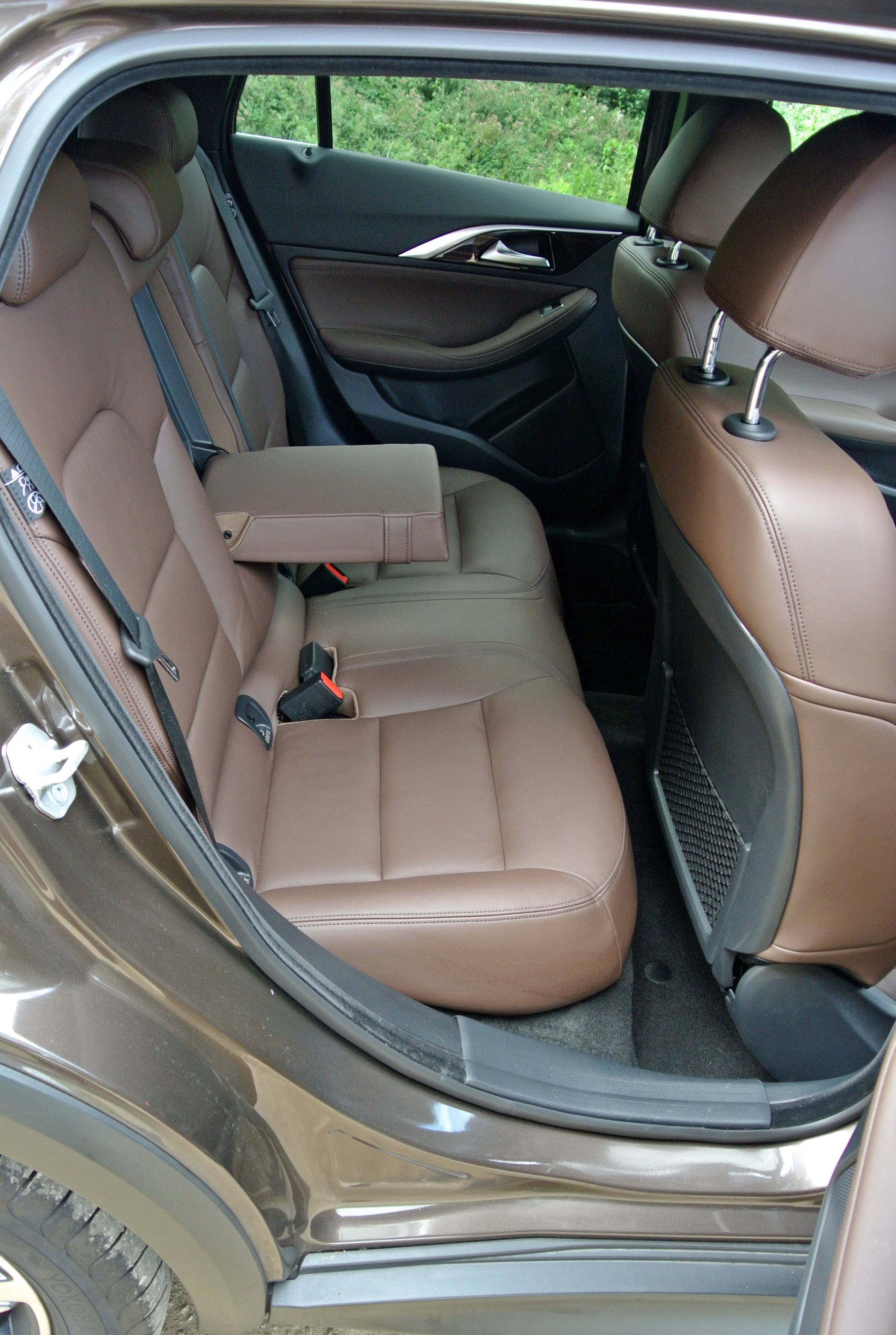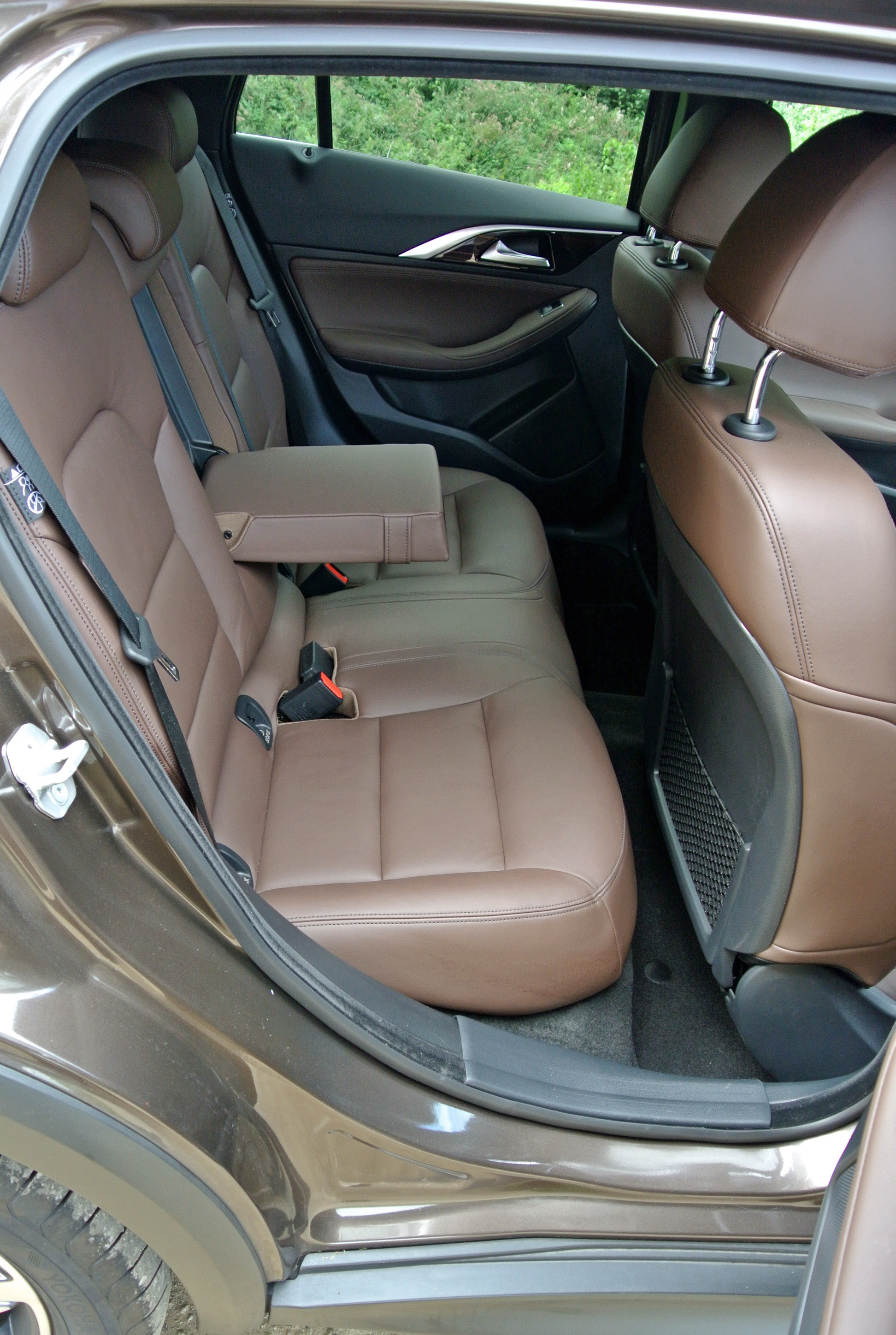 Just as the exterior is uniquely appealing, so too is the interior detailing. The two-tone brown and black Nappa hide seats are exceedingly comfortable and supportive. Their front seat electric controls (a la Merc) are sited on the leading edge of the door trim. However, for a driver of my two metres of height, I could do with an extra inch of headroom (robbed by the electrically operated sliding glass sunroof and its full-length blind) and an extra inch of rearward adjustment would not go amiss either, despite the rake and reach range of the steering column. Yet, obtaining a moderately comfortable and commanding driving position was not too difficult, if a little glove-like.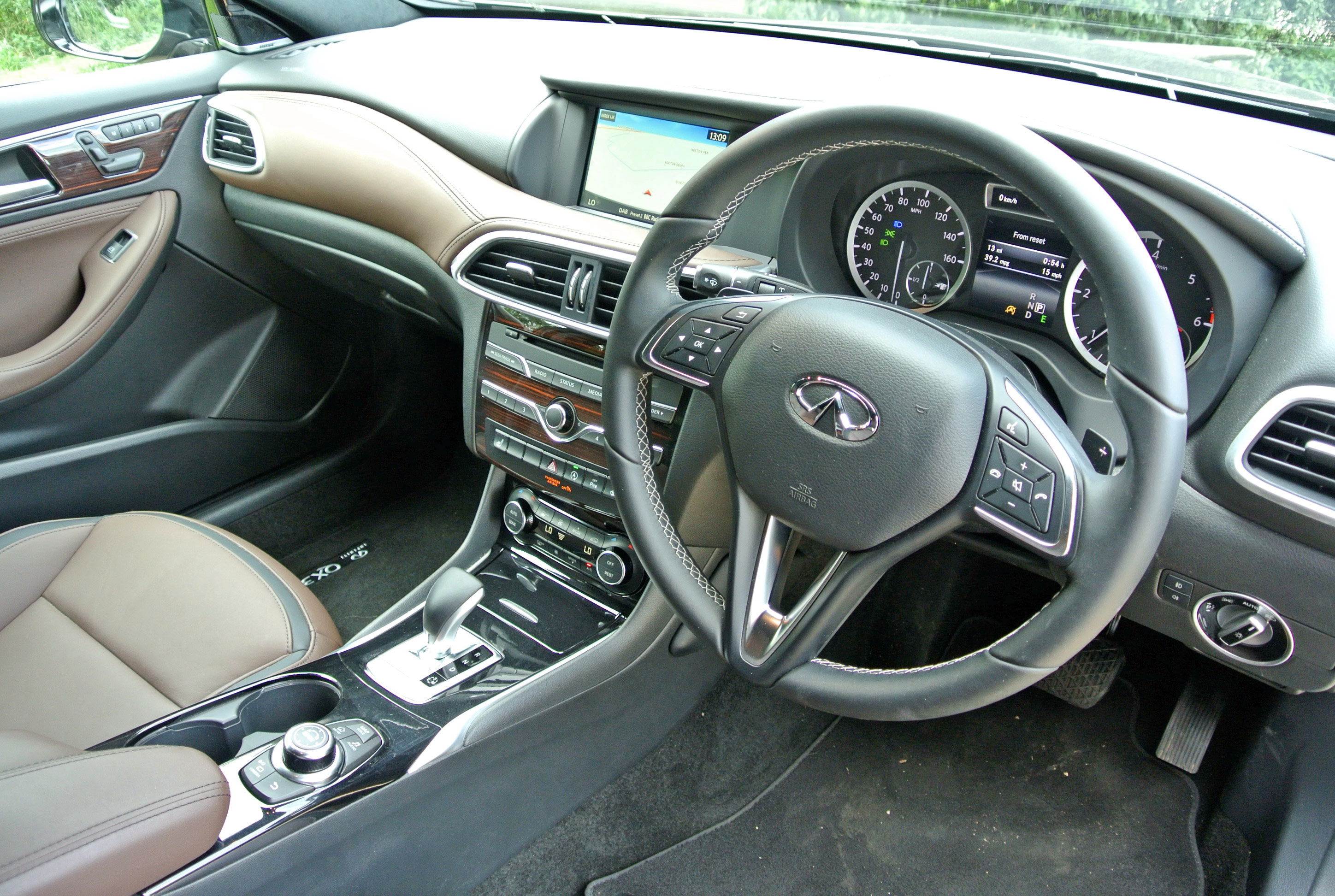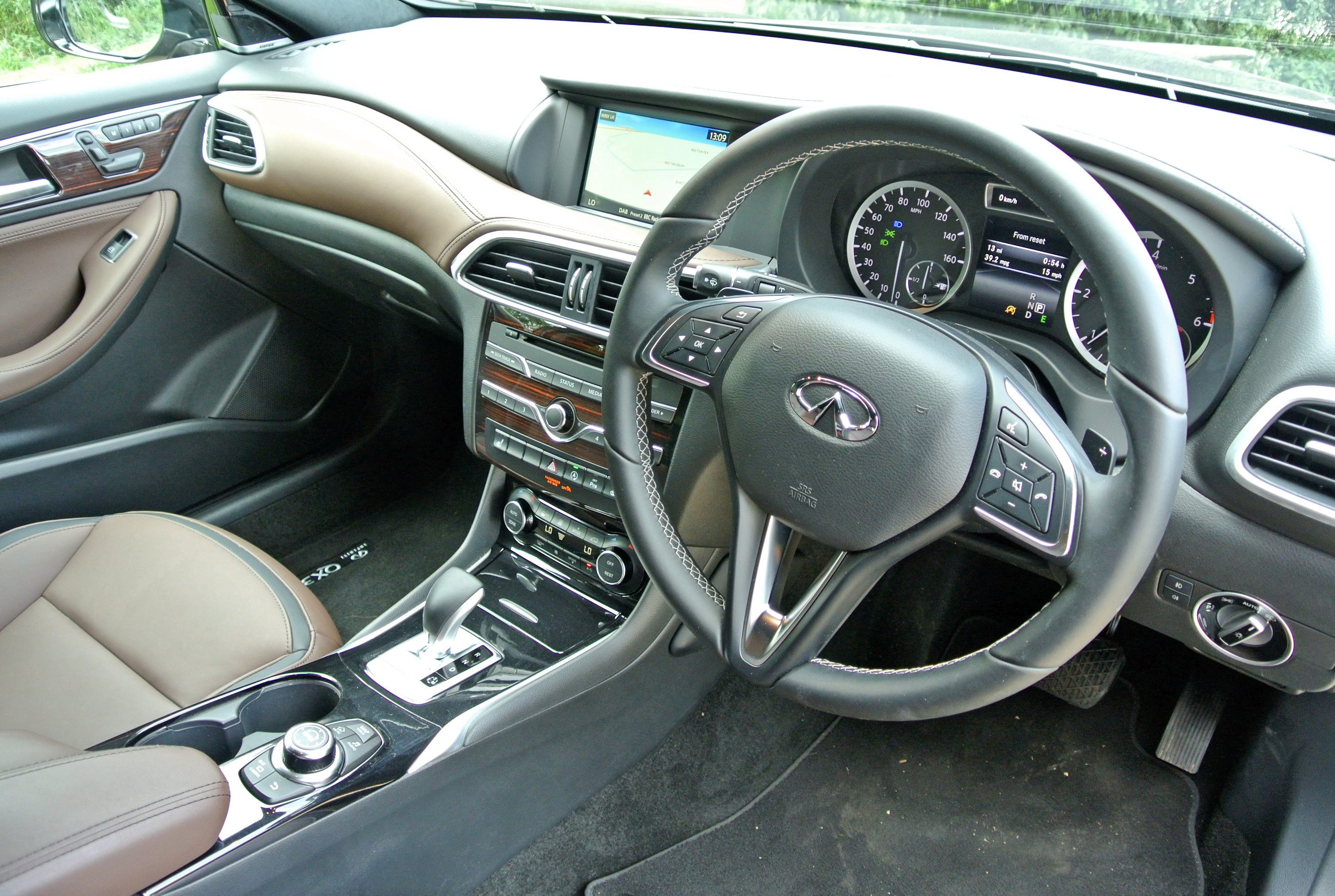 The multi-function touch-screen in the centre of the dashboard blends both Merc and Nissan technology and provides a decent head unit for the DAB stereo. Plug-in fans are catered for by a couple of USB slots, although the cigarette lighter-type of socket is hidden within the centre console armrest and not exactly as accessible as it ought to be. Storage is limited to that same 'box', a glove box ahead of the front passenger and a pair of practical door pockets. The boot is well shaped, if shallow, with a limited amount of secure storage below its floor.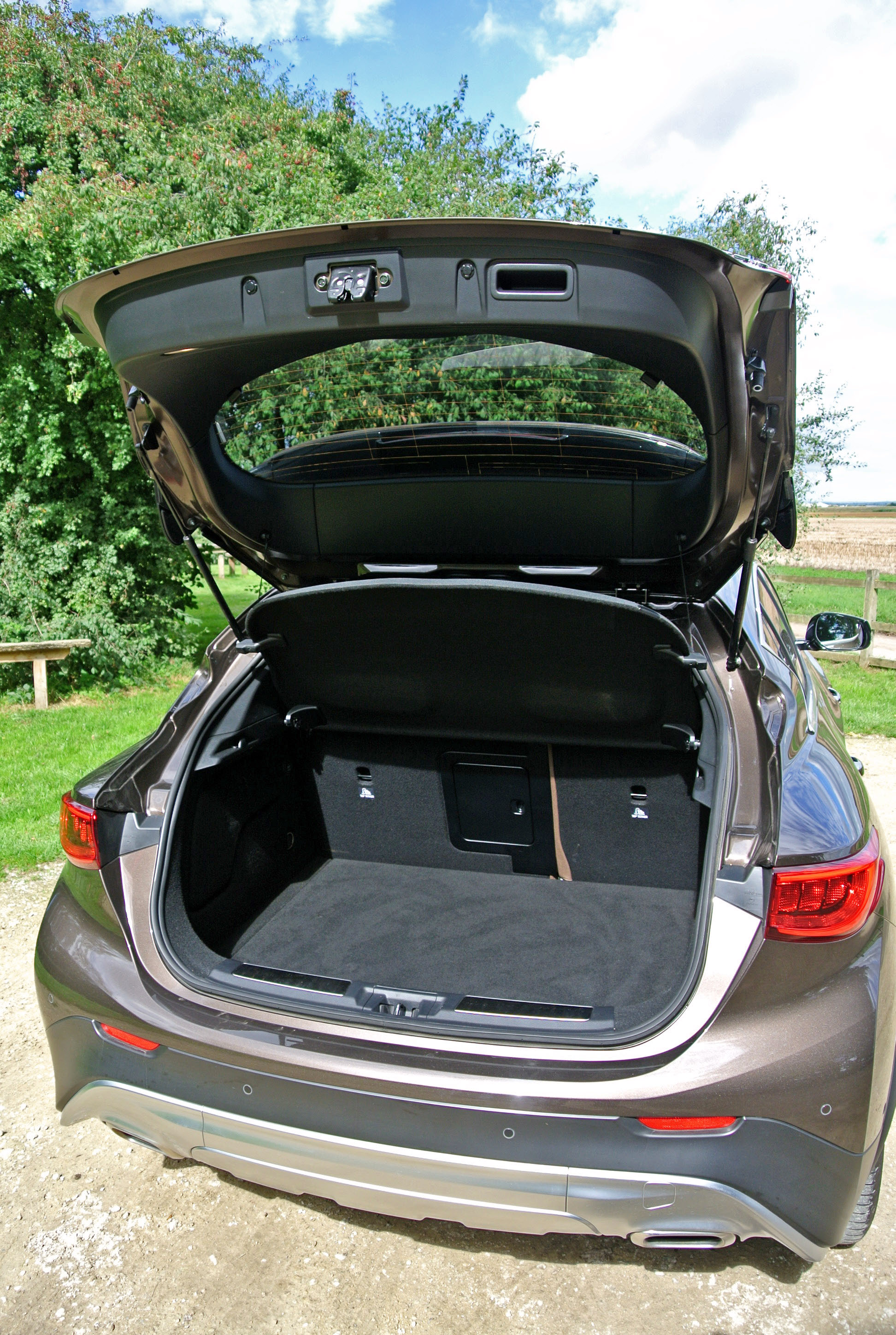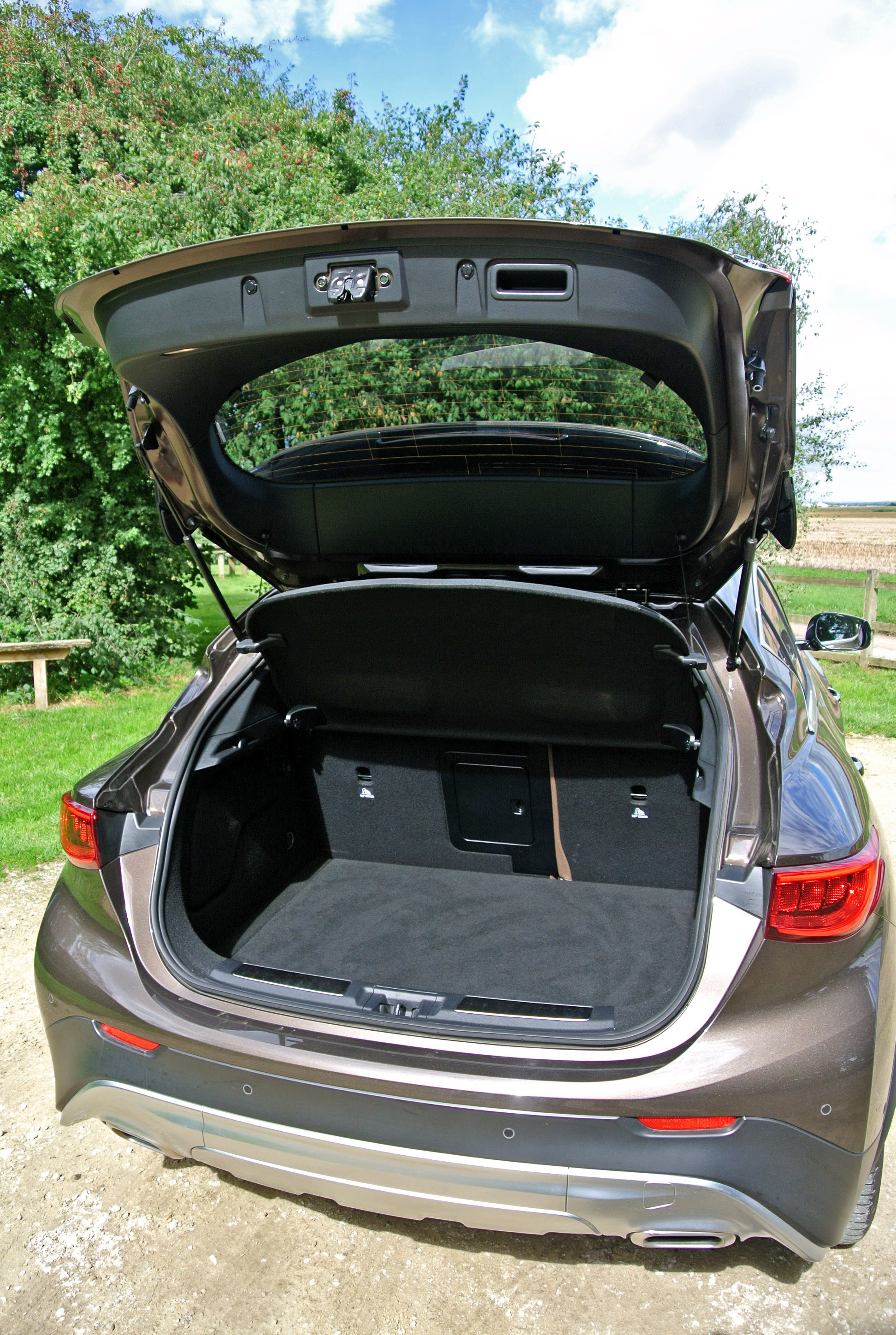 Having mentioned earlier that the QX30 is not really an SUV, it does comply with some expectations of that market niche, even though its 4×4 system should be considered more like that of an Audi Quattro and thus a means to maintain safe and stable progress on give and take roads, regardless of weather conditions. The seven-speed automated-manual transmission works most efficiently, whether left in 'Drive', where it delivers the impression of a fully-automatic 'box, or used manually (either by slapping the stick fore and aft, or operating the left and right paddles behind the steering wheel cross-spokes).
Its promise of a 57.6mpg Official Combined fuel return was not too wide of the mark, as I attained an average of almost 50mpg after a week of mixed motoring. The 2,143cc, 167bhp, four cylinder Merc diesel is renowned for its efficiency and its surprising amount of verve. While the QX30 is a hefty 1,634kgs (kerb weight), with the three-position 'chassis control' set on Sport, it still despatches the 0-60mph sprint in around 8.2 seconds, before coursing on to a top speed of 134mph. The VED rate is given as Band D, or £110 per annum, which is a result of its 128g/km CO2 emissions' figure.
The A-Class platform affords the QX30 a decent dynamic balance, although it is very nose-heavy, which means that it needs its 4×4 drive-train to limit a tendency towards 'plough-on' understeer on slippery surfaces. Yet, body roll is well controlled and the feel at the helm is very positive, with nicely weighted steering and faithful reactions to driver input.
As a genuine melange machine, the Infiniti QX30 feels unbreakably tough and it should provide dependable transport for business operators. It could be termed as 'costly', although there exists a market demand for cars of this class and, because it is British-built, it can wear a worthy feather in its cap. To be honest, I can perceive better ways of spending almost £40k on a new car, although the QX30 is quite different to any of its rivals, which can be a minor consideration. Yet, the Infiniti does feel classy and it delivers on most counts. As a 'mongrel', it possesses merits.